See our basement bedroom ideas including a step-by-step renovation process, room requirements, design tips, remodel cost, and other finished basement details.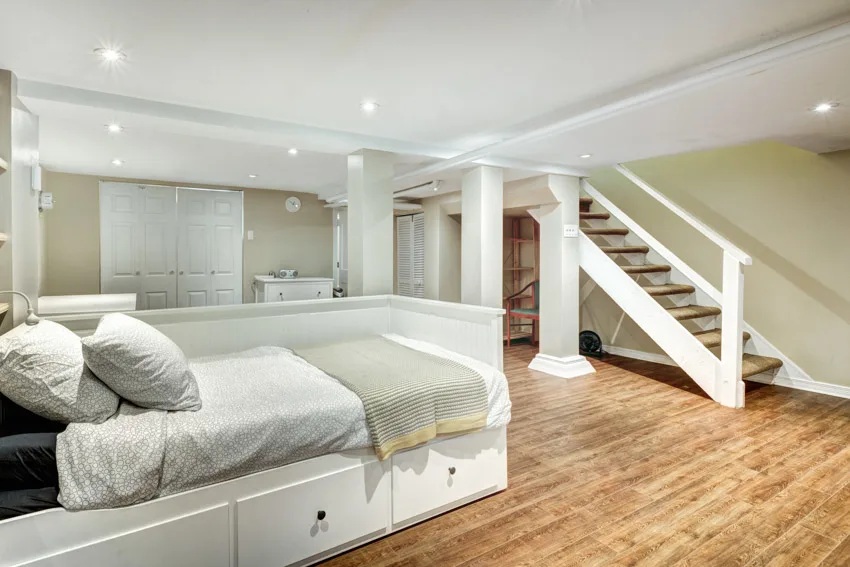 If you are planning on renovating your unused basement space, transforming it into a bedroom can be an excellent choice. This construction project can be time-consuming and costly, but it could also offer you much more living space.
You will be pleased to learn that a neglected basement space can be turned into a bedroom and help increase your home's resale value. When converting your basement into a bedroom, you should undertake careful planning.
Most homeowners are unaware of the great contribution that their basement carries to their home's square footage. Many people are turned off by the darkness and probably even the unpleasant humidity. These issues can all be corrected with proper design.
Finishing a basement necessitates patience and the selection of proper remodeling ideas. In this article, we will provide useful tips to help you with this resourceful transformation.
Turning A Basement Into A Bedroom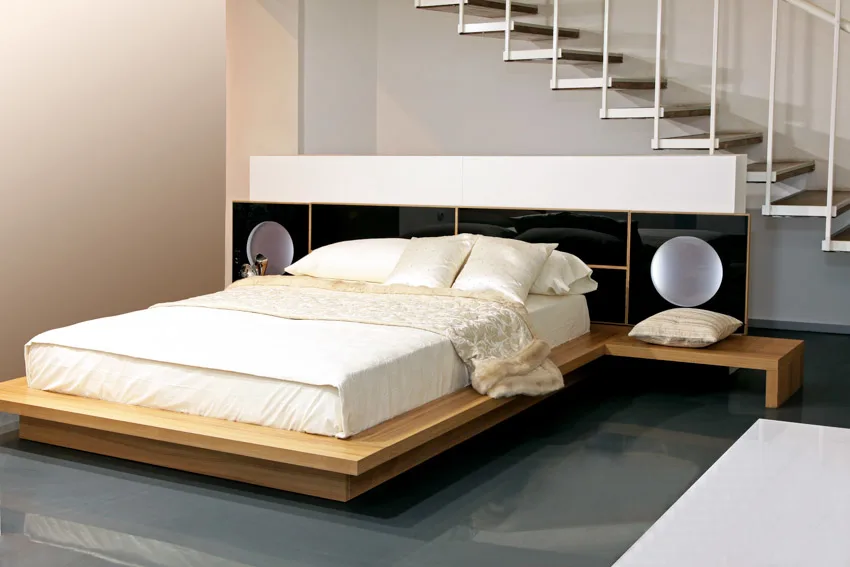 Here are the basic steps on how you can turn your basement into a functional and homey bedroom:
Step #1 – Clean the Entire Basement Space
First and foremost, you must clean all the areas in your basement. Start by removing all furniture, containers, and other stored objects, leaving a clean ground to work on.
Sweep the floor using a regular broom to remove dust, filth, and use a mop to wipe off any unsightly marks. If you have extra funds, you might install new flooring, and tiles are the greatest alternative because they are durable, appealing, and inexpensive.
Basements are frequently troubled by moisture issues, which must be addressed. Wall in-setting with paneling or drywall might suffice. Read more about the types of basement wall panels here.

Step #2: Start Building the Walls
Begin by framing the walls to turn this basement space into a bedroom. To build the frame, attaching 2- x 4-inch boards are recommended.
Using a nail gun, you can fasten the boards down with a mallet and nails. Install drywall after you have completed the basic frame. This step will probably require the assistance of other people to facilitate the process.

Step #3: – Paint the Walls
You can start painting the walls after the drywall has been installed. Put two layers of paint or a primer coating followed by a coat of paint. To apply the paint, you can use a standard paintbrush or a good-quality roller.
Step #4 – Set up the Ceiling
You may notice exposed piping and wires in your basement overhead. If your basement is undeveloped, there is a huge likelihood of no ceiling above the area. If yes, the ceiling may not be fully prepared to function as a proper ceiling for a living space.
You can install a drop ceiling as well as a rail to support the ceiling panels to conceal it. Afterward, you can construct your bedroom ceiling using individual ceiling tiles. You may want to paint the ceiling a complimentary color that matches the design theme.

Step #5 – Apply Proper Lighting
In addition, you will have to establish any type of proper lighting in the bedroom. Think about using an overhead light, track lights, or the different types of recessed lighting fixtures.
Install the lighting and secure it to the ceiling. And because most basements have minimal natural light, you may choose to install an electrical connection throughout the system.
Step #6 – Start Installing the Floors
Flooring can be installed after the ceiling and walls have been installed. There are countless possibilities for a basement bedroom.
Since moisture will most likely get on the floor at a certain period, tile and vinyl would be the most highly recommended flooring options.
You can also put laminate, carpet, or carpet pieces, which are simple to lay and replace if one becomes worn down. Select the type of flooring you wish to use and install it in the bedroom.
Step #7- Add Necessary Objects & Furnishings

Once you have completed the construction of the entire bedroom space, it is time to furnish it. You can transfer the furniture inside the room after deciding what objects to use in your basement bedroom.
The essentials are a bed and a side desk. Afterward, depending on the available area in the bedroom, you can use dressing stations, chairs, a workstation, an entertainment system, and so on. Nevertheless, avoid overcrowding the room.
Because the bedroom is essentially a basement area, there might be minimal storage options. You can install a wardrobe with open shelving and suspended racks for organizing various items. You could even put a container on the floor to store random objects.
Finally, you may make the space more comfortable by integrating appropriate furnishings. You can consider hanging full-size curtains to provide the impression of windows if the space has zero windows.
Decorate by displaying photographs and portraits on the wall, arrange lampshades or flower arrangements on the side tables, lay a floor rug on the ground, and more. If your basement has no windows, you must ensure proper ventilation. If you have extra finances, you can install air-conditioning systems.
After trying these basement bedroom ideas, you should now be able to start moving into this area and take advantage of the additional living space you have built.
Basement Bedroom Requirements
Your basement might not be suitable for use as a functional bedroom unless it has window openings that match specific criteria.
However, the exact details of these requirements may differ based on the building code in your location, but the general idea remains the same regardless of the code in effect.
Essentially, bedroom windows must be large and deep enough to allow for emergency exit, and the window dimensions must exceed minimum specifications to give natural lighting and sufficient airflow. However, as previously mentioned, air-conditioning systems can be installed to ensure adequate ventilation.
The fully accessible section of a bedroom window must have a basic measurement of 5.7 square feet for emergency egress unless the sill is lower than the exterior grade level. The entire measurement must be at least 9 square feet in this instance.
The width of window entries should be not below 24 inches and the height should be not less than 20 inches, respectively. If the sill in a basement bedroom is lower than the exterior grade level, an outdoor window opening that exceeds an extra set of minimum size standards must be installed.
Windowsills in every bedroom should not be taller than 44 inches above the floor, albeit lower sills were sometimes permitted in old houses. Sill heights in a basement bedroom can reach 44 inches if there is an irreversibly fixed ladder or stairs to the window area.
The size of the window, as a source of natural lighting, must be at least 1/10 of the bedroom's floor space. This minimum is just 8% of the floor area in communities, according to the International Residential Code (IRC). Source: UPcodes

The Uniform Building Code (UBC) mandates the size of the window opening to not be under 1/20 of the room's floor space as a source of outdoor ventilation. Only 4% of the floor space is necessary.
Bedroom in Basement Design Tips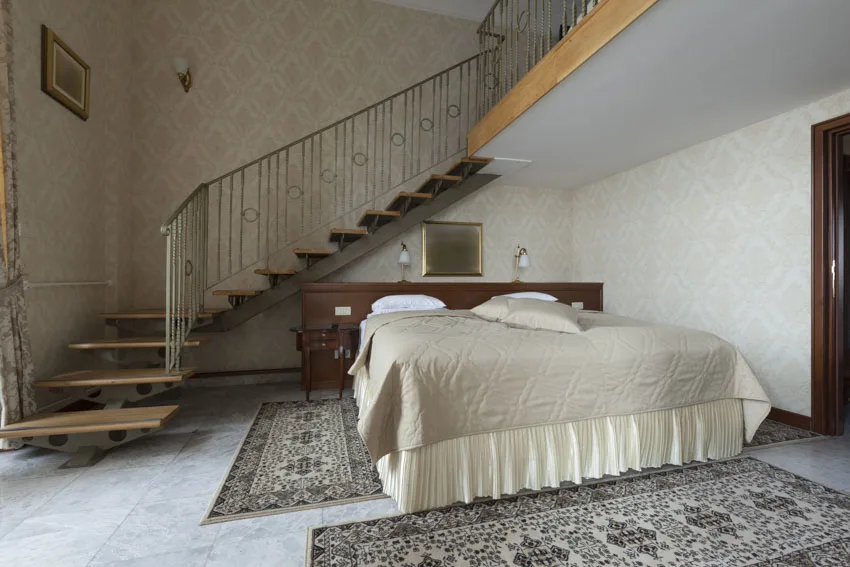 Here we share the different design tips that can be used for basement bedrooms.
• Understand how much space you have to work with inside your basement. This is especially essential regarding height: many local restrictions on converting a basement into a livable space mandate that the basement be at least 7 feet in height, if not higher. Carefully check your local building regulations.
• You must add plumbing and electrical to your unfinished basement and a new bathroom. Examine your current systems to determine what modifications and upgrades are required. Remember that this work will necessitate the acquisition of a permit.
• To defend against noises and cold temperatures, insulate the basement's ground and walls using insulation boards, batting, and other valuable materials. Assess all of your ideas because this might include significant wall renovation considerations.
• Vapor barriers are usually required in basement bedrooms to prevent moisture from seeping beyond the cement walls and creating a musty environment; hence keep this in mind when you examine basement bedroom designs.
• Escape windows, more known as egress windows, are basement windows that allow in lighting while also allowing homeowners to get away in the event of an emergency.
These windows are among the most critical aspects of the basement building rules. Such windows are required for a live-in basement; thus, be ready to extend existing windows and remodel your foundation to accommodate them.
• Basement stairs are typically cramped and gloomy. Make sure there is a durable, reliable handrail and adequate illumination.
• When examining basement bedroom concepts, incorporate a great deal of natural light in the space by increasing windows if practical. Since basements tend to look dreary, install recessed lighting for better results.

When choosing artificial lighting, opt for warm lighting fixtures encompassing a large area to eliminate any remaining basement darkness. It would help to create a good ambiance with proper ceiling fittings and lamps.
• Small spaces will benefit from a lighter color palette. Paint the walls in a soft neutral color and add reflective bedroom decor such as wall mirrors to enhance reflectiveness.
• Whoever resides in your basement bedroom will likely have a workstation, charging station, and a range of other devices. You may also wish to install a television or other entertainment unit. Thoroughly evaluate where you will install outlets.
You can use one of the available basement design software programs when planning your space. This will allow you to calculate the materials and help visualize your design before you spend any money on a renovation.
Cost To Add Bedroom To Basement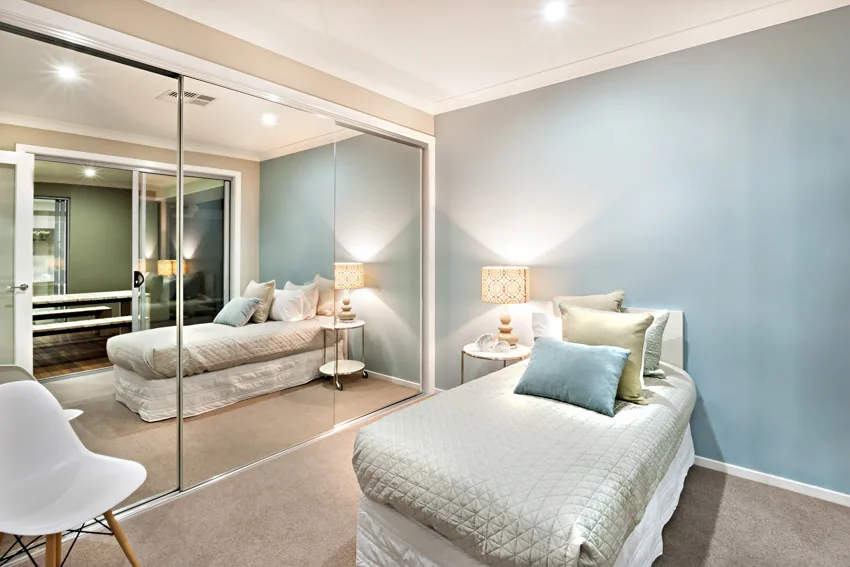 A basement bedroom costs approximately $23,000, which requires the installation of egress windows and a sufficient quantity of light and ventilation.
However, if building egress in your basement bedroom is impossible, the cost of building a basement bedroom may be reduced to roughly $13,000 to $15,000.
How Much Value Does A Basement Bedroom Add?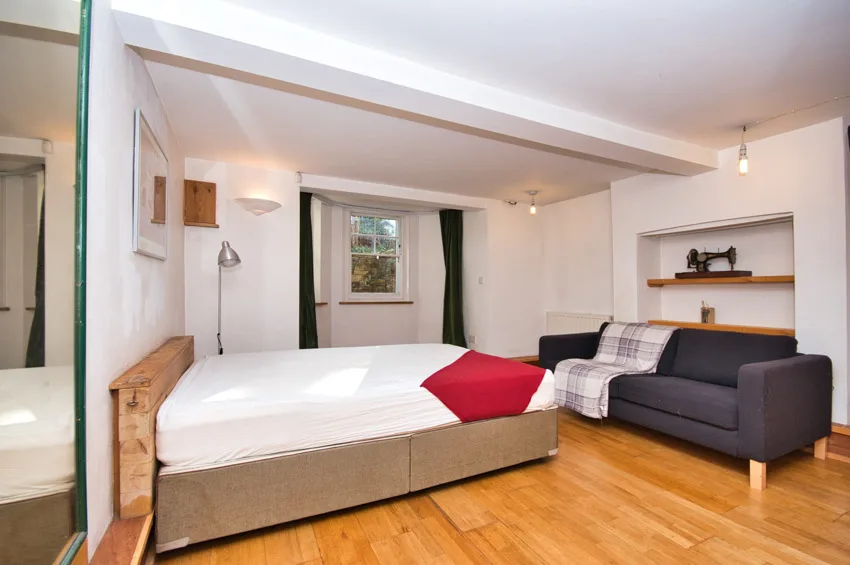 The estimated value of a renovated basement space is typically 50% to 60% of the value of the primary level square footage.
Although the majority of listing brokers would not count the square footage below ground level in the overall area of your house, it depends on where you live.
Among the basement bedroom ideas you can try is consulting your local state assessor's office and inquire if appraisers can count the square footage of your basement bedroom in your overall living space.
If your basement has an entrance and exit accessible from the floor level, you get a higher probability of having the basement square footage counted in the overall assessed square footage of your property.
Finished Basement Bedroom Ideas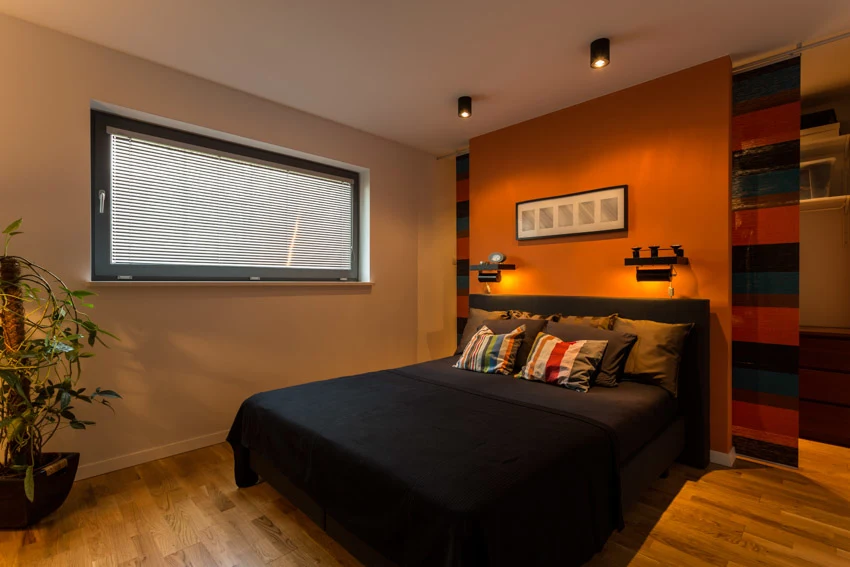 Add Natural Elements: Your finished basement bedroom will have a warm countryside ambiance thanks to it natural wood finishes and colors.

Pristine white blinds create a welcoming impression of tranquility while allowing light to enter the room. Natural components such as the appropriate types of headboards, tables, and potted flowers add to the rustic warmth.
Promote Relaxation By Adding Different Shades of Blue: Subdued blues, turquoise, and aqua create a serene atmosphere in a modest basement bedroom—these are the basement bedroom ideas that can help you relax at the end of an exhausting day.
Drywall-finished ceilings and recessed lighting make the space spacious and pleasant while also providing spotlighting for bedtime activities.
Create a Nautical-Themed Bedroom: You can make your basement bedroom appear like a nautical hideaway by adding an open floor plan, geometric designs, and a maritime theme.
A translucent wood and plastic fence, as well as view-through glass types of windows, optically widen the tight space, while adding a playful anchor motif on the cushions emphasizing a kid-friendly nautical motif.
Basement Bedroom Ideas with No Windows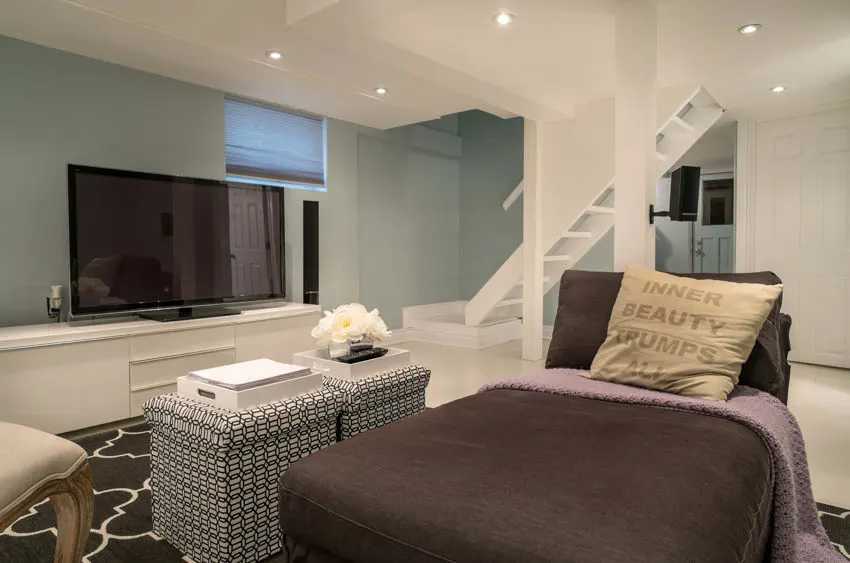 Paint the Walls White and Add More Overhead Lights to Promote Proper Lighting: White-painted walls, as well as an abundance of overhead lighting, may turn your basement bedroom into a bright space suitable for studying, sleeping, or instrument practice.
Satin ceiling paint distributes a significant amount of illumination into the bedroom, and bright tones on the side tables, mixed with spotted colors, provide an above-ground impression of your windowless basement bedroom.
Colorize Your Windowless Basement Bedroom: Geometric shapes, large fluffy rugs, and vibrant colors are among the basement bedroom ideas that can transform this space into a pleasant vintage haven.
Complementary triangular patterns and a vibrant mix of differently colored accents raise the energy intensity of the room, making you forget that you are in your basement.
Pick Neutral Colors in Your Windowless Basement Bedroom: A primarily light-painted windowless basement bedroom can be balanced with shades of gray and a hint of black, giving a modern aesthetic that is visually pleasing. See some of our top picks for basement wall colors here.

Soothing sandstone tiling beneath your feet and natural wood steps add warmth to the basement's neutral color scheme, giving your windowless basement bedroom a hot sensation.
See more related content in our article about a basement home office on this page.