Here's our painting stucco pros and cons guide with exterior painting tips, disadvantages and advantages, house paint colors, cost, and how often to paint stucco.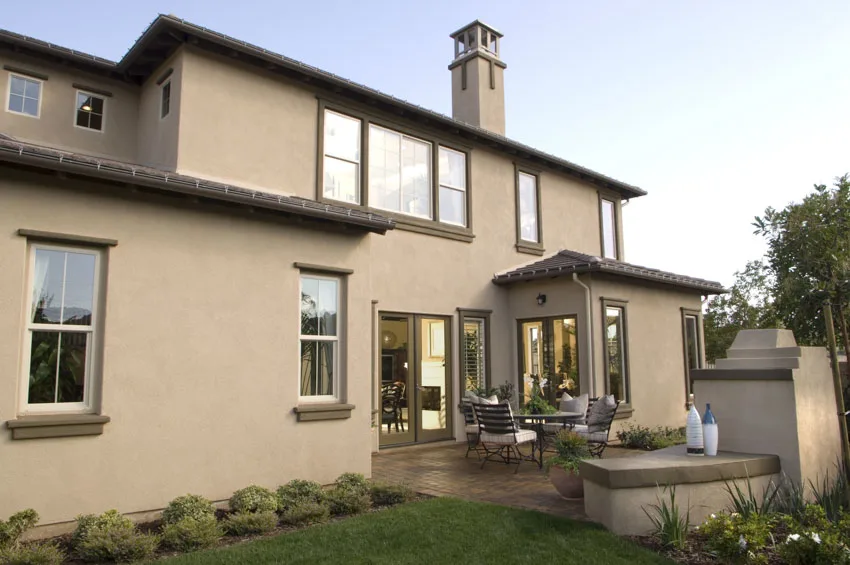 Stucco is a typical exterior finish for houses in hot, dry climates, particularly in the U.S. Southwest region, because of its ability to enclose warmth or coolness during the changing seasons. Stucco provides excellent durability and has a long life with proper care and maintenance due to its materials.
Stucco is made of a combination of powdered limestone or cement blended with sand and water. When applied wet, stucco cures to a hard and very dense masonry surface; used as an interior decorative coating for walls and ceilings, and external structural siding.
Can You Paint A Stucco Exterior?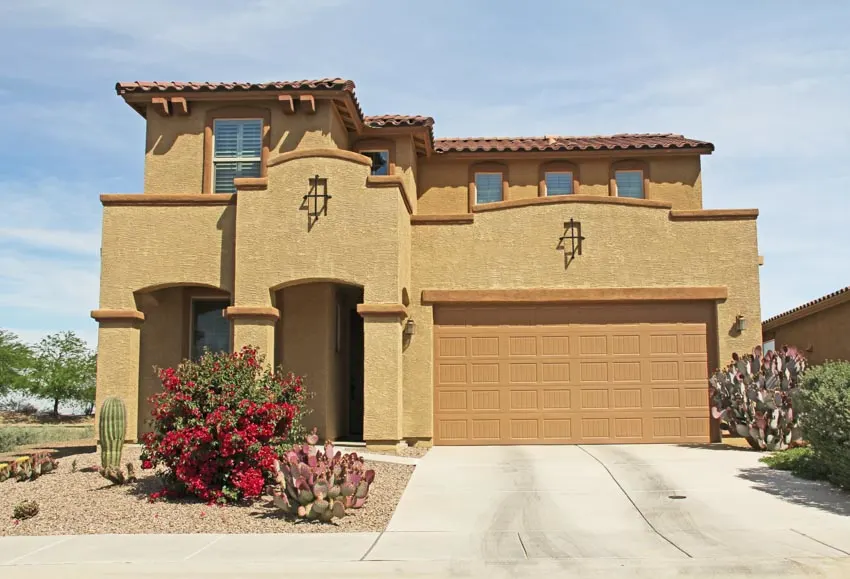 After some time, when the stucco appears dirty and drab, painting stucco is a great idea to give it a fresh look. It is recommended best to apply a fresh coat of paint every five to seven years to provide you with the advantage of staying ahead of costly repairs.
However, avoid painting a new stucco before it sets since there is a big chance of trapping moisture beneath the layer of paint, which will lead to unsightly blistering, peeling paint and can cause mold to grow behind the surface.
Keep in mind that stucco is incredibly porous and takes longer to dry. It is advisable to wait at least sixty days to allow the stucco to cure and harden up before painting fully. Stucco tends to absorb moisture readily; that is why you need to apply many coats of paint.
In severe humid climates, when painting a stucco house, you must make sure to let each coat dry completely before applying the next coat. Not doing so can drastically decrease the longevity of painting stucco.
Painting stucco on the different parts of a house exterior needs special attention and maintenance. It needs to be scraped, cleaned, primed, and repainted every few years. You get the best results when painting stucco, which requires a time commitment and knowledge of the proper process.

Pros Of Painting Stucco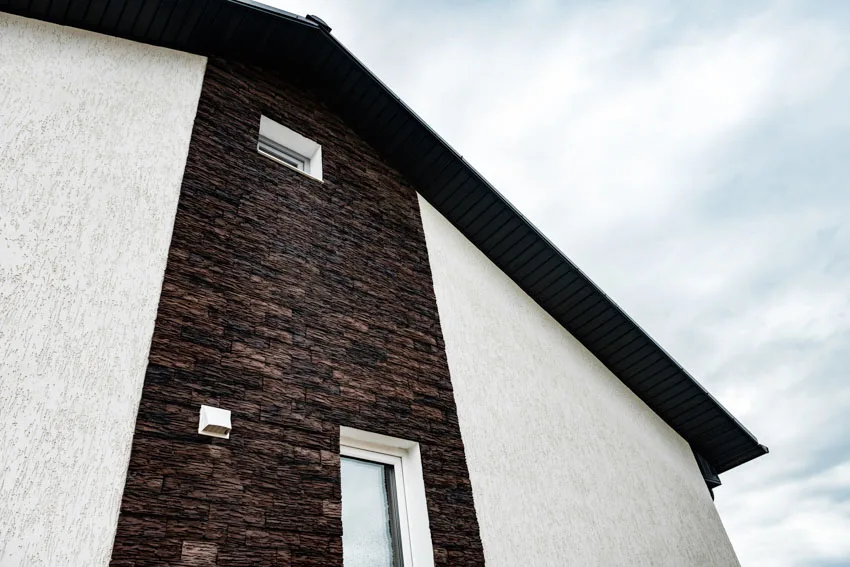 Seals the Stucco Surface – Painting stucco with the right paint keeps the wall surface dry, seals out moisture, and ensures that your wall stays waterproof.
Looks More Attractive – It will also give your home an attractive appearance for many years.
Hides Imperfections – Painting stucco walls can hide water and rust stains, making them hardly noticeable.
Helps Prevent Fading – Since stucco is prevalent in a hot and sunny climate, blazing U.V. rays from the sun can cause your home's exterior to fade.
Protects the Stucco Surfaces – It also reduces the durability of the exterior stucco, leading to structural damage such as peeling and cracking in masonry. Painting stucco helps protect walls by deflecting damaging U.V. rays.
Hides Stucco Cracks – Although filling cracks with putty, caulk, or other material will prevent moisture from entering stucco. Hairline cracks can be covered with unique exterior painting systems for the stucco to make it even more weather resistant.
Helps Home's Resale Value – Painting stucco will provide a better curb appeal if you put your house on the market. If you want to keep your home looking new, a fresh coat of paint will certainly enhance the aesthetic appeal of your home.
Cons Of Painting Stucco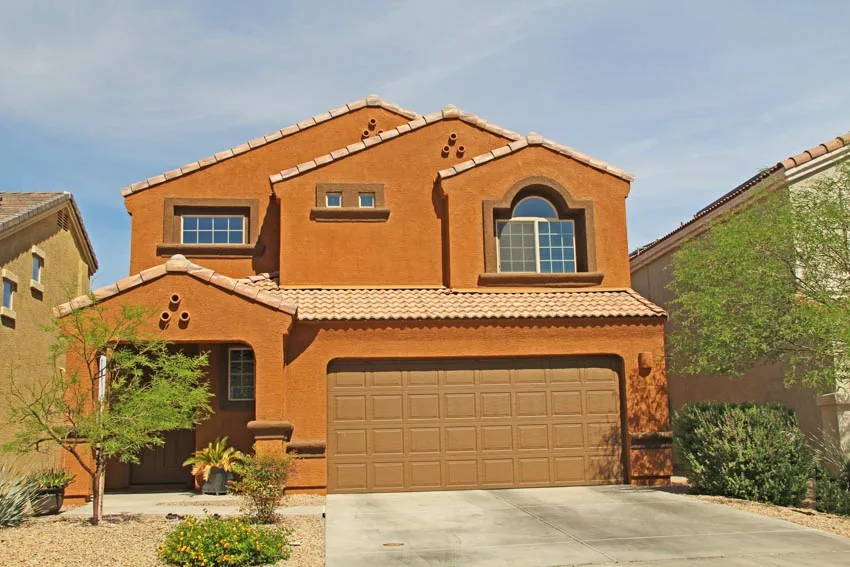 Not Recommended for Wet Environments – Stucco doesn't do very well in a wet environment because it tends to become over soaked with water and can lead to the building materials beneath getting saturated over time.
Can Increase Potential Repair Costs – While painting stucco can be a low-cost option, in the future, it can increase repair costs because a painted stucco surface must be completely stripped of the paint before applying new coatings.
Need Special Primers Before Painting – You need to sandblast the surface to strip off the paint, which can be very costly. More-so, after stripping the paint, the underlying stucco needs to be coated with special primers before additional coatings can be applied.
Waiting Time Before Paint Application – Another disadvantage is the waiting period for the stucco to be ready for painting, and it requires a minimum of 28 days for the stucco to dry before it is prepared for painting. Painting stucco permits the risk of bubbling and peeling.
Stucco House Paint Colors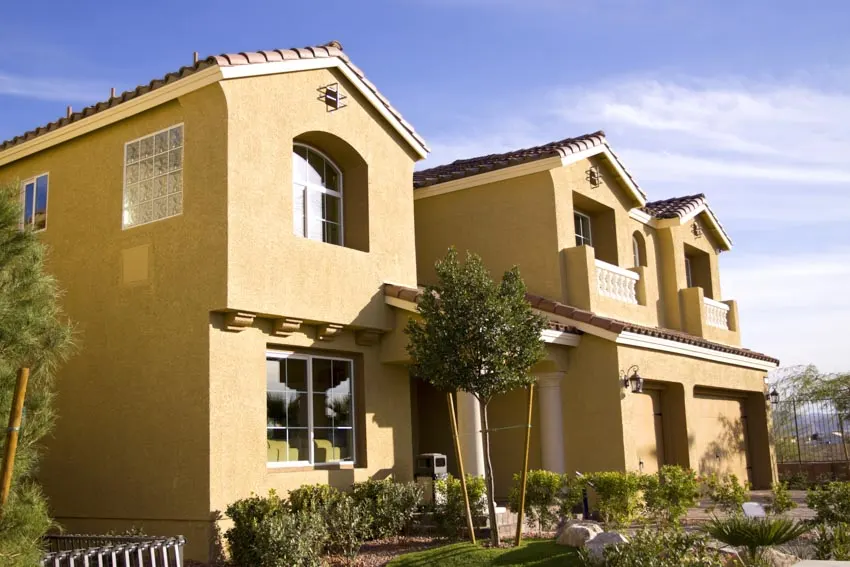 Here we share the best stucco paint colors for houses.
Best Exterior Paint Color For Stucco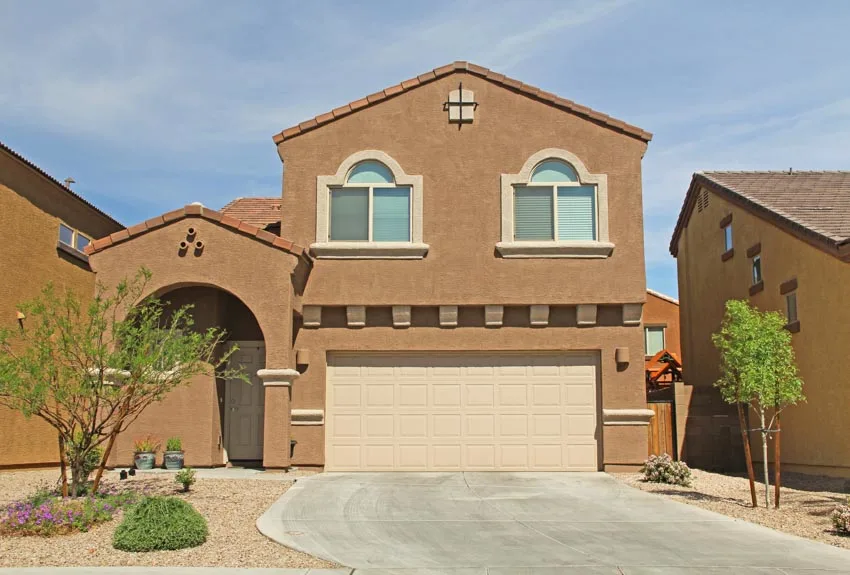 A stucco home is versatile, plus it has the advantage of being a material that is fire resistant and retains colors exceptionally well.
In choosing the best exterior paint color for stucco, we suggest that you choose colors with a high light reflective value (LRV). This is advisable since LRV paint reflects more U.V. radiation away from the paint surface and maximize the paint's fade resistance. The best exterior paint includes neutral colors, earth tones, and subtle colors.
Traditional neutral colors are pretty popular and the safest colors to choose when painting your stucco exterior. Neutral colors include grays, beiges, white, black, and tans.
Painting stucco in gray translates to a contemporary vibe that feels updated and fresh. Gray pairs well with other materials like brick or stone, a deeper shade of gray for roofing tiles, giving your stucco finish depth and dimming down the brightness.
White paint can give stucco exterior walls a cool, modern, clean, crisp white that gives the Mediterranean and coastal beach design.
A burst of color, when added to white-painted stucco walls, offers a twist of nature and a little playfulness to the style. It may be that a white stucco may mean a little extra effort in keeping the exterior wall clean.
On the other hand, black stucco requires more upkeep than lighter choices. Black paint never goes out of style as it expresses a chic, modern look and lets your home stands out. Black is always elegant, especially if you have white accents for your shutters and trim. There is a variety of color options that can match with black.
Classic tan or light tan offers a European vibe, breezy and tropical feel. Desert tan color blends well with a hot, dry, and desert area.
Rustic green is a popular stucco color that offers an earthy tone that gives a unique twist and instantly changes a home's style. It can turn a modern home into a vintage-inspired elegance.
A brighter earth tone with a more vivid shade goes well with a neutral color trim to tone down on the boldness and would have a mysterious sensation that genuinely stands out.
Using subtle colors is a beautiful way to infuse some color into the exterior stucco of your house, such as dusty pale pink would feel welcoming and homey. Light pink is an excellent choice to add a little color to the stucco without going too bold or bright.
Using charming light blue color to your exterior stucco can be both playful and cozy, especially when paired with darker blue shutters. Yellow is another subtle color popular for stucco paints, such as a toned-down golden yellow or wheat yellow.
Cost To Paint Stucco House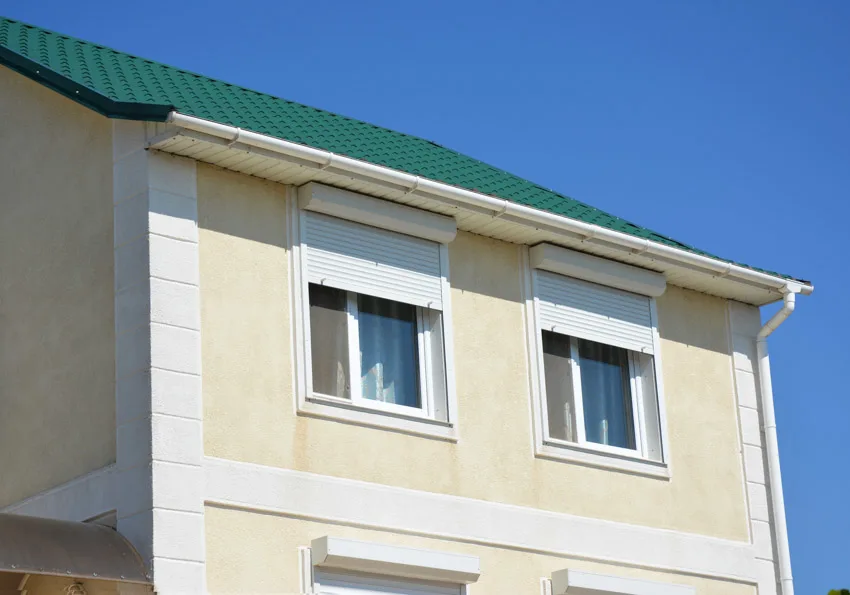 The average cost to stucco a house that's around 2,000 square foot is $4,500.00 and as high as $7,200.00 for larger houses, while smaller houses would cost as low as $3,600.00. You may need to factor in pressure washing which would cost somewhere between $1.80 and $3.60 per square foot.
An estimate of 10 to 20 gallons of acrylic paint is required to cover a 2,000 square foot house; this would cost between $300 to $1,600 for two coats of acrylic paint.
While for two coats of elastomeric paint, you will need 40 to 60 gallons and would cost between $1,200 to $3,600. Keep in mind that elastomeric paint is more expensive than acrylic paint and would require an experienced painter.
Take into consideration that some houses need pressure washing before painting can occur. Preparation requires removing loose paint, spot prime and caulk edges, gaps. It would cost between $163 and $389 per square foot and includes planning, equipment and material acquisition, area preparation and protection, setup, two coats of paint, and cleanup.
Other related materials and supplies needed include masking tape and paper, surface repair material, solvents, and cleanup supplies; the cost would be between $9 and $10 per square foot.
These estimates are for qualified professionals' essential work using mid-grade materials in good conditions. Actual costs for painting stucco will depend on job size, weather conditions, number of cracks and repairs needed, and whether the stucco is painted or bare.
How To Paint Stucco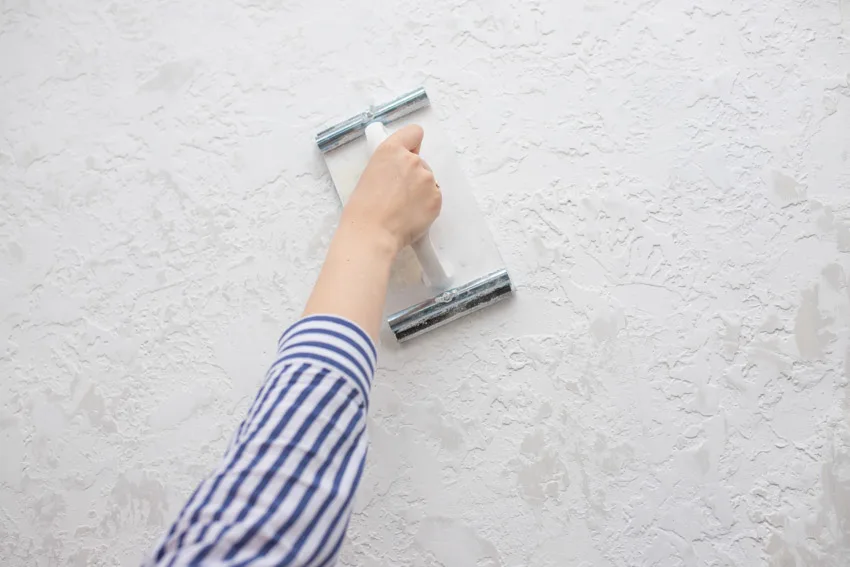 Do I need to prime stucco before painting? If your house is made of stucco, painting the stucco will refresh the look of your home. To achieve a DIY painting job that looks like it was done by a professional, follow these guidelines for painting stucco.
Step 1: Inspect the house and check the condition of the stucco. If you notice some hairline cracks, these are normal, and they will be filled and hidden once you apply paint. Other common cracks might show coming off the corners of windows and doors that run toward the ground, can be easily repaired.
The main thing that we recommend holding off painting is when you see horizontal cracks, large pieces of stucco missing, or unusual discoloration. It may be best to let a stucco contractor take a look to assess the causes because it may be a sign of more severe issues like moisture behind the stucco.
Step 2: If there are no severe issues, you may prepare the surrounding area by placing drop cloths on the floor, and tape trims—clean stucco surfaces of dirt and dust by going over with a stiff brush or push broom.
If there is evidence of grease, grime, or mildew build-up, apply an eco-friendly, mild cleaner or detergent on your walls. Deeply grooved stucco can be power washed to get the dirt out of the crevices.
Be sure to use the lowest pressure and thoroughly rinse the stucco before allowing it to dry before you begin to caulk and repair the stucco for painting.
Step 3: Preparing the stucco for painting requires fixing any small cracks with masonry caulk. Cracks that are larger than 1/16-inch-wide can be repaired with a stucco patch. Loose stucco can be removed by a putty knife and fixed with a stucco patching compound.
If you have previously painted the stucco and the paint has some chipped area, remove any loose paint by lightly sanding the edges of the chipped areas with 80- or 100-grit sandpaper.
Do watch out for evidence of water leaking from a gutter, and this may be seen as discoloration or deteriorated stucco. You may need to check if water has gotten behind the stucco and then repair the leak from the gutter before you start painting.
Step 4: The stucco should be primed with a high-quality acrylic primer. Best to use an acrylic latex block filler – we recommend Benjamin Moore block fillers. Use a synthetic brush to cut in and a large, napped roller to roll the primer.
Since stucco is absorbent, an acrylic latex block filler will soak into all the nooks and crannies of the stucco and allow maximum coverage out of your topcoat. It is best to apply two thinner coats than one thick coat and make sure to follow the manufacturer's directions for application and on drying times between coats.
Step 5: Once the primer has dried, you are now ready to apply the paint. Keep in mind that the texture of the stucco has a much greater overall surface area than a flat wall and may need to double on what the gallon of paint says it gives you coverage.
You need to first cut in around the windows, doors, and other trim with a synthetic brush when applying paint. Next is to use a large, thick-napped roller for rolling paint on the walls.
It is best to start at the top and work in small sections. You may roll on one to two coats, but a single topcoat will be enough since you primed the walls.
You may also use an airless sprayer as an alternative if even a thick nap roller could not reach the deepest parts of stucco, and if the stucco has a prominent texture, you can go over the paint with a roller after spraying.
This technique is known as back-rolling, which makes an enormous difference since it gives a more uniform appearance, better blends the paint, and minimizes the appearance of hard lines. And so, there you have five simple steps on how you can paint your stucco home.
What Type Of Exterior Paint Finish Is Best For Stucco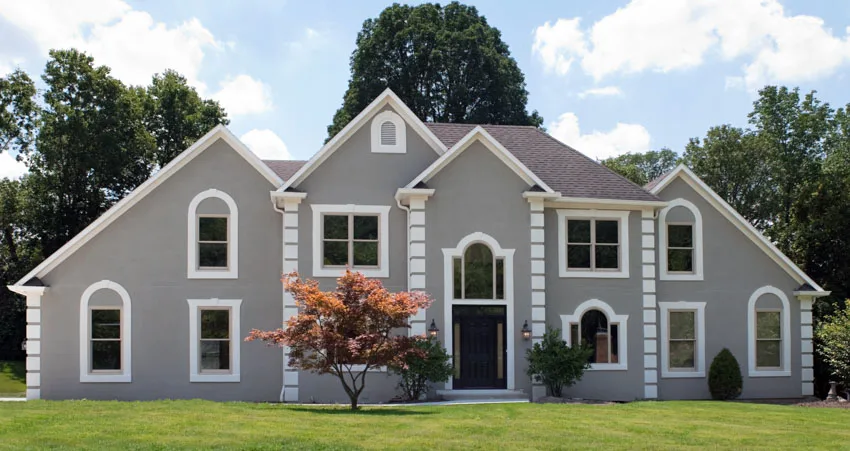 It is best to use a flat sheen finish, apply at least two coats of paint for stucco, and apply an airless sprayer finishing off with a medium nap roller. Deciding on the best exterior paint for stucco is choosing to use either acrylic latex or elastomeric paint.
A 100% acrylic paint is the best exterior paint for stucco since it is durable and flexible. And because stucco becomes a hard but porous surface, acrylic latex paint can allow the stucco surface to breathe better because of its penetrability.
This characteristic of acrylic paint allows moisture to escape freely and evaporate. Not only are acrylic paints the most affordable option when painting exterior stucco, but it is also easy to apply, clean up, and recoat.
On the other hand, painting your exterior stucco with elastomeric paint can be a viable choice for your home as well. Elastomeric paint is a special rubberized paint thicker and more water-resistant than acrylic exterior paint.
Applying elastomeric paint to stucco walls has the advantage of bonding the hairline cracks in stucco and removing them altogether.
Elastomeric paint prevents moisture build-up and is best recommended for homes in areas of high humidity or frequent rain. Another benefit of using elastomeric paint for stucco exterior walls will last 3-7 years longer than acrylic.
Best Paint For Stucco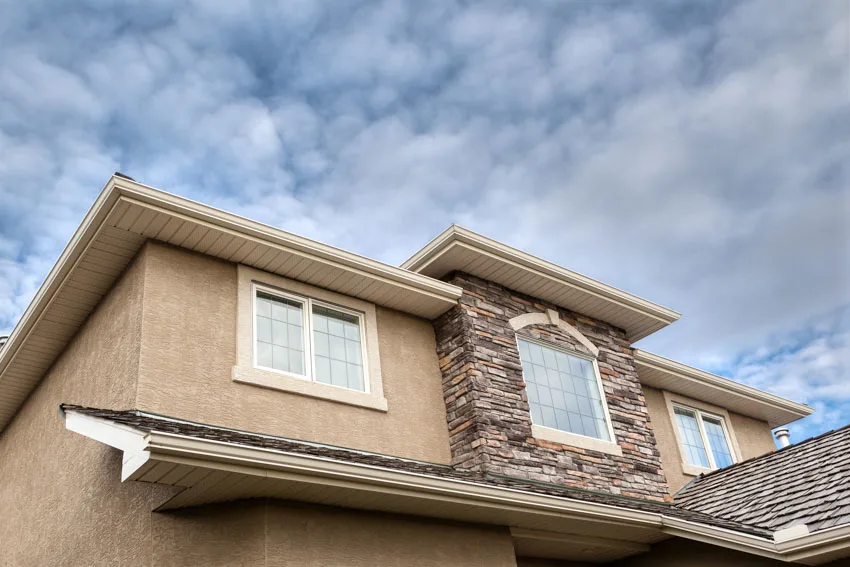 For stucco homes in the U.S. Southwest, such as in Los Angeles, San Diego, Las Vegas, Phoenix, and Tucson, Dunn-Edwards Improved Performance Evershield® is the best seller of paint because it specializes in manufacturing paints for sunshine-drenched homes.
Popular exterior color options that are available from Dunn-Edwards in 2020 include Stonish Beige (LRV 44), Trail Dust (LRV 40), Wooded Acre (LRV 33), Wooden Peg (LRV 31), and Cottage White (LRV 30).
A home made of mostly stone can be paired excellently with stucco for a cohesive façade such as B.M. Briarwood or SW Mega Greige. It will give your home the warmth of stone with the earthly shade of color.
One of the best exterior colors for homeowners who prefer white to beige is S.W. Snowbound or S.W. Original White. However, if white is not your style, S.W. Neutral Ground offers a light neutral shade for an indistinct color preference.
Another classic paint color is blue if you want a more vivid effect on your stucco, such as the fresh and clean feel of B.M. Nimbus Gray. This paint color can help highlight other architectural details of your home when painted white.
Classic color combinations for a stucco house that can stand out and offer a historic feel for a French Provincial style – B.M. Flawless is a classic cream yellow appropriate for a Classic Colonial architectural design.
Speaking of history, gray is timeless and has a deep history of being a popular choice for exterior stucco wall finishing color. BM Coventry Gray makes a striking statement against crisp, white color trim.
How Often Should Stucco Be Painted?
Stucco is both durable and great-looking exterior finish and ideally should be repainted every five to ten years when done right and maintained well.

Many painting stucco pros and cons contribute to how long the paint job should last, including the quality of paint used and how the color accounts for sunlight exposure, the preparation process of painting and repair of stucco, and the weather conditions.
However, you may also need to evaluate the stucco paint job every five years to keep it fresh and prevent hairline cracks from spreading and growing bigger. The stucco lifespan of 5 to 10 years is about the same as exterior siding. Read more about house siding vs stucco here.