Here we share what a tatami mat bed is, and share its design, pros and cons, tatami mat sizes, cost, how long it lasts and if tatami mats are good for sleeping.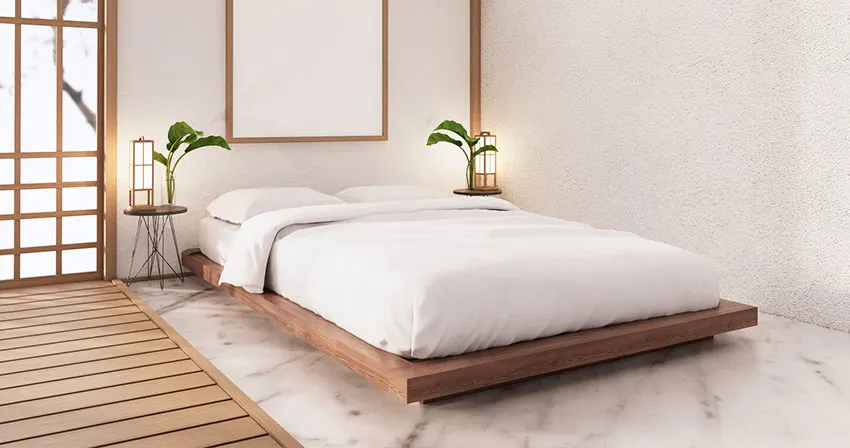 Have you ever heard of a tatami bed, or slept on one? The tatami bed has been part of the Japanese tradition and many Japanese households still feature it. Even those who have adopted a western lifestyle still appreciate a tatami bed in their home.
What Is A Tatami Mat Bed?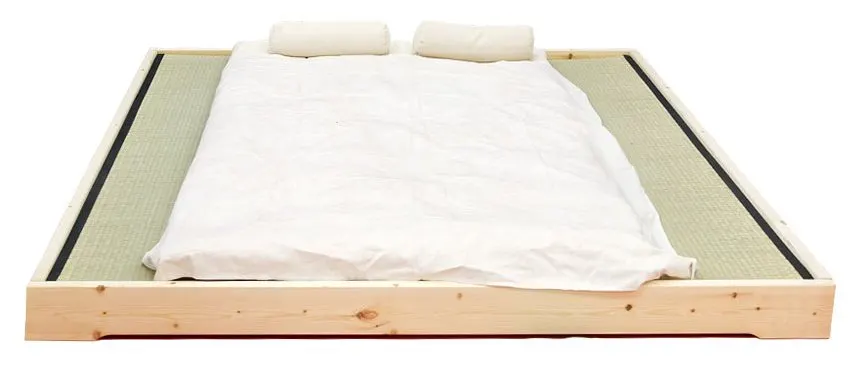 A tatami bed is quite different from a western bed in terms of design and style. The bed is low and it has inserts that allow a tatami mat to be inserted. Its height seldom reaches a person's waist.
A tatami bed has a base made of several layers of hay or rush which is compressed. A cloth covers the edges of the mat to make it look neat. Some place a mattress between the tatami bed platform and the mat.
Instead of bed slats, others use plywood for the mat to be placed on. The surface is hard and durable. The hardness is beneficial because it helps a person develop proper posture. The scent of rush and hay can help people with insomnia enjoy a good sleep.
If you want a modern look, make a sofa bed out of several mats stacked together. A bed frame may not be used. Once you have the desired height, which is just a little above the floor, spread a mattress over the top. You now have a modern sofa bed.
Tatami Mat Bed Pros and Cons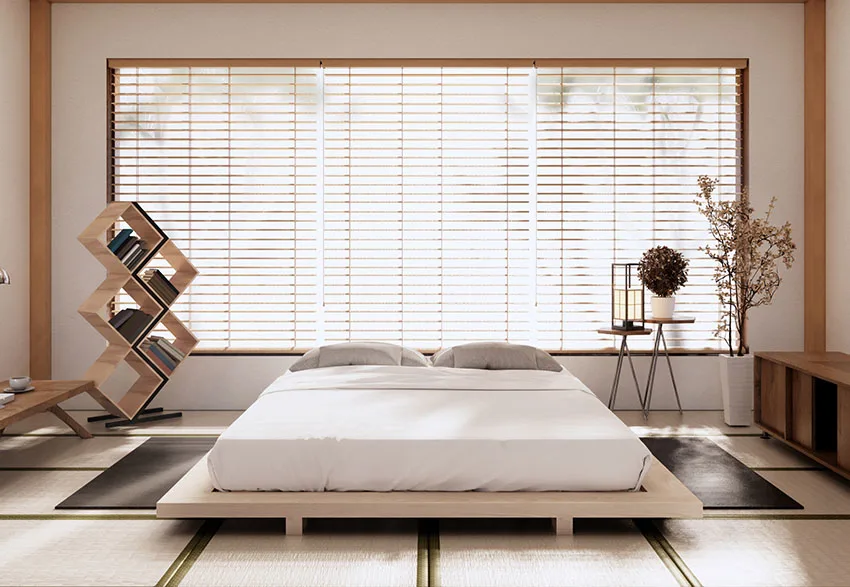 Tatami beds have been used in Japan since ancient times. In the past, only members of the royal family used them. Today, everyone likes tatami beds because of the following benefits:
Pros of Tatami Mat Beds

Excellent insulator
Rush used to make the base of tatami beds has a sponge-like feature. It is a great absorber of heat during summer and cold during winter. It is capable of regulating temperature in a room.
If you are using a heater, the tatami bed absorbs heat fast, increasing the room's temperature fast. As a result, it gets warmer quickly, reducing electricity consumption.
Controls humidity
Beds made of rush are known to keep moisture in check. During the rainy season, it absorbs moisture and keeps the humidity in the room low. During summer, it prevents humidity from dropping by releasing moisture.
As a result, you feel comfortable regardless of the temperature. You will not experience feeling hot and sticky, which can disturb your sleep.
Blocks sound
If you live in a small house with only walls or flooring separating you you're your neighbor, noise can easily be heard on the other side or floor.
Covering the bed with a tatami mat will prevent footsteps and the cry of babies from resounding. Your neighbors will not be disturbed by the noise.
Reduces backache
Many westerners now prefer to sleep on a tatami bed because of its many health benefits. A mattress does not provide strong support to the body.
You tend to sink on the soft bed and the joints on your back do not straighten but curve. The joints are locked and you feel pain when you stretch.
The firm surface of the tatami bed provides support to your back. When you sleep on your back, the joints are in a straight line. The firm surface supports the muscles and makes them relax.
Since the bed is close to the floor, you will not feel as warm as when you sleep on a high bed. The heat rises, leaving the low areas cooler as you sleep.
Improves posture
Aside from getting rid of aches in your body, sleeping on a Japanese bed helps develop good posture. Your spine will not have knots and you can always stand or sit straight.
Has a relaxing scent
Tatami beds release a pleasant scent. The hay and rush have a relaxing smell. Even people with problems falling asleep will find it easy to have a deep and restful sleep.
Cons of Tatami Mat Beds

Can be uncomfortable for people who do not sleep on their back
Lying on your side or stomach on a Japanese bed can be uncomfortable. The hard surface can cause pressure on your side, shoulder, or stomach. It might not be possible to have a restful sleep.
Not good for people with mobility issues
Getting up from the bed can be difficult for people who have problems moving around. They need to be on an elevated surface to get up easily. Tatami beds are too low.
Needs frequent cleaning
Tatami beds are susceptible to dirt, dust, and other contaminants because they are too close to the floor. The area under it would need frequent cleaning. For stacked mats made into the bed, it is necessary to flip the mats to remove dust and dirt.
Tatami Sleeping Mat Sizes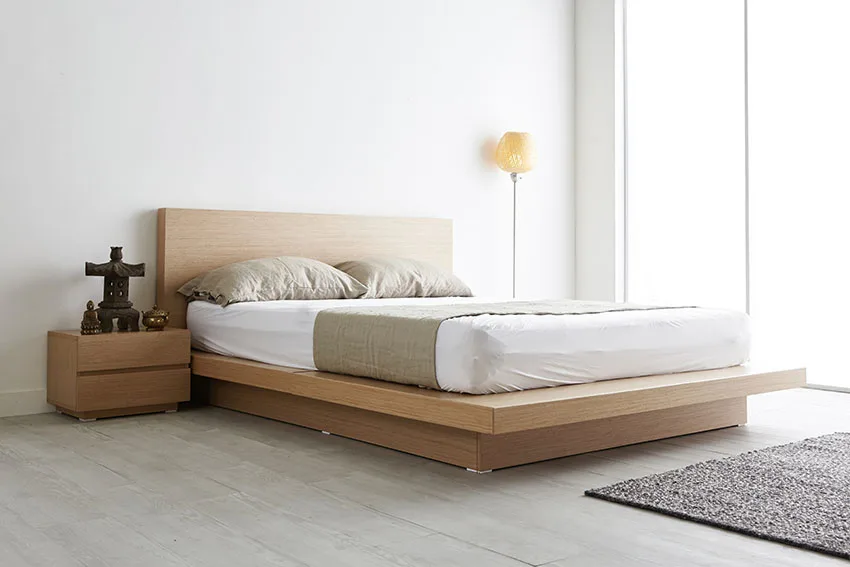 A traditional Japanese room is normally covered with mats made of hay and rush. The standard size of a tatami sleeping mat is 3 feet by 6 feet. The thickness ranges from 55mm to 60 mm.
Because it is made of rush and hay and has the softness of a cushion, the mat is usually used to cover wooden floors. People can sit on them during meals as they seat on the floor cross-legged.
While 3 feet x 6 feet is standard, there are other sizes to choose from:
Twin size – 38×79 inches
Queen – 62×79 inches
King – 71×79 inches
Semi-double – 47×79 inches
Since a room size is determined by the number of mats it can accommodate, the mats come in various sizes. See more bed sizes on this page.
Tatami Mat Bed Cost
A handmade tatami mat bed is not easy to make. It can take a lot of effort and time. Many mat bed mats are now sold online. Prices for tatami mat beds vary depending on the sizes and quality.
Since the mat beds are made of several pieces placed atop each other, you might need to buy several mats. You can check the online stores for these items. If you are lucky, you might enjoy big discounts.
Yet, original prices can range from a few hundred to several thousand dollars, depending on quality. We I searched I found a basic tatami mat listed for $159, and a higher quality Japanese mat and platform bed for $1920.
How Long Can A Tatami Mat Last
Tatami mats made of high-quality hay and rush are quite durable. If you give them proper care, they can last for 50 years.
Keep them clean and store them in dry and cool places. This can help extend their lifespan. If you use the mat for serving meals, always get rid of crumbs and dry wet areas caused by spilled drinks.
Spray the surface with anti-bug solutions to prevent bug contamination. To keep it fresh, air it during spring or summer but make sure the day is not humid. Humidity can make it moist.
It is important to remove shoes or slippers before getting inside a tatami room to prevent germs and other dirt from contaminating the place.
Are Tatami Mat Beds Better Than Beds
Some people think that tatami beds are better than regular beds. First, they are budget-friendly. You can use the mats to make a bed similar to a sofa bed by piling up several pieces. You do not have to buy beds with frames and flooring.
Second, this type of bed is made of natural and sustainable materials. With proper care, it can last half a century.
Last, a tatami mat bed is made of rush, which emits a scent that improves sleep. People with insomnia will have a deep and restful slumber.
Are Regular Tatami Mats Good For Sleeping
People with problems falling asleep or those who suffer chronic pain in the back will find tatami mats a source of relief. Aside from developing good posture, you can get rid of back aches.
People who prefer a minimalist lifestyle will find tatami mats a real space saver. They can be used as beds, seats, and dining tables, allowing you to get rid of this bulky furniture.
You will find plenty of these kinds of mats in online stores. Some mats are quite expensive, especially if they are handmade and well-crafted. Those that are manufactured cost less. Depending on quality and workmanship, a tatami mat can cost a few dollars to more than a hundred.
With a tatami mat, you will benefit from the natural materials used to make it. The aroma is known to lull you to sleep. Insomniacs will easily fall asleep.
Can You Put A Tatami Mat On A Bed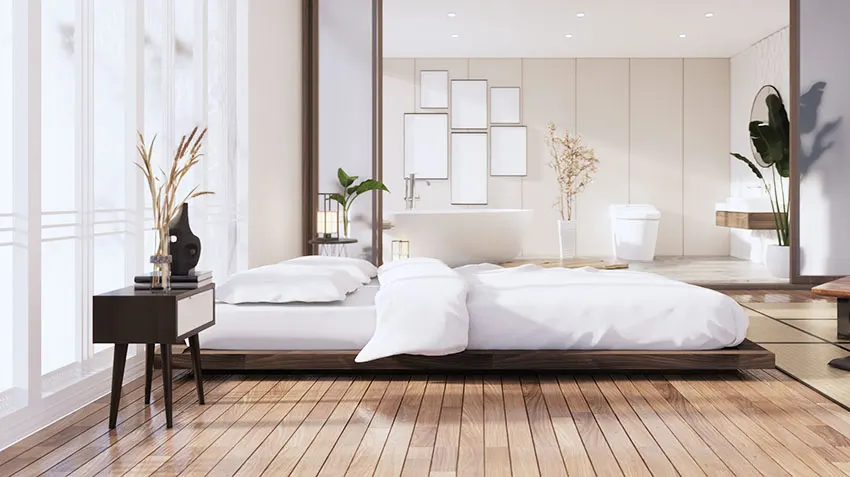 Normally, tatami mats are made to cover the floor. Yet, some beds are specially made for Japanese mats. They have insets where one can insert the mats.
These types of beds are lower to the floor than regular ones. Some are very close to the floor. They can be made of plywood, bamboo slats, or other materials.
One downside is that it is difficult to thoroughly clean the space under it. You have to lift the bed to sweep the space below it.
One can place a mattress over the mat's surface or sleep directly on the mat. A Japanese mat on a bed brings some benefits. You will develop good posture, and enjoy a night of deep sleep, and a comfortable bed.
If you want to experience Japanese-style sleeping, use tatami mats and a bed. The mats are affordable and comfortable. You can visit an online store or a Japanese shop to buy them for your home.
See more related content in our article about tatami floor mat here.