Here we share our white kitchen cabinets with dark floors designs including different combinations, flooring options, best colors, countertops, and granite shades.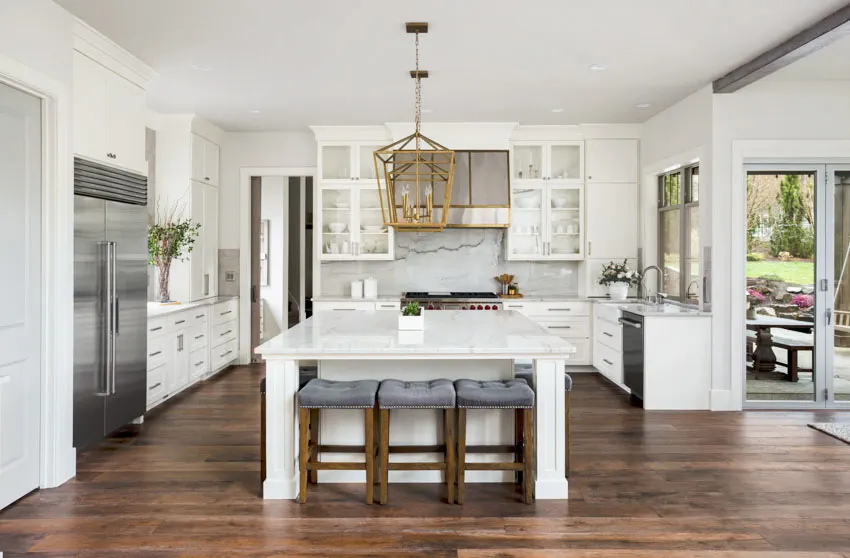 When you're planning out the design of your kitchen, you have to consider not only how you want each individual part of your kitchen to look but how they'll all look in one cohesive kitchen design. This means considering things like the color of your floors when you choose your cabinets.
Color schemes play an important role in enhancing the look of any area, particularly kitchens. If you don't want to be overwhelmed by the countless options – white is always a good choice, as it is a neutral hue that never fails to give your kitchen a trendy and modern appearance.
White is popular because of its simplicity. Its properties make it a good foundation color for large sections, such as kitchen cabinets, that are time-consuming or costly to update or replace. Due to its simplicity, it can also prevail over previous short-lived trends, so you don't have to worry about being out of date.
In this guide, we'll look at everything you need to know about pairing your white kitchen cabinets with a dark floor.
Do Dark Wood Floors Go With White Cabinets?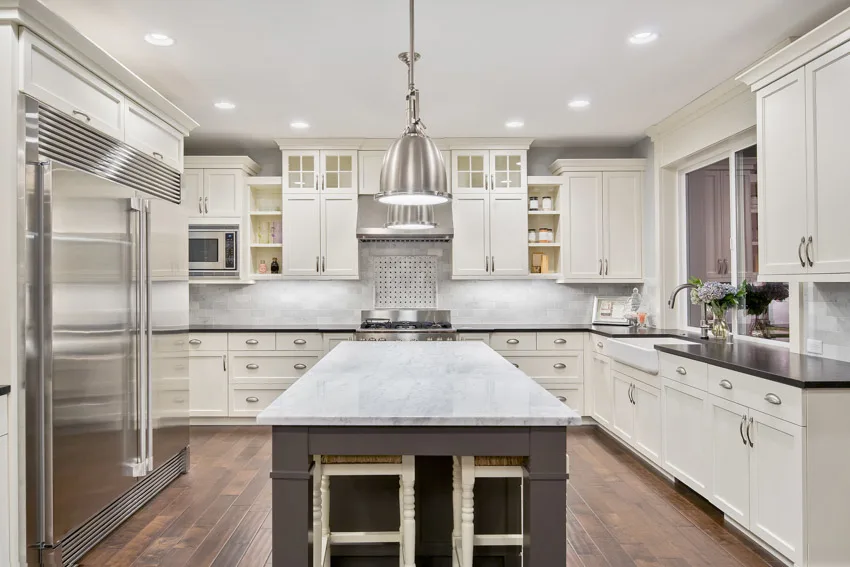 Choosing a kitchen with wood flooring and white cabinets for any reason is a timeless appearance that will never go out of style! It is like blue jeans. You can wear them with just about everything.
Now you have decided on a kitchen with white cabinetry and wood flooring (of any color). Perhaps you previously had tile and, like the warmer, the somewhat softer feel of wood flooring.
Alternatively, maybe you like hardwood floors throughout the rest of your house and want to extend them into the kitchen for consistency.
White cabinetry complements every kitchen design, from vintage-inspired to rural, classic to contemporary. Cabinets in white may be used with a white backsplash, white countertops, white walls, and even a white ceiling to create a crisp, polished, clean, and spacious aesthetic. It is simple to accessorize, update, and add to because of its adaptability.
When it comes to matching your cabinets with the right flooring, your first idea might be contrast. At the end of the day, though, do dark wood floors actually go with your white?
The good news is that, yes, they can! You can definitely match the right dark wood floors to your white cupboards to create a bit of contrast in the room.
In fact, this is a particularly good choice if you're interested in modern decor as this bold use of dark tones against stark white favors this interior design style. On the contrary, a light-colored flooring with white storage cabinets won't offer this sort of gravity or modernism and offer an airier appearance.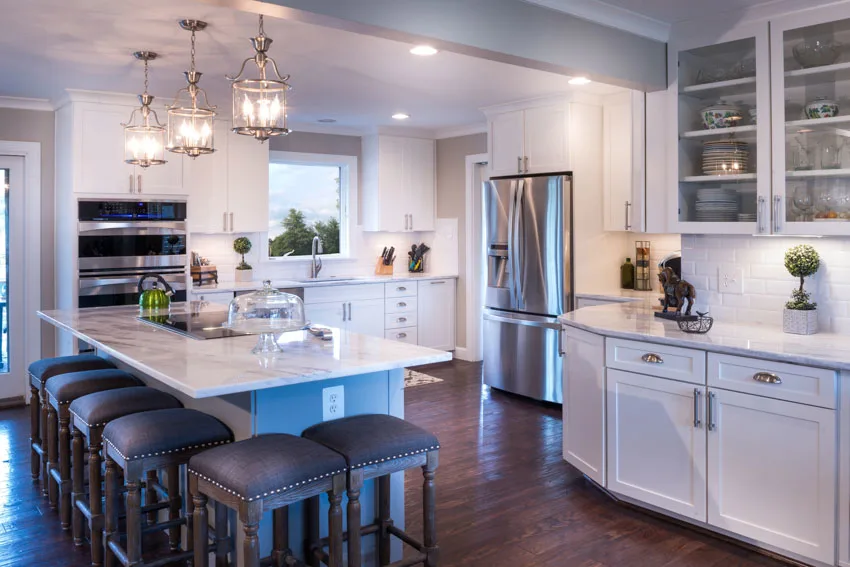 Of course, you might be worried that it might look odd if the floor is dark and everything else is light. However, you can tie it all together with the right accents. If you feel like your dark flooring and white cabinets are competing rather than cohesive, consider adding matching dark accents closer to eye level in your kitchen.
For instance, dark types of kitchen backsplash are a particularly useful tool in tying these two tones together. Alternatively, using dark appliances or cabinet hardware can be great additions as well.
The most frequent material for dark flooring is wood, specifically a dark-stained hardwood floor. When in doubt, a cabinets that are white with dark wood flooring is a tried-and-true combination. White has a sharp, clean aspect, while the wood has a warm, organic feel.
Dark Floor Options That Go With White Cabinets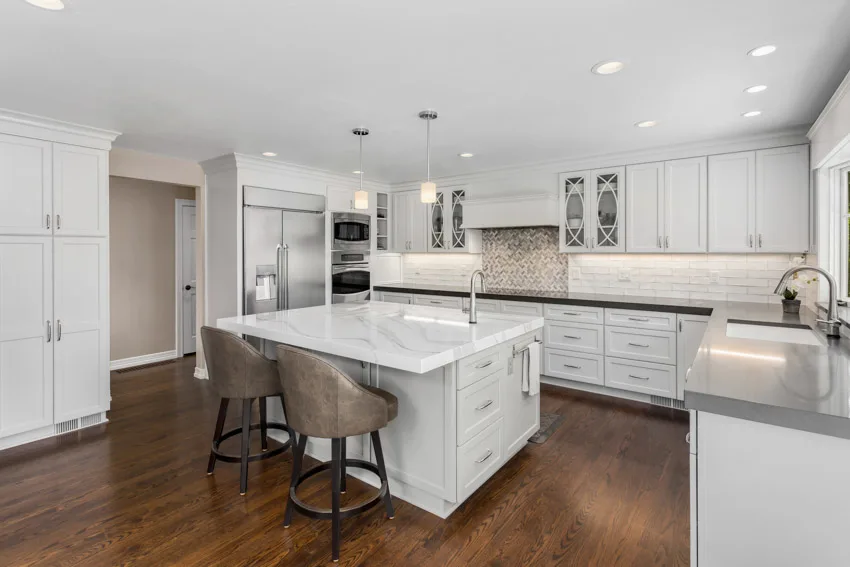 Now that we've discussed that you can pair white cabinets with dark floors for a more modern look, it's time to get into the specifics. Which dark flooring options should you include in your choices to match your white design?
Well, the first bit of good news is that using white for your cabinets is rather versatile. It's a tone that's fairly easy to work with because it isn't much it's going to clash with. Another important note to consider here is that since we are talking about a kitchen, a durable flooring option is the best choice.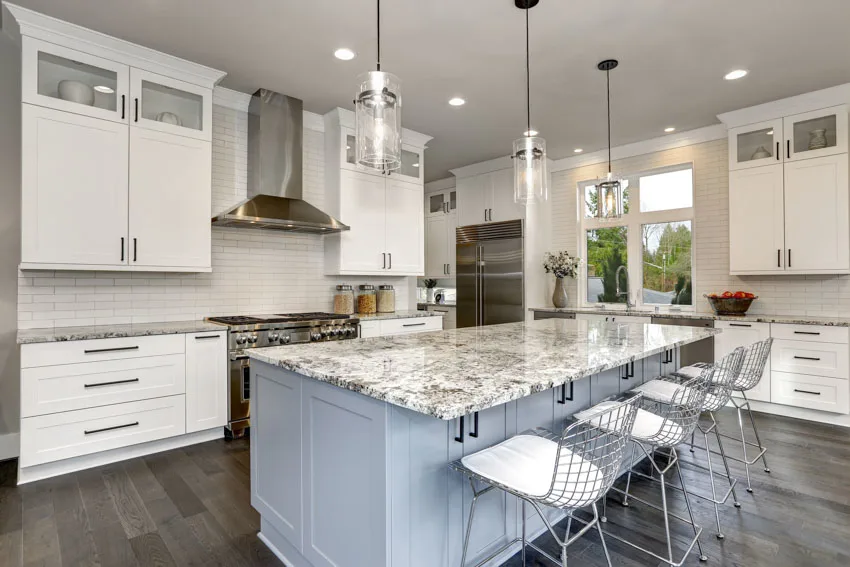 This leaves two primary options: dark hardwood flooring or dark tile. Both offer the durability and easy-to-clean factor that you'd want in a kitchen. However, out of the two, wood requires much more attention to cleaning up spills to avoid costly problems and repair.

As for tiles, you can opt for more solid colors here like solid black or a dark shade of gray with your white cabinets. For a more patterned look, hardwood flooring offers the benefit of having unique types of wood grain patterns that can add a bit more visual dimension to your floors.
There are quite a few different kinds of dark hardwoods, including:
• Cherry
• Mahogany
• Oak
• Walnut
• Hickory
• Some types of maple
• Some types of birch
What Color Floor Goes Best With White Kitchen Cabinets?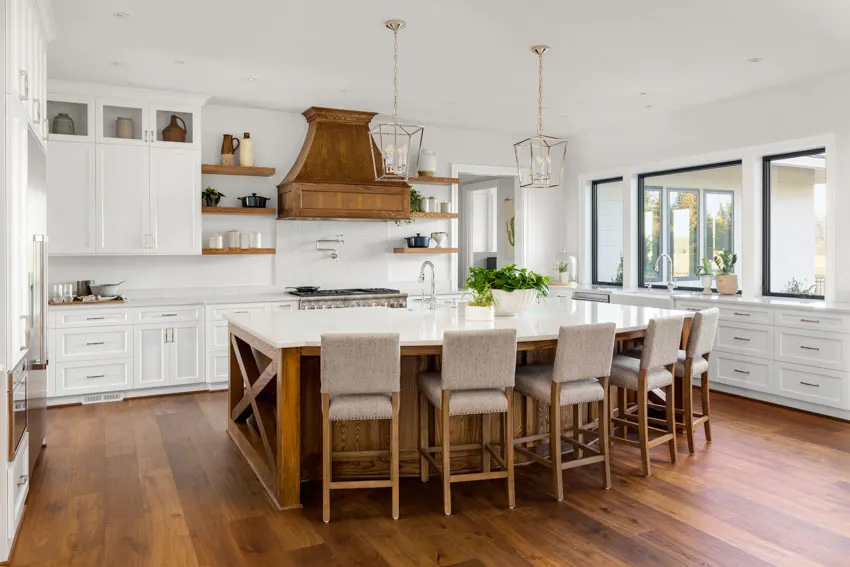 There are a lot of options when you want to make sure that your white kitchen cabinets look as great as possible. However, even narrowing it down to a type of flooring or a style can still leave a lot of room for possibility and decision.
To solve this, let's get even more specific than we have been so far. Instead of focusing on a general group like saying "dark flooring," let's take a moment to look at what the best color for your floor might specifically be to work best with your white kitchen cabinets?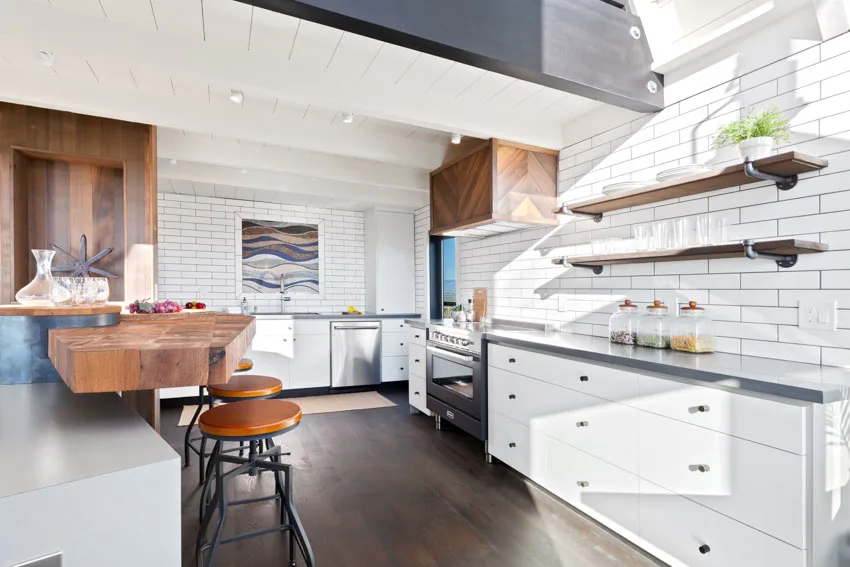 If you're opting for dark flooring, you won't want to go halfway with a light or medium brown. Instead, you'll want to go for something with a very dark tone so that it contrasts against your cabinets well.
If you're opting for hardwood flooring as we discussed earlier, it's a good idea to stick to espresso tones or even darker than that.
While you have more color options in flooring choices like tile, you'll still want to stay in this range, even daring to opt as far as true black.
Regardless of the material you pick, these alternatives provide you the freedom to choose a particular color that complements the design of your kitchen and your home decor:
Dark floors: With white cabinets, dark floors, from espresso to genuine black, create a strong statement. Dark floors go well with white cupboards in contemporary settings, particularly if your kitchen has a backsplash.
Medium floors: If dark hues are too much for your taste, try a few shades lighter with medium colors. Contemporary beige wood tones are natural and adaptable, while a little darker gray tint is modern. Avoid using too orange of a color since it will clash with your cabinets.
Light floors: If you want to keep a white kitchen feeling fresh, light hardwood is ideal. Pine or golden oak alternatives will offer just enough contrast to make your kitchen stand out without dominating the area, as long as they are not too yellow.
White floors: White flooring is less prevalent than the other aforementioned alternatives. White hardwood or tile might work with a white kitchen if you desire a rustic style and feel.
White floors show stains and damage more quickly; therefore, it is perfect for houses without pets or children. Use a matte white floor and gray or brown neutrals in other kitchen areas to balance things out.
What Color Countertops Go With White Cabinets And Dark Wood Floors?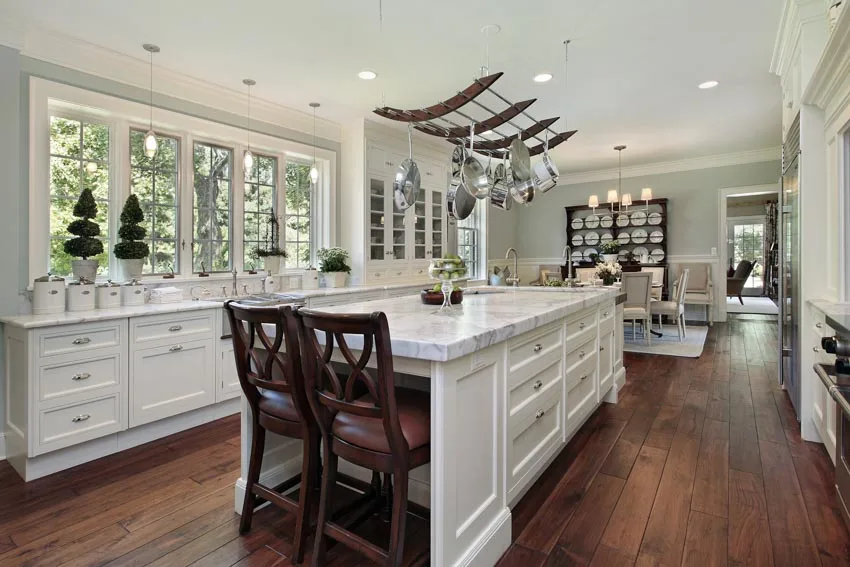 Once you have your floor and cabinets picked out in your kitchen, you aren't quite done yet. There's one more main segment of a kitchen renovation to decide on. Which among the many types of kitchen countertops are you going to use to tie your dark floors and white cabinets together?
You aren't really going to want your countertops to match your cabinets since it could really divide the tones in your kitchen from the floor and everything above it.
On the other hand, you have a little bit of room for creativity when it comes to how dark you should go with your countertops. On one side of the issue, a tone that matches your flooring or goes even darker can really help drive home a sense of contrast.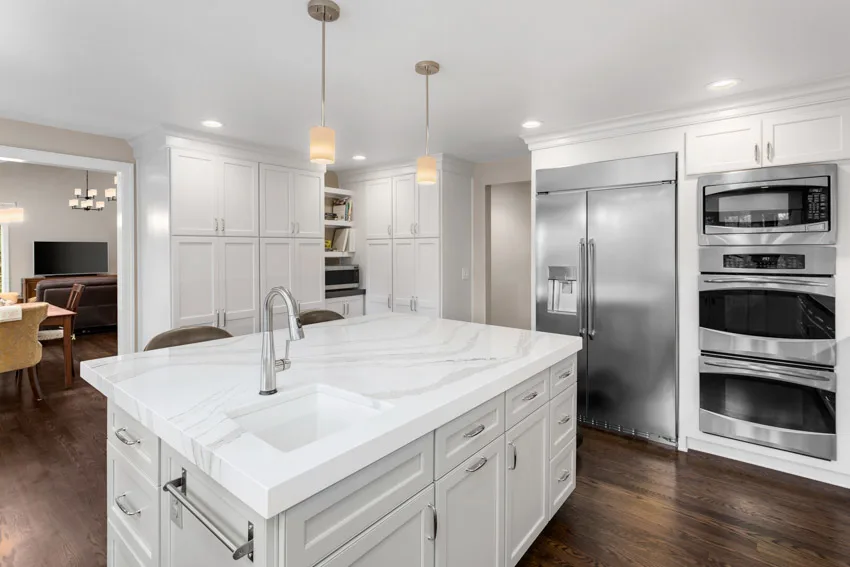 However, if you want something contemporary that isn't quite so rigidly structured, it's best to go for a countertop that isn't quite as dark as the floor but darker than the cabinets all the same.
White kitchen cabinets provide for more excellent color contrast by allowing for the inclusion of splashes of color. Using a standout flooring material is one of the most frequent methods.
If you are using ceramic tiles, try laying them out in an intriguing pattern, or go for a wood floorboard with a distinctive grain.
Hardwood is one of the most durable forms of flooring for your kitchen. It adds immediate traditional elegance, warmth, and sophisticated flair to kitchens, and it never goes out of style.
Dark hardwood flooring can make a big design statement, and it will hold up well over time — especially if you have kids or pets. Natural hardwood floors combined with white kitchen cabinets bring out the original beauty of a contemporary kitchen.
You may want to try using kitchen cabinet design software to trying paring your color cabinets with different shades of flooring and countertops to see what appeals to you. Some more advanced software allow you to use the exact types of materials you want to use to see if they work for your design.
Off White Kitchen Cabinets with Dark Floors
Off-white is a versatile color that you may use to defy trends and create a unique kitchen. They still read "white," but they are a little darker, bordering on taupe and gray.
Off-white cabinets give a layer of mystery and would look great in a contemporary, farmhouse, or traditional kitchen. Off-white goes nicely with various hues, including maroon, lavender, blue, gold, and gray.
These types of kitchen cabinets are an excellent option for a white hue to dominate your kitchen, but you don't want it to be too dazzling.
Combine off-white cabinetry with black flooring for a striking contrast. The black floor gives the room a grounded feel, allowing the cabinets to shine. It also gives the kitchen a more sophisticated or formal appearance than it could otherwise have.
Another option is pairing a white or off color with a gray island and lighter color marble or quartz countertops.
White Kitchen Cabinets with Dark Tile Floors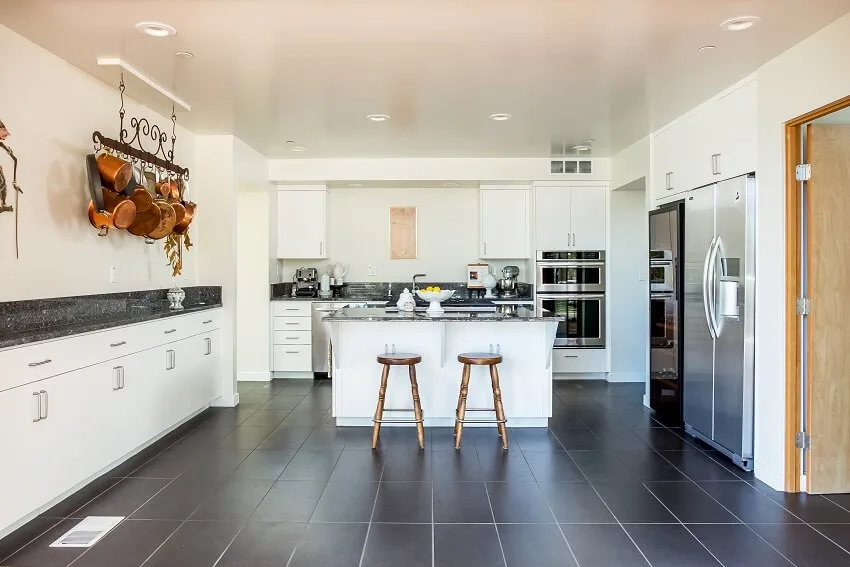 For kitchens, tile flooring is a logical option. Tile is tough, long-lasting, water-resistant, and stain-resistant. Tile can endure a lot of wear and tear and water and spills, and it does not collect smells or germs. It can withstand dogs and children and blends well with any décor style.
Tiles are in a variety of designs. Plus, the gorgeous and wide variety of forms, sizes, and colors available will inspire your kitchen flooring ideas.
The use of black tile in the kitchen is a style that has made a significant comeback. Dark tiles will contrast nicely with your white kitchen and the color of your walls.Read more about paint colors with off-white kitchen cabinets here.
If you paint your kitchen walls or furnishings in pastel or white colors, black tiles will draw attention to them even more. If you are willing to clean every day, black tiles are the way to go. They will look great in any setting.
A unique method to put black tiles on the wall is to have a wall full of white cupboards on the other side. A black and white kitchen is striking on its own, and nothing is more striking than one black and one white wall.
If you are worried about the contrast being too harsh for your area, balance it with black and white pieces and wood tones to give it a natural feel.
What Color Granite Go With White Cabinets And Dark Wood Floors?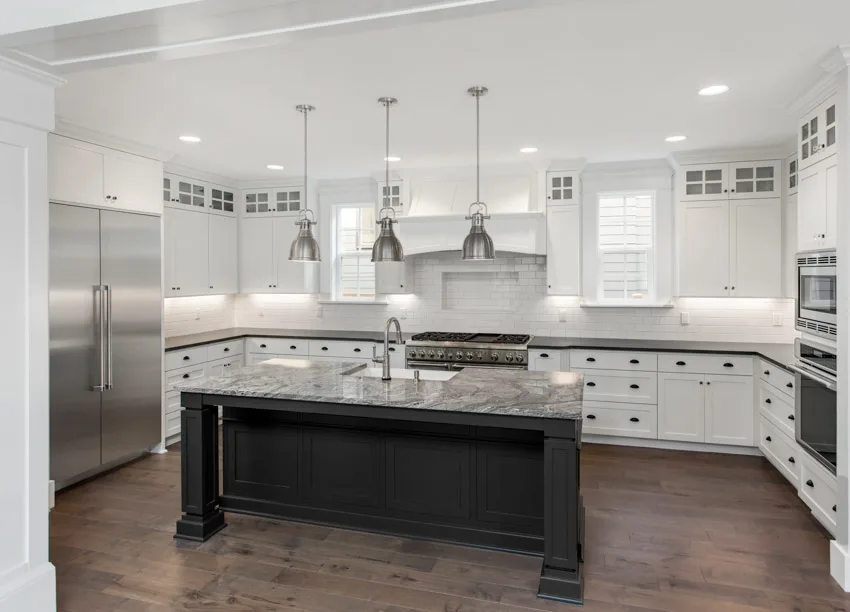 Granite countertops are a great choice for white cabinets paired with dark wood flooring because it adds some variety to your kitchen.
This is largely thanks to the fact that granite isn't a solid color but rather includes darker flecks called grains that can help tie together the darker and lighter tones that you're using on the floor and cabinets, respectively. Read more about pairing granite countertops with white kitchen cabinets on this page.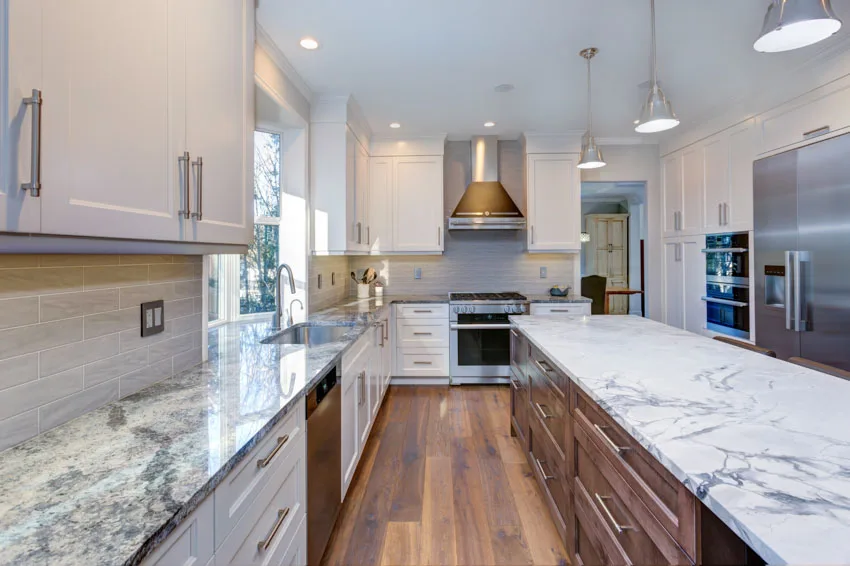 However, granite is available in a lot of different colors, including more neutral tones like gray or even more vibrant colors like blue or green. Which one matches this purpose?
To strike a balance, you can opt for a gray or neutral granite tone that's lighter than your flooring. Alternatively, matching black granite countertops to the floor or even adding a splash of color with gold, you can create a very striking contemporary kitchen design.
Takeaway
Whatever the reason or consideration, a kitchen with white cabinets and dark wood flooring is a timeless appearance that will never go out of style.
Generating contrast is always much more effective when contrasted on to a white canvas. The color scheme is simple to comprehend. Installing dark floors in a white kitchen is the most excellent way to create contrast. It allows you to employ more intricate decorations without overcrowding your kitchen.
Assume it is a fashion trend. Blue pants and a white top combine like white cabinetry and dark flooring. They are timeless, and you can wear them with just about everything.
See more related content in our article about pairing white kitchen cabinets with dark countertops on this page.