See what furniture goes with dark wood floors including the best color ideas and comparison tips when choosing between lighter or darker furniture for your floor.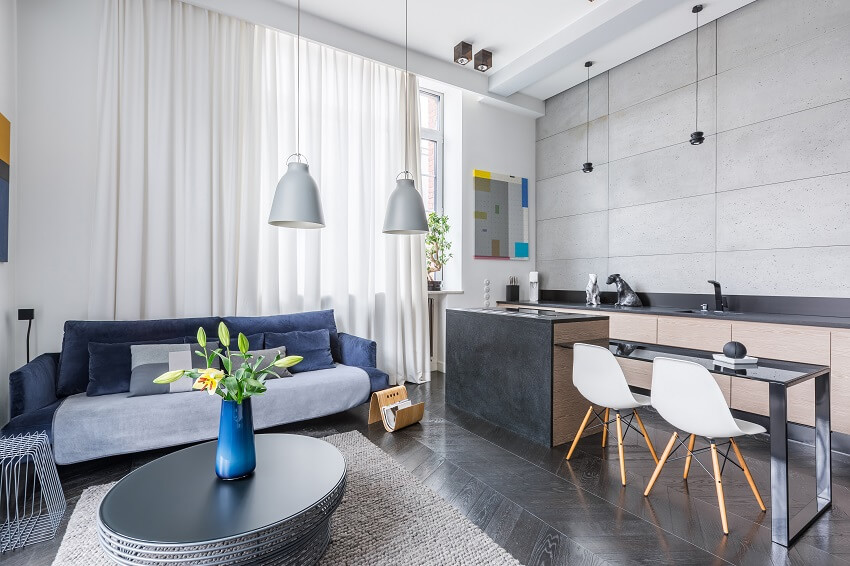 In terms of selecting furniture for your house, there are several factors to take into account. One of the most crucial considerations is color, as well as how it will work with your floors. If you have dark wood flooring or are thinking about getting them installed, you'll want to know what colors of furniture go ideally with them.
Dark wood flooring can add richness and polish to a room while still being quite elegant and classy. When such flooring is combined with the incorrect types of furniture and accents, though, the area may feel gloomy and oppressive.
Continue reading this post if you've been pondering what to do with your dark floors to bring out their greatest qualities.
Best Color Furniture For Dark Wood Floors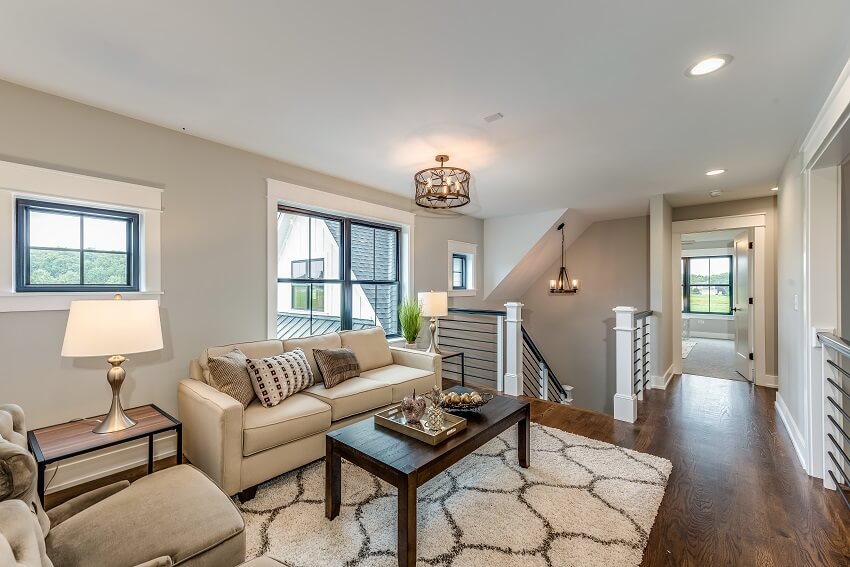 Dark wood floors go well with practically any color furniture, including various wood shades. Nonetheless, there are a few things to consider, such as the color of the walls and the mood you want to create in the room.
Darker hues may generate a warmer feel, whereas lighter and livelier colors may aid to lighten a gloomy environment.
When it comes to wood furniture, you have the option of matching the tone of your dark wood flooring or going for a lighter tone to deliver contrast. If you want, you may even combine multiple wood tones.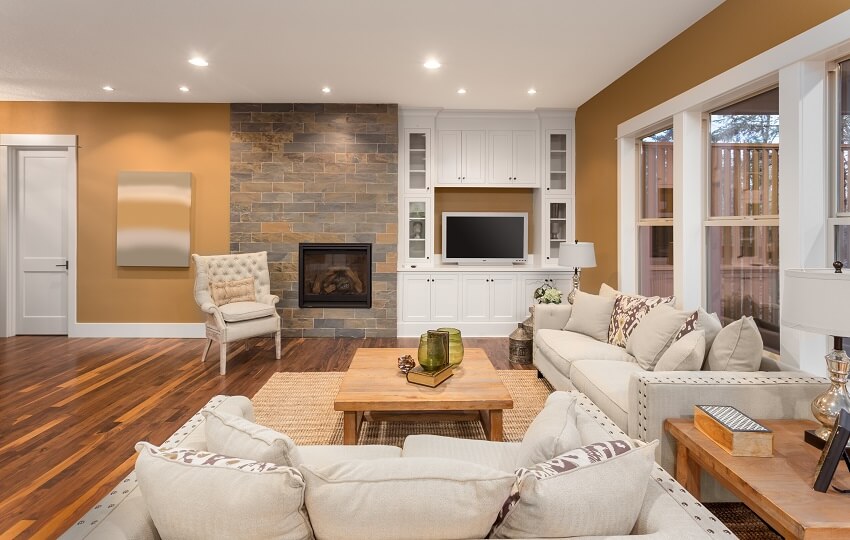 Maintain the color of the base of your sofas and chairs in consideration as well. Darker woods and blacks will match with the floor, whereas lighter woods and colors like silver will shine out.
Both methods may work effectively, and the style you pick is just a question of personal choice. However, these are some of the colors you can try to match your dark wood floors:
White Furniture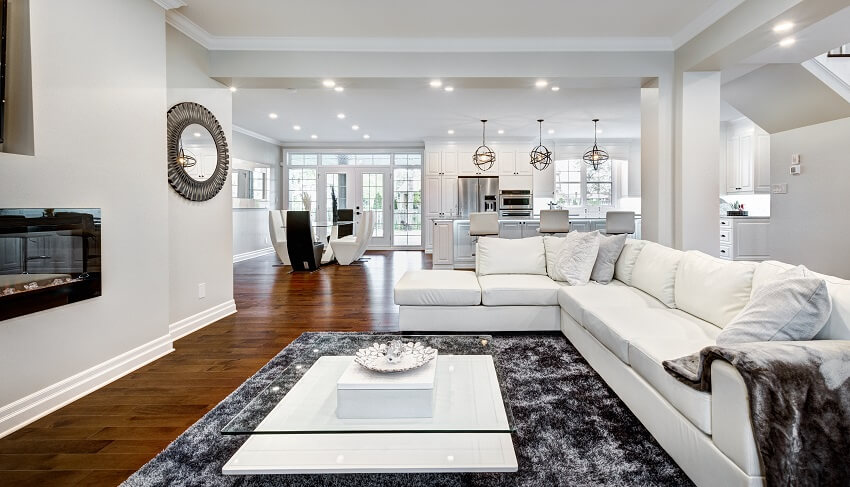 Should you have dark wood flooring, white is a great option to try. White furniture contrasts beautifully with the dark flooring and gives the room a clean, fresh, contemporary feel.
Even if you have dark or light-colored walls, white sofas and chairs will look great, and they give a versatile backdrop for you to add any additional design accents or colors you choose through cushions and décor. Read more about cushions by visiting our guide to different types of cushions here.
Yellow Furniture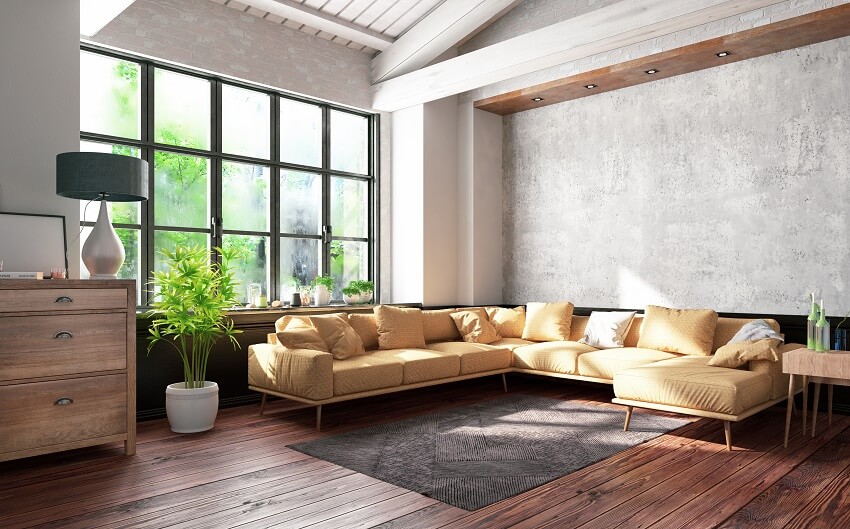 Another excellent choice for illuminating a space with dark wood flooring is yellow. In a living space, a yellow sofa adds a bright splash of color.
The chair's structure and legs complement the dark wood floors, blending into the backdrop and allowing the color to stand out.
Blue Furniture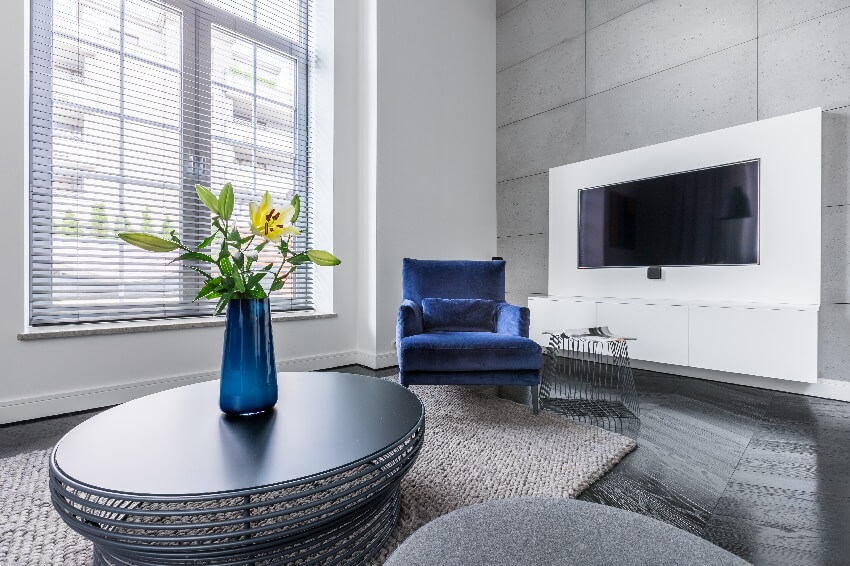 The color blue looks well with dark wood floors. Whatever shade of blue may be combined with dark wood flooring, but a deeper dark blue sofa would lend a sense of tenderness to the living area.
If your walls are deep-toned, go for a lighter shade of blue, and if your walls are light, go for a darker shade of blue.
Purple Furniture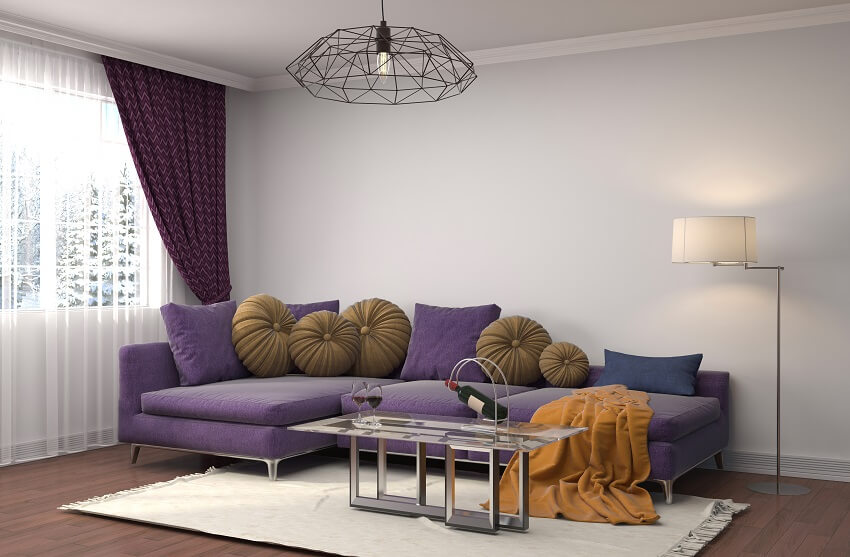 Dark wood floors are the ideal backdrop for vivid tones just like stunning purple. If you want to create a space that is both elegant and lively, use a sofa in a bright purple color.
This would coordinate the furniture legs to the floor, allowing the sofa's color to appear quite outstanding. Visit our guide on sofa styles for more related article.
Gray Furniture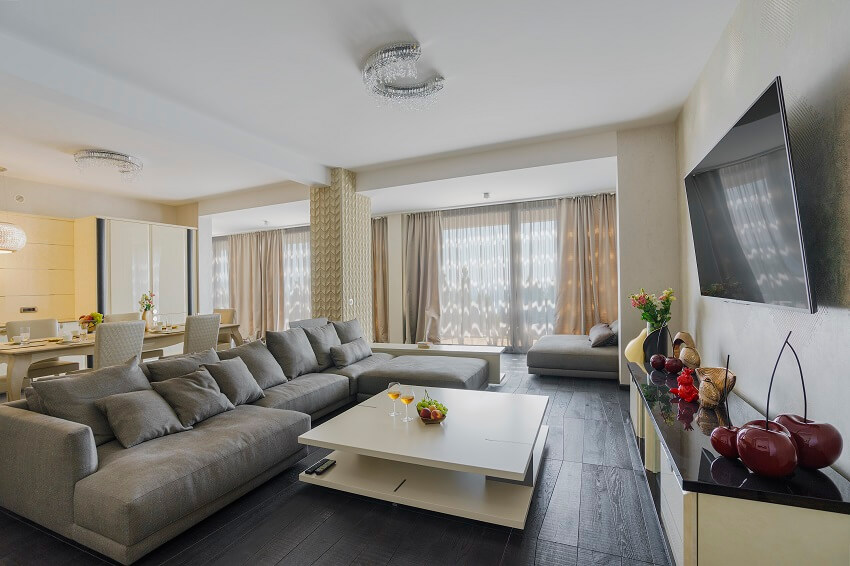 Gray might be the best option for your furniture if you're searching for a neutral alternative. The gray couch in a contemporary, minimalist living room looks great against the dark wood flooring.
Utilize white and lighter tones of wood for your other furniture when pairing a deeper-colored sofa with dark floors to make the entire area brighter.
Medium-Shade Wood Furniture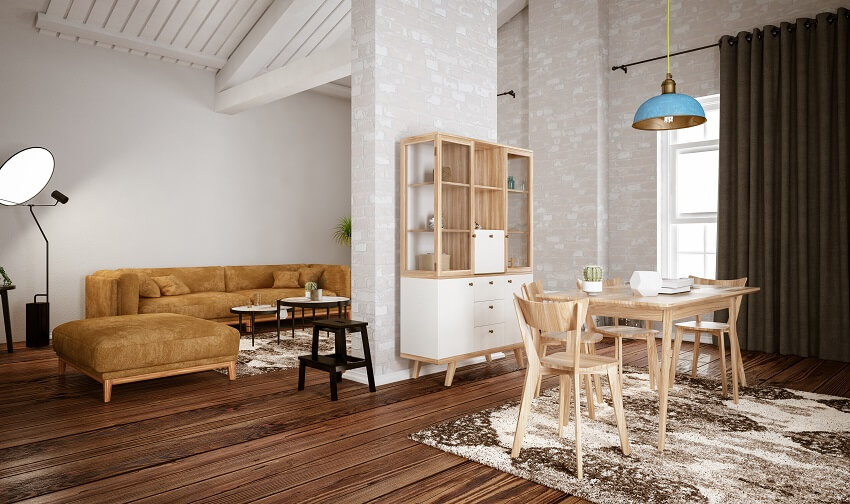 Dark wood flooring appears wonderful with a medium shade of wood. When partnered with the dark flooring and walls, the wooden frames of the sofa give a sufficient contrast. In a gloomy environment, a deeper color of wood would not be advisable
Light-Colored Wood Furniture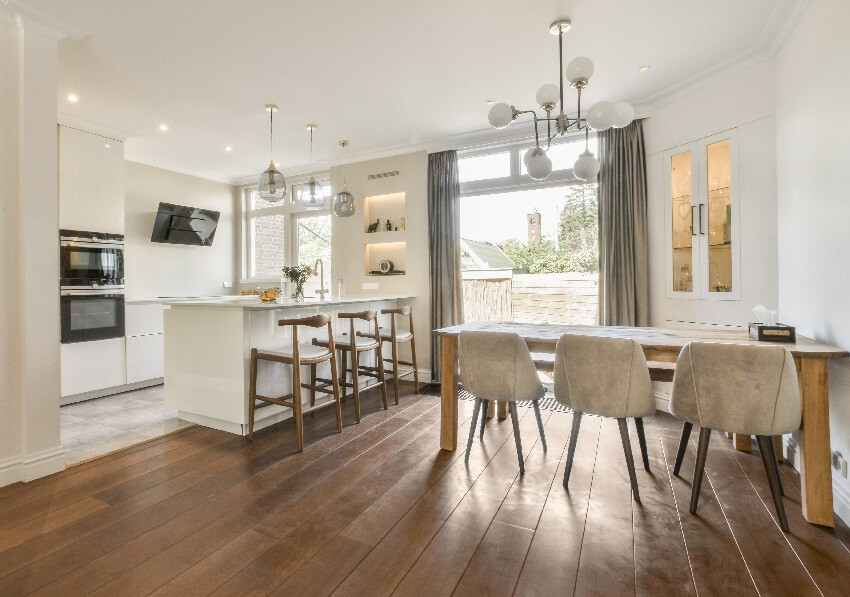 With dark wood flooring, you can complement just about any shade of wood you choose, but a light-colored wood dining table and chairs would look lovely.
Choosing a light wood for a tabletop, cabinet, or the legs on your sofa can offer the ideal contrast to your dark wood floors.
Should Furniture Be Darker Or Lighter Than Floor?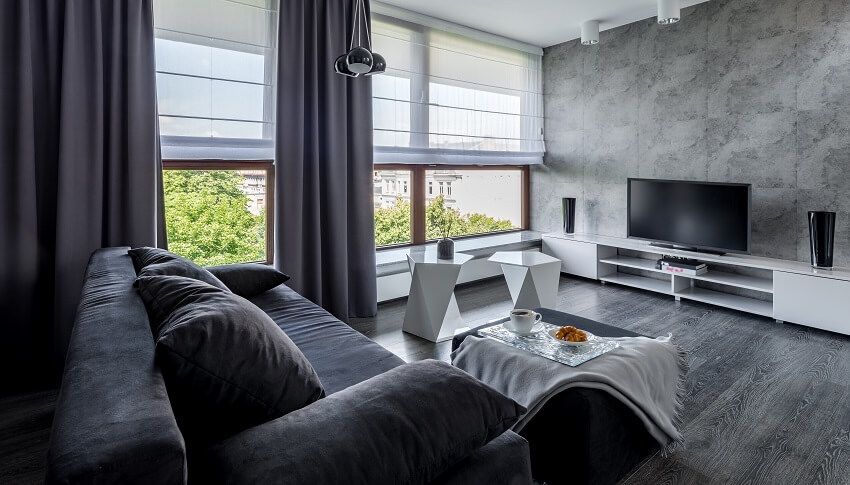 It will mostly depend on the color of your floor. For instance, if you have dark wood floors, it is much better to pick furniture with a lighter color to provide much better contrast.
If you have light-colored floors, it would be wiser to pick dark-colored furniture. However, this is not always the case as it will also depend on the overall decor of your interior space.
Contrasting is one of the most significant ideas for coordinating wood floors with furniture since it is one of the main rules of any design or color scheme. Darker wood floors can truly help lighter wood furniture stand out and look fantastic.
Light wood flooring, on the other hand, is the ideal complement to darker furniture. Interior spaces may become boring without contrast, and smaller objects can quickly become lost in the area.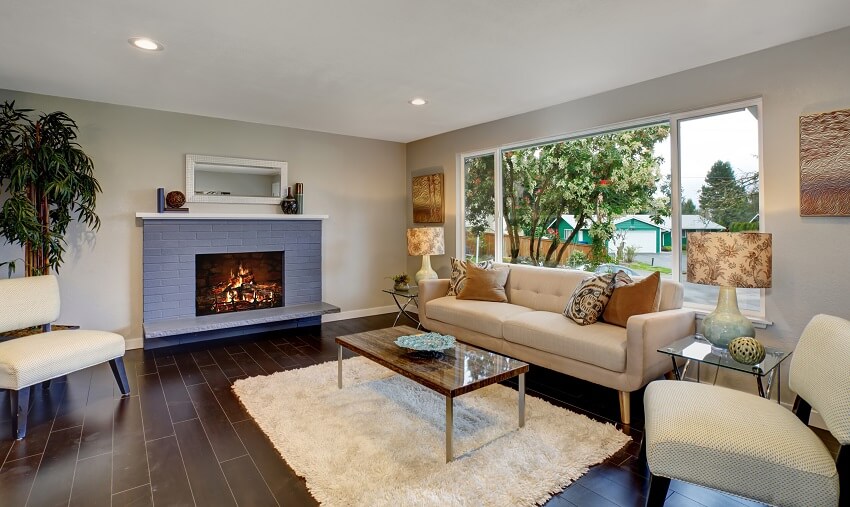 Darker flooring can absorb the color and appearance of smaller decorations and furniture. A general rule of thumb is that lighter floors work well with more subtle pieces of furniture, while darker floors go well with heavier objects. This will help you maintain consistency in the space so that everything has a chance to flourish.
Should All Furniture Match The Same Color?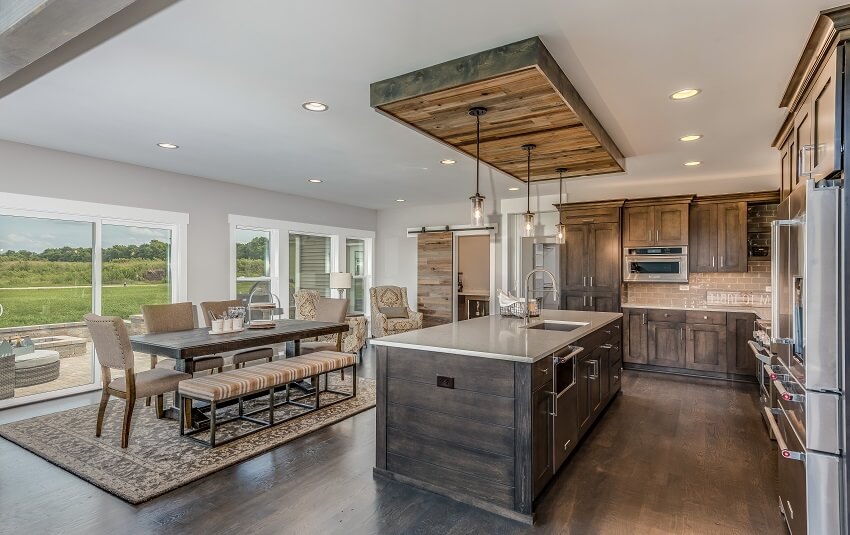 All of your furniture doesn't need to be the same color. You are free to use colors, wood tones, or even both for a genuinely varied atmosphere.
If you want to blend colors but are not certain where to begin, choose two or three that you believe would complement each other.
Afterward, repeat similar colors in the room's additional elements, such as throw pillows, curtains, carpets, and paintings. Combining the various colors of your furniture in this way will make it appear as if the individual pieces were designed for one another.
You can also use wall paint to help harmonize the room's design. See the best paint colors for dark wood floors here.
Is Light Wood Furniture On Dark Wood Floors A Good Idea?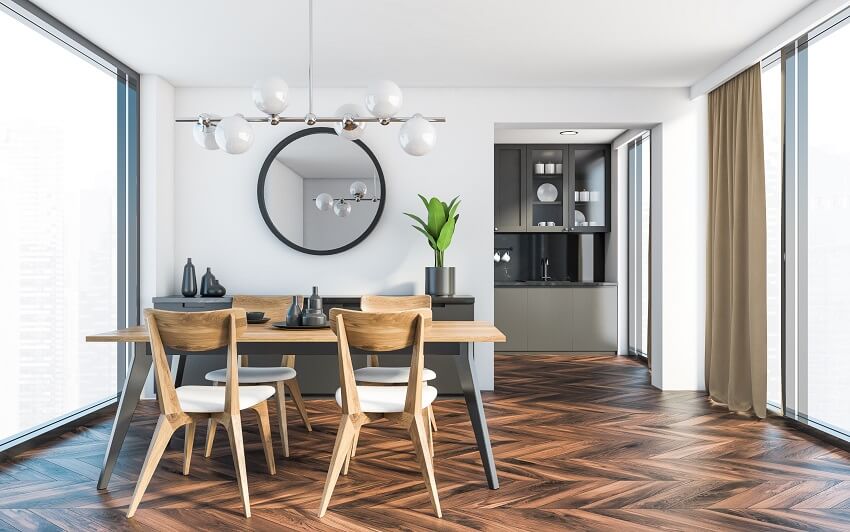 It's a great idea to pair light wood furniture with dark wood flooring as it will make the room appear warm, inviting, and elegant. The light color creates a pleasant contrast and might help to liven up a dimly lit area.
When selecting light wood furniture to complement your dark wood floors, look for pieces that are the same tone of the wood. This will result in a timeless, cohesive aesthetic that will never go out of style.
Visit our guide on how to match wall color with wood floors for more related content.