These types of living room tables include the different styles, tips on how to choose, where to place, and the ideal number of tables for your living room design.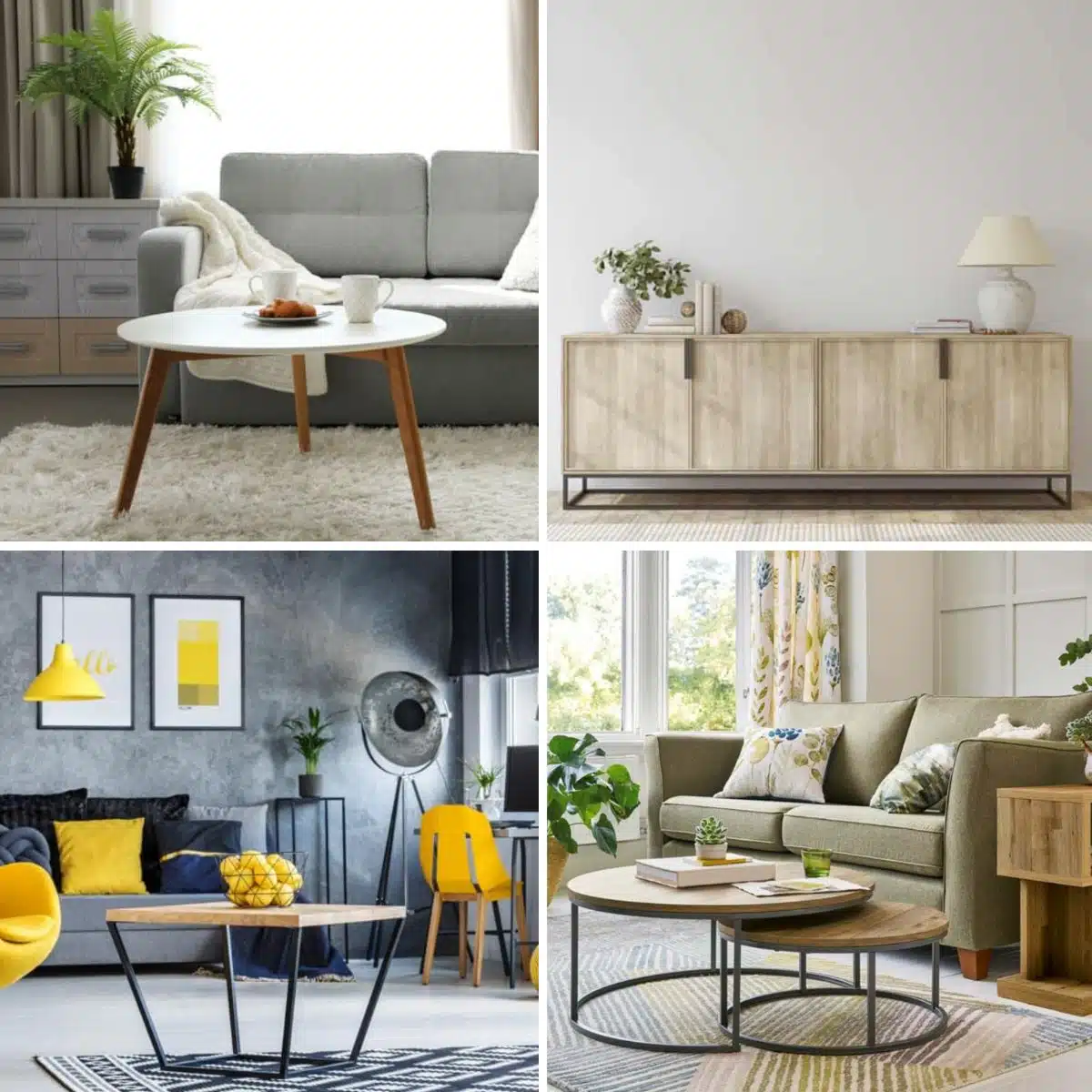 You spend a lot of time in your living room, so you want to make sure it has everything you need. Aside from a comfortable place to relax, you'll need tables as well for everything from your drink to decor and lighting.
You have a lot of options when it comes to tables too! There are plenty of different types of living room tables and each one offers its own stylistic and practical benefits.
Quicklook: Different Types of Living Room Tables
• Coffee Table
• End & Side Table
• Console Table
• Sofa Table
• Media Table
• Accent Table
• Nesting Table
• Ottoman Table
• Dining Table
• Cocktail Table
• Drink Table
• Wall-Mounted Table
• Drum Table
Coffee Table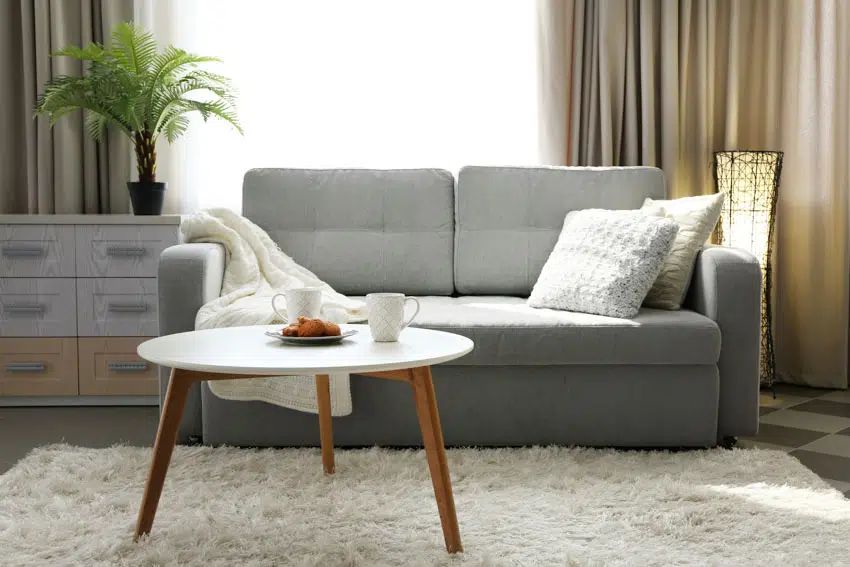 A lot of people automatically think of coffee tables when they think of living room tables because they usually sit prominently right in front of the couch. On top of that, they see frequent use throughout their lifetimes.
As the name suggests, one purpose of these tables is to hold your food or drink such as your coffee while you lounge on the couch. They're also commonly used to hold decor or even functional items like books, magazines, the TV remote, and other small items.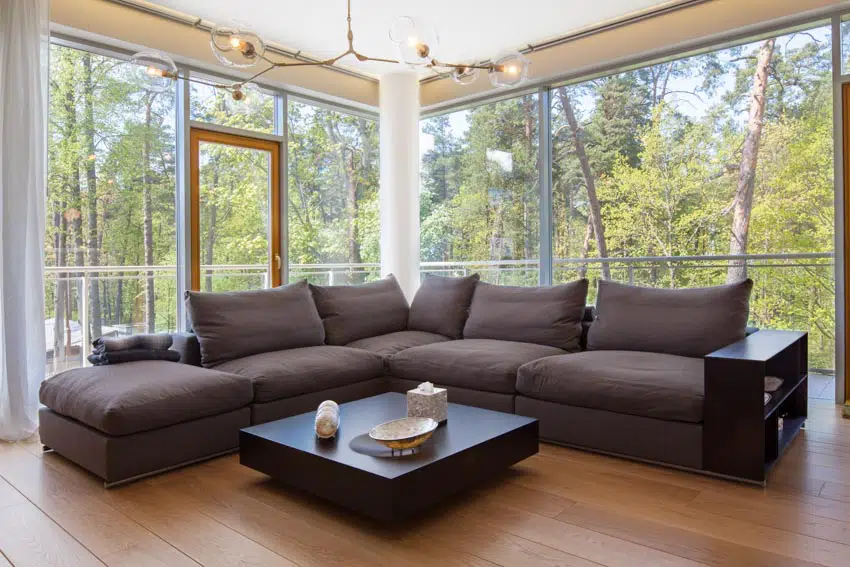 They range greatly in style as well. You can find something to fit almost any decor preference. Plus, they often come with a variety of storage options too.
If you don't need a lot of storage, you can opt for a simpler table while some types of coffee tables offer extra compartments as well as a flat plane of the top of the table to store items.
End & Side Table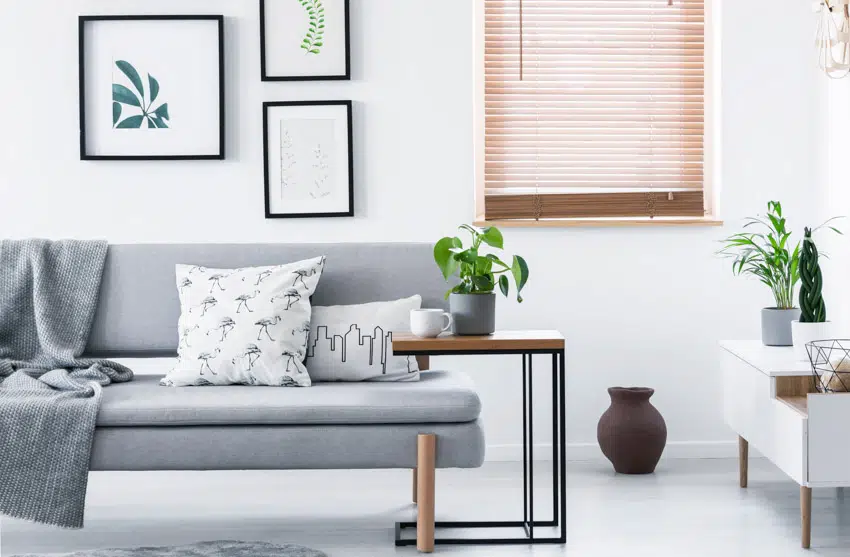 As opposed to a coffee table that sits in the middle of the room, an end table or side table usually sits to the side of the furniture in the room. For example, you might place an end or side table to hold a lamp or even offer a place to set your drink, phone, or remote while you relax on the couch.
These are typically a bit taller than coffee tables too. End or side tables are usually about the same height as the furniture that they're next to.
As an example, most end tables next to a couch or sofa usually sit at about the same height as the arm of the furniture. This way, you can easily place or retrieve something there while you're sitting.
End and side tables come in all kinds of materials, sizes, colors, and even shapes, giving you plenty of room to play around with different interior decor options.
Console Table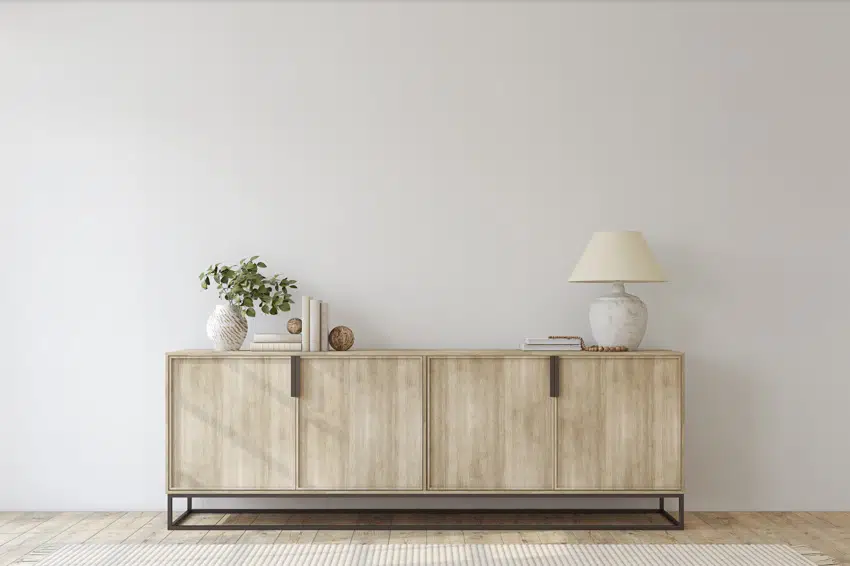 Console tables are long tables but they're designed to be rather narrow. This helps save space in width while the table offers plenty of length. These types of tables are a rather versatile tool in your home.
While they're often used in entryways, console tables can help you out in your living room too. Some homeowners add them in against the wall to hold items like photographs, a vase, books, or other small items. These tables are great for adding a bit of extra storage to your living room too!
Another common use for console tables is placed behind a couch, much like a sofa table. In this case, these usually take the place of an end table and offer a few additional benefits.
Namely, a long, thin table behind the couch offers you a place to set your things even if you're the person seated in the center seat on the couch.
Sofa Table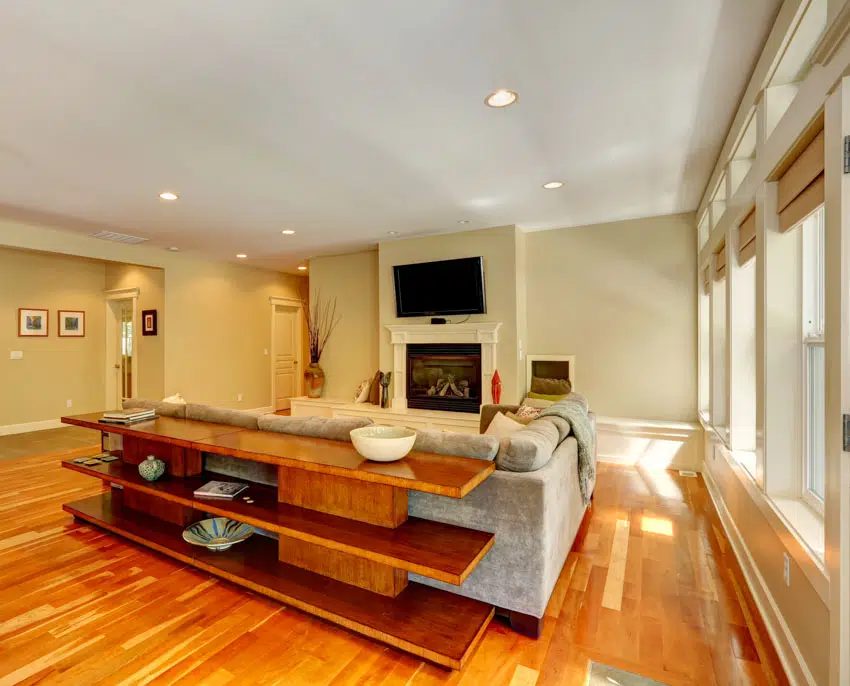 When you first hear the term "sofa table," you might guess it's the same concept as a coffee table. However, sofa tables are distinctly different both in purpose and appearance.
First of all, sofa tables are taller than coffee tables. This is because rather than sitting in the center of a room or, at least, the center of a sitting area, sofa tables usually sit behind a sofa.
They're most often used when there's space behind a sofa or if a sofa's back faces a large portion of the room. Another design concept that sets sofa tables apart is that they're typically narrow as well as taller than coffee tables.
This is because while more coffee tables are level with the seat of the couch, sofa tables match the height of the back of the couch much like an end table matches the height of the arm of the sofa. These types of tables are an excellent tool for breaking up an open concept living room into visually distinct sections.
Media Table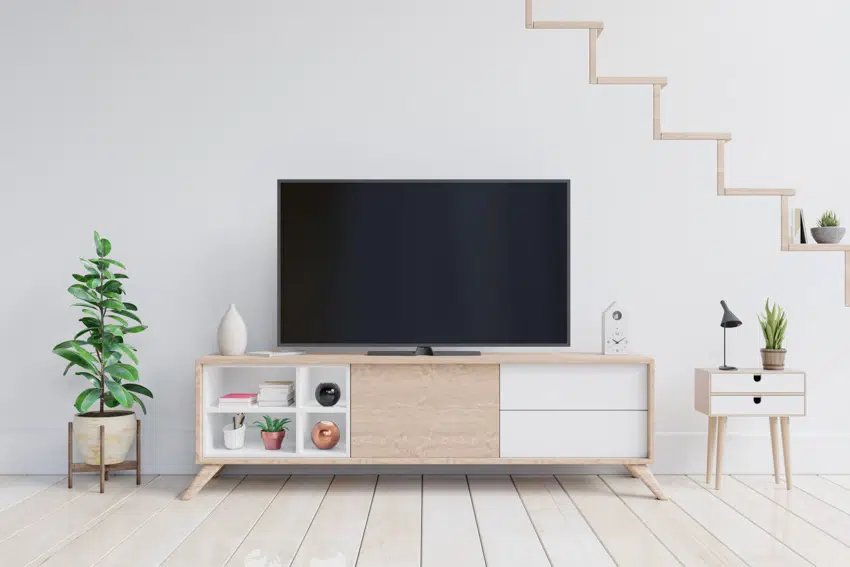 A media table is geared towards holding items you use to, well, consume media. In your living room, this usually includes a TV and any accessories from gaming consoles to cable boxes or maybe even a collection of your favorite games and DVDs.
At its most basic level, a media table will give you a place to set your TV. Since, as we just covered, that isn't always the only thing you want to store with your TV, many of these come with additional storage space. This often includes cabinets or shelves to place any additional items.
You can use these TV stand storage spaces for anything from books and magazines to other tech gadgets that you might need. For wall-mounted TVs, you can add one of these tables below for visual balance and additional storage.
Media tables that have a solid back usually feature holes or openings to allow you to thread wires through to plug in your TV, consoles, and any other electronic accessories.
Accent Table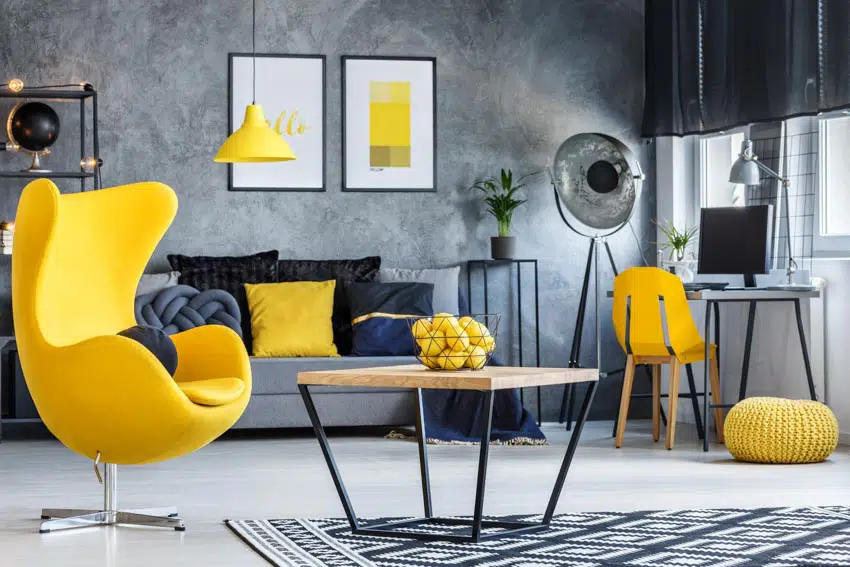 "Accent tables" is a term that's actually a bit broader than some of the other terms we've looked at so far. In fact, an accent table could even be a console table or coffee table!
Accent tables are primarily defined by their purpose rather than what they look like. Whereas, for example, there is a general concept of what a coffee table might look like, accent tables can take on a variety of forms in a living room.
Interestingly, you can also place an accent table anywhere – they aren't limited to specific spaces the same way a term like "end table" implies.
The purpose of an accent table is more than just to hold items – they're decorative too! This could include almost any of the types of tables we've looked at in this guide. As long as the table serves an aesthetic purpose as well as a practical one, it qualifies as an accent table.
Nesting Table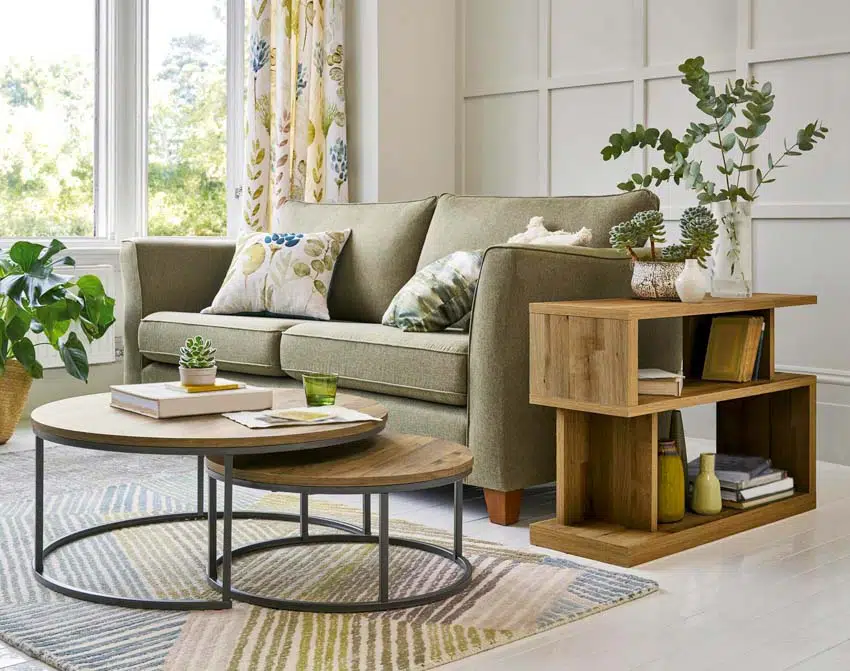 Nesting tables are an interesting decor piece that offers not only a dynamic appearance but plenty of table space even without taking up a lot of space in your living room.
Just like a set of nesting dolls, nesting tables are usually made up of a system of at least two tables. Rather than being affixed to one another, these tables are usually identical but descending in size. This way, when you're done with them, you can nestle them back into place and they don't take up any more space in your living room than the biggest table in the set.
These tables are particularly handy for entertaining since you can spread them out for plenty of space, making room for movie-night snacks or laying out food when you have company over.
Plus, you can quickly rearrange them as you need to, making them easy to rely on. Even with this structure in mind, you can find nesting tables in a number of varieties and forms to match your living room decor.
Ottoman Table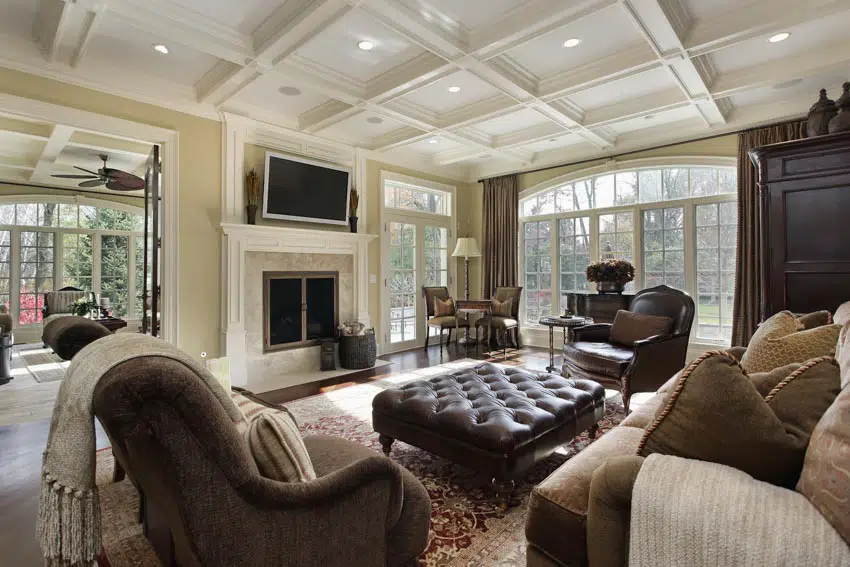 If you can't decide between more seating or more tables in your living room, ottoman tables can offer both. These types of tables often blend seating with the concept of a coffee table.
This concept makes the design inherently different from purely functional tables. Usually, these types of tables are padded and upholstered to make them comfortable enough to sit on.
However, they're also firm enough that you can use the surface as a table to set surfaces as well. Some ottomans even open up to offer additional storage space inside. Since ottoman tables have such multi-purpose functions, they're often favored in situations where saving space is important.
If you have a smaller living room, an ottoman table can help solve a lot of problems at once without taking up much space. Of course, ottoman tables are also available in a variety of designs, so you can find something that fits your preferences.
Dining Table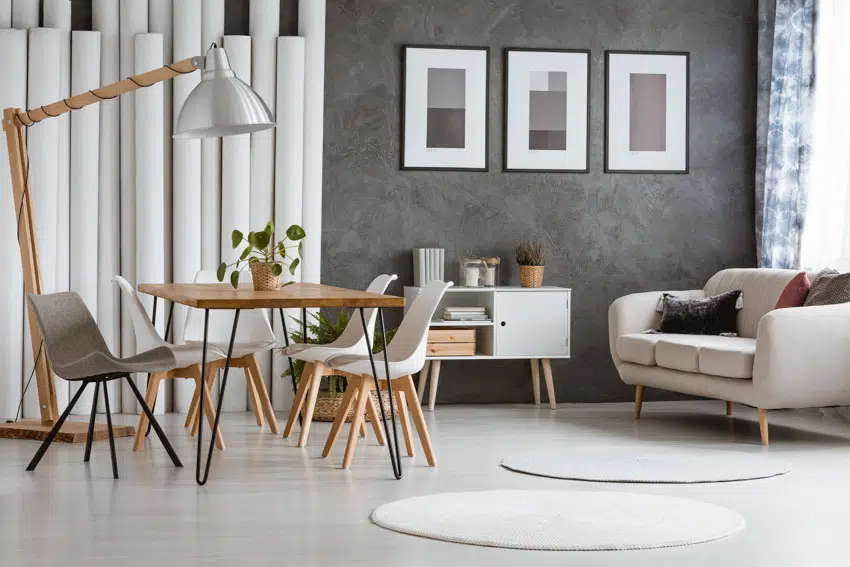 Not everyone has or needs a dedicated dining room with a dining table. If you want something a bit cozier, you can opt for a dining table in your living room. Using these types of dining tables can help you conserve space in your home which is especially helpful when you have limited space to start with.
The exact size and design of your dining table can vary depending on your needs, preferences, and the space you have available. If you're placing a dining table in your living room to save space, you might find that a small table with a couple of chairs fits your needs well.
Aside from space, there are some other benefits to a dining table in the living room. After all, sometimes you probably want to eat while you watch your favorite movies or unwind with housemates at the end of the day.
Cocktail Table
Cocktail tables are made to do double duty. They aren't just supposed to help give you a place for food or drink but they're meant to offer a centerpiece of their own as well. Even better, since they're made to help hold a drink or some food while saving space, so you doesn't have to dedicate a lot of your floor space to the table.
Selecting a cocktail table entails knowing some basic rules about its height and size in relation to the sofa, loveseat or grouping of chairs it will assist. – The Art of Design: A Comfortable Home for Everyone, Joseph Pubillones
Cocktail tables also stand out for their structure. Namely, they don't depend on multiple legs to hold them up but rather rely on a single central leg for support. This lends itself well to a space-saving design since they tend to take up less floor space than a four-legged design.
These tables are great when you want to add a bit of modern decor to your home and they fit just as well in a living room as they do in a dining area or patio. They're a great touch in living rooms if you like to frequently entertain company.
Drink Table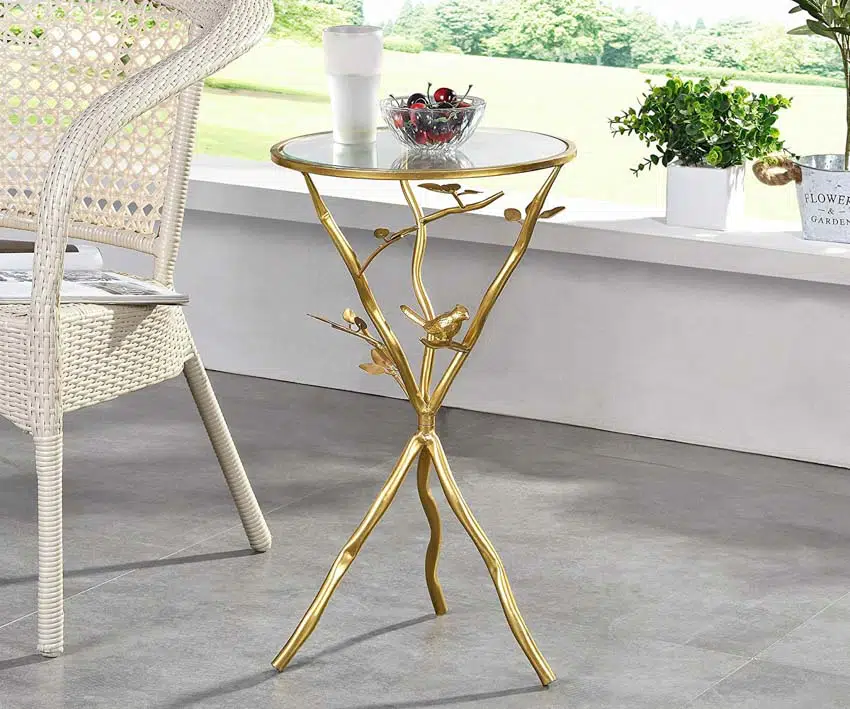 See this drink table at Amazon [sponsored link]
A drink table is similar in concept to an end table in the sense that it usually sits right next to a seat. On the other hand, they aren't quite as spacious as an end table. You won't use a drink table to hold a lamp!
Rather, as the name suggests, these tables are usually sized to hold a single drink. They're useful in a variety of spaces.
For one, drink tables come in handy if you have a small living room. It gives you another small surface to use without taking up too much space. Drink tables also come in handy when you have a seat that isn't near the coffee table or an end table.
For example, maybe you have an armchair that's just out of reach of your coffee table. If so, you could add a drink table to let you lounge with your drink in reach rather than having to get up every time you want to take a sip.
Wall-Mounted Table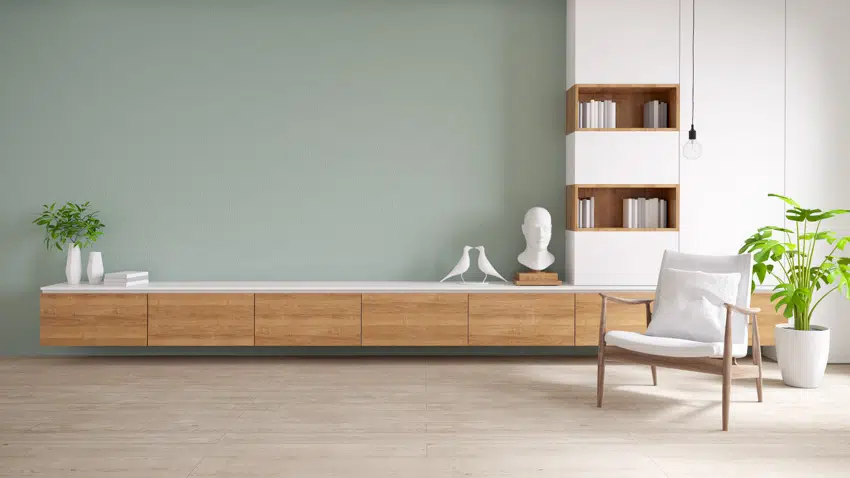 Most tables are held up by legs to support them. A wall-mounted table takes a slightly different approach by removing the legs of the table altogether.
Rather than support from legs, wall-mounted tables jut out from the wall. As the name suggests, these tables aren't part of the wall but rather fixed to them. This is a great way to add another surface to your home and they work especially well for a purpose like adding a desk or a nook to eat your breakfast in the morning while you get ready.
Some of these tables are even collapsible. In other words, you can find models that will allow you to mount them to the wall and have them up for use when you need them or fold them flat so they're out of the way.
This makes them a great choice if you want the option of additional table space in your living room, even if you don't need the table available all the time.
Drum Table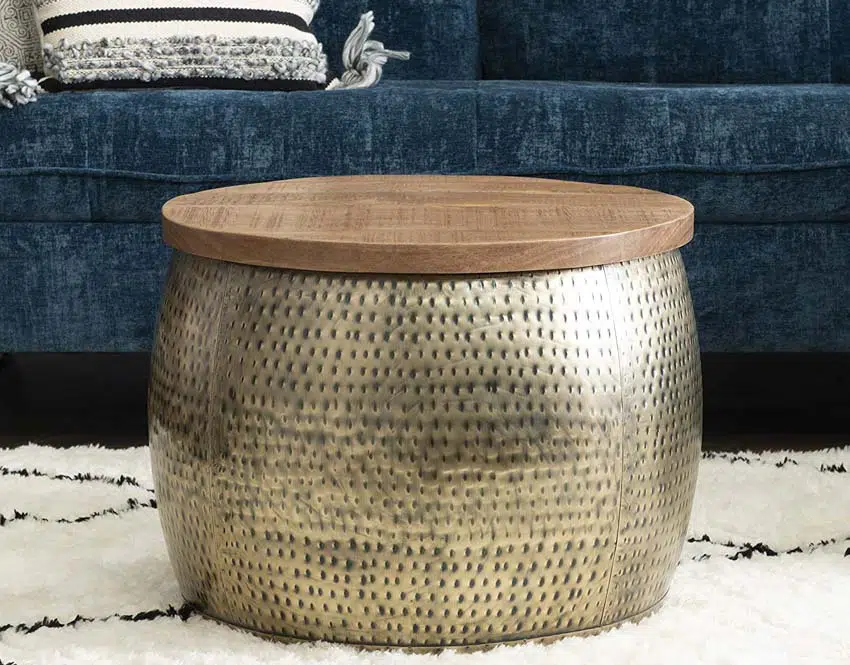 See this golden drum table at Amazon [sponsored link]
Drum tables are, by far, among the heaviest tables you could have in your living room. This is because rather than having legs and a flat plan on top, these tables are often barrel-shaped.
First designed in the 18th century, these tables were meant to double as storage. Today, the term is used much more broadly to refer to any round and bulkier-sized table.
Traditionally, though, the interior isn't usually solid. Rather, the barrel shape opens to reveal additional storage, usually either shelving even a drawer or two. These tables are usually tall enough that you could sit in a chair and comfortably use the top of the table.
Given that these types of tables often have solid surfaces, it leaves plenty fo room for decorative elements like wood panels or to showcase the natural veining in a stone table. Some tables even have upholstered or decorated tops as well, offering a piece that is both functional and aesthetically pleasing.
How To Choose A Table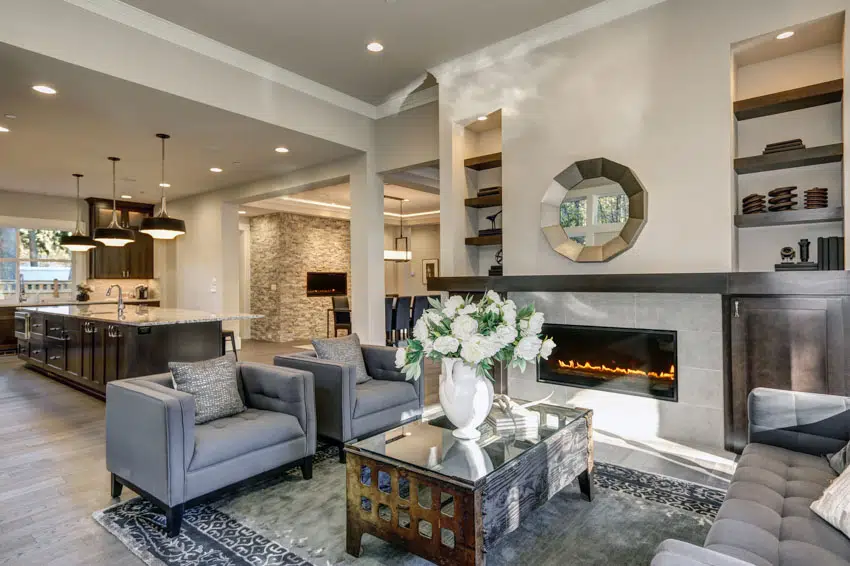 The first step in deciding which living room tables you need is to consider what you're needs are. There are some needs that are generally considered universal such as the use of a coffee table or media table.
On the other hand, not everyone will necessarily have the space or need for a sofa table. If you want to eat your meals in your living room frequently, a small dining table is good to include as well.
You'll also want to consider how often you entertain company. If you frequently entertain a lot of people, an option like a nesting table will give you plenty of table space when you have people over but you don't necessarily have to use all that space in your day-to-day life.
Finally, consider your own design tastes and living room decor. This will help you decide what styles fit your preferences and the living room you're decorating.
How Many Tables Should Be Used?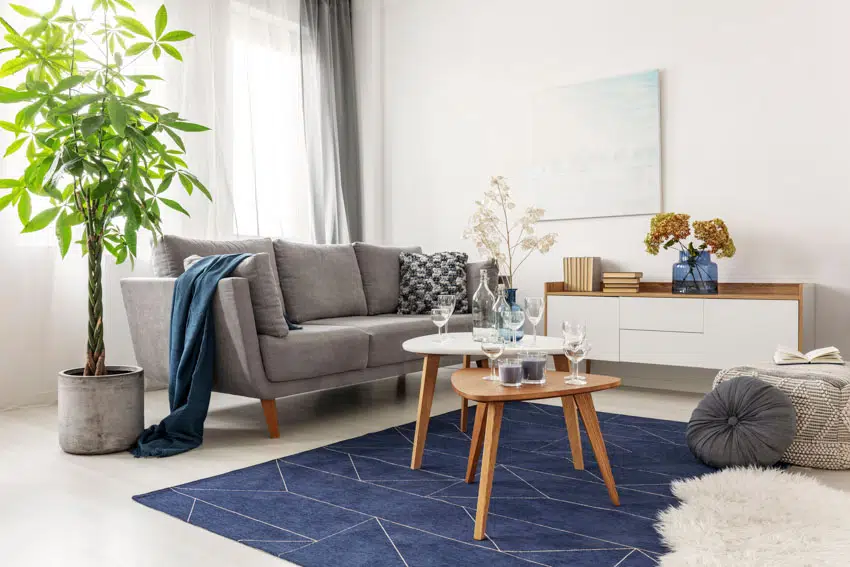 You must make sure you have enough tables in your living room to accommodate for the amount of tabletop space you need. However, if you go overboard, you're apt to crowd the living room and even find a lot of empty tabletop space that you aren't sure what to do with.
In general, there are a few tables you'll want to make sure you have. This includes a coffee table and an end or accent table to go with every two seats you place. This might include two separate chairs with a table between or an end table on either end of a sofa.
Most living rooms also feature a media table to hold the TV or any related items below where it's mounted on the wall. Some additional tables depend on how much space you have. For instance, adding a dining table or sofa table aren't necessary if you don't have the need or space for them.
Should A Sofa Table Be As Long As The Sofa?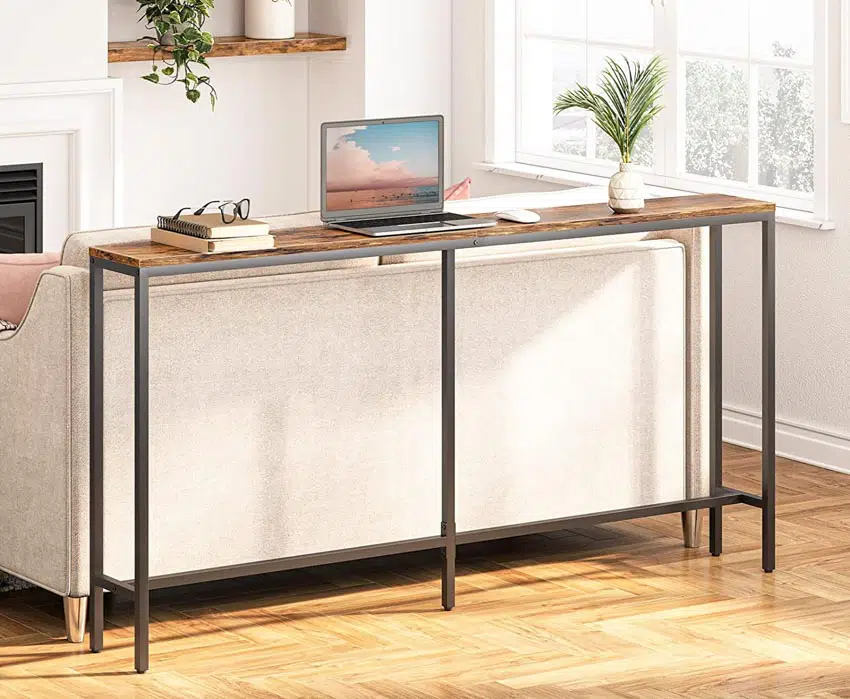 See this sofa table at Amazon [sponsored link]
We've already covered the fact that a sofa table is usually roughly the same height as the back of the sofa it's paired with. As for length, you have a few options to go with.
If you want your sofa table almost as long as the sofa itself, that's fine but you'll want to leave a little room at the ends. Rather than matching lengths exactly, it's common to center a table that's a foot shorter than the couch, leaving six inches of sofa on either side of the table.
This will give you enough room to comfortable walk around the table without painfully banging a hip every-time your walk around the couch. Alternatively, you can opt for a sofa table that's only half the length of your sofa.
This is often a great choice for smaller couches where you may not have the room to leave exactly six inches on either side. These smaller sofa tables often sit centered behind the sofa as well.
Why Are Console Tables So Short?
While console tables are often long and narrow, they're usually only about 30 inches tall on average. In a larger range, they may be as short as 28 inches but usually aren't any taller than 32 inches.
This height is carefully considered to think about where you'll be when you use a console table and what you'll set on it. If you were standing, the table might be taller.
However, since the table is often used reaching from a couch or other seat in your living room, console table sizes are shorter to accommodate someone reaching over to place an item like a drink or phone.
On the other hand, since console tables often sit behind a couch when used for this purpose, they can't be too short either. They aren't typically made shorter than 28 inches because it would make it hard to reach items because you'd have to reach over the back of the couch.
Where Should End Tables Be Placed?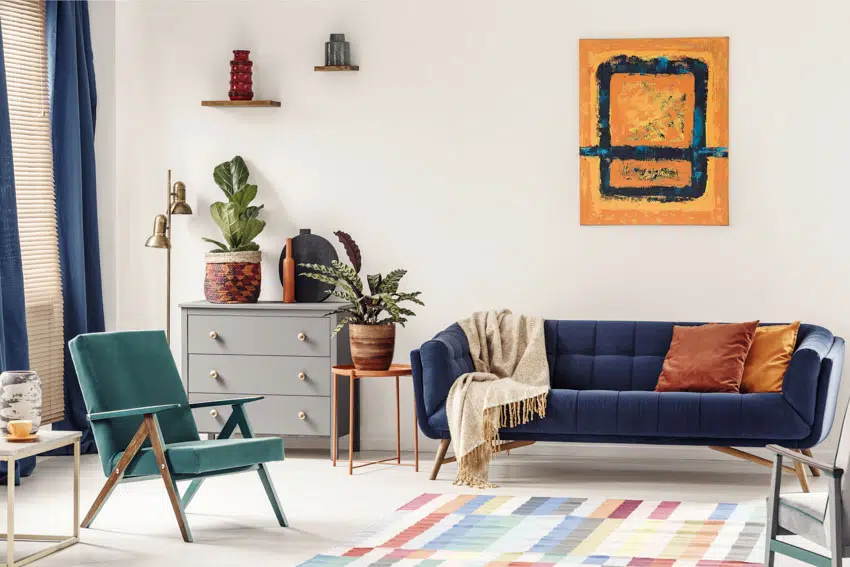 You have a few options when it comes to placing end tables in your living room. The most common option is on either side of a couch. This will give you a surface on either end seat and offers a great place to add an additional source of lighting.
A similar option is to put an end table next to a chair. Much like the couch, this offers a place to add lighting or set any objects down you might have while you're sitting in the chair.
When you're placing an end table next to a couch or chair, the end table should have a similar height to the arm of the furniture. You don't want it any further than two inches from that height.
End tables are also handy in the corners of rooms or even next to your windows. In these cases, they're a great way to add to the decor either with lighting, potted plants, books, or more.
​​See more related content in our article about the best contemporary living room ideas on this page.