Here we share our whitewash outdoor furniture design guide including what it is, how to whitewash, materials needed and best type of paint to use.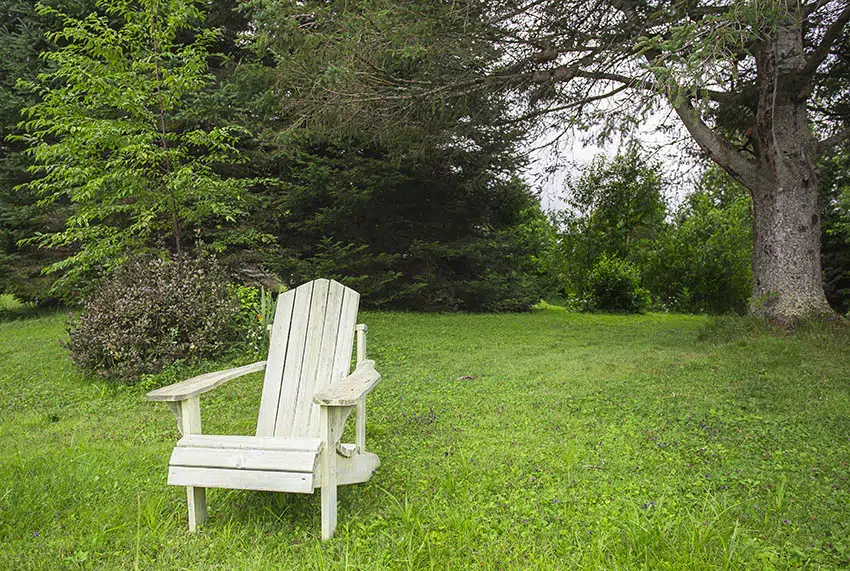 Whitewashed outdoor furniture can stand out in an outdoor setting, as the pristine look beautifully contrasts against your earthen tones. Aside from always looking good, whitewashed outdoor furniture is a practical surface treatment for furniture exposed to the elements.
No matter how hard you try to protect your outdoor furniture, the harsh sun and changing temperatures will eventually make them look faded and dull. Besides, frequent sanding and painting can be a tedious routine not to mention the added time and money to maintain your outdoor furniture.
Chic and timeless, whitewashed furniture can be a perfect solution and a rewarding DIY project. Since the process of whitewashing is easy and economical, you'll find it gratifying that you have gorgeous outdoor furniture any time of the year.
What is Whitewash Outdoor Furniture?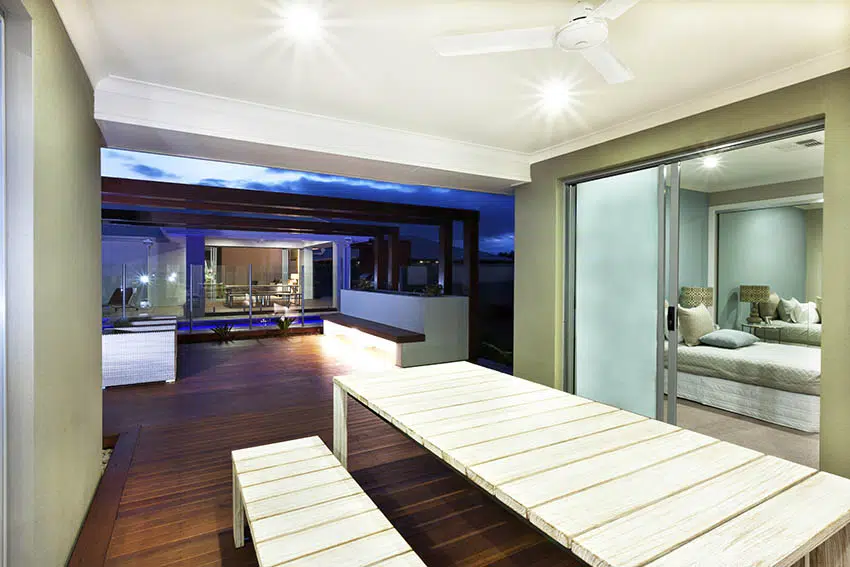 Whitewash outdoor furniture is exterior wood furniture that has been surface treated with a paint mixture of mainly latex paint and water to achieve a muted or almost transparent look. You don't necessarily need to use white color for your whitewashing as you can use other color tones to achieve that muted surface.
The process of whitewashing has been around for centuries and ancient structures such as the Greek Acropolis and the Roman Colosseum have used the process.
However, the term "whitewash" is said to be first used in 1591 in England where it was a popular surface paint for barn interiors and other variety of surfaces due to its uniform and clean look.
Pushing forward through the 19th century, whitewashing has then been a common and necessary surface paint in the Colonial Times for farmhouses, churches, and other wooden structures.
Through its rich history, the muted coat remains a practical surface solution that DIYers have since favored due to its quick and effective means to revive worn-out furniture.
How to Whitewash Outdoor Furniture
Prep your surface.
Apply water and vinegar solution. Mix water and vinegar with a 1:1 ratio (equal parts) and apply the solution evenly using a paintbrush on your wooden surface. This process will remove dirt and improve the absorption of paint.
Sand your wood surface. Whitewashing works well on an unfinished wood surface as it allows the paint to adhere better to the surface and exposes the beautiful texture and graining of the wood.
But if you have a coated surface, you will need to sand your outdoor furniture to reveal the natural texture underneath. Use a fine sanding block or an orbital sander set with a super fine sanding pad.
To reach between crevices and other tight spots, you can use a detail sander or if you have a few corners to sand out, you can sand by hand.
After sanding, clean off excess dust with a dry cloth.
Tip: When removing old sealants use a chemical stripper it is quicker than using sandpaper. Apply it in a ventilated area.
Apply primer before whitewashing (optional). In general, any organic surface should be primed to prevent unwanted discoloring to seep through your whitewash. The only downside is that it can hide away your wood texture. But if you have a very porous wood species, a primer is inevitable to use. Choose to paint a thin layer of primer on the surface to allow an amount of graining to be exposed.
Tip: Use Stix self-etching primer as it does not fully cover your texture and graining.
Make your whitewash mixture. White latex paint with water is the common paint mixture to be used in whitewashing. Use a ratio of 1:1 for your white latex and paint and water for a transparent look.Though you don't necessarily need to use white as your paint color, since you can use other colors as well, where grayish or other lighter tones are recommended. For gray latex, use two parts of paint and one part of water.
Ratios: 1:3 Paint to Water will give a thin translucent surface. No need to wipe or dry brush
1:1: A thicker coating that you can wipe or further sand to give a distressed look.
Tip: Making your own mixture of whitewash is fun and easy, but if you're not into mixing you can purchase a whitewash wood stain paint (Home Depot) that's already evenly mixed.
Apply your whitewash mixture. Before painting, place your outdoor furniture on a drop cloth or old newspaper instead to catch the dripping paint. Then, apply your whitewash paint directly on your wood surface. You can use a natural paintbrush, a roller, or a rug to apply the solution. Apply the whitewash paint with even and long strokes.
Pine: Follow the direction of the graining when applying paint.
Oak and most woods: Apply paint against the grain for best results.
Tip: If possible, remove hardware and other parts and just fasten them after the topcoat is applied.
Wipe and dry. Use a clean rag to remove excess paint and let it dry. You have an option to further wipe the fresh paint evenly using a clean rug especially for oak or other wood species with large pores. But if you want the rugged and intentional amateurish look, then skip this process.
Drying time will depend on the number of layered coats and the surrounding conditions.
Tip: Once dried, lightly sand off uneven surfaces.
Apply sealant to your surface. For additional protection for your outdoor furniture against water and insects apply a wood sealant using a brush or a lint-free sponge. Use a clear or water-based sealant, oil-based sealants can make a surface look yellowish.
Tip: You can use wax or tung oil as an alternative to a polyurethane coating.
How to White Wash Outdoor Furniture Video
Materials Needed to White Wash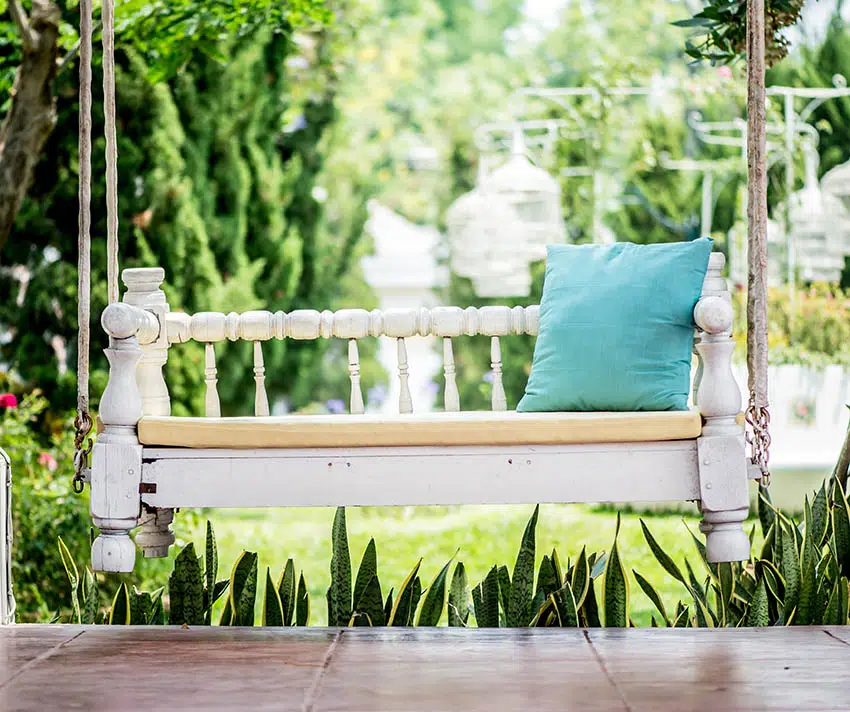 Worn-out furniture. You can also whitewash brand-new wooden furniture, but whitewashing is a practical finish for reviving weathered wood. The best wood species that best receives whitewash treatment is Pine because of the yellowish undertone, and when whitewash paint is applied, it evens out the warm tone resulting in a crisp white finish. Other species such as oak and maple has a reddish undertone.
Fine sanding sponge or block. For large-sized outdoor furniture, you may use an orbital sander and a detail sander.
Latex Paint. Although you can use polyurethane-based paints, it's best to stick with latex paint as polyurethane can finish off with a yellow tint.
Primer Paint (optional). Latex primer is a great topcoat. Priming is not required but recommended as it prevents bleed-through the knots and natural blemishes that can discolor the bare wood.
Lint-free rags. Choose cloth or rags that are 100% polyester as they don't have loose particles of fluff that won't stick on the painted surface, so cotton should be avoided.
Paintbrush. Polyester brushes are best suited for latex paint as it holds their shape and stiffness better than natural brushes. But if you want a vintage look, you can use a horseshoe brush instead, as it leaves the rustic streaks on your wood surface.
Topcoat sealant. Use a clear polyurethane sealer. Wax or tung oil can also be used.
Mixing container. Be sure to have enough whitewash paint for your outdoor furniture to prevent an uneven shade of paint on the surface.
Best Whitewash Paint or Stain to Use
Latex paint is the best paint to use when mixing your whitewashing solution for your outdoor furniture. Latex and polyurethane are both suitable for wood, but most polyurethane paints can stain a yellowish tint on your whitewash furniture.
When uncertain on how your paint or stain might react on your wood surface, test your paint by applying it to a small section of your furniture.
There are ready-mix whitewash paints such as Mobile Paints 2918P Whitewash, Color Wash by Minmax, and Rust-Oleum Milk Paint.
Priming your wooden outdoor furniture before whitewashing is optional but can hide the texture and graining, which gives whitewashing its vintage look. You can use self-etching primers or any other similar paint that still shows a good amount of your wood texture.
For your sealant, always choose a sealant that has a similar base content to your whitewash paint. For instance, if you applied latex paint on your whitewash then use a similar water-based latex sealant.
Although your outdoor furniture receives a lot of ventilation, using a low VOC content paint or sealant is still advisable as it prevents harmful fumes from gassing off when using your furniture. Low VOC paint should contain less than 50 grams per liter of volatile compounds or choose paint or sealant that has a Green Seal.
See more related content at our article about whitewashing a brick fireplace at this page.