Here are some porch light color meaning, such as a red porch light, a blue porch light, a purple porch light, as well as blinking porch lights.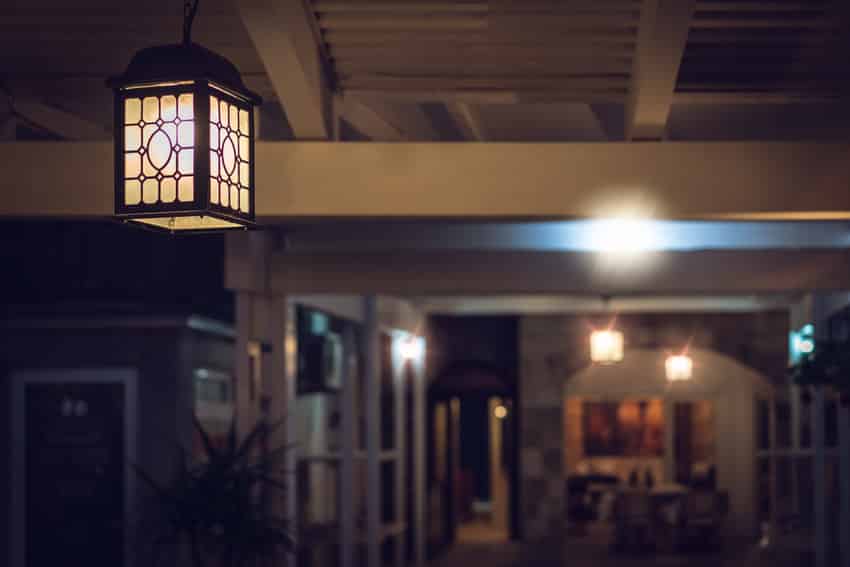 Porch lights are typically white—cool white, natural white, or warm white. However, you may recall that years ago, homeowners used yellow "bug lights" on their porch, which are known to keep bugs away.
While the color of the bulb doesn't exactly keep bugs away, the color of your porch light can actually send a message. Many homeowners use colored porch light bulbs according to the message, mood or, feelings they want to convey to passers-by.
Moreover, the psychology of color reports that different colors cause different reactions in people's subconscious; they play a large part in everyday life and affect how people feel and react. Some colors promote well-being and create a welcoming space for visitors, while others indicate a call for help.
In this guide, we'll explore what the different porch light colors mean and how the porch light color affects both homeowners and visitors.
What Does a Red Porch Light Mean?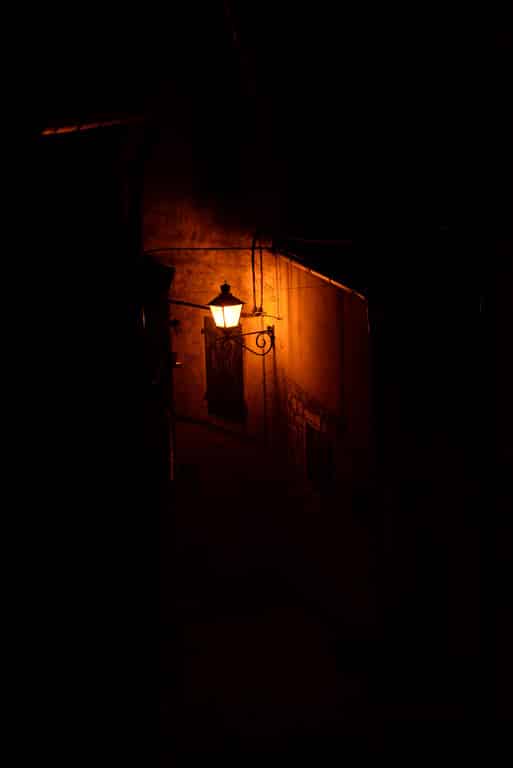 Every February is the American Heart Association's Go Red for Women month, wherein the association encourages people to wear red to raise awareness about heart disease. Consequently, homeowners use a red light bulb for their porch to show their support for those battling against the said disease
February 14th is also Valentine's Day, a great reason to light up your porch with red light. Additionally, a red porch light is also great for Christmas.
However, many years ago, a red porch light would represent a brothel where men could go to enjoy the company of a woman. Also, while gun control was a charged topic in 2016, using a red porch light basically indicates a gun-free home.
What Does a Blue Porch Light Mean?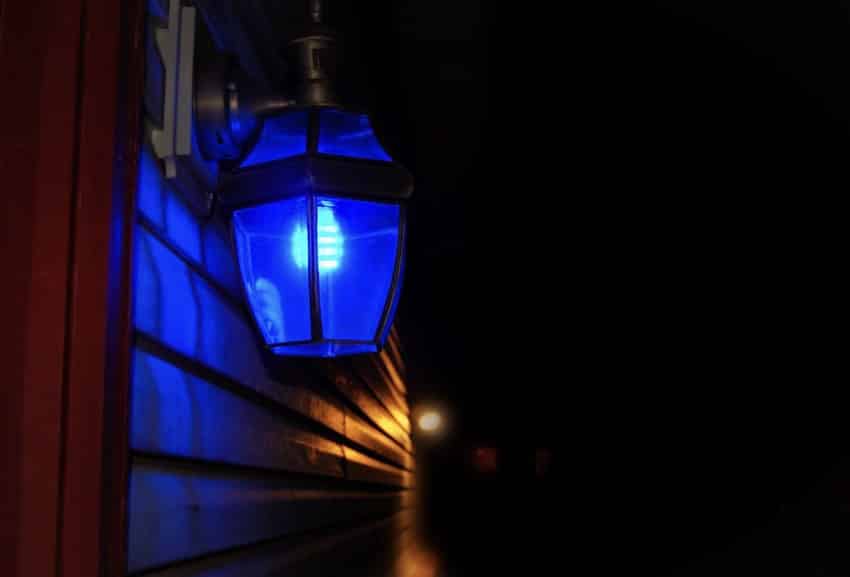 A blue porch light shows a message of respect and support for police officers. National Law Enforcement Appreciation Day was launched in 2015 to support police officers and their families.
Another organization, Concerns of Police Survivors (C.O.P.S.), began Project Blue Light after Dolly Craig lost her son-in-law in the line of duty. She displayed two blue lights in her window to honor her son-in-law and daughter, who were both killed in a car accident in 1988.
Blue also promotes relaxation, calmness, and peace. Similarly, the color blue became the official symbolic color representing World Autism Awareness in 2007.
The United Nations General Assembly declared April Autism Awareness month, encouraging people to show their support by wearing blue. A porch lit up by a blue light supports the efforts to recognize autism.
What Does a Purple Porch Light Mean?
Purple is often associated with royalty or a position of a high calling, such as receiving the purple heart for bravery during the war. Purple can also invoke feelings of imagination and mystery.
However, in 2007, the Domestic Violence Task Force in Washington State chose to adopt the color purple to bring awareness to domestic violence. According to the C.D.C., "About 1 in 4 women and nearly 1 in 10 men have experienced domestic violence."
Homeowners who light up their porch purple are letting people know they stand against domestic violence. They're also sending a message that domestic violence is not tolerated in their homes.
What Does a Green Porch Light Mean?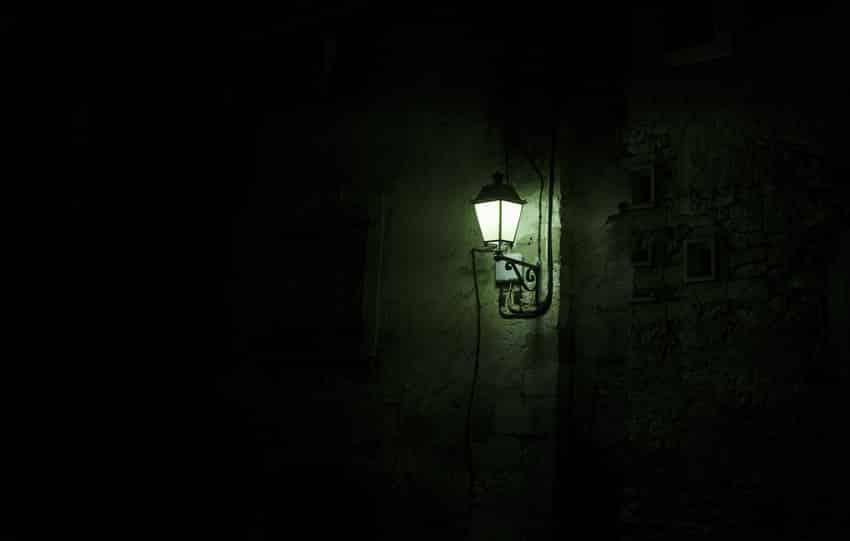 Green is associated with hope, renewal, and a feeling of wellness. It's also a color representing November 11th, a day where the U.S. celebrates Veteran's Day to honor those who have served and still serving our country.
The U.S. Military established "Greenlight a Vet," a campaign to carry the shining of a green light all year to support veterans. A porch light that's green, the standard color of fatigues, shows support for all military personnel and their families.
Meanwhile, March is also the celebration of St. Patrick's Day, honoring St. Patrick, patron saint of Ireland. Displaying a green porch light in May also supports Lyme disease awareness.
What Does a Blinking Porch Light Mean?
With the advent of smart technology, homeowners can choose to purchase smart light bulbs for their porch. These bulbs are controlled by an app on either an iPhone or Android device which allows homeowners to turn the bulb off and on, dim the brightness, and blink repeatedly.
A blinking porch light suggests someone in the home needs help. The blinking alerts the police or emergency response vehicle where the house is, which saves time and helps when a home is located in a rural area.
Of course in the traditional sense a blinking porch light color meaning can also simply signify a light that is about to burn out and needs to be replaced. You should be able to tell the difference at a glance to determine if someone is truly in distress.
Mood Effects of Colored Porch Lighting
Because color affects our moods, porch light colors can likewise have an impact on neighbors or visitors. You may want to use a blue porch light to showcase a calm and welcoming home or a green porch light to offer visitors a feeling of hope and wellness.
Meanwhile, the color red has a broad spectrum of feelings associated with it, from love and romance to anger and rage. Use a red porch light during the months where it fits appropriately; December for the holidays, February for heart disease and Valentine's Day, and November for Halloween.
Finally, a purple light can be euphoric as it invokes feelings of mystery and creativity. Nonetheless, choose a lighting color that sends a message or shows your support, or get creative and light up your porch with a color that inspires good feelings to others and yourself.
For more related information visit our gallery about the types of lighting fixtures.