Here are our ideas to update the China cabinet with the best options to consider, including chalk paint, refinishing, decoupage, and new hardware. China cabinets are classic furniture pieces that are good for functioning as a focal point within any home. However, there might come a time when you want to give it a significant update to retain its attractiveness.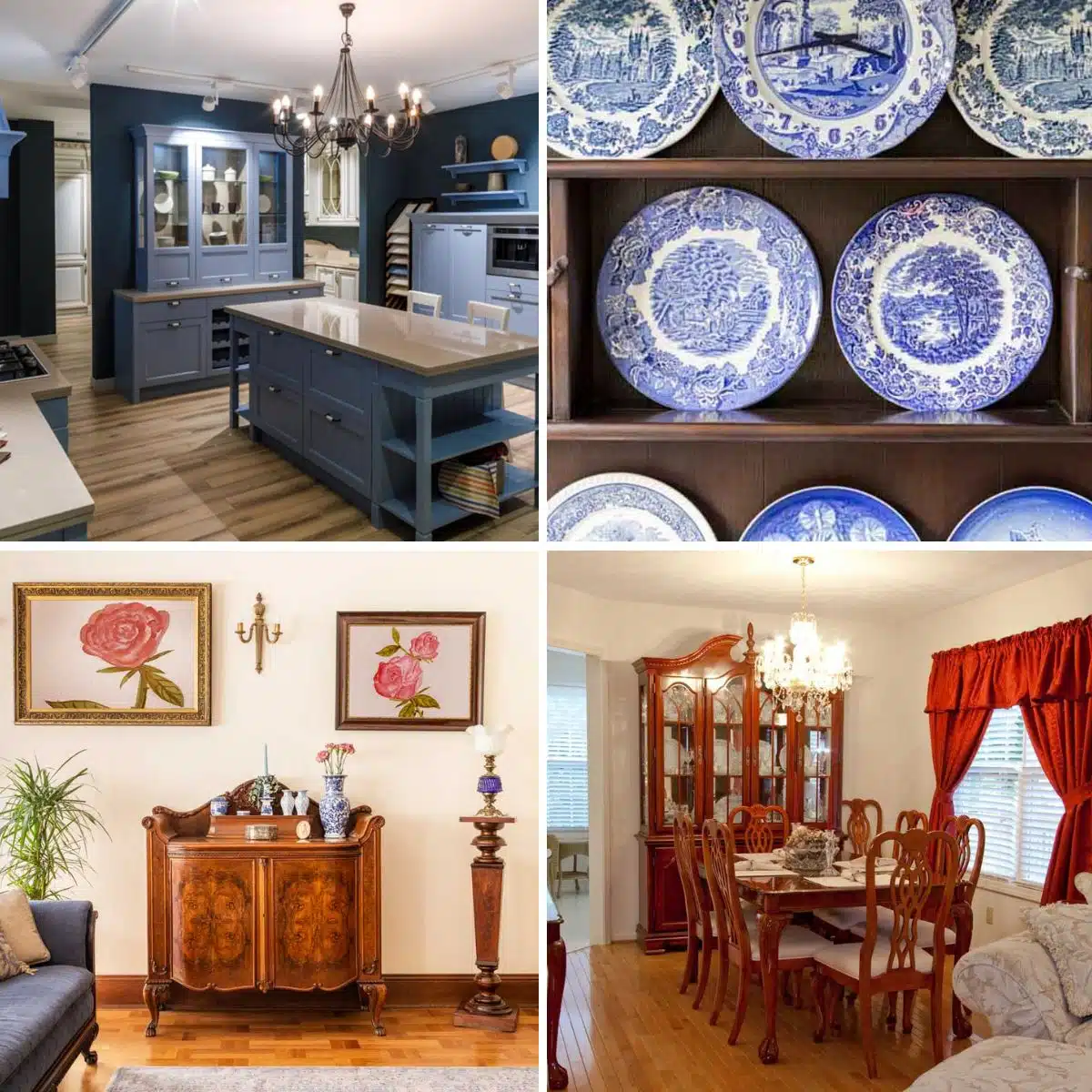 Fortunately, there are a lot of artistic ways to give your China storage cabinet a modern spin. Whether it is repainting, using chalk paint, updating the hardware elements, changing the glass, or embellishing using trims – you can update your China cabinets in a variety of ways.
With the creative ideas we are about to show you; hopefully, you can instantly update your China cabinet to suit your personal preferences and improve your entire home decor.
Chalk Paint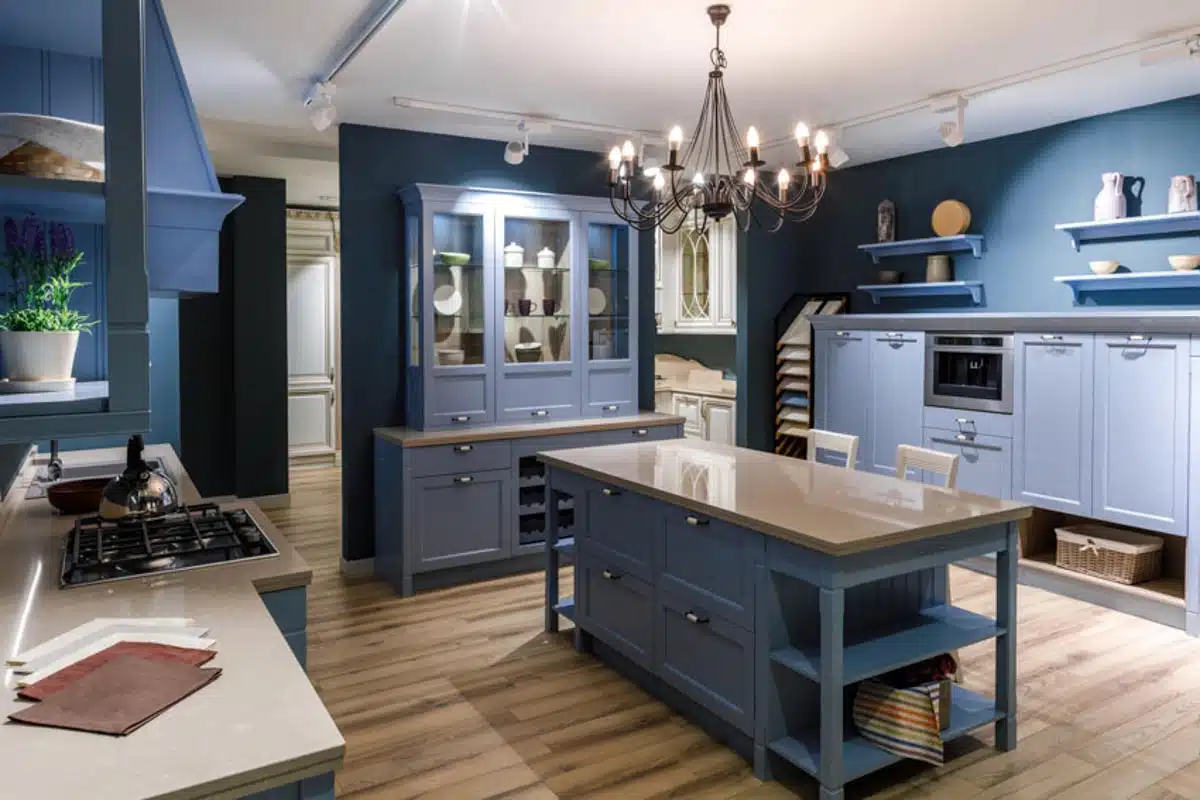 Did you know you can breathe new life into your outdated China cabinet with chalk paint? That's right. It is customarily known for its matte finish, draped in rustic charm that adds warmth and a fresh vibe. Isn't that something? So, if you're looking to update your furniture piece quickly and easily – this is the way to go.
Still, when it comes to chalk paint cabinets, there are other options besides just matte. You can also find high-gloss or semi-gloss finishes in the market, but you don't see them as often. Matte is probably the most popular choice because you don't have to worry about scratches, and it allows for a more shabby-chic, vintage vibe for your China cabinets.
High-gloss chalk paint is a great way to give your China cabinets an impressive new look that makes them pop. With semi-gloss finish, you get the best of both worlds—durability and a stylish shine. Talk about a total chic transformation.
Ready to give your China cabinet an upgrade? Go ahead and choose your favorite chalk paint finish – then let's get started with these steps.
Begin by detaching any old hardware and glass panels, then give the whole thing a good clean. Now, you're all set to begin applying the paint. Use a quality roller or brush for the best results, and you'll be ready to show off your handiwork in no time.
If you're after that rustic look or a paint job that's not quite see-through, adding multiple layers of your favorite chalk paint might do the trick – make sure it's fully dried. Of course, if your China cabinet is already in good condition or has the ideal hue, you may not have to go to such great lengths.
When you're done giving those cabinets a fresh coat of chalk paint, go ahead and give them an extra dose of protection with a top-quality topcoat or clear wax. The wax will give the furniture a smooth texture while also making it last even longer. Plus, it'll make your China cabinet look fabulously chic.
Another option besides chalk paint is to use milk paint that is non-toxic, has no VOCs, and is safe for the environment. This can give a furniture makeover that adds a vintage touch to your china hutch and transforms it from a drab wood look to an appealing pastel.
Refinish The China Cabinet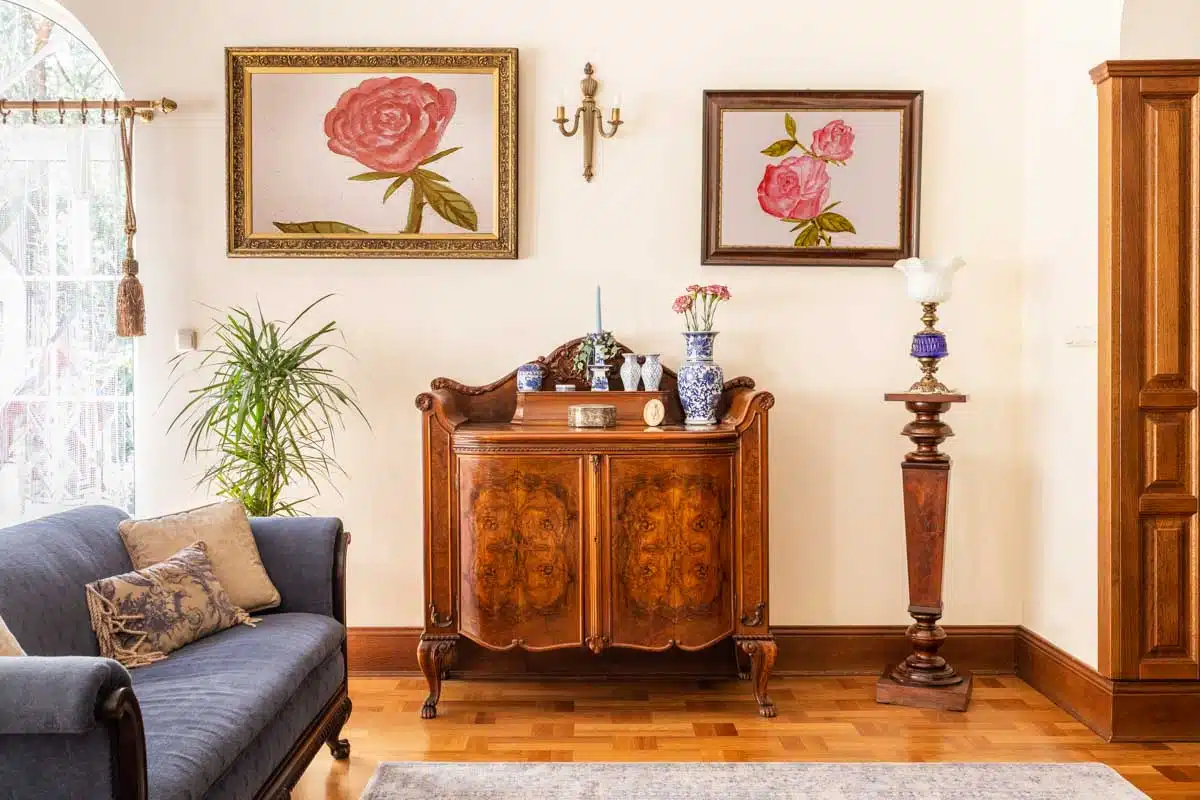 You need to know that bringing an old China cabinet back to life is a fulfilling and rewarding DIY project. From unveiling its artistry and beauty, to showcasing its previous grandeur – there's nothing quite like it.
Here are some ways to refinish the cabinet and give it a brand-new look you'll love:
Monochrome: Use black or white paint to create a modern showpiece.
Two-tone: Use one color for the exterior and another for the interior, creating a contemporary style and visual interest.
Stain: Add a rich wood stain to focus on the quality of the wood and its natural grain patterns.
Pastel: Go for a vintage look by using a pastel color palette.
To get started, simply remove the doors, shelves, and any hardware such as hinges or knobs, from your cabinet. This enables you to tackle each part of the surface uniformly and easily.
Give that China cabinet a thorough clean with mineral spirits or trisodium phosphate to get rid of all the grime and gunk. Wipe it down with a dry cloth – do it two or three times to make sure there's no residue left behind that could mess up the stain. Don't be shy – give it some elbow grease.
Sand that wooden surface with care, making sure always to follow the grain. This will ensure the stain sinks deeper and guarantee a smooth finish. Plus, those pesky nicks or dents? Fill them right up with some wood putty.
Once it's dried, sand the putty down until your surface is nice and smooth. Then start staining it – begin with the intricate parts first, then do the larger flat areas. Use long, steady brush strokes to make sure you get even coverage. Give the stain time to set – check how long on your package – before layering on a second coat to get a darker color.
Once that stain's bone dry, it's time to reattach all the hardware, doors, shelves, and drawers to the cabinet – secure them all nice and tight. Double check that everything is just right in its place; there is no room for any mistakes here.
Decoupage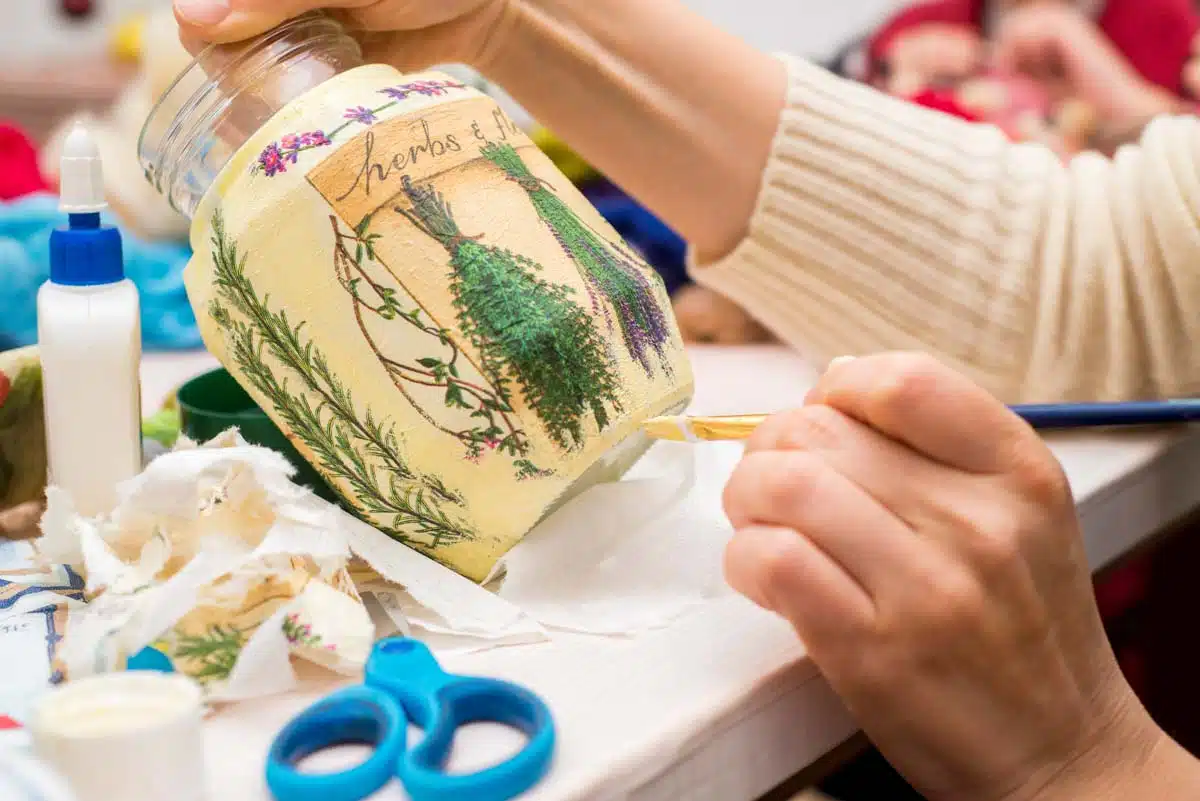 Decoupage is such a great way to give furniture – including gorgeous China cabinets – a whole new look! Get started by finding the perfect medium, like really fancy patterned napkins, tissue paper, or thin fabrics.
Decoupage is a method of laminating paper to surfaces. The craft dates back to the seventeenth century where it was first used to decorate furniture. The term comes from the French découper, "to cut out." – Decoupage Can Be Deadly, Lois Winston
Cut away with care any extra fabric layers to get the perfect design. For napkins, use only the top pace slip that shows off the pattern for a neat finish. To keep it from fraying or tearing, coat it with a thin layer of decoupage adhesive or glue as an extra safety net.
Coat your China cabinet with a brush or sponge and decoupage adhesive or glue, but don't pile it on too thick otherwise, you will risk wrinkles and bulges. In other words – keep it even.
Carefully lay the decoupage material down on the glue-covered surface and arrange it as you like. Use a dry, clean cloth or a plastic squeegee to flatten out any wrinkles or air pockets, starting from the middle and working outwards for a flawless finish. Now you're all set – time to sit back and admire your handiwork.
Once the decoupage fabric is stuck on nice and tight and the glue has had plenty of time to dry, go ahead and slather on a second layer of decoupage glue. This will ensure it stays put and protect it from wear-and-tear.
Now that the China cabinet's been given a fab makeover, why not take it to the next level and add some extra bling? Grab some beads, ribbons and decoupage layers – whatever your heart desires. And don't forget to let everything dry before you put it proudly on display – then you'll be done and dusted.
Update The Hardware
Do you want to give that antique china cabinet of yours a bit of an update? Revamp its cabinet hardware for a fresher look – trust us, it'll be worth it. Even just the little changes can make all the difference.
With great care, pry out the knobs, handles and pulls from your China cabinet using either a screwdriver or drill. Don't forget to hang onto the screws and hardware – you never know when they'll come in handy for replacements.
Before getting to work, it's vital that you give the surface area a good clean-up, removing any dirt and gunk. Then use some sandpaper to ensure a nice even base for your brand-new hardware.
When deciding what kind of hardware is best suited for your cabinet, take into consideration style, material and finish as well as the size, shape and positioning of the pieces. You'll be left with an aesthetically pleasing uniform look.
Finally, get your drill or screwdriver ready and secure that new hardware to your China cabinet. Make sure it's lined up perfectly and fastened nice and tight. If the holes are too big for the hardware, fill them in with some wood filler and give them a nice sanding before you paint or stain them.
Remove The Glass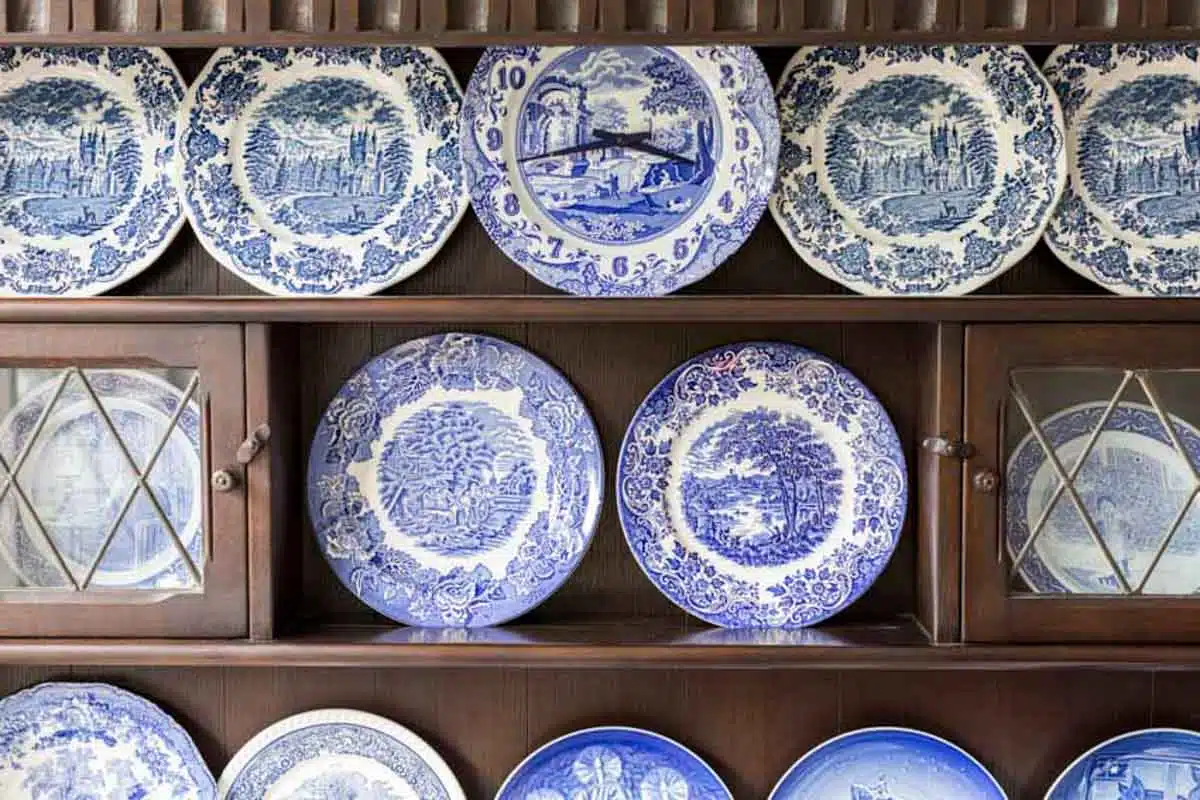 Take your China cabinets to the next level by going glass-less. Start by taking the doors off and popping them out of their cabinet hinges. You'll need a screwdriver or a drill to get the job done. Afterward, you've got yourself one eye-catching display.
Once you're done, you can take the glass away from the doors easily and safely. Pop off the bolts or clamps that keep them in place, and watch out – these panels are delicate and need to be handled with care to avoid getting hurt or breaking something.
You have to scrub the China cabinet inside and out to ensure it's squeaky clean, and free of any glass crumbs. Shimmy on over to the sandpaper, too; it will give a perfect, speck-free backdrop for whatever you want to do with it later.
Now that the glass panes have been gotten rid of, it's time to spruce up that China cabinet to your heart's content. Whether you want to leave it as is, paint it up, put on a coat of varnish or wallpaper the back panel with a dash of chromatic flair or intricate detail – the choice is yours.
Enhance the Interior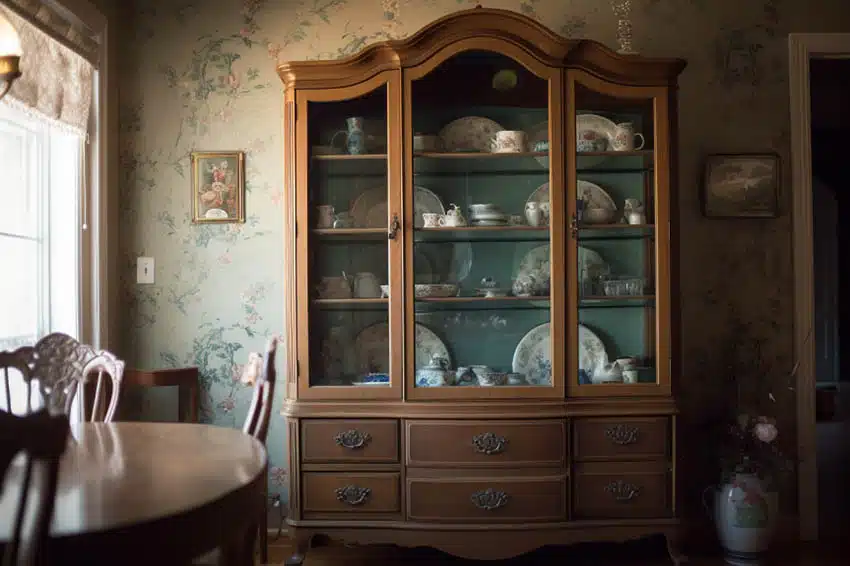 By focusing on the interior of the cabinet you can breathe new life into a drab cabinet and draw attention to the decor items you're displaying. You can use paint, wallpaper, or even peel and stick tiles to give the furniture a new look.
Other decorating options include installing painted beadboard panels to create a farmhouse style or even rattan, or repurposed baskets for a bohemian look.
Light Up the Inside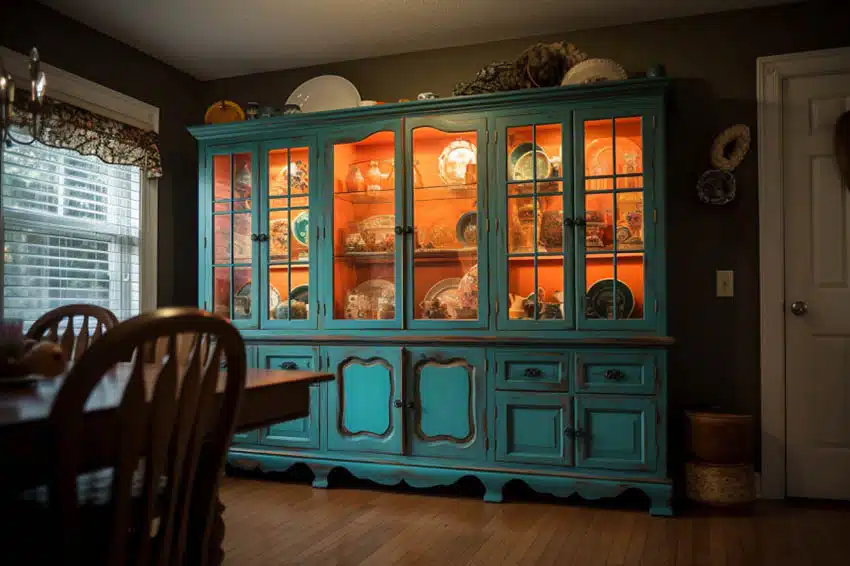 Adding under cabinet light strips can transform your boring cabinet into an illuminated showpiece. You can mount strip lighting on the underside of the shelving toward the front if there is a lip to hide the fixtures. If you don't have an overhang you can experiment with positioning the light strip against the back panel, directly below each shelf.
When buying LED strips look for products with a dimming feature to adjust the brightness to your desired level. This can create an alluring glow when turned down at night that can really draw attention to the piece and the decor items within.
In addition, consider looking for a product with smart home integration so you can use an app from your phone, using voice commands, or via remote control to set the lighting levels.
Color Coordinate the Decor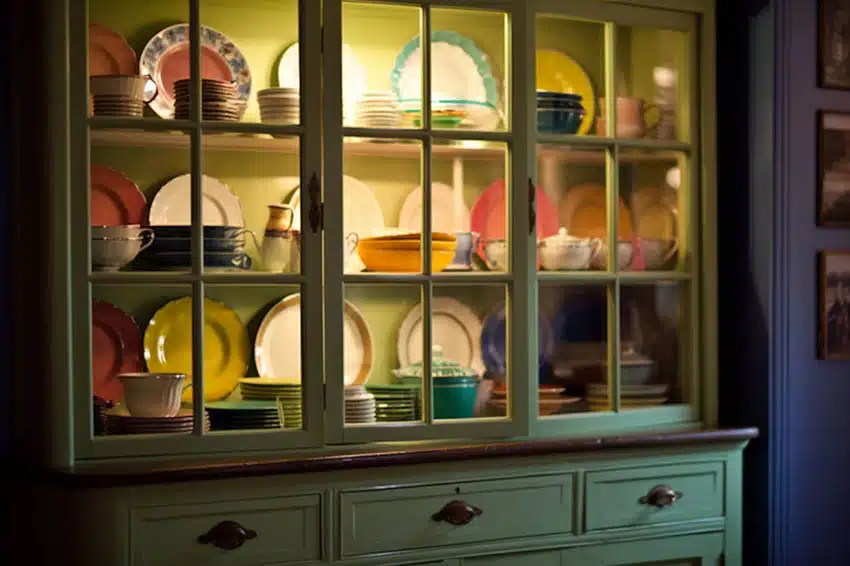 By changing up the home decor items on display, you can draw attention to the interior. Arrange your favorite china and other decorations by color to create interesting patterns and contrast. Stack plates, bowls, and dishes of different sizes along with cups, mugs, or other colorful products to add character and make a statement.
You don't have to fill every inch or available space when arranging; it's really up to you and your personal preferences.
Install Decorative Trim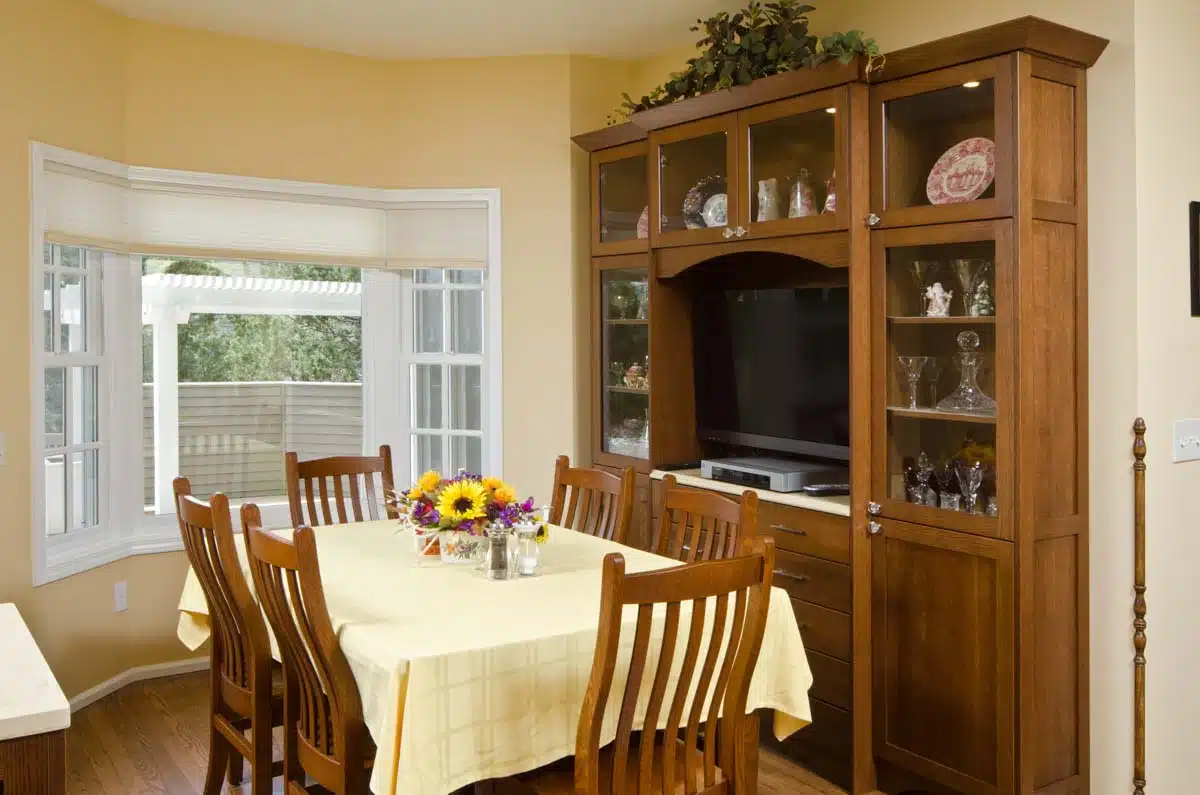 If you desire to add a splash of originality to your China cabinets, why not try sprucing them up with fancy trim? It would elevate the appearance of the china cabinetsand give a much-needed facelift to the whole room. It's sure to be a real head-turner.
Gearing up to spruce up that China cabinet? Don't leave anything out. Gather all the right materials, like a tape measure, pencil, level, saw or miter box, glue , and nails, or a trusty hammer and drill. And let's not forget the finishing nail punch or putty – you want your furniture to look flawless. Got everything you need? Then, it's time to get crafting.
Once you've gotten your hands on what you need, be sure to get accurate measurements of where the trim needs to go – marked with a level and pencil. Then, whizz up the trims to fit the exact lengths and angles for your China cabinet. Get your saw or miter box ready – it's time to start cutting.
To get a consistent texture, sand the cut edges if you need to. Then, stick the trims to your China cabinet using glue or nails – making sure they're level with each other. Afterward, use a finishing nail punch for a polished appearance. To tie it up nicely, fill any gaps with putty and give the entire area a final sand to give it that refined touch.
Bar Cabinet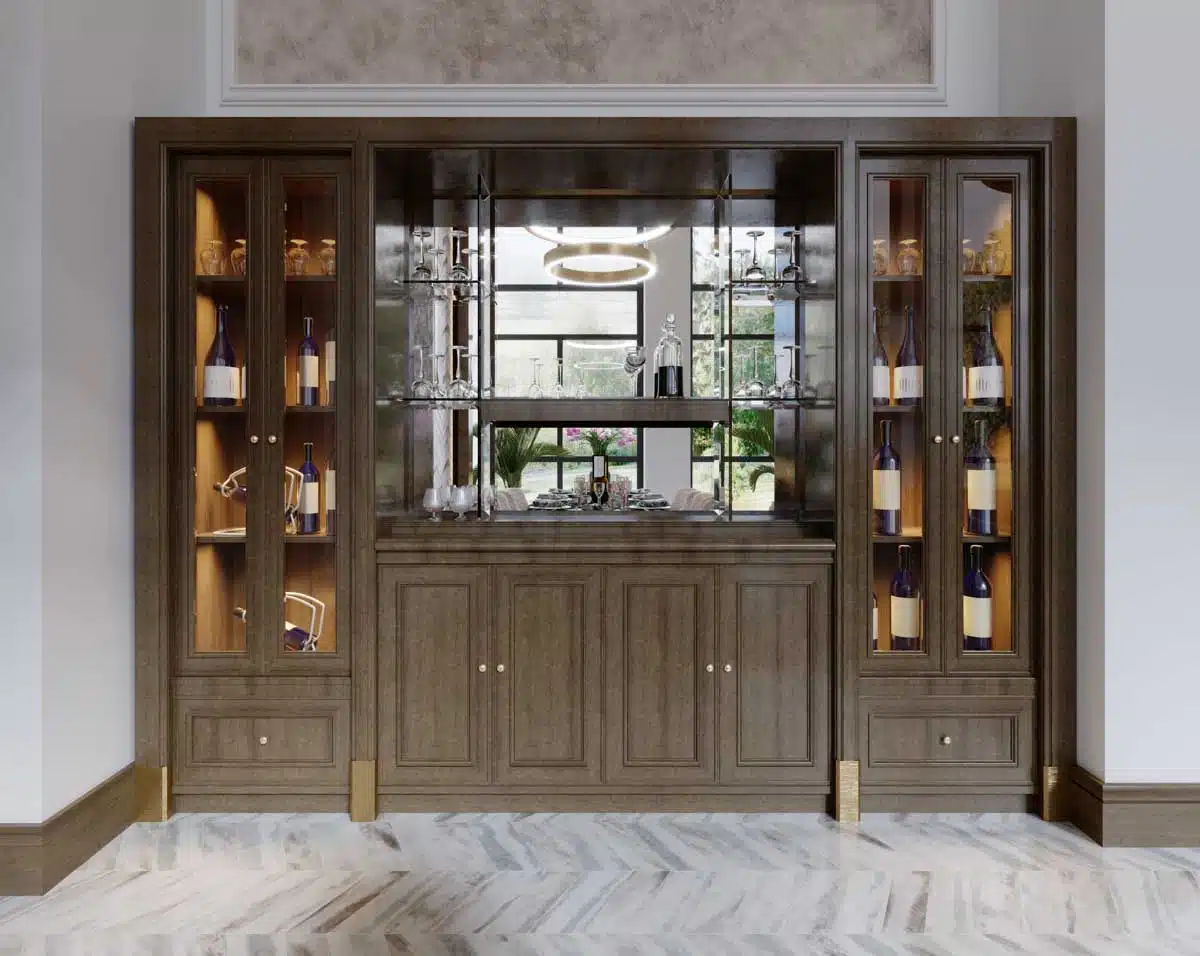 Updating the fee and appearance, as well as some structural parts of the China cabinet would be a way more satisfying experience once you convert it into a chic bar cabinet. Doing so would make your kitchen or any space where the China cabinet is situated a more functional and stylish spot.
You can commence the updating process by detaching first the glass panels and cabinet doors so you can produce an exposed display zone. To provide nice, practical, and reliable storage for your bottles and other glassware items, you can start mounting the glass shelves securely. Furthermore, to emphasize your collectibles, you can also install some LED lights.
Afterward, you can consider painting the cabinet interiors – the paint color option would depend on the color, material, and finish of your bar items. For instance, if your items are on the lighter side, then the interior paint must be on the darker side to provide contrast, and vice versa.
Once the paint is already dry, you can also install wine racks to safely accommodate your wines as well as a sturdy stemware holder for your cherished wine glasses.
Cookbook Nook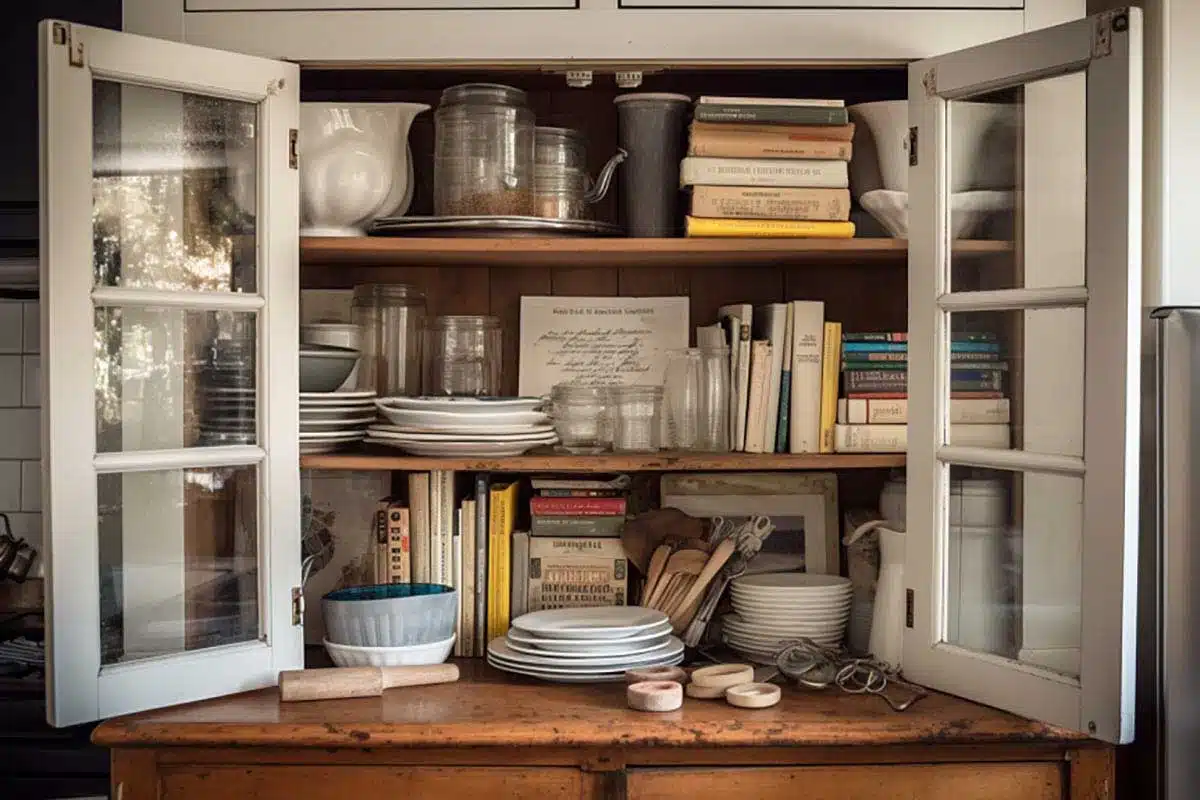 Are you a cooking expert or simply an `enthusiast? Well, probably the most ideal way to transform your China cabinets is a cookbook nook. This would be a dream come true for you.
To start, detach the glass panels along with the doors to make the cabinet open and easily accessible. You can also paint the cabinet interiors afterward – just make sure that the paint color you will use will complement the overall decor and theme of your current kitchen.
Once the paint is dry and the cabinet is ready to be converted, start installing some adjustable shelves since the main purpose of your cookbook nook is to showcase and store your treasured cookbooks.
Expert designers also normally suggest mounting hooks on some parts of the cabinet interior so you can also store certain kitchen utensils like measuring cups, spoons, silverware, and the like.
However, the vast majority of the items that are present in this cabinet should be your most frequently used cookbooks – you just have to ensure that you organize them accordingly. To further enhance the style and functionality of your cookbook nook, you can attach a mini corkboard on the exterior part so you can write down the meal or recipe plans for the week.
Crown Molding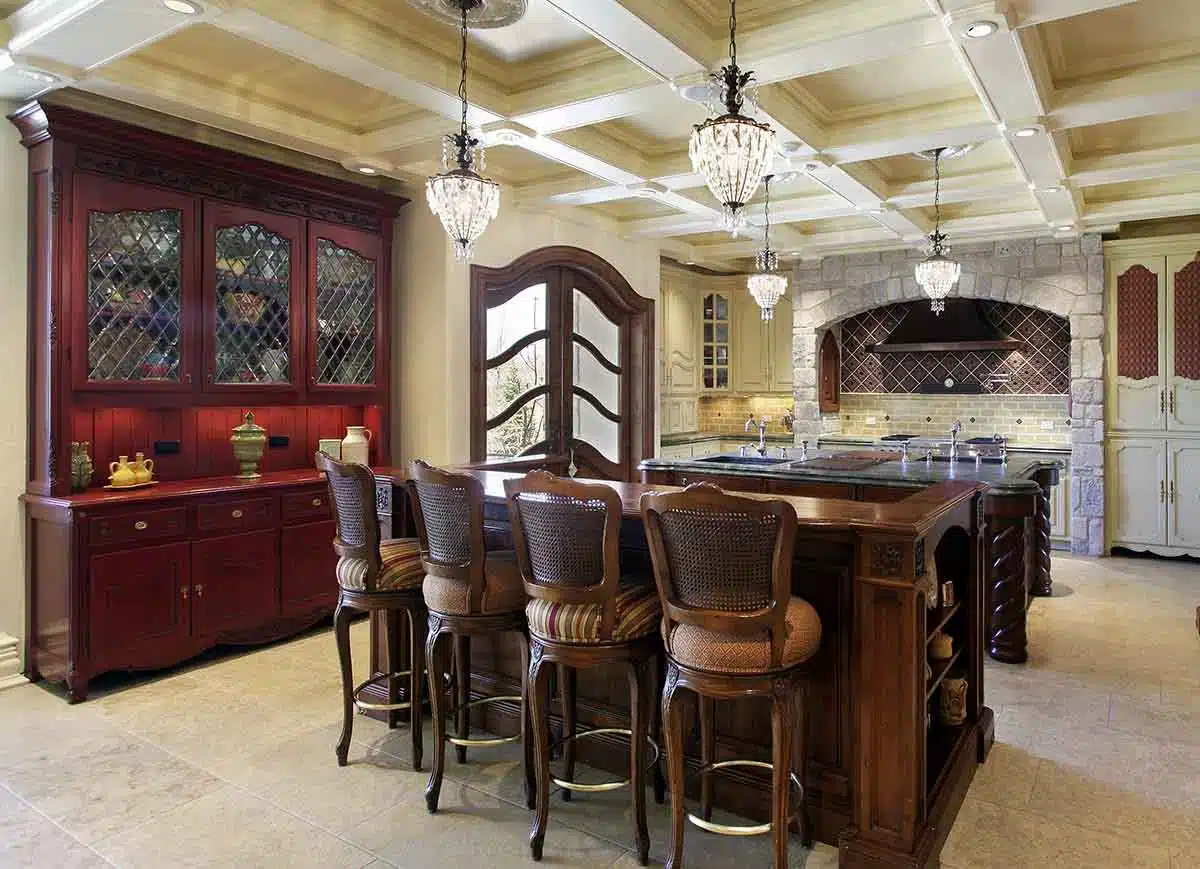 This might be somehow surprising, isn't it? However, keep in mind that there are lots of interior designers who recommend enhancing the elegance of the China cabinets by decorating them with crown molding. The purpose of adding crown molding is to achieve that polished appearance that will aid in making the cabinet seamlessly blend with the design theme of your kitchen.
You can start the process by getting the measurements of your China cabinets using a measuring tool. Make sure that the style of the crown molding you'll pick is perfectly fit to the current aesthetics of your cabinet. You can cut the crown molding smoothly according to its necessary length or angle. The joints should connect flawlessly.
Afterward, the crown molding should be attached to the topmost surface of your China cabinet. You can attach them using nails, screws, or other forms of durable adhesives. The attachment of the crown molding must be level, smooth, and secure.
You also have the option to stain or paint the crown molding if this will help maintain design consistency. On the other hand, there are several alternatives to crown molding that can do the job as well.
Remove Doors
Basically, the easiest way to update your China cabinet is just to remove the doors to create an open concept that will easily create a functional display area. Once the doors are removed, you can paint the interiors with your chosen paint color and mount glass shelving. After the paint has dried, voila! You can already put your favorite dishes, fine dinnerware, and collector's items on the glass shelves.
Barn Wood Panels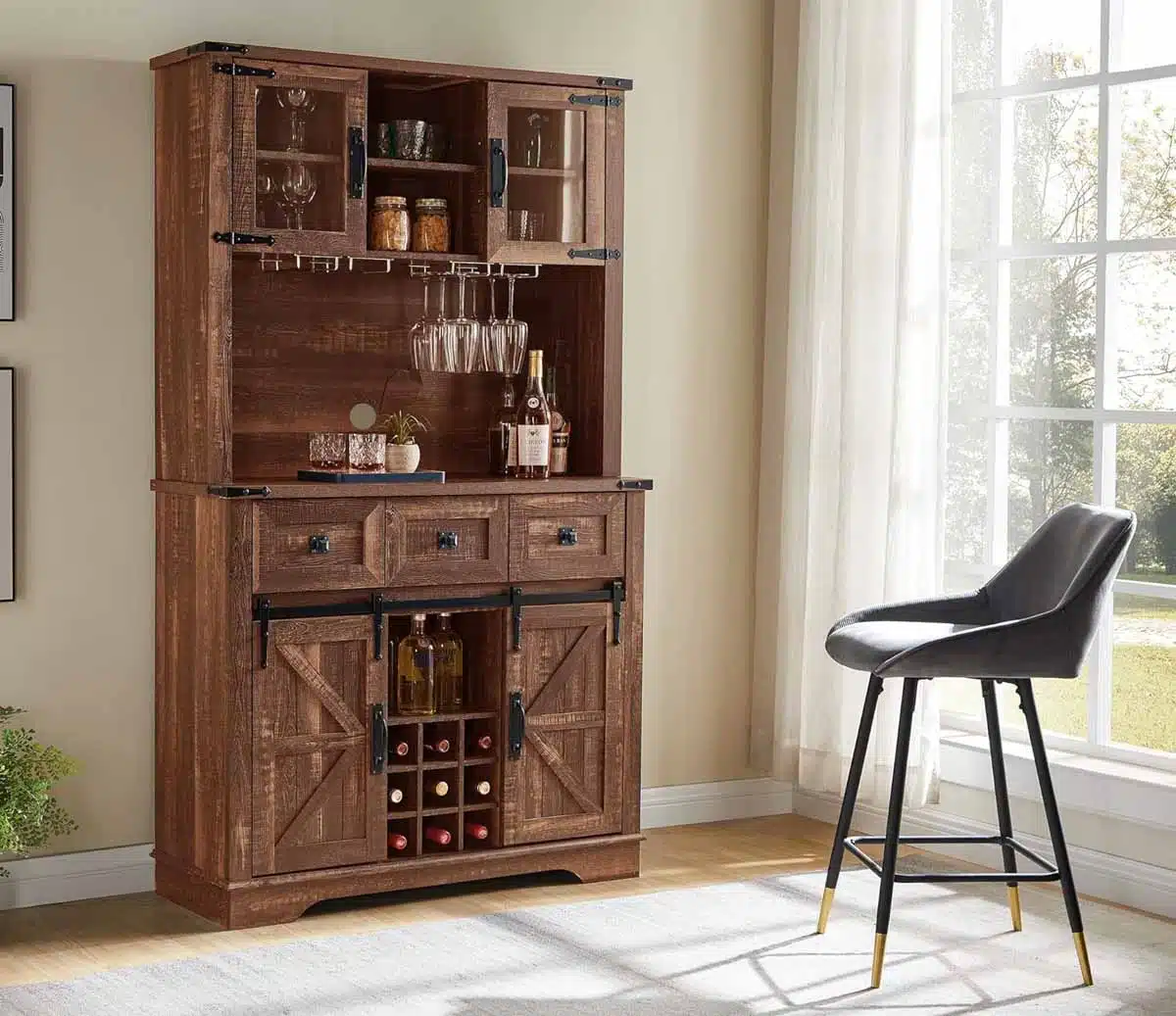 See this farmhouse bar cabinet at Amazon [sponsored link]
If your current design aesthetic is more on the rustic, farmhouse vibe, then warming up the appearance of your China cabinet with barn wood panels may be the wisest decision.
The installation initially involves measuring the surface of the China cabinet and selecting the best-quality barn wood panels. You can install them using screws or nails, ensuring that the panels are evenly aligned.
You can also sand the edges of the barn wood panels to achieve a weathered appearance, which helps add warmth and character. The rustic aesthetic may be fully accomplished if you install hardware items like knobs or handles that are made out of wrought iron or brass.
Rotating Decor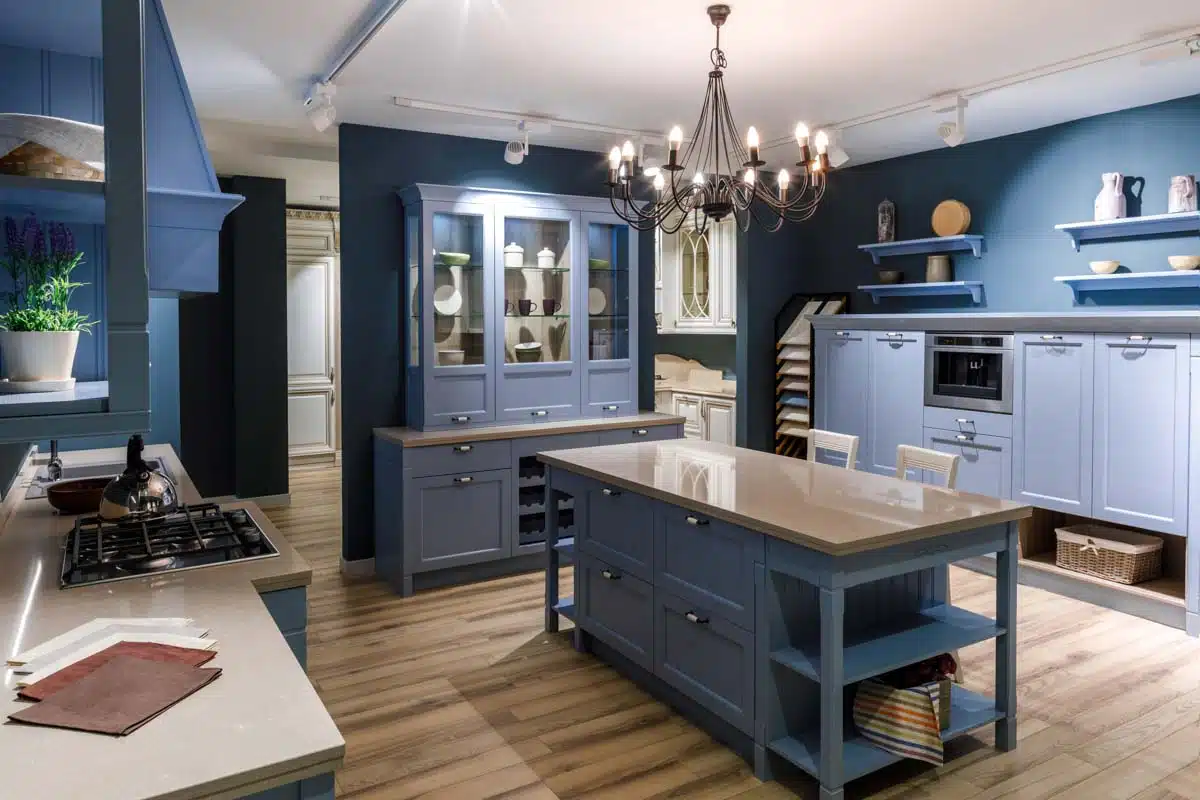 To keep things more exciting and up-to-date, you can consider rotating the decor of your China cabinet to match the current season or holiday. For instance, if you want to make the cabinets well-matched with Christmas, you may want to achieve a color scheme that features green and red.
Another instance is if you are hoping to match the cabinet for the spring, you can consider displaying dishes that are pastel-colored as well as flowers. During the summer, it would be a bright idea to display nautical-themed decorations such as seashells.
However, if you wish to rotate the decor continuously, make sure to invest in collectibles, tableware, and other ornamental elements that are easy to swap.
See more related organization related content in our article about Hutch vs China cabinet on this page.