This gallery of sage green kitchen walls showcases the best paint color ideas, designs, the shades that go best with sage walls, and the complimenting hues.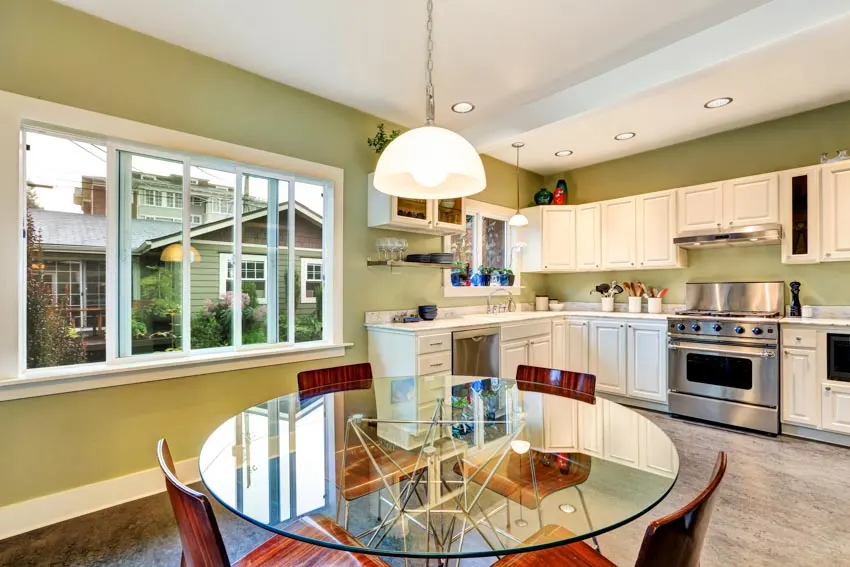 Are you looking for a color that can make your kitchen unique and different from the standard white? Sage green is an amazing color to consider and check out!
A white kitchen is a clean standard look for most homes but you can get as quirky as you want if you choose to. Sage has become a popular color option for many things, from the color of one's journal to a home's kitchen walls.
Designers have become fond of this color and kept on pushing them to different aspects of today's lifestyle. And it's not surprising since the color is pleasing to the eye and accents a space without overpowering it.
Sage green is considered a versatile color that can produce a particular vibe depending on what you pair it with. It is currently on trend and whether it's a passing fad or not is still unknown but you can just chalk it up to the future.
Sage Green Walls In Kitchen Ideas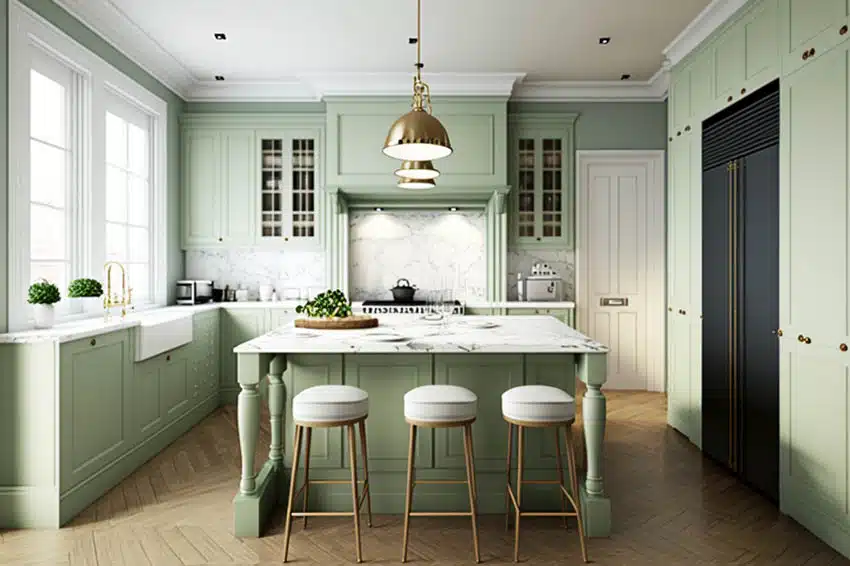 One of the ways to incorporate a sage green color scheme in your home, particularly in the kitchen, is through its walls. The color has this calming effect that you would want to experience when dealing with chaotic elements like fire (Yes, when cooking!).
With sage green kitchen walls, your kitchen space will feel bigger than it actually is. Its light color features this welcoming and comforting ambiance you want your kitchen to have.
Here's some of the different ways you can incorporate a sage green kitchen wall into your home.
• Use sage green completely on all kitchen walls
• Make the sage color a feature wall or green accent wall
• Sage green wall tiles matched with white/grey wall tiles
• Monochromatic (two-tone) sage green and dark green walls
• Sage green wall tiles and wooden cupboard with brass handles
If you're looking for sage green paint colors to consider, there are several worth mentioning. Here's some of the popular sage colors to choose from:
Sherwin-Williams Evergreen Fog (SW 9130)

Benjamin Moore Oil Cloth (CSP-760) Behr Bitter Sage (N390-4)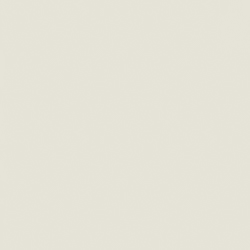 Farrow & Ball French Gray (No. 242)
Farrow & Ball Mizzle (No. 266) Clare Money Moves Farrow & Ball Lichen (No. 19)
Light Sage Green Kitchen Walls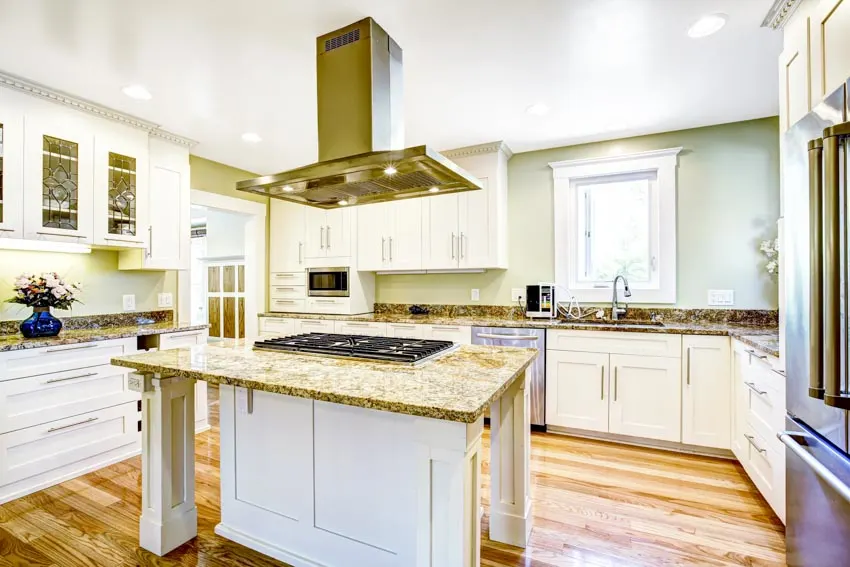 If you're going for light sage green kitchen walls, you can do so to have a more enhanced and modern feel to your home's space. You can build a layer of sage green color palette and match your light-colored kitchen walls with dark colors to somehow give include something popping in it and add depth to the kitchen.
Besides the usually painted walls, you can also choose a sage green patterned design for your walls to have something interesting and different. But if you want to stick with paint and looking for light sage green paint, here are some incredible selections. C2 Paint New Leaf (C2-670) Benjamin Moore October Mist (1945)
Benjamin Moore Hollingsworth Green (HC-141) Benjamin Moore Sage Wisdom (CSP-775)
When it comes to light sage green kitchen walls, a deep tone can balance the color. You have to consider the possible colors that go with sage green so that your kitchen won't look like just a splash of colors. Read more about colors that go with green here.

What Colors Go With Sage Green Kitchen Walls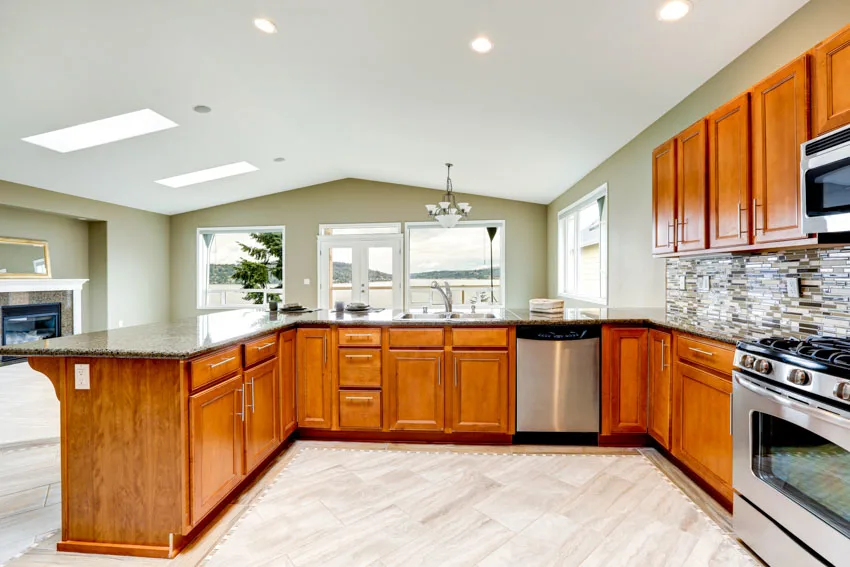 Choosing the right colors to match your sage green kitchen walls can go a long way in terms of aesthetics and producing the envisioned vibe you have for the space. And before listing different colors, understanding sage green and its characteristics will be a good start.
Sage green is simply a muted version of green. It easily pops out when matched with metallic colors and adds warmth to this combination. This means that it also goes well with a gold and brass finish. The color can effectively be used for traditional, contemporary, rustic, farmhouse and Bohemian room designs.

Considered the color of the year 2022, sage green is everywhere and it's matched with different colors. Here are several colors that go well with this trendy color.
Wood Tones Behr Studio Clay (MQ2-27)
Sage green will always be associated with the color of leaves and nature. This is why wood tones would look wonderful with it. So if you have wooden types of furniture styles in the kitchen, sage green walls will work wonderfully with them.
This is a good combination if you are going for something traditional in style or a mid-century modern vibe. And some of the wood tone paint colors you can check out include: PPG Rocky Road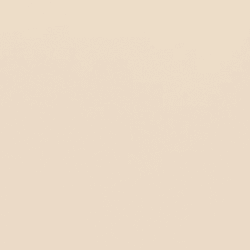 Clare Turbinado
Brown

Farrow & Ball Buff (No. 20)
Brown, similar to wood tones, works perfectly with sage green. Applying this combination to your kitchen will make this space feel like you're in a cabin in the woods. Some of the best brown paint colors are the following: Benjamin Moore Charlton Brown (CW-265) Sherwin-Williams Ligonier Tan (SW 7717)
Black

Sherwin-Williams Tricorn Black (SW 6258)
If you're going for bold and popping, black is an incredible color to consider as a good match for sage green. You can go with sage green kitchen walls with a black accent all around the room. Check out these black paint colors you can use.

Farrow & Ball Off-black (No. 57)

Benjamin Moore Jet Black (2120-10)
Cream Benjamin Moore Natural Cream (OC-14)
Choosing the subtle pairing of sage green and cream, the former will offer a refreshing feel to it while the latter will cater to the warmth necessary to balance it out. Here are some magnificent cream paint colors to explore. Farrow & Ball White Tie (No. 2002) Benjamin Moore Swiss Coffee (OC-45)
What Color Compliments Sage Green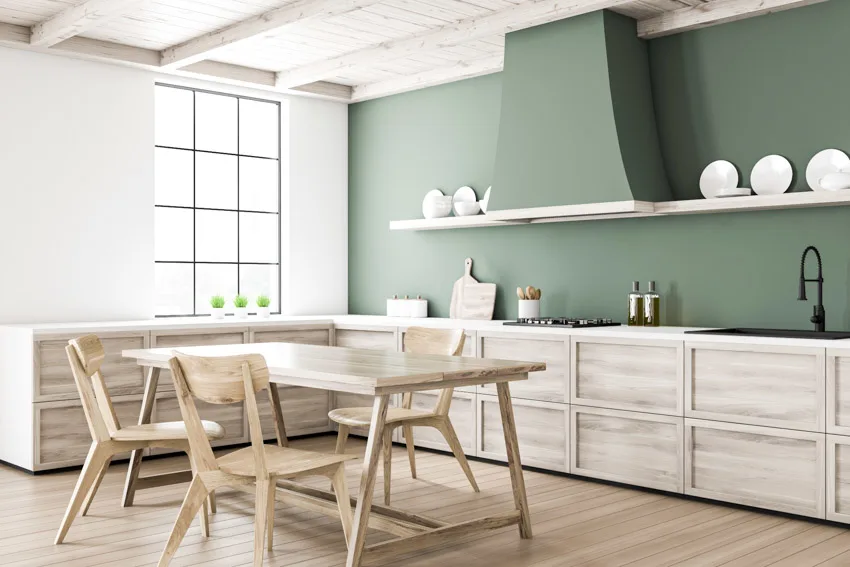 Complementary colors are paired colors that are very different from each other but when they are mixed result in a dull color like gray or brown. Complementary colors, when paired together, make each other pop and stand out.
This makes the colors more vibrant to look at. With sage green, here are some of the colors that compliment it well, balancing and elevating how it looks.
Gray

Benjamin Moor Gray Owl (2137-60)
Gray is an earthy color that you can choose for your furniture or countertop and pair with your sage green kitchen walls. This match is guaranteed to look subtle yet stylish at the same time. The great thing is that there are many shades of gray to match the sage green walls with.
And adding a pot of plants in the mix can make the entire room feel more outdoorsy. If you're thinking about choosing a gray paint color, here are some amazing options you can explore.

Sherwin-Williams Passive (SW 7064)
White

Sherwin-Williams Alabaster (SW 7008)
White is the standard color of the kitchen and if you want to somehow retain that characteristic of this particular room then you can match it with your sage green walls. Fresh and crisp white cabinets or countertops can add freshness and at the same time warmth to the calming neutral sage green.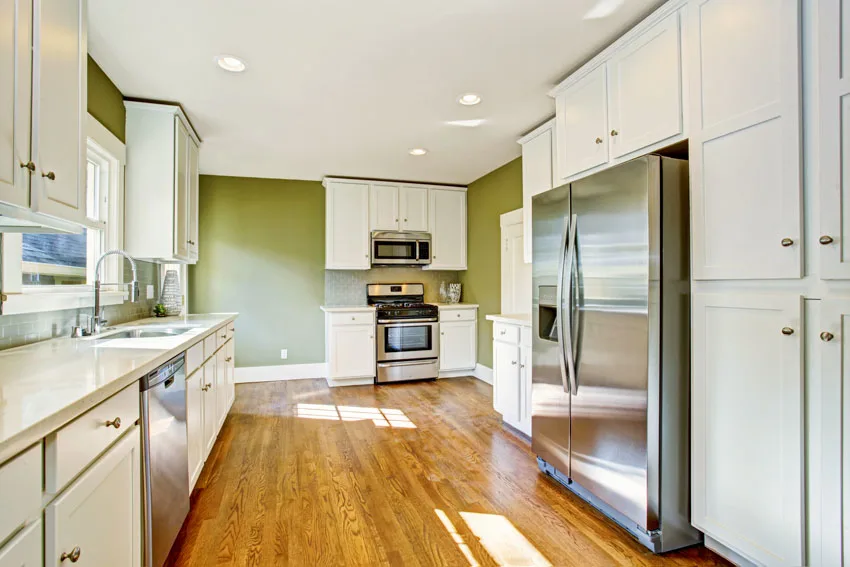 Since white looks too clinical, adding sage green to the mix will lift the "clinical" out of your kitchen and make it much more welcoming and inviting. The white and sage green combo offers a cottage-style charm that feels peaceful and serene. Explore the following white color paints. Benjamin Moore Chantilly Lace (OC-65) Sherwin-Williams Extra White (SW 7006)
Yellow Farrow & Ball Hay (No. 37)
If you feel like your sage green walls need more warmth with them, yellow is the color to go to. You can go for a subtle yellow tone with dusty yellow and muted gold or you can go all the way and choose bold and daring yellow.
Whichever you choose, yellow and sage green complement each other so you won't be regretting pairing them together. For recommendations on yellow paint colors that match sage green well, here are some worth taking note of.

Benjamin Moore Inner Glow (348)

Benjamin Moore Banana Yellow (2022-40)
Red

The Spruce Best Home Persimmon Orange
Red is the complementary color of green and since sage green is simply its muted version, it's only logical that red will also complement sage green.
To match the muted shade of sage green though, you can always go for muted red. Your red color choice doesn't have to be that loud. Here are some red paint colors that will look wonderful with your sage green kitchen walls.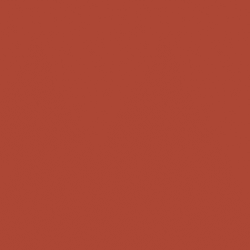 Behr Morocco Red (PPU2-17) Valspar Berrylicious (1005-1A)
Pink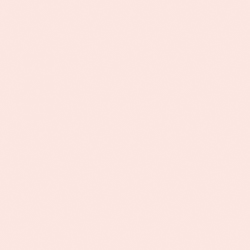 Farrow & Ball Calamine (230)
Lastly, pink is the complementary color of sage green because it's basically muted red in the first place. Soft and dusty pink will look wonderful with sage green considering both feel investing and delicate.
Using these two colors in your kitchen will give you a romantic and sophisticated kitchen you can be proud of. Of course, you can always choose other shades of pink since there are many options to choose from anyway. And here are some of those options:

Sherwin-Williams Coral Reef (SW 6606)

Behr Rose Sorbet (150A-2)
What Countertops Go With Sage Green Kitchen?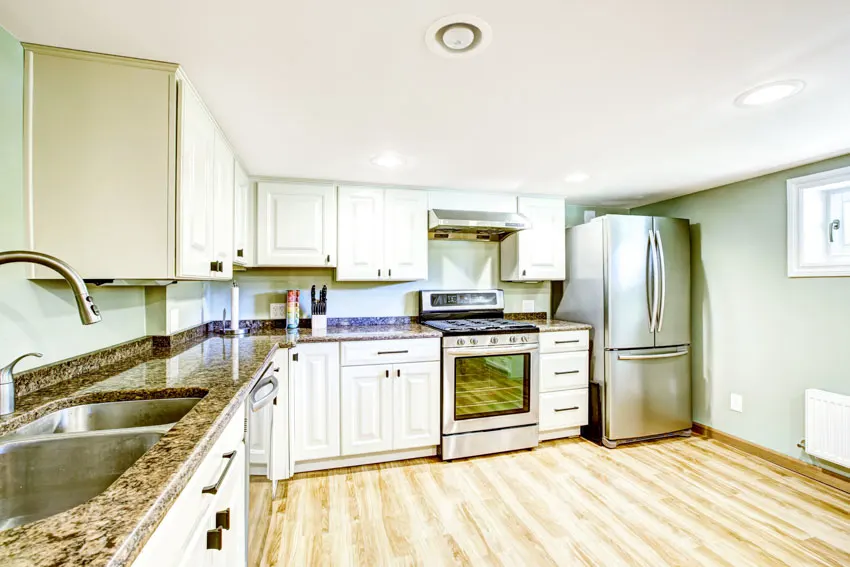 With your sage green kitchen walls set, one important element to take into account is your countertop. And depending on the effect and style you're going for, you can choose the specific material, color, and texture of the countertop that can add to your kitchen's aesthetics.
For a monochromatic approach, bold dark green types of kitchen countertops will look amazing with your sage green kitchen walls. In this setup, the countertop will serve as the accent element of your kitchen.
And the great thing about this combination is that even with the choice of dark colors, the combination can still look wonderful for smaller kitchens with the sage green walls creating the illusion of a bigger space.
A dark natural stone is the ideal combination for your sage green walls and can create the dramatic contrast you don't know you need. Besides looking elegant, the additional color will make the kitchen more modern and sleeker.
What Color Cabinets Go With Green Walls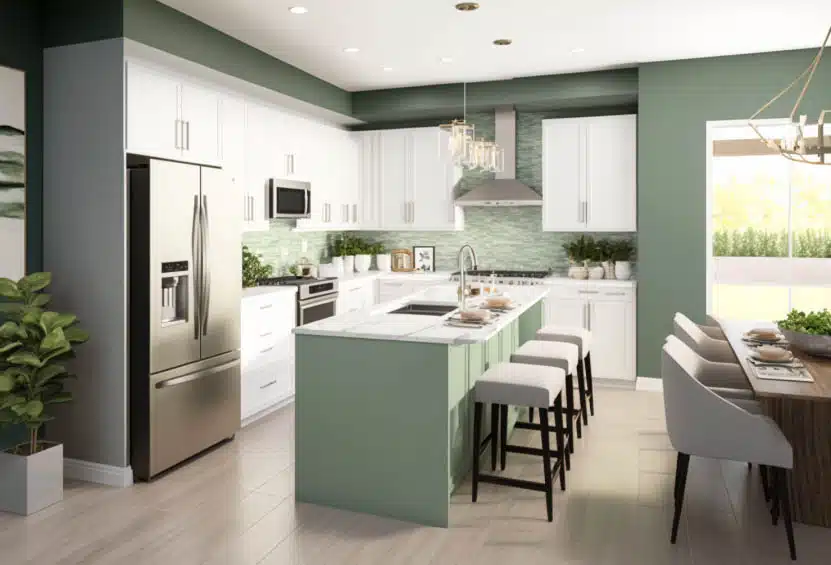 Besides the countertop, you also need to match your cabinets once you decide to go for sage green kitchen walls. You can always paint your cabinets in the colors that go well or complements the color sage green.
A contrasting kitchen design with white cabinets and a sage green island can tie in the sage wall colors, create a harmonious feel and help elevate the brightness.
A sage green kitchen is a chic and trendy space so if you want to maintain that style, you can go for dusty pink or buttery yellow cabinets. These soft shades will add to the welcoming vibe that's already been introduced through the sage green walls. They will also make the kitchen feel lighter and bigger than it actually is.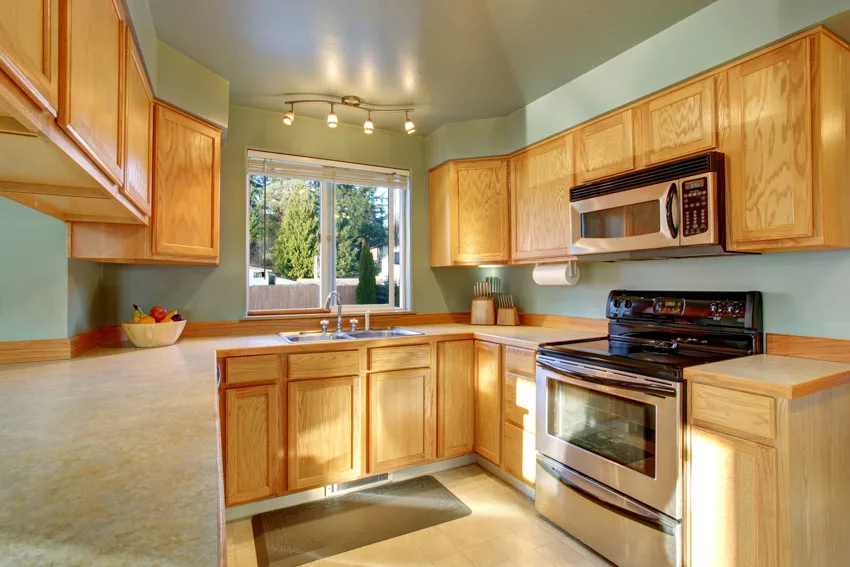 But if you're going for something more elegant, hardwood cabinets with neutral colors and wood tones will create a traditional and rustic feel. Since sage green is already light, go for a darker-colored wood with rich tones like walnut and mahogany. They will offer the elegance and high-end feel to your kitchen.
Along with the wooden kitchen cabinets and drawers, another element that goes well with sage green is metal. When sage green is partnered with metallic colors, the metallic colors shine brighter and somehow add a unique touch to the subtle color of sage green. So for your cabinets, you can use brass handles and knobs for a more vintage feel to it.
Another thing you can consider for your cabinet is its texture. You can either go for a glossy finish or matte kitchen cabinets and both would look wonderful with sage green walls. For a more modern style, a matte finish is an ideal option. A glossy finish is a choice though if you're going for a contemporary look for your kitchen.
Is Sage Green Warm Or Cool?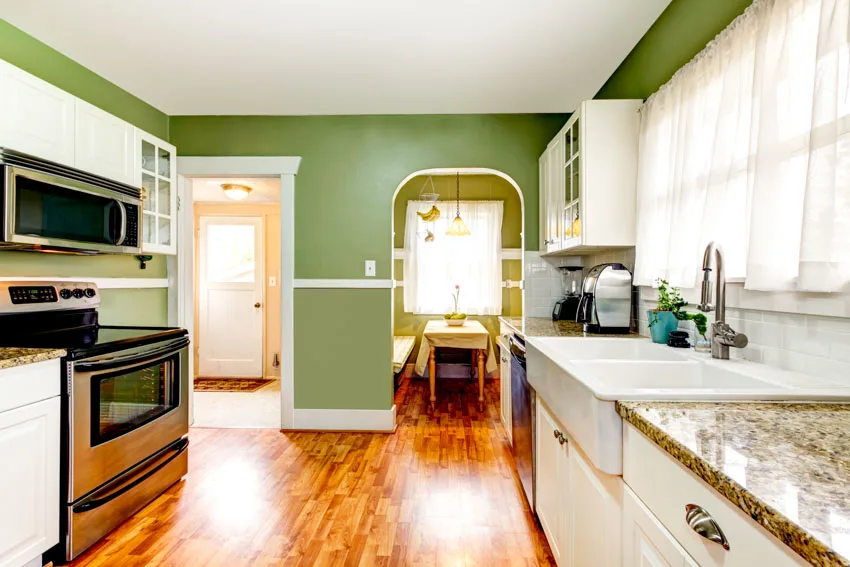 Sage green is a neutral color that can either be warm or cool, depending on the shade you use, how you use it, and the elements you pair it with. This versatile color is capable of creating total opposite vibes depending on the elements and styles mixed with it.
Sage green is a color that flows nicely, creating a layer of calmness and comfort. Since it's neutral, you can use it for additional warmth or coolness, depending on what you need. While many seem to associate it with coolness more of the color of mint and leaves, sage green is actually something in-between.
See more related content in our article about kitchen colors with brown cabinets on this page.