This guide to floor tile sizes includes the standard size for square & rectangular tiles, thickness, and different bathroom, living room & kitchen floor tile dimensions.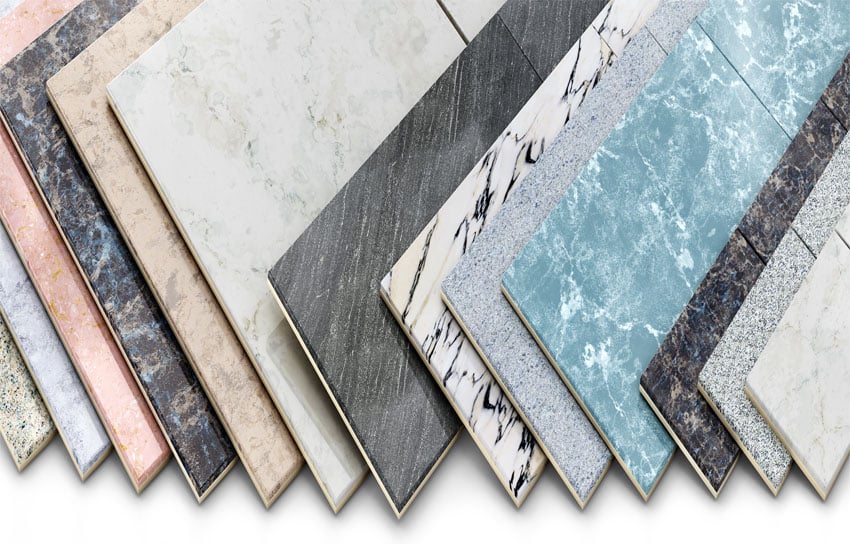 Flooring is one of the many ways a homeowner can elevate the total look of their home during construction or renovation. There are many tiles available with different designs and sizes to be utilized for every room of a home, from the kitchen to the bathroom floor.
Homeowners can achieve a traditional grid pattern with specific tiles, but they can also achieve an edgy diner-style checkerboard pattern with black and white tiles.
Aside from the floor, tiles are also very versatile in that they can be used for walls. Kitchens and bathrooms are usually where homeowners can select designs for tiles to be used on walls.
Floor Tile Sizes Standard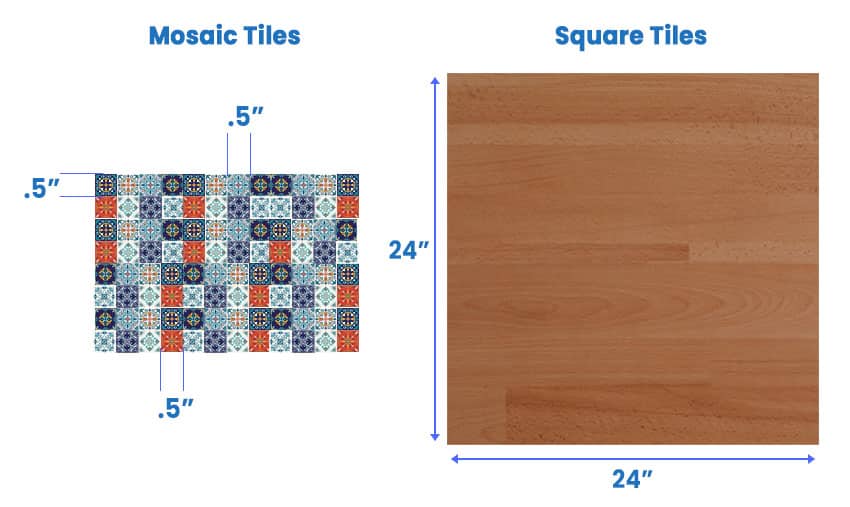 Different types of floor tiles are available in many colors, styles, shapes, and sizes for the homeowner to fully personalize their space and interior design. Tile size will also depend on what material they are made of and their specific and intended use. Through the years, the standard tile size is also increasing with the need and trend of larger tile floor designs.
Standard tile sizes are available from the smaller .5 by .5 inches or 1.27 by 1.27-centimeter mosaic tiles to the larger 24 by 24 inches or 61 by 61 centimeters tiles found in most commercial spaces.
The most popular standard floor tile sizes are 12 by 12 inches, 18 by 18 inches and 12 by 24 inches in width. Do keep in mind that while a tile may be referred to as being 12 by 12 inches the actual 'true' measurement is often 11-7/8 inches by 11-7/8 inches.

How Thick Are Floor Tiles?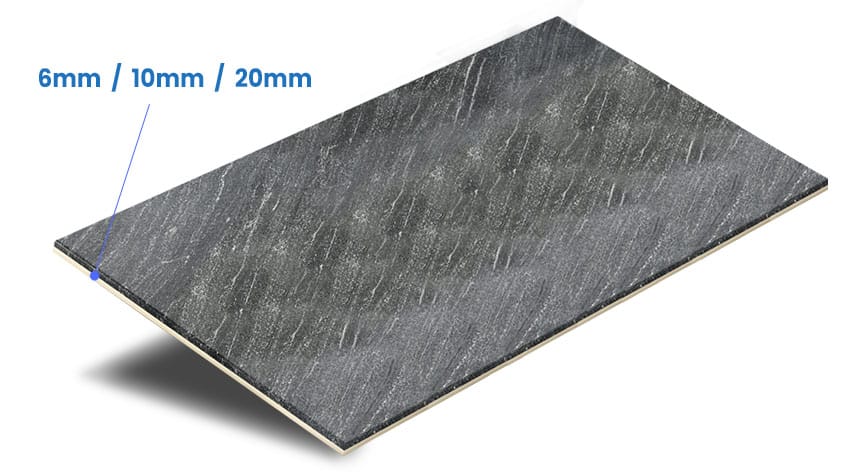 Other than the length and width of a floor tile, another dimension to consider is the thickness of the floor tile. There are ultra-slim tiles available at 6 millimeters or .24 inches and also standard ones at 10 millimeters or .39 inches, which are the most frequently used and versatile thickness. Tiles used for walls are usually in this or between these sizes.
If a homeowner wants a thicker tile, there are the hefty 20-millimeter tiles that are some of the toughest tile pavers. Tile thickness is critical because it will dictate how high the floor will end up after construction or renovation.
Rectangular Floor Tile Sizes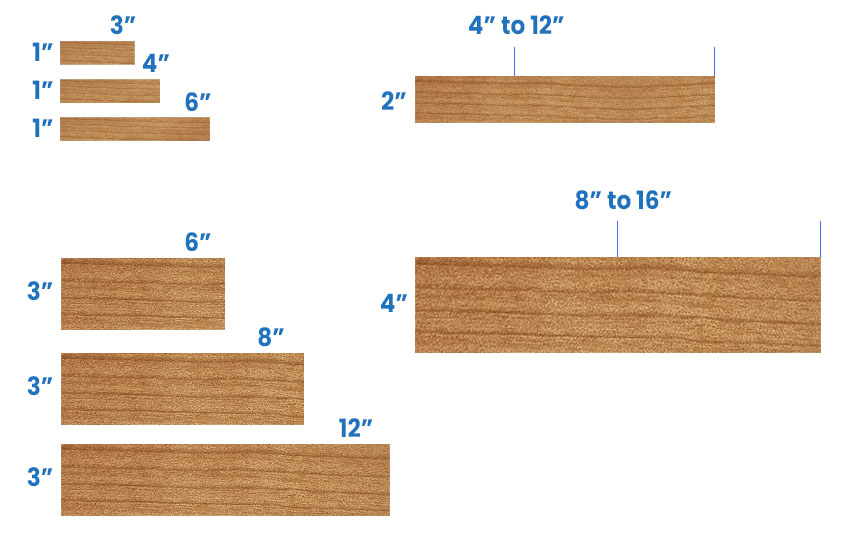 Aside from square tiles, there are also rectangular tiles that homeowners can utilize for their floors and walls. Some of the most common rectangular tiles are subway tiles reminiscent of the tiles on New York subways. These styles are fashionable and available in many colors for tile use.
Smaller rectangular tiles are available with a height of 1 inch or about 3 centimeters with a width of 3, 4, and 6 inches or 8, 10, and 15 centimeters. An elevation of 2 inches or 5 centimeters is also available, with widths running from 4 to 12 inches or about 10 to 30 centimeters.
Medium subway tiles are available with a height of 3 inches or 8 centimeters, with a width of 6, 8, and 12 inches or 15, 20, or 30 centimeters. If any homeowner wants something bigger, a good height is 4 inches or 10-centimeter subway tiles with a width that goes from 8 to 16 inches or 20 to 41 centimeters.
Bathroom Floor Tile Size
Aside from the design aspect considered for choosing a bathroom tile, there is also the proportionality that is important to consider. Large format tiles will look out of place and awkward in a smaller bathroom, and several tiles need to be utilized for a tile to work visually for a room. So what are the available sizes for bathroom tile?
Any homeowner can choose to use 1-inch or 3 centimeters tile for their smaller bathroom, while large shower floors can use tiles that are at least 12 inches square or 30 centimeters.
Small Bathroom Floor Tile Size
A small bathroom or shower pan will require a smaller tile so everything will look proportionate and cohesive. There are 4 by 4 inches or 10 by 10 centimeters floor tiles they can use, while smaller mosaic tiles are also available at 1 inch by 1 inch or about 3 centimeters square.
Small tiles are used for smaller showers not just to be laid down on mortar so that the water can flow to the drain, but they also offer a better grip for the feet on a wet floor.
Maximum Tile Size For Shower Floor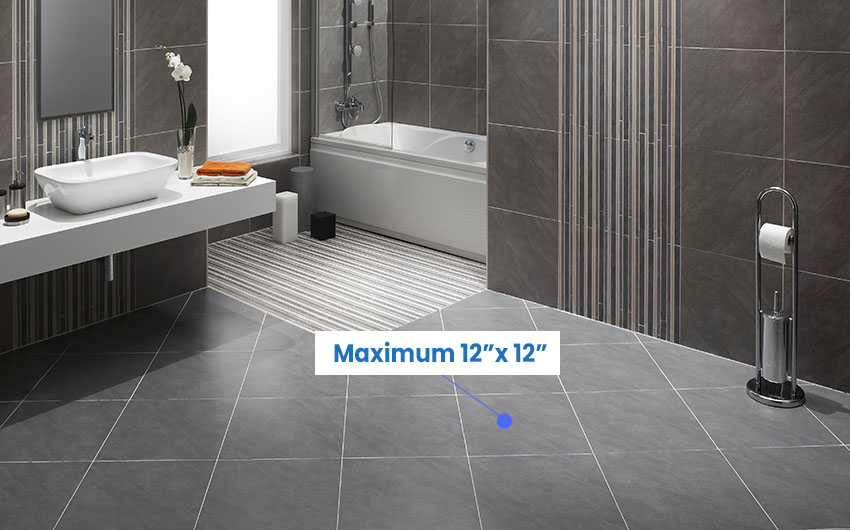 Tiles are available for as big as 24 by 24 inches or 61 by 61 centimeters, but when it comes to the washroom, there is a maximum size one should use to ensure maximum water flow and also how pleasing it will look in the end.
Bathroom floor tile designs should utilize a maximum floor tile with a size of 12 by 12 inches or 30 centimeters square. This is the largest one can find that is still commonly used for flooring since some tiles bigger than 12 inches square will be mostly used for wall tiling.
Best Size Tile For Shower Floor
The best tile size for any shower floor will depend on how big or small the shower pan, or the bathroom is. For small shower pans or floors, the best tile size to use is the 1-inch square ones that are primarily mosaic tiles.
Medium and more enormous showers or bathrooms will have more flexibility since homeowners can choose to go up to 12 inches square tiles for their flooring. Twelve inches or 30-centimeter tiles are also easy enough to cut with tile saws for easy gauging.
Best Floor Tiles Size For Living Room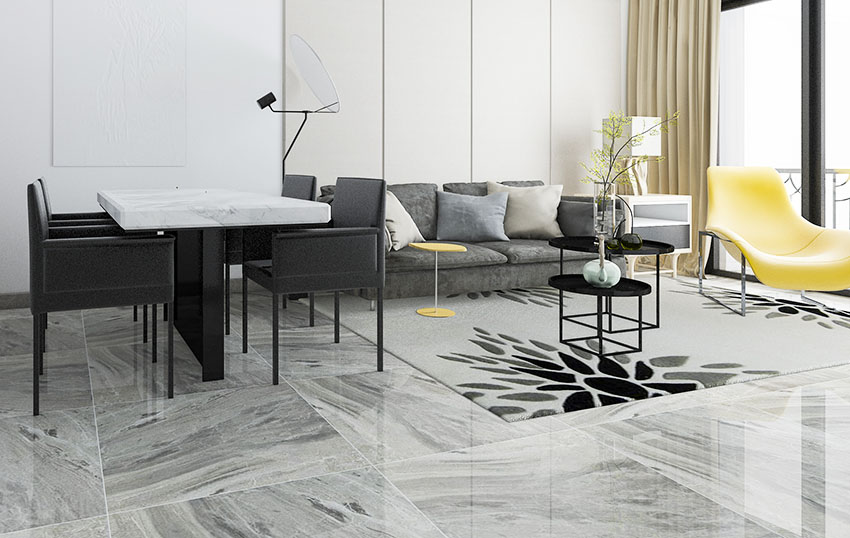 There are rules to guide any homeowner when it comes to tiling bathrooms and when it comes to living rooms, there are also specific tips and tricks they can follow to ensure the maximum aesthetics of their spaces.
The ideal tile size for living rooms is slightly larger at 12 inches square to 18 inches square tiles or about 30 centimeters square to 46 centimeters square.
Since the space will be slightly more sizable, the tiles must also be more extensive. The only downside is that it will cost more per tile than smaller mosaic tiles. Visit our living room flooring ideas here.
What Size Tile For Kitchen Floor?
For the kitchen, the best floor tile to use is the ones that are 8 to 12 inches square or approximately 20 to 30 centimeters. This will also depend and can vary considering how small or large the kitchen will be.
Still, the perfect rule of thumb is choosing the 12 inches or 30 centimeters square floor tiles since they are standard and will have various options considering style and design to fit any kitchen look and aesthetic. See our gallery of types of kitchen floor tiles here.

Best Size Tile For Herringbone Pattern Floor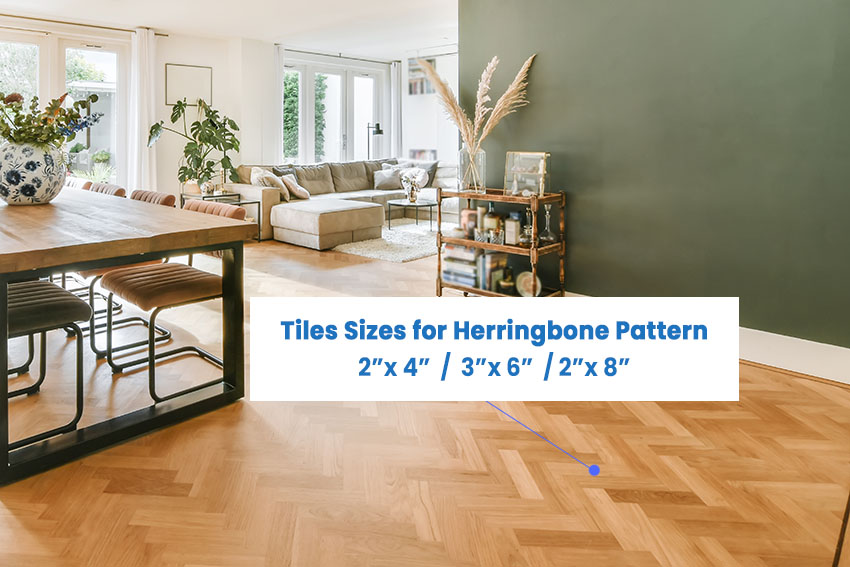 Herringbone is a classic pattern commonly used for tiling and seen from down the floor to the walls in many kitchens. They are named like so since it follows the intricate bone formation of herring fish. If a homeowner wants to achieve this look for their homes, it is vital to get the tile size right: not too small and also not too expansive.
The best tile size for achieving a herringbone pattern is about 2 by 4 inches or 5 by 10 centimeters. There are also rectangular tiles 3 by 6 inches or 8 by 15 centimeters in size.
If a homeowner wants a more evident herringbone pattern for their floors and walls, good tile size is using the rectangular 2 by 8 inches or 5 by 20 centimeters.
What Size Spacers For Floor Tiles?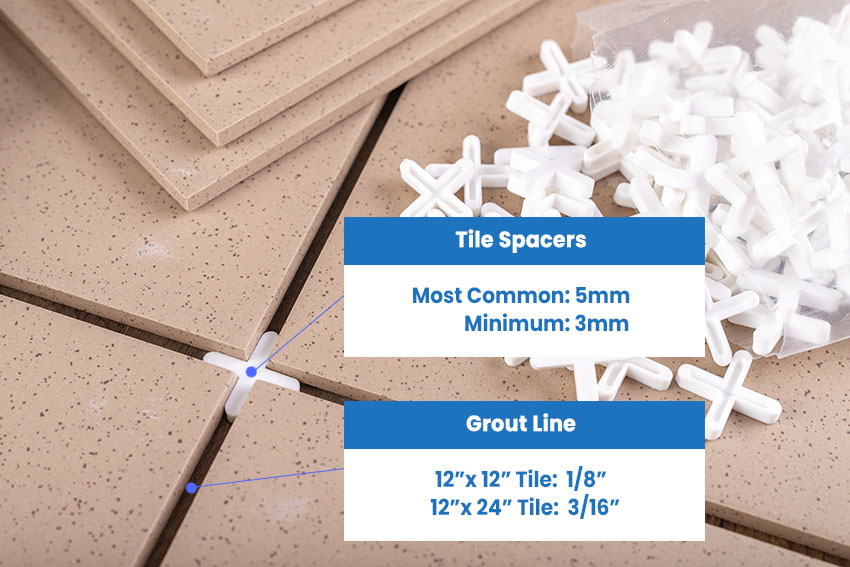 Tile spacers are essential to ensuring that tiling will look professionally installed, even if it is purely DIY-ed. No matter if a homeowner is using ceramic, stone, or porcelain tiles, the minimum size of tile spacers to use are the 3-millimeter ones.
The height will depend on the tile but will usually require a spacer of .394 inch or 10 millimeters high. Although, the most common are the .197 inch or 5-millimeter spacers.
Grout Size for 12×12 Floor Tile
The best grout size for a 12 by 12 inches or 30-centimeter square tile should be the smallest possible grout joint since opting for something bigger will require more or waste tiles in the process. Go for a grout joint 1/8 inches wide; this is the perfect size to fit the tile.
What Size Grout Line For 12×24 Floor Tile?
Tiles with a larger format are increasing in popularity due to their more modern and minimalist style, giving a space a more contemporary look. So, what is the perfect grout space for more oversized tiles, specifically the 12 by 24 inches tiles?
The ideal grout size for this tile size is 3/16 inches. A surefire way of knowing is asking for the manufacturer's suggestion or recommendation.
What Size Trowel For 12×12 Floor Tile?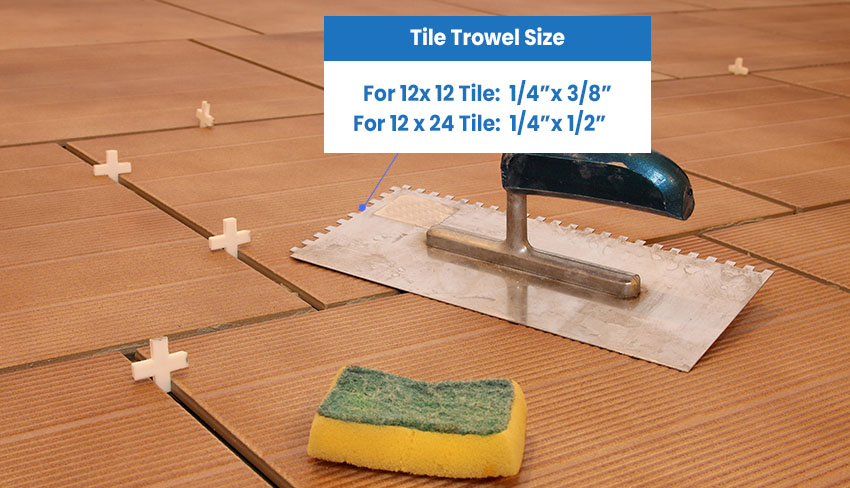 Another essential aspect of tile paving is knowing the right trowel size for specific tile sizes. For a standard 12 by 12 inches or 30 centimeters square of floor tile, the trowel to be used should be about 1/4 inch by 3/8 inch or 0.64 by 0.95 centimeters.
What Size Trowel For 12×24 Floor Tile?
On the other hand, for a 12 by 24 inches or 30 by 61 centimeters tile, the best trowel size is opting for a square-notched trowel with a minimum size of 1/4 by 1/2 inches or about 0.64 or 1.27 centimeters— the maximum size of the square-notched trowel at 1/2 inches square or about 1.27 centimeters square.
Tile Flooring Material Calculator
This tile flooring material calculator will help you determine the amount of materials for a room remodel project.
To use the tool first measure the room's dimensions and get its length by width. They look at the box of tile you will be using to determine how much coverage it provides per box of tile.
There is generally wasted tile and occasional breakage with tile. to account for this you can select the account for 15% checkbox. To get the results click 'calculate' to determine the amount of tile boxes you will need to purchase to complete your project.
Are there any floor tile sizes we missed? If so let us know in the comments section below. Visit our guide to porcelain vs ceramic tile for more related content.