In this shower pan sizes guide you'll explore the standard shower base dimensions for corner, rectangular, walk-in, small, and pan liner design.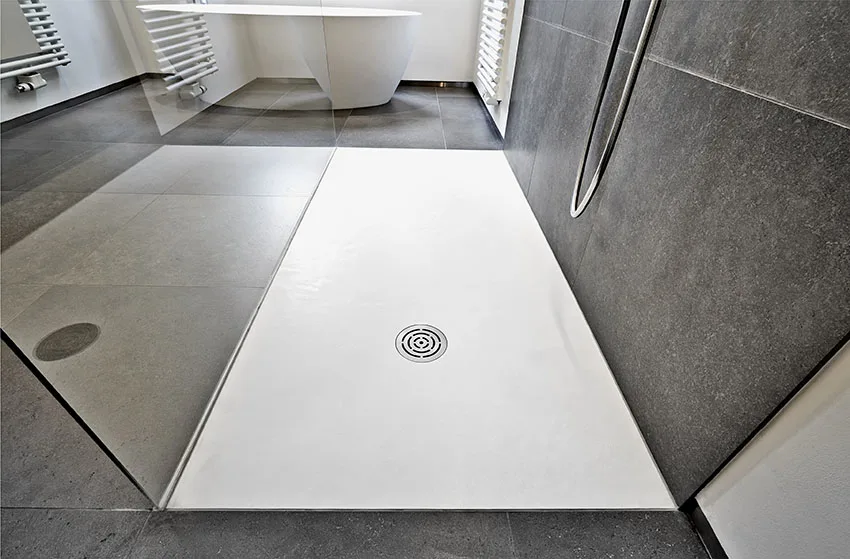 Individuals may find themselves contemplating shower base sizes at least twice in their lifetime: whether they're crafting the bath of their dreams or opting to replace a tub with a chic shower. If you're in this predicament, then you're in the right place! We'll provide instructions and guide you on how to select the optimal shower base.
Showers, with their various sizes and budgets, necessitate shower bases in a range of shapes and sizes. In this article, we impart the fundamental knowledge and dimensions regarding shower bases to equip you with the information needed to make an informed decision about your bath style and design.
What Size Do Shower Trays Come In?
Shower pans are essential to your shower because they direct the water flow from the floor down to the drain. It is what you stand on when using the shower.
The drains on shower pans are usually installed in three ways: an on-edge drain, a center drain, or an offset drain, adding to the height of functional design.
The sizes they come in vary; regular square ones are 36 inches or 91 centimeters, bigger square ones are 48 inches or 122 centimeters, and more sizes depending on what you are looking for.
Rectangular shower pans are also a widely available base design with smaller rectangular shower pans with dimensions of 34 by 48 inches or 86 by 122 centimeters, medium ones that are 34 inches long, and 60 inches wide or 86 centimeters and 152 centimeters.
As rectangular showers are long as they are wide, shower pans with dimensions of 42 by 60 inches or 107 by 152 centimeters are perfect for you.
Standard Shower Pan Sizes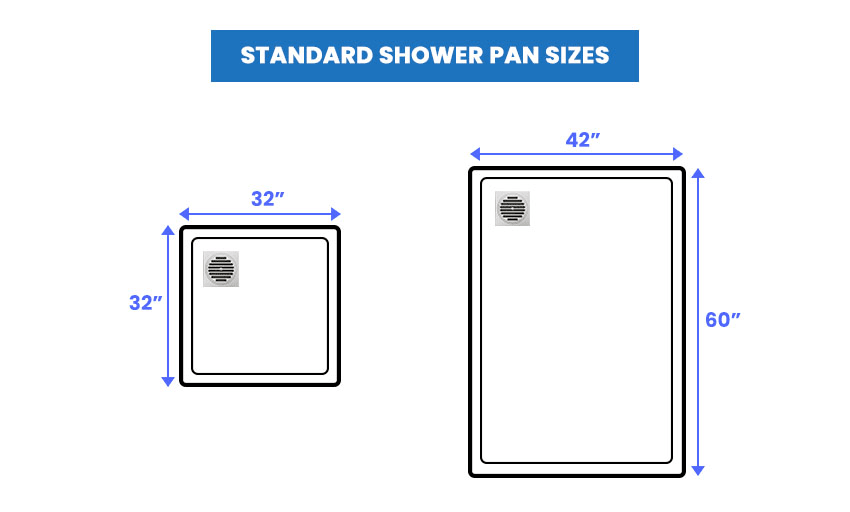 Shower bases are available in various shapes and sizes and are ordinarily dependent on the size and style of your shower. There's no 'one-size-fits-all' shower base, although standard sizes are commonly used.
There is no universal size of shower pans, but there are standard sizes that are usually utilized for standard shower size. More flexibility is afforded for custom ones, but you will generally see square, rectangular, or angled shower pans for corner showers.
Manufacturers typically measure shower pans in even numbers, and they will usually range in sizes 32 by 32 inches or 81.28 by 81.28 centimeters to 42 by 60 inches or 106.68 by 152.4 centimeters.
Corner Pan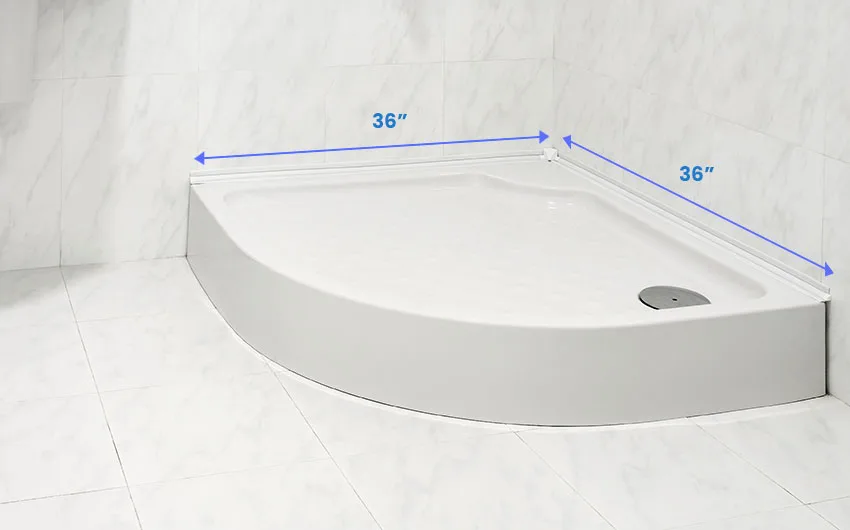 Corner shower pans are perfect for small showers as they are designed to fit a two-wall corner but still provide enough moving space for the person using the shower. These bases can significantly aid in utilizing every square inch of your bath.
There is a variety to choose from whether you are looking for different sizes or different material construction like acrylic— which has a mid-price and is low maintenance to fiberglass, which is low priced and generally available. If you want a higher-priced alternative custom tiling is available for you.
Corner shower pans are measured by determining their cross dimensions. They usually come in sizes ranging from 36 inches or 91.44 centimeters for smaller showers and 60 inches or 152.4 centimeters for bigger ones.
Rectangular Pan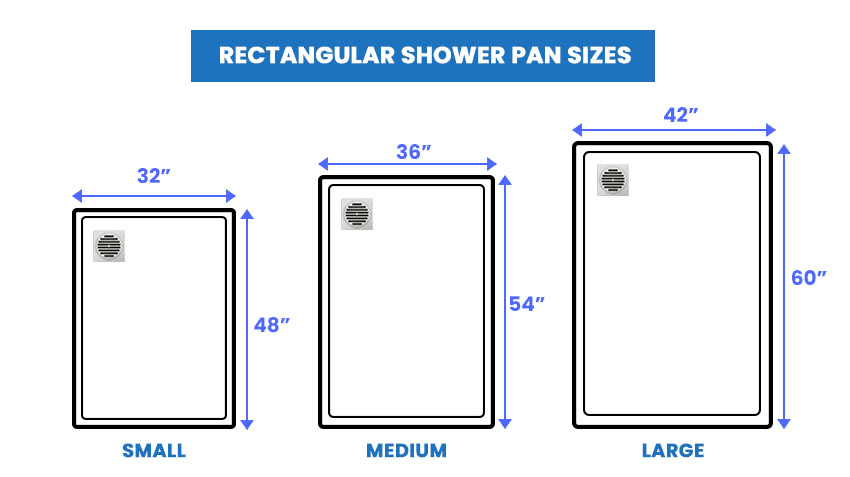 Rectangular shower pans are great if you are looking for roomier showers than the standard square ones. They are also the most ideal for people with disabilities or limited mobility. They come in various sizes and are characterized by their longer widths and shorter vertical depths.
Rectangular dimensions for smaller shower ranges from 32 by 48 inches or 81 by 122 centimeters.
Medium sized ones have dimensions of 36 by 54 inches or 91 by 137 centimeters to 36 by 60 inches or 91 by 152 centimeters.
While larger rectangular shower pans can have dimensions anywhere between 42 by 60 inches or 107 by 152 centimeters to 48 by 60 inches or 122 by 152 centimeters.
Interestingly, rectangular shower bases often feature offset drains that can either be situated on the left or the right, depending on your preference and curb requirements.
Walk-In Pan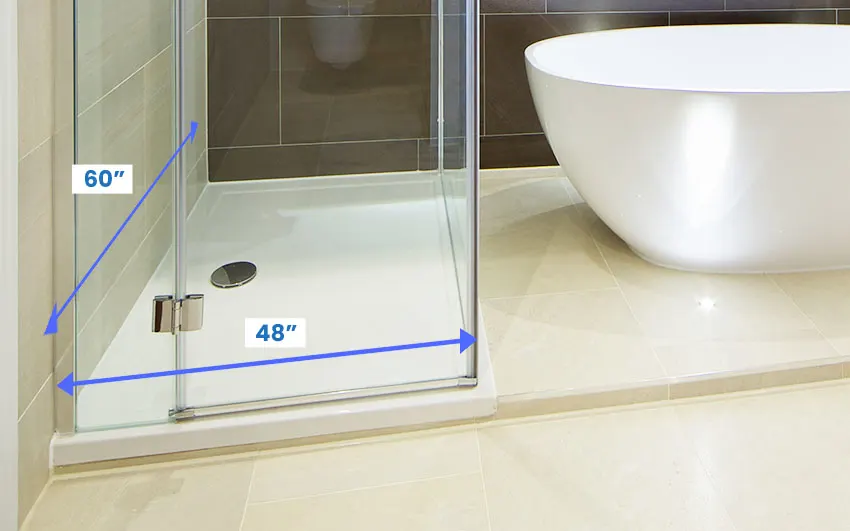 Walk-in showers are a luxurious upgrade to a regular shower due to their generally larger dimensions, which provide more flexibility according to your style and design preferences. These showers offer the perfect setting to step in and enjoy an exquisite bath experience.
They can even have a seat or footstools, whether built-in or not, which can be accompanied by color-coordinated towels on the side giving the setting a matching color scheme.
The options for your walk-in shower pan are either opting for pre-manufactured products or custom bases. For the pre-manufactured shower pans, rectangular items, especially those with vibrant colors, are the better option as they provide the space characterized by walk-ins.
Shower pans that are readily made, as mentioned above, can range from the smaller 32 by 48 inches to the large one 48 by 60 inches in size.
Small Pan
Small showers are the norm in apartments, college dormitories, or smaller homes. So what is the smallest possible size a shower pan can come in?
The smallest should have a dimension of at least 30 inches or 76.2 all over for a square pan, which should be emphasized because any smaller than that comfortable size would make it impossible for the person using the shower to use it efficiently.
30 inches is also the smallest manufactured square shower pan.
Bathtub Size Pan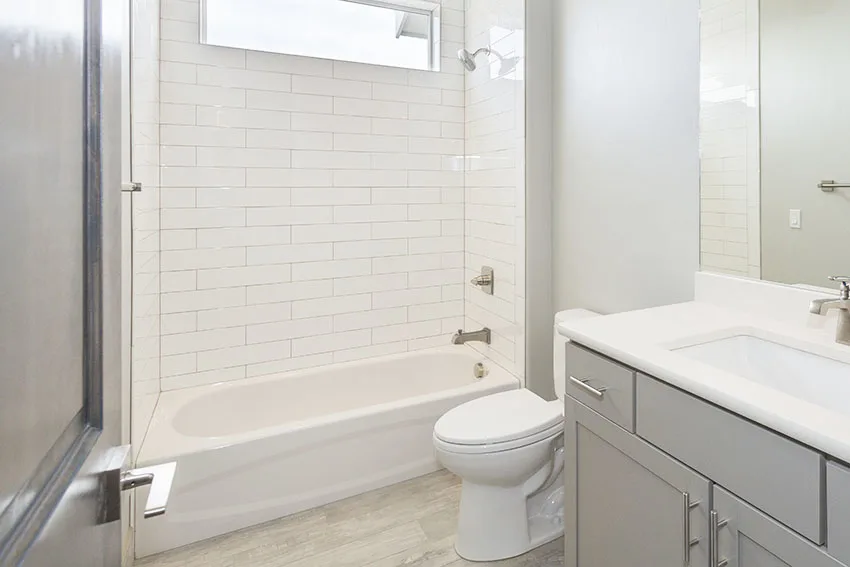 A homeowner choosing to convert their existing bathtub to accommodate a shower pan can stem from various reasons, ranging from aesthetic ideas to practical needs.
Reasons range from needing the existing space as tubs tend to be big and bulky to renovating your bathrooms for the elderly people in your home as showers and accessories are easier to access and would generally cause fewer accidents in the long run.
Bathtub replacement pans range from the smaller 30 inches in depth by 60 inches in width or 76.2 by 152.4 centimeters.
The medium-sized 36 inches in depth and 60 inches in width or 91.44 by 152.4 centimeters.
The larger one has dimensions of 48 by 60 inches or 121.92 by 152.4 centimeters.
In regular shower pans that are built with the house, you can choose where the drain would go and what type of drain it would be. The choice of drain is limited since the tub already came with a prebuilt drain, and it would follow it as the replacement is done. Read more at our guide on how to turn a shower into a bathtub here.
Pan Liner Sizes
Shower pan liners are what is below your shower tiles and shower pans. They are often waterproof and that will help in preventing leakages and seepage, especially if the bathroom is situated above a room. We don't know much about them since, most often than not, professionals are the ones installing them.
Bathroom shower pan liners come in a variety of sizes that would usually follow the size of your bathroom with considerable allowance to hug the walls. There are readily manufactured ones with either 30 millimeters or 40 millimeters in thickness made of PVC or CPE materials.
Whether you are purchasing a full roll for multiple shower liner installation or purchasing by linear foot they will usually come with widths of 4 to 6 feet or 1.22 to 1.82 meters and will have a 6 inches interval as you size up.
An easy upgrade to any bathroom is choosing a shower pan to elevate the look, whether looking at the more modern acrylic or the luxurious tiled shower pans.
Accompanied by a stylish vanity or curtain of matching color, these designs can bring a fresh look to your bathroom.
New color-coordinated towels, shower curtains, vanity items, and other products of varying colors and designs can also enhance this look. It will effortlessly elevate your bathroom look and provide you with the space needed for a splendid hot shower after a hard day.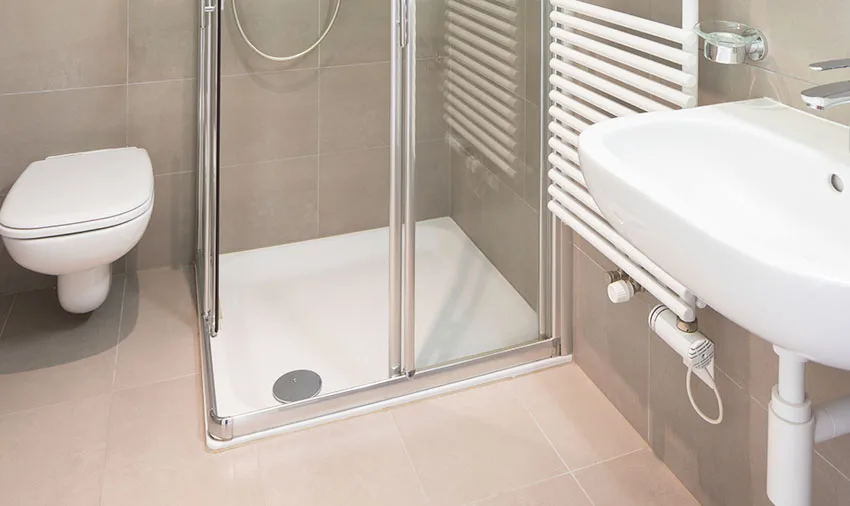 With enough research tips and knowledge, one can avoid installation fees, but consulting experts are there for a reason. Showers with pans and shower pan liners installed haphazardly can result in accidents or problems, like leaks and ceiling stains, especially if the bathroom is on the upper floors.
Regular maintenance of the base material is necessary to avoid long term damage. Don't hesitate to consult the experts with questions regarding the installation drain location, materials for shower walls, and proper slope.
If you think you don't have the experience for this installation, a contractor can often provide a free pricing estimate and help with specific issues. Professional help on this is always good for guaranteed results.
For more home improvement and plumbing related content visit our types of shower pans on this page.