This gallery showcases the types of nightstands including the different design styles, materials, DIY ideas, decor tips, and what to put on top of a bedroom nightstand.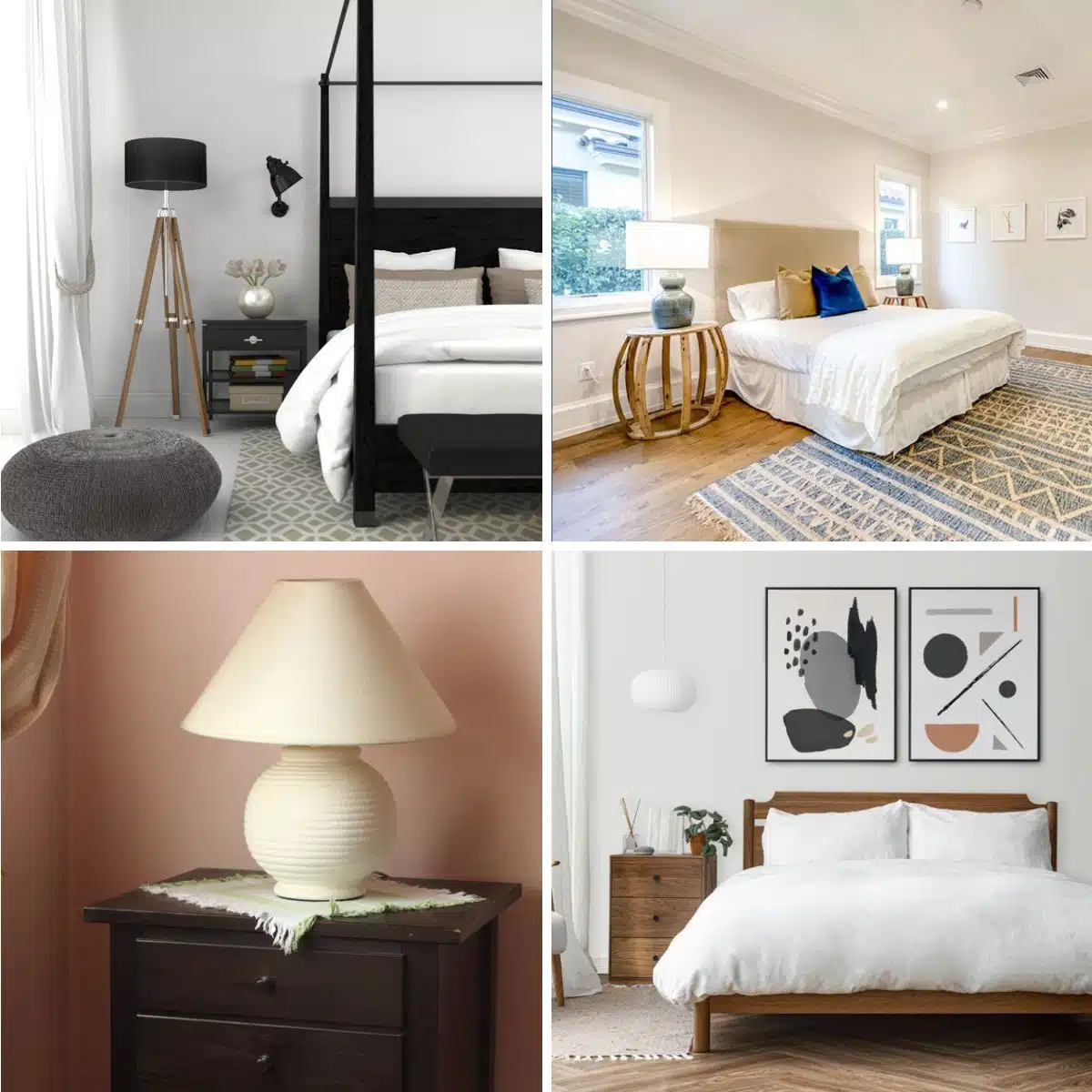 Nightstands are something that is necessary in the bedroom. This isn't something that's up for debate. When it comes to the issue of bedroom furniture, the nightstand is akin to being its shoe.
It's a great way to express your personal style while at the same time serving a very important purpose. Your nightstand is essential when it comes to keeping your important personal items close by your bed before you go to sleep, and so that you can easily get to them the first thing in the morning when you wake up.
Moreover, keeping a nightstand close by is also for the purpose of safety. Because you have all of your items all in one place, what it means is that you won't be tripping over them and possibly having any accidents in the middle of the night. [Source: wikimedia.org The use of Nightstand]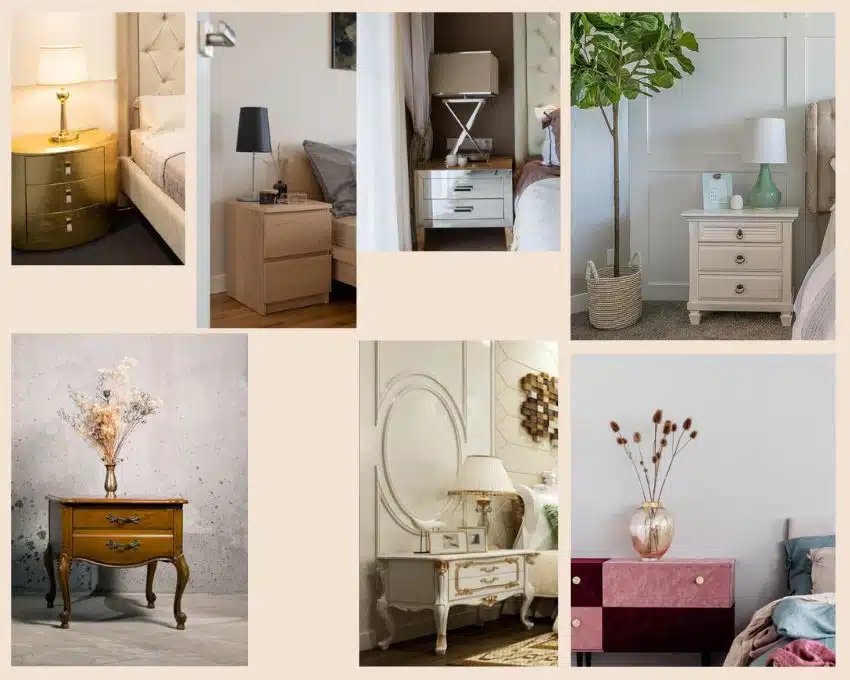 Something that a lot of people argue about as well is how a nightstand is different from a bedside table. Well here's the thing, all nightstands are bedside tables but not all bedside tables are nightstands.
A nightstand is comprised of a low table and drawers for extra storage whereas a bedside table is just a plain table by the side of the bed. There are so many different types of nightstands with different features and add-on functions.
Quicklook: Different Nightstand Design Types
• Square
• Rectangular
• Round
• Corner
• Multi-Level & Tiered
• Cube & Block
• Nesting
• Narrow
• Tall
• Low Profile
• Oversized
• LED Lighting
• Kid's Size
Nightstand Chests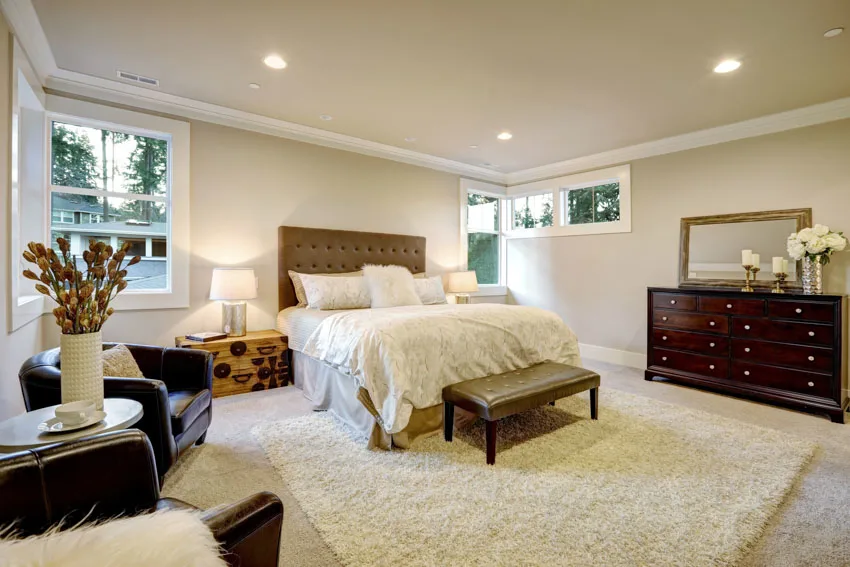 These refer to a chest of drawers. There are usually two to three of them in a nightstand chest. There's particularly useful if you happen to have a need to keep a lot of things close by. They're also great if you want to make sure that they are kept out of sight as the drawers are closed or covered.
How this differs from the rest of the other chests of drawers you see at home is that a nightstand chest needs to be level with or with only a very small height difference from your actual mattress.
Nightstand Cabinets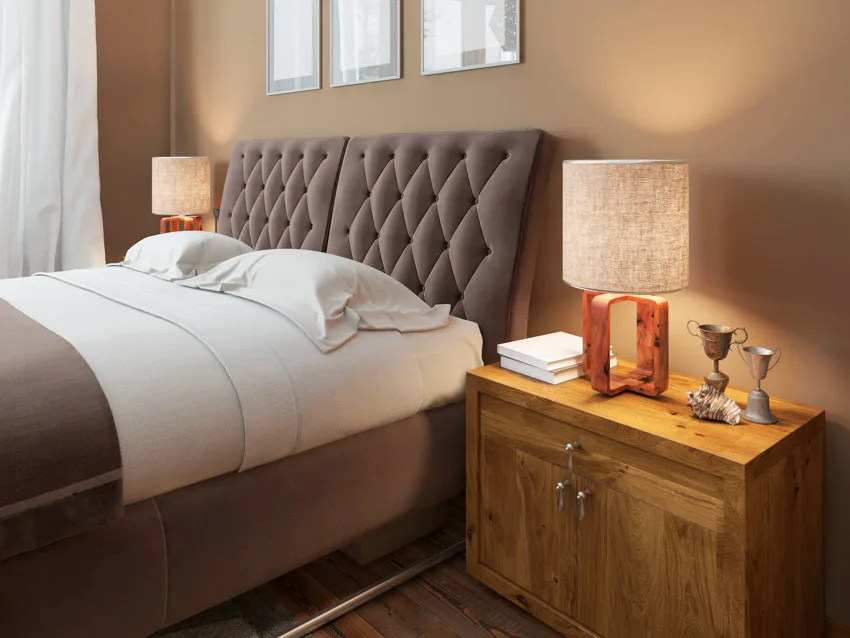 Nightstand bedside cabinets aren't all that different from nightstand chests. They can be quite similar. They're similar in such a way wherein like the chests, they offer lots of extra storage. In addition to having a flat top surface, a nightstand cabinet may have a drawer or two.
This furniture is slightly above mattress level and what makes this unique is that it has a cabinet door usually right below one or two drawers. This can be convenient especially if you have larger items that you'd like to store.
Nightstand With Drawers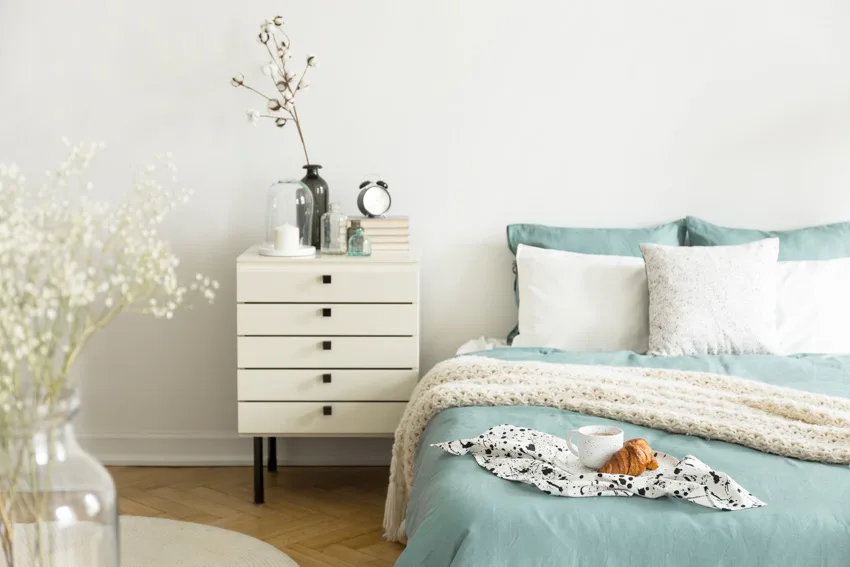 Nightstands with drawers are convenient to have around. The drawers are great for getting extra storage whereas the pull-out trays are great for adding temporary surfaces for you to use.
Drawers are also great when it comes to hiding unsightly cords so you can charge your devices without ruining the aesthetics of the room.
Nightstand Tables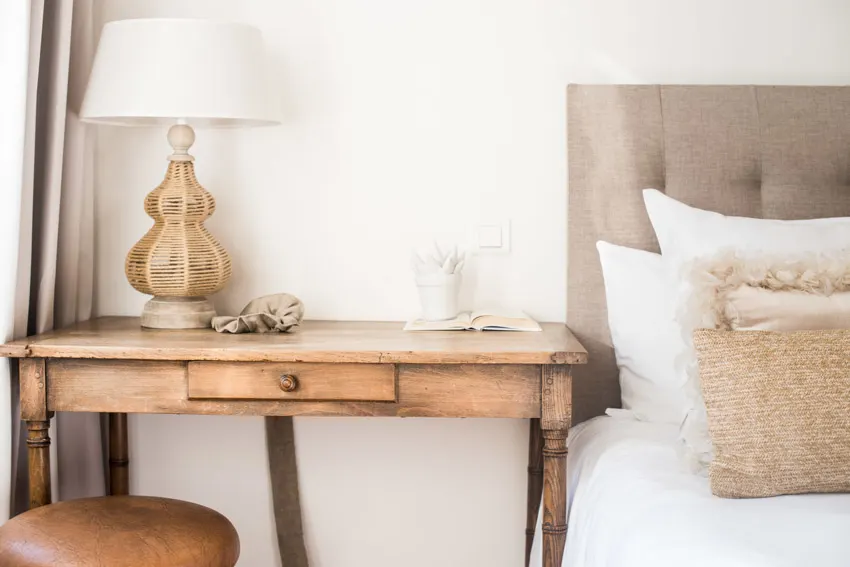 Nightstand tables are less about storage and more about design and aesthetics. They do, however, come with a few exceptions. They may have a drawer or two but they're extremely small.
The focus is more on the tabletop and the design of the base. The focal point is really on the tabletop surface and compartments are either few or nonexistent. As long as the furniture design fits with the decor of the bedroom, pieces such as end tables and bedside tables can be used.

Floating Nightstands
Floating nightstands are great for saving space. They can be much smaller than the regular nightstands out there and the best part in all of this is that they don't take up any amount of floor space at all because they technically "float".
What this means is that there aren't any areas under it that are hard to reach and that you also have some extra space where the traditional nightstand should've been in. This is one of the main reasons why homeowners tend to favor floating nightstands more.
And because they're much smaller, they're also more cost-efficient. They take less material and less time to set up which means that they will always be much cheaper compared to the other regular nightstands.
They also bring a modern vibe to your aesthetic. They look contemporary, clean, and minimalist and can free up an otherwise stuffy-looking room.
A downside to floating nightstands though is that they're immovable or fixed. Once installed, they're there for good. If you want to rearrange the layout of the room, you will have to unmount and remount it against the wall area of your choice. They also offer less surface area and storage area so they won't be able to hold as many items.
Built-In Nightstand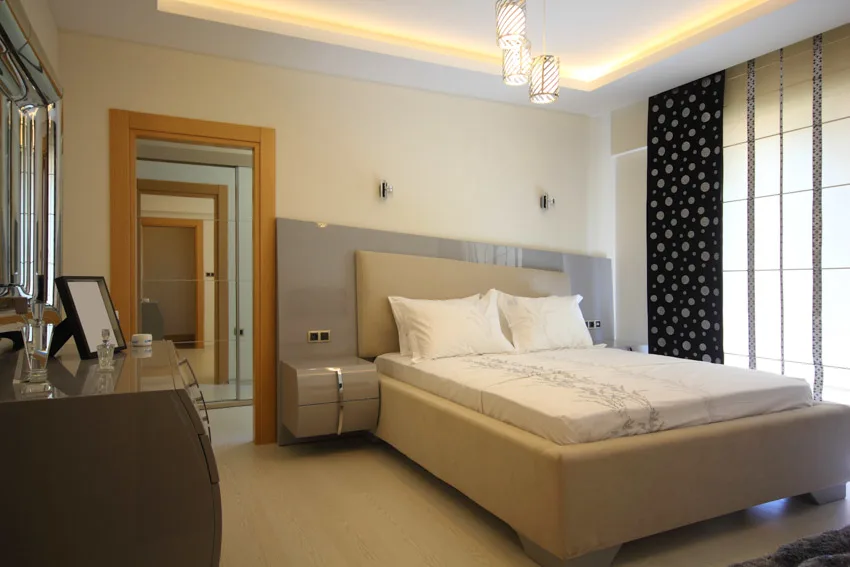 Built-in nightstands are great for when you want to customize your bedroom space. You can get it measured out and you can be rest assured that the nightstand you'll be setting in place will fit in snugly and perfectly every single time.
If you have unusual spaces or particularly cramped ones, built-in nightstands can work remarkably well for you at the end of the day. And because you can have them fit into unusual nooks and crannies, this means that you get to save space in the process and make use of areas that would've otherwise been wasted had your nightstand not been custom-made.
This also allows you to add in certain functionalities such as an extra charging port, perhaps or whatever it is you may specifically want as an add-on for your nightstand.
The main downside to bedroom built-ins for nightstands are they are expensive. This is because they need to be built from the ground up and specifically for the space that's been measured out. This takes time, effort, and materials.
They can also limit your usage of the space because the moment that they're installed, they're fixed. Should you change your mind about the layout of the space somewhere down the line, you would have to make major renovations to accommodate them, and this can also cost you a lot of time and money in the process.
And of course, should you decide to move to another home, you can't take a built in nightstand with you. It would have to stay in the home, ready to be enjoyed by its new owner.
Smart Nightstands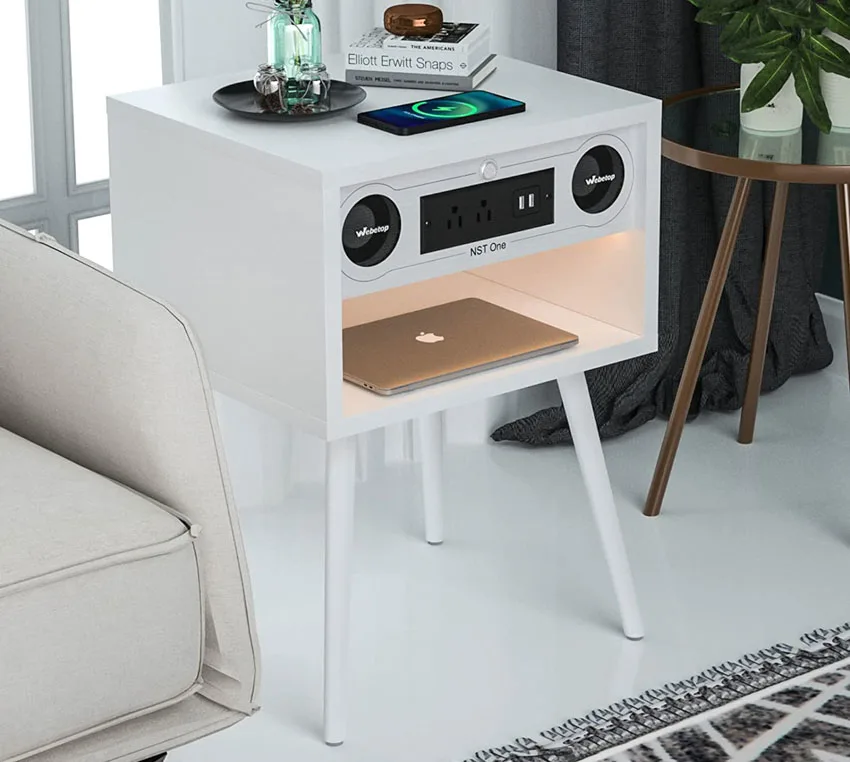 See this smart nightstand at Amazon [sponsored link]
Smart nightstands are next-level versions of nightstands that are furniture pieces. What they do is that they incorporate a lot of extra features such as electrical outlets, Bluetooth speakers, USB charging ports, and even wireless charging pads.
Ultimately, the main goal of smart nightstands is to make it easier for you to keep your handheld or mobile devices always charged and handy, and close to the bed frame.
There are also some smart nightstands that offer motion-sensing night lights, lights that dim and light up to simulate nighttime and sunrises, and even nifty sleeping aids such as white noise machines. Some can even go as far as having drawers that lock and unlock via a mobile app, or even have drawer nightstands with mini refrigerators.
Smart nightstands can come in an endless stream of features and even styles, materials, and colors. It would be smart to really think about the things that you would like to have to make your buying experience easier and so much more seamless.
Nightstand With Charging Station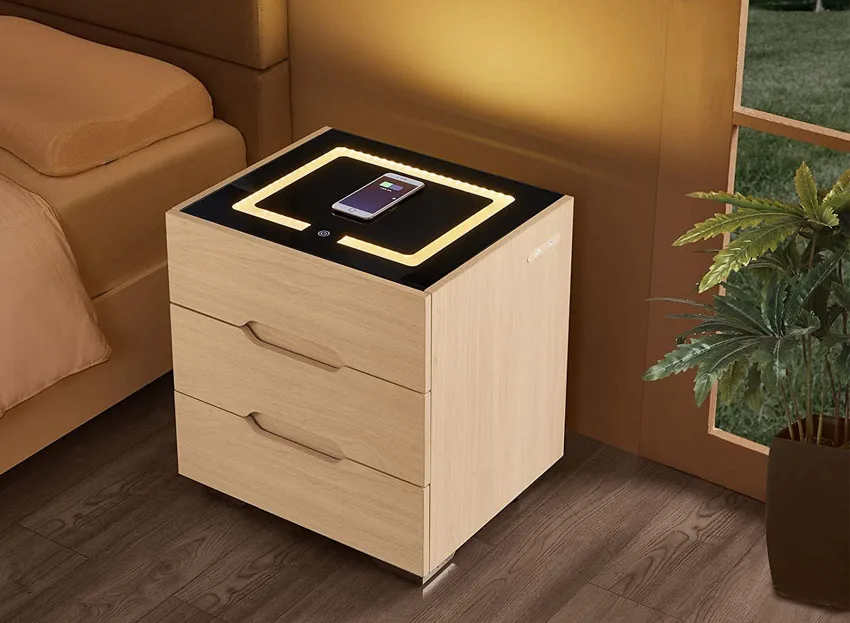 See this nightstand with charging station at Amazon [sponsored link]
A nightstand with a charging station or two is so much more than just a nightstand. It's an innovation coming straight from the future. These nightstands usually come equipped with trays that can slide in and out and they conveniently double up as charging stations as well as come with outlets and
USB ports. You not only get to have lots of storage space for your personal bedside things but you also get added functionalities when it comes to your electronic devices. It really is the best of both worlds when you come to think about it.
Aside from charging capabilities, nightstands with charging stations can also come equipped with LED lights underneath them to make your nightly bathroom visits a little less intimidating and this also means that you wouldn't have to turn any lights on in the process.
Bookshelf Nightstands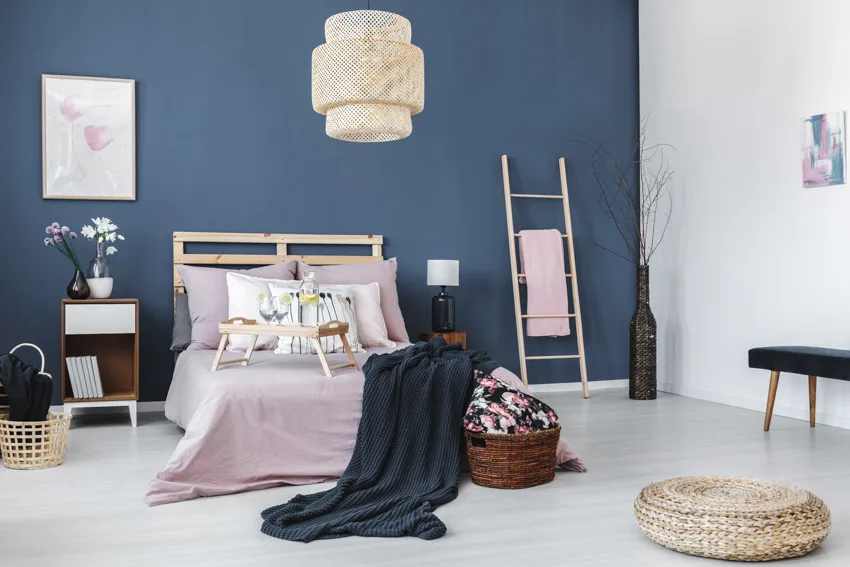 It doesn't matter if you really are quite the book aficionado or if you aren't. A bookshelf nightstand just may be the thing for you if you want to add a layer of sophistication and class to your bedside.
Although some people who aren't too keen on nor fond of books might find the concept of a bookshelf nightstand a bit intimidating, this really shouldn't be the case at all. A bookshelf nightstand is great for keeping larger items in store and more than that, books are so much more than just the function that they provide.
They can be an aesthetic all on their own. You can even thrift interesting old books and mix and match them with your bedroom décor along with your bookshelf nightstand to really make the furniture work for the space.
Headboard With Nightstands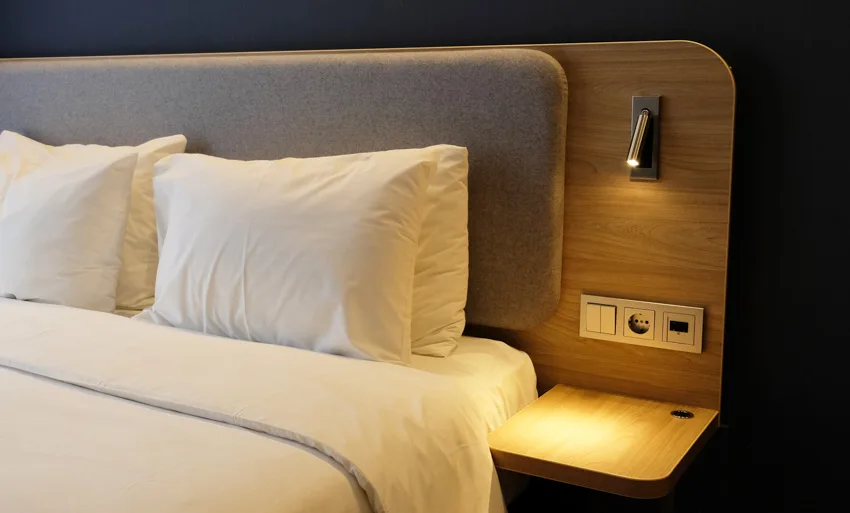 If you're a stickler for uniformity and seamless design in your bedroom furniture pieces, then you will see the appeal in getting a headboard with nightstands combo. In essence, what this means is that the headboard and the two nightstands on either side of the bed are all connected as one piece of furniture.
This is among the bedroom layout ideas that can be convenient especially if you don't want pieces moving around. Everything is well put together and you are rest assured that they will stay together as they are oftentimes immovable.
The only downside to this is that you will have to stick to the design aesthetic once you actually go ahead with the purchase. There isn't any way for you to change it. If you need an update, you're going to have to change the entire thing and this can be costly.
Still, if you want to take advantage of its solid simplicity and practicality, there really isn't any reason why you can't use a headboard and nightstand combo to your benefit in the bedroom layout.
Types Of Nightstand Designs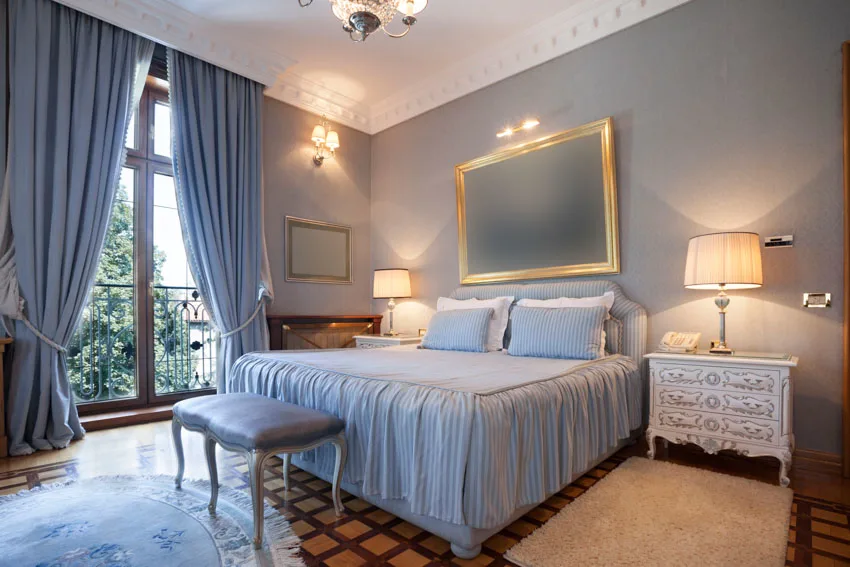 Here we share the different designs of nightstands.
Square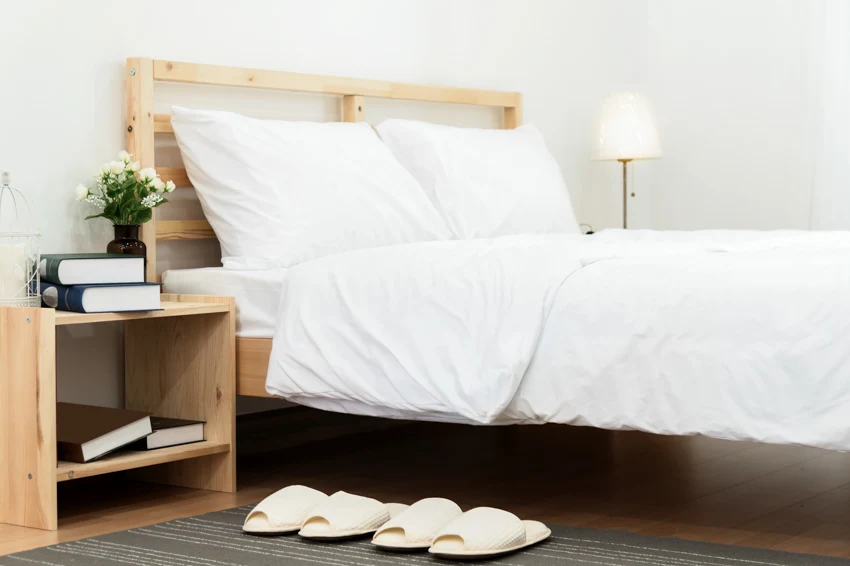 A square nightstand design is one of the most common designs you will encounter. And why not? The square shape is something that's stable, reliable, and fairly easy to get your hands on.
You can buy one from literally any home store or furniture store and they come in so many sizes and designs that you surely won't be having any problems when it comes to finding the perfect one for you and for your bedroom space.
Because they're so ubiquitous, square nightstands also enjoy the extra benefit of being readily available and hence, cheap. It's cheap
er compared to the others. It's simple, easy, and it can get the job done in terms of function and design.
Rectangular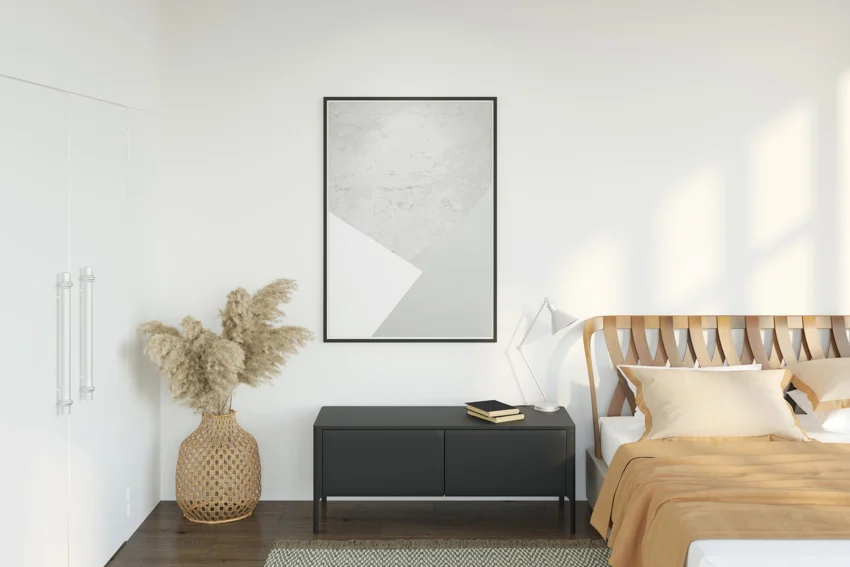 There's something classic and stylish about looking at a rectangular-shaped nightstand right by your bedside. It will usually have two drawers or so and lots of extra storage space in between.
Because they cover a slightly larger surface area compared to the square nightstand, rectangular nightstands can be a force to be reckoned with in terms of bedtime storage.
It can hold so many of your things and has at times been known to transition from nightstand to a mini chest of drawers for small articles of clothing. You certainly can't go wrong by investing on a high-quality rectangular nightstand. That's one of the beauties of opting for classic.
Round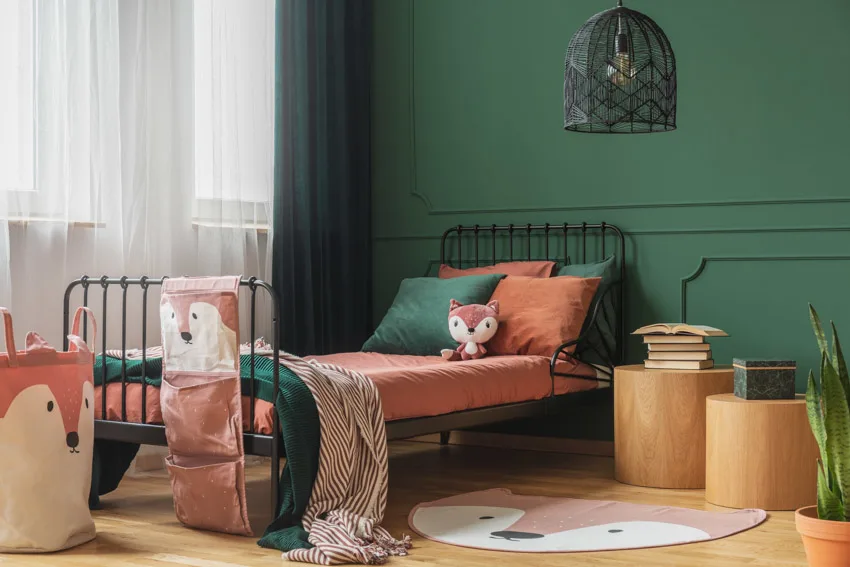 Most of the nightstands out there come with sharp corners or rectangular or square shapes. This is not the case with nightstands with rounded corners.
They offer the unique advantage of not only eliminating the possible hazards of getting hit against sharp corners, they can also give off a look that's very futuristic and contemporary. This works extremely well with minimalist and modern bedroom designs.
Corner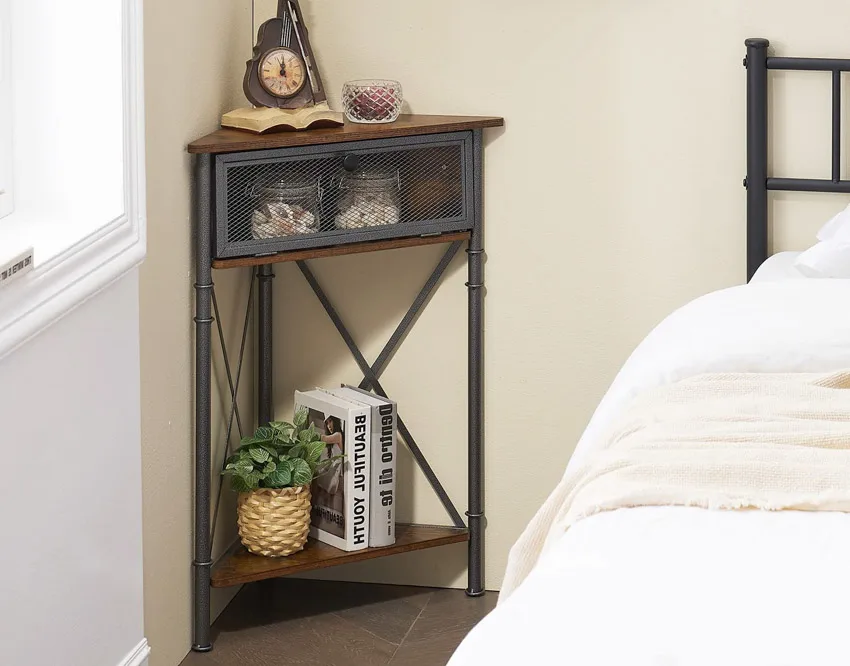 See this corner nightstand at Amazon [sponsored link]
One of the main challenges of the bedroom areas in most homes is that space can be quite limited, unless you have a prime property. Most of the available spaces you have in the bedroom are bound to be in the corners.
These spaces can be hard to get to and won't really have that much use in the first place – unless you do something about it. This is where corner nightstands come.
They can easily transform your otherwise cramped and unusable space into something functional and perhaps at times with even a little bit of storage. It's the perfect remedy for a cramped space and something that you should definitely take advantage of should you find yourself in such a predicament.
Multi-Level & Tiered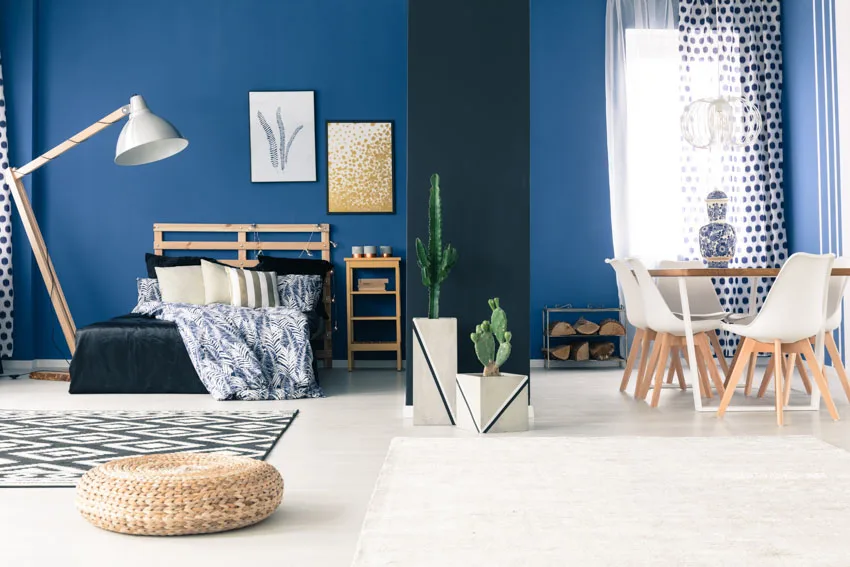 When it comes to nightstands and all other bedroom furniture pieces in general, we need to make sure that function always marries form. This is one of the reasons why multi-level or tiered nightstands can be very appealing to the average homeowner.
They can be used to store all of your nightstand essentials while at the same time, they can also bring in an interesting design element while they're at it. The additional storage, as well as convenience they bring in, is almost unparalleled.
They can store anything everything from books to remote controls to figurines and other decorative pieces or even tiny pieces for the table such as teacups, saucers, and the like. One of the main attractions of tired or multi-level nightstands is that they can be very compact. They can come in a wide variety of designs and shapes.
On top of this, they're impressive in saving space as they don't take up too much floor space compared to the amount of extra storage they offer up at the end of the day. Try to pick a multilevel or tiered nightstand design that blends in with the rest of your bedroom interiors.
Cube & Block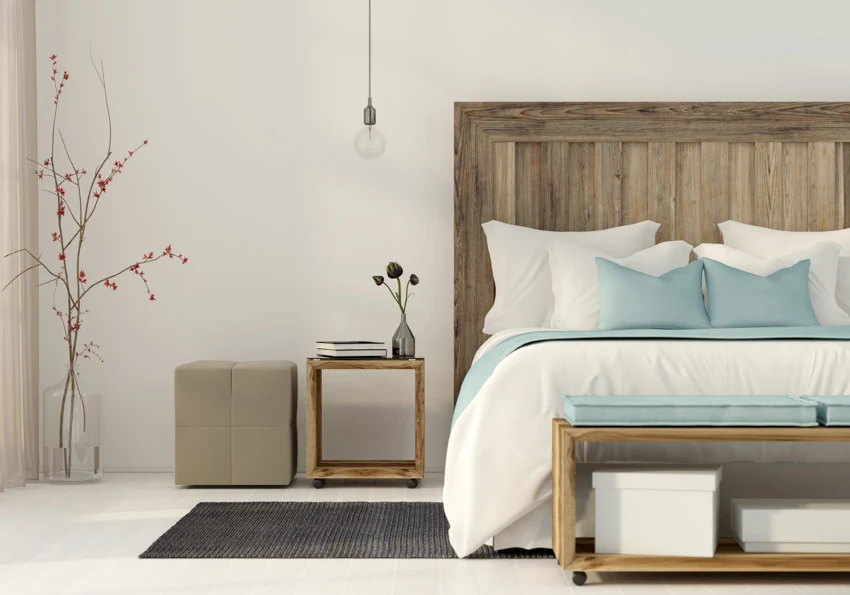 Cubic or block nightstands are great for when you want something chic and stylish but also a bit of extra storage space on the side. It doesn't always have to be one in place of the other. You can have a little bit of both if you opt for a cube and block nightstand design.
Cubes or blocks have a modern or contemporary spin in the way that they look and in the way that they function, especially if they come equipped with drawers so this is something worth appreciating and taking advantage of especially if you want to elevate the overall look and feel of your bedside furniture.
They can even come in more contemporary designs such as a slightly twisted-looking cube that looks like rectangles that have been stacked right on top of each other.
Or they can come in two cubes uniformly arranged but with varying levels, giving your nightstand a more retro look. There are so many things that can be done with the cube and block on your nightstand and it really all boils down to what you prefer for the space.
Nesting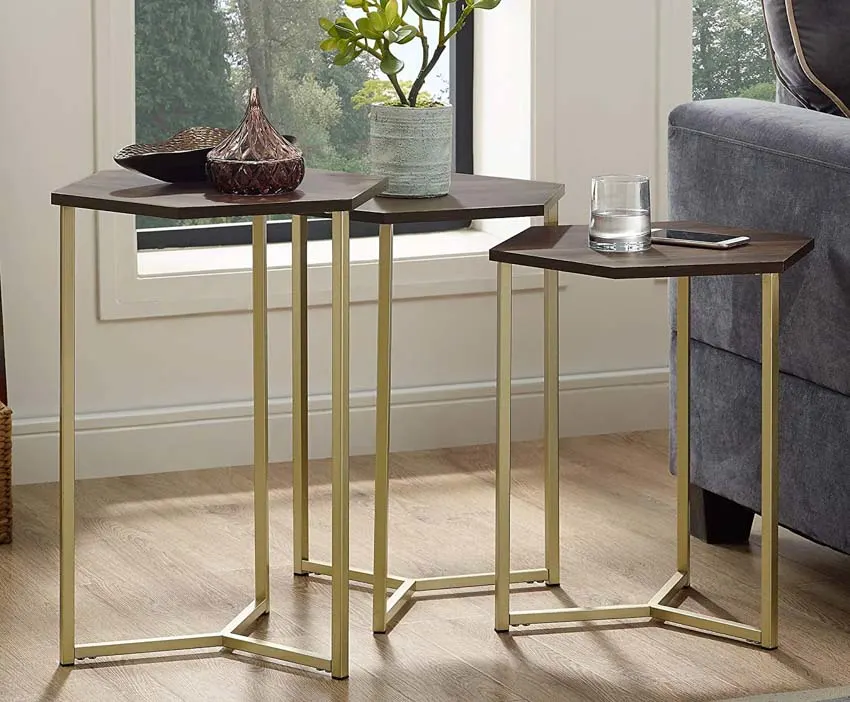 See this nesting nightstand set at Amazon [sponsored link]
Nesting nightstands are fun and whimsical. They are basically characterized by having a small number of tables (usually a set) that are graduated in their sizes. This means that they can perfectly be stacked right on top of each other without the legs ever touching.
By opting for a nesting nightstand, you are saving up a lot of floor space in the process. Because they can fit right inside each other, this means that you can have a total of four or even more tables once you spread them out.
If you're fond of fluid functionality in the bedroom, nesting nightstands are perfect. You can use all the pieces independently or even spread them out depending on what you need now and then conveniently stack them back together when they are no longer in use.
Narrow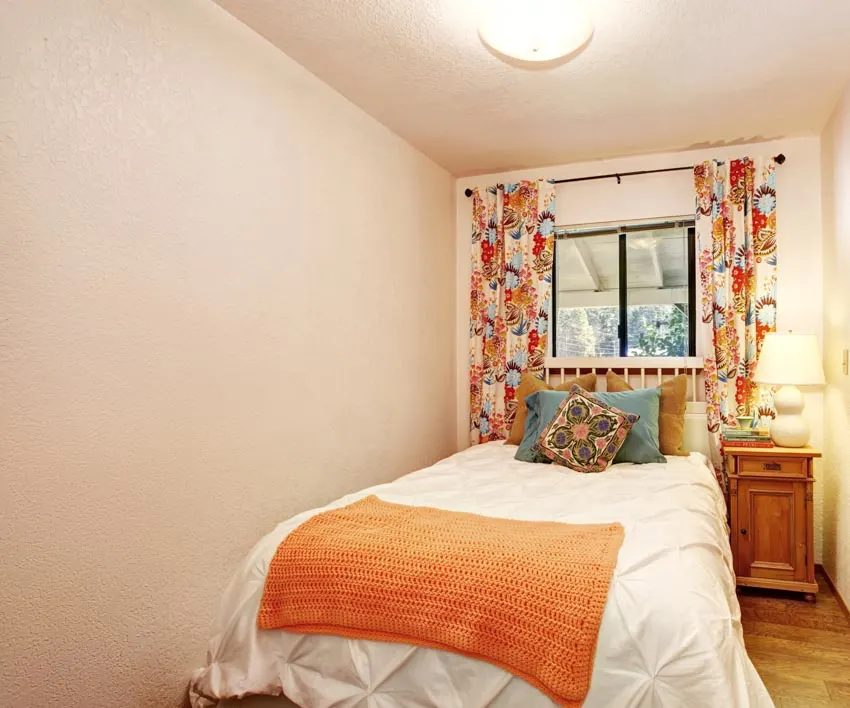 Narrow nightstands are perfect for small bedrooms. Even if you have a cramped space, there really isn't any reason why you should deprive yourself of the advantages of having a nightstand. If you want one, there's always a way around it.
The solution is in having a narrow one. Even if it just happens to be a 6-inch space in between your bed and your wall, there is always something to be made from it. Narrow nightstands can be custom made.
You can have them done professionally or if you're a bit handy with your carpentry tools, you can even opt to do it yourself. If you're opting for the easier store-bought ones, make sure that you have the exact measurements of your space and the potential nightstand that can fit right into it.
Nothing is more frustrating than taking home a piece of furniture and realizing too little too late that it won't fit right in because it wasn't measured right.
Tall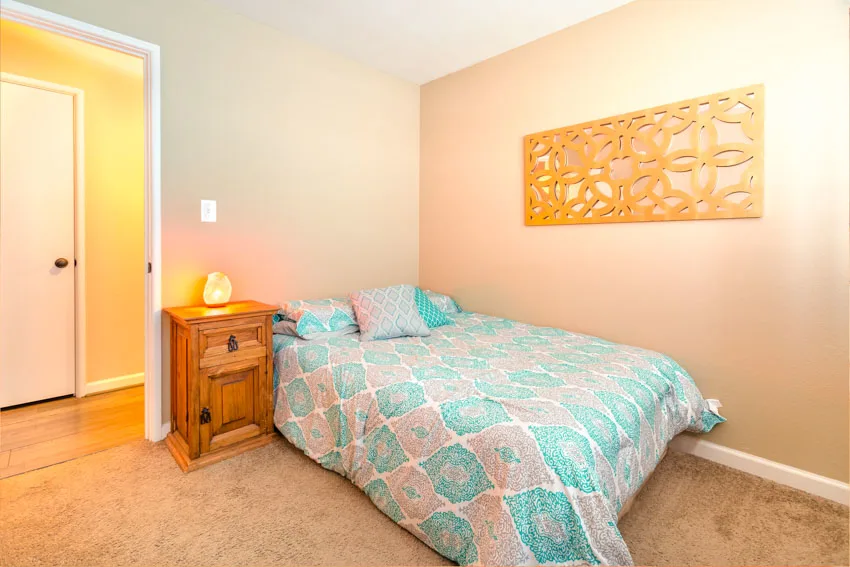 What constitutes a tall nightstand is that it's typically a type of nightstand that's much taller than your bed (with the mattress on). It's been common practice that the nightstand should be as tall as or just slightly taller or slightly lower than the bed with the mattress on.
This isn't the case with tall nightstands. They're multi-use so on top of being a nightstand, they can also double over as a vanity with extra storage space to boot. A tall nightstand can also make it so much easier for you to get up in the morning because you have something higher than the bed for you to hold onto.
A tall nightstand may also mean though that its ease of use may not be as comfortable as a regular or traditional nightstand. When you're in bed and you ever need anything, you would have to reach up to get them because they aren't of the same level as with your bed. This can be uncomfortable to do when you're already lying down and don't feel like getting up from the bed.
Low Profile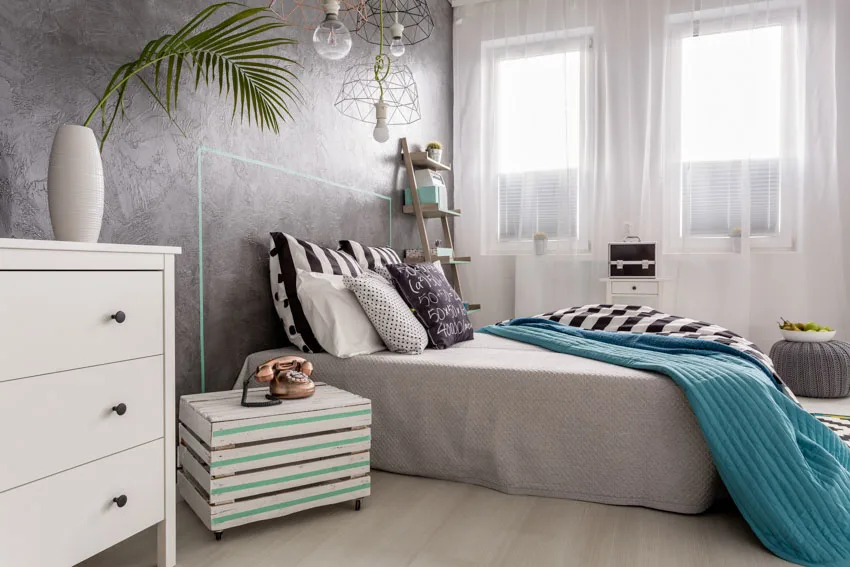 A low nightstand or at least one that's much lower than your bed is highly discouraged. As a rule of thumb, the requirement is that the nightstand should be at the same level as the bed (with the mattress on), at the very least. It can be higher than the bed and mattress by a few inches but that's OK.
It shouldn't be lower. A low nightstand will end up looking mismatched and ill-fitting in your bedroom; as if it wasn't really meant to be there or to be paired up with the bed. This can make your theme and design look very disconnected.
If you've already wanted one, but are insisting on making it work for your bedroom space, there are lots of things you can do about this. The easiest one is to add a portal drawer or a drawer topper on top of the original nightstand to kind of elevate the nightstand height but also to add in some extra storage space.
Another solution you can opt for is the use of furniture risers. This can effectively elevate the nightstand and give it its much-needed boost in height. Use another furniture piece such as a chest of drawers that you can put your nightstand on top of.
However, if you really want to take this seriously, you can just hire out a carpenter to craft a few legs for your nightstand so that you'll ultimately end up with a nightstand that comes with the appropriate height.
Oversized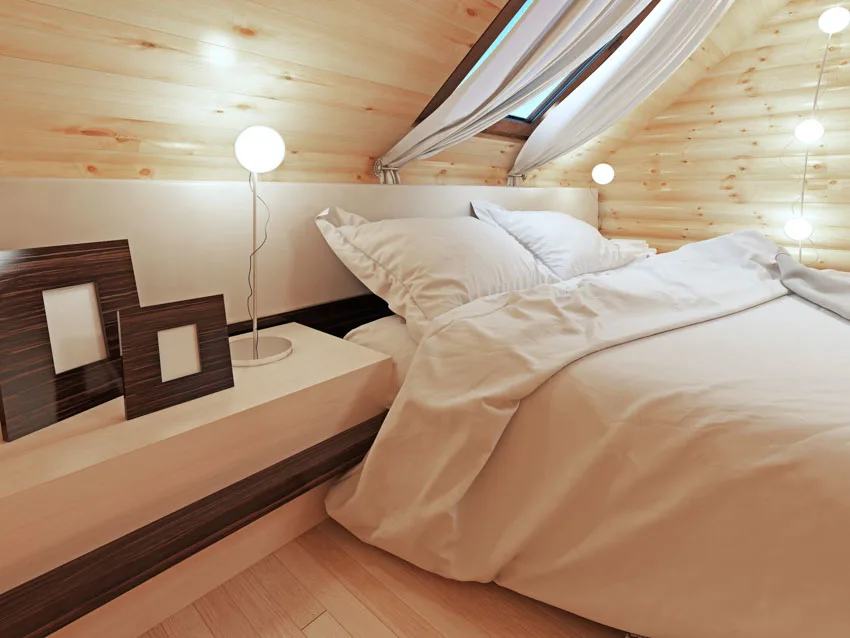 Oversized nightstands can be a great add-on for rooms in the house that happen to have an abundance of floor space. Too much of anything can be a bad thing and it really isn't any different when it comes to design or having floor space.
An overly vacant looking bedroom floor space can feel cold and uninviting and doesn't look and feel like it's been lived in. remember that when it comes to the bedroom, you want it to feel cozy and comfortable enough for you to plop down and sort of just disappear from the world.
You can't do this if everything in your bedroom looks vacant and sad. Oversized nightstands can be the perfect solution to this. Just for the sake of comparison, the average measurement of a regular nightstand is 25" x 20" x 15". This is in terms of height, width, and depth, respectively. Placed in a big room though, this can end up looking unnaturally and unattractively small.
A great solution to this would be for you to opt for oversized nightstands instead. They usually measure out at 30" x 30" x 19". The extra few inches in width and height can really turn out to make all of the difference in the world and it would be a shame if you don't head out and seriously consider this as an option.
LED Lighting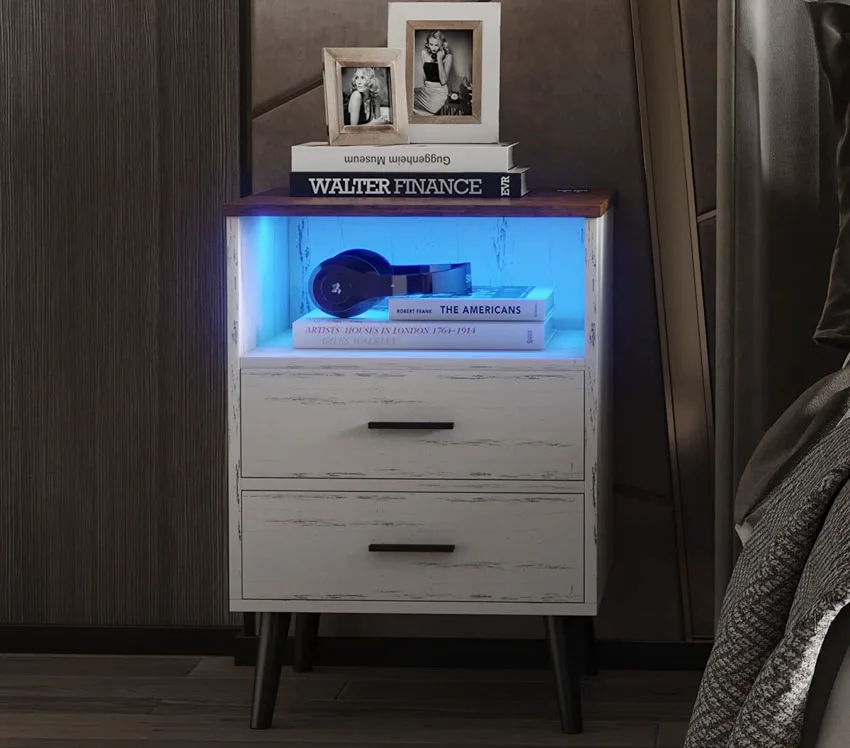 See this LED nightstand at Amazon [sponsored link]
If there's one thing that you need to keep in mind all the time when it comes to your nightstand design, it would have to be the fact that it needs to be lit up. Traditionally, you can actually get this done with a lamp, a wall sconce, or literally any other lighting fixture that you can possibly think of. Another option is to use LED lighting for your nightstand.
Consider LED (Light Emitting Diode) lighting. LEDs are becoming more common for can, track, under-cabinet and holiday lighting. Initial cost is more, but the lights use 10 times less energy and last 50 times longer than incandescent lights. – Tips, Tips and More Tips, Anne J. B. Skinner
What's so great about LED lighting is that it consumes way less energy compared to incandescent light bulbs. They are also incredibly easy and convenient to customize depending on your preferences.
You can adjust color temperatures, tones, and settings that will ensure you have enough illumination for your bedside while at the same time promoting high-quality sleep.
Kids Size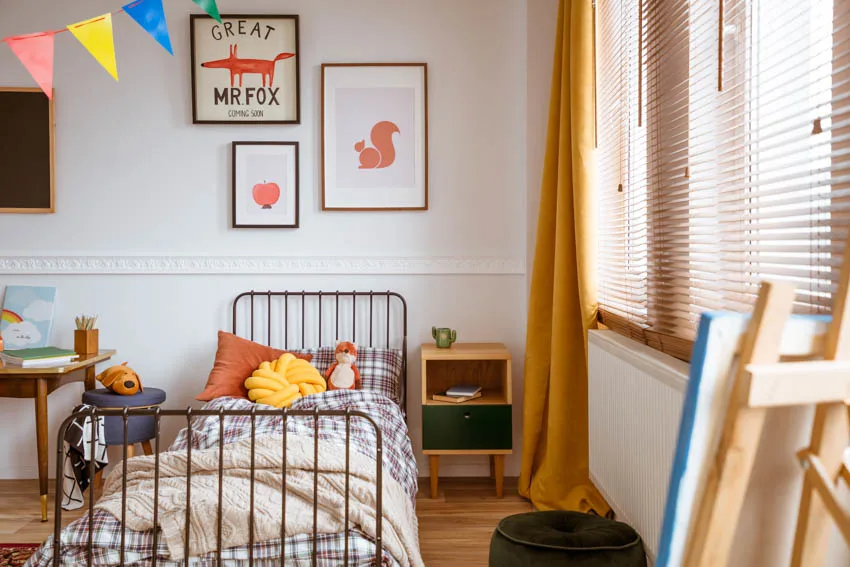 Kid-size nightstands are exactly what the name suggests. They're nightstands, similar to all of the other nightstands that you're probably already familiar with – just in kid sizes. As you know, regular-sized nightstands might not always pair well with kiddie beds.
This is where kid-sized nightstands come in. They're usually much smaller in scale although they have all of the same features and functionalities for the most part. They can either be custom built or store-bought. Some may even come in the design of beloved cartoon characters, depending on what your chosen design will be.
Nightstands Materials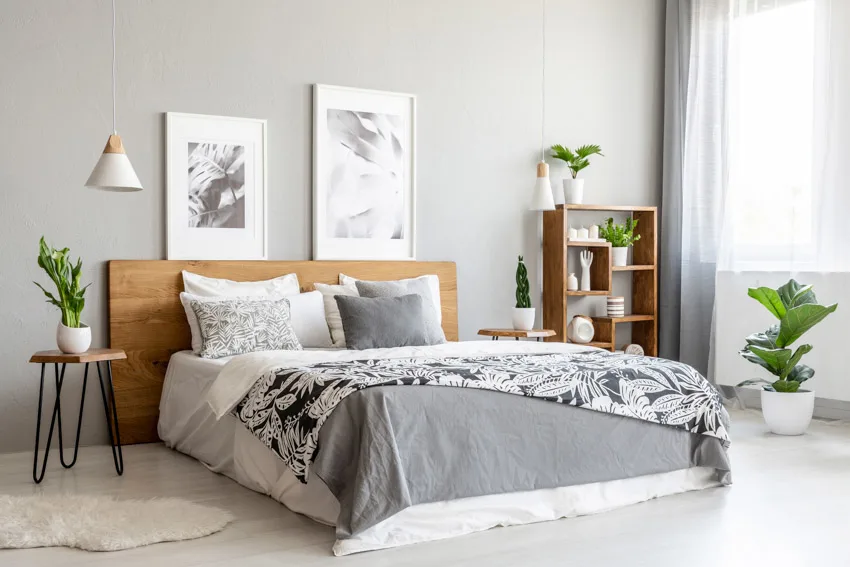 Nightstands can come in all types of designs and materials. If you want to make sure that you're about to make your best purchase yet, it would be smart to acquaint yourself with all of the different types of materials nightstands can be made out of.
Stepping into the crazy world of store-bought furniture pieces can be overwhelming especially if you haven't done a shred of research about it. Here are some of the most common materials to keep in mind when you're looking up what types of materials you can have for your nightstands at home.
Wood
When it comes to nightstands or any stick of furniture, really, wood always comes in front and center as one of the main choices as materials to be used. There are so many choices to choose from but wood is a staple and to be honest, will always be a classic as far as nightstands are concerned.
Wooden nightstands are practical and can be very to maintain or keep clean. Nightstands that are made from solid wood are usually much easier to maintain, requiring nothing more than the occasional coat of oil or varnish to preserve the wood's surface.
Wooden nightstands can be very resistant to daily wear and tear if you take care of them the right way. If you have pets and kids around, you can be rest assured that they will rise up to the challenge. As the years go by, you can update old nightstands as they age by sanding them, re-priming, repainting, and then everything will look new again.
The downside to getting wooden nightstands though is that it can be tricky to check the wood quality. You may unknowingly be purchasing a particle board or a composite board that isn't actual wood and is inferior in quality compared to solid wood.
Some may appear like solid wood but they only appear as such because they have a thin layer of veneer surface covering the main surfaces. Veneer blisters over time and isn't always of the best quality so this can shortchange you and your experiences in getting a high-quality nightstand made out of wood.
Types of wood for nightstands: A few of the most popular woods to use for nightstands are oak, maple, cherry, ash, and walnut.
Glass
If you have tricky floor areas (small or limited) to deal with in the bedroom, it wouldn't be a bad idea for you to opt for a small nightstand made out of a glass-top surface.
Glass-topped nightstands have the uncanny ability to make the space look bigger than it actually is. You're actually leveraging on the benefits of optical illusion if you choose to get a nightstand that's made out of glass.
Acrylic
If what you're looking for in a nightstand is something that's modern and sleek, has all of the advantages of glass without the expensive costs, then acrylic nightstands just might be it for you. Clear acrylic looks and feels airy.
Similar to glass, acrylic is something that's typically clear although not to the level of the clearness and the translucence of actual glass. It does, however, provide the same look and feel to your bedroom's décor. This can turn out to be a huge advantage for small and cramped spaces.
Acrylic is also a material that's quite easy to clean. It usually doesn't need anything more than a soft cloth and some soapy water. For something that doesn't really get a lot of attention in terms of daily cleaning, it's important to go with something that doesn't require too much effort to clean or maintain.
Acrylic nightstands are also molded into shape which means that you can get them in unique and contemporary designs that wouldn't have been possible with traditional metal or wooden furniture.
Rattan/Wicker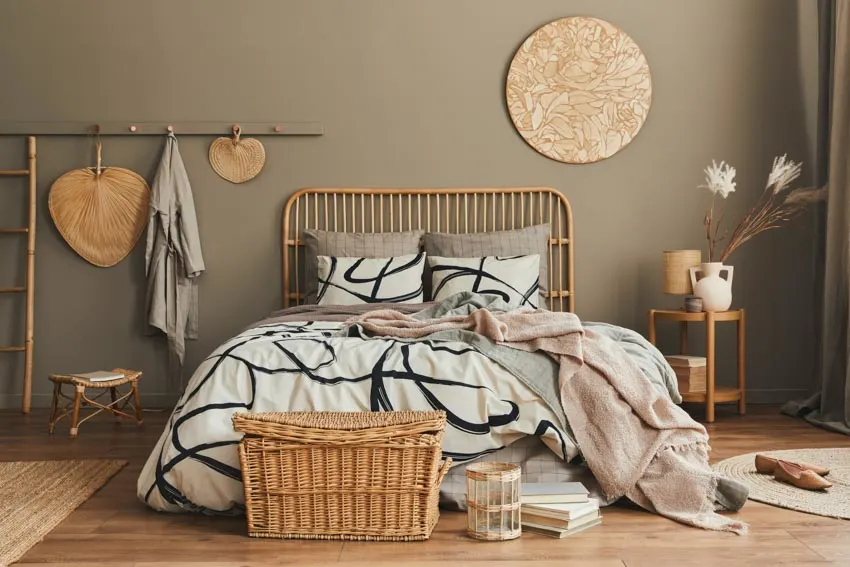 Rattan or wicker nightstands are great for homeowners who prefer to have furniture pieces that are sustainably sourced. Rattan is typically a type of material being used whereas wicker oftentimes refers to the process of weaving and the patterns that it makes on the actual furniture.
It's easy to get the two confused and it comes as no surprise why the two terms can usually be seen and heard or used alongside each other or even interchangeably.
Rattan nightstands are impressively hardy and durable. This is one of the main reasons why some of your favorite heirloom furniture pieces inherited from your grandparents back in the 50s are still in great and mint condition to this day.
The rattan nightstand you buy today could last you for generations to come. And because of the fact that the material is sustainable, this also technically means that there were no trees cut down during the harvesting process.
Rattan is a type of vine and they merely cut them, then wait for them to grow back after some time. It can also take up a huge amount of weight so you can stack books and other heavier items by your bedside without worrying if the nightstand can take all the weight.
Bamboo
Bamboo nightstands are incredibly durable. as a matter of fact, it has been known that they can be more durable than most hardwood furniture pieces out there.
Most of the bamboo nightstands manufactured in the market these days are also laminated, further strengthening the material's surface. This can make your bamboo nightstand at times even stronger than steel. But despite of its strength, bamboo is known for being very lightweight.
It is known to be one of the lightest materials known. This means that if further down the road, there would be a need to renovate your bedroom, this wouldn't be an issue at all as you could easily move your nightstand around with little to no assistance.
Similar to rattan, bamboo nightstands can also be very environmentally friendly and sustainable this is because of the fact that technically speaking, it isn't wood. Bamboo is a type of grass. It grows fast and requires little to no attention at all to grow well enough for harvesting.
Marble Top
A marble top nightstand is something that's classy and timeless and if this is something that you would like to have for your nightstand, it can be made possible as they have this readily available as well.
One thing you should know is the fact that marble is considered dense but that it is also considered as a soft stone. What this means is that it can be vulnerable to staining and scratching but with the proper maintenance and sealing, it can last you for plenty of years to come.
A marble nightstand is something that you can consider to always be in style. It can complement any type of room décor and color. It is less expensive compared to other types of decorative stones such as granite or quartz.
It's a bit pricier compared to the other types of nightstands available but if you have the taste for the elegance and classiness that marble brings, this is worth considering at the end of the day.
Nightstand Styles
There are so many different styles of nightstands available in the market right now and trying to find the right one may seemingly feel like a daunting task. This doesn't have to be the case at all though. With just a little bit of guidance, what you can be rest assured of is the fact that you'll soon find the perfect one for you and for your specific bedroom style and aesthetic.
Transitional Style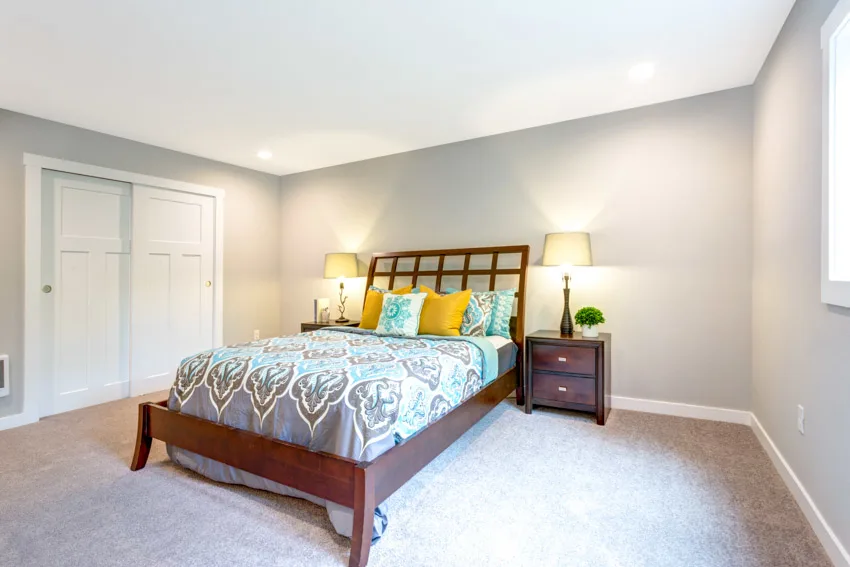 This type of nightstand is sleek and simple in design. But at the end of the day, it can offer so much more than that. They can also turn out to be quite versatile.
They can make for very great foundation pieces that you can build your room design around. Transitional nightstands are easy to accessorize, and they can pair up with literally any type of style or theme that you may have for your bedroom.
Transitional styled nightstands are usually made from metal, wood, or lacquered surfaces of the same sort so they always have the appearance of looking smooth and polished.
Traditional Style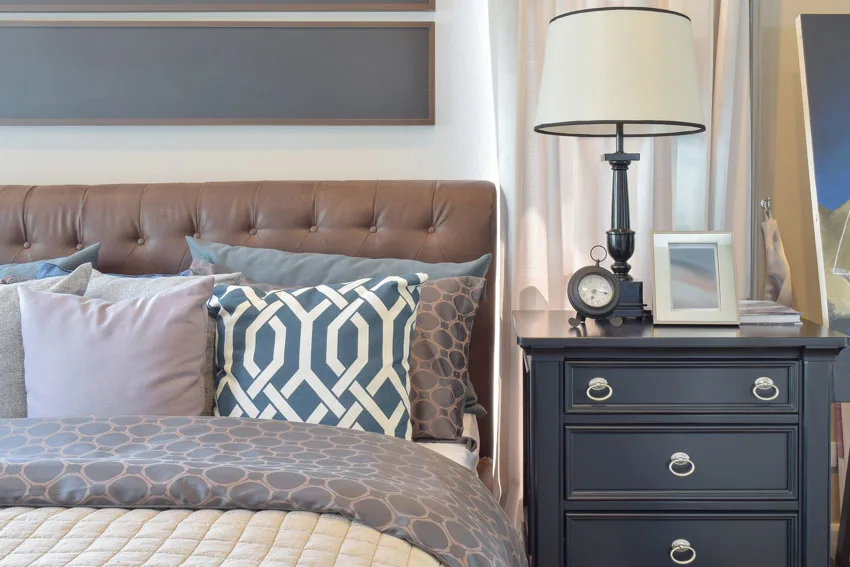 These nightstands have the design aesthetic of looking "antique". They can bring in a more formal feeling or air to your bedroom. They usually come along with ornate and stylized details, and this means that these types of nightstands can be perfect for classic-looking interiors.
However, don't write them off just yet because they work great for eclectic designs as well. Traditionally styled nightstands are great for balancing off bright pops of color or big and bold patterns.
Most nightstands in the traditional style are made from wood. The elegant details added in are either carved in or attached as legs and handles and can be made out of brass or brushed steel or even silver for the high-end ones. This can give any bedroom a very sophisticated flair and a very Old World type of charm.
Distressed Vintage Style

If you find the farmhouse look a tad bit harsh in design but you still like the thought of its main aesthetic theme, perhaps the distressed vintage style might work for the nightstand you're looking for.
It's rustic at its core but it also hints of romance as it has a softer and more romantic look. This has a flea market vibe and can work well when it comes to pulling off a look of having unmatched furniture pieces or accessories in the bedroom.
Modern Glam Style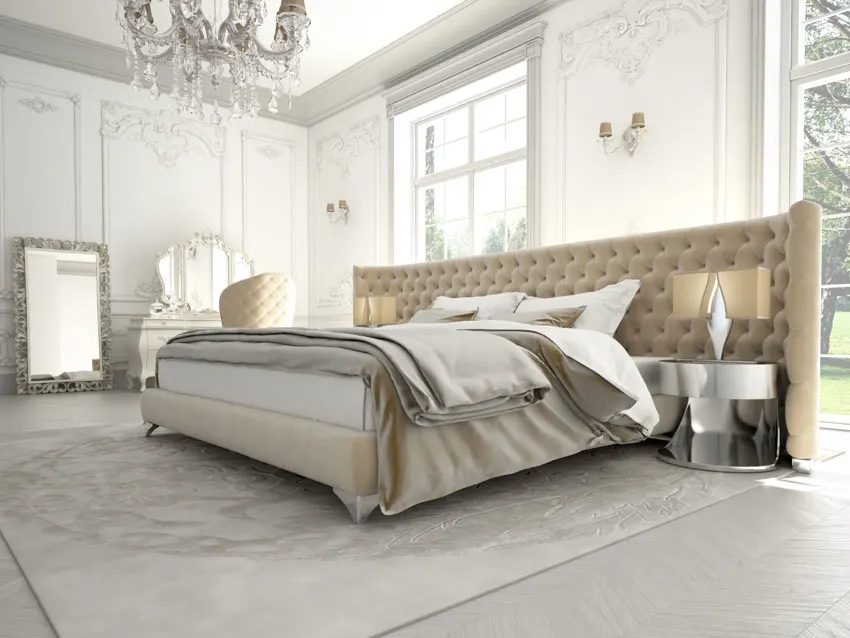 This style of nightstands keeps up with old Hollywood glam. If you want a nightstand that makes a statement in your bedroom, then going down the modern glam route is the best way to go for sure.
This is best paired in a really bold bedroom décor. This nightstand style can really be the main focal room in the room of your choice.
Nightstands like this are oftentimes made out of very prime and luxurious materials such as brass, copper, or even burlwood (which is known to be very expensive). It also typically has mirrored or polished surfaces that make the overall look of nightstands like this very high-style and glossy.
Coastal Style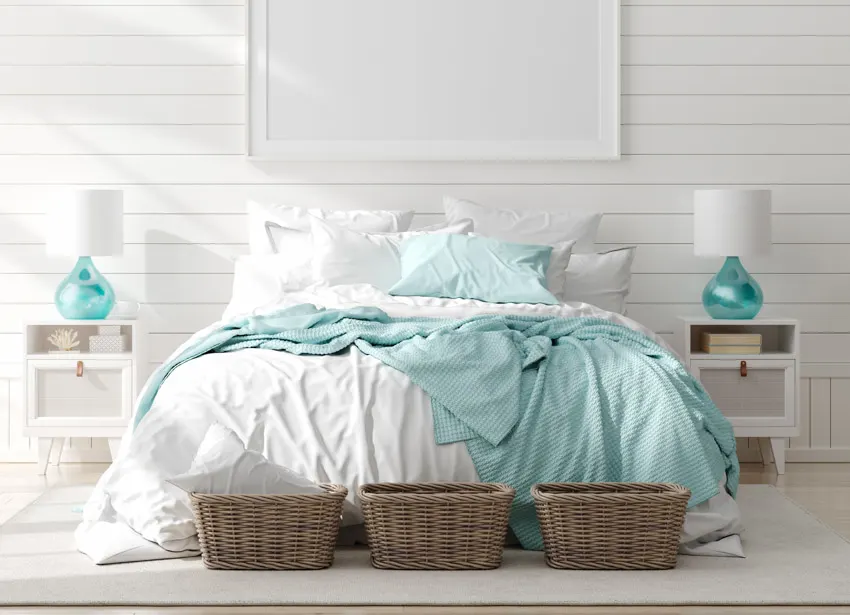 If you want to capture the feeling of being in a beach house, then a coastal-styled nightstand is the perfect accessory for you to pick. They're usually made out of natural and woven materials.
This adds a lot of texture and organic elements to your bedroom. This can also have a way of creating a relaxed and tranquil space in your bedroom. Pair that nightstand along with beachy accents and some nautical art perhaps and you've got yourself a real winner there.
This nightstand style usually comes in weathered woods, jute, seagrass woven together, and other similar beachy materials.
Modern Style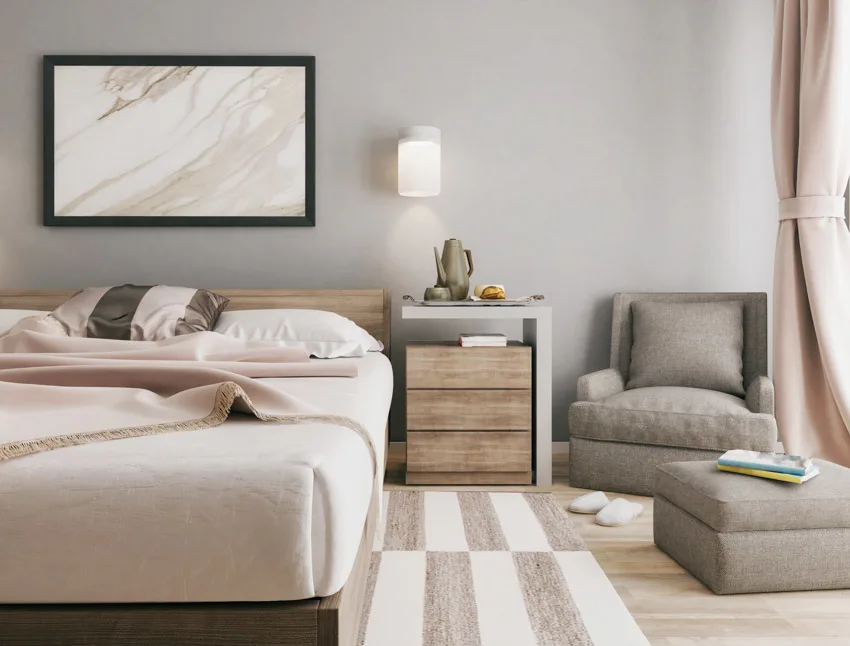 These nightstands come in very sleek and tapered forms and lines. They have a somewhat minimalist Danish appeal to the look and feel that they bring in. they are typically comprised of silhouettes that are seamless and simple and they are paired best with minimalist or contemporary bedroom designs.
When choosing a nightstand, consider its function. It should be a spot for a lamp, a book, a glass of water, and any other bedtime necessities you have. But it should also add style to your room. Don't be afraid to mix and match different styles, as long as they complement each other. And don't forget to decorate your nightstand with items that bring you joy, like a vase of fresh flowers or a favorite photo. – Myquillyn Smith, The Nesting Place
They look quite modern with a bit of an organic touch to the design. They're usually made out of a combination of brass and a type of warm wood such as acorn so the overall effect is something quite warm and charming.
Scandinavian Style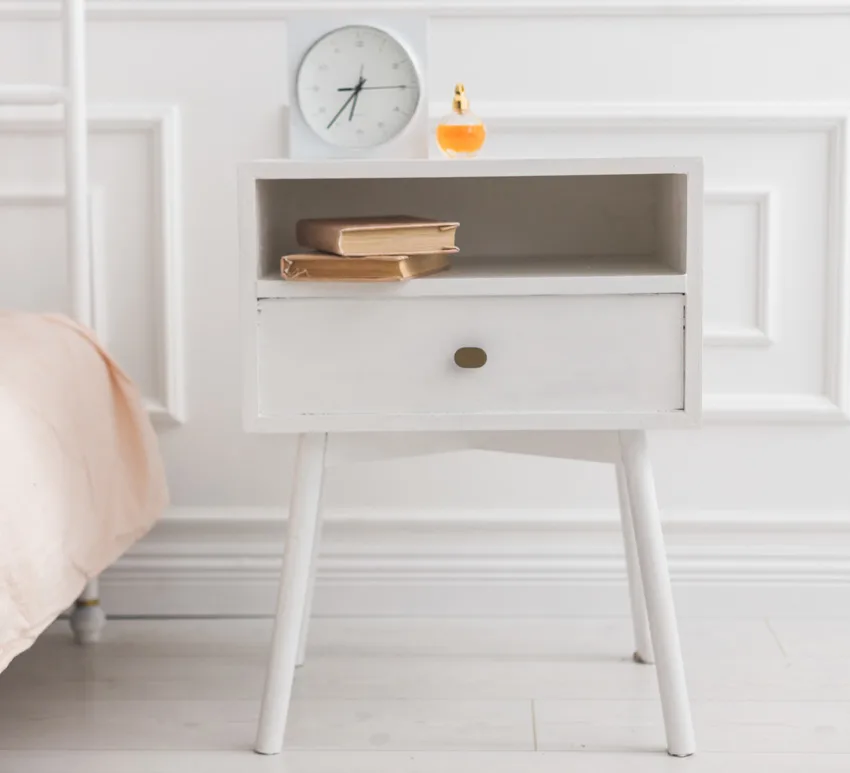 This nightstand style is something that is both functional and minimalist. Despite the two main features though, they have been quite known to not sacrifice beauty – sticking true to the essence of what Scandinavian-styled nightstands look and feel like.
Nightstands that are in this style are quite simple in form. They have tapered legs that are sleek and slender, which is mainly what gives them a contemporary touch. It can be a great accent piece for any type of bedroom.
Contemporary Style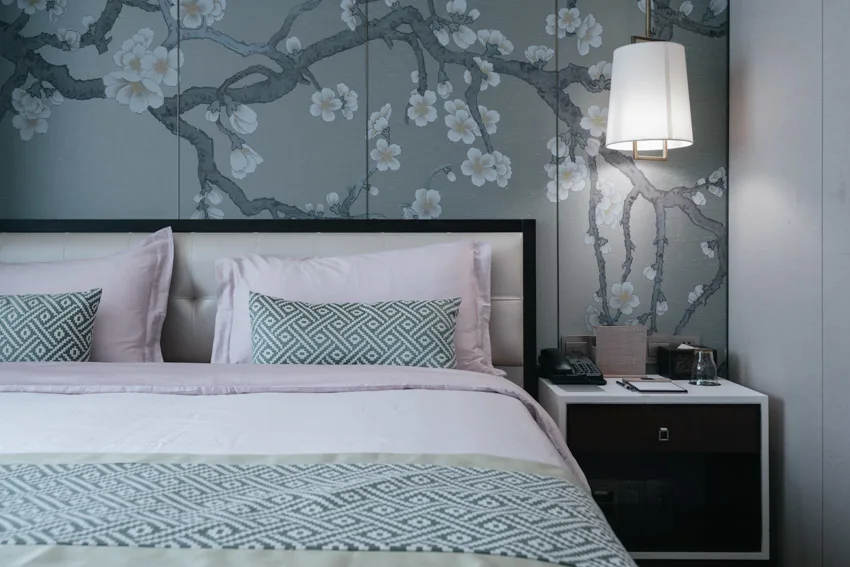 A contemporary style nightstand showcases minimalist elements and plays with shades of white, beige, and gray. This style is known to be very sleek and usually has a lot of decorative details hidden in its aesthetic.
Nightstands in this style are oftentimes quite high when it comes to the functionality and have a very fuss-free way of announcing themselves in the bedroom.
Mid Century Modern Style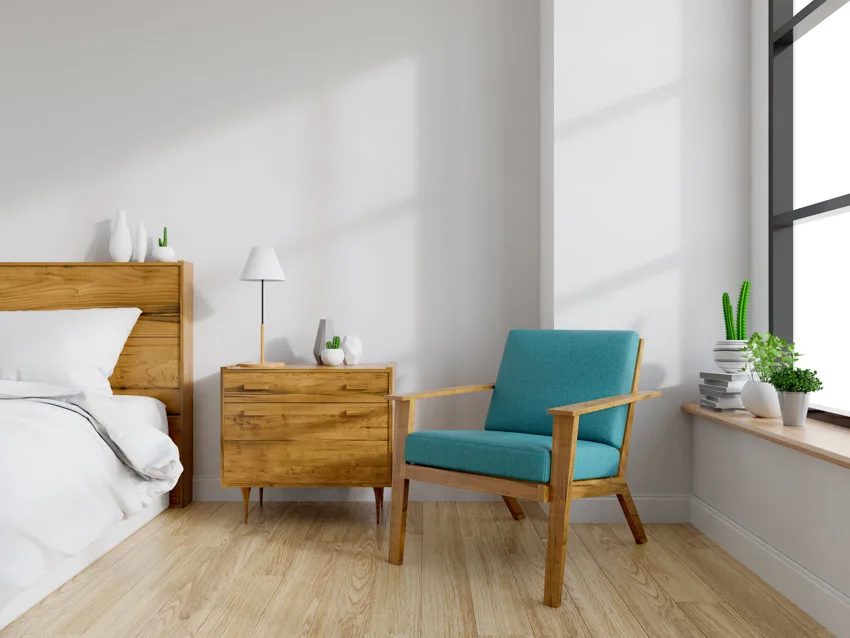 If you're a fan of the show Mad Men, then mid-century styled nightstands might be interesting for you. What they showcase is a very minimalist and modernist form. It functions with clean lines and efficiently functional add-on features in the design.
This nightstand style can be super versatile so you can be rest assured that it can work with a wide range of interior styles and designs as well. What this means is that mid-century modern style nightstands can turn out to be a great investment and will turn out to be something you can use even if your design preferences may happen to change over time.
These types of nightstands are usually made from natural woods such as walnut or acorn, which are natural and quite warm in color. They come with tapered legs and very clean lines as well.
Industrial Style
This kind of nightstand style has an edge to it. Nothing can quite beat the industrial look, really. It can bring a modern city vibe to your bedroom and can work well with minimalist décor. This style is sculptural and simple and comprised of very clean lines and elements.
They can bring the ultimate urban vibe to your bedroom. Industrial nightstands are often made from modern-looking materials such as cement, dark polished metals, among many other things. The final look has a finish of being refined and very sleek.
Minimalist Style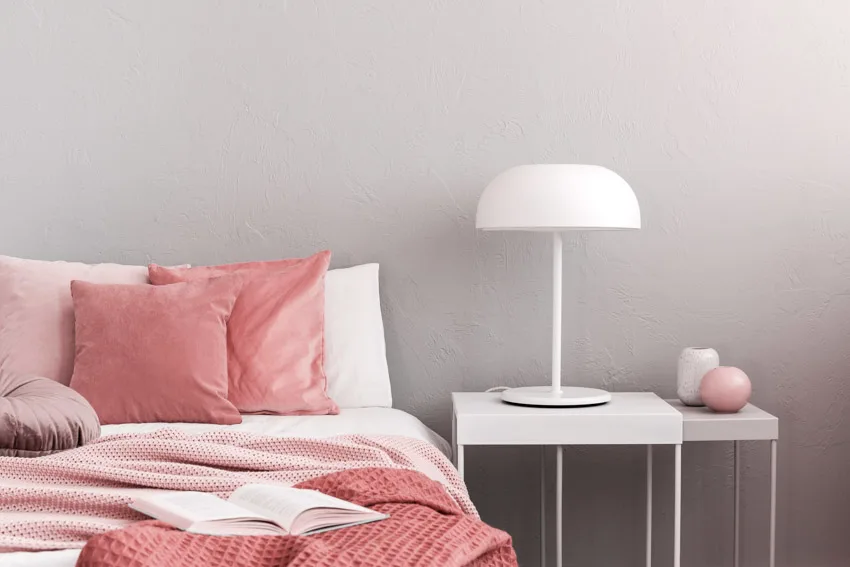 This design or style is characterized by a seamless and harmonious marriage of geometry, function, and very basic or simple color palettes. Minimalist nightstands also have a clever way of appearing modern or updated without ever feeling cold or detached.
They can blend in quite beautifully with modern, rustic, or literally any other style of bedroom décor. These nightstands are oftentimes made out of prime solid woods and they maintain a spare or basic look. This is best paired up with cleaner accessories as well.
Classic Formal Style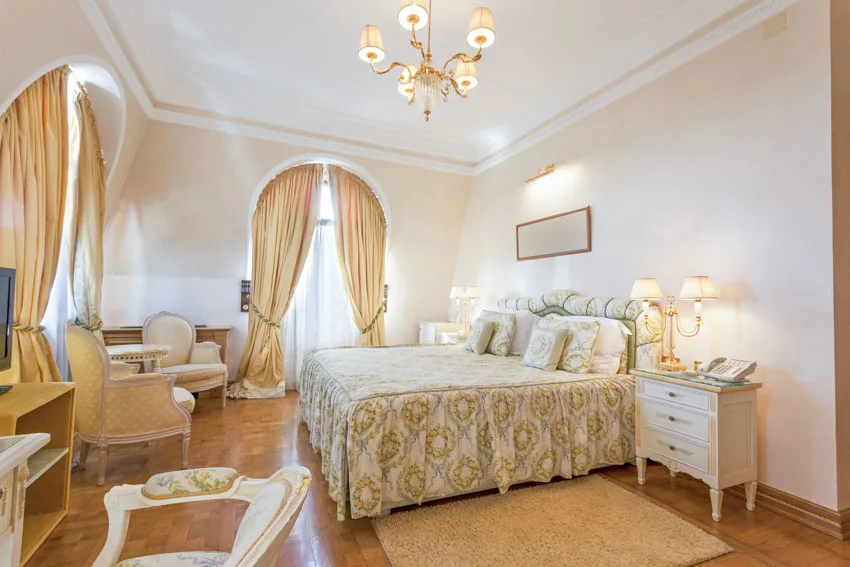 This style defines the very meaning of classic elegance. Not only are they quite elegant in form, they are also known to provide more than ample enough storage.
As a nightstand alternative, they bring in a very refined and classic style that's bound to stand out because of its simple eclecticism. It can blend in with any type of interior design.
Classic format-styled nightstands blend in well with interior décor of different types. They usually come in painted wood and have ornate hardware such as ring pulls, brass feet, and so on.
Art Deco Style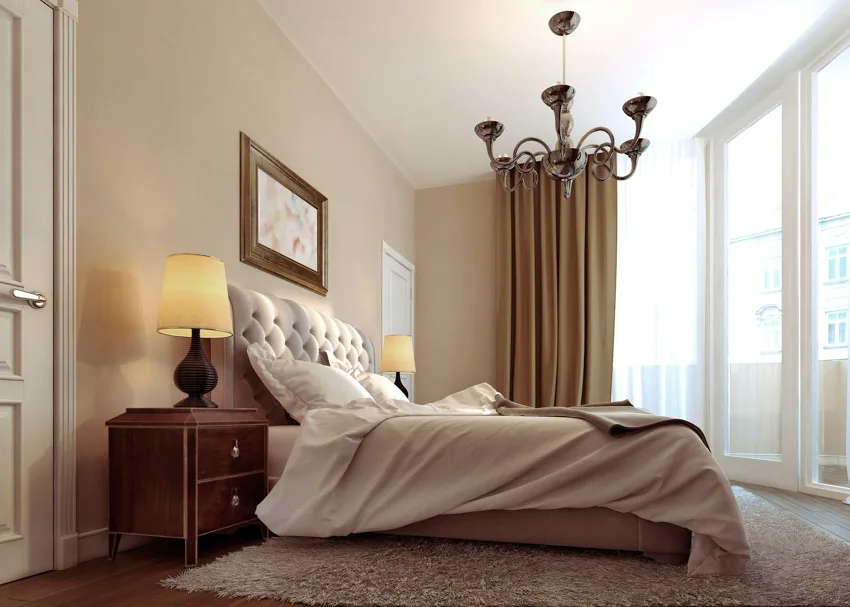 The art deco style is characterized by a lot of patterns, shapes, and details. They are usually geometric in nature. They are oftentimes made from exotic woods such as mahogany or zebra wood.
They come in mirrored or polished finishes, with lots of metal accents and jewel-toned colors as well. This style is heavily French, back in the 20s, in particular.
Farmhouse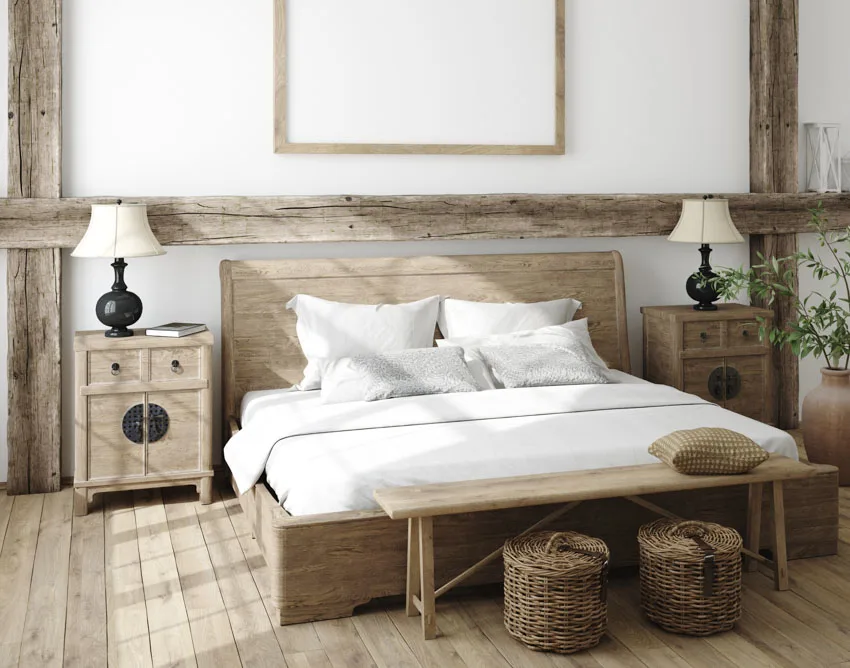 This style is very similar to traditional nightstands. However, they lean more on something less formal and something that has a more rustic feel to it.
In keeping with the theme of the farmhouse style in nightstands, it's important to emphasize that they need to be made from natural materials as well as textures.
This style can always be depended upon to bring in a rustic elegance to your bedroom décor. This is great if you have a country-style bedroom or something fairly similar to that in terms of design aesthetic.
Another alternative to the traditional farmhouse style is the modern farmhouse bedroom which brings in modern touches and more contemporary design elements.
Boho Style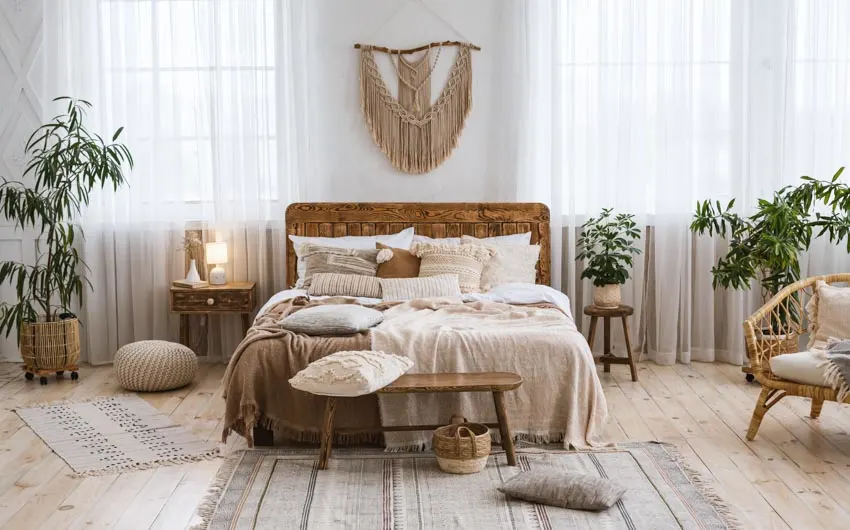 Boho, or Bohemian-styled nightstands are characterized by designs not having any particular type of structure to them. The result is a nightstand that's free from the traditional rules of furniture design. It has layers, patterns, colors, and textures that are far more relaxed and carefree.
There really are no hard rules when it comes to deciding on what makes a nightstand Boho or not. The best gauge for this would be to imagine it in a bedroom setting paired along with plants, some macrame, string lights, and lots of blankets and pillows. See more bedrooms with Bohemian paint colors and designs here.

Rustic Style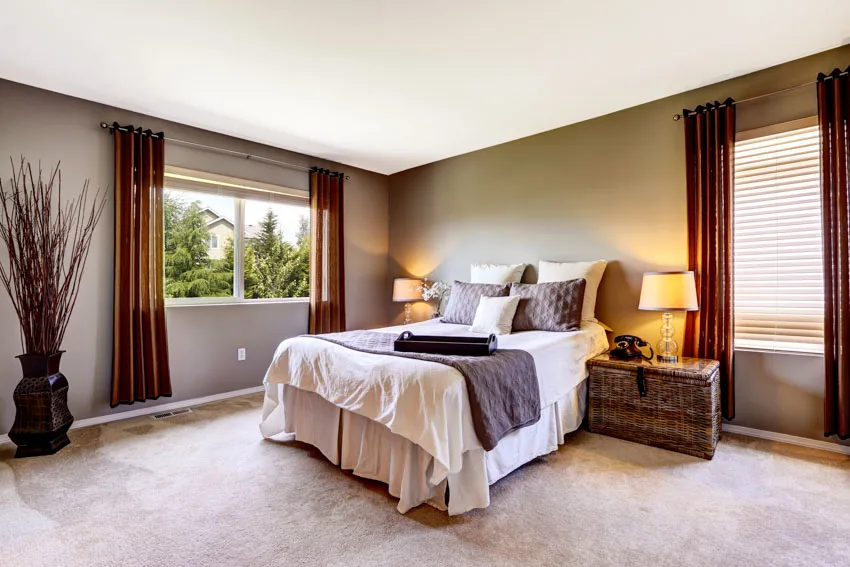 Rustic-styled nightstands emphasize deep earthy hues and they capitalize bold and natural materials. The kind of look this creates is something that's both rustic and refined. It can be the perfect piece for a contemporary bedroom design.
Rustic-styled nightstands also tend to have very practical forms. They have natural tones and although they are statement pieces all on their own, they also blend in well with the rest of the bedroom décor.
Most of these nightstands come in unique or one-of-a-kind designs with either polished or brushed steel hardware elements. Most of these pieces are eye-catching and visually intriguing.
Craftsman Style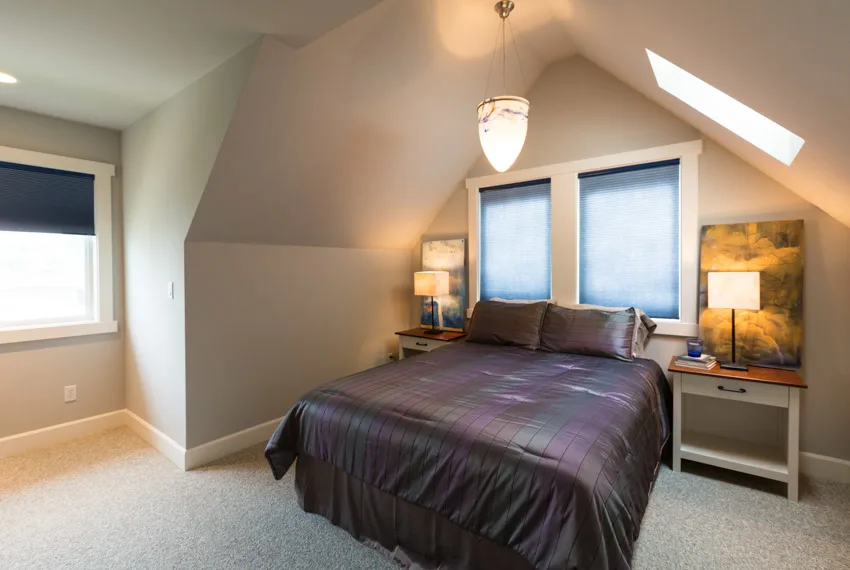 This style of nightstands boasts detailed woodwork, groove joints and tongues, and ultimately a design that doesn't have any frills whatsoever. This can make a craftsman-style nightstand an easy candidate as an anchor piece for your bedroom design.
They're beautiful and quite practical so they stand up well against wear and tear. The best features of a craftsman-style nightstand are that it's usually made out of the best woods and has meticulous attention to detail. They're timeless and will always be well worth the investment. See more pictures of craftsman style bedrooms on this page.

Retro Style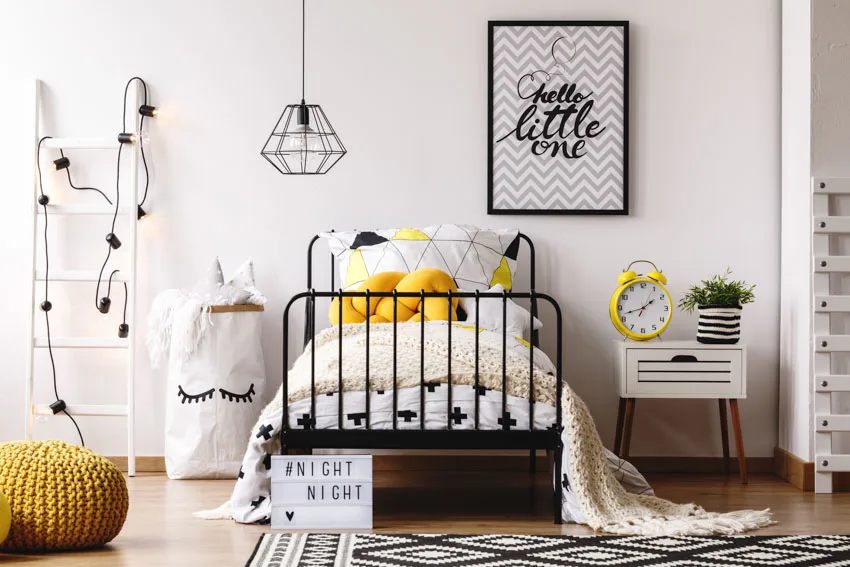 One main benchmark of retro-styled nightstands is that they are comprised of shiny metals such as chrome, bold hues, and curved or angled edges. The most notable colors that retro-styled nightstands come in are psychedelic colors such as avocado green.
Perhaps the main appeal of retro-styled nightstands is the nostalgia it brings along with it. You can help preserve this little slice of the 50s by keeping a nightstand in your bedroom in this particular design.
Antique Style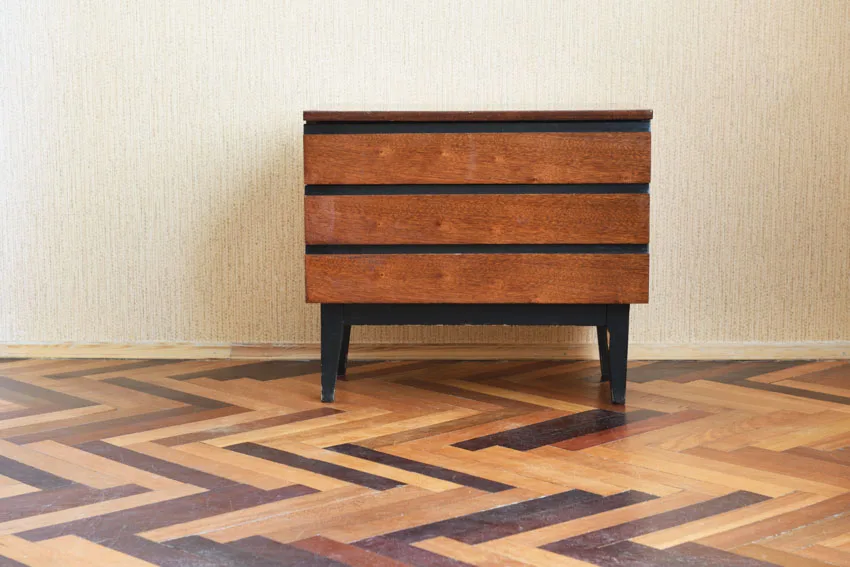 It can be a little difficult or tricky to really decide on what counts as an authentic antique-style nightstand. For a furniture piece to be considered as authentically "vintage", it needs to be at least 30 years old.
For it to be considered as an "antique", it needs to be at least 100 years old. Although there isn't a specific style to its design, it is oftentimes Victorian in nature and features the use of ornate carvings, dark woods, and luxurious hardware.
French Provincial Style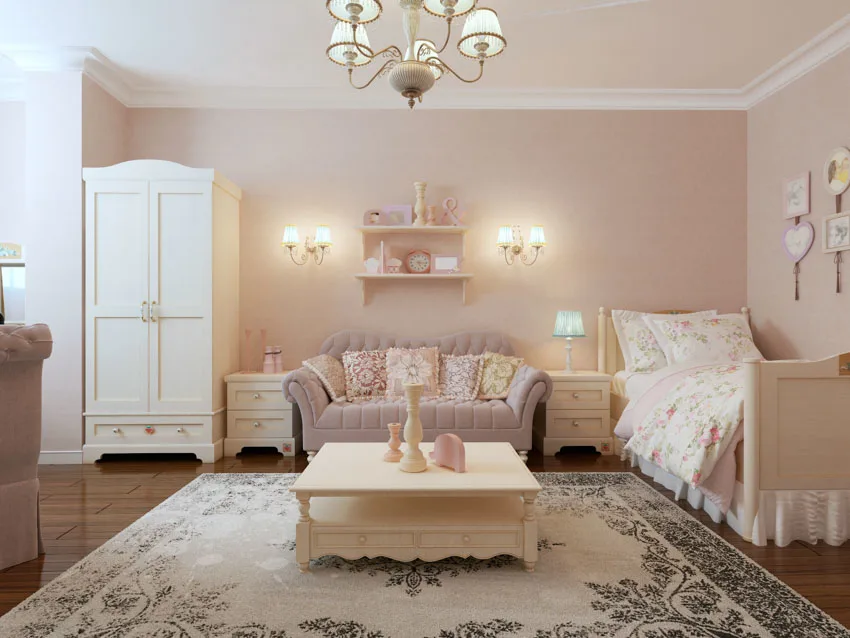 French Provincial style nightstands are generally described to have come from the 18th century, from the smaller cities in the French countryside.
These are usually from the regions of Bordeaux, Normandy, Provence, and other nearby regions. It features simple scalloped carvings, cabriole legs, and wheat patterns either in the designs or in the carvings themselves. They're usually made from woods such as beech, apple, berry, oak, pear, peach, and other similarly dark-colored woods.
Shaker Style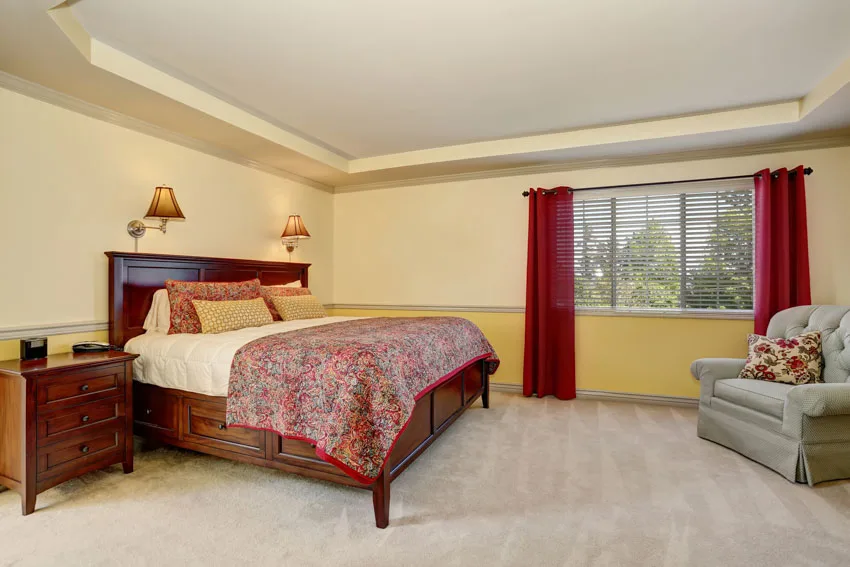 Shaker-styled nightstands are characterized by having tapered legs, clean lines, and an overall minimalist design. The very essence of the Shaker style is that it's very simple and practical down to the most basic of its details.
They oftentimes showcase flat center panels and very straight or square edges in their design. The details in the profile are quite minimal. They often shy away from ornamentation of any kind and are known to be sticklers for symmetry.
Chippendale Style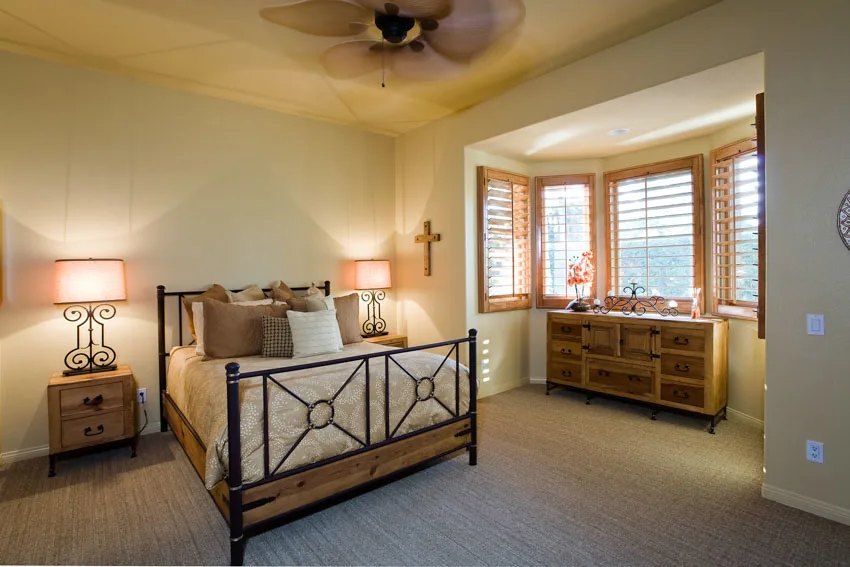 Chippendale-style nightstands have very striking characteristics that are hard to miss and make them distinctly Chippendale. They usually have Queen Anne cabriole legs, pagoda elements in the pediments, S-curves in the legs and edges, and lots of heavy Chinese influences as well.

Bombe Chest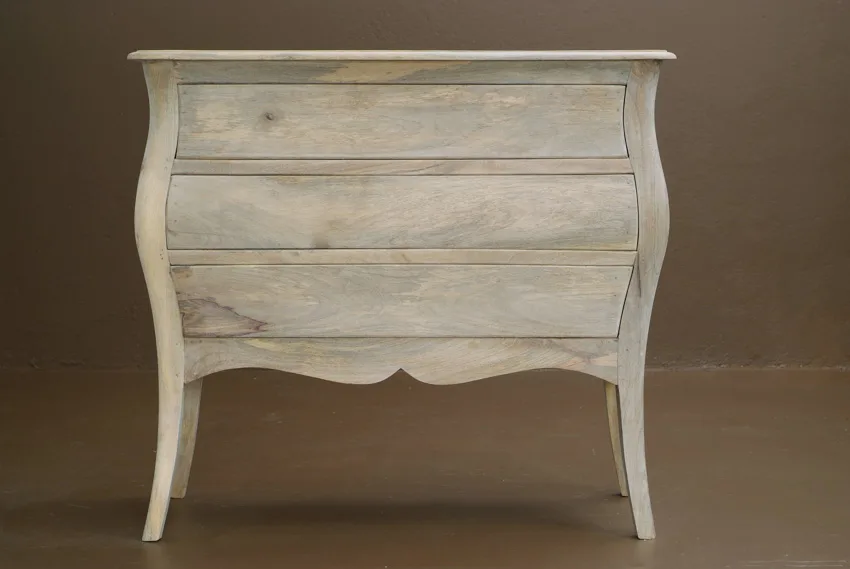 "Bombe" is actually a French term that refers to convex or rounded pieces of furniture. This is because for the most part, Bombe chest nightstands are known for their designs that bulge or curve outwards, or as the name says, "bomb-shaped" or circular in nature.
This is great if you want a nightstand that doesn't have any sharp corners. It can also be pretty versatile as rounded elements fit in well with any type of décor that you might think of.
Baroque Style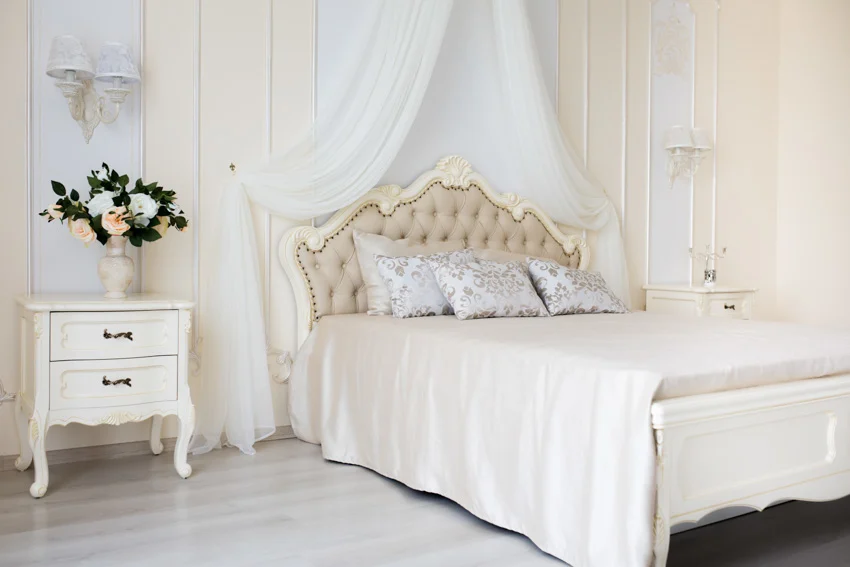 Baroque style nightstands have very elaborate ornamental designs in them. These nightstands come with plenty of details and it would perhaps be even fair to say that the decorations could border on the exaggerated.
Some of the most common elements in a Baroque style nightstand are heavy moldings and pedestal feet. It looks very luxurious and heavy and may include carvings of cherubs, leaves, flowers, and the like.
Louis XIV Style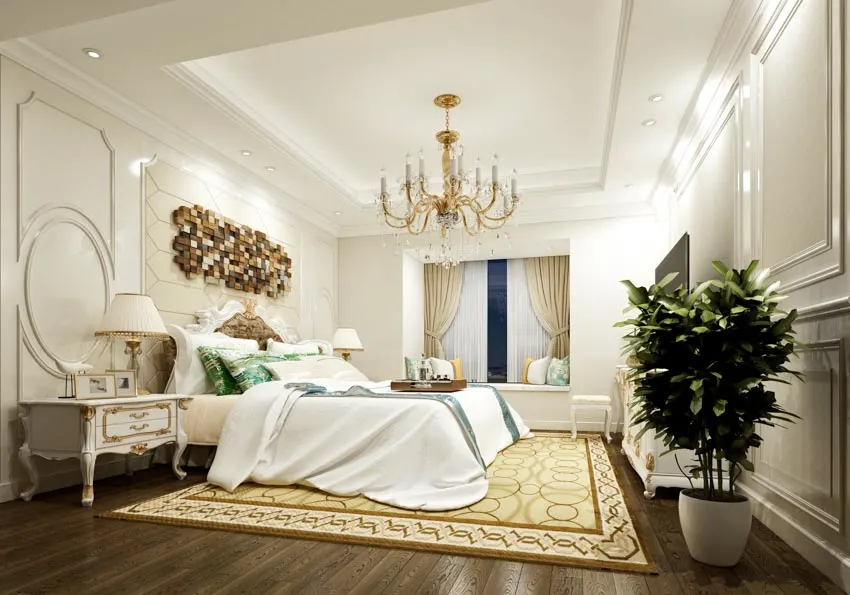 This style of nightstand is known to look very sophisticated and refined. The symmetry is also one of the top characteristics for you to take note of. Classic motifs and ornamentation are commonplace in nightstands like this.
They usually include carvings that have oak or laurel leaves, acanthus scrolls, and other nature-inspired scenes. The nightstand legs are also oftentimes connected via X-shaped stretchers or in an H shape. This results in a heavier look, and a lot of Greek elements in it as well.
Rococo Style
This style of nightstands took its inspiration from the 18th century Rococo period in France. Rococo is known for ostentatious decorations and at times being a little extreme in design. They may be comprised of different materials brought together in a nightstand.
Rococo nightstands are medium to large scale in size. They usually incorporate carvings of symmetrical curves and scrolls, a lot of S and C curves. Nature motifs and high-relief carvings can be quite common as well.
They oftentimes have curved cabriole legs on casters, marble tabletops, and frames that are made from either walnut, mahogany, or rosewood.
Another trait that stands out in a Rococo-styled nightstand is that its legs can also imitate the look and feel of a flower stem or a tree leg. As an add-on, the elements can be asymmetrical and can be painted white as well as in other softer pastel shades as an homage to nature.
Louis XV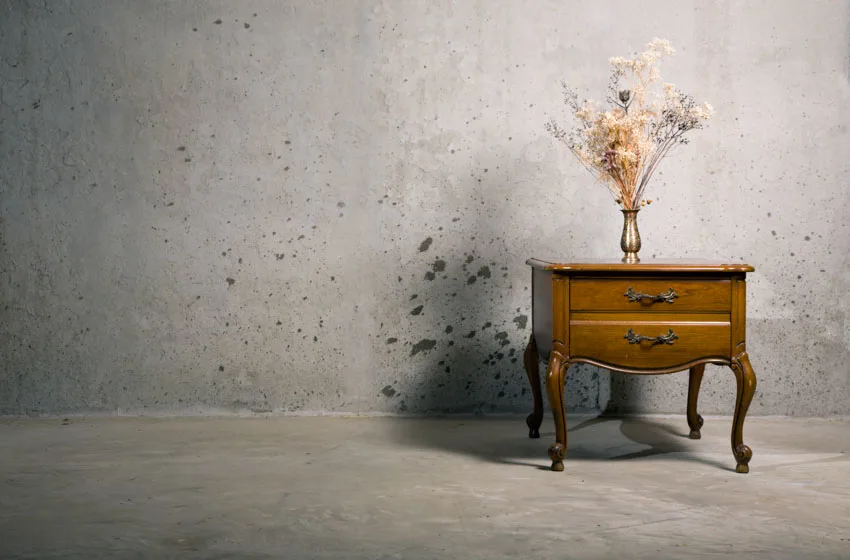 A nightstand with the Louis XV style may include hints of the Rococo style in it. Its design isn't necessarily asymmetrical but it's considered as less symmetrical compared to its Louis XIV counterparts.
The table legs of the nightstand are can be angled, S-shaped, or be in cabriole legs. The wood is also heavily engraved with the most common themes being medallions and intricate scrolls.
DIY Nightstands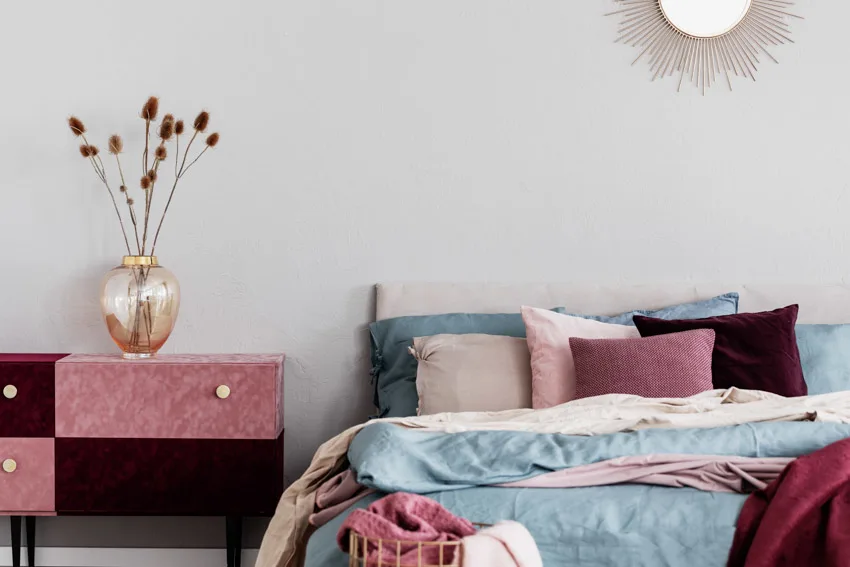 If you happen to be a DIY beginner, making your own nightstand can be the perfect project for you to begin with. It's relatively small. It's a fairly simple piece of furniture. It's for your eyes only as it's in your bedroom.
But more than that, you have the platform to customize away and add in features and details based on your heart's desires. It can also be a lot of fun while you're in the process. Making your own nightstand can be as simple or as complicated as you would like it to be.
You can come up with your own concept and make it out of raw materials from scratch, you can repurpose and change the look of an existing nightstand, or you can even upcycle everyday items that other people probably wouldn't even expect.
When doing this though, it would be smart to make sure that you at least do a little bit of research about the different DIY nightstand ideas out there. Make sure that you have your tools down pat, make sure that you'll be working with the right sanding papers, primers, paints, sealers, and so on; and things should go on smoothly for you.
What Are Nightstands Used For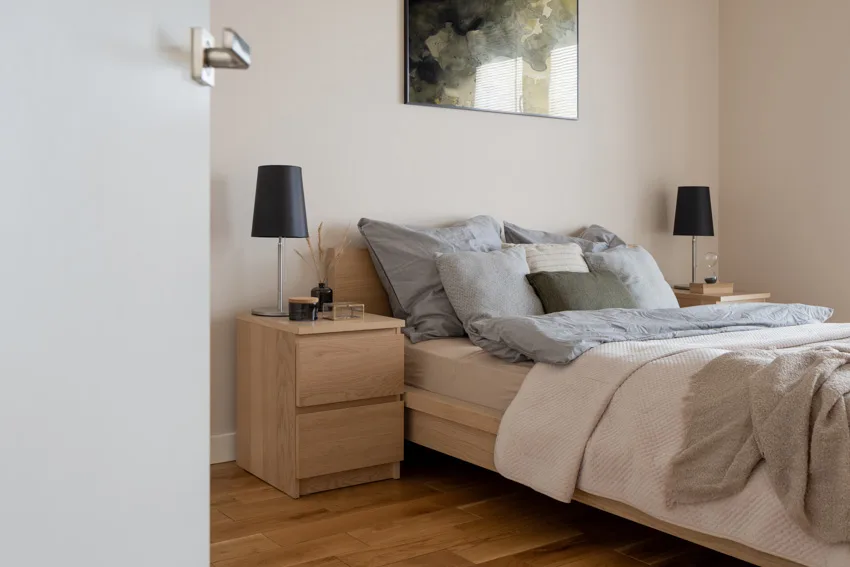 The main purpose of a nightstand is to support or hold personal items for you. These are things that oftentimes might come in handy during the night all the way through until the morning after.
Over time, the purpose of nightstands has evolved to include other things such as work items like phones, tablets, or even laptops. It can basically hold literally anything you might need before going to bed and during the time you wake up and think about the first thing you need to reach out of bed for.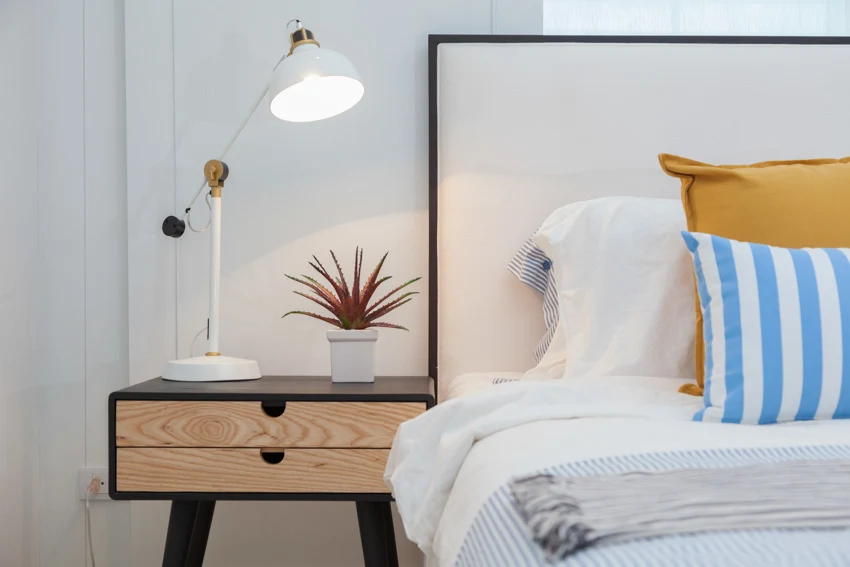 In some cases, nightstands have even doubled as where you can put your food on in case you want to eat your meals in bed, where you can place a notepad and some pens on in case you like to scribble your thoughts down, or just put literally anything you can think of on it for the purpose of making your bedtime experience a little more convenient.
How Tall Should A Nightstand Be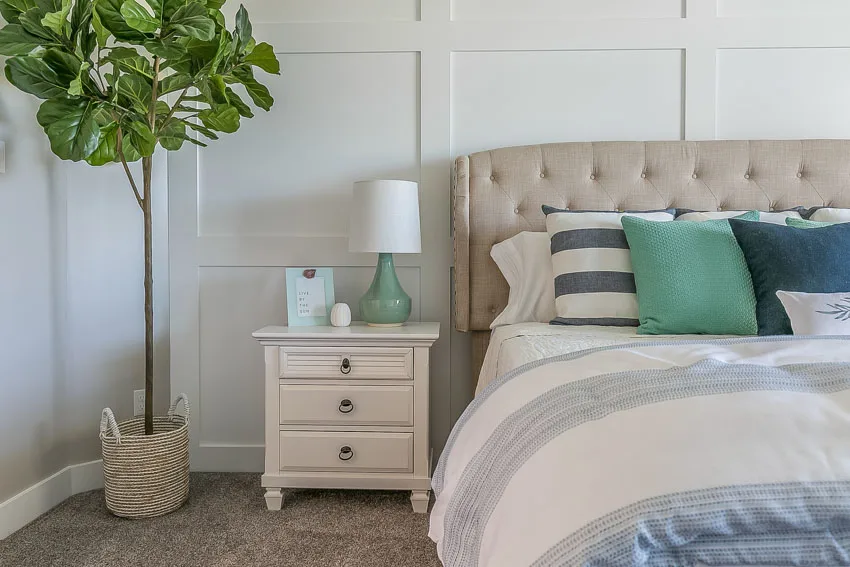 To be honest, a nightstand can be as tall or as short as you would like it to be. But if you base it off on standards and base it on what's convenient, a nightstand should be at least level with your bed mattress.
Some nightstands can be around 2 to 4 inches taller than the mattress but nothing more than that. See our guide to nightstand dimensions here.

Should Nightstand Be Lower Than Bed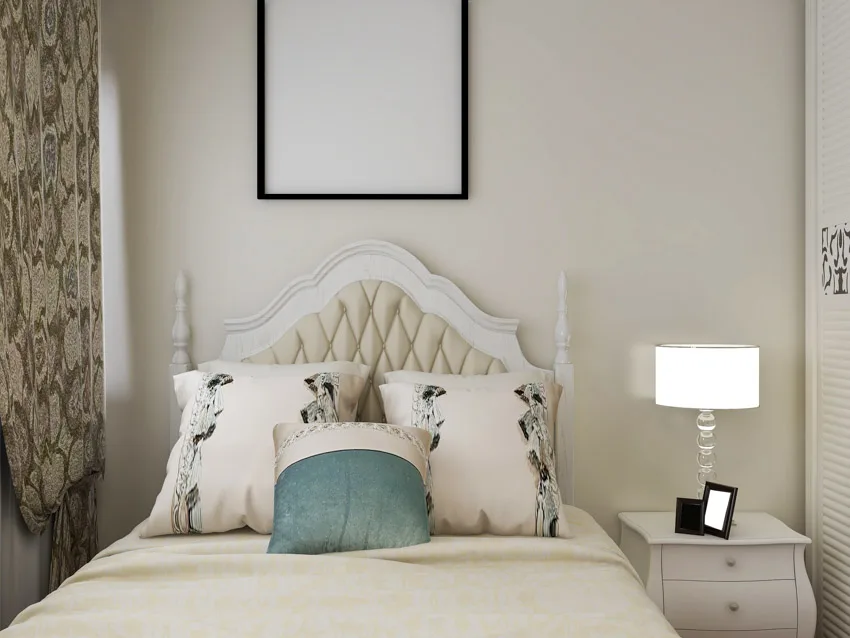 The general answer to this is no. The rationale behind this is that when you're lying down in bed, it's just much easier to reach up for something, instead of reach down. And this is why it's highly discouraged for nightstands to be lower than the bed level.
How Tall Should Nightstand Lamps Be
A nightstand table lamp should be 27 inches tall. This should be at around that height. To be more specific with the measurements, get a nightstand lamp that's as tall as your nightstand, plus 2 to 3 inches for allowance.
And because of the fact that a typical nightstand is around 24 inches tall, this explains why the average requirement for a nightstand lamp should be 27 inches. Read more about table lamp sizes here.

Bedside Table Vs Nightstand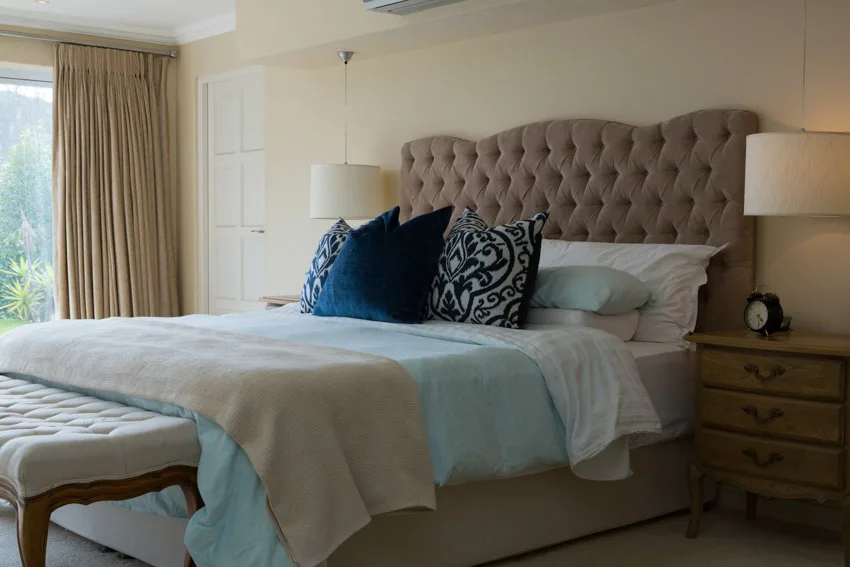 They are actually more or less the same. The main differentiator is the presence of drawers. A bedside table is just as the name suggests. It's a table that's placed along the bedside.
A nightstand, on the other hand, can be a bedside table but at the same time hold the extra functions of additional storage as it has a couple of drawers or so.
Do Nightstands Have To Match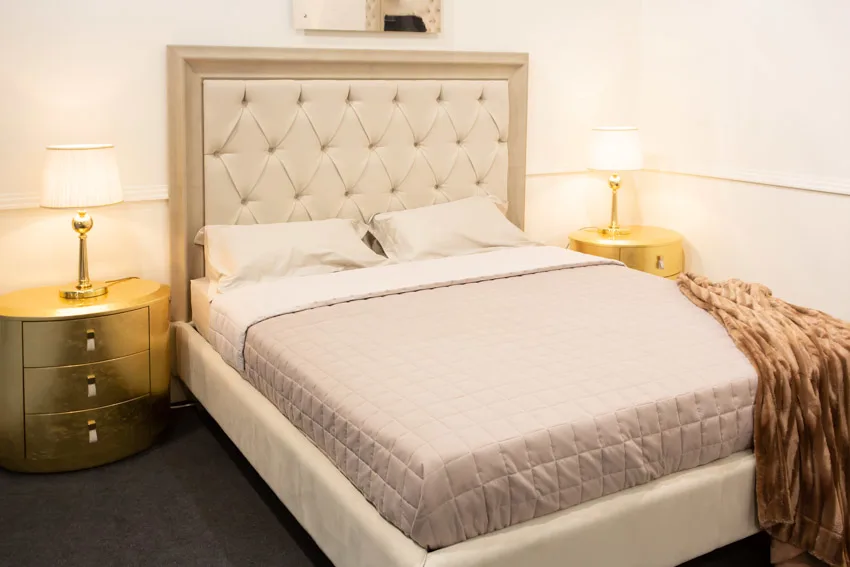 Matching nightstands are not an absolute necessity. Sure, they look great if they kind of look alike or if they kind of have the same style and the same paint color but at the end of the day, it all depends on you as the person who will be occupying the bedroom.
The approach to match nightstands came out of the traditional approach to interior decorating but this doesn't always have to be the case at all. You can forgo these rules and go for mismatched nightstands that differ in style, size, shape, color, or even height. Like we said, in this day and age, it really all boils down to preferences.
What To Put On a Nightstand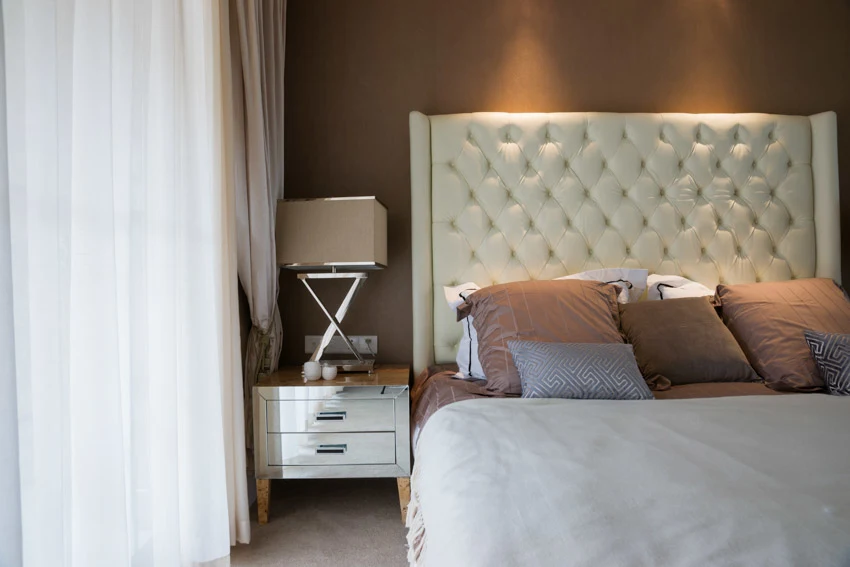 It may include things such as a lamp, some reading materials such as books and magazines, an alarm clock, a telephone, a mobile phone, tissues, a pitcher of water and a glass, some medication, a pair of eyeglasses, and so much more.
Other things that people oftentimes put on their nightstands are tech essentials such as the TV remote, a tablet, and phone charger, and perhaps even an actual tablet or laptop as well.
Begin by removing everything from your nightstand and then, before returning anything to it, think carefully about what you want to keep there. Ideally, it should be nothing more than a lamp, a book, and a glass of water. Anything else just creates visual clutter and can make it difficult to relax and fall asleep. – Marie Kondo, The Life-Changing Magic of Tidying Up
Some nightstands come with bottom drawers and these are great for storing nighttime clothes such as pajamas, eye masks for sleeping, socks, scarves, and so on.
See more related content in our article about how to decorate a nightstand on this page.