Here we share DIY nightstand ideas featuring wood crates, repurposed wood, wall-mounted shelves, metal containers, and other creative nightstand designs.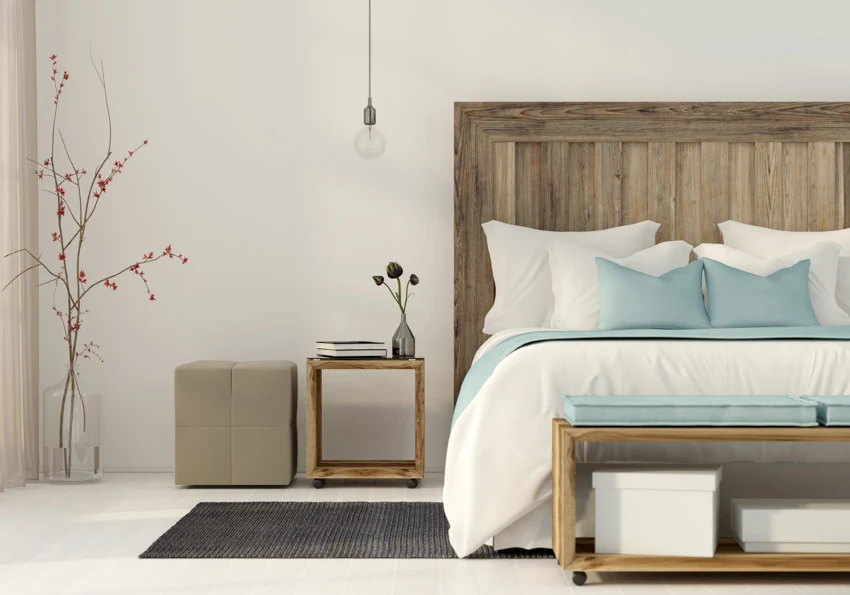 A nightstand is must-have bedroom furniture, especially now that mobile phones are a dispensable item that ought to be arm's length and that can be charged as you sleep.
You can place other things such as your favorite book, your glasses, or anything that is accessible from your bed. But beyond their functionality, nightstands, when carefully designed and selected, can boost the look of your bedroom look overall.
There are a lot of nightstands on the market with attractive designs, but if you want to make it more personal and at the same save you on cash, a DIY nightstand is a great option. Here are some DIY nightstand ideas to get you inspired to make your personalized furniture.
Wood Crates & Boxes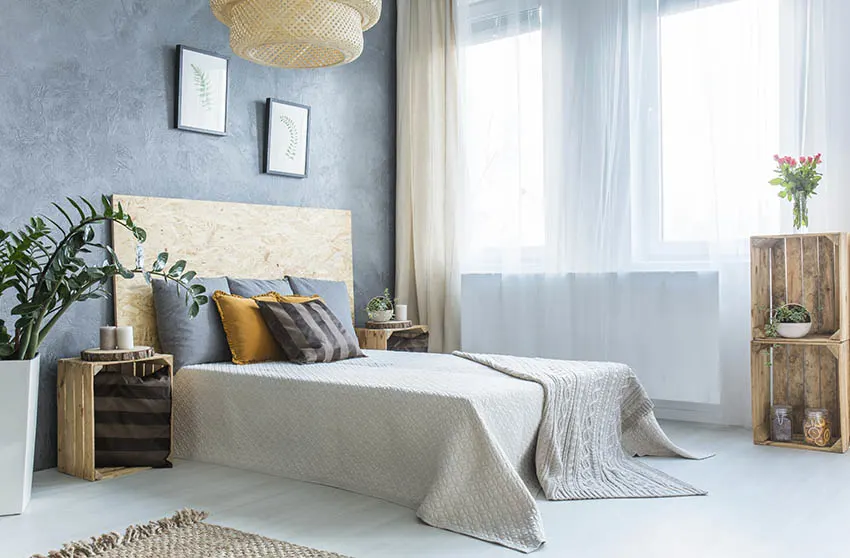 For a pair of nightstands, the inexpensive wood crate is a quick and easy DIY that's fit for beginners. In addition, you can get free wooden crates from construction sites, grocery shops, liquor stores, or garden depots. Wood crates are sturdy yet light, which makes them easier to assemble; they also won't corrode so that you can enjoy your DIY nightstand even we.
Since wood crates come in modular sizes, you can easily have a uniform look for your nightstand dimensions if you wish to copy the design to other bedrooms in your home.
Wooden crates come in different sizes, depending on their original use. For milk for instance, the standard long comes in 18.5" (L) x 13.6" (W) x 11.38" (H); short square; 13.6″(L) x 13.6″(W) x 7.13″(H); short long18.5″ (L) x 13.6″(W) x 7.13″ (H) and browser will have 13.6″ (L) x 8.5″ (W) x 8.38″ (H).
You'll need four crates (two crates if you're doing one nightstand). Place one crate on top of the other and check if it fits your desired height for your nightstand. You can adjust either size (L or W) to confirm if you're comfortable with the stacked wood crates.
You can use liquid nail adhesive to secure the two crates together and further reinforce the two crates together with backplates and screws. Add a series of wood slats on top of your wooden crates an inch thick that would overhang or flush on the edges to create a flat surface. Then, paint or stain to improve the finish.
Another great thing about wooden crates is that they are biodegradable, and you can repurpose your old wood crate nightstand if you wish to switch to another design. Storage boxes or corrugated boards are another free material that you can use for your DIY nightstand.
The paper-based boards are easy to cut and assemble with the available tools and materials you have at home. Since it is easy to cut and shape your box material, you can add flair to your nightstand design, such as curved profiles.
Corrugated boxes used to transport canned goods, for instance, 12 to 15 inches in length, are perfect for a rectangular nightstand. Simply use the existing rectangular shape and strengthen the box by layering inside the box panels using the cut of your box's unneeded flaps or panels.
Repurposed Wood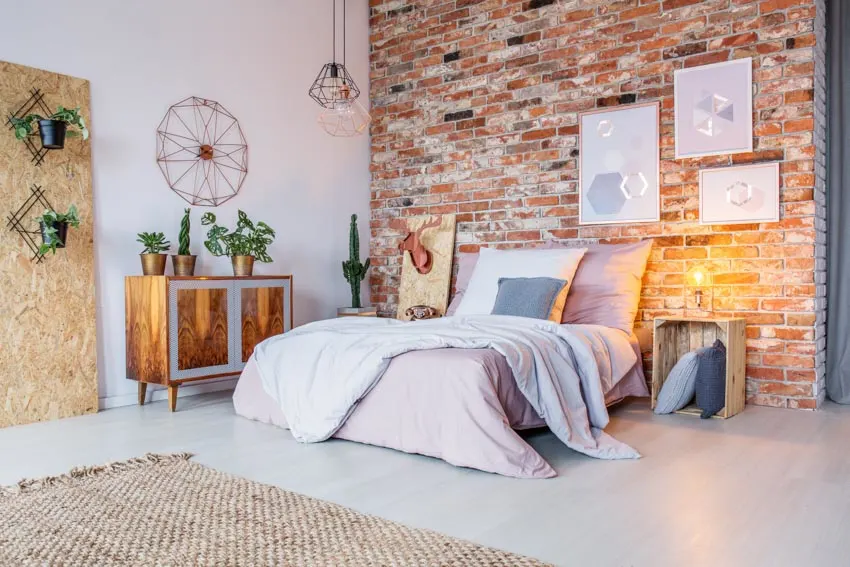 There are many good reasons to use repurposed wood for your next DIY nightstand. Upcycled wood adds character and history to your nightstand while reducing waste and the need to use unbiodegradable materials for your project.
Reclaimed wood is usually of high quality and can be sourced from old barns, warehouses, retired ships, factories, and wine casts.
Wall Mounted Shelves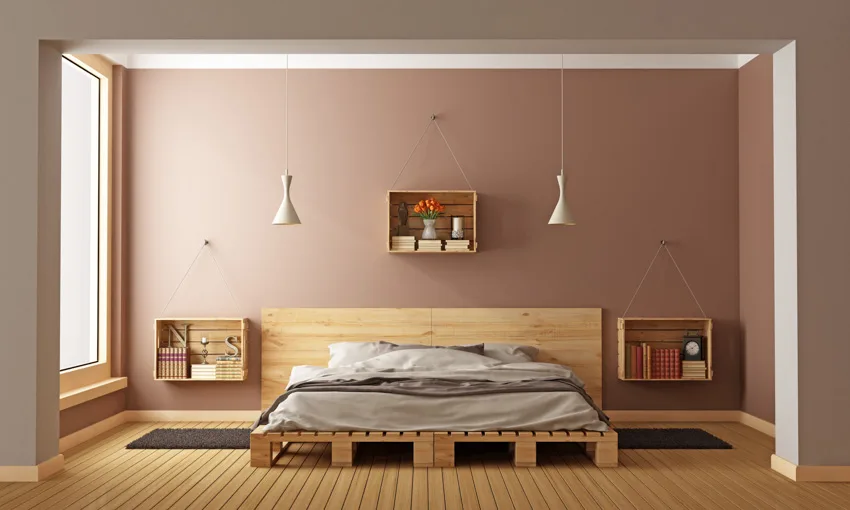 A wall-mounted nightstand, unlike traditional nightstands, does not have legs or a base. With a mounted nightstand, the most support you'll see is a wall bracket, mounting sleeve, or even pieces of metal pipe for an industrial look.
In a tight space beside your bed, a mounted nightstand is ideal, or if you'd rather put a basket on the floor underneath the nightstand. Or perhaps you're a true minimalist who doesn't require all those extra drawers or space for a nightstand. Another advantage of a floating nightstand is that it is simple to build on your own, making it a perfect DIY project.
Hanging Shelves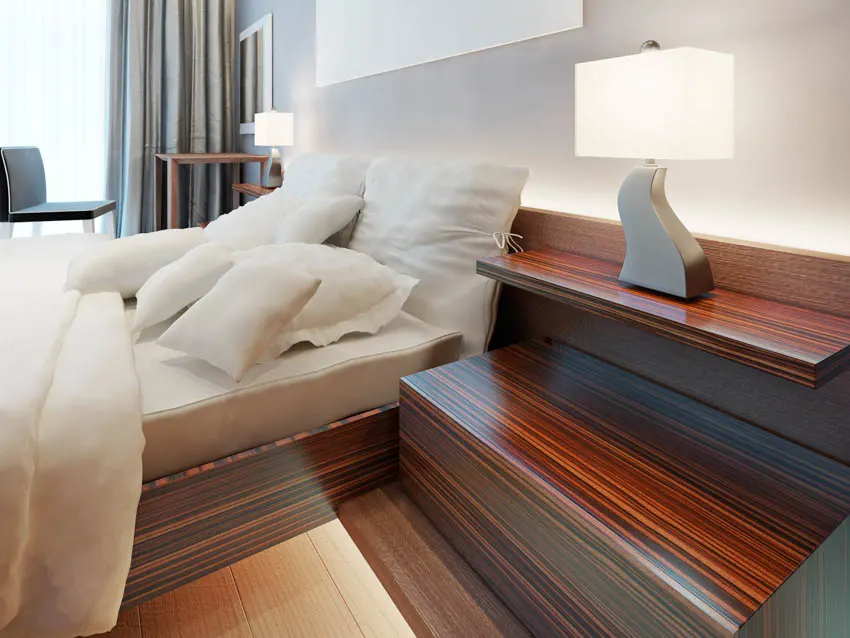 Open shelves can be a great space saver, especially if you have a tight bedroom area, as you can opt for a narrower surface for your shelves. Add tiers to accommodate the other nightstand essentials you need at your bedside to compensate. Metal or wood hanging shelves nightstands are popular, but you can also choose light plastic racks.
Chair, Stool, or Bench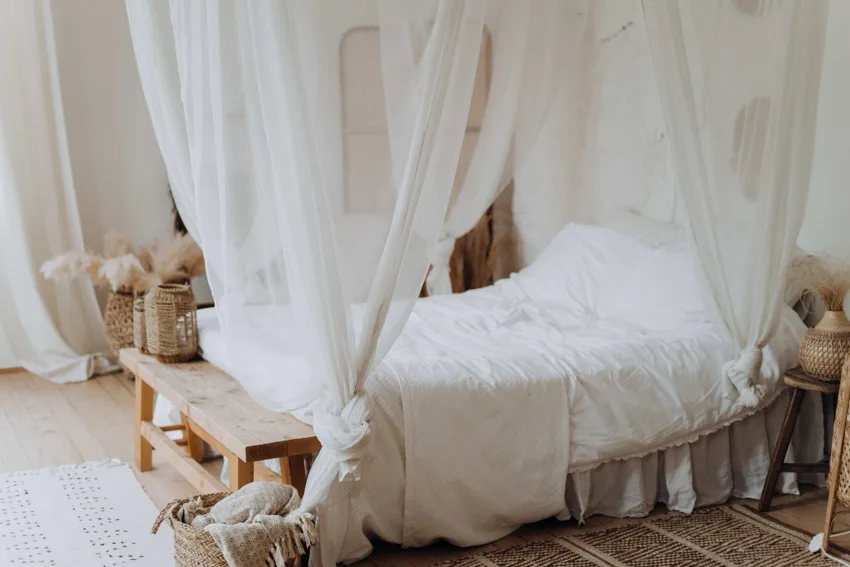 There are dozens of design ideas to repurpose your seats into a nightstand. You may even do minimal changes or no changes if you have an extra chair, stool, or bench at home that still looks good.
Though you can stain or repaint to match your existing bedroom theme or add features such as a hamper box that you can easily slide in below your chair for extra storage.
Wine Barrels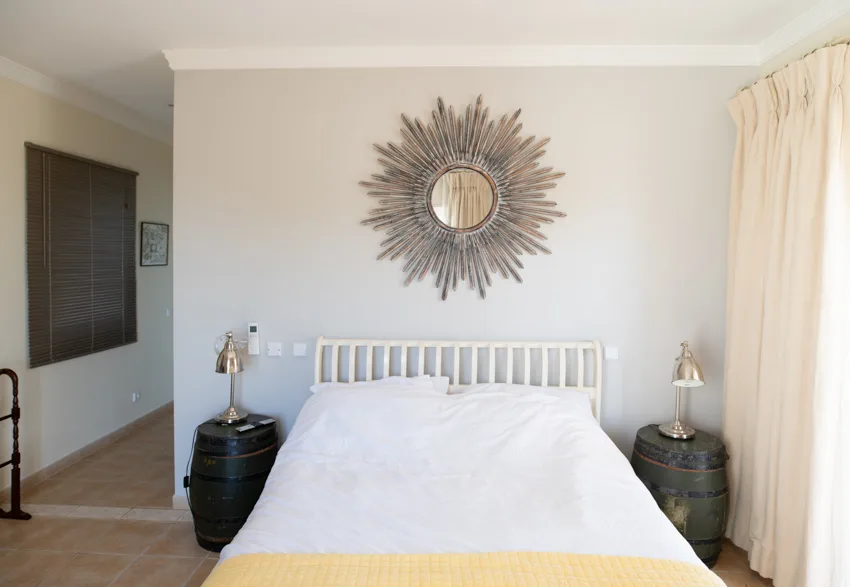 Another fun DIY nightstand idea is repurposing a wine barrel. Any bedroom will love the addition of the wine barrel nightstand, especially if you're aiming for that vintage or rustic look.
The straightforward design ensures that all of the necessary elements are present. The top is the ideal height for most bedside tables, and it's also wide enough to display a few desired items.
The bottom shelf is great for storage because it has a lot of height. Old cooper's marks or vineyard stamping can often be seen on the barrel tops, indicating the material's true history.
Metal Containers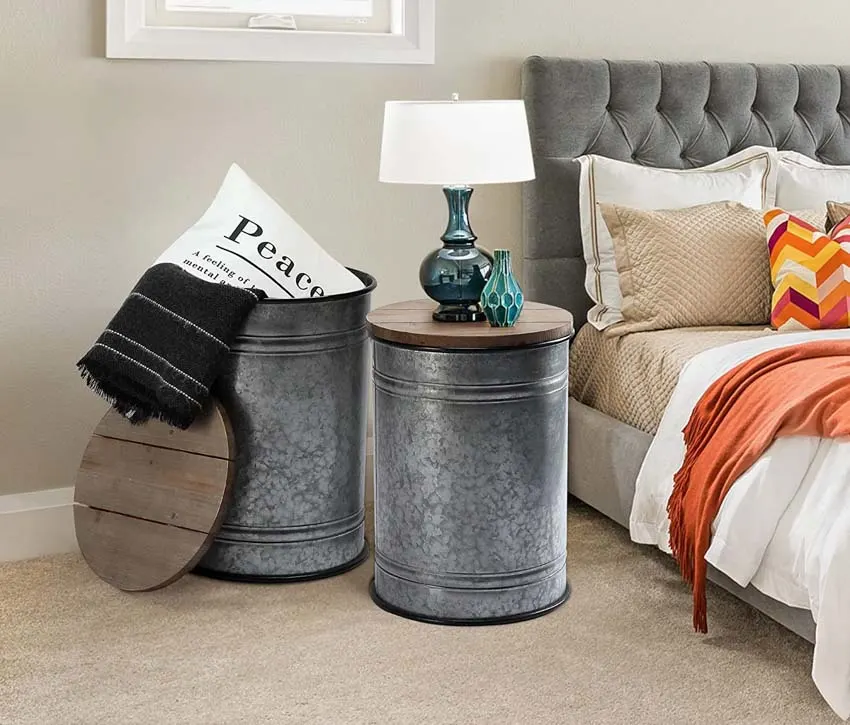 See this galvanized metal container nightstand at Amazon [sponsored link]
For a farmhouse and industrial look for your bedroom, metal containers are a great addition to your bedroom. Old tin or any used metal container can give that vintage feel or spray it with a fun color to make it pop in your bedroom area.
Just make sure to clean it up thoroughly to remove excess chemicals and add red oxide as a first coat before your actual paint color to prevent rust.
Milk Cans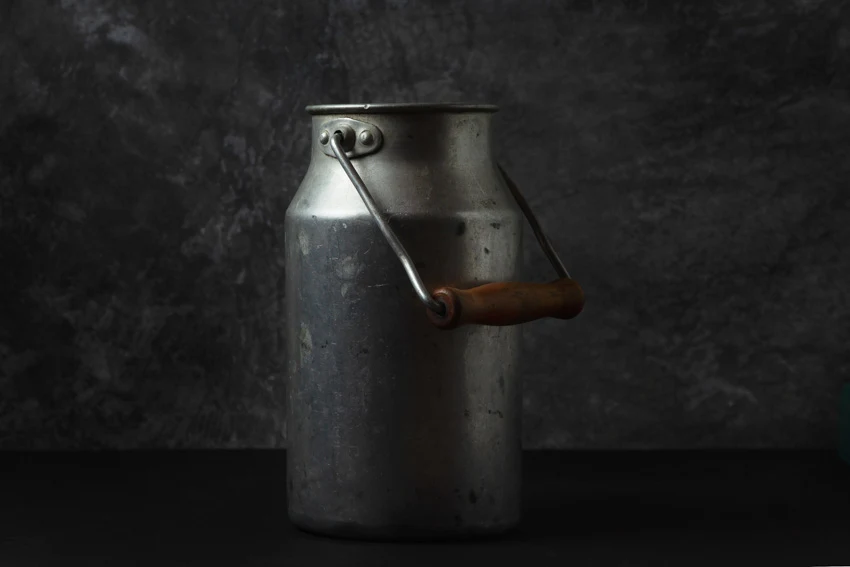 An old metal can be transformed into a wonderful farmhouse-style nightstand. You don't have to do anything other than carry the can into your room and set it up beside the bed. The top can hold a lamp, a book, or even your phone while it charges.
Cinder Blocks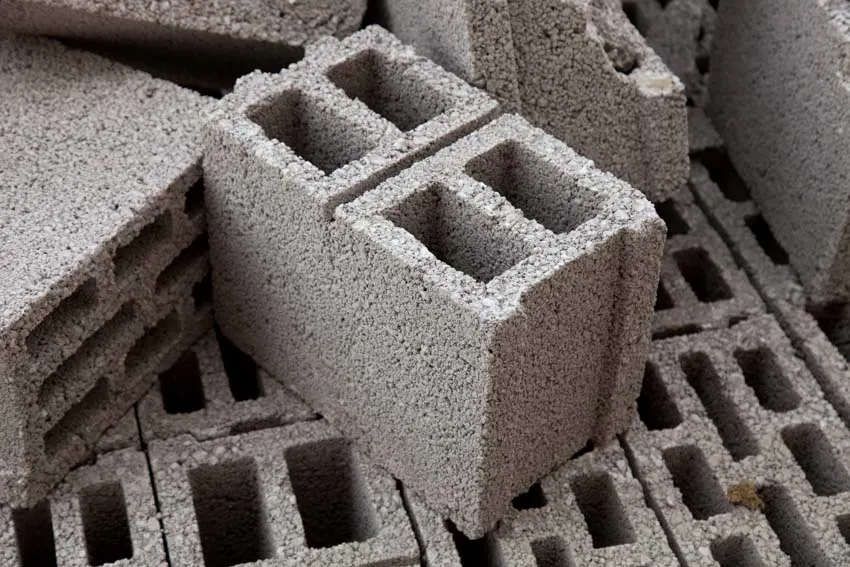 To match a brutalist or industrial interior, nightstands made out of a couple of cinder blocks or hollow blocks are great additions to your bedroom space. You can even skip the boards entirely and stack two cinder blocks on top of each other.
The openings provide storage for books and other items, and they don't take up much room, making them ideal for a small bedroom. This one won't cost you anything if you have cinder blocks on hand.
Portable Carts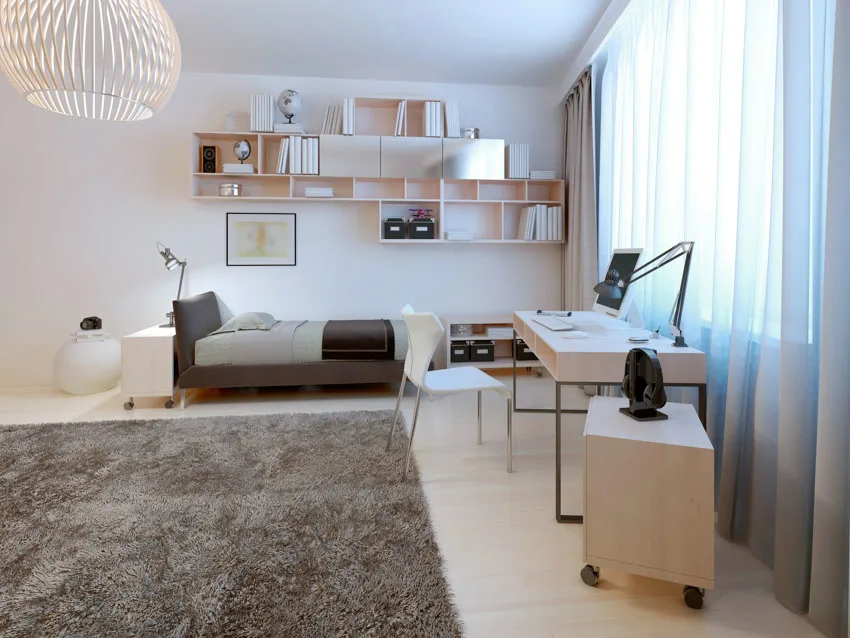 Service or utility carts from hotels or hospitals are inexpensive. You can get it from second-hand stores or get it for free from shops. Typically, it is equipped with caster wheels that have stoppers.
If your portable carts don't have them, you can purchase caster wheels with lock stoppers that don't cost much. Just simply give your repurposed portable cart some coat of paint and stain, and you got a gorgeous nightstand from a very easy DIY.
Bar Cart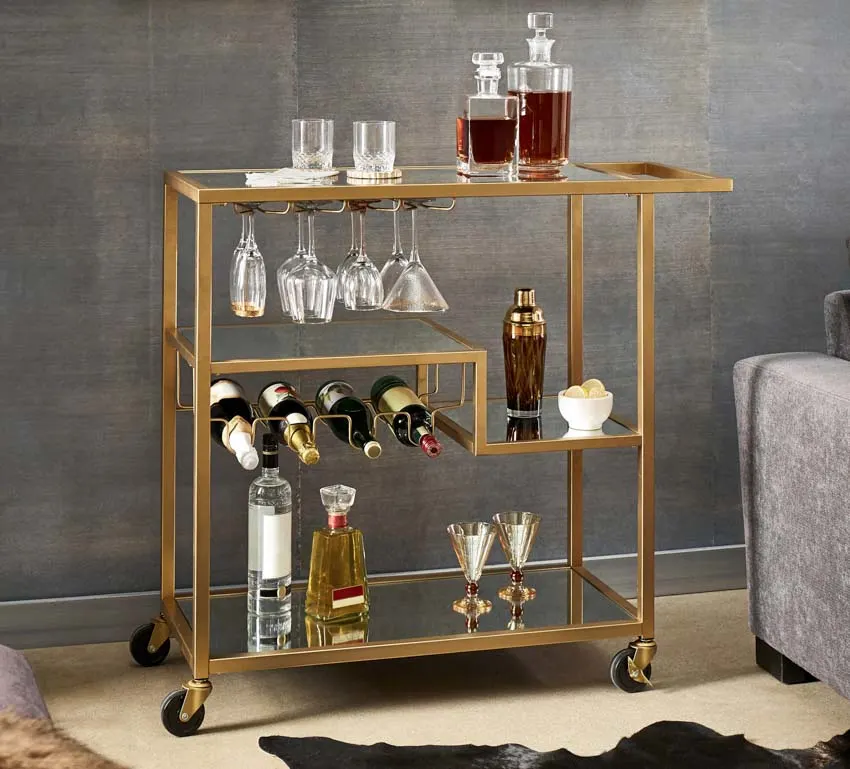 Like your portable carts, a bar cart nightstand is easy to do and promises a spacious side table. Bar carts also give character and history to your bedroom look, and if you're lucky to get a vintage bar cart at the thrift shop, you'll simply paint the bar cart with any color you prefer to mix and match with the rest of your interior.
Chalk Paint Nightstand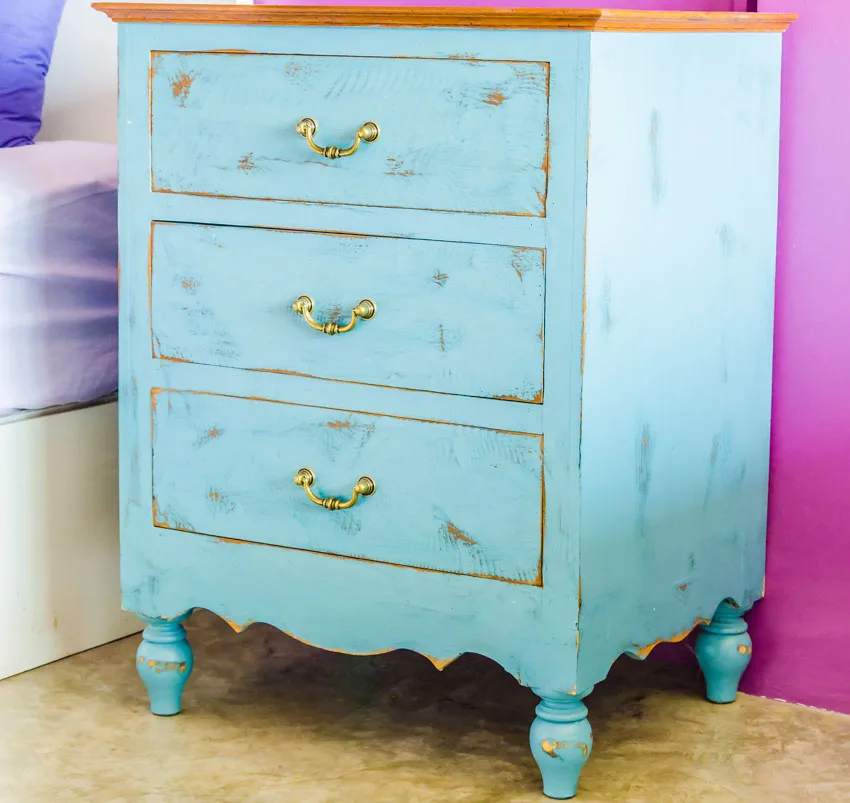 A chalk paint furniture makeover is one of the easiest ways to upcycle any old furniture that you want to repurpose as a nightstand giving it a matte finish. The great thing about chalk paint is you won't worry about stains bleeding through the surface, which happens with ordinary paint.
In addition, it's not required to have a primer or sand before applying the chalk paint, although you'll need to sand areas that need smoothing, especially for furniture made of wood.
Filing Cabinets
Two-drawer filing cabinets can be found for several dollars each at thrift stores and flea markets. Those cabinets can be transformed into lovely nightstands with just a coat of paint.
You can also embellish it with scrapbook paper and Mod Podge, which would be ideal for a child's room, or simply stain or paint it to match your current bedroom decor. This is a quick and easy way to get the nightstand you want without putting in a lot of effort.
Ladder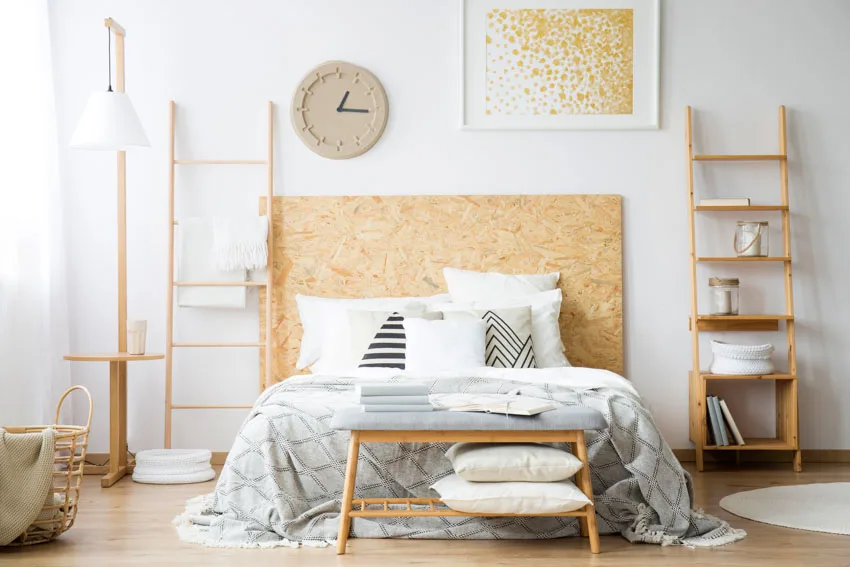 For your ladder nightstand, you can either repurpose an old ladder and cut up a portion to fit the height of your nightstand or purchase all of the wood to use to create the ladder profile. Once the ladder is complete, simply stain or paint it in whatever color you desire, and you'll have a lovely little nightstand in no time.
Steamer Trunk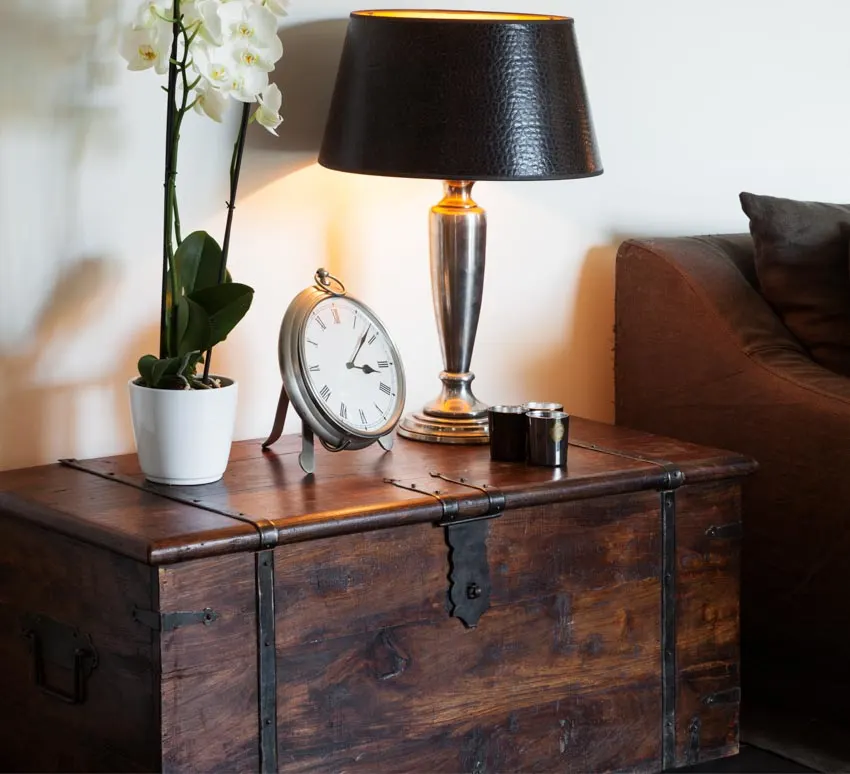 Adding an interesting piece in your bedroom area adds character to your bedroom look, and the old steamer trunk delivers that perfectly as it provides that vintage chic vibe.
Cabin trunks, also known as "true" steamer trunks, were the predecessors to today's carry-on luggage. They were low-profile and small enough to fit under train berths or in the cabin of a steamer, hence their name.
If you already have an old trunk, this one will be free. Even if you don't have a trunk, you can usually find one at a thrift store for a very low price, and turning it into a nightstand requires no effort.
Wood Stump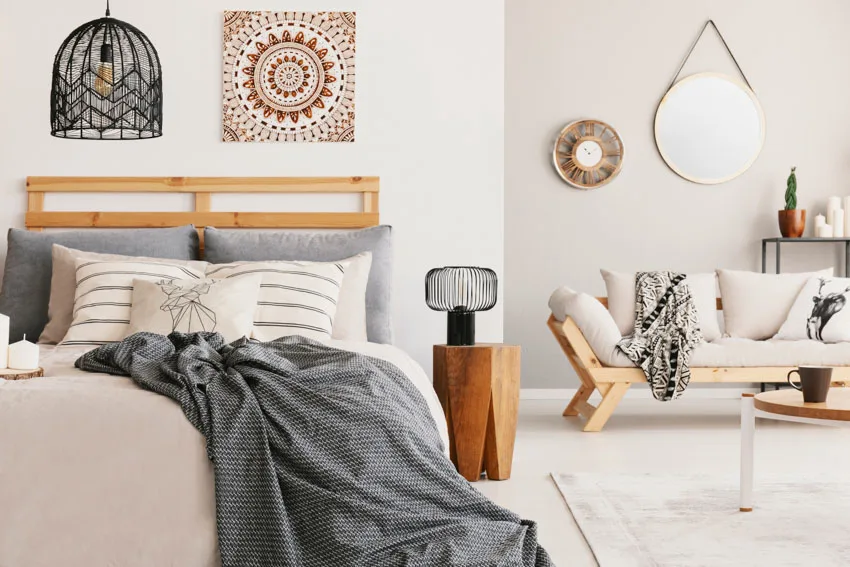 Wood stumps can cost a lot online, but you get your wood stump from road log droppings, construction sites, woodworker shops, and through people posting at social sites who want to clear out their backyard after a storm.
A medium-sized tree trunk gets new life as a bedside repository, with or without the iron legs. Simply use fine-grit sandpaper to smooth out the surface, medium size, then uses a product like wood juice to show out the natural variations in the wood grain patterns.
Reclaimed Wood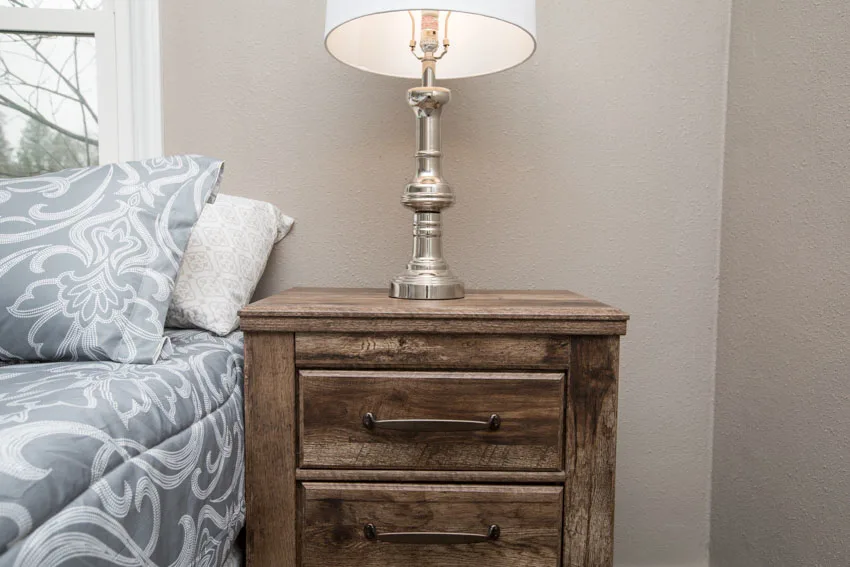 If you desire the rustic and relaxed vibe of wood for your bedside table, a nightstand made out of reclaimed is a perfect DIY project that's simple to do. You can add personality to your nightstand, and you're sure you've got a one-of-a-kind bedroom piece without you spending much on your small types of furniture styles.
Since you are using reclaimed wood, you'll expect to have different pieces of wood put together. The rustic look gives it a more authentic and lived-in atmosphere that's full of personality.
Wood Beams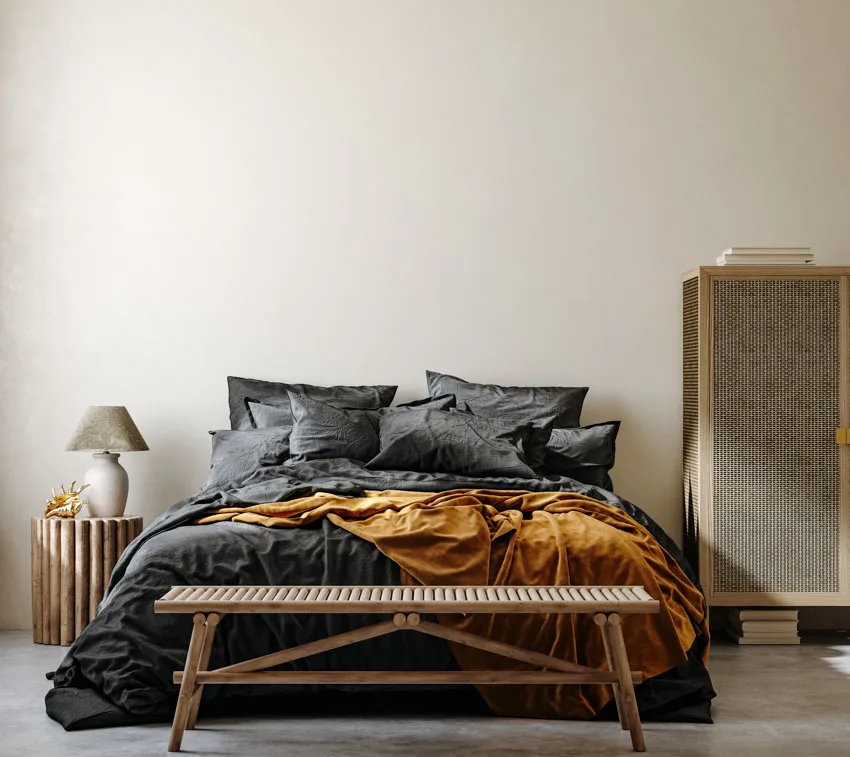 Wood beams are put together to create a solid and compact nightstand that can also serve as a side table. Flat steel bars can be used to keep the beams connected and to give the nightstand its clean profile shape.
If you have limited space and want a very slender nightstand, you can use these small beams to create a ladder-type nightstand. It's a fun DIY project that you can customize to fit your taste.
Pieces Of Metal Beams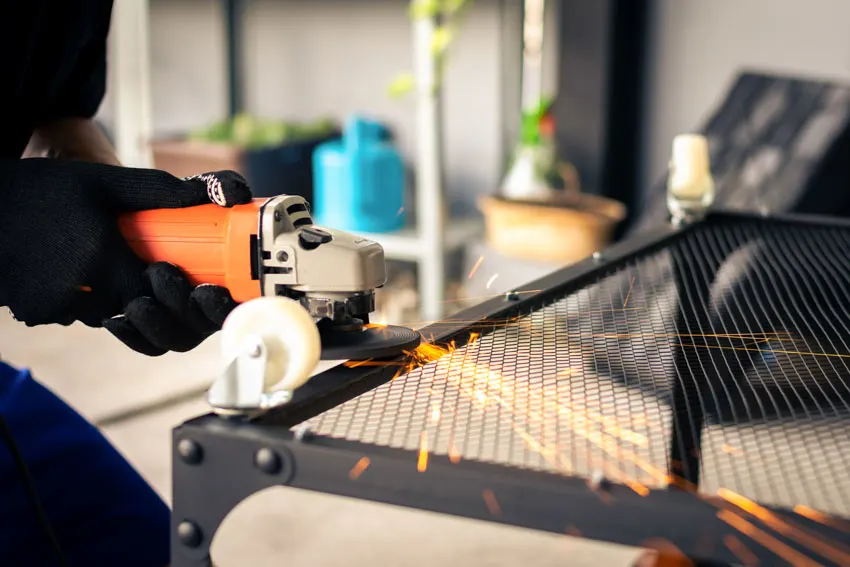 Industrial modern steel beam slice side table. Solid a unique piece perfect for industrial or modern interior styles. Each piece may vary in exact patina and markings, especially if you have repurposed metal beams.
Plated slotted angles make a sturdy frame that easily supports a sanded pine top. Any first-time DIYer can make these tables in an afternoon with the right tools and materials.
Plant Stands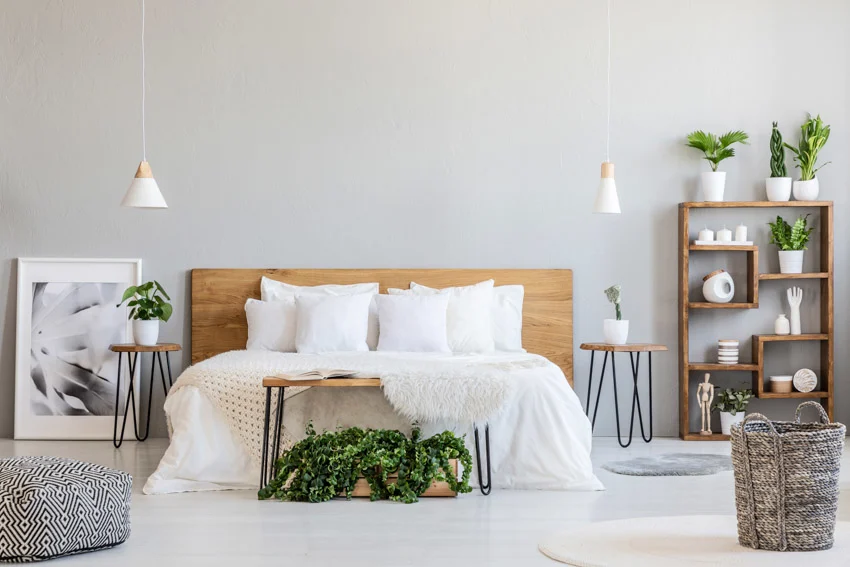 Plant lovers will love this DIY nightstand idea as they might have an old plant stand sitting just around the corner. Simply apply red oxide paint on your repurposed metal plant stand for added corrosion prevention, then your desired paint color.
Tiered Or A Table Stand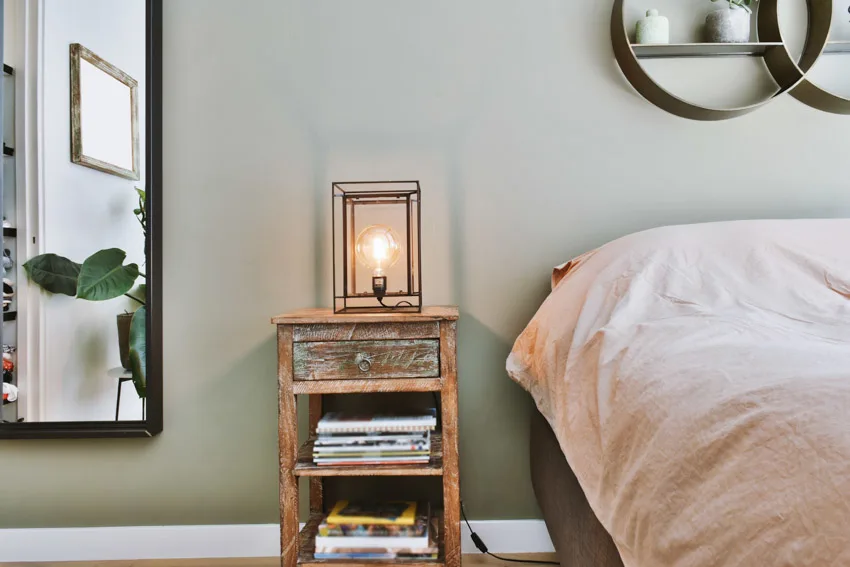 If you want to build yourself a nightstand from scratch and don't know how to begin, you can start your DIY nightstand table stand by looking at free nightstand plans. These are entirely free, and you can access and download the plans to use.
If you've got an existing table stand that is no longer of use, you can also stain and repaint as well as add new hardware or even caster wheels to give it a new look.
Vintage Suitcases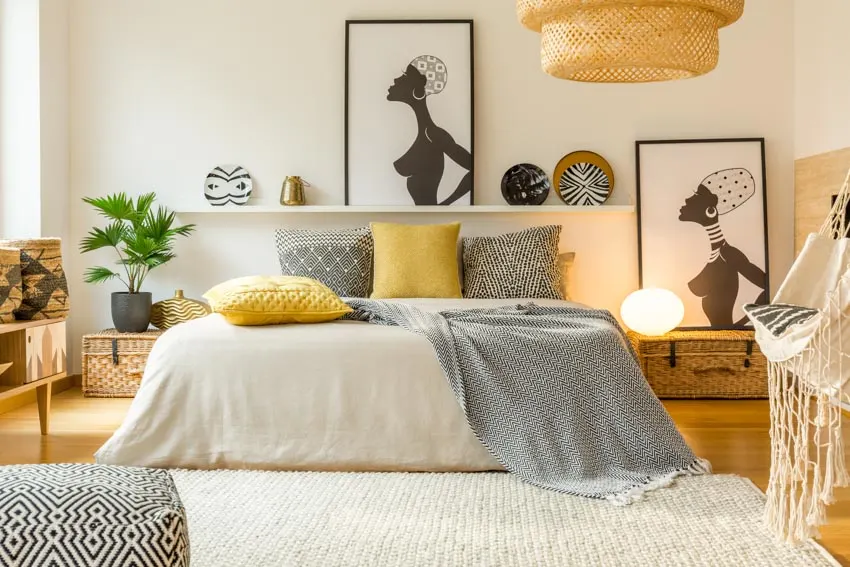 You can transform it into a beautiful and truly unique nightstand by simply adding wooden legs to an old suitcase. Then, attach the peg legs to the bottom of the suitcase, and you're ready to go. The top surface doubles as a functional nightstand, and there's storage inside as well. You can also repurpose an old table's wooden legs for this project.
See more related content in our article about how to decorate a nightstand on this page.