Welcome to our bedroom built ins design ideas with different types of cabinets, bookshelves, closets, window seats and more.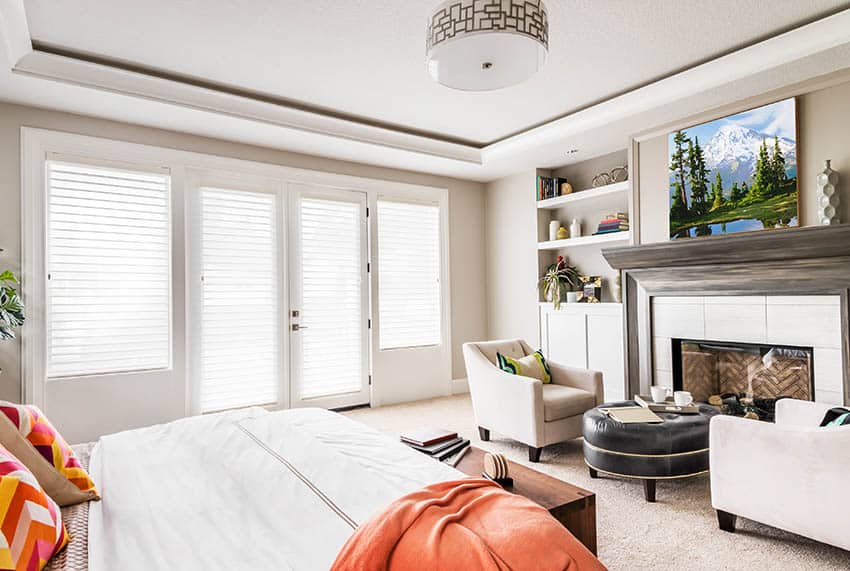 Built-in furniture has been around for a long time, but the peak of its popularity was during the Modern era, where real estate prices have gone up, and spaces became smaller. Aside from its space-saving features, built-ins were used by modern designers to keep that clean, seamless, and uniform aesthetic.
Built-in furniture allowed designers to maximize the space in any given space – even if it has an odd shape or size – and create a clean-looking design that has a well-coordinated appeal.
Types of Built In Bedroom Storage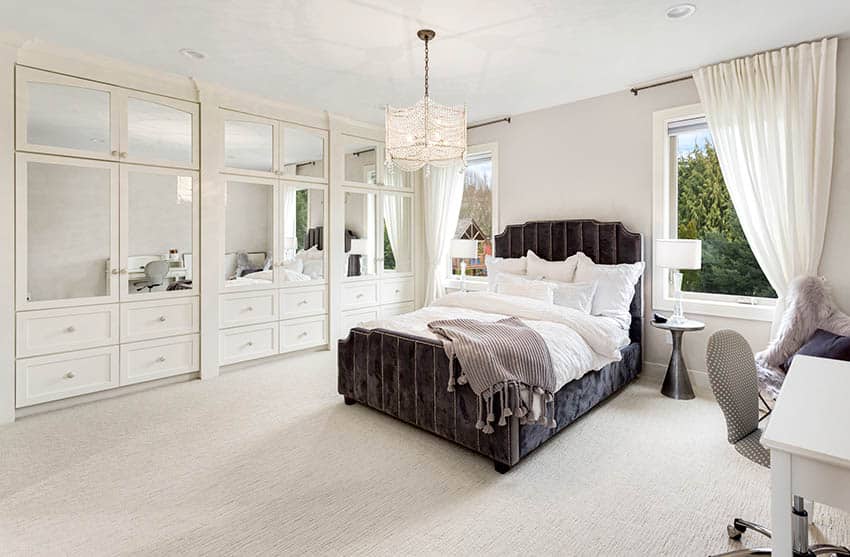 Although it is a feature popular for Modern interiors, built-ins can be applied with any design style, and is applicable with basically any furniture piece: closet, wardrobe drawers, vanity table, study desk, shoe storage, side tables, and even the bed itself.
A good designer will be able to utilize any given space with the appropriate built-ins to match your needs and preferences.
There are many types of bedroom storage options you can make with built-ins:
Under-the-bed storage – can either be a lift-up mechanism, or a drawer under your bed
Shelves / Bookshelves
Cabinets
Closet
Drawers / Wardrobes
Overhead storage
Bay window bench storage
You can virtually explore and combine different storage solutions that match your needs when you use built-in storage. Just remember that it is important to asses your storage needs first before deciding on the different storage options.
Find out what you need to store, then plan accordingly the best way to integrate it with the space available in your bedroom. Below are great bedroom built-in design ideas for your inspiration:
Bedroom with Built In Storage and Bench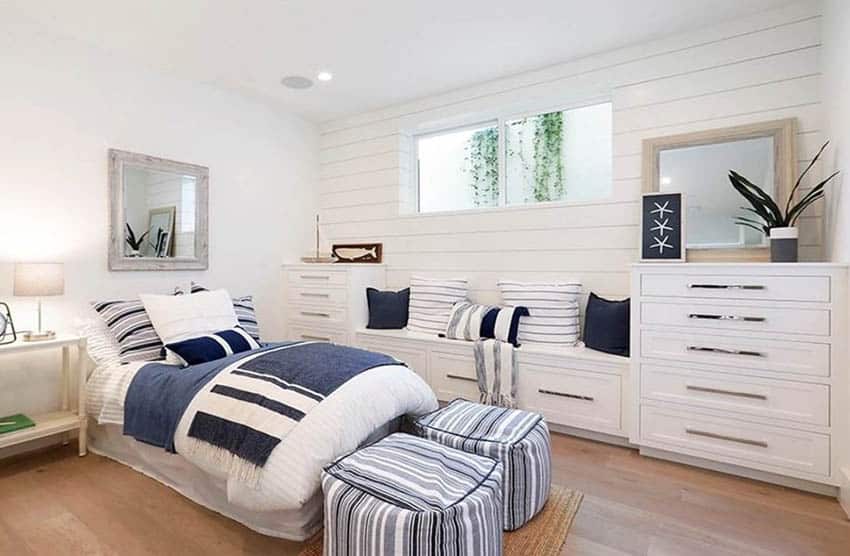 If you want a little sitting area in your bedroom, you can add a built-in bench along the wall. Make sure you use that storage space under the bench!
You can use drawers for easy access like this example, or you can also access it with a swing-up hinge seat if the space is too tight for drawers.
Master Bedroom with Custom Built In Cabinets and Window Seat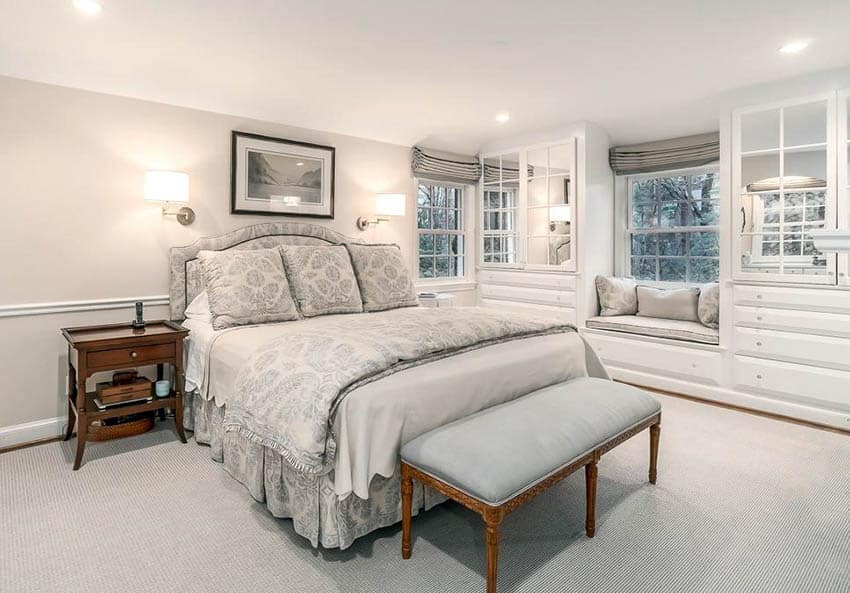 A window is a great place to add a small reading nook. This master bedroom utilizes the space under the window as a built-in bench/reading nook, and uses the space beside the windows for full-height cabinets.
Master Bedroom with Built In Closet with Glass Doors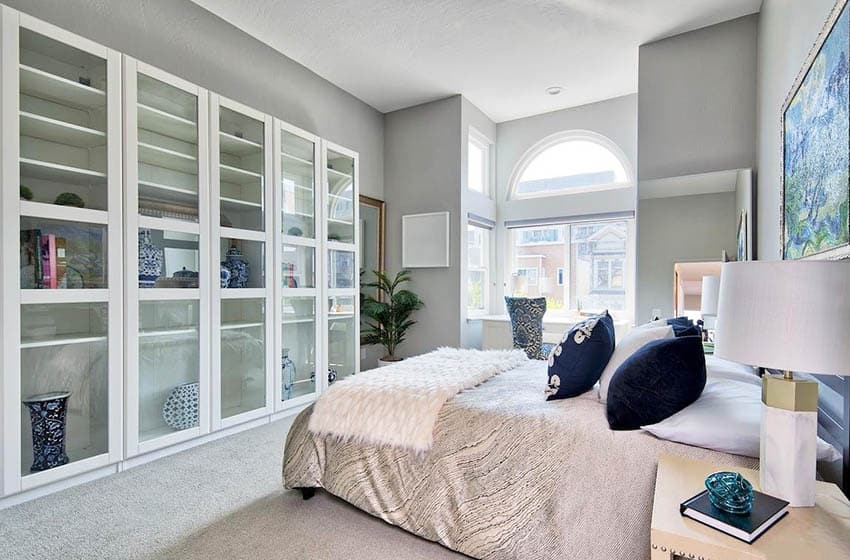 If you're into collecting and displaying objects and other paraphernalia, then a built-in glass door display cabinet would be perfect for you. A built-in display storage like this is a lot more sturdy, and the door helps to keep moisture and dust away, so your precious items displayed inside will be safe.
Modern Master Bedroom with Custom Built-In Dresser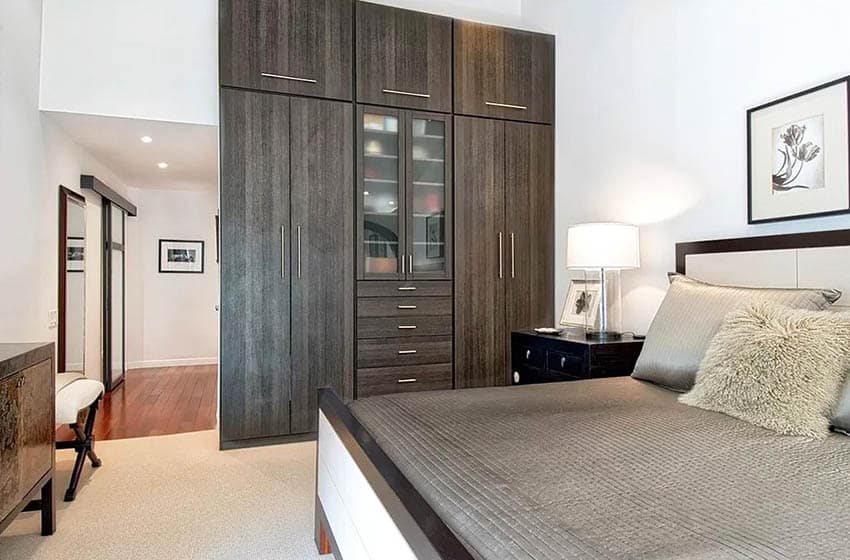 Most modern spaces have built-in dresser or closet to save space. In this case, the high ceilings of the bedroom was really maximized by using the full height as built-in dresser.
This way, you can utilize the space above your normal reach to store items that you don't need to access very often, like storing winter clothes, linens, travel luggage, etc.
Custom Bedroom with Built-In Cabinets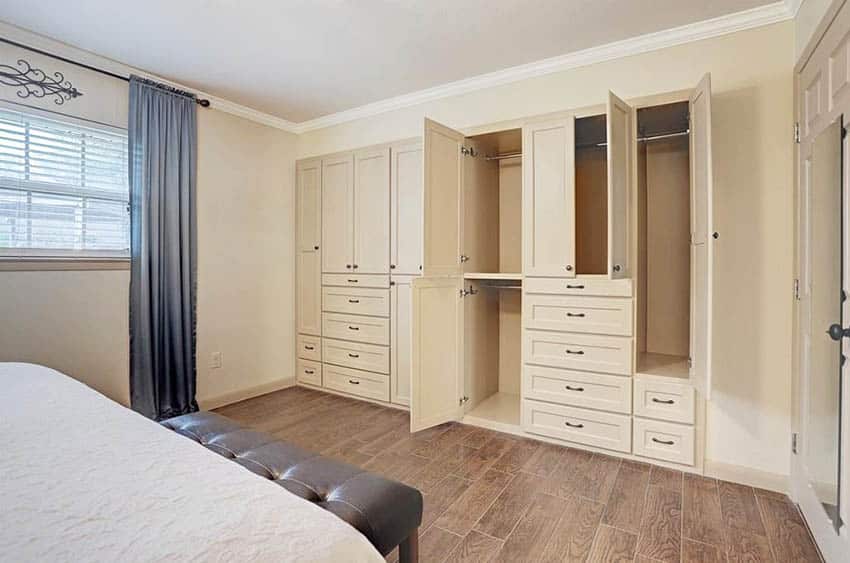 This bedroom uses a custom wall-recessed cabinet as storage solution. This is applicable if you have a wall that you can do this with. This way, you can have more free floor area in your bedroom.
Just make sure you have a door bumper or door stopper if you're going to place it perpendicular to a wall like in this example!
Custom Built Ins with Shelves and Center Window Seat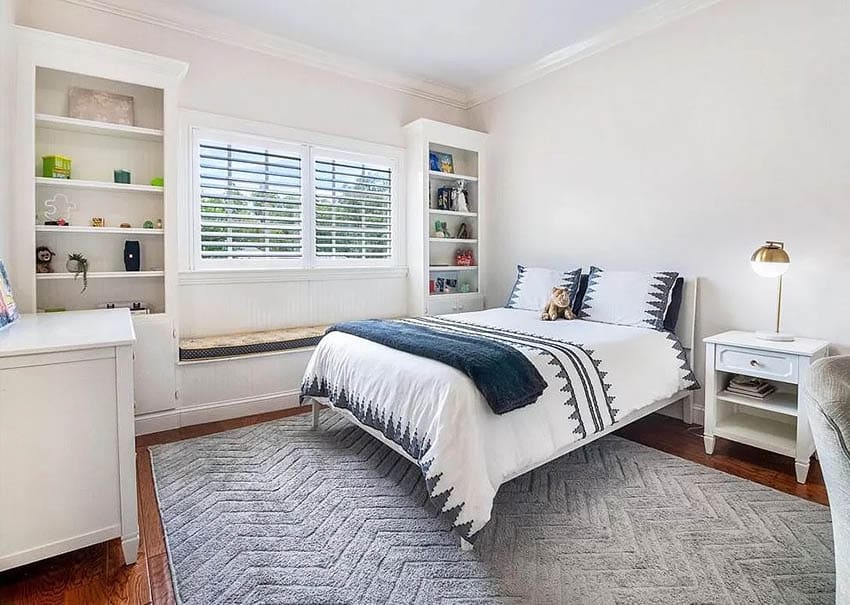 If you already have dedicated closet space, you can also opt for a built-in bookshelves instead. This example shows a built-in window seat with open shelves on each side. You can use it to store books and display small decor items.
Traditional Master Bedroom with Built In Window Seats with Storage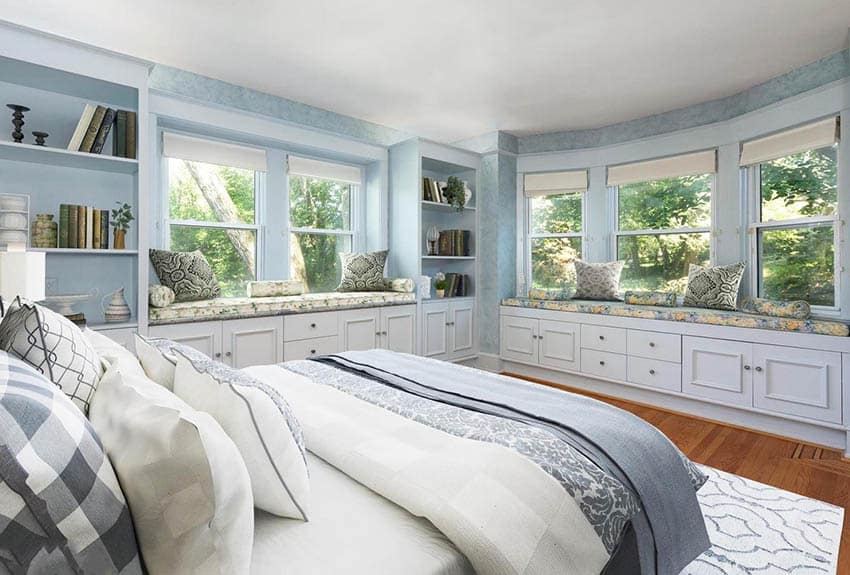 Even for traditional style bedrooms, you can still integrate built-in storage to your design. In this example, window seats were added in all available windows, and the space below the window seats was used as storage as well.
On the empty wall spaces, a shelf-cabinet combo was used, to maximize the available storage space.
Bedroom with Built-In Shelving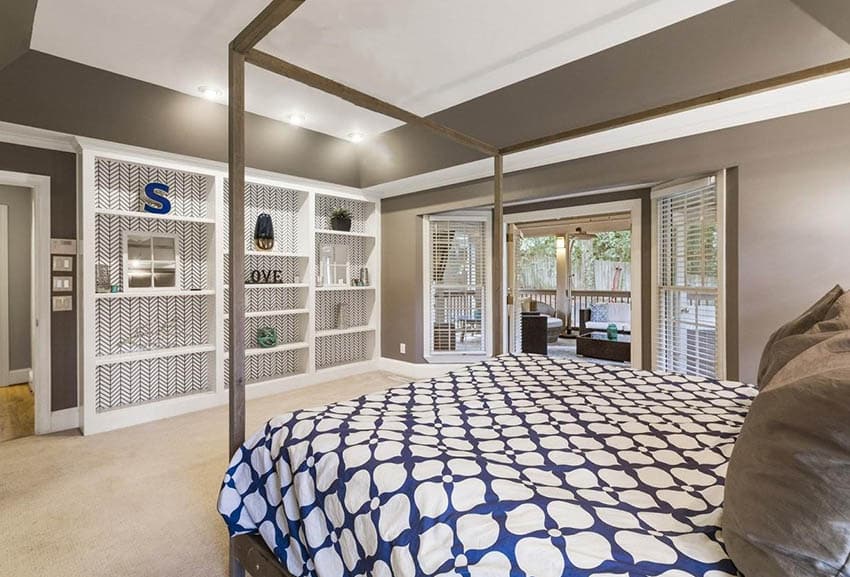 The great thing about built-in shelves is that you can specify it to any size you want. In this example, the built-in shelving was installed on the wall opposite the bed, and is able to maximize the available wall width.
You can also easily adjust the depth of your selves depending on your needs and the space restrictions!
Bedroom with Built in Bed Storage Shelving and Drawers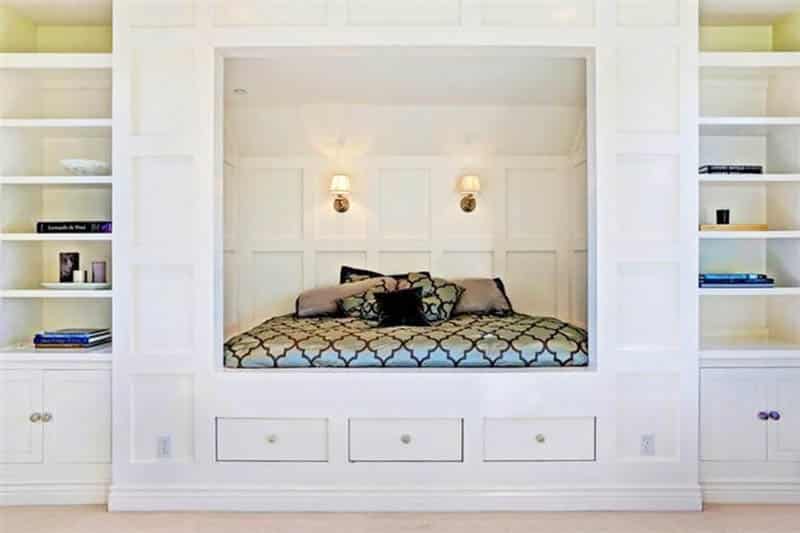 Even your bed itself can be built-in, like in this example. For this bedroom, everything is built-in, from the shelves up to the bed itself. Every space is utilized to provide additional storage.
Bed with Built In Night Stands & Storage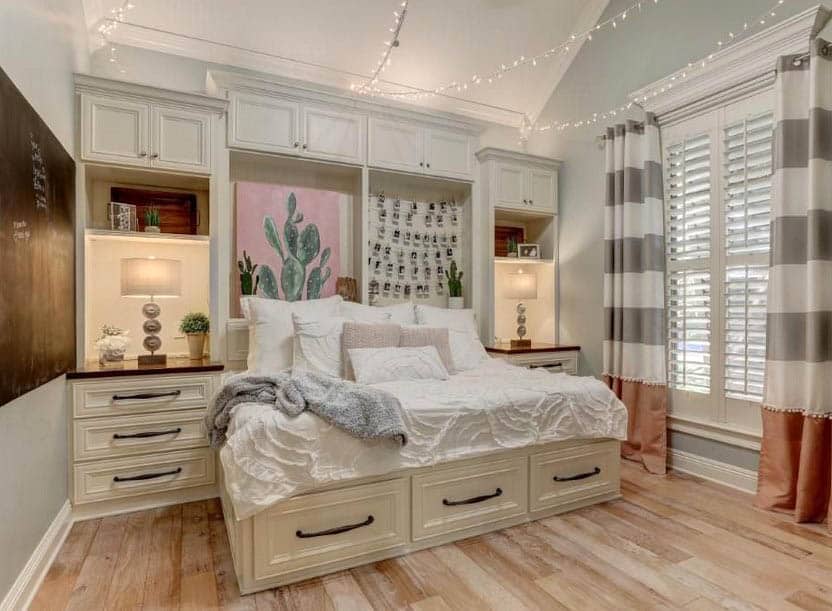 The bed is also a great way to add storage in the bedroom. In this example the whole bed, night tables, and overhead cabinet and shelf set-up are built-ins. The space under the bed was also utilized for drawer storage!
This is a great option if you don't really see yourself moving around the furniture in your bedroom much.
Bedroom with Built-In Over the Bed Storage and Desk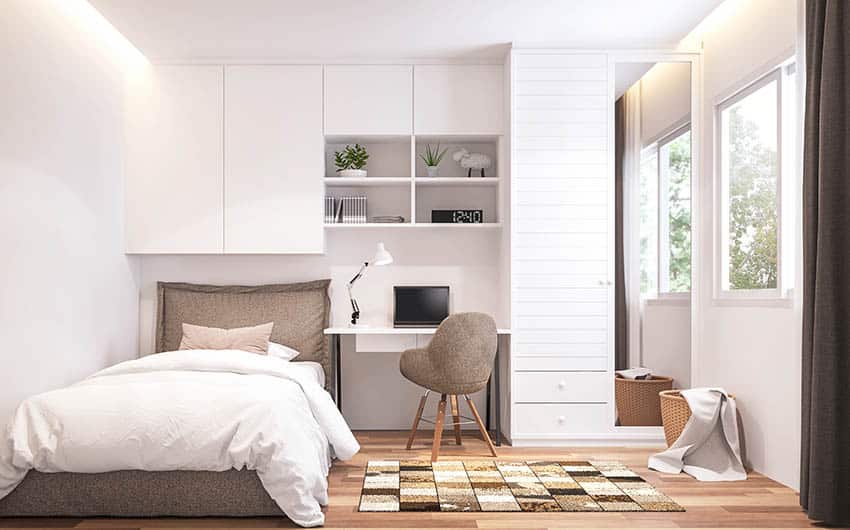 Over the bed built-in storage could be very useful, especially in a smaller bedroom layout. In addition, this design provides room for a small desk making it useful for teenagers or college students. See more home office built-ins here,
Girls Bedroom with Arched Built-In Shelving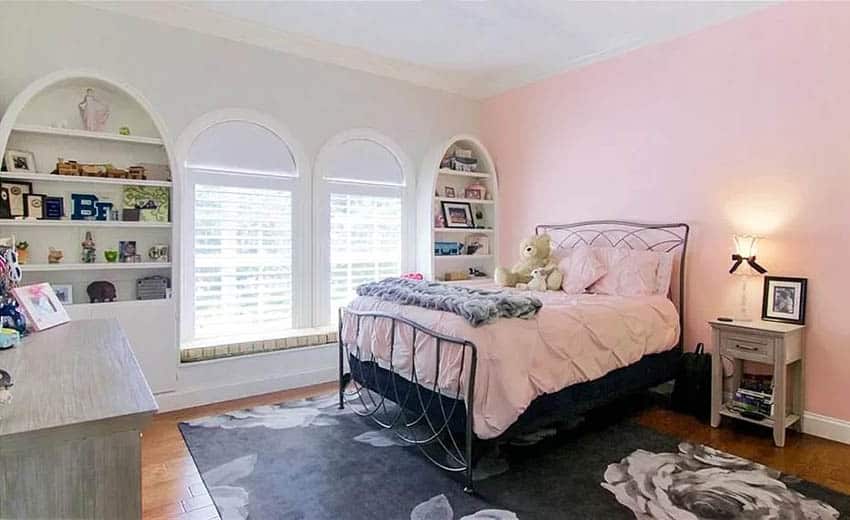 Arched windows are making a come-back in modern interiors! It adds a fun, whimsical feel to any space! This girls' bedroom already has arched windows, and to match that, the built-in shelves are also arched to mimic the design of the window.
Bedroom with Built In Bunk Beds with Storage
This bedroom idea is great if you have lots of kids in the house but little space, or if you're designing for a shared-room accommodation, a guest room, or a dormitory.
Having built-in bunk beds saves a lot of space, while adding a dry-wall to separate the beds gives each user privacy as well. The space underneath the beds can of course be used as additional storage as well.
Master Bedroom with Built In Day Bed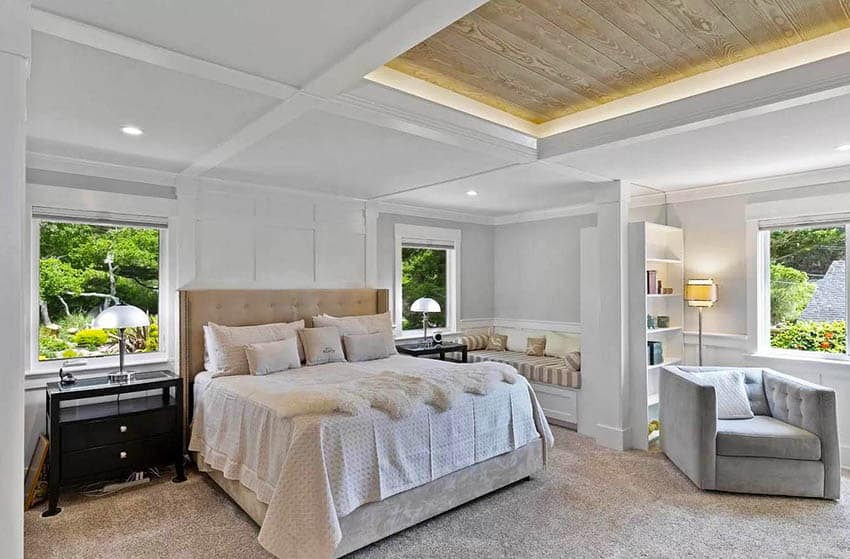 The oddly placed support column in the middle of this master bedroom was efficiently utilized by adding a daybed in the difficult corner beside the bed.
A built-in back-to-back shelf was creatively added in the space between the column and the walls. This way, there's a shelf on both the side of the daybed, and on the side of the reading chair.
Bedroom with Curtained Built In Sitting Nook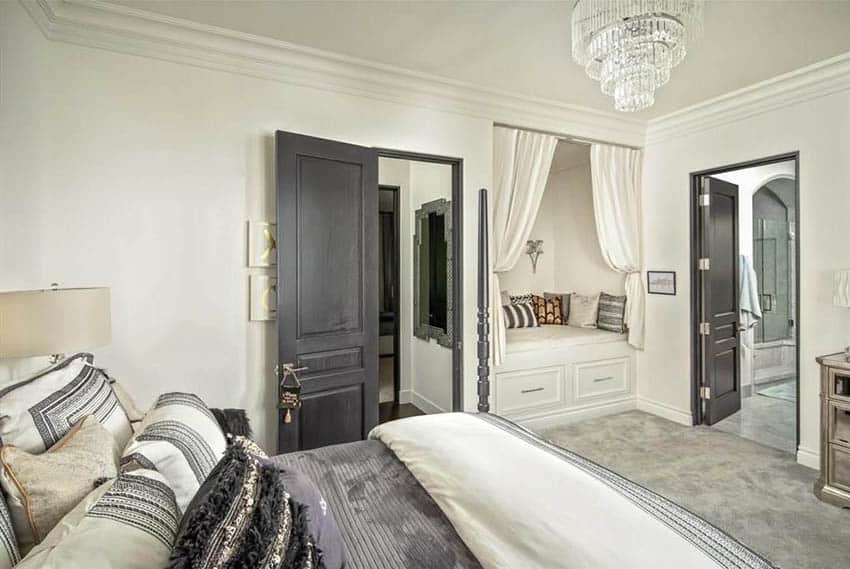 This is another excellent use of an awkward corner in your bedroom. If you have small nook like this, and you already have enough storage, how about using it as a small quiet nook?
Increase its privacy and make it look more elegant by adding one of the opaque types of curtains so that you can have a quiet time inside once you pull the curtains closed.
Bedroom Built-in Design
TV-built-in Consoles. Built-in TV cabinets or entertainment centers in a bedroom be a great source of enjoyment and relaxation without the need to go out of one's room. The console can also showcase collections as well as an additional storage unit.
The placement of a TV screen should be comfortable and convenient for viewing. It's important to consider the angle of the TV and the height at which it will be mounted to avoid neck strain and discomfort.
While personal preference is a priority, it helps to know the recommended distances for a TV built-in for a bedroom. The TV screen should be around 1.5 to 2 times the distance from the headboard.
Built-in Murphy Bed. For a small bedroom, installing a built-in murphy bed can save significant space by utilizing it for a study or work area during the day or when not in use.
A Murphy bed is a type of bed that can be folded up and stored vertically against a wall, in a cabinet, or in a closet and is easily taken down when needed.
Over-Bed Cubbies. Overhead cubbies are small to regular niches that can be accessed above the bed and is built-in in the headboard area. Glass doors can be used to showcase items, and adding lighting can create a cozy and inviting mood to the bedroom.
Built-in Wet Bar. Building a built-in wet bar in a bedroom can be a great way to add a touch of luxury and convenience to your living space.
Here are some steps to build a built-in wet bar in a bedroom. Like your typical web bar in social spaces, a backsplash, sink, and plumbing work are needed.
For an expansive bedroom, a built-in wet bar or coffee area is a great option to add a functional and decorative setting to a bedroom.
Built-in Revolving Wardrobe. With the concept of the lazy Susan, a built-in revolving wardrobe can be a unique and innovative way to store clothing and maximize space in a bedroom. This can be made of clear glass to showcase collections or a more discrete revolving shelf that closes with a hidden door.
Built-in Safe. The bedroom is the best area to safeguard valuables and protect them from deterioration from moisture or sunlight.
Choose a location where it is not easily noticeable and choose similar materials to camouflage the safe. Also, make sure to choose materials that are fireproof and sealed against moisture. Don't forget to install a locking mechanism.
Many smart applications can be connected to a mobile device to monitor your built-in safe even when not at home.
Built-in Dog Bed. A built-in dog bed in a bedroom can be a great way to provide one's furry friend with a comfortable and cozy place to sleep while also keeping them close to you.
Choose a space that's visible when you are lying down, and that's safe and comfortable for a pet to sleep in. Be sure that the build is sturdy and that there are no sharp edges or hazards present.
Built-in Design Tips:
• When building a built-in bedroom space, it's important to choose high-quality materials that are durable and long-lasting. This will ensure that the built project lasts for many years and retains its value. Also, explore the use of glass and other modern materials.
• Take advantage of vertical space. When working with a small bedroom, take advantage of vertical space by building floor-to-ceiling storage units. Utilizing the vertical space will help maximize storage while minimizing floor space coverage.
For more related designs visit our built-in kitchen nook ideas gallery.