Here's our outdoor kitchen dimensions guide including standard outdoor kitchen sizes & layouts, grill measurements and other essential kitchen design dimensions.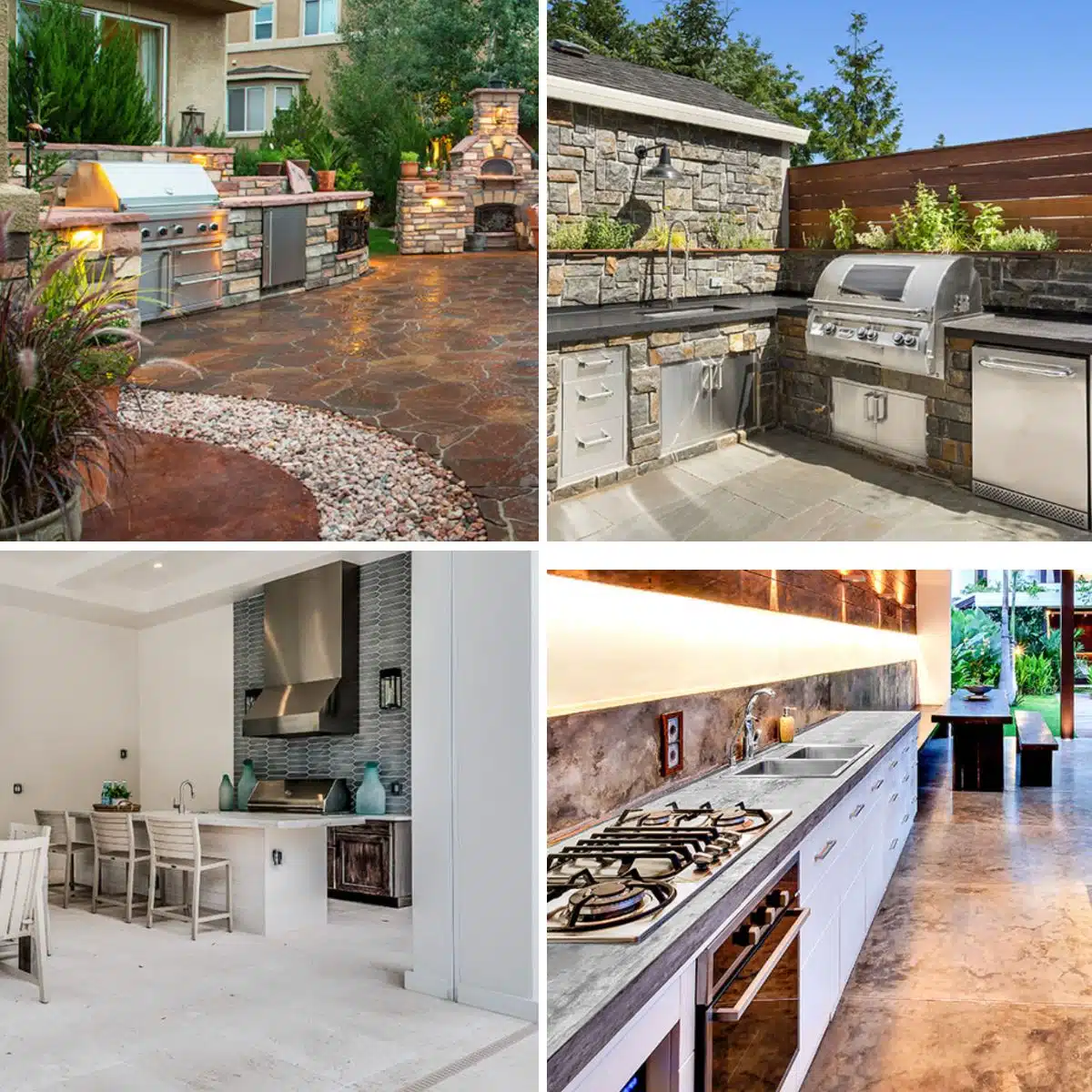 One great way to utilize a sizable outdoor area is to build an outdoor kitchen. An outdoor kitchen will offer much use aside from just being another area for cooking, and it can be very useful for outdoor parties and many other outdoor activities.
Cooking and eating outside is a beautiful all-weather activity you could do with your family and all your friends. It is a great thing to have in a home, especially if you love grilling, and it will also add to the value of your home!
The price of looking to build an outdoor kitchen will vary depending on what you want to have in your outdoor kitchen. Pro tip: an outdoor kitchen will be exposed to the elements and changing of the seasons, so durability should be a top priority of every homeowner building their outdoor kitchen.
Standard Outdoor Kitchen Dimensions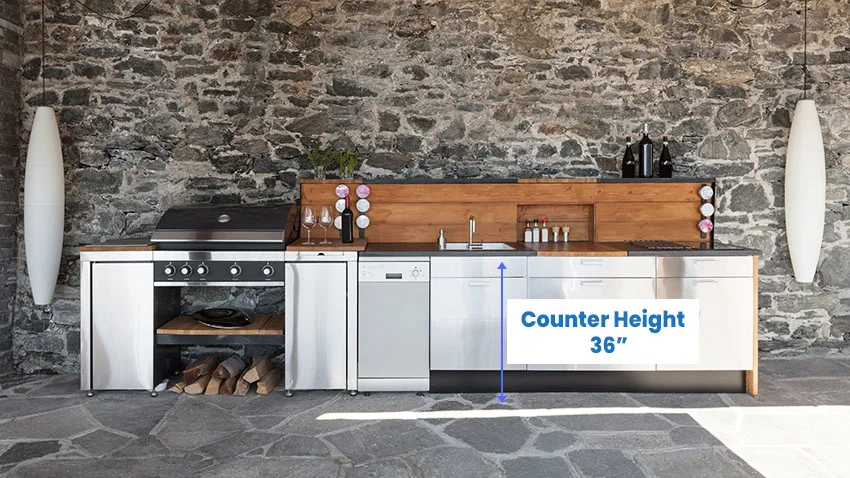 The most important aspect of a luxurious experience using your outdoor kitchen is it should have the feeling of ease and ergonomic efficiency that only a great design will offer and achieve. So, all in all, dimensions are the key.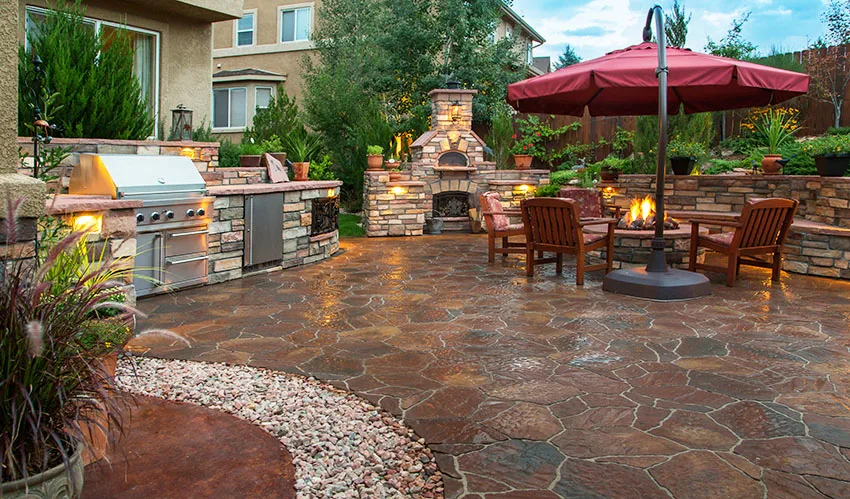 A standard outdoor kitchen will measure to have a counter height of 36 inches or about 91 centimeters. If you want to include a built-in refrigerator unit to go with your countertop, it would be best to raise your countertop height by 38 inches or about 97 centimeters.
Both of these countertop heights will work for people with an average height of 4 feet and 6 inches to 5 feet and 8 inches.
Linear Kitchen for Small Outdoor Spaces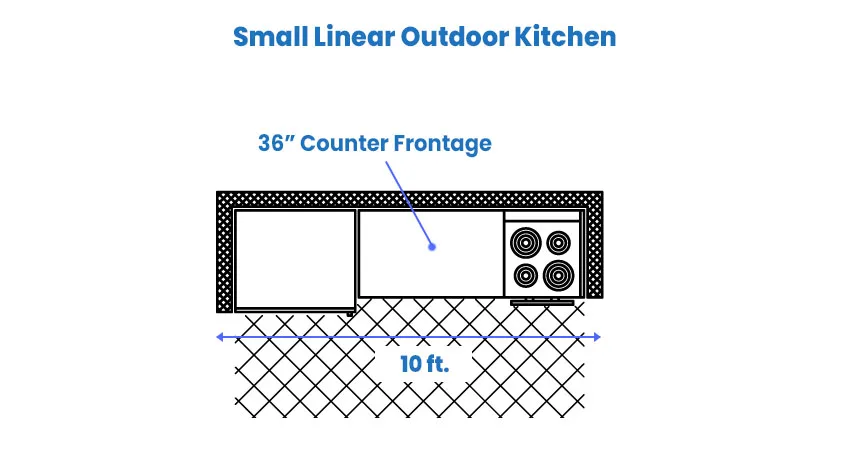 Outdoor kitchens are versatile, and you do not have to have a sizable yard to build an outdoor kitchen for your home; just make sure that you measure correctly for your space. If you want to create an outdoor kitchen in your small but free yard space, the best layout is a simple linear outdoor kitchen.
Outdoor kitchen combines the open-air, smoke-infused pleasure of barbecue cooking with the basic conveniences of an indoor kitchen. – The Complete Guide to Patios, Phillip Schmidt
This layout will be efficient for all the necessary things you will need in an outdoor kitchen, from the cooktop to the grill, the sink, and storage spaces.
A small outdoor kitchen will have a length of 10 feet or about 3 meters. It will have a countertop frontage of 36 inches or 91 centimeters. This will be enough space for a workspace area to account for the sink, grill, and cooktop lengths.
Kitchen Layouts for Medium Spaces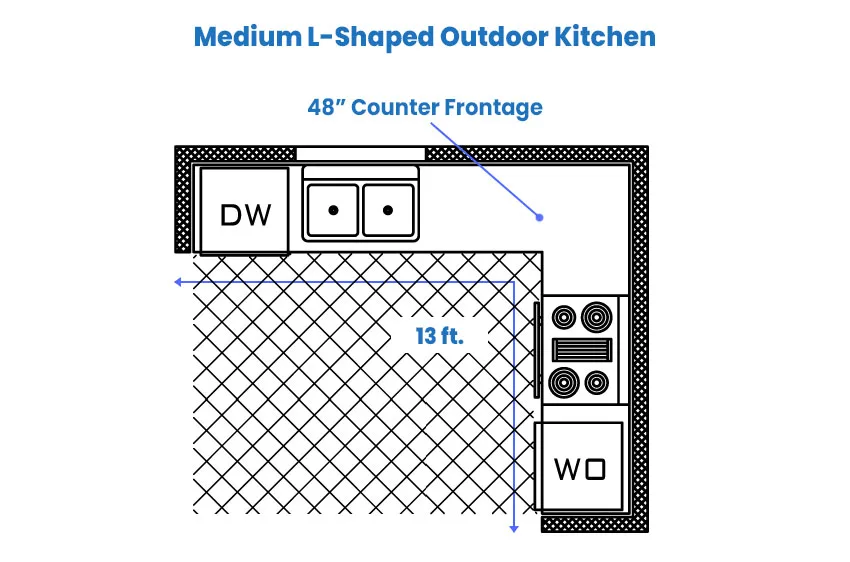 If you want a slightly larger outdoor kitchen, you can go for an essential or a medium-sized outdoor kitchen. You can go for a straight run outdoor kitchen or even an L-shaped outdoor kitchen layout.
An essential outdoor kitchen is about 13 linear feet or approximately 4 meters. It will have a counter space of 48 inches or about 122 centimeters, enough for a built-in countertop refrigerator and other kitchen features.
Another mid-sized outdoor kitchen option is the medium outdoor kitchen, which is 16 linear feet or about 5 meters. This medium-sized outdoor kitchen will have a counter space of 72 inches or 188 centimeters.
This size will give you more storage and refrigeration options and an added counter space or workstation.
Kitchen Designs for Large Spaces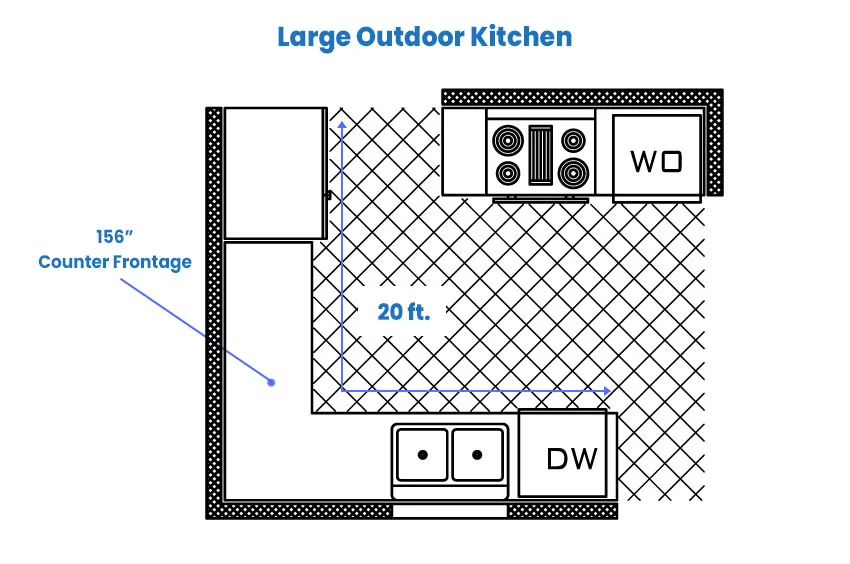 For households who plan to entertain often, a large outdoor table is the best choice for you. You are able to cook for a bigger crowd with the bigger space allowing for bigger kitchen appliances.
A large outdoor kitchen will prioritize cold and wet zones. This can include freezers and wine chillers instead of just a fridge and can also include a beverage tub and even a double sink.
If you plan to have a larger outdoor kitchen for your yard, prioritize the layout to allow for the work triangle where the sink, grill or cooktop, or refrigerator are within reach and easy to flow with each other.
Larger outdoor kitchens will be 20 feet to about 6 meters long and will have at least 156 inches or 396 centimeters available for the counter space and workstation.
Kitchen with Island Designs for Outdoor Areas
Once you have measured the available space and how big you want your outdoor kitchen to be, the kitchen layout is the next thing you will need to settle. There is the kitchen triangle you need to account for a larger kitchen so that every workstation will be within reach and not be obstructed.
One of the things that would maximize the space in choosing to install an island would add not only a workstation but also be a central unit for things like the grill and any other kitchen appliances.
Homeowners can even add bar chairs to one side of the island so that friends and family can do cooking and socializing simultaneously.
L-Shaped Kitchen Dimensions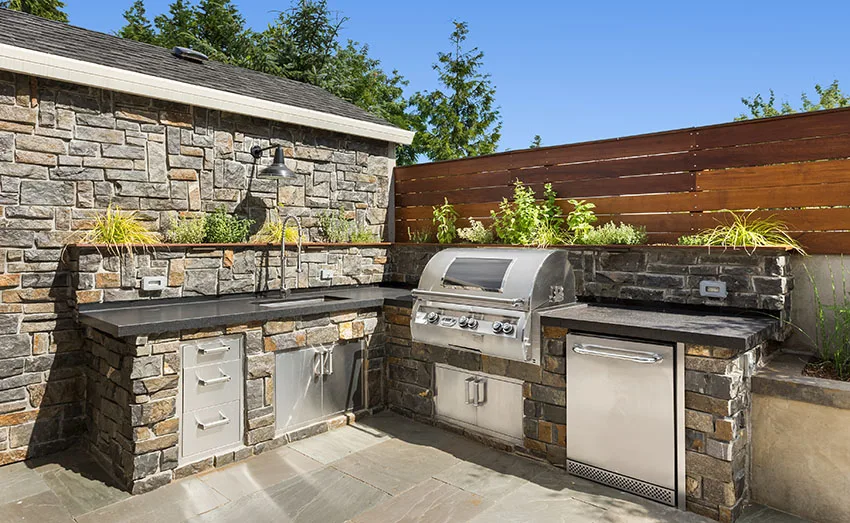 The L shaped outdoor kitchen is the most popular kitchen layout for outdoor placement and use. It suits decks and patios well. It can balance entertaining and cooking, too. This shape for an outdoor kitchen can work with any style.
You will find it in three sizes, small, medium, and large and choose an independently constructed l shaped outdoor kitchen or one against the wall.
The small one has a counter length of 10 feet, a medium up to 16 feet, and a large outdoor kitchen at least 20 feet. If you opt for the small outdoor kitchen, its dimensions are 8 feet by 7 feet and10 inches.
This size can fit a grill, a sink, a burner, storage, and a preparation space. But if you're adding a refrigerator, dimensions can be 8 feet by 9 feet and 10 inches because the fridge is 24 inches wide.
U-Shaped Kitchen Measurements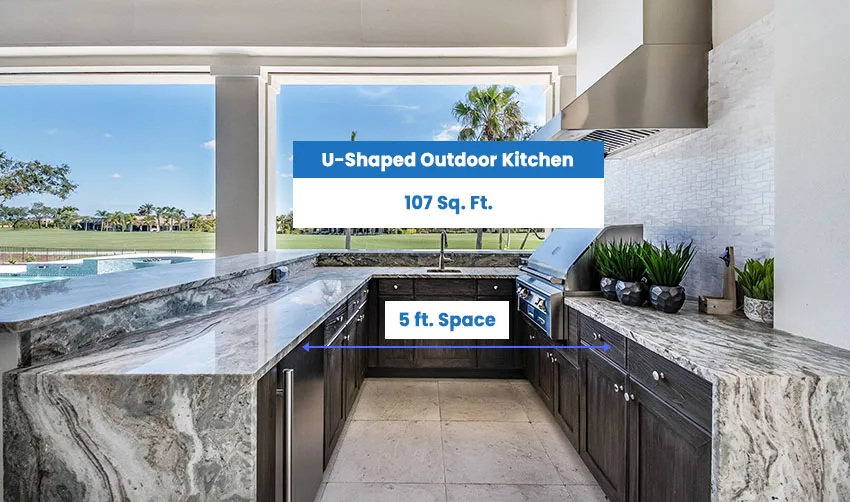 If you want to add seating on the other side of the counter to utilize your outdoor kitchen space fully, a great outdoor kitchen counter layout is the U-shaped outdoor kitchen.
This layout is three lines of cabinets and countertops formed in the U shape maximizing every space so that every crevice will be used for serving, interacting, and cooking with all your guests and family members.
A U shaped outdoor kitchen is best for larger spaces because it will require larger floor space. A 107 square feet or 10 square meters of space will make a great U shaped outdoor kitchen.
It will have enough space of 5 feet or 1.53 meters from one side of a counter to the other so that enough space in the middle is ready for anyone cooking.
Split-Level Type Kitchen Layout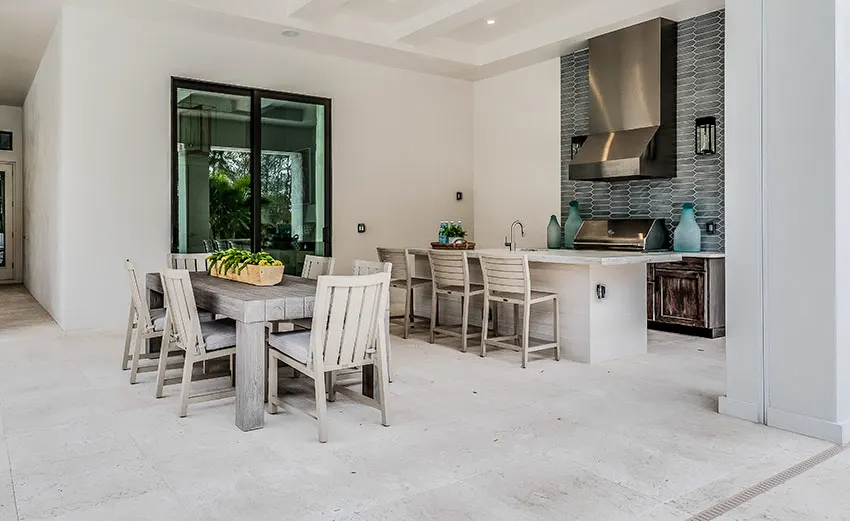 A split level outdoor kitchen is also known as the L-shaped outdoor kitchen layout. This is the ultimate choice if a homeowner wants to entertain while preparing the food. If this sounds like what you want, but you have a smaller space, a split level outdoor kitchen is the choice of layout for you.
One side of the countertop in this layout can include many barstools adjacent to the grilling or workspace areas. It will also give a homeowner the perfect work triangle layout for maximum efficiency since every workspace is within reach of each other.
If you have a larger space, a split level outdoor kitchen is the most efficient layout to include a kitchen island in the center, or if you want, a dining table can also be placed to utilize the space.
What Are the Ideal Dimensions for Kitchens Outdoors?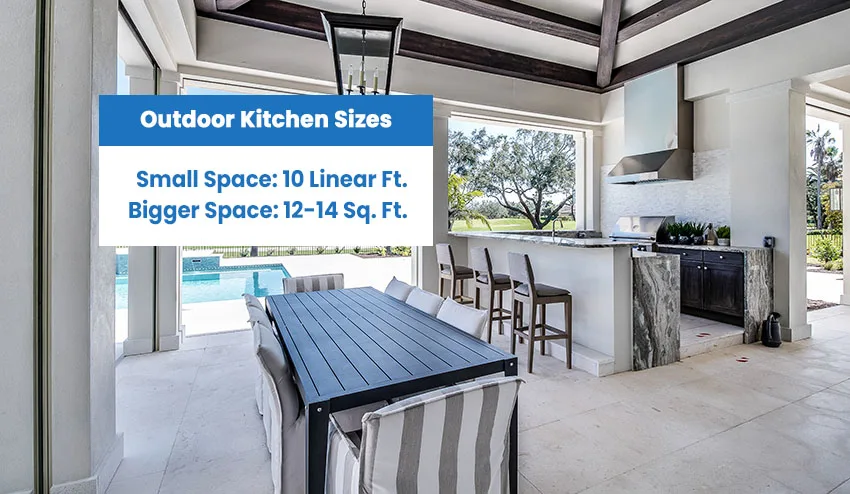 An outdoor kitchen can be any size of space you have available in your yard. It can be as big as 200 square feet of land or as small as 10 linear feet or approximately 3 meters.
The 10 linear feet size or 3 meters will be best for smaller spaces, and this size can already include the necessities you will need, from cooking to storage units. If you want a slightly more expansive outdoor kitchen, one medium size that will work perfectly is the essentials outdoor kitchen.
The essential outdoor kitchen will be about 12 to 14 linear feet or exactly 3.66 meters to 4.27 meters. This option will be great and can include bar seats on the side for a split level essentials outdoor kitchen.
How Close to the House Should a Patio Kitchen Be?
Once the dimensions and layout for your new outdoor kitchen are decided, it is high time to evaluate where everyone should put it, and a big concern is how far or how close should an outdoor kitchen be from one's home.
Homeowners need to ensure that they are consulting with the experts from the beginning so that they know that each of their ideas for their outdoor kitchen will work.
The grills, pizza oven, or any cooktop and heat-producing kitchen appliances should be at least 10 feet or 3 meters away from the home to prevent accidental fire. Aside from the house, it should also be at least 10 feet or 3 meters away from combustible and fire hazard materials and appliances.
One important consideration is running electricity from the home for outdoor kitchen lighting and appliances. Running conduit from the house to your kitchen will require digging a trench that will contain the electrical cables. The further away from the home the more costly this will be in materials.
Kitchen Counter Dimensions
One critical factor determining the usability and comfort of your outdoor kitchen is the counter space dimensions. Each component of the dimensions of a countertop will dictate whether it is ergonomic or not and will determine if the user should be doing the most or not. Visit our kitchen counter measurements guide here.
Counter Depth
The depth of your outdoor kitchen counter space will be dependent on what you want your counter space to have: a more oversized grill, a double sink, etc. The depth of a kitchen counter is the size of its top from top to bottom.
The standard depth for any outdoor kitchen counter space is about 30 inches or 25 centimeters. This countertop depth will be enough to accommodate a traditional built-in grill with a depth of fewer than 30 inches.
If you want a larger countertop that will offer more workstations and accommodate bigger kitchen appliances, going up to 36 inches or 91 centimeters is the best option for your outdoor kitchen.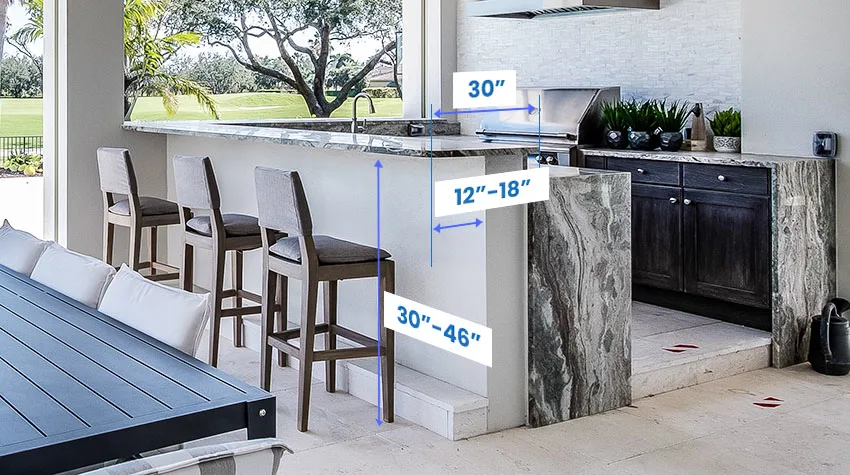 Countertop Height
If the countertop depth will determine how much space is needed for each kitchen appliance to fit, the height of each of your outdoor kitchen countertops will evaluate the efficiency. The standard height for an outdoor kitchen countertop is about the same as indoor kitchen ones, at 36 inches or about 91 centimeters.
Although some households can have a countertop height of about 30 inches or 76 centimeters to higher countertops at 42 inches or about 107 centimeters.
Going up to 38 inches or about 97 centimeters will be best if you want to include a built-in counter refrigerator.
In order to determine the countertop height you need for your household, you should account for the height of your chosen kitchen appliances and the average height of every user. The standard size user of about 4″6′ to 5″2′ should be enough but go higher if you are taller than average at 5″3′ and up.
Counter Overhang Size
A countertop overhang is what you call the distance of the counter's edge to the front of the cabinet or countertop's base. To make it more straightforward, try to stand over any countertop and look down: the base close to you is the edge and from that point to the edge of the cabinet is how you measure for the overhang dimensions.
The overhang needed for your outdoor kitchen counter will depend on whether you choose to include a bar stool or seat on the other end of the workstation. If that is what you have in mind, an overhang size of about 12 to 18 inches or 30 to 46 centimeters will be perfect.
Bar Height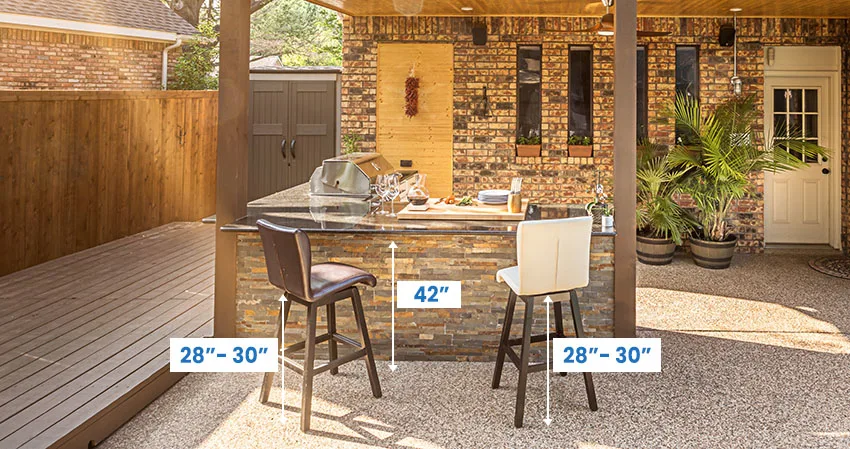 If you have a more oversized outdoor kitchen, the inclusion of an outdoor kitchen bar is something you should really consider. Not only will this be an added entertainment center for all of your guests, but the drink can be served away from all the workstations giving you maximum space for each task at hand.
The bar counter height should be at least 42 inches or 107 centimeters, although it can also be as low as 40 inches or 102 centimeters. This will depend on the height of bar stools you want for your outdoor kitchen.
The standard bar stools of at least 28 to 30 inches or 71 to 76 centimeters are what you should use for this bar counter height. Visit our bar dimensions guide here for more details.
Table Height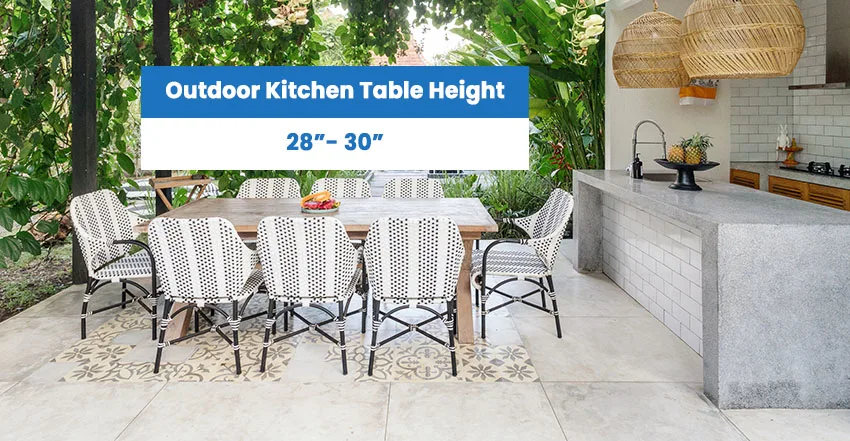 Aside from an outdoor kitchen bar that will provide another seating option for your space, another outdoor kitchen feature you should consider is adding an outdoor kitchen table.
Whether you have a U shape outdoor kitchen or an ample extra room on the side of your outdoor kitchen, add a table and some lawn chairs, and you will have an outdoor dining set in a splash perfect for all the entertaining and hosting you are planning.
The standard height for your outdoor dining table is about 28 to 30 inches or 71 to 76 centimeters. This is pretty standard throughout whether you want to buy a small bistro-type table or a big 16-seater dining table.
Backsplash Height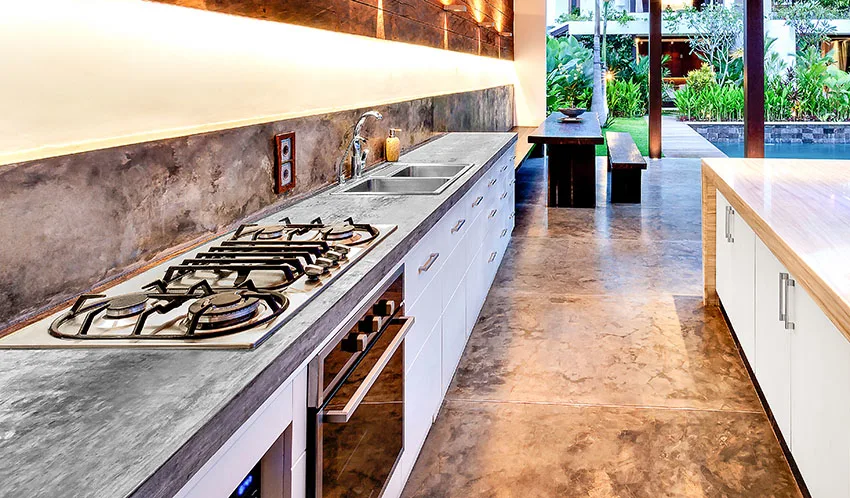 One of the ways to customize your outdoor kitchen, other than the appliances or the seating fixtures, is the decision on the design of your backsplash. If you choose to sit your outdoor kitchen against the wall, a backsplash will be needed.
The standard backsplash for your outdoor kitchen will be as high as 4 inches or 10 centimeters from your outdoor kitchen countertops. If you want a full backsplash, they can come as high as you need them.
Typically, most homeowners want their backsplash to be all the way to their kitchen cabinets. This will allow for more customization in terms of your backsplash design.
Grill Dimensions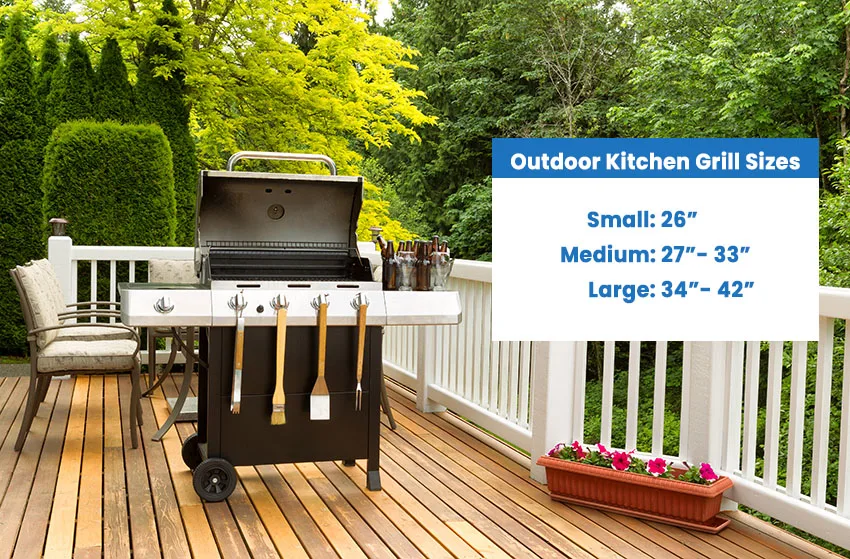 One of the soundest reasons to have an outdoor kitchen for all barbecue loves out there is that an outdoor kitchen allows for a grill. Standard outdoor kitchen grill sizes are available in four sizes: small, medium, and for the bigger ones, large and extra-large.
If you are simply planning to occasionally barbecue for a small family, then the small at about 26 inches or 66 centimeters should be enough to feed the whole family. But, if entertainment is what you have in mind, it is best to acquire a large or an extra-large grill for your outdoor kitchen.
A large grill will vary from 34 to 42 inches or approximately 86 to 107 centimeters. On the other hand, an extra-large grill is anything from 42 inches or 107 centimeters and above.
If you are searching for an outdoor kitchen grill that is not too small and something not too big, the medium grills are for you, and they will range from 27 inches or 69 centimeters to 33 inches or about 84 centimeters.
How Wide Are Built-in Grills?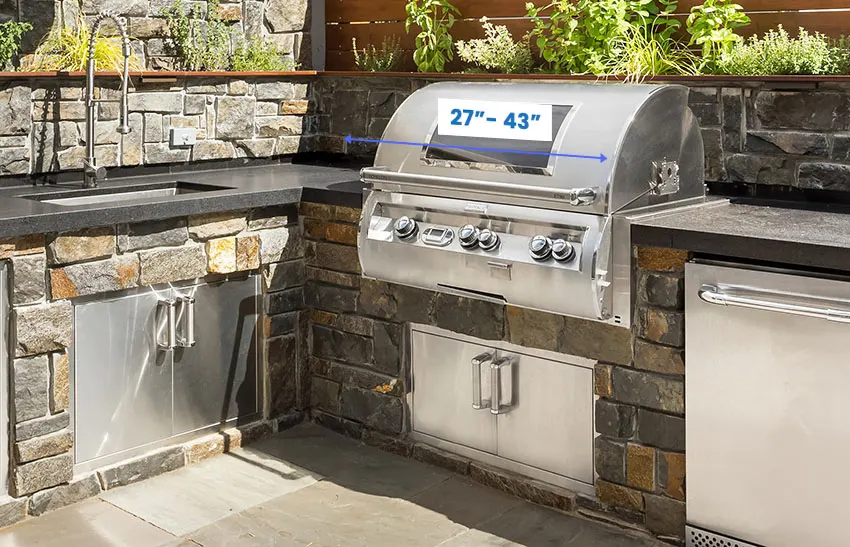 Aside from what your plans are or how many people you are planning to cook for, the importance of knowing the exact width of your grill is to make sure that it will fit the available countertop space available for the grill itself.
The standard width for an outdoor kitchen grill is the range or the extent available from grills all across grill manufacturers. Normally this will range from around 27 to 43 inches or 69 to 109 centimeters.
Most people will choose built-in grills between 34 to 40 inches or 86 to 102 centimeters, but it will ultimately depend on how much counter space you have available on your countertop.
Burner Dimensions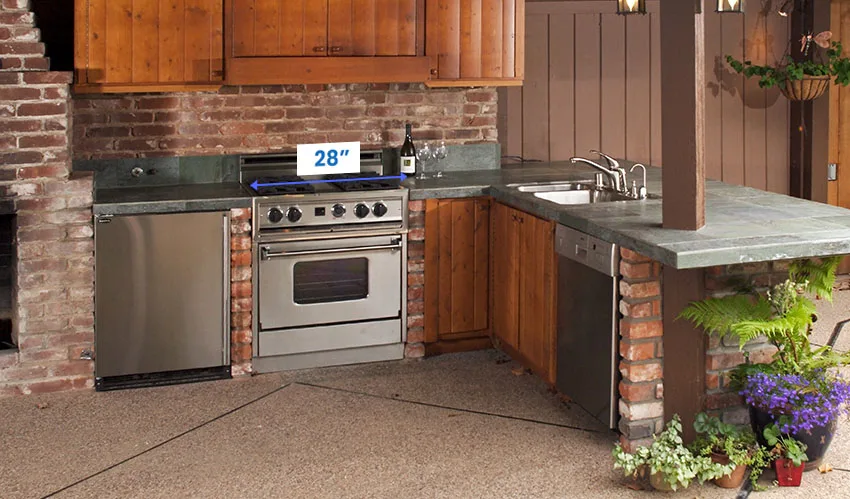 Aside from the grill, which will cook all your sumptuous barbecue meals, the burner will be there to prepare all the sides from the sweetcorn and the buttered vegetable. So, what is the average size for an outdoor kitchen burner?
A standard outdoor kitchen burner will have a width of 12 to 13 inches or 30 to 33 centimeters. It will have a depth of about 20.5 inches to 23.5 inches or about 52 to 60 centimeters and a height that will range from 5 to 12.5 inches or 13 to 32 centimeters. A double burner will have a width of about 28 inches or 71 centimeters from side to side.
How Much Space Should Be Between Side Burner And Grill?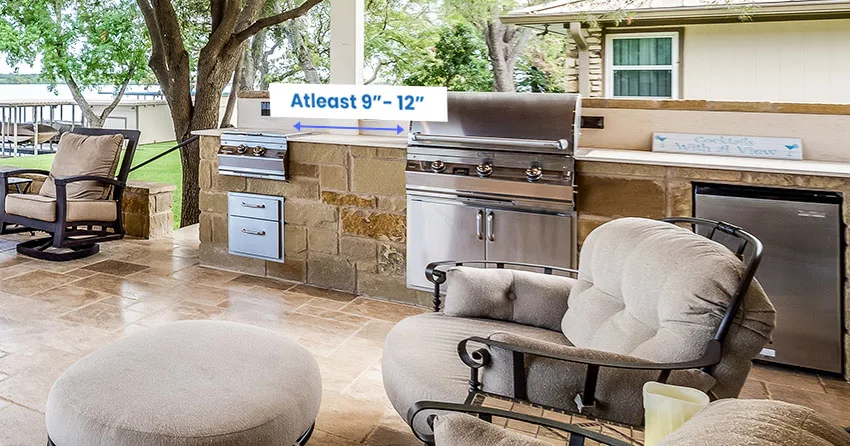 In terms of how safe your outdoor kitchen workstation would be, aside from keeping a safe distance from the outdoor kitchen to the house, one primary consideration is the distance between the grill and a burner. The length required for each hot and combustible kitchen appliance is at least 9 to 12 inches or about 23 to 30 centimeters.
This space allowance is required for every kitchen appliance like the ovens and the cooktops, plus the grills and the burner.
A surefire way to ensure that you have enough distance for maximum safety in using the outdoor kitchen is by checking the guidelines for each appliance manufacturer.
Big Green Egg Dimensions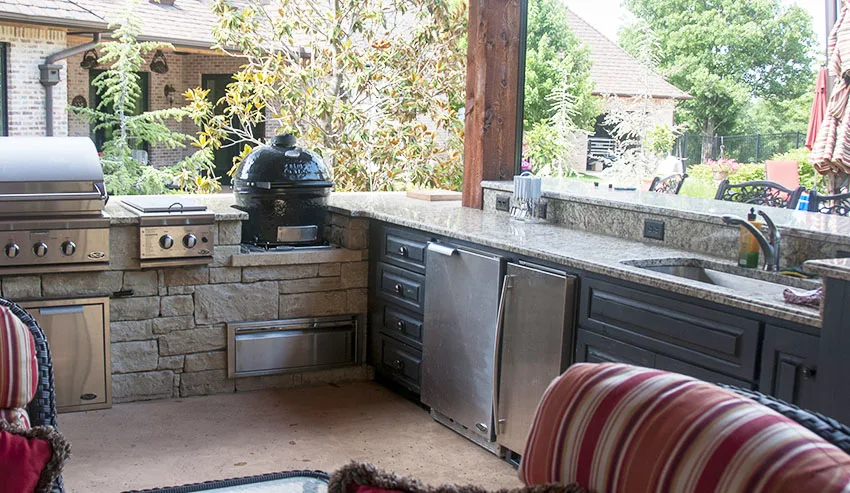 A big green egg may sound like something out of a children's storybook or nursery rhyme, but it is a highly versatile and straightforward cooker for all your outdoor cooking needs. A Big Green Egg is every conventional cooker combined in one, and everything from the hors d'oeuvres to the dessert can be done with a Big Green Egg, making it a staple in many outdoor kitchens.
There are many sizes available for a Big Green Egg, from smaller sizes like the mini, minimax, and small at 10 to 13 inches in diameter or about 25 to 33 centimeters and with a height of 15, 19.5, and 22 inches, respectively.
There are also enormous Big Green Eggs at medium and large. These Big Green Eggs will have a diameter of 15 to 18.25 inches, or about 38 to 46 centimeters, and a height of 26 to 30 inches, or 66 to 76 centimeters.
If you want even bigger Big Green Eggs, you can get the extra-large one or the 2XL one. An extra-large one will have a diameter of 24 inches or 61 centimeters with a height of 27.25 inches or about 69 centimeters. For a 2XL Big Green Egg, it will have a diameter of 29 inches or 74 centimeters with a height of 35.5 inches or 90 centimeters.
How Much Space Should Be Between Appliances?
Like the safety requirement for the space between a burner and the girl, each combustible kitchen appliance should also have 9 to 12 inches or 23 to 30 centimeters of free space between each other. This is to ensure that each of them, primarily when used simultaneously, would not overheat and cause any accidents for the user and the guests.
To keep an accurate safety precaution, ensure that you read through the appliance's guidelines because it will tell you how much space allowance is needed to be safe.
Range Hood Dimensions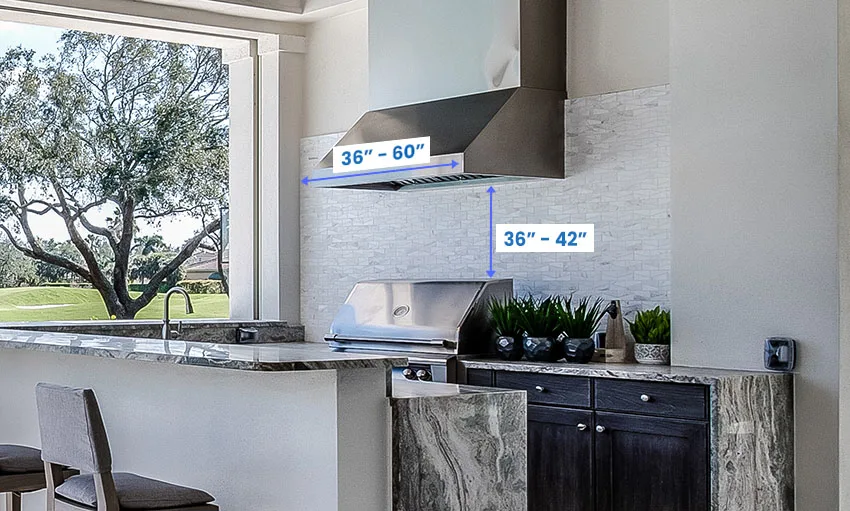 One of the many ways to keep the air quality in your outdoor kitchen at pristine levels is to acquire a range hood that would go with the entire structure. Range hood removes grease, odor, fumes, and smokes that are produced in your cooktop or grill as you prepare your delicious meals.
Width
The width of your range hood will vary from 36 to 60 inches or about 91 to 152 centimeters. Choosing one perfect range hood for your outdoor kitchen will depend on the width of your grill, and once you have that, simply add 12 inches or 30 centimeters to the grill width, and you will have a precise measurement of what you will need for the hood.
Mounting Height
On average, the mounting height for your range hood should be at least 36 to 42 inches or approximately 91 to 107 centimeters above the cooktop or the grill. This will see to it that the smoke is taken in and also reduce and avoid any fire hazard since both the grill and the cooktop directly use fire.
Vent Dimensions
Other than the hood range to ensure that no smoke is lingering on your outdoor kitchen as you cook, there are also outdoor kitchen vents that have a powerful fan to make sure that it draws food odor, smoke, etc., so that the guest won't be bothered and ensures unsightly grease marks would not stain the cabinet or the wall.
To choose the perfect vent hood for your outdoor kitchen, first, you need to determine the width of the grill and add about 6 inches or 15 centimeters to the measure.
To illustrate, let us assume that you have a 30 inches grill, so adding 6 inches to that equation will tell you that you need at least 36 inches or a vent hood to be effective.
Cabinet Dimensions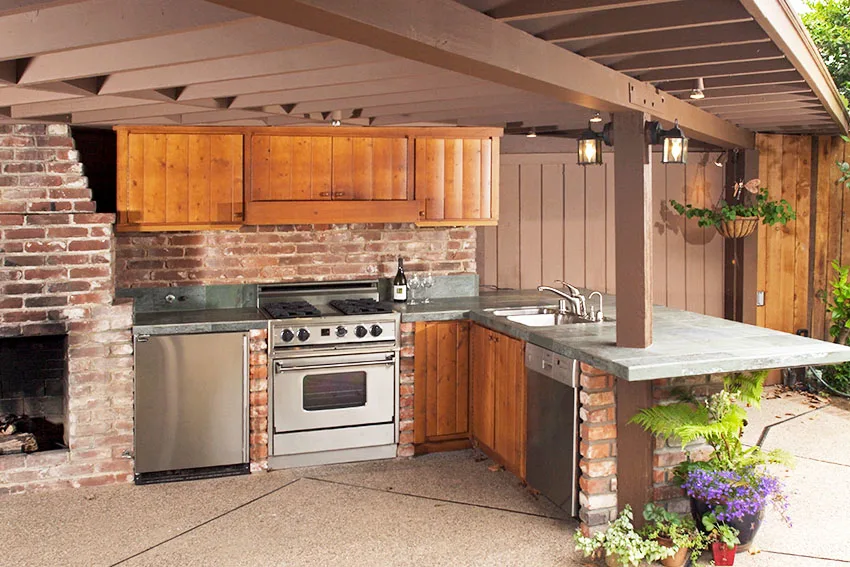 A variety of options and possibilities is what makes choosing your outdoor kitchen cabinets exciting. Aside from the type and design, it will also come in a variety of sizes, from cabinets as small as 9 inches or 23 centimeters to cabinets as big as 60 inches or about 152 centimeters.
The depth for this cabinet is 28 inches or 71 centimeters, with a height of about 30 inches or 76 centimeters.
If you are looking for the least, then the smallest possible is 2 cabinets for the grill and a small prep area for everything.
Kitchen Island Dimensions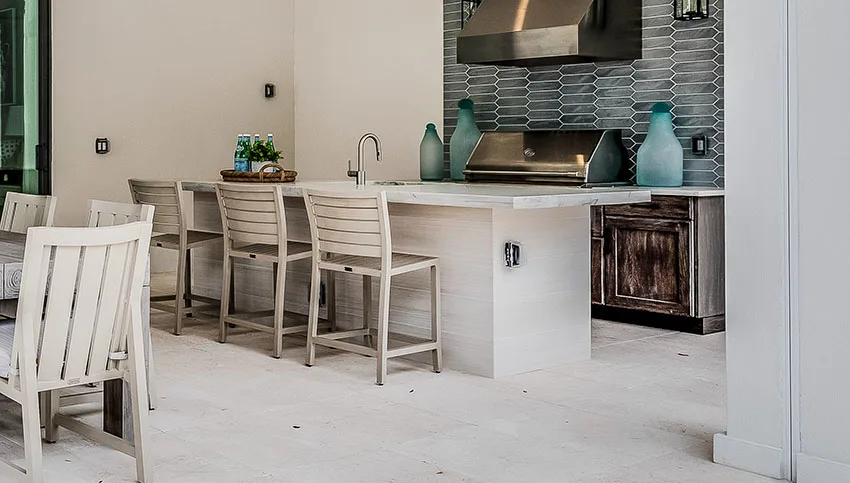 We have already established that an island type of outdoor kitchen will not only take up floor space efficiently but can also add a seating option for all your guests and family members. Islands are helpful because anyone can access its four corners, making the space efficient if you pan to utilize the working triangle.
A standard island outdoor kitchen will have a width of about 84 inches or 213 from side to side. It will have a depth of about 28 inches or 71 centimeters with a counter height of 36 inches or 91 centimeters. For more measurements see our kitchen island size guidelines here.
Sink Dimensions
One of the components of the working triangle is easy access to the sink. The sink is where you do most of the prep work because this is where you were and prepare everything before cooking and where cleaning is done for every dish as soon as the party is over.
The standard width of an outdoor kitchen sink is about 14 to 30 inches or 36 to 76 centimeters. It will have a depth of about 7 to 28 inches or 18 to 71 centimeters and a height of 15 to 22 inches or 38 to 56 centimeters.
Outdoor Refrigerator Dimensions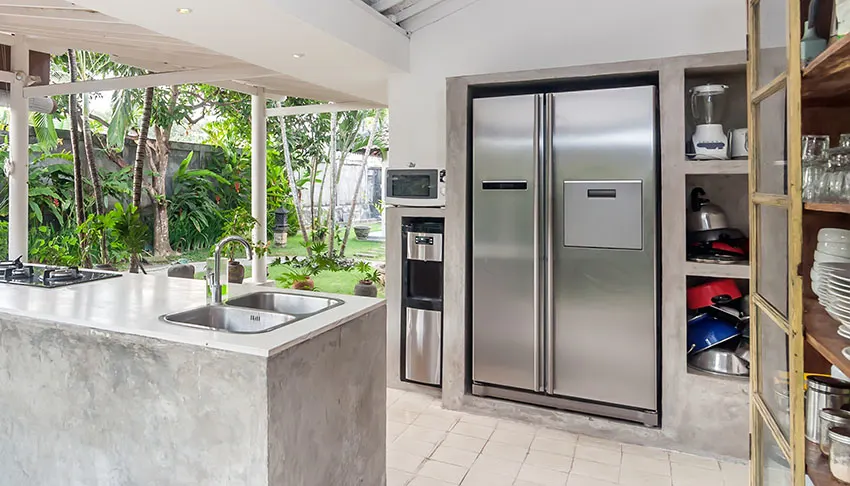 Another part of the working triangle is easy to access the fridge. The fridge you will need will solely depend on your families storage needs and the size you want for your outdoor kitchen.
An outdoor fridge can be a small built-in refrigerator with a standard height of 37 inches or 94 centimeters or as big as a standard refrigerator that is about 67 inches or 170 centimeters.
If you want a more sizable fridge, then there are French door style refrigerators you can get that are about 69 inches or 175 centimeters.
Kegerator Dimensions
For households who like to entertain often, you might fancy installing a kegerator to go with your outdoor kitchen. A kegerator is a small fridge designed to hold a keg in which cold beer can be easily dispensed.
The inclusion of a kegerator will surely set your outdoor kitchen apart from any other outdoor kitchen. The average kegerator will be 24 inches or 61 centimeters wide, and it will have a depth of about 26 inches or 66 centimeters, with a height of about 34 inches or 86 centimeters.
Pizza Oven Dimensions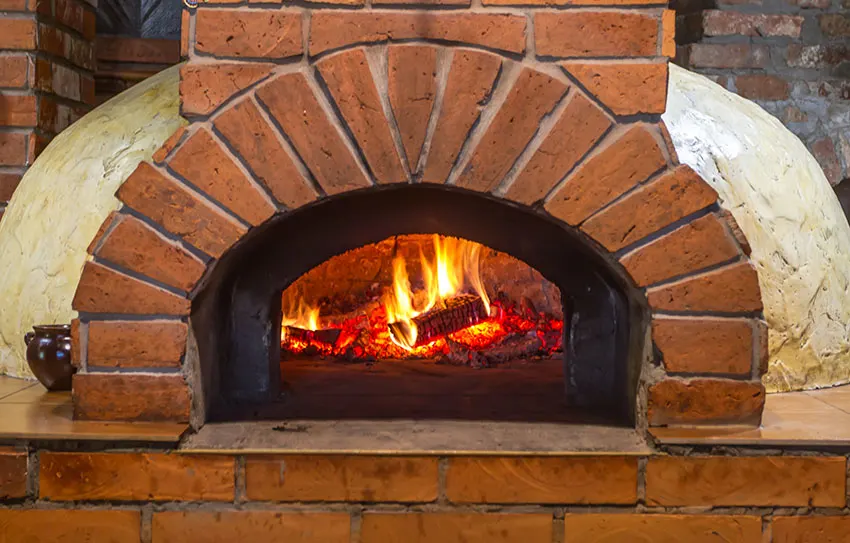 Aside from the kegerator, a pizza oven included in your outdoor kitchen will be unique versus any other outdoor kitchen. There are two types of dome available for a pizza oven for your outdoor kitchen, and you can choose between an igloo or a barrel one.
They can be as small as 34 inches or 86 centimeters in diameter or medium at 42 inches or 107 centimeters. You can also go for a larger one at 50 inches or 127 centimeters.
For more related content visit our gallery on 37 outdoor kitchen ideas & designs here.