Discover the different big green egg dimensions with large, XL, 2XL, medium, small, minimax, mini, approximate weight, and what size this barbecue grill should be.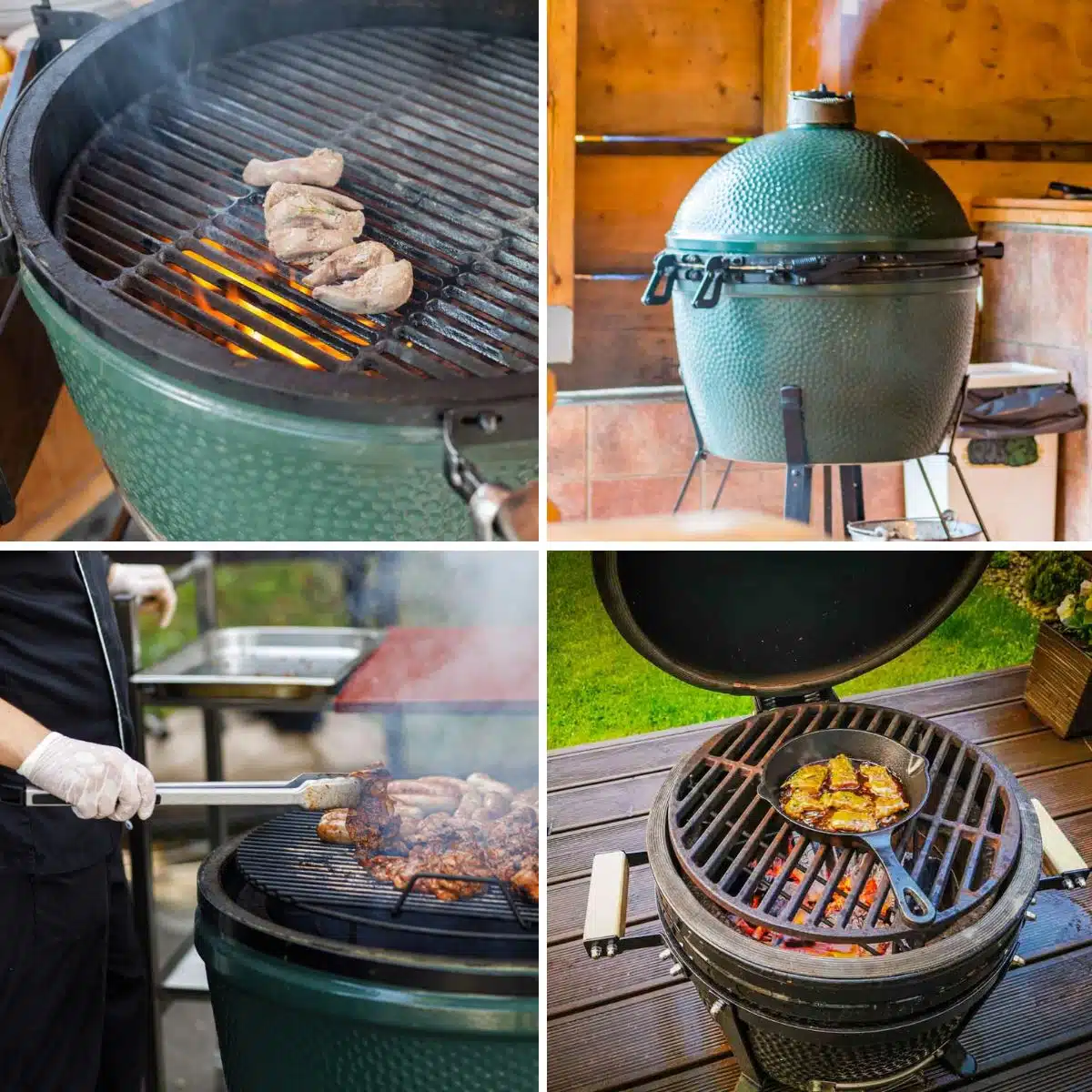 The Big Green Egg is leaps and bounds superior to its ancient counterparts. It is more effortless to start the cooking process, more precise to control the temperature, and safer to use. However, the results are similar, if not better, to the traditional kamado ceramic cooker.
For nearly half a century, Ed Fisher's creation wowed families across the States. Grilling and cooking their favorite foods have never been this fun, safe, and delicious. His Big Green Egg can be used as a regular barbecue grill or at a lower temperature to get the results of a smoker.
For homeowners who have yet to discover the joys and flavors of backyard or anywhere-grilling, getting a Big Green Egg makes a lot of sense. Available in seven sizes, one can pick the ideal Big Green Egg dimensions to suit their cooking needs and backyard patio space.
Large Dimensions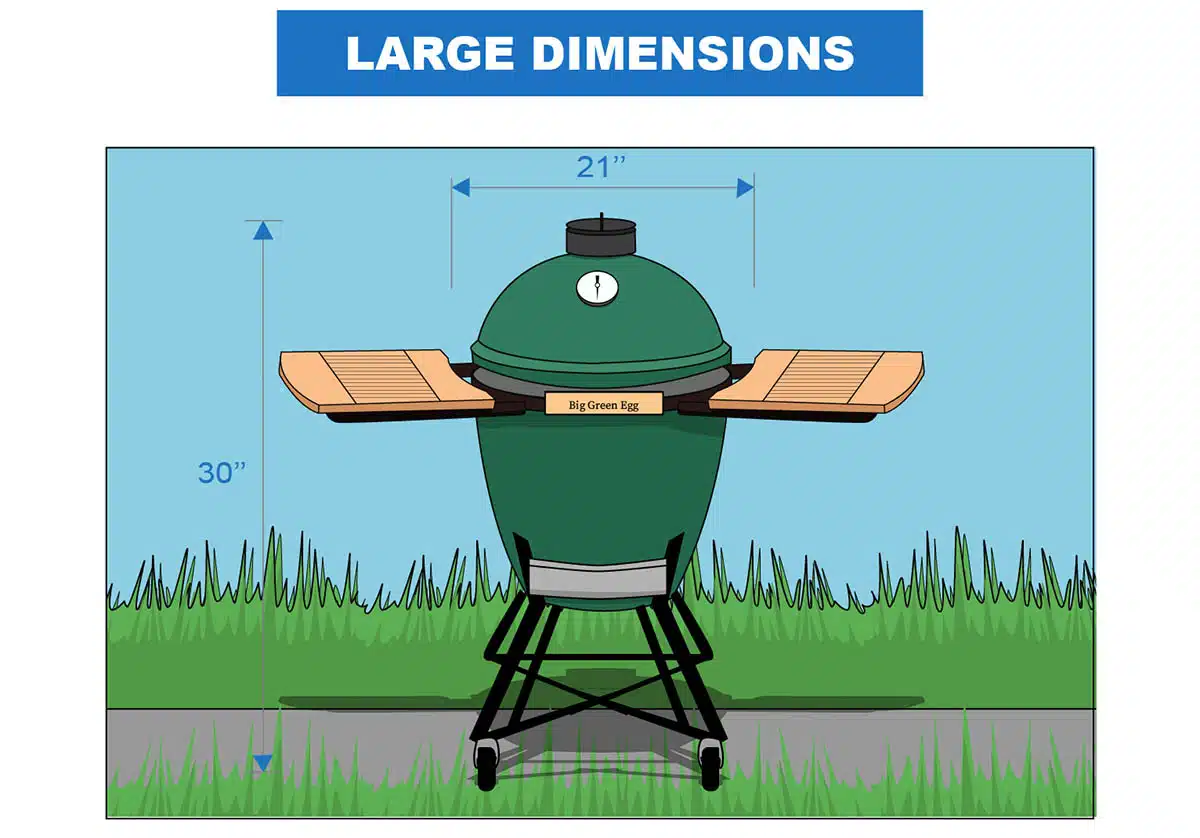 Width: 21"
Height: 30"
Grill diameter: 18 ¼"
Weight: 140 lbs.
Families of six to eight can devour a 20-pound Thanksgiving turkey within minutes of taking the turkey out of the large-size Big Green Egg. And if the household can wait, they can enjoy eight thick juicy slabs of steaks.
When it comes to cooking the perfect steak, understanding the importance of temperature is crucial. The temperature at which you cook your steak can make all the difference between a succulent, juicy piece of meat and a tough, overcooked disappointment. – Mastering the Art of Cooking the Perfect Steak, Mr. Big Wealth
The large Big Green Egg has sufficient cooking surface to accommodate homemade meatloaf, a 16-inch pizza, a dozen burgers, and seven rib racks. One can also cook six large chickens positioned vertically on the large Big Green Egg's 262-square-inch (about 1.82 square feet or 1688 square centimeters) cooking area.
The large EGG has an 21-inch width or about 46 centimeters. This cooking system can sit in one corner of the backyard, and the family can have a delicious feast.
XL Dimensions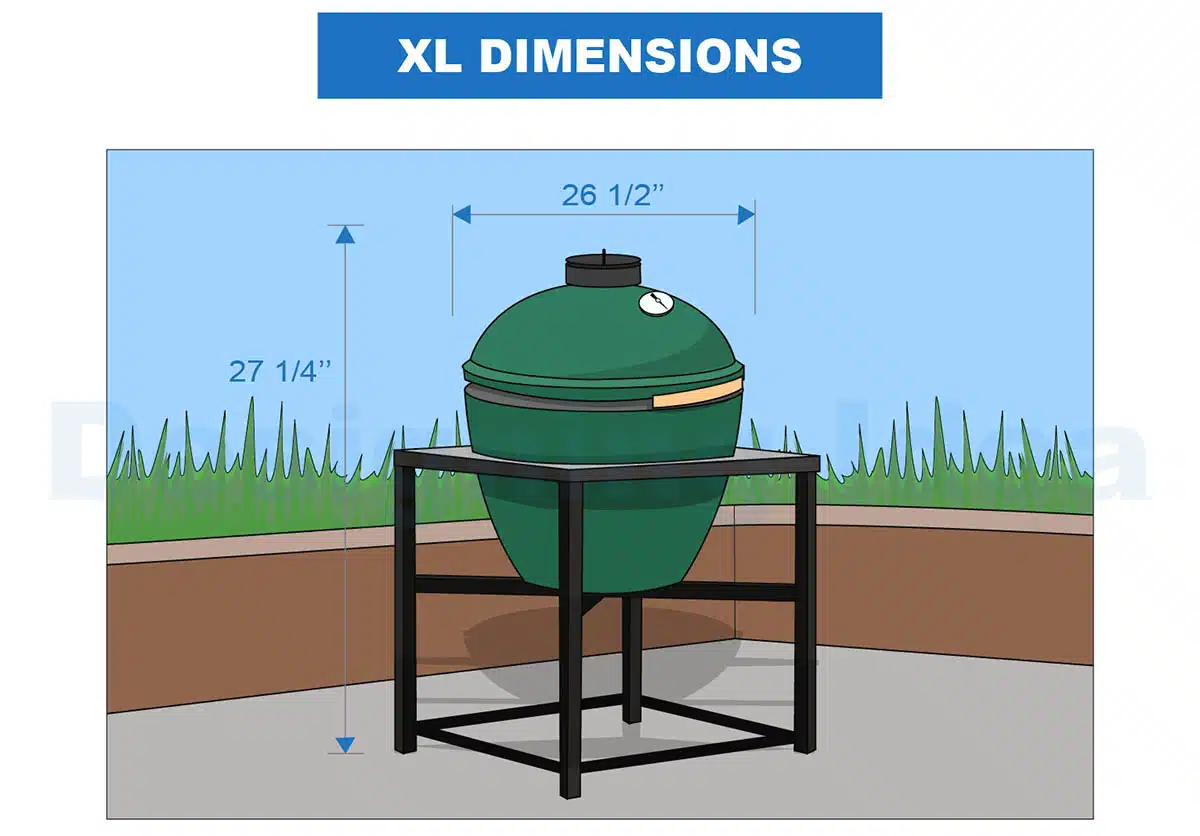 Width: 26 1/2"
Height: 27 1/4"
Grill diameter: 24"
Weight: 205 lbs.
Sitting between a large and 2XL Big Green Egg is a cooking system perfect for 8- to 12-member families and friends. It is a versatile platform for discovering one's hidden culinary ingenuity without sacrificing real estate space.
Like other Big Green Eggs, the XL version offers state-of-the-art technologies and designs to make grilling, baking, roasting, smoking, and stewing safe, convenient, and fun. This cooking system's 452-square-inch or 3.14-square-foot cooking area (2919 square centimeters) can accommodate a pair of 20-pound turkeys for Thanksgiving or other similarly sized poultry or meat for special occasions.
Its 2-foot-diameter grid (about 21 centimeters) should fit nicely in the backyard, allowing families to grill two dozen burgers, about a dozen steaks or rib racks, and 11 juicy whole chickens. That is enough to make the family cookouts the talk of the town – in a good way.
For those who want their bbq grill to have the feel of an outdoor kitchen, there are numerous portable carts and table holder products available to accommodate the different sizes and specifications.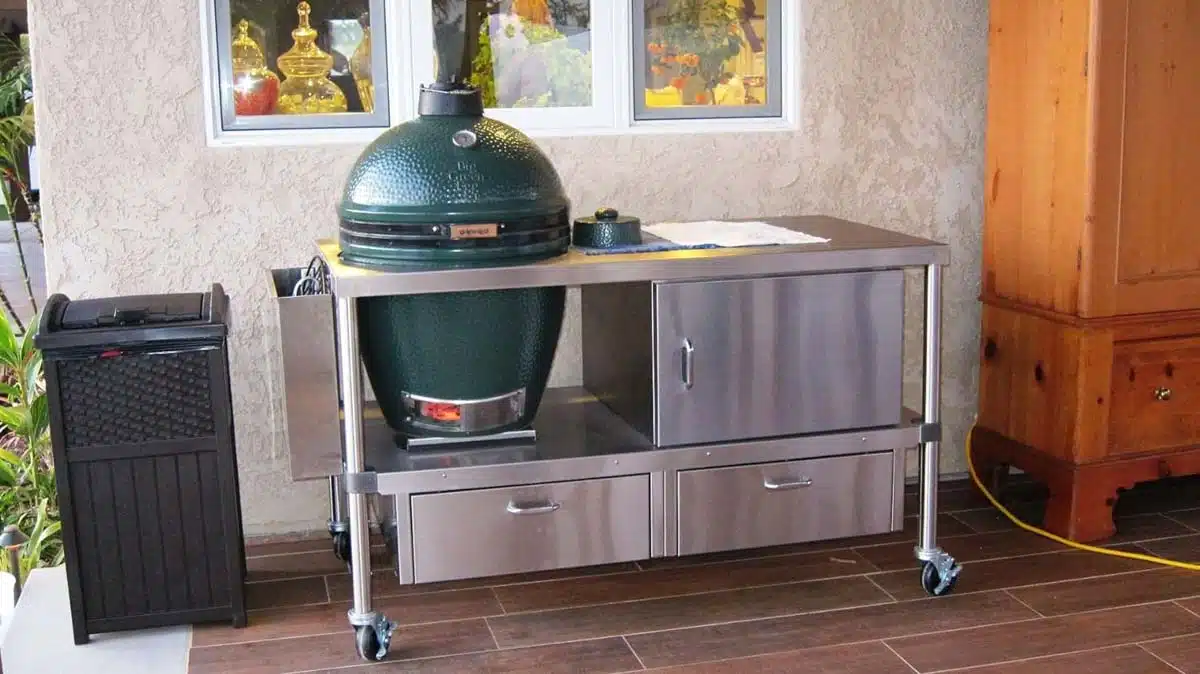 See this XL big green egg table at Amazon [sponsored link]
2XL Dimensions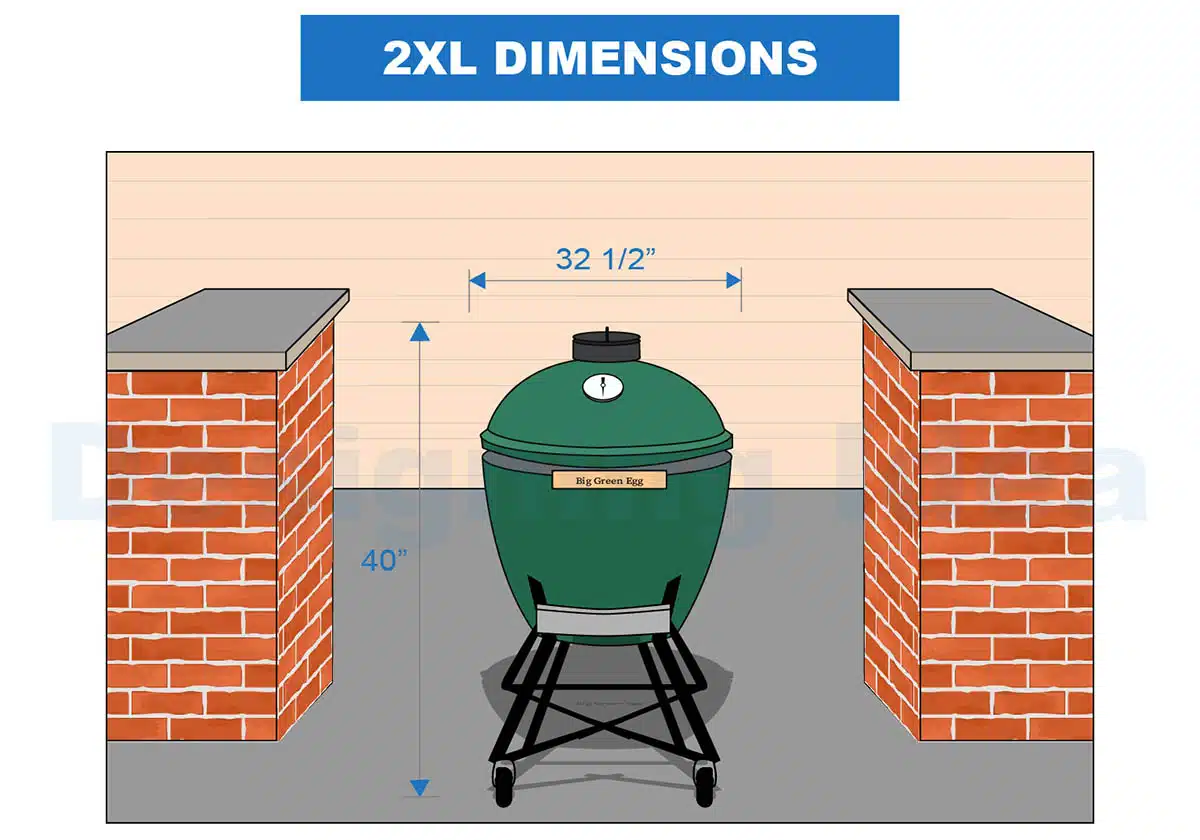 Width: 32 1/2"
Height: 40"
Grill diameter: 29"
Weight: 375 lbs.
With a 672-square-inch diameter (about 4 and 2/3 square feet or 4,336 square centimeters) cooking surface, the 2XL Big Green Egg is perfect for large backyard gatherings or within suitable outdoor structures. Grilling burgers, steaks, whole chickens, rib racks, and other delicacies fit for a football team is easy with this cooking system.
The 2XL Big Green Egg's 29-inch or 74-centimeter-diameter is "small" enough to leave more room for party guests to enjoy mingling with one another. And if homeowners pick their suckling pig well, they could turn the Big Green Egg into a fire pit, perfect for roasting a whole piglet. Now that's a feast.
And because the Big Green Egg is a versatile cooking system, reunions will unleash a home cook's culinary genius. One can bake and stew delectable courses with Big Green Egg's gigantic cooking system.
Medium Dimensions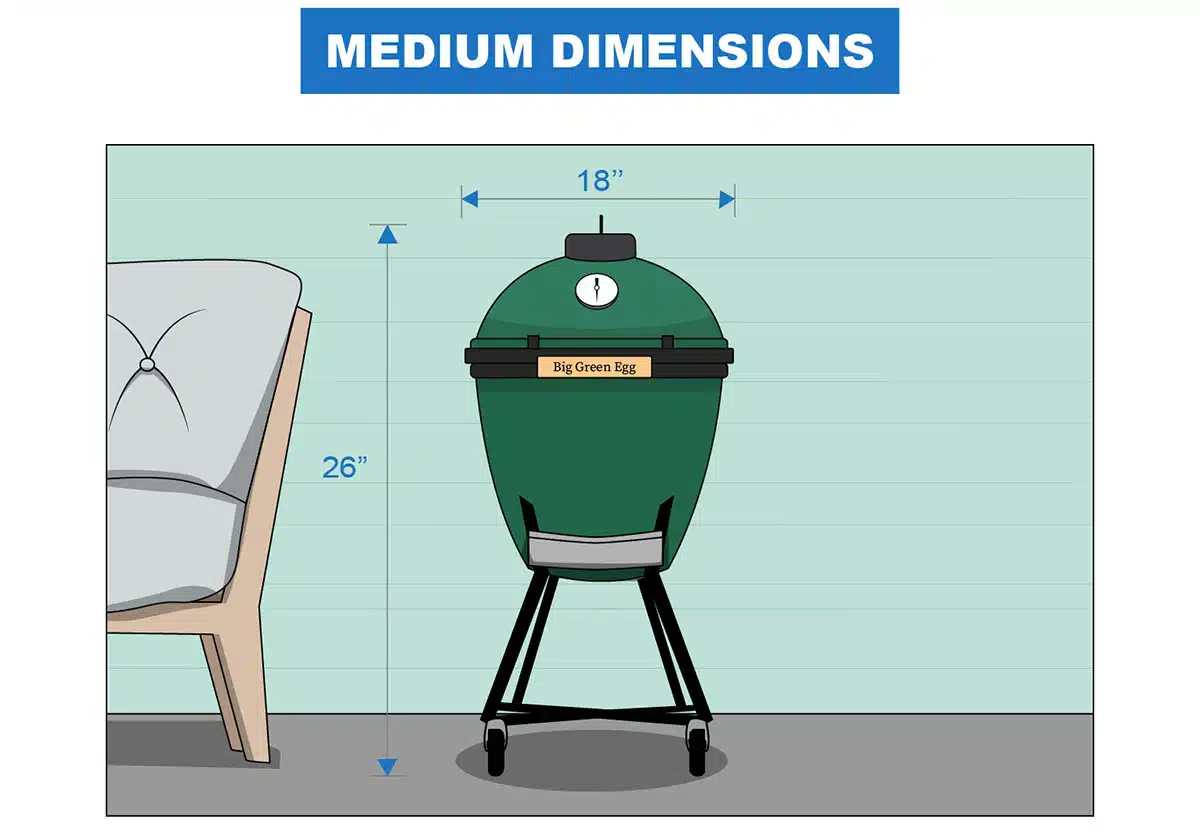 Width: 18"
Height: 26"
Grill diameter: 15"
Weight: 95 lbs.
Couples and families of three to four members will appreciate a medium Big Green Egg's space-saving design, advanced safety features, and unmatched cooking performance. This cooking system offers a 177-square-inch or 1.23-square-foot (about 1,140 square centimeters) grilling, baking, stewing, roasting, and smoking area. It is sufficient to make weekend backyard grills festive.
Families can enjoy an 18-pound Thanksgiving turkey with roasted potatoes, carrots, capsicums, and other veggies on the side. Alternatively, three whole chickens should be sufficient to satiate a festive appetite. And if couples need a more restaurant-quality dinner, four rib racks or steaks should fit nicely in the medium-sized Big Green Egg.
Six of the highest-stacked, multiple-patty burgers oozing with cheese and packed with greens can go under the medium Big Green Egg's dome. Cooks will never worry about reaching for the edges because this cooking system's diameter is only 15 inches or about 38 centimeters.
Small Dimensions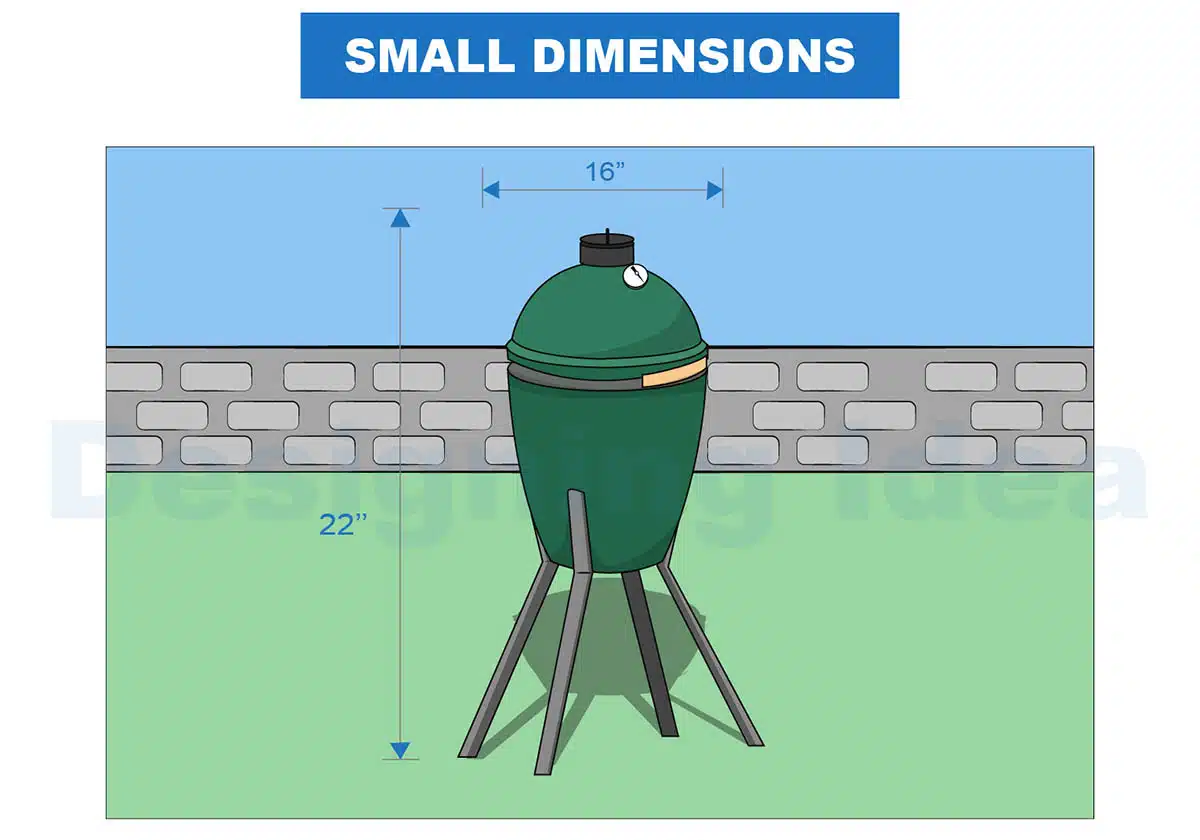 Width: 16"
Height: 22"
Grill diameter: 13"
Weight: 65 lbs.
Many restaurateurs pair the small-sized Big Green Egg cooking system with a larger-sized version (medium, large, XL, or 2XL) as a backup when orders start flooding the counter. Although small, this Big Green Egg still has the same cooking efficiency of its "bigger" brothers, making it as much an indispensable tool for small restaurants as it is in modern homes.
This grill system's 13-inch-diameter (33-centimeter) grid is excellent for families with small balconies and patios. The 133-square-inch (about 856 square centimeters) grilling, smoking, baking, and roasting area can accommodate enough food for a family of three.
A 12-pound turkey or chicken (yes, some chicken breeds can reach 15 pounds) should sit nicely under the small-sized Big Green Egg's dome. One can prepare a whole rib rack or two thick steaks for a sumptuous dinner. Kids and teens will also appreciate four wholesome hamburgers prepared by mom or they grill themselves.
Minimax Dimensions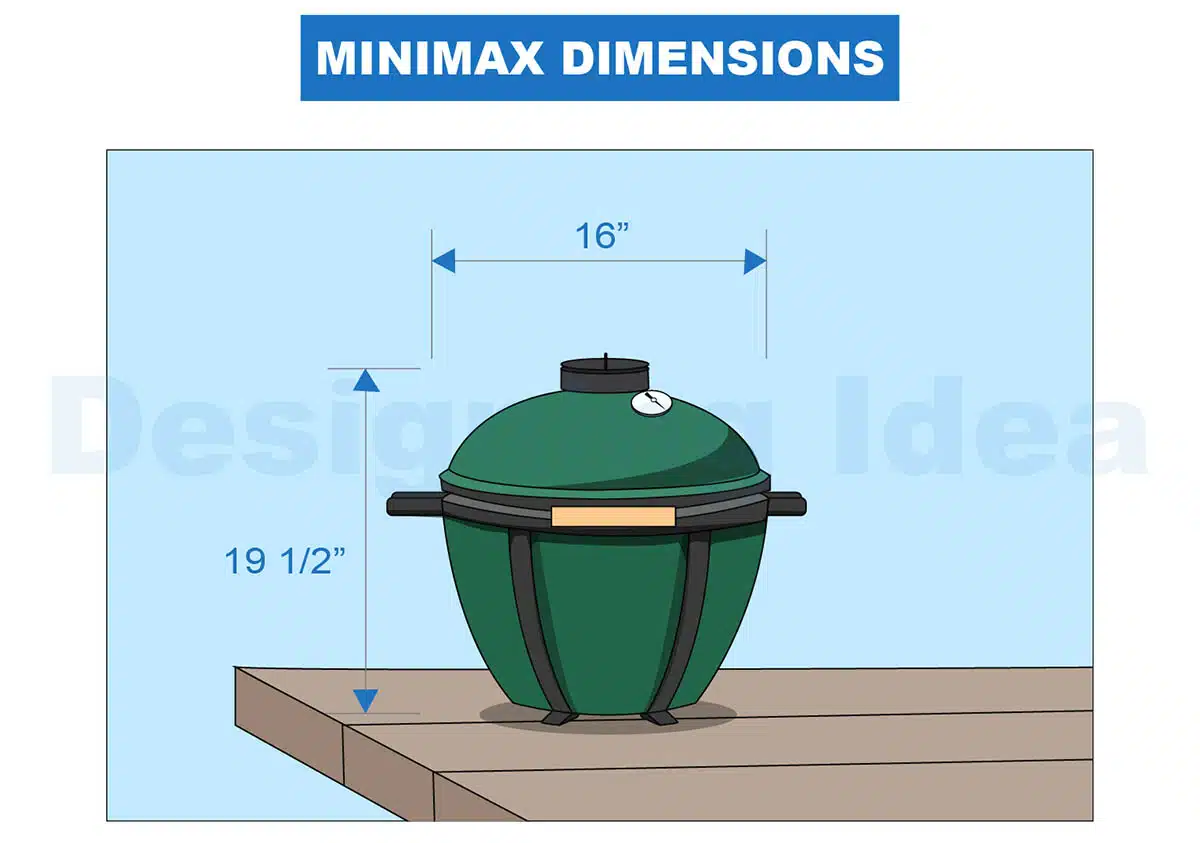 Width: 16"
Height: 19 1/2"
Grill diameter: 13"
Weight: 76 lbs.
Although the small-sized Big Green Egg is compact enough for picnic use, it does not have a carrying mechanism for portability. The Minimax Big Green Egg has. And this makes the Minimax the ideal grilling, roasting, baking, smoking, and stewing station for picnickers, boondockers, tailgaters, and other outdoor enthusiasts.
The Minimax Big Green Egg has identical dimensions to the small-sized version. It only requires about 13 inches of space on all sides to accommodate its 33-centimeter diameter. Cooking a whole chicken or 12-pound turkey is never a problem with the Minimax's 133-square-inch cooking surface.
An integrated carrying platform differentiates the Minimax from other Big Green Egg variants. This design element makes the Minimax ideal for parties held near swimming pools, ballgames, camping, and other outdoor adventures.
It has the same world-class quality construction and thoughtful design as its "larger" brothers, making the Minimax ideal for all families cooking needs regardless of size.
Mini Dimensions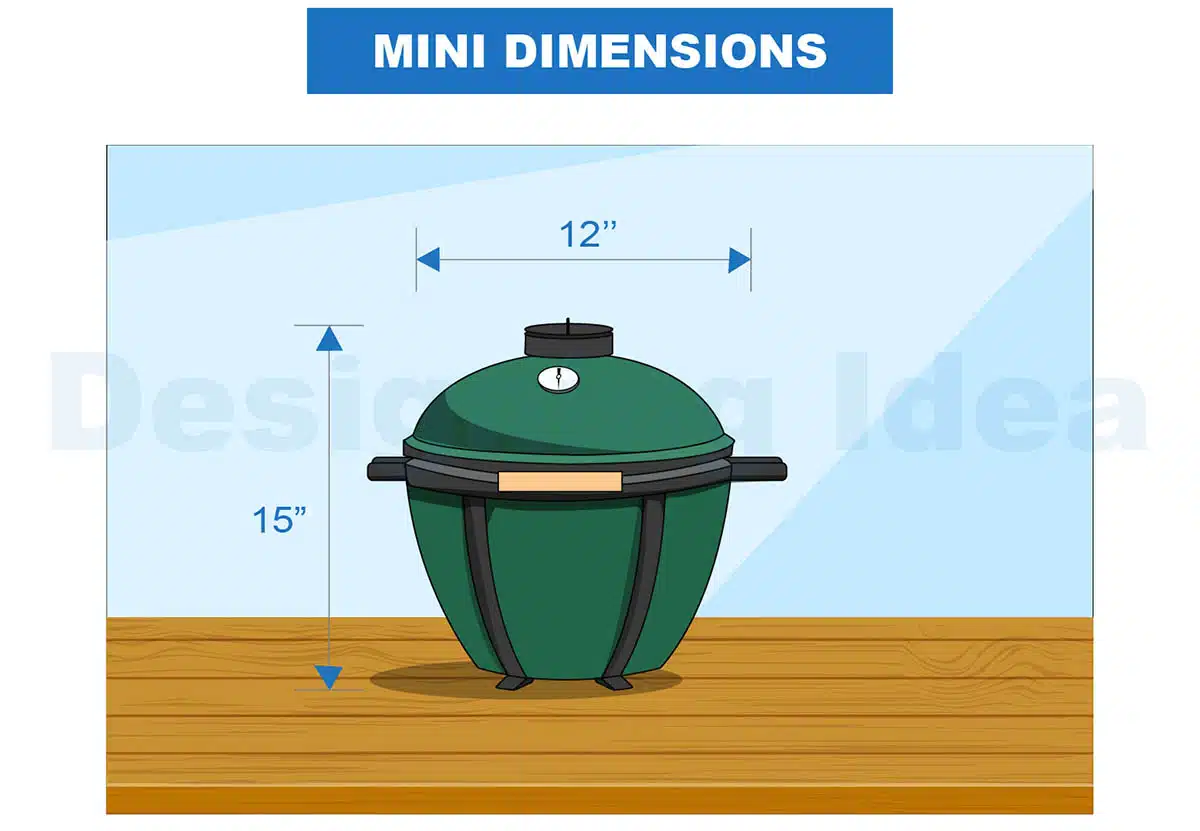 Width: 12"
Height: 15"
Grill diameter: 9.5"
Weight: 30 lbs.
Although the tiniest of the pack, the mini Big Green Egg is as feature-rich as its larger brothers. Its 10-inch diameter (25 centimeters) is enough to fit at the back of the car and slide under a dorm bed.
The Mini EGG allows singles, dormers, and even couples to cook two delicious chicken breasts or succulent pork chops for a feast. A nice slab of steak should also sit nicely on its 79-square-inch or 507-square-centimeter cooking area. Veggies, delis, and other foods can also receive stunning grill marks under the hood.
Big Green Egg Weight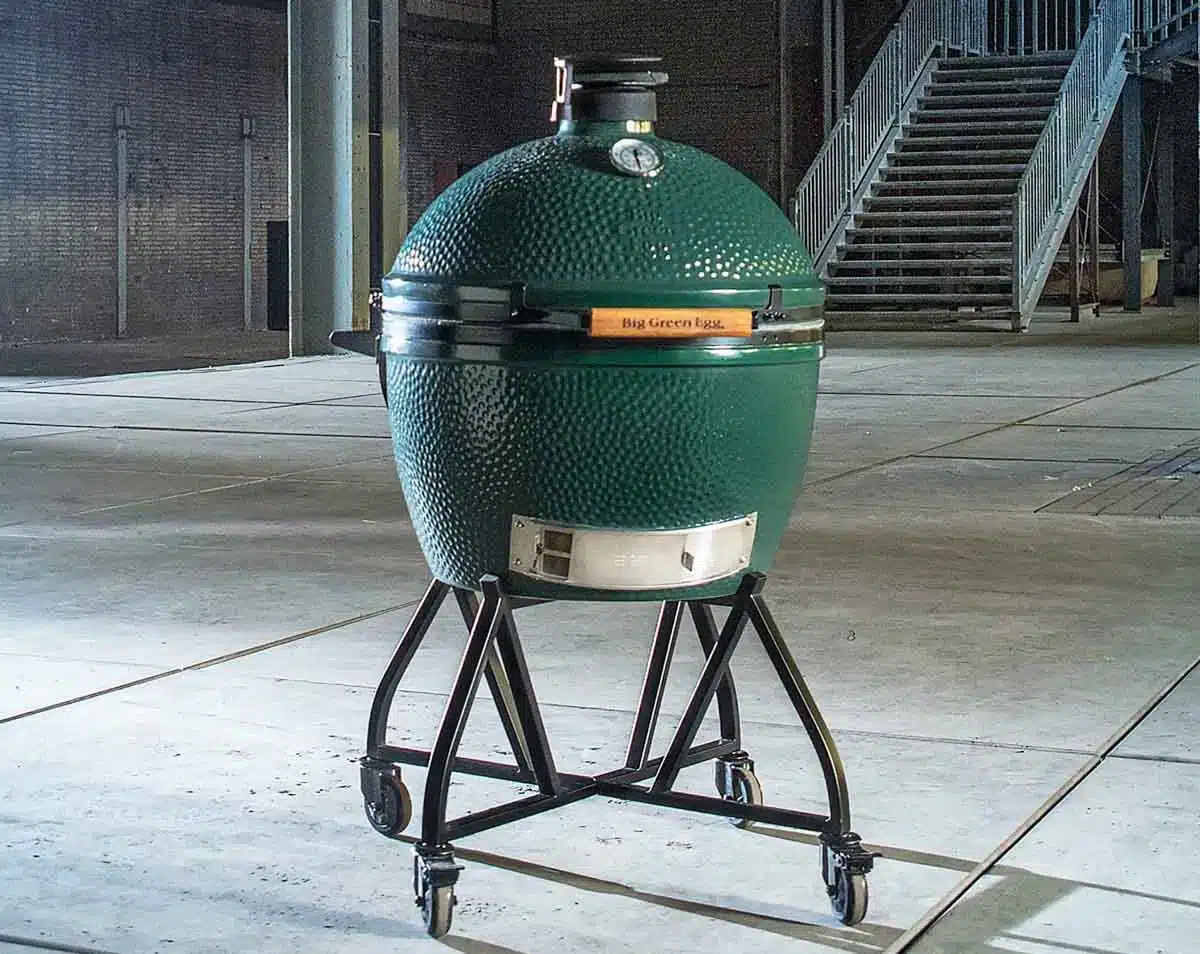 See this green grill base at Amazon [sponsored link]
Unsurprisingly, the 2XL Big Green Egg is the heftiest version at 375 pounds or 170 kilograms. And although the Small and Minimax Big Green Eggs have identical dimensions, the latter is lighter at 76 pounds (35 kilograms) compared to the Small EGG's 80-pound (36-kilogram) heft. Of course, the lightest is the Mini EGG at 39 pounds or 18 kilograms.
A medium-sized Big Green Egg tips the scale at 114 pounds (52 kilograms), while the next size weighs 162 pounds (73 kilograms). These units are still lighter than the XL Big Green Egg's 219-pound (99-kilogram) heft.
What Size Big Green Egg Do I Need?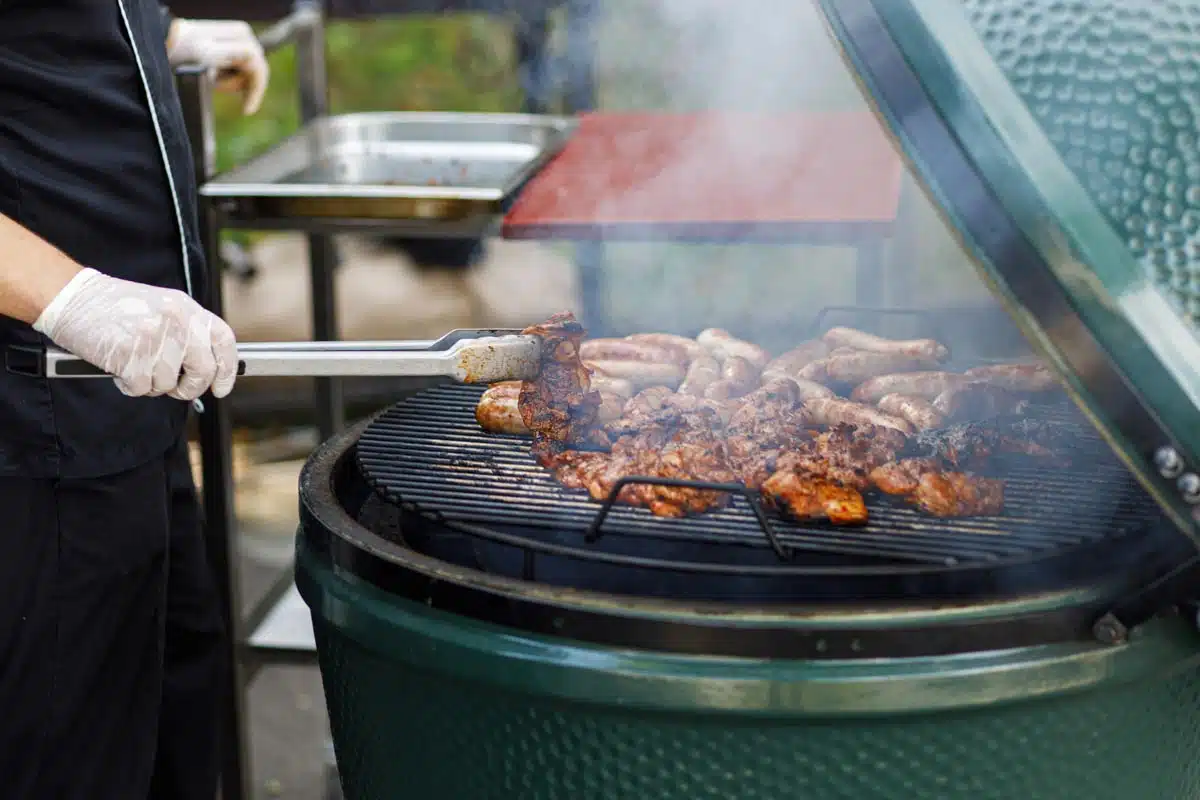 Most families pick a medium- or large-sized Big Green Egg, while commercial establishments often go for the 2XL. However, it is not uncommon for some households to have several Big Green Egg units.
For example, a family might have a large EGG for backyard fun and a MiniMax EGG for camping and tailgating. They might also send a mini EGG to their child in college.
A rule to observe is to get an EGG one size larger than the average amount of food cooked. One can always cook with a larger EGG. Cooking large quantities of food in a small EGG can be challenging. There are also many eggcessories or products available, such as elevated baskets and expanders for multi-zone cooking to allow for direct and in-direct cooking.
See more related content in our article about grill dimensions on this page.