Welcome to our gallery of backyard palapa ideas including a variety of design styles.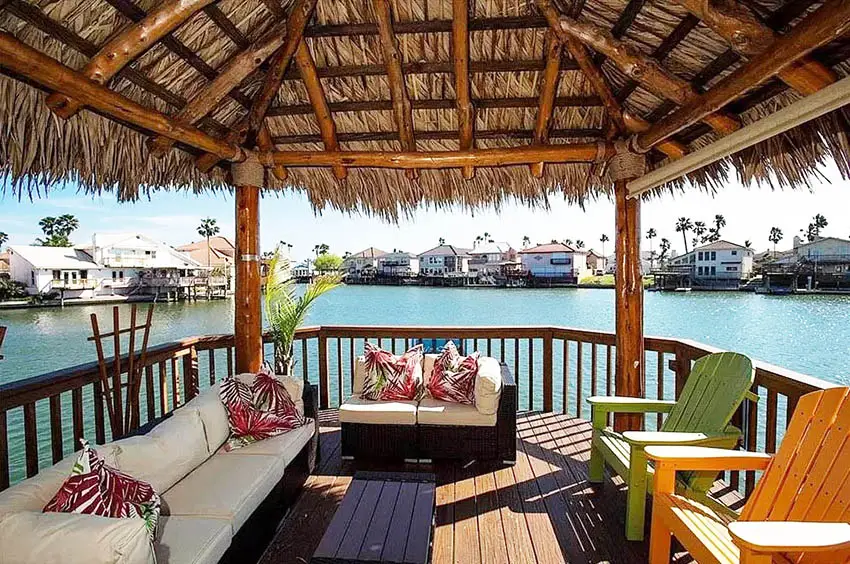 Palapas are now frequently used in backyards as a covered area to a relax and hang out. Putting them in backyards of residential areas brings back memories of those who have spent time in palapas while at a resort on vacation.
What is a palapa?
A Palapa is a building that is open on all sides. These are typically small and are made of natural materials. While they are usually small, they do not have to be, they could be super intricate in some cases.
Palapas have a roof that is made from dried palm leaves, and natural poles holding the roof in place. The leaves are thatched together to make the roof.
This makes the building extremely suitable for warmer weather and locations. Areas such as Western Mexico, Florida, Texas and California are the most common for backyard palapas to be built.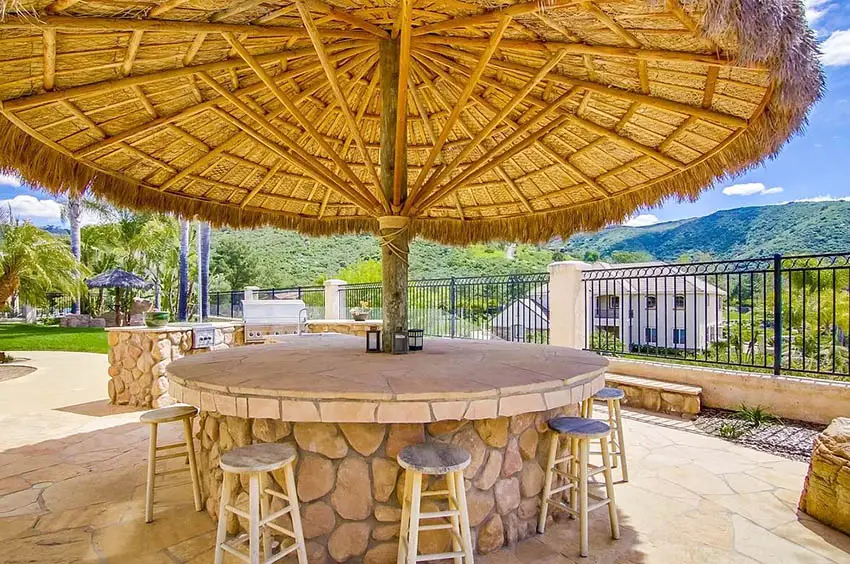 The word palapa comes from the Spanish word 'tagalog' which means 'petiol of the palm leaf, which as mentioned above is a great description of the palapa. As the origin of the name may suggest, the palapa is common on the beaches and deserts of Mexico and is an important architectural element in the Western Mexican cultures.
How much does a palapa cost?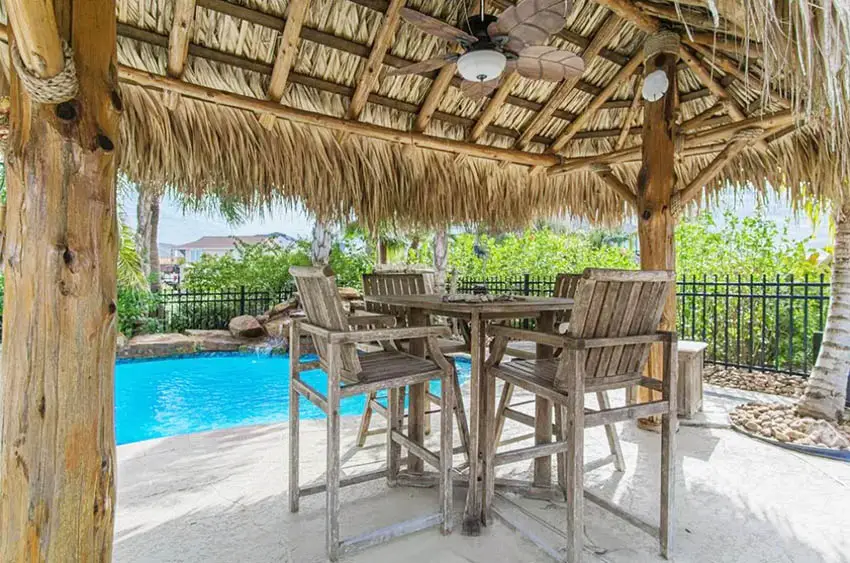 Depending on the size, shape and materials for the palapa, the do not need to be ridiculously expensive, but can be more elaborate and rack up some extra dollars. On a standard scale the palapas can range from $750 to $5000.
On a custom scale in certain locations they could run from $2000 to $50,000. Upgrades could be anything from custom staining or coloring, type of roof thatching, how many posts are needed to hold the roof up, etc.
Additionally, there can be different supports that may be needed or furniture accessories that may be wanted. The size of the palapa determines how many supports it will need. These can be made of wood, metal or any other material that you so desire. This selection determines the pricing. With wood supports you have the option of getting different carvings or engravings on it to spice the environment up a little bit.
As a way to save a few bucks, getting local materials can save on shipping costs and also are better for the environment. Other ways to save money is to shrink the size or remove some of the added luxuries. Different unique qualities can be removed to keep the prices down.
How to build a palapa roof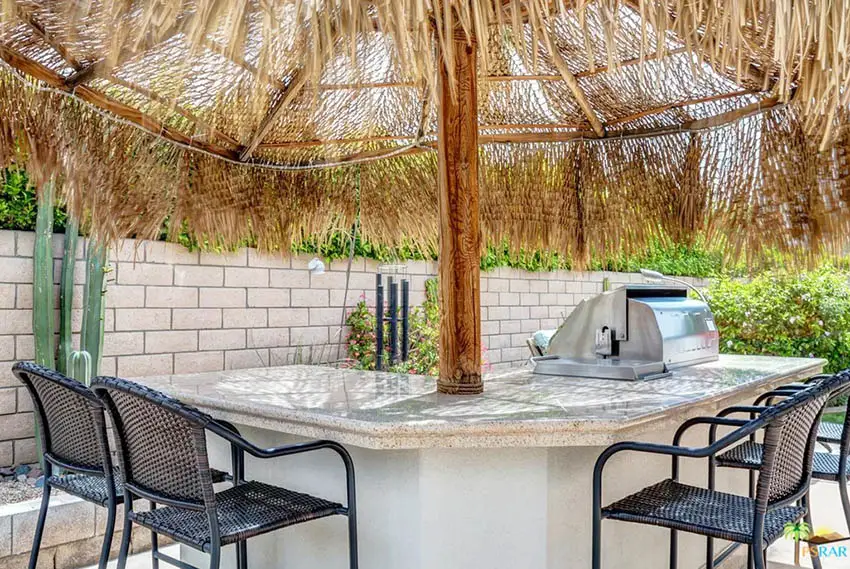 Building a palapa roof requires the action of thatching the roof. Thatching is a fancy word for weaving palm leaves together. This does not only need to be done with palm leaves, but there are many different types of plant leave the thatching process can be done with.
There is a special tool to use called a legget, which is sort of a spade that helps weave the leaves together. Once they are all put together the edges are to be trimmed into a straight or wavy pattern as desired. The tighter and better the weave means the more durable the roof is going to be. The more layers that are added also add to the durability and longevity.
Often the first level is the first to deteriorate, so that layer can be later removed and replaced. This is done in the same way that the rest of the roof is made.
How long does a palapa roof last?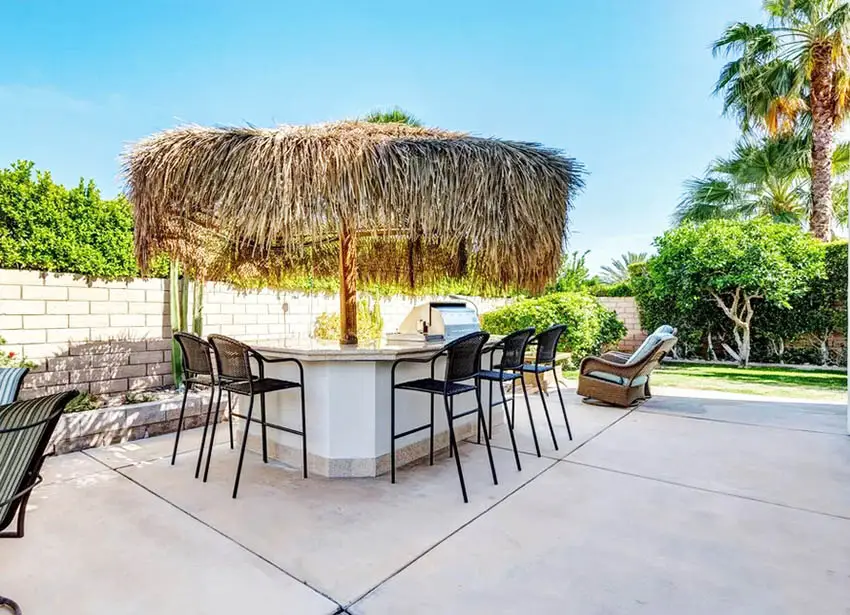 Most palapa roofs can typically last anywhere from 4 to 10 years. The weather and overall environment changes the life of the palapa roof. The level of craftsmanship and quality of the materials is also a large factor of the lifetime of the palapa roof.
Humidity, along with rain and wind bring a great deal of wear and tear to the palapa roof, therefore sending it to the lower end of the lifetime wheel. A lot of the time the lop layer is the worst off and can be the only part that is replaced, giving it a longer time to live. Taking care of them and cleaning the roof and supports as needed also make a huge difference when it comes to the length of life on the buildings.
Certain products, such as African Reeds last typically about 5 to 12 years, while Mexican Palm lasts about 2 – 8 years, and Tahiti is about 5 to 10 years. There are also versions of a palapa roof that are synthetic that have the capability of lasting for 20 or more years.
For those who want a more permanent roof structure a backyard pavilion with a solid roof may be a better investment.
Palapa Designs
There are many different palapa designs to choose from. One of the more popular ideas include structures built above a swimming pool to provide shade on hot days. Another idea is to use a palapa as a tiki bar for entertaining guests.
One thing is for sure is that a palapa can give your backyard the tropical ambiance you want for your outdoor space. – interior designer Savannah
Here we share our gallery of some of the best backyard palapa ideas.
Palapa covered porch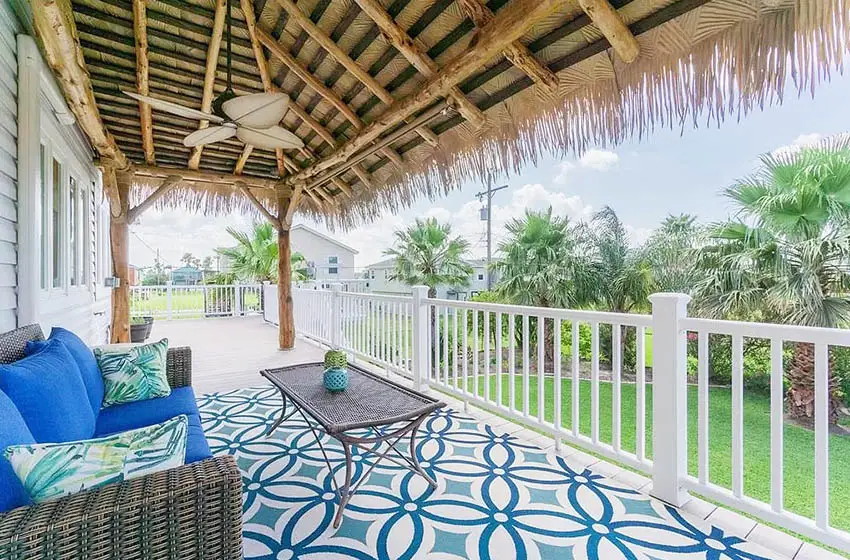 Palapa with hanging string lights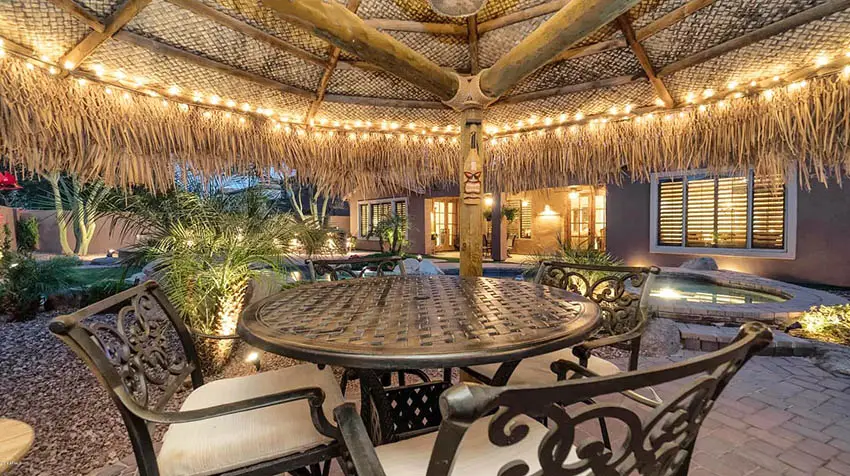 Backyard palapa with bar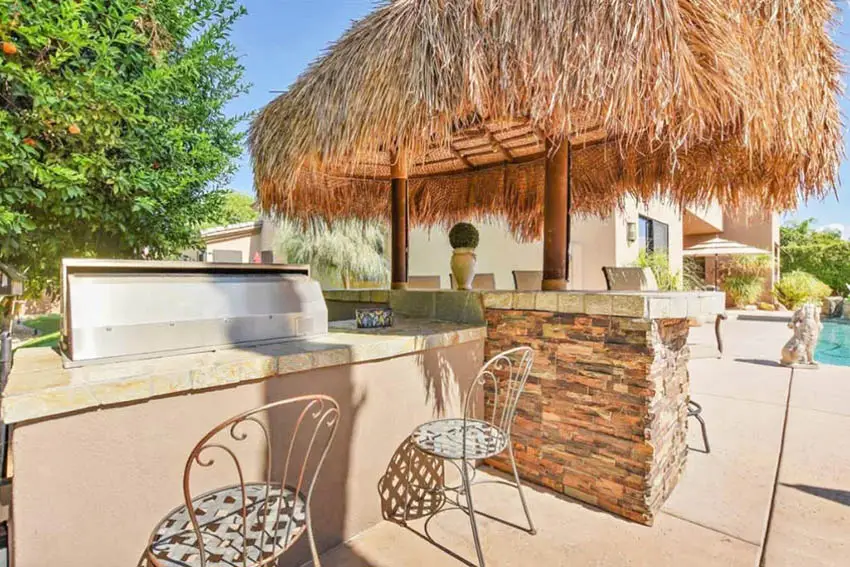 DIY backyard palapa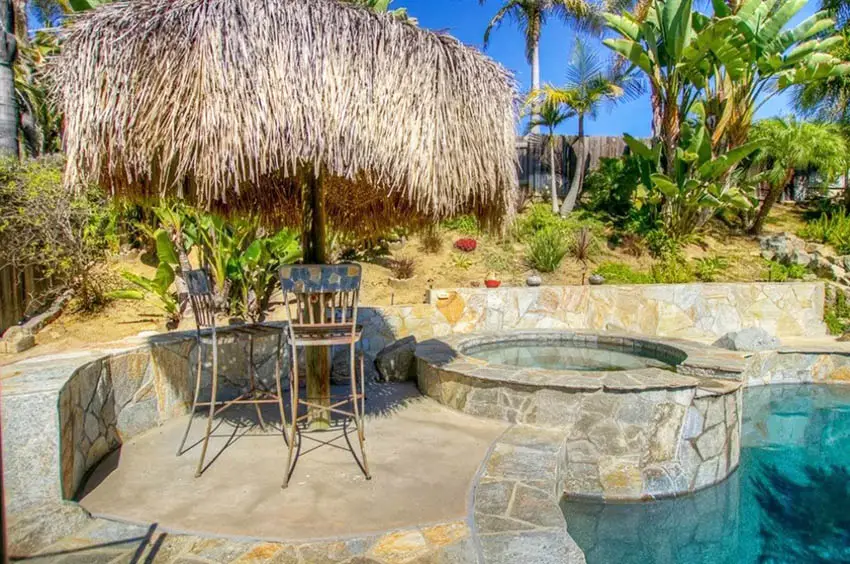 A DIY palapa can be constructed using a kit or by purchasing a bamboo pole and dried palm leaves to create your own design.
Backyard palapa kit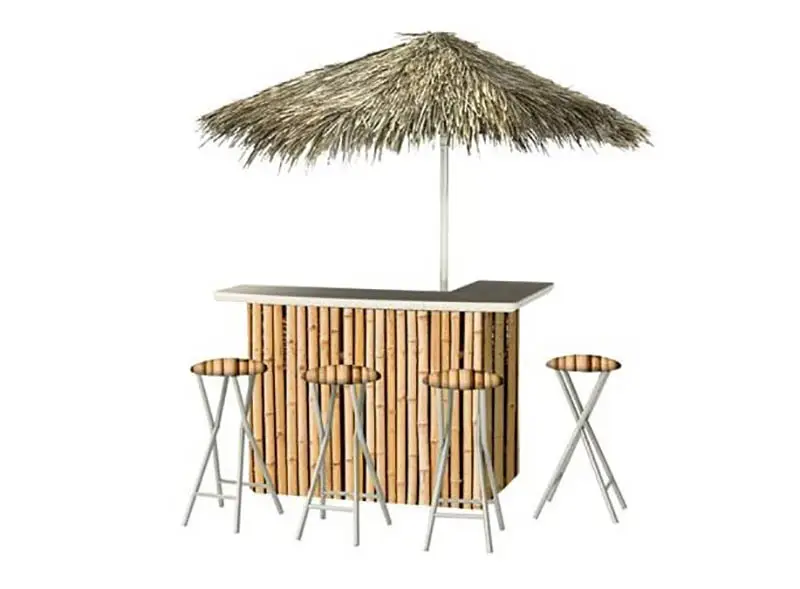 See this palapa kit on Amazon
Palapa with curtains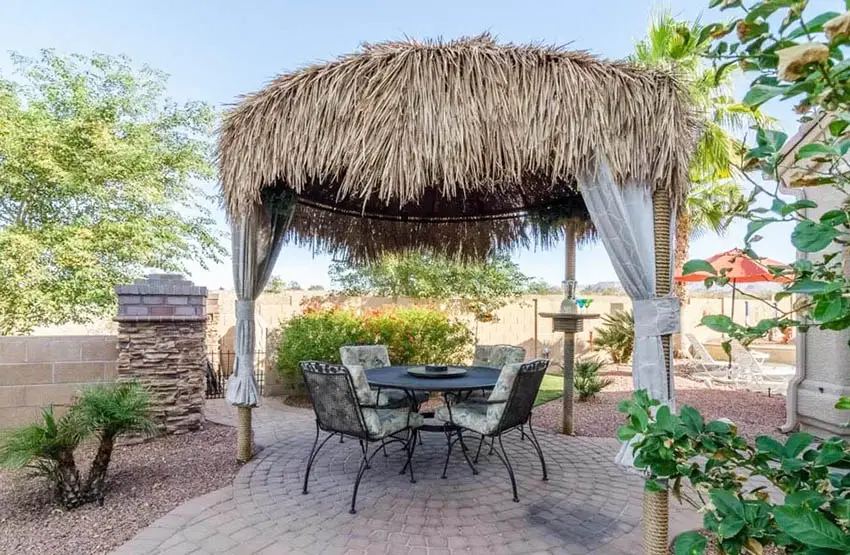 Swimming Pool with palapa and outdoor kitchen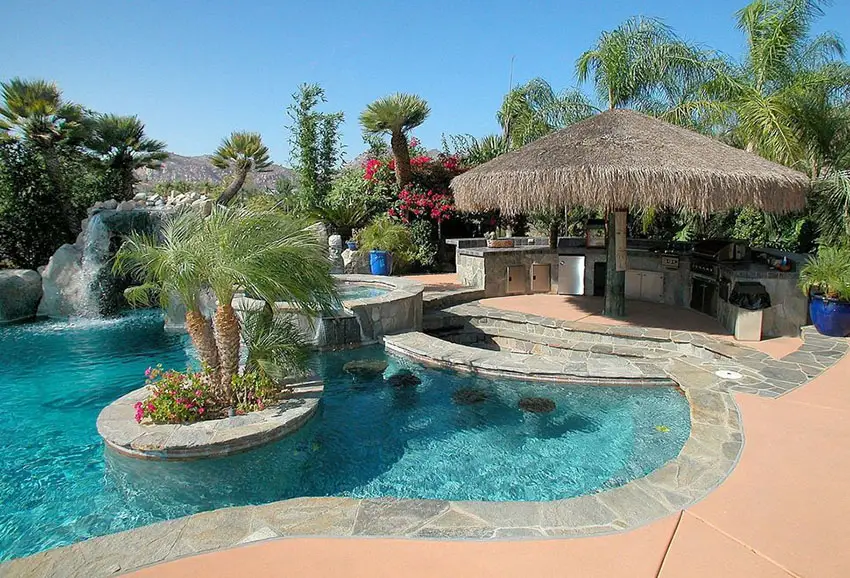 Rustic palapa with swinging bench and ocean views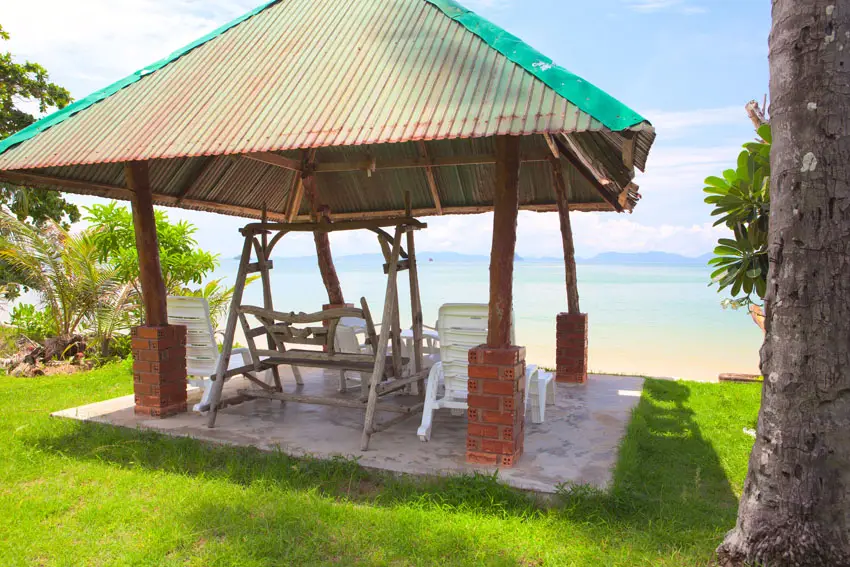 This rustic structure is more like a gazebo design. However its wood structure could just as easily be thatched to get the same effect.
Palapa by the pool next to sun tanning island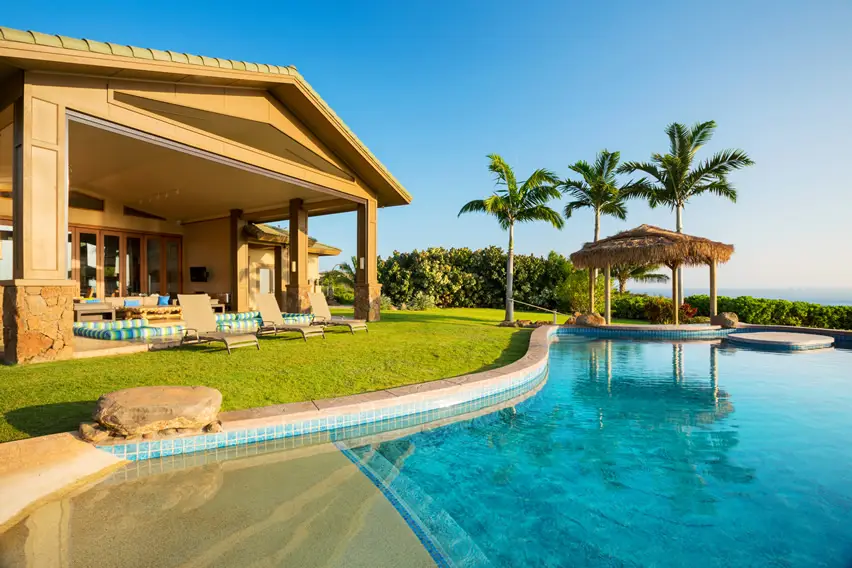 Hot tub palapa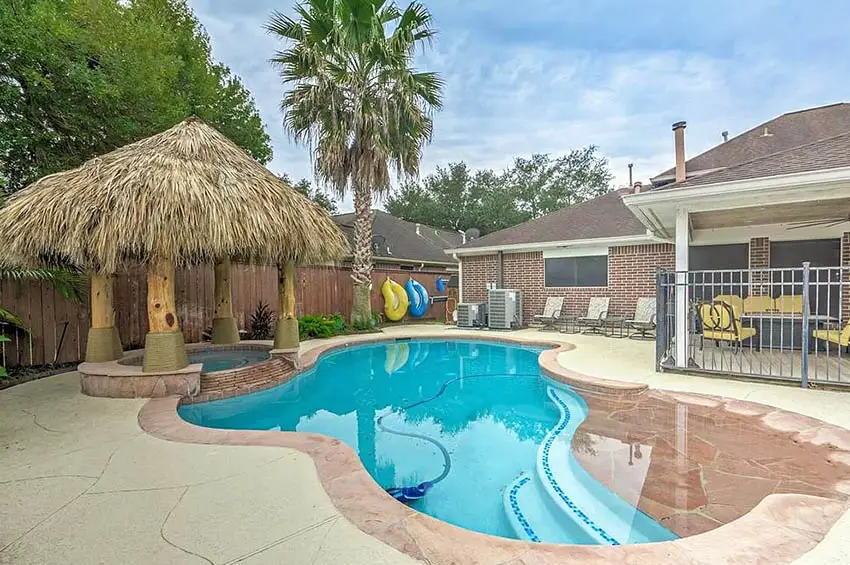 Pool palapa with water feature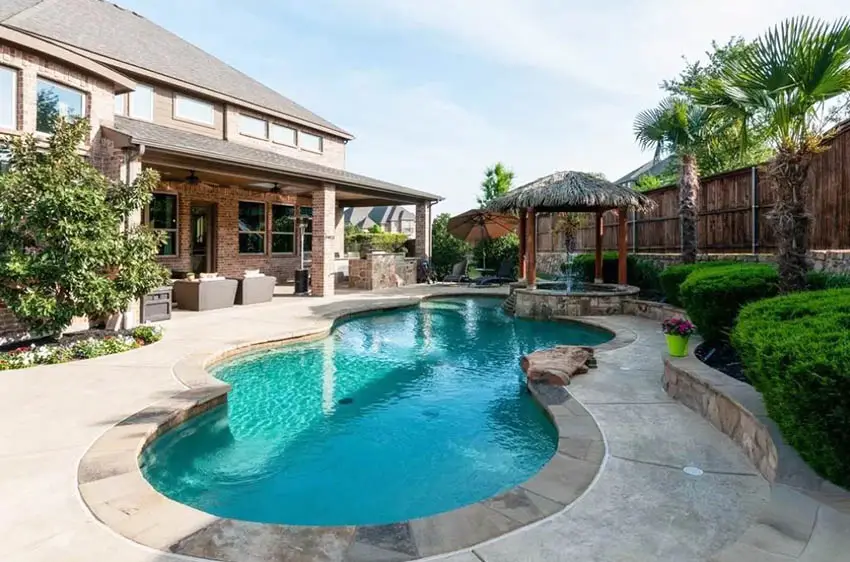 Pool palapa with concrete garden block base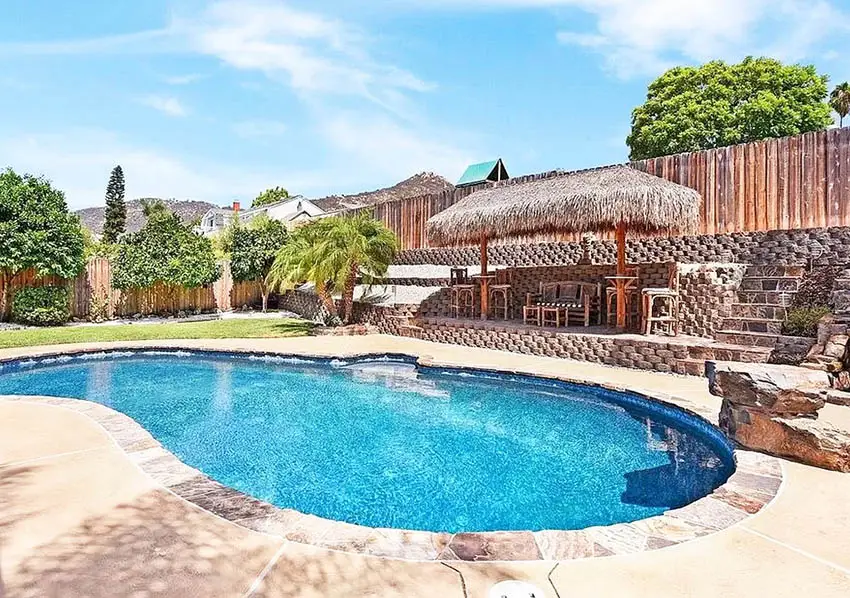 Palapa with seating for two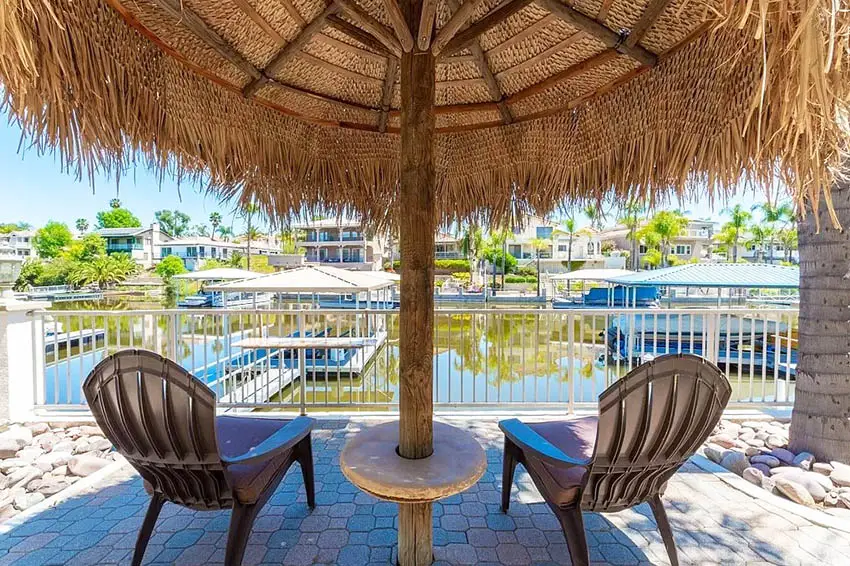 Large backyard palapa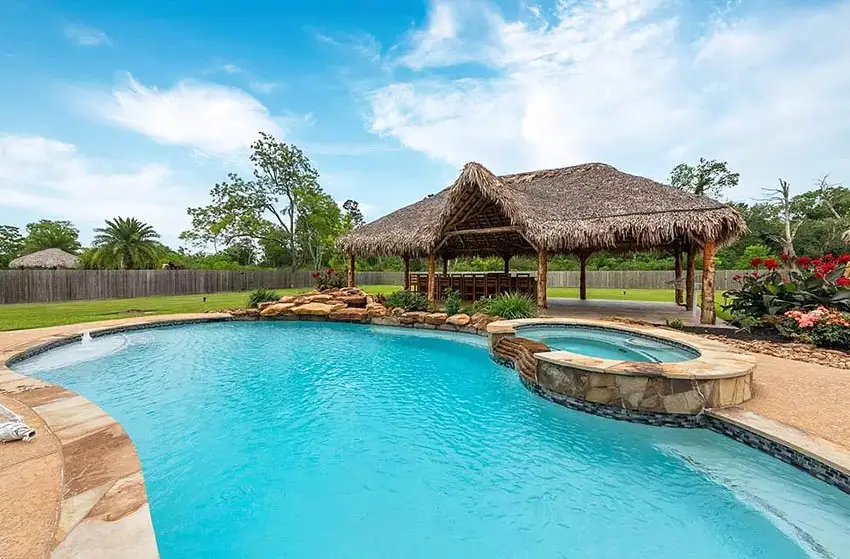 Pool palapa island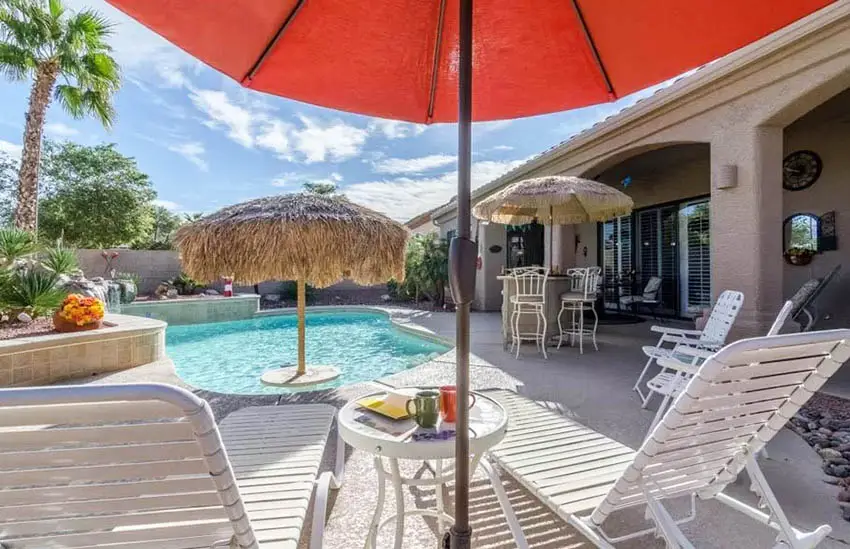 Palapa dining table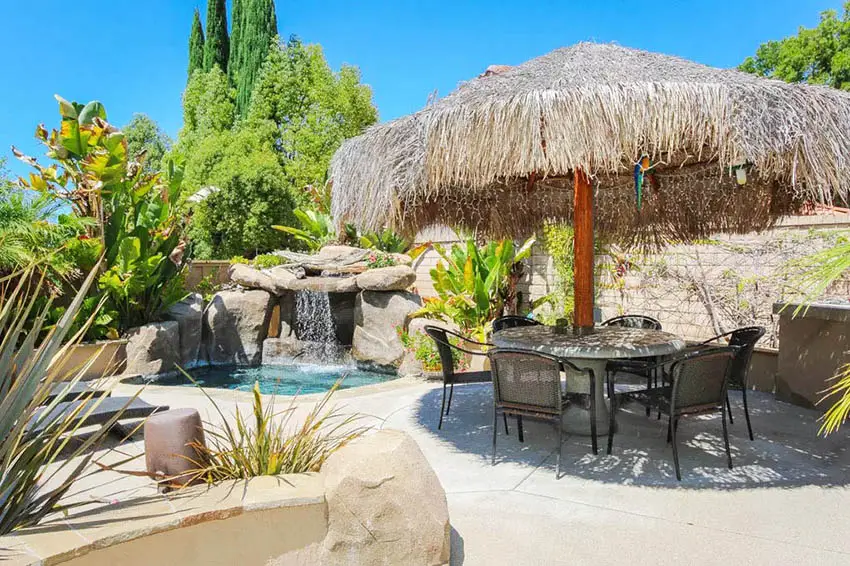 Palapa with full outdoor kitchen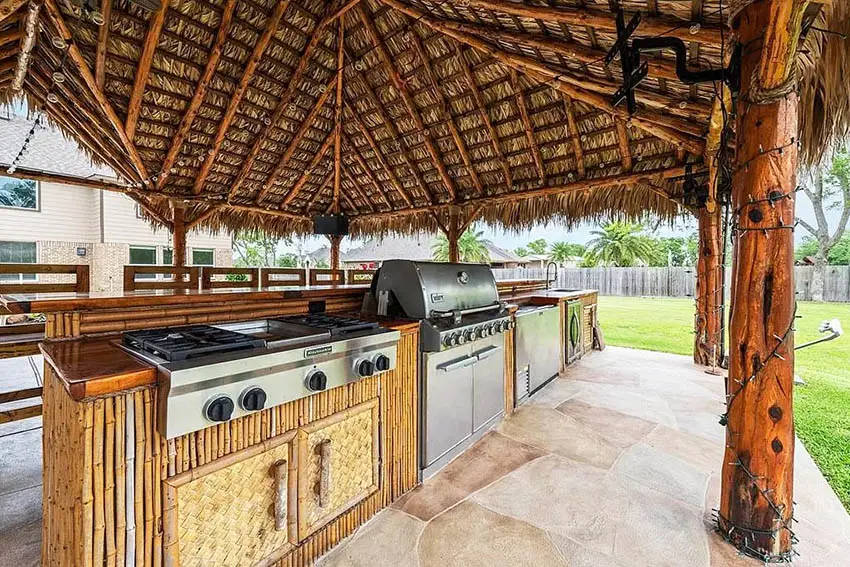 Palapa outdoor kitchen with lighting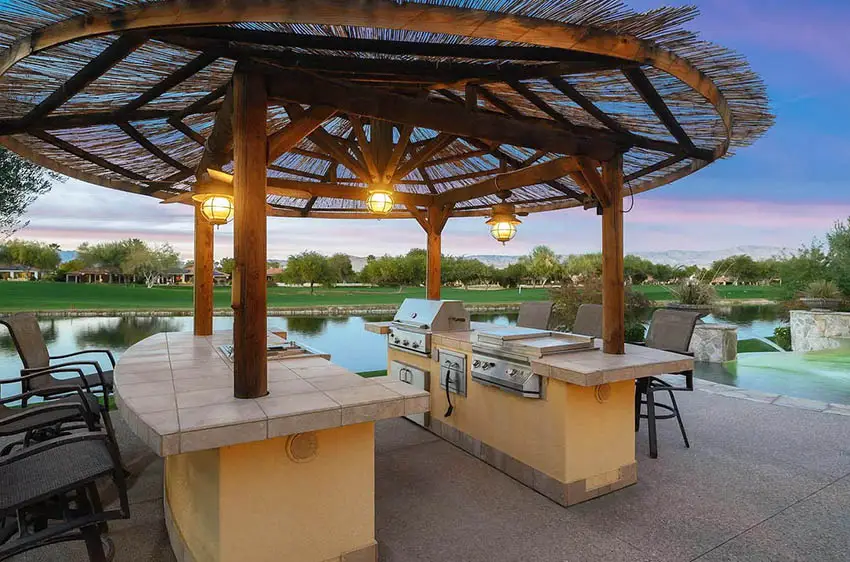 Backyard playground with thatched palapa roof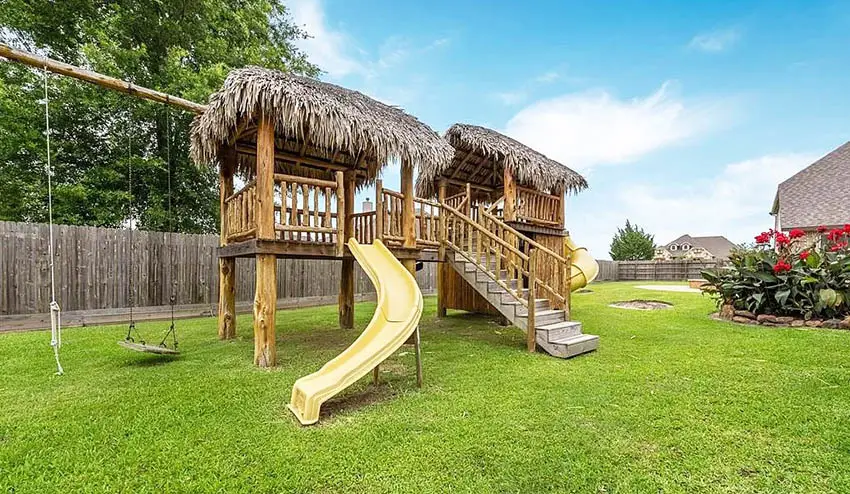 Tiki Bar palapa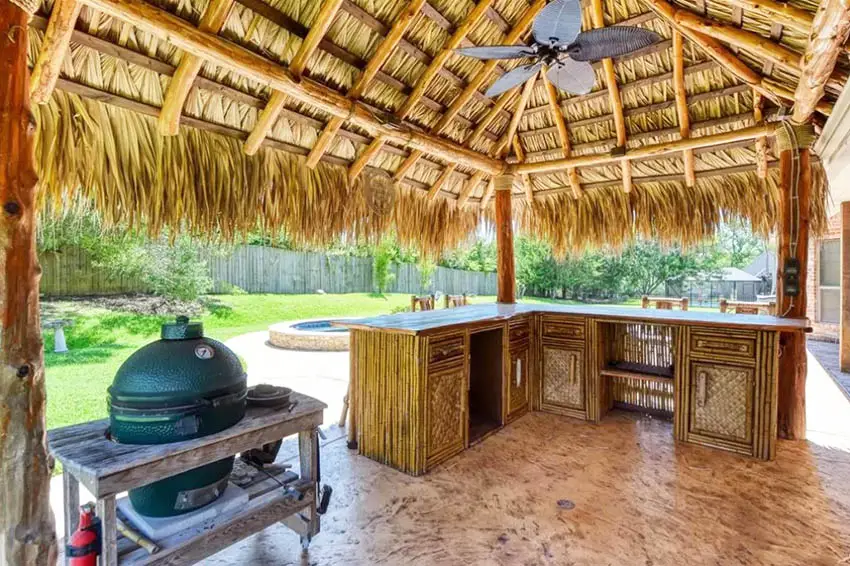 Palapa bar with grill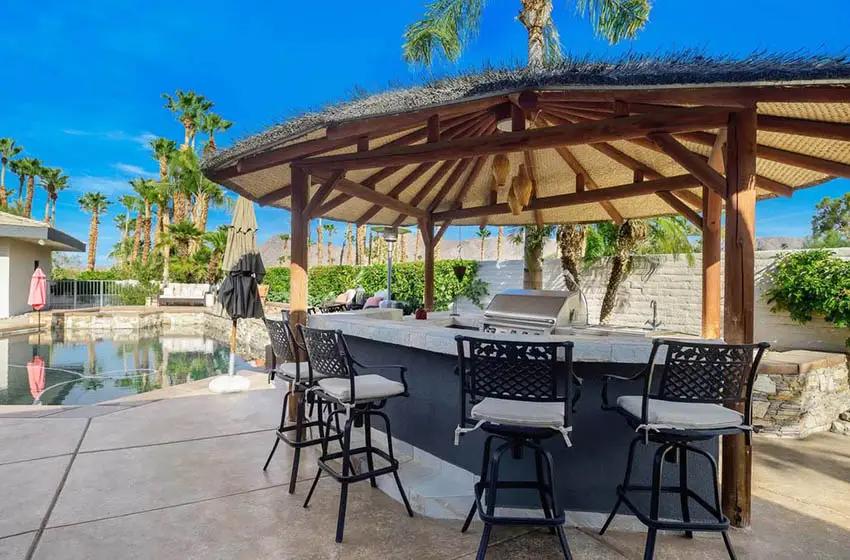 Stone bar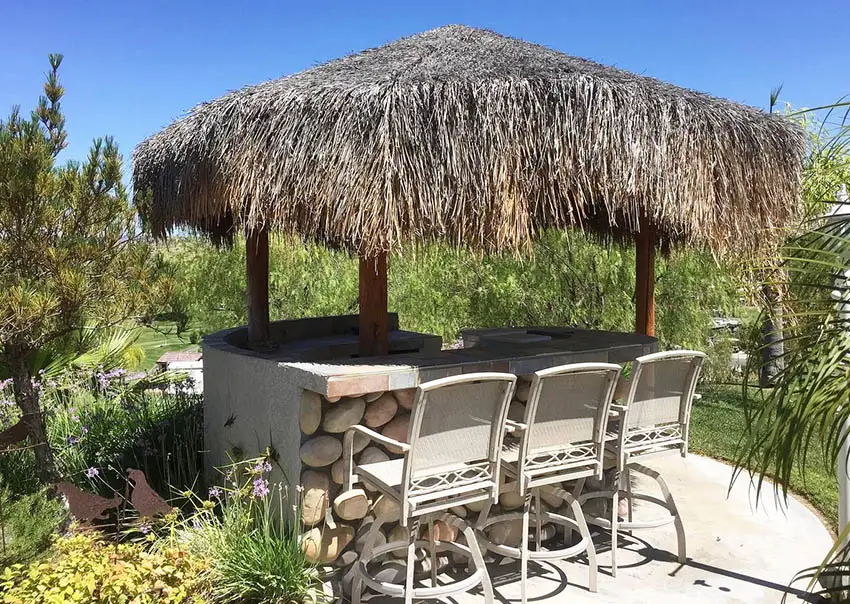 Large pool patio palapa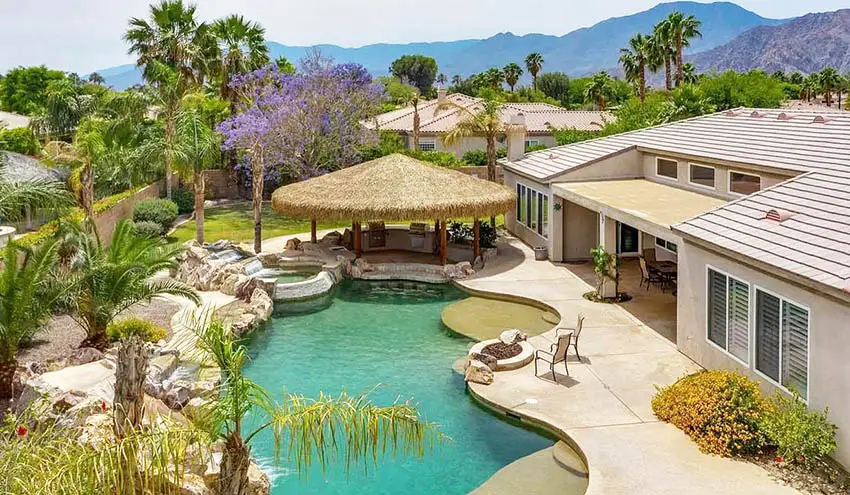 Palapa with deck next to travel trailer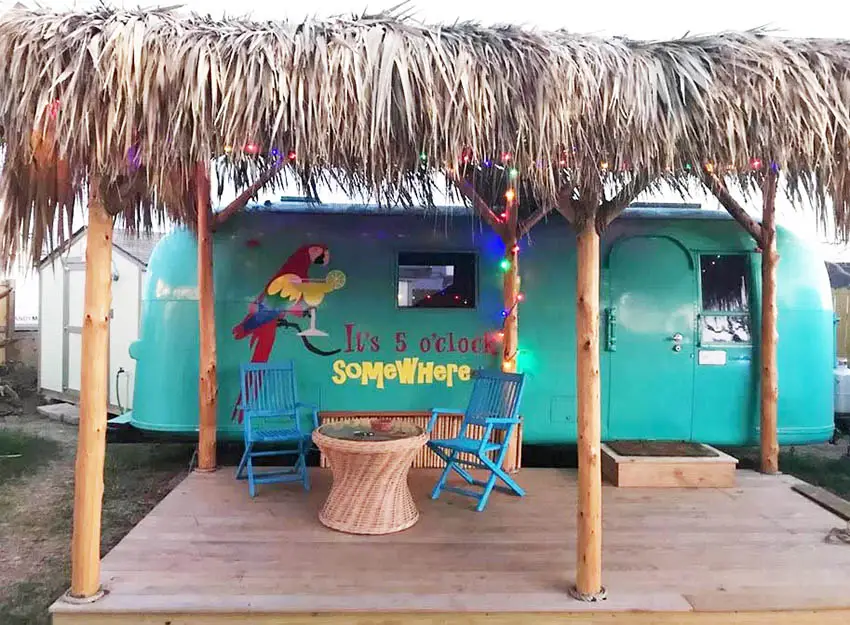 Palapa with fire pit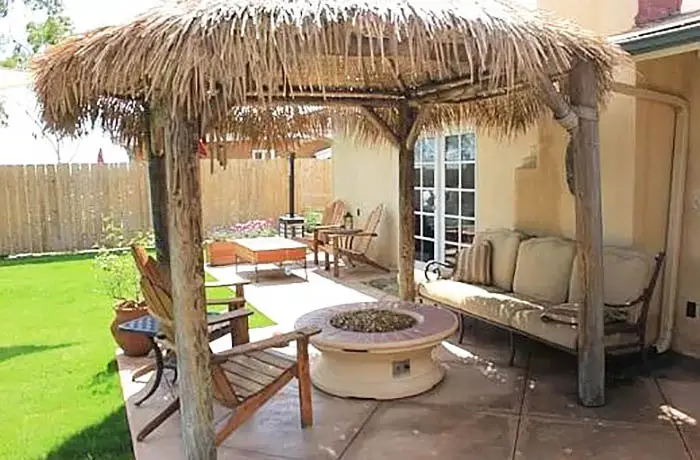 A fire pit can be a great place to gather during the day or night. See more pergola fire pit designs here.
Pool palapa with hammocks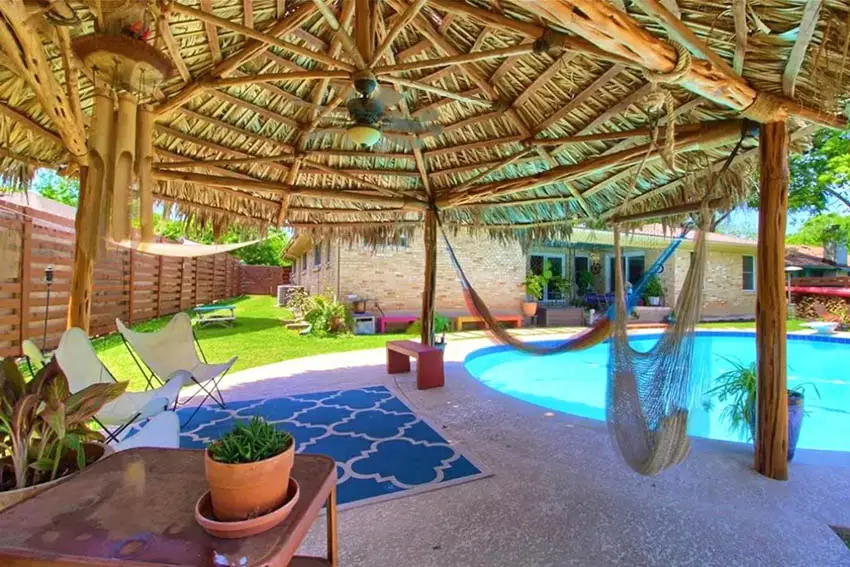 Small pool palapa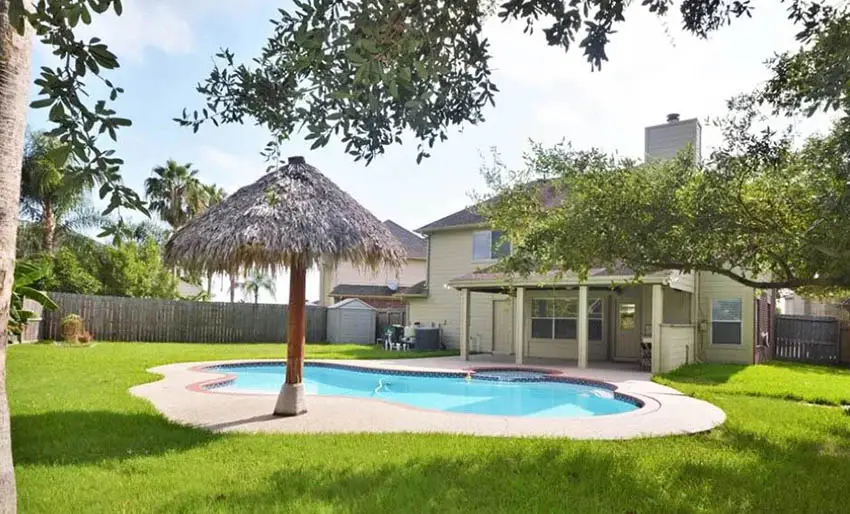 Single pole palapa with wood sitting deck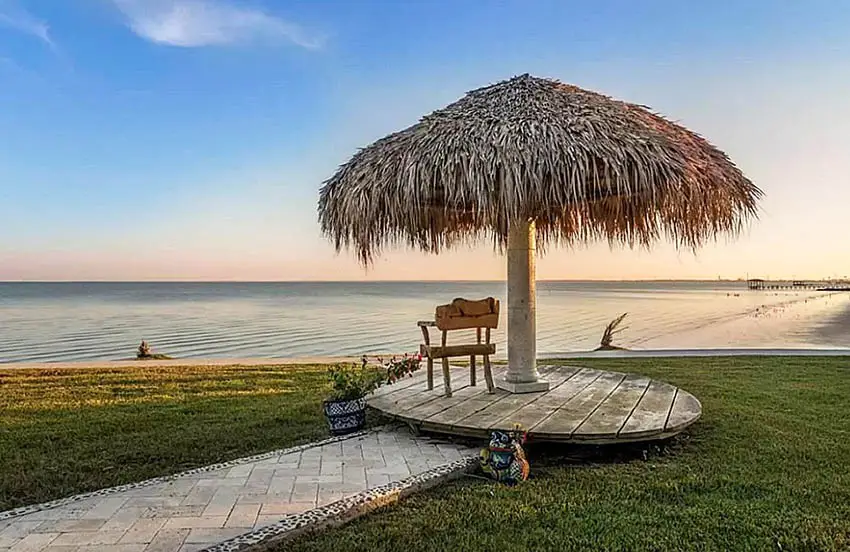 Palapa on wood bridge
For another related gallery check out our beautiful pergola ideas here.