Below we share our gallery of barn door kitchen island ideas including custom, pre-made and DIY designs.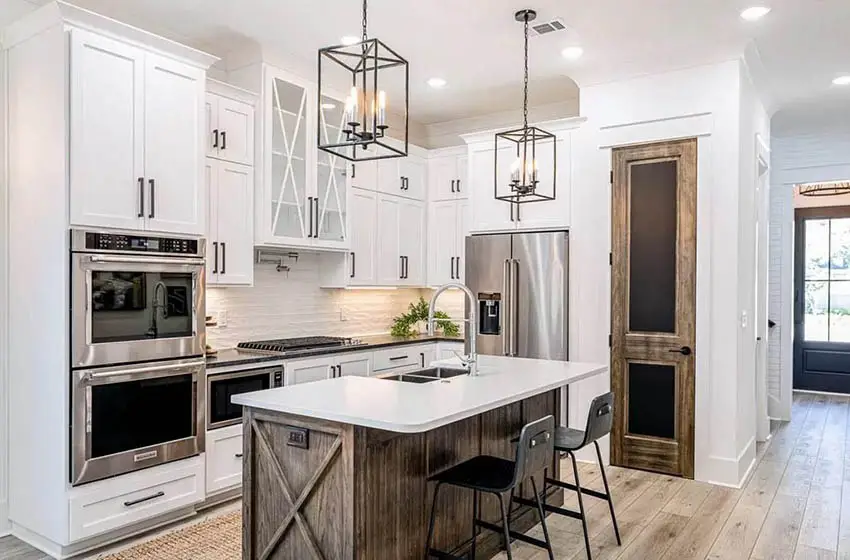 We often see barn doors be repurposed as entry doors, or doors dividing 2 rooms in a space. They're often installed as they add a rustic look to any space, are very sturdy, and can easily become the conversation piece in any space. Barn doors are usually retrofitted into heavy duty sliding hardware, and are installed in place of regular sliding doors.
Not everyone has the luxury of space to install a sliding barn door, however. And some people would prefer to keep their existing doors, especially if they're still functioning perfectly. But if you still want to have that rustic wood element in your kitchen, without having to divide take down any existing doors, widows or walls, how about getting a kitchen island with sliding barn doors?
For the kitchen pictured above, the barn door was repurposed into a built-in kitchen island topped with proper white solid surface countertop and installed with a sink. The antiqued wood finish of the barn kitchen island stands out nicely against the white walls and the white kitchen cabinets.
Kitchen Island with Barn Doors
Kitchen islands with reclaimed wood are often repurposed from barn doors, and keep the same finish and look as the doors you see in the countryside. This way, you are still able to pull-in that rustic country element into your kitchen. There are many ways you can do this for your own kitchen:
Use the barn door wood as cladding for existing kitchen islands – this is the easiest and most cost-effective.
Purchase a ready-made barn door kitchen island – many retail websites sell freestanding kitchen islands in a variety of finishes and sizes. You can even choose one with casters for easier mobility.
DIY kitchen island – if you have DIY skills and the right equipment, you can make your own kitchen island from your own barn door materials and design it to your liking.
Here are some examples of kitchen islands with barn doors.
White Barn Door Kitchen Island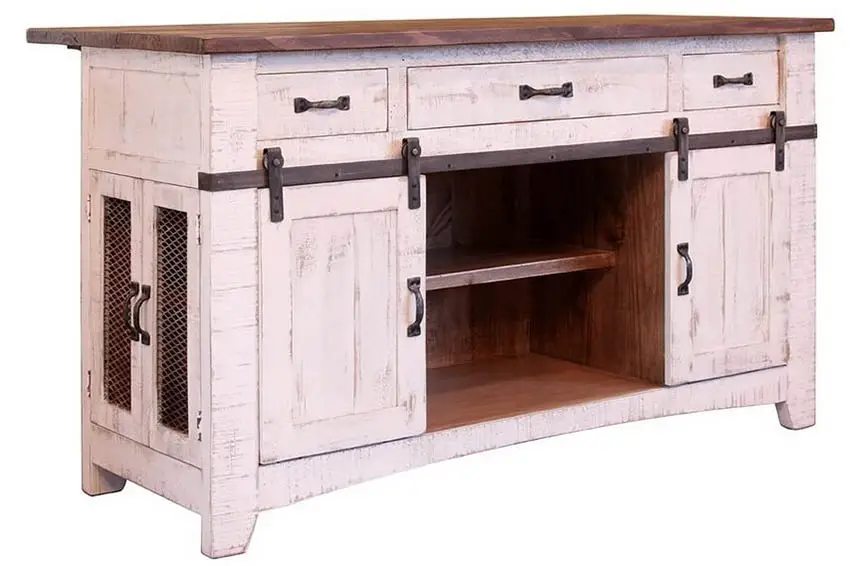 White kitchen island with sliding barn doors – Source
You can also buy ready-made freestanding kitchen islands with sliding barn doors. This door has a weathered white wash paint, and the classic exposed sliding hardware for the sliding barn doors. The sides also has cabinet doors with chicken wire screen, giving it a more industrial feel. Additionally, the raised leg design makes it look more lightweight and less bulky. See more country kitchen cabinet designs here.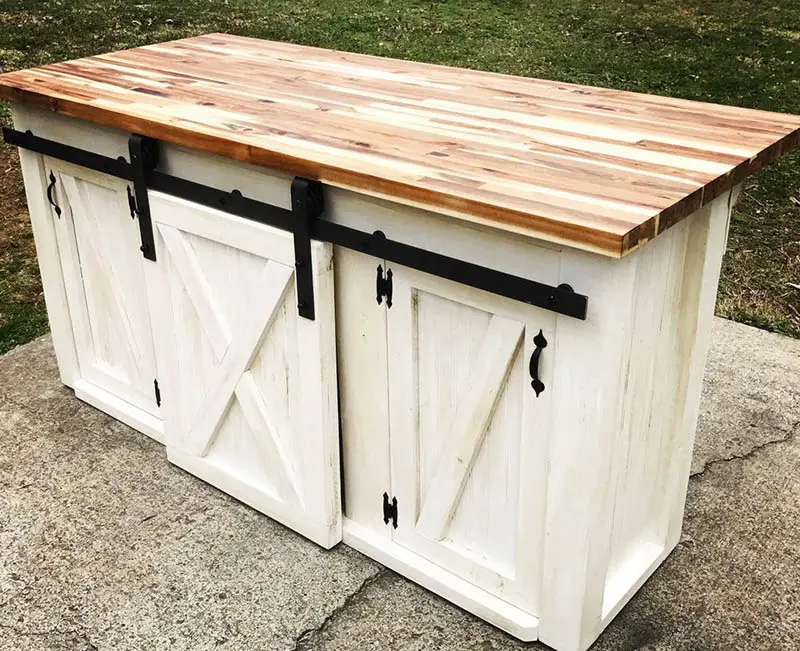 White kitchen island with butcher block top – Source
This is another sliding door with a weathered white paint finish. This design uses black hardware to make it really pop against the white carcass. For the countertop, a butcher's block in natural finish was used for a truly rustic look.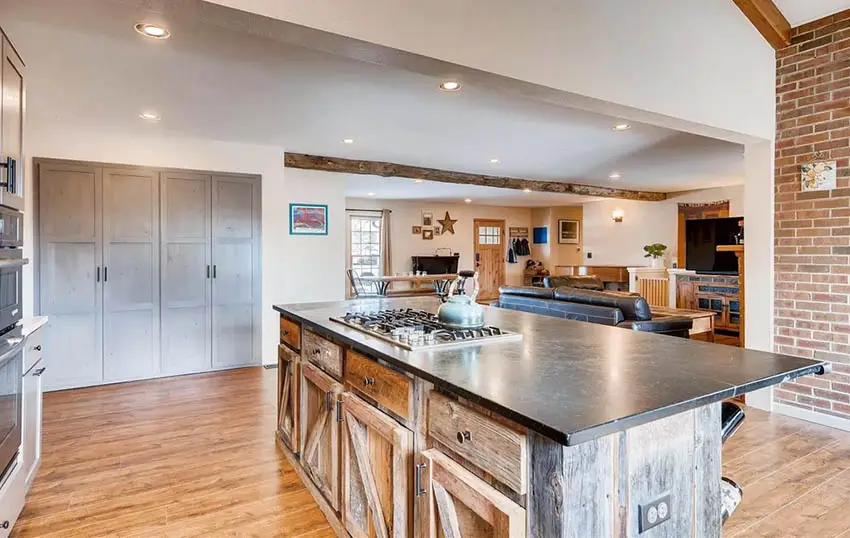 If you want a more rough/rugged look, consider using unfinished/raw barn door wood for your kitchen island.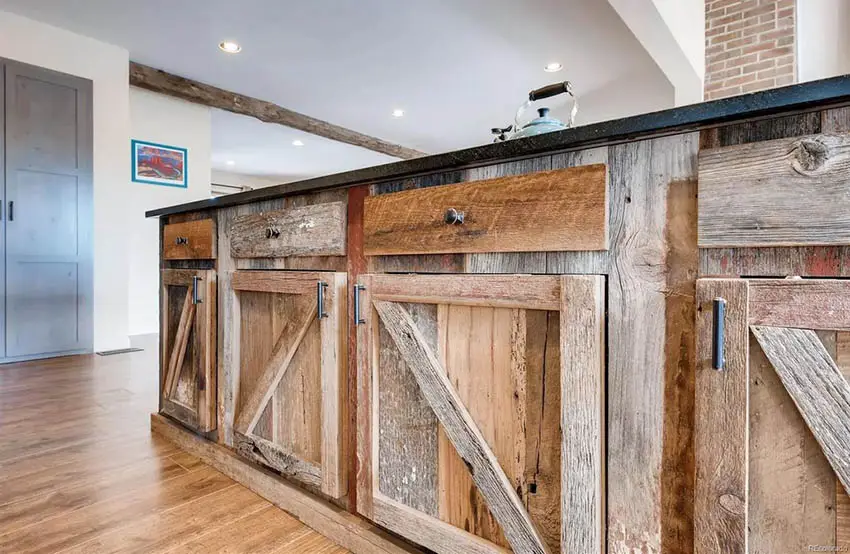 This example repurposed the barn door wood to be used in the built-in kitchen island on the kitchen. It retains its rough, non-sanded look to give it more texture and a little more personality. If you're using unfinished wood materials such as this, please make sure that the wood is properly treated with anti-termite solution, and to lightly fill large bores in the wood to avoid termites and other insects from eating your wood away.
Sliding Barn Door Kitchen Island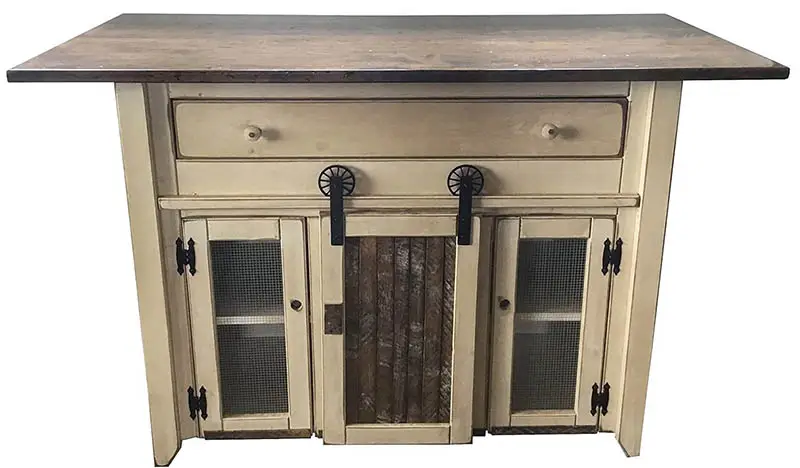 Old fashioned sliding door island with rustic hardware – Source
This sliding barn door is reminiscent of your grandma's sewing table – the antiqued cream paint finish and the sliding hardware inspired by wool spinner definitely gives it a retro vibe. This freestanding island has a combination of cabinet and drawer storage, and a spacious worktop that would definitely be handy in any kitchen.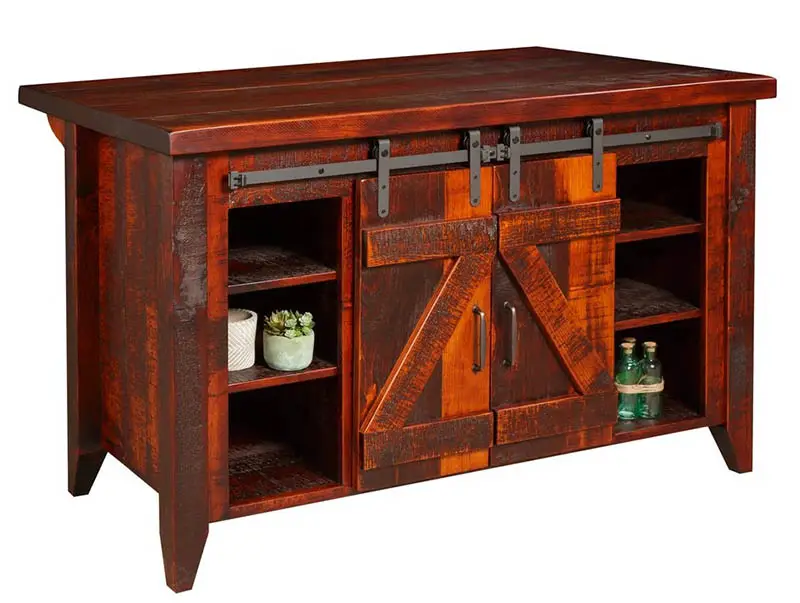 Cherry barn door kitchen island – Source
If you want an accent piece in your kitchen, how about a cherry-stained freestanding barn door kitchen island? The rough, weathered finish of the wood, paired with exposed hardware will give your kitchen more personality, aside from providing extra storage and working surface!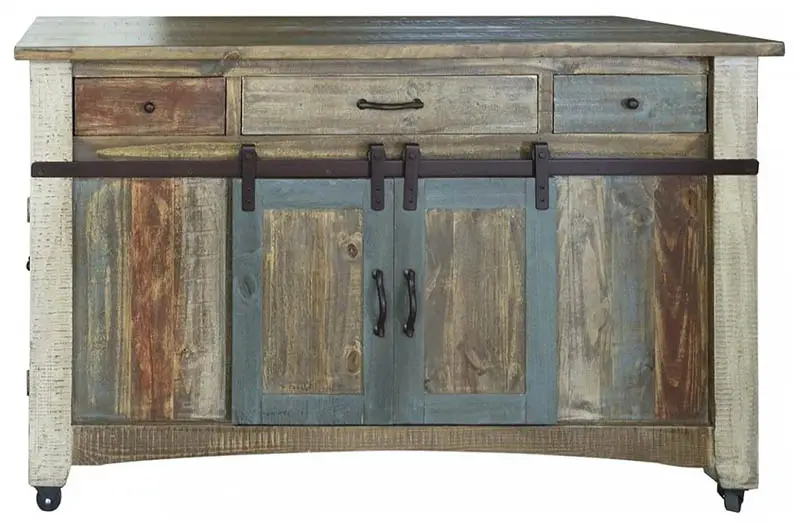 Portable kitchen island with barn door wood – Source
This is a mobile kitchen island made from color-stained wooden barn door. The various antiqued tints on the wood gives it a rustic yet fun vibe. It will definitely be a nice accent piece fro your kitchen.
DIY Barn Door Kitchen Island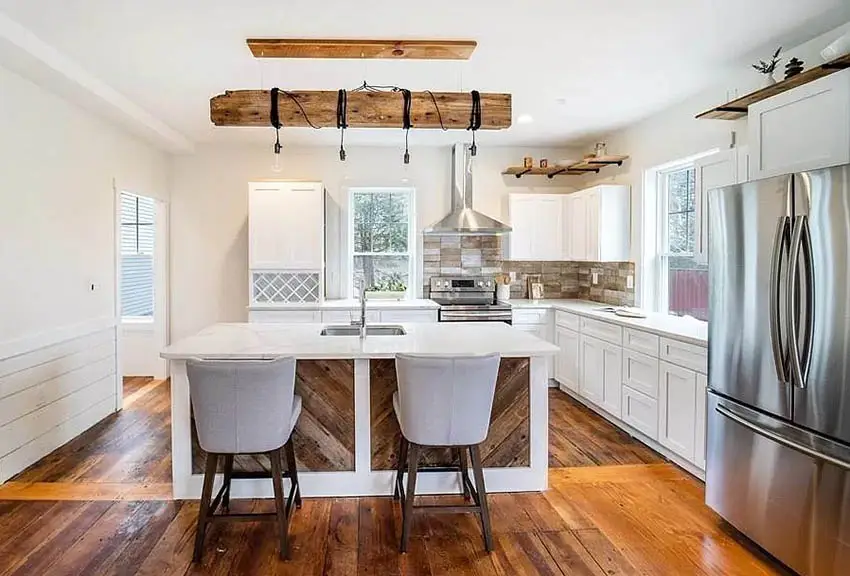 If you already have an existing kitchen island, but you simply want to get that rustic feel of wood into your kitchen, how about using the barn door wood and use it as a cladding for your existing kitchen island? Like this white kitchen island, boards from barn doors were repurposed and applied as chevron pattern cladding for the face of the kitchen island to add that natural rustic wood texture.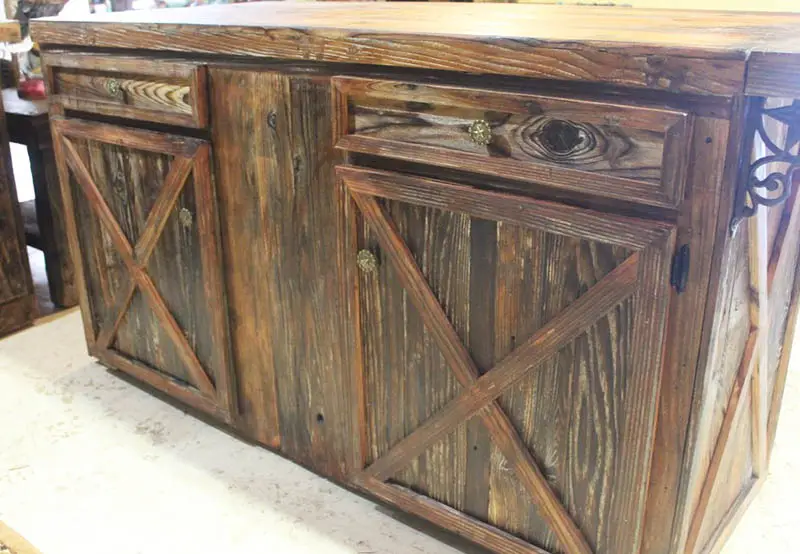 Rustic kitchen island with barn door style – Source
If you want to make your wood barn door into a more refined kitchen island, but still keep its rustic look, you can try this method: sand your wood, fill the pores/wood bores, re-stain it lightly and seal it with a clear matte finish. This way you still emphasize the natural beauty of the aged wood, but have a more durable and refined surface finish. You can also add elegant hardware to match!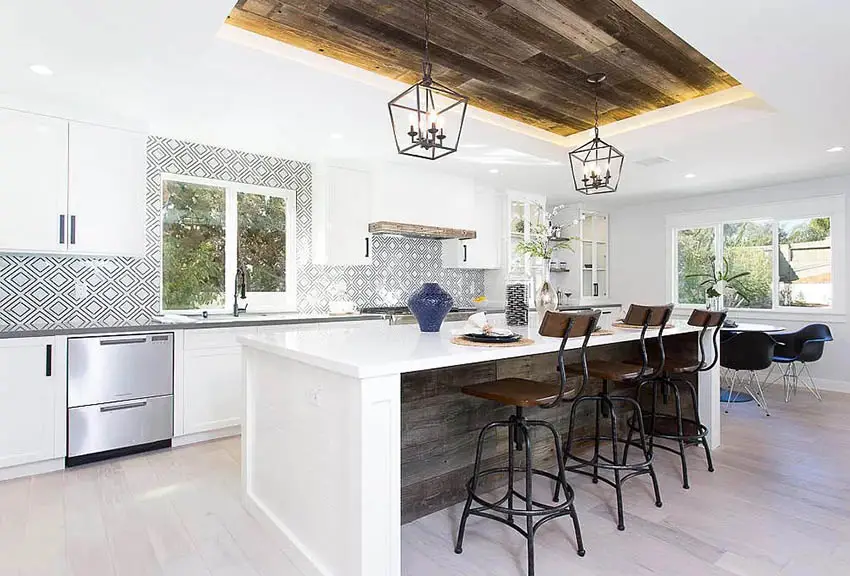 This kitchen design features reclaimed barn door wood that was used and repurposed as horizontal cladding for the front face of the white kitchen island. The rough, raw wood adds depth and texture to the kitchen island and ties the whole look together.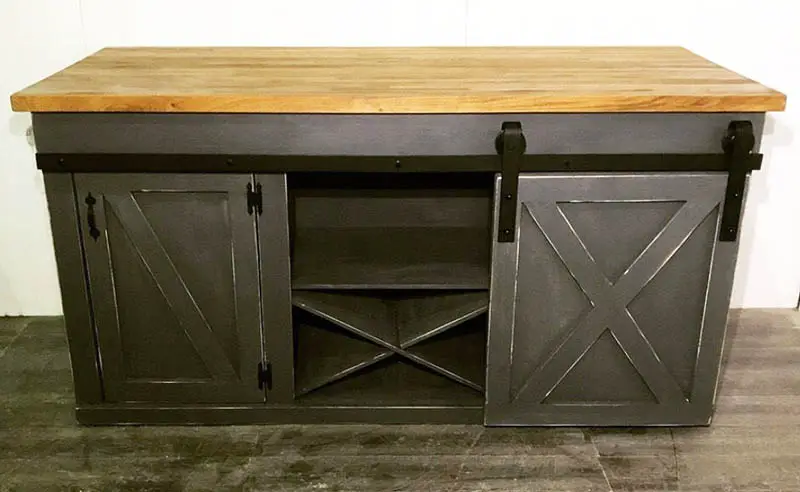 Sliding door island with wood countertop – Source
For a more industrial look, try painting over your door with a matte black paint finish to give it a more urban industrial vibe.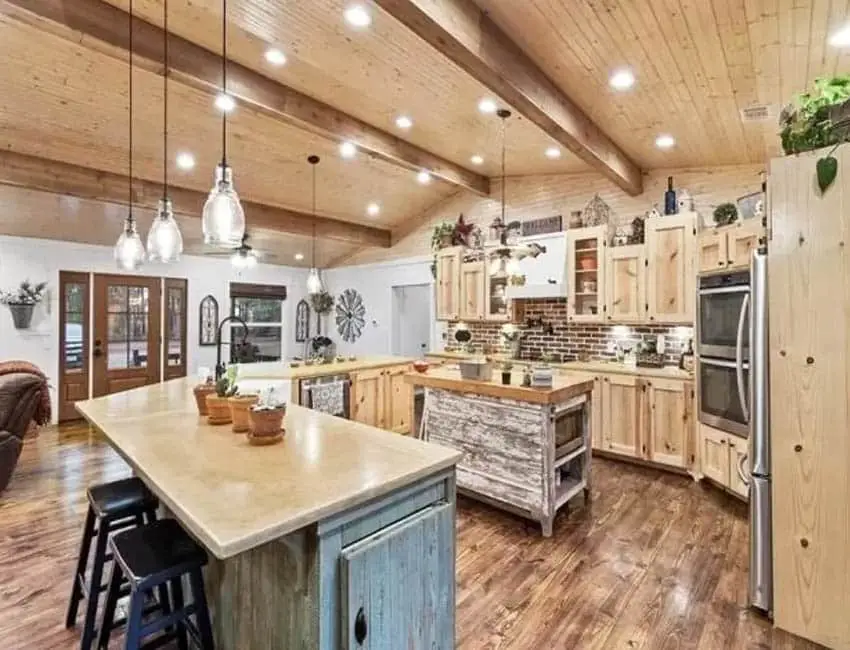 This whole kitchen uses various woods for its cabinetry and keeps a natural finish for all of them. Despite the variety of wood finishes in the space, the barn door kitchen island with antiqued white paint finish still seems to blend into the space and add a unique element to the space.
For more related designs check out our gallery of kitchens with distressed cabinets here.