In this guide to clavos nails you'll see what they are, different types, their common shapes & textures and how to decorate with clavos nails in different types of furniture.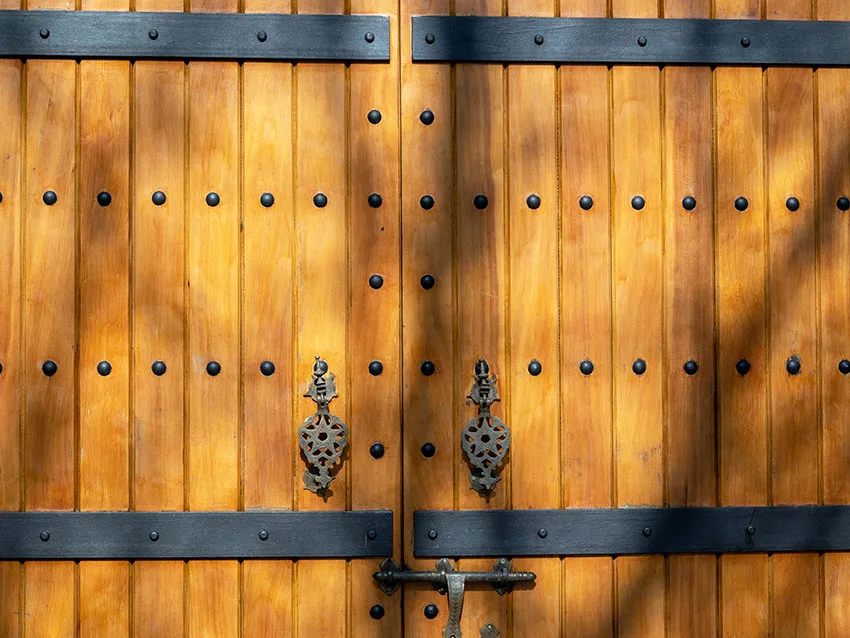 Add a touch of rustic charm with clavos nails. While sleek and clean is in, the shabby and vintage look never goes old, and our continued fondness for the rustic appeal is evident in today's trends of mixing and matching the old with the new. Vintage casual, contemporary rustic, and shabby chic are only a few popular old meets new ideas that you can incorporate into your home.
Wood, even in its most natural state, never wavered in popularity, and with the rise of juxtaposing themes, you'll see a lot of these rustic and reclaimed wood a popular option in interior spaces. You can complete that shabby or vintage look with your doors, cabinets, or any other elements by using clavos nails.
What Are Clavos Style Nails?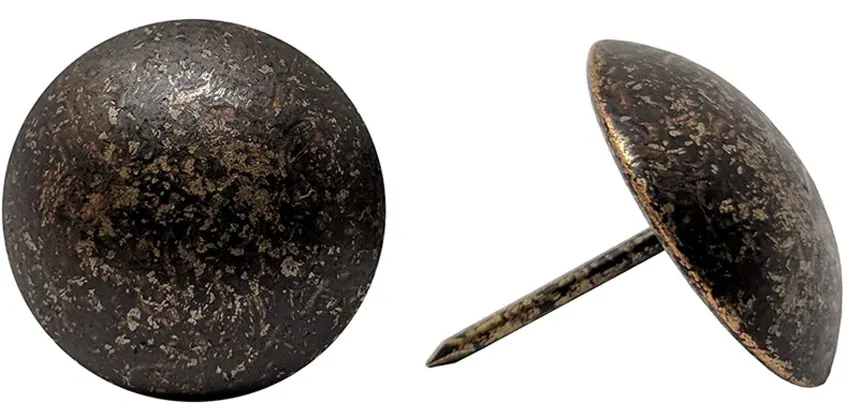 See this nails at Amazon [sponsored link]
From the Spanish word clavo (sing.) or clavos (plural), which means nails, clavos is a type of nail primarily as an embellishment that simulates the look of worn down or vintage nails.
A clavo nail will typically have a decorative head that comes in a multitude of designs varying in shapes, textures, and materials. Popular clavos nails are made from cast iron, copper, zinc alloy, or steel. You'll also find clavos nails made of ABS plastic.
While clavos nails function as an accent element, you'll also find clavos nails with long shanks that are heavy-duty and can hold sheets in a limited capacity. Most clavos made of plastic have short shanks similar to that of the fancy thumb tacks.
Clavos, in general, can be used both indoors and outdoors, depending on the material they are made of. Wooden furniture, upholstery, mantels, doors, or gates are the most common elements to be used with clavos nails.
When purchasing clavos, nails are sold in packs, and each pack can contain 6 to 20 pcs or more. To obtain items like furniture that features clavos nails, you'll either have to build them yourself or order them from a specialty shop. Regardless of how you obtain it, you must make your choice for the nail based on the project.
Aside from the appearance, you must also consider functionality. The clavos nails are made from various materials: iron, copper, steel, alloys of different metals, ABS plastic, and so on.
If you intend to use it both for decor and as something to hold a piece of furniture together, you should opt for heavy-but heavy-duty types. There are types that are akin to thumbtacks, so at best, they will hold paper or serve as mere decorative elements.
Consider also the different metals and the effect of their properties on the overall look. Copper comes with its orange-red color that may or may not conflict with other colors, and ABS will feel fake to the touch, steel will look shiny, etc.
Clavos nails made of steel, brass, bronze, aluminum, or metal with zinc coating will work best outdoors or in damp areas since these are resistant to rust. Everything else works well indoors. Where the nails are used are not limited to furniture, artisans have taken notice of nails and their artistic potential.
Common Clavos Shapes
Round. The round clavos nail, usually interchanged with the dome type, comes in a variety of finishes, but the most common are smooth or hammered looks. Matte or unfinished round clavos are the most popular. They are perfect for lining up rustic dining tables as there are no bumps on the clavos nails.
Domed. A step above a mere circle, this nail, once hammered onto a surface, is more visually prominent. Like most popular clavos nails, they come in a variety of materials and surface finishes. With a more bumped-up surface, more intricate designs, such as crosses or organic patterns, can be introduced.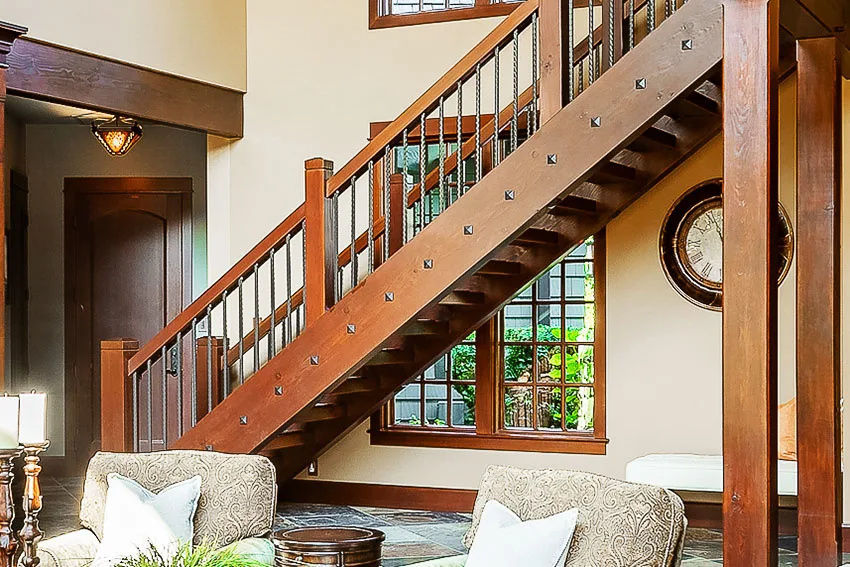 Square. Aside from a pitted surface, square-shaped clavos are popular for decorative designs that have a pyramid head, stepped pyramid, sunburst, or waffle design. They are perfect as an added flair on doors and rectangular cabinet frames.
Rectangular. Similar to your square clavos, rectangular clavos provide a complementary shape to framed furniture, particularly cabinets or doors. There are rectangular clavos with bordered designs.
Pyramidal. One of the most popular clavos nails is the pyramidal clavos, and these have a pointed tip or nail head that comes either as round or squarish.
Hexagon. The hexagon-shaped clavos will have a slight protruding nail head like your pyramid clavos but with six sides.
Standard Clavos Textures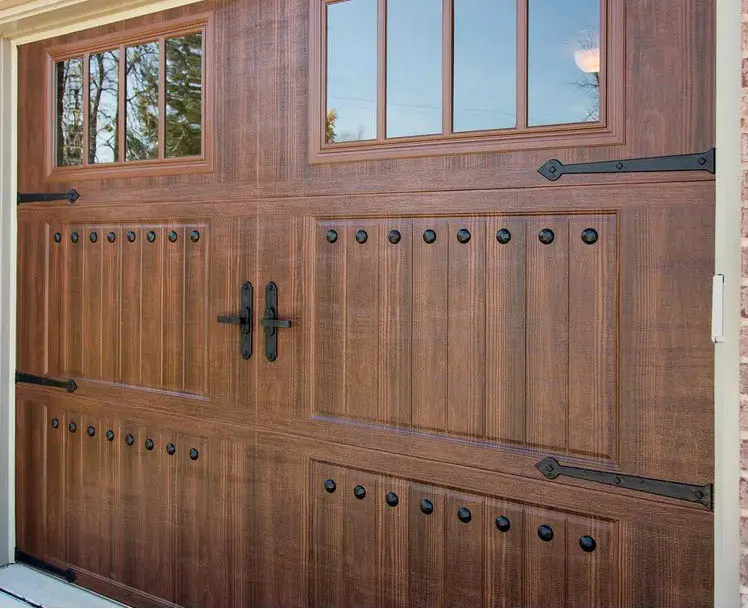 See these magnetic wavy clavos nails at Home Depot [sponsored link]
Wavy. The wavy clavos have a distinct pattern of hammered arcs radiating, thus having the wavy dents. The design has a more contemporary, almost art deco appearance.
Dimpled. A dimpled appearance looks like a nail that had multiple hammer strokes, simulating the old iron wooden nails. There are heavy to lightly hammered clavos heads.
Ribbed. A very rustic, almost medieval in character, the ribbed texture will have the streaks or rib-like design radiating downward from the tip of the clavos head.
Pounded. Unlike dimpled clavos nails, the pounded clavos will have a more random size and shape of the dents. However, some manufacturers interchange the dimpled and pounded clavos. The hammered surface simulates the rustic nails.
Etched. The hand-forged texture produces a wide range of designs, sometimes with organic or religious ornaments. Etching introduces the ability to create distinct designs. Today's etched clavos nails are made by acid etching creating intricate designs.
Other Types of Clavos Decorative Nails
Iron Clavos. Clavos can be made in various finishes such as brass, silver, bronze, and even plastic, but iron clavos are the most common and popular choice as they give that rustic and old-aged look. Wrought iron is the more durable type or hand-forged variety that gives an authentic appearance.
Door Clavos. Clavos nails together with strap hinges on reclaimed wood are a favorite combination in creating that rustic-looking door. You'll find a variety of designs for door clavos with square or pyramids shapes clavos. Barn doors are favorites to use with antique, or weathered hardware for a rustic theme.
Gate Clavos. Like your door clavos, the rustic nails are used as an accent element to your entry doors and gate. They typically have larger diameters or sizes to accommodate the size of the gate. Clavo nails on salvaged lumber with the Tudor-styled gate door can make an impactful gate.
Upholstery Clavos. Sometimes interchanged with upholstery tacks that have a shorter shank just enough to secure the textile and wood frame together. They can line up as trims or cording or used to secure a tufting design on club chairs or sofas. Leather or faux leather are common textiles paired with upholstery clavos.
How To Decorate With Clavos Hardware?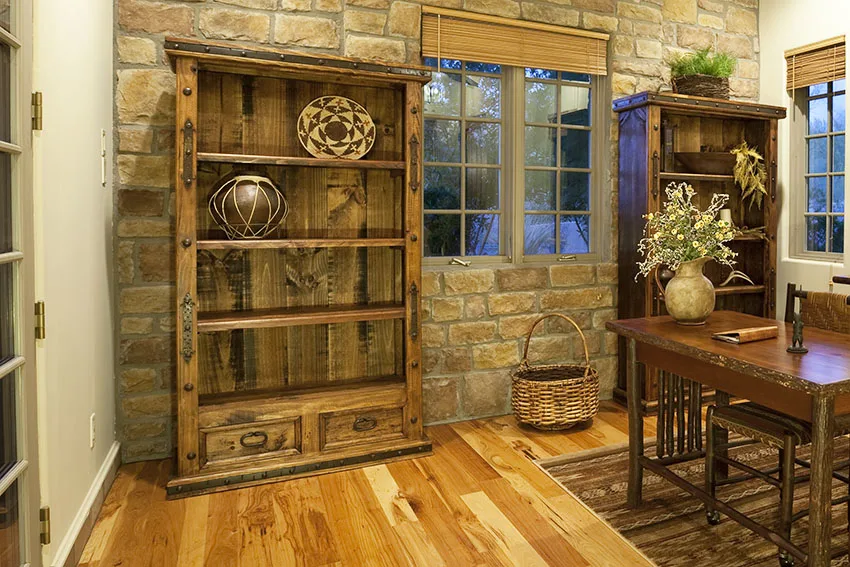 From smooth surfaced nickel to bronze patina finished fleur de lis designs, clavos nails come in a range of shapes, sizes, and intricate surface designs. This makes the accent versatile with any type of interior theme or style you are going for.
The decorative nails are an easy way to add detail with less intricate carving while giving an impact on your furniture.
Cabinets. You can make an impression with your shaker cabinets by adding silver round or pyramid clavos on the corners. The accent placed can tie together the metal elements in your kitchen or layer with matte finished cabinets in your living room.
For a more contemporary look, place smooth-finished clavos on the corners of your cabinets. Using the clavos nails sparingly, you can place medium to large-sized nails. Traditional cabinets can be accented with clavos with beaded stile or rail construction on the edges.
Furniture. Nothing beats the satisfaction of using furniture that has been decorated with the utmost care to detail. Just like the cabinets, furniture assembled with clavos nails adds authenticity when it comes to achieving that rustic look. If you've got a paneled display cabinet, you can line up your clavos nails in between the panels to create an equally spaced accent.
Entry doors. Make a lasting impression with a vintage or rustic-themed entryway. Distressed iron clavos easily match your iron latches, bars, or straps.
There are also classic doors that have large metal hinges that span almost the whole width of the door. Castle style or barn doors are popular, and you can easily accentuate them with clavos nails. For outdoor use, black powder-coated clavos won't rust like your iron clavos.
Interior doors. Similar to your entry doors, you can enhance the look of your paneled doors with clavos nails by simply lining up your nails between the panels or on each vertical panel. The nails can run at least 3 to 4 inches from the edge of your doors with a large ¾-inch diameter.
Garage doors. Adding clavos detail on your garage door adds character to your rustic garage doors. There are many designs you can choose from, either painted or in wood finish, m, but the most common shape is the round clavos with black or patina finish.
You can line up your clavos equally spaced to create that sturdy and imposing appearance on your paneled door garage. Add ornamental straps to fill in the surface area secured by clavio straps.
Gates. Gates are the entryway into our properties, and who wouldn't want to make a good impression? Different types of gates can be simple or grandeur and can be all metal or wooden.
If going for a classic wooden look, why not incorporate some clavos nails to really hammer in a good design? Anything from simple to ornate, the wide variety of clavos nails on the market is sure to fit into your design. Picking the right type of nail adds not the only character to your gate but is also a durable means to keep the gates together.
After all, a gate experiences movement. That movement from opening and closing will loosen some nails over time. The same can be said of other items on this list, like your doors.
Windows. To add character, you'll typically find clavos accents on window shutters that are great for Spanish or Mediterranean-styled homes. You can also place large head clavos on each corner of your window frame or mirror, it's simple, but it makes a difference in your windows.
If you're wary of drilling away your window frames with the clavos nails, magnetic or faux nails come with the clavos head that can be securely attached to your window frames.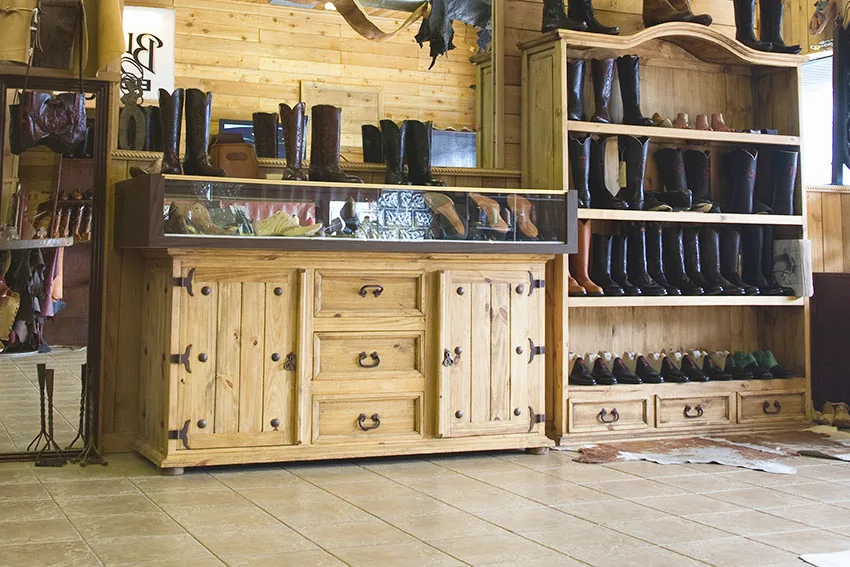 Treasure Boxes and Other Random Containers. Aside from the usual containers like cabinets, some family possessions may also include unique storage boxes, and a classic treasure box is an example. If the container is expected to contain important items, it can be made to stand out from the rest like a real treasure.
Apart from the type of wood used, the colors, the textures, and the choice of nails to put it together accounts for making it look unique and authentic. You can start a hobby of building special boxes with clavos nails and sell them as gift shop items for special occasions.
Finding Inspiration
When deciding on what nail to use, looking at the photo of old artifacts is a good start. Observe the hardware and nails used. The classical or traditional doors are very good examples.
Today, we can be more liberal with our project ideas. Mixing and matching themes to create something new is part of the art. If you want a unique grandfather clock dotted with these clavos nails, that's a good idea. Just like the treasure box, custom projects to enrich the look of our homes are possible.
Takeaway
There is a wide range of clavos nails to choose from to match your need. Aside from being used as construction, you can use clavos nails for your next arts and craft project, such as creating planters, palette fences, and many more.
You must choose if it must act as a nail in addition to being purely decorative. This determines how long-lasting your project will be. Second, attempt to choose the best nail according to a theme or aim since the nail's look greatly influences the authenticity and attractiveness of your work.
Third, consider whether you are creating for an interior area or an external location. The material you choose will affect whether your clavos nails are suitable for outdoor conditions. Always seek advice from a trusted dealer or supplier if you need assistance with clavos nails.
See our gallery of 35 beautiful rustic kitchens for more related content.