In this guide to the best patio material you'll see what materials to use, what type is most durable, easiest to maintain, least expensive and the best patio surface for cold climates.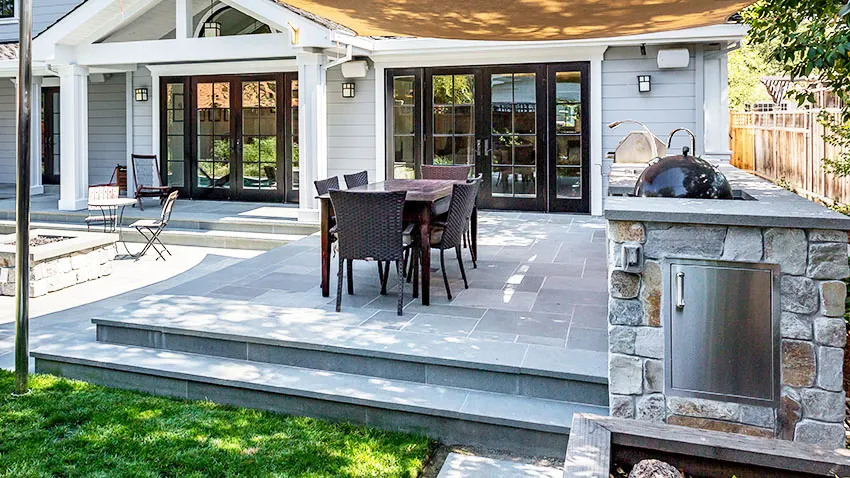 The choice of patio material is essential to make your decking design look great. It is not just about having a nice layout but also about the appearance of your patio. There are plenty of options for you when choosing the best patio material.
The choice of patio material can make all the difference to the overall look of your home. It is also the most crucial part of your home improvement project because it will last many years.
Six basic materials to construct patios: concrete, brick, flagstone, pavers, tile, and cut stone. Depending on how you use these materials, you can uniquely express your style on your outdoor surface. Your personal preferences, the patio's location, your budget, the size of the outdoor area, and what is readily accessible in your region will all influence the material you pick.
Best Stone For Patio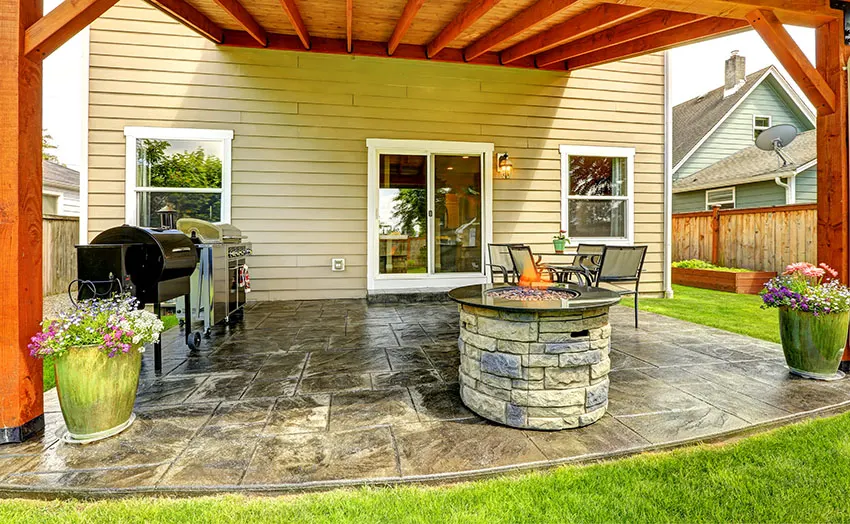 Granite, quartzite, and porcelain are the best materials for outdoor kitchen and patio spaces.
• Granite: Utilized inside and outside to give a space a uniform, seamless appearance. Granite is strong and heat resistant. Homeowners can shape, color, and treat them to create various textures. It requires little upkeep and is ecologically beneficial. One potential drawback is the porous quality of granite, which needs sealing to prevent potential stains and moisture damage.
• Quartzite is perfect for both indoor and outdoor uses and is remarkably resilient. It is more rigid than granite, non-porous, and non-slip. However, depending on your patio design and other circumstances, it could be slightly more expensive than granite.
• Porcelain is low maintenance, weatherproof and colorfast. For a patio surface, porcelain that is not shiny and has a flooring rating is a fantastic option, particularly for outdoor marble imitation, where calcareous stones (like marble) may not function as well. See more patio tile ideas here.

What Type Of Patio Is Most Durable?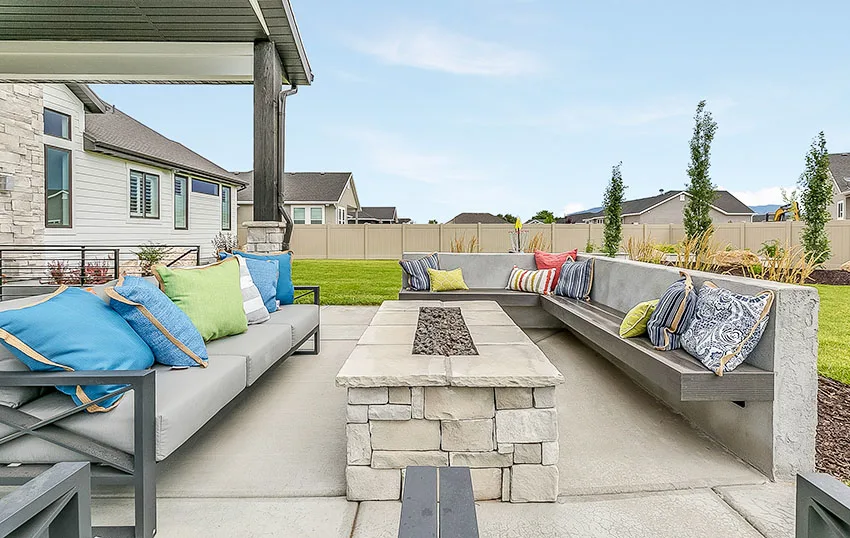 Patios made of concrete are often among the cheapest to construct. They are also among the most durable, provided they are installed and maintained correctly, but concrete, like brick, is vulnerable to breaking due to freeze-thaw cycles.
Many patio design alternatives are available since poured concrete may take any shape. A concrete slab is best if your ideal patio is coated in glazed ornamental tiles since it will provide a stable basis for future tile additions.
Concrete can mold and adapt to almost any surface shape using well-built forms. Some popular concrete patio finishes, which are solid and straightforward to maintain, might be:
• Brushed
• Painted
• Patterned
• Scored
• Smooth
• Stamped
• Tinted or colored
• With inlays for decoration
• Topped with additional elements, such as stones (aggregate)
Note: To reduce storm water runoff, design your poured concrete patio's form, depth, and slope to ensure appropriate drainage.
What Type Of Patio Is Easiest To Maintain?
The most economical approach to building a patio on your home may be using concrete. There are situations when gravel may prove more affordable, but it is seldom by much. Concerning lifespan, concrete will often provide a little better value for your money. Compared to the gravel choices, it may also be a little simpler to maintain.
Concrete ought to be able to support you for a very long period. If you take care of the patio correctly, you may utilize it for many years. However, if you have a concrete patio, there are several things you need to be aware of.
One of the most significant things you should be aware of is its freezing vulnerability. Cycles of freezing and thawing may seriously harm a concrete patio. As a result, the concrete may develop fractures, and the whole structure may eventually become weaker.
While this does not imply that concrete patios cannot be helpful in cold climates, it does indicate that you must exercise caution. To maintain everything functioning correctly, you may need to do some repairs from time to time.
Concrete slabs are another option that some people use for their patio bases. You can cover the concrete with ornamental tiles or other materials to give your patio a more elaborate appearance that will be more aesthetically pleasing.
You don't need to consider ornamental alternatives if all you want is a robust patio; you can go with concrete.
Least Expensive Patio Material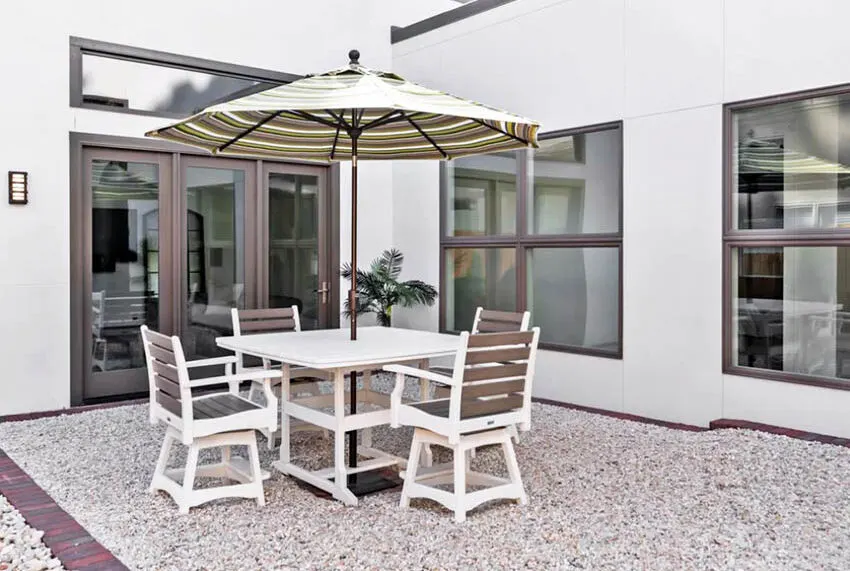 When you think of a patio, gravel may not be the first thing that comes to mind. Many people believe that patios must have a flat, level surface. It should not be the case, though, since gravel can create a lovely patio area, which might be a very economical way to handle your patio demands.
One of the most affordable patio material alternatives is gravel. You will spend between $6 and $10 per square foot. Additionally, it is simple to install, allowing you to save money on labor if you want to do it yourself. You need to spread it out and wheelbarrow it in. Creating a border to give it some form is the most challenging step.
Gravel might be troubled by weeds and grass sprigs poking through it since it is a loose substance. You may prevent this by laying down landscaping cloth before distributing the gravel. Small round pebbles, sometimes called pea gravel, are one type of gravel, like more giant stones with ragged edges.
Pea gravel is softer for walking on, but it fluctuates a lot, making it challenging to maintain the sturdy patio furniture. Larger gravel is less friendly to bare feet but keeps its form better.
Using gravel for the surface of your patio will be one of the easiest methods to fulfill your ambition to have one installed in your house. Getting your hands on gravel will be simple since it is often a cheap item.
You can build a gravel patio design quite easily as well. Many individuals, including those who are not very handy, have erected gravel patios effectively.
Gravel patios have a few advantages that might make them an excellent choice. Since gravel has excellent drainage, you won't have to worry about water gathering in your patio area after a storm.
Best Patio Material For Cold Climate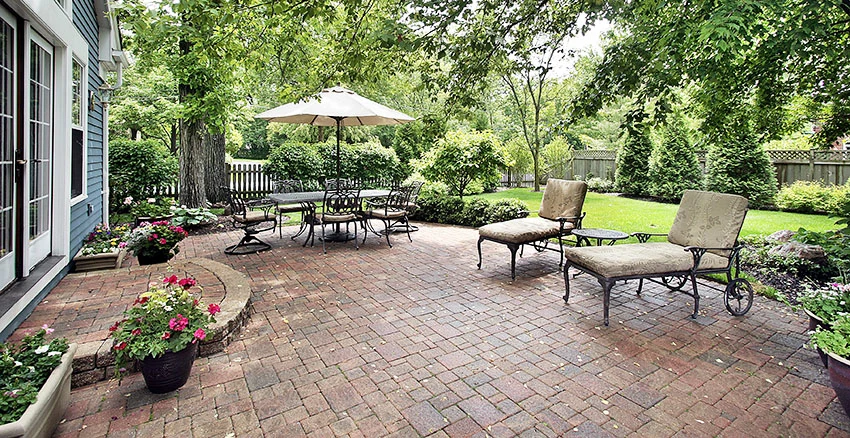 The materials you may choose for your patio are incredibly varied. You may save a lot of money and hassle by knowing which one will survive the environment best and need the least amount of care.
• Cement: Put an end to the time when concrete patios were nothing more than plain, gray slabs. A concrete patio can be in almost any shape and color because of improvements in coloring and stamping procedures.

• Pavers are a popular choice among homeowners who want to give their patios a touch of elegance and texture. Paver patio materials are available in brick, concrete, stone, and other construction materials.
Pavers are individual tiles laid in the desired pattern instead of cement, enabling you to express your aesthetic preferences outside your house. Pavers composed of slate, travertine (a limestone-based material), porcelain, and terracotta are exceptionally resilient to freezing temperatures.
• Brick: For thousands of years, humans have used brick to build houses and other structures. Like other materials, brick has seen significant improvements to provide various combinations of forms, colors, and textures.
Brick can withstand almost every weather assault, although cold temperatures and water are often too much. Water may fracture a brick's interior structure as it absorbs into the brick and then freezes. Sealing your brick patio may be very effective against the cold weather, similar to sealing concrete.
Depending on where you live, the best types of patio materials could change. Also, as a general rule, asking your local stores for more suggestions is a good idea. Before beginning a patio installation, check your local building rules for setbacks and other requirements.
Before installation, carefully prepare the space for your patio to allow for good drainage and to ensure that the patio slopes away from home.
Visit our paver patio maintenance guide for more related content.