Here's our bluestone patio design guide with what it is, different types of bluestone paver varieties, cuts, patterns and cost.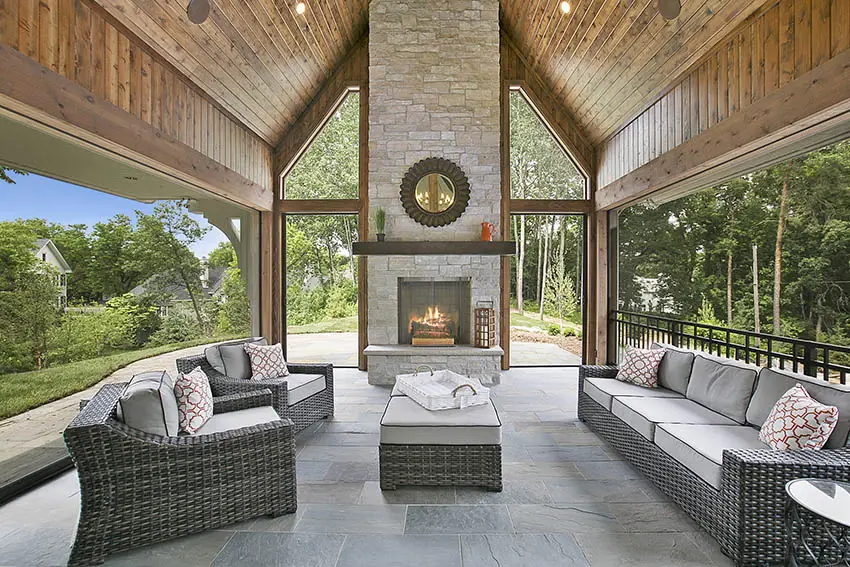 A bluestone patio is a stunning recreational space that brings your outdoor experience to a whole new level. With its spectacle of gorgeous hues predominantly from blues to grays with organic tinges such as brown, green, apricot, plum, and beige, you'll find your patio design such as a delight to behold.
However, more than its striking aesthetics, a bluestone patio is safe, comfortable, and presents you with a variant of design choices to fit your lifestyle and taste.
We say a bluestone patio is safe because unlike most natural stones you'll find the organic material as a non-skid surface that fits well with any configuration or use of your patio. This means you can line up your pools with the bluestone and have a cohesive design with your destination patio.
Bluestone patios are very popular and you'll find them in the form of the classic look to the most contemporary patios.
What is a Bluestone Patio?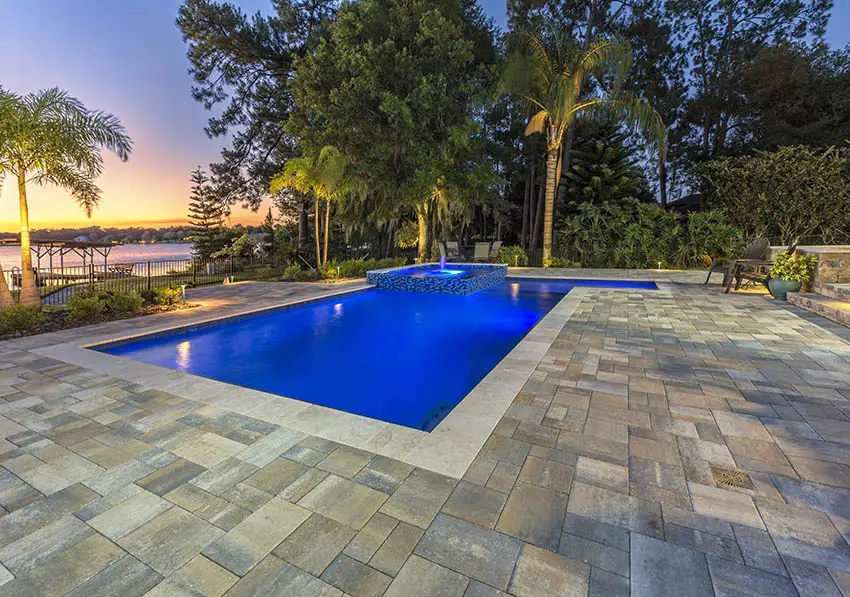 Bluestone is a popular type of stone used in construction and is a type of sandstone or limestone made up of both sandstone/limestone and quartz material. It often features a fine grain, with a moderate texture and a blue-gray color.
A bluestone patio is a backyard space typically connected to or near a house that is paved with bluestone tiles or pavers. Most bluestone patio designs lean towards a rustic look but clean-cut bluestone tiles with the right design can also create a modern-themed patio.
With a bluestone patio, you can add elements to the cool organic backdrop. White pergolas, wrought iron furniture, wicker sofas, potted greens, and flowers, the design possibilities are endless.
Bluestone Pavers
Bluestone pavers have a distinct look thanks to their cool blue and grey tinges. There are also bluestone pavers with varying colors with hints of rust, silver, green, and plum.
Bluestone pavers are typically 1 inch to 1.5 inches thick and come in various sizes but the most commonly used are in 6" x 6" to 24" x 48".
Bluestone material is a type of flagstone. Flagstone is a flat sedimentary stone that is usually cut in rectangular or square shapes popular as pavement materials and other various applications.
The main distinction of bluestone paver from a flagstone is its color and ability to withstand weather conditions.
Bluestone as it is termed comes with varying blue colors while flagstone comes with a true gray color with black undertones. Overall bluestone is much robust and dense making it sturdier compared to the generic flagstone.
If you're wondering why the bluestone material seems to come with varying shades, it goes down on the location the natural stone is formed. This makes every quarried stone layer unique, thus no two pavers are the same.
These natural stone pavers have used a variety of applications and can be used in both interior and exterior construction.
Aside from flooring, you'll see stunning bluestone pavers on walls or cladding applications as well. You can use them as your main material for your fire pit or outdoor fireplace for your patio area.
Types of Bluestone Paver Cuts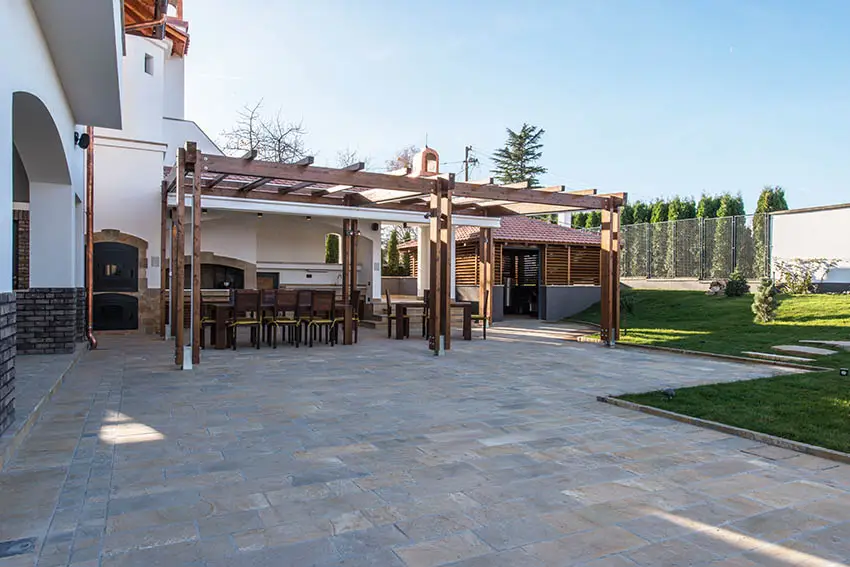 You can cut your bluestone pavers in a range of shapes, from the regular square, rectangle, triangle to random forms to fit your desired bluestone patio design.
The general cuts for bluestone pavers are the irregular bluestone pavers and the regular bluestone pavers. Irregular bluestone pavers as the term suggests comes without a uniform color or size while the regular bluestone or also termed, thermal bluestone comes with standard color and size.
• Irregular Bluestone Pavers – Usually termed as "flagstone shape" works better with rustic or naturalistic patio themes. As a rule of thumb, free forms of patios use the irregular paver cut since it's easier to fit along edges and corners. They also look great for circular or round patios.
• Regular Bluestone Pavers – Also termed as "thermal bluestone" is suitable with regular patio shapes such as rectangular or square boundaries because of its uniformity.
Varieties of Bluestone Pavers
In the U.S. there are two main varieties of bluestone pavers namely Pennsylvania Bluestone which is a sandstone and Shenandoah Bluestone limestone.
Bluestone Patio Patterns
There are two general categories of patterns used for bluestone patios: An ashlar pattern combines squares, rectangles, and color variations, and a fieldstone pattern joins irregular shapes together in a random pattern.
• Ashlar Pattern – It is a combination of squares and rectangles with varying shapes and sizes.
• Fieldstone Pattern – Joins irregular shapes together to create random patterns.
Available Finishes
• Bluestone Flamed
• Bluestone Honed
• Bluestone Sandblasted
Bluestone Patio Cost
Compared to other natural stones used in outdoor applications, bluestone is much cheaper than limestone, however, this will still depend on your location, quality, thickness, and quantity of your order.
The cheapest natural bluestone variety costs around $5 – $12 per square- foot. For thermal bluestones, you'll expect to pay at a higher price of $16 to $26 per-square-foot which is the most expensive type of bluestone.
Other than your bluestone pavers, you should also consider other materials such as concrete or grout as well as labor and once again your location.
Overall, it's the complexity of your bluestone patio design that would dictate your construction cost, the more features the higher the costs.
As a baseline, a 100 square-foot patio area can cost around $650 to $950 for materials and $900 to $1200 for labor. If you've got a larger area than 100 square-foot you may need to pay an additional 10 percent for the labor.
Other Factors to Affect Cost:
• Drainage
• Roofing
• Lighting
• Outdoor Fireplace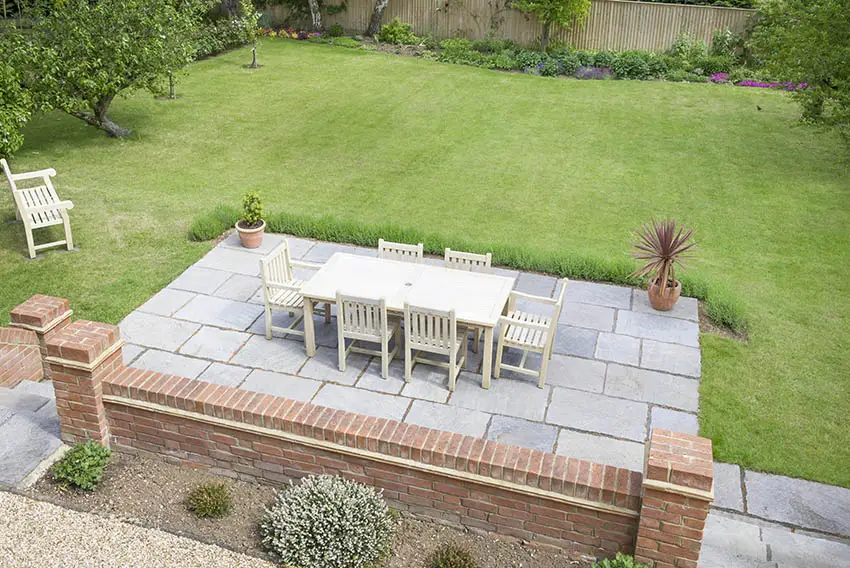 How to Clean a Bluestone Patio
Taking care of your bluestone patio is easy that requires you to clean your paver patio regularly to maintain its pristine look.
Simply use a broom to sweep off the dirt and debris to prevent them from accumulating on your paver surface.
If you haven't cleaned your bluestone patio paver for a long time, it's high time to use a high-pressure water cleaner to remove grime and algae formation. It is advisable to do power washing annually through frequency will depend on your patio location and use.
It's important to note to have your patio regularly cleaned as much as possible especially when your pavers do not receive much sunlight as mold and mildew can form on the surface. When moss or mold forms on your pavers it could leave a slippery surface.
How to clean a stain? For water deposits, you easily scrub them off with soap and water. You can also use a granite cleaner or soft nylon brush.
For more stubborn stains bleach can be used to clean the surface. If you plan to use vinegar and water mixture, make sure your bluestone is stained before scrubbing it on the surface.
Speaking of stained finish, it is recommended that you seal your bluestone surface after cleaning to prolong the lifespan of your patio.
What do you think of bluestone patio pavers? Let us know below. For more related information take a look at our stone patio designs page.