Guide to the differences of a raised patio vs deck including pros and cons, cost and popular design ideas.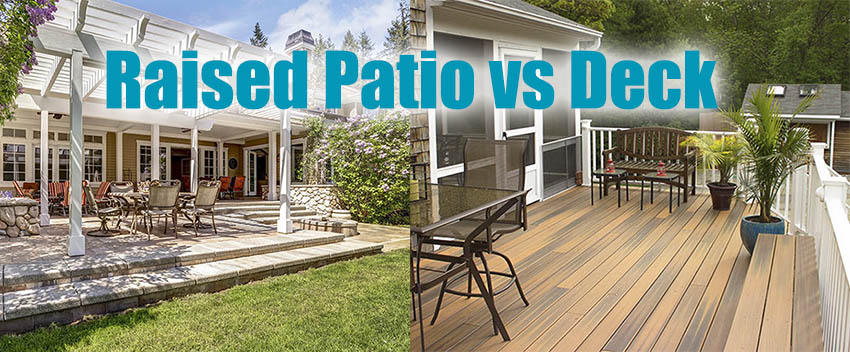 When you're trying to make the most of your home as you renovate, you might want to step outside. You can add a lot of value to your home as well as space for entertaining by adding outdoor seating space. This can include options such as raised patios and decks.
However, when it comes down to choosing between the two when it's time to plan your renovations, you need to have the knowledge to make an educated decision. This means that you need to take the time to consider both the pros and cons of each of these options.
In this guide, we'll break down everything that you need to know about raised patios vs deck. This includes the pros and cons of each of these options so you know what each option offers you.
Raised Patio vs Deck Cost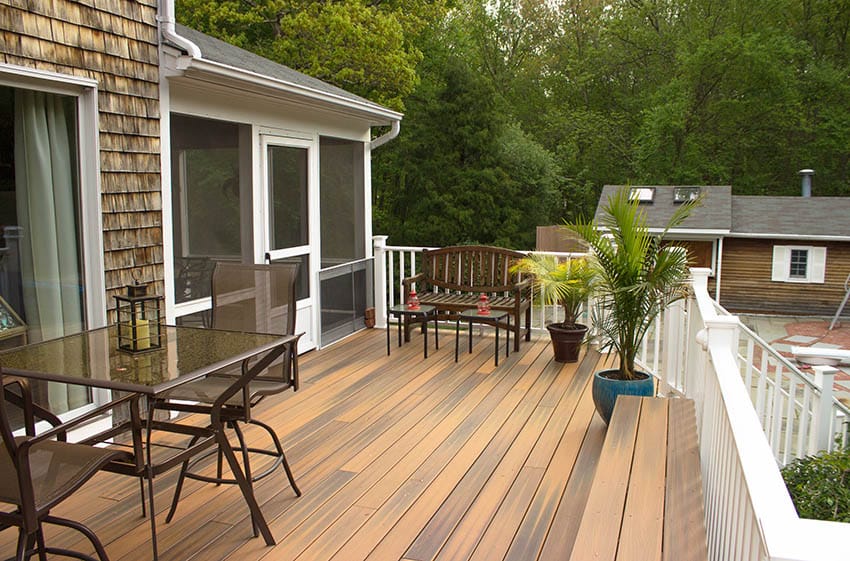 Cost is a massive deal when it comes to determining the details of your renovation. After all, most homeowners are bound by the money they have to invest in a change in their home. If something is out of your budget, it can be a real deal breaker to incorporating that renovation into your plan.
When it comes to comparing to backyard decks and raised patios in concern to their cost, raised patios win out over decks. This is true for a couple of reasons.
First of all, the upfront cost of building a raised patio is lower than building a deck. The average cost of building a patio typically ranges between $1,850 and $5,161. This is a wide range because it depends on a variety of factors including the size of the patio and the material it's built with.
On the other hand, building a deck can cost between $4,380 and $10,080. While still a wide range, it sits higher than the range of costs for a patio. Different types of deck railing, wood species and local labor & lumber costs can all contribute to the cost factor.
The cost of a patio is also lower to maintain than a deck. This means that you won't have to invest as much money down the line in keeping your patio in top shape compared to decks. We'll go more into the specifics of what goes into patio and deck maintenance later on.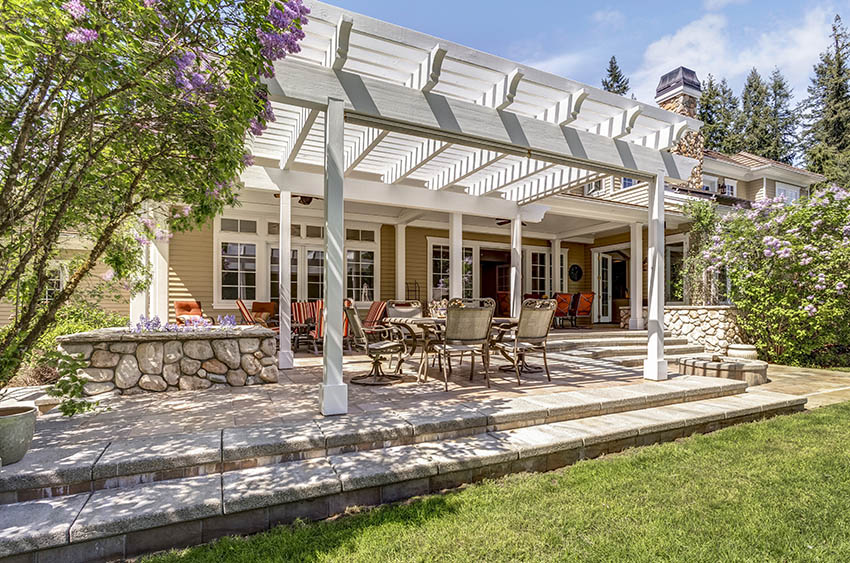 Raised Patio vs Deck Customization
Customization refers to how much you can change the look of either your raised patio or deck to make your design just the way that you want it to look. It's important to take this into consideration when you're deciding between the two to ensure that your outdoor space looks exactly the way you want it to.
This is another area where a patio excels over a deck. This is partially due to the selection of materials. Decks are most commonly made out of wood.
To be fair, this offers you plenty of room to experiment with different types of wood, their colors, and grain patterns. Still, it doesn't offer the same diversity that choosing between completely different materials does, as you can do with a patio.
On top of that, patios have the distinct advantage of including concrete and concrete pavers in their repertoire. The advantage here is that concrete can be dyed in almost any color.
This means that you aren't limited to the natural color of materials when you're making design decisions for your patio like you would be for a deck. Different types of patios also offer a variety of texture options due to their variety of materials.
You can also put more stuff on a patio. Decks are limited in how much weight they can hold while patios typically aren't. This means that you don't have to take a weight limit into account when you're decorating or creating an enclosed patio design as well.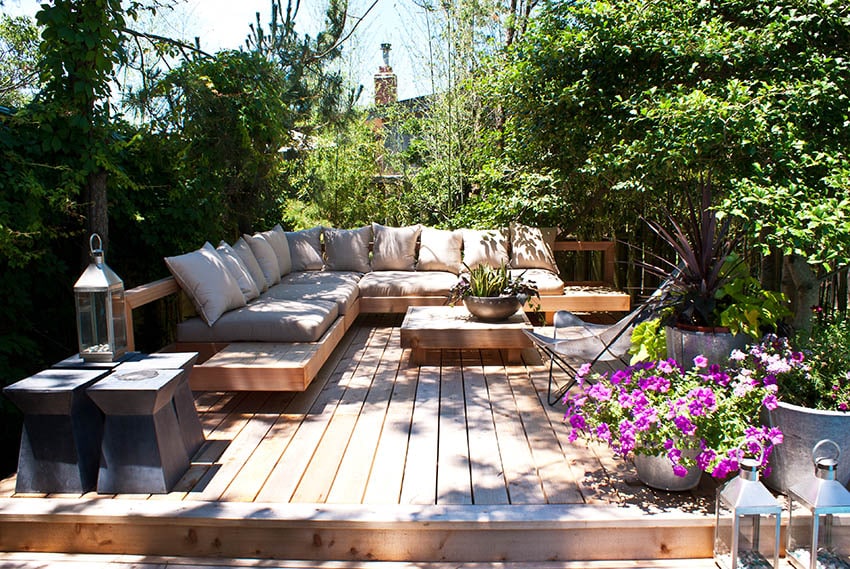 Raised Patio vs Deck Durability
Durability is another crucial thing to consider when it comes to your renovation is how long the addition will last. This not only tells you how much work you'll have to put in, later on, to keep your home looking great but how much you'll have to spend in the long run as well.
After all, something with lesser durability will need to be replaced earlier than something outstandingly durable.
In this case, it all comes down to the material. You have a lot of options as to what you want these structures to be made out of and that's important to consider. On top of their aesthetic appeal, these materials offer different levels of durability to the project as well.
Because of this, raised patios typically win out over decks when it comes to durability. This is because decks are often made up of wood.
On the contrary, patios often use more durable materials like brick, concrete, or even stone to create the finished product. By their nature, these materials are more durable, making the finished project much more durable as well.
If you really want a deck, though, there is one tip you can use to make sure that your deck lasts as long as possible.
You can add durability to the design by using a composite wood material instead of wood as it is. This won't quite give you the same lifespan as a stone patio but it will increase the lifespan of your deck!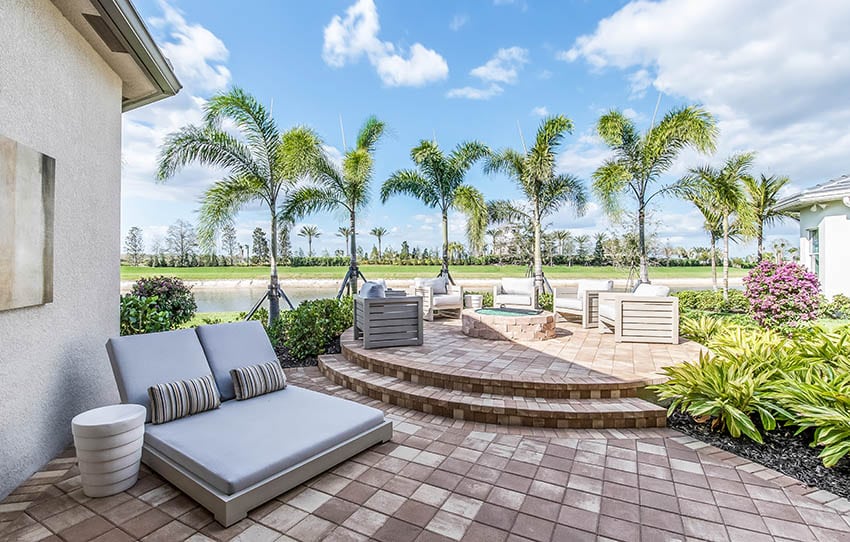 Raised Patio vs Deck Maintenance
If you're comparing a patio to a deck made with natural wood, a deck has far more maintenance attached to it.
To keep the wood beautiful and in its best condition, you'll need to make sure to keep the deck clean as well as power-wash it, restain or paint, and seal the deck again every few years. We've written a piece on deck painting vs staining here for more details.
Like we said earlier, you can make this process a little easier on yourself by using wood composite material in the place of just wood.
Patios are also more durable, meaning you won't have to spend as much on repairs if the patio is well-taken care of.
The only things you'll want to really watch out for in patios is that the material used for a patio are often more apt to crack if the soil underneath gets saturated with water and begins to soften. A patio can also be prone to discoloration if the mixture is not prepared properly.
What is your favorite a backyard wood deck or raised patio? Let us know your thoughts or share your questions in the comments section below.
For more related designs take a look at our article on brick patio ideas.