Here we share our patio surface alternatives guide including the different options for concrete, paving stone, flagstone, and the cheapest patio design choices available.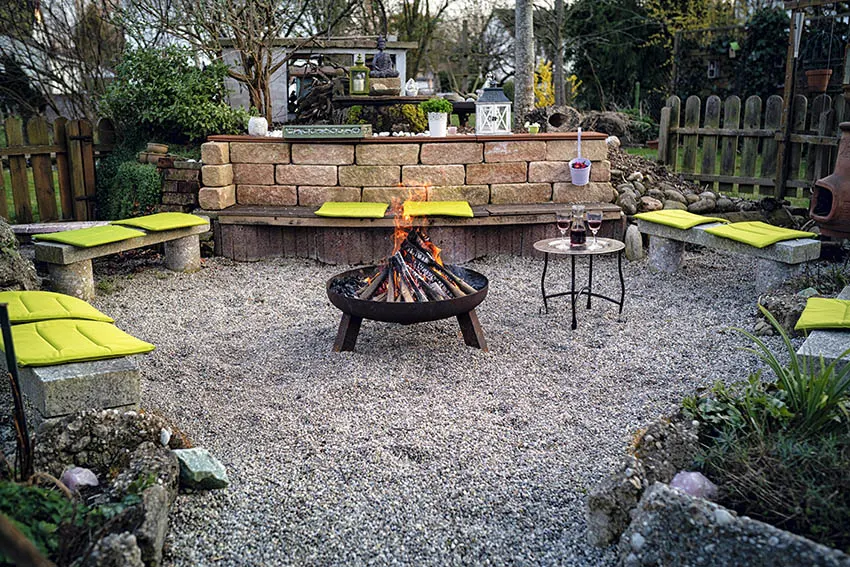 What are the best materials to use for the surface of your patio? Six basic materials can be used for your courtyard. You can choose concrete, brick, flagstone, pavers, tile, cut stone, and loose materials. You can use any of these materials or you can use a mix of them.
When choosing materials for patio surface alternatives, always ask your self do you personally like how the material would make your patio look. Can you afford it? Does it suit the location of the patio? What is the dimension of the patio? You must consider these questions when deciding what type of patio surfaces to have.
Alternatives To Concrete Patio
Concrete is a common material used for patios. But if you prefer a different look and feel, you can easily choose an alternative. Yet, make sure that your chosen material suits its purpose. Here are some popular materials that you can use instead of concrete.
Gravel Or Crushed Stones
Gravel is a great material for the patio, walkways, and driveways. Pea gravel and crushed stones are also budget-friendly. They are also easy to install and replace. You can pour gravel on your patio and spread it evenly.
Pea gravel sometimes includes an assortment of colored stones that can add beauty to outdoor spaces around the house, especially to most types of patios.
If you want to give your patio a new look, gravel can easily be removed and transferred to another area to reuse.
Using gravel on the patio can help prevent water from running off the surface. Instead, it is absorbed by the soil and helps in the water cycle.
Permeable Pavers
Permeable pavers are interlocking pavements made of concrete, brick, or natural; stones. Installed on your patio, they look more appealing. They also make the space cooler.
Unlike concrete poured into the surface, permeable pavers are placed atop a base layer. Sand, crushed stone, or synthetic materials can be used as the base. In areas that are prone to stagnant water, synthetic pavers are recommended.
How long the permeable paver could last will depend on the base material that you use. Gravel is the best for the base because it allows water to seep into the soil beneath. Flooding, water runoff, or soil erosion can be prevented.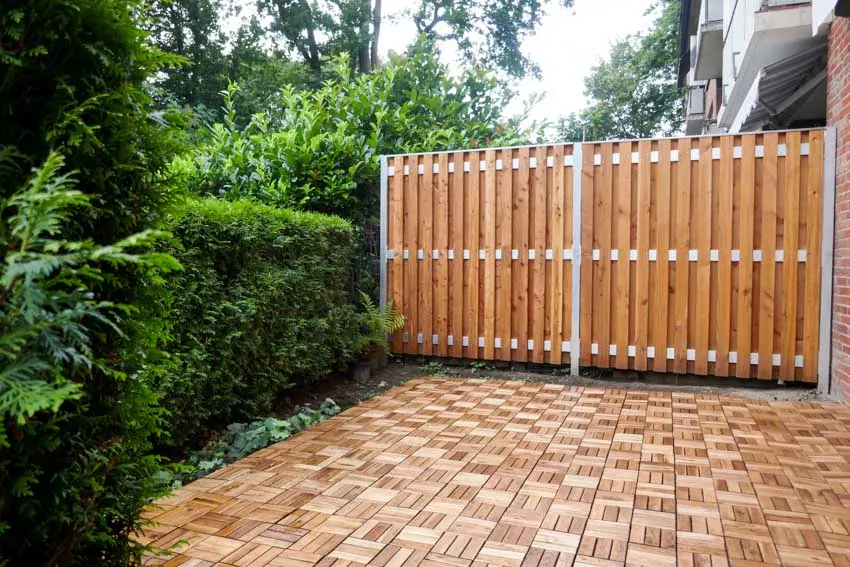 The way the pavers are arranged or laid out on the patio surface also affects its beauty. There are many ways of arranging the pieces to add to their appeal.
Replacing damaged or stained pavers are less costly. You do not have to replace the whole patio surface. You can remove the pavers that need to be replaced and install a new one.
With a paved patio surface, accidents such as slipping can be prevented. The material is spongy and absorbs water and keeps the surface dry. Moss and other plants cannot grow on the paver and making it retain moisture and become slimy.
Alternatives To Paving A Patio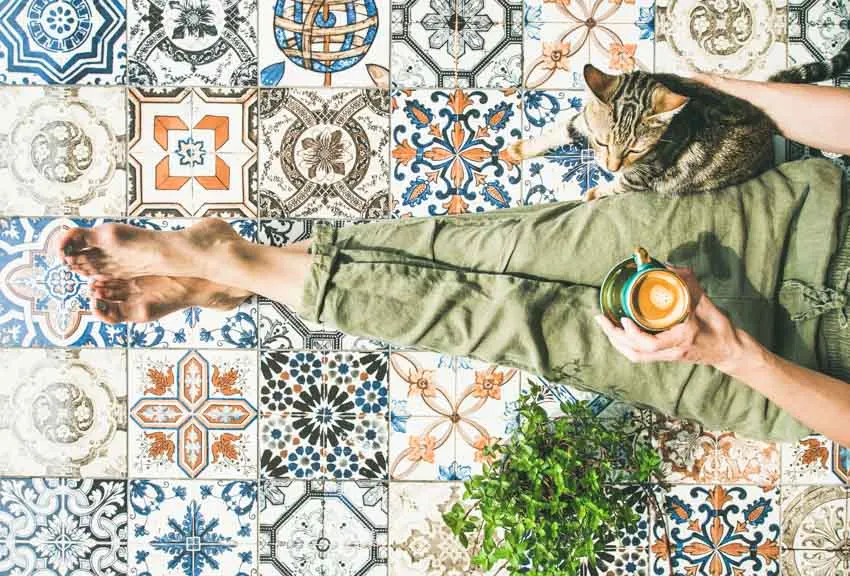 If you do not like paving your patio, you have other options. Here are some interesting alternatives.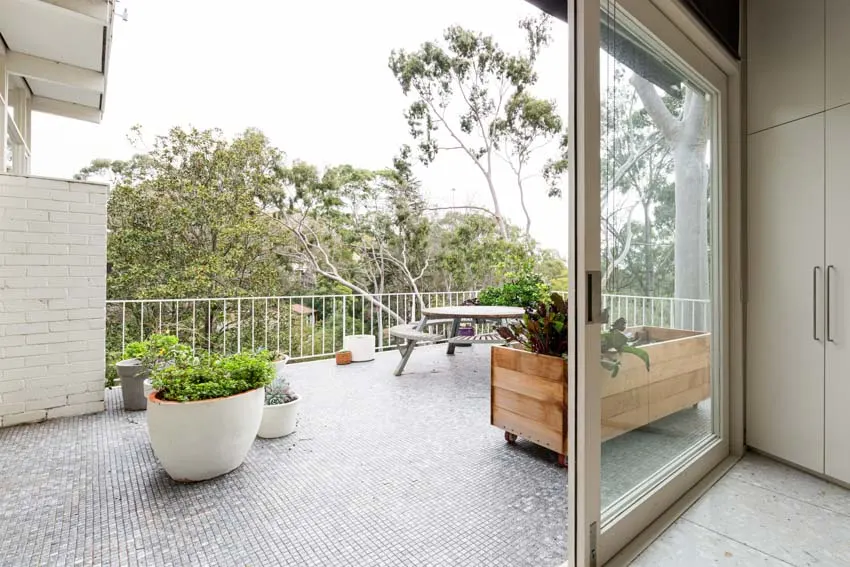 1. Mosaic Tiles: The use of mosaic tiles is one of the most creative alternatives to paving a patio. The beauty of this paving alternative is that you can reuse materials that are sure to catch the eyes.
Pieces of broken glasses and tiles are put together to form lovely and unique patterns. The result could be dazzling to the eyes. But it could be among the time-consuming, laborious, and expensive patio tile ideas out there.
2. Poured concrete: To save time and money, people who want the easy way prefer to pour concrete on the patio. Using pavers or slabs is not necessary.
For decorative purposes, one can stamp the concrete with different designs. One can apply color to the whole surface or use geometrical patterns. One advantage is that it can be done in a short time and it is economical.
Yet, a surface made of poured concrete is hard. Falling on it can cause serious injuries. During the winter or rainy season, the area can be slippery and dangerous.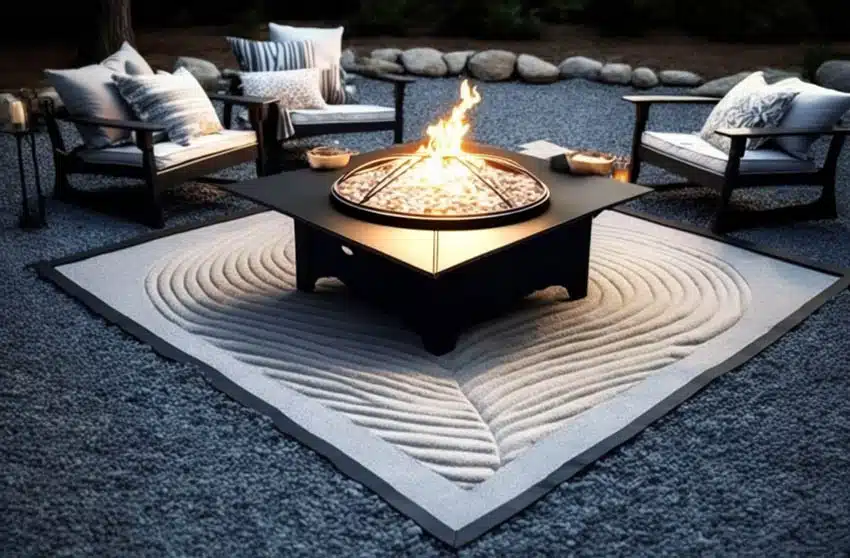 3. Loose gravel: For minimalists, loose gravel is a great idea. All you have to do is fill the surface with gravel. Make sure it is distributed evenly.
Gravel tends to scatter but you can place borders to prevent them from spilling out. Due to their tendency to roll away, you might notice the gravel thinning out. Just add more gravel to maintain the thickness of the surface. See more gravel patio ideas here.

Flagstone Alternatives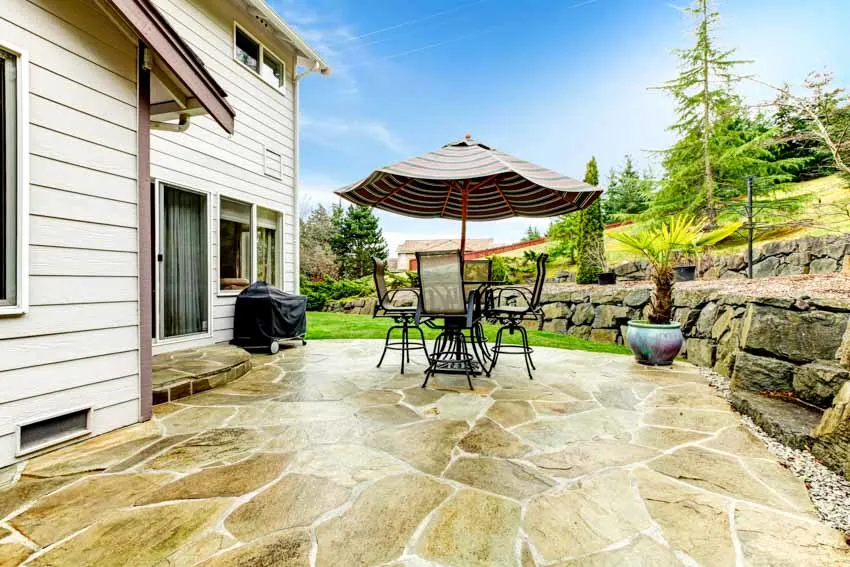 Flagstones are flat slabs of stones used on patio surfaces. They are durable. Yet, they may cost a lot, especially the labor because they are heavy. Installing them is quite difficult.
So, although they are excellent materials, you might want a cheaper and less laborious alternative. Stone veneer could be a good option.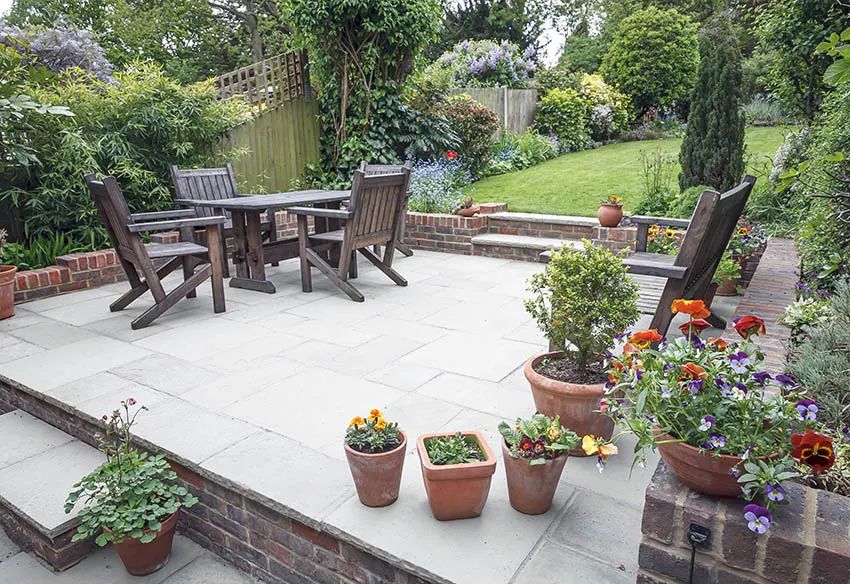 1. Stone Veneer: A veneer is made of thin slabs of stone placed atop another cheaper material for paving. They look like flagstones although they might not last longer than real flagstones.
One advantage of veneer stone is that it has lighter weight. Installing or replacing it can be easy. The stones look attractive as well.
Veneer stone is highly affordable. They can be easily installed on your patio. Although they are not as strong as flagstones, they can also last long.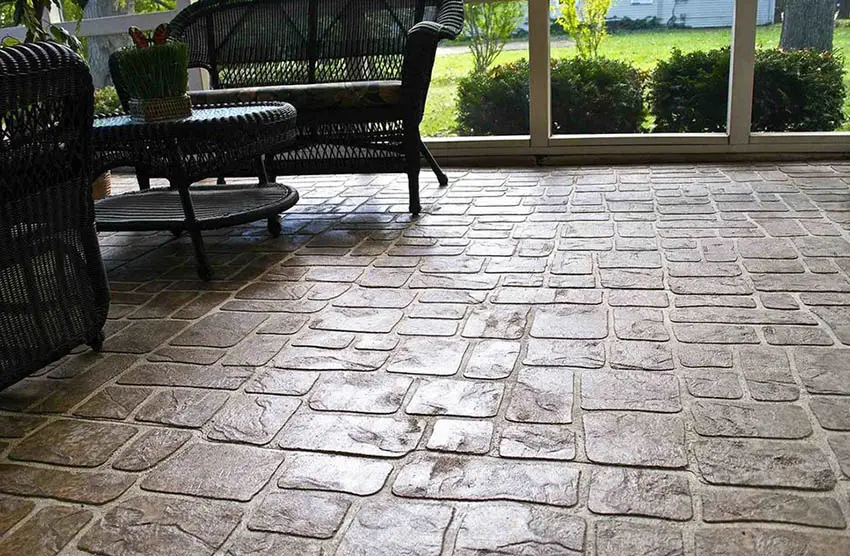 2. Stamped Concrete: A stamped concrete patio can be made of flagstones instead. The stamp can be decorative figures. They are easy to color. When shaped as squares or rectangles, they look like flagstones.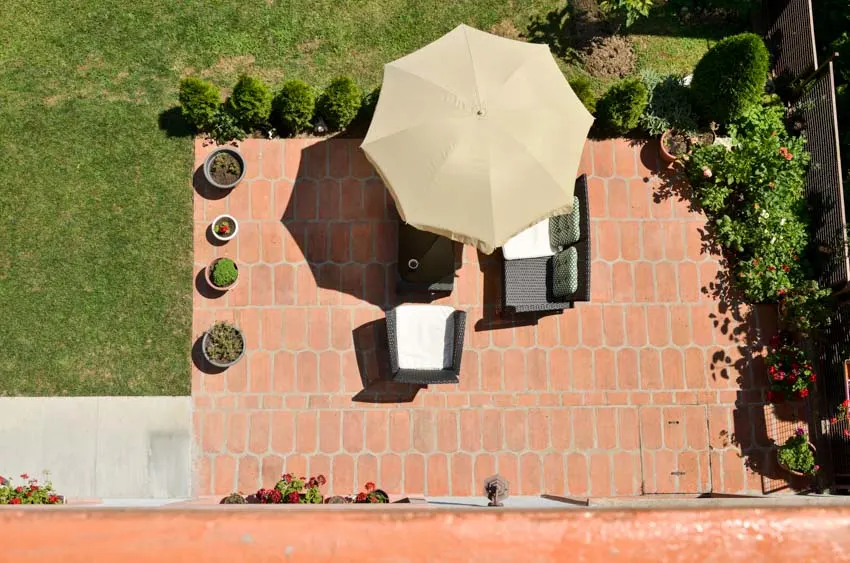 3. Brick: Brick is made of clay, usually red clay. It undergoes a manufacturing process. It can be a durable and cheaper substitute for flagstones. The bricks add color and texture to your patio surface.
Cheapest Patio Options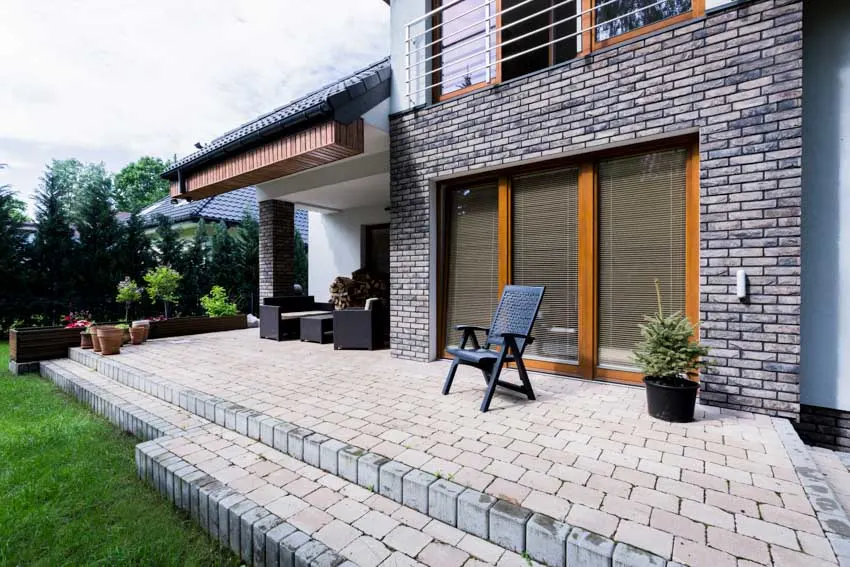 When it comes to price, several patio options are the least costly. These are concrete, gravel, and brick.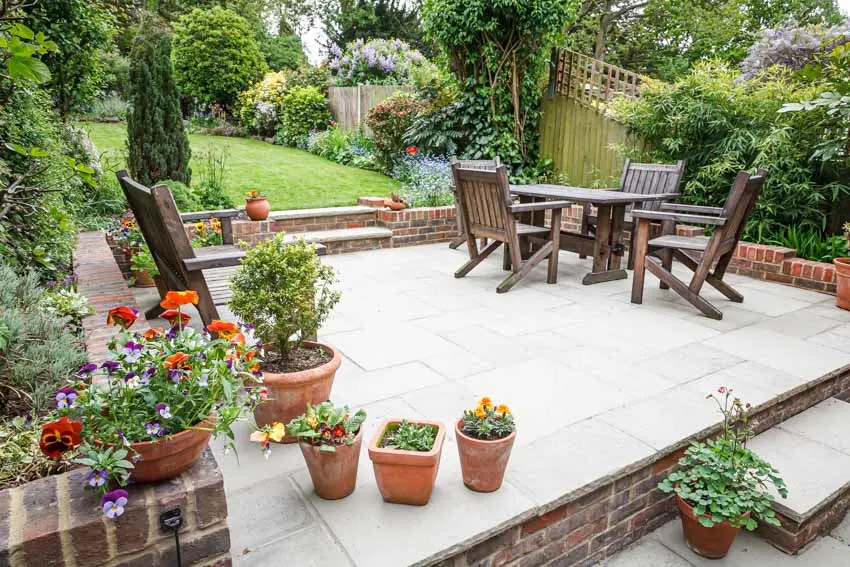 1. Concrete: Concrete is highly affordable. Having a concrete patio will not cost much on labor. It is simple to install.
2. Gravel: Gravel is always available, and you can even get some for free. The best material is pea gravel because they have a uniform size and similar shape. Some of them come in different colors.
3. Brick: Brick is a colorful material for the patio surface. It is also cheap and durable You can find an ample supply of crick anywhere.
With plenty of patio surface alternatives, you can always find the right material for you and the right price.
See more related content in our article about concrete patio finishes on this page.