Here we share our patio tile ideas design guide with popular types such as porcelain, ceramic, terracotta, concrete & travertine tiles.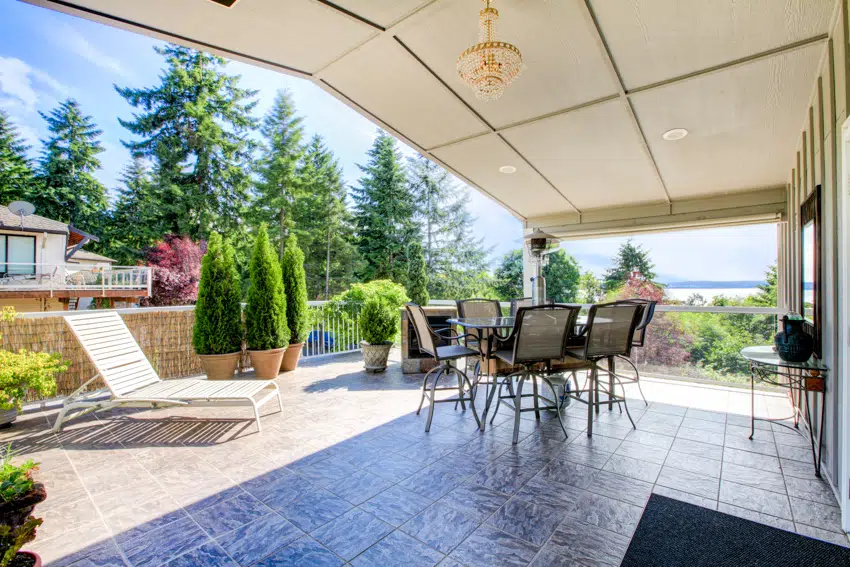 If you're new to the wondrous world of outdoor flooring, you're in for a treat. This is a great way to challenge and explore your creative side. Before you go crazy with the selection though, there are a few basics that you would need to keep in mind.
For starters, you need to keep in mind the fact that your outdoor floors will be exposed to the elements. This means that they would have to be durable in order for you to get bang for buck value for whatever amount of money you're spending on it.
They also don't get as much attention and cleaning care compared to the indoor spaces in your home. It would be wise to pick out options that are easy to maintain or options that aren't as labor-intensive to keep clean.
And of course, they are the first things you see before you even enter the house so they definitely need to be stylish and cohesive with the rest of your home's aesthetics.
It seems like there are way too many requirements to keep tabs on so we've gone ahead and decided to make your task easier. Here are some great patio tile ideas you can put on a list the next time you're looking around for ways to upgrade your patio tiles.
Ceramic Tile Patio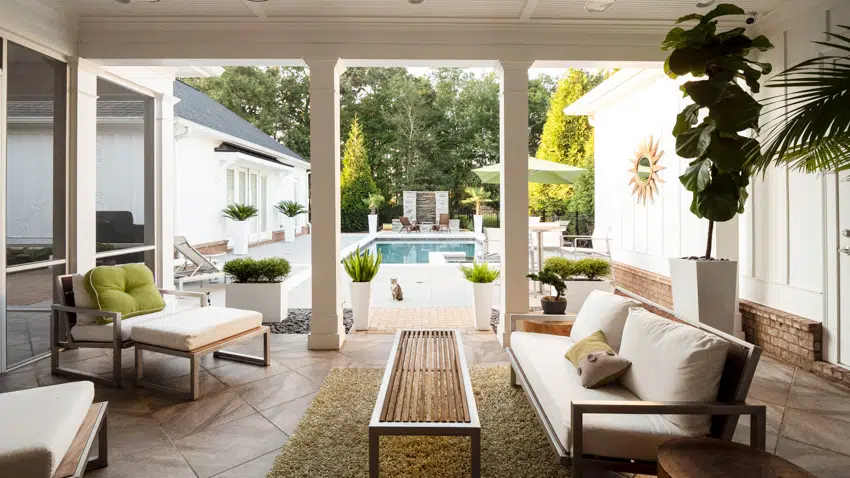 If your patio doesn't really happen to get a lot of foot traffic, ceramic patio tiles can be a viable option for you. Take note of the PEI rating of the ceramic tiles you are purchasing.
They need to have the sufficient strength needed for the weight they will be carrying or taking in. They're much cheaper compared to the other tiling options so they can be perfect if you're trying to work on a tight budget.
There are ceramic tiles meant for walls and ones meant for floors. Make sure that you pick the correct one for durability as wall tiles will easily break and will not be able to withstand the weight.
Cost: $0.50 to $35 per square foot
Porcelain Patio Tiles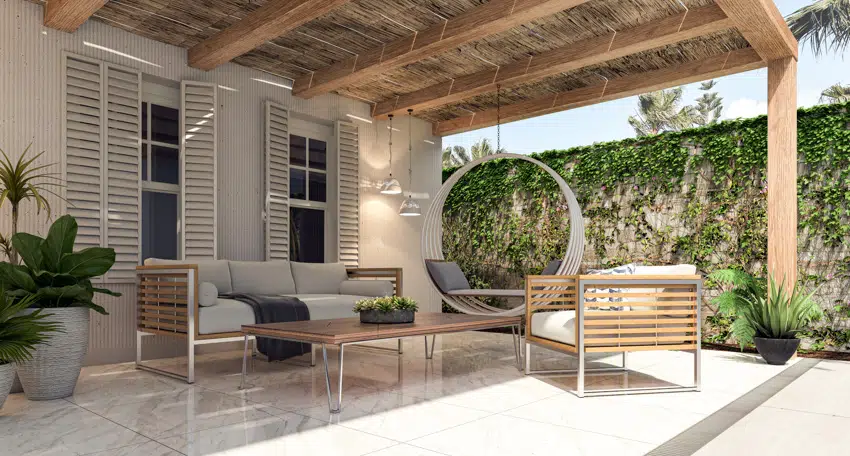 Porcelain tiles are a version of ceramic tiles but they are stronger and way more durable. Make sure you veer away from porcelain tiles with glossy surfaces and pick out those with textured ones instead.
The patio can get wet and smooth surfaces might make your patio floor slippery and this can be a bit of a health hazard for you and for the people who will be using the space.
Prices vary for porcelain tiles so you can adjust accordingly depending on your budget. Read more about our guide on porcelain vs ceramic tiles here.
Cost: $7 to $9 per square foot
Terracotta Patio Tiles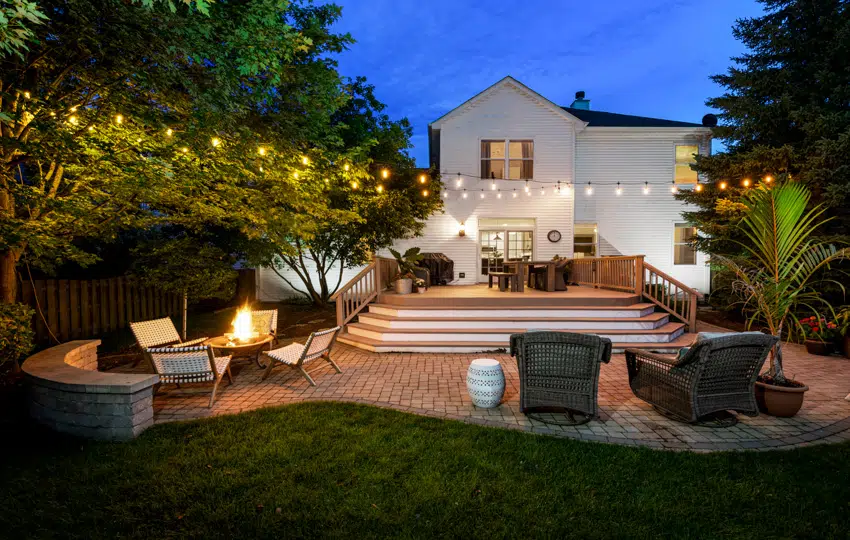 You're going to love terracotta tiles. Among the patio tile ideas here, they're highly durable and can last you for a lifetime if you get to maintain them properly.
They are also scratch-proof so you can rest easy in the fact that the aesthetics are well protected. Just keep in mind that for its installation, it needs ample grouting in the joints and it needs to be sealed using penetrating sealants.
Cost: $1 to $6 per square foot
Concrete Patio Tiles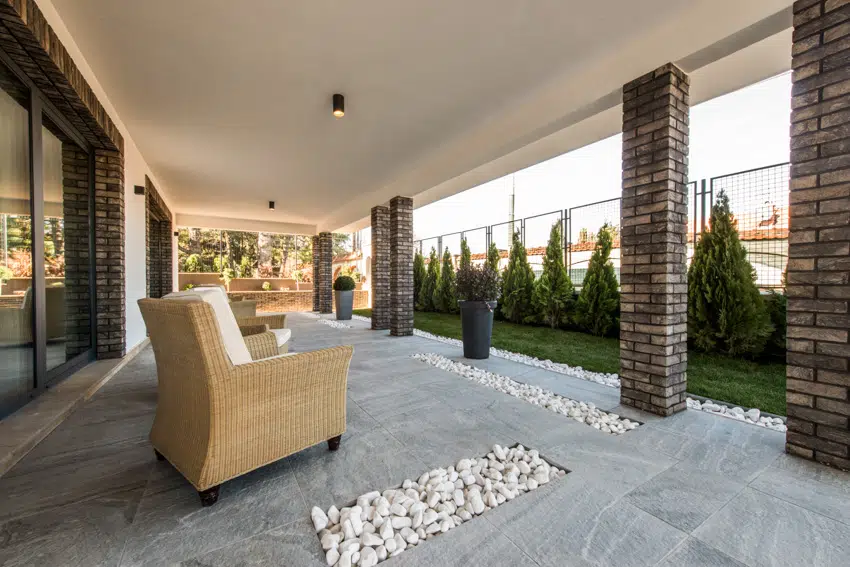 If you like the look of natural stone but you aren't a huge fan of its costs, concrete patio tiles are definitely worth considering. They're basically concrete poured into molds.
Most of these concrete tiles can come with decorative textures and colors and can even mimic the look of natural stone or fancy ceramic tiles. Read more about our guide on the different concrete patio finishes here.
Cost: $3 to $20 per square foot
Wood Patio Tiles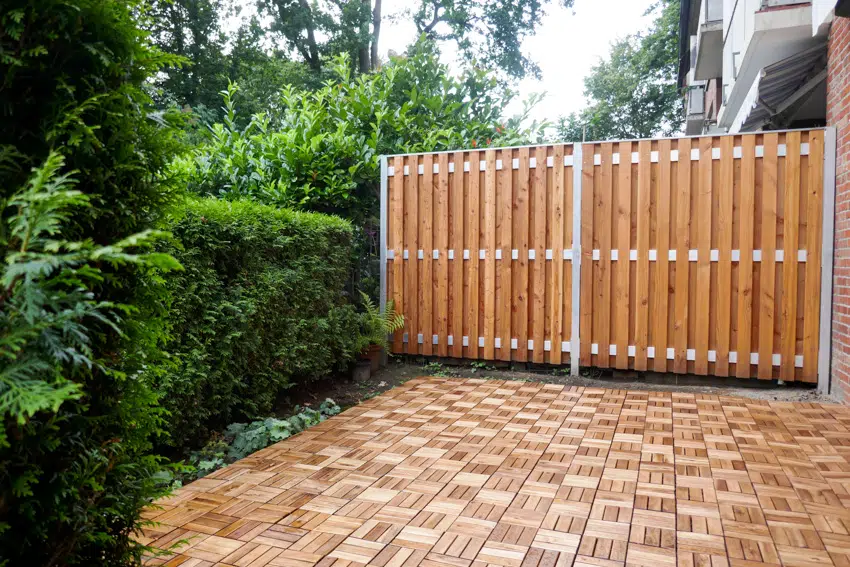 Wood patio tiles can be made of either real natural wood or synthetic composite planking that has been attached to strips for backing with interlocking edges.
If you want your patio flooring to be cohesive with your outdoors, then this can be a great option for you to consider. These tiles can give you the feel of having a deck without the astronomical costs of getting a ground-level deck constructed.
The natural wood patio tiles are usually made out of redwood or cedar. These wood types are resistant to pests and can withstand harsh weather conditions, making them perfect for the outdoors.
Cost: $5 to $20 per square foot
Rubber Patio Tiles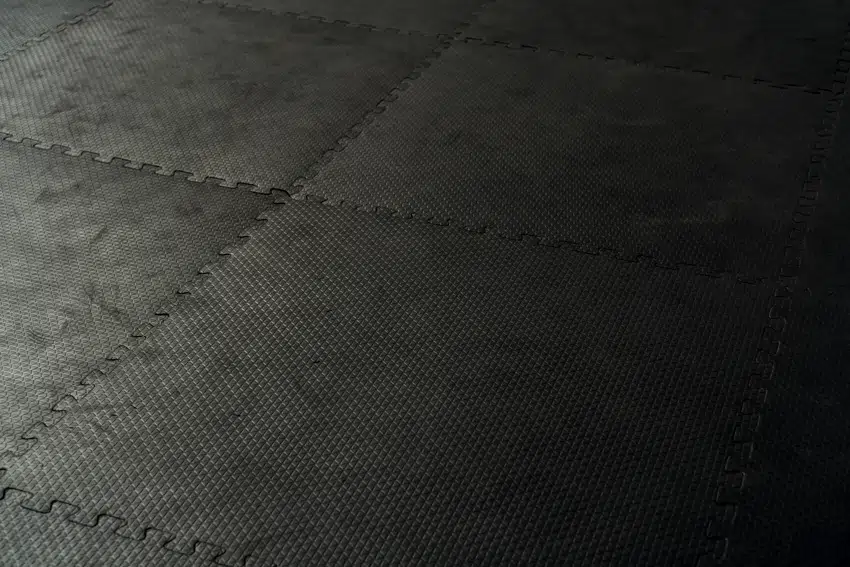 If you're using your outdoor patio as a play area or expect some sort of sports activity function for it, then rubber patio tiles should be your go-to option.
They're like puzzle pieces that have interlocking edges that are usually joined together to form a resilient and uniform surface. This is one of the more practical patio tile ideas if you want to cover the area surrounding a pool.
If you expect to have little kids playing in the patio area, there are varieties for extra soft rubber tiles so that they don't end up hurting themselves.
Cost: $4 to $12 per square foot
Travertine Tile Patio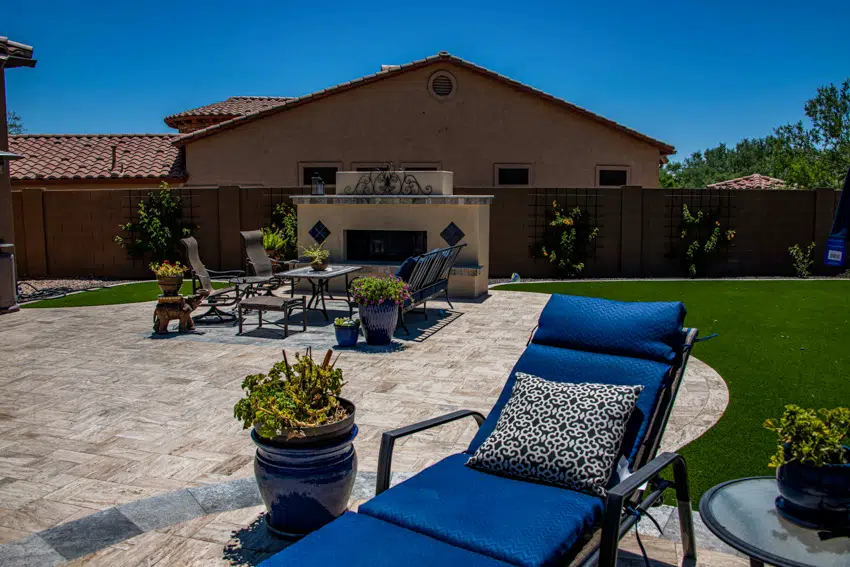 Travertine tiles are mainly composed of natural stone. They come in a wide variety of colors and textures that is sure to appease even those with the pickiest of design tastes.
Although categorized as a limestone, this material is actually hard and durable. Travertine tiles are water-resistant and usually come in pitted surfaces which is both an upside a downside.
It makes the surface less slippery but at the same time, it can collect water, making it prone to mildew, grime, and even algae, unless periodically cleaned. Read more about our guide on travertine patios here.
Cost: $4 to $6 per square foot
Plastic Patio Tiles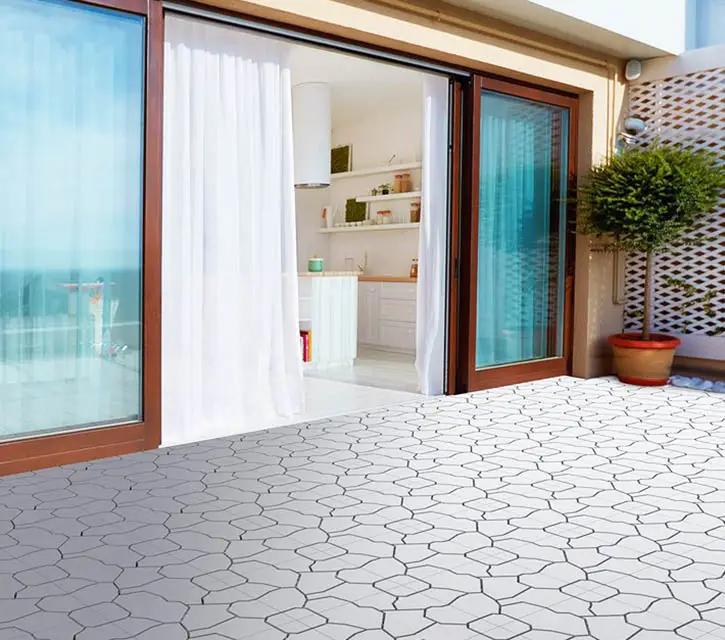 Plastic tiles are relatively new to the patio tiling scene but they're great because they come in non-slip surfaces and unlike the other tiles, their installation is something that you can do yourself.
You just need to lay them out flat and interlock the edges to secure them. Although durable and functional, they're not very aesthetic. Still, they can be considered as an upgrade compared to a basic concrete patio.
Cost: $5 to $15 per square foot
Interlocking Patio Tiles
Some of the tiles we've already mentioned are categorized as interlocking tiles; such as the plastic, rubber, and wood tiles.
One that wasn't previously mentioned that falls under the same category is the carpet tiles. They're made out of actual indoor-outdoor carpeting material and are applied with heavy-duty adhesive tape.
They can be easily installed over concrete slabs and can be removed and replaced easily. These are tiles that you can install and replace yourself.
Cost: $1 to $4 per square foot
Best Tile For Outdoor Patio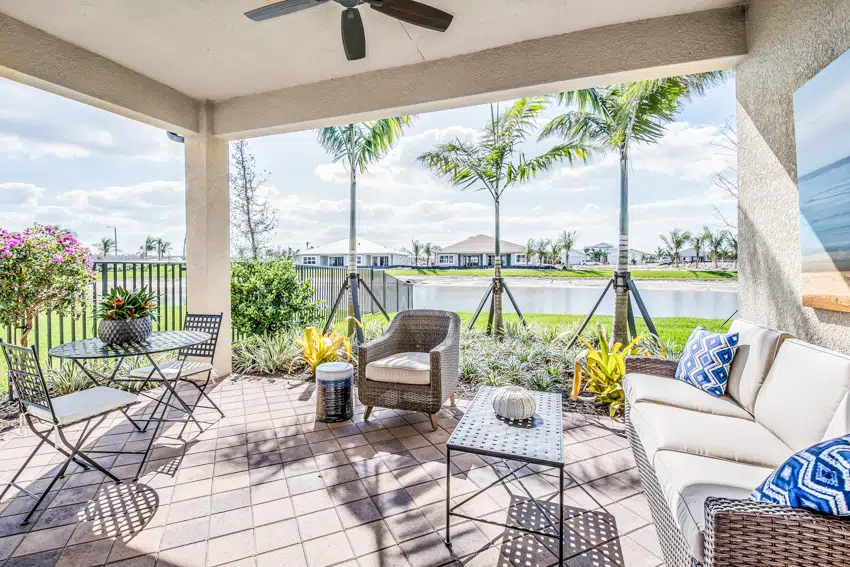 So what's the best tile for your outdoor patio? There's no single answer, really. It depends on what your specific needs are and what exactly you are trying to achieve for your patio space.
However, all of that aside, when you just consider the cost, the durability, and the aesthetics; our vote would have to be on terracotta patio tiles. They just require some professional touches with the installation, which is separate from the material cost.
Once they're set and ready, you're basically set for life. They require minimal maintenance and they come in a lot of designs and colors that you can choose from. See more related content at our article about the different types of patios on this page.