Here we share our types of pavers guide including the different materials, their pros and cons, popular brands, where to use them, and the most durable paving options.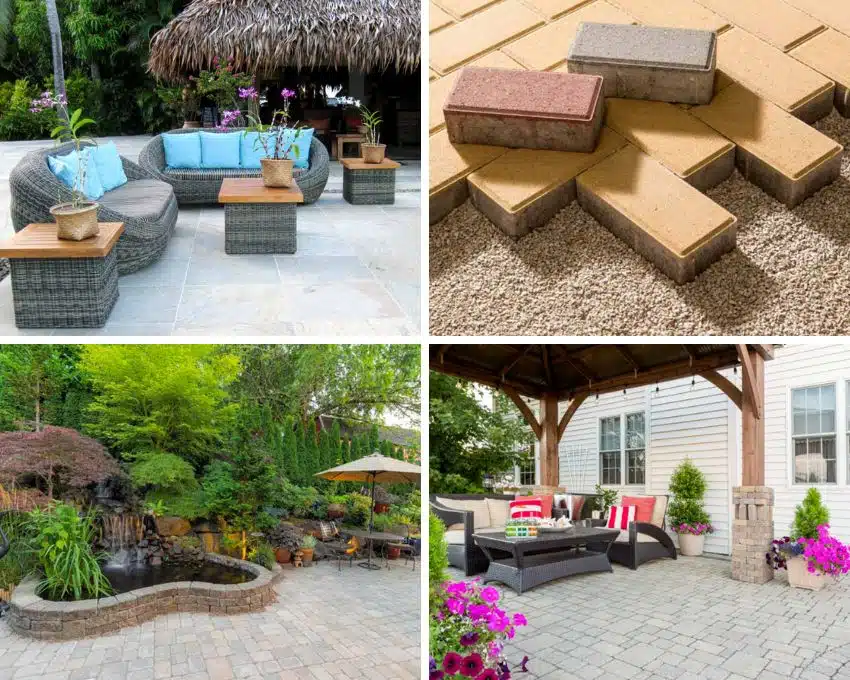 The various types of paving stones are integral to every modern outdoor flooring, whether it be a patio, driveway, sidewalk, or swimming pool decking. They offer unparalleled beauty, exceptional longevity, and maximum strength at relatively low costs.
If you are considering paver installation for the very first time, you might be overwhelmed by the variety of paver types on the market. They differ in terms of color, design, and installation arrangement.
In this article, we will delve into the realm of paving materials and discuss the pros and cons of each one of them. Hopefully, with the assistance of this guide, you can eventually choose the ideal paver type for your construction project.
Different Types Of Pavers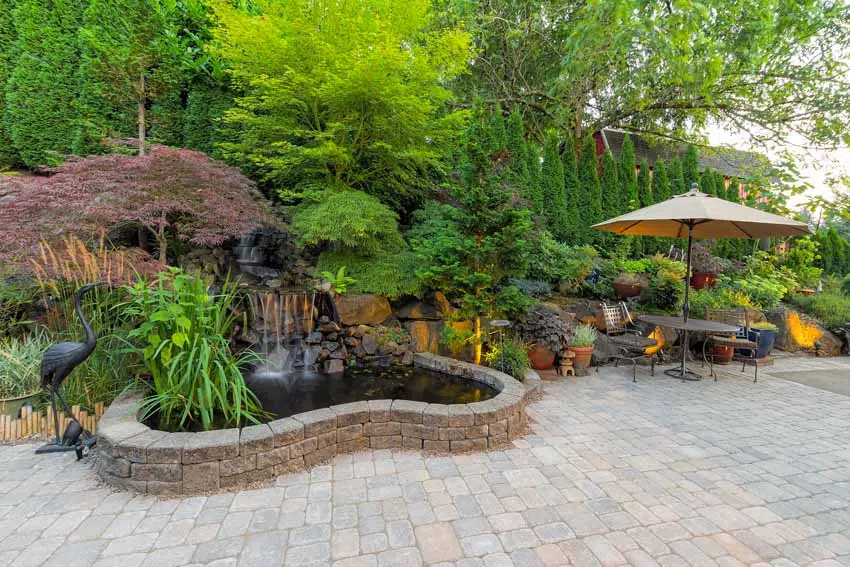 The fundamental difference between paving types is the material. We have compiled a list of the various types of paver materials below based on their quality, aesthetic appeal, and many more.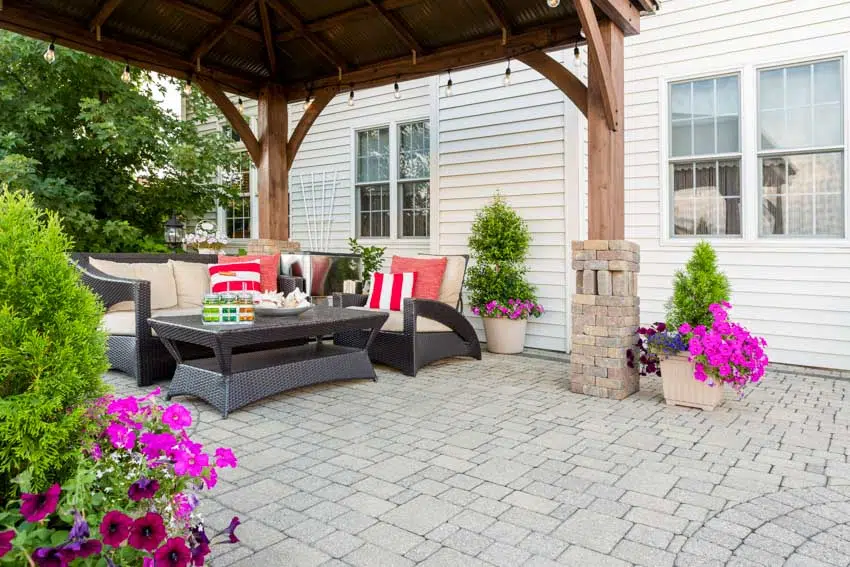 We will also take a look at the features, benefits, and downsides of various paver options to help you pick the right choice according to your needs and preferences.
Brick Paver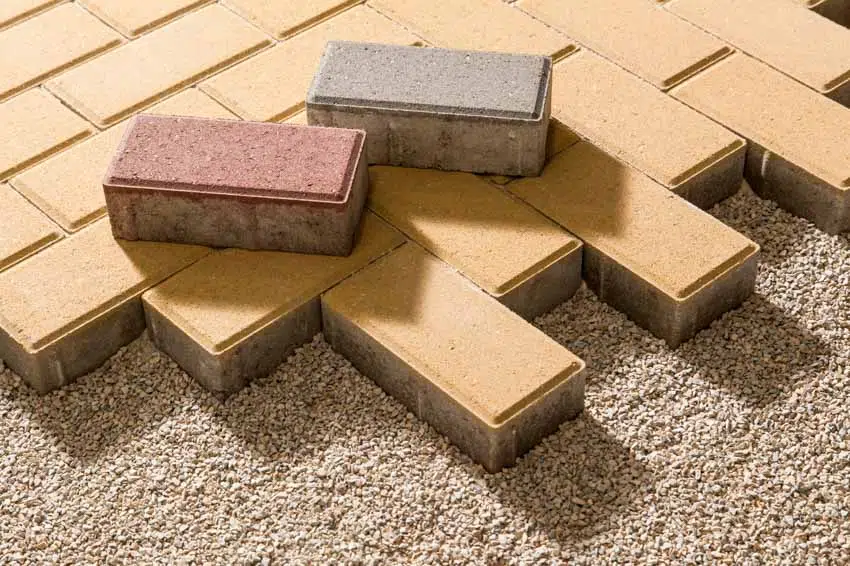 For generations, brick tiles have been utilized as paving materials. These blocks are made of molded clay that is fired in a kiln before being installed on the road on mortar or sand base material. They are effective alternatives to concrete because they may be laid in a variety of designs and color schemes, with significant differences in texture, style, and color.
Adding another aspect, brick is a widely accessible material that is both pocket-friendly and reusable. Brick is also a more environmentally friendly option than concrete. Furthermore, the color of brick is baked into the material to ensure that it stays constant over time. If clay bricks are more your style, you can even find some to use as paving stones.
Aside from the traditional red color, several varieties of brick tiles are available in a wide range of contemporary-looking colors to complement both classic and modern architecture. You can also select any size or shape of brick paving stones and place them in various creative designs to make the outdoor flooring even more aesthetically attractive.
Additionally, unlike certain other paving materials, brick paving tiles do not stain easily. You can leave some little gaps between the bricks while putting them for improved drainage and temperature regulation in your paving style.
On the contrary, all types of brick pavers, like every other paving material on this list, have some drawbacks. Brick is expensive and is not the most durable paving material. It frequently breaks or chips after several years of usage. You may also need to remove the weed from the outdoor brick flooring more frequently because they can quickly develop between the small openings or gaps.
Pros of Brick Pavers
• Bricks have a long lifespan. Even if there may be a few chips and cracks after several years, it still has a nice aesthetic.
• Brick require very little maintenance to maintain their best appearance.
• Brick gives a timeless look to a driveway, patio, or any outdoor space, making the atmosphere more inviting.
• Bricks are environmentally friendly.
Cons of Brick Pavers
• They are an expensive option.
• Although bricks are recognized for their durability, if they are subjected to daily continuous human or vehicular traffic for years, they may begin to show signs of wear and tear.
• Weeds can also grow in the gaps of brick paver patios.
Concrete Paver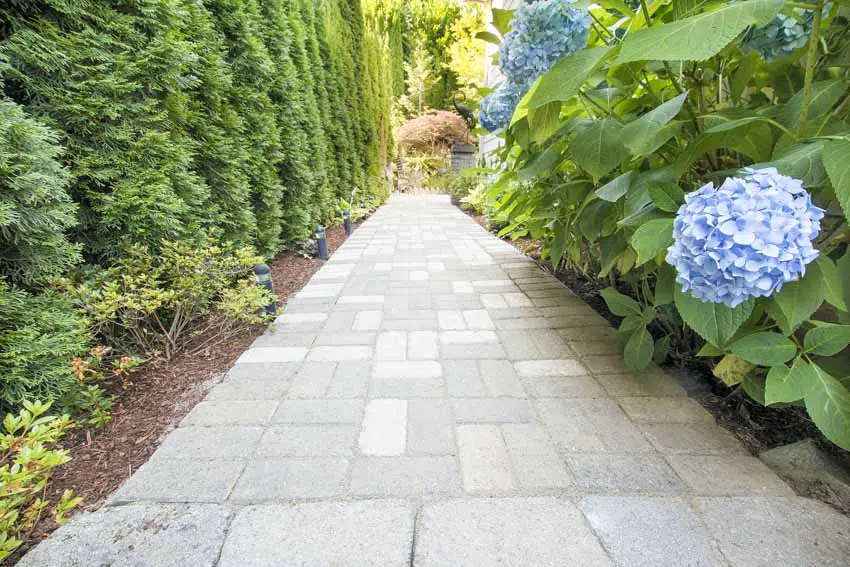 Concrete paving stones are among the most widely known driveway and highway flooring solutions. They are offered in various patterns, sizes, colors, textures, and thicknesses.
The material has a natural appearance and provides an easy and minimal finish. Because concrete paving stones are coherent and easily cut, they are a relatively simple and trouble-free material to install.
Concrete pavers have advanced by leaps and bounds from the monochromatic, cookie-cutter bricks and slabs associated with first-generation versions. – Black & Decker The Complete Outdoor Builder, Editors of Cool Springs Press
Materials used for making concrete paving stones include aggregate stones, cement, sand, and colors. Thus, you have the choice of selecting concrete in any color you like. They are commonly seen in all business and residential structures. This is owing to the fact that concrete paving blocks are fairly inexpensive, long-lasting, and adaptable.
These blocks can be formed into any shape or size, from large rectangles to small tiles. Furthermore, to improve the visual appeal of the structures, these can be branded, etched, and designed with intricate orientations.
Another advantage of concrete cobblestones is that they are quite simple and quick to install. Additionally, concrete outdoor flooring have a consistent texture and a beautiful finish. You can do it all manually if you have some do-it-yourself experience with floor construction.

However, despite being a strong paving material, concrete can be prone to cracking due to excessively low temperatures. Regular maintenance is required to increase the material's durability.
Moreover, the color of concrete paving material generally fades over time. In that instance, a sealer is required to keep the colors intact. However, if you lay the cement all by yourself, you can make whatever paver shape you prefer.
Pros of Concrete Pavers
• It comes in a variety of sizes, hues, and shapes to match your plan for your home. You could even coordinate them with the design of your garage.

• The cost of this paver option is kept as low as possible by the low-cost raw materials required to produce concrete.
• Less time and money are spent on installation because this material has similar size and weight
• They are easy to install. They are ideal for DIY projects.
Cons of Concrete Paving Stones
• They can require a lot of upkeep. To keep the color of this paving material from fading under the sunlight, you have to seal them periodically.
• If the components used to build the concrete are not mixed properly, it results in low-quality ones.
Interlocking Concrete Paver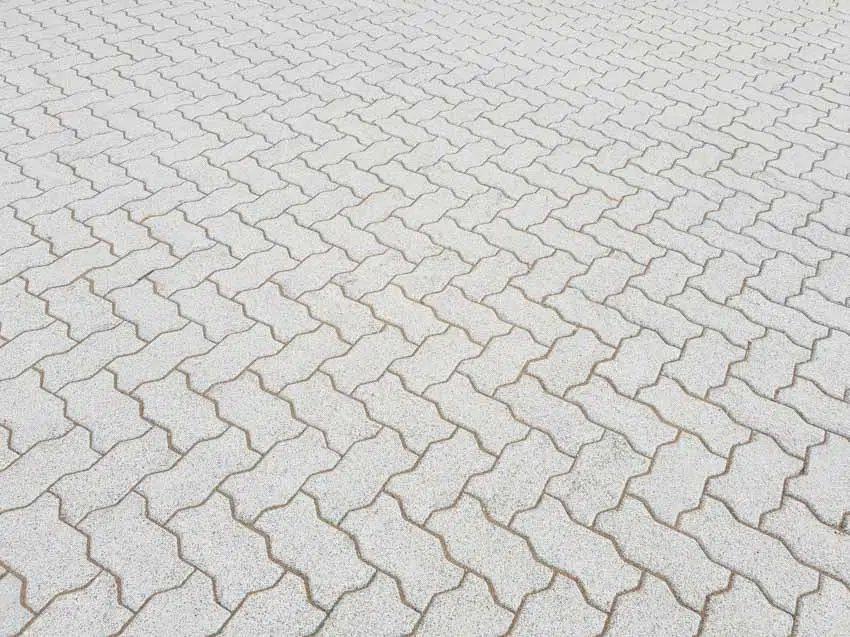 Interlocking paving tiles are often built of cement or concrete and mimic the appearance of concrete walkways. Because of their unique interlocking structure, these concrete paving tiles can be readily put without the necessity of mortar. The interlocking concrete paver is a simple paving medium for the homeowner or builder to install.
Moreover, interlocking concrete pavers can be used to overlay any deck, patio, driveway, or pathway. These can be utilized in practically any application where bricks or concrete will be employed.
Interlocking paving tiles are also available in a variety of colors and styles. They are modular, which means they can be connected to generate a wide range of geometric forms.
When correctly laid, the pavers, bedding sand, edge constraint, and combined sand adhere, enabling the paver units to form a single unit. This is similar to the application of stones and bricks, implying that interlocking paving material can be a beneficial alternative to traditional methods of pavement and road repairs.
Interlocking concrete blocks can distribute the weight and strains laterally via arching spanning between units, spreading the weight over a vast area and reducing stress. This helps in allowing larger pressures and traffic over sub-bases that might otherwise necessitate significantly fortified concrete.
There are numerous advantages to this material in residences and roads. Due to the movement canceling function, the interlocking concrete paving tiles handle the traction and mass of residential and commercial vehicles. Some interlocking concrete paver options even include a fuel- and oil-resistant capability, which eliminates the need to bother about fuel or oil leaks.
Furthermore, the interlocking design implies that this paving system would not necessitate any laborious maintenance once effectively and correctly placed. This renders interlocking paving tiles a very interesting option for homeowners.
Unfortunately, these have visible gaps so that they can be prone to moss and weed growth. And after several years, the concrete blocks may become uneven, resulting in an unstable surface.
Pros of Interlocking Concrete Pavers
• They can be easy to install; ideal for do-it-yourselfers.
• They are available in a wide variety of colors and patterns.
• The traction and weight of residential and commercial vehicles are well-handled by interlocking concrete pavers.
• This paving solution would not require any time-consuming maintenance.
Cons of Interlocking Concrete Pavers
• They have visible gaps, leading to moss or weed growth.
• After several years, the concrete blocks could become uneven and unstable.
Interlocking Clay Paver
Paved areas for both business and residential use frequently feature clay paving tiles. They can be located on paved surfaces such as sidewalks, walkways, fire routes, and other places that must withstand the weight and anticipate continuous traffic.
To combine the clay particles for peak performance, solid clay paving tiles are hard-fired at extreme temperatures in computer-controlled kilns. The rich and naturalistic colors produced by this hard-firing are resistant to UV radiation, which frequently causes artificially colored concrete paving stones to discolor. A clay paver surface is normally resistant to stains.
Interlock, a paving concept that occurs when clay pavers are put in a dynamic paving system, increases the strength of each paver. Loads are spread uniformly through the paver interplay, jointing sand, and paving base material in a proper adaptable paving construction.
Using basic tools, affordable bedding supplies, widely accessible equipment, and usually high levels of workmanship, interlocking clay can also be accomplished. When constructing clay pavers, professional labor and cement are not that necessary.
To keep them from deteriorating, peeling, flaking, and breaking apart, clay paving stones need periodic maintenance. Clay stepping stones must be sealed, whether they are positioned in mortar or sand.
They will rapidly deteriorate if this sealant is not routinely reapplied. Meanwhile, if there is no proper water drainage system in place, severe rainfall will typically cause an overflow of water, resulting in floods.
Although this is not a concern for smaller clay paver applications or residential consumption that is close to a local drainage system, it can create significant issues in commercial settings or in neighborhoods that frequently flood. Additionally, they do not have a lot of different designs.
Pros of Interlocking Clay Pavers
• UV-resistant ones are produced by hard-firing solid clay pavers at high temperatures in computer-controlled kilns.
• They are widely used in residential and commercial settings.
• Generally, these are stain-resistant.
• These can be very easy to lay.
Cons of Interlocking Clay Pavers
• They are high-maintenance. They have to be regularly maintained to prevent them from flaking, peeling, or cracking.
• They are not ideal for flood-prone areas.
• They are not available in many designs.
Travertine Paver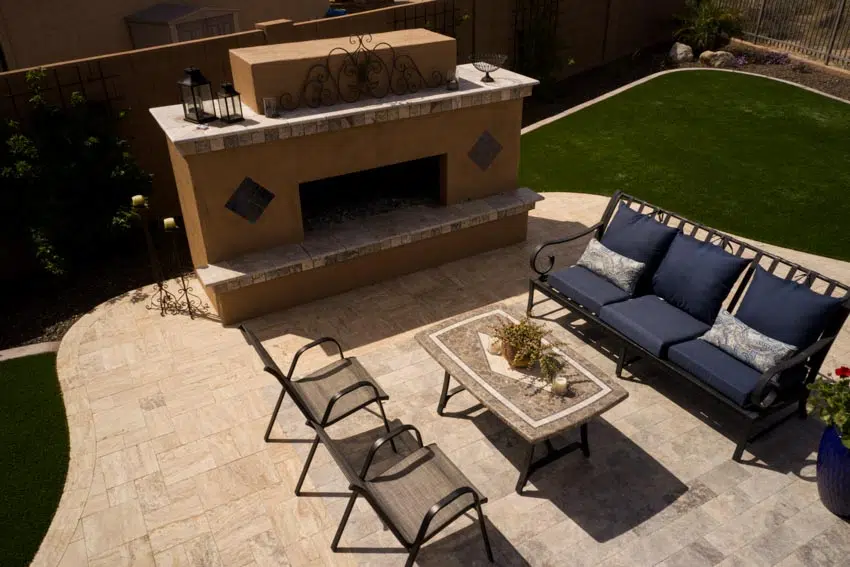 Travertine, another sedimentary type of rock, is often used for landscaping, pavement, and pool decking. The stone is renowned for its flawless, natural appearance and weather resistance. You do not have to fret about fractures or the surface becoming hot because it can absorb heat efficiently.
Because of its rich texture, travertine is more robust and lasts much longer than brick and concrete. Furthermore, the substance is all-natural and less harmful to the ecosystem.
Due to the smooth surface, the material is indeed very simple to keep clean and maintain. The material is available in a variety of eye-catching colors that stay undamaged even without sealants.
However, you must use extreme caution while using cleansers on this material. Vinegar and several acid-based cleansers can leave unsightly stains on travertine pavers.
Pros of Travertine Pavers
• Their color remains consistent despite being exposed to direct sunlight.
• They are relatively simple to install due to their level surface.
• This pavement material withstands seasonal fluctuations effectively.
Cons of Travertine Pavers
• Travertine is a more expensive option.
• Some acid-based detergents, such as vinegar, can leave unsightly marks on the travertine surface.
Limestone Paver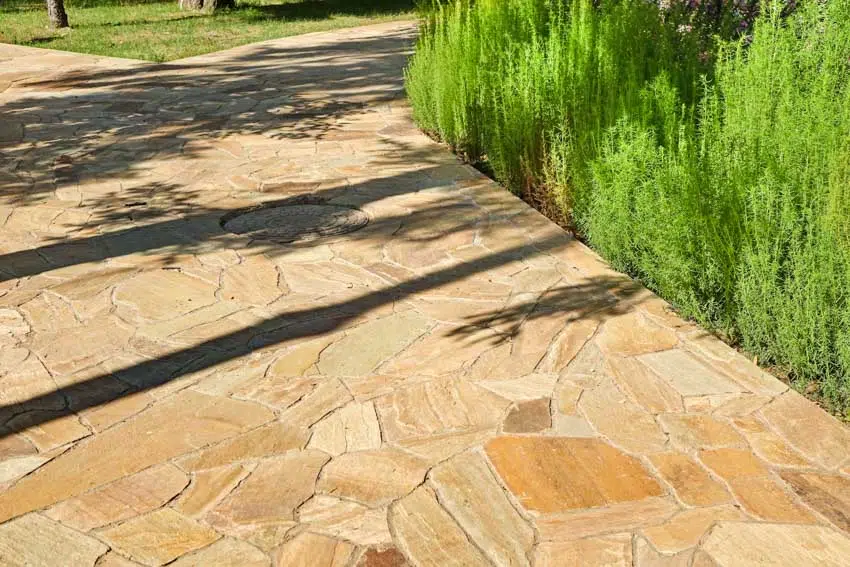 Limestone was among the very first commonly used building materials. It was utilized in some of the world's oldest stone structures, including the Egyptian pyramids. Interestingly, limestone accounts for roughly one-tenth of all sedimentary rocks.
Limestone has the same density as marble and a softly rough surface. That, combined with its insulating properties, makes it an ideal paving tile choice.
You should consider limestone slabs if the varied tones of gray, tan, and lighter hues leaning toward white complement your exterior design. They are typically larger tiles that are heavy and long-lasting. These paving bricks are also incredibly durable due to their density.
This material distribute heat effectively and absorb little water, making them an appropriate surface for typical patios as well as swimming pool decks. They are unlikely to get damaged unless you drop something quite heavy on them.
Moreover, limestone never gets too cold or too hot in the wintertime or summertime. You have hundreds of different types of limestone to choose from. Another advantage is that it requires little maintenance once installed.
However, limestone can be easily stained. Although you can seal them to help combat certain elements, algae and mold can still grow. Fortunately, these stains and elements can be easily cleaned.
Pros of Limestone Pavers
• They have excellent insulating capabilities.
• They are incredibly long-lasting and durable.
• They distribute heat very efficiently; moisture-resistant.
• They are low-maintenance.

Cons of Limestone Pavers
• Although limestone is easy to clean, they can be easily stained.
• These tiles can be hard to locate; not widely available nowadays.
Porcelain Paver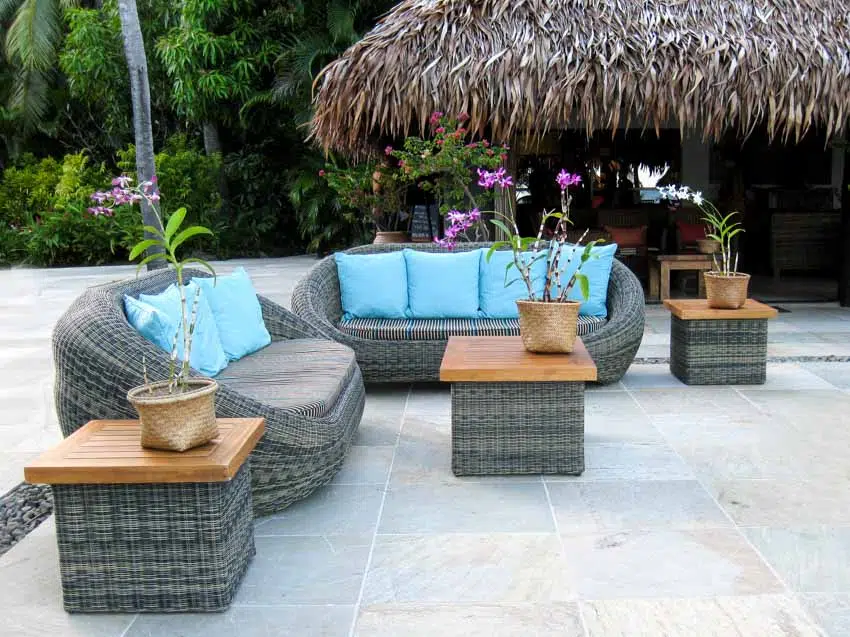 Even though porcelain is considered a newcomer to the paver market, it is quickly gaining appeal. Because of its non-porous structure, the material is commonly utilized in poolside areas. Furthermore, the low-absorbent surface of these paver kinds effectively combats moisture and debris. It will be very simple to keep this material clean and hygienic.
Porcelain is a paving material made of clay that is often baked before being molded into various sizes and shapes. This makes the material tough enough to endure intense heat.
To make porcelain pavers feel and appear more natural, they are given the very same hue and finish as genuine stones. Some manufacturers nowadays can build variants that closely resemble wood, stones, and other natural materials thanks to technological advancements.
Generally, these types of paving stones are easily accessible and do not necessitate the use of heavy machinery for installation. Although porcelain is a robust substance, it is not as long-lasting as other materials. Furthermore, when exposed to extreme cold, it cracks and breaks. Lastly, they are hard to cut.
Pros of Porcelain Pavers
• These are manufactured in numerous hues and styles.
• They are simple to maintain and keep clean.
• Its non-porous nature aids in the resistance of mold and mildew growth.
• It can be manufactured to look like wood, stones, and other natural materials.
Cons of Porcelain Pavers
• Cutting and shaping these tiles necessitates using specialized tools, which can raise labor expenses.
• When subjected to freezing temperatures, it can crack and break.
Ceramic Paver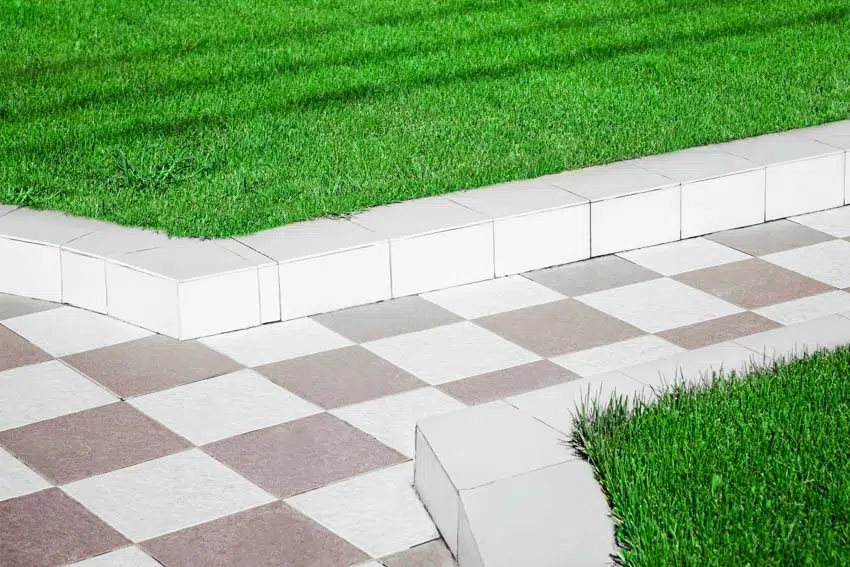 Ceramic tile pavers are an old style of paving, but thanks to modern material advancements, they are becoming more extensively utilized, especially in colder locations where they were generally unavailable.
Notwithstanding being a less obvious alternative than the conventional flagstone or concrete slabs, it offers numerous advantages over its competitors that render it an interesting option. Exterior ceramic tiles can be very easy to install, have a unique and personalized appearance, are long-lasting, and are low-maintenance.
Depending on the type of application, this material can be laid in a variety of methods. They can be set over sand and gravel like the typical concrete paver, providing for drainage and simplicity of removal while remaining durable.
Although concrete and stone can be uncertain in terms of color consistency, the cemic tile paver gives the user total command over how much difference there is. With so many various hues to choose from, the majority of which can be combined and matched, the options are limitless and completely up to the designer.
The amount of effort necessary to keep ceramic paving slabs in good condition is incredibly low. This can be linked to their level of resistance to anything that is thrown at them. They are stable and can be positioned in either human or vehicular traffic.
Ceramic patio tile, like stone and concrete, does not have to be treated or maintained in any special manner. However, when transporting incredibly heavy objects, you have to be very careful. Once these objects fall into ceramic pavers, they might develop cracks and then break.
Pros of Ceramic Pavers
• They are ideal in regions that normally deal with cold temperatures.
• These can have a unique appearance; they are available in different colors and designs.
• With utmost care, they can be very long-lasting.
• They are low-maintenance; easy to clean.
Cons of Ceramic Pavers
• Dropping extremely heavy objects on them could break them.
Flagstone Paver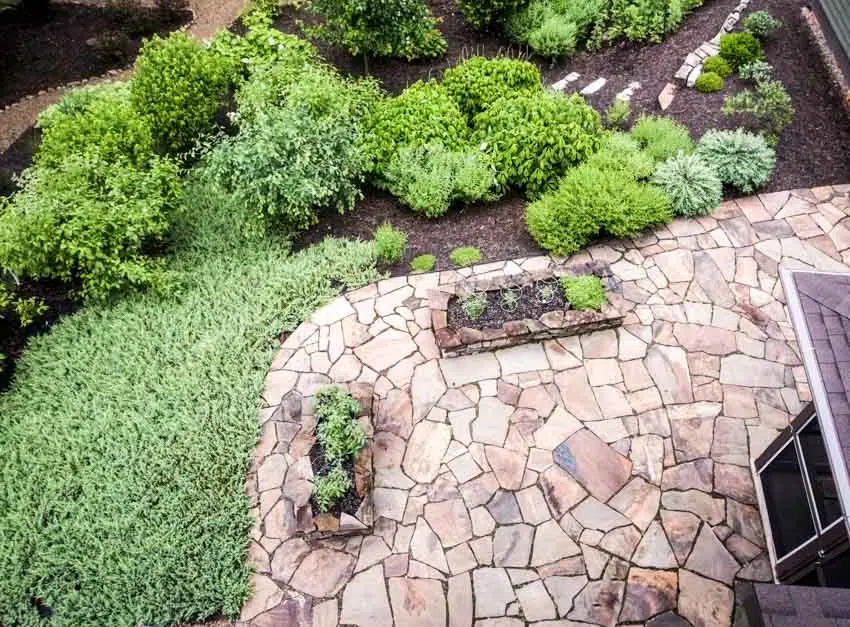 Of all the paver selections, this is probably the most beautiful and elegant material. Flagstone is a type of sedimentary rock obtained from a quarry. This material is costly since mining and transportation expenses are generally high. Flagstone pavers are available in a variety of colors, including red, brown, gray, and turquoise.
The unique shapes and sizes distinguish this material from other materials. Even though these are available in rectangles or precisely square shapes, the majority of people like uneven, puzzle-like shapes. This results in distinctive and elegant landscaping that improves your property's aesthetic appeal.
Flagstone, unlike concrete and granite, feature a non-slip surface and are extremely easy to maintain. Thus, it would be an ideal material for places where severe rainfall and snow are common.
Flagstone paving tiles, on the other hand, are often more lightweight and thinner than other paving materials. Therefore, using it for driveways or as one of the driveway substitutes might not be a great idea. Rather, you can only use flagstone to create patios, pathways, and steps.
Pros of Flagstone Pavers
• They are very elegant and eye-catching, improving your property's value and aesthetic appeal.
• Many people enjoy flagstone's uneven, puzzle-like shapes, which creates unique and exquisite landscaping.
• These are slip-resistant.
• Practically zero maintenance
Cons of Flagstone Pavers
• These might not be ideal for driveways as they might get damaged by vehicular traffic.
Bluestone Paver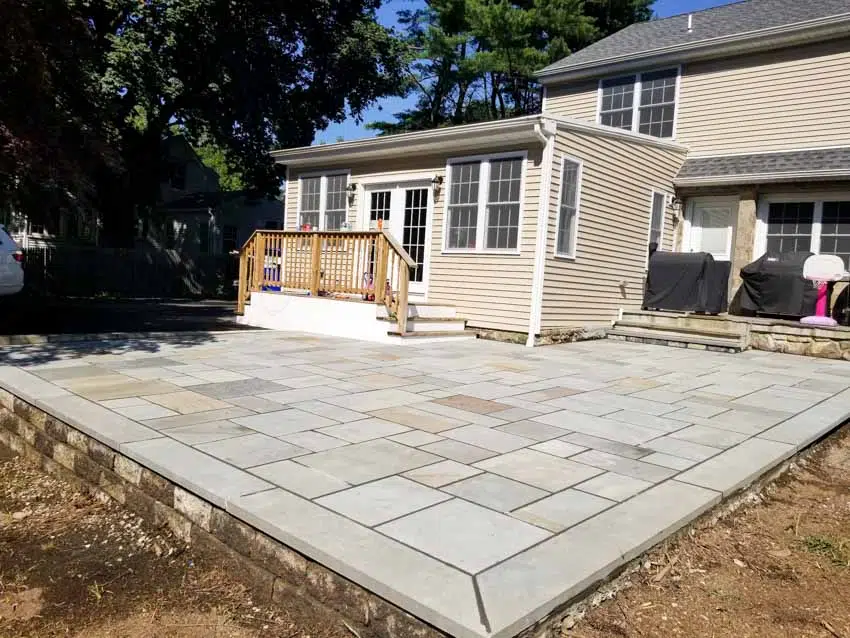 Bluestone is a kind of sandstone that is typically used to make stylish and efficient types of driveways. It is available in a vast array of sizes and styles. They have a variety of looks since they can be crushed into gravel, left in larger slabs, or trimmed into unique tile configurations.
With bluestone, you could have large slabs set up in your driveway. You also can have them reduced into tile-sized portions to be specified in your selected design, or actually, have them broken into gravel or beaten stone.
Beyond the ability to pressure it into the form you want, bluestone pavers have a stunning bluish-gray color that becomes lighter through the years as it is subjected to the sun. You can blend it in with different kinds of tiling materials too.
Pros of Bluestone Pavers
• They are highly resilient and may be molded into any basic shape.
• These are quite colorful. They frequently start as a sapphire blue, but sun exposure transforms it to mild gray.
• It can be incorporated with multiple paving materials.
• It can come in various shapes and sizes to complement your construction project.
Cons of Bluestone Pavers
• It must be regularly sealed to maintain their attractive appearance. This might add to maintenance costs.
• Bluestone is more pricey than brick or concrete since it has to be extracted from a quarry.
Cobblestone Paver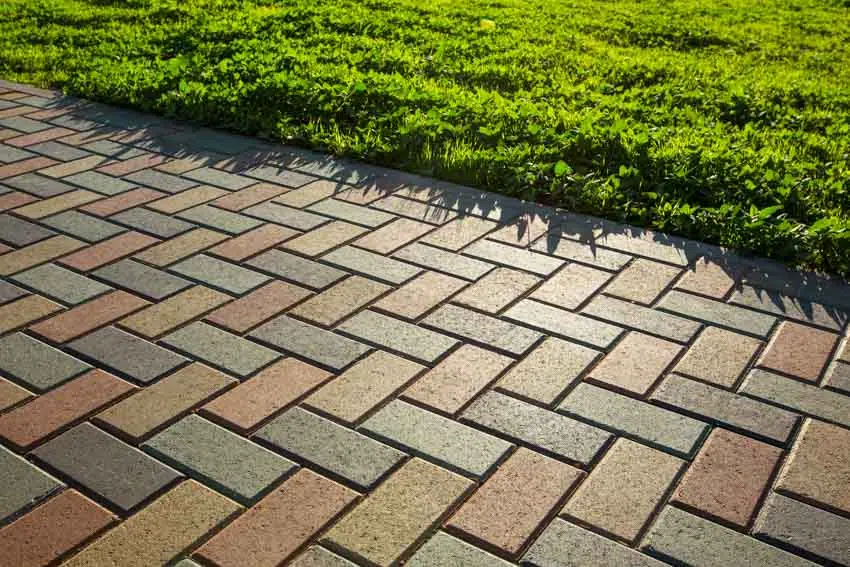 Cobblestone pavers are typically composed of granite, although they can also be built of basalt, sandstone, or limestone. Paving stones have been around for millennia and offer the perfect combination: long-lasting durability as well as an appealing look.
Cobblestone is an old-school material that has been utilized for generations as a paving material. It is exceptionally sturdy and widely known for sidewalks as well as driveways. Even with little maintenance, cobblestone pavers can live up to 100 years or more.
Aside from its longevity, cobblestone is recognized for its adaptability. You may discover numerous sizes and forms of cobblestone on the market. As the natural hue of cobblestone is quite appealing, different color mixtures are not widely accessible.
Such paver choices can be built in countless gorgeous patterns that quickly make a great impact. As you can expect, the stone is extremely dense and can withstand the toughest circumstances. If you have a large budget, we recommend choosing cobblestone to ensure long-term durability.
Pros of Cobblestone Pavers
• They require minimal upkeep. You only need to clean them either once or twice a year.
• These are highly durable and long-lasting. They can stay solid for decades when laid properly.
• Cobblestone comes in a variety of shapes and colors to pick from.
Cons of Cobblestone Pavers
• These are pricey.
• They take longer to install and entail more manpower.
Slate Paver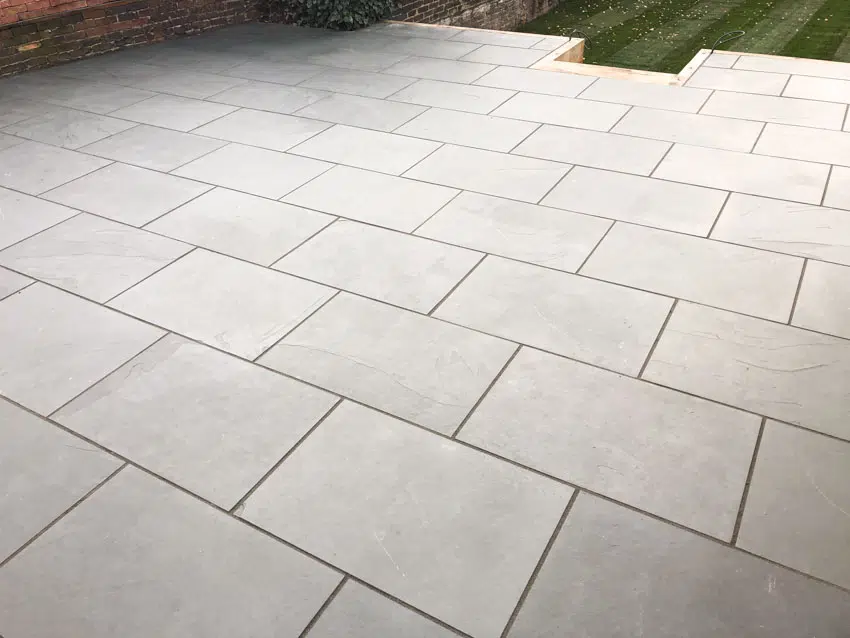 Slate are natural stones that are obtained from foliated rocks. The minerals get grouped in parallel plates or sheets during metamorphism, providing them with a mottled or banded look. Its fine-grained texture makes it an excellent outdoor paver. It is both heat- and cold-resistant, and it has an excellent slip resistance grade.
Once stone absorbs moisture, it becomes more sensitive to frost and weathering damage. Because slate has limited water absorption, they can be very stain- and weather-resistant.
Slates of the excellent standard have an average water absorption value of .40%, making them practically impenetrable. However, to make a slate paver patio moisture-resistant, you have to seal them regularly.
Pros of Slate Pavers
• They offer an excellent texture and color that does not fade as quickly as limestone.
• When utilized as exterior flooring, slate is extremely durable.
• Slate has a low absorption rate, which prevents the porosity from absorbing water and causing damage.
Cons of Slate Pavers
• These might be tough to install if you do not have the proper tools.
• Depending on how the weather affects it, the layers of slate may flake off, which can lead to water pits.
• If left untreated and unsealed, slate can be prone to water damage.
Marble Paver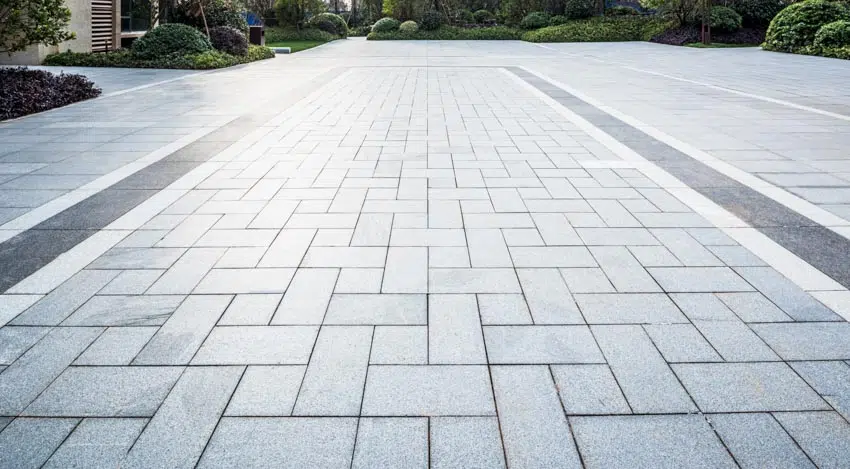 Marble is made when limestone is subjected to exceedingly high temperatures and pressure. This mechanism haphazardly rearranges crystal components, explaining the pattern's uniqueness.
Marble pavers can be seen in both commercial and residential settings. These create beautiful outdoor settings while conveying a graceful and elegant atmosphere.
You can obtain paver stones made of several varieties of marble, although some will be too expensive to utilize for this function. They are, nevertheless, not rare. They can be found in driveways, sidewalks, patios, grass-yard lanes, and many other places.
In addition, marble is appealing because of its beauty and the very seamless surface it can produce. Marble can be polished further and sealed with resin to help prolong their lifespan. You can undoubtedly improve the attractiveness of whichever place you employ them.
Unfortunately, marble can absorb heat easily, hence they will be very hot under high temperatures. Also, marble is not scratch-proof and can be stained easily.
Pros of Marble Pavers
• Marble has a flawless and majestic shine, giving them a more professional appearance compared with those made of stone or concrete.
• The natural colors and patterns provide a one-of-a-kind finish.
• Marble is extremely tough and long-lasting.
• Marble increases the value of a home.
Cons of Marble Pavers
• Because marble rapidly absorbs heat, you must expect the area to be blistering hot on certain days.
• The surface is relatively fragile and readily scratched.
• When subjected to acidic compounds such as sauces, alcoholic drinks, or harsh cleaning agents, marble may develop stains and discolorations.
Granite Paver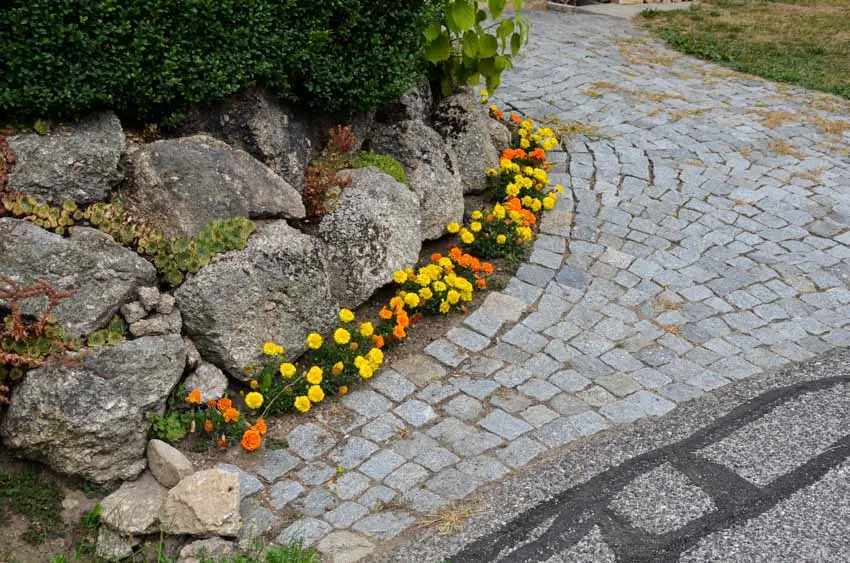 Commonly made up of quartz, alkali feldspar, and plagioclase, granite is a light-hued rock with distinct grains. It is formed when molten elements cool and harden beneath the surface of the earth.
Granite is a popular choice for indoor and outdoor construction. As such, pavers are one of its best exterior applications. Also, one of the advantages of granite is that it comes in an infinite number of colors.
Granite is one of the most expensive but extensively utilized natural stone materials for pavement. Homeowners choose it because of its exceptional strength and endurance. It is available in a multitude of designs and colors to fulfill a variety of aesthetic standards.
One of the hardest substances on earth is made of granite, which is a volcanic rock that contains numerous minerals. As a result, it can be used to construct roads, driveways, walkways, and pathways. Because granite is non-porous, it resists stains, cracks, and scratches incredibly well.
Even though granite's natural appearance is generally sophisticated and refined, you can opt for multicolored granite if you want to. It is also well-known for their great resistance to weather. It can also endure high heat and recurrent freezing. Hence, granite is great for areas around the fireplace as well as for outdoor flooring.
One disadvantage of granite is that it is a hefty material that is hard to cut. Thus, the labor cost for laying granite is quite significant. However, granite is one of the most long-lasting materials available.
Pros of Granite Pavers
• They are completely impervious to decay.
• Granite is very low-maintenance and can be easily polished.
• They are exceptionally resistant to fire.
• Scratches on granite can be easily fixed using a brush.
Cons of Granite Pavers
• Installing it is challenging; labor costs can be high.
• It may be tough to clean the lines and joints may be tough.
• Hiring an expert is needed to reconstruct broken granite.
Quartz Paver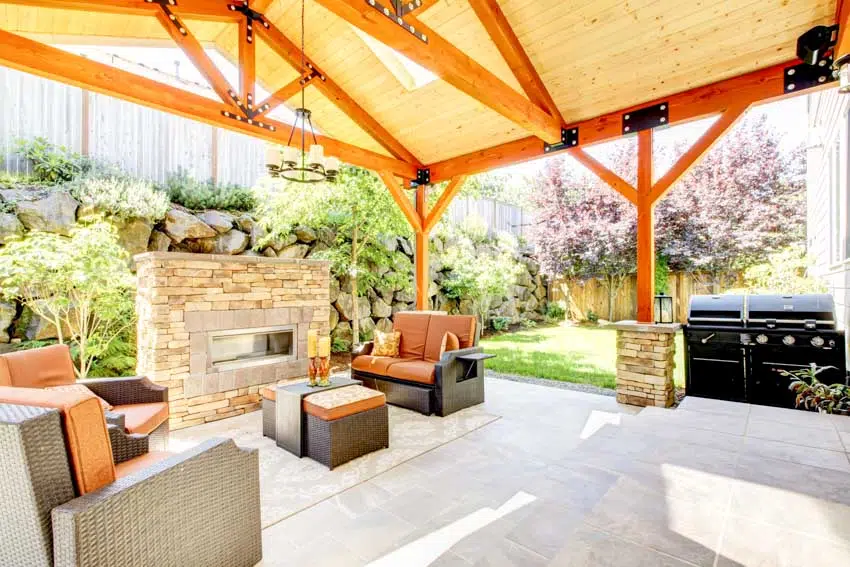 Quartz's durability and resilience have made it a preferred option for a variety of outdoor paving applications, ranging from alfresco spaces and patios to garden walkways and even driveways. Quartz is a durable aggregate that is, nevertheless, hard underfoot.
These are an exceptional choice because they are non-porous and waterproof. They remain elegant even after many years. They are also resistant to certain elements such as acid, harsh chemicals, and salt.
You do not have to worry about spending too much on them as they are easy to maintain and keep clean. However, you must remember that quartz can be heat-resistant. Under direct sun exposure, quartz aggregates may gradually deteriorate.
Pros of Quartz Pavers
• These are very durable but still have a soft underfoot.
• These are nonporous and waterproof

• These are naturally resistant to several elements such as acid, harsh chemicals, and salt.
• They are very low-maintenance and easy to keep clean.
Cons of Quartz Pavers
• It can fade under constant direct sunlight.
Grass Block Paver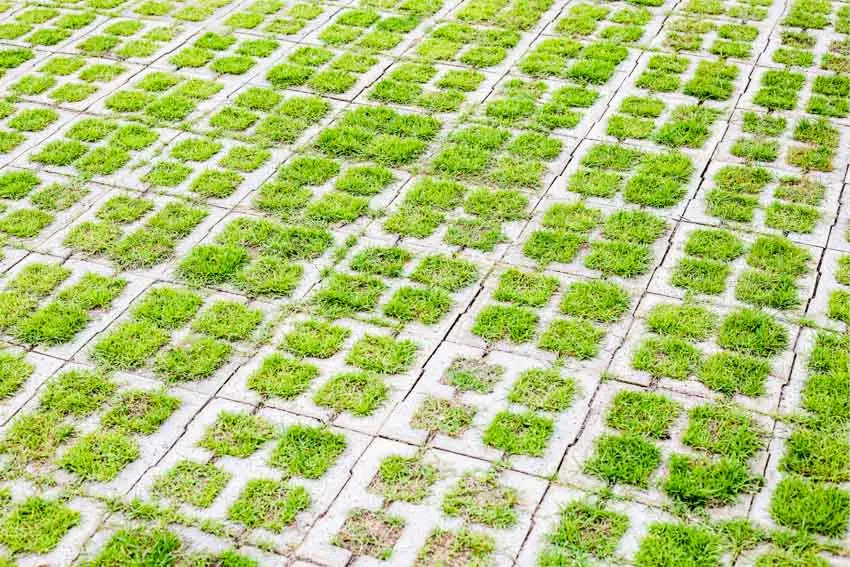 If you are searching for long-lasting, one-of-a-kind, and environmentally friendly pavers that look great in a variety of driveways, grass block might be the ideal solution.
Grass block can be thought of as an updated and more eco-friendly version of the concrete paver. Apart from the aggregates, the formula for grass block is identical to that of concrete. For enhanced drainage, the aggregates in this case are formed of porous and ecological materials.
The concrete surface of grass block pavers has strengthened voids filled with grass. This gives it a natural, calming appearance that is growing widely known among nature enthusiasts. Because the material is nearly as strong as concrete, it can readily support the weight of massive vehicles.
Grass block are extremely resistant to significant weather fluctuations due to their permeable nature. Take into account that grass blocks can be rather costly and necessitate a significant amount of upkeep to keep the grass growing.
Pros of Grass Block Pavers
• These are environmentally friendly.
• They are ideal for nature lovers.
• They can easily accommodate massive vehicles with substantial weight.
Cons of Grass Block Pavers
• You have to keep the grass healthy regularly.
• It can be expensive.
Permeable Paver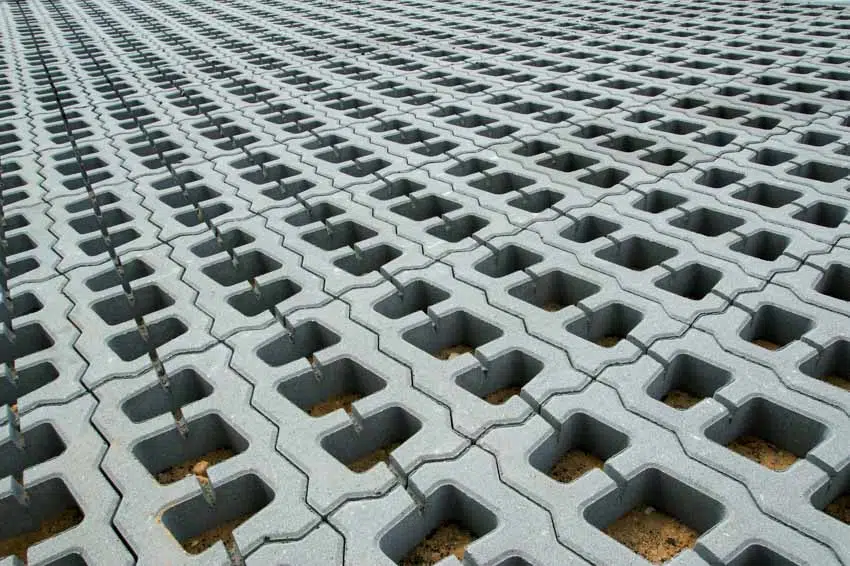 Permeable pavers are typically constructed of concrete or clay brick. Because these enable rainwater to flow around them instead of through them, they are likely to survive longer. Permeable paving tiles typically have wider, more exposed joints that aid in the movement of the water when it reaches the base layer beneath.
A permeable paver has an underlying stone reservoir. Precipitation and water are collected inside this reservoir and gradually penetrate the soil below or are drained through a drain system. The stone or gravel functions as a natural filter, removing contaminants from the water.
This type of paver is frequently used in parking lots, walkways, low-traffic areas, as well as driveways. This environmentally friendly pavement is appropriate for a variety of situations, including hot temperatures, high-traffic locations, and less-traveled areas.
Permeable pavers, on the other hand, have quite distinct maintenance needs. It is susceptible to clogging if the reservoir's water is not adequately emptied. A powerful vacuum should be used to remove sand and tiny debris that can clog the gap between the pavering tiles.
It can also become clogged when sanding for ice in the winter. If the blockage is not addressed soon, water and contaminants will run off the surface, undermining the objective of laying permeable pavement.
Pros of Permeable Pavers
• It allows rainwater to flow around them rather than through them, increasing their longevity.
• These can be used in a broad range of outdoor settings.
Cons of Permeable Pavers
• It has totally different maintenance requirements, which are quite demanding and laborious.
Rubber Paver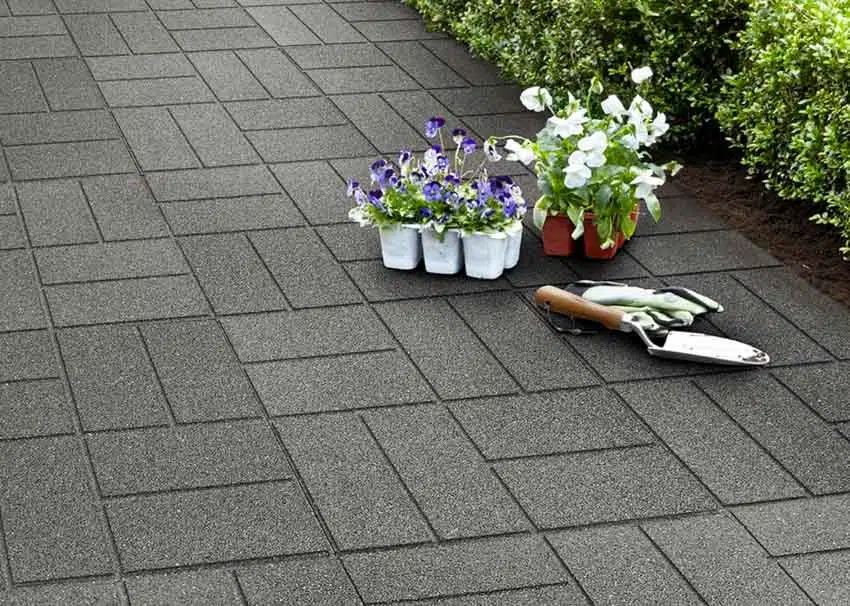 See this rubber paver set at Home Depot [sponsored link]
It may sound surprising, but some bright geniuses have discovered a way to repurpose rubber-made things and transform them into long-lasting and durable paver material. The rubber-type paver has exceptional absorption capabilities and adequate traction, making them an ideal driveway solution.
These are typically put over pre-existing flooring to create a safe surface for children. To make it more aesthetically attractive, it is frequently colored and given the appearance of porcelain, cobblestone, or brick. They are extremely affordable, tear-resistant, and environmentally beneficial.
Because of its slip-resistant structure, the material is ideal for patios and pool decking as patio surface choices. Nevertheless, it lacks the strength and utility of the other tough materials on this list.
Pros of Rubber Pavers
• You are efficiently repurposing a resource to remodel your patio, pool deck, pathway, and other locations.
• It dampens the noise, making the environment a little quieter.
• it is designed to resemble classic brick or porcelain, whereas others resemble natural stone.
Cons of Rubber Pavers
• The color of rubber can degrade over time due to exposure to sunlight.
• They are not that durable compared to the natural paving materials aforementioned.
Plastic Paver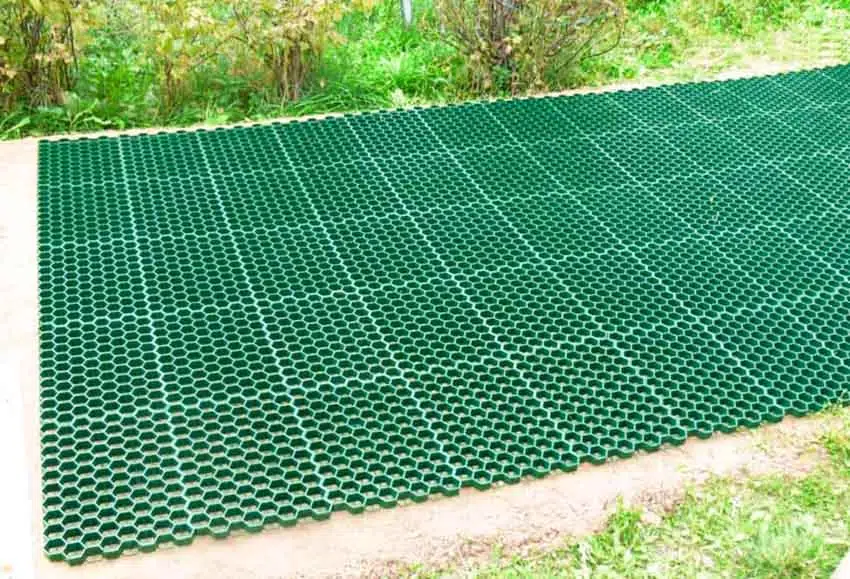 See this plastic paver set at Home Depot [sponsored link]
Although many homeowners tend to avoid these paver solutions and might probably advise against them in most circumstances, plastic pavers do exist and can be a more cost-effective substitute for stone paving. They are made from recycled materials, henceforth they are a great way to lessen your environmental burden.
These paver kinds can be shaped, sized, and colored to seem like other sorts of stones. Individuals will never notice the difference unless you reveal the truth. However, the plastic paving material can crack when not taken care of.
Pros of Plastic Pavers
• It can resemble actual stone paving tiles, which is appealing.
• These drain fast, preventing stagnant water on your deck, and driveway, among others.
• They are available in various forms, including the rolling type, linking rigid grids, and geocells, to mention a few.
Cons of Plastic Pavers
• It might crack if the surface underneath them is not firm and level. Under the constant movement of large vehicles, these can fracture and break.
Resin Paver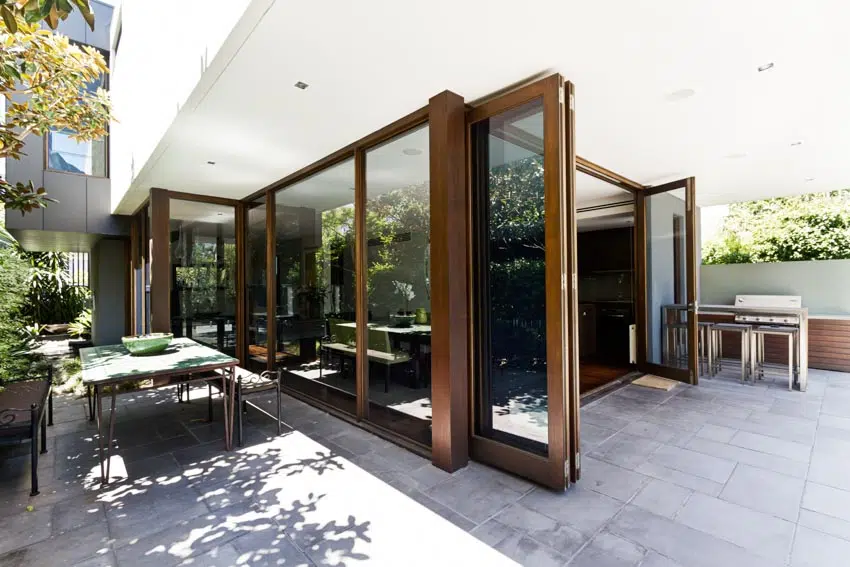 Resin patio pavers are a low-cost solution for homeowners to enhance their landscaping. Resin can be utilized to build patios and walkways without the time and money spent on standard paving projects. These operations may also be finished in hours rather than days.
These are primarily composed of plastic rather than concrete or stone. They are relatively lightweight and will last for years before displaying signs of deterioration. They can be designed to interlock with other resin types or as standalone, like a single circle or huge square.
The sort of project you select will decide the varieties and cost of your patio paving tiles. These are available in various colors and shapes, replicating traditional stone paving material.
Moreover, these could be great for people who live in cold areas since when frost thrusts the ground, the pavers may be simply pushed down eventually in the spring, including on uneven surfaces.
Although this sort of surface course is highly resilient and sturdy, wear and tear can cause breaking over time. This breaking has the potential to result in more severe damage. Ergo, resin paver, as much as possible, should not be used for driveways.
Pros of Resin Pavers
• These are ideal for homeowners on a tight budget.
• These are relatively lightweight and will last for years.
• These are available in a multitude of colors and designs that are similar to classic stone ones.
Cons of Resin Pavers
• Once this paver breaks, it might deteriorate continuously. Thus, it should not be installed on driveways.
Sandstone Paver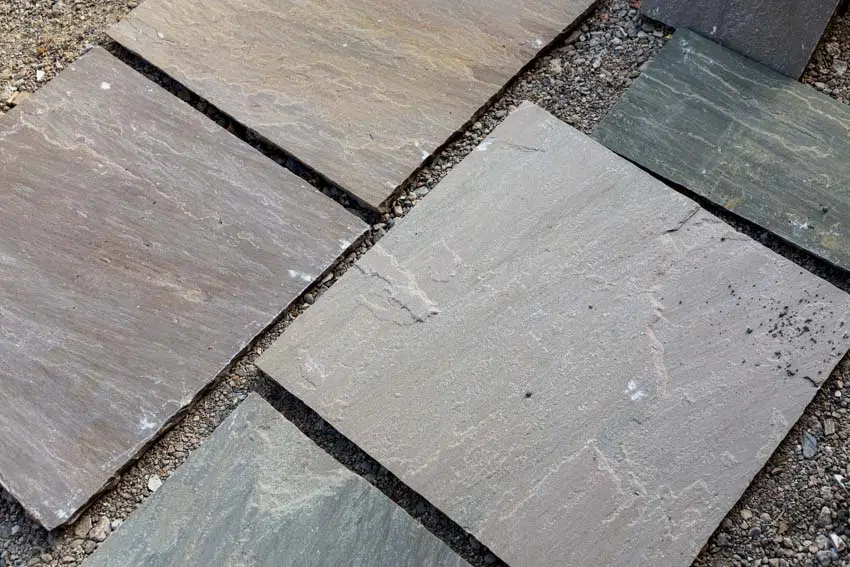 Sandstone, a classic natural stone, has been utilized in building for generations, with pavers matching both classic and contemporary outdoor projects. Sandstone is designed to highlight the natural tones and structure of the stone, making them comfortable underfoot and exceptionally durable.
As the natural stone ages and wears, the sedimentary layers of sandstone display a distinctive and variable color pattern that may be quite gentle while enhancing each paver's unique look. Sandstones come in various hues and textures, making them suitable for a wide range of home landscaping design projects and industrial flooring uses.
Sandstone, on the other hand, is porous and has a significant absorption rate, making it susceptible to degradation. Liquid, molds, and microorganisms can leave persistent stains deep into the stone in extreme situations.
Pros of Sandstone Pavers
• They offer natural colors with a timeless design.
• These are comfortable underfoot.
• Sandstone flooring is very durable.
Cons of Sandstone Pavers
• These have a high absorption rate; not moisture-resistant.
Gravel Paver Rolls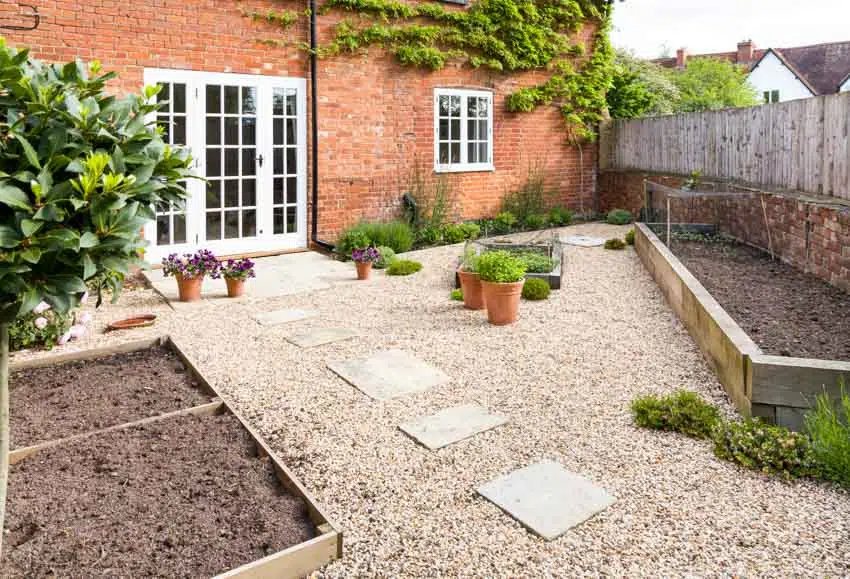 Gravel, often known as crushed rock, is a loose collection of rock particles. Basalt, sandstone, and limestone are primary rocks used to produce gravel. The gravel for pavers is most probably made from limestone.
Gravel is a typical material used in landscaping and outdoor architecture, such as walkways and driveways. Gravel is available in various coarseness degrees, and you can choose one based on the construction site.
Fine gravel, for example, has a similar feel to sand and compacts firmly. Because it does not allow for appropriate drainage, it is only suitable for sandy or well-drained soil.
On the other hand, gravel paver rolls are ideal for driveways that can accommodate more than one vehicle at a time. These rolls are laid down to help prevent erosion for gravel driveways, paths and patios. Because it is not as compact, it provides better drainage and is a permeable paver.

Most people tend to avoid extremes and prefer to work with moderate gravel. It does not compact as firmly as fine gravel, yet it drains water less effectively than coarse gravel. See more types of gravel here.

Pros of Gravel Paver Rolls
• Gravel paver rolls are simple to set up.
• These add visual appeal.
• Gravel paver rolls can withstand huge loads.
Cons of Gravel Paver Rolls
• Unbalanced gravel distribution can produce bare areas, which can contribute to dust accumulation.
Wood Paver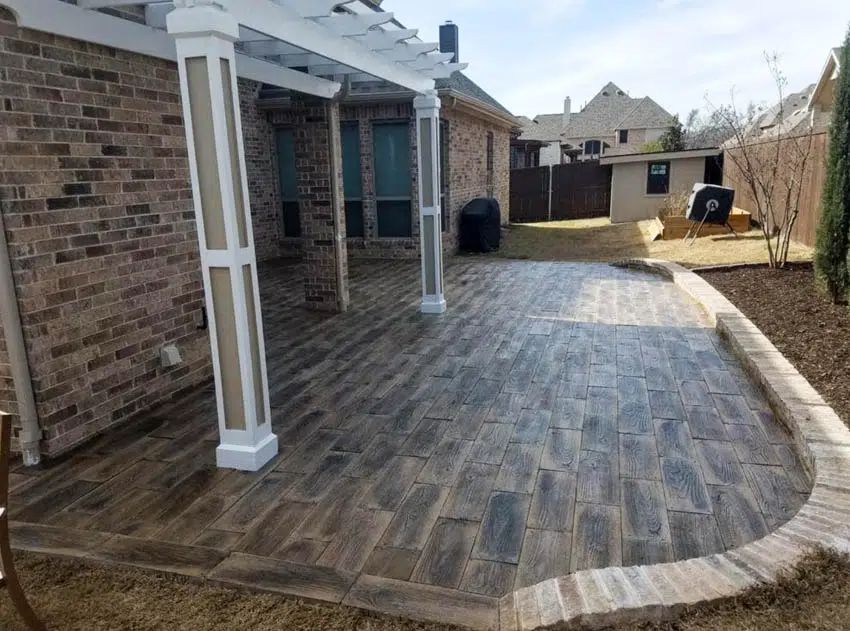 See this wood paver set at Home Depot [sponsored link]
Wood pavers are small pieces of wood used to form pathways, patios, pathways, terraces, and driveways. These are a more environmentally friendly alternative to brick and concrete paving solutions.
These have already been employed in notable architectural projects, and a growing number of homeowners are trying to catch on to these new outdoor design concepts.
These are prevalent because of their natural beauty, and they look far more spectacular than standard concrete slabs. Another advantage is that, as opposed to concrete, they are porous, which aids in reducing flooding and the adverse effects of hot temperatures.
However, high-quality wood paving blocks can be fairly expensive. It will also necessitate sealing the surface, just like any other paver surface. When exposed to harsh weather, wood may expand and compress, necessitating the replacement of some wooden blocks.
Pros of Wood Pavers
• They are very environmentally friendly
• Ideal for modern outdoor design; they have a very natural beauty/
• These are porous. They help in minimizing floods and the bad effects of hot weather.
Cons of Wood Pavers
• It should be sealed periodically.
• Over time, these can expand and compress with moisture, so you must sometimes replace them.
Composite Paver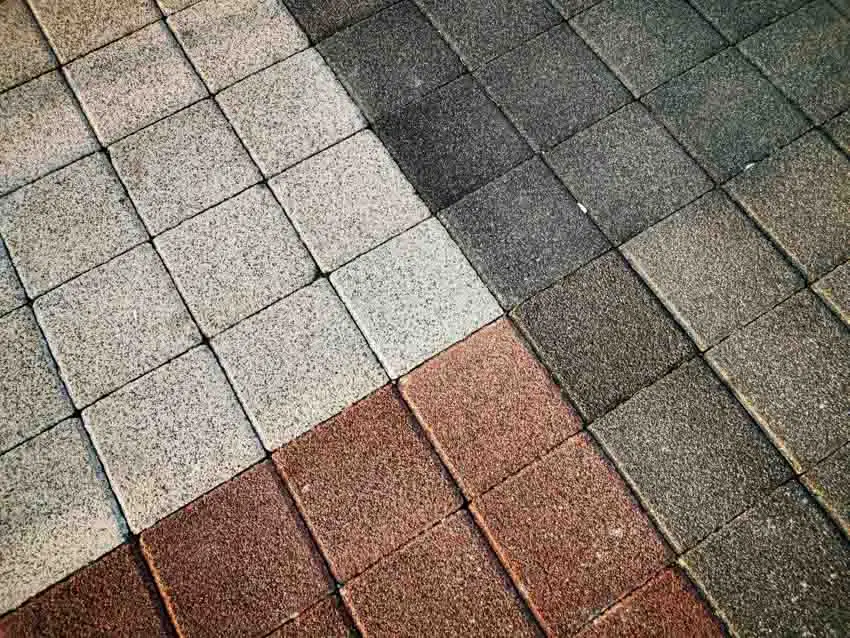 Composite pavers are composed of up to 95% post-consumer repurposed automotive tires as well as plastic containers. Because the material is one-third the mass of concrete, they are significantly easier to carry by wheelbarrow than the standard concrete paver, especially when a truck cannot be used.
These are also available in a vast array of sizes. Moreover, they are generally guarded against color fading and material deterioration. However, this paving material is uncommon. Hence, they are hard to find.
Pros of Composite Pavers
• These are made out of recycled materials.
• Available in a vast array of thicknesses.
• Most are resistant to color fading.
Cons of Composite Pavers
• These are hard to find.
• These are expensive.
Techo Bloc Paver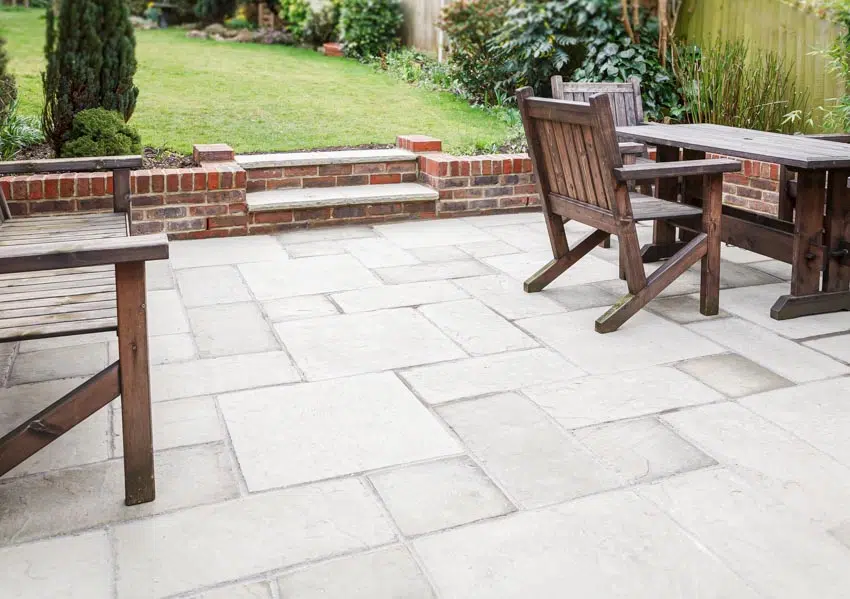 Techo-Bloc is a well-known paver brand made from various materials and sand. It is more resilient and long-lasting than its counterparts such as limestone and sandstone.
This paver has a ultra-detailed texture technique delivers more particles per square inch of stone, producing a strength that is 1.5 times stronger than concrete paving tiles.
All Techo-Bloc paving tiles are made to endure vehicular activity, are salt-resistant, and are color-consistent overall. They are ideal for driveway construction due to their excellent thickness and interlocking properties.
They are typically constructed in a wide range of shapes, textures, and colors to complement any residential style. Unfortunately, most are hard to install. The installation is also quite time-consuming.
Pros of Techo Bloc Pavers
• Techo-Bloc is a very popular paver brand, which proves to produce top-quality and long-lasting type for your property.
• They are designed to withstand vehicular traffic, are salt-resistant, and have a consistent color scheme.
Cons of Techo Bloc Pavers
• They have a time-consuming installation.
Unilock Paver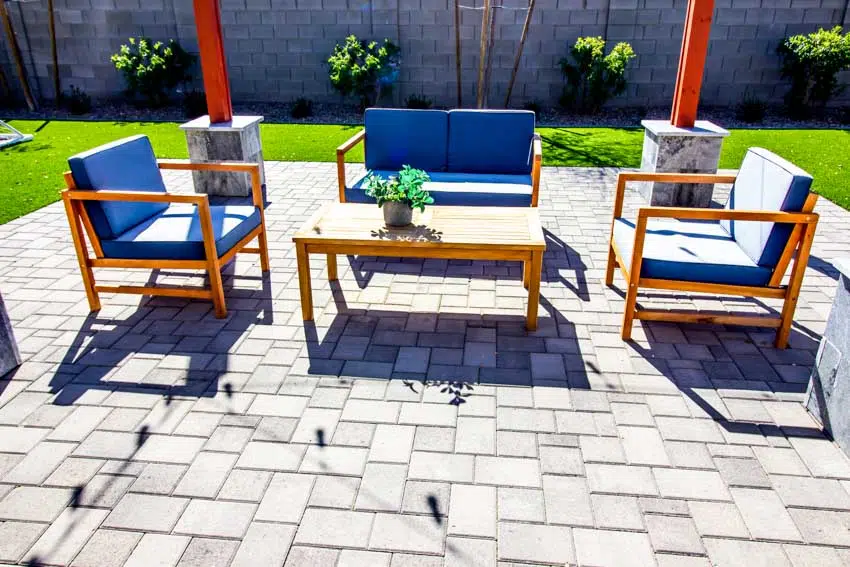 Unilock pavers have the appearance and feel of genuine clay bricks. If you want the look of old brick but with constant color and texture possibilities, this would be the material for you. Unilock manufactures its products in a regulated atmosphere.
You will have additional size selections, allowing you to be more creative in your design. They can be built to scale. The materials used to construct your pathway, driveway, or walkway would fit perfectly. They can be made to look like actual stone, flagstone, granite, concrete block, and other materials.
It also comes with a lifetime warranty and stain-resistant paver sealing choices. The styles available range from contemporary to high-end. On the other hand, you have to keep in mind that these are expensive.
Pros of Unilock Pavers
• The feel and appearance are similar to that of real clay bricks.
• You can choose from a wider range of sizes, giving you greater design flexibility.
• A lifetime warranty and options for stain-resistant sealing are also included.
Cons of Unilock Pavers
• These are expensive.
Turfstone Paver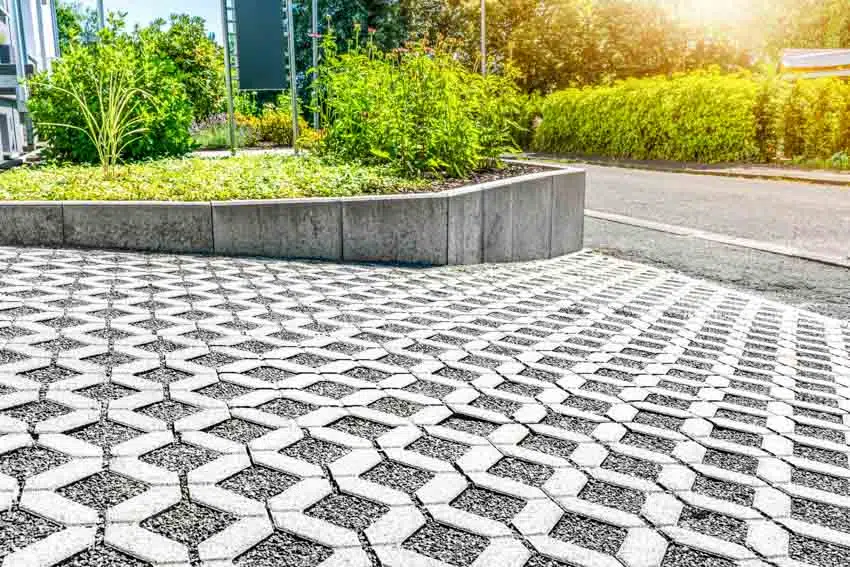 A latticed paving stone known as a Turfstone paver allows plants to grow between the spaces or is packed with stones to enable water to pass through its cells. Increased rainwater collection is made possible by grow-through pavers.
This is wonderful for the environment, as well as your lawn. Additionally, it lessens runoff and the likelihood of flooding in the neighboring communities. Products made from Turfstone paver stone are a great option for many locations and uses.
Turfstone products offer a stable, permeable foundation that presents a more aesthetically pleasing alternative to conventional asphalt or concrete surfaces, whether you utilize them as paver driveway material, for water run off, or for other reasons. Unfortunately, Turfstone paving tiles are hard to maintain since you have to ensure that the grass is always healthy.
Pros of Turfstone Pavers
• They are very eco-friendly.
• These are ideal for nature enthusiasts.
• It makes your lawn more eye-catching.
Cons of Turfstone Pavers
• These are challenging to maintain.
Aircrete Paver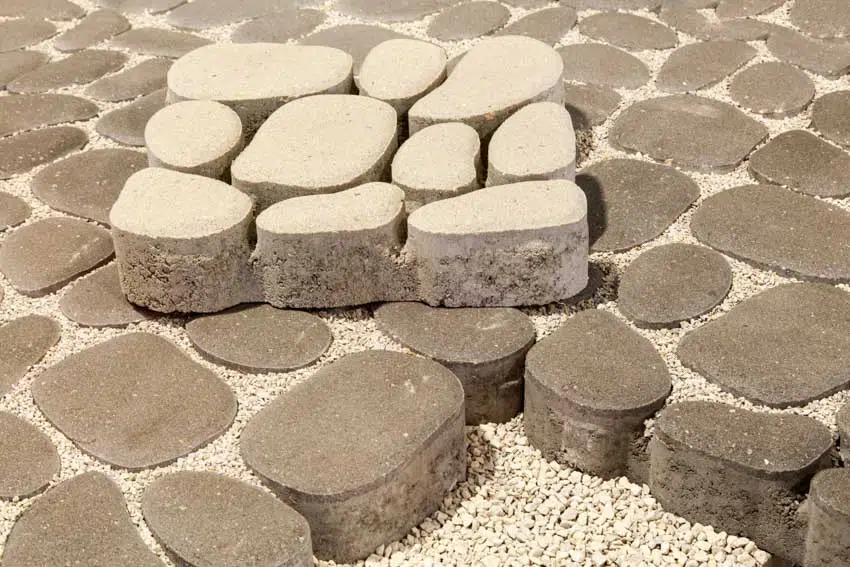 Simply put, Aircrete is concrete with bubbles. Fortunately, your home can benefit from the beauty and value that Aircrete pavers can provide. They come in a range of colors and styles and are manufactured from a lightweight concrete combination.
Pavers made of Aircrete are simple to install and do not necessitate considerable maintenance. They can survive for a very long period because they are resilient and long-lasting. They are a suitable option for many homes because they are very uncomplicated to install.
Nevertheless, it is crucial to consider your weather patterns while selecting Aircrete for your property. Ice-prone areas should not be using them, according to experts. To prevent stains, Aircrete should be sealed as well.
Pros of Aircrete Pavers
•They are available in a vast range of styles and colors.
• They are made out of a lightweight concrete mixture.
• These are low-maintenance.
Cons of Aircrete Pavers
• These are not ideal for areas that are ice-prone.
Where to Use Pavers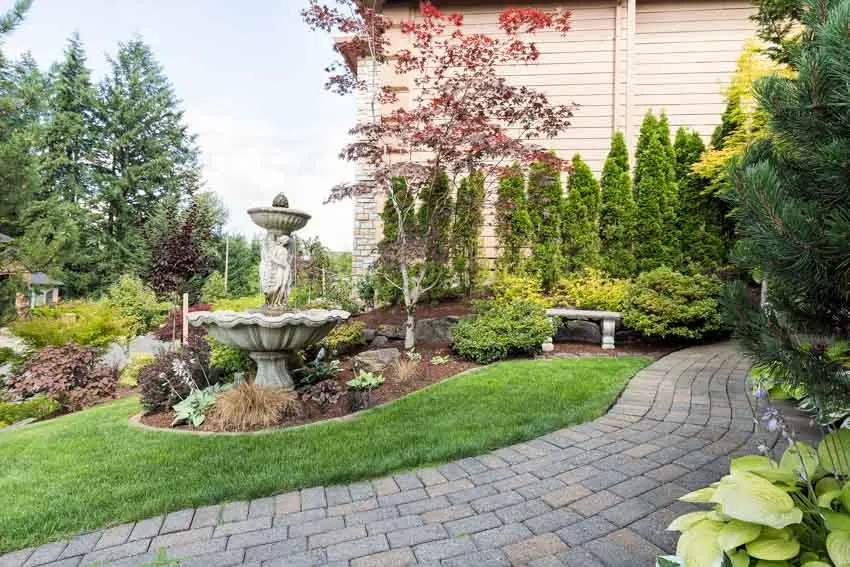 Here are the different locations where you can use pavers:
• Walkways/Pathways
• Pool Decking/Swimming Pool Area
• Driveways
• Sidewalks
• Patio
• Raised Garden
• Fire Pits
See our gallery of paver patio ideas for more designs.
What Is The Most Durable Paver?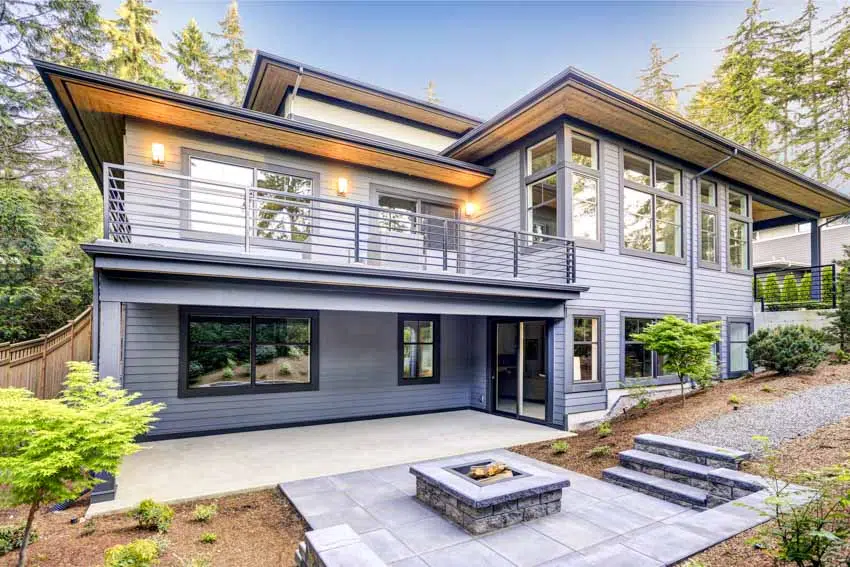 Cobblestone is hands down the most durable paver that is composed of natural stone, which is typically purchased from quarries.
The astoundingly unbreakable cobblestone pavers have a coarse texture that gives pathways, patios, driveways, and sidewalks a lovely appearance that will last for more than 100 years.
See more related content in our article about paver patio maintenance on this page.