Find out all about using melamine wood including what it is, pros and cons, different products, wood grains, finishes, colors and how melamine compares to wood and MDF.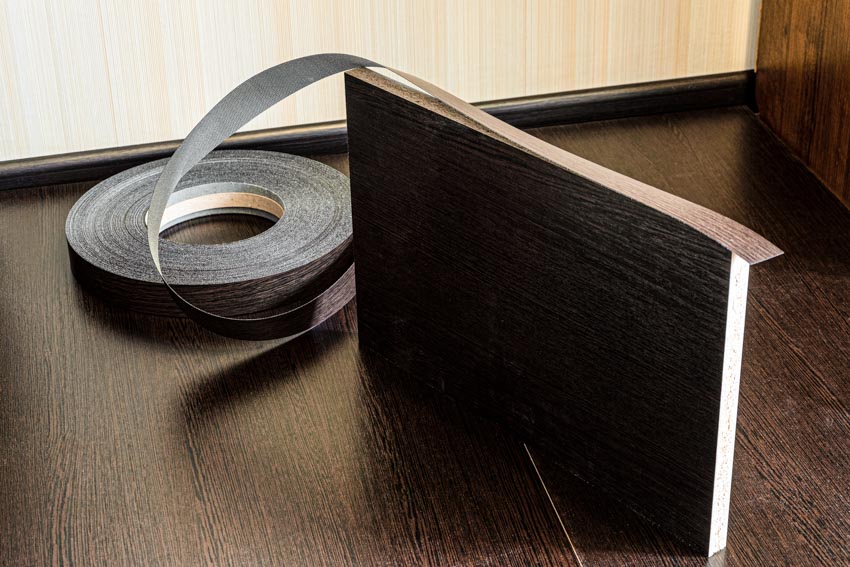 If you are planning a kitchen or bathroom remodel or just need some materials for shelving, there are a ton of wood options available on the market. Truly, most wood options can be costly.
But if you are on a tight budget, you are not obliged to settle for unappealing and low-quality wood solutions. Melamine wood might be the solution if you are searching for a low-cost yet long-lasting alternative to solid wood that also looks genuine.
To give you a quick overview, melamine is made from various components such as wood particles, adhesives, resins, and, sometimes, even paper. Melamine is usually available in a vast range of forms and colors due to its paper and resin finish. They normally come in plain colors or several tones of synthetic wood patterns.
In this article, we will go over all of the essential information you have to know about melamine wood, including its primary definition, advantages, disadvantages, particular products, and many more.
What Is Melamine Wood?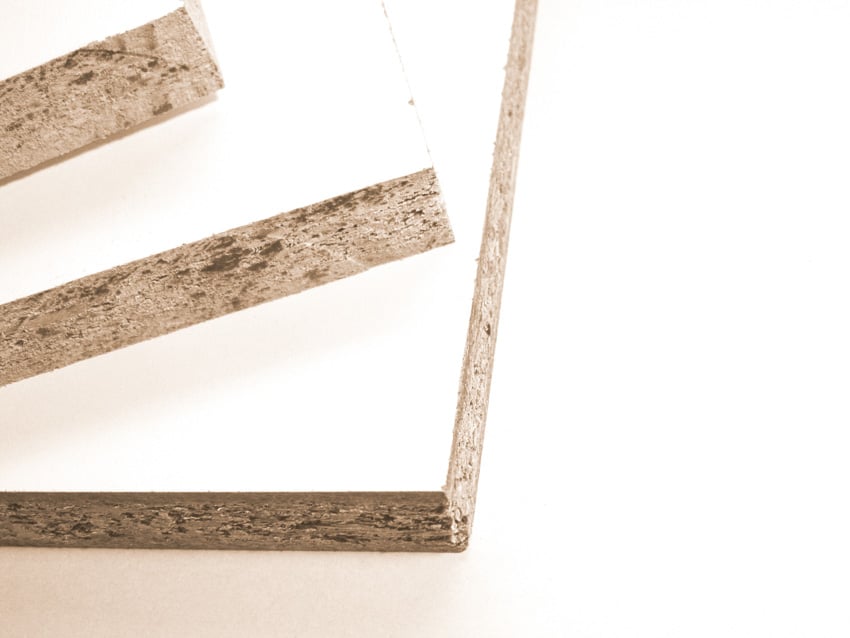 Melamine is a type of man-made wood. It is identical to particleboard, but melamine is much stronger and created differently. Melamine's use and appeal in the market have grown as its quality of construction has improved a lot. Numerous homeowners today prefer melamine woodwork to hardwood woodwork because they are passionate about preserving natural resources.
Melamine has a versatile appearance that may be adapted to any décor. A laminate is put on the exterior surface of melamine to complement it to any interior design style, including several laminates that simulate popular types of wood grain patterns.
Moreover, melamine is created by combining wood, paper, and resin particles under high pressure. Melamine currently has various distinctive features that collaborate to make it fire-retardant, moisture-resistant, and warp-proof, making it a viable alternative solution, especially in kitchen décor.
A byproduct of cyanamide, melamine is an organic material. Because of its inclination to emit nitrogen gas when burned, it possesses fire-retardant capabilities. Melamine also has a high surface hardness, which makes it resistant to scratches. It is also resistant to moderate acids and oils and has a reasonable level of thermal properties.
Melamine resin, which begins as an organic component, is polymerized into a strong and durable plastic component. The melamine sheet is then adhered to plywood, particleboard, or medium-density fiberboard (MDF), resulting in a melamine board. It is available in a wide range of colors, designs, sizes, as well as thicknesses.
Melamine Pros And Cons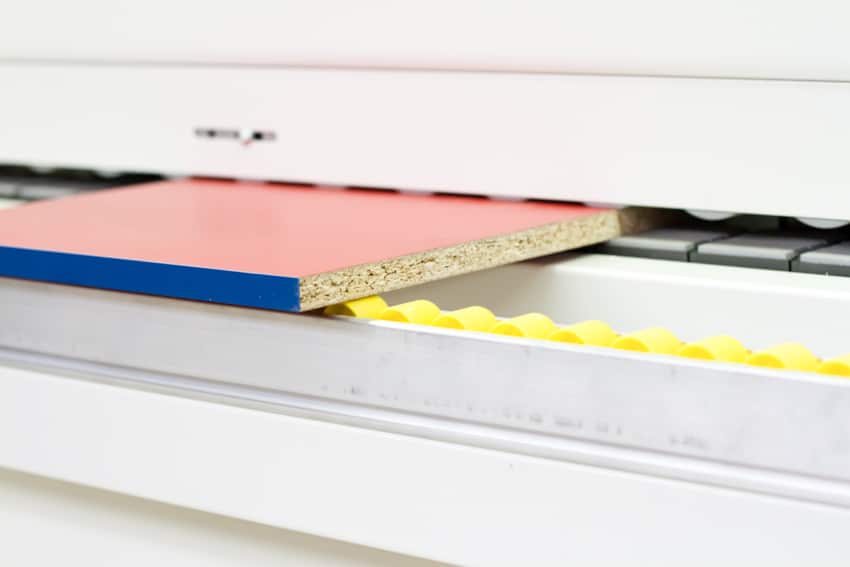 When deciding whether or not to use a melamine board, you would surely want to know the benefits. Some of them are as follows.
Pros of Melamine Wood
• Durable – Melamine is extremely long-lasting, scratch-resistant, watertight, and stain-resistant.
• Lightweight – Melamine boards are lightweight, mildew-proof, fire-proof, heat-resistant, earthquake-resistant, low-maintenance, renewable, fully in accordance with the defined policy of energy conservation, consumption management, and environmental conservation.

• Variety of design styles – Melamine comes in a variety of textures and genuine wood grains, and melamine panels are a low-cost, versatile alternative for integrating color, complexity, as well as finishes to various projects and designs.
• Low cost – Melamine is a low-cost solution that does not sacrifice quality or durability. It can help you save a lot of money and time during installation as it does not require sanding or finishing like real wood.
As with practically any wood alternative, there are drawbacks to using melamine as well. Here are some of them:
Cons of Melamine Wood
• Underlying particle board can become saturated by water – Although the material itself is waterproof, if water enters the underlying part of the particleboard, the melamine may deform.
• Can be chipped – Inappropriate installation could have a negative effect. Even though melamine is extremely durable, if it is not laid properly, the particle board substrate might sustain damage, causing the melamine wood veneer to chip.
• Edges show imperfections – Melamine board edges are often unfinished, thus they will need to be covered with edge banding.
Melamine Products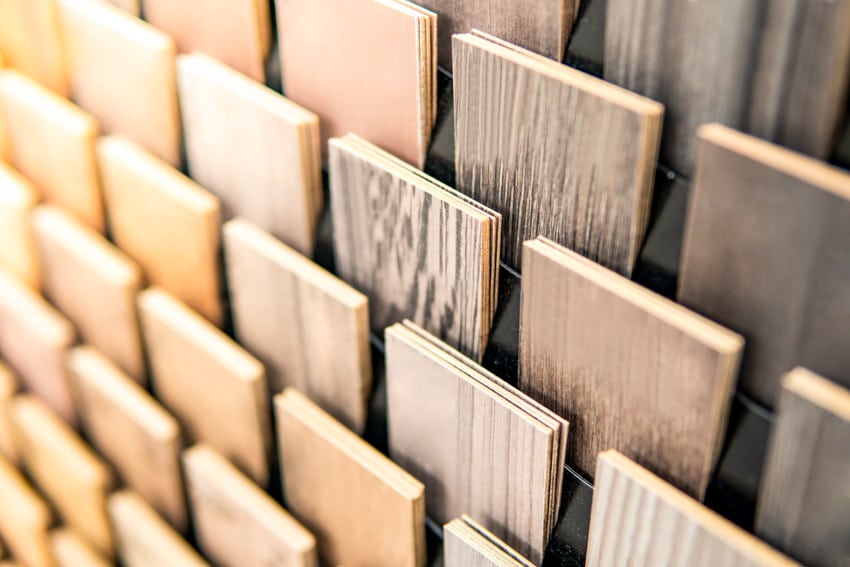 Here we share the different products made of Melamine wood.
Melamine Board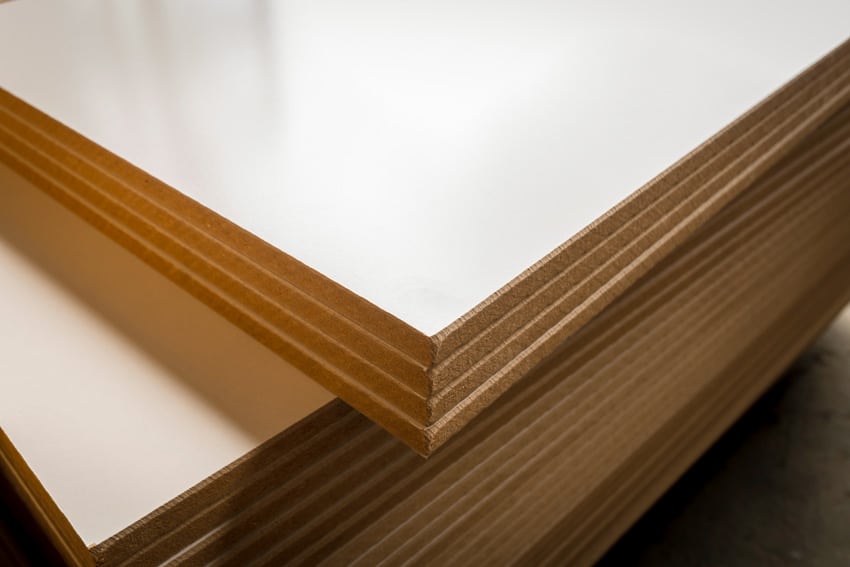 Melamine boards are made up of resin, bonding agents, and additional fillers. They can be produced up to 2 inches thick, but are typically marketed in 0.12-inch sheets or tiles. Melamine boards are popular since they complement contemporary and minimalist home décor.
Moreover, melamine boards are fundamentally a form of laminate, but not all laminates are constructed from melamine. Melamine laminates are produced by forming a melamine-formaldehyde mixture into a resilient plastic sheet using a particular quantity of pressure per square inch of the laminate.
Because of its durability, melamine boards are frequently used in bathroom and kitchen cabinets. It is suitable for shelving, exhibit counters, workplace types of furniture styles, whiteboards, and even flooring.
Melamine has grown in popularity as a construction material as it can give potentially low-quality materials an appealing and long-lasting gloss. When dealing with a limited budget, melamine boards would be a terrific alternative to genuine wood.
Indeed, melamine boards are simple to keep clean, long-lasting, and weatherproof, as well as scratch-, stain-, and shatter-resistant. It can also conserve funds and time during installation since it does not necessitate sanding or finishing like solid wood goods.
Melamine boards, which come in a variety of textures and authentic wood grains, are a low-cost, versatile alternative for adding color and embellishments to layouts and projects.
Furthermore, melamine boards are frequently utilized as exterior cladding on houses and structures because they endure environmental conditions. They can also be employed to cover bare walls instead of tiles or other surfaces. Because melamine boards are non-toxic, they are preferred in kids' playrooms and bedrooms.
Melamine Sheets
The thin layers of melamine wood are known as melamine wood sheets. Such materials enable furniture designers to create stunning slender pieces with a natural wood look at a lower cost.
Melamine wood sheets are ideal for cabinetry, drawers, and shelves. These wood sheets can also be used in high-moisture locations such as kitchens, laundry rooms, and bathrooms, whereas the basic version can be used in areas such as bookshelves or perhaps shop fittings.
Melamine wood sheets are available in a variety of qualities, widths, and lengths to suit your project's requirements. Certain sheets are extremely thin that they can fold over structures to make a consistent shape.
Others are extremely thick and designed to withstand things including pressure and wind. These sheets can be quite long, but you can often ask any shop to trim them to the dimensions you want.
Melamine Panels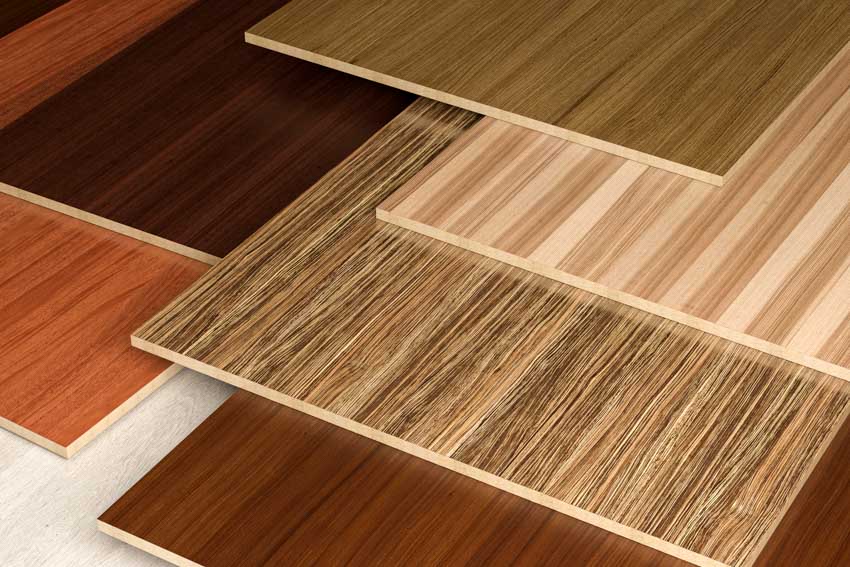 Melamine panels are made from lightweight and high-quality particleboard or MDF that has a colored coating glued to both surfaces, providing the product with a streamlined and pre-finished appearance. Melamine panels stand out due to their clean, wear-resistant surface, which makes them appropriate for a variety of applications.
The majority of melamine panels are made of wood and covered with patterned paper soaked with melamine resin. The paper designs often range from neutral tones to wood and other textures used for the furniture business. The surface is then improved with a variety of finishes that provide various physical sensations.
Melamine Finish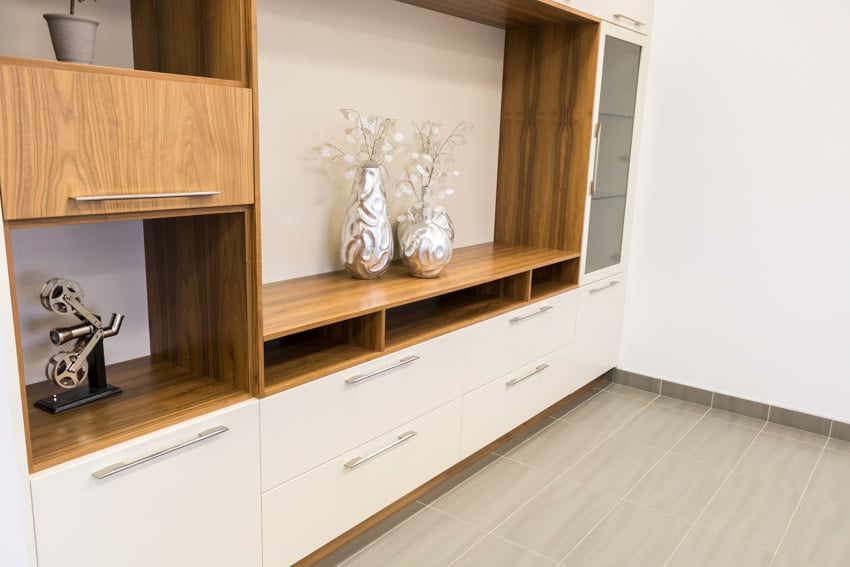 Melamine polish is the most common and recommended melamine finish. This finish is a natural substance that is commonly merged with formaldehyde. The goal of this process is to yield melamine resin, a flame-resistant, and heat-tolerant artificial polymer. Resin is a flexible material with a very durable composition.
Once melamine polish is poured on a wood surface, it generates a thin film-like layer. Melamine polish is a sealed pore polish that renders the wood non-breathable and shields it from hot and cold objects placed on top of it.
Melamine polish for wooden furniture and other objects is popular these days since it provides a great and long-lasting gloss that protects the wood from dents, stains, and scratches.
Wood Grain Melamine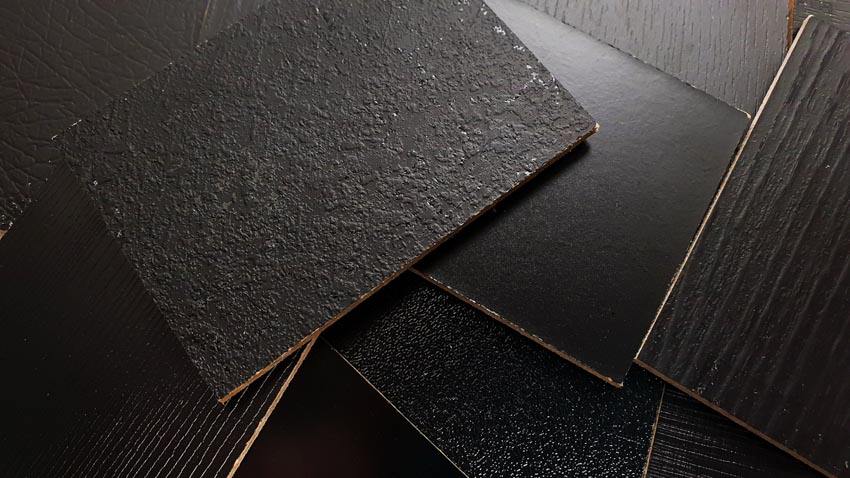 Textured melamine panels can enhance the intrinsic product advantages and benefits of standard melamine panels by introducing distinct and decorative surface textures, such as real wood grains.
Melamine with textured wood grain laminate has rich highlights and a distinct appearance, giving it the appearance and touch of exotic wood without hurting forest environments.
The look, texture, and diversity of unique colors of melamine with wood grain, which are inspired by genuine hardwoods and straight wood grain, allow developers to seamlessly express a vast scope of wood effects.
The nature-inspired texture of a wood-grain melamine finish adds depth to otherwise flat-looking furniture cabinetry. – interior designer, Maria Bott
Melamine Colors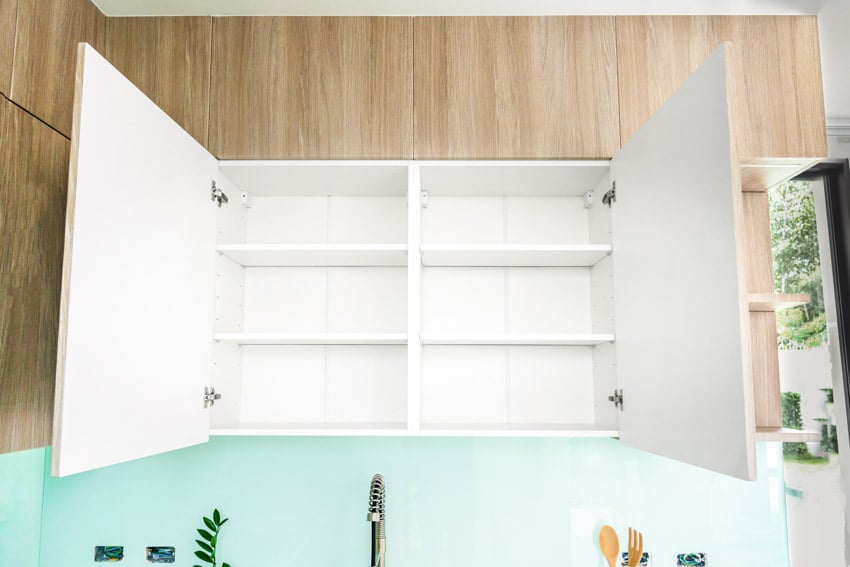 There are numerous melamine wood options. Numerous manufacturers could even deal with practically any wood type and finish. However, here are the different melamine wood colors that are usually available on the market today:
• White
• Black
• Champagne
• Sanibel Maple
• Amber Cherry
• Wild Cherry
• Antique White
• Almond
• African Mahogany
• Hardrock Maple
• Yorkshire Cherry
• Pearwood
• Cinnamon Maple
• Honey Maple
• Red Alder
• Napa Cherry
• Knotty Pine
• Executive Cherry
• Candlelight
• Silver Frost
• Copper Polaris
• Gray Polaris
• Wild Apple
• Rustic Alder
• American Black Walnut
• Secret
• Chocolate Pear Tree
• Cognac Cherry
• Woodlawn Cherry
• Brentwood Cherry
• Element Alder
• Medium Sycamore
• Cherry Blossom
• Summer Flame
Can You Paint Melamine Surface?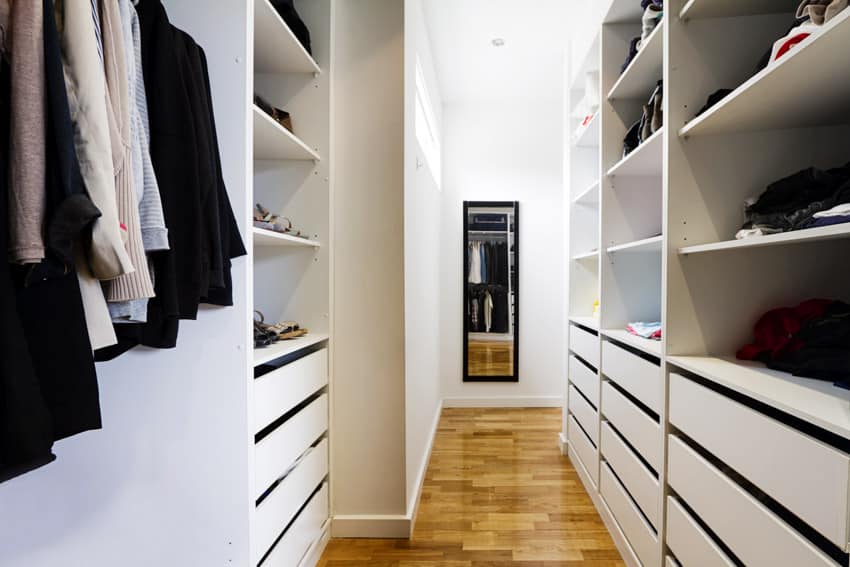 Yes, but the process would be a bit complicated. Melamine, unlike wood, is not possible to be sanded down to a genuine grain since it lacks one. It is critical to expose the grain of the wood for the paint to cling to it. Melamine is primarily made to counteract kitchen spills such as food, grease, and water, therefore it naturally repels paint.
It is critical to adequately prepare the melamine surface to ensure that the paint adheres over time. Incorrectly laid paint will peel away off melamine, leaving you with a greater mess than you began with.
Melamine's plastic surface must be de-glossed and roughened with gentle sanding or a liquid-based deglosser. You might also need to use a melamine-specific paint or lacquer. Shiny surfaces with lustrous paints, coatings, or hard surfaces such as melamine are glossy and designed to repel water, grime, and other elements.
The physical process of scrubbing with sandpaper as well as the use of liquid-based deglosser helps dull those surfaces, prepares the region for a fresh layer of paint or sealant, and allows the new finish to bind to the surface, minimizing chipping or flaking.
Moreover, some paints normally require a primer layer before application, whereas others can be used without one. Using a primer is the best approach to assure effective paint adherence and distribution.
Does Wood Glue Stick To Melamine?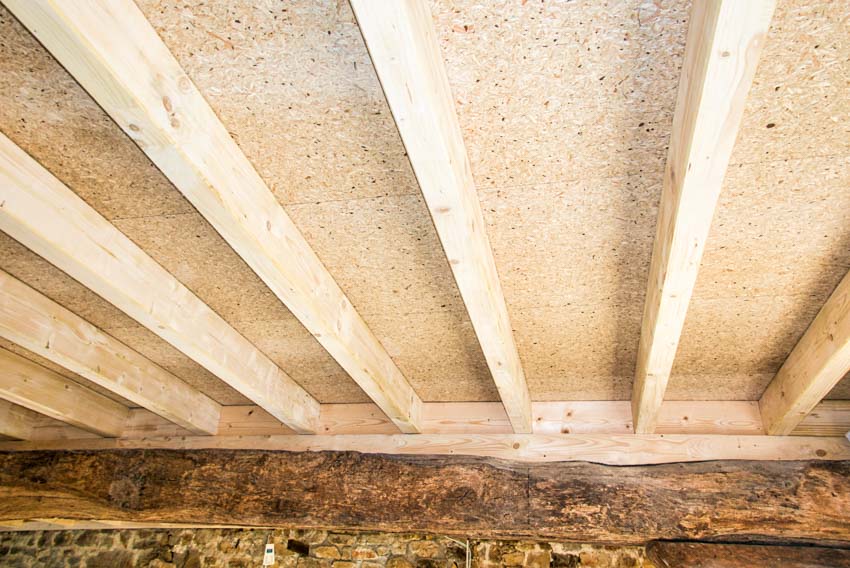 In a nutshell, wood glue will not stick to melamine. Wood glue, a form of adhesive that only effectively reacts on porous and water-absorbing surfaces, can only be used to glue wood. On the other hand, melamine is non-porous, meaning it cannot hold wood glue.
Titebond Glue, is primarily developed for affixing wood, MDF, and other porous surfaces to artificial elements like melamine and vinyl. It can successfully bond melamine and even metals. Although this type of adhesive has a quick initial tack, it is more flexible when matching the working components.
Is Melamine Waterproof?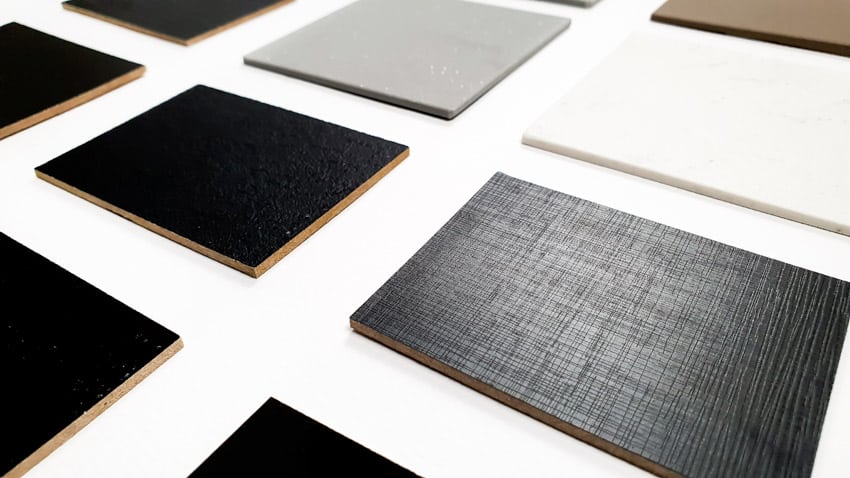 Melamine wood is, indeed, waterproof. Melamine is a man-made substance composed of formaldehyde and cyanuric acid, which adds to its waterproofing properties.
Melamine's durability and water resistance make it a popular choice, but if installed carelessly, there is a risk of it chipping and water getting into the underlying wood, causing the melamine to deform.
Melamine Cabinets Vs Wood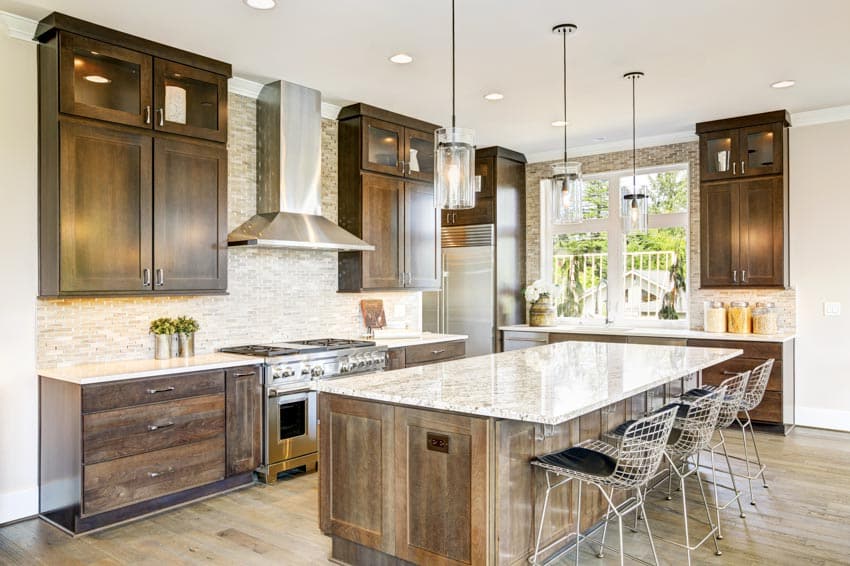 In Terms of Durability: Melamine is among the most durable cabinet materials widely available, with exceptional resistance to moisture, high temperatures, and stains. Melamine will not rip away since the resin-filled paper is irreversibly glued to the particleboard base.
Although ordinary textured melamine is still a long-lasting substance, problems might develop. Corners, for instance, are susceptible to chipping. The substrate will be revealed as a result of fractures. The door then will appear defective and the underside particleboard may be seen, depending on the size of the fracture.
However, the underlying substrate is particularly susceptible to water degradation. If the particleboard gets uncovered due to cracks, scratches, or other defects, whatever liquid enters the substrate will propagate like wildfire.
Melamine is resistant to water damage as long as the surface finish on the doors is not affected. Melamine will not expand or contract spontaneously as a result of temperature fluctuations or moisture.
On the other hand, natural wood choices will contract and expand with variations in temperature or dampness, making them prone to bending over time. Water or severe moisture can also induce warping.
Even though substantial moisture or periods of temperature and humidity variations would be required, warping is still something to be considered regarding natural wooden cabinets.
Nonetheless, the strength and durability of natural wood will differ slightly according to the species. In comparison to birch, maple is a highly robust hardwood. However, all types of natural hardwoods are sturdy and resilient when it comes to daily kitchen usage.
In Terms of Design Options: Melamine has some design challenges and restrictions compared to wood. For instance, melamine is nearly always available with flat doors. Because melamine is only available on flat doors, the rest will also be flat.
Any ornamental crown or trim moldings will be flat, with no way to change or personalize the design. Natural wood cabinets are your safest choice if you want to develop your imaginative décor abilities.
In Terms of Cost: Generally speaking, the manufacturer, market trends, and wood grade all affect how much a cabinet costs to make. Melamine is a widely known, low-cost option for kitchen cabinets because of its affordable price.
The total cost of natural wood cabinets, on the other hand, will vary based on the species of wood you choose as well as the finish you put to your selected material, but mostly, they are on the pricey side.
Melamine Closets Vs Wood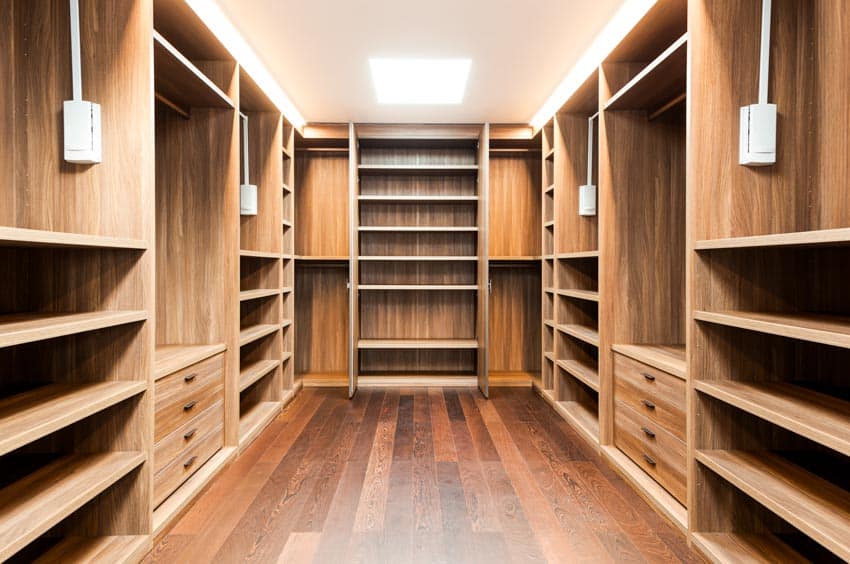 In Terms of Battling Moisture: Moisture may be a concern if you reside in a humid region or if your customized closets are right next to your bathroom. Melamine closets are more water-resistant than wood closets, and they inhibit the growth of mold and mildew, allowing them to be implemented in any temperature and position in your house.
In Terms of Maintenance and Durability: Durability is critical when investing in customized closets. You want your home closets to last for as much as possible. Melamine and solid wood are both powerful materials. Wood is strong and can withstand a lot of weight.
Melamine, on the other hand, is not only long-lasting but also shock-absorbent, scratch-resistant, and able to tolerate heavy use. In terms of maintenance, wood is slightly more difficult to maintain than melamine. Melamine simply needs to be cleaned down using a moist cloth regularly.
In Terms of Style and Design Possibilities: Wood is an extremely multifunctional material that comes in a variety of assortments. Numerous individuals choose wood closets as they like the appearance and feel of solid hardwood.
This is true, particularly if their home already has wood trimmings or wood flooring. Since wood is a natural resource, every panel might differ slightly due to the unique colors, textures, as well as patterns of each species.
In addition, melamine is available in a wide range of colors, designs, and textures, enabling you to choose a material that complements the décor of your house. Wood walk-in closet designs are stunning on their own. They also offer the option of being repainted in a variety of colors. However, this is totally reliant on your design inclinations.
Melamine Vs Laminate Wood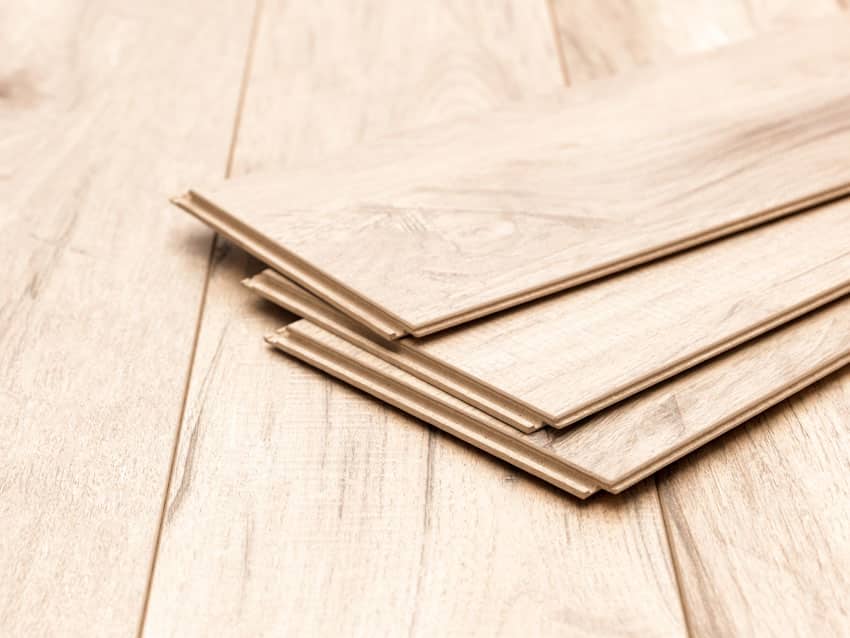 There is frequent confusion between these two materials, so let us differentiate them.
Differences Between Melamine and Laminate Wood: As previously mentioned, melamine is generally a sort of laminate, although not all laminates are melamine. Melamine is classified as a direct or low-pressure laminate since it is produced at pressures ranging from 300 psi to 500 psi. In contrast, laminate is created at a greater pressure of 1400 psi.
Melamine board price in certain countries is considerably cheaper when it pertains to being cost-effective due to how it is created. This also makes laminate more robust, particularly in terms of heat and chemical resistance.
Melamine does not necessitate gluing over a board throughout the application, unlike laminate, which requires gluing to be affixed to surfaces. In regards to diversity and design, laminate is often more available in a wide range of colors and textures than melamine.
In Terms of Uses: Melamine has several applications, though it is most commonly utilized at home and in daily chores. Applying melamine resin to a wooden surface, such as fiberboard or particleboard, produces a final result that can be utilized in counters, walls, furnishings, as well as flooring.
Melamine is utilized in home goods such as cookware, tableware, utensil handles, and more because of its powerful thermosetting and moldable properties. Melamine also acts as a great flame-retardant and can be used in paints, firefighter clothing, foaming, and electrical equipment.
Laminate, like melamine, has a slew of benefits. For starters, laminate is used to make certain types of shelves, dividers, cupboards, as well as furniture. It is also possible to improve or enhance the appearance of other surfaces like furniture and walls. See pictures of laminate cabinets here.

Laminate can be utilized in wall panels, woodworking, furniture-making, and other areas where impact strength and durability are required. Due to their inherent resistance to moisture, fire, fractures, chemicals, and structural damage, some laminates are suited for industrial applications. Nevertheless, specialized laminated boards are utilized on billboards and utility boxes.
Melamine Vs MDF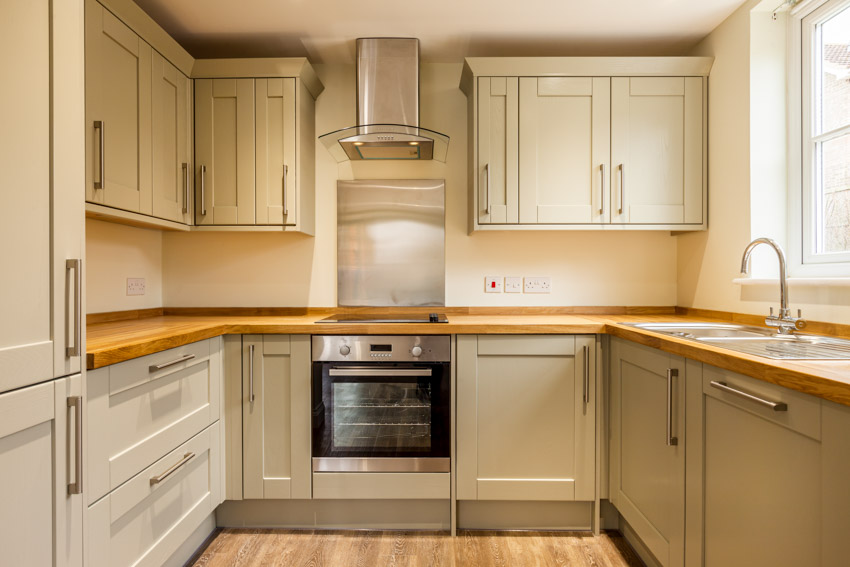 MDF (Medium-Density Fiberboard) and melamine are both manufactured wood products that have comparable qualities but are used for distinct purposes. Let us compare them:
In Terms of Maintenance and Resilience: Melamine can be used for countertops as well as other structures such as cabinets and doors that require a high level of water resistance, similar to particleboard. It is less robust than MDF, although it can tolerate prolonged exposure to water.
Melamine has various advantages over MDF in places like the bathroom and kitchen cabinets such as cheaper cost and ease of maintenance. It is also easier to clean and keep up properly in humid environments.
Melamine is the material to use if you want a material that is simple to keep clean, has minimal maintenance expenses, looks way better on the exterior, is acceptable in price, and is generally easy to deal with.
In Terms of Structural Durability: MDF is created by gluing together wood fibers with resin, high temperatures, and pressure. MDF will not expand or compress like natural wood as it is engineered wood. This renders it an excellent option for solutions requiring stability and strength. Read about MDF vs wood kitchen cabinet doors here for another comparison.

There are numerous advantages of using MDF over melamine, including increased longevity. MDF is tougher and more durable than plywood, making it ideal for cabinets, furnishings, and other heavy-duty applications.
See more related content in our article about MDF kitchen cabinets on this page.