Welcome to our beautiful gallery of paver patio ideas including stone, brick and DIY designs for your backyard.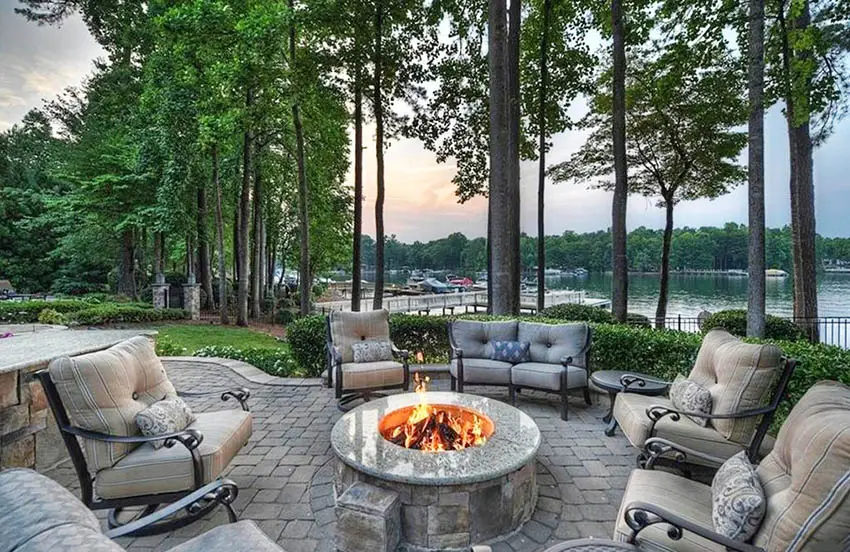 There are so many reasons as to why a paver patio makes a great investment for a home. Aside from increasing the aesthetic appeal of your backyard, paver patios also come with a lot of practical benefits that include durability and extreme resilience against wear and tear.
Below, we take a look at our ultimate guide to anything and everything you need to know about paver patios ideas, along with some of the best designs which will keep you inspired as you build one for your own home.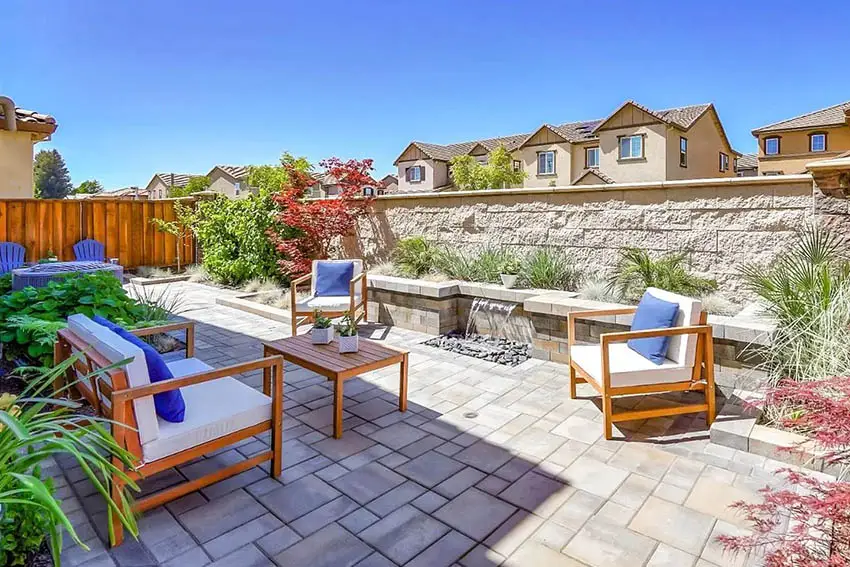 What is a Paver Stone? A paver or paver stone is a piece of stone, tile, brick or concrete that is commonly used as an exterior flooring. It is produced by pouring a mixture of concrete into a mold allowing it to set. They typically come in square or rectangular shape and come in both regular and irregular sizes, depending on the type of material used in its production. Aside from concrete, pavers may also be made of natural stone or clay and come in a wide variety of sizes, shapes, textures, and colors.
Pavers are also sometimes referred to as a "paving stone" or "dry laid brick" mainly because of the way they are installed. These can be laid down in different patterns and are typically used outdoors such as patios, driveways, pool decks, fire pits, lanais, balconies, planters and walkways. Aside from residential applications, pavers are also widely used in exterior commercial applications.
Types of Pavers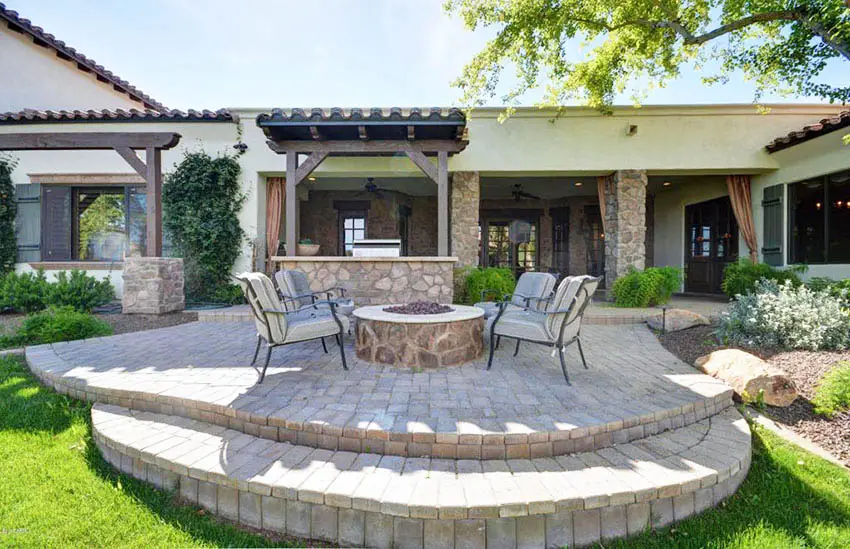 The main distinguishing feature or quality of a paver is the material with which it is made. In general, pavers can be classified into two main types, namely natural pavers and manufactured pavers.
Natural Paving Stones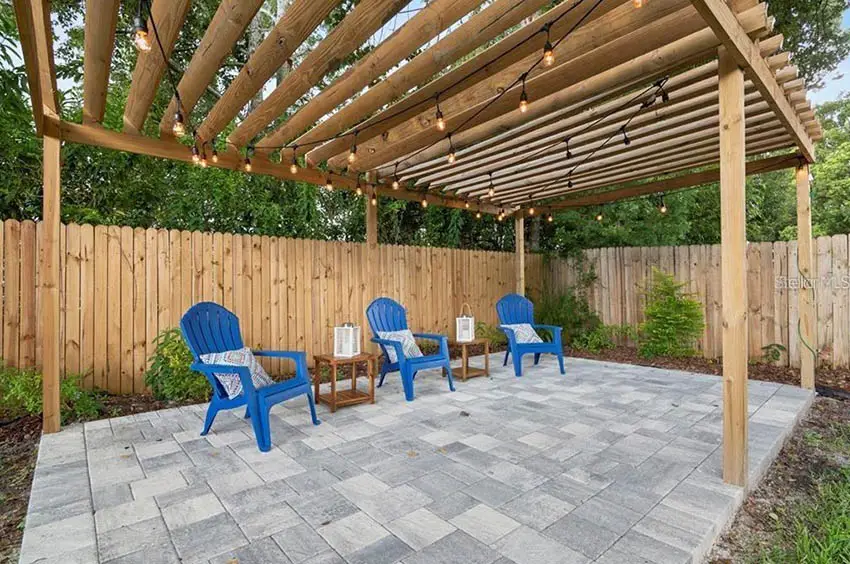 Natural pavers are also generally referred to as "stone pavers". Unlike concrete pavers and most brick pavers,this type of pavers have irregular sizes and shapes because the stones are cut in quarries. They have a little more variation in size, texture and color which adds to their unique quality and distinct beauty. See more examples of natural stone patio ideas here.
Different Kinds of Stone Pavers
There are many types of stone pavers and almost any type of rock can be made into one. However, there are three most common varieties of it, namely bluestone, cobblestone and travertine. Aside from these options, you can also find other natural stone pavers like slate, limestone and granite.
Patio Bluestone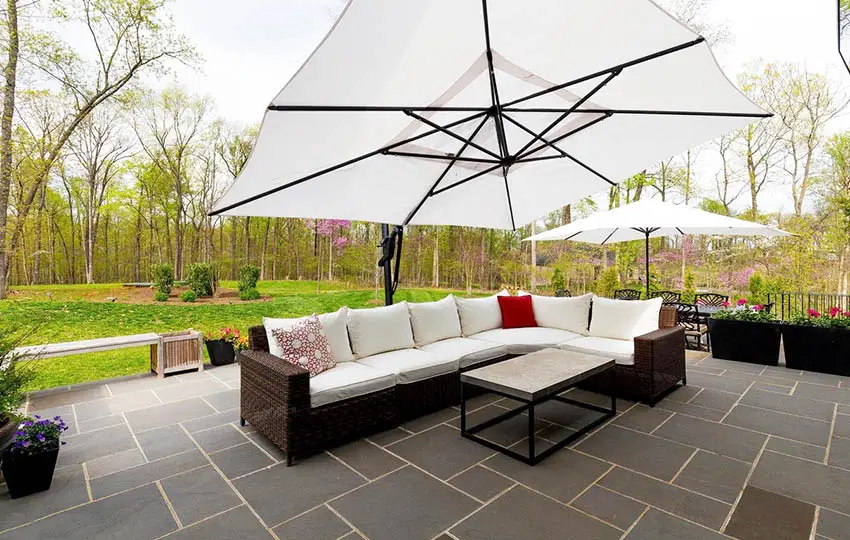 Bluestone is a natural stone that is composed of sand and other particles. Its name is derived from its attractive bluish gray hue that is unlike any other natural stone. This type of sandstone is typically used in creating elegant driveways and patios.
Bluestone comes in a variety of shapes and sizes — it can be crushed into gravel, cut into different patterns, produced in tile forms or left in big slabs. You can use it alone or integrate it with other paving materials to make your design more interesting.
Pros: Bluestone is highly sustainable and extremely durable. As mentioned, it is very flexible in terms of design since it can be formed into different shapes. Above all, its most prized quality is its unique aesthetic and distinct color – its color often starts with a royal blue shade that changes into a light gray hue as it becomes more and more constantly exposed to sunlight. So basically, bluestone pavers age gracefully
Cons: The only drawback to bluestone pavers is their expensive price. Authentic bluestone is rare and can be costly to acquire. You also have to be careful in purchasing them because some suppliers pass off counterfeits as authentic bluestone.
Patio Cobblestone Paver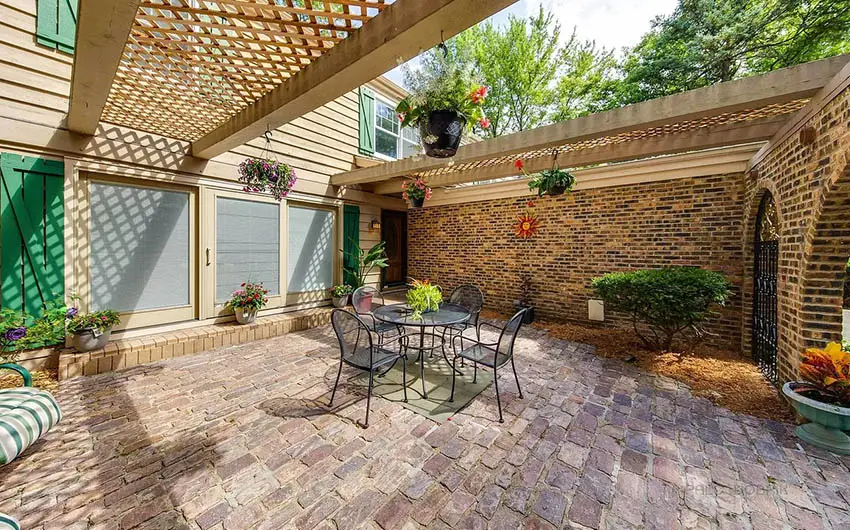 Cobblestone refers to small blocks of paving material made from natural stone , usually granite, but it is sometimes made with limestone, basalt or other natural stones. Best known for having a strong "old world" charm, cobblestone pavers have been around for centuries. Historically, old cobblestones were made from rounded stones collected from stream beds.
Pros: The best quality of cobblestone pavers is their extreme durability and long lifespan. Cobblestone pavers are so strong and reliable that they can last hundreds of years. Historical walkways and roadways made from this material during the old times remain intact up to this day. In addition to its attractive "old world" feel, cobblestone also adds to your home value.
Cons: the biggest drawback of cobblestone pavers is its expensive price. Aside from such, it also requires a labor-intensive installation process. Since it is a natural stone paver, it comes in irregular sizes and shapes, often resulting in a rough and uneven surface.
Patio Travertine Slabs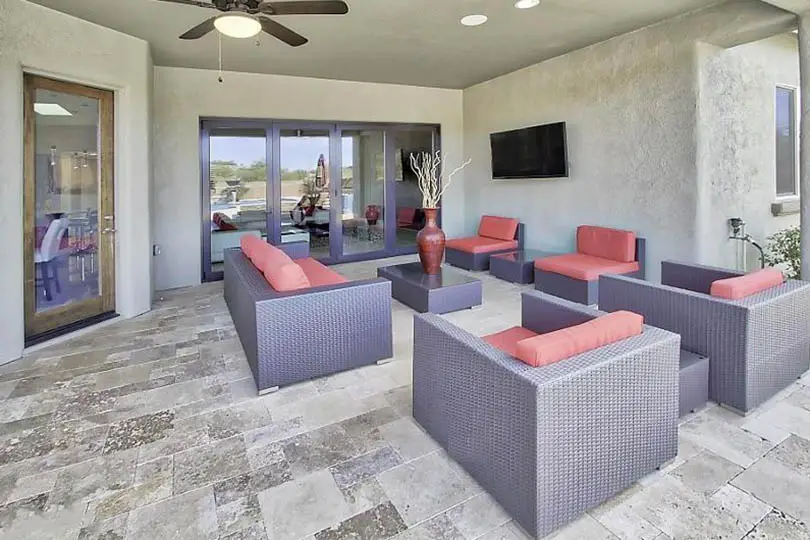 Popularly known as the favorite building material of the Romans, Travertine, another type of natural stone is also used as a paver. Travertine is a type of limestone sedimentary rock formed under changing temperature and pressure. This process gives it a very unique appearance and character — its surface is filled with little holes and grooves and it is usually more textured than other natural stone. Due to its natural beauty and timeless appeal have become one of the top three paving materials used for outdoor landscaping and flooring.
Pros : Travertine is all natural and eco and environment-friendly. Aside from being extremely durable, it stands well to exposure from changing weather. It does not fade and discolor and also insulates heat well, so it is perfect even during hot seasons like summer. Travertine pavers are also widely available and come in different tones and colors. They are also cheaper than marble, but offer the same classic aesthetic and elegant appeal.
Cons: Although travertine pavers are extremely durable, they can still be vulnerable to several elements. It is highly sensitive to acids, so cleaning it with vinegar or an acidic formula might not be a good idea as it may stain its surface. Handling can also be a bit of a challenge because it is much heavier compared to other pavers like bluestone or flagstone.
Patio Flagstones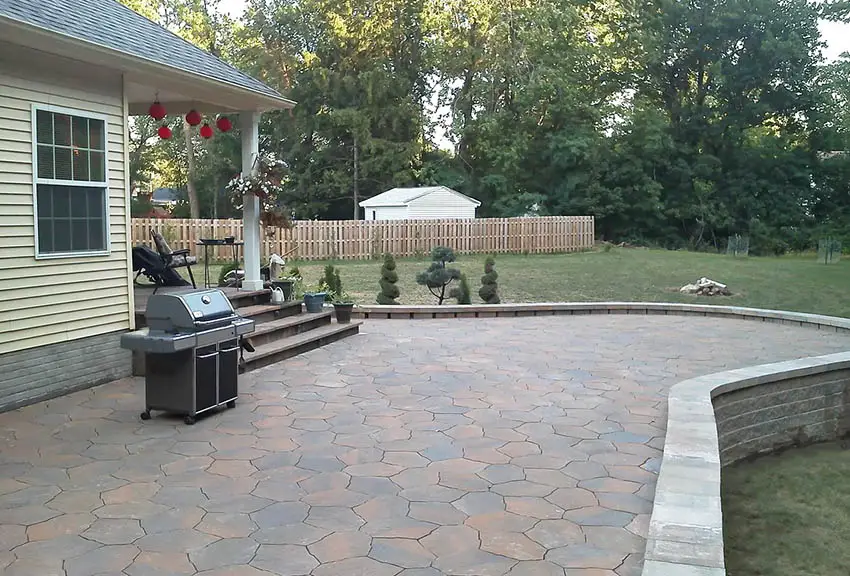 Flagstone is a type of sedimentary rock. It is cut from a stone quarry and typically comes in unique shapes that fit together like a puzzle. This type of natural stone has different colors, varying from gray hues to warm red tones.
Pros: Flagstone pavers are durable and last longer than concrete pavers. It is completely safe to use as an outdoor flooring material because it has a more non slip texture and surface compared to many other types of surfaces. They do not absorb heat and stay cool, making them the perfect flooring materials for patios or yards exposed to direct sunlight.
Versatility is also one of flagstone's strong qualities. Since this type of pavers come in a variety of shapes, colors and sizes, homeowners can experiment freely with its pattern. You can also easily integrate them with other types of materials. Get more flagstone patio ideas here.
Cons : Compared to other materials like brick and concrete, flagstone pavers are thinner making them an unsuitable material for driveways. Just like any other natural paver, flagstone has irregularities and does not have a uniform size and shape. When it comes to the cost, flagstone pavers are also more expensive compared to other materials because it is mined and transported from the actual source.
Patio Marble Stone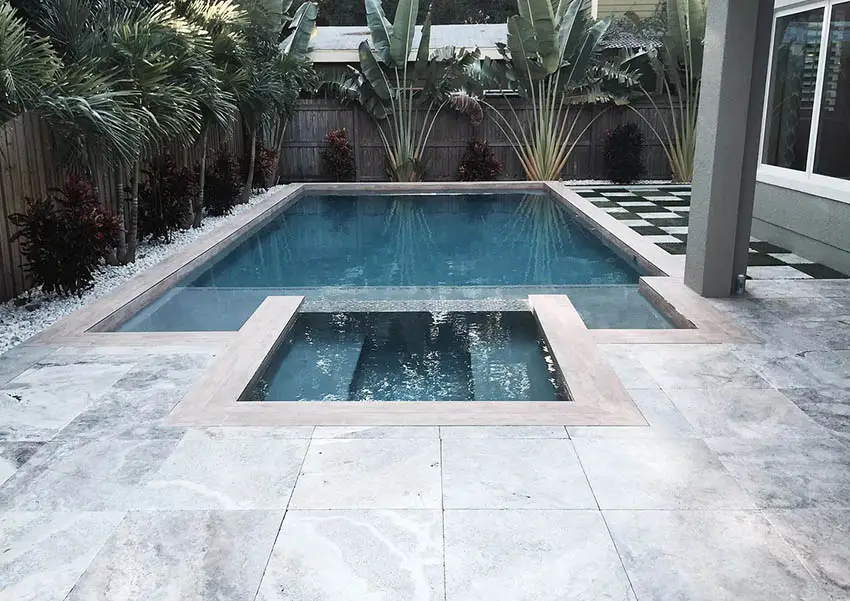 Although more commonly used as a flooring material for interiors, you can actually get marble pavers that are suitable for outdoor use. Marble is a type of natural stone that is formed when limestone is exposed to extremely high heat and pressure. This process disarranged the crystals in the stone, giving it a more unique appearance that is dominated by sprawling veins.
Marble pavers are typically used in residential applications such as patios, walkways, driveways, landscapes and pathways.
Pros: Marble pavers are best known for their elegance and graceful aura. It has a smooth polished finish which can instantly make a space sophisticated. In addition to its unique appearance and distinct natural beauty, marble pavers are also extremely durable and can last long. Marble pavers can also add value to your home.
Cons: Although durable, marble is relatively softer compared to other natural stone pavers, thus its polished surface can be easily scratched.just like travertine, it is sensitive to acid and has the tendency to stain or discolor when exposed to certain chemicals and cleaning products. Marble is also a natural conductor, so this type of paver can easily absorb heat and be hot during afternoons and during hot seasons.
Patio Manufactured Pavers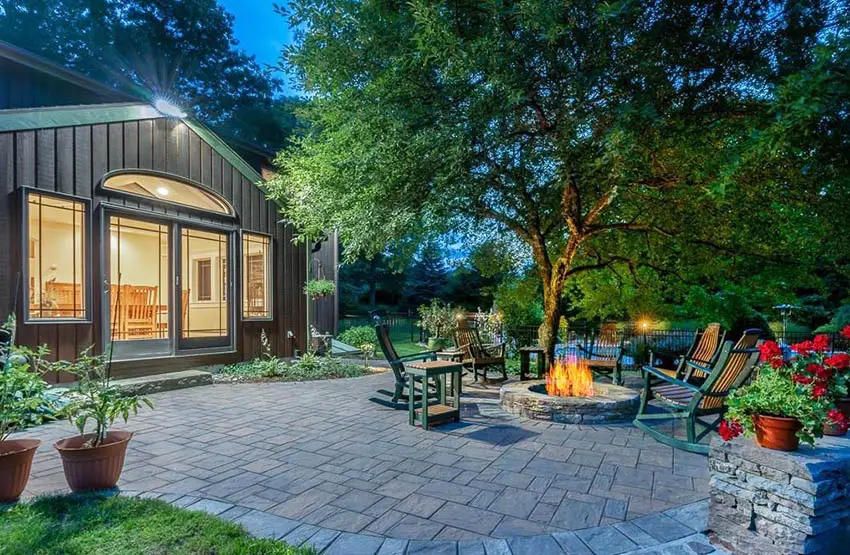 Manufactured pavers are produced by machinery in factories. They are typically composed of fine and coarse aggregates — usually a mix of natural or synthetic materials. Compared to natural pavers, manufactured pavers are more uniform in size and shape. One of its most popular variants are interlocking pavers.
Patio Concrete Pavers
Concrete pavers are one of the most popular flooring materials used for driveways, pathways and walkways. Concrete pavers are made of cement and aggregates that are poured into molds to take different shapes. This type of paving material has a very natural look and minimalist aesthetic.
The installation of concrete pavers involves a fairly straightforward process. They are commonly laid over a compacted base of soil and sand. SInce its size and shape is uniform, it can be easily cut too.
Pros: Concrete pavers are best known for its durability, stability and versatility. These are also weatherproof and can withstand heavy use over time. In addition, concrete paving stones are easy to install and are cheaper than other paving material options because they use low cost raw materials. They come in a variety of colors, shapes, sizes and thicknesses, but can also be customized in any way you want, which makes them very versatile in terms of design.
Cons: Although durable, concrete pavers still have the tendency to crack under extreme changes in temperature. Concrete is also permeable, which means water can pass through its surface, so you will be needing "sealing" to prolong its life. This additional maintenance translates to added cost in the long run. The artificial pigments used in giving it color can also fade over time. Concrete has a shorter life span than other paving stones, given that it is made with low cost materials.
Patio Brick Pavers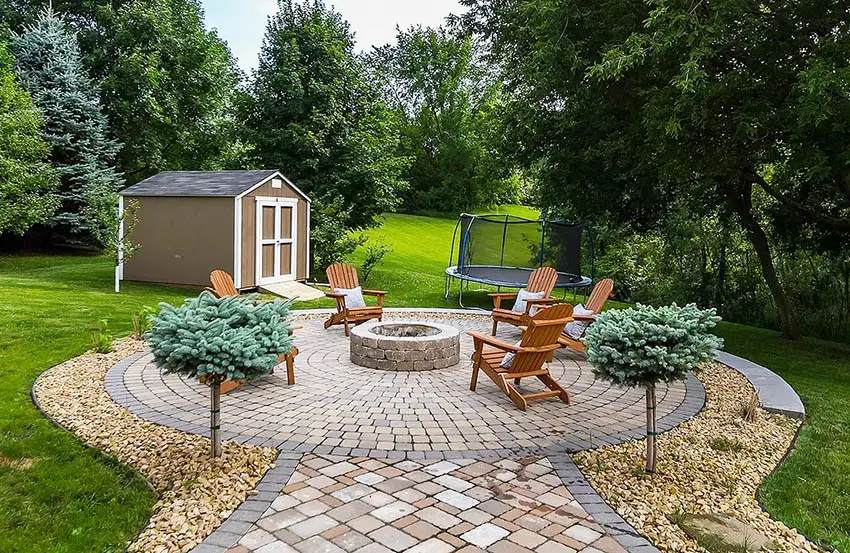 Brick pavers are also classified under the manufactured type. It is made of clay that is baked in kilns to dry. It comes in identical sizes because they are shaped into molds. Installation wise, brick paving stones are typically set in a mortar or sand base. It is well loved for its classic look and warm character.
Pros : Brick pavers are extremely durable, strong and can last for a long time. Brick pavers also come in a variety of shapes and colors like red, brown, tan, orange and gray. They can also be set in different patterns, allowing for more flexibility in design. Since it is made from natural materials, brick pavers are an eco friendly choice and can be cleaned easily, reused and salvaged.
Cons: Brick pavers are a bit fragile and have the tendency to crack or chip over time, thus they require careful handling. See more pictures of brick patio designs here.
Patio Porcelain Pavers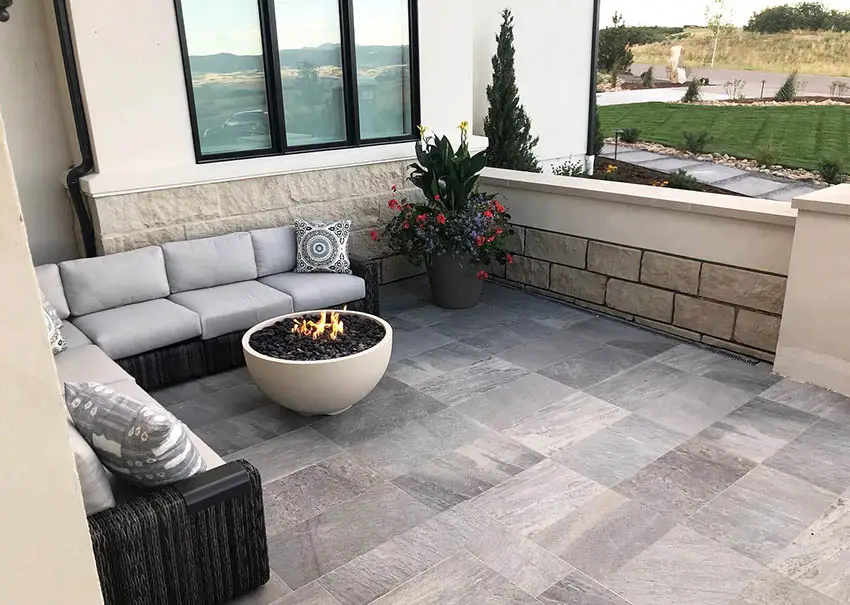 Porcelain pavers are made by subjecting clay to an extremely high temperature, producing a hard, durable surface that has a non porous finish. Porcelain pavers are typically used in outdoor applications that are usually wet, like pool decks, because they are less absorbent compared to other permeable materials.
Porcelain pavers are typically produced in different thickness and come in different designs which usually mimic the appearance of natural materials like wood and stone.
Pros: As mentioned, porcelain pavers absorb less moisture, thus preventing molds and bacteria from building up. They need less maintenance and are very easy to clean. Aside from these, porcelain paving stones are also visually appealing and come in different patterns and colors. When it comes to price, porcelain pavers are less expensive compared to those made of natural raw materials such as granite, marbles, bluestone, etc.
Cons: Porcelain pavers do not hold up well to frost and extremely cold temperature, making them a less suitable outdoor paving material for homes located in highly elevated areas.
Patio Rubber Pavers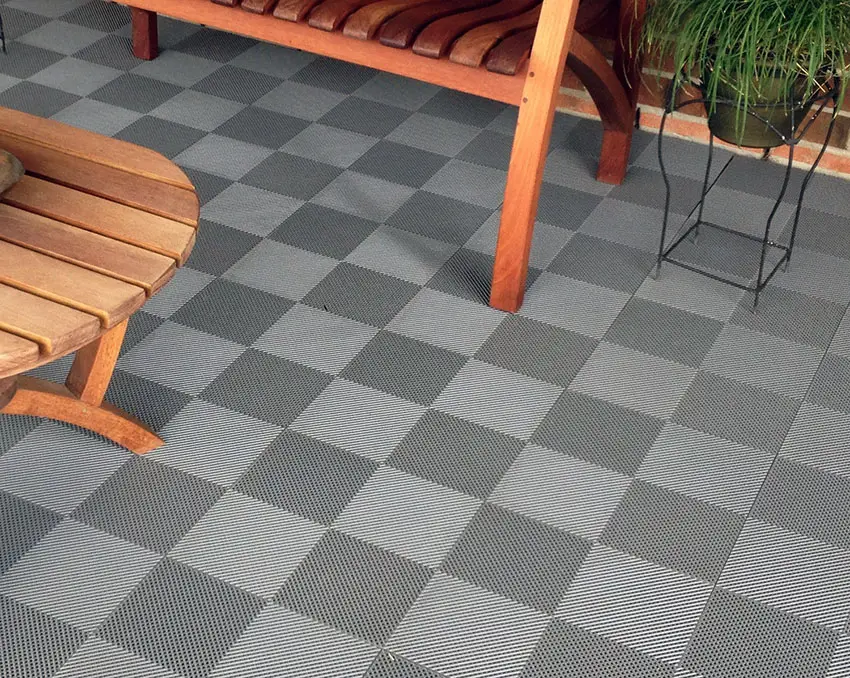 Rubber pavers are usually made from recycled tires and offer an excellent way to re purpose an old item. This is the perfect choice if you want to give your patio or walkway a unique feel.
Pros: Rubber pavers are completely non-slip, tear resistant and require little to no maintenance. Compared to stone pavers, rubber pavers are more shock absorbent and are less susceptible to chipping and cracking. This option is not only eco friendly but also very inexpensive.
Cons: Rubber pavers require a good stable base. Even if they come in a wide variety of colors, its finish is not as attractive as other paving stones. Since it is also new to the market, its actual lifespan has not been fully tested, unlike cobblestone or travertine pavers which have been around for decades.
Patio Plastic Pavers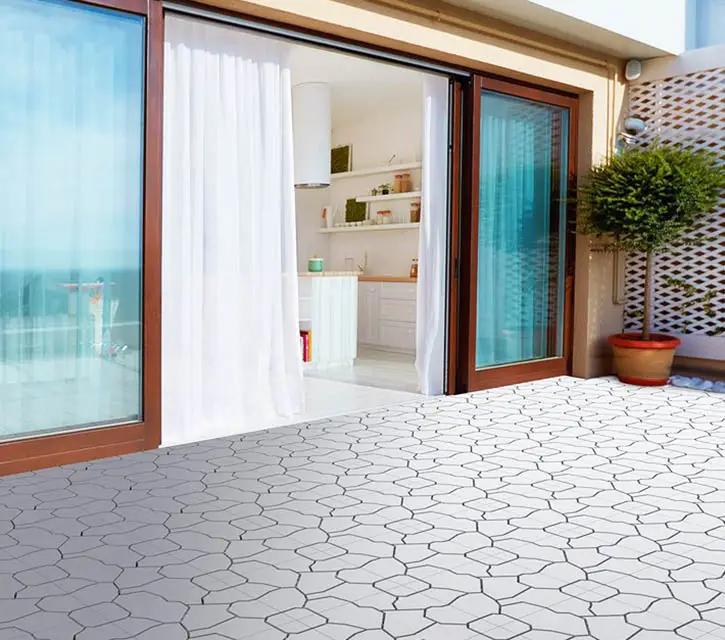 Plastic pavers come in two different types : newly manufactured and recycled. Recycled plastic pavers are made from plastic wastes and undergo an innovative manufacturing process. It starts with melting the plastic with water to produce a liquid output. This is then combined with soil, stirred and poured into paver shaped molds and dried.
Pros: Recycle plastic pavers are eco friendly and help reduce waste. It comes in different shapes and styles and is low maintenance compared to other paving stones.
Cons: Plastic pavers are less durable compared to natural stone, concrete, asphalt and gravel.
Common Colors of Pavers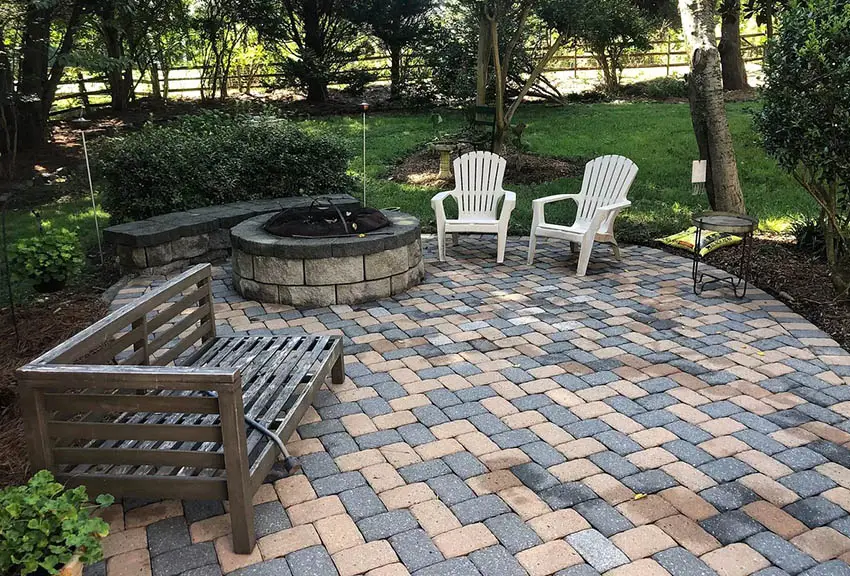 Pavers come in a large variety of colors including:
Beige
Red
Brown
Tan
Light Gray or Dark Gray
Slate
Pewter
Yellow
Purple
Blue
Green
Multicolor
Patio Made of Brick Pavers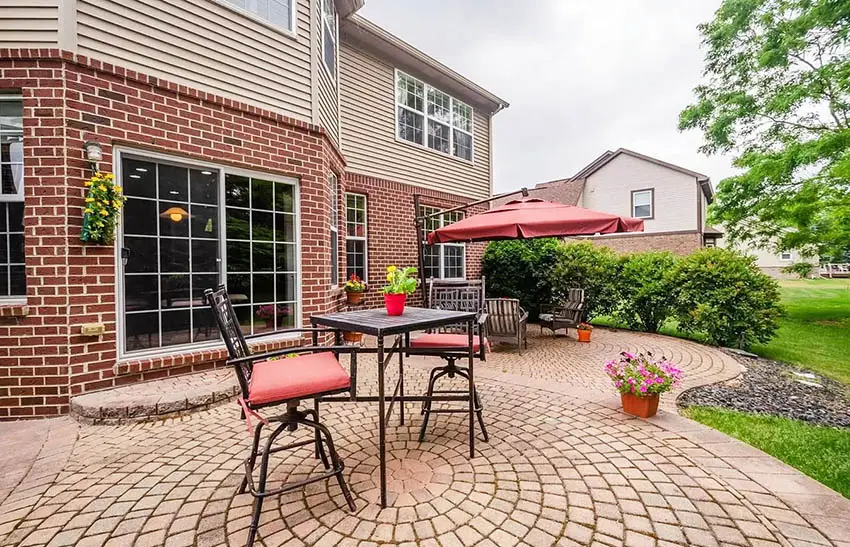 Brick pavers continue to be one of the most popular and in demand materials in building patios.
Aside from its warmth and classic appeal, most homeowners prefer laying brick pavers over other materials because they are extremely durable , reliable and low maintenance. It is also easy to install because it comes in a standard size and regular shape. This uniformity makes it much faster to lay and fit together.
Since these type of pavers are rectangular shaped, there are a lot of patterns which can be explored with brick paver patio ideas – from a simple running bond to a more complex design such as the basket weave and herringbone. Brick pavers also come in a wide range of colors which can be used to create unique and vibrant patio designs.
Brick pavers come in different types, but the strongest paver option available to homeowners is the clay brick. Clay bricks have a strength rating of about 12,000 pounds per square inch (PSI).
On average, building a brick paver patio will run around $3,400, with a typical range of $2,400 to $7,000
DIY Pavers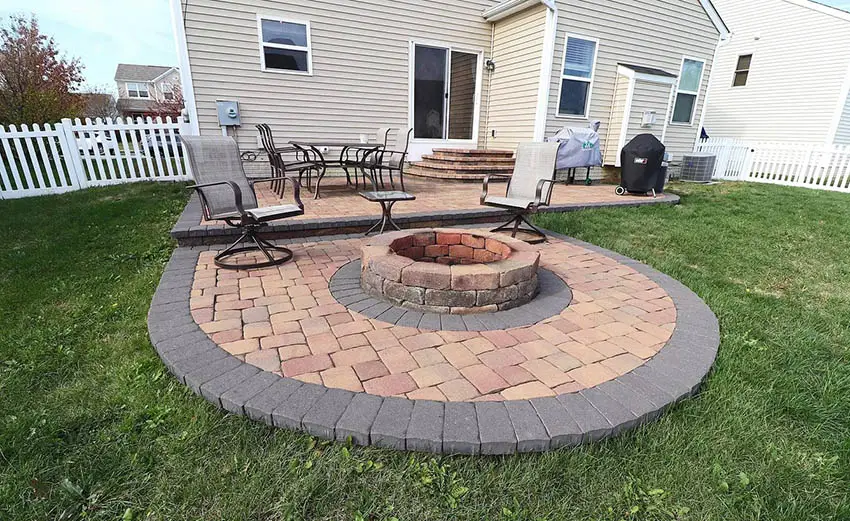 Another advantage to using pavers in patios is that its installation does not always require to be done by a professional. Even if you have little to no experience when it comes to paver installation, a patio design and construction, you can easily DIY a paver patio using different methods. DIY can help cut the costs of labor and save you money.
There are several ways which you can try if you opt to go with a DIY Paver Patio. First, is to use patio paver kits, which is essentially an all in one DIY kit that contains everything you need for building a paver patio — from pavers to easy to use building manuals. Kits are popular because they are user friendly and can be customized easily.
Another DIY option is to use patio paver molds. In this method, you forego buying the pavers altogether, but instead cement is used. Concrete is poured directly over a patterned paver mold to achieve the same laid stone effect. Paver molds cost $15 to $100 each, depending on the size. They come in a variety of shapes, designs and sizes and are widely available in home improvement stores.
DIY is also the perfect opportunity to get creative with your paver patio designs. Aside from the options mentioned above, you can also repurpose old materials and utilize them as pavers. Used rubber tires, broken clay pots, old bricks and other recyclables can be creatively fit together to create a stunning patio floor or walkway.
Paver Costs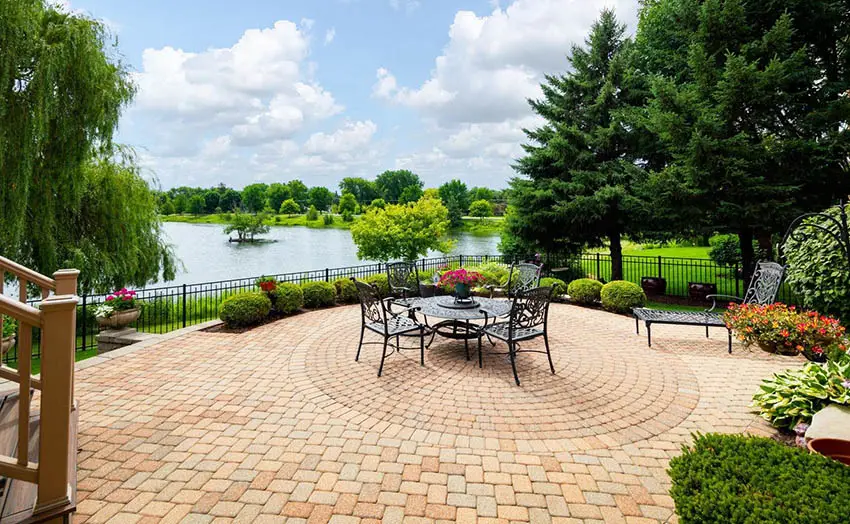 The cost of building paver patio varies on each type of project. Here is everything you need to know about the price of building a paver patio.
How Much Does It Cost Per Square Foot?
When designing a patio, you can choose from a variety of types of pavers which you can use as a flooring material. The overall cost of the project will depend greatly on a number of factors, one being the type of material used. Each type of paver will correspond to a specific price or cost per square foot, but on the average, the cost per square foot of a paver patio can range anywhere from $8 to $50, excluding labor and installation.
Cost of Pavers Depending on the Type of Material
Pavers alone can cost between $1 and $15 per square foot, with most homeowners spending a typical average of $2 to $4 per square foot, depending on the material, size, style and texture. There are several choices which you can try for paver materials, each having their own great qualities. Whether your budget falls on the low, mid or high range, you can be sure to find the right material to fit it.
Below is a list of the cost of pavers per square foot according to the type of material. Note that the prices indicated below are for the materials only. Labor, installation, equipment and other fees are excluded.
Brick:

Costs anywhere from $8 to $25 per square foot to buy and install. For the bricks alone, a pallet, which can cover 56 square feet roughly costs around $300 to $700.

Clay Bricks Pavers:

Costs anywhere from $1.40 to $20 per square foot

Concrete Pavers

: Costs around $1.25 to $18 per square foot.

Natural Stone: Costs anywhere from $0.50 to $14 per square foot.

Slate Pavers:

Costs anywhere from $ 3.60 to $50 per square foot.

Cobblestone:

Costs anywhere from $3 to $15 per square foot.

Travertine:

Costs anywhere from $0.50 to $12 per square foot.

Porcelain:

Costs anywhere from $1 to $18 per square foot.

Rubber:

Costs anywhere from $1.70 to $10 per square foot.

Plastic:

Costs anywhere from $2 to $8 per square foot.
When preparing your overall budget for the materials needed for your paver patio ideas, be sure to allot a contingency fund for 10% more of the paver quantity. This is to account for pavers which will be cut, wasted or broken during the installation process. For more complex patterns that have angles, an additional 20% more is required because there will be more cuts and wastage.
How Much Is the Average Cost?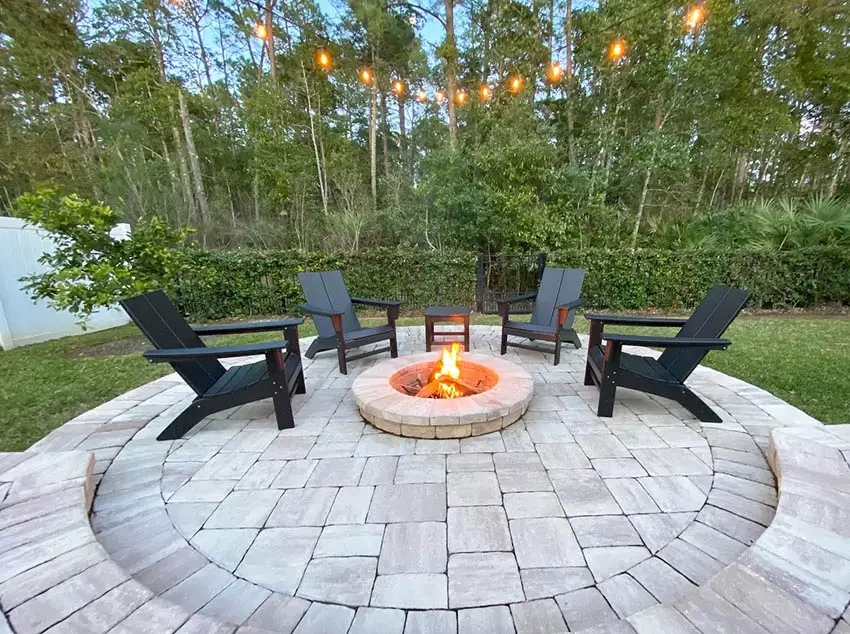 As we have mentioned, the type of paving materials you select and the size of your patio are the two main factors determining a paver patio's price. Depending on these, the average cost of a paver patio can range from $800 to $4,000 including the materials, labor and installation.
How Much Does It Cost to Build a Brick-Type Patio?
How Much Does A 12×12 Paver Patio Cost? On the average, a 144 square foot (12×12 feet) paver patio cost around $1,150 to $3,600 , including the materials, labor and installation.
How Much Does A 20×20 Paver Patio Cost? On the average, a 400 square foot (20×20 feet) paver patio cost around $3,200 to $10,000 including the materials, labor and installation. For a 20×20 feet brick paver patio, expect to pay anywhere between $3,800 to $6,800.
Patio Costs Depending on Brick Types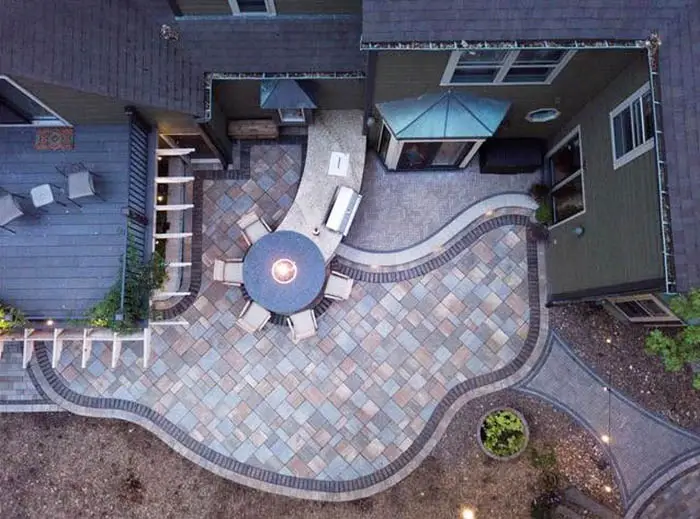 An average sized brick paver patio typical costs anywhere from $2,000 to $8,000. The exact price varies greatly on the size of the patio and the type of brick used. Larger patios or those that have more complicated designs can run up to $10,000 because they require additional prep work.
Brick pavers generally cost $0.25 to $4 per brick or $4 and $8 per square foot. High end bricks that have rare colors and odd shapes fall under a higher price bracket, which is around $25 to $50 per square foot. (Note that these prices are for the brick alone. You still need to prepare an additional budget for the installation, labor and other materials like the base cement, sand and equipment to be used.)
The type, color, size, finish and manufacturing process of the brick are other factors which affect the total cost of a brick paver patio. Here is a more detailed look on the price per piece of the different types of brick pavers:
Red brick pavers: Costs around $0.25 to $4 per brick

Gray brick concrete pavers: Costs around $0.50 to $3 per brick

Machine Molded bricks – Costs around $0.40 to $0.90 per brick or $1.75 to $4 per square foot

Hand made bricks – Costs around $0.80 to $3per brick or $3.75 to $13.25 per square foot

Extruded bricks – Costs around $0.35 to $1.50 per brick or $1.60 to $6.50 per square foot

Thin bricks – Costs around $0.35 to $2per piece or $1.65 to $9 per square foot

Permeable bricks – Costs around $0.50 to $1.60 per piece or $2.50 to $7 [per square foot

Dry laid brick paver patio: Dry laid bricks are pavers held together with dry sand, costing around $4 to $8 per square foot for the materials.

Wet laid brick paver patio:This type of paver patio uses cement or mortar to permanently set the brick pavers together, costing around $6 to $12 per square foot for the materials.

Labor Cost to Install Pavers for the Patio
Pavers cost around $10 to $17 per square foot to install, depending on the size, material, and labor.
The labor cost to install a paver patio is usually $50 to $80 per hour or $4 to $11 per square foot. The price for the labor will generally vary depending on your location, but it is also dependent on other factors like the complexity of the project and the general scope of work.
Paver Patterns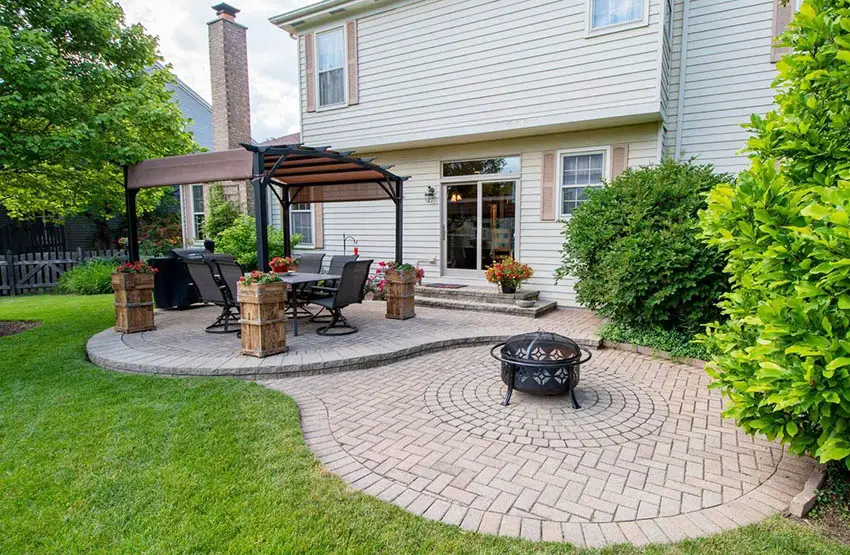 When designing a new paver patio, there are a number of options you can try in laying the pavers. The pattern will greatly depend on the shape of pavers you use, the style you want to achieve and the size of the space.
Below are some examples of the most common traditional shapes and paver laying patterns. Note that you can use a single pattern or mix and match different two or three styles, different shapes and patterns to create more interesting patio paver designs.
Running Bond Paver Pattern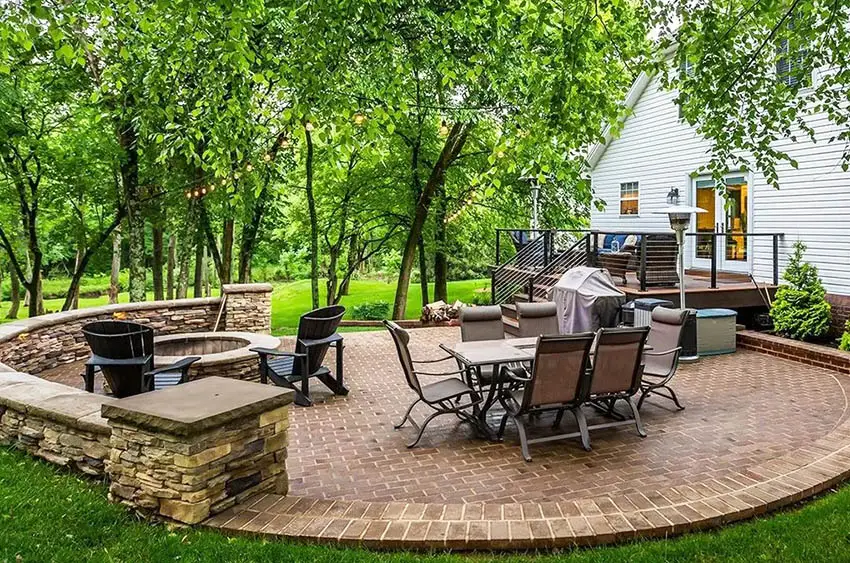 A running bond is the simplest and most plain paver pattern among all types. It is a type of pattern in which the pavers are laid in rows running in the same direction.
The running bond pattern is the most common pattern used by homeowners. It is the easiest to install and the simplest pattern to lay. The running bond pattern also requires minimal cutting, which in return translates to a lesser amount of waste compared to other paver patterns. Not only is there a lesser amount of work, time and effort but also a lower cost of installation.
Although considered to be a classic, you can update the look of a running bond using creative color combinations, unique pattern directions and the use of borders. The running bond is also perfect for small areas because it can create an illusion of a bigger space. Since the pavers are laid side by side, emphasis is placed on the linear lines which can make a patio look wider or longer, depending on the direction the pavers are laid. It is also the best pattern to use if you want to draw attention to your home's architecture.
Herringbone Paver Pattern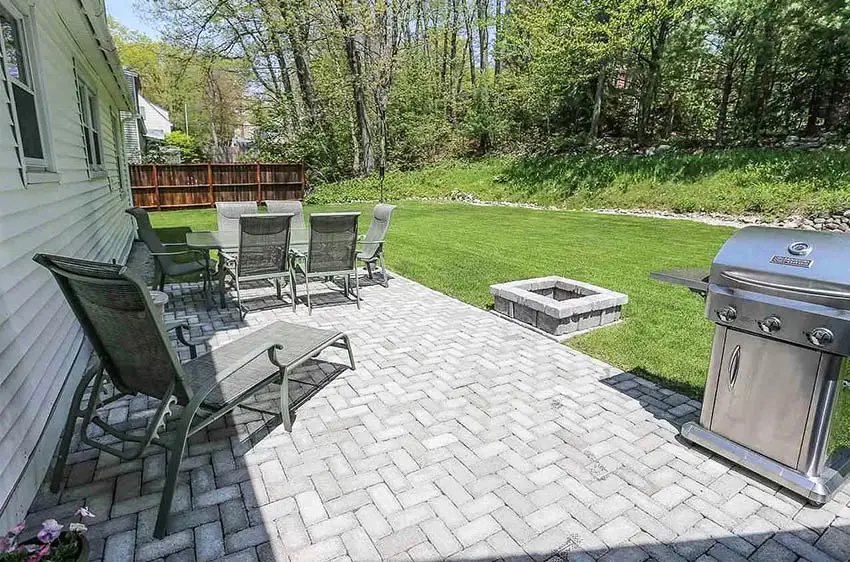 A herringbone pattern is commonly used for rectangular pavers. They are laid in alternate directions creating a zig-zag pattern or a "V" shape. The herringbone pattern can be laid at 45 or 90 degrees and looks best if a border is used along its edges.
The herringbone pattern is best known for its extreme durability and strength. It can withstand heavy use and is very suitable for high traffic areas like pathways, walkways, pathways and patios.
The herringbone pattern creates a strong visual effect that is best used in medium to large outdoor areas. To make the design more interesting, homeowners typically mix it with clay pavers in between. Sometimes, a contrasting border is added to make its color pop.
Basket Weave Paver Pattern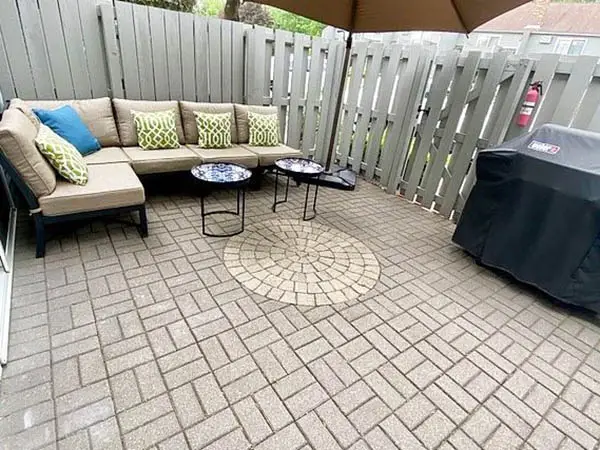 The basket weave pattern originated from the old English landscape design era and is best known for its vintage flair. Just like the herringbone pattern, the basket weave pattern also makes use of rectangular pavers, like bricks, to create block designs.
Its name, "basket weave", refers to the way they resemble the exact weaving pattern used by weavers in making actual baskets. The rectangular pavers alternate between vertical and horizontal pairs. The pavers seem to "disappear" under the other row of bricks that they meet perpendicularly and then become visible again on the other side.
A popular variation of this pattern is the "double basket weave" which essentially uses pairs of rectangular pavers . The pairs of rectangular pavers or bricks are placed in different directions which alternate in each row or column. For example, TOP: two standing vertical bricks and two running horizontal bricks, BOTTOM: two running horizontal bricks and two two standing vertical bricks.
Aside from the basket weave and the double basket weave, there are other more complex variations named the single basket weave and the boxed basket weave.
Although traditional in style, there are several ways you can try to update the look of a basket weave paver pattern. For a more stylish flair, you can alternate the colors of the pavers and mix in contrasting and complementing colors, instead of sticking with a single tone. It is perfect for homeowners who want a mix of vintage and contemporary look. This type of paver laying pattern is also very durable.
Circular Paver Pattern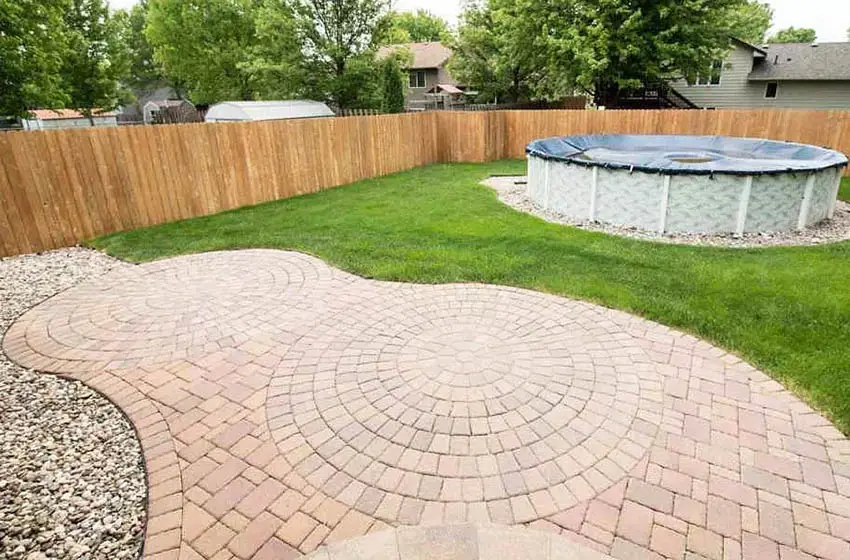 As its name suggests, the circular pattern is achieved by laying the pavers in a circular or round formation. The small spaces in between the pavers will then be filled with some mortar or sand to close in any gaps.
The circular pattern is typically mixed with other laying patterns like the running bond, herringbone, and basket weave. There are several ways to customize and make a circular pattern more interesting. Aside from making a full circle using this pattern, you can also make only half or a quarter of a circle.
The circular pattern works well for round spaces like gazebos and look best when used in large spaces like driveways and patios. It is often used as a focal point of the flooring pattern and can be used to direct attention or delineate and break up a large outdoor space.
European Fan Paver Pattern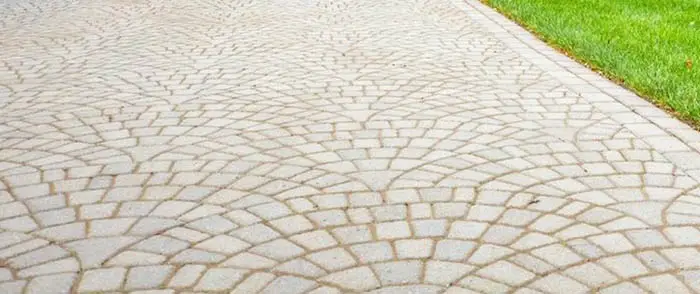 The European Fan Pattern was popularized in Europe and can be widely seen in residential settings and commercial designs. Also known as the "Belgian pattern" or "Florentine pattern", this is achieved by laying the pavers in a series of arcs and repeating it a few times to achieve the desired "fan effect". Unlike other paver patterns, the European Fan Pattern only works with cube-shaped pavers.
The European fan pattern is the most challenging along with the circular pattern. It is challenging to start and complicated to set out, but once finished, it is also the most beautiful and visually pleasing. It's interesting aesthetic is the main reason why it has become such a big hit in Europe.
This pattern only works in large settings and is highly suitable for driveways or spacious patios. The European fan pattern gives you flexibility in terms of design because you can experiment with the fan size and the pavers' colors. You can also combine it with other patterns, like the circular pattern, to create an eye-catching focal point in a space.
For an easier way to achieve this paver pattern, we recommend using paver fan kits, which you can buy from manufacturers.
Stack Bond Paver Pattern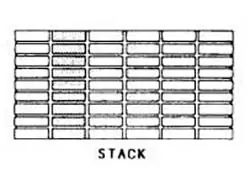 The stack bond pattern is another example of a simple and easy to achieve paver laying method. It is made by laying the side of the paver by side with all the joints in line to create a strong linear effect. This pattern can be achieved using uniform and regular sizes rectangular or square shaped pavers.
The strong visual effect and stark linear aesthetic of the stack bond paving pattern can help create an illusion of space, which is why it is best used for small spaces like patios and walkways.
Although highly aesthetic, the stack bond pattern has a relatively low structural value, making it unsuitable for areas that often carry heavy loads, like driveways. But aside from this drawback, it is so beneficial in several ways. For one, it requires little to no cutting and has zero wastage, making it eco-friendly and cost-friendly.
When installing the pacers for a stack bond pattern, it is recommended that great care should be taken to create a very straight line. The paving bricks should also be tight together. Typically, it is used with a border that is set in concrete to ensure that all the pavers remain intact throughout time.
Uniform Pattern
Like the stacking bond, the uniform pattern is one of the simplest and easiest paver patterns to achieve. It is made by laying or repeating the pavers to form a grid. Unlike the stacking bond, the joints of the pavers in a uniform paving pattern do not. This works only if the same paver size and a uniform shape is used.
The uniform pattern is typically made with a grout line. In some cases, the grass is added to fill the gaps in between and to give it a more interesting look. This type of pattern is best used in gardens, landscapes, and walkways.
Irregular Paver Pattern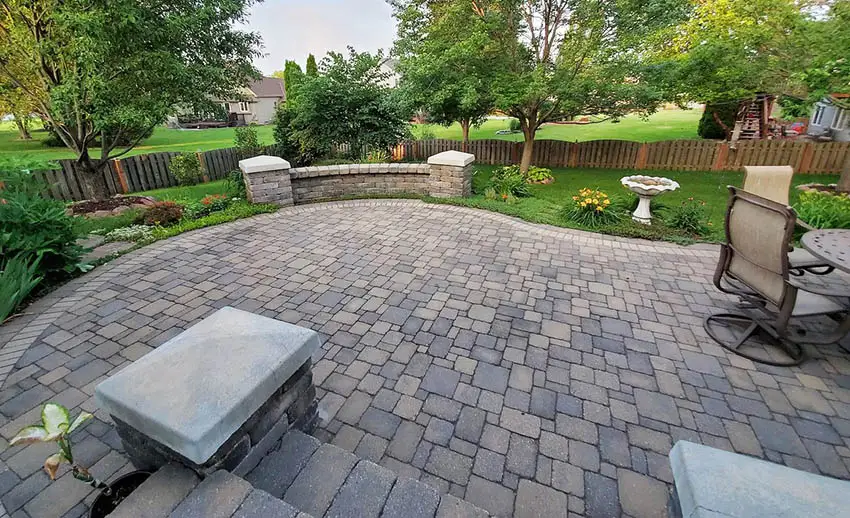 An irregular pattern does not follow a precise way of laying the pavers. With this, you can get as creative as you want because the pavers are laid randomly. This is achieved by using irregularly shaped and sized natural stones or slabs to create a very unique appearance. It is also sometimes referred to as a "crazy paving pattern" or "random paving pattern" and is best used if you are working with natural stones that are mined or cut from a quarry.
The irregular pattern is the most natural of all the paver patterns. It offers maximum flexibility in terms of design. Although it seems easy to achieve, this pattern still requires a lot of planning and can be time-consuming to complete successfully. But when finished, it brings in a very interesting effect and a great contrast to the straight lines in an outdoor setting. This pattern can be applied to pathways, patios and pool areas.
Paver Designs
We have compiled some of the best paver patio designs which you can try out for your home. Whether your backyard is traditional, contemporary or Tuscan inspired, pavers will work well as a landscaping and flooring material because of their versatility and wide variety.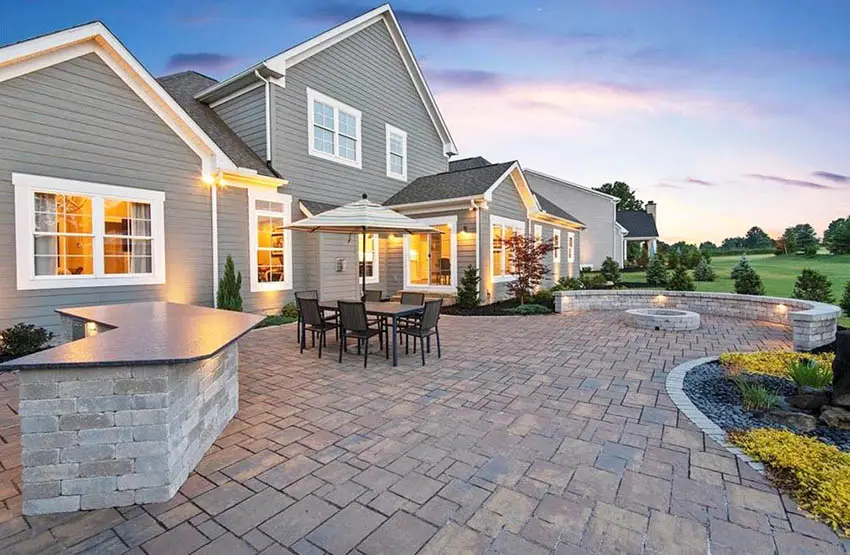 The diagonal pattern used in laying down the stone pavers of this curved patio helps elongate the space more. A matching stone fire pit, benches and kitchen counter completes the cozy outdoor dining area.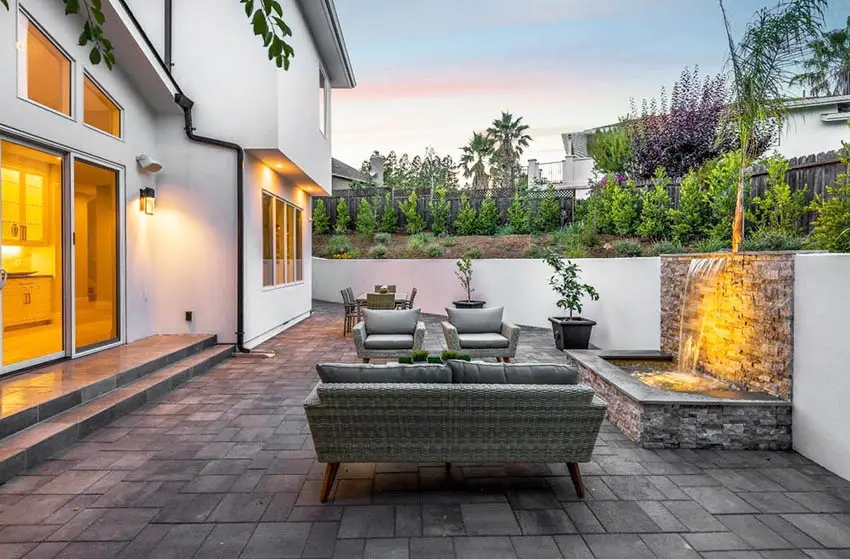 This cozy natural stone paver patio offers a matching stacked stone water features that adds a relaxing vibe to the space.
Raised Patio
Pavers can also be used to make raised patios. Raised patios are slightly more elevated than the rest of the space. You can incorporate corners, curves and different pattern to your patio design. Depending on your preferred style, you can also use the same stonework to include steps or stairs for your raised paver patio ideas.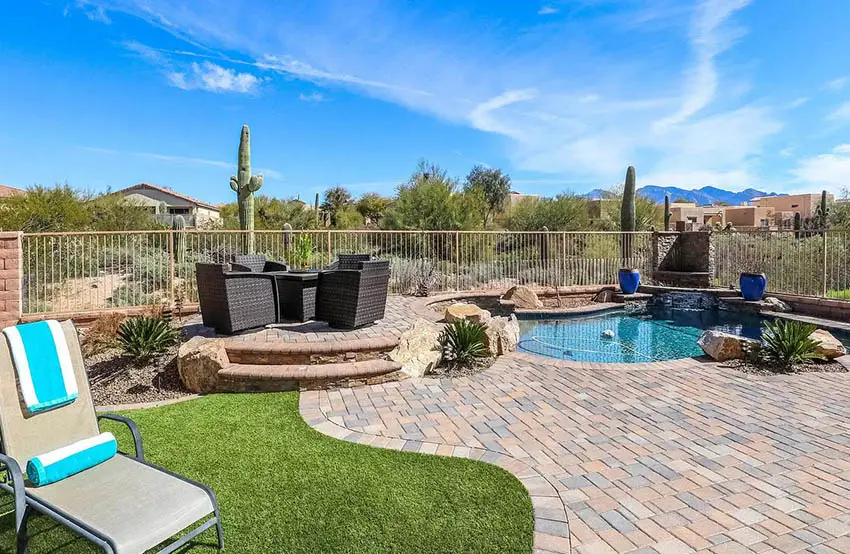 The curved patio above uses brown precast concrete pavers that cascade beautifully to the grass lawn. The shape of the raised patio design also flows gracefully as it reflects the organic shape of the pool.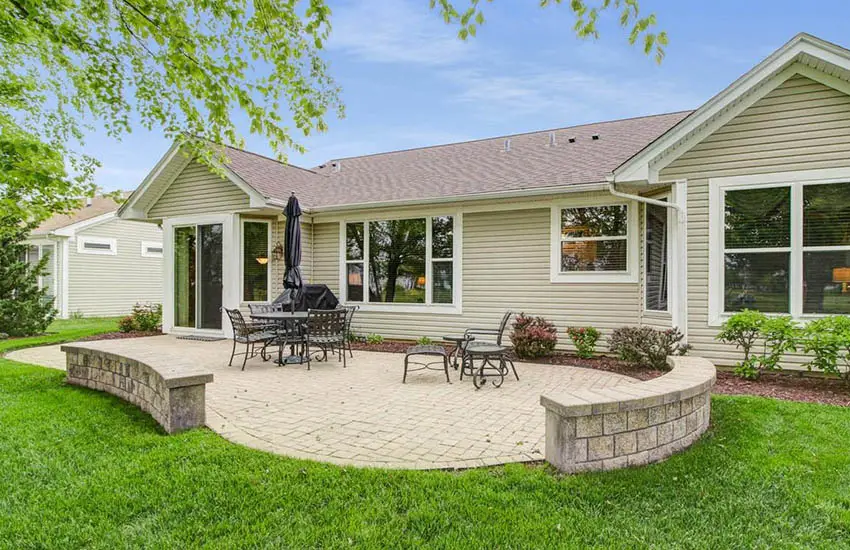 This paver patio features square travertine pavers that are laid out in a stack bond pattern. Its warm white hue and light brown tones complements the color of the house's exterior harmoniously.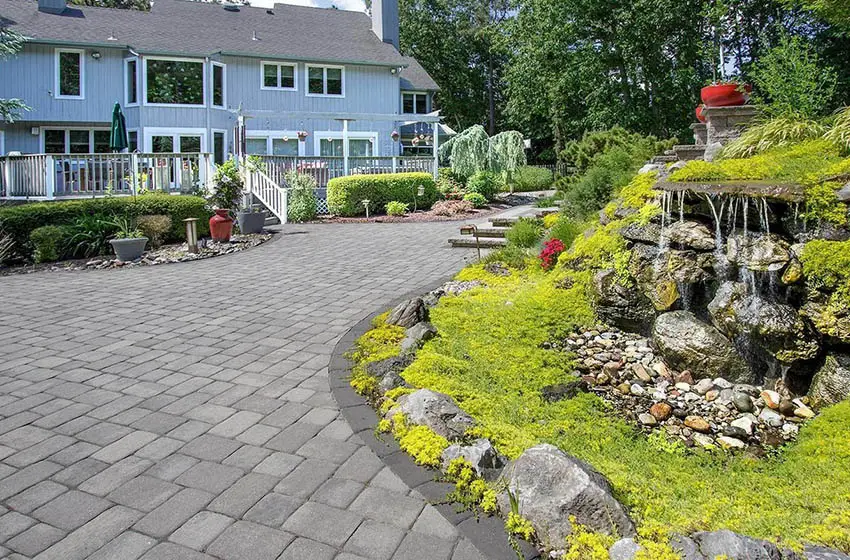 Concrete pavers of varying shapes and sizes serve as a backdrop for this backyard's stunning rock waterfall feature.
Paver And Mulch Patio
Paver and mulch are one of the most common materials used for patios and backyards. Mulch is any material used as a ground covering. It can be shredded or chipped bark, grass clippings, pine needles, straw or dried leaves. It is spread or laid out over the soil to help retain moisture, suppress weeds and help make the landscape look more attractive.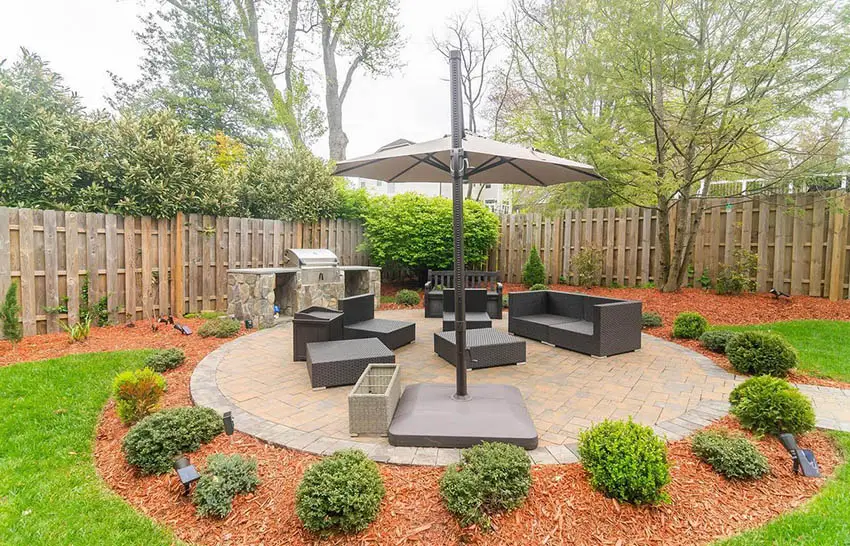 This circular paver patio combines natural stone pavers with a mulch border. The organic branch mulch helps soften the look and texture of the patio, while also providing a bit of contrast to the landscape's color.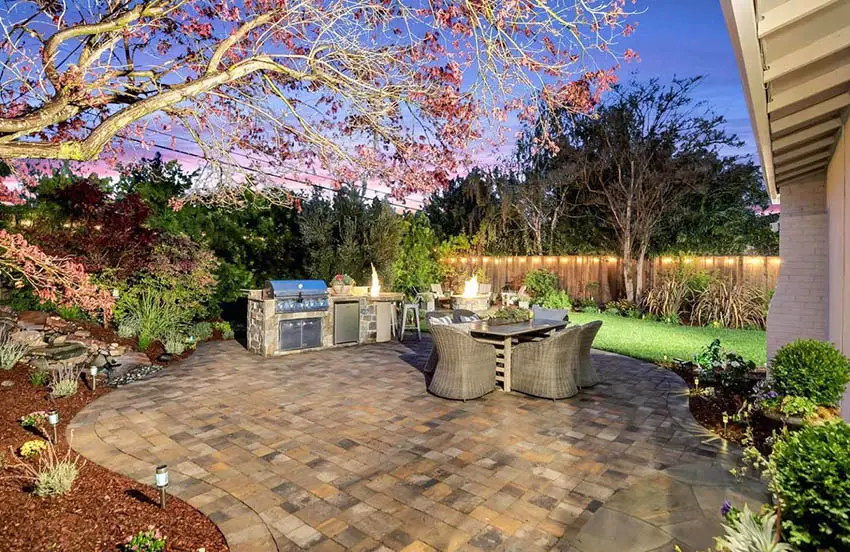 This contemporary paver patio projects a very inviting vibe through the use of warm colored square pavers and a matching natural stone outdoor grilling area.
Paver and Gravel Patio
Pavers can also be combined with a gravel border. Not only do they look more attractive, but they also help with drainage.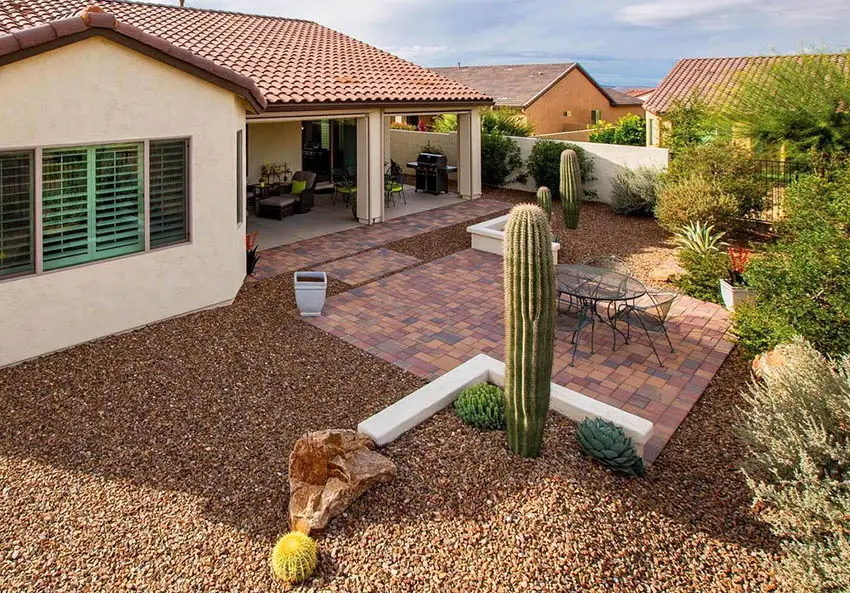 The desert themed landscape of this home makes use of square clay pavers in warm terracotta hues. The surrounding space is filled with gravel and cacti to complete the motif.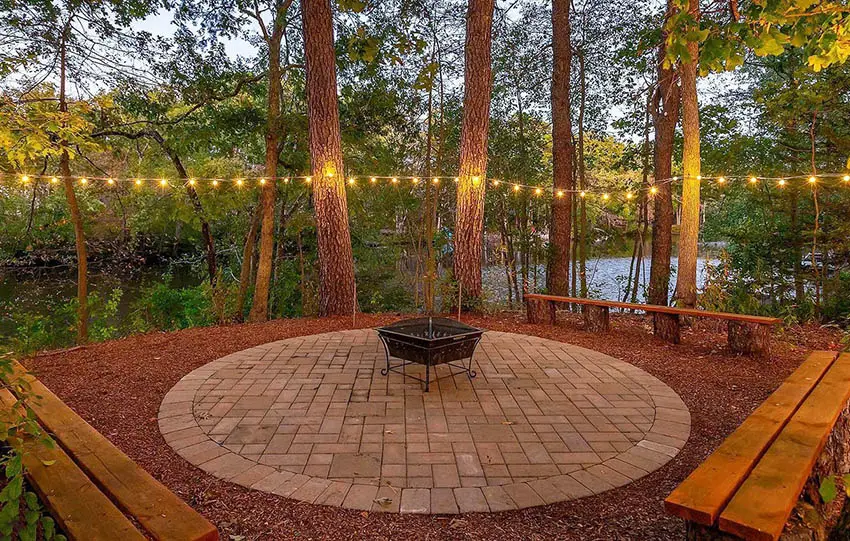 Concrete pavers in a basket weave pattern are used for this circular patio with a small portable fire pit.
Curved Patio
Aside from the usual square and rectangular forms, you can also use pavers to create curved patio designs.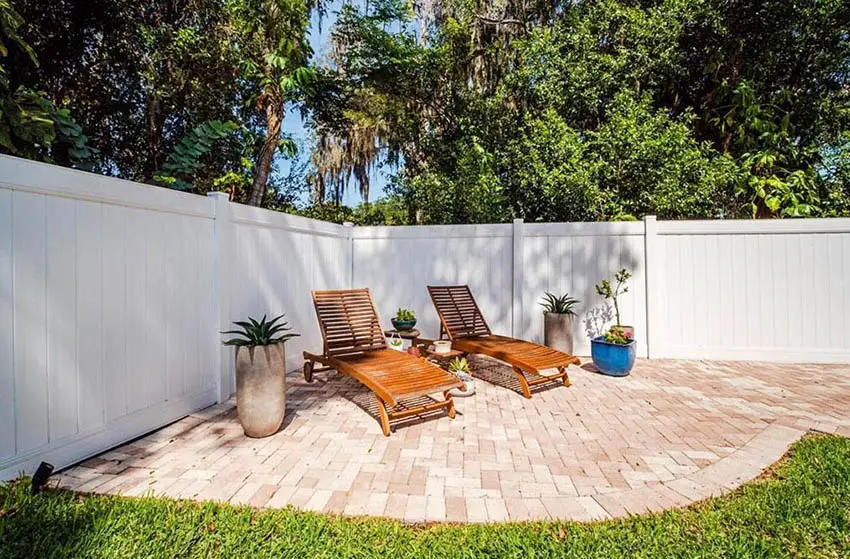 This small corner patio is finished with bricks that are laid out in a herringbone pattern. The warm tone of the bricks contrast beautifully with the surrounding white fence.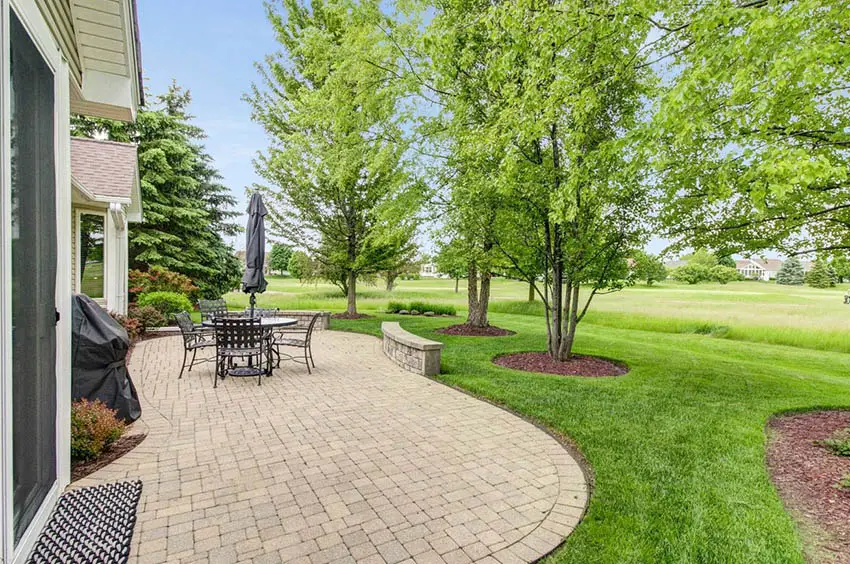 Differently sized concrete pavers adorn this curved patio that features a majestic view. Matching stacked stone benches are added on the sides serving both as a seating and border for the space.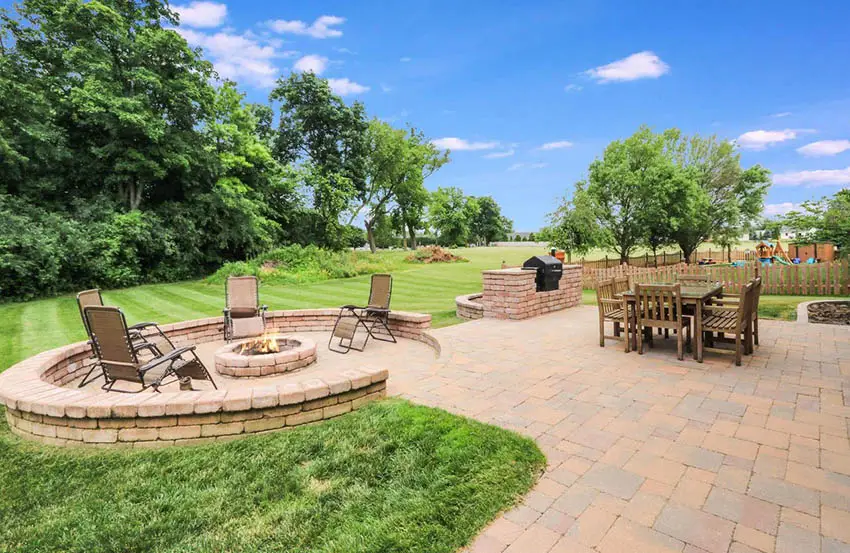 The massive paver patio above features a brick fire pit and a natural stone floor. It is furnished with matching reclining chairs, a wooden outdoor dining set and a brick outdoor grill.
Paver And Grass Patio
Using grass as filler for paver joints do not only increase the aesthetic appeal of your backyard but also gives it a refreshing vibe. This is also one of the most effective ways to soften the look of hard stone or concrete pavers, while adding a bit of contrast to the space. Paver and grass also help patios blend more harmoniously with the surrounding landscape.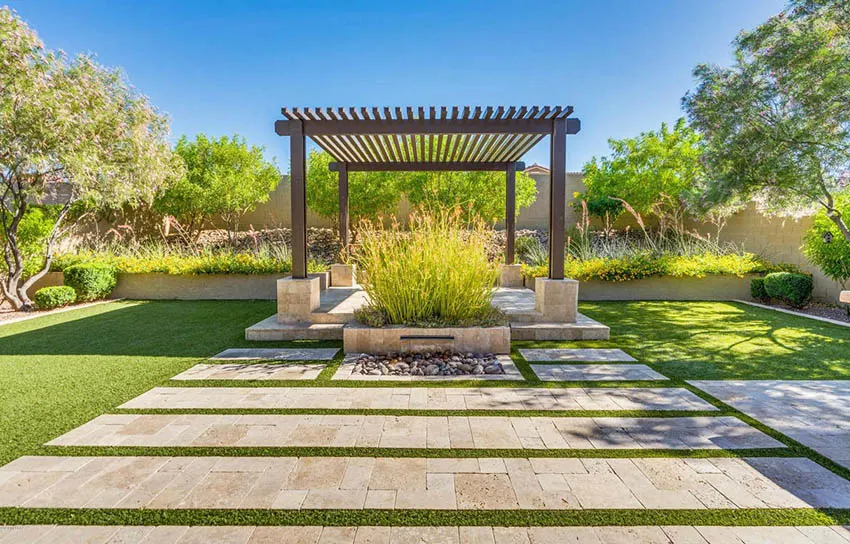 The modern patio above features zen landscape using a pergola and travertine pavers with grass borders.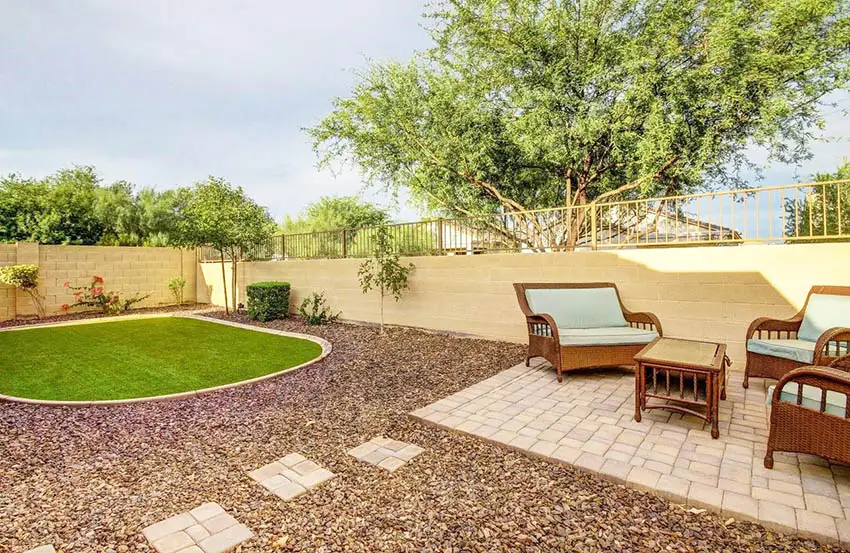 Light brown stone pavers form stepping stones which lead to this small square paver patio. The surrounding space is filled with gravel and features a small grass lawn.
Patio Steps Using Pavers
Pavers can also be used to create steps or stairs for raised patios ideas.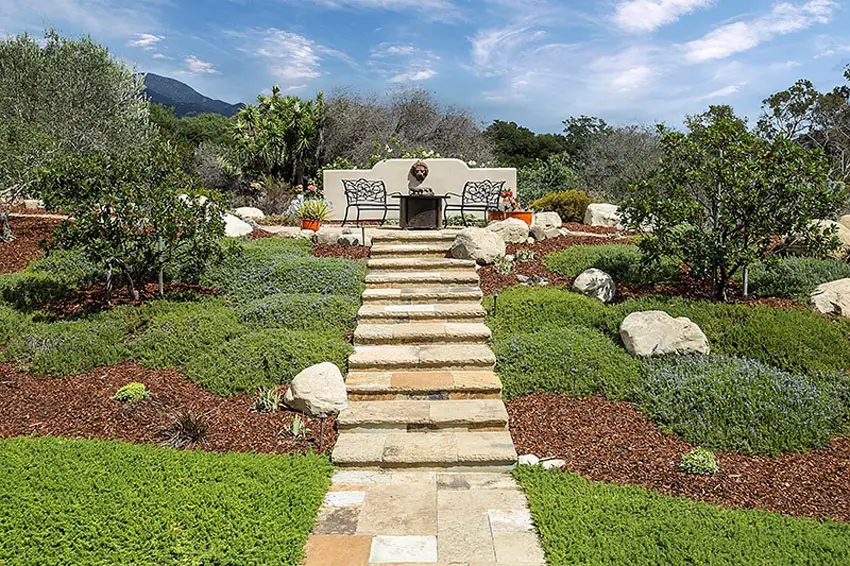 These paver steps lead up to a small sitting area with rustic fountain.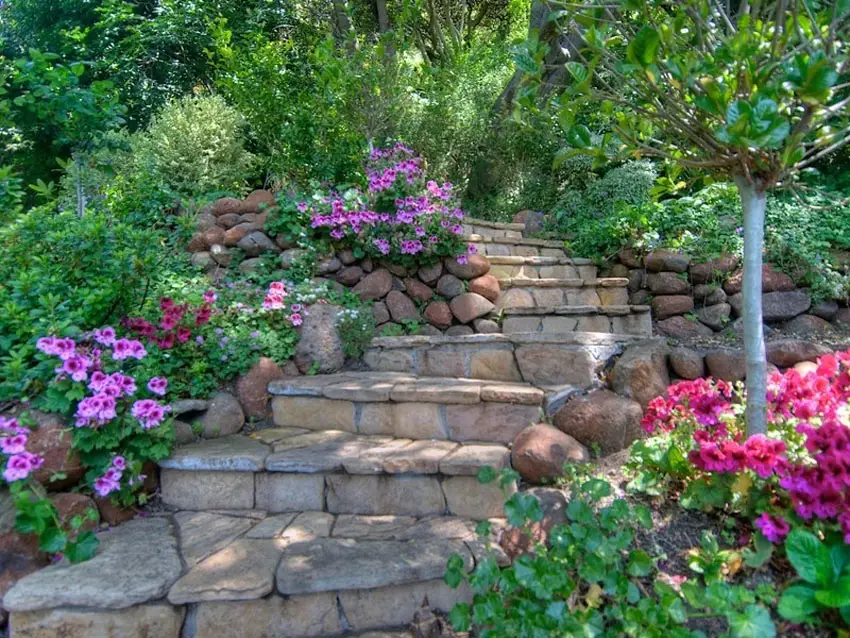 Rough stone steps can can be carefully positioned to create a natural looking walkway.
Patio Pergolas with Pavers
A pergola is one of the best accessories for a paver patio. It can be any archway, a framed structure or a trellis with our without a roofing material. A pergola is also the best location to place an outdoor seating in a patio because it gives enough shade from the sun.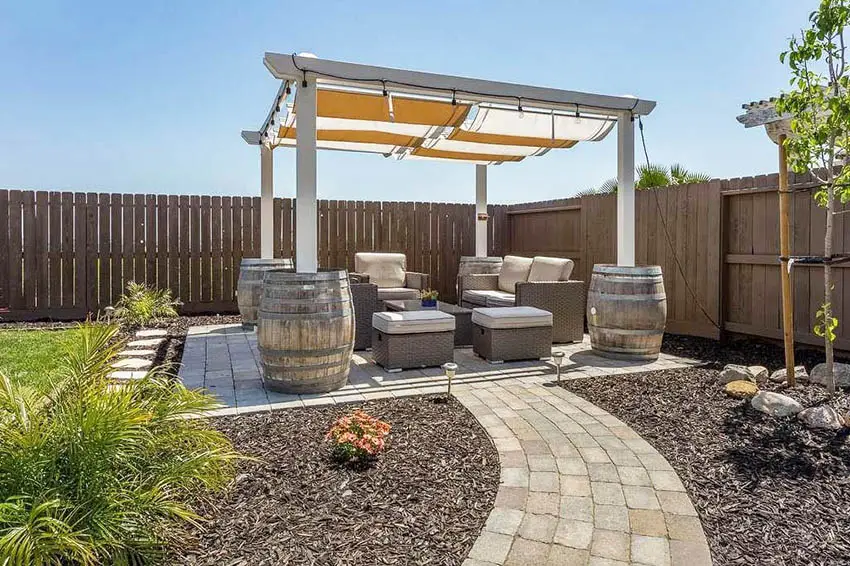 The patio above features a pergola with cushioned outdoor furniture and repurposed barrels for the posts. The small concrete pavers extend to a curved walkway that is surrounded with dried leaves mulch.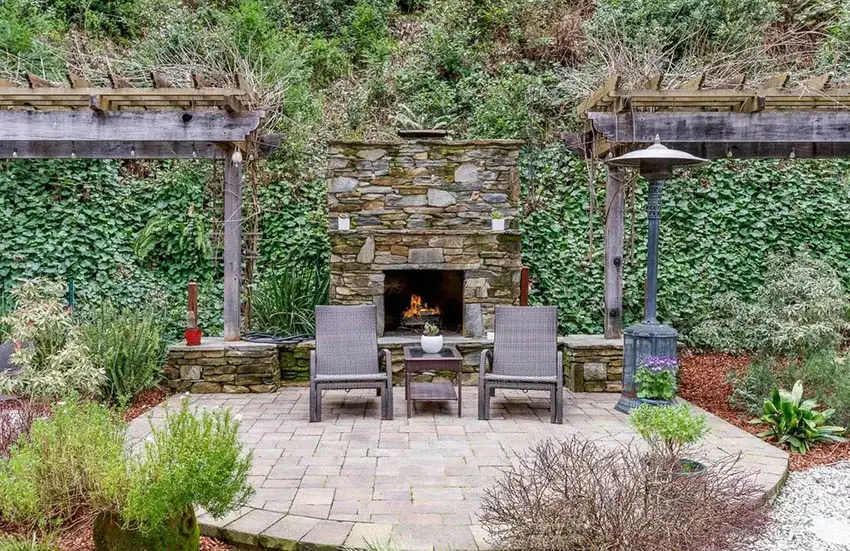 This round patio beams with a warm, rustic charm with its gray stone pavers, decorative stone outdoor fireplace and distressed wooden trellises.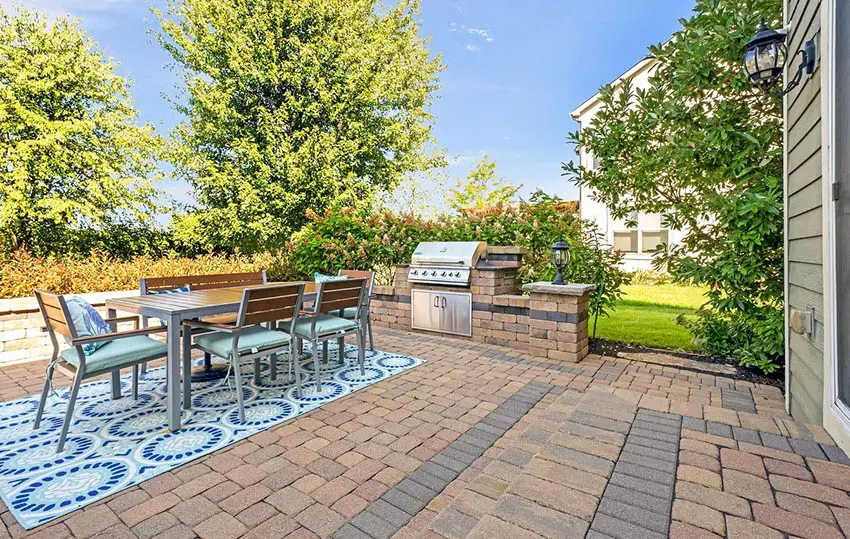 Two tone brick pavers are used for this patio with a matching brick outdoor grill and dining area. Combining gray and tan colored bricks create contrast and dimension in the floor pattern. While the blue area rug at the center brings in a delicate touch to the space.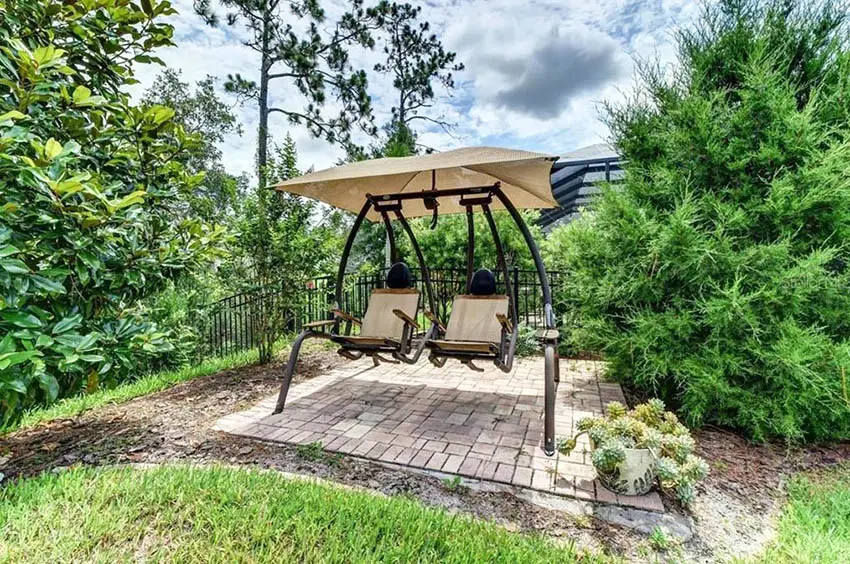 The small square patio above uses travertine pavers and features a relaxing swing for two.
Pavers for Pool Decks
Pavers are also the perfect material for pool decks because they are slip resistant and can withstand exposure to water and moisture. Among all the paver materials, sealed pre cast concrete pavers are the most highly suitable material for pool decks because they are durable, non permeable and mimics the look of natural stone and bricks.
If you have a more limited backyard space, you can put a hot tub on your paver patio instead of a pool.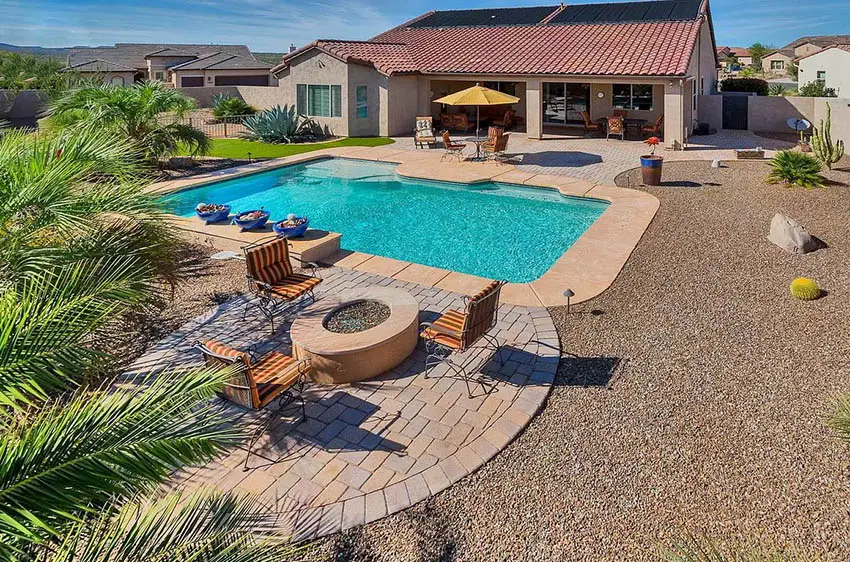 The concrete paver patio with a built in fire pit in this contemporary backyard serves as the perfect hangout spot after an afternoon swim.
This gorgeous swimming pool design features concrete cobblestone style pavers leading from the covered patio. A cobble paver pool island with two palm trees makes an interesting focal point. Lush tropical landscaping, water features and a sunbathing shelf are just a few of the standouts of this backyard design.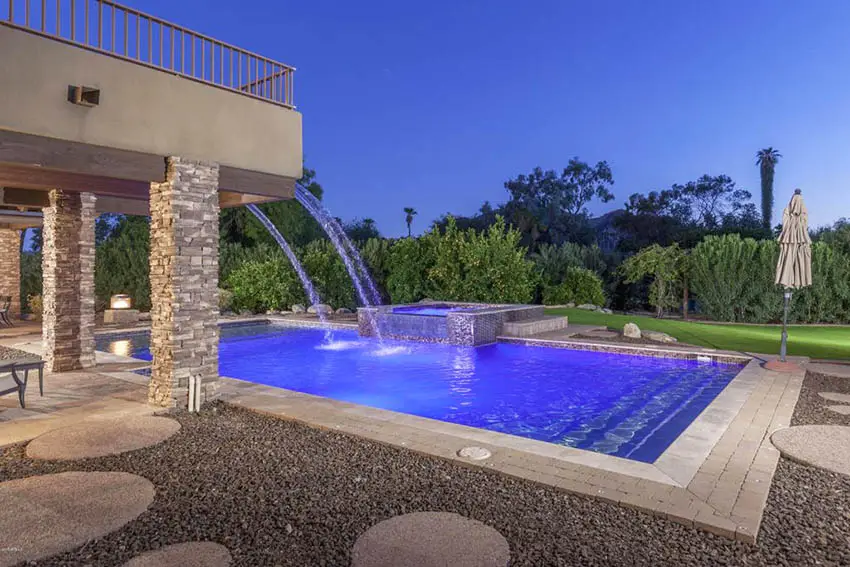 This beautiful swimming pool design uses pavestones as a walkway around the perimeter leading to the hot tub. The backyard itself has gravel landscaping with a covered patio with stacked stone supports.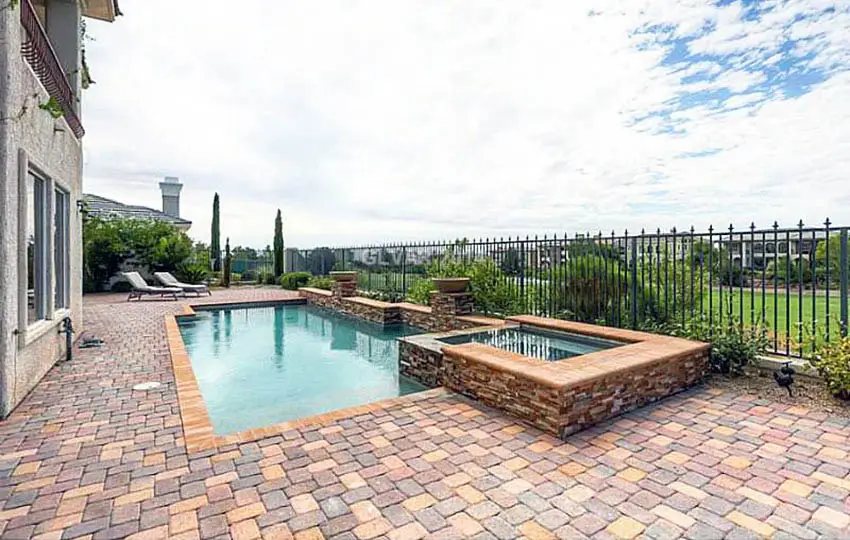 Swimming pool with clay paver patio design and stacked stone hot tub.
Pavilion Patios with Pavers
Aside from a pergola, a pavilion is another type of outdoor structure which you can put in a paver patio if you want a covered outdoor seating area.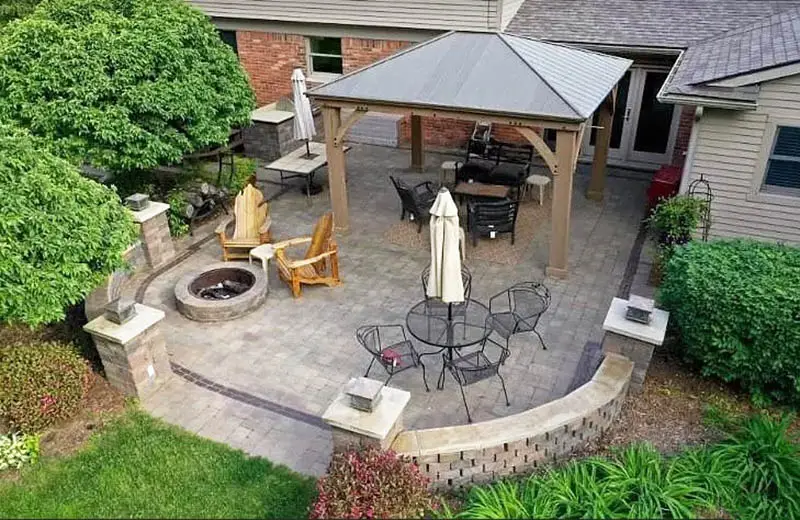 Paver patio ideas can create an "all in one" cozy backyard retreat by including a variety of sitting area and spaces for entertaining and outdoor living. This design is made complete with a pavilion , some outdoor furniture for seating and a built in stone fire pit.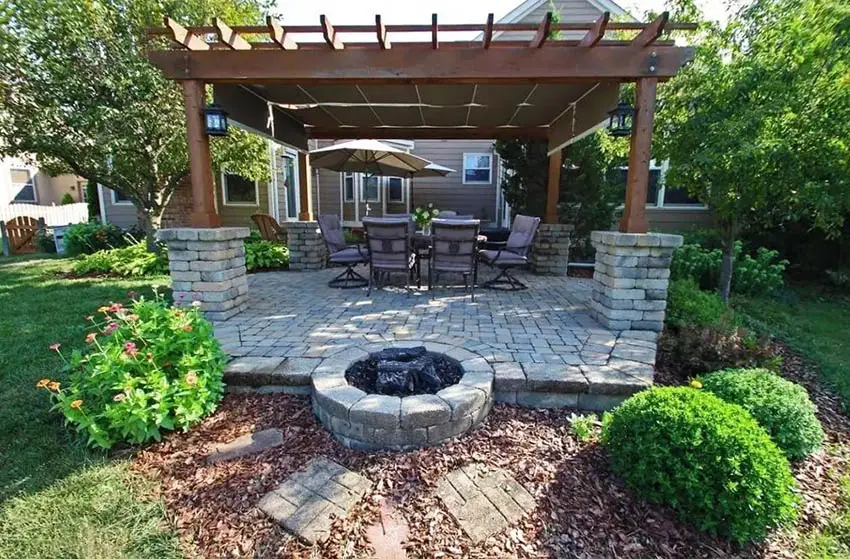 This stone paver patio can host a group of six with its large wooden pavilion with a stone fire pit.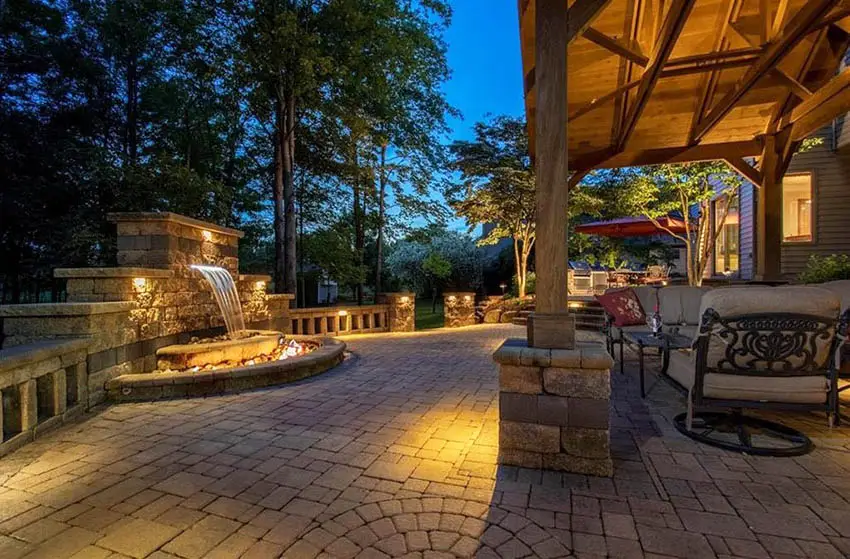 This cozy country home features a natural stone paver patio with a lighted waterfall and cabana. Using the same stonework for the patio, water feature, flooring, walls and the pavilion post's foundations help create a flowing and more cohesive look for the space.
Pavers for Small Patios
Even small patios can look stunning with the help of pavers. Large-scale pavers are the best type of materials for small patios because they help create an illusion of space, making the patio appear bigger. Laying the pavers in a diagonal pattern will also help elongate the space. Another design trick is to use light-colored pavers like beige, light gray, and tan pavers to give the patio a brighter feel.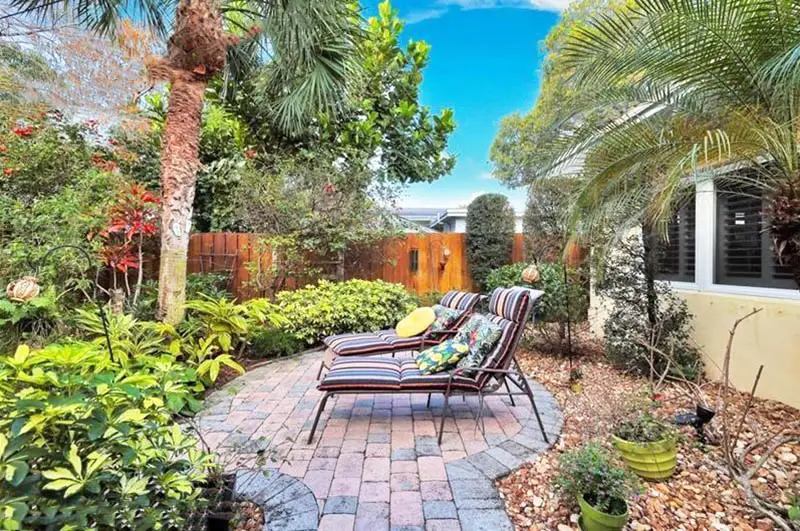 This small paver patio layout provides just the right amount of room to relax from lounge chairs to enjoy the backyard's tropical landscaping. Low maintenance gravel patio designs combined with pavers can be an inexpensive way to get an appealing design.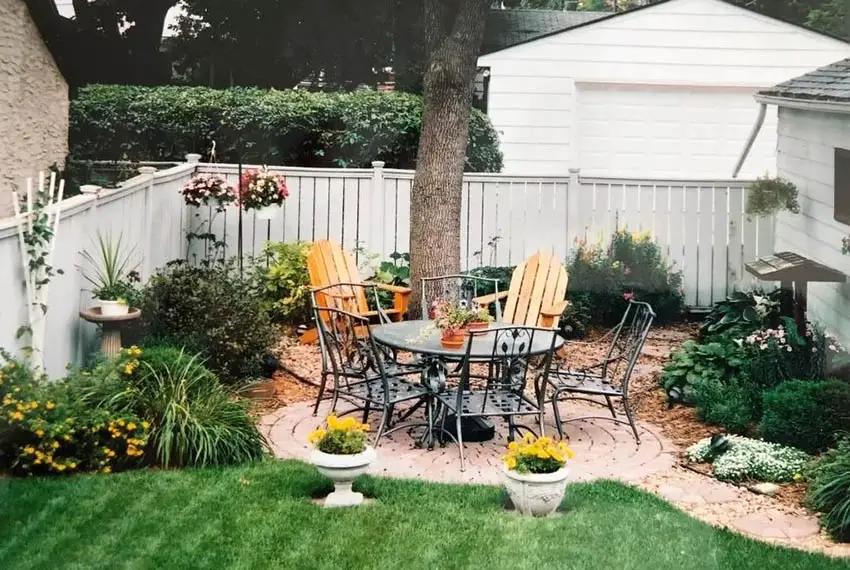 A stone paver walkway leads to a small round patio in this charming cottage backyard. The pavers for the patio are laid in a circular pattern while the walkway combines a mix pavers and gravel.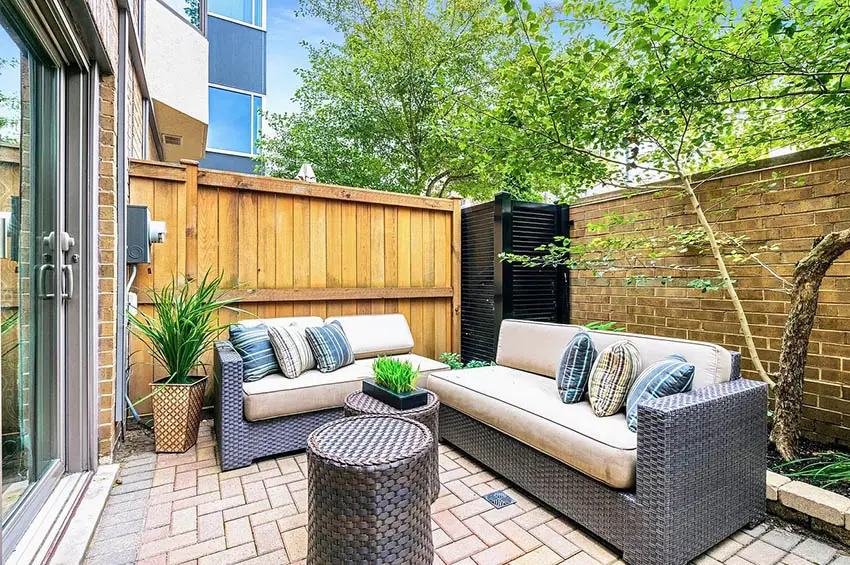 This small backyard paver patio has a herringbone pattern with synthetic resin outdoor furniture. Many paver patio ideas use the herringbone pattern because it works equally well for tradition, contemporary and modern designs.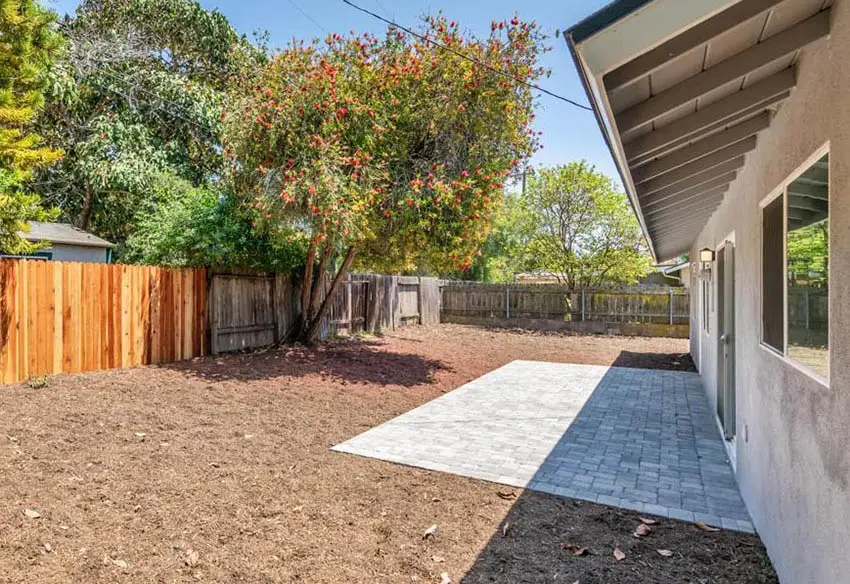 Pavers can instantly transform a backyard by giving it more visual interest. Just like the picture above, the concrete pavers give life to the surrounding space.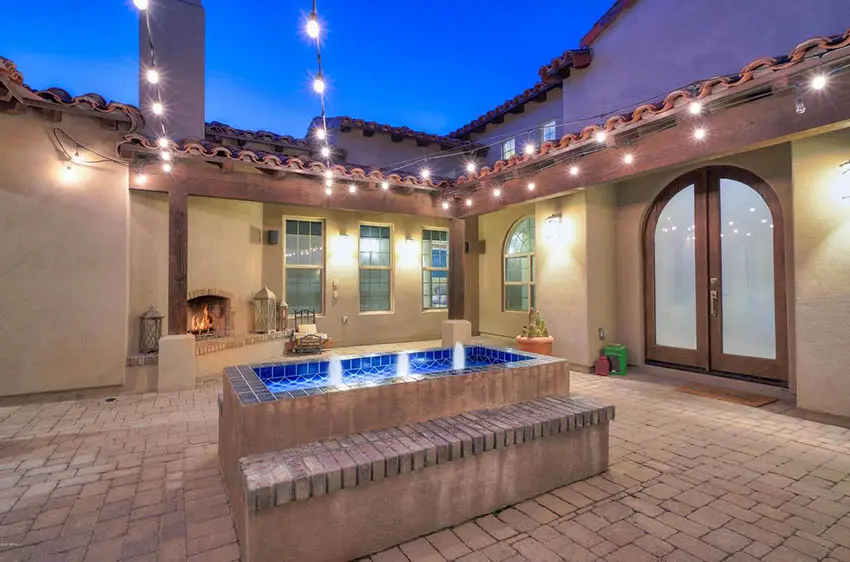 This Spanish style home makes features a clay brick patio that complements the warm tone of the terracotta roof tiles. At the center you see a small fountain finished in a mix of tiles and bricks.
Pavers to Use for Patios With Fire Pit
One way to level up the function and experience of your paver patio ideas is to incorporate a fire pit in its design. For those who enjoy spending time in their backyards, a fire pit does not only provide warmth during cold seasons but it is the perfect place to relax, dine with family or entertain friends.
Building a paver patio with a fire pit can be done in several ways. One is to excavate a hole where the fire pit will rest – in this way the fire pit is recessed into the patio's flooring. Another way is to build it directly on the patio's surface after all the paving stones are laid – – this way, the fire pit is raised above ground level. Aside from the fire pit, you can also add some seating to complete your patio's look.
The most common paver materials for making a fire pit is bricks, but other natural stones will also work fine.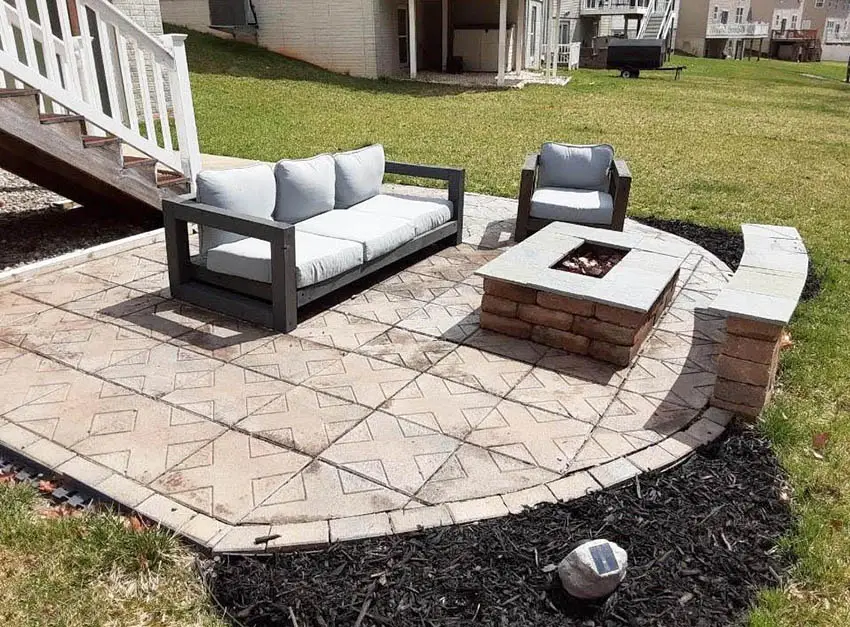 The patio above uses stamped concrete pavers and a clay brick fire pit.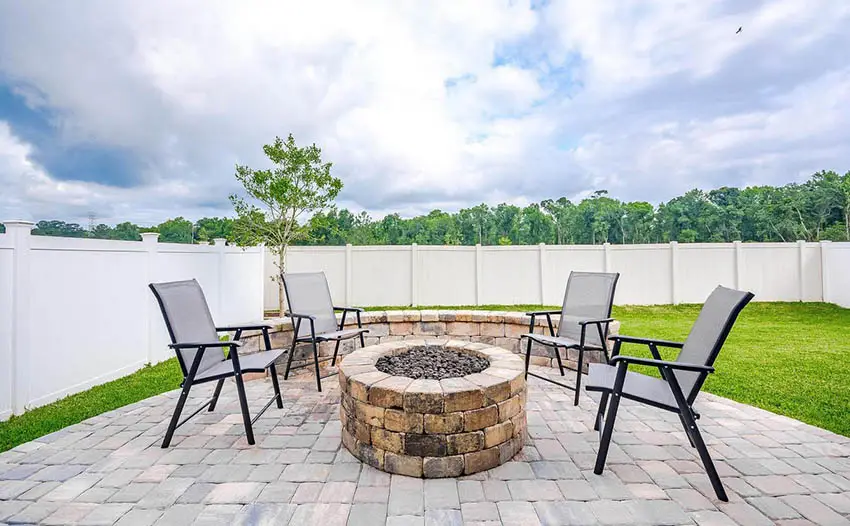 The distressed texture and warm color of this patio with a built in fire pit contrasts beautifully with the surrounding grass lawn and white privacy fence.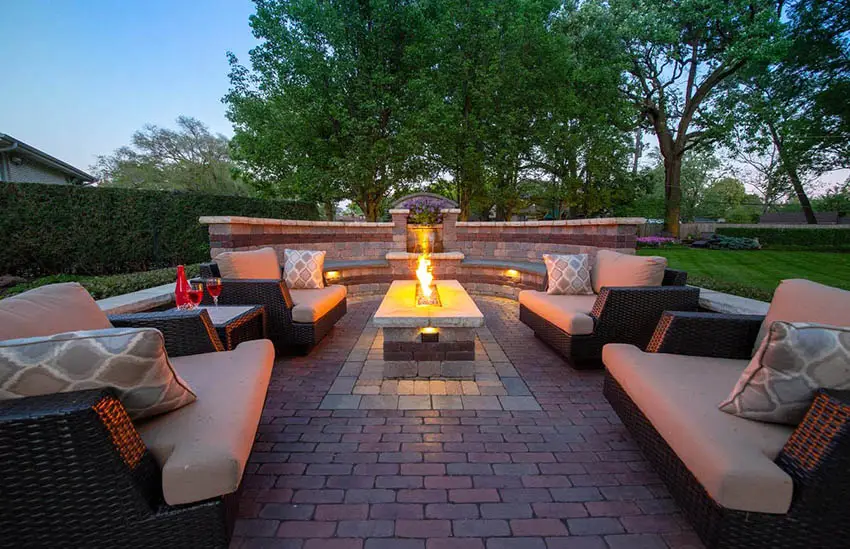 Built in seating is one of the best benefits that you can enjoy with paver patio ideas. You can use the same stonework that you used for the patio flooring but if you want to get more creative you can mix different materials, shapes, sizes and patterns. This luxurious paver patio, for example, has a contemporary-style stone fire pit with brick accents that match the flooring. the same stone is used for the wall seats, creating a cohesive feel in the space.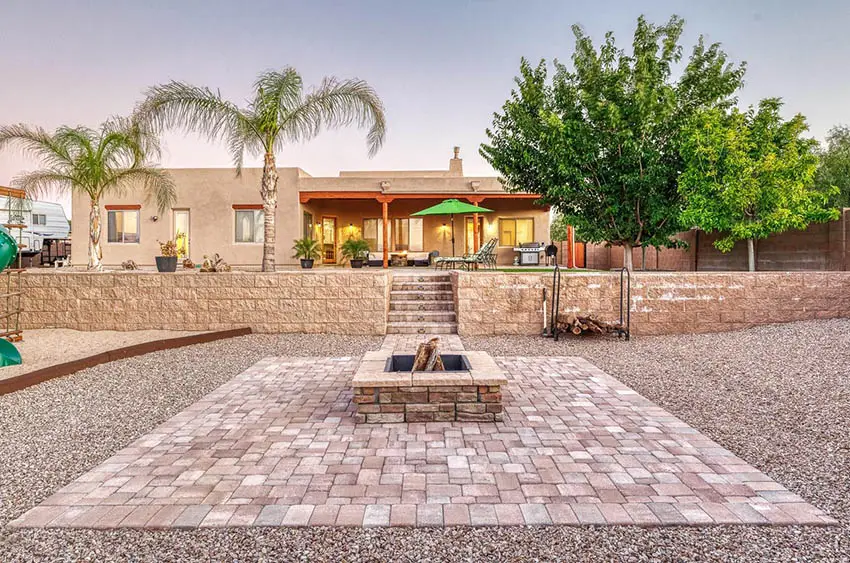 This large backyard features a myriad of textures by combining stone pavers, gravel and decorative stone.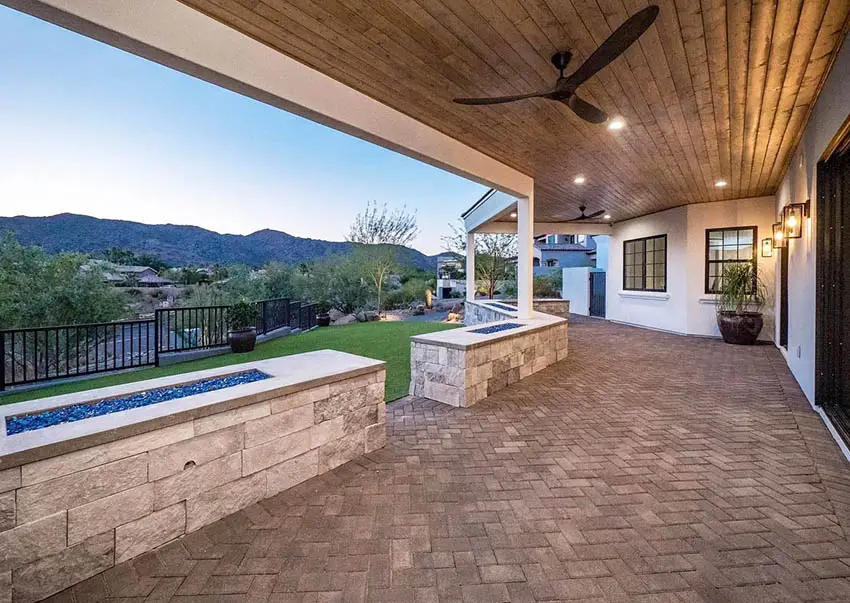 Large paver patio ideas such as this example can utilize several fire pits to create visual interest and a warm ambiance at night. This covered patio provides plenty of space for entertaining at this luxury home.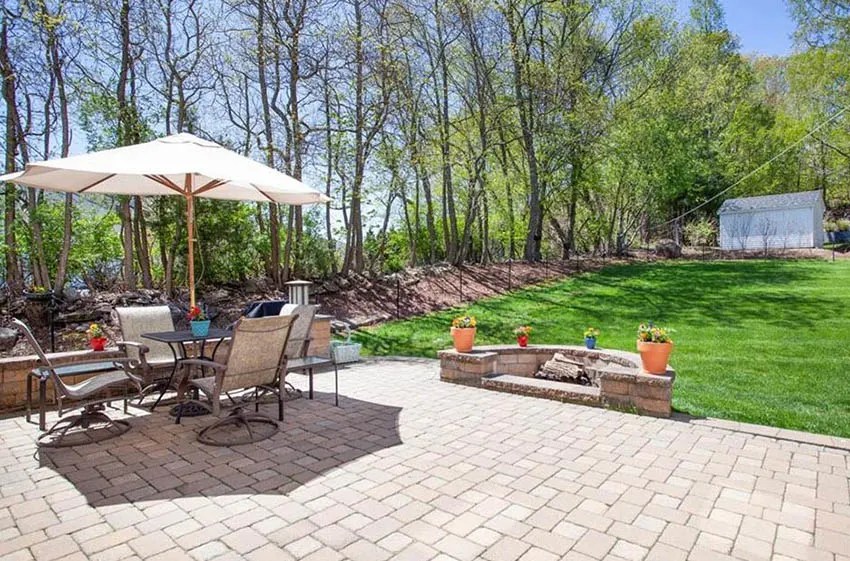 This patio is built with concrete bricks that are laid out in a basket weave pattern, while the built in semi circular fire pit at the side uses a more simple running bond pattern.
Paver Vs Concrete Patio
Aside from paving stones, concrete is another material option that can be used for patios. Known to be one of the most durable construction materials, concrete possesses a number of strong qualities that make it a good alternative to pavers.
Most homeowners wonder which one is the best among the two. Below we give you a comprehensive comparison of concrete and paving stones based on different factors:
Durability. A concrete slab is extremely durable and a strong and solid option. It comes with a strength rating of 9,000 PSI. Pavers are also durable and their strength depends on the type of material used. In general, paving stones are four times stronger than a typical concrete slab, which means they can handle four times as much as weight before it breaks or fails.
Although strong, concrete slabs are more prone to cracking and splitting. Some factors which can cause these are ground shifting and constant temperature changes. Conversely, pavers do not tend to crack, but they can loosen over time and cause hazard.
Lifespan. Concrete can last for many years, but some paver materials are known to last for not only decades but even centuries. Take cobblestones, for example, which have been used in Europe hundreds of years ago, and up to this day, roadways made with these are still existent and functional.
Beauty. Both concrete and paving stones have their own distinct aesthetic appeal. A concrete slab has a wider variety of stamped patterns, sizes and shapes, but their color is more limited. Pavers, on the other hand, come in different materials and each come in different shapes, styles and sizes. They also offer different signature looks — brick pavers, for example, are classic, while cobblestone has an old world charm.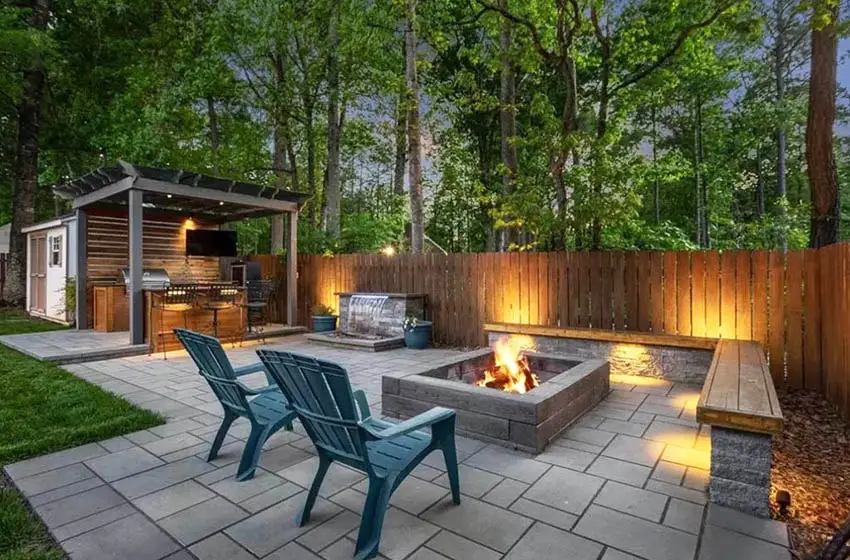 Between pavers and concrete, we have to say that the former deserves the top spot when it comes to beauty, especially if you are working with natural stone pavers. Pavers are more visually appealing and offer more design flexibility.
Installation. Pavers are considered more difficult to install because they are laid by hand individually. unlike concrete slab, which basically involves pouring, drying and curing the cement for a couple of days. With pavers removal is more detailed and requires proper planning — laying the paving stones is sort of like making puzzle pieces fit together. Once they are laid, sand or another type of material will be used to join the pieces together. With concrete, the steps are more simpler and once the slab is dry, it is ready for use.
Maintenance and repair. Both materials are generally easy to clean, but it takes less time and effort to clean a concrete slab because it is just a whole slab, unlike pavers which are individual pieces. Cleaning pavers and cleaning concrete are very much the same, as both can be done using a coarse bristle broom, a scrub brush, some cleaning agent and a hose. Regular cleaning by sweeping and washing with water are enough to keep a patio free from dust and dirt. Deep cleaning can be done yearly or twice a year using a pressure washer.
Long term maintenance for concrete slabs include resealing every two years to help protect them against stains. For paving stones, especially those with grout lines, you may need to remove weed growth in between the gaps of the stones from time to time.
Concrete is considered easy to maintain, but overtime, it can crack and stain. The only way to repair it, is to repour the entire slab. Pavers, on the other hand, are much easier to repair as any cracks are easily fixed by replacing the broken paver.
Safety. Concrete slabs have the tendency to become slippery when wet, especially if they have been coated with a protective sealant. Most paver materials (except concrete pavers), do not have much of an issue when it comes to slipperiness. With pavers, you can help improve their grip by choosing pieces that have raised edges.
Cost of Pavers vs. Concrete. When it comes to cost, a concrete slab is generally more affordable and cheaper and can run anywhere from $4 to $8 per square foot. Whereas, installing paving stones cost twice as much as laying concrete with a price of s $10 to $17 per square foot. However, adding coloring and stamping to a concrete patio will raise the costs significantly. Maintenance and resealing will also add to long term costs.
Paver Installation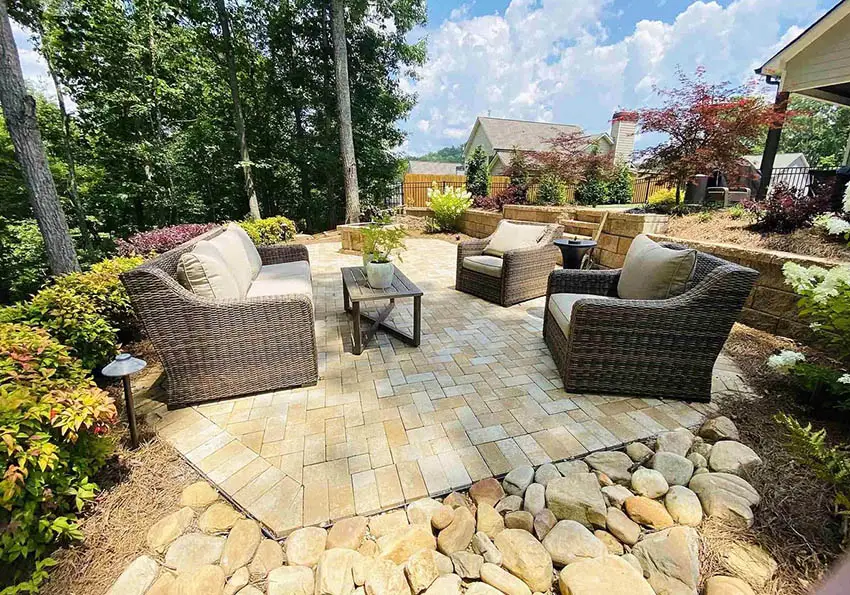 Pavers can be a little more challenging to install compared to other kinds of products, but despite this they can be undertaken as a DIY project. While it makes for a decent weekend project, do not expect it to be very easy. On average, a regular homeowner can take anywhere from 4 days to a week to install a paver patio, depending on the size of the project. You can also hire a professional to do the job and it would take about 36 to 40 hours to complete the installation of a 300 square meter patio.
The key to effective patio paver installation is compaction. Since installation involves several layers of gravel, sand and paving material, it is important to ensure that each one is properly levelled, smoothed out and firmly compacted. This will produce stability and a strong foundation that will keep your paver patio lasting for years.
How to Install Pavers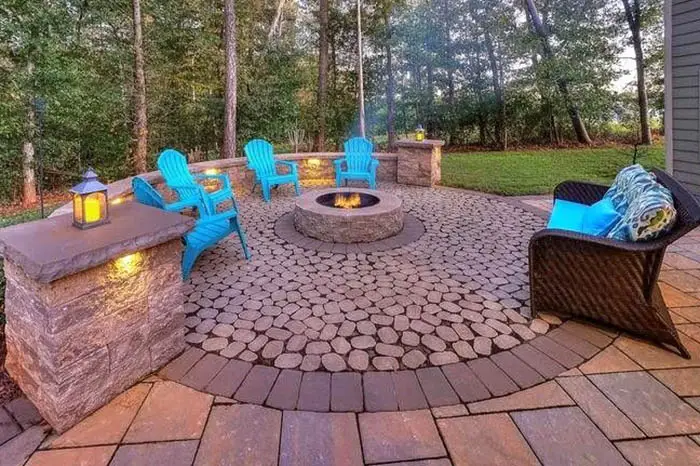 Paver patio installation involves the following general steps:
Measure the area where you will be placing the paver patio and mark it with white marking paint.
Remove any grass or weeds in the area.
Excavate the area. The depth will depend on the amount of base material you will be using. Spaces exposed only to foot traffic will generally require 4 to 6 inches of base material while those that carry a heavier load will need about 12 inches of base material. The same applies to areas with very wet soil.
Level the soil using a hand tamper or a mechanical plate compactor.
Lay out the patio edging on the border of your patio. Drive spikes through the edging material and into the ground to keep them in place.
Pour the gravel base and compact it well.
Pour the bedding soil and compact it well.
Lay the paving stones.
Fill the joints with filler sand.
Seal the patio. Use the proper sealer for the material you're using and apply using the recommended tool based on the material's instructions.
Paver Base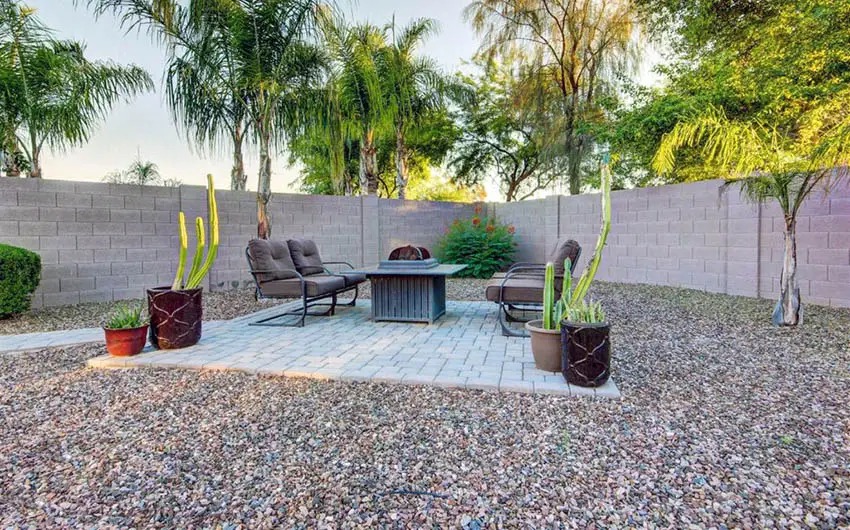 Pavers are not just simply laid on the ground surface. To provide stability, installation requires preparing a base beneath. The patio paver base, also sometimes referred to as the subgrade, needs to be prepared and set up properly, if not your patio might not settle and crack. Aside from these purposes, the base materials also help prevent water from draining through it.
The base material of paving stones is made up of two main parts: coarse aggregates and fine aggregates. The coarse aggregate is usually crushed stone or gravel —- a mix of large gravel, medium sized gravel, small gravel and fine particles, to be exact. The unique mixture of varying gravel sizes makes sure that the base is compact. The next layer is made up of "fines" or fine particles like sand which acts as fillers that close in any gaps, making the layer tighter. This is also sometimes referred to as the bedding sand.
The bed of gravel and sand where the rest of the pavers must be firmly compacted to increase the laid bearing capacity of the soil. A compact base will help reduce seasonal temperature changes in the ground , while keeping the surface level. During installation, you can use a plate compactor to ensure that the subgrade material is set firmly in place and ready for paver installation.
Here is a more detailed look on the several layers of subgrade materials in a patio paver installation:
Soil – The first layer is the soil, which is the lowest level of the subgrade. The soil should be "undisturbed" in order to provide a solid surface. The soil where the papers will be installed can be compacted properly only if it has the right moisture content — it must not be too wet nor too dry. You can use a simple "drop test" to check this by making a small tennis ball size soil clump and dropping it from a height of 2 feet onto a flat surface. If the ball breaks into smaller pieces, this means that it needs more water, but if it breaks into three or four even pieces, then it's just the right texture. If the clump does not break, then it means that the subsoil is too wet and needs to be dried out before compacting.
Geo textile fabric – This layer is optional, and if you choose to use one, this is typically laid on top of the base soil. This will separate the subsoil from the layer of gravel above it. Geo textile fabric helps inhibit the growth of weeds and grass through the subgrade and the paver joint, while also increasing the stability of the gravel layer.
Gravel base – Gravel is used to provide strength to support the weight of the paving stones. This is placed on top of the subsoil or the textile fabric (if you choose to use one). The amount of gravel needed for paver installation will depend on the size of the project and its purpose. When installing the gravel base, make sure not to disturb the compacted base soil beneath.
You can spread the gravel using a rake and compact it down to make a solid surface. Compacting the gravel base is more effective if done in parts rather than doing the entire thing at once.
Bedding Sand – The bedding sand is the uppermost layer of a paver patio subgrade. This is compacted coarse grained sand where the pavers will be laid. You can read more about this below.
Paver Sand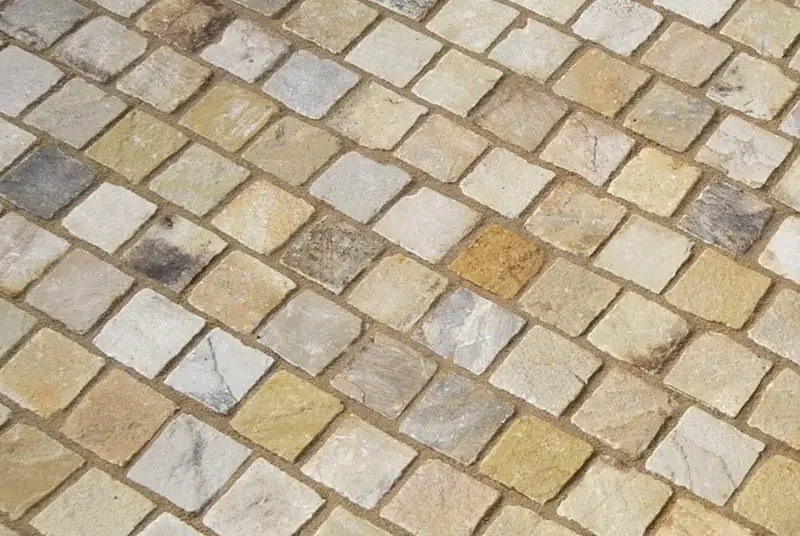 In the paver installation process, sand is used in two parts: the bedding sand and the filler sand .
The bedding sand refers to the layer of sand that you put on top of the gravel when the bed for the pavers is dug out. The bedding sand , usually 1 to 1 1,2 inch thick, serves as the cushion for the pavers. During installation, this layer is smoothed and compacted to make sure that it is locked in place, before the pavers are placed on top of it. Ensuring that the bedding sand is properly leveled will prevent the pavers from shifting and eroding over time.
The best sand to use as bedding are sharp, coarse granular sand with similar sizes.This is because coarse grained sand produces a "locking effect" as their edges grind together during compaction. Fine grained sand does not work well as bedding sand because they have the tendency to shift and sink later on.
The filler sand is the additional sand put once the paving stones are placed on top of the bedding sand. The filler sand , as its name suggests, fills the spaces in between the pavers to create an even surface. Aside from making sure that all the gaps are closed, the filler sand will ensure that all the pavement tiles are locked into place. During installation, the filler sand also needs to be compacted very well. This is typically done by dampening it using a hose to help pack them into the joints of the paving stones.
The best sand to use as fillers for the paver joints is one that has multiple grain sizes and ragged, sharp edges. One very good example of this is river-washed sand. Multiple grain sized sand helps ensure that all the joints, no matter what size, are closed in and it also allows natural expansion due to temperature changes. The ragged and sharp edges, on the other hand, help ensure that the filler is locked together to create a very smooth surface. Fine grained sand also does not work well as fillers because they will likely wash out of the joints or be blown away by natural elements over time.
In some cases, polymeric sand or "poly sand" is used as an alternative for filling paver joints. Polymeric sand is a type of fine sand that is made with engineered components, additives and a water activated bonding polymer. Dampening or exposing polymeric sand to water activates the binding agent that strengthens the sand and creates a solid water resistant surface.
Organic polymeric sand has the ability to "self heal" as they soften slightly during rain or when exposed to more moisture. Synthetic polymeric sand offers resistance to weed growth and prevents burrowing insects between the paver joints. These reasons, along with improved prevention of erosion and damage make polymeric sand a better filler sand than regular sand.
Patio Drainage System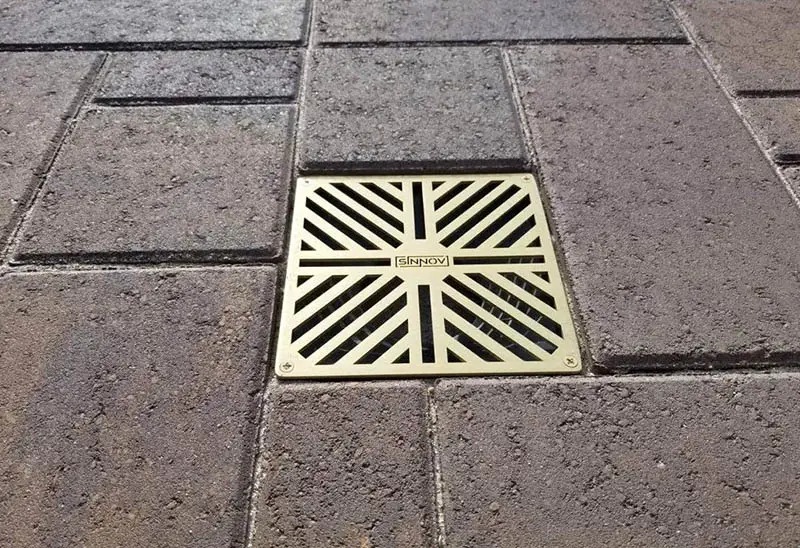 A drainage system may not be one of the first things that you prioritize in planning your new paver patio, but this will greatly improve its performance and prolong its lifespan.
A drainage system will help remove any surplus water from your patio. Any build up from excess water, whether it may be from natural elements like the rain or from an artificial source, may potentially cause damage to your paver patio if not addressed. Without the proper setup, water can also roll back to your foundation and cause erosion. Standing water can cause the entire area of our patio to become unlevelled. It can also become a potential breeding ground for insects that may ruin your landscaping.
There are a number of ways you can effectively drain the water from your patio. Below are some paver patio drainage systems which you can try at home:
A stable and well-compacted base – The base of your paver patio is the primary source of drainage. In fact, a properly laid base and a well-compacted gravel and sand base is your first line of defense against water build up.
The sand and gravel below your paving stones help with water circulation in the area. Before the moisture reaches the base, it will pass through the sand between the paver joints. If the sand and gravel base is not properly compacted, water may pool under the powers or it may wash out the sand, causing the paving stones to sink.
Slope – Using as slope is one of the simplest ways to drain water from the base of your patio. To effectively move the water away from your paver patio, the base needs to be graded at 1/4 inch for each linear foot of the patio's surface. If the slope is done right, the natural pull of gravity will help the water flow down easily and prevent it from building up.
Drain pipe – A patio drain that connects to a drain pipe is usually required if your soil holds water and does not drain quickly. This is typically done using a PVC pipe with holes in the bottom. The pipe is buried under the pavers and runs out to an area that will handle the outflow. You can direct the flow of the pipe drain to where you want to drain the water.
Paver Edging
Paver Edging is a rigid plastic or recycled vinyl material placed on the ends or boundaries of patios or walkways made with paving stones. Paver edging is similar to flexible plastic edging that is used in planters, landscapes and lawns, the only difference is that it is a contractor-grade or heavy-duty product. It is usually sold in long rolls and comes in 6-foot lengths.
Paver edging is typically laid down after compacting the paver base or gravel. It serves as a boundary to keep the base sand in place as it is poured. This serves as a guide as the sand is spread out and leveled. Paver edging does not only help facilitate paver installation but it also extends the lifespan of a patio while preventing the sand base from washing away in place.
Installation of paver edging is usually done by driving nylon-coated spikes through the edging material and into the ground. For curved patio designs, the connecting tabs in the edging material is cut to allow it to bend and take a curved shape.
Usually, paver edging installation is foregone if the paving stones are sand-set. However, most contractors advise the use of patio paver edging, regardless of the type of project, because they help make the patio more stable and long-lasting.
Patio Maintenance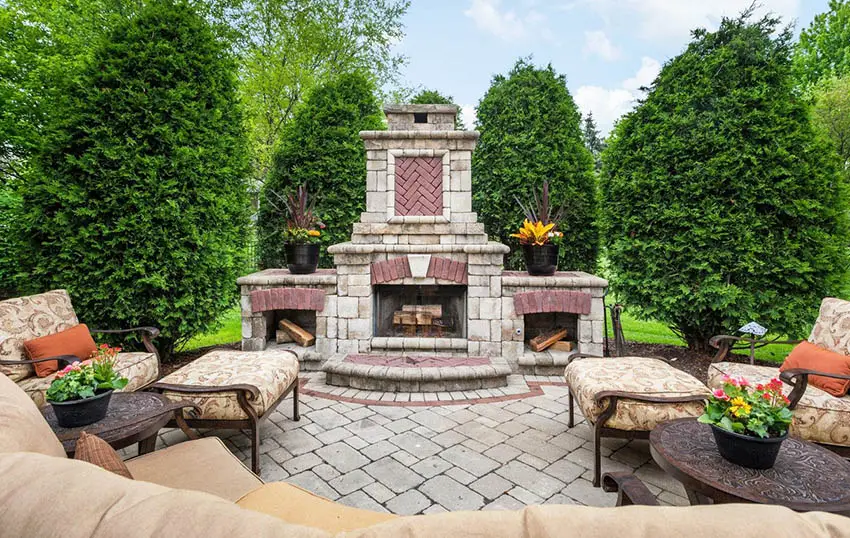 Paver patios are fairly low maintenance, provided that it is constructed properly with a stable foundation and the edging is in place. However, there are some additional care tips which you can use after the installation to make them more long lasting.
Once a year Maintenance – Deep cleaning is recommended once annually to remove any dirt build-up. Cleaning the patio with a mild detergent using a scrub brush will remove any dirt and debris from your patio pavers. You can also use a pressure washer if you want to make your patio look new, but be careful in using it because the sand between your paving stones may be damaged.
Maintenance every two to five years – Maintenance for paver patios every two to five years depends on the type of sand used during installation. For patios constructed with polymeric sand, you'll need to replace the sand every two to five years. This will require removing all of the old sand and installing new sand.
For paver patios constructed with regular sand and sealer, you'll need to reapply the sealer once every two years.
Paver Sealer
A paver sealer is a material, sort of like a "top coat" applied on paving stones after installation to help protect them from staining, discoloring, and aging. Sealing patio pavers is very beneficial because it ensures that the beauty of your pavers is maintained and makes them last longer. Unsealed pavers are more prone to erosion, mold and mildew, weed growth and discoloration. The sealer you select will depend on the type of patio material you have.
Patio paver sealers usually come in three types:
Natural Luster– This type of sealer enhances the natural look of the stone paving stones. Unlike the other types, this does not alter the looks of the pavers noticeably but still provides all of the protection. It is the longest lasting of the sealer types.
Color Enhancing- Produces a "super wet look", this type of sealer makes the paving stones "shiny" and has the most color-enhancing power. This sealer lasts a bit less time than other types and will require more frequent reapplication.
Satin Look- Produces a "wet look",this type of paver sealer enhances color a little, and gives a satin look.
Paver Kits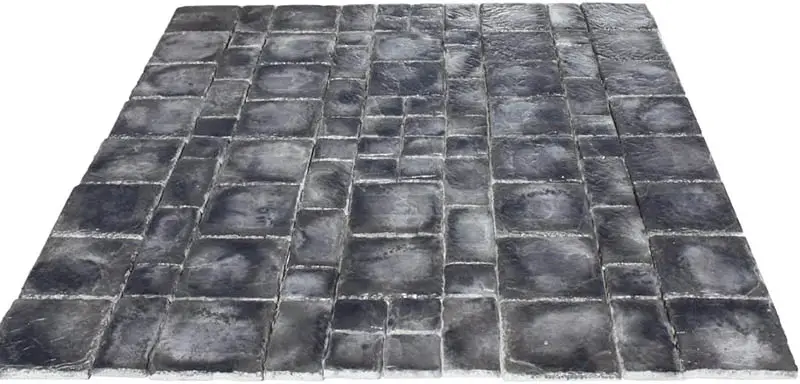 If you are planning on making a DIY patio paver, an easier method to build it is to use patio paver kits. Patio paver kits are perfect for beginners and those who have very little experience in construction because they come with everything that you need to build your very own stunning paver patio.
A typical paver patio kit comes with instructions, layout templates, and pre cut paving stones. They come in different designs and can be used not only for patios but also for outdoor bars, kitchens, walkways or decks. You can also find paver patio kits in the market which come with a fire pit area. Patio paver kits are also available in any size.
If you plan on making a patio paver kit using a patio kit, you first have to look for a trusted supplier. The supplier will ask you for your requirements and the dimensions of your patio. You can now design your kit – specify the design you want, choose the details and customize the features. Once you have finalized this, the supplier will then send you a material list and quotation. If this meets your needs, you can now order the prefabricated kit and this will usually arrive within 2 to 3 weeks. Just follow the instructions on your kit and start building.
Paver patio kits cost an average of $300 to $1,000 – depending on the size, shape and design. They are more expensive compared to buying the paving stones and materials individually. Aside from the kit, you would also need to allot some more budget for your base materials.
We hope you enjoyed our gallery of paver patio ideas. We would like to hear about your favorite type of paving stones, just comment below to tell us what you think. To see more related pictures visit our gallery of enclosed patio designs.