In this guide to shutter dimensions you'll see standard, double window & plantation louvered shutter sizes and how to choose & measure exterior shutters.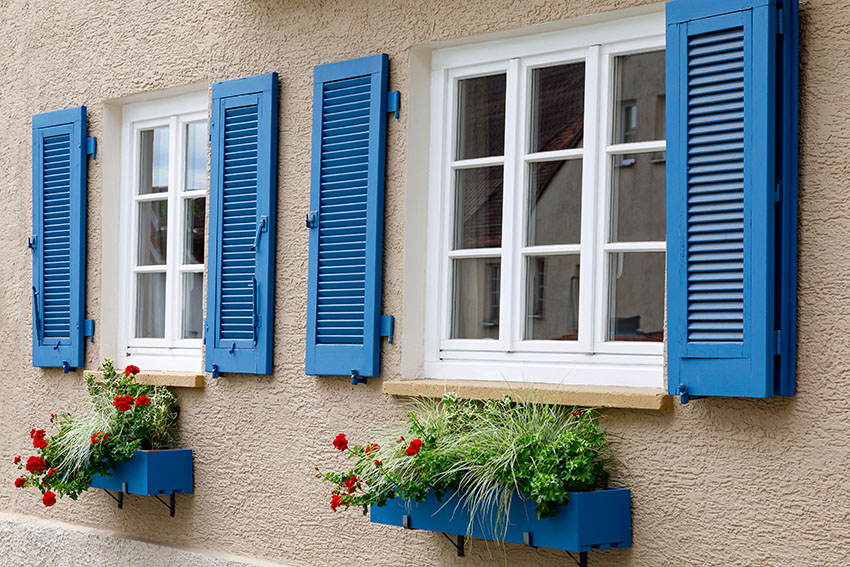 If you want a solid window covering that will give you a lot of benefits both in aesthetics and functionality, you might want to consider exterior shutters. Window shutters are extensively used globally, and they add a classic touch to a house's exteriors aside from giving the benefits like providing privacy, controlling sunlight, and protecting the windows against the weather.
There are a variety of design and color options for window shutters and the shutter sizes you choose will largely depend on the window dimensions you have. While shutters are available to fit every window size there are some standard shutter dimensions that are most often used.
Standard Shutter Sizes
An important thing a homeowner needs to consider before buying shutters is deciding whether they want it to be a purely decorative piece of the house or actually want the shutters to function as a window covering.
Almost every shutter available in the market today can act as a decorative element, but not all of them are operable as window coverings, so this distinction is essential. Getting them as thin as possible for decorative shutters while still looking proportionate and uniform to your window is the key.
The most common size for decorative shutters is 12 inches or 30 centimeters for a window that is 36 inches or 244 centimeters.
Since operable shutters need to be functional to cover the entire window, they will come more extensive than decorative shutters. Operable shutters will depend on the size of the window, but most of them will have measurements that will range from 12 inches or 30 centimeters to 24 inches or 61 centimeters.
Standard Shutter Sizes Width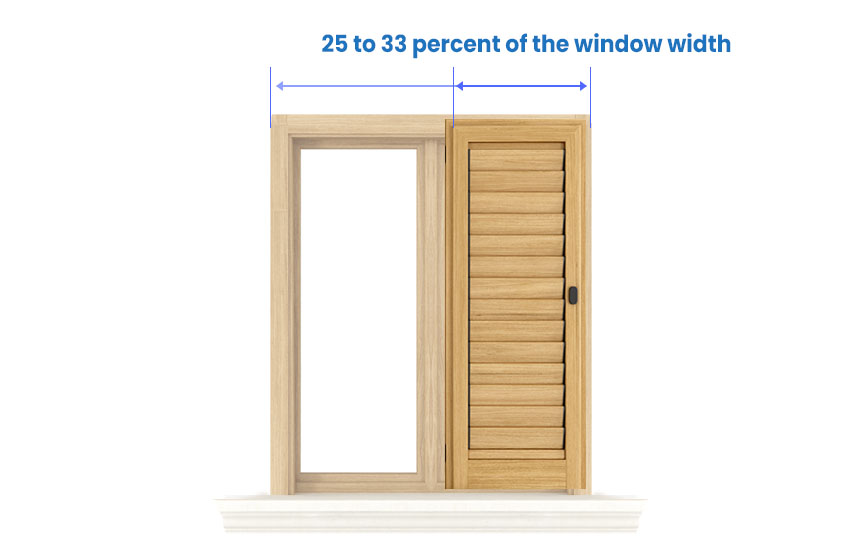 Shutter width will also be determined by the consideration when it comes to shutter sizes. Will you want your window shutters actually to be operable, or are you installing them solely for their decorative element?
If you are considering the latter, these shutters will permanently be affixed on a homeowner's exterior walls in an open position. It is also necessary to stick to one shutter width when using it for this purpose.
Shutter widths will range from 12 inches or 30 centimeters to 24 or 61 centimeters. It is advisable to choose a decorative shutter that is between 25 or 33 percent the width of your window to achieve the best look for the house's exterior.
The width size for an operable shutter will vary significantly depending on the actual size of your window. If a homeowner has different sized windows, operable shutters needed for them will have different measurements according to the different sizes of all the windows.
Sizes will still be 12 to 24 inches or 30 to 61 centimeters, but more oversized windows can have them custom made if needed.
Exterior Shutter Size Guide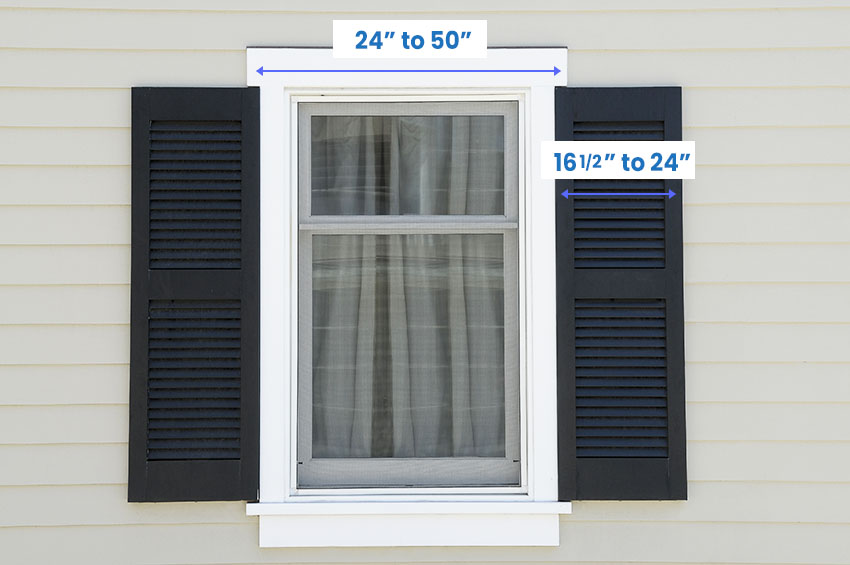 External shutters are the standard shutter either utilized for decorative or functional purposes. The way of choosing the size between the two will also have similarities. Still, it's important to measure accurately for operable shutters since they will have to swing closed and open over the window they cover.
Exterior decorative shutters will add a sense of style and a pop of color to a home's exterior. Most of them can be smaller at 5 3/4 to 8 1/2 inches or 15 to 22 centimeters, while sizes at 9 to 11 inches or 23 to 28 centimeters are also available.
If a homeowner has a window that is 24 to 50 inches in width, shutters are available at the smaller 12 inches or 61 centimeter sizes, but there are larger shutters at 16 1/2 to 24 inches or 42 to 61 centimeters. This size will be perfect for more oversized windows; just take note if you want decorative or functional models.
Shutter Size For Double Windows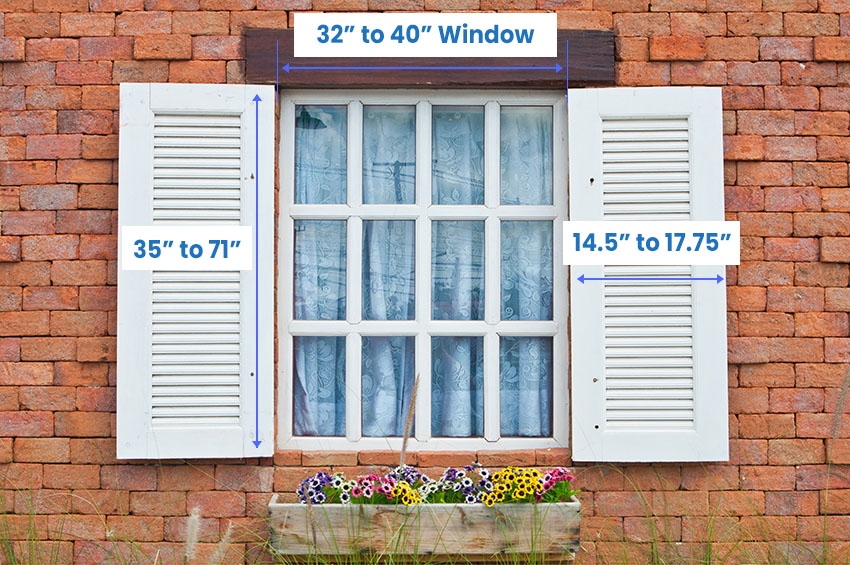 The most common window style is a double window which has a width of at least 24 to 48 inches or 61 to 122 centimeters and a height that can extend from top to bottom at 36 to 72 inches or 91 to 183 centimeters.
If you want to ensure that the shutter you choose will look proportionate to your double windows (for decorative shutters) or will be functional (for operable shutters), measuring accurately is the key, especially for the latter.
For double windows with a width of 24 inches or 61 centimeters, two shutters with widths of 12 to 14.5 inches or 30 to 37 centimeters will be perfect. For double windows at 32 to 40 inches or around 81 to 102 centimeters, there are shutter dimensions from 14.5 to 17.75 inches or 37 to 45 centimeters perfect to fit these sizes.
Heights for shutters for these window sizes will vary from 35 to 71 inches or 89 to 180 centimeters to fit any double window size.
Plantation Shutter Sizes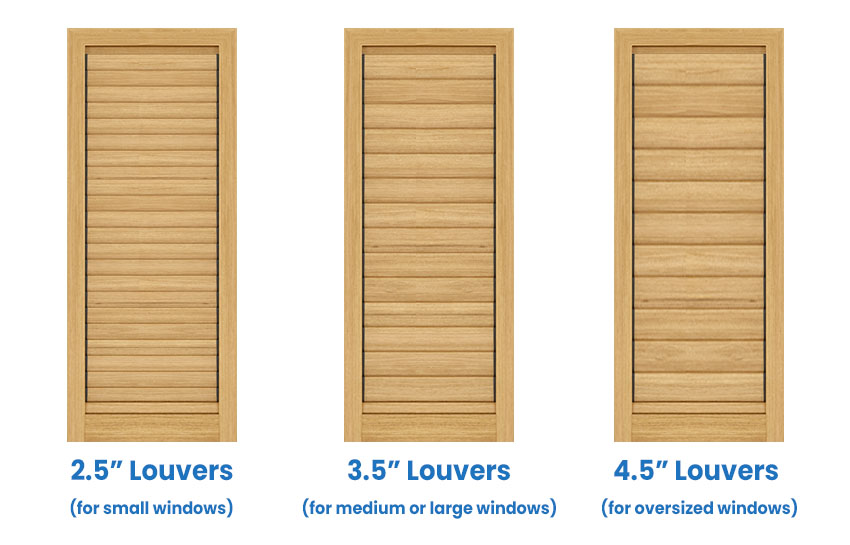 Aside from exterior window shutters, there are also plantation shutters available for use in any home. Plantation shutters will add the aesthetic and function both decorative and operable shutters can give in one trusty installation: they keep the sun out of your room. Still, they will also open easily to let the summer night breeze in.
Plantation shutters are available in many widths and lengths, but most of them will be measured by the distance between each slat when the shutters are opened. The most common are the 2.5, 3.5, and 4.5 plantation shutters that will provide different levels of ventilation, security, and light control depending on what a homeowner chooses.
If you have smaller windows and limited space clearance for each window beside each other, the 2.5 inches or 6 centimeters plantation shutters are the right ones for the home, especially if it is below 36 inches or 91 centimeters.
The most popular plantation shutter size is 3.5 since it will be able to look good with medium or larger-sized windows at 72 inches or 183 centimeters.
The 4.5s plantation shutters are for those who want the least covering, especially if the shutters are opened. If you have more oversized windows and a to-die-for view, this is the best size of plantation shutters to get. This shutter size will also be the best for maximum light control, particularly for keeping the light in.
How To Choose Shutter Size
Measuring your window is the most important factor to consider when picking a window shutter for exterior and plantation shutters if functionality is crucial.
Essentially, when it comes to size, you will need shutters that are half the size of your window, but this measurement can be reduced if you are only looking at the decorative element shutters will add to any home. Plantation shutters will be easier to buy since they often have a set size available in various widths and lengths.
When it comes to picking decorative shutter sizes it is usually good to find a width that works for all of your windows. Usually this ranges between 25% and 33% of the full width of your window including its trim.
How To Measure For Exterior Shutters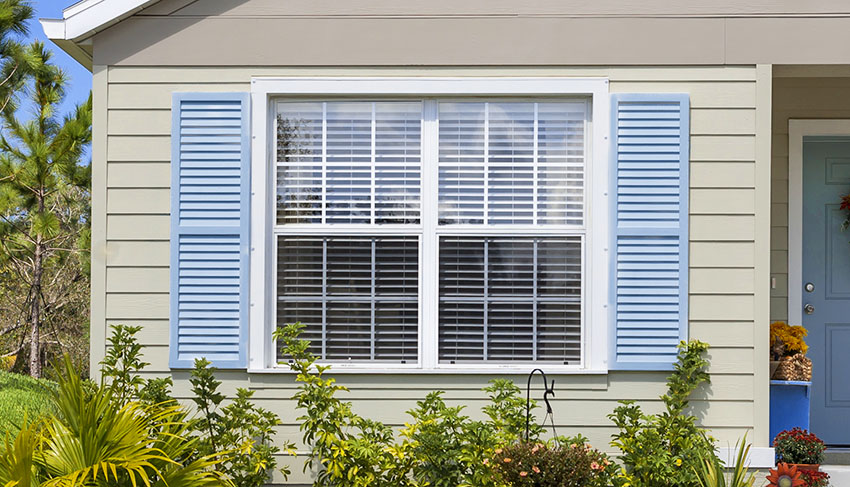 The first thing to consider before choosing the correct shutter dimensions for your home is to measure the actual size of your window. There are two ways to measure, but it is essentially the same, and the importance of measuring for operable shutters is measurement accuracy.
First is dividing the total width of your window into two and using that measurement to consider what shutter size you will order. This half a window width dimension can be reduced to 2 inches or 5 centimeters, and it won't affect the aesthetic value of the shutter, especially for decorative shutters.
For windows that are wider than they are taller, a rule of thumb is to divide the window's total width by four and get a window shutter with that value to keep everything proportionate.
See more related content in our article about the shutters vs blinds on this page.