Find out what color hardware for white kitchen cabinets is best for your home, including cabinet pulls & handle options, and hinges & cabinet hardware color tips for your kitchen design.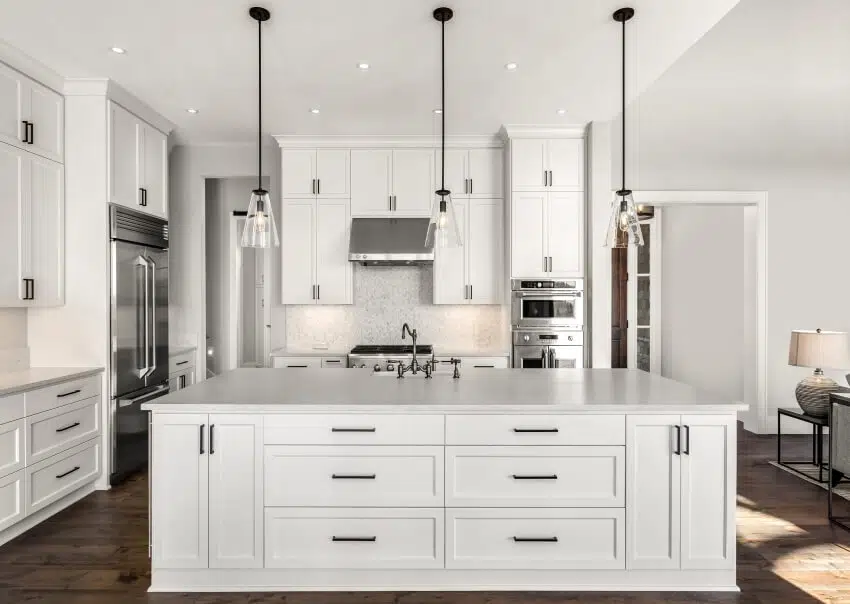 White remains a popular color choice for kitchen cabinets, as the neutral color provides a clean and airy look to the space. It is also an opportunity to add standout elements that showcase color, texture, and pattern.
However, the versatility of white cabinets makes it also a challenge to choose the best hardware color from the plethora of design options available.
With this in mind, committing to a hardware color for your white kitchen cabinets takes research, determining your style, and inspiration to have the best hardware color for your white kitchen cabinets.
What Color Hardware For White Kitchen Cabinets?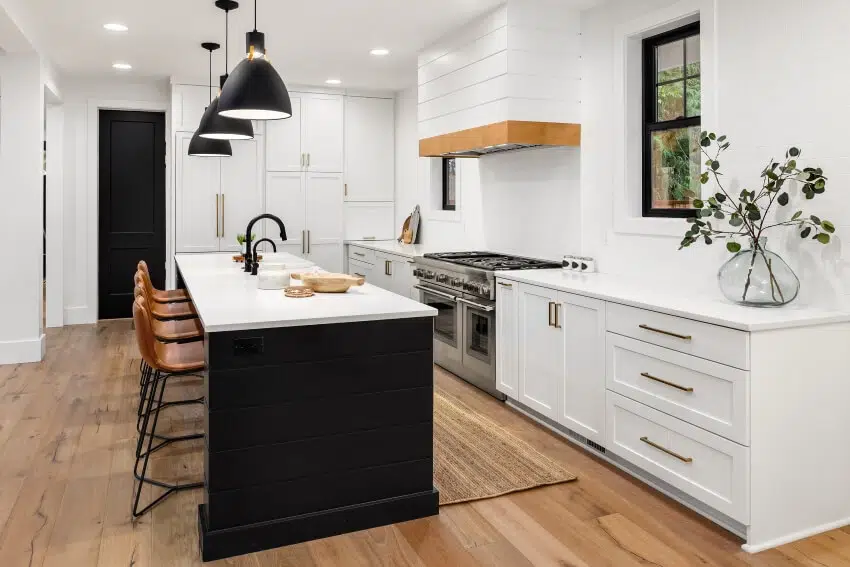 White can match virtually any color, but there are a few color choices that enhance functionality and compliments the aesthetic quality of the neutral color. We start with the trends and finishes to narrow down the best hardware color for your white kitchen cabinets.
Metallic and matte finishes are popular choices for kitchen hardware due to the usual material used. Black, matte, and satin finish are popular choices since they blend well with the ever-popular shaker cabinets and the modern flat-fronted cabinets. Transitional themes also love the black color due to its versatility.
Yellowish metals such as brass or gold are another great option for a white backdrop. Brass with white is another popular combination often showcased in many home-staging events where it conveys opulence but with subtler quality than vibrant gold.
Another advantage of brass color is that it is easy to find other elements in this metal color, such as brass kitchen fixtures, luminaires, stools, and countertops with brass linings. A brass accent with most other kitchen elements will help your kitchen look cohesive and consistent in design.
When finished, brass is extremely durable. That is 300% more durable compared to other coated metals. See more examples of brass and other popular types of kitchen cabinet hardware here.

Silver metals such as chrome or nickel convey a crisp, clean, sophisticated look that matches well with white cabinets. Nickel, for instance, ties well with stainless steel elements such as your appliances. A popular finish for nickel is brushed nickel, as it is durable and does not show fingerprints easily.
Pink and reddish hues such as copper, gold champagne, and rose gold offers a unique statement, and we've seen the rise of the lush color in many electronic gadgets these recent years.
Rose gold conveys a natural and ethereal quality, and the interior design has quickly picked up the trend, as seen in kitchen hardware and lighting fixtures. Pinkish metallic hues are great for white cabinets as it elevates the visual aspect providing just the right contrast while adding opulence to the neutral color.
What Cabinet Pulls Look Good On White Cabinets?
Cabinet pull sizes with a sleek profile continue to be a favorite hardware choice as it is convenient for opening heavy and large cabinet doors or drawers. The profile of pulls also fills in the visual space more substantially than knobs, especially if you have a lot of kitchen cabinets.
Black Pulls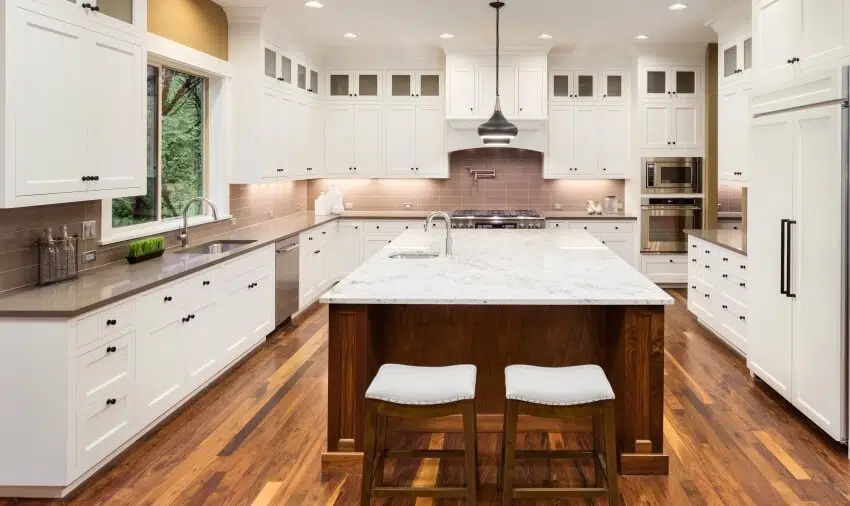 Adding contrast to an all-white kitchen provides visual interest and makes it easier to locate and grab your handles. Black pulls are also easier to find, whereas shops and suppliers will most likely have a particular pull design in black color.
Black has a timeless quality, while the color can look luxurious or casual depending on your hardware's finish and profile. The dark color also hides away scratches or smudges with overtime use. Black also provides an edgy look that is perfect for modern kitchens today. See more pictures of white kitchens with black hardware here.

Rose Gold Pulls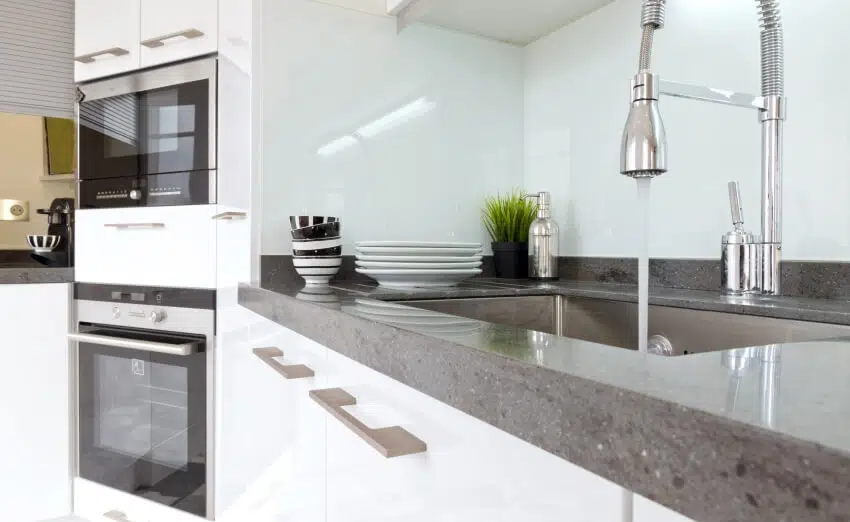 Inspired by the color of a metal alloy with the same name, rose gold is a relatively new trend showcasing a pinkish color. Thus, the color is usually dubbed "pink gold ."
The soft color is a perfect choice for pulls on white cabinets where you want to convey a chic and feminine quality to your aesthetic while maintaining that clean and bright look.
The most popular finish for rose gold pulls in brushed satin as the popular hardware finish complements the soft color with its milky and translucent frosted look.
Silver Pulls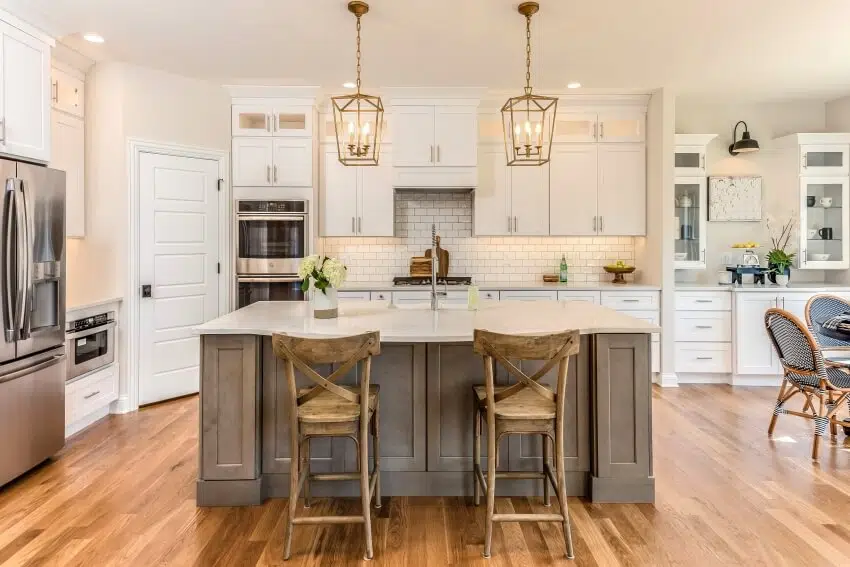 When you want a crisp look for your kitchen storage, silver is the perfect color to match your white cabinets. Chrome and stainless steel are the top hardware materials to use.
Stainless steel though pricier than your chrome and less shiny does not corrode and does not leave fingerprint marks. When you plan to install oversized and long pulls, stainless steel is a great option due to its durability.
The silver color embodies a sophisticated quality and simplicity that will look good with other silver-colored appliances or stainless steel countertops.
Gold and Brownish Pulls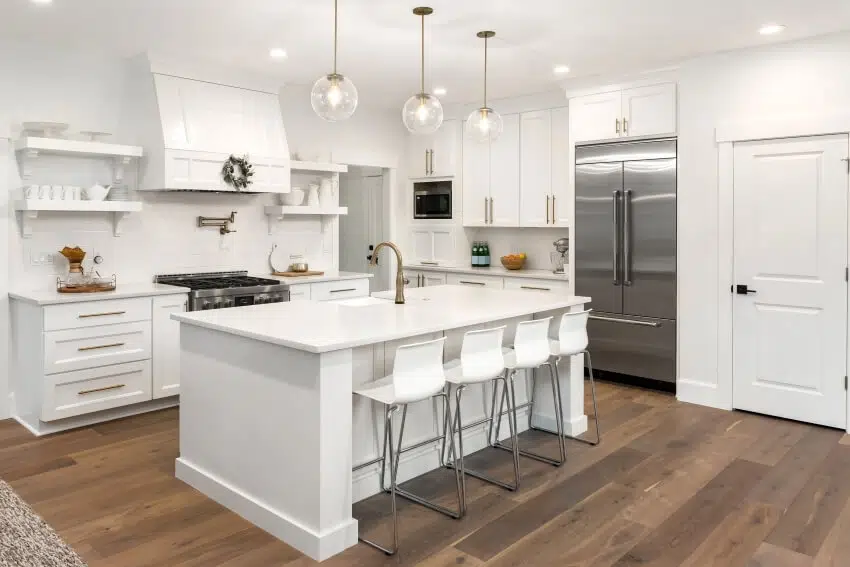 Brass, bronze, and other warm metallic tones trend in kitchen hardware and are the most popular options today. From antique-looking to sleek and clean satin finishes, there are numerous options for warm colors.
Bright gold finishes are often used for modern, contemporary or transitional designs. Antique colors are frequently used for more rustic or country style white cabinet kitchens.
What Cabinet Handles Look Good On White Cabinets?
Here are some of the best handles for white kitchen cabinets.
Extra Long Pulls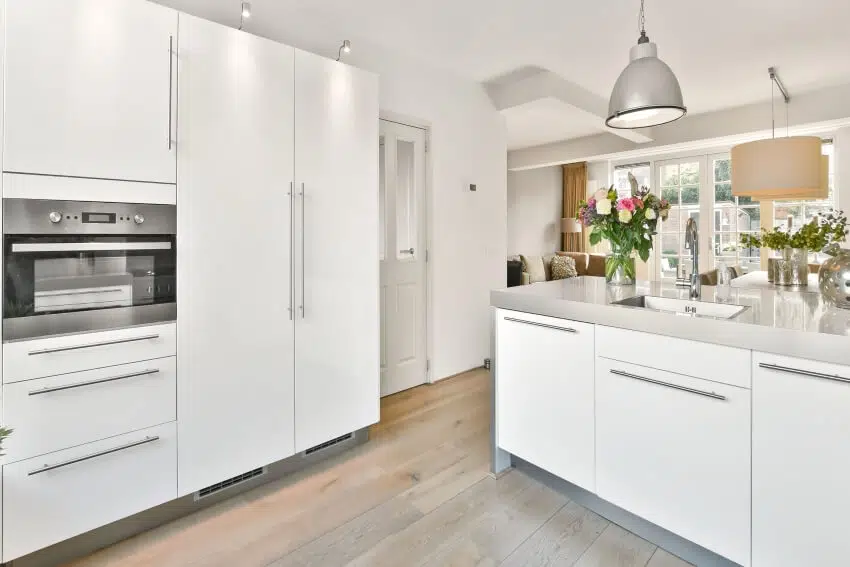 When installed horizontally along long kitchen cabinets, the extra-long pulls look neat and modern against white cabinets, especially with black metal finishes. Long cabinet handles will have a minimum of 8 inches in length.
Edge Pulls and Hidden Pulls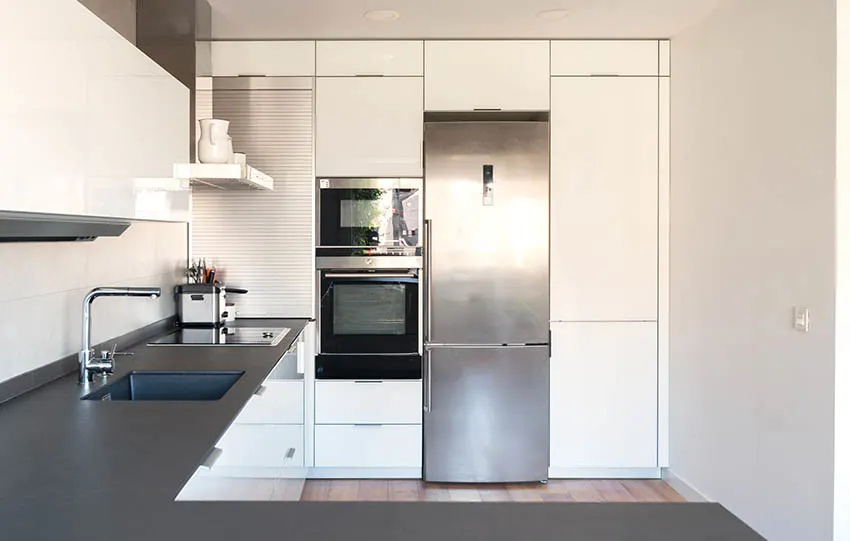 The edge and hidden pulls give your white kitchen cabinets a sleek appearance for a minimalist look. The hidden pulls are installed at the door cabinet's top edge, showing only a small part of the metal material.
Cup Pulls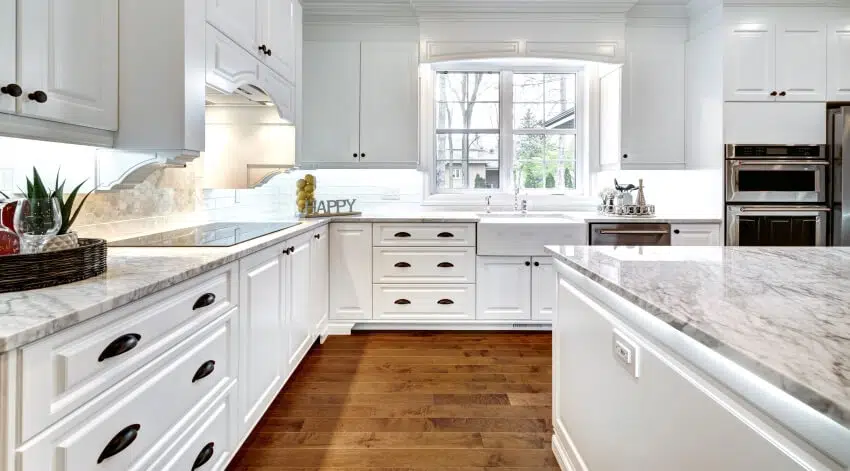 Best for transitional or traditional cabinets like farmhouse or vintage-themed kitchens, the cup pulls, as the term implies, has an upside-down cup with a cup profile. Sometimes called bin pulls, they were popular during the Victorian age.
To open your kitchen cabinets, the fingers are slipped underneath the cup. A single cup pull is installed for upper drawers, while two cups are substantial in pulling long and larger drawers.
When placed against a white kitchen cabinet, the cup adds personality and breaks away from the linear aesthetic of your furniture.
Knobs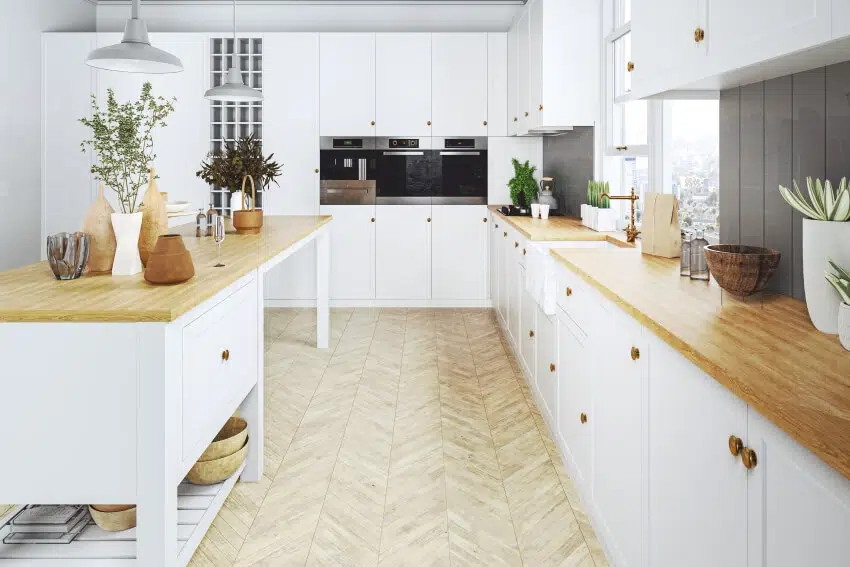 Knobs made with metal, ceramic, and wood add a layer of texture to your white kitchen cabinets. Matte black, light-colored wood and blue ceramic versions are great options to add contrast to your neutral color.
What Color Are The Hinges For White Cabinets?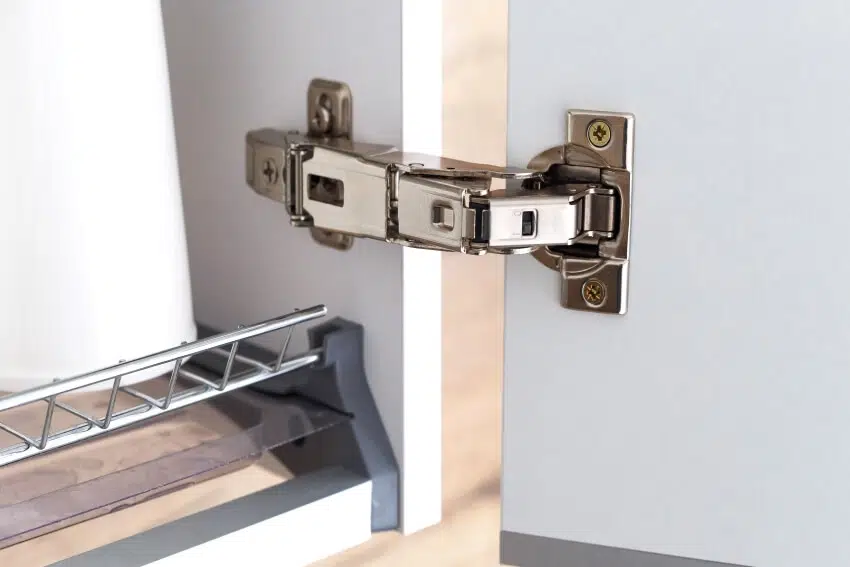 When your cabinet hinges are noticeable when opening your white cabinets, the best color for hinges will depend on the hardware color you plan to install as well as other surrounding accents. Matching your cabinet hardware color with your hinges is best to create a cohesive look.
This also goes with the finish and material. There's no need to match the color with your cabinet hardware for hidden hinges, giving you the option for more affordable hinges.
The most common hinges are usually made from metal, and the top choice is steel hinges as it is very durable that won't rust and corrode, making them a fitting choice for kitchen environments. Steel has a silver coloring, with other versions close to a pewter tone.
Brass is another great material for hinges with a dull gold coloring that can be easily matched with other golden-hued hardware. Like steel, it won't corrode or rust. Aluminum hinges are a good alternative to steel when you want a more affordable silver-colored hinge. It is lightweight and does not corrode as well.
Most metal hinges can be treated with the usual finishes like hardware cabinets and can easily match your existing hardware.
Common Cabinet Hardware Finishes:
• Black Matte or Flat Finish
• Chrome
• Brass
• Polished
• Brass (Antique)
• Bronze (Oil-Rubbed)
• Satin
Best Hardware Color For White Cabinets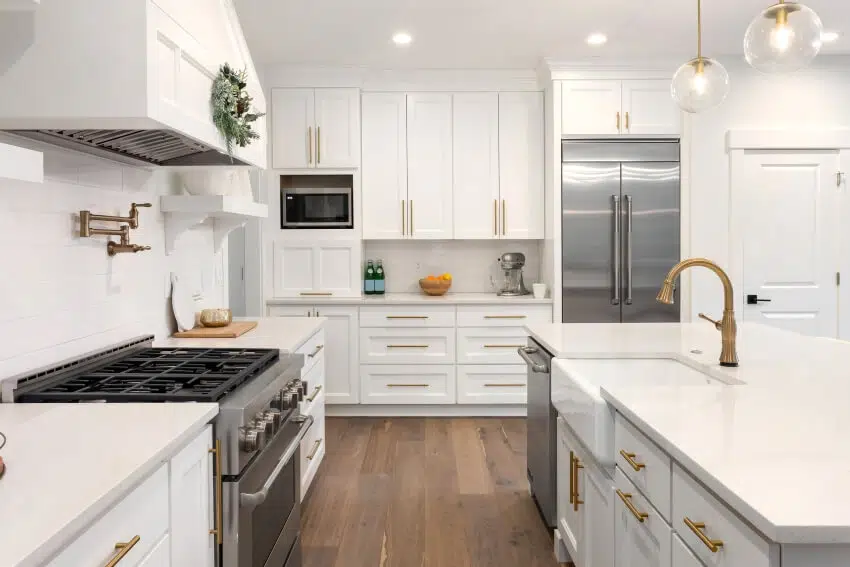 The best hardware color for your white cabinets depends on your preference and your chosen kitchen aesthetic. The color temperature is one of the main considerations when choosing your hardware color.
Warm colors such as brass, copper, gold, and other hardware colors with warm undertones catch the eye more than their cool metal counterparts.
Warm metals make a space look cozier and welcoming. Cool colors such as steel, chrome, or aluminum are great for conveying a neat and crisp quality along with your white cabinets. Cool metal hardware is a great combination if you have striking countertops and backsplashes with blue or gray undertones.
How To Choose Cabinet Hardware Colors For Kitchen Designs?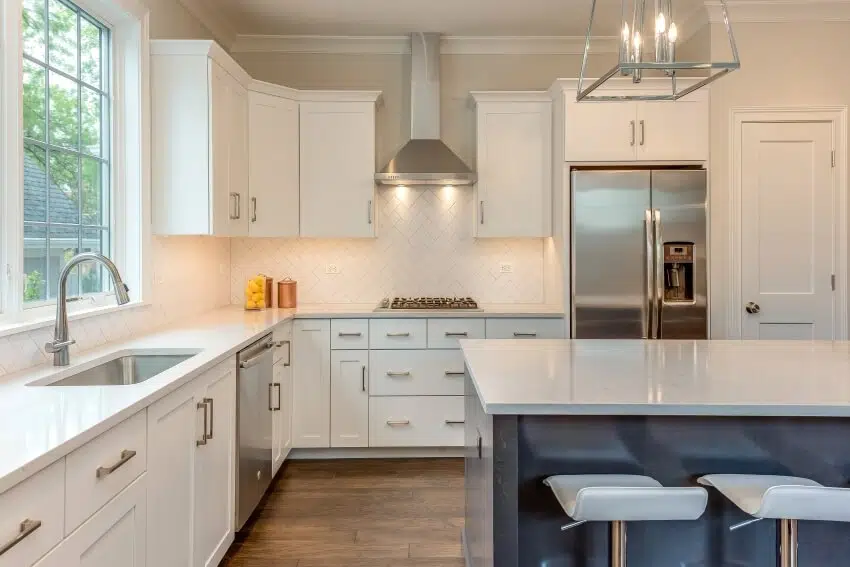 1. Find Your Style. Define what you like and don't like, as you should be comfortable with the kitchen cabinet style and cabinet hardware color you choose rather than following trends.
2. Research. – By knowing your preference, you now know what colors and finishes to focus on when looking for your hardware color.
3. Be Inspired. Along with your research, search for images similar to the aesthetic you are going for. Save these images as thumbnails or in a gallery for easier access and comparison.
4. Consider the Finish. While color is a primary concern in finding the best cabinet hardware, the final finish can drastically change the look of your hardware. While miking handles and knobs can be done, it is best to select one finish.
5. Consider Theme. When choosing the color, the theme of your kitchen is a major consideration, as some certain colors and finishes are more suitable for a certain theme. Silver and chrome finish, for instance, are best for a contemporary kitchen.
6. Order Samples. Especially when ordering online, it can be hard to get the actual depiction of your hardware from the images you see on your computer. Order styles and finishes to compare. Feeling the hardware in your hands will help you be sure of your choice.
Some hardware shops accept returns, and you can return hardware you won't use to get your money back.
7. How many knobs and Pulls do You Need. Knowing how many knobs and pulls you need can help determine if the certain hardware color and style won't look too overbearing. Also, check the availability and price of the hardware color you choose.
Visit our comparison guide to knobs or pulls for more related content.