This floating kitchen countertop design guide includes what it is, how to support a floating countertop, bracket tips, and different materials & ideas.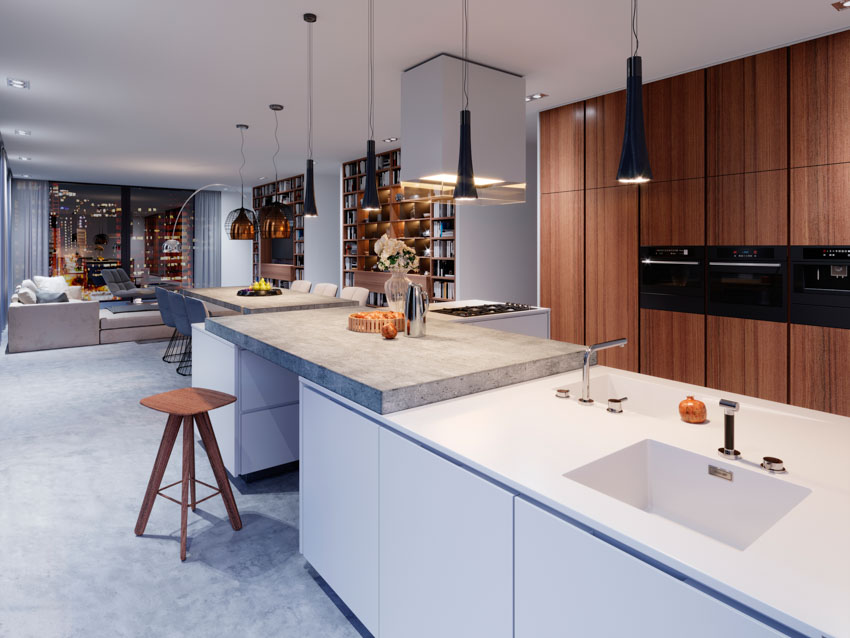 Kitchen design has come a long way, and a countertop is one of the main features of a kitchen. Along with modern changes in kitchen design is a new trend in kitchen countertop support and a way to make your countertop appear as if it is floating.
What Is A Floating Kitchen Countertop?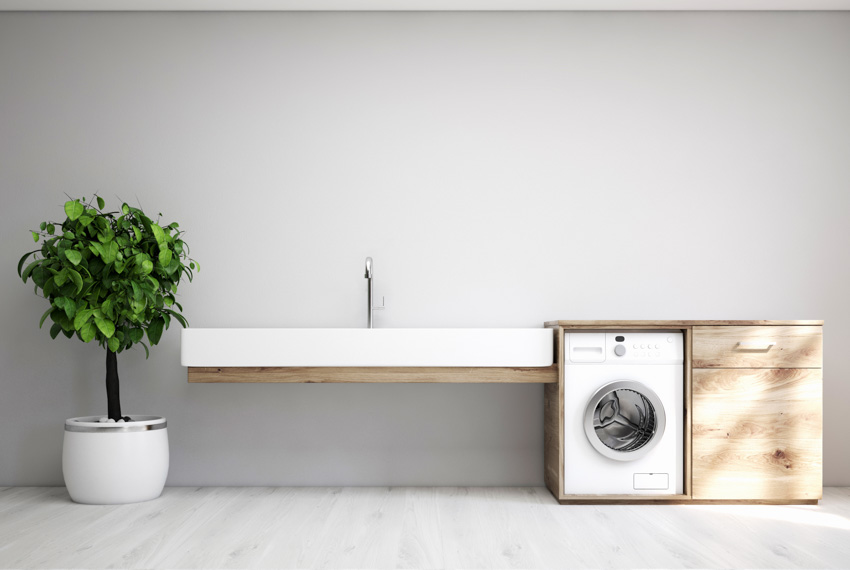 A floating kitchen countertop uses brackets to give the appearance that the surface is floating in air. Floating kitchen countertops can be installed in two different places could either be up against walls or they could be put on top of an island.
When installing a countertop where it will back up to a wall, it's best to fix the brackets by attaching horizontal wall cleats to wall studs for countertop support. If wall studs aren't available, use drywall anchors. For a floating island countertop, they'll have to be secured to the cabinetry.
Understanding the type of material for your floating kitchen countertop and the best way to install and secure them is particularly important. Choosing the best floating kitchen countertop and brackets to maximize accessibility and strength will contribute to its durability and long-term use.

How Do You Support A Floating Countertop?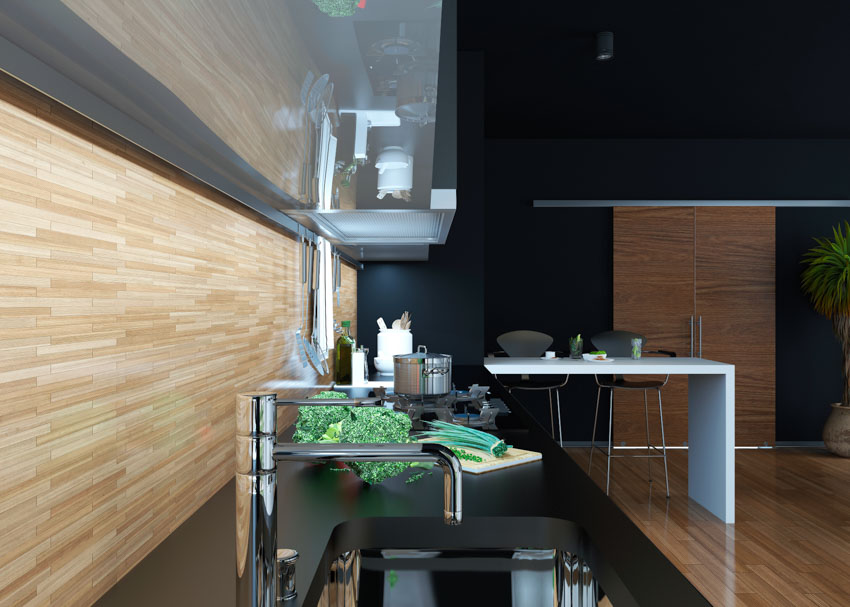 Nowadays, there is a convenient way to mount a countertop to appear as if it is floating, as you are not supporting the countertop with base cabinets or legs.
Hidden countertop support brackets are the new trend in kitchen design to support a kitchen countertop and have the appearance of floating. These brackets are mounted before the countertop is installed.
Once the countertop is placed, these steel countertop support brackets are virtually invisible. These brackets are reliable and are intended for heavy applications. Incorporating these brackets as support to a floating countertop will provide leg room beneath the counter.
Floating Countertop Brackets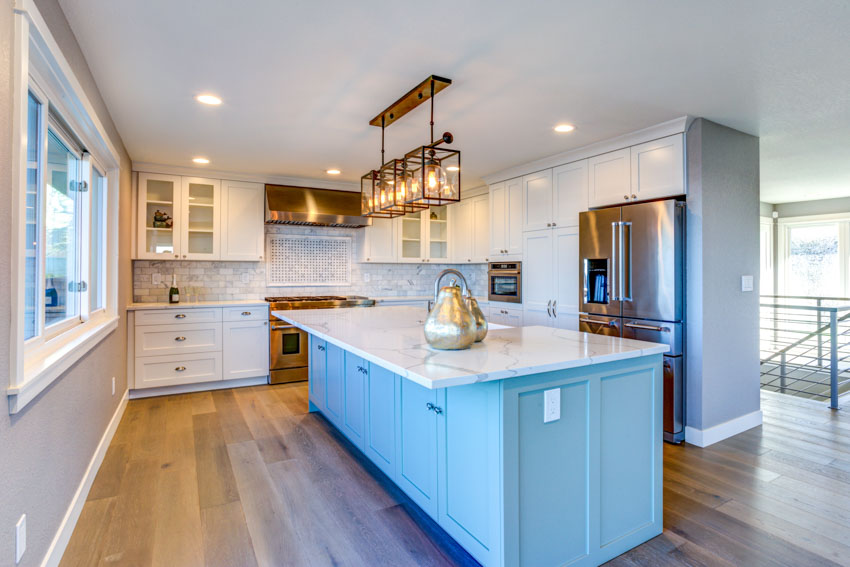 There are many hidden countertop support brackets to choose from, with a perfect ninety-degree angle, and are available in a variety of lengths. These brackets range from seven to twenty-four inches and should be installed every 24 inches, maximum.
One popular support is the hidden T-bracket. It is the type of bracket that uses the weight of the countertop material to support your kitchen countertop. This bracket is installed across the top of the cabinet, half of the bracket lies inside of the cabinet, and the other half is exposed under the overhang.
The vertical angle drops down inside the back of the cabinets, it holds the T- bracket in place until the countertop is put in place. This will give the countertop the appearance of floating once installed.
Floating wall mount brackets are ideal for concealed mounting for solid and heavy floating materials such as granite, quartz, and glass kitchen countertops directly on the wall. It offers a concealed support bracket and creates the look of a floating countertop while increasing its functional carrying capacity.
Knee Wall or Pony Wall Brackets are a concealed countertop overhang bracket for countertop support that is mounted on top of half walls to support extended countertop overhang.
Other types of heavy duty wall stud mount shelf brackets can be used in order to hang floating kitchen cabinets and open shelves.
How Far Can A Countertop Overhang Without Support?
The overhang is the part of the countertop that extends beyond the body of the cabinets below. It is simply designed for a floating visual effect, or it can be extended to accommodate bar stools and create a seating area.
Standard countertop overhang is one- and one-half inches over the front edge of the base cabinet while the standard overhang for kitchen island countertops is 12 inches. Read more about kitchen island size guidelines here.
A raised bar should be between 42 to 48 inches high with a standard overhang of 12 inches. This will provide enough space to accommodate bar stools and adequate legroom for seating.
As a standard installation rule, 70% of the overall countertop width must be supported. The recommended offset for a countertop overhang without support is 34 inches from the top edge. However, different countertop materials have different requirements.
Solid surface countertop material can have a 6 inches overhang without additional support, a 3 cm engineered quartz stone can have an overhang of 14 inches while a 3 cm granite should not exceed a 10 inches overhang without additional support.
It is important to know and consider the standard dimensions of countertops and keep in mind that they are a vital part of establishing an effective kitchen design.

Floating Kitchen Countertop Ideas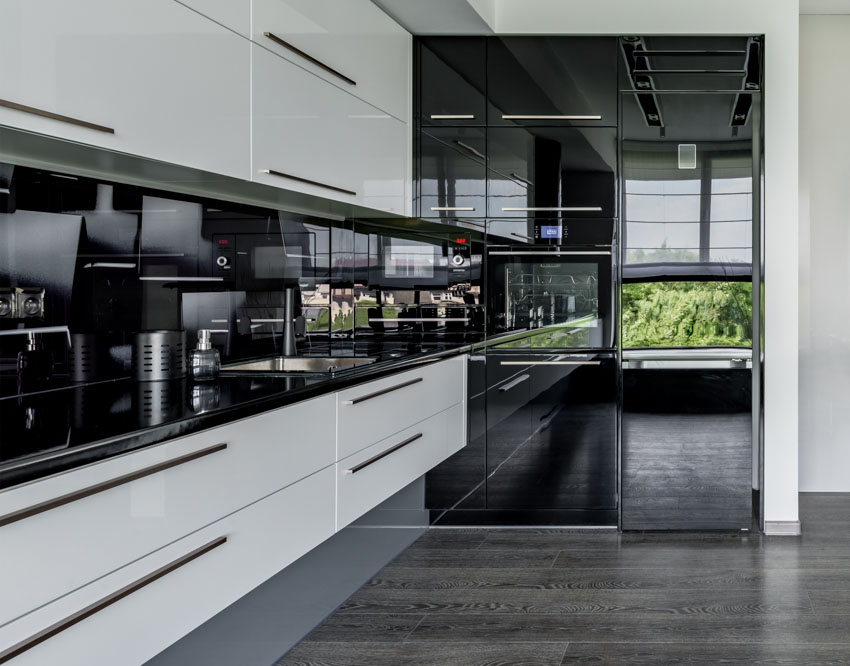 Here are some showstopping floating kitchen countertop ideas. They only offer stylish designs and enhance functionality. They also create an interesting optical illusion of more space. Typically, if a countertop has a thickness of one and a quarter inch, it can hang eight to 10 inches over.
Knee wall countertop: Known also as half wall countertop or pony wall, it can be installed and extended above a base cabinet to create a counter used for eating or serving.
The countertop is placed on top of the knee wall and extends one to 2 inches on one side. It can be extended past the edges of the top of the knee wall to appear like a floating countertop to create a breakfast bar or be a stand-alone knee wall.
Floating bar countertop: A floating countertop bar will be a wonderful addition to your kitchen because of its decorative style and extra function you can enjoy.
This application is a decorative-style countertop elevated above a base countertop supported entirely by brackets that mount to the face of the support structure. The brackets used in the floating countertop application are larger and require excellent stability.
A floating countertop at a different level than the primary countertops can elevate the value of your home and add a unique character to your kitchen.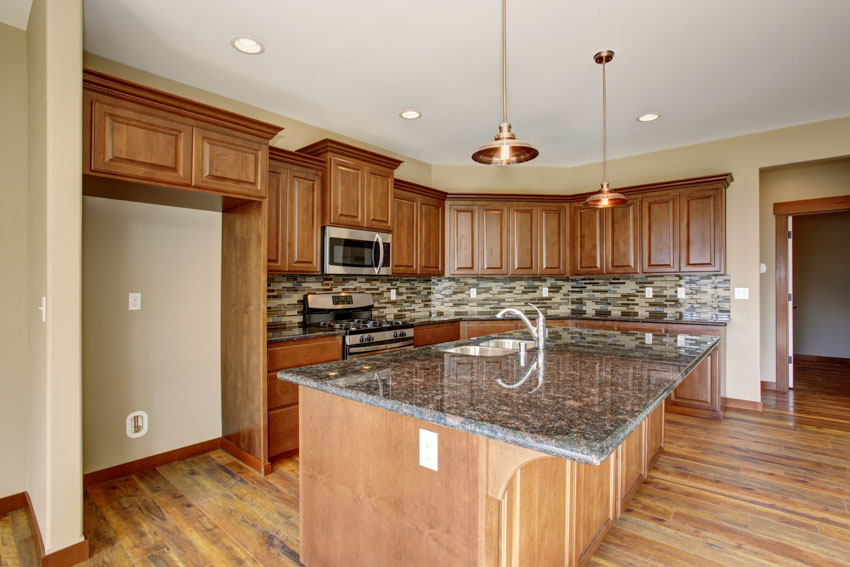 Floating kitchen island countertop: These are island counters that seem to float without support and provide a feeling of openness and lightness. Most floating kitchen island countertop extends from a freestanding solid base such as a column or an open base cabinet appearing to float & support themselves.
Floating kitchen island table: Besides a floating kitchen island countertop, you can also try a floating kitchen island table, especially if you have a cramped space in the area. This kitchen island table will offer an open and light ambiance to the room.
You can choose a portable freestanding kitchen island with an open base and shelves underneath it or a monolith for a more contemporary look to your kitchen.
Inset base kitchen island: is a built like an ordinary kitchen island, but the baseboard is inset so that it is not visible from a person's view resulting in a floating effect on the kitchen island.
Monolith: These are contemporary designs, wherein solid concrete rebars are used for support that is formed to create a floating counter that is durable.
Wall mounted floating countertop: This is another application where the full weight of the counter is supported entirely on the brackets while the back edge of the counter is butted up against the wall.
It is particularly important that the brackets in a wall-hung application are nailed directly to the wood studs or to a supporting structure in the wall. For a wall mount counter application, it is best to use gusseted brackets.
Floating Granite Countertop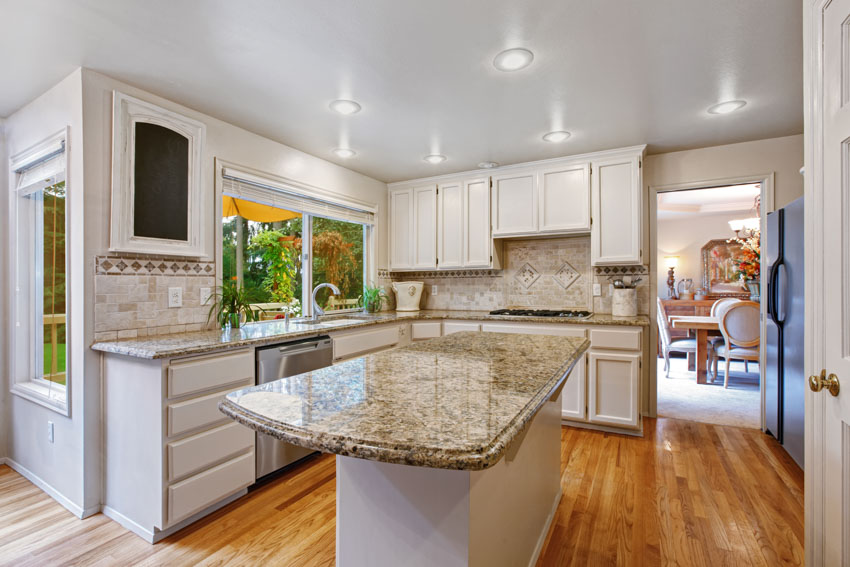 Granite countertops have the most durable natural properties and make excellent options since they can withstand extreme temperatures, chips, and cracks. This variety can be paired with wooden cabinets in rich colors such as cherry, walnut, and oak, and would also look elegant when incorporated with white, gray, or black cabinets.
When installing granite countertops, they cannot be drilled, bolted, or screwed on. If you want to install granite that has the illusion of a floating countertop, it must be glued onto large 1/4-inch steel brackets using adhesive.
These brackets have a large, flat surface that supports the granite while cantilevering it over the edge of the countertop. Countertop granite brackets are spaced 18 – 24 inches apart and are set 4 to 6 inches away from each side.
Floating Butcher Block Counter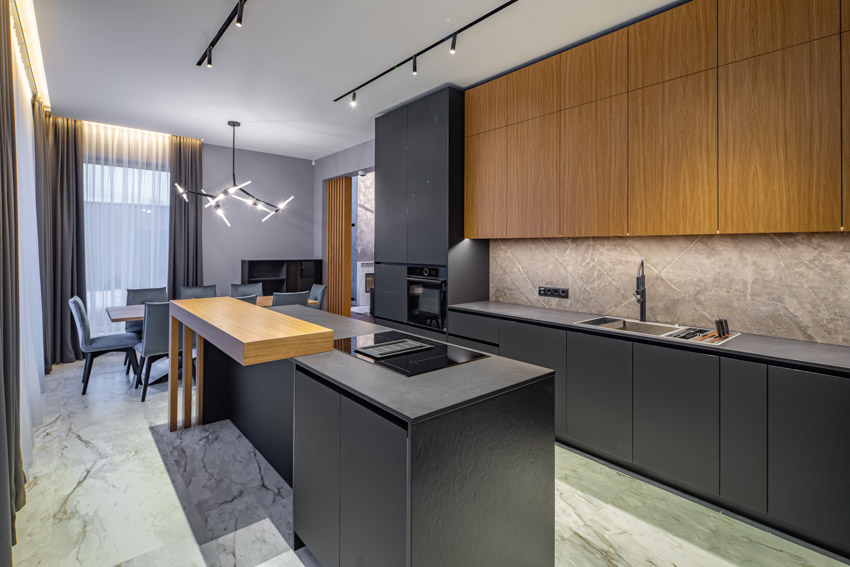 Butcher block countertops offer a natural color with a grain of wood that adds warmth to your kitchen. Butcher block countertops are usually made with thick wood strips using a staggered, random pattern and combined with modern manufacturing methods.
The most common is maple due to its hardness and durability and it is more resistant to humidity. By using a butcher block oil and finish, it protects the wood from stains and spills.
A floating butcher block countertop can be used whether you are covering a small kitchen island or creating a bar counter with stools below it for seating.
A butcher block countertop overhang can go up to twelve inches past the cabinetry it sits on while on the sides where seating is not required, the overhang should extend between an inch to an inch and a half out from the cabinetry.
Floating Glass Countertop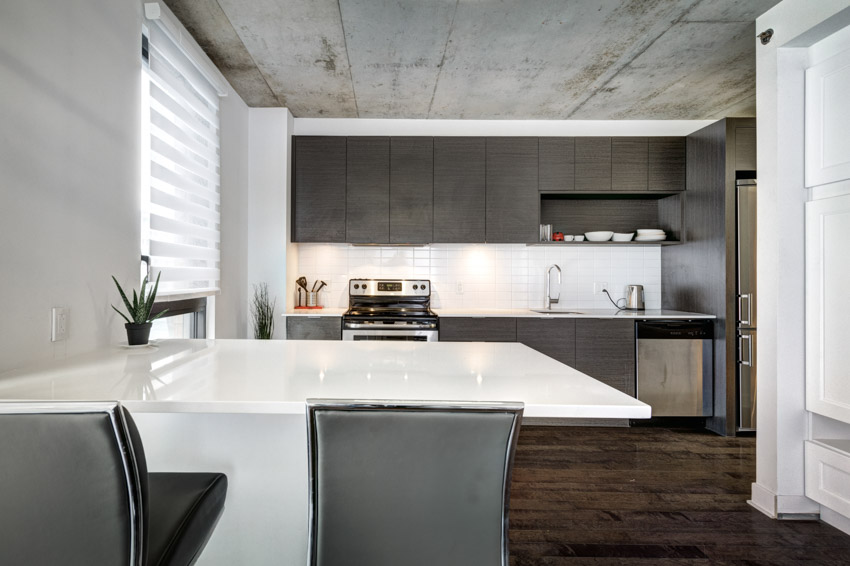 Installing a floating glass countertop in your kitchen can offer a unique focal point in your kitchen. Floating glass countertops are an innovative way to create a stylish countertop design. Glass is among the most versatile materials when it comes to design options due to the versatility that glass has.
Thinner glass may require installing an underlay such as plywood. But since glass countertops are usually thick, you can directly install them. Glass countertop overhang will depend on various other measurements, such as the countertop itself and the cabinetry.
Floating glass countertops are stabilized by a metal bracket that supports the see-through surface and offers an eye-catching glass countertop that enhances an airy, spacious feel of the kitchen, and is coupled with a suspended design.
One concept for a floating glass countertop high bar over a kitchen island aims to be creative in maximizing the utility, beauty, and safety of a glass countertop kitchen raised bar design. It incorporates a minimal overhang that is lined up with the rest of the kitchen countertop and upper cabinet lines.
Read more related information in our guide on Glassos countertops here.