Here we share the types of wooden doors including the different styles, features, door core varieties, materials, and the best wood door option to use.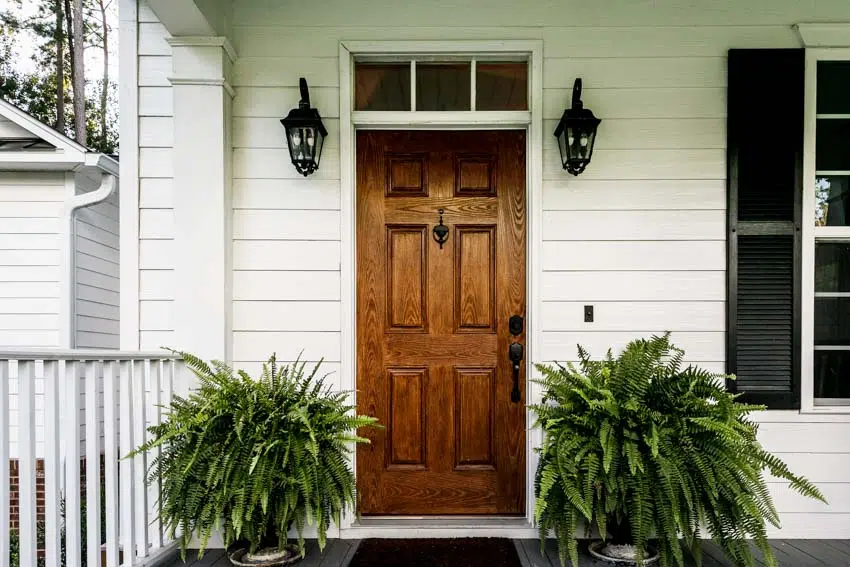 Several varieties of doors can be used in residential homes and buildings. For homeowners, wood is preferred over other materials since wood is easily accessible on the market. It can also be custom-made with different decorative finishes to match your home's style.
Wood offers a rich sense of natural beauty, charm, and coziness to any home. It is affordable to those who are budget-conscious buyers, and durable to stand up to everyday use.
Wooden Door Styles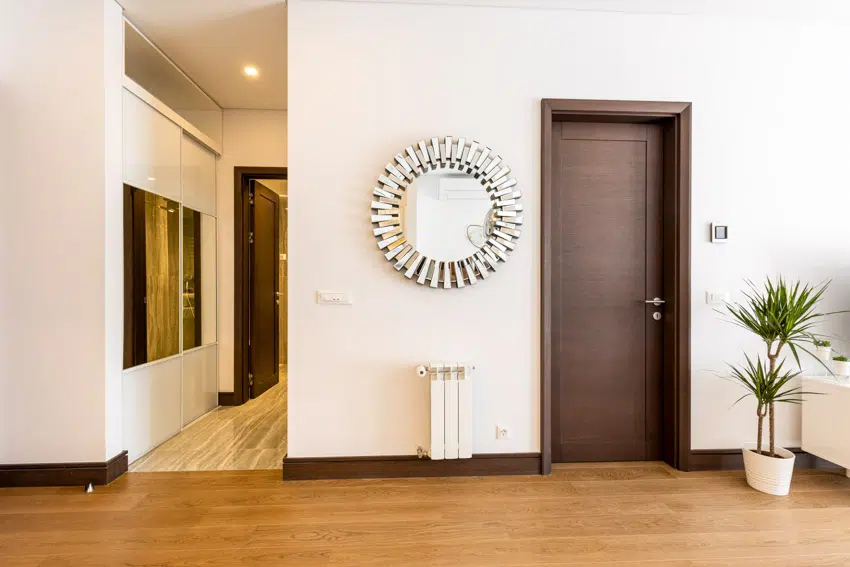 Doors are a prominent aspect of any architectural structure. It requires a sound balance between function and form. Wooden entryways significantly influence the interior and exterior of every home, not only for protection but also because they increase the home's aesthetic value. The most common types of wooden doors are as follows:
Solid Core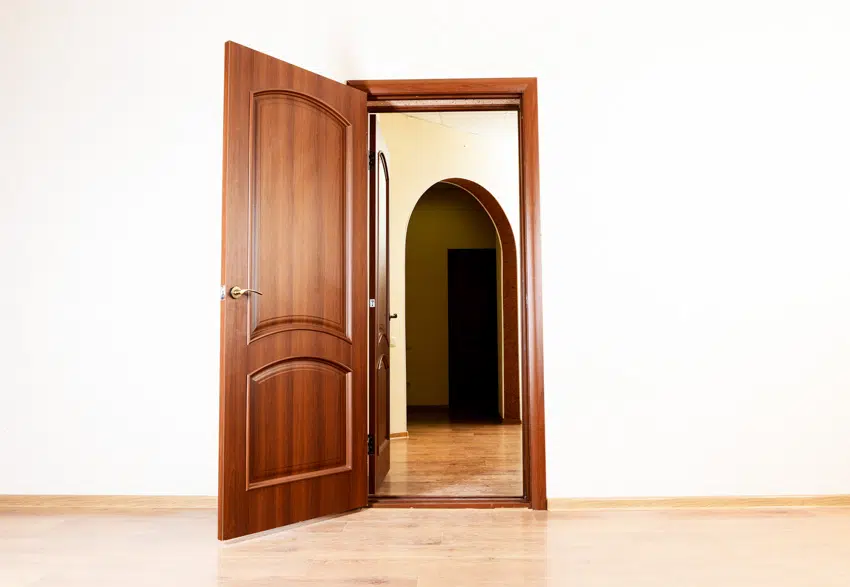 Commonly used as interior doors, solid core doors are wooden doors with a wooden frame filled with engineered wood filler or wood composite materials. It is then covered first with bare types of wood veneer skin and then furnished with a wood veneer from fine wood laminate or plastic veneer to complete and achieve a desired aesthetic effect.
Solid core wood doors are usually mounted into a pocket for a mortise lock or may also be drilled through the center from the center hinge to the mortise pocket when using an electrified mortise lock.
Depending on the door height, solid core wood doors may be equipped with three to five hinge mounting points. They are usually mounted into either hollow metal or formed aluminum frames.
Solid core doors are strong, durable, and heavy at an affordable price. It offers excellent insulation and soundproofing. Its engineered construction makes them resistant to expansion and contraction when humidity changes. This type of door often has a good level of fire resistance.
Hollow Core Interior Doors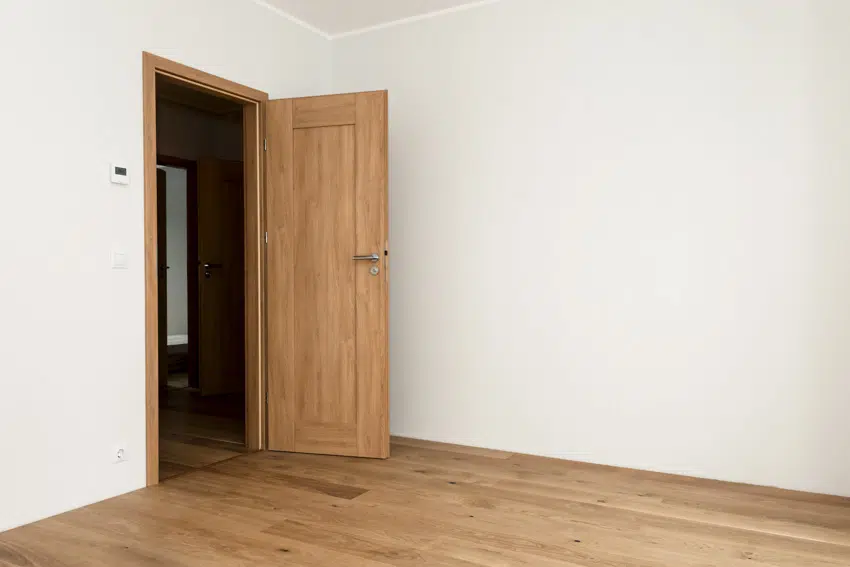 Hollow core doors are lighter than solid core doors, typically the standard option for interior doors since they are lightweight and can be installed easily.
As the name suggests, these doors are hollow inside, only supporting honeycomb cardboard or plastic core. The honeycomb core provides the door sound-blocking ability and insulation while the frame ensures rigidity.
The frame comprises stiles, top, bottom, and intermediate rails for hollow-core flush doors, which usually measure not less than 7.5 cm in width. The gap between the stiles and the rails is divided equally by fixing wooden battens; vertical battens are not less than 2.5 cm wide and are set on the rails.
Plywood sheets, fiberboard or laminated material, and face veneers are then glued under pressure on both faces of the core. Typically, the thickness of the plywood sheet or other face materials should not be less than 0.6 cm.
Hollow core doors make an excellent choice for bedrooms and bathrooms and are the most affordable styles for those on a short budget. Read more about solid core vs hollow core doors here.

Solid Wood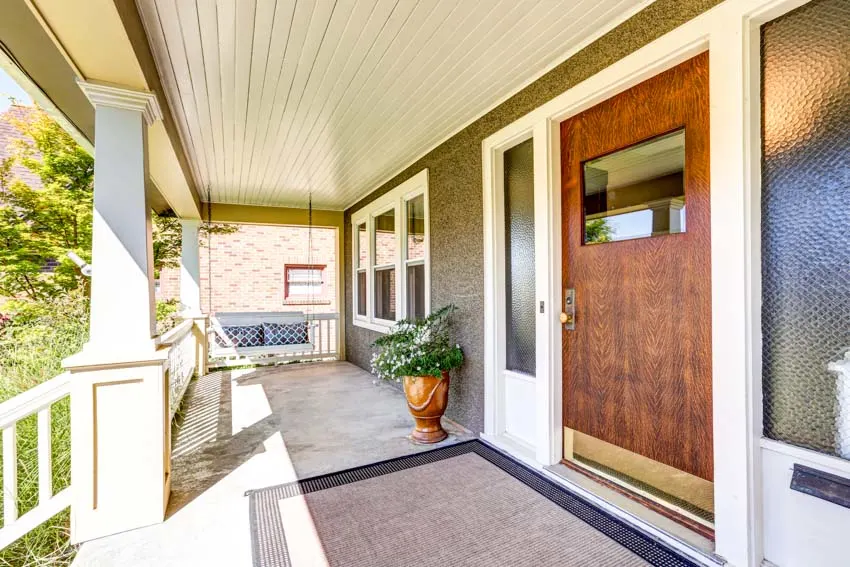 A solid wood door is entirely constructed from natural wood and generally consist of a frame with panels. solid wood doors can be used for interior or exterior doors.
The type of wood used for solid wood doors will vary. The wood used can range from hard woods such as oak, mahogany and maple to softwood like pine.
Since these doors are constructed from solid wood the prices are much higher. This is especially true for custom projects and special door sizes. Prices for these doors can range from $2000 to $5000 and up.
A solid wood door is unlike a solid core door that contains synthetic material in the center. Most doors sold today are solid core and not made from 100% solid wood.
Wooden French Doors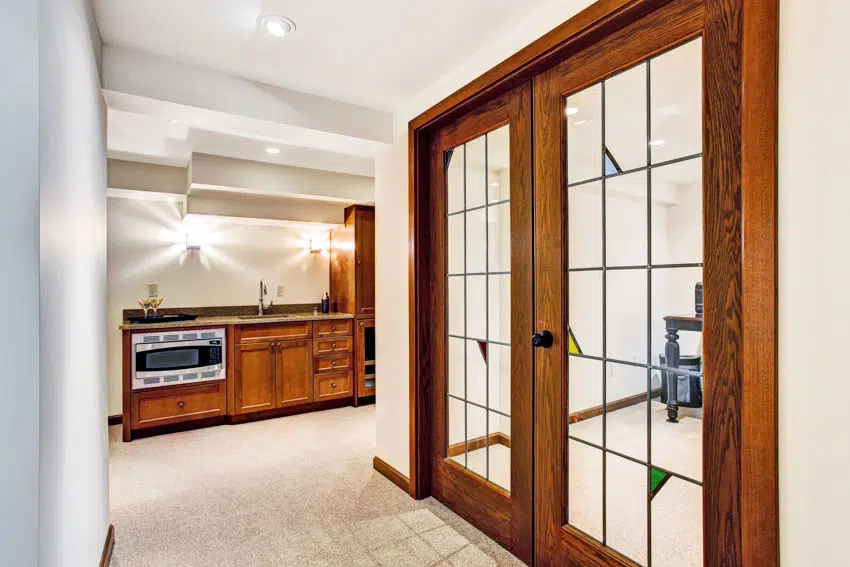 Wooden French doors are often used for main doors as they bring plenty of natural light into the interiors, adding a warm, welcoming, and charming feel to the home. This door style usually has three to four hinges to bind the doors together for a hassle-free opening on both sides.
Wooden French doors are typically used as exterior patio, garden, and balcony doors with glass panels to highlight the design and offer a livelier and brighter look. These doors are also adaptable and versatile since they can be customized.
Wooden Bifold Doors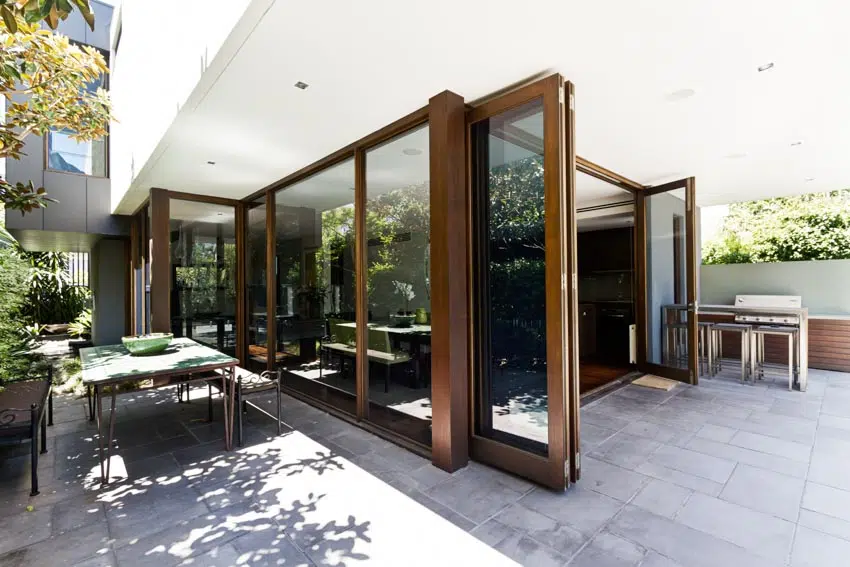 Wooden bifold doors are a great wooden door style when looking for a way to incorporate an adjustable wall without all the hassle of building a new one. These wooden door styles comprise of a pair of doors hinged together. They slide together similar to an accordion door to conserve space.

They come with foldable panels usually made of glass for transparency and wood for the frames or a full wooden bifold door. Wooden bifold doors are perfect for lobbies or balconies extending to outer decks.
Paneled Doors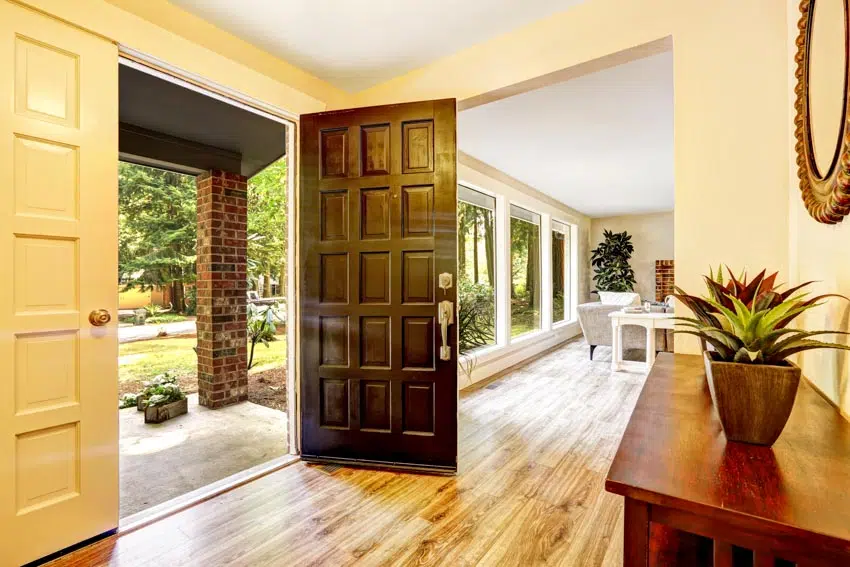 Paneled doors are one of the classic wooden door designs used in a residential setting. This style of door has a wooden frame and shutter panels which can have glass, plywood, or hardboard inserts.
Paneled doors may also be designed to have rectangular or square patterns carved to show that one or more panels are engraved on them. Other styles of paneled doors include a whole standard panel, three-panel mission, and five-panel equal door.
The versatility and straightforwardness of paneled doors make them suitable for various settings. A single-leaf panel will be appropriate for small and narrow openings, while a double-leaf design will go well for larger doorways.
Wood Barn Doors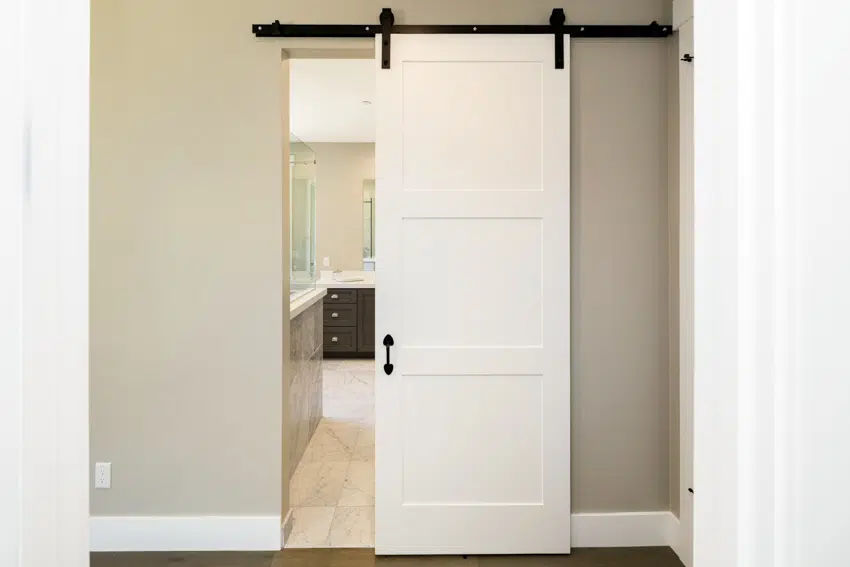 Wood barn doors have become a trendy feature for a country vibe in modern homes and farmhouses. It has an ingenious ability to add a vintage charm to bedrooms, closets, bathrooms, and so much more.
The good thing about this wooden door style is that it allows closing off a space without struggling. It can also be merged with other machined hardware and decorative glass.
Wood barn doors offer a unique rustic touch to the panel and can be used in interiors and exteriors of the home due to their versatility and flexibility.
Incorporating wood barn sliding doors into tiny spaces saves space while making the room appear larger due to its sliding function, which allows the wood barn doors to be pushed side to side rather than swing open.
Wooden Louvered Doors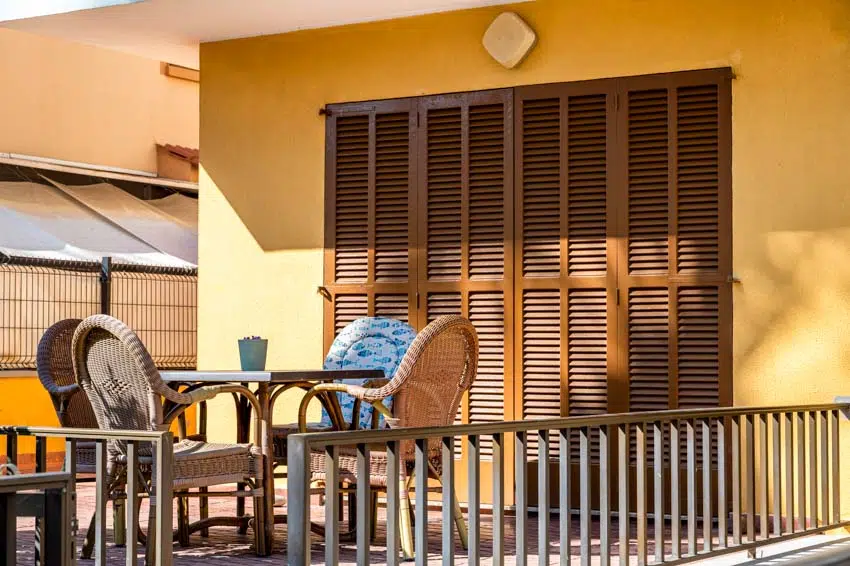 Wooden louvered doors are another popular style of doors that are used for interior and exterior doors. The louvered style is a unique door design that offers privacy and excellent airflow. They are often installed to hide a large closet or used as a standard entryway.
These wooden louver doors allow cool or warm air to travel between rooms even when the door is closed. They provide free air and light, making the space naturally ventilated and bright.
They can also offer seclusion to open spaces or create room separators. One can more often find louvered garage doors that are decorative rather than open to prevent moisture from entering.

Wooden louvered doors can also be found in public and residential buildings' toilets and bathrooms, partially louvered with hollow-core doors. They are also the best for cabinets, closets, wardrobes, pantries, and utility rooms.
Battened & Ledged Doors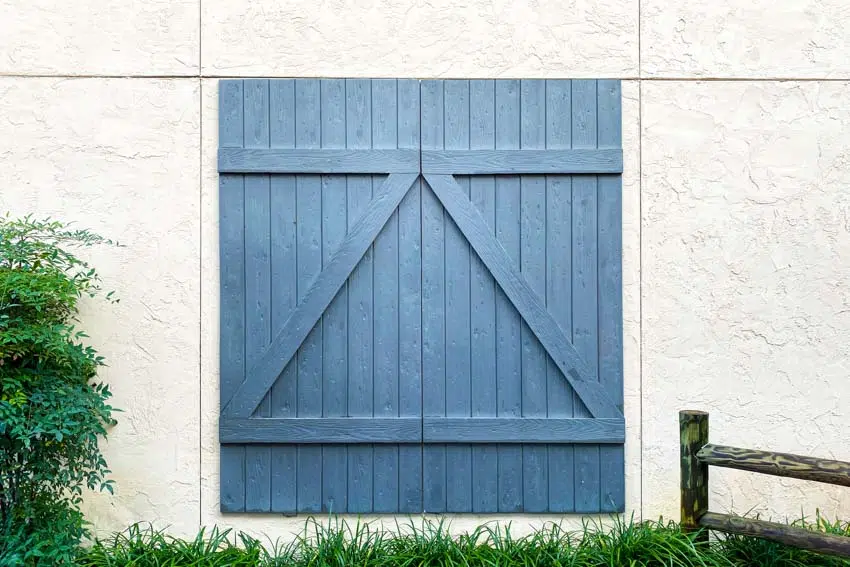 The battened and ledged door designs are the most straightforward wooden door designs commonly used as traditional doors. They consist of wooden battens with two diagonal braces and three vertical ledges in the door's bottom, middle, and top parts.
These doors can be either braced or braced and framed, providing an aesthetic appeal and added stability. The vertical tongue and grooved battens are suited for narrow openings held together by ledges supporting the door horizontally.
Battened and ledged doors are ideal for narrow openings and external doors. These type of doors uses 150mm battens and 20mm wooden boards for rigidity.
Battened and ledged doors are typically used in toilets and bathrooms and are among the most conventional designs for homes, livestock barns, and sheds. They can also be used as balcony doors, closet doors, bathroom shower enclosures, or glass sliding walls.
Laminated Core Flush Doors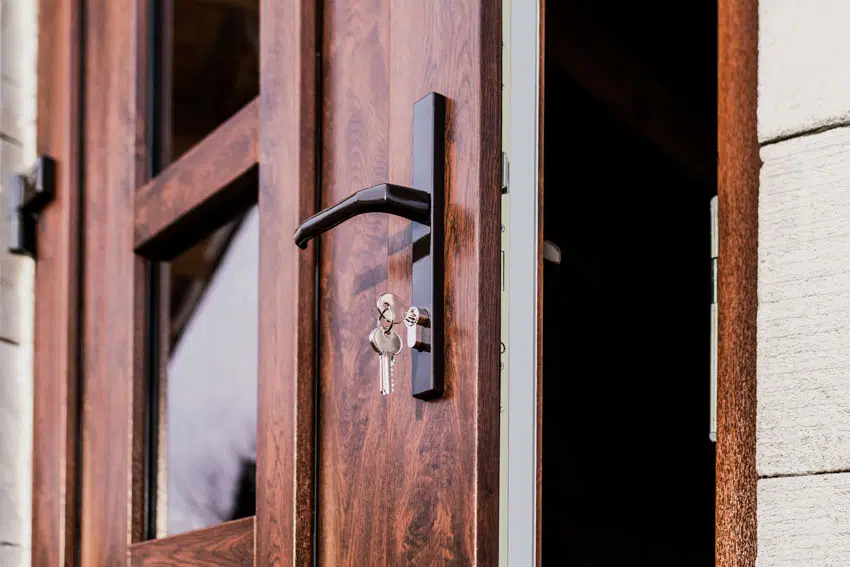 Laminated core flush doors are solid-core doors made using flat paper and resin. They are one of the most fire-resistant wooden door options available. They are equipped with fine-grain wood veneer patterns to withstand any humidity changes.
These changes bring about frequent expansion or contraction with other doors. These doors consist of stiles, top, and bottom rails, each less than 7.5cm wide.
Laminated core flush doors have solid blocks of wood inside from a combination of blockboard/ Particle Board/Medium Density Fiberboard (MDF) /Laminated Core, cross band, and face veneer.
Plywood sheets, separate cross bands, or face veneers are glued separately; these cross bands are laid at right angles to the core and are fixed in the frame on both faces.
A hardwood lipping around the frame provides the door's strength and durability. Typically, the width of the lipping should be equal to the thickness of the core, and its depth should not be less than 25mm.
These types of doors are solid and heavy and are typically used as exterior doors because they provide better strength and sound insulation. Laminated core flush doors are one of the most fire-resistant options out there.
Wooden Dutch Doors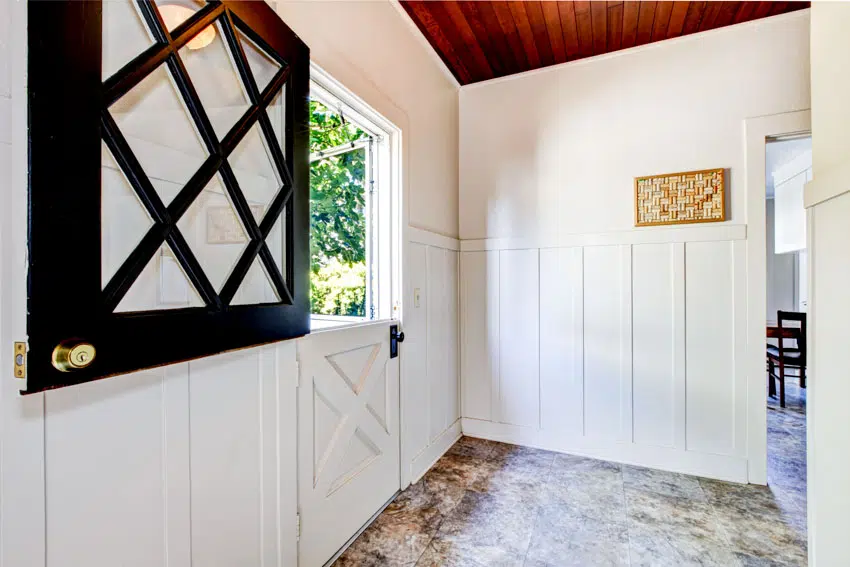 Wooden Dutch doors have distinctive charm and practicality in their features. Traditionally they are the choice of doors for stables, farms, and ranches designed to keep animals on the other side while allowing you to enjoy the benefits of an open area.
Since these doors consist of panels that split the bottom and top halves, they enable users to only open the upper section without unlatching the lower half. This split-type door uses four hinges rather than the usual three on standard door types.
Since wooden Dutch doors are designed to be divided horizontally, they are appropriate for homes with kids and pets. They are also an ideal choice to use as a front door for offices with several sections as staff can pass documents without actually opening the door.
Wooden Dutch doors provide a casual and friendly look to an entry while also adding historical charm and preventing other undesired elements out while allowing in light and fresh air.
Wood Door Features
Pre-hung Doors
For projects that require a new door that is easy to install or an old, damaged door frame that needs to be replaced, you might want to consider choosing the pre-hung door.
There is no need to build a frame since pre-hung doors come with their frame and include a door slab already attached by hinges to a three-sided doorframe.
Although pre-hung doors do not come with the casing, door locks, and handles, they come ready with pre-drilled holes for the lockset and deadbolt.
Pre-hung doors are designed to fit into a prepared doorway, ensuring it opens and closes freely and correctly. They are also weathertight, so you do not have to worry about weather stripping them and making them tight-fitting.
Pre-hung doors make new construction work easy and fast. They can be readily installed without professional help, making it a more straightforward process for a do-it-yourself project.
When opting to use pre-hung doors, it is vital to take measurements of the doorway to ensure it fits appropriately and is perfectly level.
They are available in wood or wood composite, metal, or fiberglass and come in a wide variety of colors and designs that can easily match the exterior color scheme and style of your home.
Soundproof Doors
In choosing a soundproof door, it is essential to consider the material of the door itself. Solid wood doors naturally provide an excellent option for blocking sound waves because of their density.
High-density materials offer the most robust noise resistance. However, the level of soundproofing will vary depending on the type of wood; thick hardwood performs better.
Solid steel doors are not soundproof unless they have acoustic seals. A simple soundproof door can be made by compressing heavy calcium silicate boards between plywood veneer faces.
A soundproof door consists of a mass and a tight seal. A solid-core wood door will typically provide enough mass to block everyday sounds. This mass is needed to break up sound waves as they travel through the door. This mass is then reinforced with a tight seal that prevents sound from leaking around the edges of a door.
Some types of doors can be suitable soundproof, such as the sliding solid wood barn door due to its thickness and that it slides on a track mounted above the door frame and a solid composite door made of wood composite and polyurethane resins that provides excellent insulation against sounds.
Fire Retardant Doors
Modern doors are made up of multiple components. They use various materials to comply with design aesthetics and functionality while keeping the home safe, specifically by preventing a fire from spreading.
Made of a combination of various materials and components, which work together to slow or stop the spread of flames, and smoke as well as radiant and conductive heat transfer; these fire-retardant doors are most usually used not only in homes but also in theatres, cinemas, schools, shopping centers, hotels, hospitals, and offices.
While steel is a non-combustible material and will not feed a fire, many fire-retardant doors are made using timber. These doors are constructed with more resistant filler material like gypsum.
Vermiculite and other aluminum panels can be added to wood doors for further fire resistance. These protective panels also make a fire-rated door more weather resistant when used as an exterior door.
A wood veneer may be incorporated with the timber door for an aesthetic look, especially for a residential structure. Wood veneer is a thin wood panel versatile enough to be sanded, stained, and treated in various ways to fit any design.
Window Glass Insets
Incorporating glass inserts into an existing solid door is a quick, cost-effective, and simple way to transform any entrance door's look completely. Instead of replacing the whole door, you can use new window door glass inserted into the center part of a door.
These glass inserts allow you to enjoy the natural sunlight and see an increase in curb appeal it can bring to your entryway, especially when working with decorative glass.
Fiberglass, steel, or wood are types of doors that support the use of a door glass insert. However, keep in mind that the size of the window glass insert can range based on the design and placement of the panels on your door.
Different glass sizes are available; the most popular are the half-light, ¾ light, and full-light options. Other glass styles in front doors are top lights, sunburst, and half-round light door glass.
Another factor to consider is the door's width and height, which play a significant component in the design of the glass inserts. Typically, the entrance door height is 6'8″ tall or 8'0″ tall, while widths usually range from 30″, 32″, or 36″ wide.
There are available variations of different door glass insert sizes that will work within these standard door sizes. Other considerations for picking door glass insert sizes include door height, width, number of panels, design, and door material.
Types Of Wood Door Cores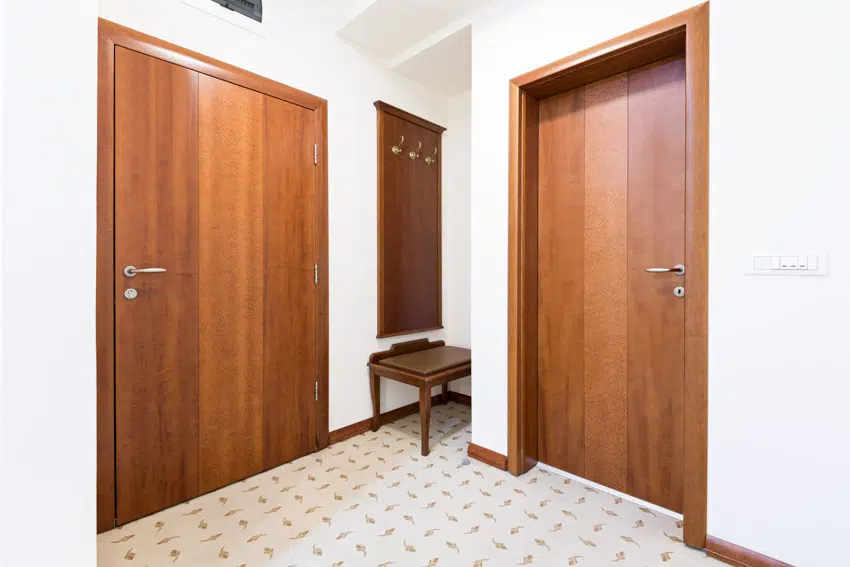 There are many different types of wooden door cores, and these cores can also significantly affect the cost of the wood doors on your project. The following are the types of wood door core that are commonly used:
Particleboard Core
Particleboard wood door cores are usually made from high-density mat-formed particleboard glued together to form the core. This is the most common type of core and is exceptionally durable.
Their affordable cost and availability are the significant benefits of why particleboard core is so popular. Particleboard cores are available as non-rated, allowing a 20-minute or 45+ minute fire rating. Some particleboard core doors use recycled content for Green Building applications.
Structural Composite Lumber Core
Made from a composition of wood chips and preservatives, the Structural Composite Lumber Core is combined and glued together with the use of special resins. This helps the wooden door form a very heavy-duty and stable core.
Structural Composite Lumber Core is best for doors requiring high usage and larger door light sizes. Just like the particleboard cores, the SCL cores are also available as non-rated and usually come with a 20-minute fire rating. However, some structural composite lumber core also allows for a 45-minute fire rating.
Stave Lumber Core
Stave lumber cores are built using blocks or strips of same grade lumber cut to size and face-glued together, creating a durable core lighter in weight than particleboard. The grain patterns are alternated to balance the core and reduce the natural tendency of the wood to warp.
This type of wood door core is not as popular as composite lumber cores, yet they provide similar durability and are used where stronger, lighter cores are needed. Typically, the stave lumber core door thickness is one ¾" for stability.
Mineral Core
Mineral core doors are a non-combustible core made up of specific mineral composition and are only used with doors that require fire-ratings applications of 45, 60, or 90 minutes.
Mineral core doors are lightweight and require internal wood blocking in the core to allow hardware to fasten securely and help avoid the bolting of surface hardware.
How Door Core Style Affects Durability?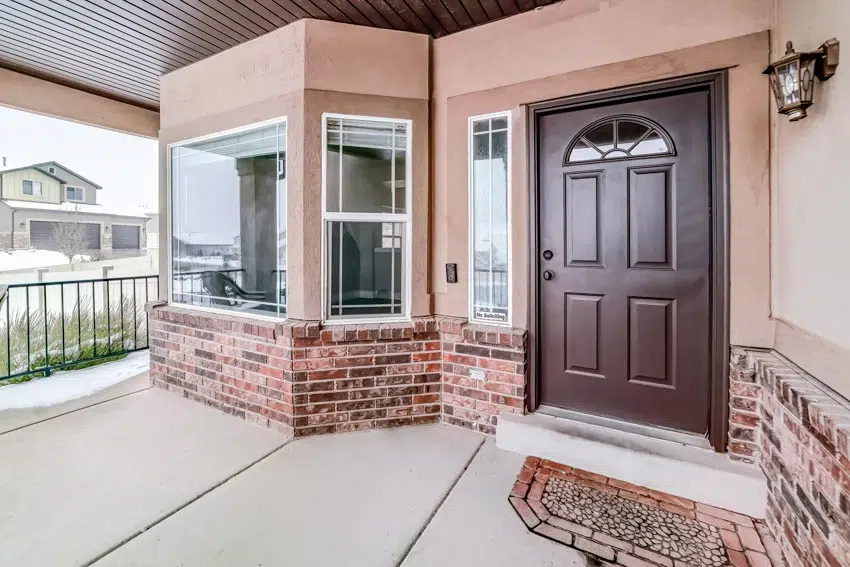 Wood door cores are fundamental to the door's performance and durability. Each core type has benefits and specific applications recommended or required.
Doors are often made with unique materials that support and enable them to stand up to the elements and everyday use. How doors are constructed could affect how well they work and how long they last.
Exterior wood doors are exposed to different weather conditions, so they tend to warp as it expands and contracts. This is why doors can't be made from a single slab of wood. Instead, they are made from interlocking pieces such as rails, stiles, and panels.
Those built with sheeting like MDF or plywood have frames and fill-in pieces that are all covered by a solid piece of veneer. However, interior doors can be made of less substantial materials than exterior ones.
Hollow core doors are the lightest, easiest to install, and most affordable option and are built around a wooden frame with a veneer attached. They are made stable and durable by a honeycomb or inner frame of cardboard or foam, with solid wood incorporated in the area where the door knob, catch, and locking mechanisms are located.
Hollow core doors are often used for most types of interior doors such as bedroom and bathroom doors, where heat insulation and strength are not so important.
Solid core doors are constructed between solid wood and hollow core doors in various materials, often coated with a natural wood veneer. Solid core doors are heavier and provide better insulation than hollow wood doors.
Some of the more popular solid cores for doors are particleboard core, timber strand core, stave or composite lumber core, and an Agri-fiber or mineral core.
Among these solid core doors, timber strand core is the strongest since they are made from strands of different tree species combined with special resins.
Next is the stave or composite lumber core, which uses blocks of wood or "staves" from the same wood species. This type of door offers impressive durability because its staves are finger-joined and glued to give a robust and stable door that weighs less than particleboard doors.
Door Materials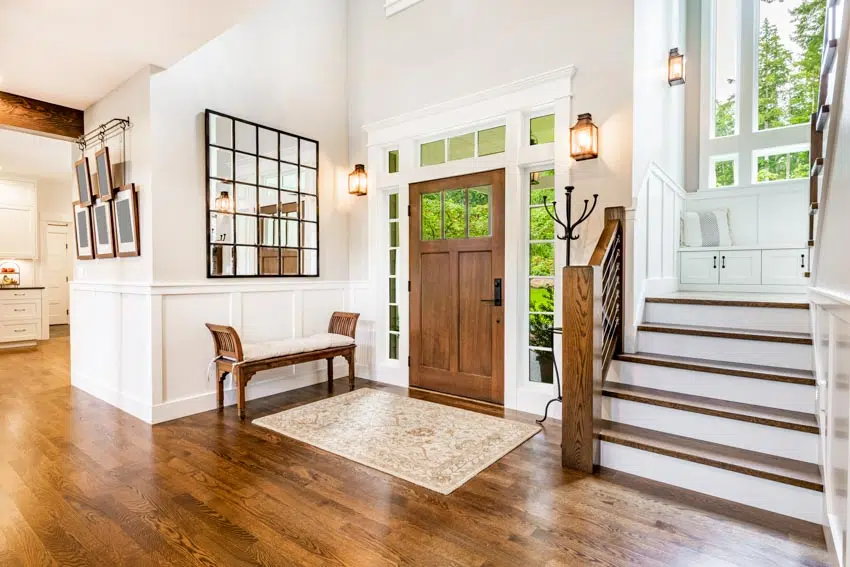 While taste and style are essential in choosing the right door for a particular home design, the homeowner also considers the cost and function of their doors. The materials used to construct these doors play a crucial role in their quality and aesthetic appeal.
There are a variety of options for wood door materials. From the classic look of natural wood, or the economical ease of wood composite, it is easy to find both affordable and high-end options.
Hollow core flush doors with veneer are a common choice; they are the least expensive, durable, and can last for decades if treated gently. These doors have a frame made of solid wood boards that are typically about 1-½ inches wide and incorporated with a cardboard webbing that runs through the interior to provide rigidity and prevent drumming.
Solid core doors have a solid, wood fiber blend crafted with a plywood or molded composite frame. Solid core wood interior doors are durable and look like natural wood.
Solid-core wood doors are affordable and can be used in various settings. They can also offer similar sound and temperature insulation as solid wood doors at a much lower price.
Another affordable choice is the stamped hardboard doors, sometimes called by the brand name Masonite. The materials used for these doors are relatively soft compared to other door materials.
However, these doors are usually covered with hard-baked paint and molded into a convincing imitation of the natural wood grain. Stamped hardboard doors are available in hollow core, while others are filled with foam, vinyl material or particleboard. These doors are easily dented, and the hardboard will swell if they become wet for prolonged periods.
Medium density fiberboard (MDF) is a popular and widely used material for wood doors since it is cheap and affordable. MDF is more rigid and less susceptible to denting than stamped hardboard doors.
Medium density fiberboard is an engineered wood product produced from wood scraps, shavings, and other recycled materials. Due to its construction, MDF has no grain, is easy to paint or finish, and will not warp or rot. Doors made of medium-density fiberboard usually serve functional rather than aesthetic purposes.
Which Is The Best Wood For Doors?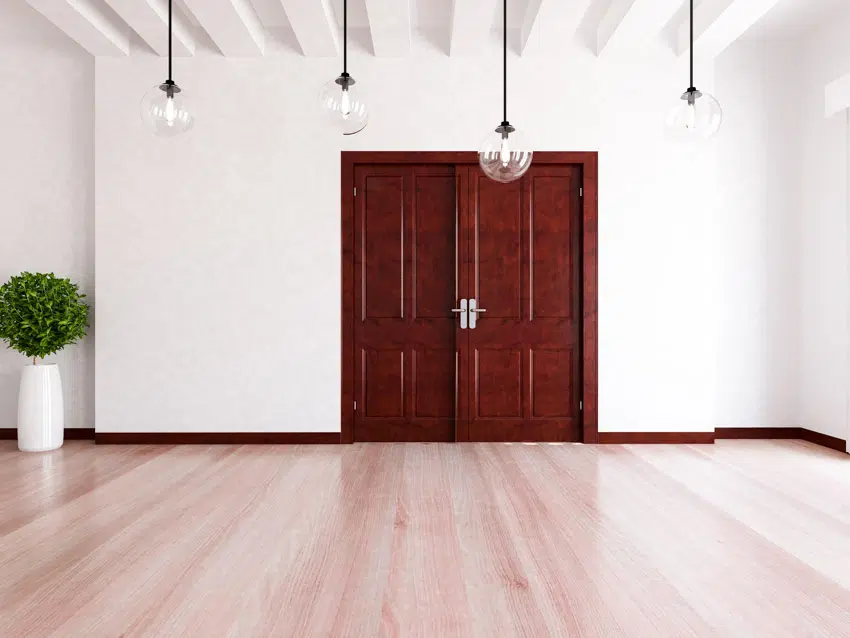 Understanding the different kinds of wood is essential in choosing the perfect wood for your door. Each type of wood offers its qualities that make them stand apart. Some woods are better suited for interior doors, while others make excellent choices for exterior doors.
It is also essential to consider that some woods are better for particular finishes, such as painting or staining. These hardwoods are suitable for all types of doors, such as traditional barn doors, Dutch doors, pocket doors, or shutters.
• Knotty Alder wood: one of the most popular interior doors is knotty alder since it has a beautiful, well-defined wood grain pattern that offers a rustic charm to the door. This type of wood is affordable, stains well, and makes an ideal choice for barn doors. Alder is a strong wood, similar to hard maple, with the charm and characteristic commonly associated with pine.
• Cedar wood: known for its aromatic qualities. The rich scent of cedar wood means that cedar has natural insect-repelling qualities. Cedar is also moisture resistant and exceptionally durable for rot and decay.
Cedar belongs to the hardwood specie, and its natural characteristics make it less prone to warping and shrinking and keep the home insulated and safe. Using a clear or tinted stain is the best option to save the natural reddish-cinnamon color of cedar. Cedar wood is most frequently used for exterior doors.
• Red Oak wood: has a beautiful, open wood grain that helps bring a touch of tradition and a rustic look. Red oak wood has high shock resistance and is ideal for exterior and interior doors.
It is an exceptionally dense wood species, which provides a combination of strength and durability for doors. Although red oak wood may shrink due to weather conditions, it is low susceptibility to wood rot. The medium-brown color of the red oak wood with a reddish hue is perfect for a clear stain coat finish.
• Cherry wood: typically used for fine furniture and high-end pieces, this wood is a beautiful and an ideal choice for interior doors of any style for its high-fashion look. Cherry wood offers a fine, straight grain that gives the wood a smooth texture.
Its beauty comes from its reddish-brown color, making a clear or light stain the perfect finish for this wood. The cherry wood color will change with time depending on several factors, it may fade, or at other times its reddish tint may grow darker.
• White pine wood: this wood is ideal for creating interior doors when looking for something between knotty wood grain and uniform grain type of wood. White pine wood is known for its close knots, light brown coloring, and tight wood grain.
These characteristics of white pine wood will work well in spaces with a country style. Its knots and grain can be challenging to paint but not impossible; it would require filling the knots and sanding down the texture of the wood grain.
White pine wood doesn't warp as quickly as other pine woods, and they are durable, making it an excellent option for interior doors that will see high foot traffic and practical use.
• Hickory wood: this is one of the hardest available hardwoods, next to teak. A door made of hickory wood offers a high shock resistance due to the wood's natural density and strength.
It also has beautiful deep reddish-brown tones, some medium grain, and knotting that adds character to the door. It is best to simply stain hickory wood with a clear or light-colored stain to show off the true beauty of the wood's color and its wood grain.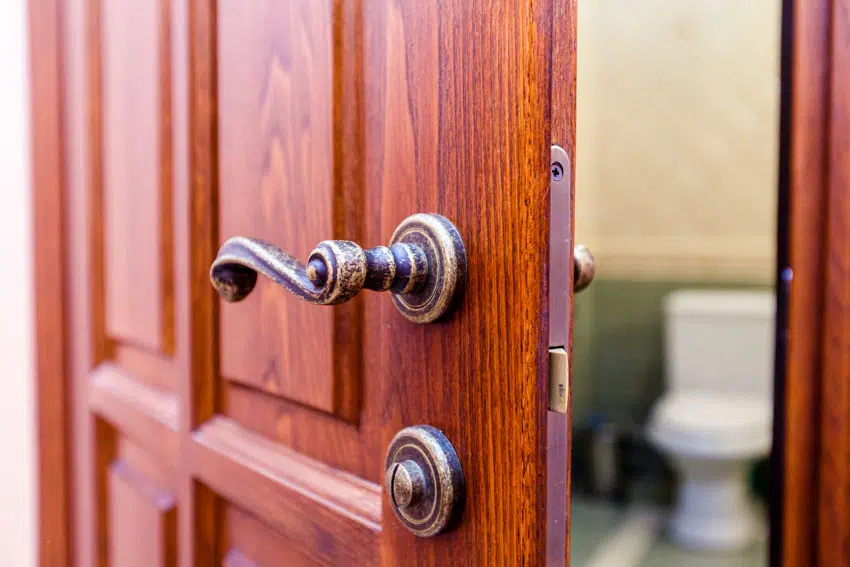 • Mahogany wood: this type of wood is reddish-brown, similar to cherry and cedar, which darkens with age.
Mahogany has a tighter wood grain that creates a distinctive pattern that makes it easily recognizable. This wood is resistant to rot and is stable, even in humid climates making it less prone to shrinkage and swelling than other hardwoods.
• Walnut wood: considered to be "the" American timber, walnut wood is one of the few types of dark wood with rich, chocolate-brown coloring and often with undertones of purple. It is a hardwood with a wood grain that often features circular and spiral patterns.
Painting walnut wood is not recommended as it hides the natural beauty of the wood; instead, using a clear or lightly tinted stain will help enhance and preserve the character of walnut wood.
Walnut is an energy-efficient material that helps insulate the room. It also does not absorb moisture quickly, thus, preventing any warping or shrinking.
• White oak wood: this wood offers a timeless look for interior doors. It is a robust and durable type of wood and works well in insulating and soundproofing any room in the home.
White oak is made famous because of its unique, tiger-like stripe wood grain. It features a light tan coloring with yellowish undertones. White oak works well with many colored stains because it is less porous and denser than red oak.
What Type Of Paint To Use?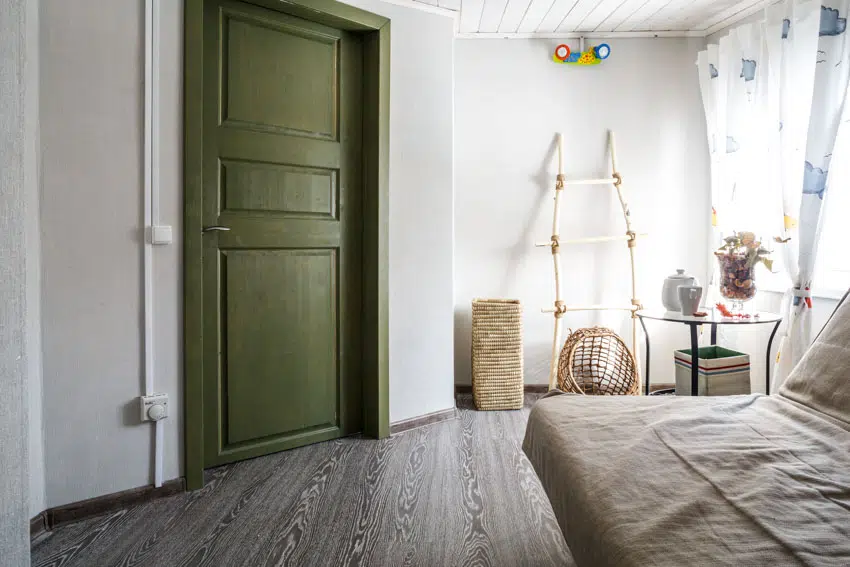 Painting wooden doors provide greater endurance and durability. Painting wooden doors will keep all the pests away, thereby pest-proofing your home, it will help add an extra protective layer to waterproof your door, and painting can also help in blocking the UV rays.
Wood is adaptable enough that either water- or oil-based paint is good enough to use as long as you coat it with primer beforehand. Tinted organic compounds in the wood called tannins can otherwise bleed into any water-based paint applied on the wood
This is true, especially when painting over dark, tannin-rich woods like knotty pine. Primer creates a barrier between wood and stain that prevents this tannin bleed-through.
Glossy paints are typically preferred for doors because they stand out and highlight these architectural features. They also help to prevent doors from unwanted nicks and scrapes better than flat or eggshell paint and could last longer. Remember that the primer you use must also match your paint type.
For painting exterior doors, the most common kind of paint is acrylic resin or latex-based and with a semi-gloss finish. Latex-based exterior paint is the most flexible type and is quite popular since the door will be exposed to rain, sun, wind, and other elements.
It seals in larger imperfections on a door's surface that helps resists cracking and chipping. It is also flexible and mold-resistant exterior paint. Paint with a semi-gloss finish is extremely popular because it's easy to clean, and various colors can contrast nicely with other elements.
Richly colored oil-based exterior paint is also an option since it features a high-gloss finish that will make the design pop, and this type of paint is also significantly resistant to chipping and dries quickly.
A gloss or semi-gloss sheen paint is the best paint for interior doors since it makes them easy to clean. Oil-based paints have strict durability and are vital in protecting against dings and scuff marks damage due to the traffic going around doors.
See more related content in our article about the types of closet doors on this page.