Here we share our louvered garage doors guide including what they are, designs, the door panels used, how it improves ventilation, and where to buy a louvered garage door.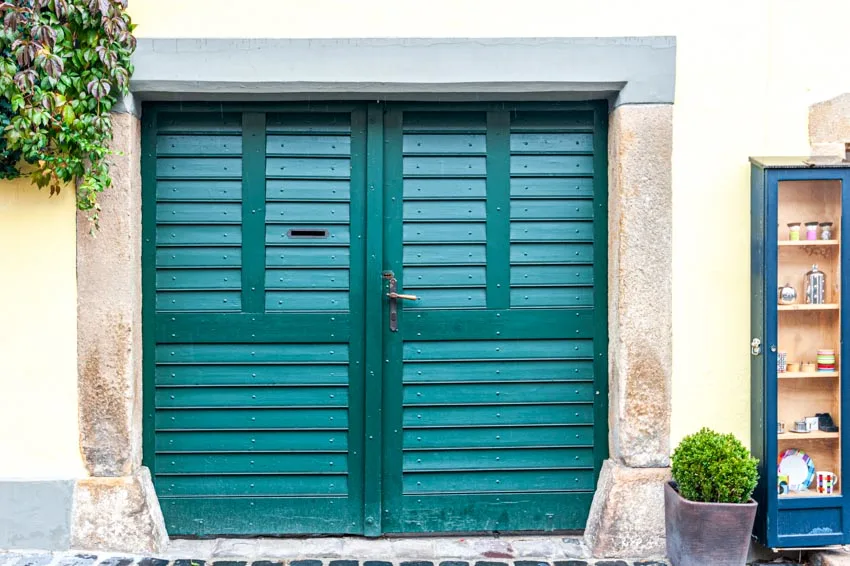 Louvered garage doors are a distinctive component of traditional exteriors, coastal homes, or contemporary farmhouses. They also go wonderfully with coastal or colonial homes.
Originally, louvered doors have been utilized on southern residences for generations and appear fantastic in houses that include a front porch. They were once famous for keeping the sun out while allowing fresh air in.
If you prefer the appearance of louvered shutters or doors, this revolutionary garage door style will complement the traditional exterior design very well. In this article, we will go over all of the necessary details about louvered garage doors.
What Is A Louvered Garage Door?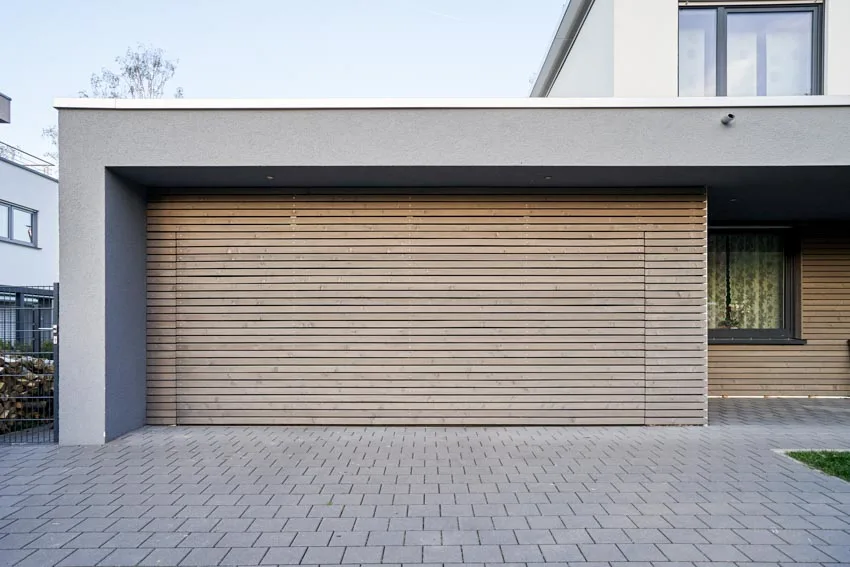 A louvered door or shutter is normally horizontally slatted and allows light or air inside. A louvered garage door, on the other hand, is a new and durable type of garage door and has a stamped arrangement that provides it with a louvered appearance.
Since the 18th century, houses have utilized louvered doors. Louvered garage doors do, in fact, complement the traditional style of houses.
Louvered garage doors give solid security while permitting ventilation and preserving a significant level of privacy for your residential or commercial premises. The majority of louvered garage doors allow filtered natural light into your garage while screening off direct sunlight.
Louvered Garage Door Panels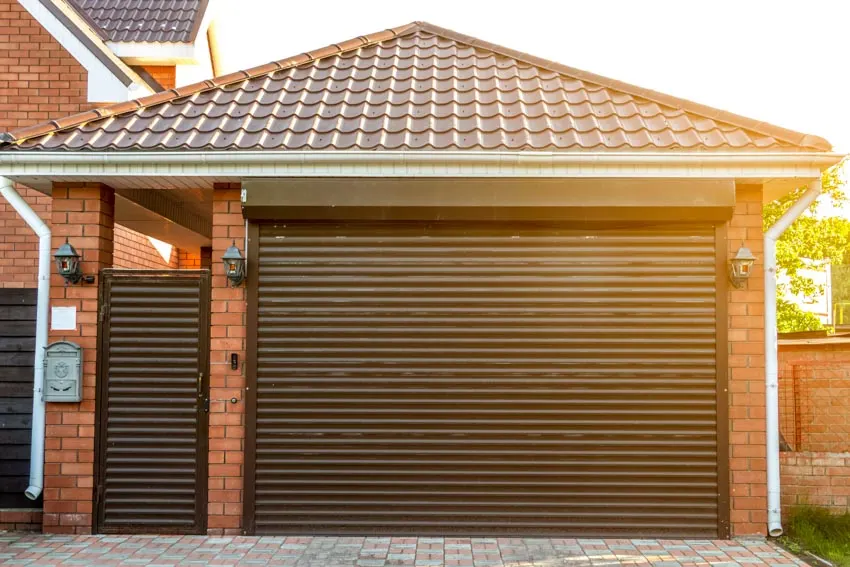 Installing louvered garage door panels is a great option if you want a garage door that serves as an accent element or if you want to enhance airflow in your garage. They are not only attractive, but they also enable appropriate lighting within your garage.
Most louvered garage door panels are made of attractive wood species and come in a variety of colors and finishes to suit any taste. Many manufacturers also offer louver style panels with a metal core, polyurethane insulation and faux wood cladding.

Louvered garage door panels, irrespective of the finish applied or color available, are a good option if you need more ventilation in your garage space. These garage door panels, when combined with a farmhouse or rustic-style theme, may produce a huge visual impact on your outdoor space.
Garage Door Ventilation With Louvers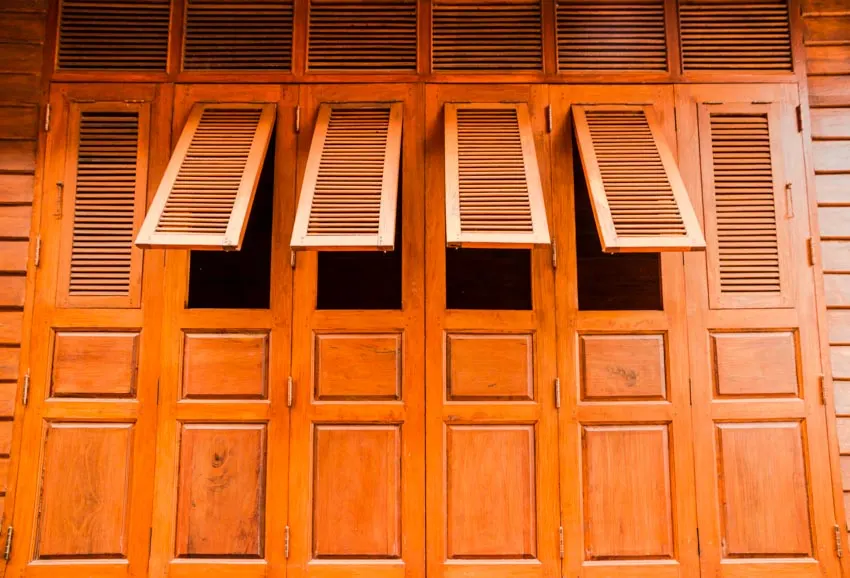 The main advantage of garage ventilation is that it reduces the temperature of the room to a comfortable level. Most types of garages may get quite hot throughout the summer, which is harmful to your cars and other items stored there.
Although air conditioning in your garage space is inconvenient, it is strongly recommended that you allow the hot air to go, which you can do by installing louvers. The garage will smell like chemical compounds and exhaust emissions if the air is trapped.
The louvers will minimize the need to lift the door, providing security, consistent airflow, and decreased heat transfer into closets and neighboring house walls. The louvers also aid in the prevention of intrusion.
The building code does not mandate garages to be ventilated. Having a well-ventilated garage will not add to the value of your home. That is why the option to ventilate a garage is based only on your needs and preferences.
If you consume a lot of time in your garage, then active garage ventilation would be necessary. Moreover, there is the consideration of making the place livable. Louvers can improve the insulation of your garage. These louvers, however, must be built of extremely durable materials. Otherwise, they would be easy to break into by intruders.
Where To Buy Louvered Garage Doors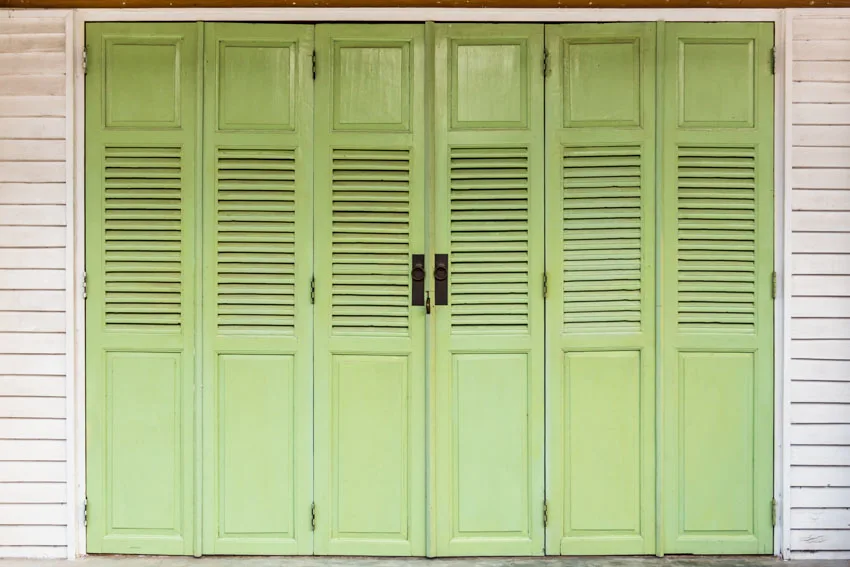 It might be challenging to find louvered garage doors locally or online. However, we know some garage door manufacturers that will provide you with high-quality louvered garage doors.
Here are some of the top louvered garage door manufacturers:

Clopay Canyon Ridge: Clopay offers louvered garage door panels that are fully customizable and come pre-finished, pre-hung, and prefabricated. Clopay has been making stylish, robust, and dependable garage doors for over 50 years.
Clopay is a part of the International Door Association as well as the Door and Access Systems Manufacturer's Association to strengthen its dedication to offering the finest technologies and solutions.
Furthermore, Clopay offers a large range of household and industrial louvered garage doors in a multitude of materials, finishes, and ventilation performance levels. Garage doors, particularly when matched with matching entry doors, have the power to totally enhance a home's exterior appeal.
Canyon Ridge Louver garage doors, which have plantation types of shutters, can genuinely bring beauty to your home. This adaptable style works well with coastal or classic homes and stands out on antique or modernized countryside exteriors. With the simplicity of upward operation, you may acquire the appearance of genuine louver doors.
In addition, plantation shutters are the inspiration for Clopay Canyon Ridge louvered garage doors. Steel is used for strength and longevity, while molded composite veneers are used for a realistic appearance. Such garage doors with louvers include:
• Faux wood veneer and overlay on a 5-layer steel foundation
• Faux wood-look hybrid cladding and overlay elements that are molded from real wood fragments to replicate the species' natural feel and detailed grain patterning
• Walnut, dark, medium, slate, black, white, and primed colors
• Insulation made of 2-inch Intellicore polyurethane with a thermal barrier
• WindCode door conditioning component obtainable for increased wind load uses.
Clopay louvered garage doors have five layers of protection. The low-maintenance, weatherproof faux wood-like composite overlaying and cladding materials will not warp, crack, or rot over time.
The Intellicore technology, as aforementioned, plays a huge role in the efficiency of these louvered garage doors. Intellicore insulation innovation is the most intelligent option for homeowners.
This technology is a patented polyurethane material that is inserted into a louvered garage door and expands to completely fill it. The end product is a louvered garage door that is extremely strong, energy-efficient, and long-lasting.
Bridgeport Garage Doors: Bridgeport, which is also under the Clopay garage door manufacturer, merges the iconic symmetry of wood slat and railing door styles with Clopay's steel construction's renowned durability. This results in superior fortitude, dent resistance, energy efficiency, and noiseless performance.
Bridgeport louvered garage doors have a limited lifetime paint warranty, a 10-year window protection plan, as well as a 3-year hardware guarantee. Aside from that, Bridgeport louvered garage doors come in two separate undermount panel designs, giving homeowners more design possibilities. These louvered garage doors do, in fact, comply with environmental rules.
See more related content in our article about the best drive through garage ideas on this page.