This guide to manufactured wood shares what it is, types of wood for furniture & flooring, durability, and how manufactured materials compares to solid, engineered wood, particleboard and MDF.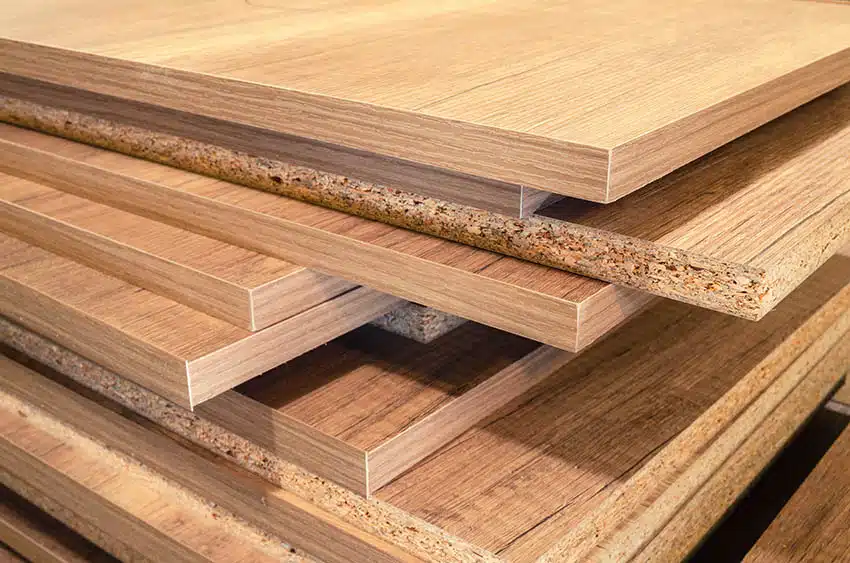 Nowadays, manufactured wood is most often used since it is debatably the wood kind that Is most easily accessible. Additionally, it has a larger spectrum of uses, is more adaptable, and is less expensive than solid wood.
Truly, manufactured wood can resist a greater temperature range, adjusts to fluctuations in temperature, endures significantly heavier pressures, and is more straightforward to install than individual elements of wood.
As a result, it is an excellent option to be used as a flooring material, furniture wood, or structural wood.
What Is Manufactured Wood?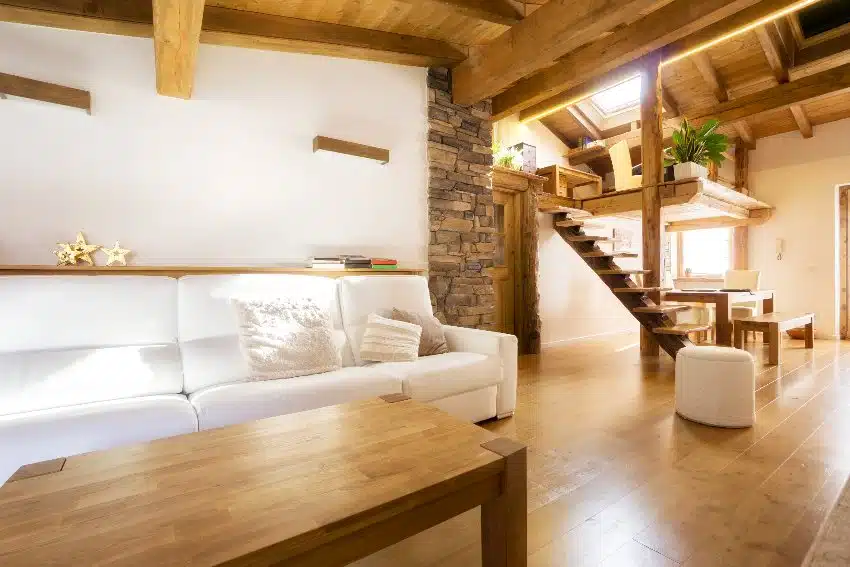 Manufactured wood, also known as engineered wood, is wood that has been transformed and upgraded by mixing and compressing different pieces of wood combined with other substances such as adhesives and sawdust. The upper surface of manufactured wood is genuine wood that has been treated often with melamine.
Underneath the upper surface of engineered wood is a pressed board. This material is mainly formed of wood, although it is a wood composite. It has a comparable look and feels to plywood, which is a commonly used construction material throughout most houses.
Manufactured woods are stacked in thin sheets on top of one another and crushed to be homogeneous and produce a single piece of uniform wood.
Depending on the components you select, these layers might lend distinct qualities to your work of manufactured wood. Resistance, heat retention, versatility, and lifespan are all desirable qualities of manufactured wood.
The advantage of using manufactured wood over types of hardwood, oak, or pine is that you do not need to settle on any specific attribute you want your wood to acquire.
Is Manufactured Board Durable?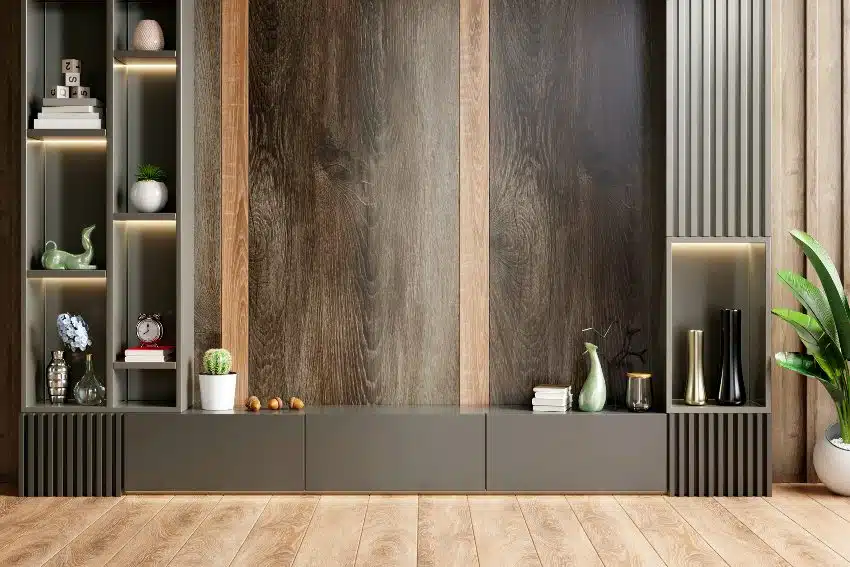 Yes! Manufactured wood has exceptional properties and is extremely durable. Due to the various layers of wood panels as well as the placement in a crosswire orientation, the strength of produced wood is also quite strong, making it suitable even in high-traffic areas such as floors. Natural wood veneers or top-quality laminates improve the appearance and sturdiness of their surfaces.
High-quality manufactured wood is exceptionally durable and moisture-resistant. It is even ideal to be applied in kitchens and bathrooms. It is also perfect for building modular kitchens, staircases, bookcases, and closets.
Because manufactured wood is stronger than solid wood, it is more resistant to dents and scratches, which would be important since floors are more prone to these occurrences.
Nonetheless, you must use high-quality manufactured wood for this. If not, there might come a problem with the wood flooring that will cause the entire floor to rot. Thus, when it comes to a crucial usage like flooring, you have to constantly make sure to acquire top-grade manufactured wood from the marketplace.
What Is This Wood Material Made Of?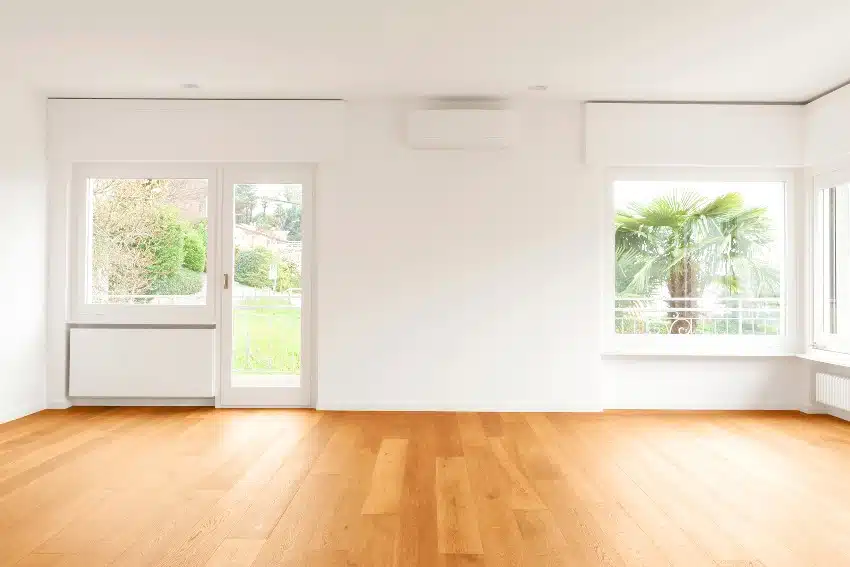 Manufactured wood, also marketed as MDF, is frequently made of gluing sawdust, fibers, and tiny bits of genuine wood together with high-quality adhesives. It can also be referred to as engineered wood, mass timber, or artificial wood.
Moreover, manufactured wood comes in a variety of patterns, colors, textures, and sizes and is commonly applied in indoor settings, while it can also be found in some outdoor spaces. Oiled, lacquered, untreated, and brushed are the most prevalent manufactured wood finishes.
Manufactured wood is created by combining and binding practically any type of wood, whether softwood or hardwood. Nonetheless, some producers choose to make manufactured wood from distinct wood varieties in order to achieve certain purposes.
Types of Engineered Wood
There are various types of manufactured wood that are currently on the market. The most common kinds of manufactured wood, as well as their descriptions, are mentioned below.
Medium Density Fiberboard (MDF)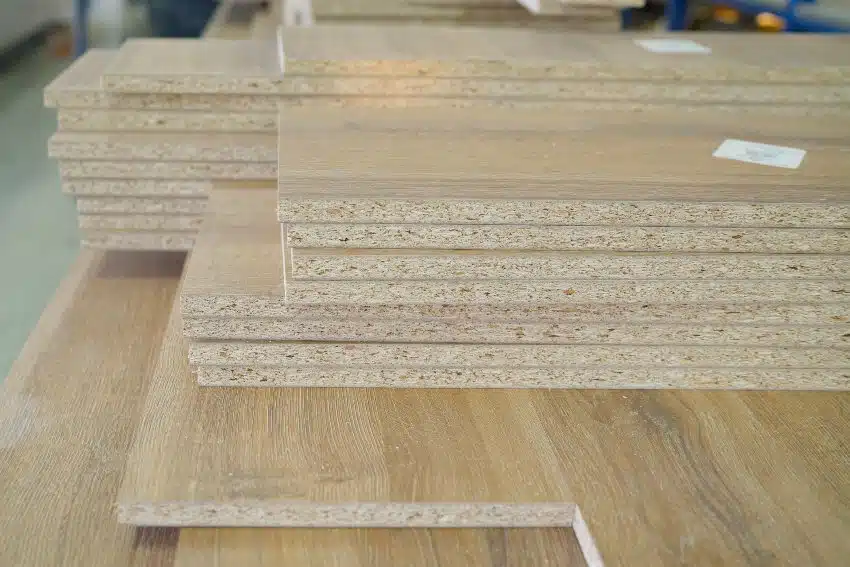 Because of their excellent properties, medium-density fiberboards are the most widely used manufactured wood. MDF has a considerable density and strength and they are substantially more inexpensive than solid woods. Adhesives and sawdust are used to make medium-density fiberboards.
They will initially dehydrate and remain in high temperatures. They will then fuse together using resins to produce the result. Eventually, they will cut to precise measurements with massive machinery.
Additionally, medium-density fiberboards are widely regarded as the ultimate alternative to genuine wood. They use repurposed wood, which is beneficial for the environment.
Countless designers and contractors have handled MDF for numerous years, and the vast majority of them have performed effectively in production and maintenance. You can enjoy them for years if you maintain them properly.
Furthermore, medium-density fiberboard is a multifunctional construction material. It is indeed inexpensive and suitable for cabinetry, shelves, storage units, and other ornamental applications. See pictures of MDF kitchen cabinets here.

It has a smooth texture that is ideal for painting. MDF's color ranges from beige to dark brown. Dealing with MDF is comparable to dealing with other popular types of wood such as plywood.
MDF, unlike actual wood, does not expand and shrink when subjected to heat and moisture. It is simpler to mold and paint in a range of colors than solid hardwood.
Interestingly, there are no knots in the surface of MDF, which can make it difficult to attach a piece. Furthermore, due to the chemicals involved in its production, MDF is impervious to pests like termites.
Plywood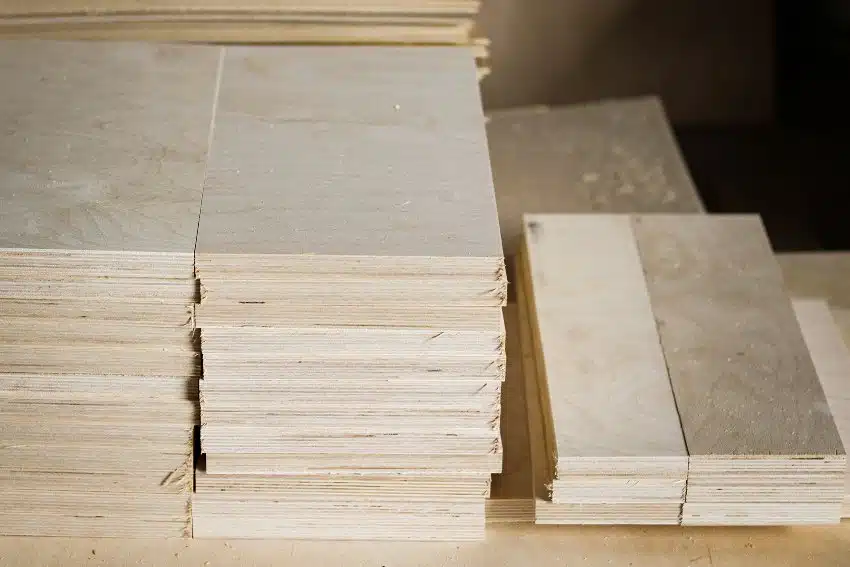 Plywood is believed to be the most durable manufactured wood since it is made by piling many layers of veneers until a durable and seamless solid board is formed.
Shrinking and expanding qualities will regulate as a result of attaching veneers crosswire across the grain. The volume of veneers in plywood affects its quality and quality.
Aside from that, plywood is a hybrid material made out of resin and wood fiber layers that are supplied in panels. Face veneers on a standard plywood panel are usually of greater quality than core veneers.
The core levels' role is to enhance the spacing between the outermost parts, wherein the bending pressures are largest, hence increasing resistance to bending stresses.
Plywood materials are frequently utilized for both structural and non-structural applications in either wet or dry operating situations – subflooring, single-layer flooring, wall building, roofing, floor sheathing, solid insulated panels, as well as concrete formwork are all included.
High-quality plywood can withstand lateral pressures such as strong wind and earthquake pressures and is an essential component of the structural membrane.
Furthermore, plywood can be used as foundation sheathing as well as finishing cladding. Specialized plywoods are obtainable in a variety of designs and textures for exterior cladding uses, merging the natural features of wood with robustness and firmness.
High Density Fiberboard (HDF)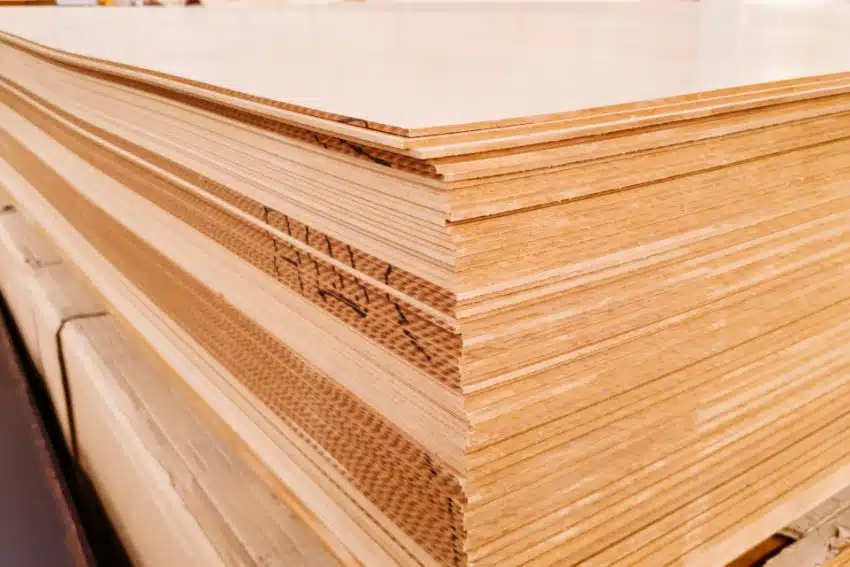 If you think MDF is not ideal for your project in terms of durability, high-density fiberboard, HDF, would be a great alternative. HDF is made in the same manner that MDF is.
Wood fibers made from discarded pieces and fibers are hot-pressed and then joined firmly under extreme pressure with artificial resin binders. Nevertheless, it differs from MDF in numerous important aspects. For starters, HDF is quite dense.
This places HDF in the very same classification as genuine greenheart and ebony wood. It is considerably more structurally stable than MDF, which means it does not end up losing shape as a result of temperature fluctuations.
Even though it is less popular than MDF since the majority of consumers prefer MDF, HDF is one of the greatest substrates for laminated flooring since it is exceptionally durable and strong. You can also find HDF kitchen cabinets that are rising in popularity.

If you seal all the sides thoroughly, it is additionally quite water-resistant. Aside from floors, HDF is frequently used in the construction of wardrobes, cabinets, wall panels, and display shelving.
Particleboard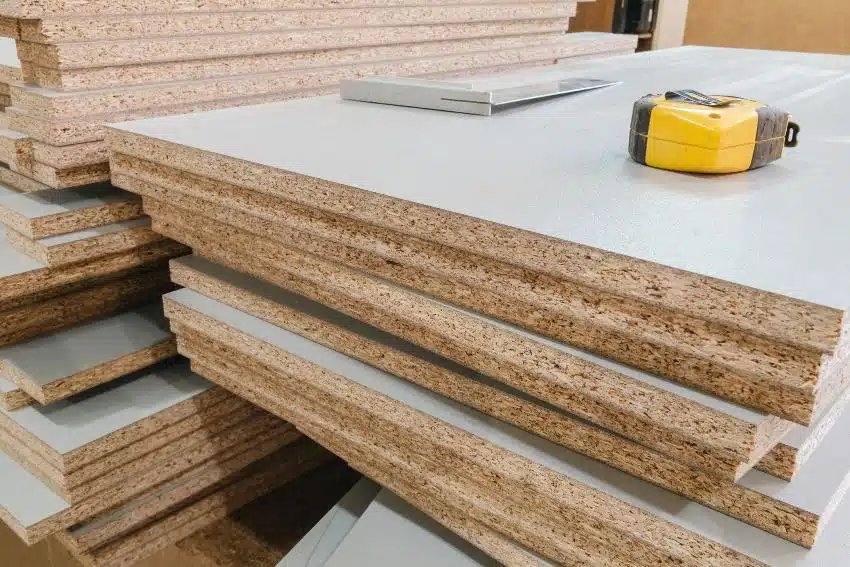 Particleboard is a low-cost flat board created by gluing adhesives to sawdust as well as resins. It is often used in low-cost wood production. Woodworkers primarily use veneer to strengthen it, beautify its appearance, and make it more stain-proof.
Particleboards are commonly used in low-class furniture, underlayment, floors, ceilings, door frames, and wall panels. It is a versatile, low-cost wood with numerous advantages.
Moreover, particleboard is an excellent core component for doors since it offers a seamless and level surface that quickly adheres to the door body and has a high screw-retaining ability for installing hinges. Particleboard is also used to create artificial ceilings.
This is due to the particleboard's excellent thermal insulation. They are also utilized as ceiling panels in a variety of structures.
Particleboards are also used to make dressing tables, tabletops, kitchen cabinets, shelves, bookcases, shoe racks, and bed frames.
They are also commonly used to make speakers since they absorb sound quite well. Hence, they are also seen on the floors and walls of music studios, concert halls, and media spaces for this purpose.
Fiberboard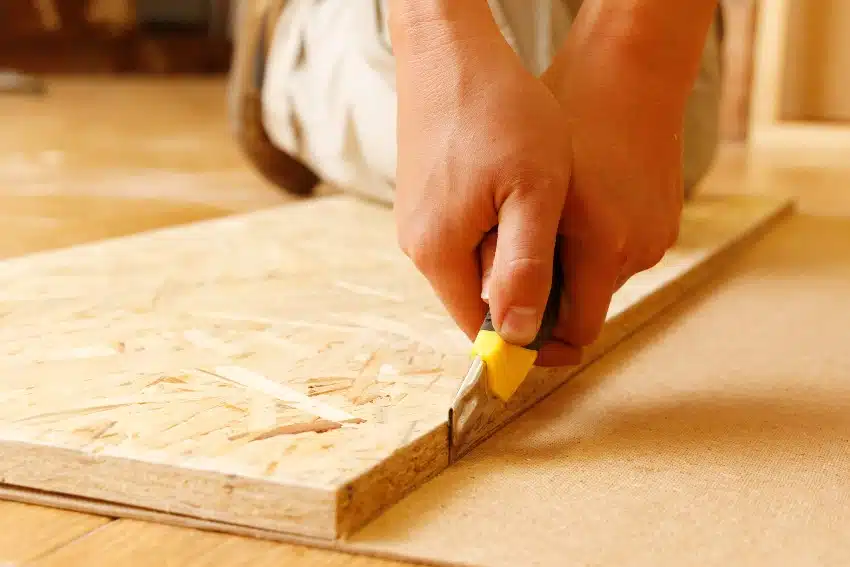 Fiberboard is a thicker board when compared to other kinds of manufactured wood. It is far less prone to cracking and chipping.
Fiberboards are made by cutting wood into smaller parts and heating it until it becomes fibers. The fibers then dry and join collectively with adhesives to generate fiberboards.
In addition, fiberboard is normally made up of 90% wood and has a uniform texture, consistent strengths in all directions, and a high bending capacity.
Furthermore, fiberboard is not prone to warping and fracturing, and it completely eliminates the flaws of wood. Rather than wood, hard-quality fiberboard can be utilized as a wall slab, door panel, flooring, furniture, and other decorative elements.
Wood Veneer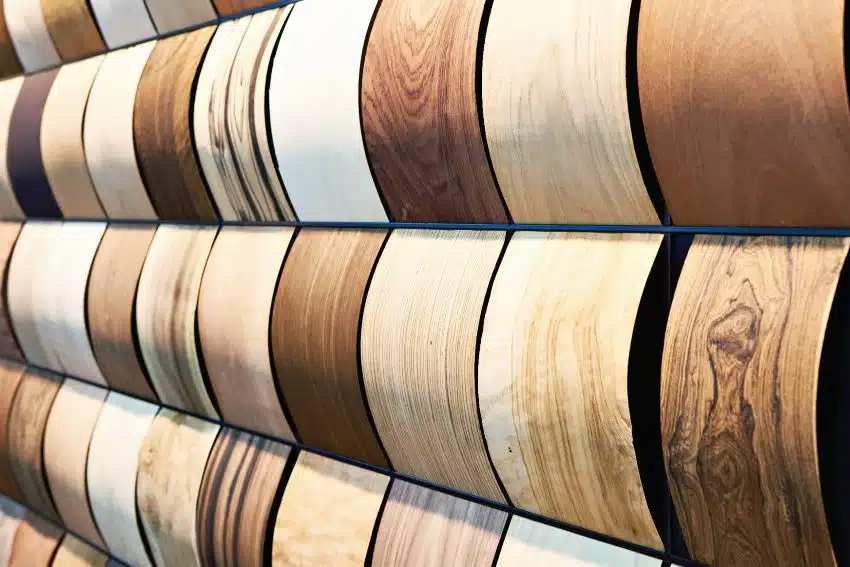 The veneer, which is compressed onto core panels, is a thin piece of wood. It is made of natural wood that has been scraped and bonded with particleboard, MDF, or plywood. There are numerous veneer grades with numerous applications.
It is also utilized as an element in various sorts of producing wood. In actuality, wood veneers are a classic and functionally crucial part of furniture-making that is still used in current architecture.
Normally, a veneer is a "paper-thin" piece of wood used in carpentry. It is typically used to encapsulate and support a solid core surface such as furniture-quality MDF or surface structure. When creating built-in furniture or something with a mechanism, the role of wood veneer is vital.
Cross Laminated Timber (CLT)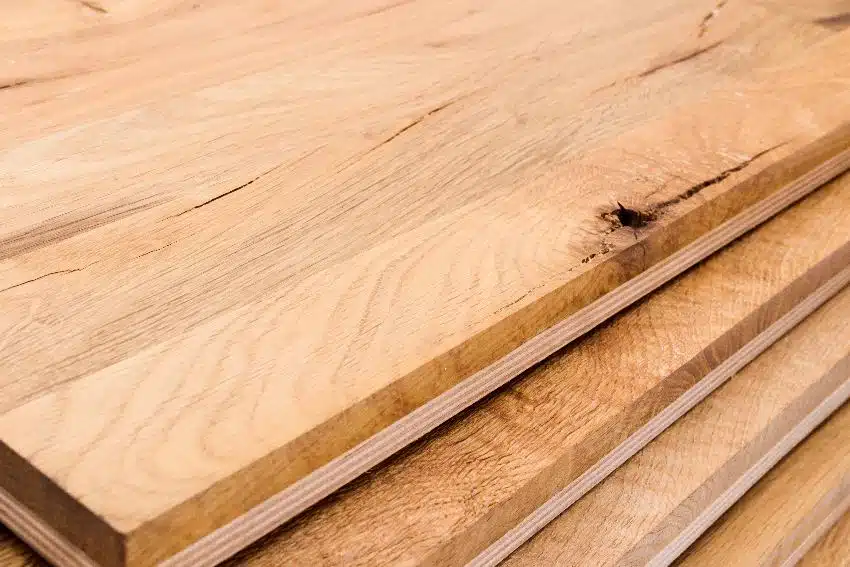 Cross-laminated timber (CLT) components have become increasingly popular in recent years as they discover new usages in construction as well as production. CLT is made out of sawn and piled wood boards that are aligned perpendicular to each other to produce strength and rigidity in each direction. As a result, it is nearly as thick as plywood.
Furthermore, CLT panels are often utilized as partitions, floors, walls, and other pieces of furniture. Thicker versions of cross-laminated timber panels can also be used to construct ceilings, platforms, columns, and roofs.
Oriented Strand Board (OSB)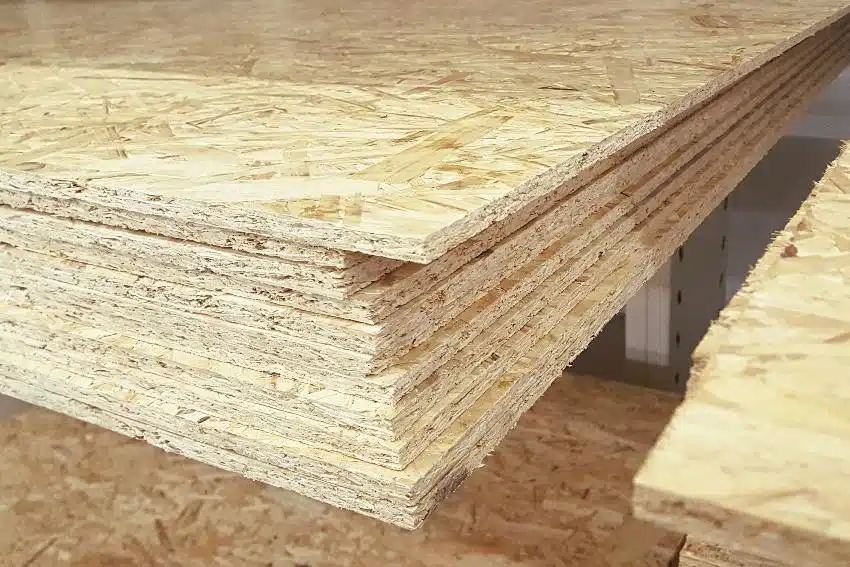 Oriented strand board (OSB) is another form of manufactured wood that is becoming extremely prevalent nowadays. This is constructed of watertight and heat-cured adhesive as well as cross-oriented sheets of rectangular-shaped wood fibers.
This provides it with the same strength as plywood in terms of resistance to bending, warping, and twisting. It is, nevertheless, waterproof, unlike plywood.
The most typical applications for OSB are roof installation, wall cladding, and floor insulation. It can, nonetheless, be used as the web component for prefabricated I-joists as well as the surface layer for structurally insulated boards.
Can It Be Used for Furniture?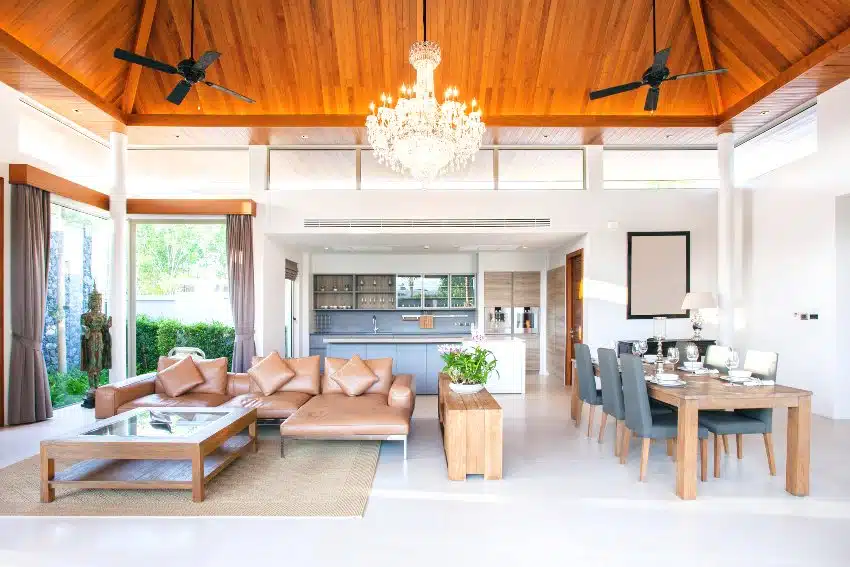 Manufactured wood is almost universally suitable for all of the furniture we are using in our everyday routines. Manufactured wood can be used to construct seats, workstations, cabinets, bed frames, racks, sofas, and drawers, as well as an assortment of outdoor furniture. MDF and plywood are the most often used types used for creating furniture.
Manufactured wood is a superior option for furniture to any other wood variety due to its aesthetic appearance, machinability, screwing and nailing ability, workability, smoothness of the top, and simplicity of painting.
Flooring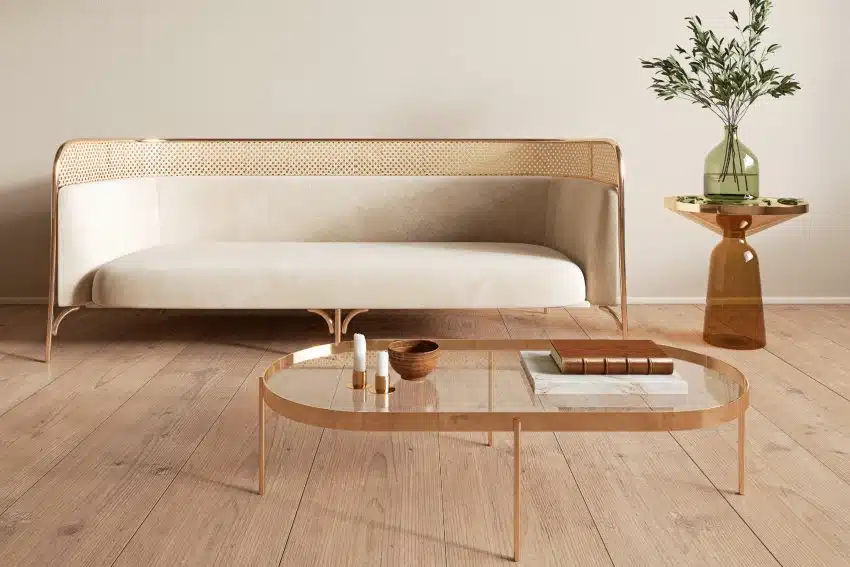 Although solid wood is the most popular option for wooden floors, manufactured wood also performs admirably and costs less. Due to the high cost of solid wood, manufactured wood has become the preferred flooring material with certain enhancements.
The advantages of manufactured wood are numerous, and it is quite durable. The hardness of produced wood, which is used in flooring, is also quite strong due to the several layers of wood panels and their placement in a crosswire pattern.
Most significantly, when painted and stained manufactured wood is simple to maintain. It is simpler to care for and lasts a long time.
Since manufactured wood is firmer than genuine wood, it is more resistant to scratches and fractures, which is important since floors are usually high-traffic.
Since it is easy to paint and stain, inexpensive, ecologically friendly manufactured wood would be an excellent flooring solution. Although manufactured wood is terrific for flooring, only high-quality manufactured products should be used.
What Makes It Different from Solid Wood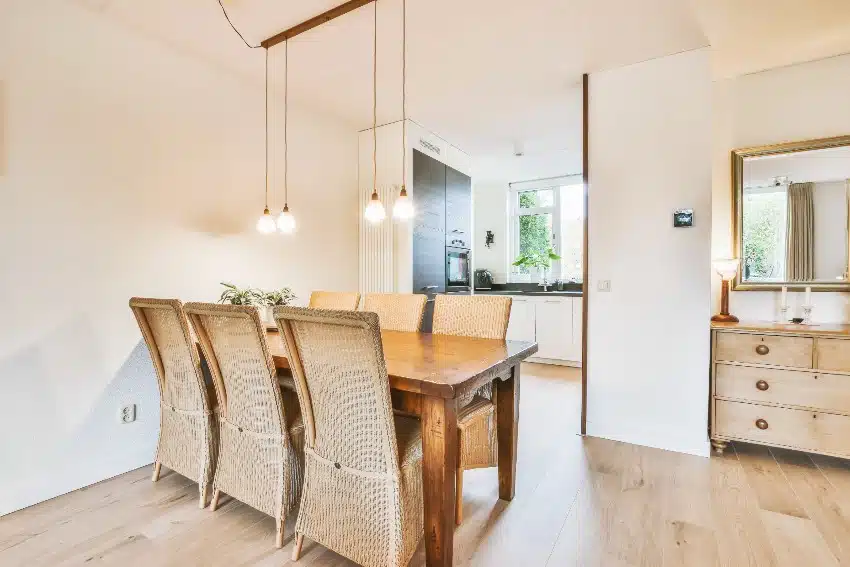 It is quite easy to confuse manufactured wood with solid wood unless you have a keen eye. This is because manufactured wood is often layered with natural wood – veneer. However, in reality, the differences between it and solid wood are as stark as day and night.
For starters, solid wood is obtained from trees. That means they are as genuine as they can be. They are created from a solid piece of wood and do not include any adhesives or glue.
All of the sections, from the exterior bark to the core, are cellularly connected. This naturally increases their durability.
The opposite is true with manufactured wood, which is essentially a compressed mixture of organic materials coupled with non-natural chemicals. The veneer that envelopes the composite panel is the sole thing made of wood.
In addition, if you stare at a slab of manufactured wood from the sides, you can see the levels that build it up. However, the same does not apply to solid wood slabs.
Is There Any Difference Between Manufactured and Engineered Wood?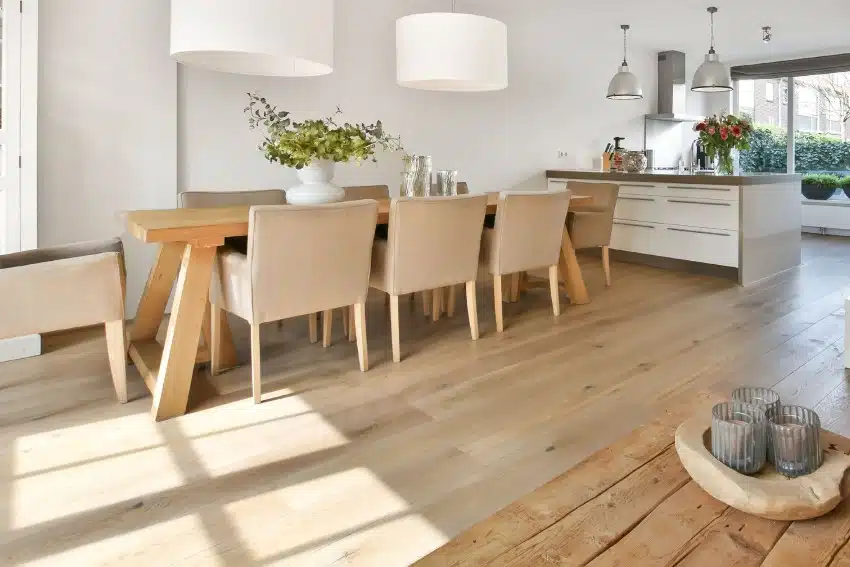 Manufactured and engineered wood are generally the same. Engineered wood is merely the other term for manufactured wood since it is a wood derivative material formed by binding or fastening fibers, particles, or strands altogether using adhesives or other means of the engineering process to make composite products.
What Is Particle Board?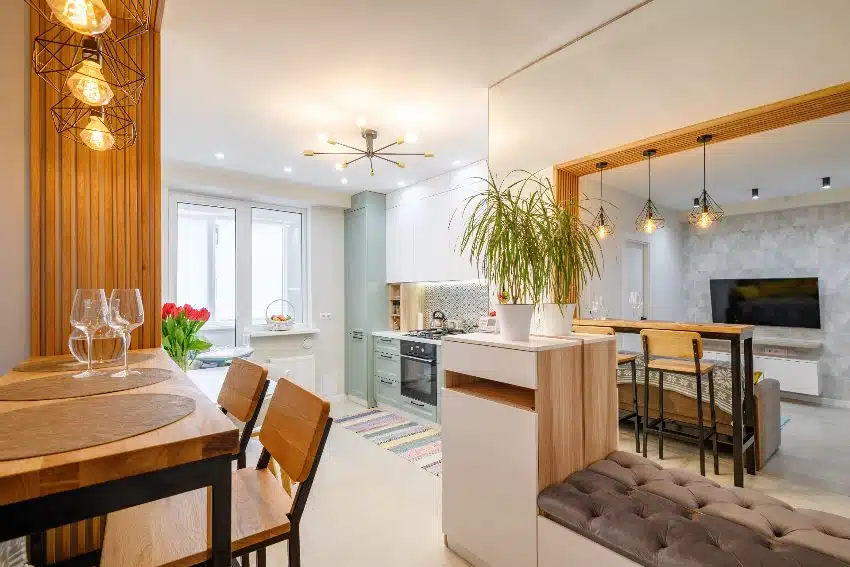 There is no difference between manufactured wood and particle board. Particle board, as previously indicated, falls under the category of manufactured products. Particle board is made by compressing and forming various wood byproducts such as wood shavings, sawmill wastes, and sawdust.

What Is MDF?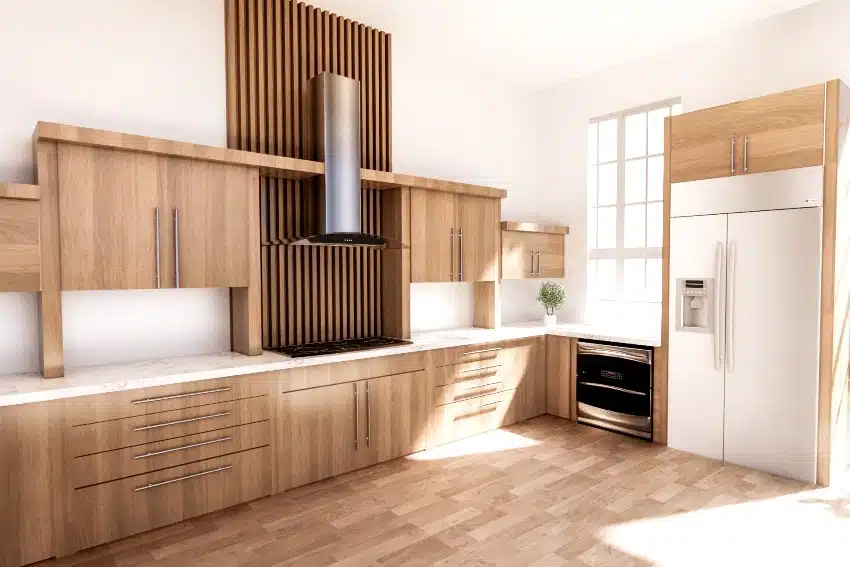 Manufactured wood is a broad word for any derivative wood product created by gluing together fragments and fragments of wood, sawdust, and scrap wood. It is a generic category that includes wood variants including medium-density fiberboard (MDF).
Because they are tougher, more durable, and eco-friendly, both of these wood variants have replaced genuine wood in indoor and outdoor construction projects. They are also simple to handle, accept paint and adhesive well, and feature a seamless finish.
Manufactured wood is a vast range of construction materials that are created artificially by integrating various layers of wood that have been treated with chemicals under high temperatures and pressure. Each material includes a distinct production method, and the end result has enhanced structural support.
Medium-density fiberboard, on the other hand, is an excellent choice for numerous domestic and commercial construction projects. It may also fall under the category of manufactured wood.
It is made by reusing hardwood and softwood scraps. Such byproducts are ground, dried, and then combined with resins and waxes in a defibrillator at high temperatures and pressure to create massive wood boards.