Here we share what color hardwood floor is best for resale with top stain colors to use and ones to avoid.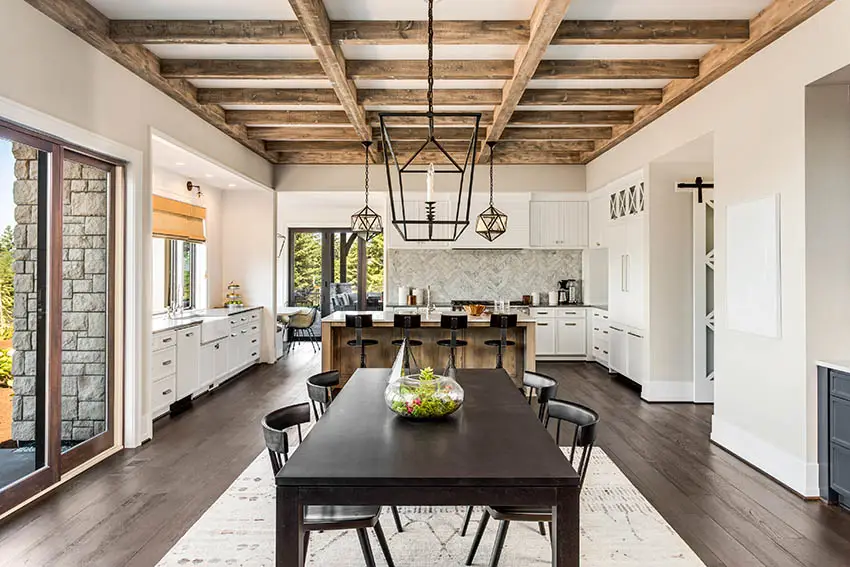 When considering the resale value of a home with hardwood floors it is best to use one of the highs or lows on the color spectrum.
The price will be influenced by the colors and tones of the wood and whether they can stand the test of time. Certain types of hardwood floors are timeless and will hold up better over time than others, resulting in a higher resale value.
Additionally, there are some other considerations when selecting wood colors. Some of those could be: the design of the home, if you're trying to fix up older or damaged wood, and if you are trying to restain or cover a naturally red wood.
When it comes to selecting the best color for hardwood floors here are the best choices:
Dark Stained Hardwood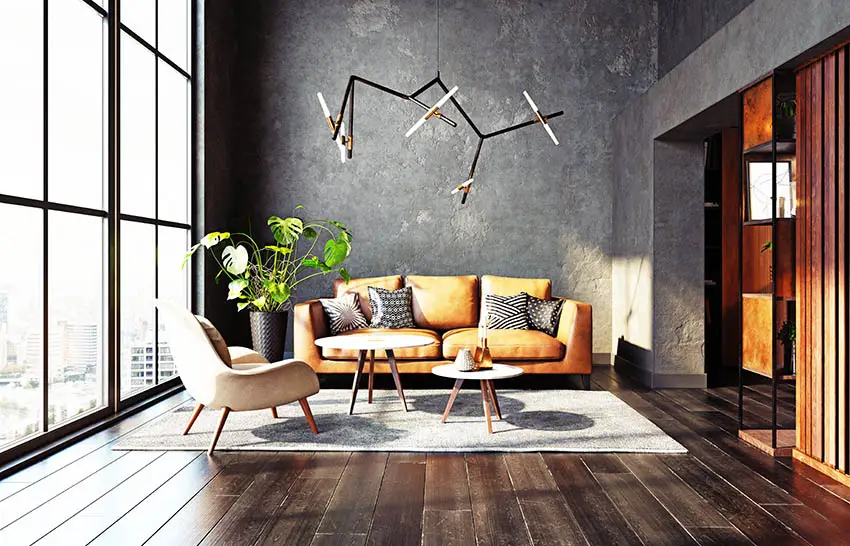 Dark stained hardwood flooring is by far the best selection when it comes to overall popularity and resale value.
Some of the best darks stains for wood are espresso, dark walnut, and antique brown. These darker colors often give way to more color combinations since they do not lean towards a yellow or orange tint.
This instead lends itself to both the richer warmer colors with darker brown tones, and also the cooler tones using a darker cooler black brown wood color. Usually the darker the floors are the more upscale and luxurious the space looks.
See some of our picks for paint colors that go with dark wood floors here.
Light Hardwood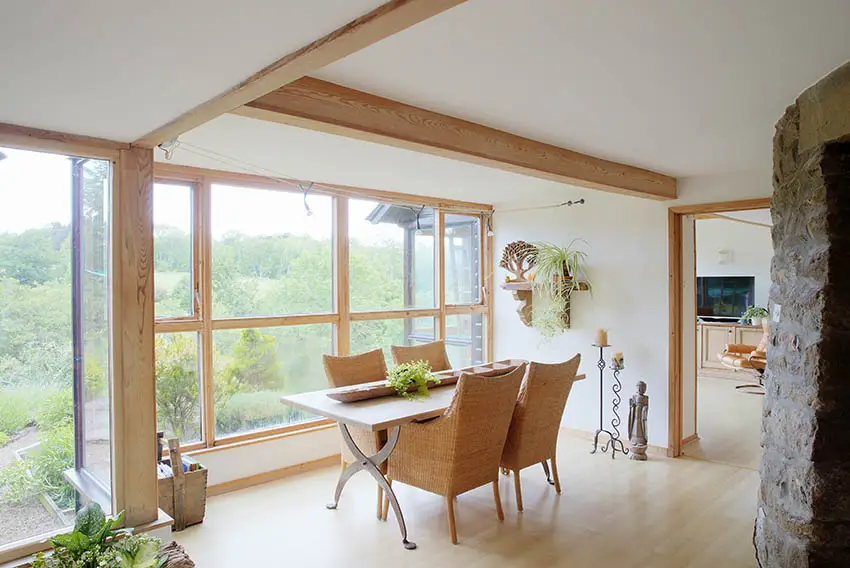 On the complete opposite side of the spectrum is the pale light wood tone. Using a light hardwood typically means not using any stains at all and instead just going all natural with the wood. This can only be done for certain type of woods though.
As mentioned before a consideration when deciding the color is the species of wood, if the wood is a naturally red wood, going to a light color is virtually impossible.
In cases where going light is an option, it is good to also consider that the wood not get too yellow. This can be done by using the right type of strippers and sealers (specifically water based polyurethane).
The light pale wood gives an open and bright look to the space that is quite appealing to buyers.
What Color Hardwood Floor Should You Avoid For Resale
With a few colors mentioned above that are the best when it comes to resale value, sometime you cannot always achieve that color.
Once you have crossed those off the selection list, there are a few others to make sure to avoid. These are colors that drop the resale value down or make it difficult to sell.
Yellow and Orange Hardwood: Yellow and orange hardwood flooring are a very dated color of hardwood.
This is pretty unfortunate because the color itself is pretty difficult to remove or cover once you get it down. This color is going to have to be covered with an extremely dark color if you ever want to change it.
Black Hardwood
Black Hardwood flooring is somewhat jarring, while it can be extremely sophisticated is not for most buyers. Similar to the above mentioned orange color, black stain is going to be very difficult to restain or cover if that is ever the decision.
Additionally, black tends to show a lot of dust and is difficult to keep clean. It also can make the room feel dark if there is too much of it. These can be huge turn offs to a potential buyer.
Most Popular (Trendy) Hardwood Colors
While there are some colors that are great for resale, there are others that are the most popular and trendy.
Why wouldn't these colors be the same one may ask. Colors that are popular right now, may not be easily paired with, or be popular in a few years when a home is ready to sell.
They also limit the people who may want to purchase the house if they are not into the newest trends, usually only up to 20% of buyers are looking for the current trending finishes.
That being said two of the most popular colors for hardwood floors are below.
Gray Hardwood
Gray is extremely on trend right now, as it gives a light, cool feel to the space. This is best paired with and all gray palette.
Gray walls, tiles, hardwood, etc, using neutral accents with blacks and whites are a great combination with the gray hardwood flooring.
This being said, it is often a difficult to pair with warm colors or anything else wood or brown related. Read more about what colors go with gray floors here.
White Washed Wood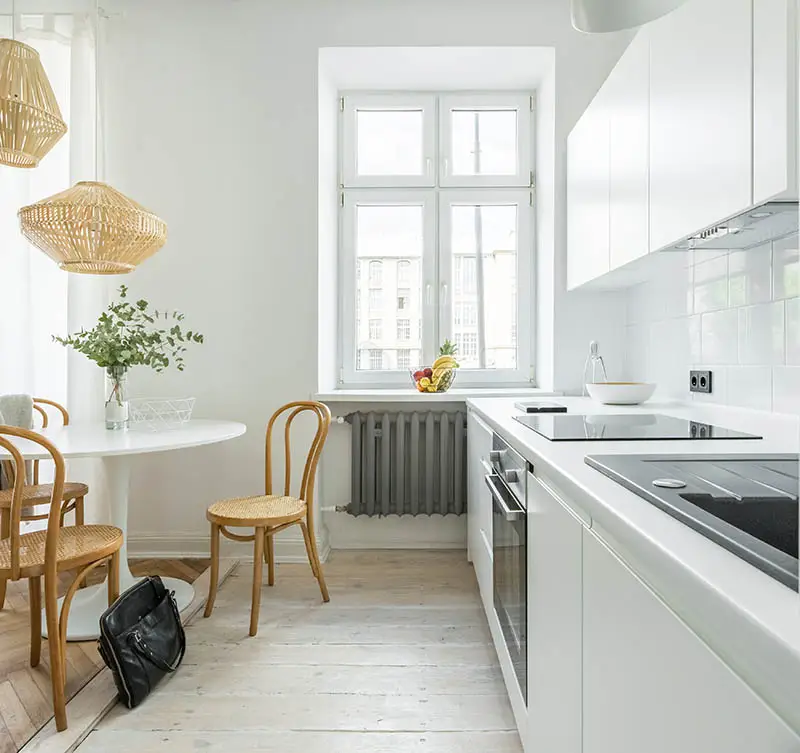 White washed wood in general is a hugely popular trend right now, and has been used on flooring recently. This creates a nice, rustic, farmhouse aesthetic that is sought after.
This is a difficult color to do as the process of white washing something as large as an entire floor is quite the task. Additionally the color is hard to achieve compared to a standard stain.
We hope you enjoyed our article about what color hardwood floor is best for resale. Let us know in the comments your favorite color of wood flooring and why.