A popular question is what type of flooring can you put over ceramic tile? Here we look at laminate flooring, wood, carpet, vinyl, cork, and epoxy coating for new flooring ideas for your home.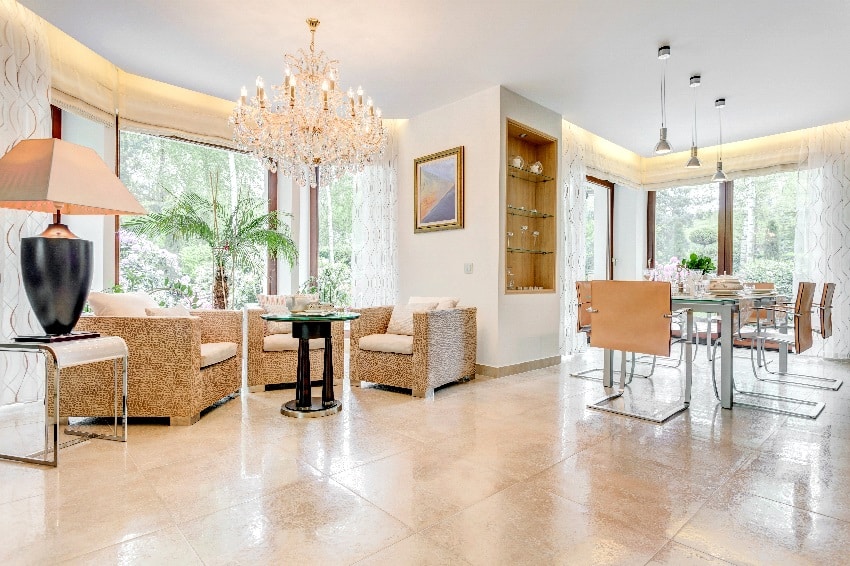 Ceramic tiles are a very versatile flooring material. These types of tiles work in any room of the house because of their wide range of design options.
Ceramic tiles are also easy to clean — you can easily wipe dust and dirt from the surface with a mop or sponge. Most of all, ceramic tiles are very durable and do not break easily
They're also tough to remove. So if you are planning to change your ceramic tile flooring with another material, here are a few things to consider:
Removing ceramic tiles is a dirty and labor-intensive process.

Ceramic tile removal is expensive. Removing them costs around $5 for material and around $7 for labor per square foot.
To save money and labor costs, many homeowners decide to just put over a new flooring type over ceramic tile.
Flooring is an important element in the interior design of your house. The material, color, and pattern you'll use will greatly affect the overall feel of your home.
If you're planning to put new flooring over your ceramic tiles, what type of flooring can you put over ceramic tile? Here are 6 materials that are perfect for giving your home a new look.
Ceramic Tiles
Yes, you can put new ceramic tiles over new ones. Just make sure the old tiles are evenly placed and have no cracks.
Before installing the second layer, sand the old tiles to allow the new tiles to stick and set properly. In some cases, you might do some patch levelling so the new tiles can sit evenly.
Another thing to check out before installing new tiles — check out for mildew and deep discoloration. Any sign means an absorption issue that can worsen when you put over new tiles.
It is better to remove the tiles all together and replace them with new ones. Read more about ceramic tile flooring pros and cons here.

Laminate Flooring
If you're low on budget, laminate flooring is a cheap solution that goes well over ceramic tiles. They come in a variety of styles and colors.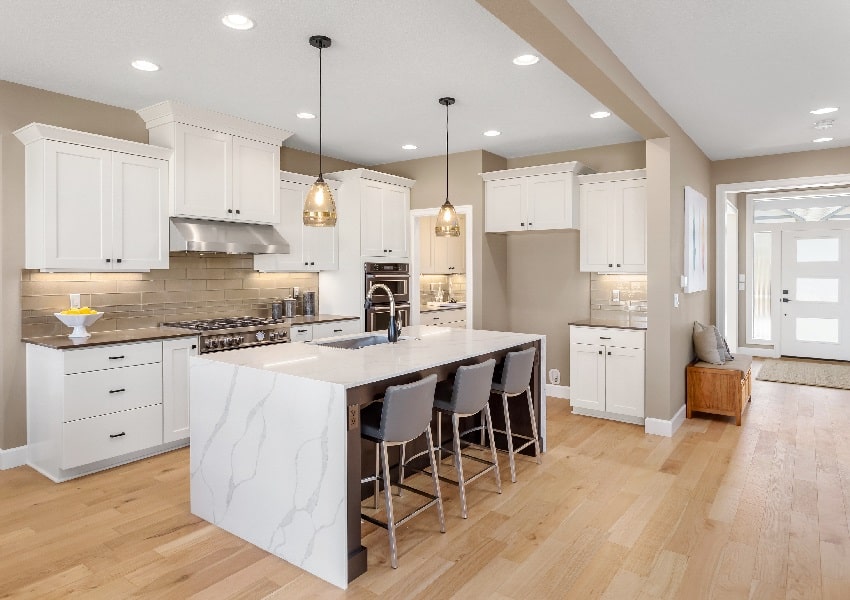 Some even resemble natural wood. It's a great choice if you want to add an element of warmth to your home.
Laminated flooring is also fast and easy to install because it doesn't need any adhesive. It's the ideal flooring solution if you lack the time and energy to install new tiles.
This type of flooring has one drawback, though. Its top layer fades off over time. It also tends to disintegrate when exposed to excess moisture.
Vinyl Flooring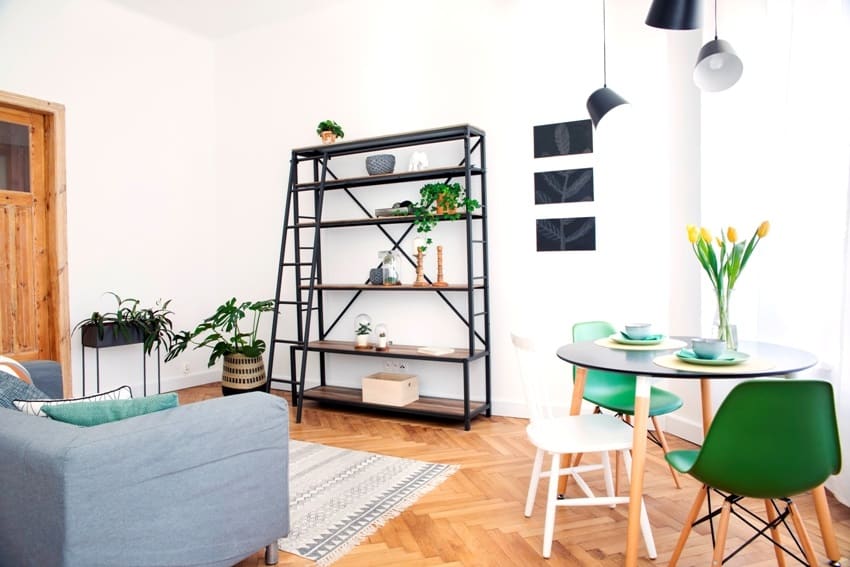 Vinyl flooring is a stylish and durable flooring solution that is easy to install. Some vinyl installation types include peel-and-stick, self-adhesive, and interlocking vinyl floor tiles.
If the top of your old floor is clean and even, you can just lay it down directly over the ceramic tile.
Vinyl floor tiles are low maintenance, too. You can find water-resistant vinyl tiles that come in realistic hardwood and granite designs.
Vinyl flooring, however, tends to fade when exposed to sunlight for a long time. So it's not recommended for outdoors or rooms that get a lot of sunlight.
Wood Flooring
Wood flooring can also be placed over your old ceramic tile floor. However, there are a few exceptions to consider.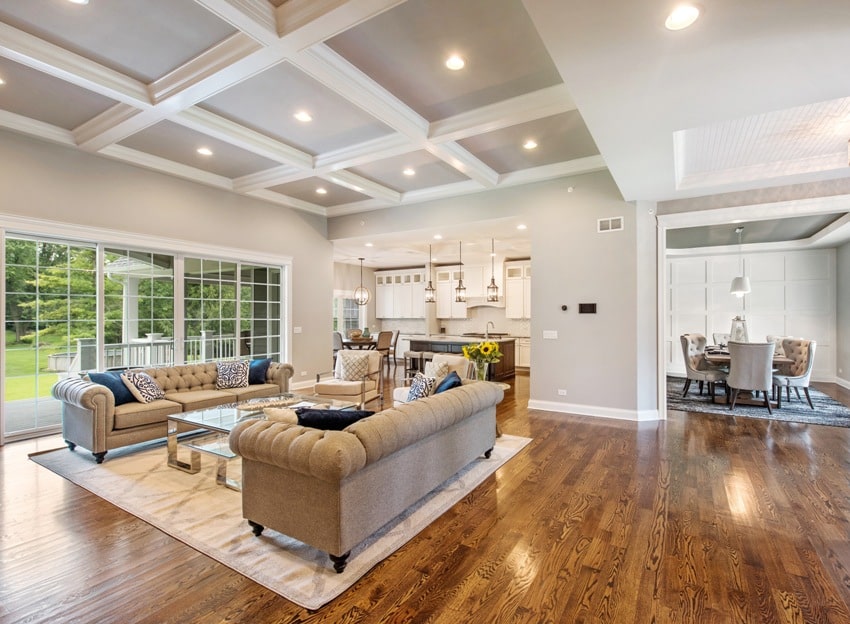 Wood flooring is not ideal in rooms with high moisture content. Moisture can warp or destroy the edges of the plank. With that in mind, you need to fill the grout lines of your ceramic tile to prevent moisture from pooling underneath the cracks.
The common installation method for wood flooring is nailing or stapling planks to your subfloor. If you do this, it can break or damage your ceramic tiles. Instead of solid wood, engineered wood flooring is the best option. Read more about the cost of hardwood flooring here.
Engineered wood is between 5/16 and 5/18 – inch thick. They also come with an interlocking system, so it can be floated with an underlayment instead of nailing or stapling it.
Carpet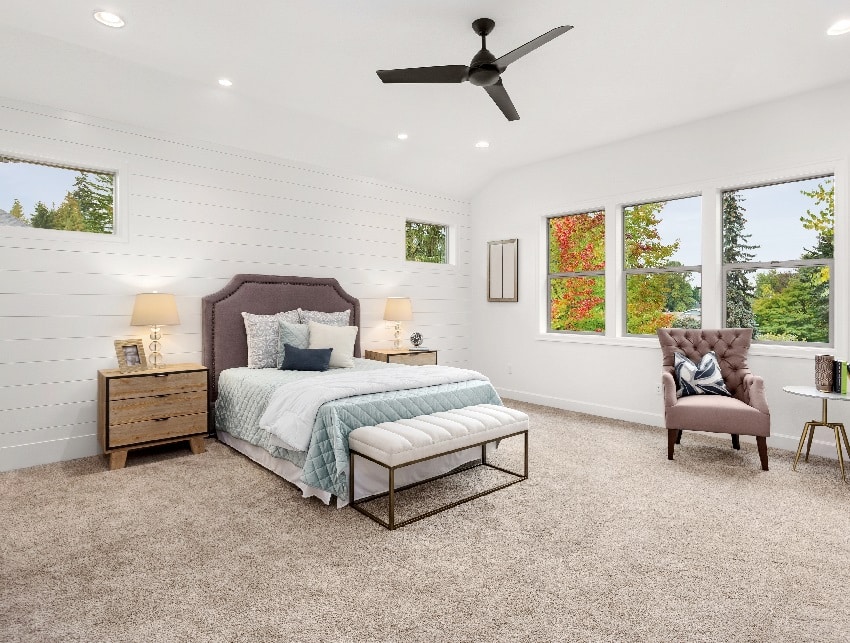 Carpet is another easy and low-cost solution if you want a new flooring over your ceramic tile. Before installation, check for any broken tiles or a hollow sound when tapping the tiles.
That's an indication that the tiles are coming off. You need to re-attach or replace those broken tiles first.
One of the challenges of laying a carpet over ceramic tiles is you can still feel the cold, hard surface. So choose a thicker carpet as much as possible — the thicker, the softer it is.
Experts recommend using a 10mm-thick (or more) carpet flooring. Aside from keeping out the cold, it will also even out any uneven surfaces below. See more types of carpet including their pros and cons here.
Epoxy Coating
Applying epoxy coating on ceramic tiles sounds impossible. But yes you can use it as another low-cost and easy-to-install option.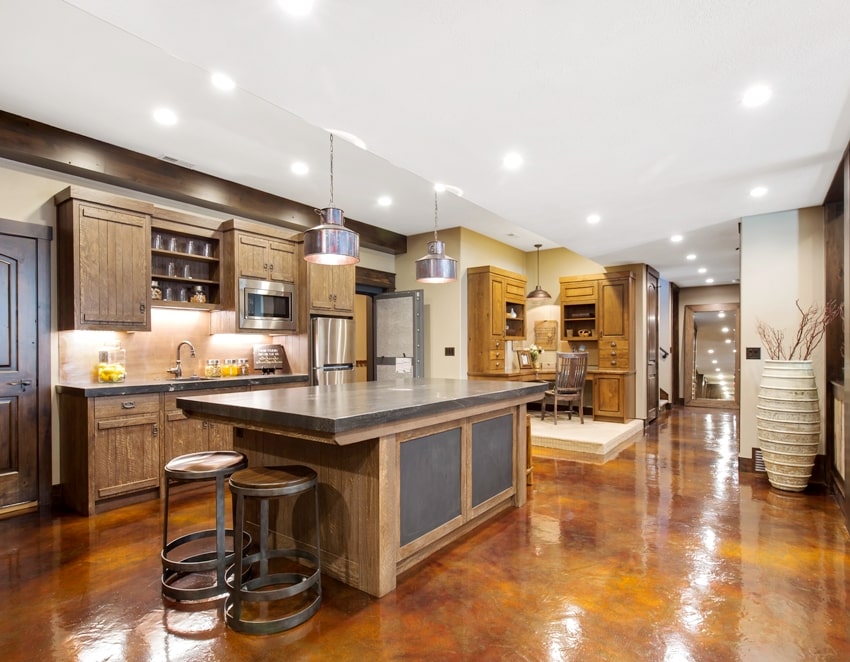 Just remember: epoxy coating bonds well on rough surfaces. So if you have glazed ceramic tiles, it needs grinding to roughen the surface.
You also need to check the grout lines are clean and free from oil contamination. If left alone, they can become a headache during and after installation.
Cork Flooring
Cork flooring can also be used over ceramic tiles. It's a good choice for areas where water is likely to be spilled most often, like the kitchen or bathroom.
Cork is naturally water-resistant. It absorbs water more than a sponge without the sogginess. That's the reason why it's used as a stopper on wine bottles.
Compared to laminate flooring, cork flooring is gentler on the feet and can withstand the usual wear and tear longer.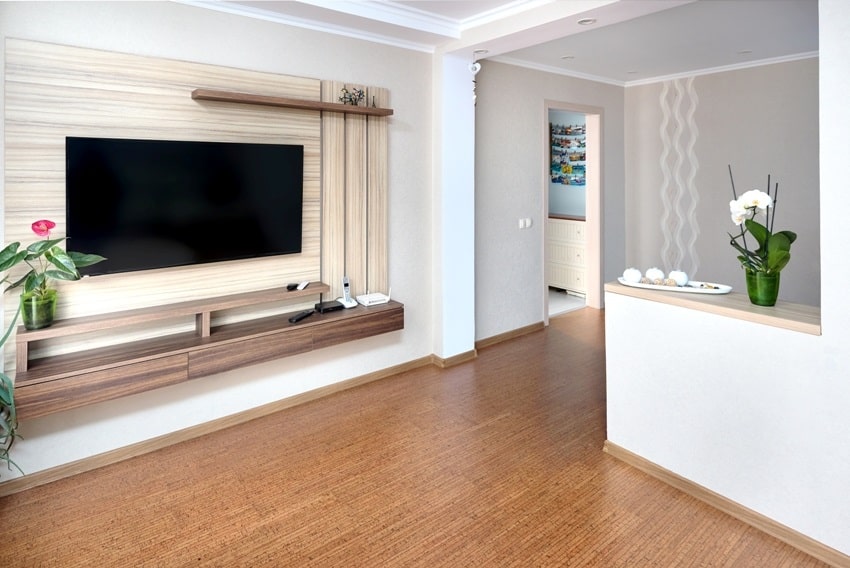 However, it is limited to bathroom or kitchen areas only because cork becomes brittle or weak when exposed to extreme weather conditions.
What Glue Should I Use To Install Flooring On Ceramic Tiles?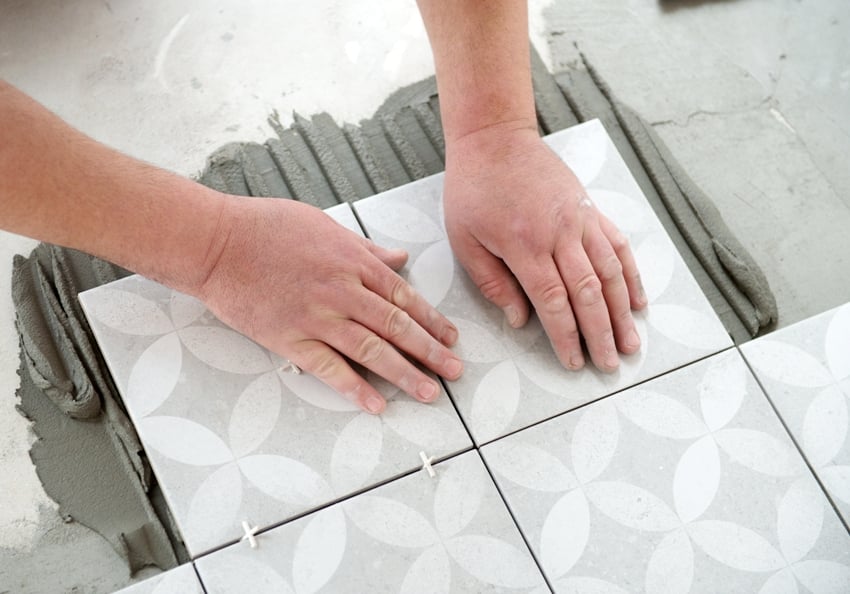 Different flooring types need different adhesives. Whether or not you will install the new flooring material, being aware is still an advantage.
Carpets don't require an adhesive. But all-purpose flooring glue is used to keep the corners or borders in place. It also protects the ceramic tile underneath. So when you want to remove the carpet in the future, the tires are still preserved.
Laminate flooring doesn't require adhesives as well, provided the ceramic tiles are even. This type of flooring usually uses joints to gain stability.
Hardwood flooring, on the other hand, uses urethane adhesive. It sticks the hardwood permanently over the ceramic tile.
Cork flooring needs a cork-specific adhesive. If you plan to use this type of flooring, let experts do the installation because cork is delicate and sensitive.
The Verdict
So what's the best flooring material for ceramic flooring?
The answer depends on your needs and budget as well as the area you want the new flooring installed. For more related ideas visit the types of flooring materials for interior design page.