See chevron tile backsplash designs including what it is, different tile materials used, best kitchen ideas, and how a chevron tile pattern compares to a herringbone backsplash.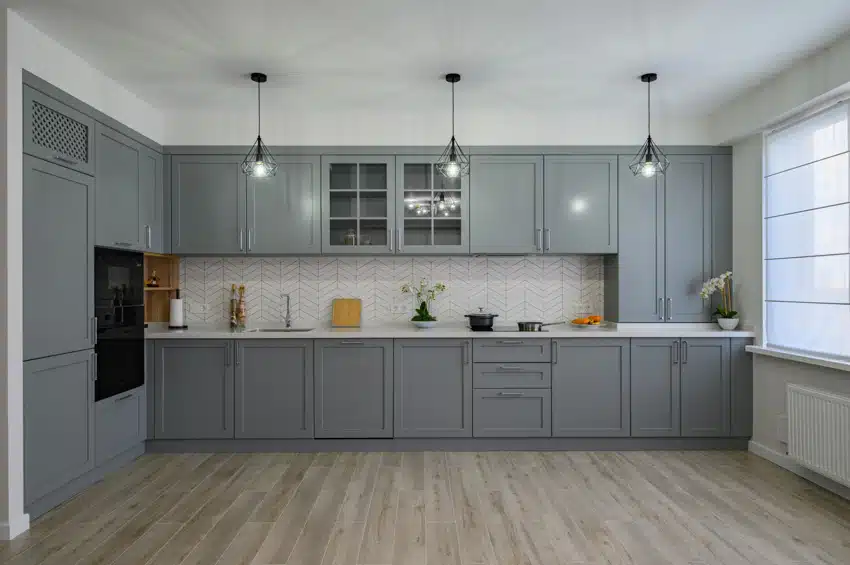 A backsplash is a great way to protect the wall in your kitchen while you work. Yet, this is a design component as any other in your home, so you'll want something functional and chic to match your personal decor style.
One versatile and reliable option that will give you a range of design options as well as protect your walls is a Chevron tile backsplash.
What Is A Chevron Tile Backsplash?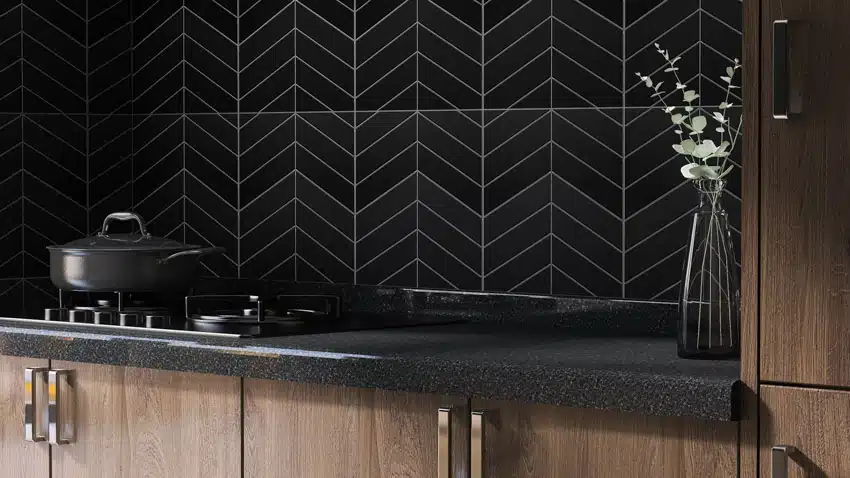 Chevron is a tile pattern you've probably seen before. After all, it's been around for quite a few centuries now. However, the pattern continues to remain popular in modern design as well. If you're looking for a long-term renovation, they aren't likely to go out of style anytime soon either.
In a Chevron pattern, the tiles are laid out in a pattern that creates repetitive "V" shapes – it's often compared to Herringbone tile designs. The design is comprised of rectangular tiles of the same size meeting in these V-shaped points, giving a dynamic appearance.
The size of the tiles and the resulting overall size of the pattern will need to be scaled to meet your space, though. For instance, if you want to use a Chevron tile backsplash, the pattern would be scaled down from the same Chevron pattern used at a greater scale on the floor of a large room.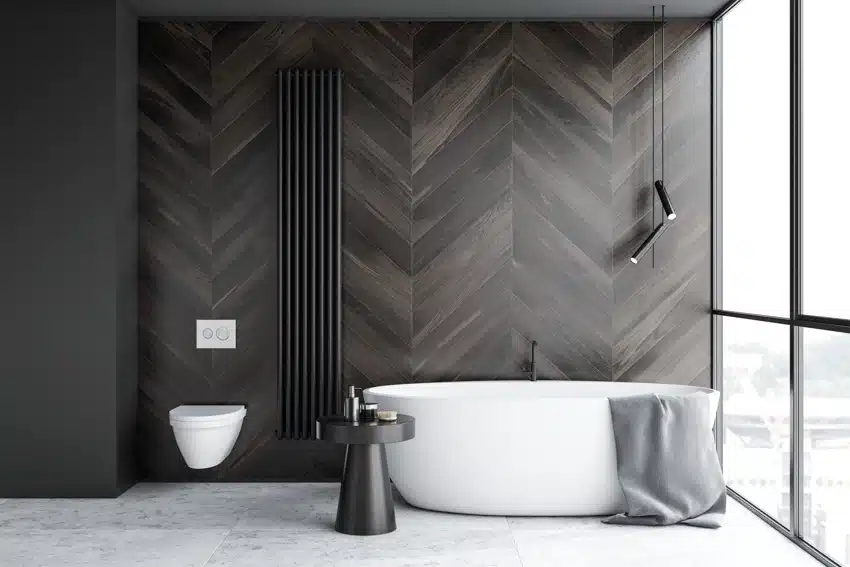 A Chevron tile pattern is a great choice when it comes to a backsplash for a few reasons. Of course, the tiles offer a level of protection for the wall behind your countertop, sink, or stove. However, using a Chevron tile pattern is a great way to make your backsplash visually stand out as well.
There are a few ways that you can implement a Chevron pattern too. This means you'll have the chance to make your new backsplash a subtle finishing touch to your kitchen or an eye-catching focal point your guests will see right away.
Chevron Tile Materials for Backsplash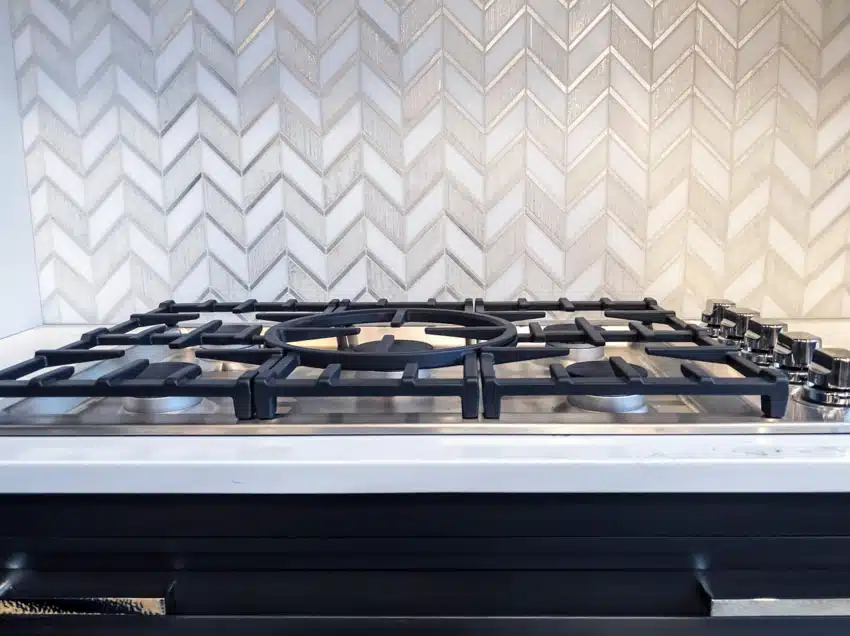 There are a few different ways you can make your Chevron patterns really stand out. Namely, there is a wide range of material options to make a Chevron pattern. These are a few of the most common – and striking – types of kitchen backsplash options available to you.
Porcelain & Ceramic Backsplash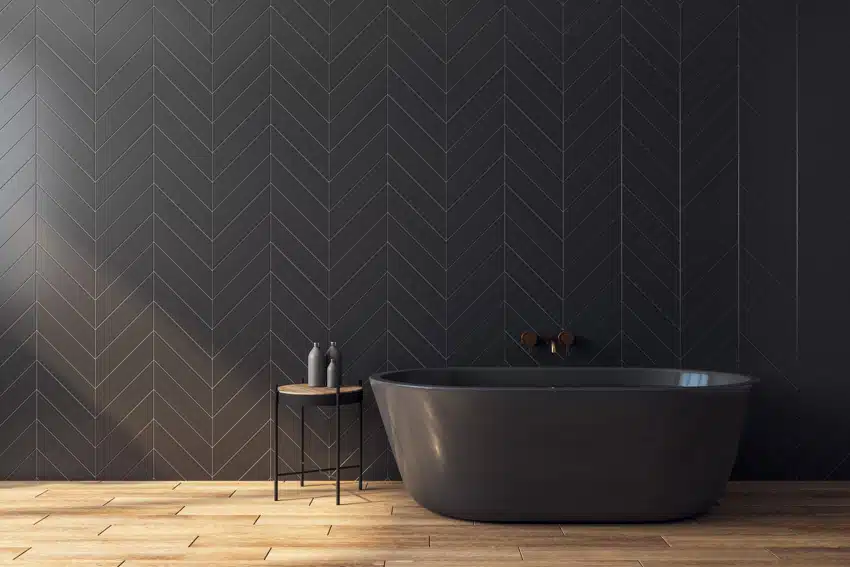 Ceramic or porcelain tile backsplashes are among the most common choices for your kitchen and both materials make great options and offer you a lot of variety in color, size, and shape.
If you want a glossy finish for your backsplash, ceramic is a great choice while porcelain doesn't always feature this shining finish. On the other hand, a porcelain backsplash offers more durability from damage and scratching and tends to last longer than most backsplash options.
Resealing your ceramic backsplash annually can help lengthen its lifespan while porcelain doesn't require this sealing. Both options require special attention to grout lines when you're cleaning.
With so many options, these materials can come in a wide price range. You can find ceramic tiles for as low as $1 or as much as $100 per square foot. Porcelain tiles run in a smaller range of $3 to $30 per square foot on average but tend to offer fewer color and size options than ceramic tiles.
Marble Backsplash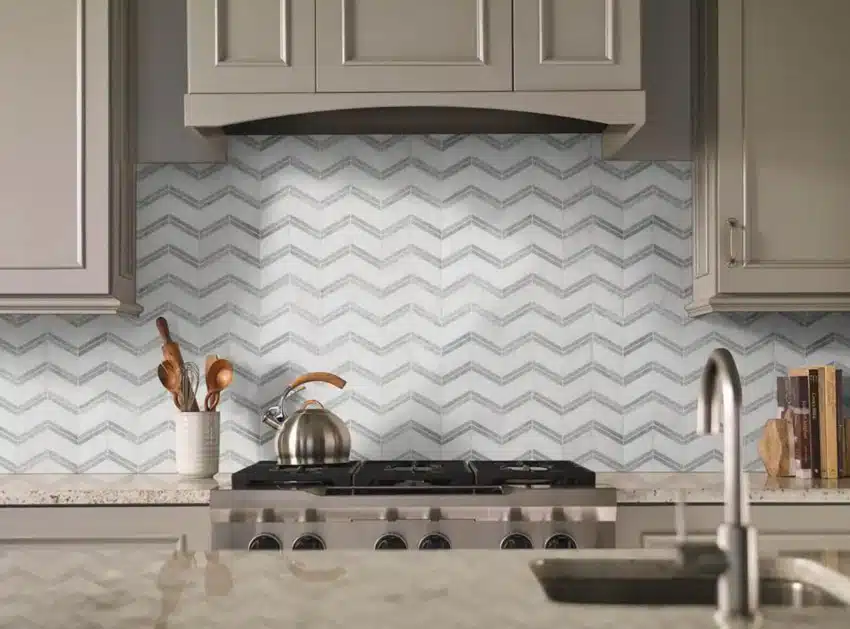 See this marble chevron tile backsplash at Home Depot [sponsored link]
Marble is a material often used in kitchens. This includes uses in every application from flooring to countertops and even backsplashes. It's a great material choice for a modern, classy take on the Chevron tile pattern. A marble backsplash is also praised for bringing a sense of luxury to almost any home.
When marble is properly sealed, it can last quite a while and different finishes can yield different results depending on what you're looking for. You can customize concepts like whether you'd prefer a glossy or matte finish.
This level of luxury does mean that this is one of the pricier options you have available to you. On average, marble tiles can run anywhere from $7 to $100 per square foot depending on the rarity of the marble you choose, where you source it from, and any finishes you add.
You will want to be careful with messes, though. While marble stands up to regular use in the kitchen, you'll want to commit to regular maintenance like cleaning and sealing. Acidic materials are a particular threat to your marble backsplash.
Glass Backsplash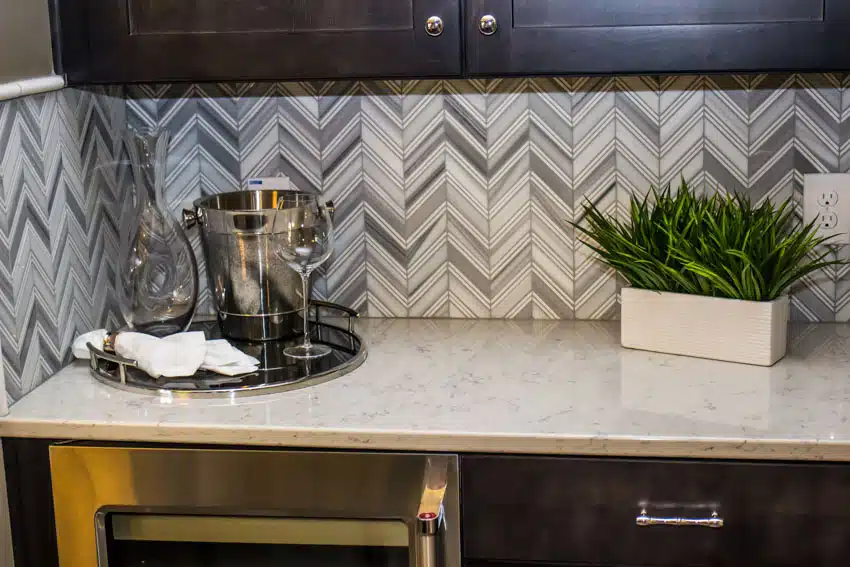 Glass tiles for your backsplash are thicker and stronger than the glass you grab out of a cabinet of plates or cups. So, you won't need to worry about them shattering or breaking at the slightest upset. Yet, you'll want to keep it clean to make sure it looks its best.
Glass Chevron tiles are often sought after for their unique appearance as well. Glass tiles are available in a number of shapes and sizes and their translucent nature can create the illusion of depth.
Of course, since these tiles aren't opaque, they aren't great if you're trying to hide an imperfection on your kitchen wall with a backsplash. In addition, the pattern scale needs to fit the space it's in – overwhelming the space with small tiles can make it look smaller. A Chevron pattern glass tile backsplash can help avoid this problem compared to small, even squares.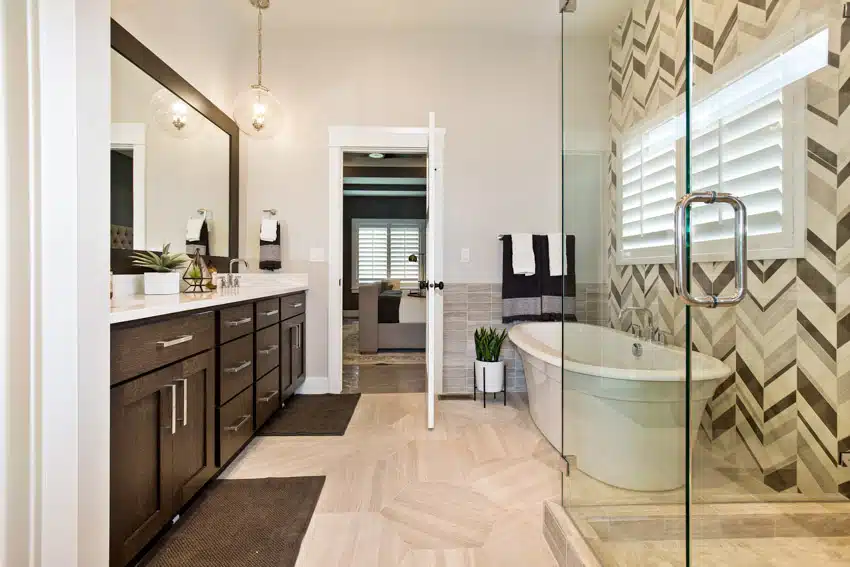 As for price, glass tiles run an average of $10 to $40 per square foot. This makes it more costly than a less cost-effective option than an option like peel-and-stick backsplashes but it also offers a one-of-a-kind appearance with a lot of variety.
Mother Of Pearl Backsplash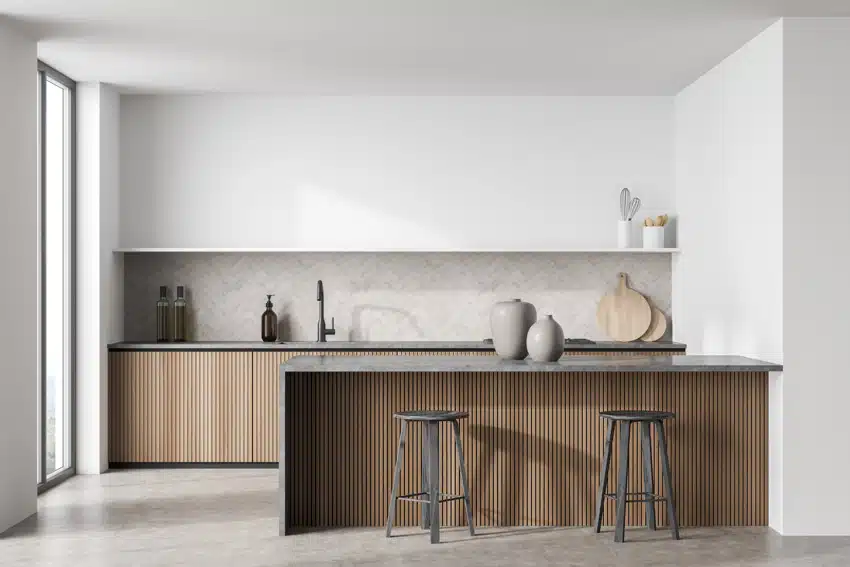 A less common but highly desirable option is a Mother of Pearl backsplash. This type of backsplash is made with a natural tile made up of the sheen from the inner shell of a mollusk. The name comes from the fact that the iridescent material has more in common with actual pearls than you might think.
As a backsplash, the first pro of this material is how striking it is. There's nothing that quite captures this iridescent effect the same way and it's striking on its own or paired with another material like limestone or glass.
The color will stick around a while too – despite the strong colors, this material isn't prone to fading. Not to mention, you won't have to worry about mildew or bacteria absorption as much with this non-porous material.
While the idea of anything pearl-related might make you panic about your budget, you don't have to break the bank with Mother of Pearl. While prices can easily soar sky-high, you can find tiles for as low as $4. So, it's all about shopping around and seeing what's available in your area.
Peel And Stick Backsplash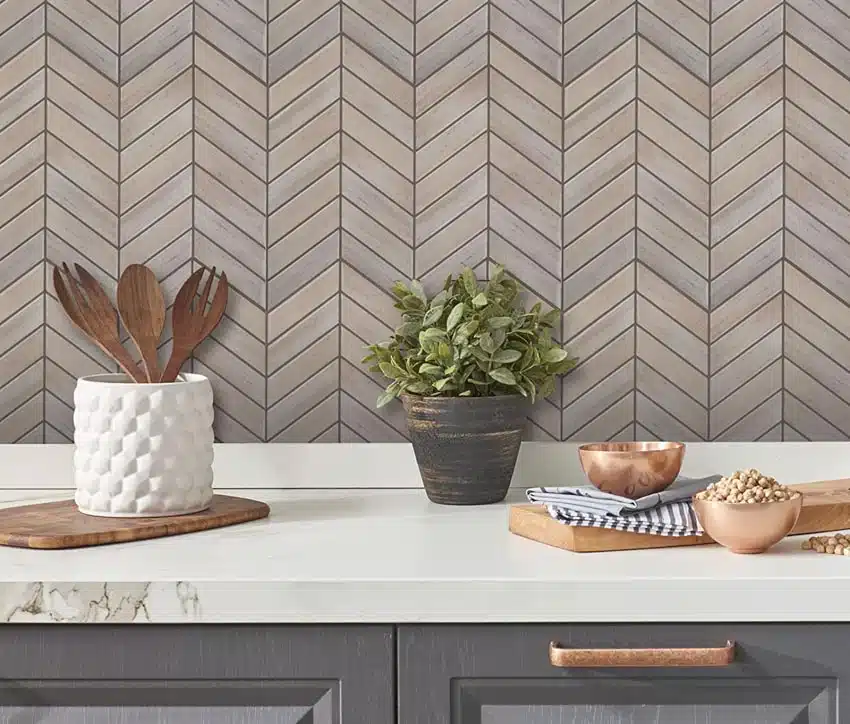 See this peel and stick chevron backsplash at Amazon [sponsored link]
Peel-and-stick backsplashes are all about ease. Instead of installing these one tile at a time, you unroll a sheet with an adhesive backing. After removing the paper over the adhesive, you can carefully stick the backsplash to your wall. Make sure to carefully measure the space and place your backsplash, though.
These offer a lot of versatility too with so many designs to choose from. That includes a Chevron tile peel and stick backsplash if that's what you're looking for. There's versatility in how long these backsplashes last too.
If you want to leave it and let your new renovation stay up for a while, you might even see these last ten years. Over time, the adhesive will start to falter, however, and the backsplash may become more brittle.
On the contrary, some peel-and-stick backsplashes are specifically designed for renters. So, when it's time to pack up and move out, you can just remove the quick remodel and everything is like new.
It's best to test these models on a smaller patch of the wall if you're worried about a clean removal later. Plus, at $4 to $30 per square foot, this is a rather reasonably priced option as well.
Chevron Kitchen Backsplash Ideas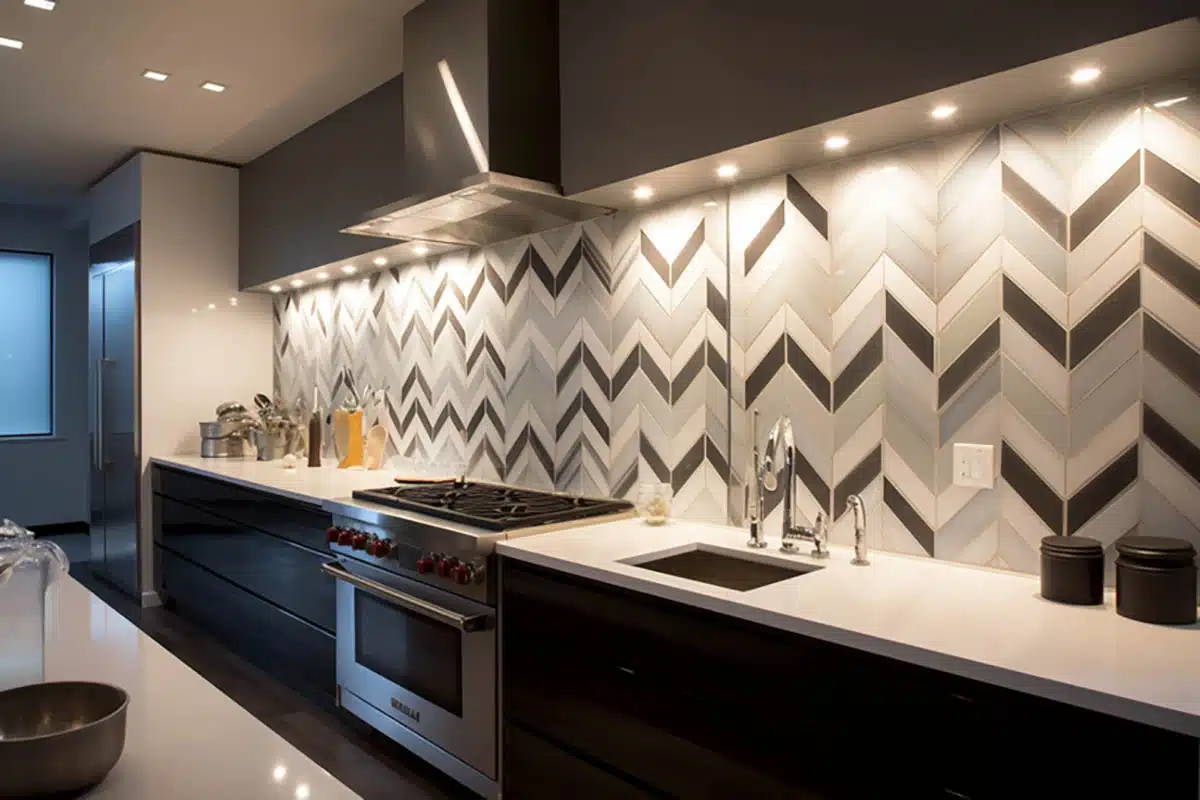 As mentioned, there are a number of different ways you can shake up the way a Chevron tile backsplash looks in your home. While the material you use is one way to do that, there are a number of different ways you can make your backsplash stand out from even other Chevron tile backsplashes from playing with color to modernizing this classic design.
Chevron Subway Tile Backsplash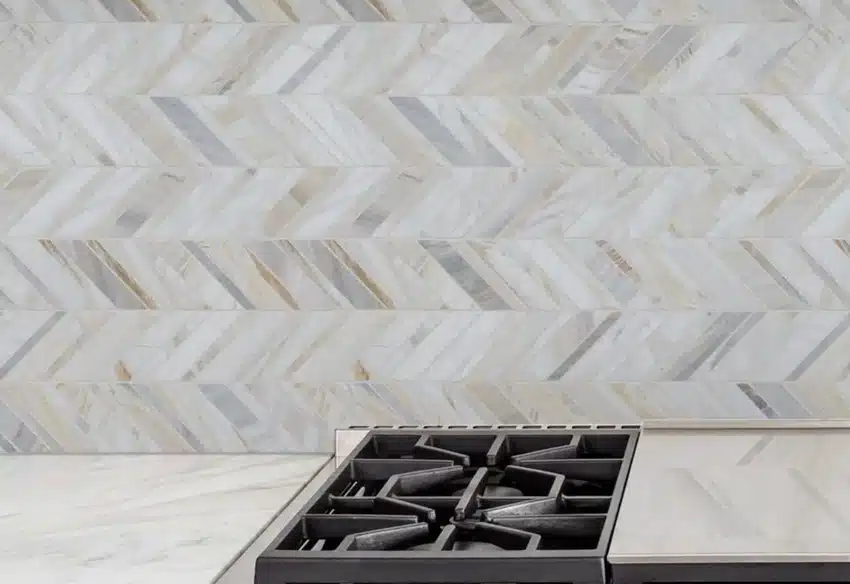 See this chevron subway tile backsplash at Home Depot [sponsored link]
Subway tiles get their name from where you might recognize the pattern – a subway station. Usually, this pattern is made up of white tiles in straight rows with each row slightly offset from one another. This makes an orderly pattern but doesn't make the tiles line up completely, close to the approach you might see in a brick wall.
Naturally, a subway tile pattern isn't usually Chevron because of this straight pattern. Instead, for a Chevron subway tile backsplash, it's usually best to opt for a Chevron pattern with the even ceramic tiles that a subway pattern uses. These thick tiles typically measure in at about six inches long and three inches wide.
Chevron Mosaic Backsplash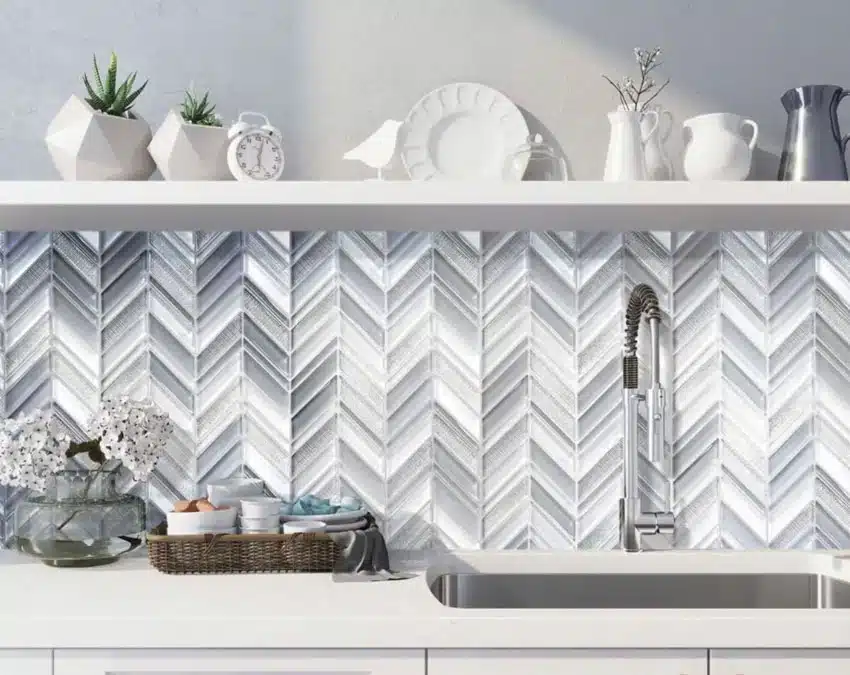 See this glass chevron tile backsplash at Home Depot [sponsored link]
There's no reason that all of your tiles for your Chevron backsplash have to use the same texture and colors as the last. Actually, you can create quite a unique appearance with a Chevron tile mosaic backsplash. In this style, you keep the pattern of the Chevron but add a few variances in color.
There are some materials you can use for this because you can get them in almost any color. From ceramic to glass, all you really need is to choose the colors. For a more natural variance, materials like marble or even Mother of Pearl can offer natural variance to break up the monotony.
Chevron Modern Backsplash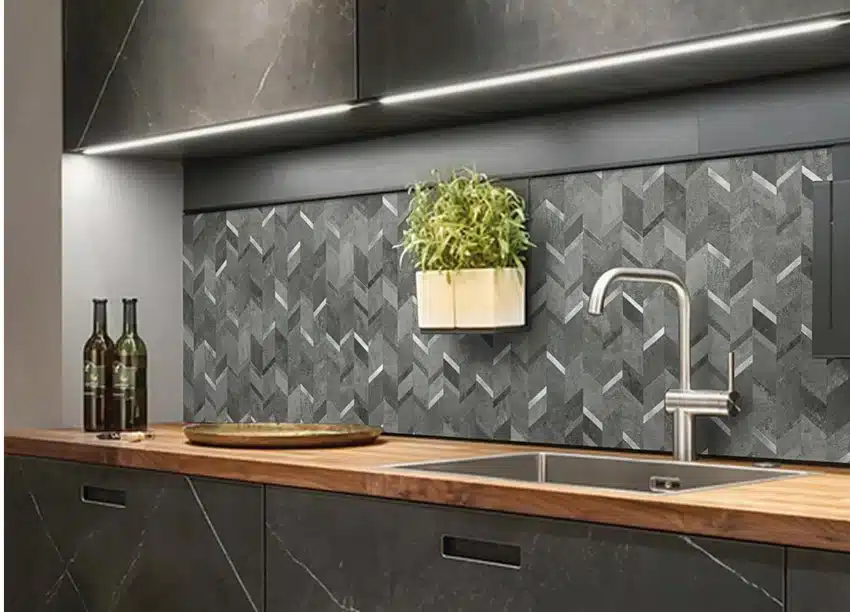 See this gray chevron backsplash at Home Depot [sponsored link]
As we said, Chevron patterns have been around for a long time. That doesn't mean that you can't use them in a modern decor scheme, though. As a matter of fact, there's a lot of variety that Chevron tile backsplashes can offer, allowing you to adapt them to your style.
For a modern kitchen, you have a few options. For one, you could keep your backsplash a neutral color and let the chevron pattern stand out as a textured piece.
You can try choosing a tile color that matches the beauty of the counter veining or striations for a cohesive look. This works well with brown, cream, beige, gold, green, white, and gray.
For a more contrasting design use colors such as purple, orange, red, and pink. You can tie these colors together with other decor items and furniture with excellent results. Make sure to request samples to see if they truly go with your furniture pieces, paint color and other design elements.
Conversely, you could make the backsplash all the more catching with a pop of color. Natural materials also work well for modern decor. This makes options like a marble backsplash especially popular.
Large Format Backsplash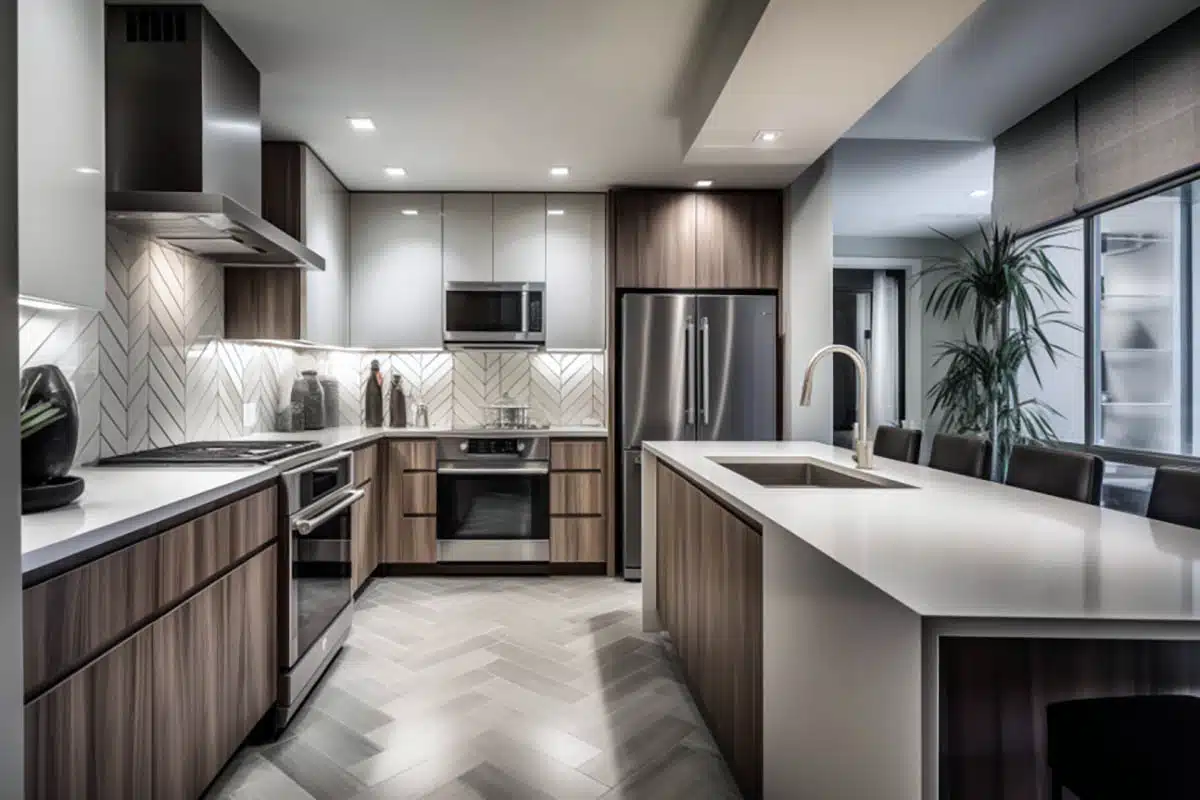 Earlier, we looked at the fact that you'll want to scale a Chevron pattern to the space it's in. Yet, this doesn't necessarily mean that small is the way to go. While you may not want it the same size as a Chevron floor, for example, an oversized Chevron pattern on your backsplash can really draw more attention to the pattern.
A large format tile backsplash can also make it all the more eye-catching although this is usually broken up by a neutral color, or the naturally-occurring pattern in a material like marble or stone but colorful tiles can definitely add a popping focal point for your kitchen.
Chevron vs. Herringbone Backsplash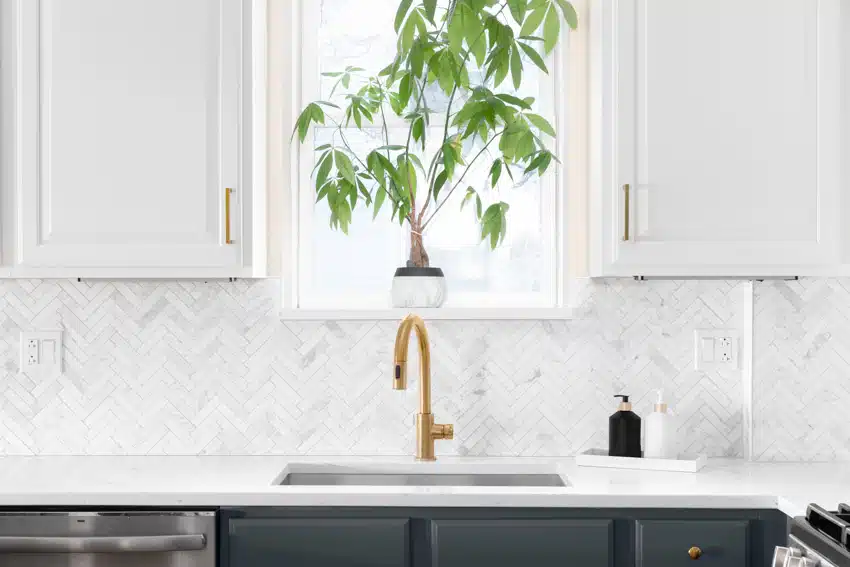 If you just cast a glance at the two patterns, it's easy to think Chevron and Herringbone tile backsplashes feature the same pattern. However, if you take a second to look closer, you'll see a key difference.
Just like Chevron patterns, Herringbone patterns are often used in applications like flooring and backsplashes. Both patterns also make a distinctive "V" pattern. This is why they're often mistaken for one another.
If you look closely at the top of that "V," you'll have your answer as to whether you're looking at Herringbone tile or Chevron tile. When the tiles meet to form a perfect "V," this is a Chevron tile pattern.
Paying the same attention to a Herringbone backsplash tile application, though, the "V's" won't come to a perfect point because the tiles are slightly offset from one another. While positioned slightly differently, both patterns do rely on equally-sized tiles to make up the pattern.
There are a few reasons that Chevron is often chosen over Herringbone, though. Namely, Chevron floors often come at a lower cost and quicker, easier installation time. This gives you a similar effect to a Herringbone tile backsplash but offers you a bit more ease and a lighter budget.
At the end of the day, it's hard to go wrong with a classic choice like a Chevron tile backsplash. Plus, with a number of different materials and details to choose from, you can make this popular pattern completely your own and fit it into almost any decor style you prefer.
See more related content in our article about hexagon backsplash on this page.