These corian backsplash ideas share what this material is, the different options to choose from, thickness, and cost.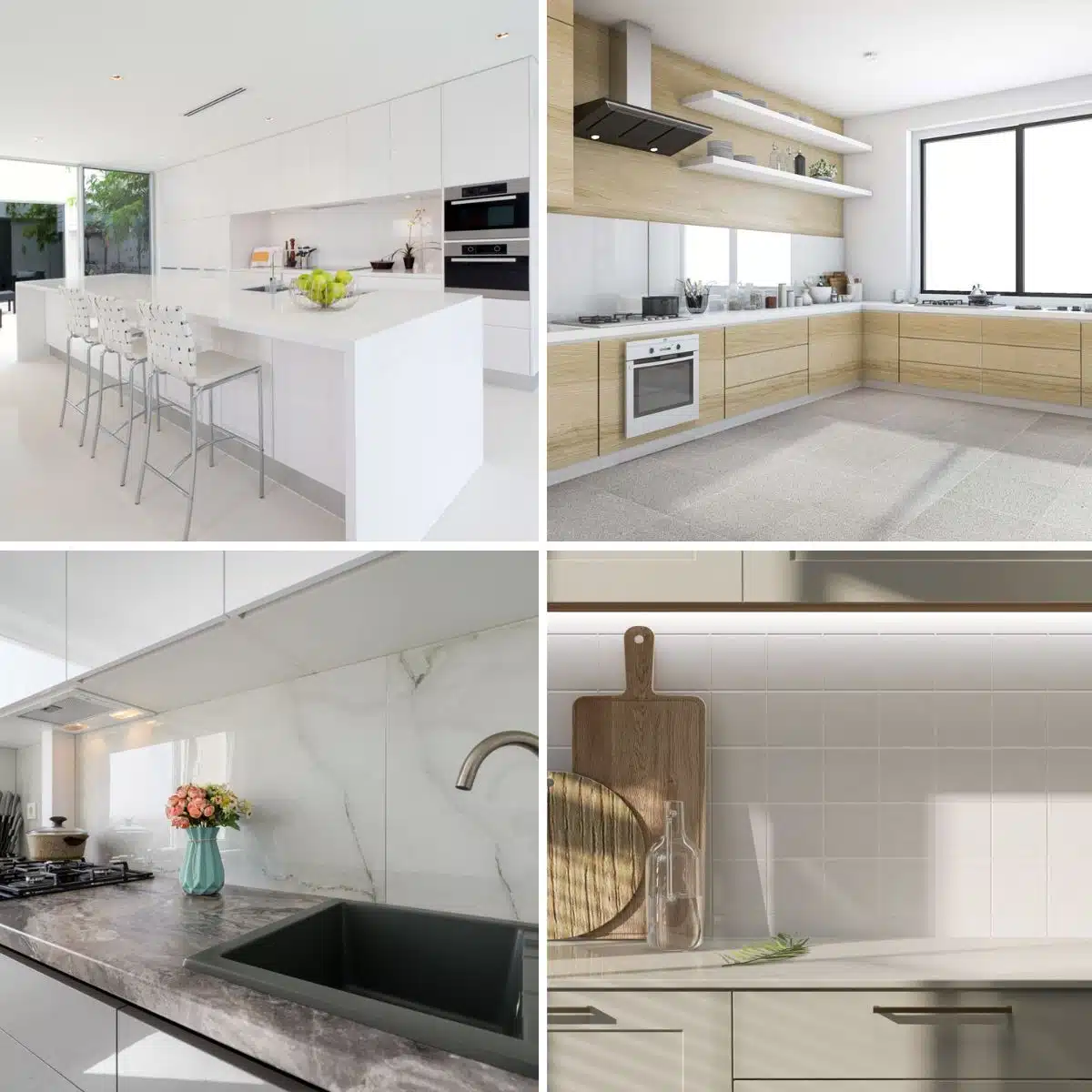 Seamless, flexible, highly resistant to stains, and complementary to any material surface or design, Corian solid surface by Dupont seems like a dream material for both homeowners and designers.
Adding to its remarkable features are its longevity and low VOC content, making Corian a top alternative to other high-end materials.
In this article, we'll find out more about Corian, its design options, its cost, and if it is a worthy investment for a backsplash installation. Corian can be an integral ingredient in your dream kitchen, and many homeowners use it to bring their design preferences to life.
What Is Corian?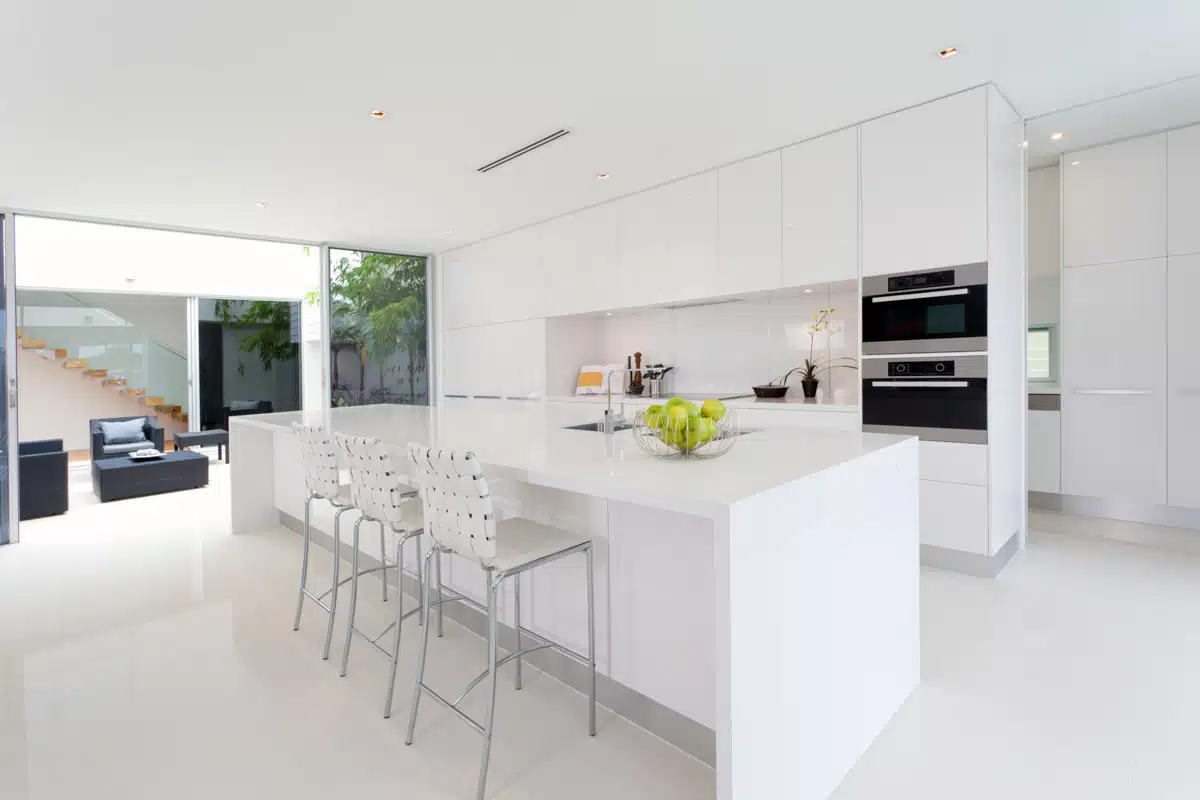 Fantastic for those who dream of more space, Corian can deliver a seamless look across not only counters but also cabinets and islands.
A Dupont brand name for a synthetic homogenous composite material that is made of a third of transparent acrylic polymer and two-thirds of stone-derived minerals, Corian is an engineered material distinct for its solid surface.
Its color and pattern go throughout the material's thickness, creating a uniform and consistent look with ease of use in mind. In addition to being extremely durable, the surface slabs resist bacteria to impressive degrees.
Patented in 1968, Corian was invented by Dr. Donald Slocum, a Dupont scientist. Major production of Corian is in Buffalo and distributed throughout the USA and globally.
Canada, Australia, Mexico, South Korea, China, Hongkong, Japan, and India are among the other distributors of Corian products. Each region caters to varying homeowner preferences, with variations in product usage and aesthetics.
Turkey, China, and South Korea also produce large volumes of Corian sheets, which are exported globally. These carefully crafted slabs cater to the needs of homeowners worldwide, offering a high-quality option that enhances the aesthetics and functionality of their counters and cabinets.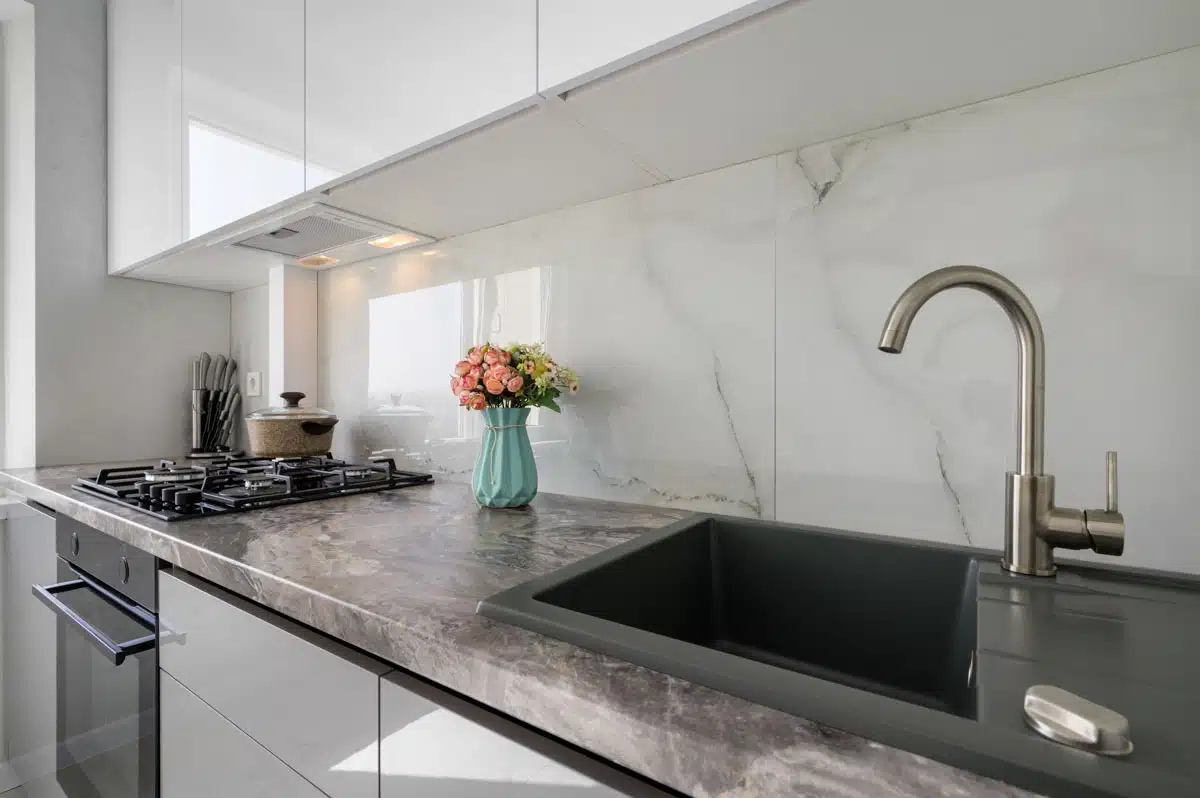 Originally coming in only white color, it was used mainly in kitchens and bathroom applications during its early introduction but has now evolved to more than 100 colors. Corian products can also mimic the look of natural stone and other popular materials.
Features of Corian

• Minimizes short-term and long-term maintenance.
• Heat resistant but is not undamaged when exposed to over 212 Fahrenheit or 100 degrees Celsius and becomes pliable at 325 Fahrenheit or 162.78 degrees Celsius.
• Resistant to acidic foods.
• Seamless, consistent pattern.
• Harder than quartz but softer than a granite backsplash, which makes it less likely to crack.
• 10-year warranty for installation and repair.
• UV resistant which makes a Corian backsplash a suitable outdoor material. However, some colors perform better than others.
Corian Limitations
• Softer compared to granite and can be vulnerable to etching from particular acidic materials similar to quartz and granite.
• Corian tends to be more easily damaged by hot surfaces than natural stone.
• Can crack from sudden changes in extreme temperatures and can be difficult to repair cracks as they can reopen.
• With a third of the acrylic resin component, it can be hard to recycle.
• Lower resale value compared to a natural stone or quartz backsplash.
Workability
Corian has similar workability to the wood where it can be cut, routed, sculpted, or bent just like wood that's why there are Corian fabricators who are usually former carpenters or cabinet makers.
Installation and Repair
Authentic Corian products can only be fabricated and installed by Dupont-certified Corian installers. While Corian kitchen countertops, backsplash, and other Corian products are extremely durable, minor to major damages can occur.
Installation of Corian is tricky, and should be done only by experienced installers. – Old House Journal
Deeper gouges due to impact can cause cracks and will require a licensed service center or Corian Quality Network member to do the repairs. Minor stains and scratches can be easily sandpapered.
Typically, installed Corian products come with an extra section of the material that owners should keep in case repairs are needed. The damaged part is cut and replaced and is easily touched up to leave it as seamless as when it was brand new.
If you choose this type of countertop, know that Corian surfaces can only be fabricated and installed by DuPont-certified Corian countertop installers near you.
Corian Options for Backsplash

There are many design options for a Corian backsplash, starting from the classic solid surface color to 3D and textured surfaces.
• Solid Surface: From the standard white and popular black Corian in the 90's to the 2000s to today's more than 100 color variations and patterns, the solid surface remains a popular design option.
For a backsplash, the solid and consistent color is the perfect combination for contemporary spaces both residential and commercial.
• Textured Surfaces: Going beyond the visual, textured Corian surfaces are perfect for elevating the experience of a Corian backsplash that can match any style.
• Metallic Infusion: The Corian Metallic series which was the first color introduced in 2010 infuses gold and silver flecks into its construction, creating a luxurious metallic finish that could leave any appliances or cooking utensils such as a sink or glass items gleaming in comparison.

The reflective parts create movement and variation of color when seen from different angles giving dimensionality to the backsplash surface.
• Inspired by Nature: The non-repeating patterns mimic natural materials giving surface complexity. Corian can simulate stone, wood, and other organic materials.
• Thermoformable: Add backsplash molding to create a finished look. The thermoformable can create embossed effects in wood or metal molds using the Bas Relief technique.
• Translucent: Explore lighting design with thinner sheets and can create stunning backsplash creations with lighter colors.
• Smart Tech Integration: Charge phones wirelessly by simply placing them on the new Corian's new charging surface.
Corian Tile Backsplash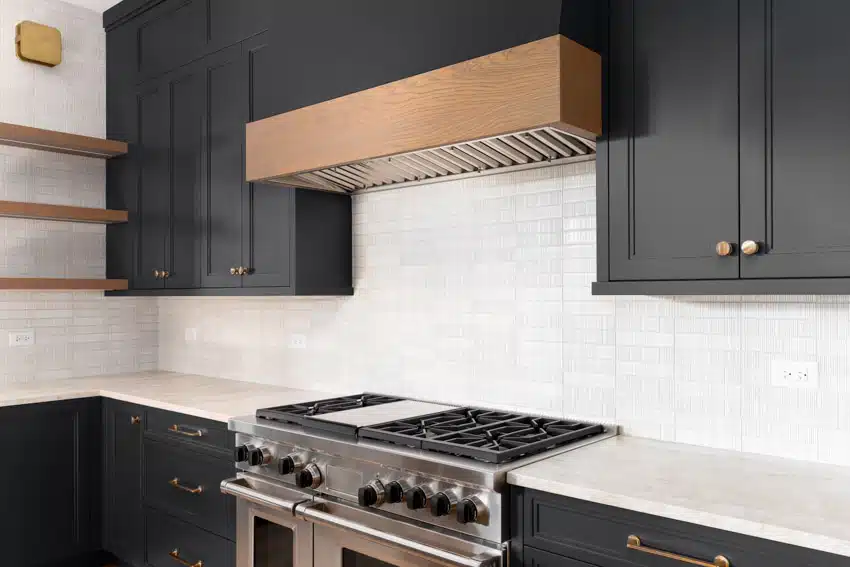 A perfect alternative for stone and other engineered tiles, Corian tile backsplash comes in either cut materials to a desired shape or size or a Corian sheet grooved to mimic the look of the tile pattern.
For cut Corian tiles, larger panels are more popular than the smaller standard tile sizes and are installed using Dupont Corian joint adhesive or silicone.
Corian Coved Backsplash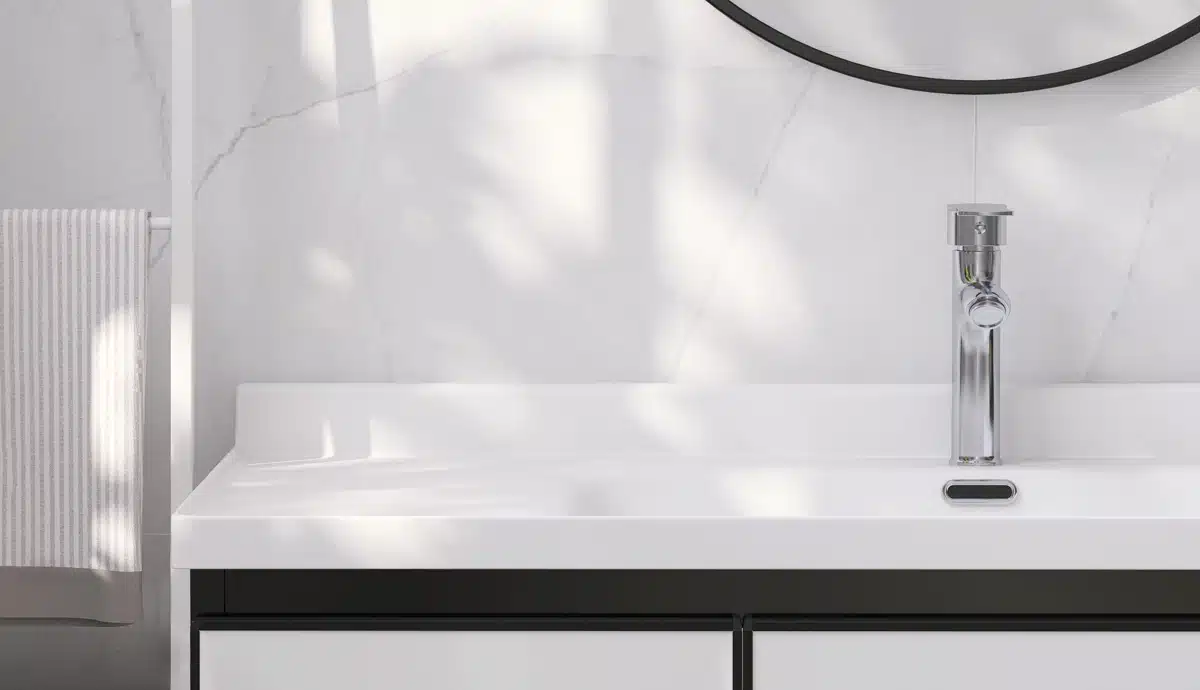 A Corian coved backsplash is a type of backsplash that features a smooth, curved transition between the countertop and the wall. Instead of a traditional 90-degree angle between the countertop and the wall, a coved backsplash has a curved transition that seamlessly connects the two surfaces.
To achieve this type of transition, a piece of Corian material has to be heated and bent to that curved shape before installation. The resulting surface is both hygienic and easy to clean since there are no corners or edges for dirt and grime to accumulate.
Coved types of kitchen backsplash are a popular choice for both residential and commercial spaces because it offers a sleek and modern look while also providing practical benefits.
The curved shape of the coved backsplash helps to prevent water and debris from getting trapped between the countertop and the wall, which can lead to water damage and mold growth.
Routed Corian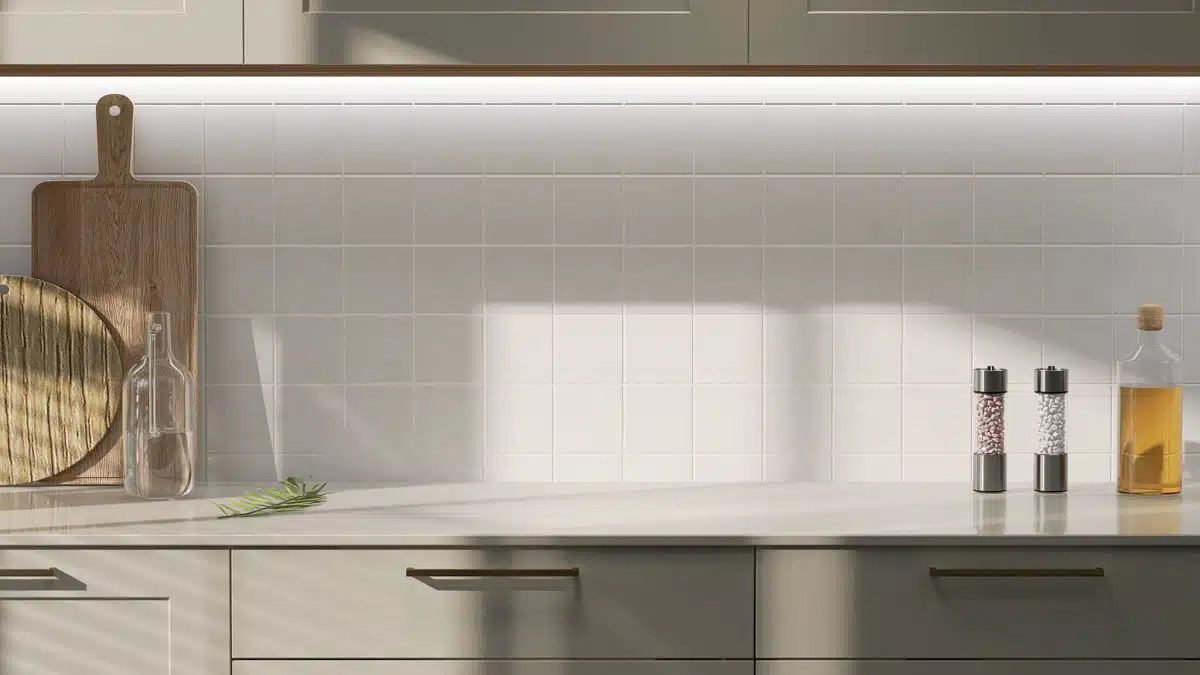 Using the appropriate routing tool, channels can be carved onto the surface to form patterns. The patterns can range from abstract lines to decorative patterns to full-on carved designs.
By carving channels of different widths and depths, interesting visual effects are achieved to break the monotony of the established surface.
Carving out channels can also help to hide imperfections that will gradually form over time.
Corian Thickness for Backsplash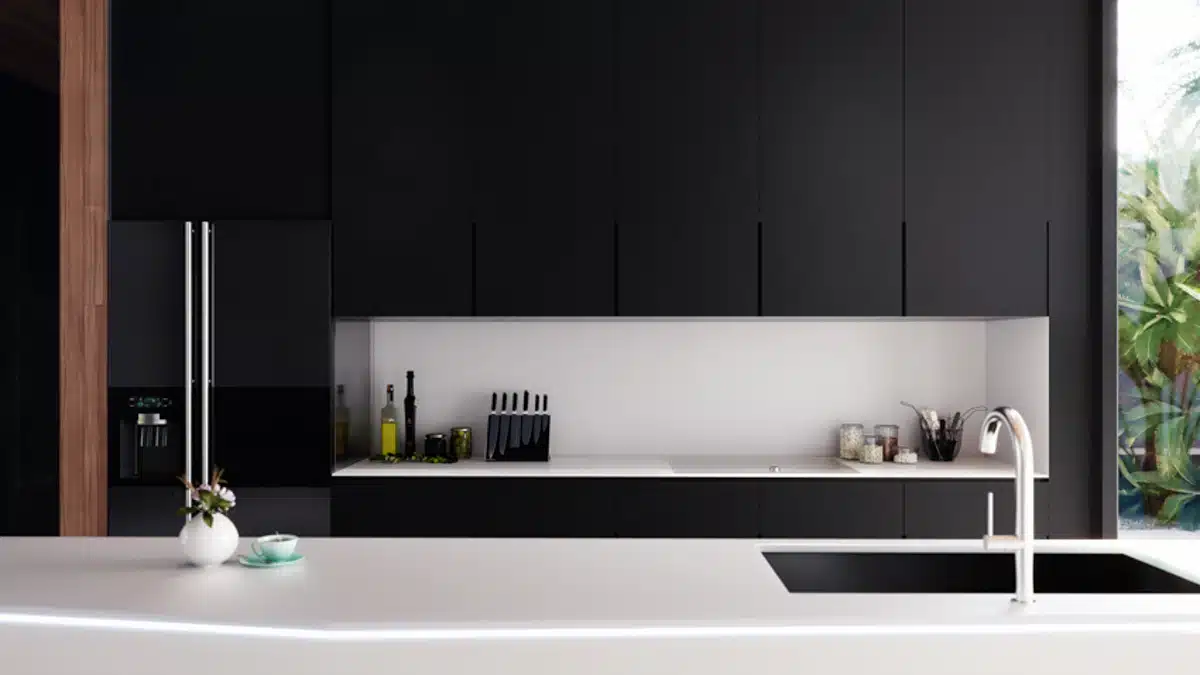 From a Corian supplier, Corian comes in sheets with different standard thicknesses, which are then cut to size by professional fabricators.
Standard Sizes cut by fabricators:
• 6mm x 760 mm x 2490 mm
• 6mm x 930 x 2490mm
• 12.3 mm x 760 x 3680mm
• 12.3mm x 930 x 3680mm
• 19mm x 760mm x 3680mm
Vertical applications are usually 6mm thick. For interior uses a sound backing is needed.
Recommended:
• Water-resistant gypsum board
• Moisture-resistant plywood
• Moisture-resistant MDF
• Any sound tile surface
• Plasterboard sheeting
• Master board
Corian Cost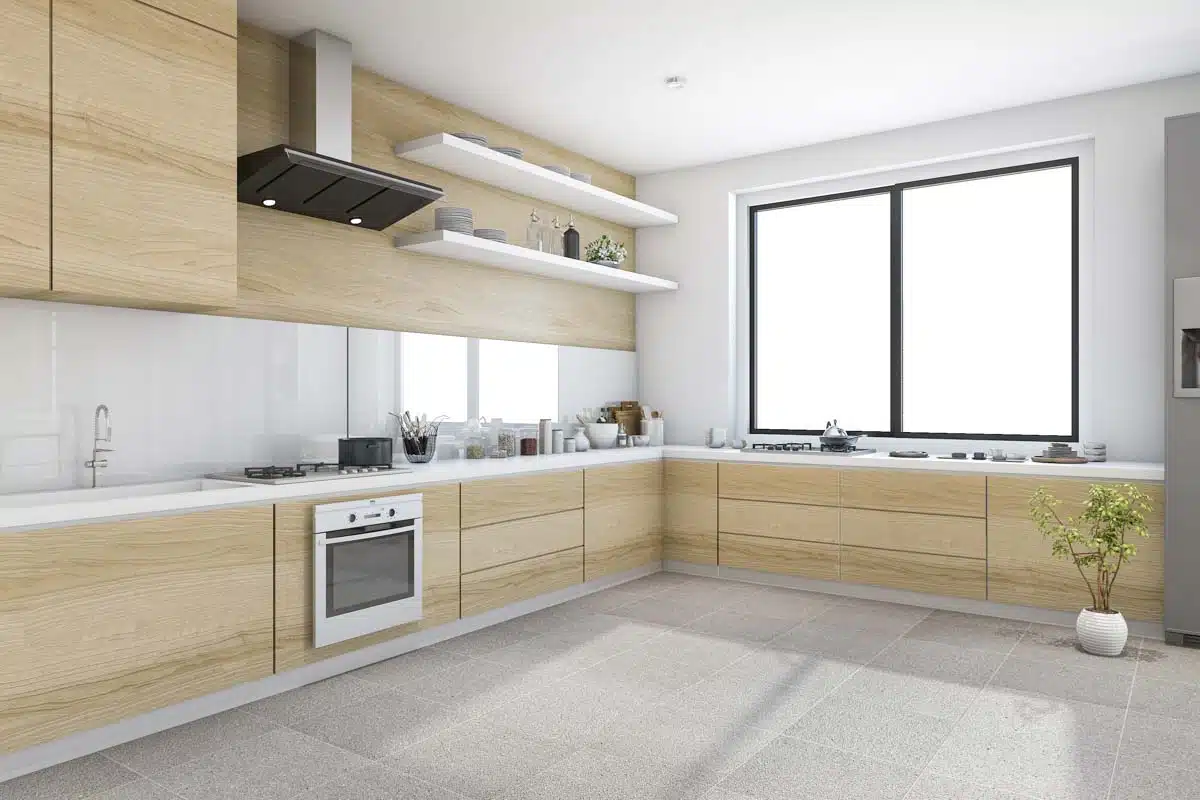 Generally, Corian backsplashes cost around $40 to $70 more than the popular quartz or natural stone, while marble can cost up to $100 per square foot and granite $60 per square foot, that's without labor.
There are many factors that can influence the cost of your Corian backsplash such as the complexity of the design, area, and type of Corian product used.
For a standard-sized kitchen with a backsplash area of around $30-40 square feet, the cost of a Corian backsplash can range from $1,200 to $2,800. However, for larger or more complex backsplash designs, the cost can be higher. High-performance Corian product lines can cost $89 per square foot.
It's important to note that the cost of a Corian backsplash can vary depending on the fabricator or installer chosen. Additionally, the cost of installation may be higher in areas with a higher cost of living.
See more related content in our article about corian vs granite countertops on this page.