In this slatwall dimensions guide you'll see the standard slatwall size, slatwall hook dimensions and how much weight a slatwall can hold.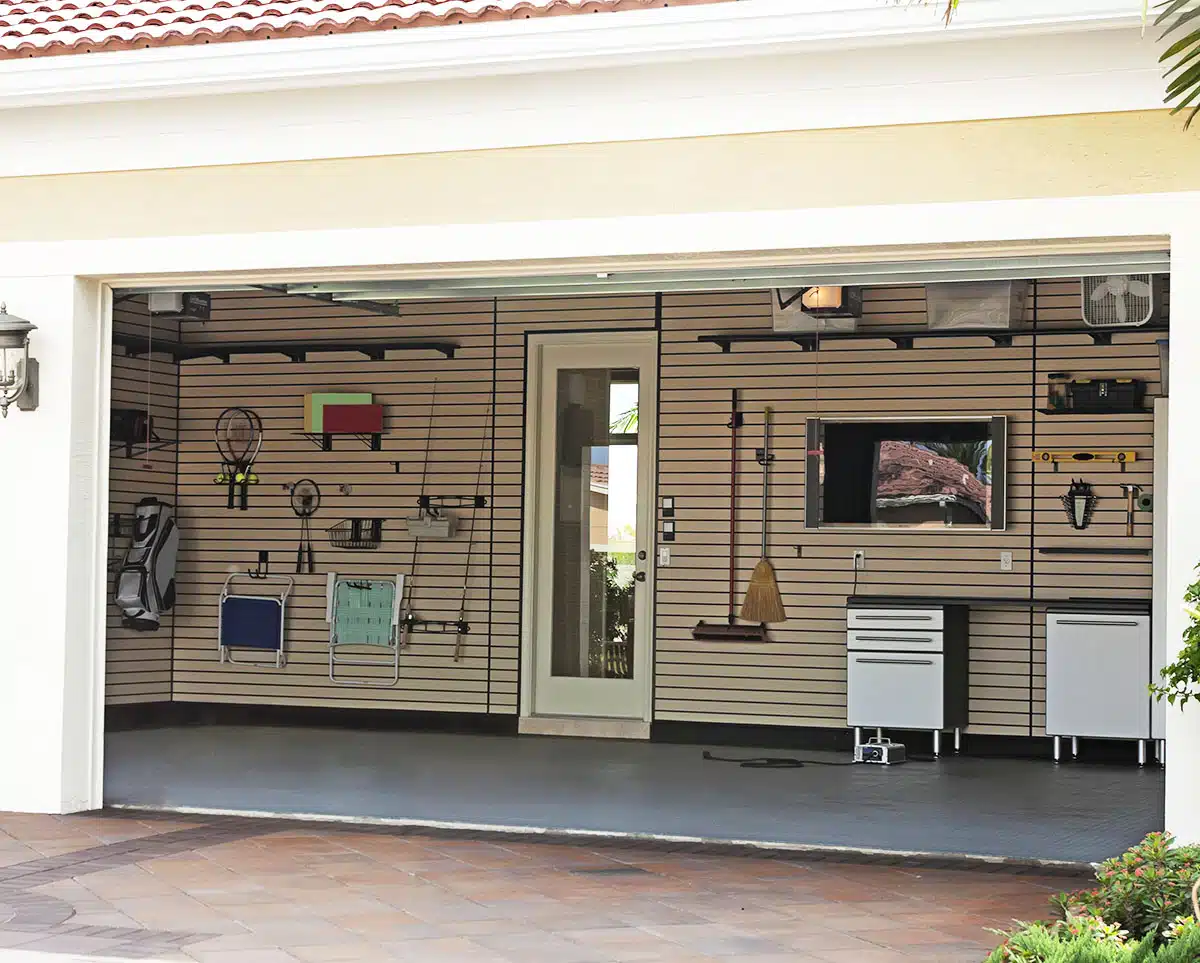 Using the right storage accessories can transform the overall experience of your space. One such accessory is Slatwalls, which are available in a variety of sizes and fixtures.
Homeowners, garages and retailers have plenty of walling options in their stores or shops. Slatwall remains a favorite, though. This wall paneling features horizontal channels or slats, held together with screws, hence, the name.
It's perfect for organizing and showcasing items for clients to see. On that note, many homeowners also pick slat walls to systematize their garages and other living spaces. Installing shelving, brackets, hangers, pegs, and racks on these walls enhance organization and user experience.
Getting the right slatwall dimensions is crucial to ensuring correct shopfitting. Having the right information on slatwall sizing allows you to enjoy the benefits of this wall paneling system to accomplish its intended purpose.
What Size Is A Standard Slatwall?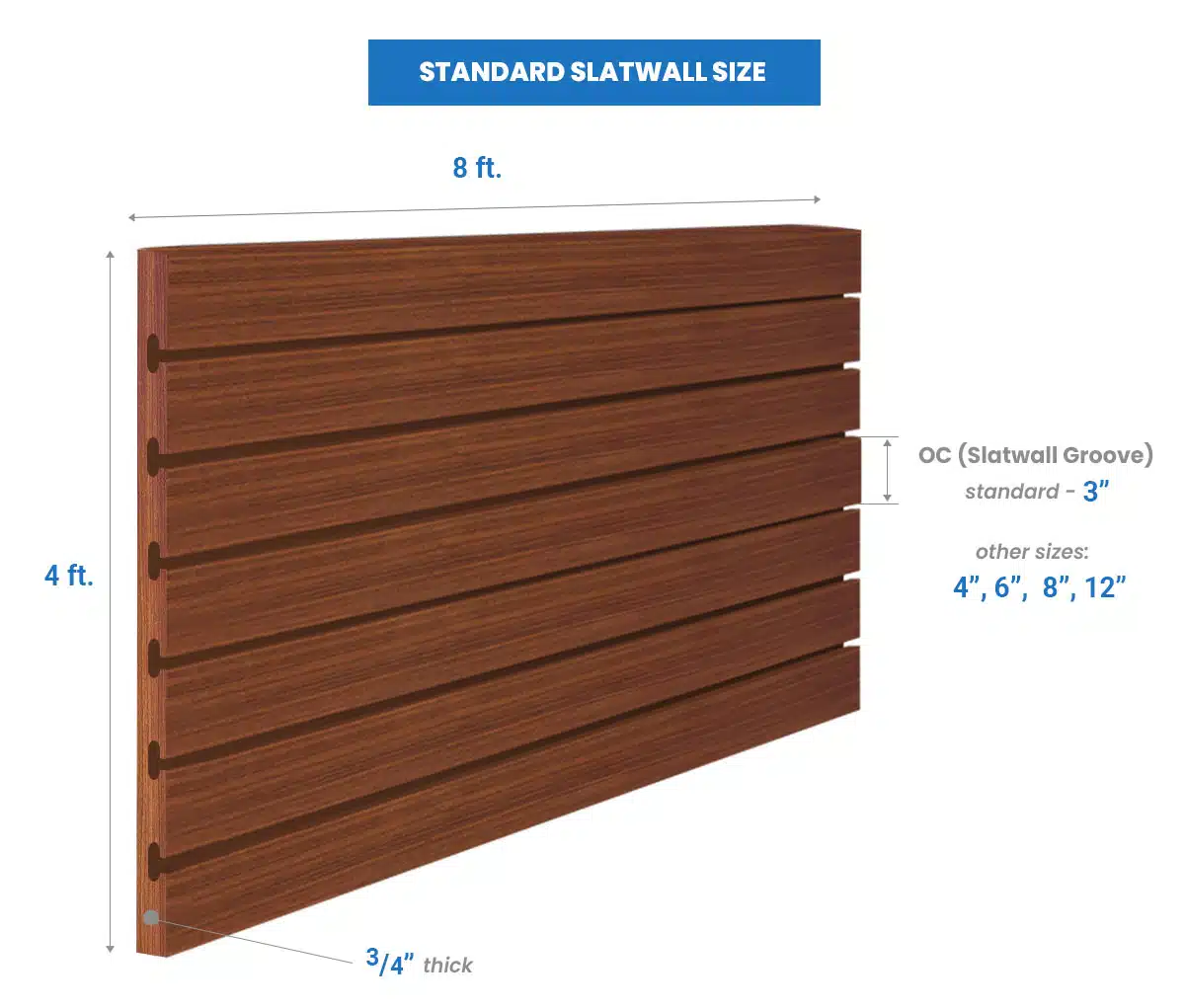 Retail stores and homeowners have many slatwall sizing options. However, the most common size for a standard slatwall is 4 feet by 8 feet. It's not unusual for some shopfitters to use 4 feet by 2 feet slat walls.
Other sizes are available, and it's the storeowners' prerogative to choose the ideal size for the shop. Additionally, some manufacturers offer custom-size slat walls, allowing clients to ensure a proper fit to their stores.
Standard slat walls have a 3-inch on-center (OC), or the space between slatwall panel grooves. Other OC specifications are available, including 4 inches, 6 inches, 8 inches, and 12 inches.
Slatwall can feature wood, plastic, or medium-density fiberboard (MDF). Contractors typically measure the retail store's dimensions to determine the most appropriate slatwall size.
What Are The Dimensions Of A Slat Panel?
Entrepreneurs who want to open a retail store require a walling system that maximizes space, allowing store owners to display their merchandise in an organized manner.
Slat walls fit the job perfectly. It empowers shop owners to systematize their inventory. Moreover, customers will have a more convenient time exploring different options, while store staff can access products easily.
Slatwall panels vary in size. However, the most common measurement is ¾-inch thick, 8 feet long, and 4 feet wide.
Slatwall manufacturers using MDF as core material often test their products to meet an average density of 48# PCF and 120 to 130 PSI internal bond rating. The board's squareness tolerance must not be more than 1/8 of an inch.
Slatwall panels featuring other materials might have higher or lower ratings. Store owners might want to consider talking with contractors to determine the specific dimensions and attributes of slatwall panels.
How Wide Are Slat Walls?
Each slat wall panel strip (the space between grooves) can range in width from as narrow as half an inch to as broad as six inches.
However, some manufacturers offer custom sizing, allowing store owners and homeowners to install slatwall panels commensurate with their living space requirements.
Shopfitting clients might want to consider their merchandise display and organization needs to determine the most appropriate slat wall width. Although a 3-inch-wide slatwall panel strip is common, it might not give the shop a unique look.
As for the whole panel itself, the most common width is four feet. Homeowners and store owners can ask slatwall fabricators to create a product with a custom breadth to ensure an exact fit to the building space.
Slatwall Groove Dimensions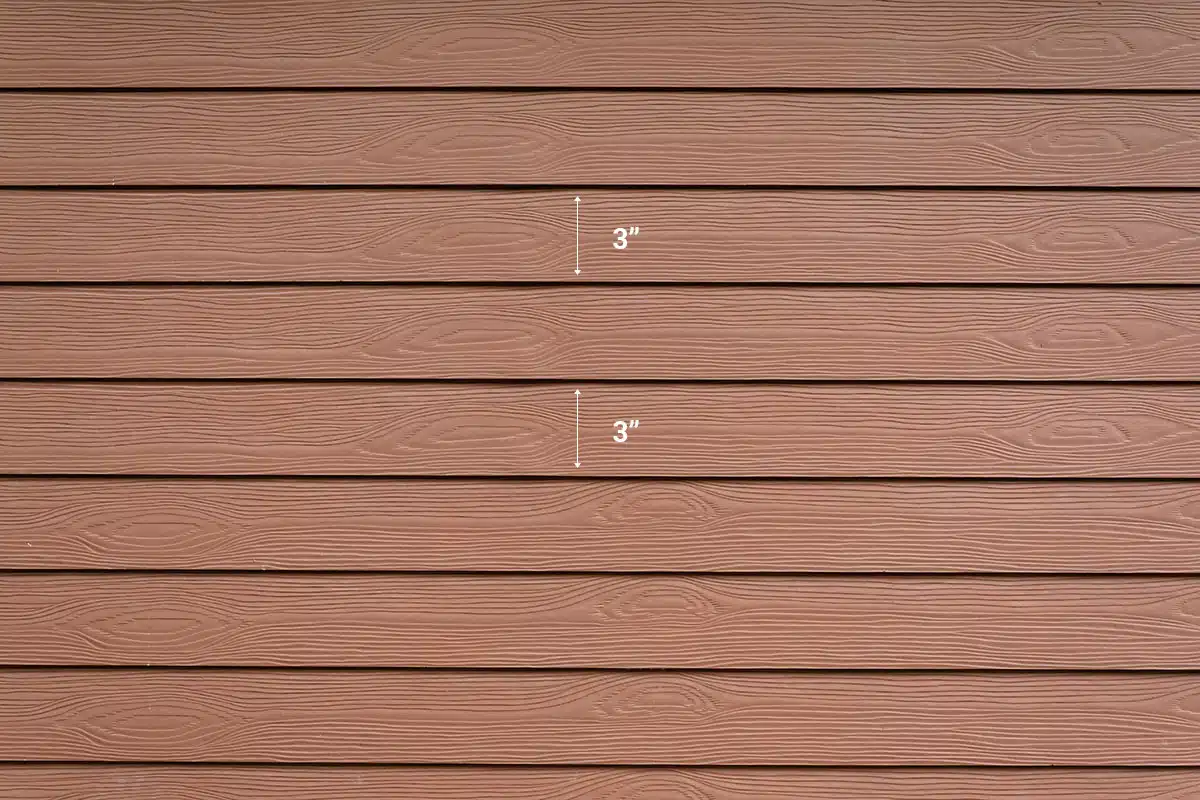 The standard on-center (slatwall groove) size is 3 inches. This size allows store owners, entrepreneurs, and shop managers to organize displays, baskets, shelves, items, and other merchandise in many ways. Configuring the slatwall cladding to conform to the shop's vision is easier with a 3-inch OC.
Unfortunately, most stores use a 3-inch on-center slatwall groove, robbing shops of a unique identifying mark. Hence, some business owners opt for other sizes, including 4 inches and 12 inches to make their stores stand out.
As a rule, store owners must choose a slatwall groove dimension that matches the brand. For example, businesses with a minimalist philosophy should opt for a 4-inch or 5-inch on-center slatwall groove. Meanwhile, stores with tiny merchandise items should pick a 2-inch on-center slatwall.
Analyzing merchandise items can help storeowners determine the most appropriate slatwall groove dimension. For example, a 24-inch tall product should do well with a 30-inch on-center.
As a rule, the groove must be taller than the displayed product to draw customer attention to the item and not the "unused" slatwall grooves.
Lastly, business owners can choose the products to highlight in stores and use the correct slatwall on-center size to draw attention to the offering. For instance, a rare, 5-inch tall item can benefit from a 6-inch on-center slatwall amid smaller objects.
Slatwall Hook Dimensions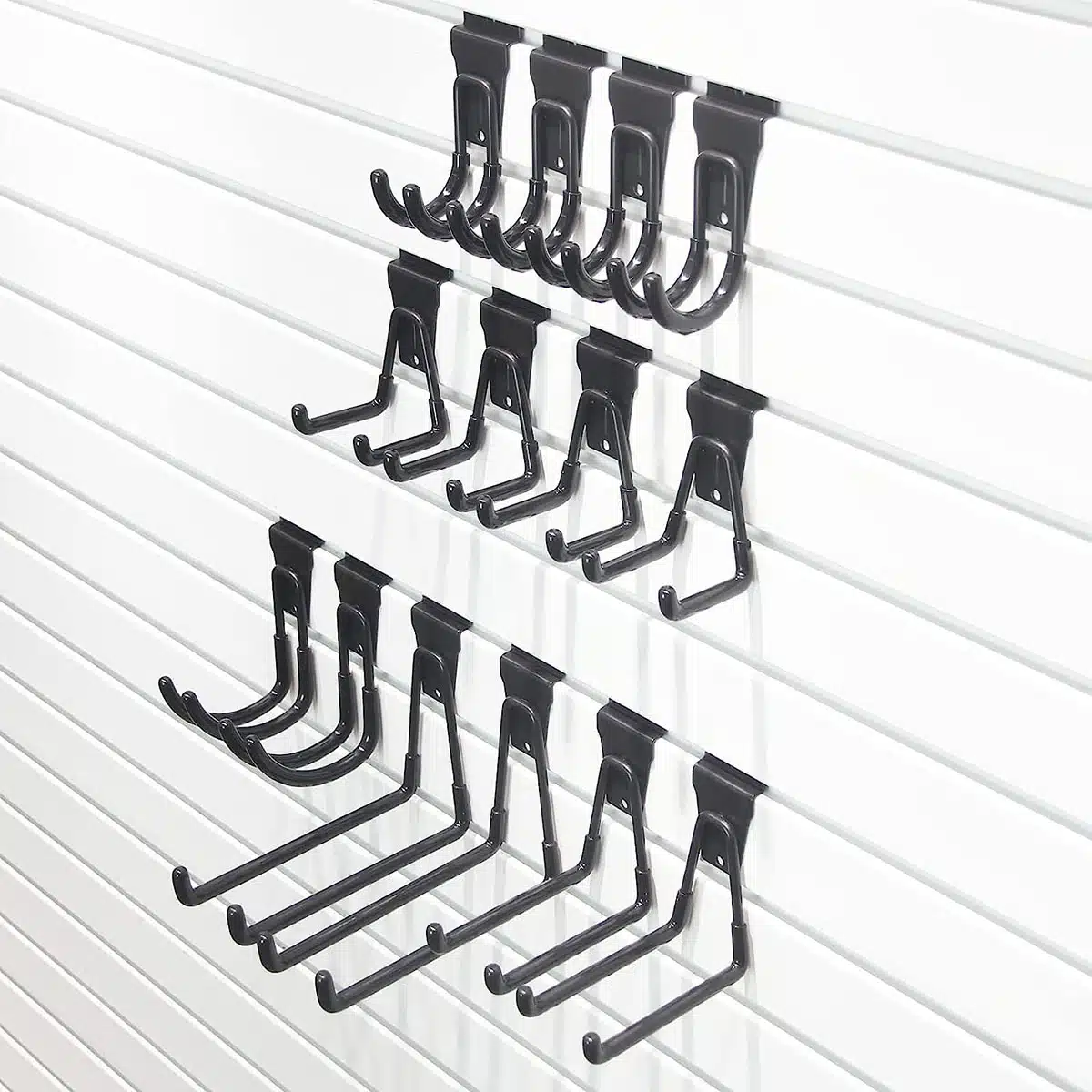 See this slatwall hooks at Amazon [sponsored link]
Slatwall hooks vary in size, depending on the manufacturer. For example, the rods in a slatwall wire hook can be 1/8 of an inch in diameter and two inches long. Other slatwall hooks can be 4, 6, 8, 10, and 12 inches long.
Hooks are the slatwall's principal load-bearing mechanism, taking the weight of items on display. As a rule, short slatwall hooks have a lower weight capacity than longer versions. The hooks are the perfect solution for organizing small and lightweight items.
Medium-length (6 to 8 inches) and extended-length (10 to 12 inches) slatwall hooks are ideal for hanging heftier objects. However, the longer the hanger the less stable it will be will used with heavy items.
Store owners must check the slatwall hook's weight-carrying capacities to determine the most appropriate hook dimension for the shop. You will also need to consider the weight capacity for the entire package including essential accessories, such as screws, pegs, brackets and racks.
Slatwall Slot Dimensions
Slatwall slots mirror the slatwall dimensions. Hence, a four by eight feet slatwall should have an identical slot (i.e., 4 x 8 feet).
Shops and retail stores with custom slatwall slots can ask fabricators to customize the slatwall panels to ensure the correct fit to the space.
How Much Weight Can Slat Walls Hold?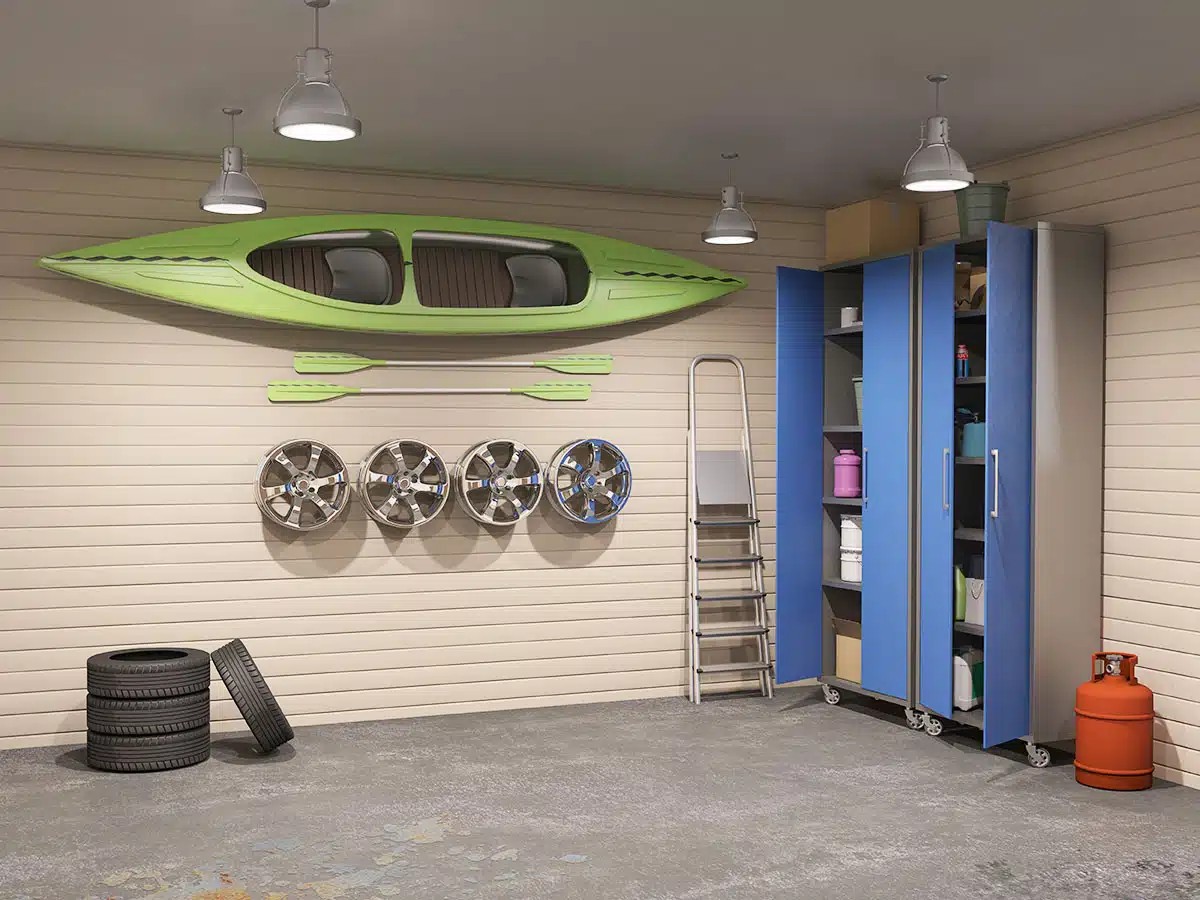 Slatwall panels vary in weight capacity, often depending on the material, reinforcement, and manufacturing process.According to American Retail Supply an un-reinforced slatwall can hold up to 12 pounds for each bracket that is 12 inches away from the wall.
Reinforced slatwall panels can accommodate up to 50 pounds for every slatwall bracket about a foot from the wall. On the other hand, slatwall panels without reinforcements can only hold 12 pounds per bracket with the same setup.
This consideration could be critical for effective organization and storage of goods, with appropriate storage containers such as bins, cubbies, boxes, and drawers at their proper weights to avoid shelving failure or damaging goods.
Learning slatwall dimensions is crucial for ensuring proper shopfitting projects. Although slatwall panels (including grooves and hooks) come in standard sizes, businesses and homeowners can customize their slat walls to ensure the correct fit.
Visit our pegboard sizes guide for more related content.