Find out all about this mid-century modern house plan with courtyard including its detailed floor plan, interior design elements, and the exterior features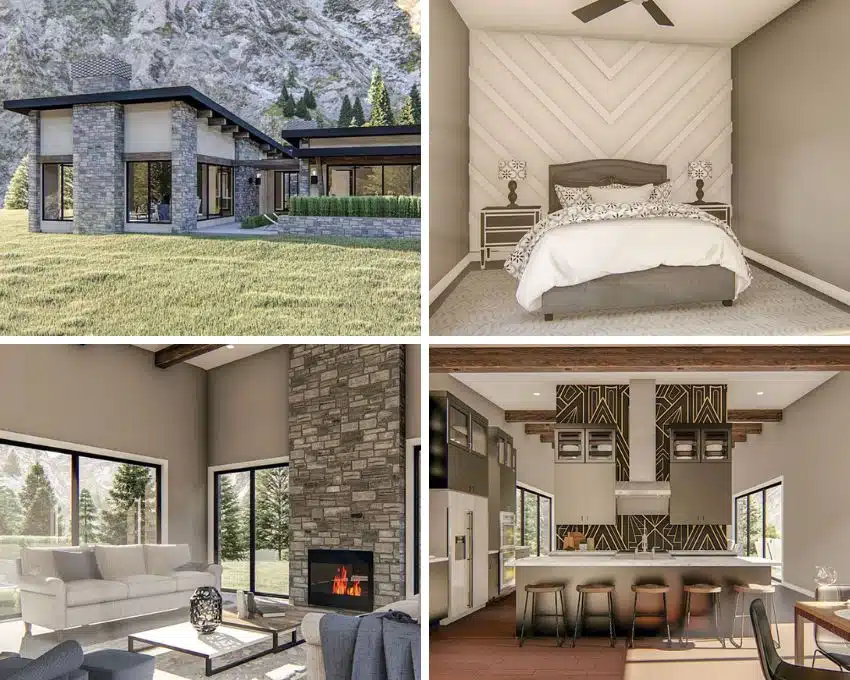 A mid-century modern home design embraces all the desired aspects of mid-century and modern styles. The easily recognizable home design includes open floor plans, one-level living, large windows, glass doors, and a seamless connection of the interior to the outdoors.
The plans for this Mid-century Modern Home with Courtyard and Drive-Under Garage offer all the perks of this popular design style.
With a manageable 2,835 sq. space, the home's architecture encompasses three distinct living areas; two bedrooms letting out to the living room, a dining room, a kitchen, and a great room.
The master bedroom is set off by itself for ultimate privacy and for the homeowners to retreat to when they need a break.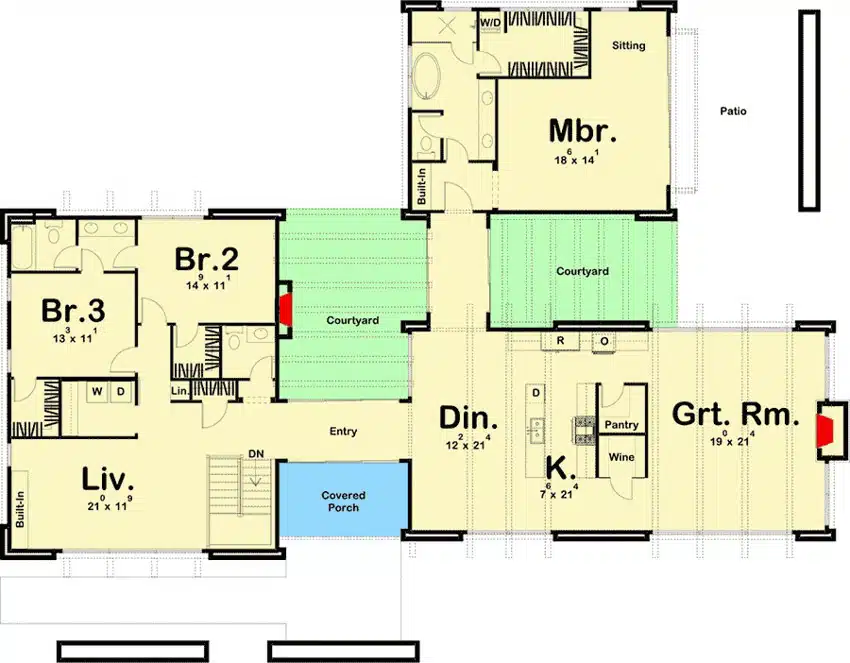 See this mid-century modern house plan with courtyard on this page link.
All three sections are connected by two hallways lined with floor-to-ceiling glass windows and sliders, letting in an abundance of natural light. The main entrance to the home opens into the front hallway.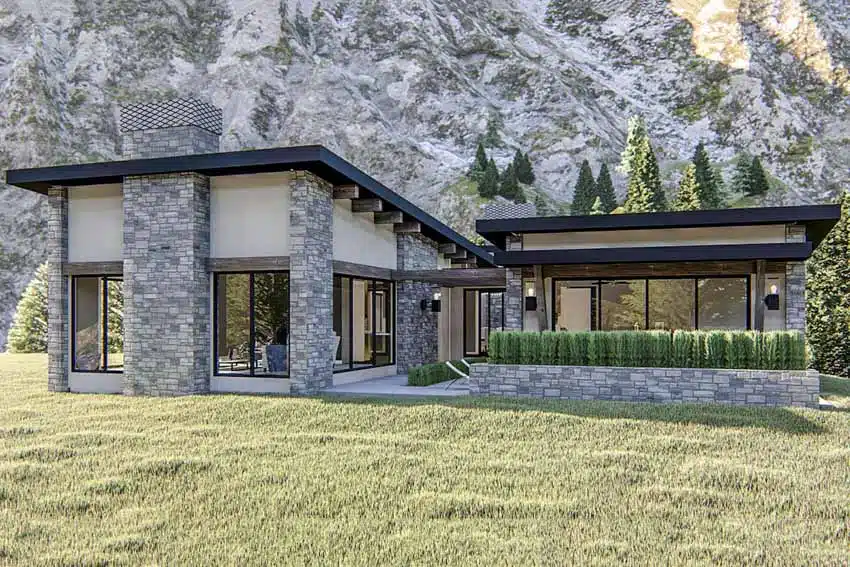 This feature conjoins the bedrooms and living room to the kitchen, dining room, and great room. The hall's back wall boasts glass sliding doors opening to the first courtyard with the second courtyard across the hall.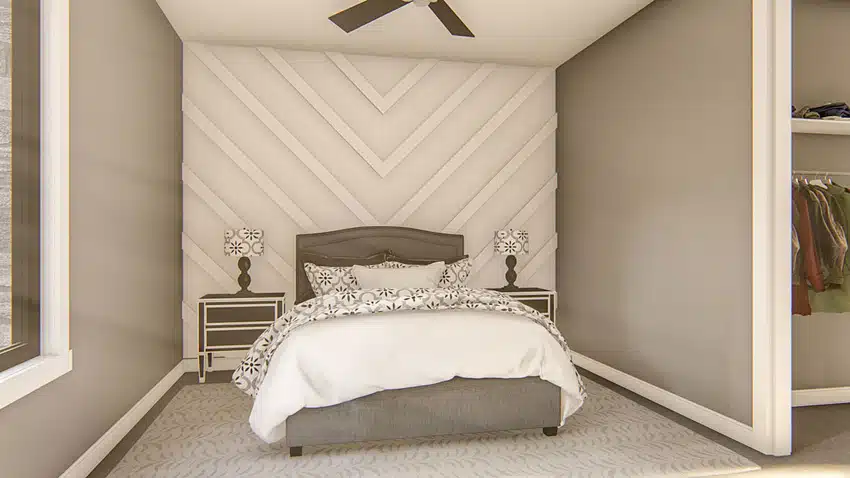 Each of the good-sized two bedrooms has its own walk-in closet with a shared Jack and Jill bathroom. Both bedrooms have a separate entrance to the shared full bath that includes two sinks and a full bath and toilet with a door for privacy.
With the master bedroom set off in its own area, the bedrooms are helpful for a family with children, as guest rooms, or as office space for work-at-home owners.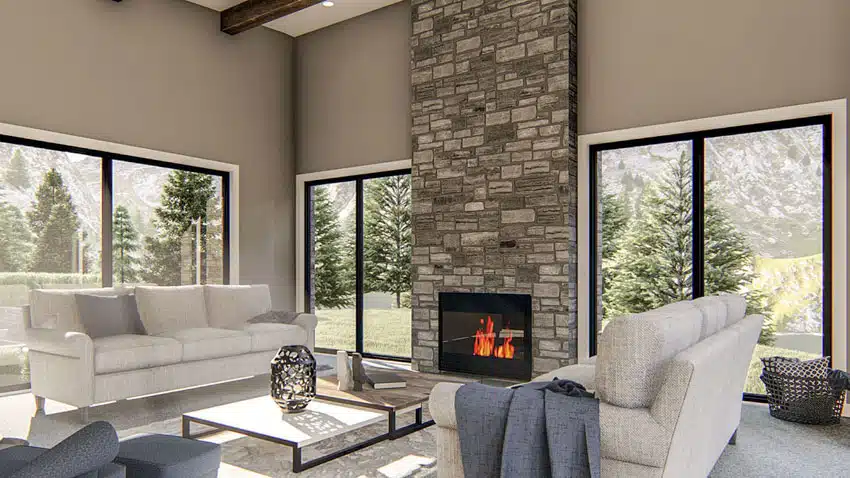 There's a convenient linen closet in the hallway and a nicely placed laundry room with shelving and ample space for a full-size washer and dryer.
This area also includes a 21′ by 11′ living room, lined with an entire wall of floor-to-ceiling windows and built-ins for storage and a media center.
The windows in the living room are on the front side of the home and can provide afternoon sunshine on cold winter days when facing the south.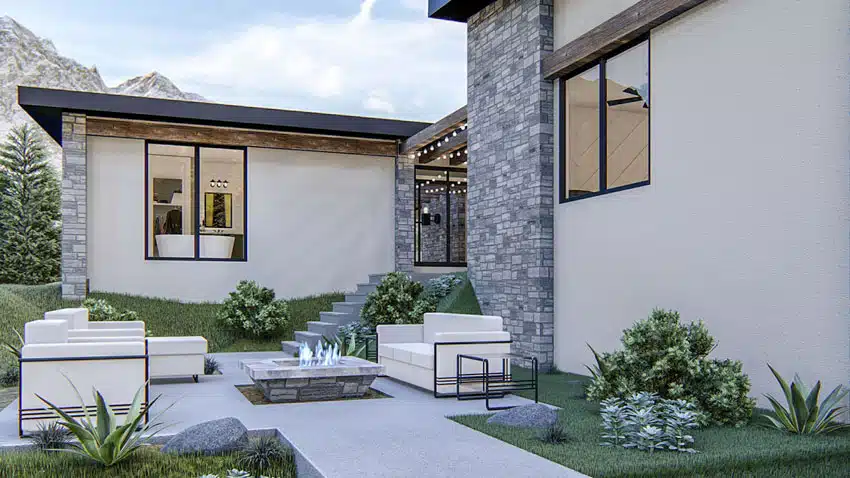 The central courtyard adjacent to this area is equipped with an outdoor fire pit and entertainment area for afternoon drinks or nighttime cocktail parties.
An outdoor fireplace offers warmth on cool days or nights and adds to the ambiance when enjoying time with friends or family.
Courtyards, by their very shape, satisfy the definition of positive outdoor space and also increase the perception of interior space. – Log Home Living, Murray Arnott, May 2001
Both courtyards provide a private oasis to relax, take in some sun and escape the business of life. They're great for dinner parties, birthday celebrations, and BBQs.
They could include covered areas for inclement weather using a canopy or extension of the roof line for a more permanent covering.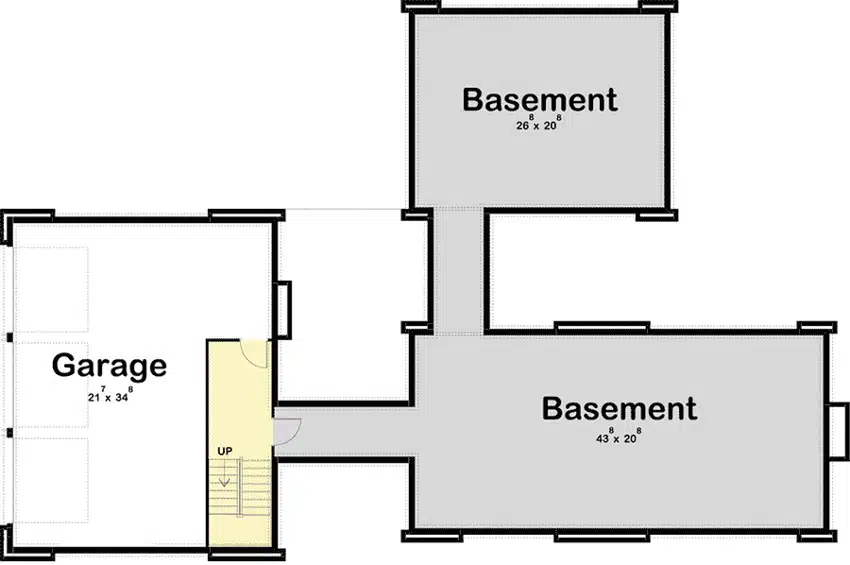 Walking toward the hall leading to the kitchen and great room area reveals a stairway leading to the basement.
Two large basement rooms also with nine-foot-high ceilings follow the mid-century moden home design's footprint and are connected by hallways in line with the first floor.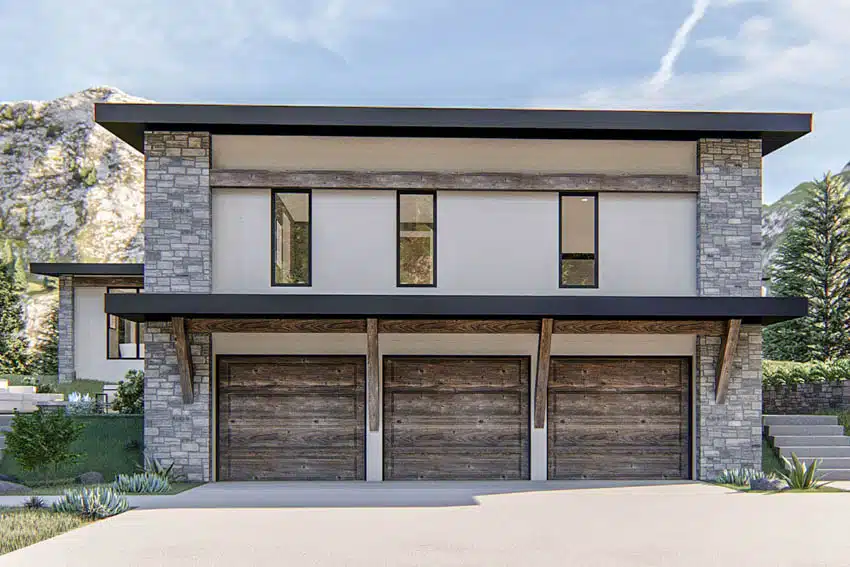 A side-load three-car garage is located under the bedroom and living room area and is assessable through a door connecting it to the basement. At 867 sq. feet, the garage has ample room for three vehicles and storage.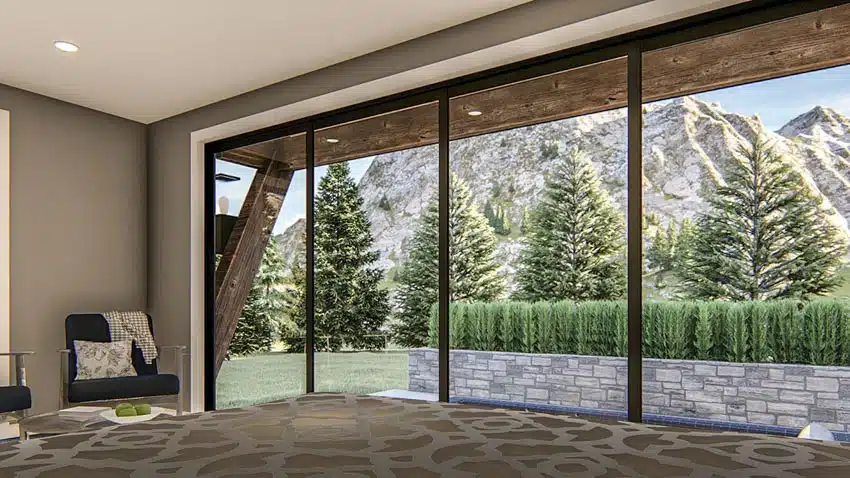 Walk across from the bedrooms and head toward the dining room, where you can access the master bedroom through its own hallway.
The master bedroom includes a sitting area with access to a private patio through glass sliding doors.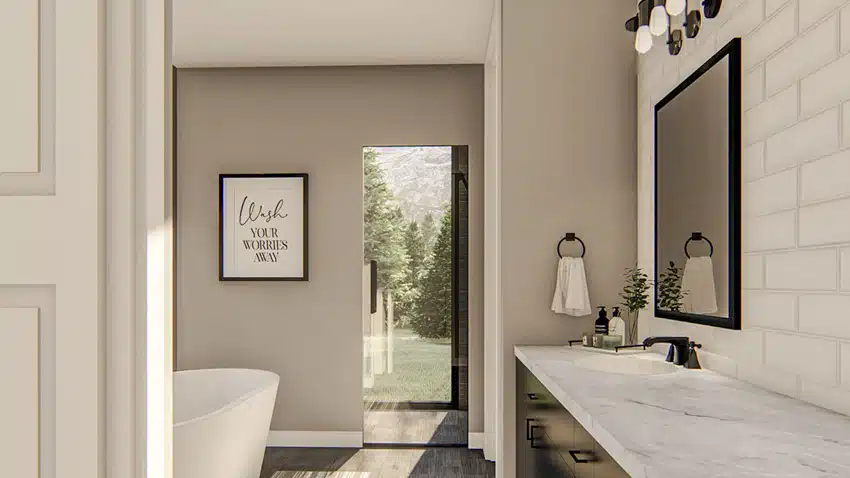 This well-designed master has built-in shelving to the left of the entrance and a master bathroom with a walk-in his and hers closet. The closet includes a spot for a stackable washer and dryer.
The bathroom is designed with a separate toilet closet, double sinks, and a bathroom skylight window above for plenty of sunshine and light.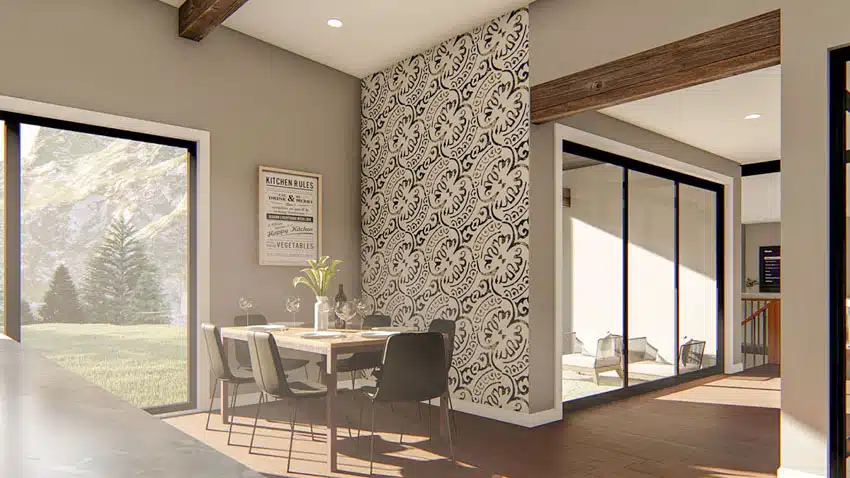 The third area, central for cooking, eating, and gathering, is the hub of the home. A partial wall, the full height of the nine-foot ceilings, sits in the middle between the kitchen and great room, providing a spot for the stove, exhaust fans, and breakfast bar in the kitchen.
Both sides of the bar have storage with a walk-in pantry on one side and a wine storage room on the other. The temperature-controlled wine storage room provides the perfect environment for aging and preserving wine.
It also has an insulated floor and walls for optimum temperature and humidity levels and is equipped with wine racks and shelving for storage.
The placement of the dividing wall allows access between the dining and cooking area and the great room, with walk-through space on either side to keep the two areas connected yet separate.
The great room has floor-to-ceiling glass on two walls for a wide-open view of the outdoors and a fireplace for cozy gatherings after a dinner party.
This 3 bedroom, 2 and a half bath house plan includes a 90′ wide by 60′ deep footprint with a walkout foundation. All exterior walls are constructed with 2x4s, and a 2×6 build is available.
The plan includes accommodations for a side-sloping property. Well-chosen exterior siding is made from beautifully cut gray-patterned stone with thick walnut wood planking above all the windows and doors.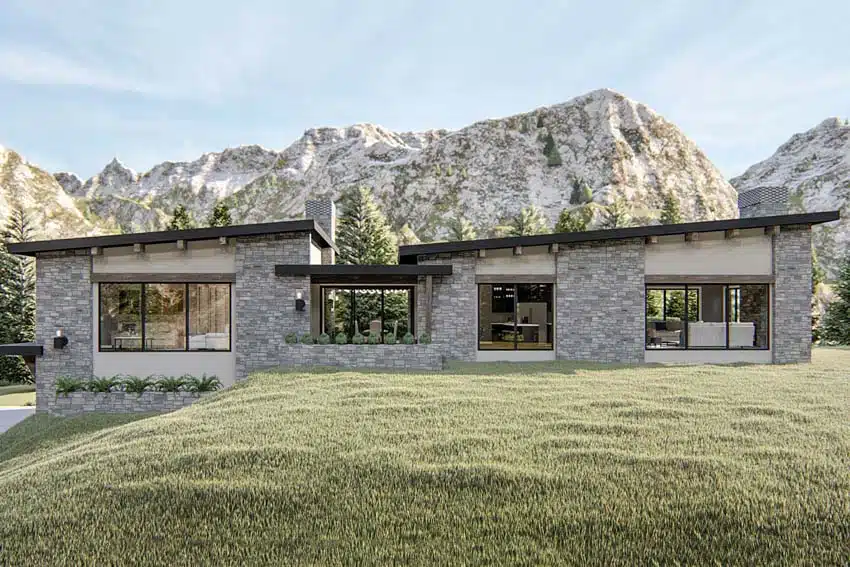 Get more details about this mid-century modern house plan with courtyard design plan – at this link.
The roof on this home plan has a pitch of 1:12, which is considered a low-rise or flat roof. Flat roofs aren't entirely flat—they must have a pitch for water runoff. Roof pitch applies to the slope supported by rafters and is a ratio of rise and run.
This home's roof rises one yard for every 12 yards of the home's length and features open roof eaves with exposed roof beams. The overhang from the roof is deep and painted a stealth jet black providing contrast to the light gray stone siding.
This mid-century modern house's plans are true to the style, with plenty of windows, an open floor plan, open area spaces, and flat planes. Its minimalist design creates a simple palette to which the homeowner can add their desired style.
All building materials are state-of-the-art sustainable products to keep with today's environmental stewardship, and the curb appeal offers a mid-century meets modern design, sharing classy with a clean-lined design that creates a stunning home.
See more related content in our article about mid century modern paint colors on this page.