Here's a beautiful contemporary mountain house plan 2 story with 3 car garage with inviting open design and natural wood finishes.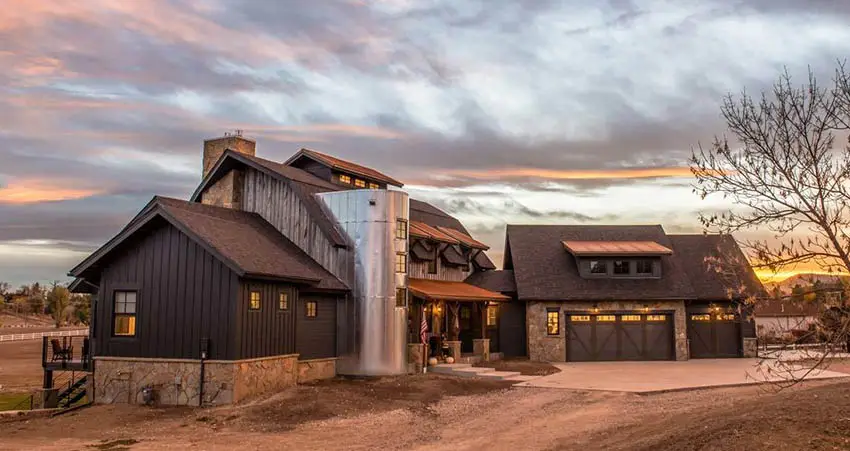 For people who love the outdoors and enjoy the scenic views of nature, this Contemporary Mountain House has the features to make your experience living in the mountains unforgettable, all year round.
With 3,859 square feet of pure delight, you'll love the ample space that houses 3 bedrooms and a guest room, and add 1 more if you want to convert the finished storage upstairs into a bedroom.
It's always a treat to have your own bathroom and that's what exactly this Contemporary Mountain House Plan offer. Each of the 3 bedrooms and guest suite has its own full bathrooms plus a spacious walk-in closet.
You also get a 3-car garage that takes you up to the guest suite and finished storage. Now that extra space upstairs from your garage is a great place to set up a studio or work area.
See this Contemporary Mountain House Plan 2 Story 3 Car Garage Plan 95043RW – at this link.
Mountain House Exterior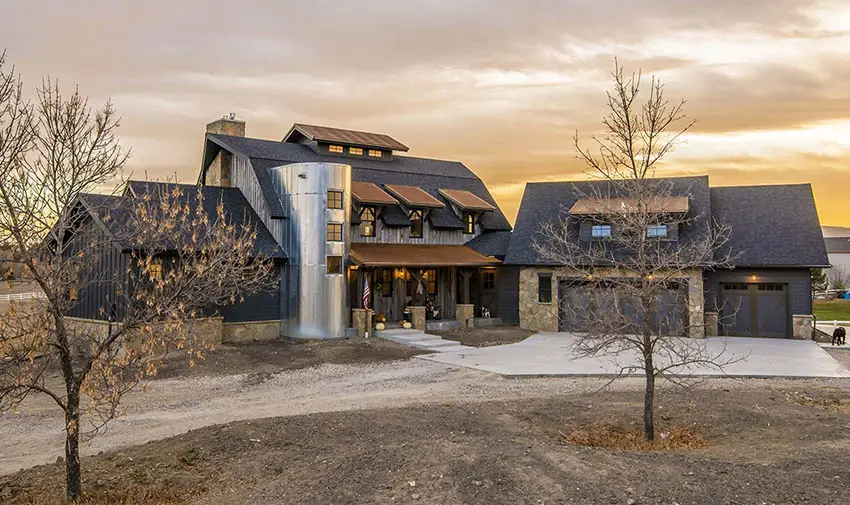 With a punch of modern features, this grand mountain house has interesting architectural features that pay homage to the vernacular style.
As you approach the grand home, you'll instantly notice the eye-catching metal-clad feature that houses the stairs. The interesting contrast of metal against the organic tones gives it character that gets you more intrigued on what lies beneath the unique façade.
Front Porch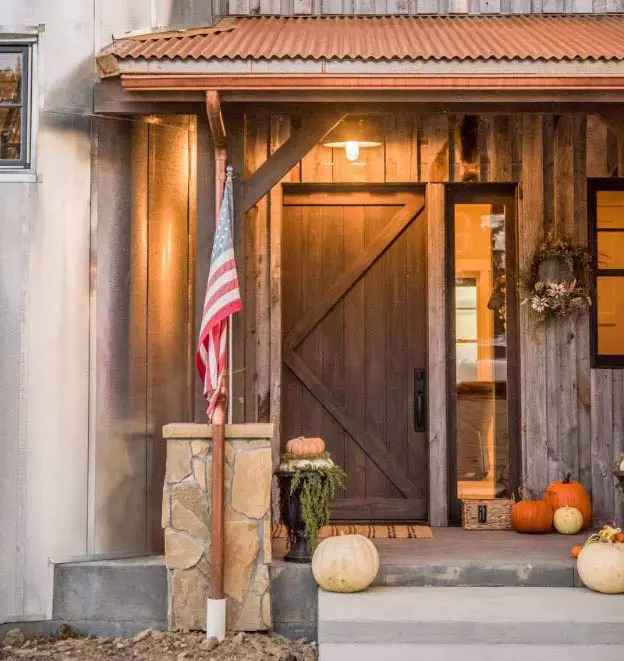 Continuing your way to the façade, you're invited through a spacious front porch that's a perfect outdoor getaway with just a few steps from your front door. Cleverly designed, this front porch gives you access to both the public and private spaces, which you won't find in most house designs.
Contemporary Mountain House Floor Plan Ground Floor
With expansive areas, the plan is designed to the most least travel distance between zones. For this reason, instead of having the spaces stretched out in a linear fashion, you'll notice the overall plan is compact allowing rooms to have more access to other areas.
The angled 3-car garage, for instance, is a clever design that has a short distance from the front yard and utility room. The said angled plan also gives you a good view of the garage from the front porch while enclosing a courtyard-like space at the front.
As you enter from the front porch you are greeted with a spacious open space but first, you can hang your coat and fresh up into the coats area and powder room just around your right.
Now, as you continue your way the open plan allows you to access the kitchen area or family room. The dining room also is accessible from either your kitchen or family room. You do have the option to enclose the said areas such as the dining room or the kitchen.
An amazing feature of this Contemporary Mountain House Plan is the ceiling-high windows that stretch along the family room. Through these windows, you'll have a scenic view of the outdoors and access to the very spacious covered deck. While the lower windows are provided in the dining area to create a more intimate ambiance.
A mountain house does not go without a fireplace. Although this time, the hearth of the home extends its warmth to the master suite with an additional fireplace, back to back to the fireplace found in the family room.
Speaking of the master suite, which is by the way at the left side of your family room, this private space is definitely your dream bedroom. Private, spacious and complete with an ensuite bathroom and a large walk-in closet, plus you get access outdoors with its expansive deck, what more can you ask for.
Other amenities on the first floor include an office that opens to a deck, a spacious utility area, and access to the 3-car garage.
Second Level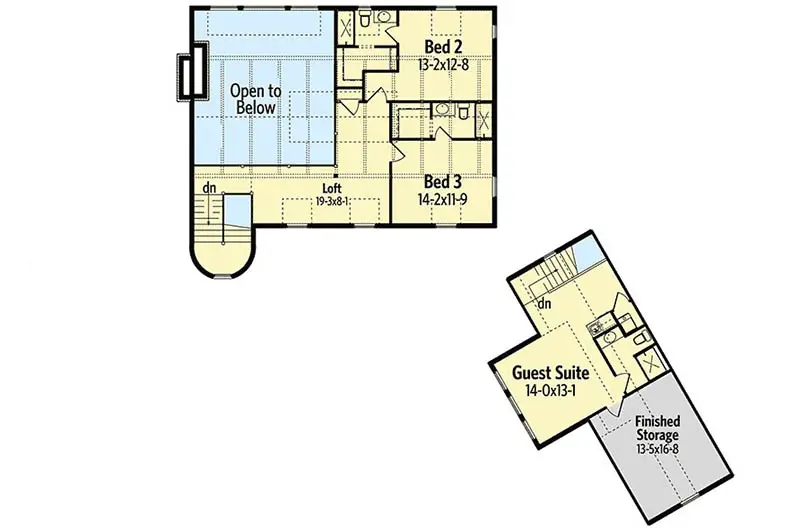 You can reach the second floor from a flight of stairs just on the left side of your foyer area. The second floor has a loft area where you get a view down to the great room.
The second level for the garage includes a guest suite complete with bathroom amenities and finished storage, which can be converted to an apartment for lease.
Optional Finished Lower Level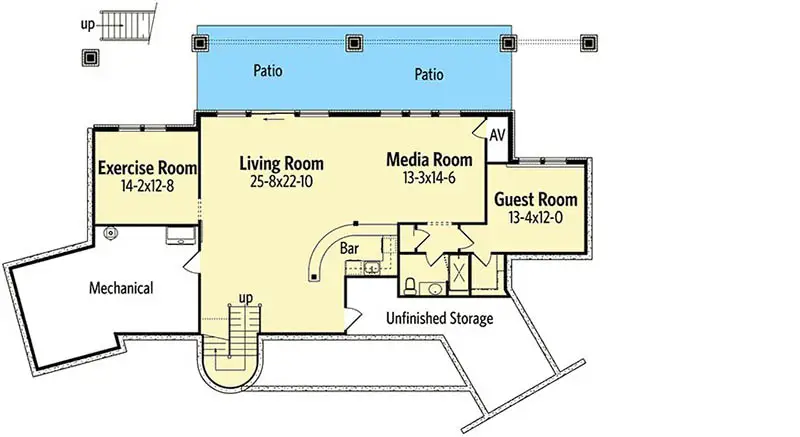 There's a provision for a finished lower level if you want to have more space which comes with an exercise room and another guest room.
It's a perfect space to stuff your media equipment, pool table, or minibar. The said floor is accessed from the covered deck from the rear or you can add access from the family area through the staircase.
The plan is also ready for a mechanical room and an additional storage area.
Mountain House Interior Design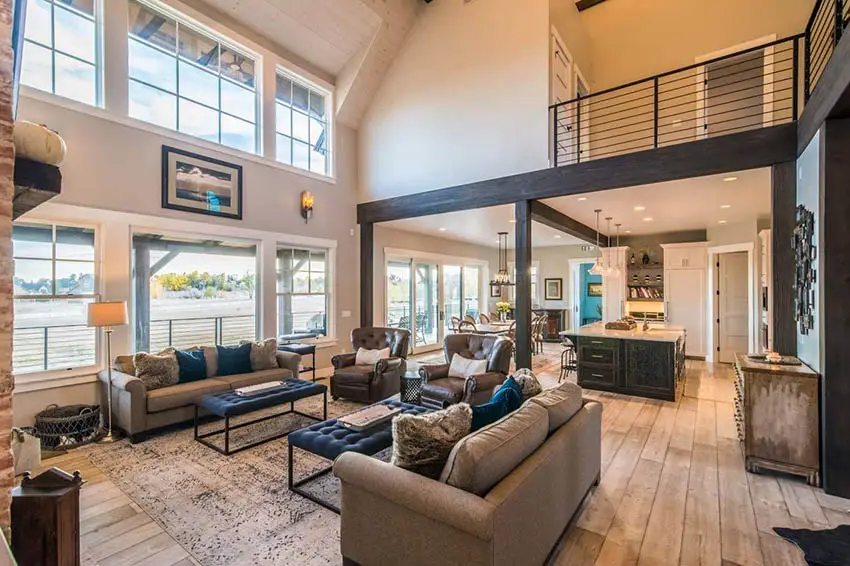 Contemporary Mountain House has a design that fuses the vernacular features with hints of industrial and minimalistic themes into a cohesive and unique home. The coming together of the different elements is evident in its gorgeous interiors as it is seen on the exterior.
As you enter into the home, you'll find yourself in a grand family room, splashed with warm and bright earthen colors and streamlined with neutral hues.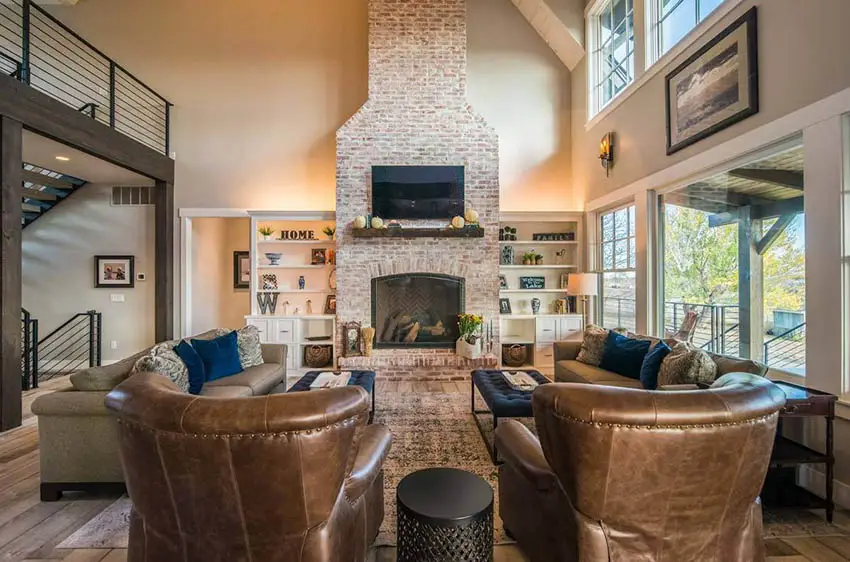 Overall, you'll find the architectural details have a simple geometry where horizontal lines dominate the look. In contrast, adorned yet simple and almost transitional pieces of furniture are added to give it a feel of having a personalized space. Though, you have an option to choose your own furniture styles as well as the color scheme for your interiors.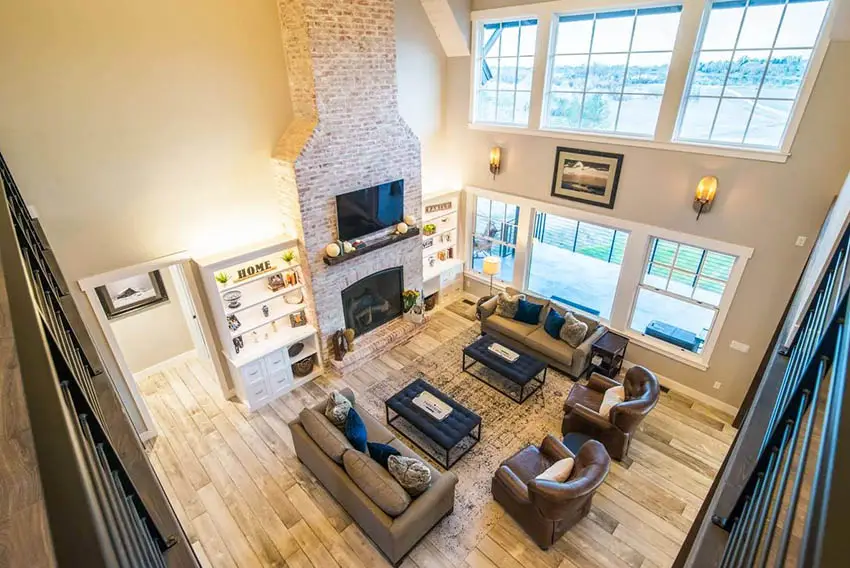 The light-drenched family, dining, and kitchen area means you've got your gorgeous space well-lit throughout the day and there's no stark or dreary space in this common area.
Mountain House Open Kitchen Design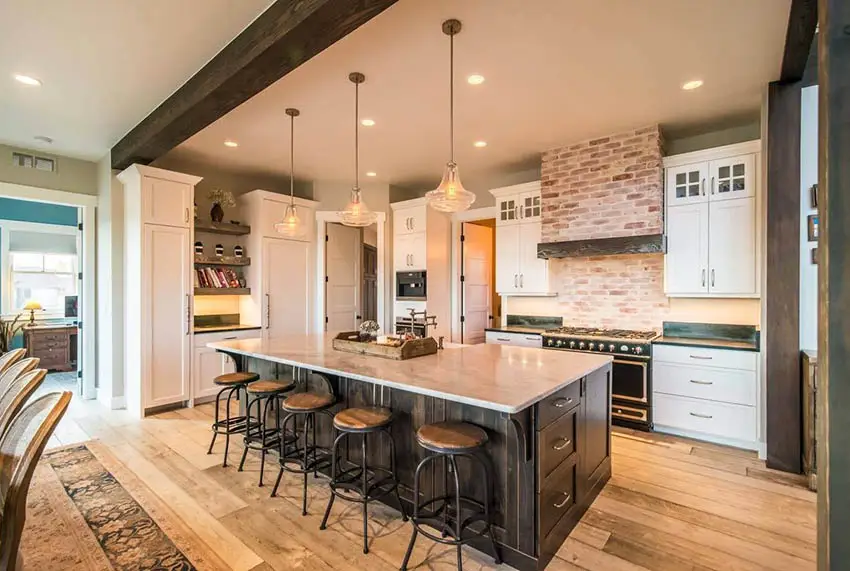 As one of the most efficient kitchen layouts, the L-shaped kitchen with the bonus of having a large kitchen island that doubles as a breakfast nook is a dream kitchen for anyone.
There's ample storage provided in the kitchen plus a walk-in pantry just around the corner. You also have an option to bring your upper cabinets all the way up through the ceiling to add more storage space and a clean look.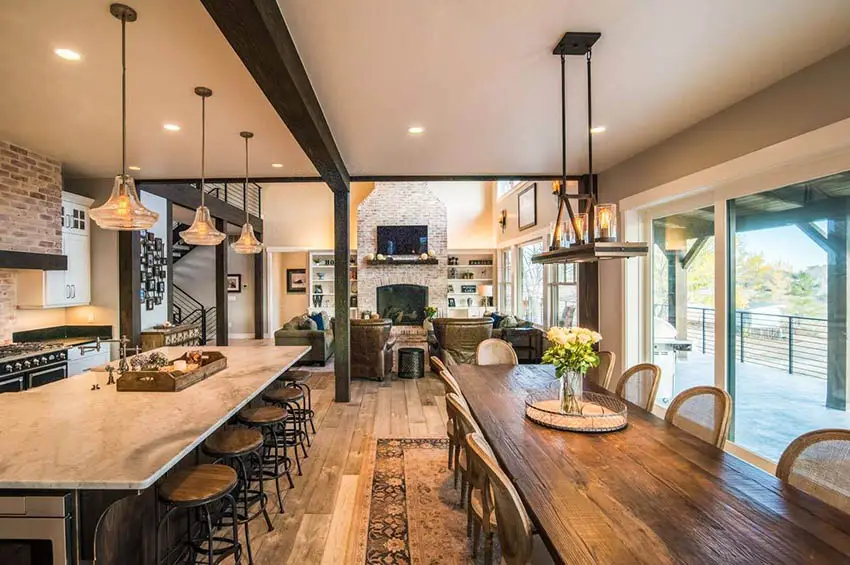 From the kitchen, dining and family room, you get an unobstructed view of the outdoors.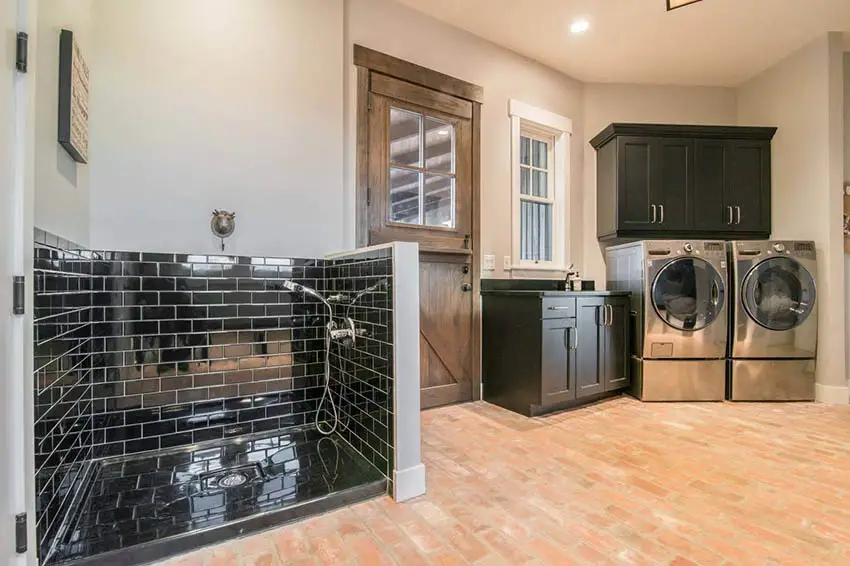 Aside from the spaciousness of the space, the utility room has a dedicated shower install that allows you to conveniently wash off pets after enjoying a stroll outdoors.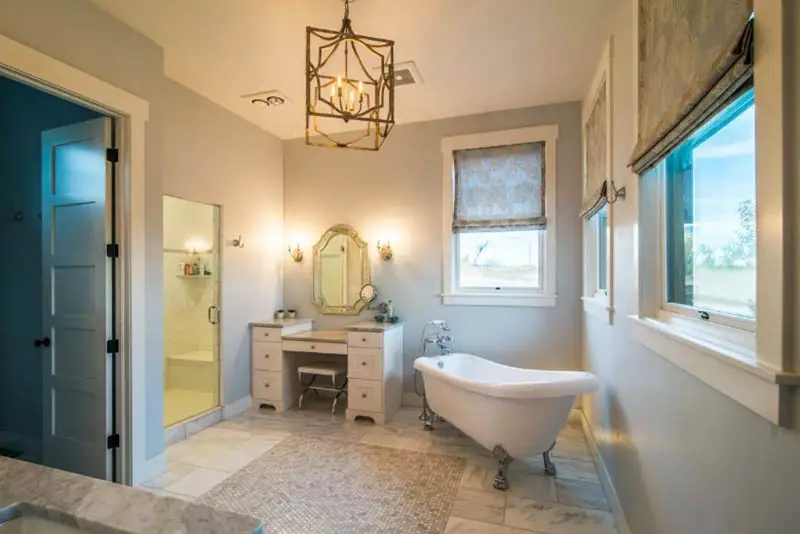 The bathroom provides plenty of room for a large claw foot tub and sit down make up vanity.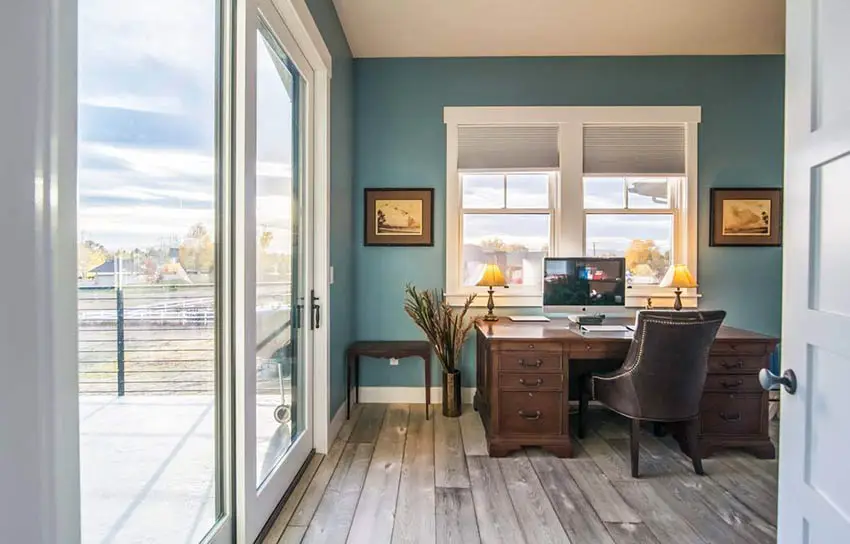 A very energizing home office room that lets you work while enjoying a healthy dose of vitamin D, fresh air and inspiring views.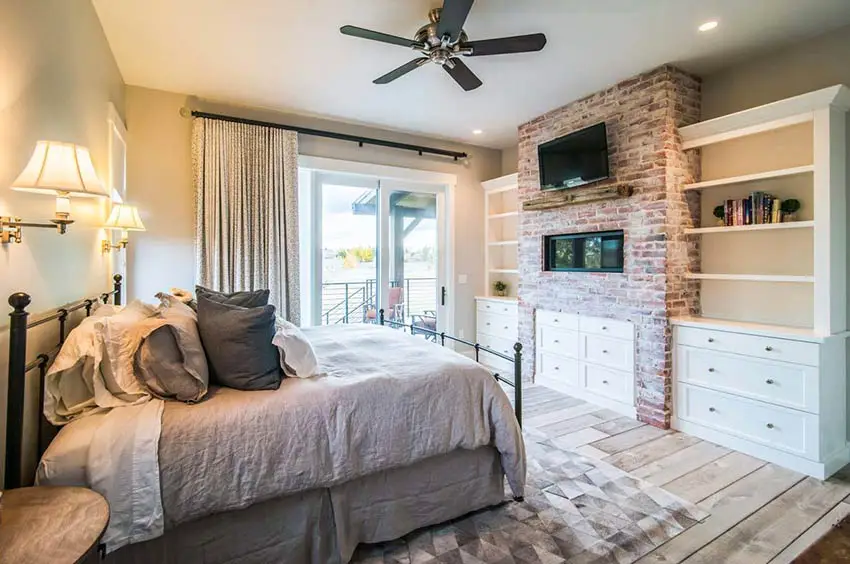 Bedrooms are cozy yet spacious enough to have a display of your collectibles with its built-in shelves around your personal fireplace. And, you even got your own deck to boot. For the 2 bedrooms on the upper floor, you have the option to add a balcony for each.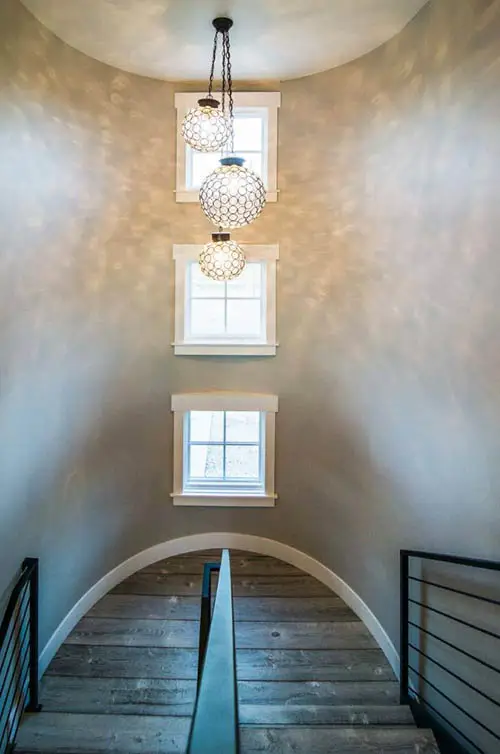 A view from the staircase that reveals that with the right lighting and shadow can be a wistful spot to be.
Mountain House Finished Basement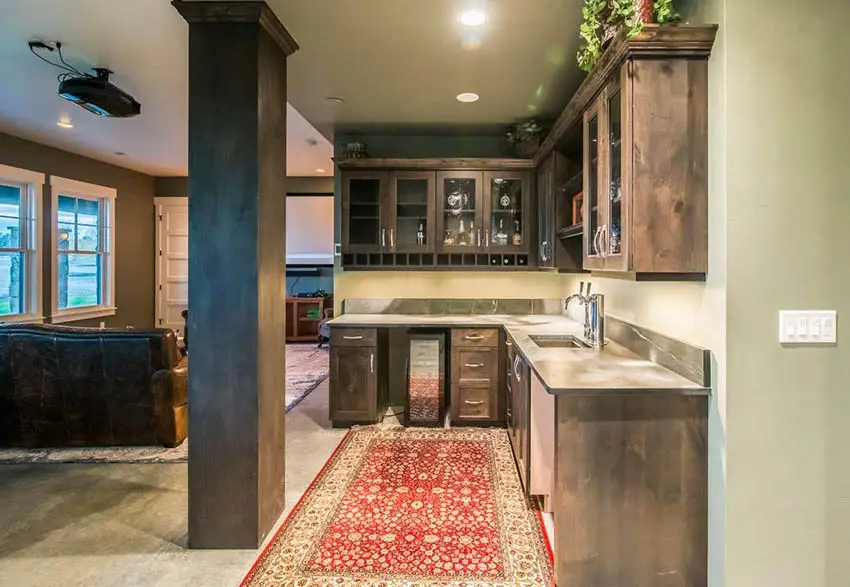 The finished basement provide plenty of space for a large living room complete with home wet bar and wood cabinetry.
Contemporary Mountain House Balcony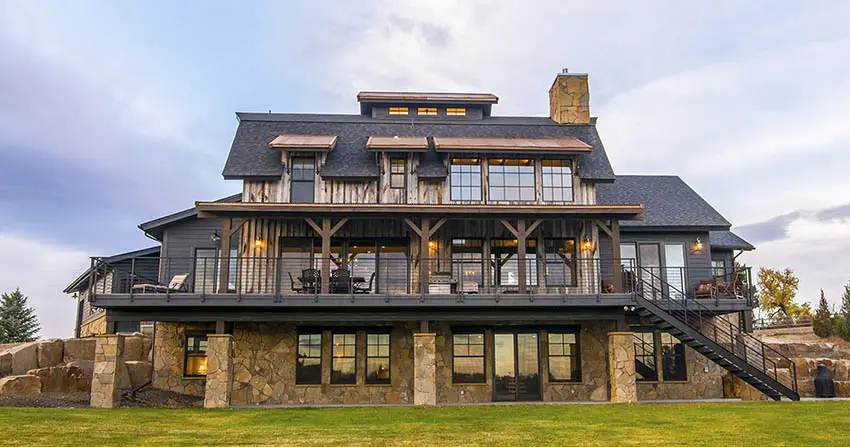 The three-level option looks grand at its rear exterior, wrapped with spacious balconies and a covered patio below.
These are the perfect spots to enjoy panoramic views of the surrounding nature or the perfect viewing platform for an afternoon outdoor sports out in the field.
Spacious Covered Patio Design
The spacious rear deck is absolutely heaven to nature lovers and an excuse to indulge with an alfresco galore every night.
Buy this contemporary mountain house design plan – at this link.