Find out what size crown molding for kitchen cabinets is the best, including crown molding sizes for different ceiling heights, and how to determine crown types for above cabinets.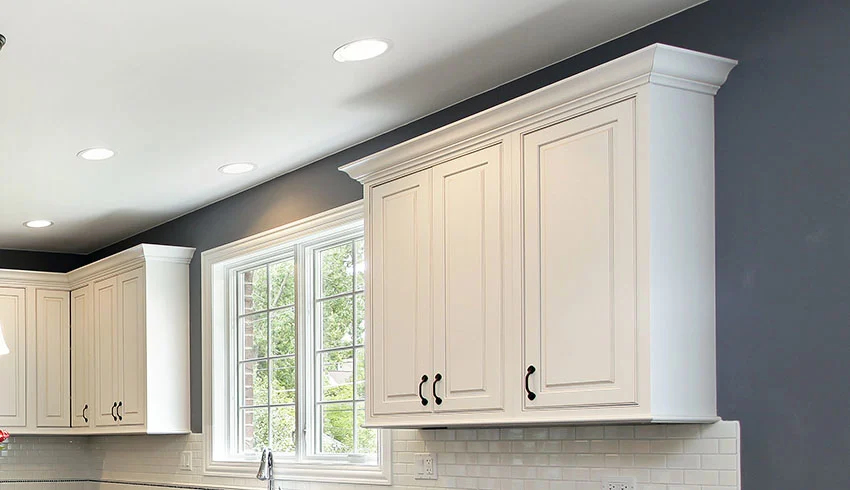 One of the most complex choices for moldings commonly used in the kitchen for cabinets is crown moldings. Although moldings are optional and will depend on what look the homeowner is looking to achieve, adding crown molding to the kitchen cabinets will truly upgrade the kitchen's overall look and add an element of classical architecture to the home.
Depending on how a ceiling is in a home, crown moldings will differ from one to the next, and choosing the right size for the right ceiling height will dictate how proportional or overbearing a crown molding will be inside the kitchen.
Crown Molding Sizes For Kitchen Cabinets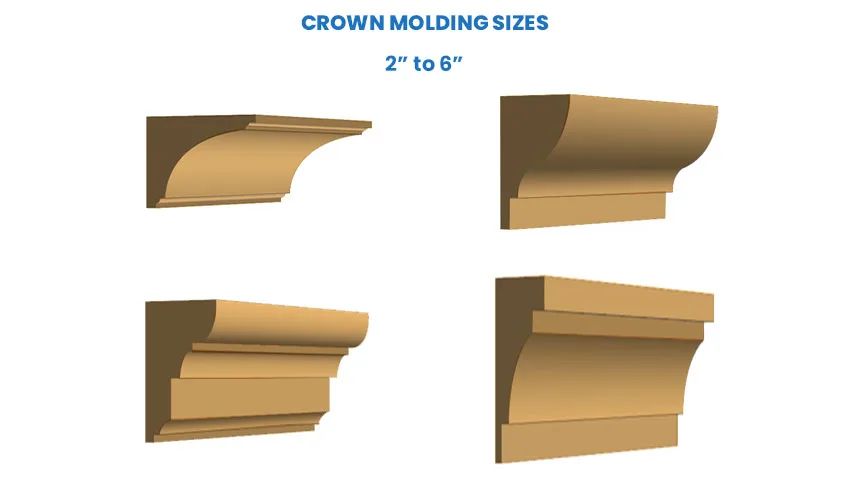 Leveling up any kitchen cabinet by adding crown moldings is a pretty easy task. Although one of the things that makes this process complex is determining the proper crown molding size for a particular ceiling height. Choosing the wrong crown molding size will look overbearing for the kitchen cabinet, which has the potential to give the effect that the room is shrunk and smaller.
The standard crown molding size for kitchen cabinets will range from 2 to 6 inches or around 5 to 15 centimeters. This size of crown molding is standard and will fill the gap between a kitchen cabinet and a ceiling of 8 to 9 feet high.
This size will vary according to what type of crown molding a homeowner wants for their kitchen cabinets. There is the traditional crown molding that is typically seen in older homes.
Stacked crown moldings are what a homeowner should get if they have really high ceilings. It combines several designs of crown moldings and stacks them on top of each other to achieve a complex structure. Because of this, this type of molding is expected to be pricier than the standard.
Crown Molding Size For 8ft Ceiling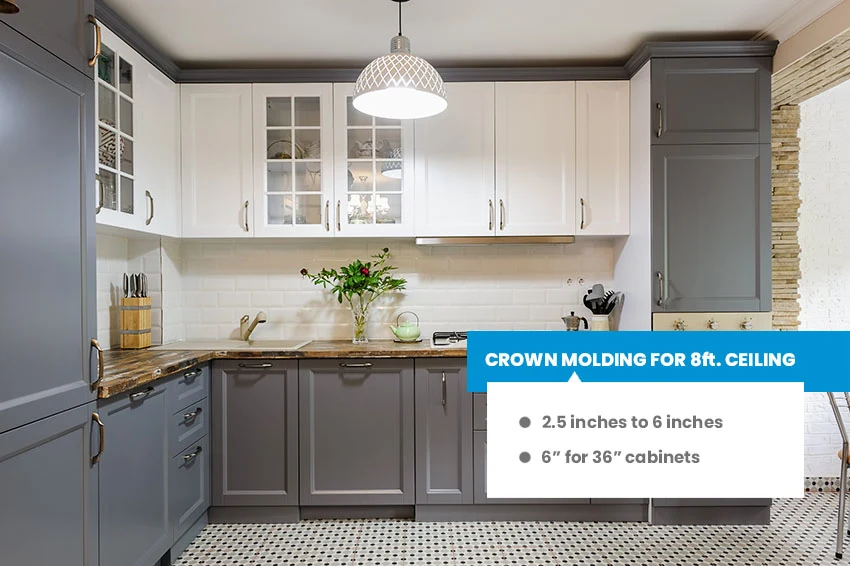 The standard ceiling size for most homes is 8 feet or 96 inches, calling for most crown molding manufacturers to produce crown molding sizes for this ceiling height more than the others. Not to mention that to achieve the stacked crown molding look, a number of crown molding with this height is needed.
For a ceiling with a standard height of 8 feet or 96 inches from the floor to the ceiling, the recommended kitchen cabinet crown molding for this size is 2 1/2 inches to 6 inches or 6 to 15 centimeters.
Once this size is fixed, choosing the perfect crown style and design will be easy for any homeowner, and they only have to consider the overall size of the kitchen.
If a homeowner has the standard 36 inches or 91 centimeters kitchen cabinet, adding a crown molding of around 6 inches or 15 centimeters will perfectly cover the space between the kitchen cabinet and the ceiling.
Although, this will depend on the placement of the cabinet, so knowing that you have ranged in sizes for the kitchen cabinet crown molding is excellent for 8-foot ceilings.
Crown Molding On Cabinets Size For 9 Foot Ceiling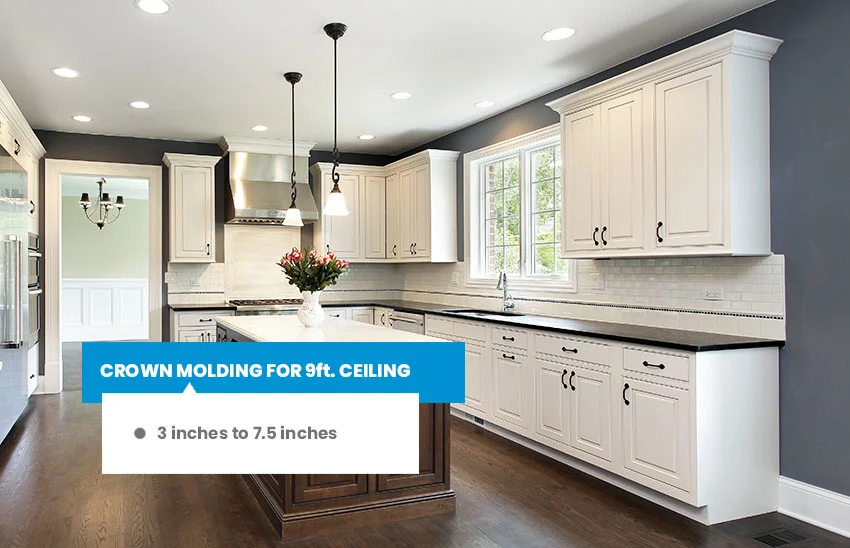 Aside from the standard 8 feet or 96 inches size of the floor to the ceiling, there is a taller ceiling size at about a foot higher at 9 feet or 108 inches.
This ceiling size is able to sustain larger kitchen cabinet crown moldings. This is exciting for a specific homeowner since they essentially have more options when it comes to choosing the crown molding they need for their kitchen cabinets.
Crown molding sizes that will be great for this ceiling height range from 3 inches or 8 centimeters to 7 1/2 inches or 19 centimeters.
Choosing the right size of kitchen cabinet crown molding for 8 feet is the same for 9 feet ceiling, where both the square footage of the room and the level of formality or intricacy in the molding desired by the homeowner is considered.
However, unlike crown molding for standard height floor to ceiling, getting a crown molding for a 9 feet ceiling will require adding a picture molding, especially in public places.These picture molds are often referred to as cornices which are often built up by pilling one crown molding on top of the other.
Crown Molding On Cabinets Size For 10 Foot Ceiling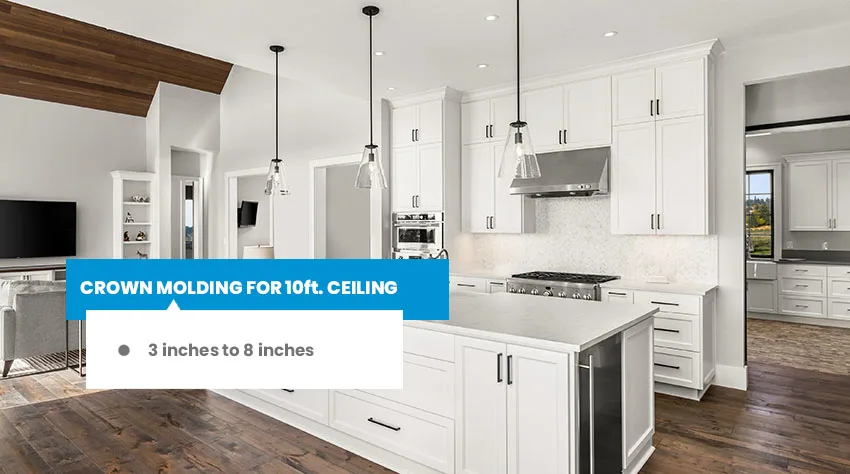 The most important thing to consider for a homeowner before getting crown molding for their kitchen cabinet is the ceiling height, especially if they want the molding flush on the ceiling to ensure a seamless transition from the ceiling to the cabinet, which will not only look great overall but make the look of the kitchen complete and finished.
For a 10 feet or 120 inches height from the floor to the ceiling, the ideal crown molding for this size is choosing between smaller 3 inches or 8 centimeters to the thicker 8 inches or 20 centimeters crown molding.
These sizes are the same whether they are looking for classical molding that resembles Greek or Roman crowns or looking for fancier leaf and flower crowns that will look great for traditional homes.
At the same time, there are also simpler designs for more modern homes that look simple yet sleek, and pilling them up on top of one another for kitchen cabinets will look fantastic no matter what design they go for.
Crown Molding Size For Above 10 ft Ceiling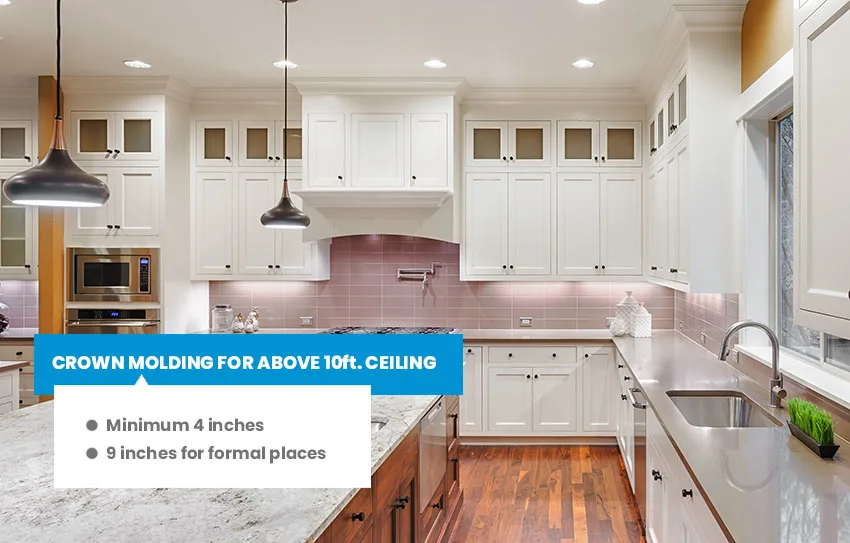 Homes with higher ceilings will require taller fixtures from the windows to the doors to the kitchen cabinet down to the ceiling, which means that this is also the case for kitchen cabinet crown molding.
The best crown molding for this ceiling height for ceilings that are 10 feet or 120 inches and above are crown moldings with a minimum thickness of 4 inches or 10 centimeters, and this size is not for crown moldings affixed on formal places. For places of formality, the kitchen cabinet crown molding size should at least be 9 inches or 23 centimeters.
Like crown moldings for kitchen cabinets for 9 and 10 feet tall walls, there is also the option of not just getting a crown molding for your kitchen cabinets but also including a cornice and a picture mold, especially if there are more spaces to cover and the kitchen cabinet is installed a little bit lower than the standard way.
More or less with the moldings, the cornice, and the picture mold, that is at least 24 inches or around 61 centimeters.
How To Determine Crown Molding Size For Cabinets
Ideally, the easiest way to determine what size of crown molding is needed for the kitchen cabinet is to know the height of your ceiling from the bottom up and the kitchen cabinet sizes.
These two factors will be the basis of any homeowners when it comes to choosing or selecting the perfect kitchen cabinet crown molding for their spaces. Meaning that the higher or taller their ceilings are, the larger and thicker the molding can be.
For an 8 feet or 96 inches ceiling, the best size of crown molding for this space will range from 2 and a half inches to 6 inches or 6 to 15 centimeters.
For a room with a ceiling height from the floor up of 9 feet or 108 inches, crown molding size will range from 3 to 7 and a half inches or around 8 to 19 centimeters. Ten feet or 120 inches ceiling height will require crown molding ranging from 3 to 8 inches or 8 to 20 centimeters.
In contrast, the ceiling above the 10 feet bracket will require crown molding 4 to 9 inches or 10 to 23 centimeters.
Types Of Crown Molding For Above Cabinets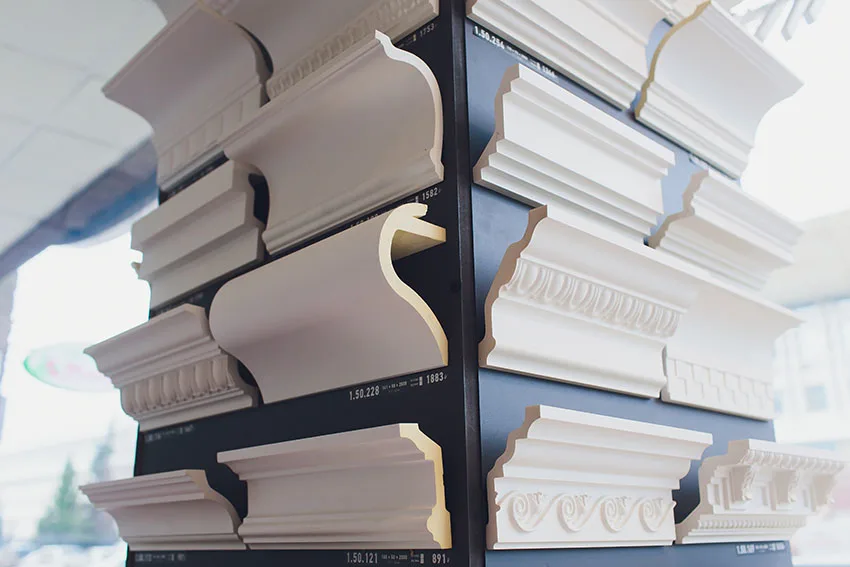 There are many options for kitchen cabinet crown molding to choose from; design-wise, it will be easy to choose ideally. There is traditional crown molding, stacked crown molding, stepped crown molding, interior crown molding, edge crown molding, light molding, shoe molding, applied molding, and bottom molding.
Researching these choices one by one will make sifting through the options a little easier for the homeowner. Light molding, for example, is notable not just because of the looks it will give your kitchen cabinet but also because it serves a function by concealing over or under cabinet lighting.
On the other hand, edge crown moldings are perfect for corner kitchen cabinets, and the option of making an open shelving unit in this corner is available for homeowners.
What Size Nails For Crown Molding On Cabinets?
Home builders take many steps to attach their choice of the perfect crown molding for their kitchen cabinets. Once the option of purchasing the perfect one is out of order, installing the crown molding is the next step to be tackled.
The most traditional but still the most efficient choice in attaching crown molding is still using a nail to do so, and the perfect nail is utilizing a pneumatic brad nailer to attach around 1 1/4 inches of brad nails. Although this can differ from one desired thickness to the other, this is the standard option for most crown moldings.
Visit our crown molding sizes guide for more related content.