See pictures of aluminum kitchen cabinets with what they are, their advantages and disadvantages, costs, types of aluminum doors & frames, brushed aluminum cabinets, designs, and buying tips.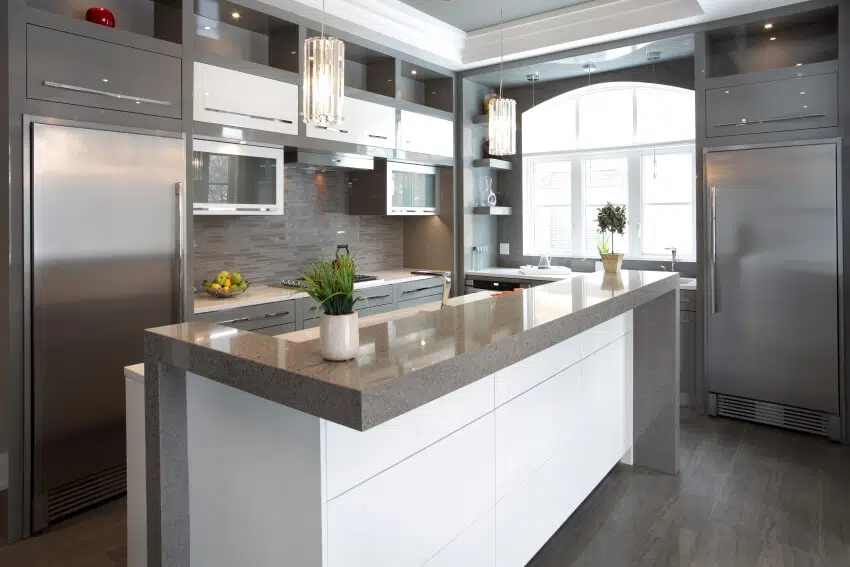 Wood has always been a material of choice when it comes to kitchen cabinetry construction, but what most people don't know is that there are other materials which can be explored if you want something that has impressive durability and a long life span.

Aluminum is one of the most outstanding materials which has revolutionized kitchen cabinetry design. Aluminum kitchen cabinets have had a growing demand for the past years because of the benefits they offer.
With their sleek finish and outstanding performance these cabinets prove that they are worth the try. Let's take a deep dive into its characteristics to know if they are the right fit into your home.
What Are Aluminum Kitchen Cabinets?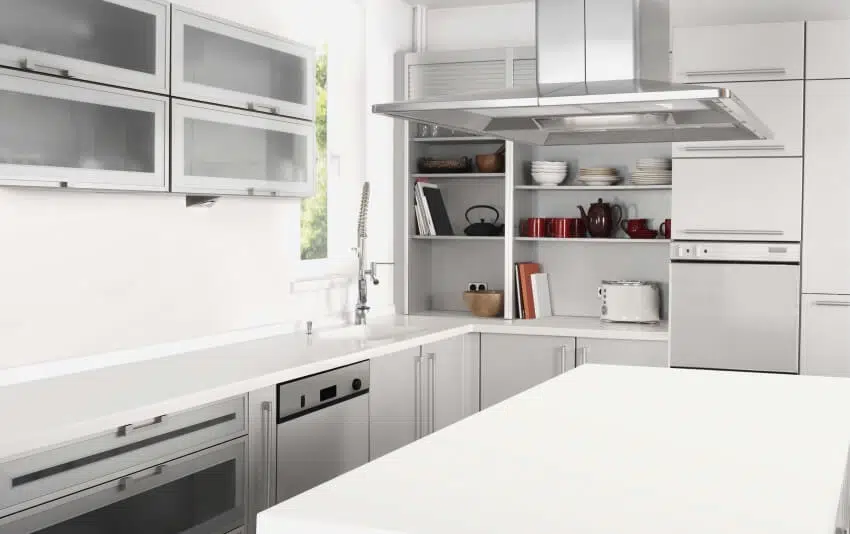 Aluminum is a type of steel that has a carbon base metal coated with an alloy of aluminum and silicon through hot dipping. This creates a strong metallurgical bond between the materials resulting in a new product that possesses the best characteristics of steel and aluminum.
Nowadays, aluminum is one of the newest materials being used to manufacture kitchen cabinets. As its name suggests, aluminum cabinets are solely made of aluminum and do not use any other material like wood or fiber density boards for its components.
A full aluminum cabinet does not only have aluminum cabinet doors and front panels but also has carcasses, back panels, drawers and shelves all made of the same material.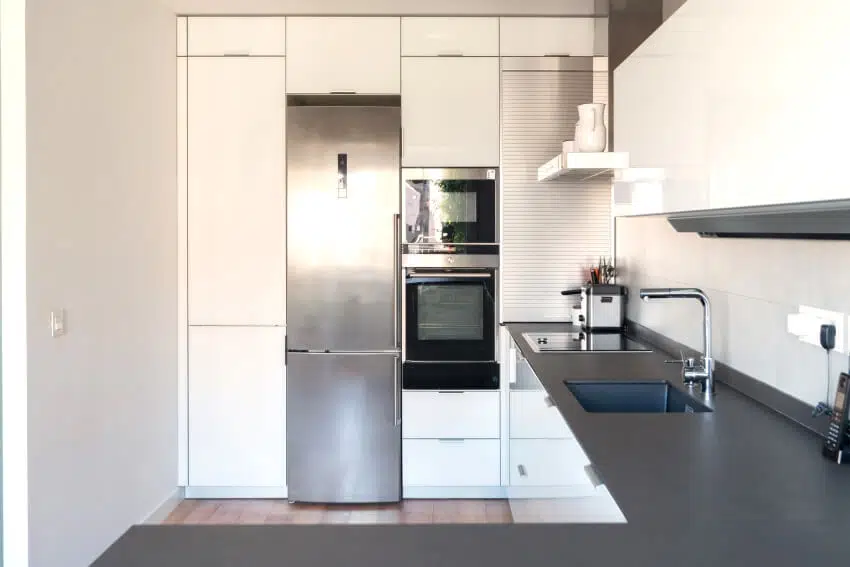 Aluminum cabinets typically have the following main parts:
• Carcass or frame – the framework is made of aluminum square tubes that are joined together
• Face panel or cabinet door, rear panels and end panels – the cabinet doors and panels makes use of aluminum sheets rather than plywood and laminates
• Shelves and drawers – made from rectangular aluminum tubes and aluminum sheets
During construction, the aluminum tubes are joined together to make the framework of the aluminum cabinet. Aluminum sheets are then attached to the frame to make the front, side and end panels. Shelves, drawers and doors are constructed separately and added to the finished cabinet carcass.

Advantages and Disadvantages of Aluminum Cabinets in the Kitchen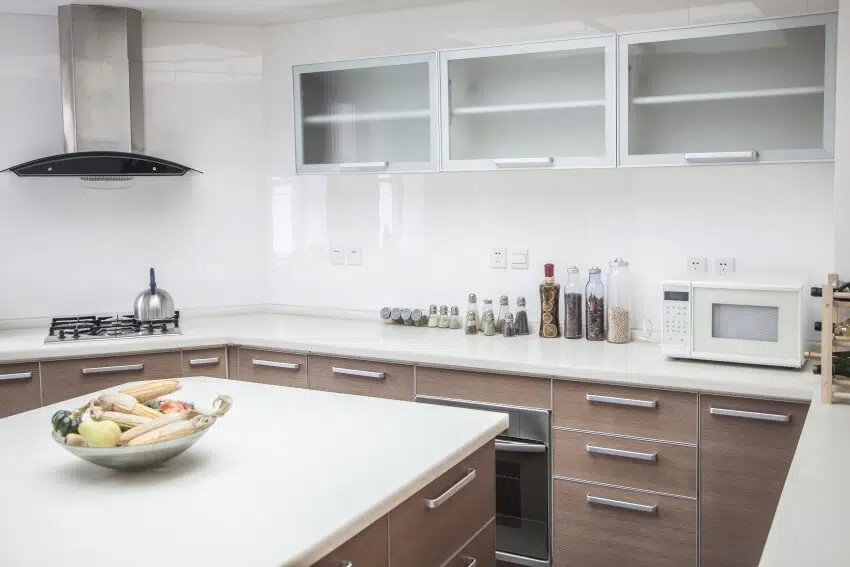 In terms of quality and benefits, aluminum kitchen cabinets prove that they can be the best alternative to wood cabinets. Although they have some minor drawbacks, their advantages still outweigh the cons.

Advantages of Aluminum Kitchen Cabinets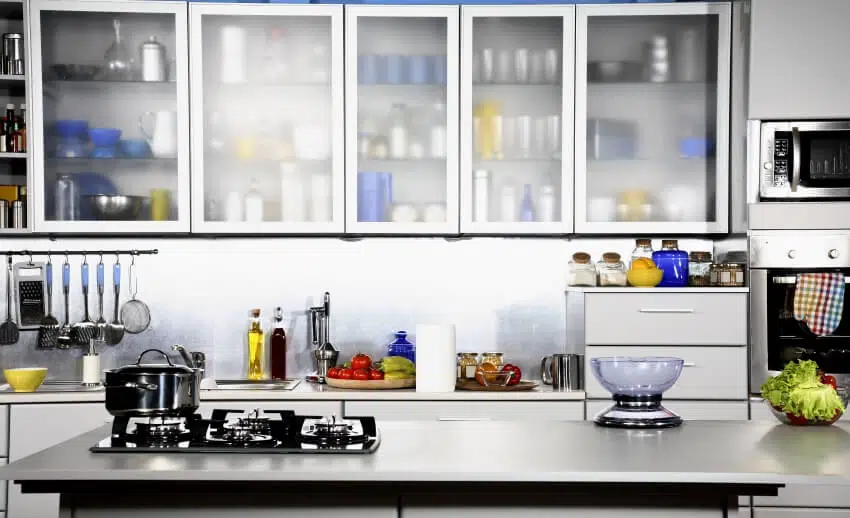 • Durability – Aluminum is the best material to use for kitchen cabinets. Compared to MDF, particle board, wood and HDF cabinets, aluminum is more robust and tougher. It does not have the weaknesses and vulnerabilities that wooden kitchen cabinets have.
• Heat resistant – Since moisture and heat are common in the kitchen, it is important to choose a material which can endure both factors and aluminum is the only material which can withstand these well without being damaged. Aluminum is a very stable metal and won't get affected by varying temperatures.
• Waterproof – Moisture is another big consideration when it comes to kitchen cabinets. High humidity proves to be one of the worst enemies of wood and wood derivative kitchen cabinets because it can cause warping and swelling.
With aluminum you do not have to worry about moisture damage because it is totally waterproof. It has a non porous surface and does not have pores where water can seep into.
• Hygienic and odorless- Another common problem with kitchen cabinets is that if the material is non waterproof, molds and mildews can form and this will eventually lead to musty unpleasant odor.
Aluminum cabinets will never have the same problems because it is completely odorless and more hygienic. This is due to its non porous surface which prevents it from harboring the growth of bacteria and harmful microorganisms.
Needless to say, you can be sure that there will be no molds and mildews in aluminum kitchen cabinets.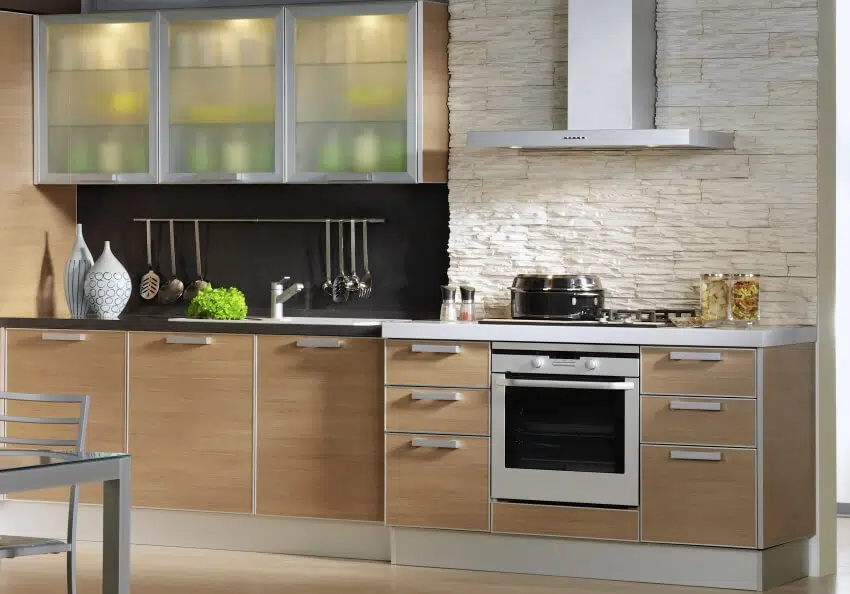 • Perfect for different climates -The rainy season can be problematic for non waterproof kitchen cabinets because it can cause rotting, de-shaping and damage.
Aluminum kitchen cabinets are your best bet for such type of climate because it can withstand different elements without its performance being affected.
• Chemical resistant – The surface of aluminum has a thin oxide layer which protects it from chemicals. These cabinets will not react nor get damaged from mild acidic liquids and cleaning agents.
• Anti rust – As mentioned, aluminum is a very stable metal and its oxidized finish prevents it from rusting and corroding.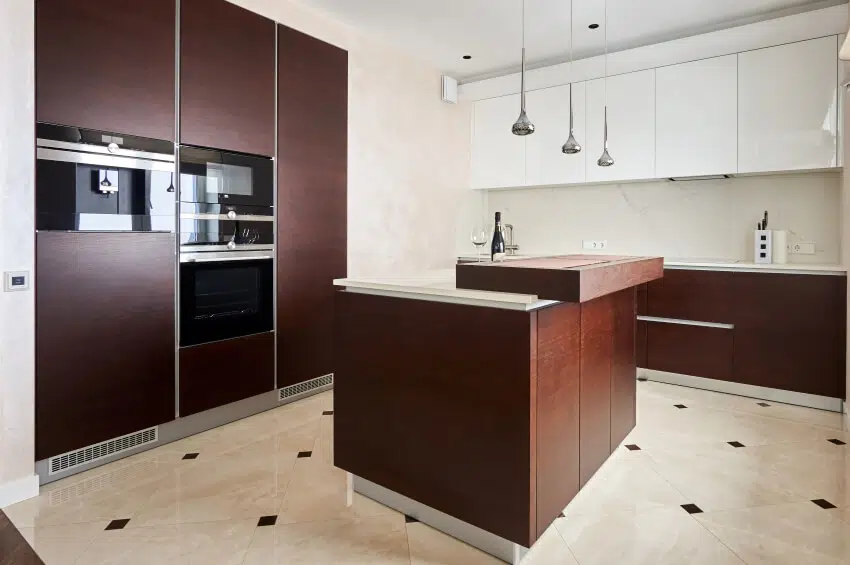 • Does not fade – Powder coated aluminum kitchen cabinets do not fade or dull easily even when exposed to different substances and varying factors.
• Easy to clean – One of the best benefits aluminum cabinets have to offer is ease of cleaning and maintenance. They do not require much upkeep and only need simple wiping with a damp cloth to remove any dirt, dust and grease.
It can be easily cleaned without any cleansing agent or detergent and is suitable for busy households.
• Fire resistant – These cabinets provide extra safety by being fire resistant. Unlike wood, aluminum can withstand high heat without getting burned easily.
• Customizable design and color – All the components of an aluminum kitchen cabinet — from the cabinet doors, to the frames can be customized into any color.
Customers have the freedom to modify the design and arrangement in any way they want. While in terms of looks, it offers a cast range of colors which can fit a variety of interior design color schemes.

Another breakthrough in aluminum kitchen cabinet design allows manufacturers to include textures and special finishes like traditional classic wood grain and sleek crystal white finish. Mirrors and clear, textured or frosted glass can also be incorporated in cabinet doors.
• Environmental Friendly – Aluminum is 100% recyclable, sustainable and zero waste.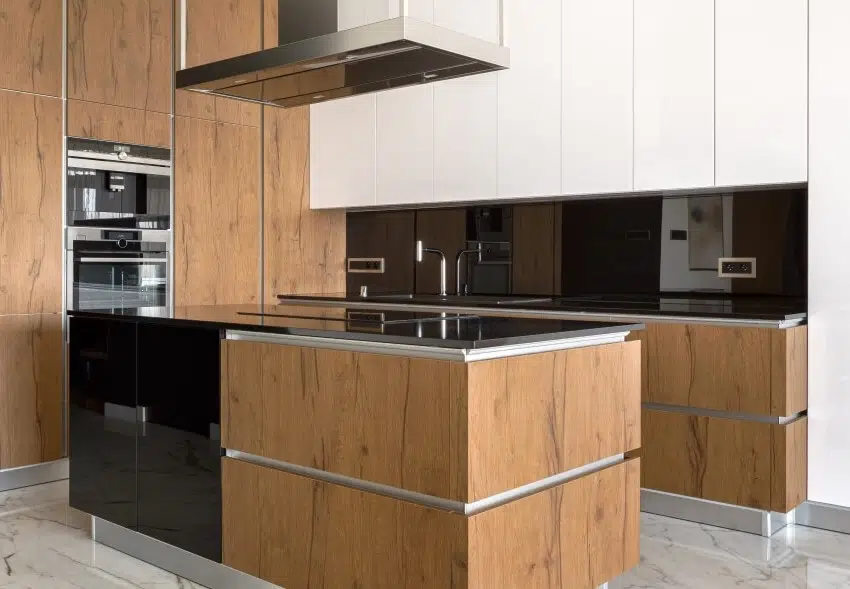 • Pest Resistant – Other kitchen cabinet materials are prone to pest infestation like termites. However, aluminum cabinets do not have the same problems because they provide no conditions where pests can survive.
• Long lasting – Quality aluminum cabinets can last for a lifetime. The thicker the frame and carcass is of your aluminum cabinets, the longer it will last because it has better support and won't bend easily.
Aluminum cabinets can stay in excellent condition for up to 20 years. An added bonus is that most manufacturers offer it with a 10 year warranty.
• Offers a sleek look and finish – Aluminum kitchen cabinets come with a sleek finish that is perfect for modern and contemporary kitchen designs.
Disadvantages of Aluminum Kitchen Cabinets
• Clanging Noise – Aluminum kitchen cabinets can be noisy because of the metal's clanging sound. To avoid this, make sure to use quality soft-close cabinet hinges and hardware.
• Can be quite expensive – Aluminum is more expensive than wood, but proves to be a worthy investment because its advantages outweigh its drawbacks. It would be worth investing in.
• Design Limitations – Most people perceive that the metallic look of aluminum cabinets are limited to only modern and contemporary interior styles. But nowadays, you can find some manufacturers offering them in more diverse designs.
Aluminum Doors of Cabinets in the Kitchen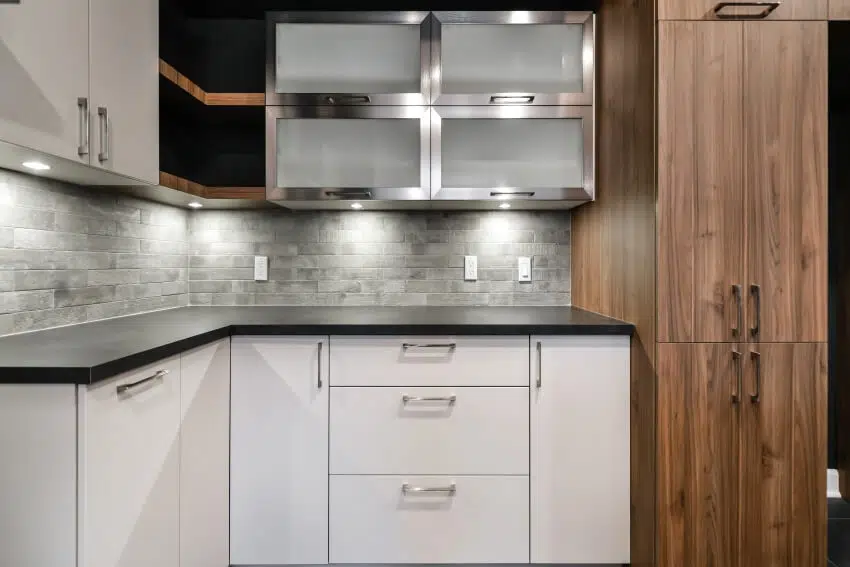 Aluminum kitchen cabinet doors have aluminum square tubes for the frames and aluminum sheets for the door panel. It comes in different finishes, colors and designs. Other materials like clear and frosted glass can be incorporated in the front panels.

The beauty of aluminum cabinet doors is that manufacturers can customize the design based on the customer's specifications. The versatility lies in the malleability of aluminum.
Even though it is a metal, aluminum can be pressed or hammered into different shapes without breaking, allowing for full design customizability when it comes to kitchen cabinet designs.
Aluminum Frame Cabinets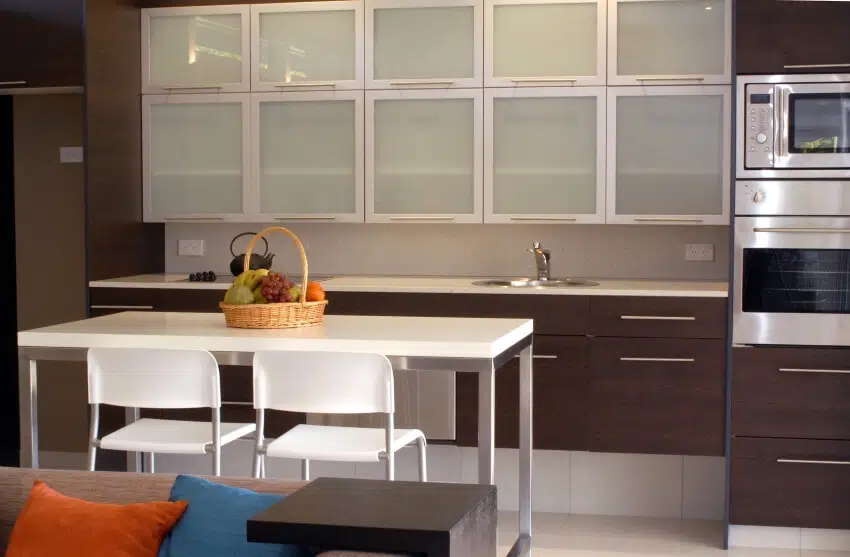 If you are not into a full aluminum kitchen cabinet, one option you can try is to use aluminum just for the frames. Aluminum frame cabinets make use of square aluminum tubes for the support and another material for the front panel.
The most common door material for aluminum frame kitchen cabinets are glass inserts. Glass inserts for aluminum frame cabinets are typically 4 millimeters thick.
For the colors, manufacturers offer them in a broad range of options but the most popular variant is frosted and clear glass.
Painted glass is the option used by those who want colored doors with aluminum frame kitchen cabinets. This is a type of glass that is opaque with one side coated with color.
It is available in neutrals like black, taupe , white and gray but also comes in bright hues of red, oranges, blue and green, to name a few.
Safety options for glass inserts usually include tempered glass and safety film. The safety film is used for painted glass and is added to make it shatterproof.
Aluminum frame kitchen cabinets are also very durable and can go through a lot of wear and tear. The smooth, reflective finish of the glass can help make a space look brighter and more open.
In addition, the sleek design and clean look of aluminum frame kitchen cabinets make it an ideal option for contemporary and modern kitchen styles.
Brushed Aluminum Type Cabinets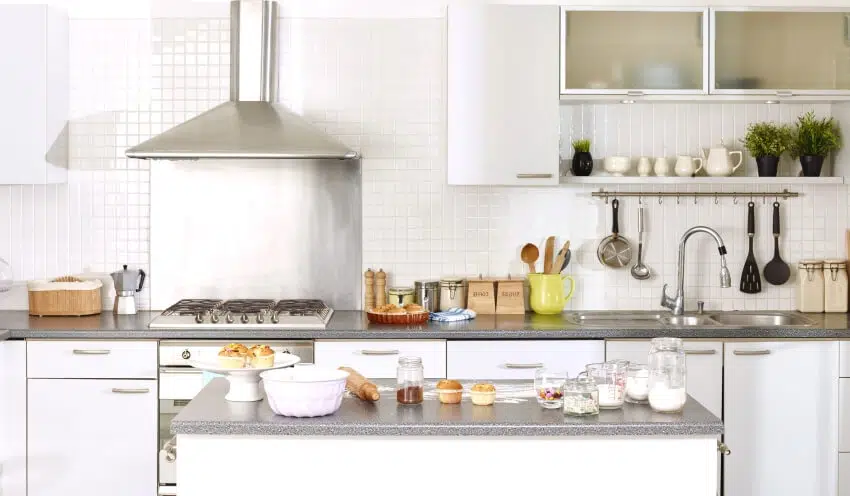 The two most common finishes for aluminum kitchen cabinet doors are gloss and matte finish. Brushed aluminum kitchen cabinets have a satin finish and fine lines running in one direction on the surface.
Unlike polished metal, brushed aluminum has a bit of metallic luster, less glossy and has matte finish. This is the perfect choice if you want something sleek and subtle for your kitchen.

Aluminum Outdoor Cabinets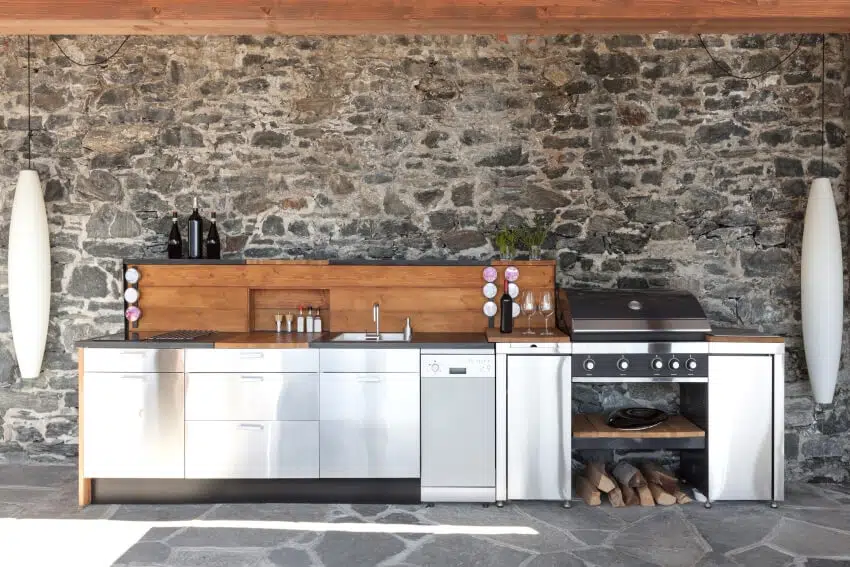 Humidity, heat, temperature changes and constant exposure to natural elements are the biggest considerations when choosing a material for outdoor kitchen cabinets. So when deciding, make sure to opt for something which won't budge into such conditions.
Aluminum is a perfect choice for outdoor kitchen countertops and cabinets. Contrary to popular belief that all metals rust when exposed to high moisture and heat, aluminum is non corrosive and weather resistant.
It survives well outdoors and won't get damaged even when exposed to varying climates. This is because aluminum has an oxide coating that is highly resistant. When damaged, it renews itself, making the metal safe from corrosion.
Aluminum outdoor kitchen cabinets are also lightweight and perfect for rooftop and patio. Aluminum is also the metal of choice for outdoor applications because it is easier to work with. In addition to it's impressive durability, aluminum outdoor kitchen cabinets have a sleek appearance which can help bring a modern touch to an outdoor space.
Aluminum Cabinet Price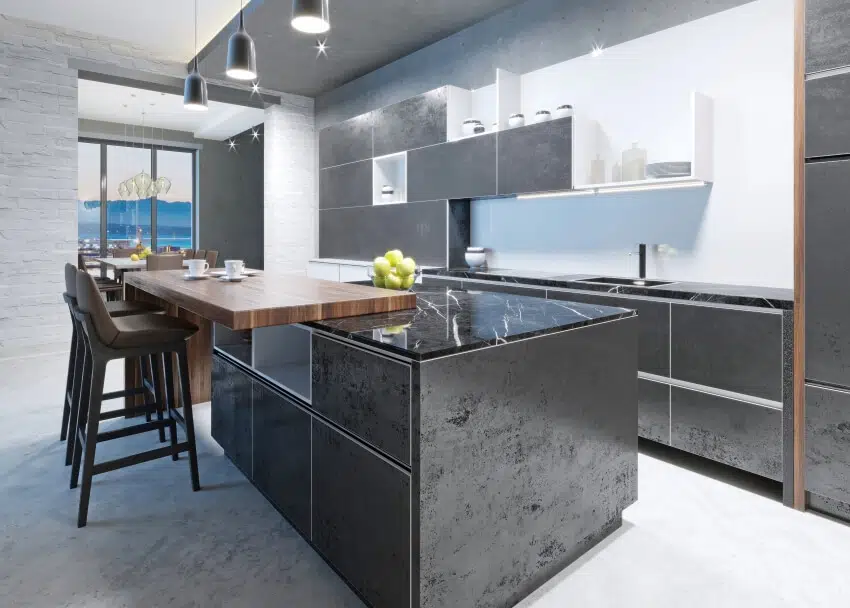 Aluminum kitchen cabinets have a high price point but even if they are expensive, they are a worthy investment to make. In general, aluminum kitchen cabinets are measured on a per foot run basis and pricing typically starts at $85 per foot but can go up to $125 depending on different design factors.
This is significantly higher compared to other materials for kitchen cabinets like wood, particle board, MDF and HDF. Check out our guide on MDF kitchen cabinets for more related information.
The final price of aluminum kitchen cabinets can increase depending on the thickness of the aluminum panels used and the frames. The type of finish and special textures like wood grains and colors can also raise the cost.
For an average sized kitchen, expect to pay anywhere between $1500 to $6000 for the project. This is whether you want to resurface your old kitchen cabinets with aluminum or construct new ones.
Aluminum Vs Wood Cabinet Cost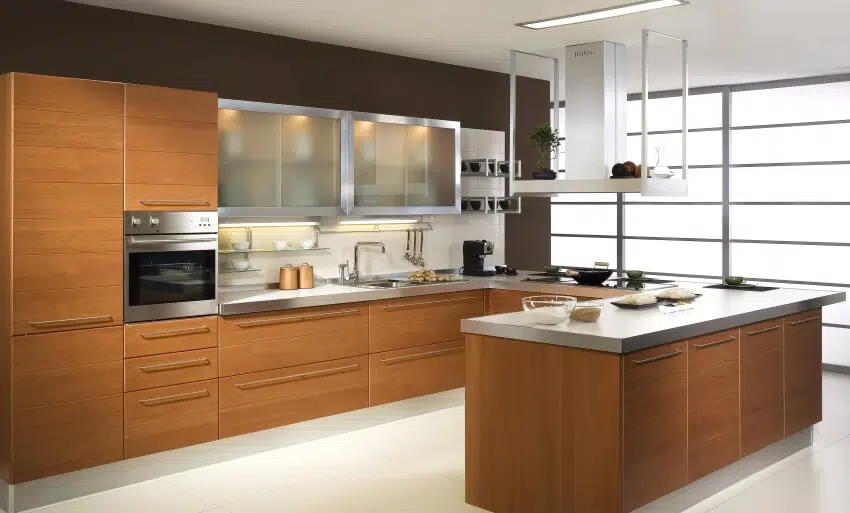 Aluminum kitchen cabinets are more expensive than those made from wood. In general, metal is more expensive than wood because of the material's properties.
Also, aluminum kitchen cabinets are more often used in professional kitchens and are considered a less common material than wood and wood derivatives like MDF and HDF.
Typically, an average sized kitchen will cost around $2750 or more when fitted with aluminum cabinets — around 25% to 35% more than its wood counterpart.
However, you get to maximize your investment in the long run because the cost per year is very much lesser in terms of maintenance. Aluminum cabinets also have a longer life span, in fact, five times more than wooden kitchen cabinet's average, so you get more than your money's worth.
Several factors give aluminum a higher price point than wood. This includes durability, long lifespan, resale value, maintenance and resistance to different elements.
Although each kitchen cabinet material has their own pros and cons, aluminum kitchen cabinets make it to the top of the list because it is a more durable material, hence, it performs better in wear and tear even in long periods of time.
What to Look for When Buying Aluminum-Made Cabinets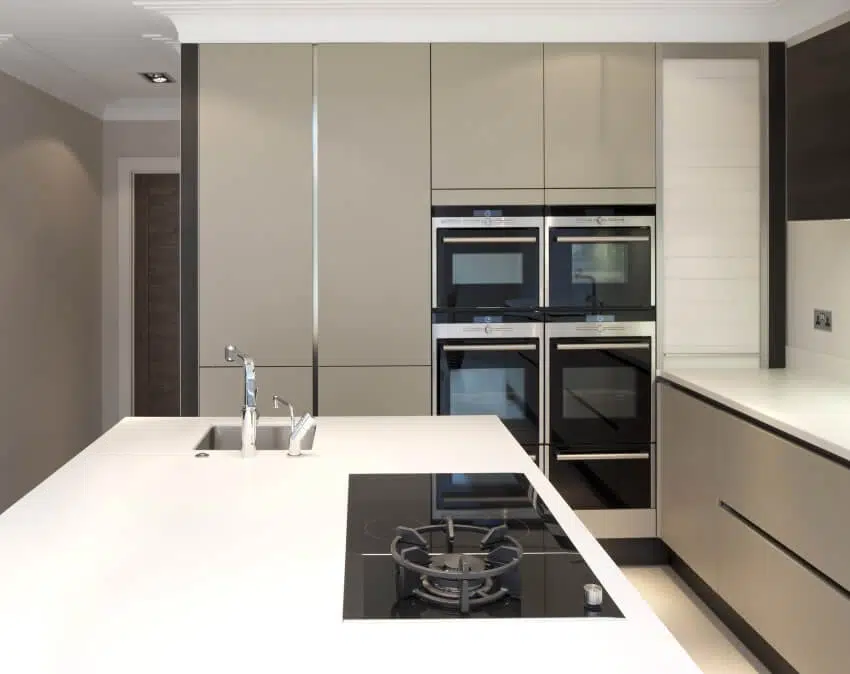 There are two factors that you must consider when buying aluminum kitchen cabinets, namely quality and professional installation. Quality is your first priority when buying kitchen cabinets.
Some aluminum kitchen cabinets have thin frames and are substandard, so make sure that only high quality aluminum panels and tubes are used in the construction process. Also, invest in good fittings and cabinet hardware like hinges, drawer systems and hydraulic lifts.
Kitchen cabinets are closed and opened very frequently so even the smallest component needs to be able to withstand constant use.
The second consideration is professional installation. Kitchen cabinets can function to their fullest when manufactured and installed by a professional, so make sure to choose a trusted supplier.
Is Aluminum Good as Cabinets for the Kitchen?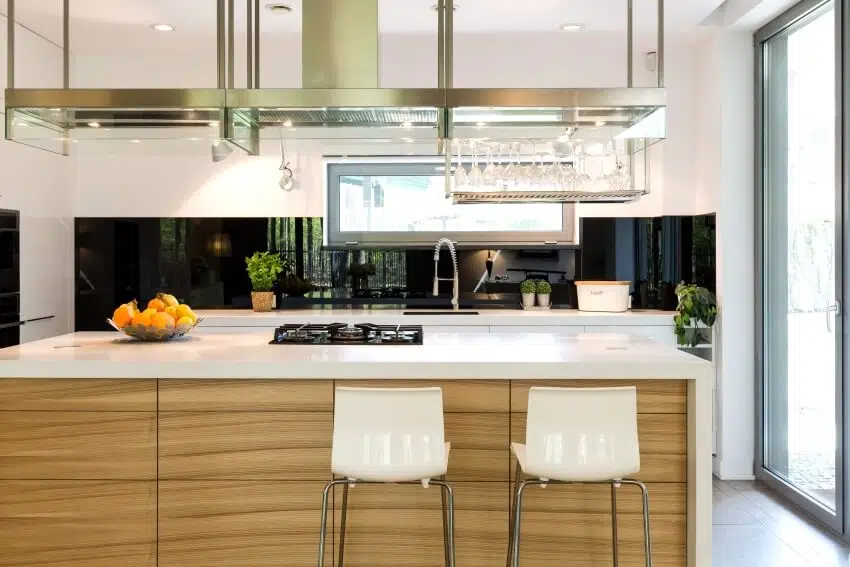 In summary, aluminum is the best material you can use for kitchen cabinets. It is a very stable metal and offers impressive benefits when used as a kitchen cabinet material.
Aluminum kitchen cabinets are not only super durable but are also non corrosive, odorless, non flammable, anti rust and very hygienic.
It does not have the weaknesses that wood possesses and won't get damaged from kitchen elements like moisture and heat. To top it all off, aluminum will not rot, decay or get infested by termites.
Overall, aluminum is considered to be the top choice for kitchen cabinets if you are looking for stability, durability and reliability. Visit our guide to aluminum kitchen countertops for more related content.