This gallery shares the different types of brown granite kitchen countertops including popular colors, cabinet & paint colors that complement brown granite, and backsplash & updating ideas.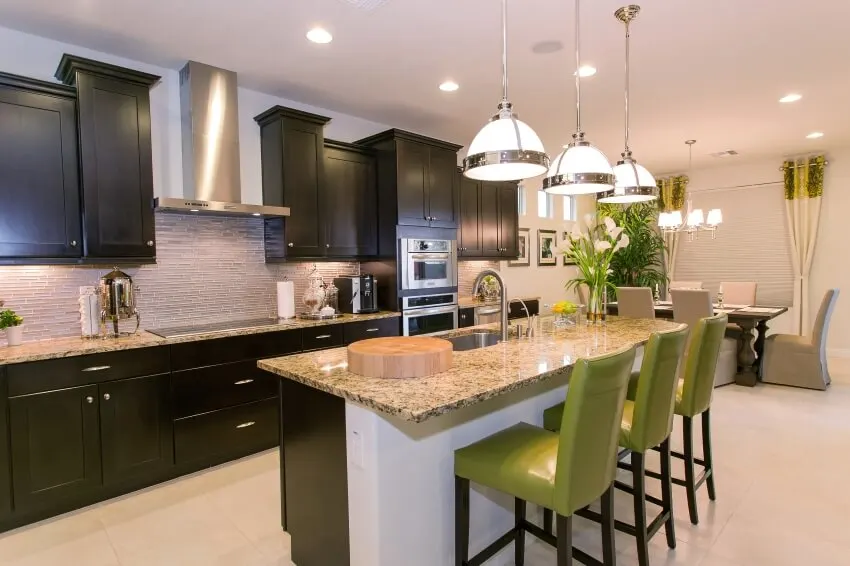 Earth colors such as brown are no stranger to our built spaces, especially in our homes, where it conveys a sense of strength and stability. Rich and warm, the color brown is the perfect combination of muted tones and the ever-popular white hue.
For the kitchen, brown granite countertops are a sensible choice, particularly if you have white cabinets, walls, and floors. These areas cover the largest visual space -and a light color creates a light and bright atmosphere.
With the right design choices, a brown granite kitchen countertop gives you both durability and beauty. Other than your standard color, there are many color tones of brown, such as dark and light brown.
Moreover, there are several types of brown granite countertops. We've listed the most popular ones that are perfect options for your next new build or kitchen renovation.
Brown Granite Countertops Colors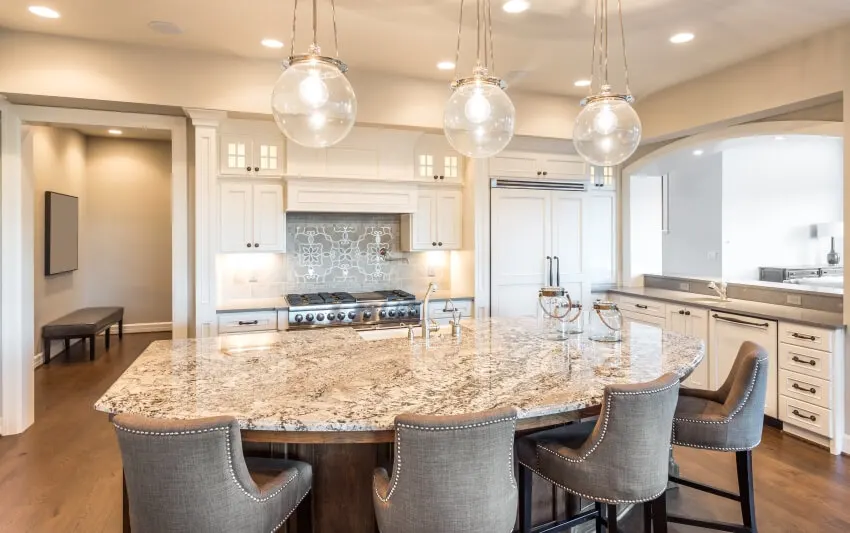 Here's the popular types of brown granite for your kitchen designs.
Dark Brown Granite Countertops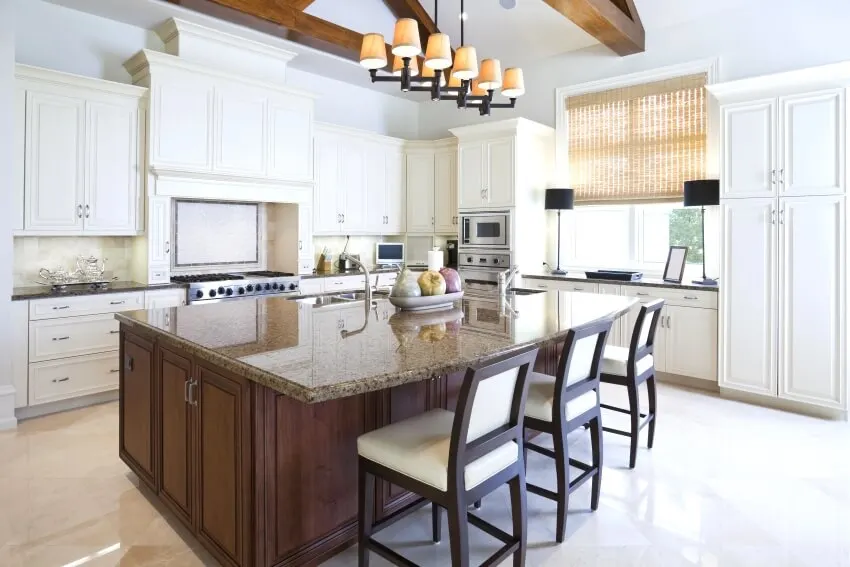 Strong contrast in colors can create a striking and rich visual for a kitchen, especially if you've got a large area. A dark brown granite countertop will stand out against a white backdrop and can emphasize the solid and stable material.
Pastel colors are also great, with the earthen hue creating a relaxed and sophisticated color palette when matched with matte black cabinet hardware.
Note that deep color can look heavy and dull, especially if the aesthetic lacks contrast and depth. Make sure to create depth and variation in elements to have visual interest and impact. Black Thunder Granite and Kosmus Granite are popular examples of brown granite countertops with dark coloring.
A disadvantage of dark brown granite countertops is that the color can easily show fingerprints, so that regular cleaning might be needed.
Light Brown Granite Countertops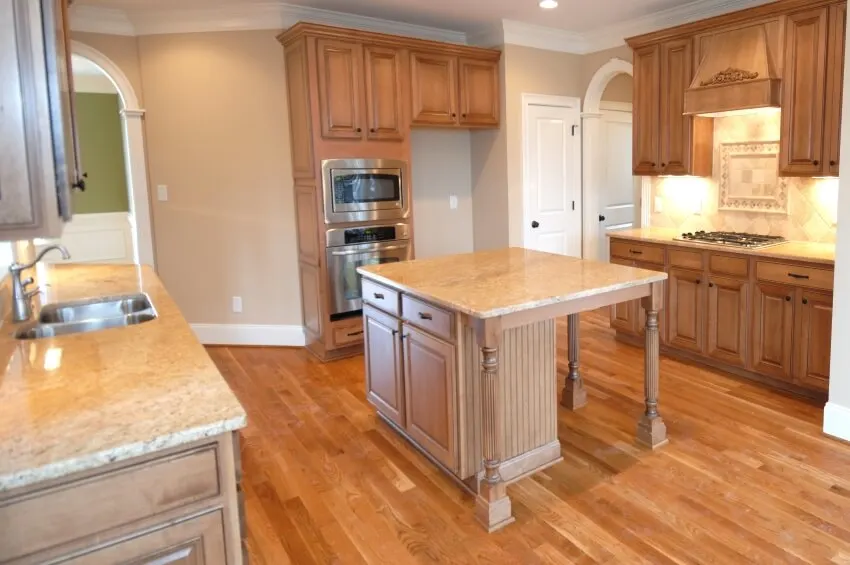 A light brown granite countertop is an opportunity to layer your colors if you have dark brown cabinets. Check other colors included in your light brown countertop to match it with an accent color.
When matched with a white backdrop, your soft brown granite countertop matches with matte black or silver-colored hardware.
As there are many variations of light brown, you'll find that the lighter you go, the more you need to add contrast to your accent colors. Lapidus Granite and Jaguar Granite are examples of popular light brown granite countertops.
Beige Brown Granite Countertops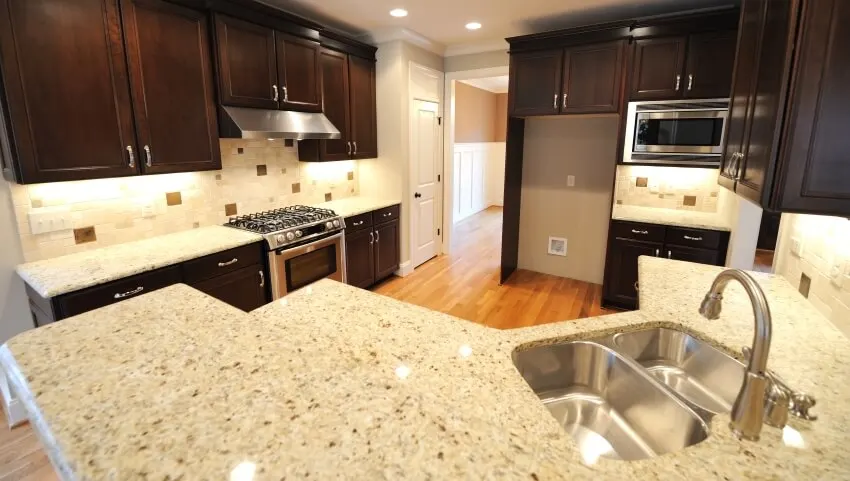 A kitchen can look cheerful and airy with a beige-brown granite countertop. This color palette is also an excellent opportunity to add stunning rich metallic accents such as brass or gold to create a luxurious kitchen.
Beige brown granite countertops just have the right amount of brown and slightly more yellowish gray in color compared to light brown.
Most prefer the light brown granite countertop as it reflects light, and it is easier for food items to be seen. Astoria Granite and Sanguine Granite are examples of beige countertops with beige-brown colors.
What Color Cabinets Go With Brown Granite Countertops?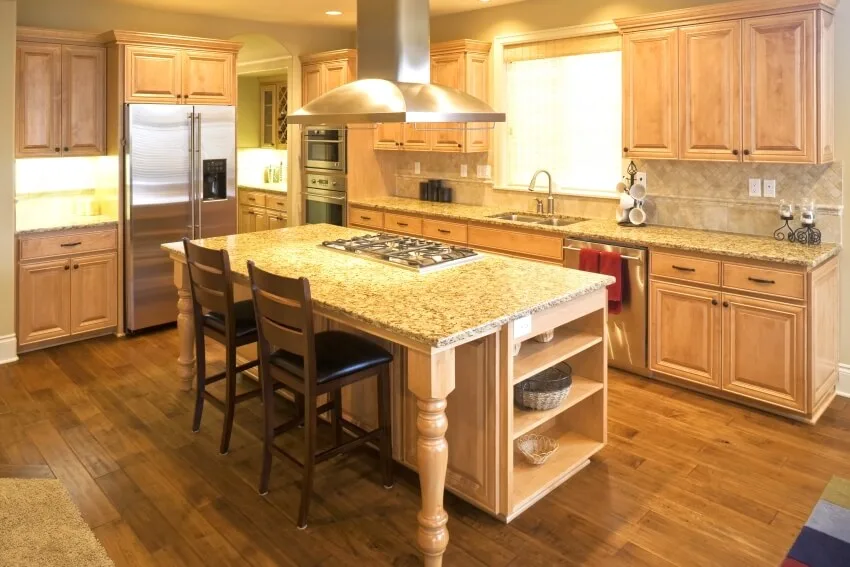 Brown, with its subdued and warm quality, can be considered a neutral hue, and the organic color works well with most colors. We've listed the best cabinet colors for that contemporary or modern look.
1. Black. Elegant and timeless, black looks good whether you have a large or small kitchen, and with brown elements, it can be a striking pastoral or modern-themed interior.
Black cabinets with a brown granite countertop can be dramatic, and there's room for exploring striking accents such as yellow or luxurious metal hardware. However, you'll need a well-thought lighting design to prevent your kitchen from looking dark and gloomy.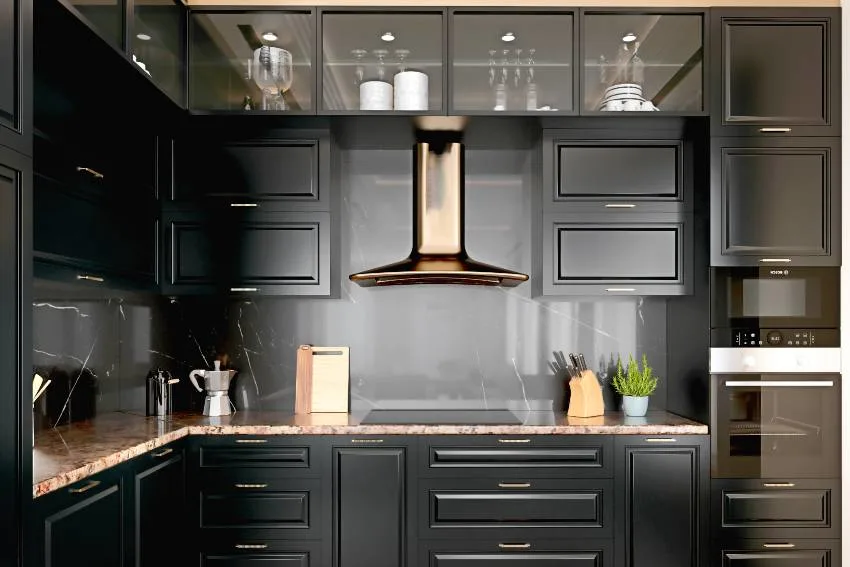 2. Blue. With a calm and relaxed color, blue cabinets are the perfect complement to the warm shade of brown granite countertops. Take note that the darker the shade of your cabinets, the more it can look dominant and overbearing and a lighter shade of brown is a better match to balance the look.
3. White. Because of their clean appearance, white cabinets are a popular choice for kitchens, but too much of the neutral color can make a space look bare and boring. A brown countertop is a perfect complement to the crisp color as it breaks the monochromatic look.
Choose a shade that best suits the look you are going for and add accent pieces to create more visual interest. The dark color also means that it's less likely to show dirt and needs less upkeep.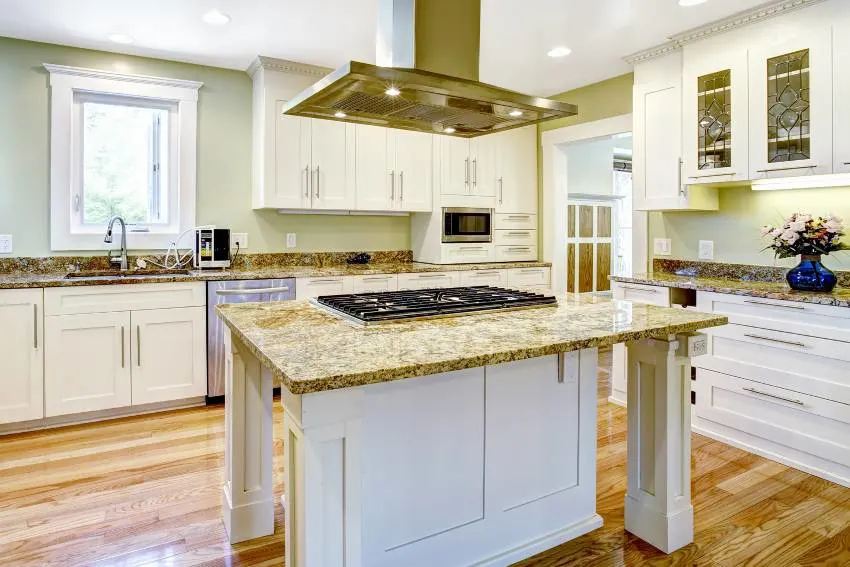 4. Navy Blue. When you need a cool shade that is more forgiving than the lighter hues, navy blue is the perfect color to choose for your cabinets.
Pair it with a brown granite kitchen countertop, and you get a visually appealing kitchen space that works well with both traditional and modern themes. It's also an opportunity to use warm metallic hues such as bronze backsplash to complete the look.
5. Yellow. As yellow is a vibrant color, your yellow cabinets will stand out it will need to be paired with neutral colors that won't make your kitchen look overbearing.
A deep brown will add a relaxed and calming tone to a yellow color palette. Choose lighter shades of brown to create a charming and cozy kitchen space.
This color combination looks great with vintage and modern-themed kitchens. Accent the space with chrome or any other silver hardware. Deeper browns of granite countertops paired with mustard yellow are suitable for your more traditional themes.
6. Green. The organic pairing may look hard to pull off, but with the right tone pairing, green colors can look gorgeous, especially when paired with a rich stone kitchen backsplash.
The combination of green cabinets and brown granite countertops creates a serene and warm color palette. Add indoor plants and layer textures to enhance the organic look.
7. Gray. A popular cabinet color for today's contemporary kitchens, gray will benefit from brown pairing as the warm color balances the neutral color. Leaving gray with white, for instance, can look depressing when not paired with a warmer hue.
The great thing about gray cabinets is that there are many shades with undertones to choose from to match your brown granite countertop, creating the perfect mood or look you require. As the warmer color, it complements the cool tone of grays, creating a beautiful contrast.
8. Beige. When aiming for a monochromatic scheme with slight variations of brown, the beige color is the perfect cabinet color to pair with your brown granite countertops.
The tone is lighter; thus, beige kitchen cabinets can be generously applied to all your cabinets without overwhelming and clashing with your brown countertop. Bringing a deeper brown shade to your working area will highlight the countertop.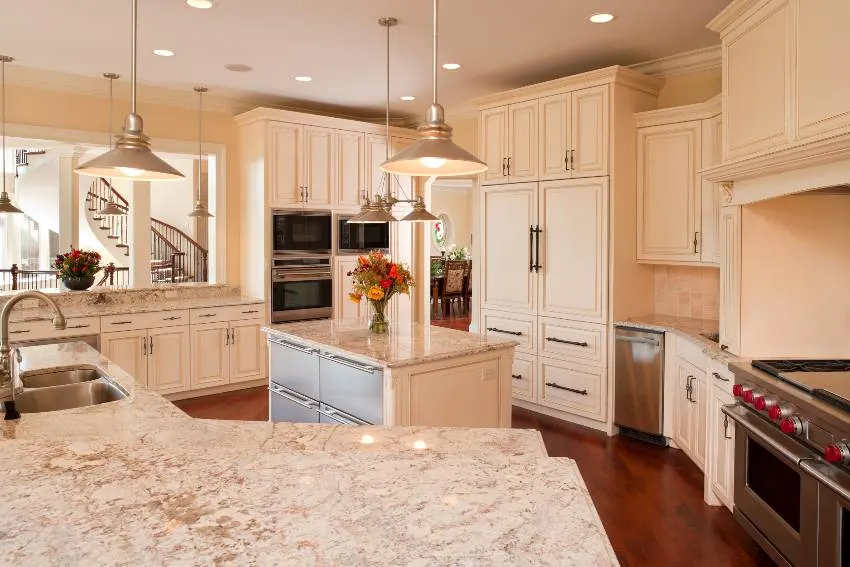 9. Teal. The coastal hues are a revisit to the 1970s vintage kitchens, and the brown tinge is the perfect match to the eye candy color as it gives that warm mix to the mint color.
A deeper teal shade can also give a tropical mix to your kitchen and, when paired with brown, creates an interesting combination. Teal colors provide a perfect palette for small kitchens as it adds dimension and depth without looking overbearing.
10. Pink. For that boho chic or rustic kitchen, dusty pink with brown is the perfect combination, as it adds a soft and feminine touch to your warm color without being too loud. Pick a mahogany color to update antique pieces, and it's a color that works well with well-lit kitchens.
Brown Granite Countertops With White Cabinets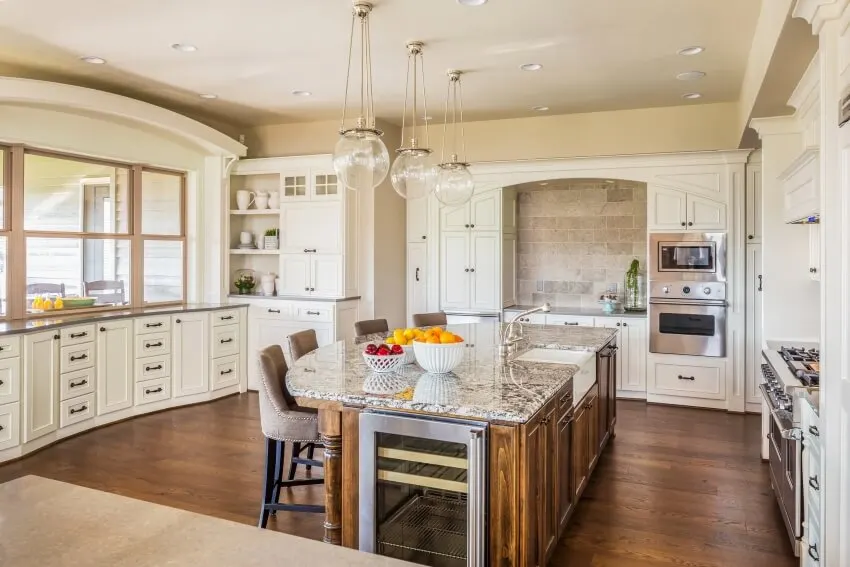 White is the best color to match brown with it comes to interiors, and in a kitchen space, the neutral color balances the warm earthy tone of brown granite countertops.
The homely look of the white and brown combination can be accented with a color that's usually the undertone of your countertop or other colors present on the specks of the stone granite.
Other than having a balanced color temperature, a brown and white combination allows the other color to stand out. Since the brown countertop has a darker color and is made from the beautiful patterns of granite, the workstation is highlighted.
Brown Granite Countertops With Gray Cabinets
The cool gray color perfectly matches your brown color since the cool tone balances off the warm brown hue. Moreover, it's an opportunity to play off with the mood or look of your kitchen, and this will depend on the undertones of your gray cabinets.
Blue undertones will love a brown granite countertop with black or gray granite specks or coloring, while a yellow undertone has a warm hue that will love warm metallic accents.
A brown granite countertop with gray kitchen cabinets conveys can convey a modern aesthetic but also works well with a shaker or other traditional cabinet designs.
Backsplash Ideas For Brown Granite Countertops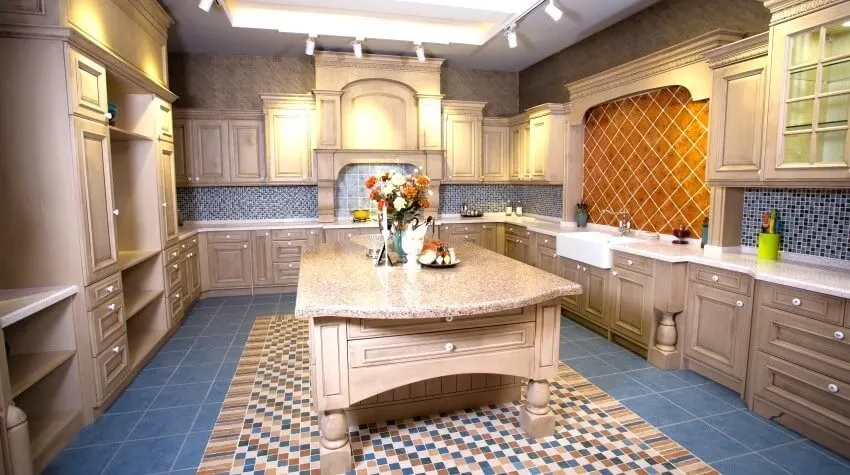 Stack Bond White Bricks. The varying specks of natural minerals seen in a granite countertop are one of the reasons why straight-edged patterns of tiles and bricks are the perfect match to the natural stone.
The horizontal layout creates a space where the eyes can rest from the busy patterns on your granite countertop. In addition, the contrast of colors allows the brown granite countertop to stand out while keeping a neutral tone in the background.
Tuscan-inspired Square Travertine Tiles. Brown granite countertops, together with the color-rich travertine tiles, capture the warmth and richness of Tuscan kitchens.
Add luxurious gold and rose-colored accents to complement the rustic textures and create an eye-filled aesthetic. The typical granite slab will showcase a variety of colors of trapped minerals that are perfect for inspiring the warm accents to use in your traditional kitchen theme.
Brown Granite Countertops And Paint Colors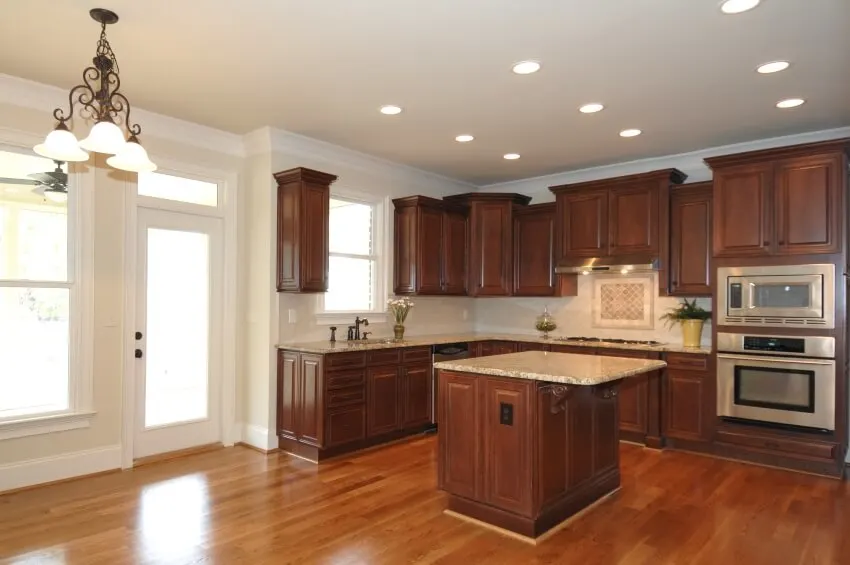 The paint color of your backdrop, particularly your cabinets, walls, and backsplash, makes a whole difference in the look and mood your brown granite countertop conveys.
The following are perfect paint colors that go well with your brown countertop.
1. Olive Green. Oregano 2147-10 by Benjamin Moore. The beautiful olive-green color by Benjamin Moore has herbaceous qualities.
The gold undertones make it the perfect complement to the similar warm shade of brown granite countertops. The saturated color makes it suitable for the main color tones of kitchens that can be painted on the walls and cabinets. Oregano 2147-10 by Benjamin Moore
2. Pale Icy Blue. Borrowed Light No. 235 by Farrow & Ball. Inspired by the delicate light that comes through the windows during the summer, the pale icy blue is a cool paint color that can be easily matched with brown shades of granite countertops.
For kitchens that have limited natural light coming through, the pale blue paint brightens up the room, which can easily replace the usual white-themed kitchens.

Borrowed Light No. 235 by Farrow & Ball
3. Soft Yellow. Mannequin Cream No. 2152-60 by Benjamin Moore. Light, Uplifting and energizing, the milky tone of the soft yellow paint creates an optimistic yet relaxed atmosphere in any kitchen.
Match it with your brown granite countertop, and you create an energizing room. You can also add blue tinges or match the paint color with hints of blue to create a coastal feel to the space.

Mannequin Cream No. 2152-60 by Benjamin Moore
4. Light Pink. Cameo Rose No. 071 by Benjamin Moore. Drawn from the soft and delicate coloring of the pink necklace, Cameo Rose is a lovely dusty color alternative to your typical contemporary neutral hues.
Because it has a light coloring, it can be applied expansively to walls and cabinets. A brown combination with a feminine color creates a modern and chic ambiance that can work with any shade of brown. Cameo Rose No. 071 by Benjamin Moore
5. Crisp White. Chantilly Lace OC-65 by Benjamin Moore. The popular paint color has almost no undertones, with only hints of pink, blue and yellow tinges.
The bright color combines well with brown hues that are perfect for any theme, especially for ultra-modern kitchens. Choose a brown granite countertop with hints of the undertones of the paint color, and you get a cohesive aesthetic.

Chantilly Lace OC-65 by Benjamin Moore
6. Cool Beige. Nomadic Desert 6107 by Sherwin Williams. This light to medium beige color is a perfect cool beige to layer with your brown granite countertops.
It has an LRV of 50, which makes it present but does not weigh down a well-lighted kitchen area. You can create that Nomadic themed room and incorporate white and light-colored wood.

Nomadic Desert 6107 by Sherwin Williams
7. Warm Gray. Dovetail SW 7018 by Sherwin Williams. When looking for a modern and neutral hue, the warm gray version of Sherwin Williams gray paint is the perfect option to complement the cozy look of your brown granite kitchen countertops. The paint color has a tinge of violet and green, creating a unique undertone for grays.

Dovetail SW 7018 by Sherwin Williams
8. Tan. Cardboard SW 6124 by Sherwin-Williams. Create a chic twist to the natural stone with the tan color. The light tan allows your brown granite kitchen countertop to stand out without looking plain, but at the same time, it's a soft backdrop to the busy working space. Pair the color with a cool tone like teal to break the monochromatic look.
Cardboard SW 6124 by Sherwin-Williams
9. Deep Blue. Naval SW 6244 by Sherwin-Williams. The deep blue adds a dimensional quality to your kitchen and with a light brown kitchen countertop. It is a practical color to paint on base cabinets, especially for busy kitchens with kids or pets.
The brightness or dimness of the kitchen space will depend on the shade of your brown countertop. Use a gloss finish to create a luxurious blue kitchen.
Naval SW 6244 by Sherwin-Williams
10. Taupe. Incense Stick Brown 2115-20 by Benjamin Moore. The unique kitchen color looks more taupe than brown, and it's the perfect hue to make a kitchen island stand out with a brown centerpiece.
The color harmoniously blends with brown, especially if you want to update the look of a traditional kitchen. Add gray accents to add interest to the color combination.
Incense Stick Brown 2115-20 by Benjamin Moore
11. Raspberry. Raspberry Blush 2008-30 by Benjamin Moore. The Color of the Year 2023 Raspberry Blush is an exciting detour to your usual neutral hues.
The bold yet welcoming hue has that fruity element with a saturated red-orange coral tinge. The color enlivens the senses and works well with medium to light browns creating a charismatic and modern look.

Raspberry Blush 2008-30 by Benjamin Moore
Types Of Brown Granite Countertops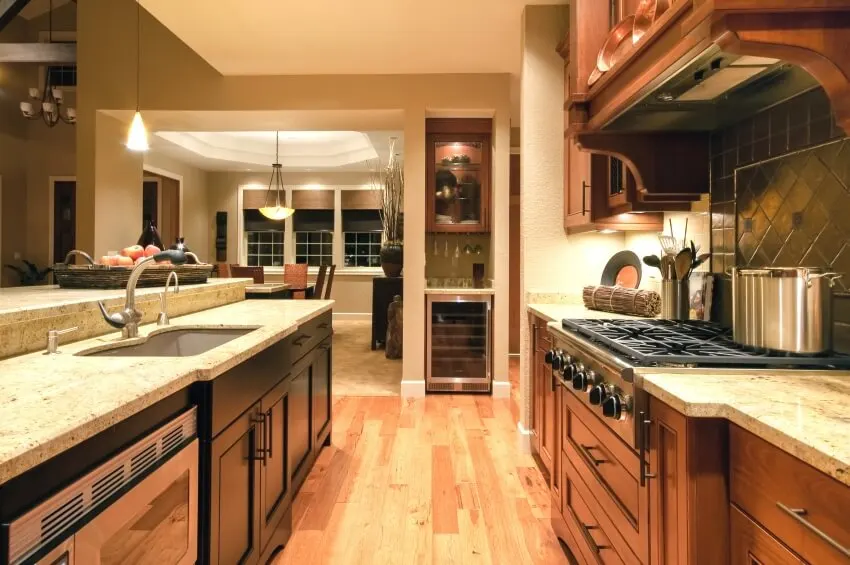 With its intricate hues, the brown granite countertop is a great choice for adding textured depth and gives the opportunity for plain and simple kitchen elements. Along the variations of brown shades, there are popular types of brown granite that one can choose from.
The following is a part of the large catalog of brown granite slabs and tiles from suppliers ranging from pale-toned palettes to dark and deep hues.
Fantasy Brown Granite Countertops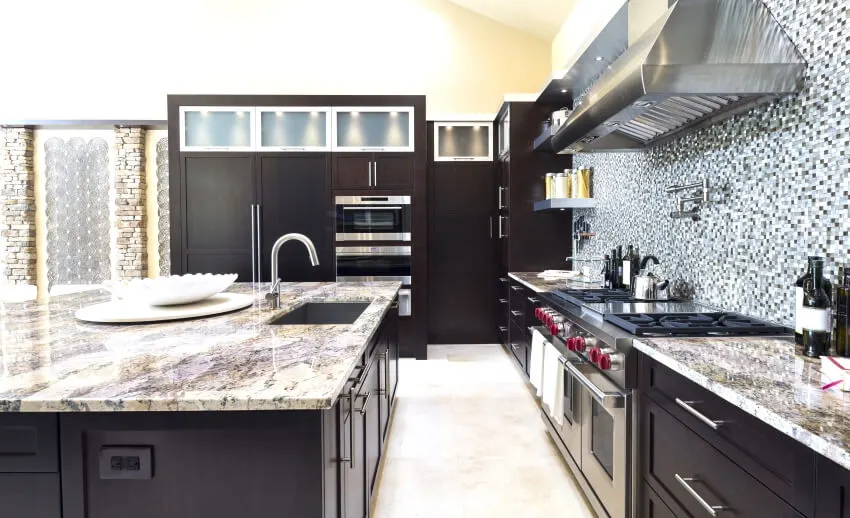 The main color of Fantasy brown granite is white with various brown and grayish veining that stretches across the slab stone. Though, there is a variety of veining, hardness, and source, which means the pricing will also vary.
You might find fantasy brown granite in different labels of natural stone, but technically it is under the marble stone and occasionally as a combo stone. The stone is usually categorized as a Level 1 or Level 2 stone.
Its dominant white color is easily matched with a white backsplash or captures one of the veining colors with a brownish or grayish backdrop.
Baltic Brown Granite Countertop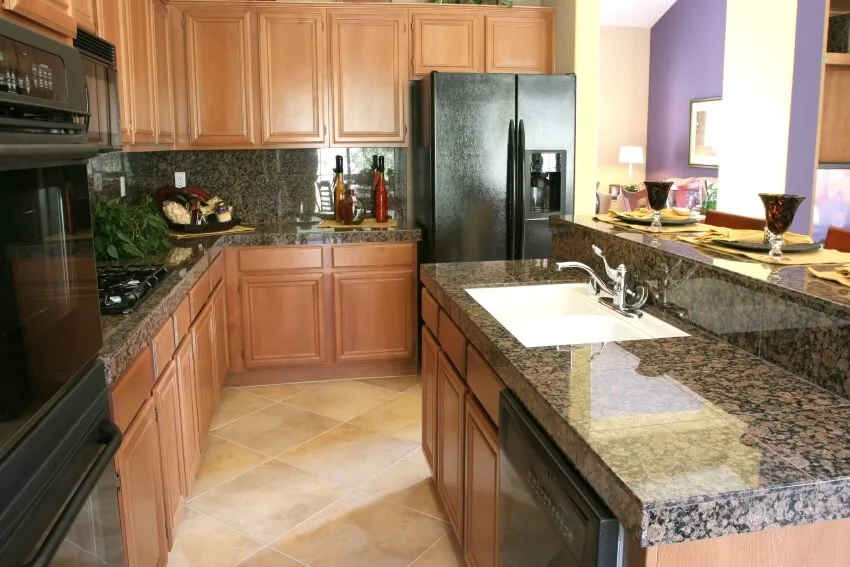 Originating in Finland, the granite countertop is also termed brown and black granite. The deep brown small to medium flecks of color is backdropped with a predominantly black coloring. Paired with white cabinets or backsplash becomes a striking element in the kitchen space.
Metallic silver hardware is a suitable hardware material that balances the striking appearance of natural stone. Using brass or gold is also possible but may be overwhelming visually due to the heavy coloring.
Tropic Brown Granite Countertops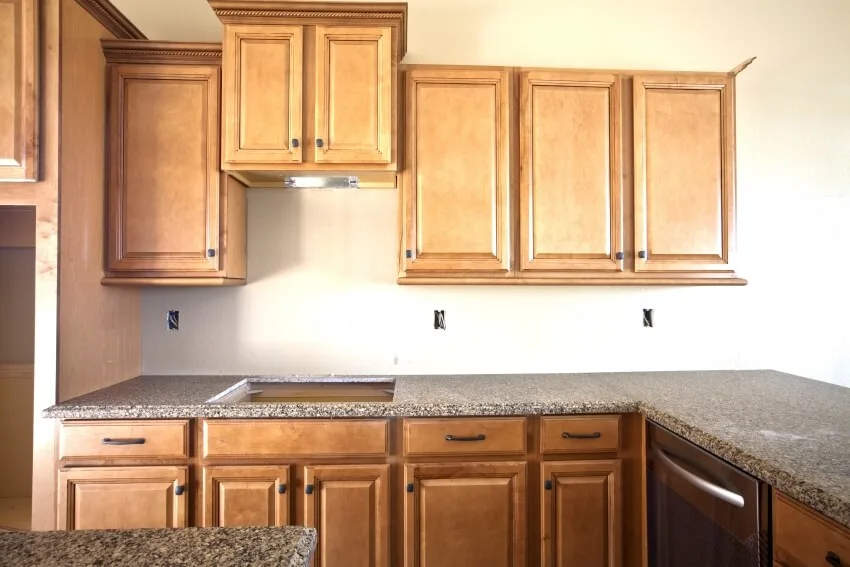 For outdoor kitchens, tropic brown granite is a durable countertop material, and like many granites, variations can withstand freezing temperatures.
The primary colors are deep brown and black with low variations, and evident crystal-like specks glisten when lightning strikes. Match the intense shade of brown, white light or colorful textured tiles to create a rustic kitchen.
Coffee Brown Granite Countertop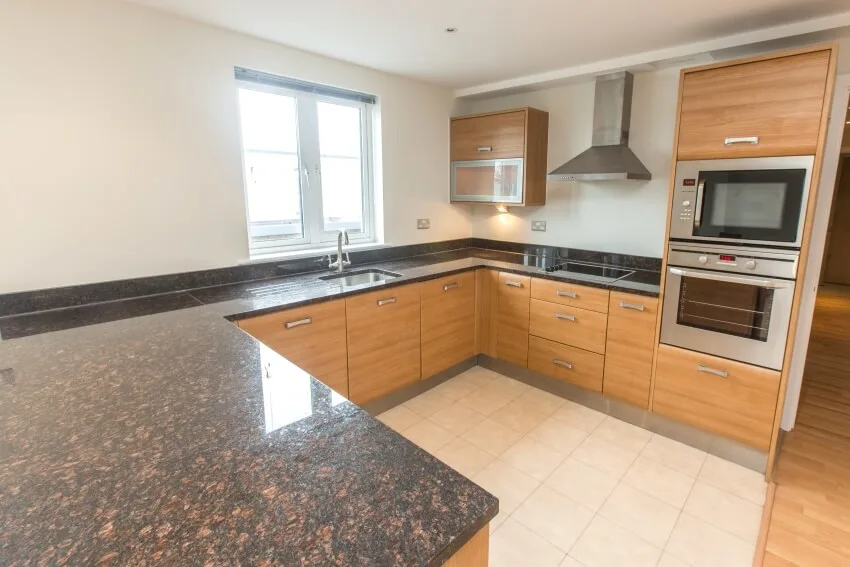 Compared to most brown granite countertops, the coffee brown granite countertop has smaller specks of varying colors with almost mahogany and black specks. The occasional tiny white bits make it an interesting visual for your kitchen countertop.
The fine flecks make it a suitable match for simple and clean contemporary kitchens that has a less busy appearance. Light grays, tan, white and other lighter hues will help the coffee brown granite countertop standout.
Antique Brown Granite Countertops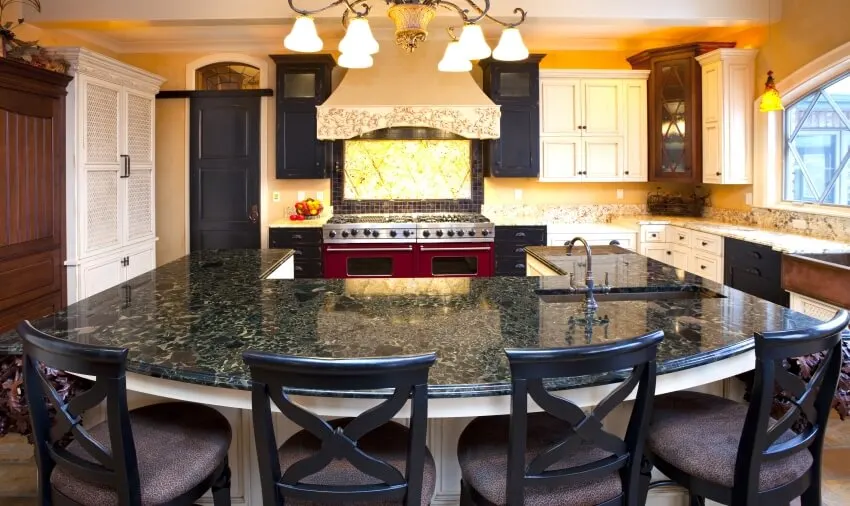 An exquisite variation of brown granite countertops, the Antique Brown Granite Countertop showcases medium to large crystal-like minerals with blue and platinum clusters.
The beautiful display of variations is the perfect eye-catching countertop that's great for both traditional and contemporary kitchens. Due to its rustic quality, it's a perfect element for modern industrial kitchens. Match it with silver or chrome finishes to match the platinum coloring.
Autumn Brown Granite Countertops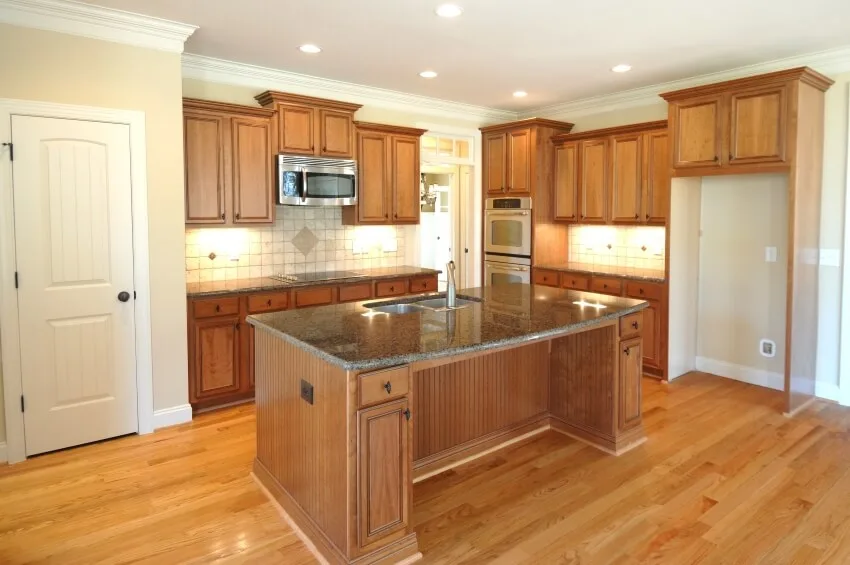 With varying brown and charcoal shades, the autumn brown granite countertop showcases a busy visual element to your kitchen. You also get orange and moss-green flecks along the slab with cream-to-white highlights from the autumn colors.
It's an eye-catching granite countertop that conveys a moody ambiance, especially when paired with deep brown or charcoal gray backdrops. The pattern variation is classified as medium.
Chocolate Bordeaux Granite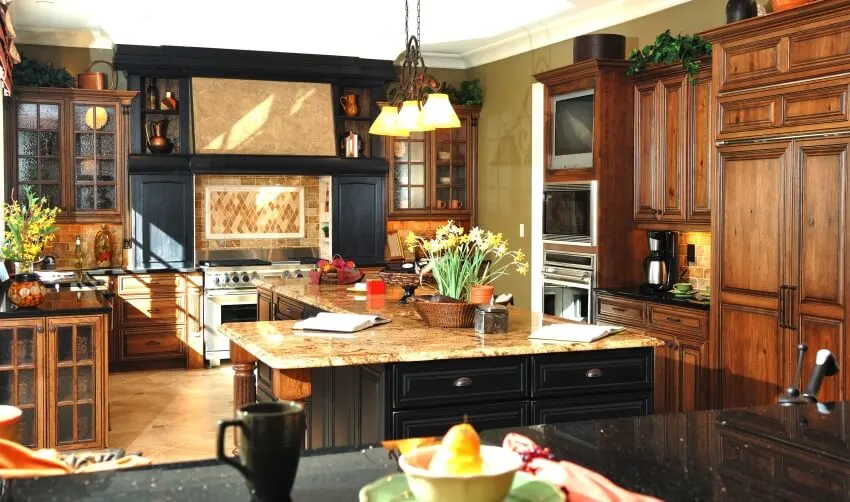 As exquisite as its name, chocolate Bordeaux granite showcases chunks of cappuccino, white and gray chunks with black and brown veining.
The neutral colors are an opportunity to pair your beige granite countertops with other neutrals for the floors, walls, and cabinets. Black base cabinets with a brown granite countertop will make your working space stand out and look sophisticated and modern.
Juperana Arandis Granite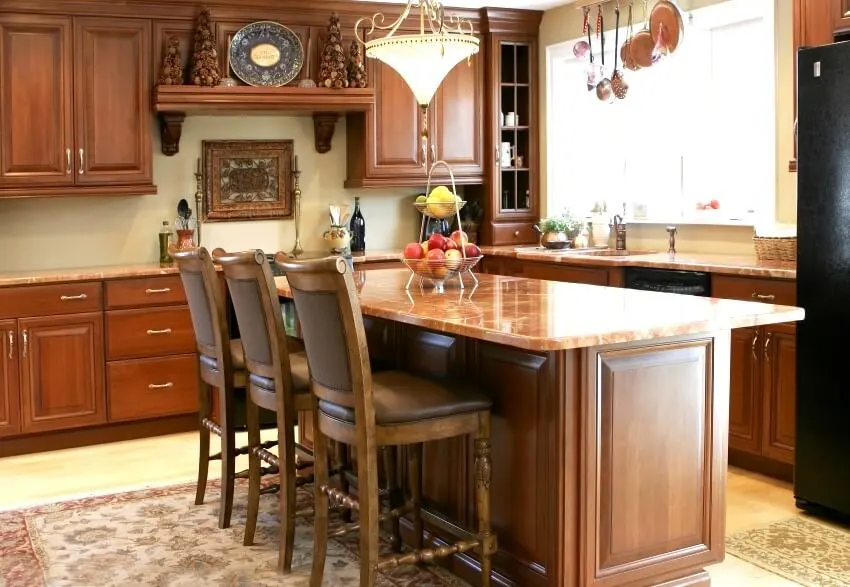 Like the Greek and Roman stone structures, the burnt sienna and white coloring create a soft, antique-like appearance. The slab has brown, beige, dark brown, and black coloring.
The unique stone is sourced from Brazil and is characterized by its high pattern variation. You'll find Juperana Arandis Granite Countertops with large veining across the slab backdropped by the distinguishable burnt Sienna coloring.
How To Update Brown Granite Countertops?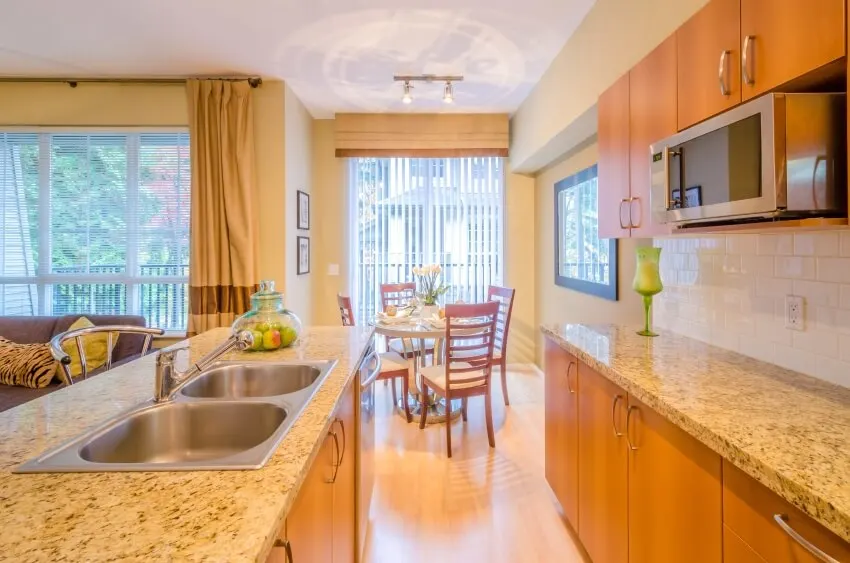 1. Update the Finish. Switch from the typical gloss finish to a honed finish, making the granite material look calmer and minimalist. The matte finish makes it suitable for modern elements such as white and clean cabinets, straight-edged countertops, and matte black hardware.
2. Change the Cabinets. When you've got an outdated granite countertop, it's likely to have all your elements, such as the cabinets, have that traditional look.
You can change up the cabinet doors to flat or slab door panels to create that clean and sleek look. Then, paint your cabinets with neutral hues. A popular update for base cabinets is painting them with a matte black or charcoal color to create that subdued look for your countertops.
3. Update your Backsplash. Along a honed-down brown granite countertop, you can update your backsplash with more recent tiling patterns or shift to a slab or panel backsplash.
A one-tone color will help calm the look of your busy countertop area. Geometric tiles such as a picket ceramic tile can make a difference to the look but do take note that not all geometric tiles work with your brown granite countertop.
4. Change Your Hardware. Details make a difference in the overlook of your kitchen, and one of the best ways to update your brown granite countertop is by changing your cabinet hardware.
Matte black or chrome hardware with sleek and simple profiles are the trending jewels of kitchens today. Choose to update your cabinet pulls and faucet to these updated hardware styles to create that contemporary kitchen look.
5. Epoxy-like Paint. There are refinishing kits that have the basic tools and supplies to change the look of your granite countertop. This will cover the entire surface of your countertop and is perfect for damaged granite countertops if you're fully dedicated to replacing your brown granite countertop completely.
6. Tile it Over. When you need to have a complete makeover, tiling over your brown granite kitchen countertops is the best way to go, as you don't need to spend much on renovation. Though, be sure to be fully invested in giving up on your granite countertop. Tiling the countertop is best for damaged surfaces.
7. Paint it Over. When you have a damaged and worn-down brown granite countertop, painting it over is a more affordable option that is without the need for a major renovation. Though take note that it is a meticulous process for the prep work.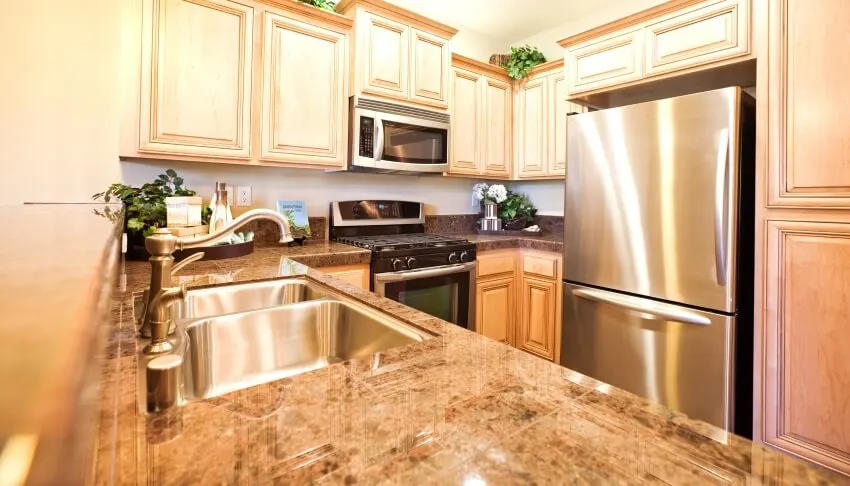 First, you'll need to remove any caulking present and ensure no residue is left. To clean the granite, scrub the area with alcohol and degreasing soap, which is a water-based detergent. To allow the glossy surface to adhere to your paint, the brown granite countertop needs to be sanded to roughen the surface.
A mechanical sander is preferred, especially if you've got a large area to cover. Take time to sand tight spaces using manual sanding.
After removing dust and debris from the sanding process, apply the primer and let it dry. When you've chosen your final paint color, follow the manufacturer's instructions for a successful result.
Visit our gallery of white kitchen cabinets with granite countertops for more ideas.