In this laminate kitchen cabinets refacing guide you'll see the factors to consider, basic steps, costs, and if refacing cabinets is cheaper than replacing.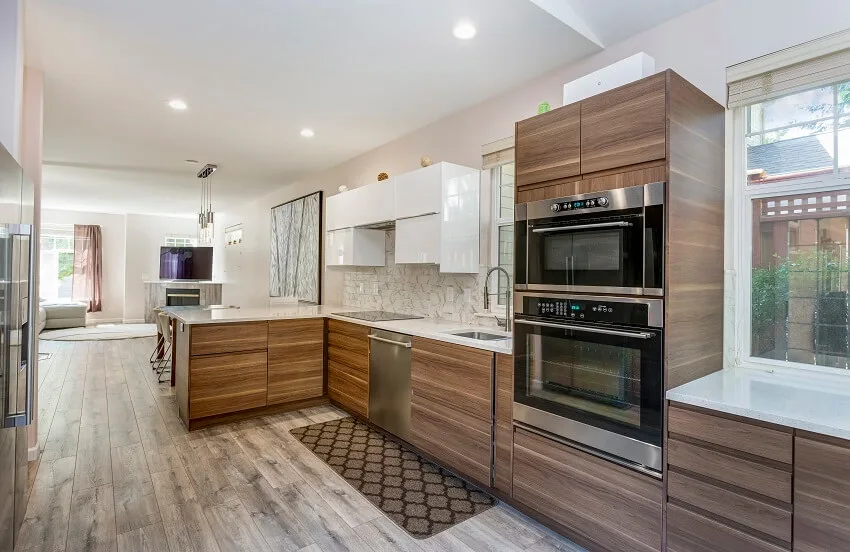 Are you considering renovating your kitchen? If you are, one of the things you may need to do is to reface your kitchen cabinets. Also known as resurfacing, this process simply means giving your kitchen cabinet a clean and fresh new finish.
This means you can change the current color and style of your kitchen cabinets to fit the new style you're planning. With refacing, rustic beige kitchen cabinets can be transformed into sleek and modern white cabinets.
When renovating your kitchen, keeping your cabinets is possible depending on the condition they're in. A simple paint job may be possible, but there are circumstances where you might need to replace hinges, doors, and panels.
One of the most immediately visible ways to change your cabinet's look is by adding new moldings and handles. Improving the look of your kitchen cabinets can be an incredible DIY project, or an additional cost you will have to pay someone to do professionally for you.
Can You Reface Laminate Kitchen Cabinets?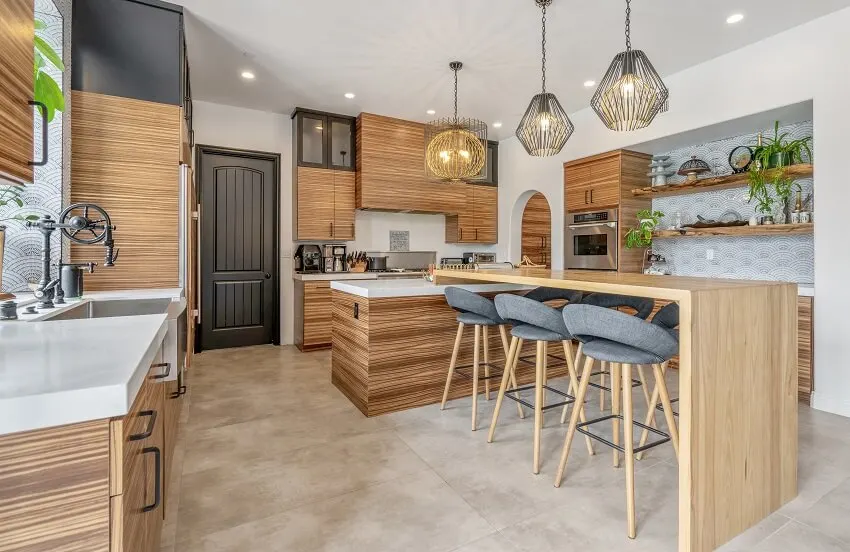 Refacing kitchen cabinets is not possible in all cases. There are often kitchen cabinets that are in horrible condition that would make them better to replace than reface them. But if the cabinets are free from damage they may be a good candidate for refacing.

Laminate is a hard and highly-processed plastic coating applied to kitchen cabinets for protection. While a bit expensive, this coating is conveniently easy to apply, doesn't mold, and has this wonderful glossy and smooth sheen that makes it a popular choice for homeowners.
When refacing laminate kitchen cabinets, you need to deal with this hard plastic surface just to be able to give it a new look. Yes, it's possible to reface your laminate kitchen cabinets, but it might require a bit more work since there are more steps to the process.
There are actually more factors you should consider whether refacing or just replacing kitchen cabinets.

Condition of the Kitchen Cabinets
The condition of the kitchen cabinets is that major factor that can decide whether they can be refaced or not. As long as the kitchen cabinet's box is intact, you can reface it.
You only need to replace the handles and hinges, or even the doors if needed. The box will be repainted to give it a new look, and yes this is possible even if the cabinets are chipped and old.
There are more serious issues though that won't be resolved even if you reface it, including water damage. Refacing is all about catering to aesthetic issues but not structural problems.
Materials Your Kitchen Cabinets Are Made From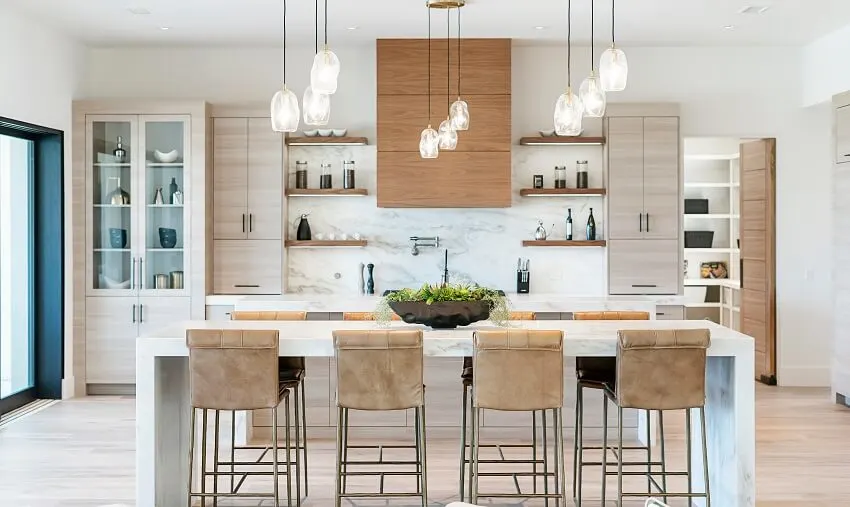 The material where the kitchen cabinets are made of can affect the answer to whether kitchen cabinets are reface-able or not. The general rule is that if the cabinet box can be cleaned and sanded, it can be refaced.
This means that kitchen cabinets made from low-quality particle board (made from lumber products) up to high-quality hardwood can be refaced,
Desired Result of the Refacing
Refacing means changing and upgrading the aesthetics of your kitchen cabinets but if you are going for changing the layout of its cabinetry, refacing won't work. If you're not happy with the layout of the cabinet, refacing won't resolve your issue with it.
But if you want to change the look and appearance of the kitchen cabinets from the paint color to their handles then it could. You may want to check out our cabinet refacing vs painting guide for more related information. There are also peel and stick laminate for cabinets that can be very inexpensive, but are not as high quality as refacing.

How To Reface Laminate Kitchen Cabinets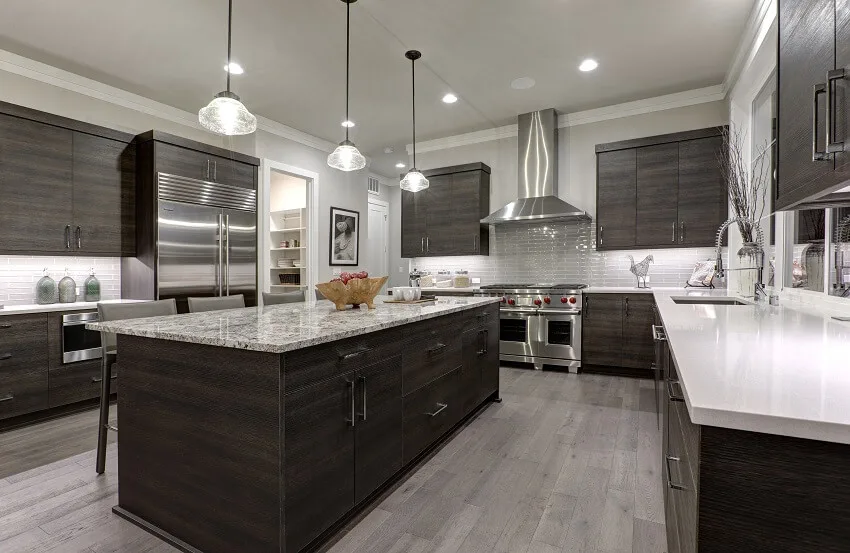 Refacing laminate kitchen cabinets will require a bit of effort and you can have the professionals do it for you. However, if you have the time, tools, and knowledge, you can also DIY the project. Depending on how you want to reface the kitchen cabinets, here are the basic steps.
1. Prepare all tools and materials you would need to transform your kitchen cabinets to the desired look you want them to have.
2. Wash the kitchen cabinets with warm water to remove any dirt and grime buildup
3. Disassemble the cabinet and make sure to label all the different parts of the cabinets, including doors, drawers, hinges, and handles (Make sure you know where they go)
4. You can either use a veneer scraper tool to get rid of the laminate coating on cabinet boxes and doors or fine-grit sandpaper to get the laminate off them
5. Remove all sand residue and clean the up to prep them for the primer
6. Apply a water-based primer on the cabinet box and doors (Make sure you paint with long and vertical strokes)
7. Once the primer dries up, sand the surface lightly using a 150-grit sandpaper
8. Apply a second layer of primer and gently sand for uneven sports
9. Apply water-based paint on the cabinet box and doors after the primer dries up using a small foam roller (Make sure to make long vertical strokes similar to the primer application) and a paintbrush for the corners
10. After the paint dries thoroughly, apply an additional layer of paint for a more durable finish
11. Once everything dries up, assemble everything back up again (This is where you can replace handles and doorknobs with new stylish ones)
How Much Does It Cost To Refinish Laminate Cabinets?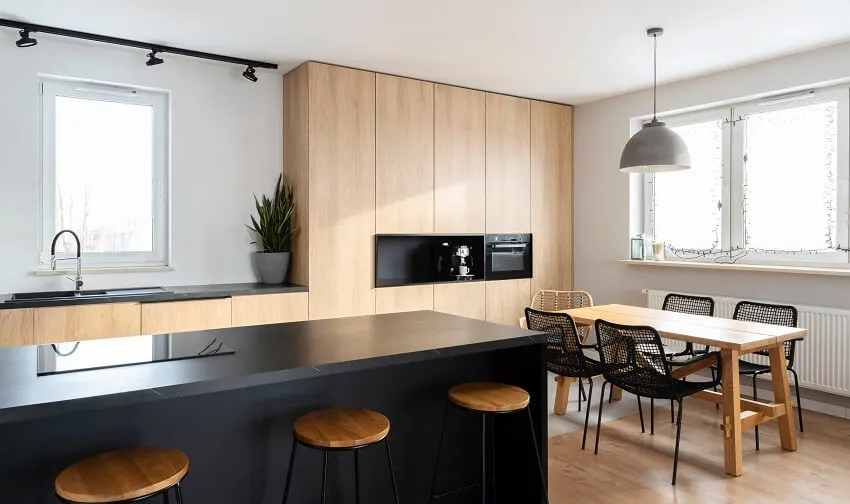 Refinishing your laminate cabinets allows you to match the furniture's look with the new look you have going in your kitchen. This process helps make the kitchen cabinets look brand new and it wily be more cost-effective when compared to getting a new one. Despite that though, you will still need to cough up money to pay for the project.
Cabinet refinishing can cost you around $1,300 to $2,800, which will include the labor (disassembling the cabinet, sanding the surface of the box and doors, removing the old paint, applying primer and new paint, assembling the cabinet again) and materials (stain, paint, varnish, and more).
If you can't DIY, hiring professionals to do the job for you will cost you around $55 per hour or an average of $2,700 per project. Of course, this number will change depending on the material used, size and number of cabinets, and the complexity of the design.
Some professionals work on a per square foot basis, and can charge around $4 to $10 per square foot. And if there are additional repairs that the cabinets need, you would have to pay additional fee, which is an average of $300.
Is It Cheaper To Reface Cabinets Or Replace?
Given the choices of refacing or replacing your kitchen cabinets, what would be best? If your cabinets are reface-able, it would be better to do so given that installing new cabinets can cost you way more than just working on what you have.
In refacing your kitchen cabinets, you will need to spend around $4,200 to $8,100, which will include labor and materials but you can also lower this significantly if you choose to do it yourself.
However, choosing to replace your kitchen cabinets and install new ones can cost you around $3,200 to $18,100. If you choose mid-grade materials, it can only be around $3,200 to $8,500 but custom cabinets can range from $12,500 to $18,100.
Materials and labor are the major factors that affect these costs. Similar to refacing though, if you know how to DIY it, the cost can significantly be reduced, especially if you already have the tools at hand to do this project. Labor is expensive for these kinds of projects.
Visit the best ways to update kitchen cabinets for more related content.