This gallery of picket tile backsplash designs shares what it is, different tile styles, patterns & materials, color options, and picket tile kitchen ideas.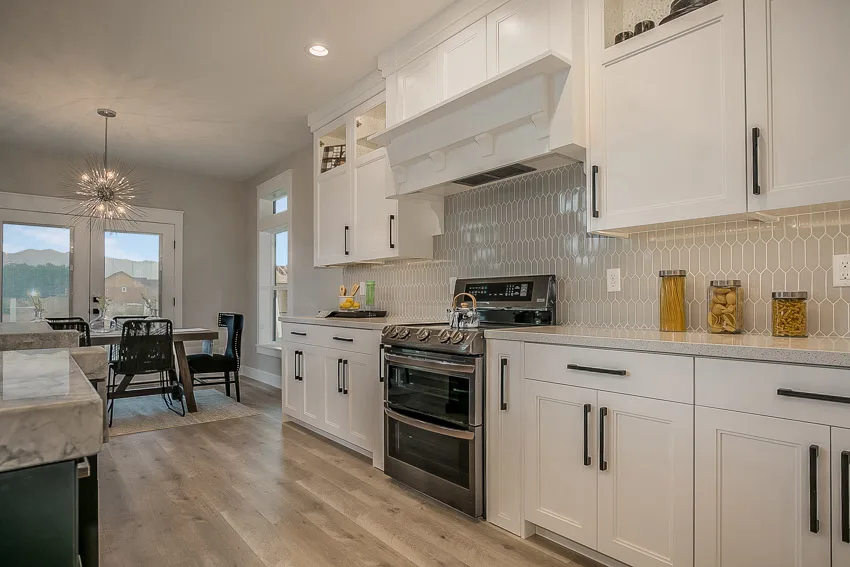 A backsplash is a part of your kitchen that has both an aesthetic and functional purpose. More than just serving as protection for your kitchen walls against oil splashes and food particles, it can also be a stunning accent wall. And yes, the designs and options are endless in this case.
If you want to create your own backsplash that can be the accent wall and focal point of your kitchen, you can start with a picket tile backsplash. These unique tiles are refreshing to look at because of their trendy look and can be a wonderful addition to your kitchen and home.
What Are Picket Fence Tiles?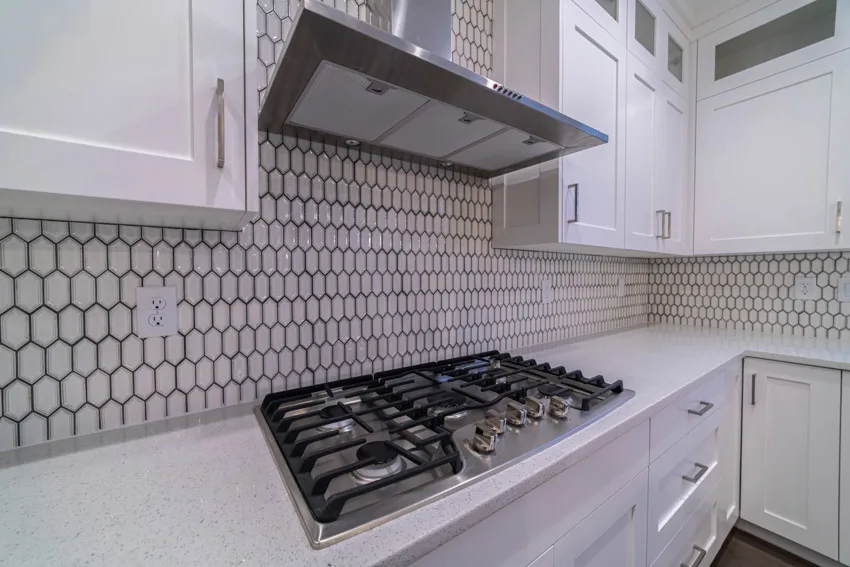 Picket is a word that you would usually associate with fences but it's not common for it to be associated with walls. With picket fence tiles though, you can definitely build a stunning kitchen backsplash for your home.
Picket fence tiles are home materials that deliver both classic and modern aesthetics to your home. With inspiration rooted in classic hexagon tiles, picket fence tiles are named as such because of their elongated shape that you will usually see in the picket fences of peaceful urban homes.
Picket fence tiles are perfect for homeowners who are into geometric shapes and modern styles. And if you want to use the clean and sleek look of a picket fence on your walls or backsplash, this material will definitely help.
These classic and timeless, slim types of backsplash tiles can easily imitate the subtle and elegant look of picket fences. But they can also be used to create an accent wall that boldly stands out.
Picket Tile Patterns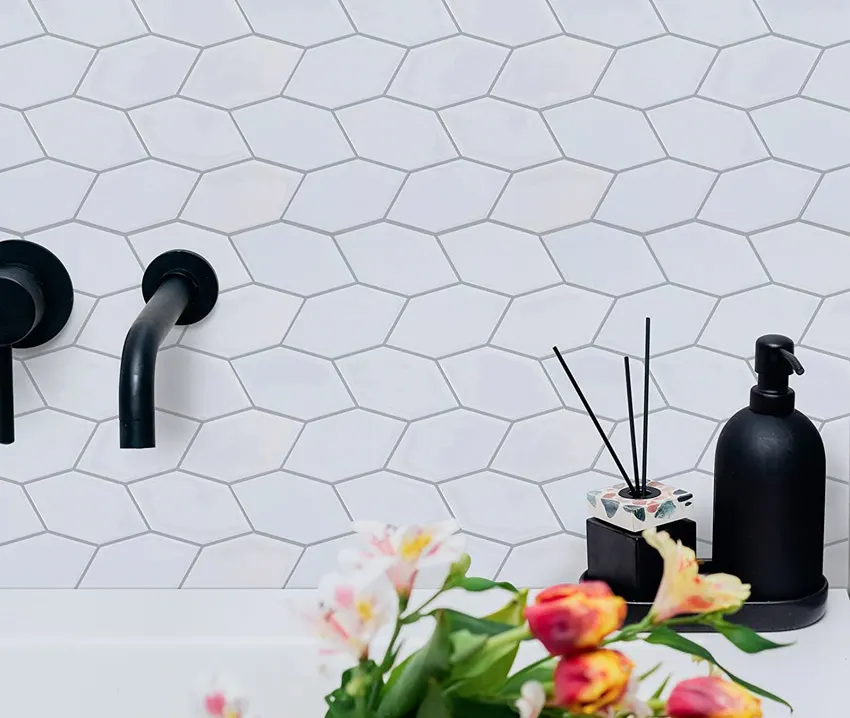 See this picket tile backsplash set at Amazon [sponsored link]
When dealing with timeless and classic picket tiles, you can get as creative as you want. The great thing about picket tiles is that their unique aesthetics transcends time and different styles, which is the main cause of their growing popularity.
And when it comes to tile layout, there are three different options you can consider, including horizontal, vertical, and braided (or diagonal) patterns. The different layout options can affect the style and vibe that your backsplash will provide.
You can easily combine these patterns with materials, sizes, and colors until you settle on the designs you want to have for your backsplash.
Horizontal Layout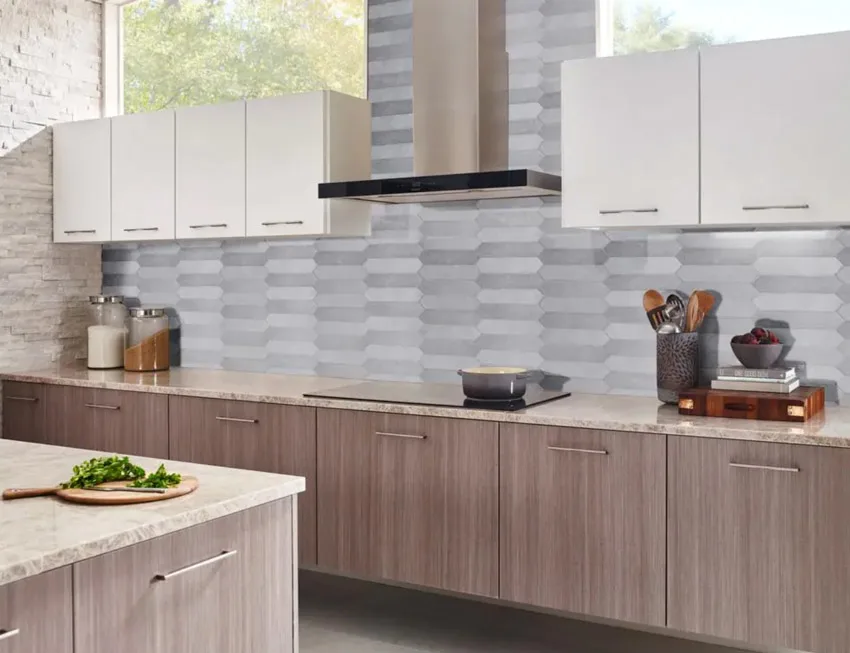 See this glossy ceramic picket wall-tile set at Home Depot [sponsored link]
One of the layouts you can choose is a picket tile backsplash with a horizontal orientation. This type of installation is the ideal option if you're thinking about something elegant and classic like subway tiles.
Applicable for both commercial and residential spaces, this picket tile layout can elevate the space you're installing it to and can add a modern feel to a classic vibe.
In this layout, the picket tiles are arranged horizontally. This results in an illusion of extending and making the space look bigger than it actually is. Compared to the standard subway tile though, picket tiles look more unique and modern with their elongated hexagon shape.
Vertical Layout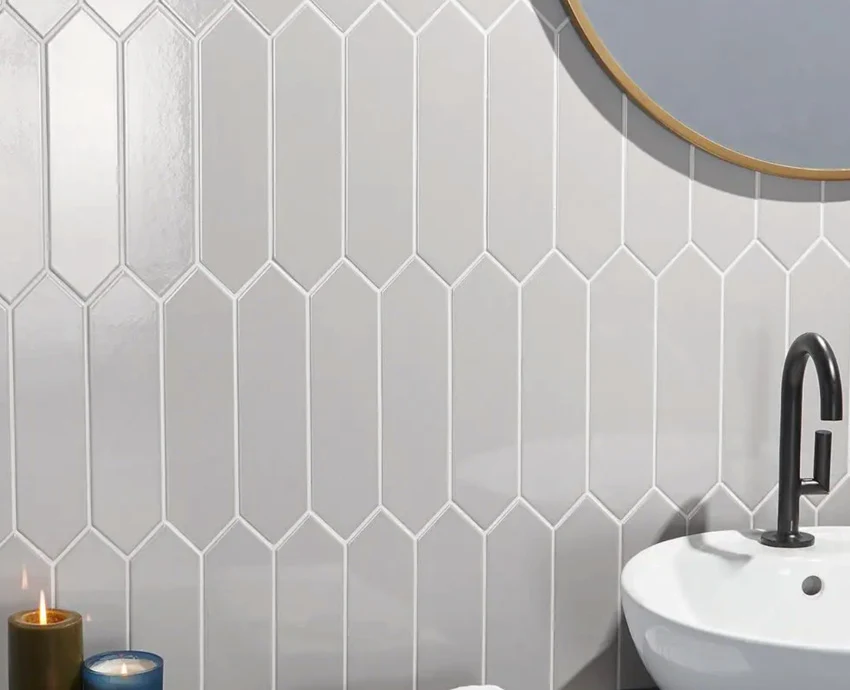 See this vertical picket tile set at Home Depot [sponsored link]
Another layout option to go for is the picket tile backsplash with a vertical layout. This specific picket tile backsplash layout is an excellent option if you want to visually add more height to the room you're working on.
This type of tile pattern guides the eyes vertically up and down. And to maximize this effect, you can use light-colored picket tiles with light grout.
This is why a vertical tile backsplash using a picket design is perfect for small rooms and spaces, including entryways, powder rooms, and shower areas.
More than that, it is also a great layout option if you want to turn your backsplash into a stunning accent wall and make it a focal point of the kitchen.
Diagonal Layout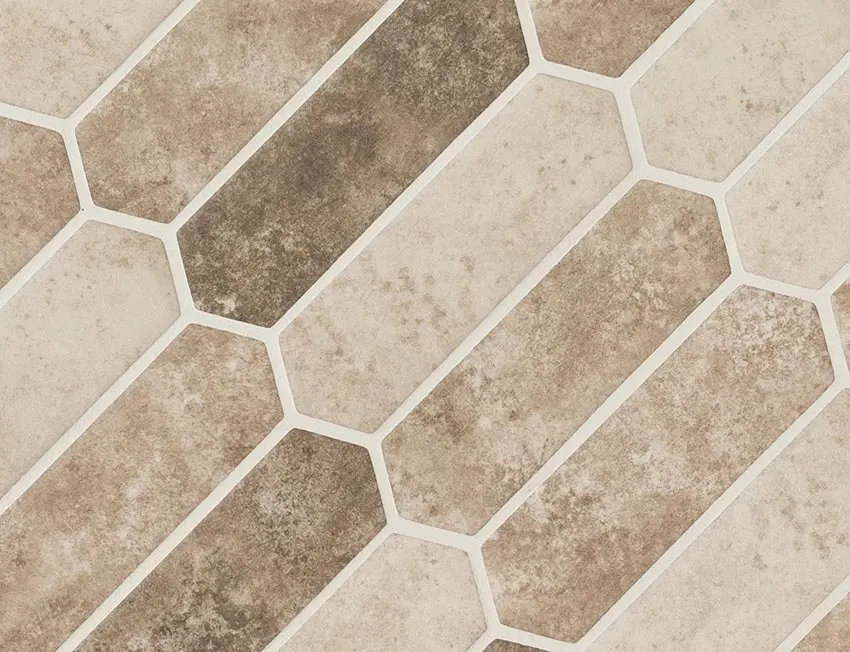 See this diagonal picket tile set at Amazon [sponsored link]
Finally, a picket tile backsplash with a diagonal layout is another choice for you to consider. This is an excellent layout option if you want to shake things up and add a unique twist to your kitchen.
A picket tile backsplash diagonal is an unusual approach that stretches from one corner to the opposite end. The visual effect of this layout depends on the size of the backsplash and it gives you a break from the standard and "norm" look.
You can accomplish this by placing picket tiles at a 45-degree angle to contrast the aesthetics compared to other straight and grid payouts.
Tile Materials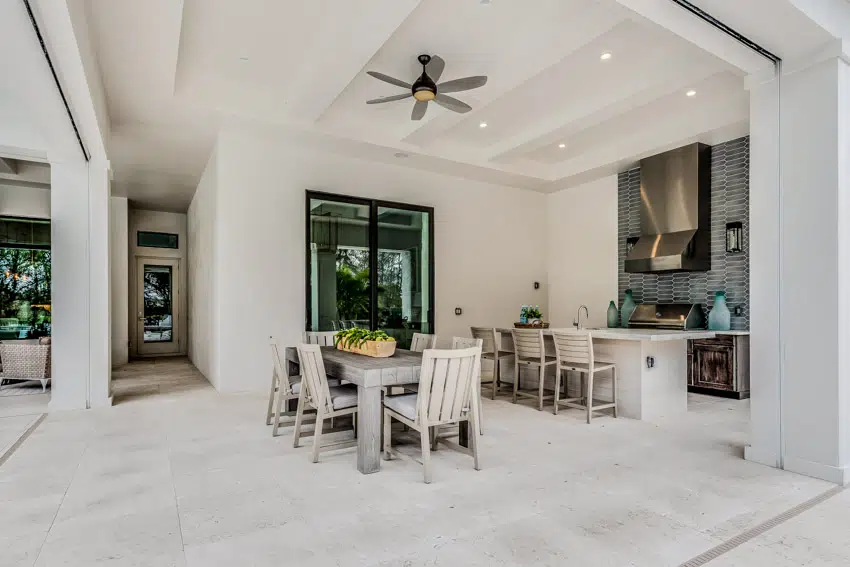 When thinking about installing a picket tile backsplash, one aspect you need to consider and choose is the materials the picket tiles are made of. Different materials can provide different benefits and drawbacks, as well as features you can make the most of.
The materials you use for picket tiles will dictate the durability and aesthetics you get to benefit from and consider as you build your backsplash.
Since backsplash is a protective element used for your kitchen, it relies heavily on its durability and its ability to last long to protect your kitchen walls. It's in choosing the right material that you will be able to benefit the most from having a backsplash.
Some of the popular materials you can use for picket tiles are ceramic, glass, and marble tiles.
Ceramic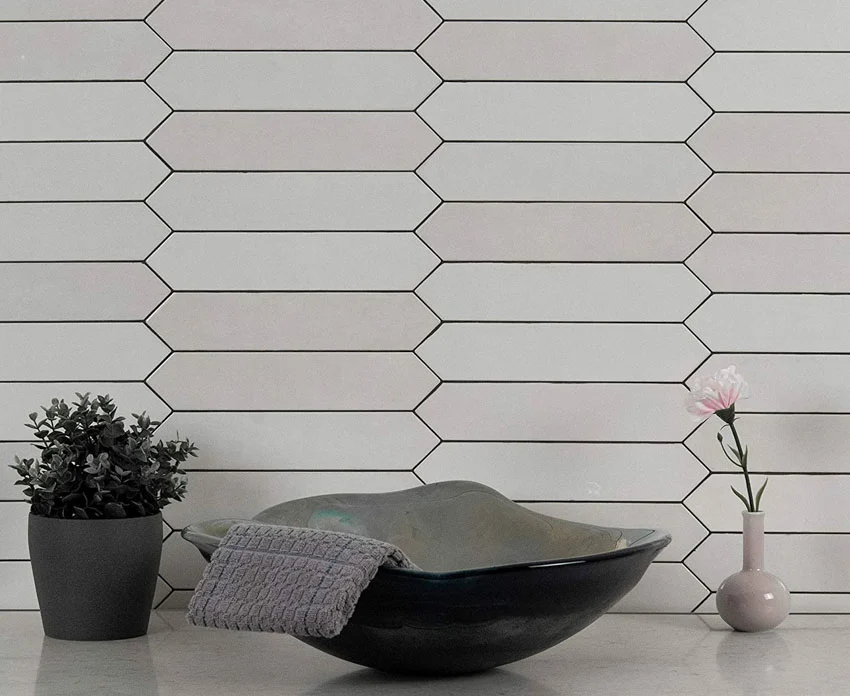 See this picket ceramic tile set at Amazon [sponsored link]
One of the most popular types of tiles for homeowners, ceramic tiles are excellent materials to be used for your picket tile backsplash. These tiles are popular with homeowners for a reason but you need to take into account the following pros and cons.
Pros of Ceramic Picket Tiles

• More durable compared to natural stones: Ceramic tiles are ideal compared to natural stones for a backsplash since durability is a priority for it.
• An endless variety of mix and match of colors, textures, and patterns: There are different colors, patterns, and textures you can choose and match with ceramic tiles.
• Easy to install: You can install ceramic tiles for your picket tile backsplash yourself without professional help and with enough patience and practice at hand.
• Affordable: Costing around $4 to $8 per square foot, these tiles are a more affordable option compared to other materials but the cost can increase drastically if you choose handmade ceramics.
Cons of Ceramic Picket Tiles

• Limited color variation: When it comes to ceramic tiles, bold colors are difficult to come by but you will have choices available in white, black, and earth hues.
• Varying colors from one batch to another: It's difficult to match and get the exact color from one batch to another so make sure to purchase enough to cover the entire project.
Glass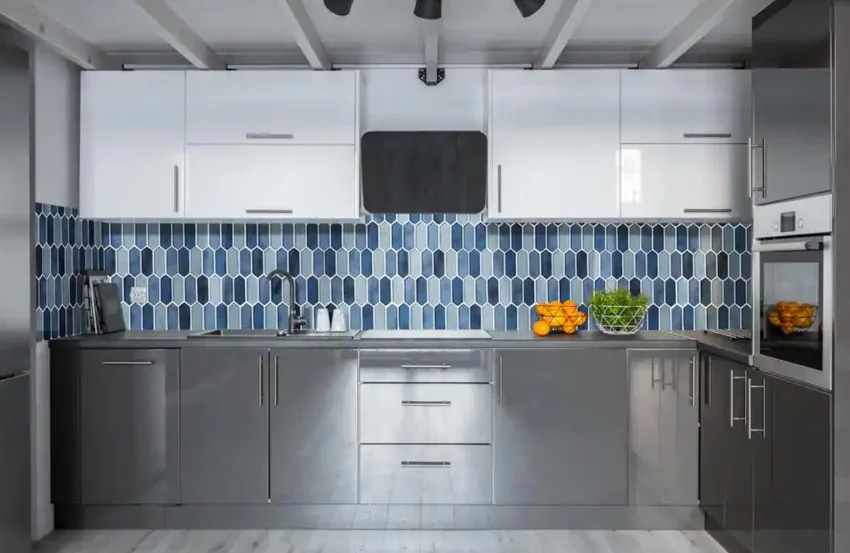 See this glass picket tile set at Home Depot [sponsored link]
If you want a more elegant addition to your kitchen, you can use glass picket tiles for your kitchen backsplash.
Here are the advantages and disadvantages that come along with this choice.
Pros of Glass Picket Tiles

• More durable: When compared to natural stones, glass tiles can be more durable and so may be considered for your kitchen backsplash.
• Easy-to-clean: Glass backsplash tiles are easier to clean since simply wiping the grime and splashes off the surface can be possible using an all-purpose cleaner and even just a little soapy water.
• Stunning aesthetics: With their translucent appearance, these glass tiles look elegant and so would be a sophisticated addition to your kitchen as a backsplash. They naturally reflect light and so can make a space look bigger and brighter.
• Endless color varieties: You have many options when it comes to color varieties to consider to create your stunning and contemporary-looking kitchen backsplash.
• Eco-friendly option: Creating glass tiles requires only half the energy it takes to create ceramic tiles. And many types of glass tiles come from recycled materials and so they can be reused and recycled all over again.
• Zero water absorption: Since glass is impervious to water, glass tiles have a zero percent absorbency rate and so would be a better option for areas often exposed to water like the kitchen.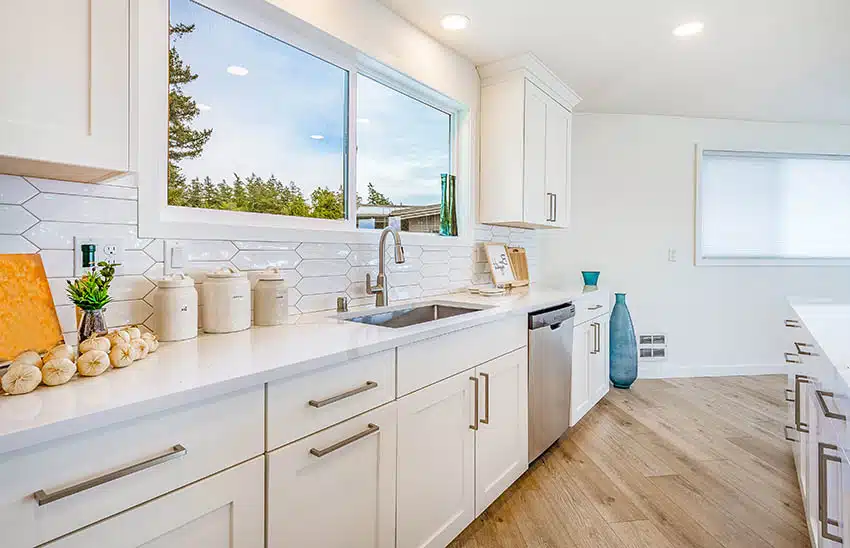 Cons of Glass Picket Tiles

• Requires professional installation: Dealing and installing glass tiles need a professional touch because applying adhesive on a translucent surface is not the most aesthetically pleasing look to consider.
• More expensive option: While stunning and sophisticated to look at, glass tiles are more expensive compared to other materials you can use for your picket tile backsplash. See pictures of glass subway tile backsplash here.

Marble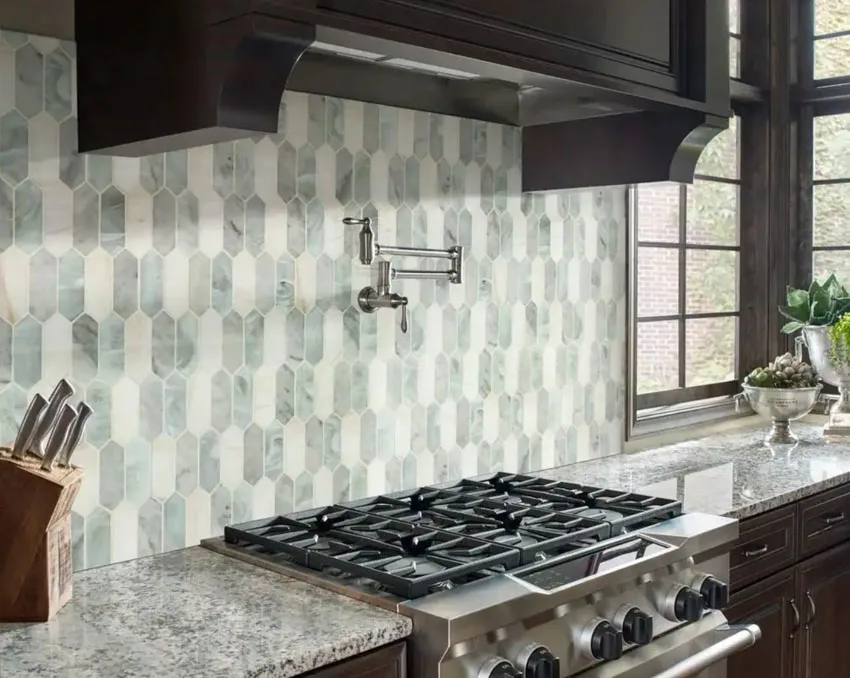 See this marble picket tile set at Home Depot [sponsored link]
Marble picket tiles are natural stones that feature a unique and authentic look that has a luxurious feel to them. Adding a marble picket tile backsplash to your kitchen can seamlessly elevate both the aesthetics and value of your kitchen and your home in the process.
Quarried in different mountain regions all over the world, marble backsplash tile is a popular option because of the following advantages and disadvantages.
Pros of Marble Picket Tiles

• Features upscale and elegant aesthetics: Marble offers an elevated look that transforms a space into a sophisticated one.
• Adds real estate value: Many homeowners see the addition of marble tiles as an upgrade to the home's value, especially when well-maintained.
• Can easily accommodate radiant floor heating: You can integrate your home's heating system into the flooring if you choose to use these marble types of floor tiles.
• Can be easily polished: Making sure that the tiles remain polished will not be an issue since it's an easy task to accomplish with marble tiles.
Cons of Marble Picket Tiles

• Require sealing of the materials: Since marble is a porous stone, it needs to be sealed in order to avoid possible moisture damage.
• Naturally slippery and brittle: While durable, marble tiles have the tendency to be brittle and slippery, making them not a good choice for your flooring.
• Easily scratches and stains: Marble tiles are not meant for daily wear and tear since they stain and scratch easily (especially if you have kids and pets at home).
• Costs more: These tiles are expensive and if you're going to cover a large area, make sure you're ready for the cost that they come with.
• Feels cold underfoot: While compatible with radiant floor heating, they can feel cold underfoot without heating so it would be better to use these tiles for other purposes besides flooring like walls.
Popular Backsplash Colors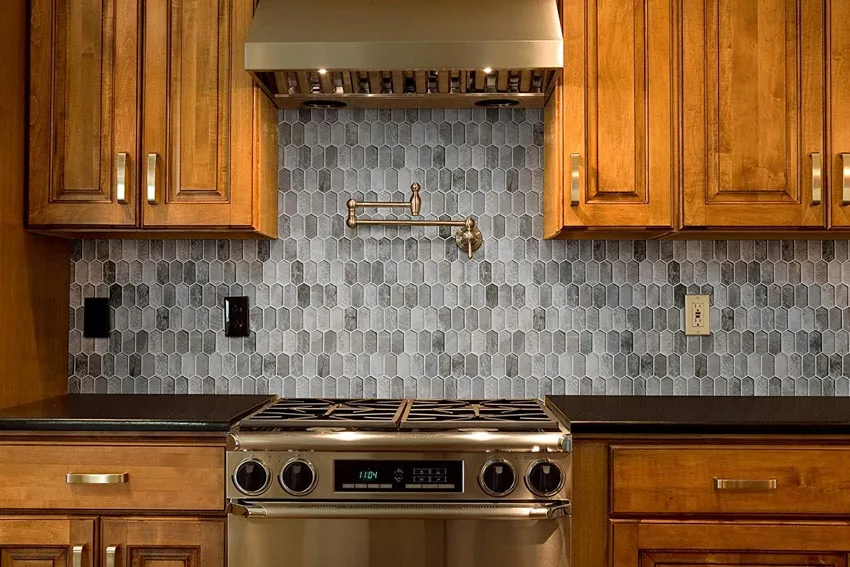 See this gray picket tile set at Amazon [sponsored link]
Besides the different materials and layouts you can choose from, you should also consider the colors that come with the different picket tiles. When it comes to working on a picket tile backsplash, you will have to settle on the color you can seamlessly incorporate with your kitchen.
Picket tiles can have different colors, depending on the material you choose for your backsplash. The colors will also contribute to the vibe that will come from your backsplash and as result add to the ambiance of your kitchen.
It can either add to the current ambiance of your kitchen or contradict the vibe and actually disrupt your kitchen's aesthetics. When it comes to picket tiles for your backsplash, here are some colors you may want to consider and explore.
White Picket Tile: White is a classic color option that many homeowners prefer for their kitchens because of its clean and hygienic look. This is not surprising, especially if you're going for a picket tile backsplash since picket fences are more popular in white.
White subway tiles are great for the backsplash but if you want to add a twist to the mix, you might want to go for picket tiles instead of the regular-looking tiles. White picket tile backsplash will be a sleek and modern addition to your kitchen.
Crisp white and off-white will look wonderful in both modern and contemporary spaces. The elongated hexagon shape of the picket tiles gives this backsplash the personality and zing that's lacking in a white subway tile backsplash.
To give white picket tiles more contrast and depth you can use a dark color grout such as gray or black to really make it stand out.
Black Picket Tile: Besides white, black is another classic color that can be used for your picket tile backsplash. This can be an excellent option if you want to turn your backsplash into a bold and striking accent wall and a stunning focal point of your kitchen. The great thing about this colored backsplash is that it can hide stains and scratches better.
A black picket tile backsplash can easily stand out and elevate the design of your kitchen. If you want drama and something that can catch anyone's attention, this is the ideal color option for your backsplash. And if you want to further maximize this effect, pair your black picket tiles with white grout to create contrast.
Blue Picket Tile: If you want a backsplash that looks refreshing, you can go for blue picket tiles. The color of these tiles will provide a cooling effect that can make a space feel calmer. And with the unique shape of picket tiles, these blue picket tiles offer a new and different sight.
With a blue picket tile backsplash, you can create a beach look or a nautical-style kitchen if that's what you prefer. For a beach look, you can pair a blue picket tile backsplash with white paint and wooden furniture. And for a nautical look, add red and white colors to the mix.
Green Picket Tile: Another refreshing color to consider for your picket tile backsplash is green. The color of nature will always be a wonderful addition to the home and you can even support this color by adding a pot of plants in the same room.
Similar to the color black, green easily pops up and stands out so when you use this color for your picket tile backsplash, it will definitely be an accent wall and a focal point in your kitchen.
Similar to the color blue though, it also somehow features a calming effect, besides adding a layer of dimension and texture to your kitchen. For color recommendations, try out jade or rosemary hue for a fresh green look.
Gray Picket Tile: Gray is a neutral color that blends and matches well with any other color and color scheme you can think of. From light and subtle grays to charcoal and almost black ones, the color has the versatility and flexibility you would want to have when deciding which shade to go for. In general, though, you can choose a cool gray shade, a warm gray, or a moody one.
Cool grays are popular for contemporary-styled to transitional rooms. These grays have a blue and green undertone and would produce a welcoming and inviting vibe to your kitchen if you choose a cool gray picket tile backsplash.
Warm grays have an undertone of red and yellow. They are a bit dramatic compared to the calm cool gray shades. If you want to add warmth and texture to your kitchen, this is a great color to consider for your backsplash.
And finally, moody grays are similar to black in the sense that they are deep and bold. Choosing a moody gray picket tile backsplash means you're adding depth and drama to your kitchen.
Tile Designs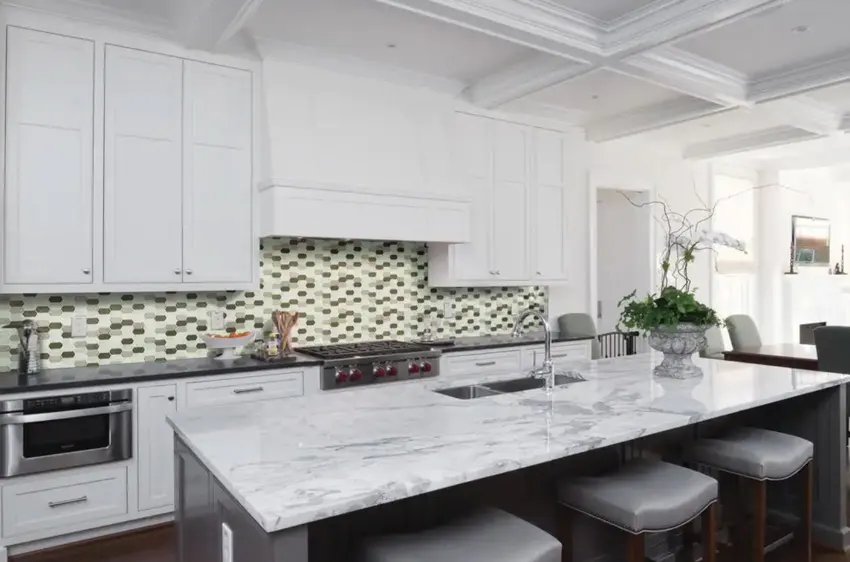 See this picket tile backsplash set at Home Depot [sponsored link]
Besides colors and layouts, you can also consider the actual designs you can create with picket tiles when building your kitchen backsplash. With elongated hexagon-shaped tiles, these picket tiles can be used to create creative designs you will want to see in your kitchen.
Perfect for vintage and contemporary styles, these picket tiles have become a popular choice for the backsplash because of the trendy patterns and designs you can come up with using them. They can even differ in texture, from polished ones to tiles with a matte finish.
The backsplash needs to match the texture of your floor and countertops to have a unified look in this aspect. Some of the picket tile designs worth mentioning are the following:
Subway Tile
See this glass picket subway tile set at Home Depot [sponsored link]
The subway tile is a timeless design that has become a trend in the early 1900s. This timeless pattern has come and gone all throughout the years, which is not surprising considering its versatility and stylish applications.
With the elongated shape of picket tiles, it's easy to turn your backsplash into a subway backsplash. Going for the traditional picket subway tile backsplash means that you're going for the more elegant yet fun option.
While the subway style is traditional, the elongated hexagon shape of the picket tiles, with their ends coming to a point, gives the entire look edge and more personality. This puts this picket subway tile backsplash into the transitional side of styles, going towards a more modern aesthetic.
Mosaic Tile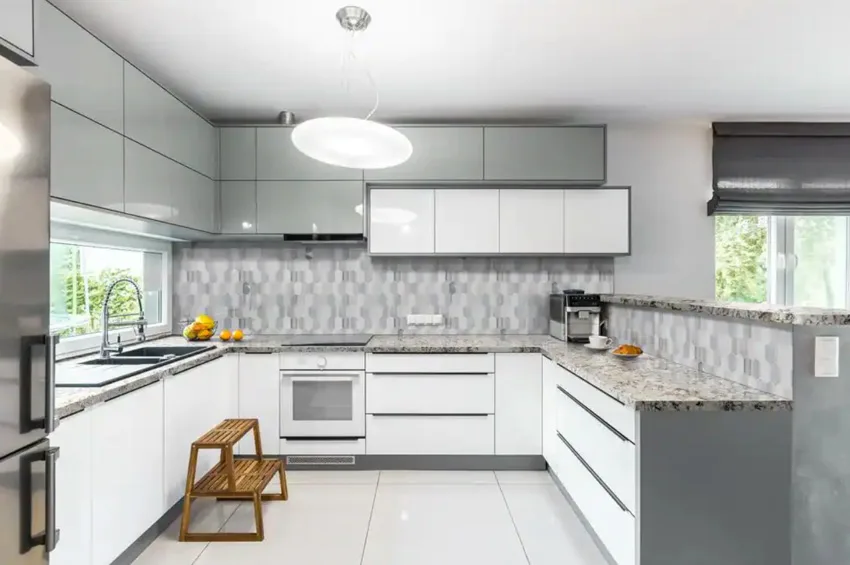 See this mosaic picket tile set at Home Depot [sponsored link]
With picket mosaic tile backsplash, you're using the tiles to create your chosen pattern or design. Picket mosaic tiles will also look wonderful in bathrooms and hallways, making use of overlooked spaces.
You can get as creative as you want but it will also require meticulous touch to create the masterpiece you're thinking about. Depending on the pattern and image you recreate using the picket mosaic tiles, you will need to have enough space to be able to build the said pattern.
With this in mind, you will also need to use smaller-sized picket tiles if you want to complete the pattern you're working on even with a smaller space like your backsplash or the shower wall.
Braided
Known to be a fan-favorite, braided picket tile is a design that looks exclusive and expensive. The use of unusual patterns adds an instant trendy and chic look to your backsplash and kitchen.
If you want to have a bolder look of this design, choose light color tiles with a darker grout (or the opposite), but if you want to soften the pattern, use a lighter-colored grout.
The downside with braided picket tiles though is that installing them will require a professional touch since they are more complex to work on and if you want to have a clean braided look.
Beveled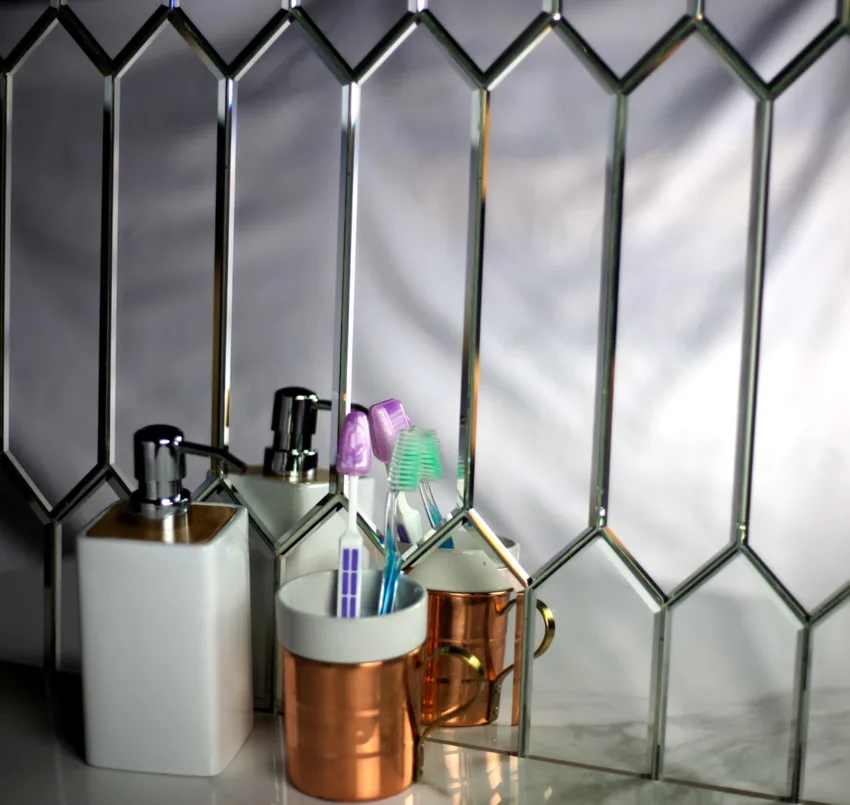 See this beveled glass picket tile at Home Depot [sponsored link]
Beveled refers to the edge of the picket tiles where a little part of the tile's edges was beveled in order to avoid chipping. With beveled picket tiles, they have gaps between them, adding more texture to your backsplash and even differences in edge height.
Since the edges of the picket tiles are beveled and rounded, the grout is considerably narrower and gives the backsplash an elevated look.
Elongated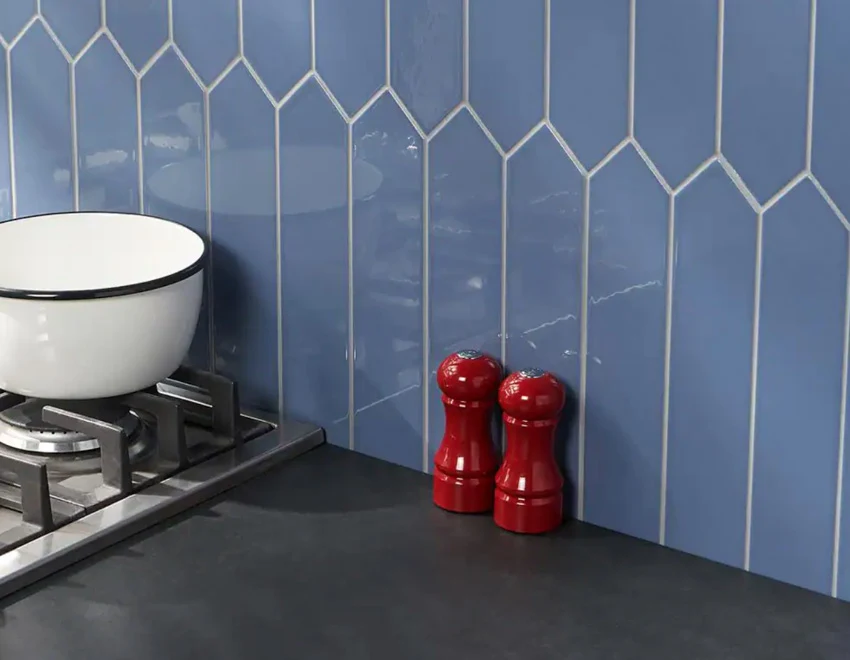 See this blue picket wall tile set at Home Depot [sponsored link]
One type of picket tile you can consider is its elongated version. While the picket tiles are already elongated hexagon-shaped tiles, there are picket tiles that are more elongated than their usual look.
This will be a great option if you have a small kitchen and want to maximize the space you have for your backsplash. When installed horizontally, they can make the room look bigger and more spacious while when installed vertically, you can create the illusion of more height.
Large Tiles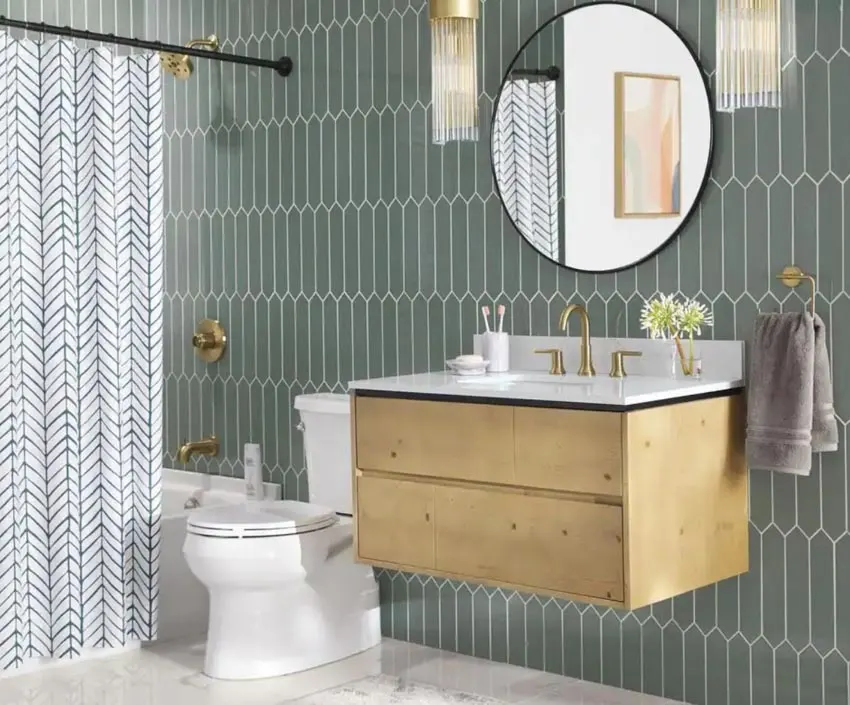 See this large green picket tile wall set at Home Depot [sponsored link]
Another option to consider is a large picket tile backsplash, which can be easier to install since the tiles are bigger and so you won't have to repeatedly install the tiles.
You can also finish the installation faster because of this. Large format tiles with a picket design may come in 3×12 or 2×8, depending on what size you're looking for and how big you want them to be.
Peel And Stick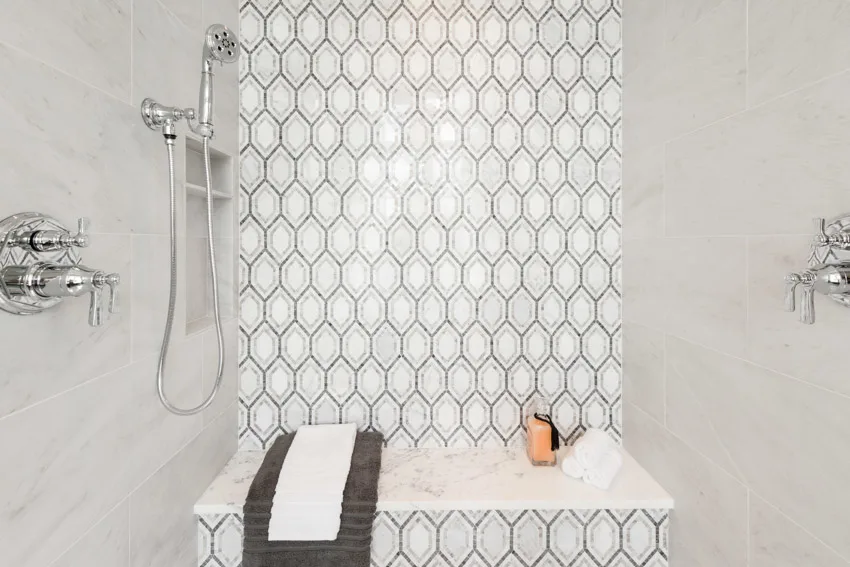 If you value convenience, peel-and-stick picket tiles can also be chosen for your backsplash. This option is more affordable and easier to install compared to other types of picket tiles.
What Design Style Does This Backsplash Belong To?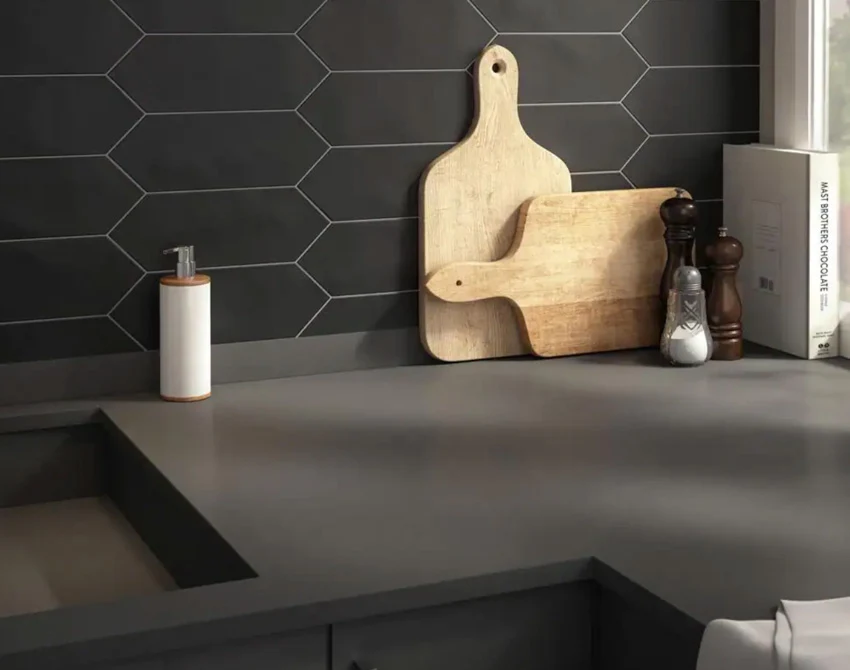 See this black picket wall tile set at Home Depot [sponsored link]
Choosing a picket tile backsplash means that you're choosing either a contemporary or a vintage vibe for your kitchen. While popularized and trended in the late 20th century, these tiles have been associated with traditional styles like subway tiles and mosaic tiles.
This is not surprising considering how versatile in aesthetics picket tiles are. You only need to choose the right layout, material, and pattern to build the look you want to use for your backsplash and your kitchen.
Picket Fence Tile Installation Process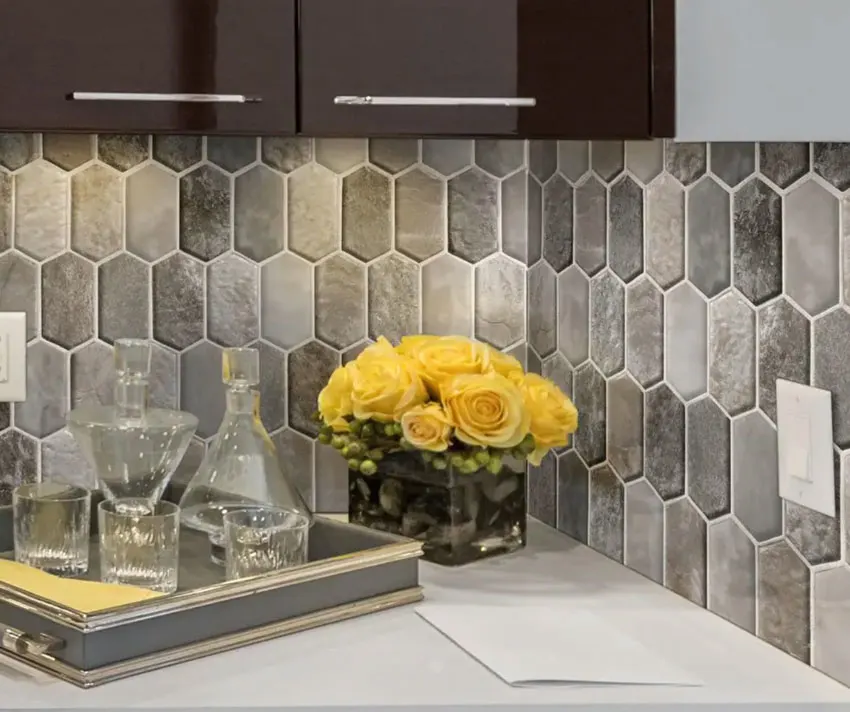 See this kitchen picket tile backsplash at Home Depot [sponsored link]
Incredible for bathroom and kitchen backsplash, picket tiles would be a unique and stunning addition to your home. You can also install these tiles for living room areas and hallways as flooring, depending on the material you're planning to use. And it can last for a long time with proper installation.
To help you, here are simple steps to follow when installing picket tiles at home.
Step 1 – Measure the area where your tiles will be installed: Take detailed and precise measurements in the area you're going to work on, whether you're installing a new backsplash or flooring.
Step 2 – Prepare the walls/floor before the actual installation – Clean and sand the surface of the walls or floor where you will install the picket tiles. Take out all electrical switches near the area and mark the boundaries with painter's tape to protect the other areas.
Step 3 – Layout the work area: Get the picket tiles you need to install and lay them on the counter or floor. Define the layout and where you want to place them.
Step 4 – Apply mortar on the surface: To start the installation, generously apply the mortar on the surface. Get and use a V-notch trowel for small and narrow areas.
Step 5 – Gently stick the picket tiles on the applied mortar: One by one, stick each picket tile on the mortar until you cover the entire area you're working on.
Use spacers and insert them on one side of every tile and allow it to dry overnight. The next day, take out the spacers and clean the tiles by wiping them with a cloth and warm water.
Step 6 – Apply the grout on the installed picket tiles: Apply grout on the installed tiles and use a float at a 45-degree angle. After the grout dies, use a wet sponge and wipe the tiles to clean excess grout. Sealing may also be required for natural stone tiles to prevent stains.
See more related content in our article about backsplash behind stove designs on this page.