Welcome to our gallery of blue and white kitchens with examples of the hue used on cabinets, as an accent color, on a backsplash, or painted on the island. Whether you want to add a pop of color by changing the decor or go full out and embrace the color with blue cabinets, pictures of kitchen designs help find the style right for you.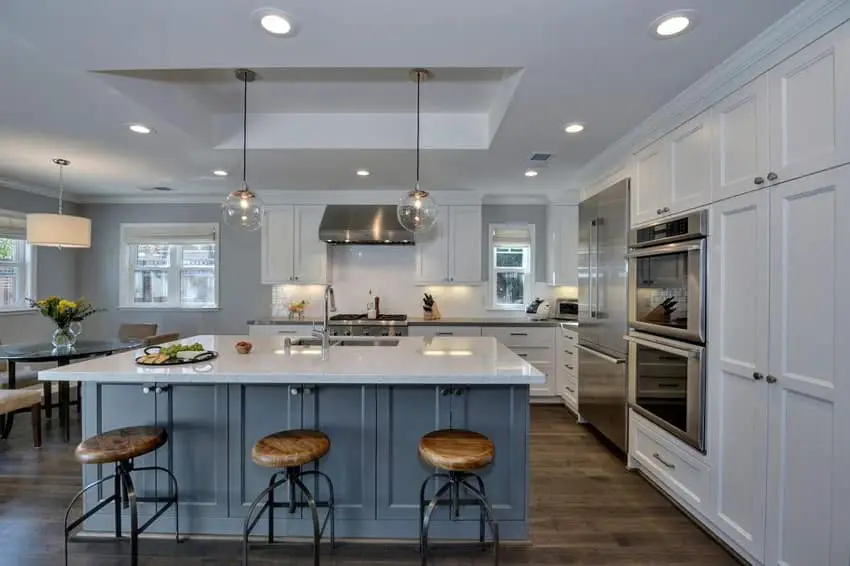 In the photo above is a gorgeous transitional style kitchen featuring all-white main cabinets with gray solid surface counter and white subway tile backsplash, and a massive island with a steel blue paneled cabinet base with a white marble countertop.
These are paired with industrial-style bar stools and simple blown glass pendant lamps to complete that vintage Scandinavian look.
Blue and White Kitchen Ideas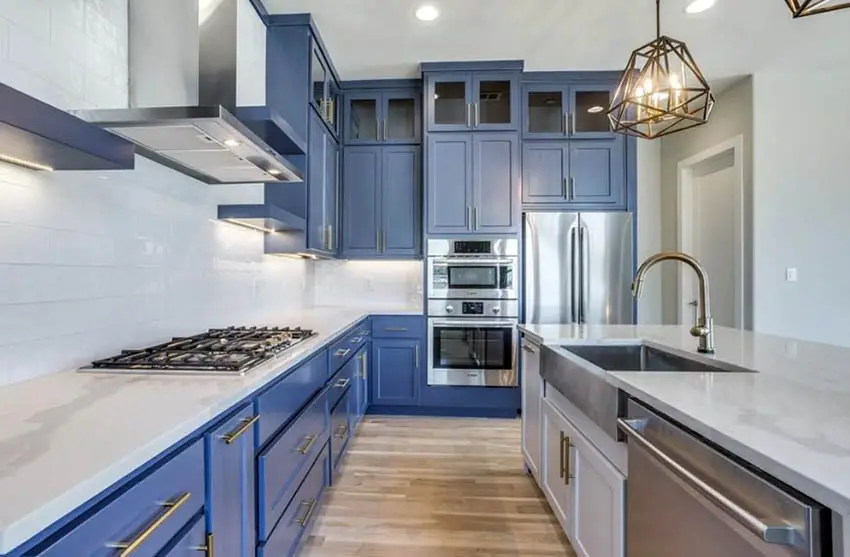 A blue and white color palette is a classic combination that can be used in many ways to enhance a kitchen. Blue and white can be paired with practically any style or decor. From Traditional, French, country, old world, coastal, or farmhouse-style kitchens, this color theme looks beautiful.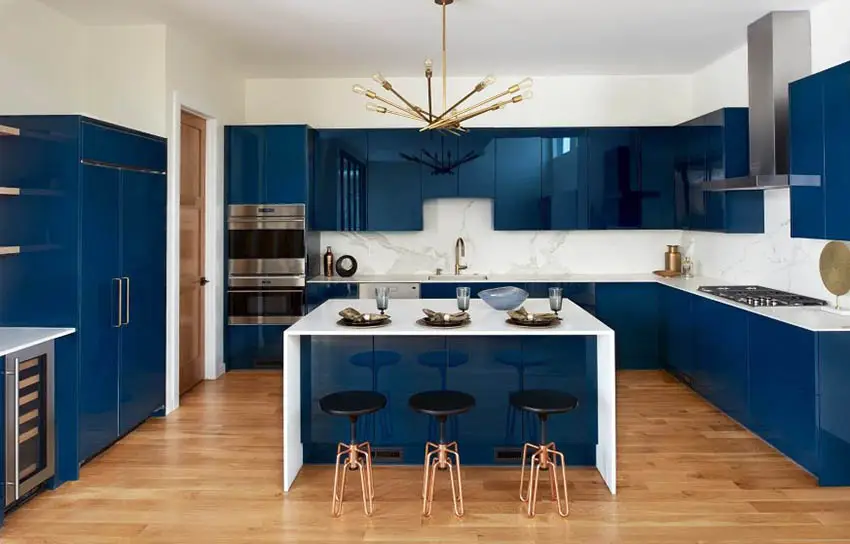 This modern kitchen takes a fresh take on blue cabinets with a glossy finish combined with white quartz backsplash and countertops. Bright brass finishes add a stylish touch to the design.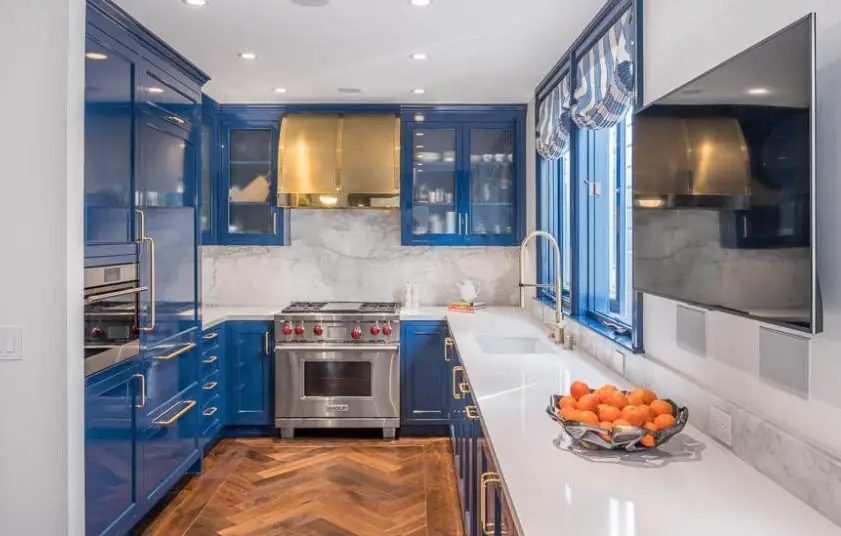 This bright kitchen harmoniously blends blue cabinets with white quartz backsplash and countertops.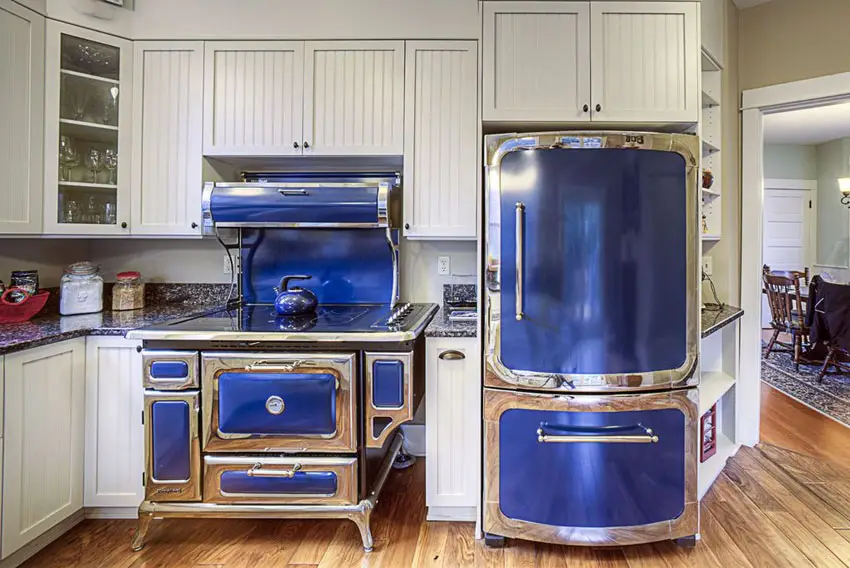 This small kitchen uses very unique vintage-inspired appliances, which steal the scene in this design. The main cabinets are simply white paneled cabinets with vertical wood slats, but the star of this kitchen would be the matching vintage appliances with a stove and refrigerator which has silver chrome and blue chrome finish.
Blue Painted Kitchen Cabinets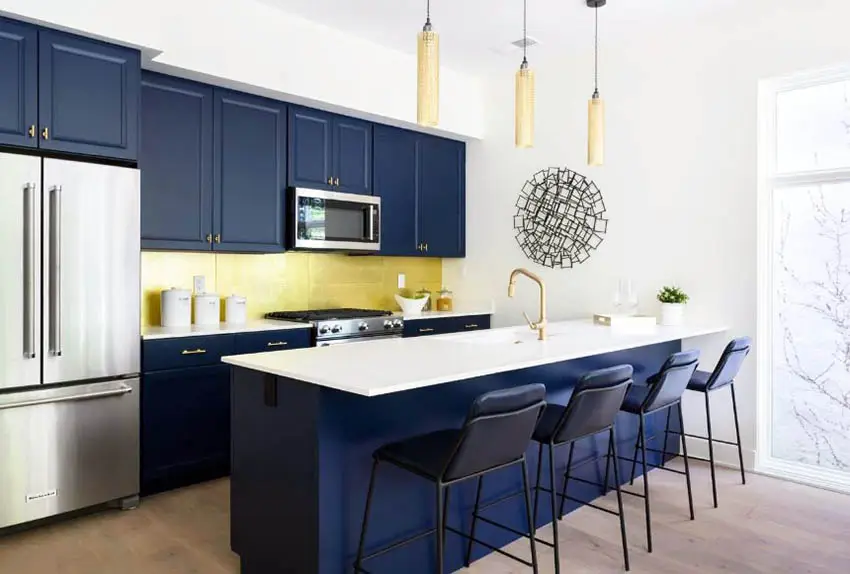 Painting your kitchen cabinets blue can add a unique look to an otherwise white room. You can even achieve different aesthetics with the shade and style you choose.
If you want an elegant or classy look, it's a good idea to steer towards darker blues. Both navy and midnight blue have a nearly black look but still provide a toned-down, colorful splash against your white walls. Kitchens that use dark and light colors together cleanly lean towards modern design. This can be a particularly great choice if you have stainless steel appliances.
If you want a more rustic or farmhouse look, lighter blues will help pull this off. Pale blues such as baby and powder blue are the standard choice for this look but you can also give this look at try with deep aqua.
Rustic styles are especially attractive if your kitchen already has natural components such as hardwood flooring or wooden ceiling beams. Pale blue cabinets can also be used in a beach-style house, especially if you have an open-concept floor plan leading into a living room.
Sometimes, homeowners even want to go as far as to make the painted cabinets look a little more dated by using techniques such as creating faux barn wood or using intentional streaking. If you aren't sure how to do these ideas, though, you probably won't get the results you're looking for.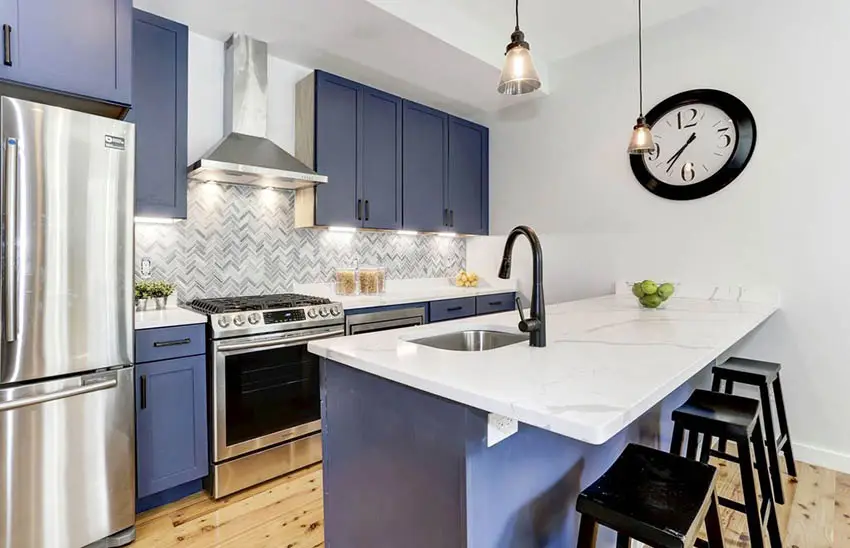 When choosing blue paint colors for your kitchen, it's best to stick with one shade. Using multiple shades can quickly create a clashing and potentially unattractive design. The best way to implement bright, unique colors on your kitchen cabinets is to have a level of uniformity.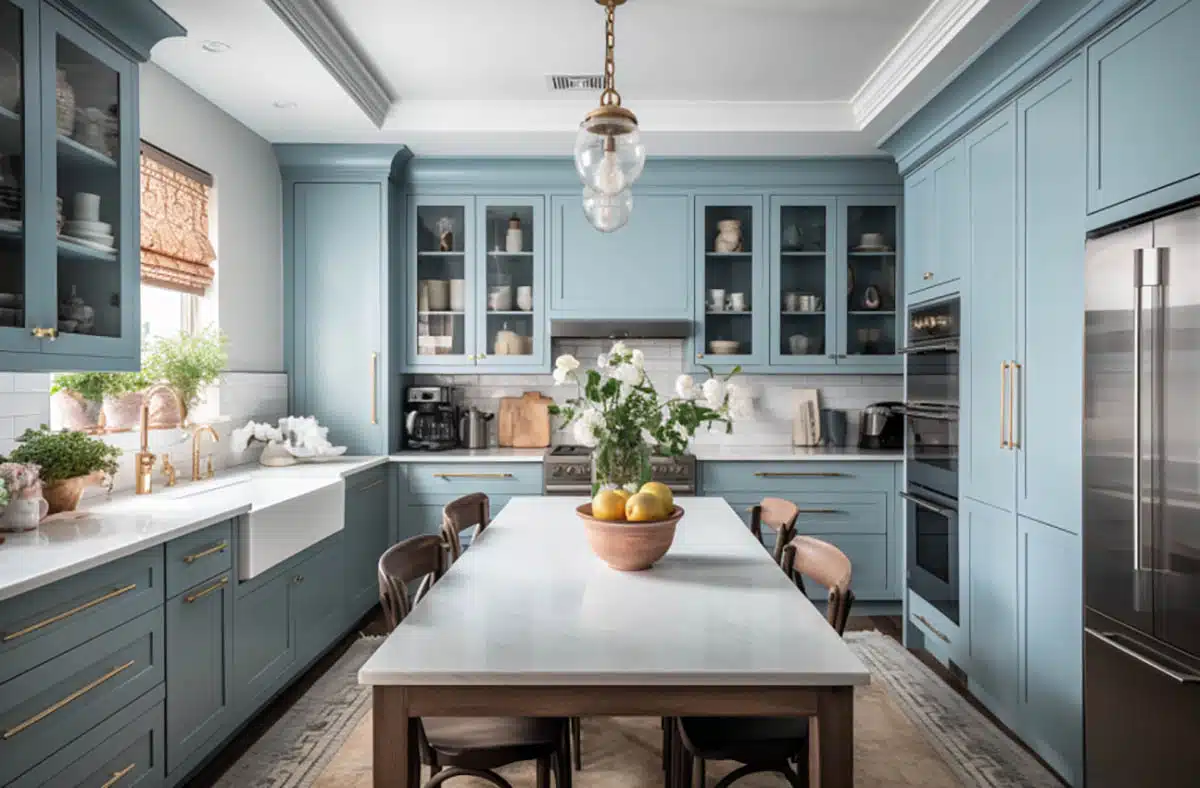 Coastal kitchens often feature light blue cabinetry and white subway tiles with excellent results. This elegant u-shaped layout features recessed and pendant lighting fixtures in a gold finish with other matching hardware finishes for the cabinet hardware pulls and knobs. A dining table replaces the standard island with the same quart tabletop as the rest of the countertops in the room.
Matching Blue and White Kitchen Cabinets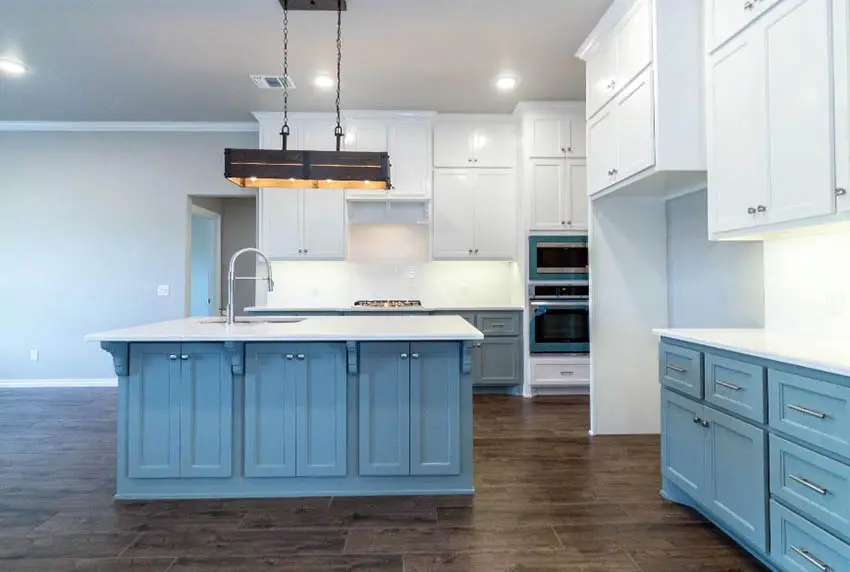 We mentioned earlier that you don't want to overdo it when picking a shade of blue. If you want a truly unique design, mixing and matching white and blue cabinets can go a long way. A great way to pull this off is to use blues for the cabinets under the counter and white for the cabinets above the counter.
If you want to use this color combination on the same cabinet door, a blue cabinet with a white handle can be a cozy and beautiful combination. If you're designing cabinets on an island, you can use a two-tone effect. For example, you could have the hue for the main cabinets with touches of white for the legs, countertops, or even shelves.
When considering mixing blue and white directly, it's important to consider contrast. Blending navy or midnight blue with white will give you a stark contrast with a more dramatic appearance. For that atmosphere, it's better to use plain white rather than off-white colors like an eggshell shade.
If you want something more subtle, you can use softer blues alongside the whites in your kitchen.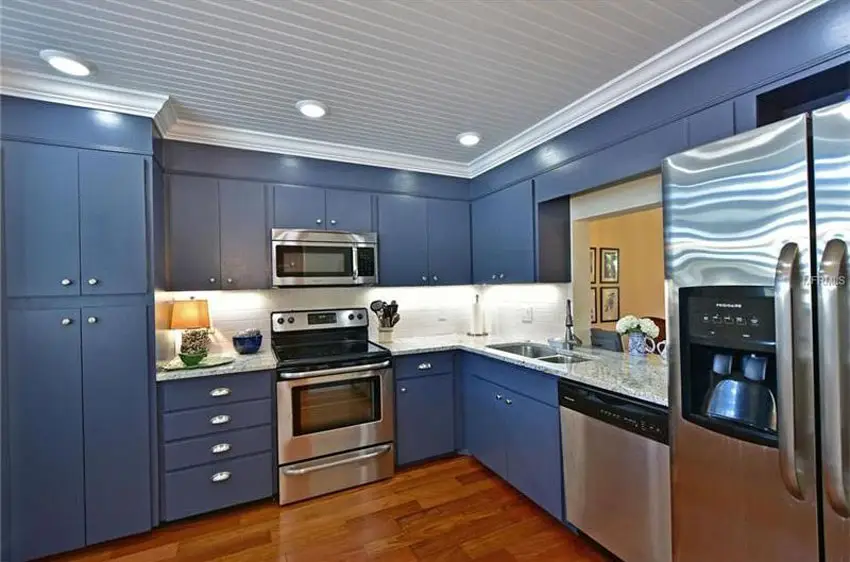 Blue and white kitchens are often chosen due to the calming sensation attributed to the two colors. This modern retro-inspired layout features simple, plain matte cabinets paired with brushed stainless steel pulls. The cabinets are all painted matte steel blue, which contrasts well with the white tile backsplash and the warm color of the solid teak wood flooring.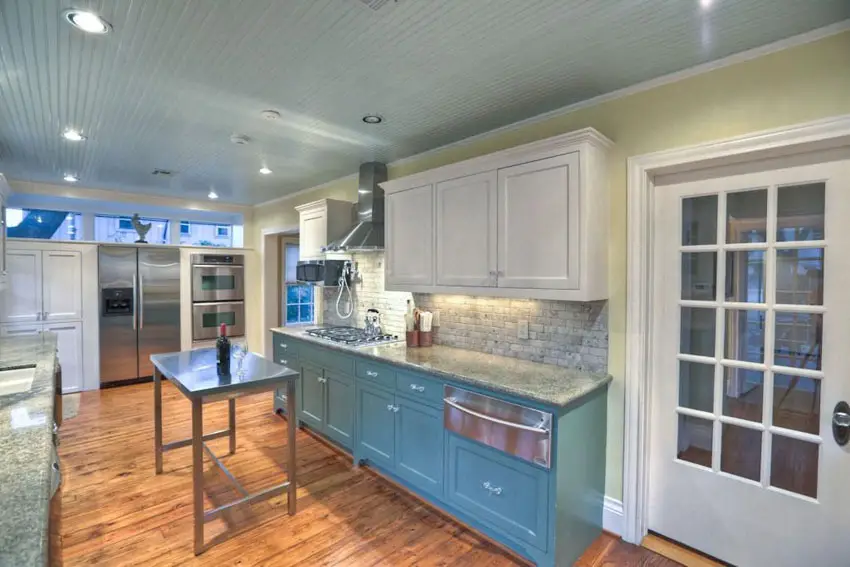 This simple retro kitchen design adds a bit of quirkiness by applying a refreshing duck egg color to one of the base cabinets. The rest of the cabinets all have a plain white finish, so the unique color definitely makes it stand out and makes the whole look of the design more interesting.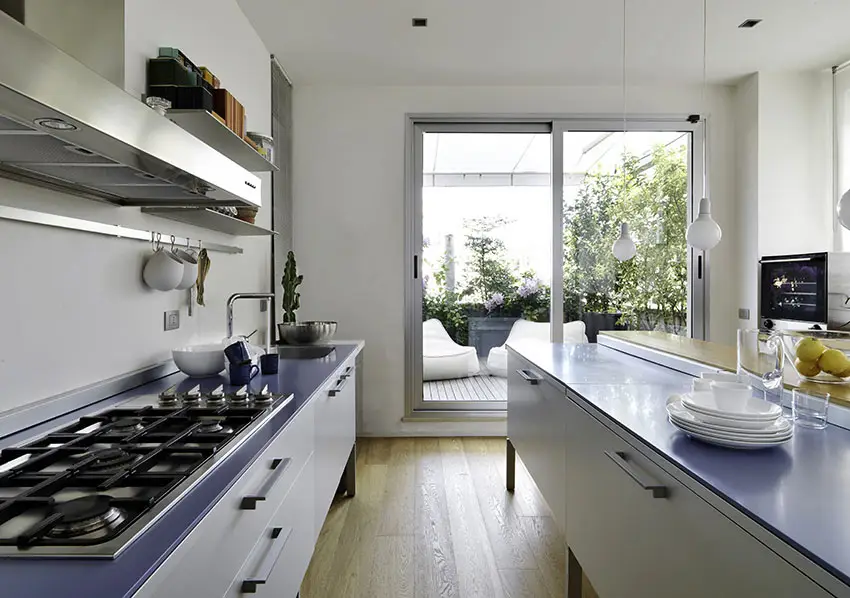 This modern kitchen design is an excellent model for fans of German-style cabinets. It features modular kitchen laminates with white laminated drawers placed against plain white walls and solid pine flooring. The unique element of this layout would be its blue solid-surface counters, which is a unique touch, and gives a subtle pop of color to the space.
White Kitchen with Blue Island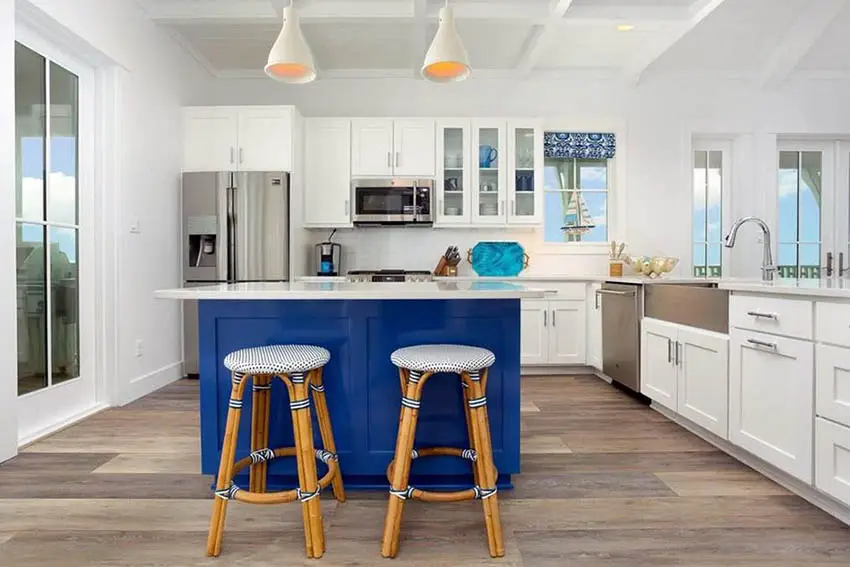 A completely white room can look a little sterile. Even if you're going for a minimalist design, this can be a problem. However, if you want to add a bright touch to a completely white room, you can add a blue island to your kitchen. Since these are typically placed in the center of the kitchen, it also makes for a great focal point.
Once again, the shade you use will set the tone. This time, you'll want to consider your current design. This project is usually done after designing the bulk of the kitchen, so you'll want to match that design rather than make a choice that clashes with it.
First, think about the design features of your kitchen. If you have an all-white room and steel appliances, you could use darker blues, as we mentioned earlier. The island design itself will also play a role. For instance, if you have a dark blue island with metal hardware or a glass countertop, you will fit that modern design well.
Jumping back to a more rustic or farmhouse design, pale blues with natural elements such as wood countertops and legs work well together. Two-tone islands work well for this effect.
You can also play with the overall design of the island itself. For instance, a smaller island with an oversized counter can give your kitchen a unique look. An island with a nook to cleanly slide bar stools under can make for a great spot to entertain family and friends.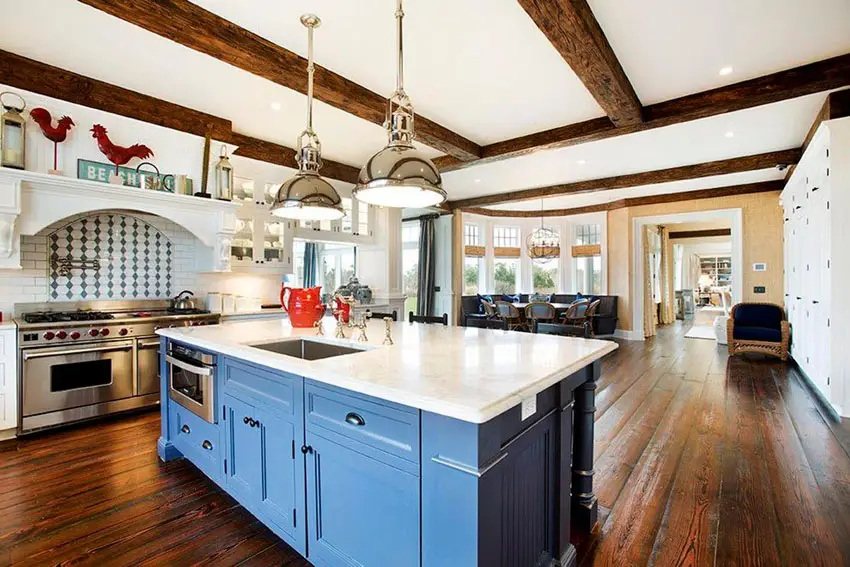 Breathe new life into your kitchen by adding a pop of color to your classic paneled cabinets. This particular example features a French provincial-style kitchen with dark wood flooring and mosaic tile details.
To give it an update, the cabinets were repainted in white, while the large kitchen island counter was painted in brilliant blue, giving it a refreshing new look, which perfectly matches the marble countertop and the stainless steel lamps.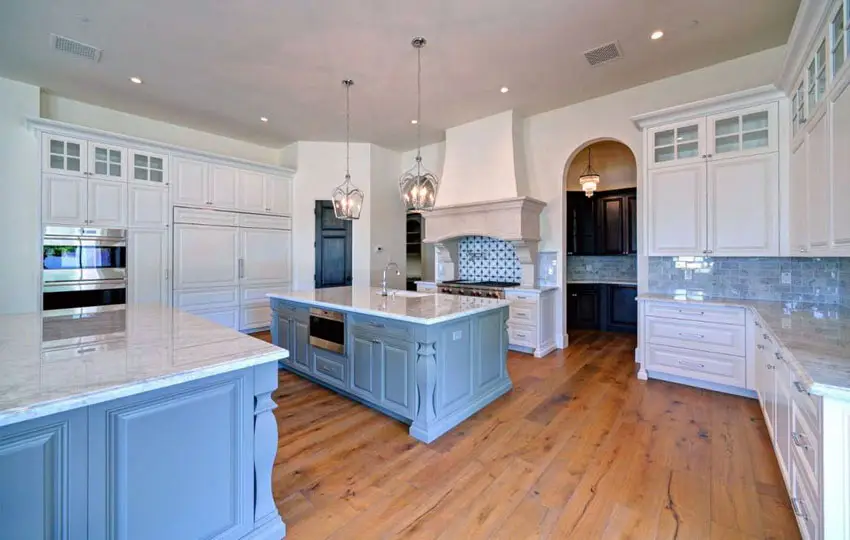 Going for a cool and soft feel, this kitchen paints the base of the two islands in a unique summer blue shade, adding a subtle cool tone to the space matching the undertone of the slate tiles used on the backsplash. The cool color creates a nice contrast against the teak wood flooring and the warm white walls and main cabinets.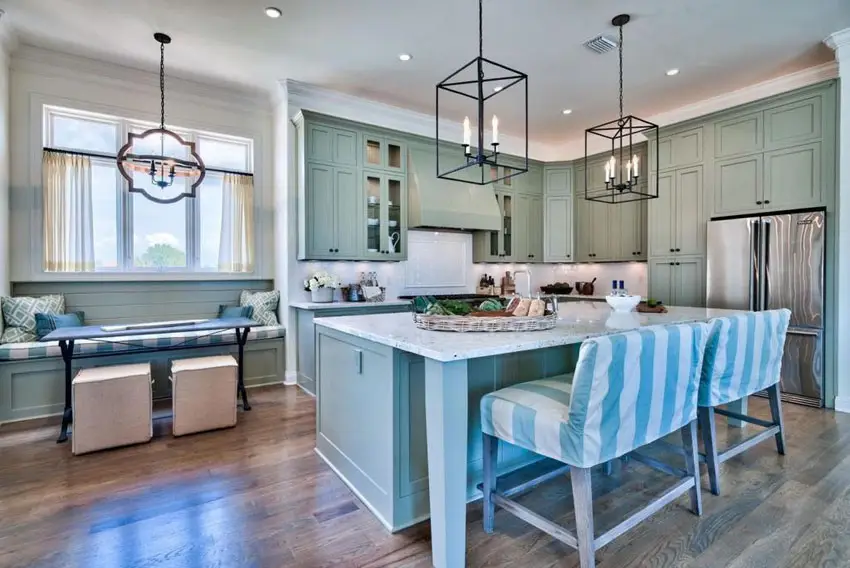 This small kitchen has a clean and fresh look, which gives a spring-like relaxing vibe. The classic paneled cabinets are given a new look by painting it with a matte blue grass color, giving it a slightly minty green tone. The color complements the white marble countertop, the rustic oak floors, and black wrought iron pieces.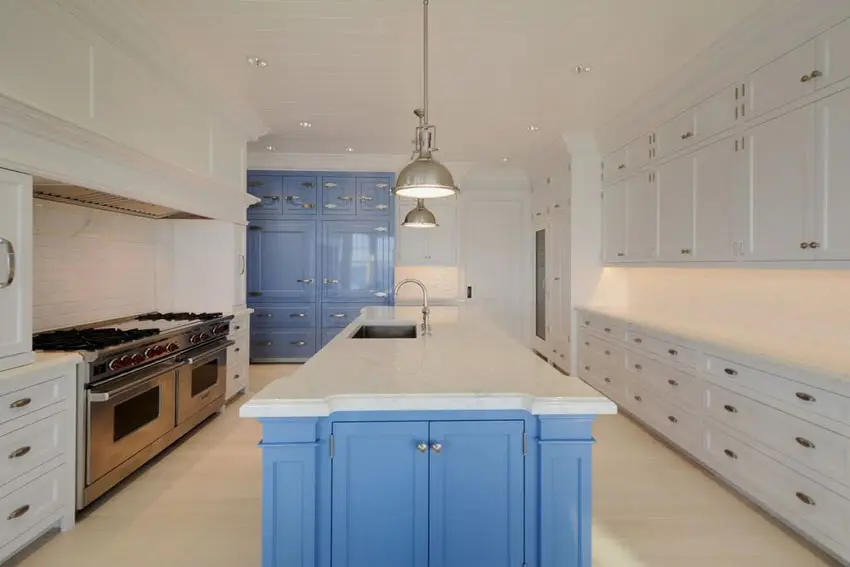 This charming classic white kitchen is given a refreshing boost, by throwing in a refreshing cornflower blue paint on some of the cabinets and the island. The addition of the hue into the space adds a cool, refreshing touch, as the rest of the area keeps an all-white color scheme.
This paint was applied on the base cabinets of the kitchen island and on the large pantry cabinet at the end of the room so that the shade does not overpower the other elements too much.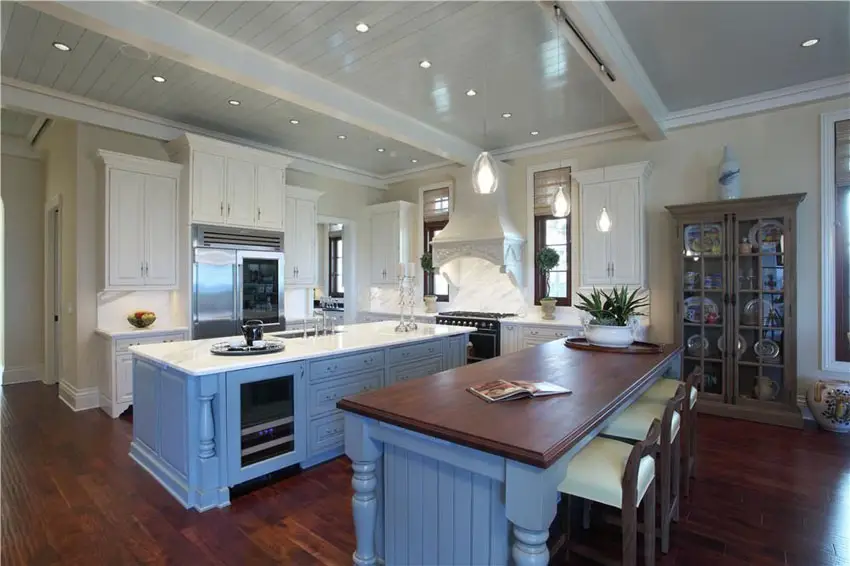 Blue-and-white kitchens in the traditional French style look elegant and appealing. This is a classic French-inspired kitchen design that uses white paneled cabinets and white marble countertops and backsplash to create that classic elegant look of French designs.
This example has two kitchen islands, one used mainly for dining. These islands are given a more modern look by painting its base with slate blue, giving it a fresh feel.
High ceilings and an open layout help make this little kitchen feel more spacious. The kitchen area uses a refreshing duck egg paint color on the walls, adding a cool, fresh tone to the space which contrasts nicely with the warm-colored stone tiles and mosaic used on the floors and backsplash.
While the main cabinets are white and topped with black granite, the narrow island paints its base cabinet with a unique Mariana blue shade paired with a thick slab of solid teak wood, adding a rustic element to the classic space.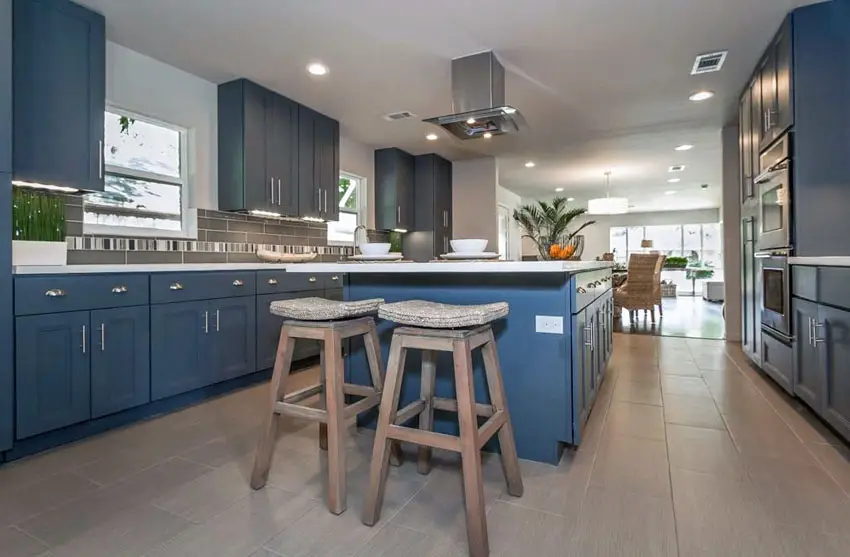 As this kitchen goes for a more transitional contemporary style, the color scheme used is a bit more bold than typical, using dark-colored kitchen cabinets paired with gray backsplash and light maple floor tiles.
The cabinets are all finished in Tahoe by Kelly Moore, and was paired with plain white solid surface to allow a nice transition between the cabinetry and the dark gray backsplash tiles.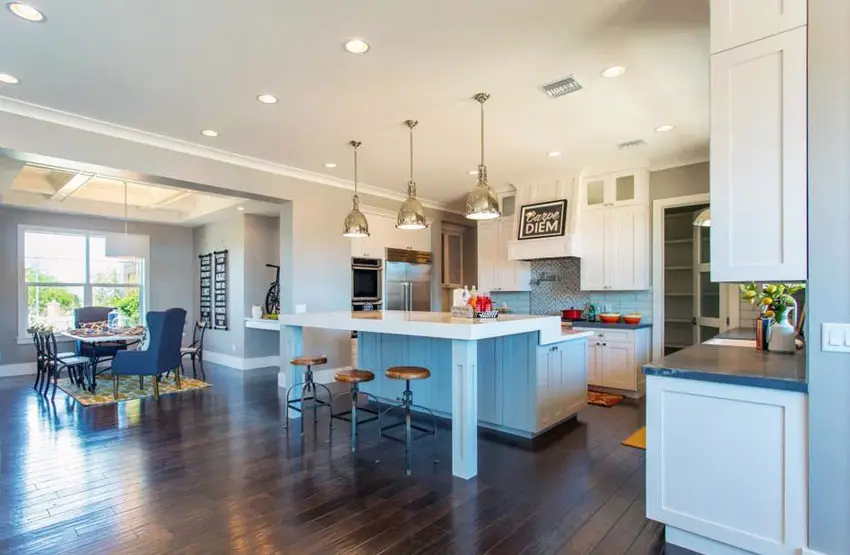 This gorgeous retro-style kitchen is in the middle of an open layout, making it directly accessible from the other parts of the house. Since the interior walls are painted in a light gray color, the main kitchen cabinets use white paint finish and use black soapstone countertops to add a little contrast.
The island bar counter, however, paints its base with a pale blue color and uses a white solid surface for the countertop for a seamless counter.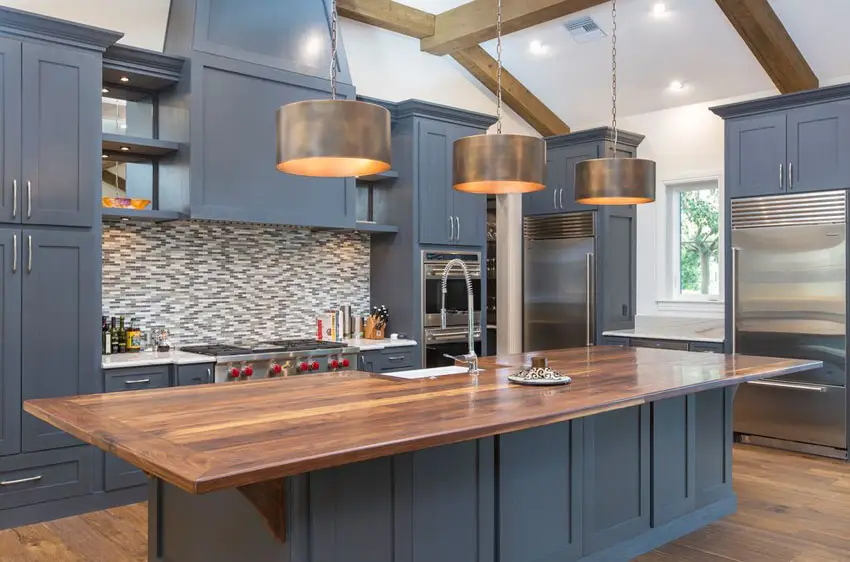 This kitchen has a unique modern appeal with rustic elements, especially in some finishes and textures. The cabinets are all painted in a dark Mariana blue shade similar to gunmetal gray. This looks really nice place against the white walls and the Fruitwood flooring.
Another unique element of this kitchen would be its island, which almost looks like a massive dining table with a cabinet base. The island uses golden walnut for its countertop and provides an overhang on all three sides, making it functional as a dining table.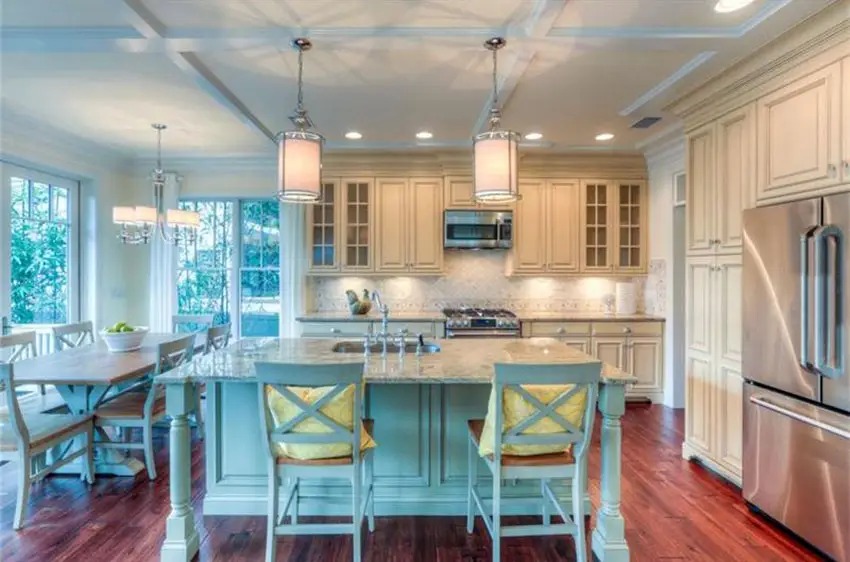 This classic French style kitchen gives keeps its rustic charm, maintaining a coordinated look for the whole layout with the dining area. Furniture pieces and finishes are matched in the two area – cabinets and wood pieces are finished with yellow/cream paint, while counter top is white granite.
Adding a bit more texture is the natural wood finish of the chair seats and table top, as well as the vibrant red of the cherry wood flooring.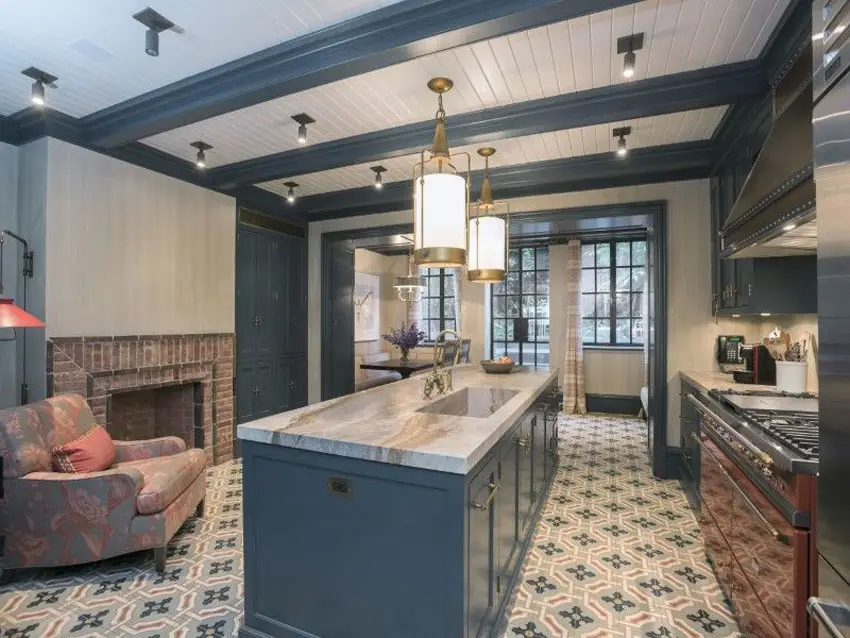 This kitchen is a gorgeous modern adaptation of a classic style, given a more retro vintage vibe with its combination of colors and finishes. The floors of the whole area already make quite a statement, using Moroccan hand-painted tiles, creating a gorgeous pattern on the floor surface.
Wood finishes in this area are all matched – everything was painted in a Mariana blue shade, including the ceiling moldings. Metal elements use a brushed gold finish, adding a touch of warmth and a unique texture to the space.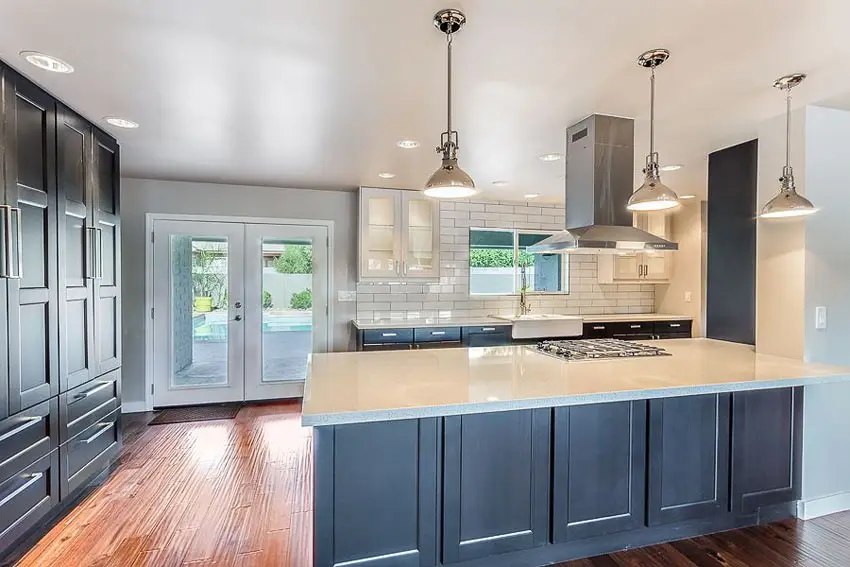 This modern transitional style kitchen looks bright and spacious, thanks to its layout. This design minimized the use of overhead cabinets in its design, keeping the ceiling and walls a little less busy. The result is a spacious-looking floor plan which has a timelessly elegant appeal.
Cabinets are painted dark steel blue, while the two small overhead cabinets are painted in white to blend into the white subway tiles on the walls.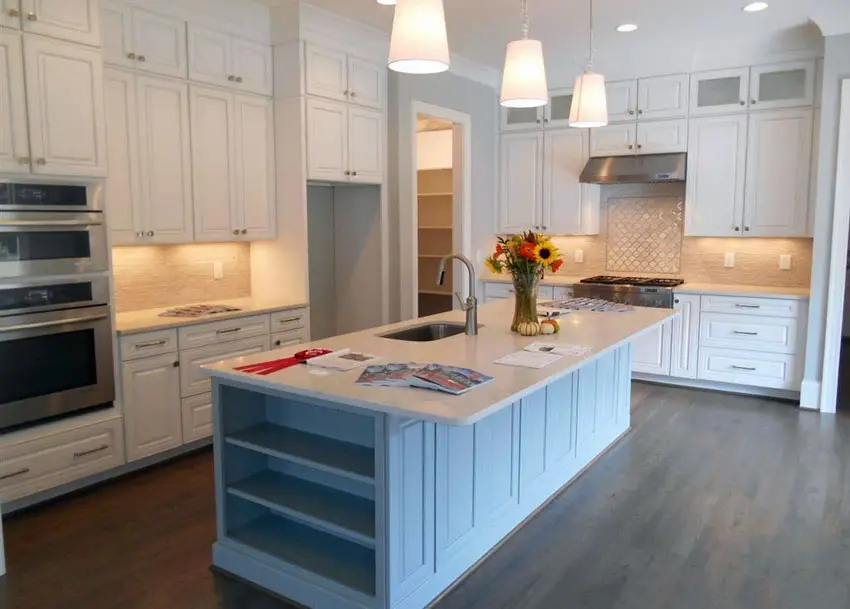 This coastal-style kitchen has a very light color scheme, combining all-white paneled cabinets with light sage green wall paint colors. The subtle color of the walls is a nice contrast against the warm rustic oak floors and helps the white cabinets stand out more as well.
Many coastal-themed designs often opt for a painted blue island to bring in a pop of color without overdoing it.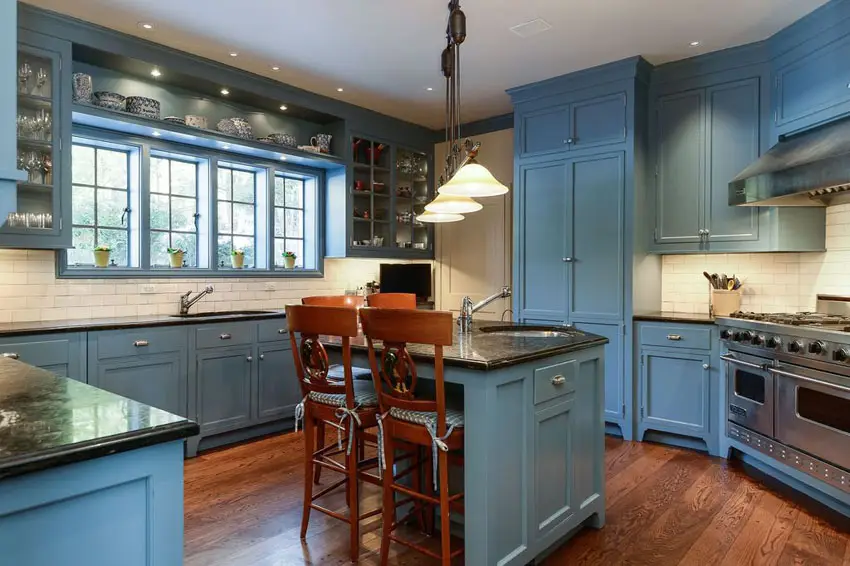 This bluegrass shade of paint used on the cabinets gives a vintage feel to this space and is an excellent complement to the warm-toned wood elements such as the mahogany floors and the cherry wood bar stools. Black granite was used on the countertop, while the backsplash used white subway tiles.
White Kitchen and Blue Backsplash
Playing around with the color blue can be intimidating. However, for those who want a touch of color without being overwhelmed, complimenting a white kitchen with blue backsplash may be the perfect choice.
Blue backsplash can be utilized in various ways, including mosaic, ceramic, or metallic tiles, with great results. By using the color you want in a backsplash you can be adventurous without the design being too overwhelming.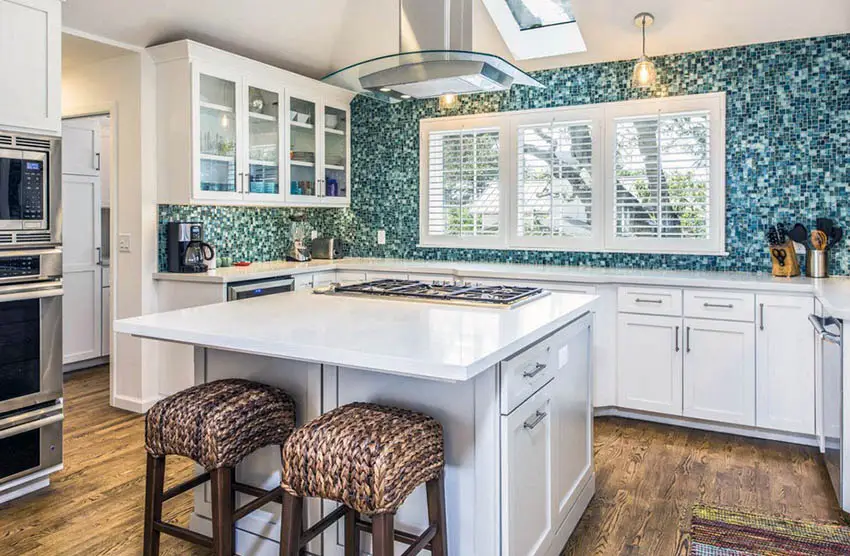 This contemporary kitchen has white cabinets with a full wall of blue mosaic backsplash to keep things unique and interesting.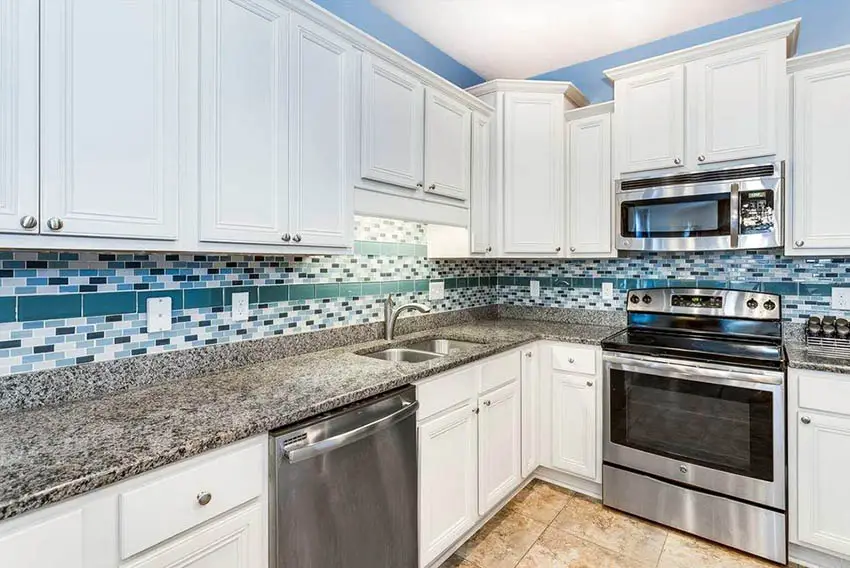 This traditional style white cabinet kitchen utilizes a blue-and-white mosaic tile backsplash to blend the colors together in a cohesive design.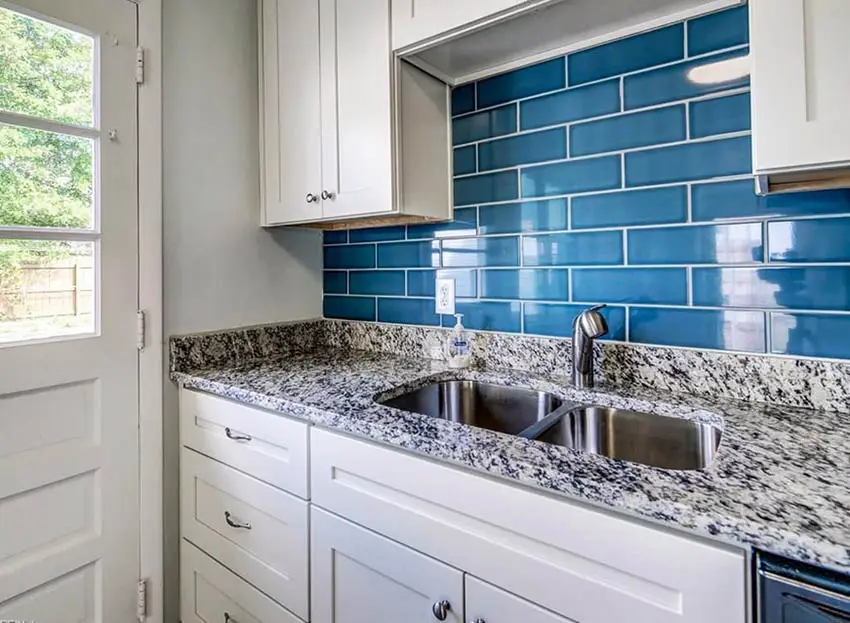 A rectangular blue subway tile can successfully bring color to your room layout and blend well with white cabinets.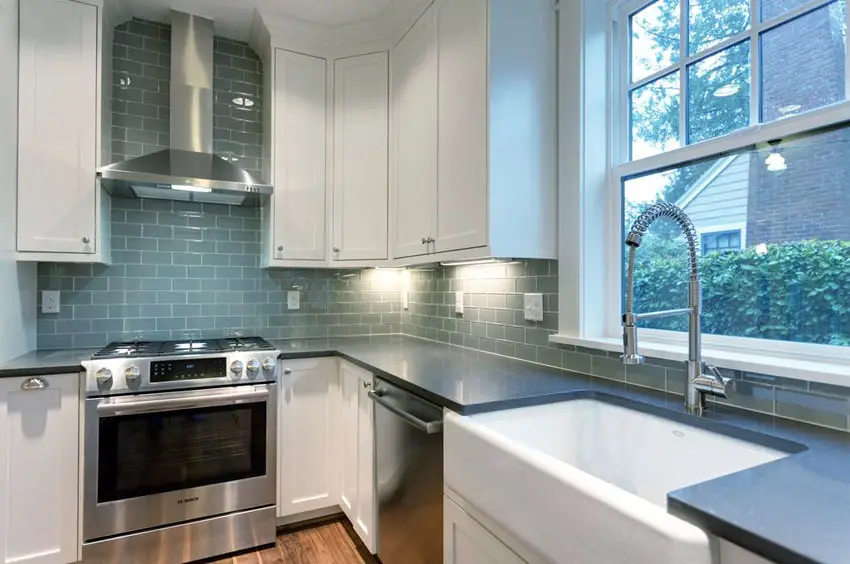 Adding these ashy blue glass subway tiles on the backsplash of this small modern kitchen helps add texture to the surface and cool, calming color to the area. The cool tone of the tiles helps give this simple design a more refreshing look, while the dark Concerto quartz countertops provide contrast against the cabinetry.
Blue Kitchen Walls with White Cabinets
Painting your kitchen walls blue and using white cabinets are great ways to give your decor a pop of color for a brighter look. When it comes down to the exact atmosphere of a room, though, this can depend greatly on the shade you choose for your kitchen walls.
Look for lighter colors if you want a more rustic or farmhouse design. Powder blue is a popular choice for this, but pastel and baby blue are also great options. Pale colors like these don't create an overwhelmingly bright room; their light shades make a room look bigger and more open.
If you have a lot of natural light, these colors can pop even more. Wood accents such as wooden bar stools or countertops can add a natural finishing touch to complete the rustic look. Light wood such as pine, birch, or cedar fits especially well with this decor because it complements the light shades of your walls and cabinets nicely.
Darker blues, such as navy or cobalt, can also give your room a more elegant look. There aren't too many chances to use dark colors like these because they tend to make rooms look smaller.
However, when they're offset by large, lighter accents such as white cabinets can brighten the look up and lessen their room-shrinking perspective. These darker wall colors also work well with marble countertops if you want to tie together a sophisticated room design.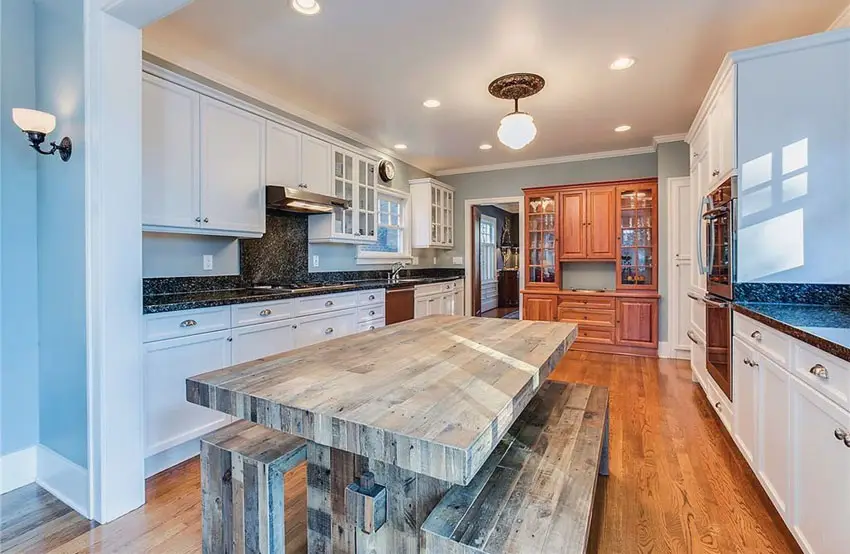 Changing the paint color is an easy way to change the look of your kitchen without spending too much. This especially works well ondesigns with white cabinets, making it easy to pair it with virtually any paint color you choose.
This kitchen is a good example of such, as all its cabinets are white and it uses a simple black granite for its counters. The walls were painted light blue, adding a refreshing cool tone to balance out the strong orange tones from the teak wood flooring.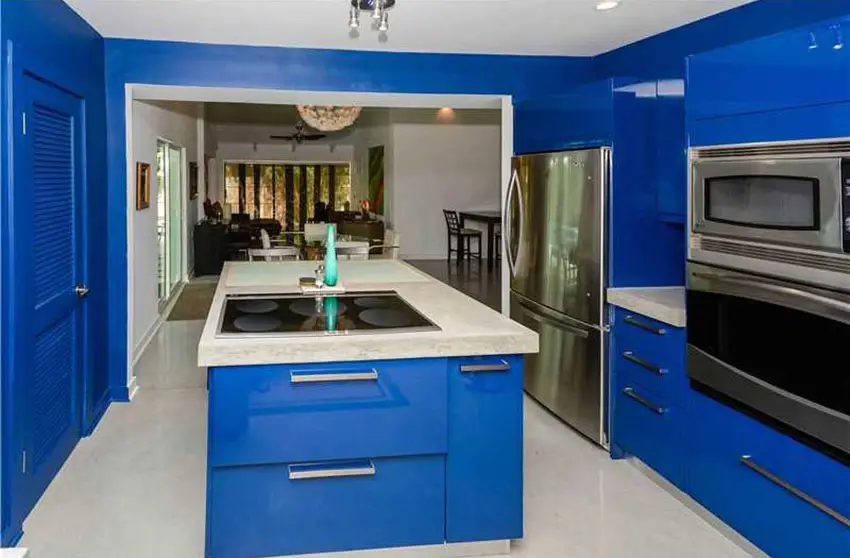 This modern kitchen design definitely does not shy away from using bold and bright colors. The room is a definite stand-out among all the other areas of the house, as almost everything in the kitchen has a bright cobalt blue finish.
The striking shade was used for the walls, doors, baseboards, and glossy laminates. White porcelain tiles for the floors and a white solid surface help balance the vibrancy of the colors, adding a bit of contrast to help you identify different surfaces.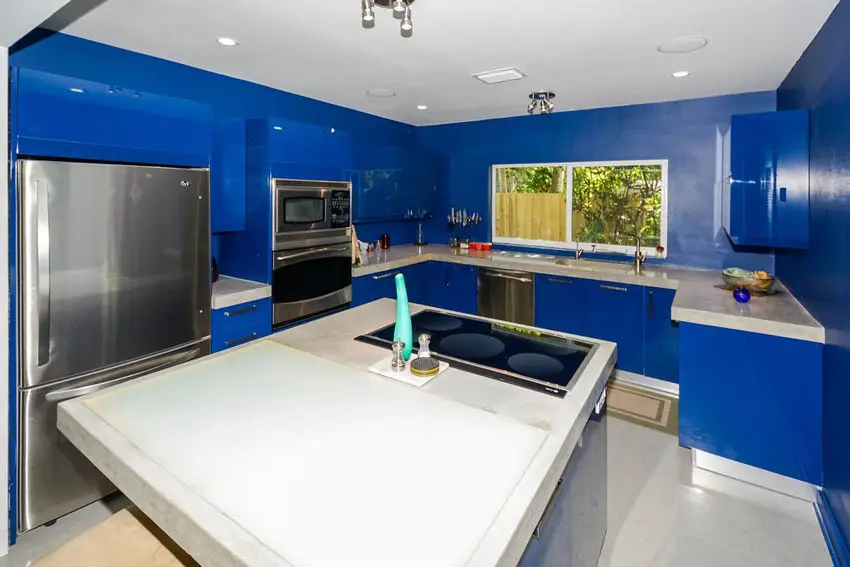 Another vantage point of the modern kitchen is shown above. Combination designs that use bold colors, such as this one, do not always appeal to every home buyer. Bringing more neutral tones to the space by repainting the walls a softer color could help balance the sensory overload of this blue-themed design.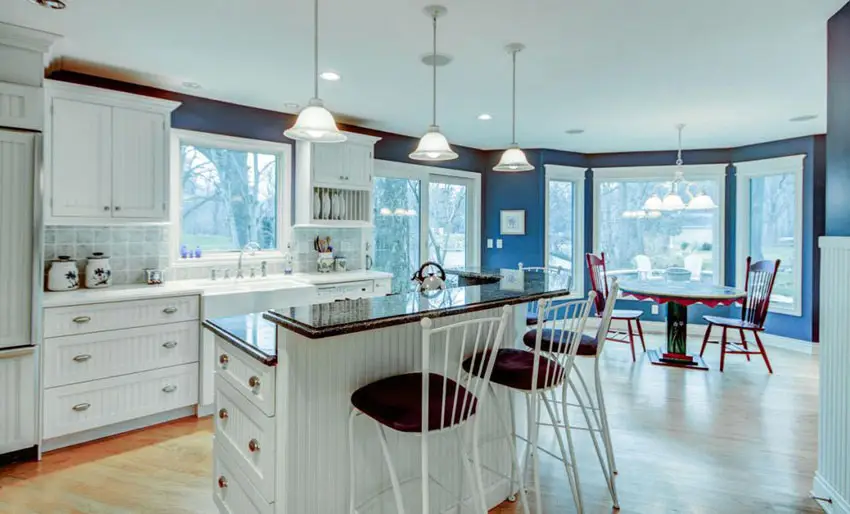 While most other examples combine blue cabinets with white cabinets, this French provincial classic takes a different approach in introducing shade on the walls. The cabinets all maintain their original all-white paint finish, but the gorgeous Turkish blue color is applied on the walls, making the cabinets and the interior moldings pop out well.
Related Design Galleries You May Like:
Blue Kitchen Ideas – Beautiful White Kitchens – 143 Luxury Kitchen Ideas – Farmhouse Kitchen Ideas – Reclaimed Wood Kitchen Islands