In this gallery we share green kitchen cabinets with a variety of design styles, paint colors and finishes.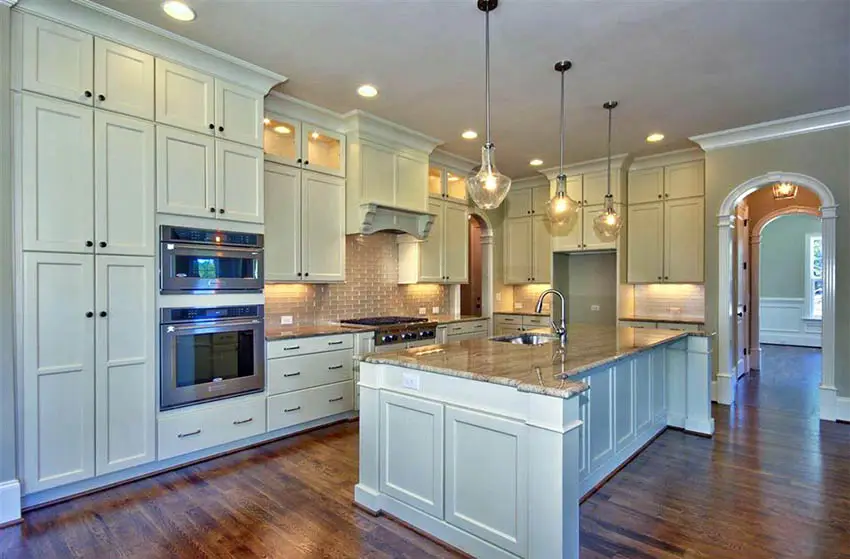 Kitchens are one of the spaces which are designed with longevity in mind. This is why kitchens are often finished in very safe and basic colors and durable materials. Usual colors found in the kitchen would be white, beige, grays and various natural shades of wood. Very few are actually bold enough to go defy the safety colors, but the few who does would be pleasantly surprised to find that there are colors you can use that would remain subtle and timeless in appeal, yet give your kitchen a more unique personality.
Green, especially shades which are softer like sage green, can give your kitchen a very lively appeal while remaining very versatile and easy to decorate and update. Depending on what shade of green you're using, green kitchen cabinets can create many different interesting looks in any kitchen design. The cool tone of green gives a refreshing yet calm atmosphere which is great for both big and small kitchens. It instantly gives your kitchen a unique look, and is surprisingly easy to pull-off!
Green Painted Kitchen Cabinets
Below we share the most popular paint colors for green kitchen cabinets. To experiment with the color green and help find the shade you want there are many types of kitchen cabinet design software available. These programs will allow you to apply different shades of the color green to cabinetry to visualize how it will look before you actually apply any paint.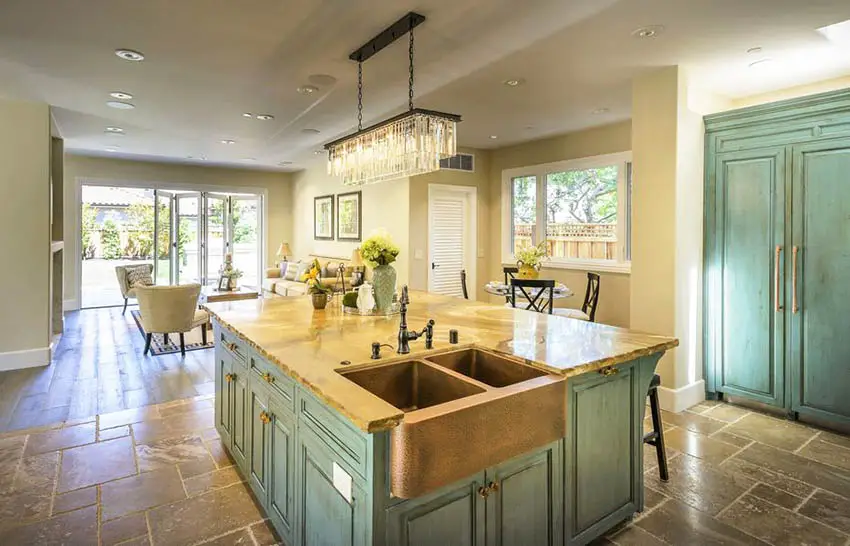 It is no secret that green complements yellow well. This antique-painted green cabinets is definitely the perfect match for this kitchen as it uses gold fixtures and a gorgeous yellow wood marble countertop. The combination of the natural edge of the countertop, the rustic look of the kitchen cabinets and the vintage features create an eccentric yet cohesive look.
Paint can be distressed to give your space a more rustic and traditional feel. Distressing is commonly used for kitchen remodeling as a way to repurpose old cabinets without having to do a full costly replacement.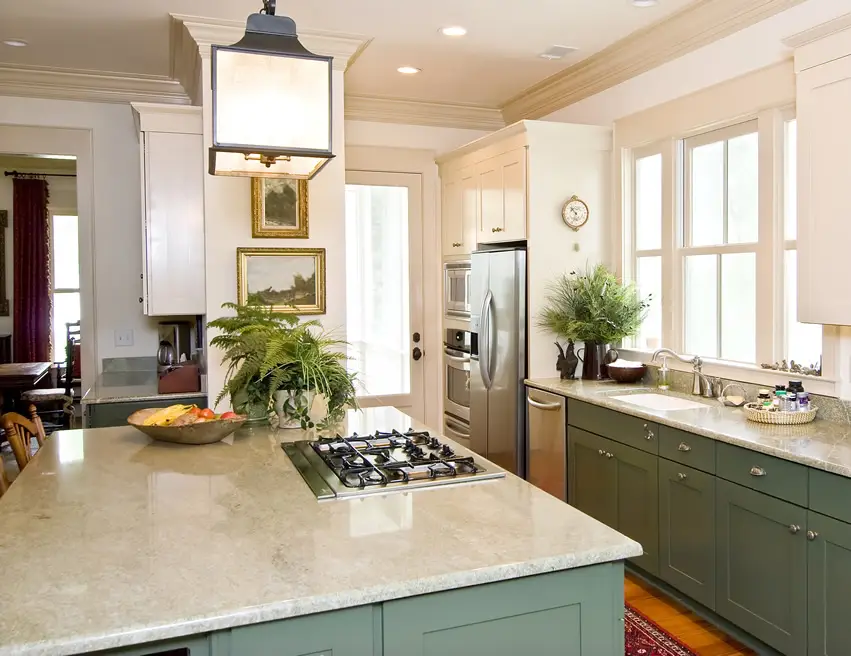 The neutral undertones of the sage green paint used on these kitchen cabinets definitely help add a cool, fresh feel to this small kitchen. The use of a cool color helped counter the warmness of the other material colors, and create a beautiful balance that looks fresh and is easy on the eyes.
Sage Green Kitchen Cabinets
Sage green is like, cool and has a soft youthful vibe, making it a popular choice for those who want green on their kitchens. Sage green is light, so it's very easy on the eyes and easy to match with other existing materials and finishes as well. It also has a very refreshing appeal, making any space look more youthful and fun.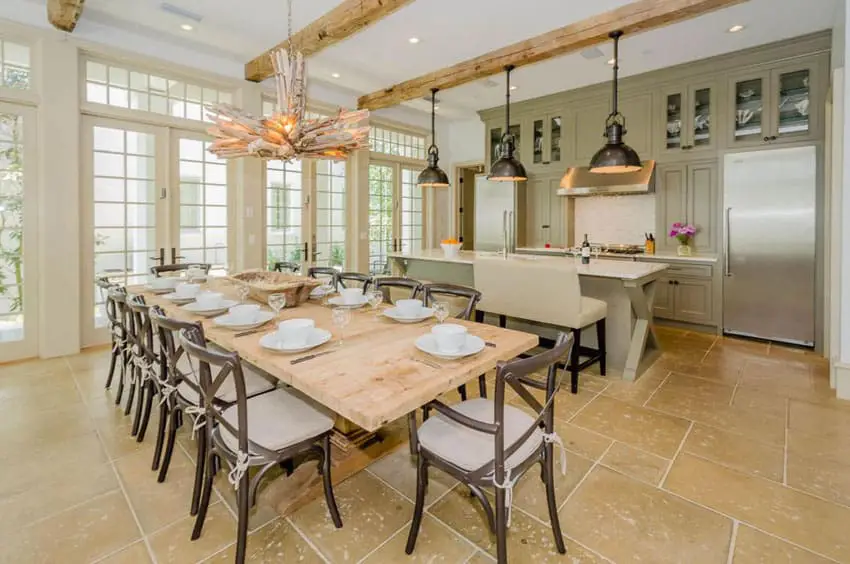 Sage green adds another interesting layer of element to any rustic-style space. Because rustic interiors use a lot of natural wood, warm tones and natural textures, the softness and neutrality of sage green only helps accentuate the natural finishes used in this open concept kitchen and dining space.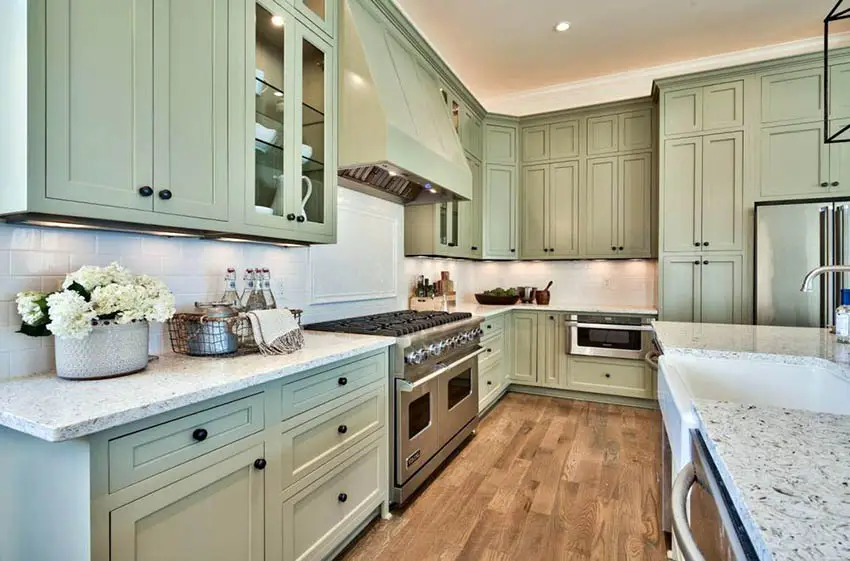 All cabinets in this kitchen are in sage green, and it definitely goes well with the white subway tiles on the backsplash and the white granite countertops used. The result is a fun, yet clean kitchen design that has both a vintage and youthful appeal.
Spaces with lots of stainless steel materials and details would also look good with sage green. The use of green cabinets instantly makes the space look more vibrant, bringing color in the kitchen despite the dullness of the stainless steel appliances.
Dark Green Kitchen Cabinets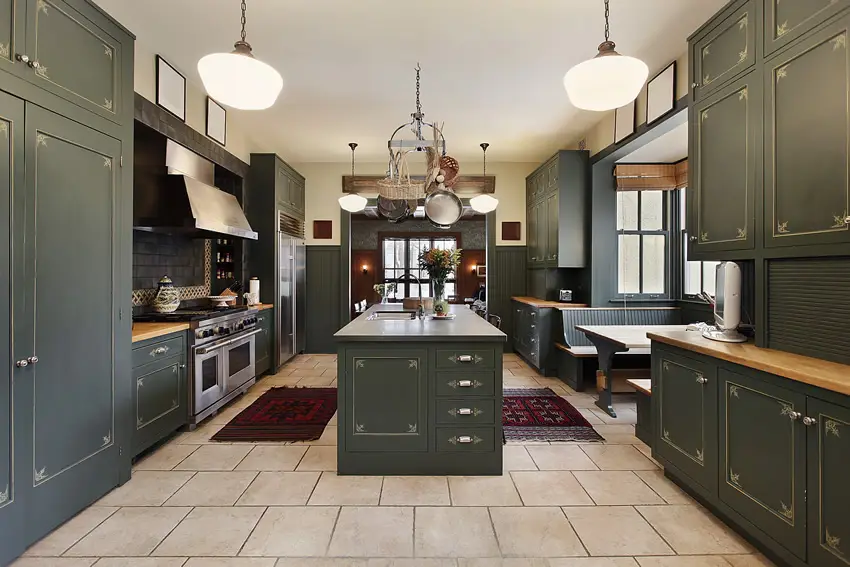 Those who prefer a more calm and elegant look, adding a darker shade of green with a gray undertone will definitely serve you that modern yet subdued elegance. This kitchen shoes how the dark green kitchen cabinets was able to produce a Revival-esque elegance with a modern silhouette.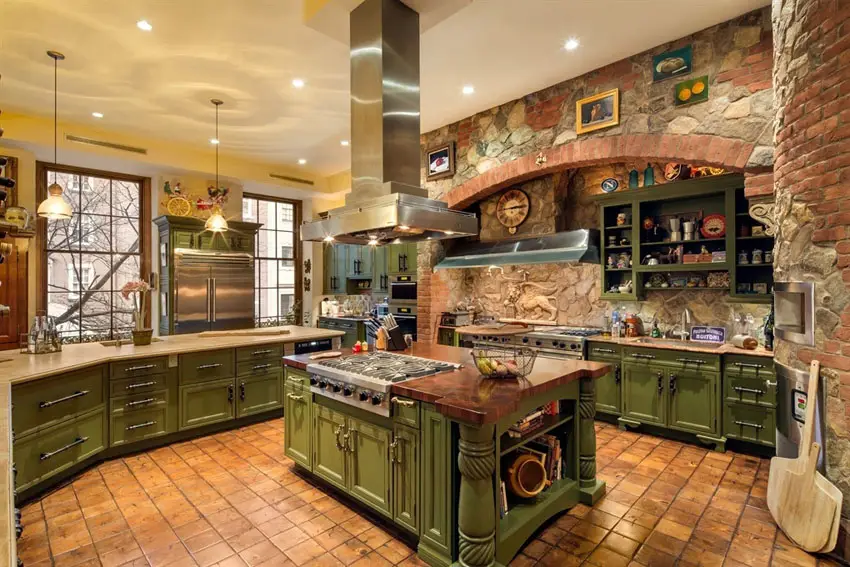 Renaissance style kitchens tend to be very heavy on textures, masonry and detailed carvings and panelings, resulting in a fairly bulky or heavy appearance. For this renaissance Tuscan style kitchen, the kitchen cabinets were painted in a darker shade of green, with a warm undertone to match the natural stone finishes. The green finish on the cabinets helps mellow down the rough and heavy look of the other surface finishes, and adds a more cheerful vibe to the space.
Light Green Kitchen Cabinets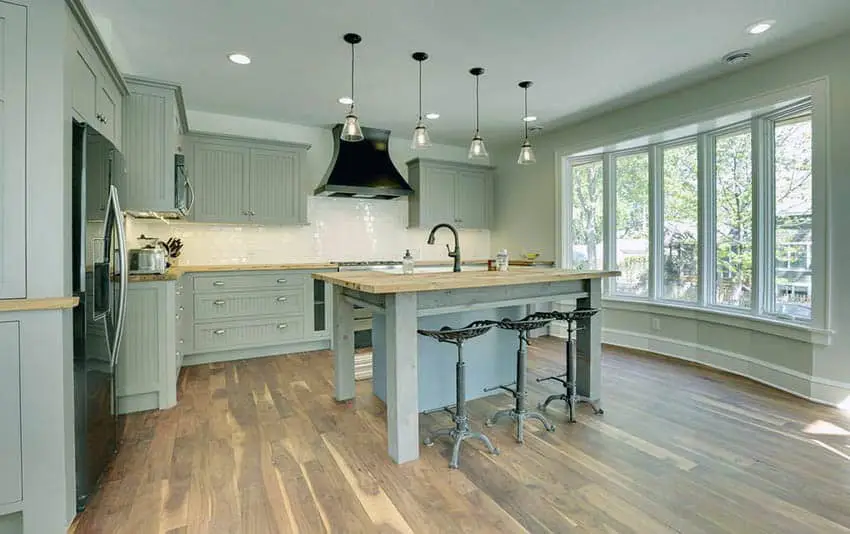 Both contemporary and transitional style kitchens would benefit from the serene ambiance of light green finishes. When applied on kitchen cabinets, a subdued light green color helps brighten up even small kitchens, and give it a more youthful look.
Seafoam Green Kitchen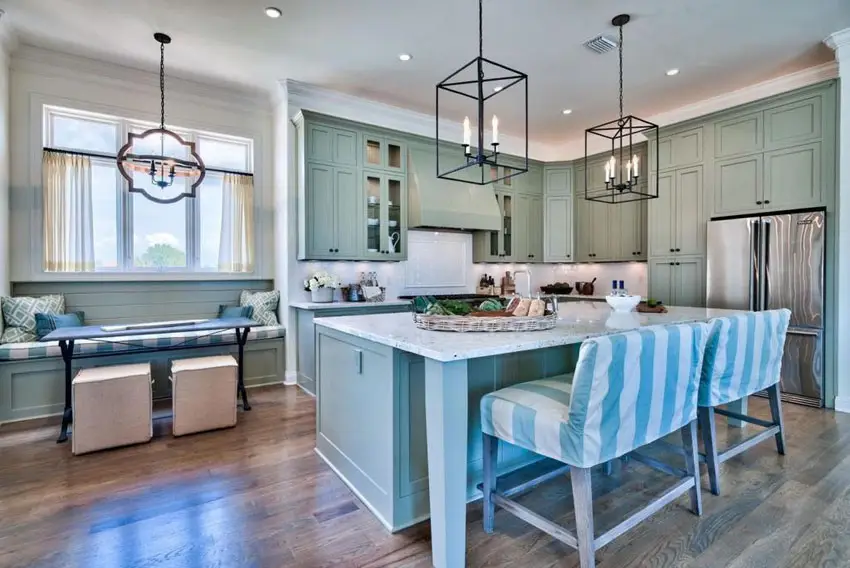 The popular shade of green for Coastal Style kitchens would be seafoam green. This shade is a nice in-between of sky blue and mint, helping exude a very cool, tranquil and laid-back coastal vibe.
Mint Green Kitchen Cabinets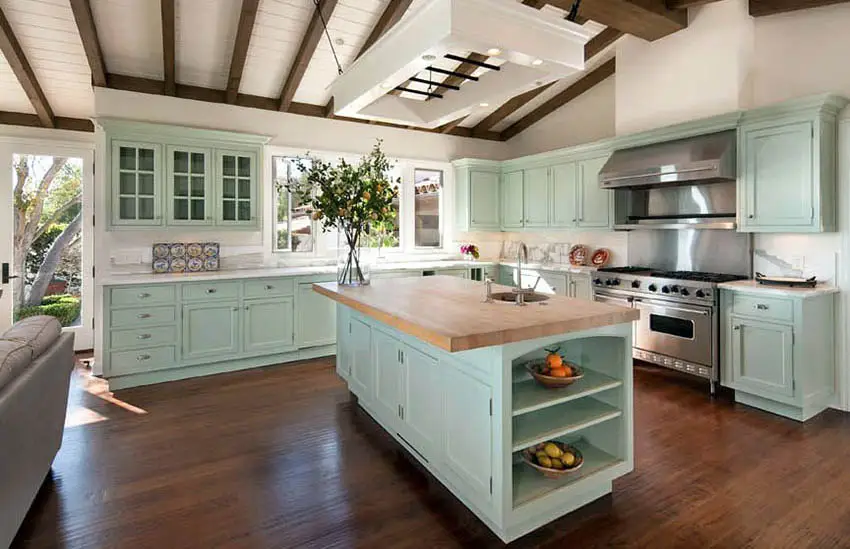 If you enjoy the brightness of white kitchen, but wants to try a fresh new look without sacrificing the bright look an all-white kitchen gives, using mint green could be the perfect option. Choose a shade of mint green that is very light – like a green-tinted white color, and be surprised how it is able to give your kitchen a different, fresher appearance in a very subtle way.
Olive Green Kitchen Cabinets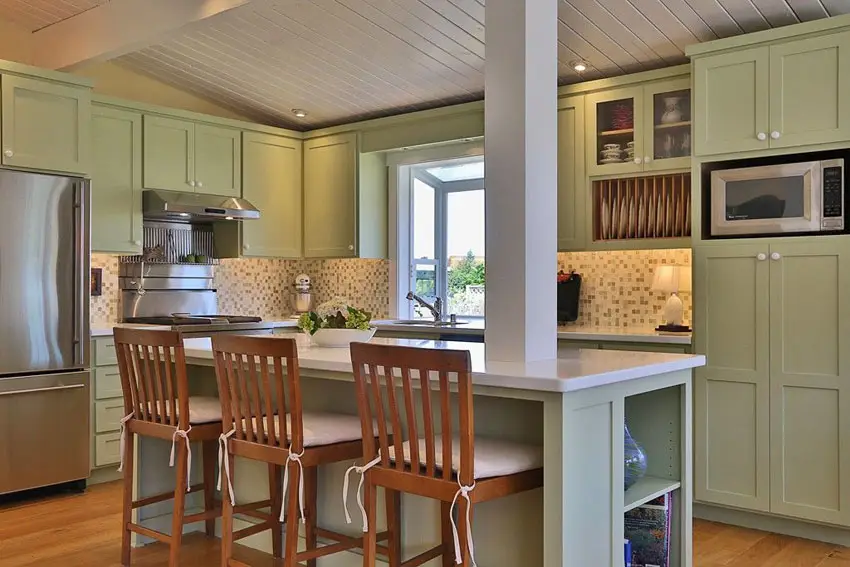 If you want a soft shade of green that has a little bit more warmth, but has a more neutral tone similar to sage green, consider using olive green on your kitchen cabinets. It has the just the right amount of coolness from the green, but has a bit more beige/yellow undertone, resulting in a soft yet warm ambiance.
Green and Brown Kitchen Cabinets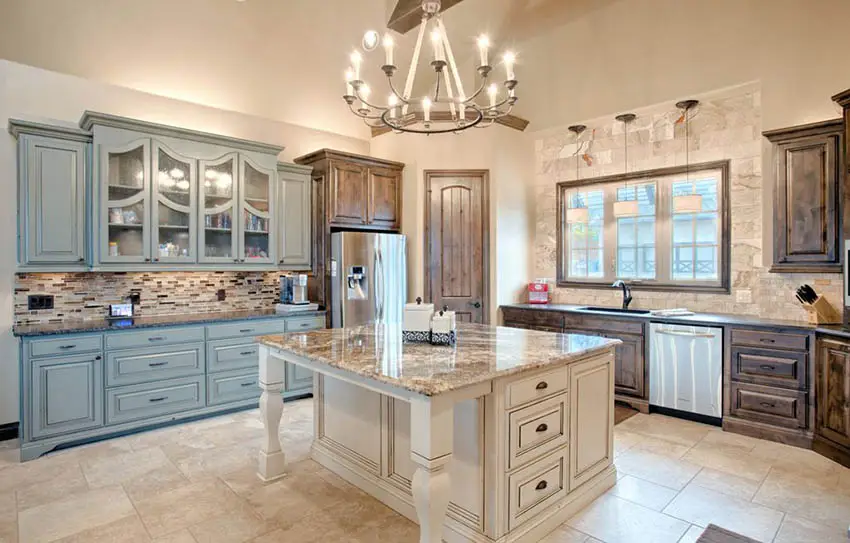 You don't have to repaint all of your kitchen cabinets, you can just paint one section of kitchen cabinets with green to freshen up your kitchen look. In this example, this Neoclassic style kitchen repainted its walnut kitchen cabinets with green and white to lessen make the space look brighter and to tone down the rich patterns of the wood grains.
Green Washed Kitchen Cabinets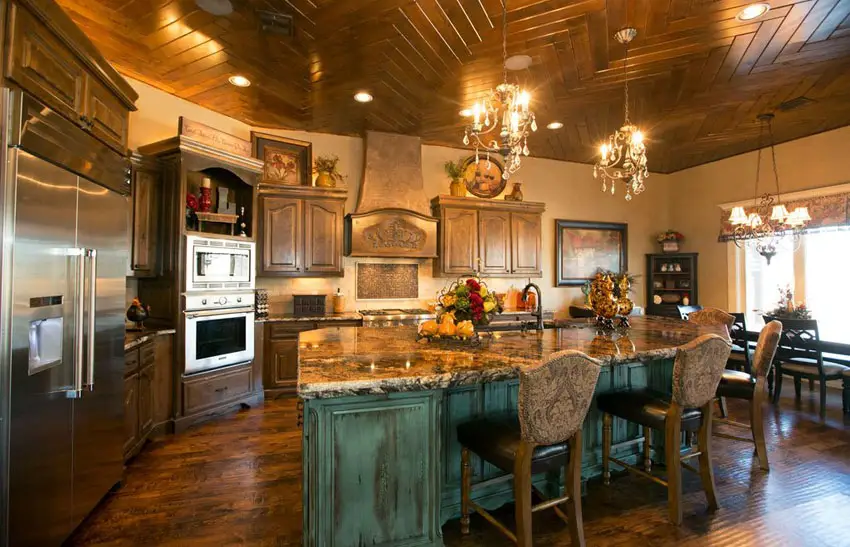 A popular painting technique used to refurbish antique furnishings would be antique washing, also known as distressing. This technique are usually used on vintage pieces, giving it a more casual, rustic feel, while accentuating the classic features and natural imperfections of the piece. This old English style kitchen has well preserved Oak distressed kitchen cabinets. Since the space is already full of wood finishes (both floor and ceiling has wood), antique washing the kitchen island was a great refurbishing decision as it helps break the heavy monotony of wood on wood.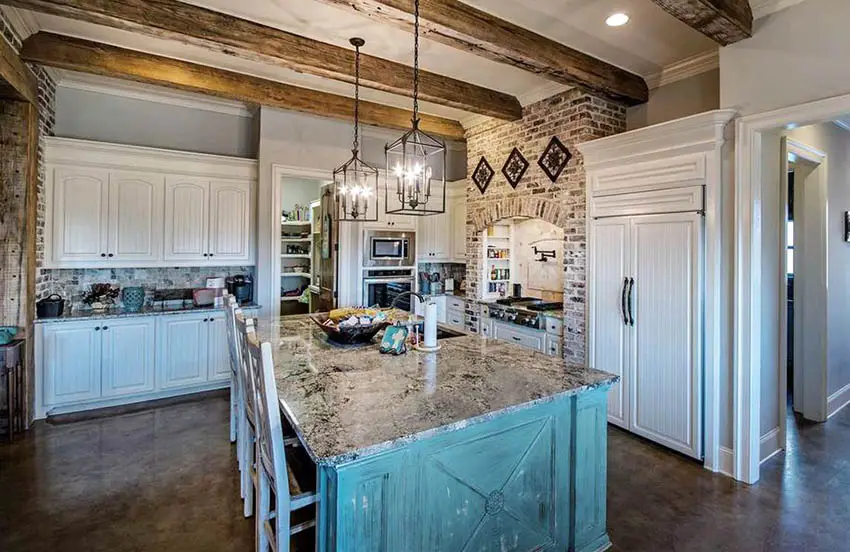 If you have all white kitchen cabinets and decide you want to give your space a new look, one easy way is to paint your kitchen island in a different color. In this example, green antique wash was used on the kitchen island, making it stand-out against the all-white cabinets of the kitchen.
High Gloss Green Kitchen Cabinets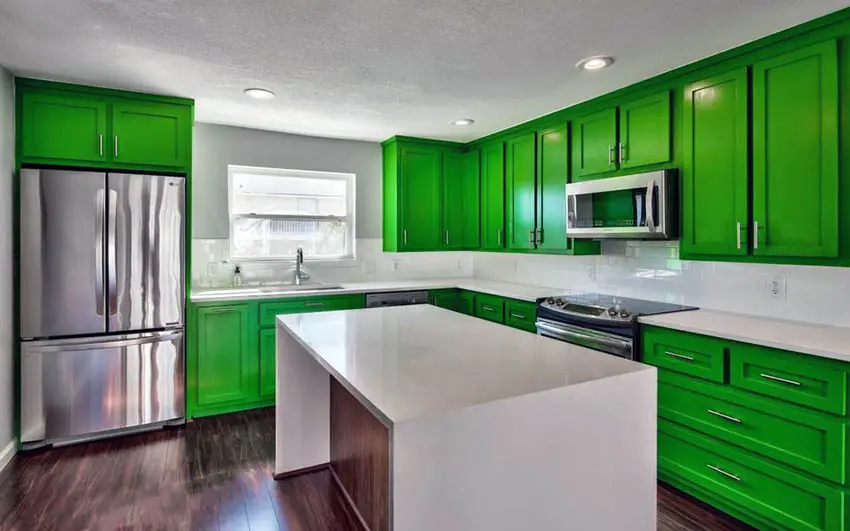 Those who are more into modern, hi-tech style spaces would probably prefer to use a brighter green shade. Perfect for people who are into bright and bold colors, using high gloss bright green paint on your modern kitchen cabinets would definitely catch attention as it breaks from the cookie-pattern look of "modern kitchen looks".
Hunter Green Kitchen Cabinets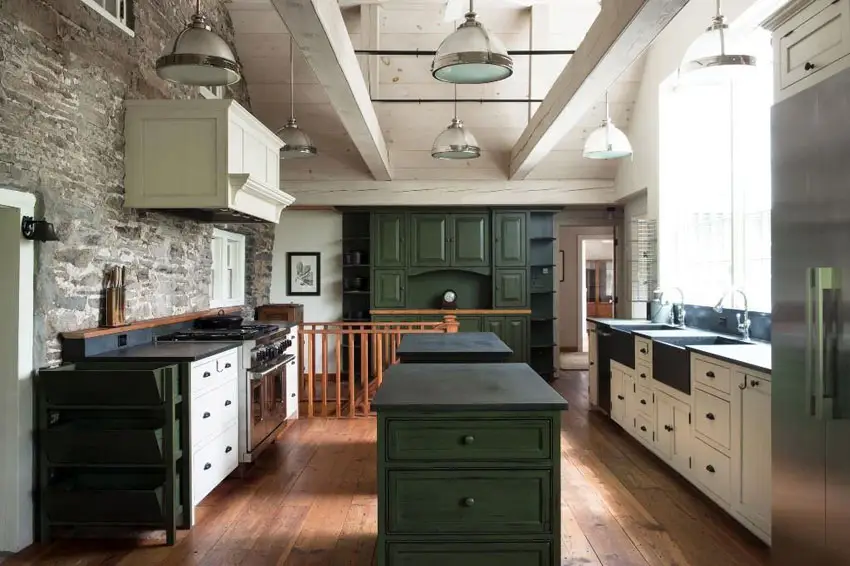 Hunter green is dark neutral green shade with a slightly mysterious vibe. It is subtle enough to blend in with any existing cabinet colors, but also bring in enough personality to set your kitchen apart from the rest. Hunter green would be perfect to use on accent cabinets on country-style kitchens like the example above.
Green Kitchen Island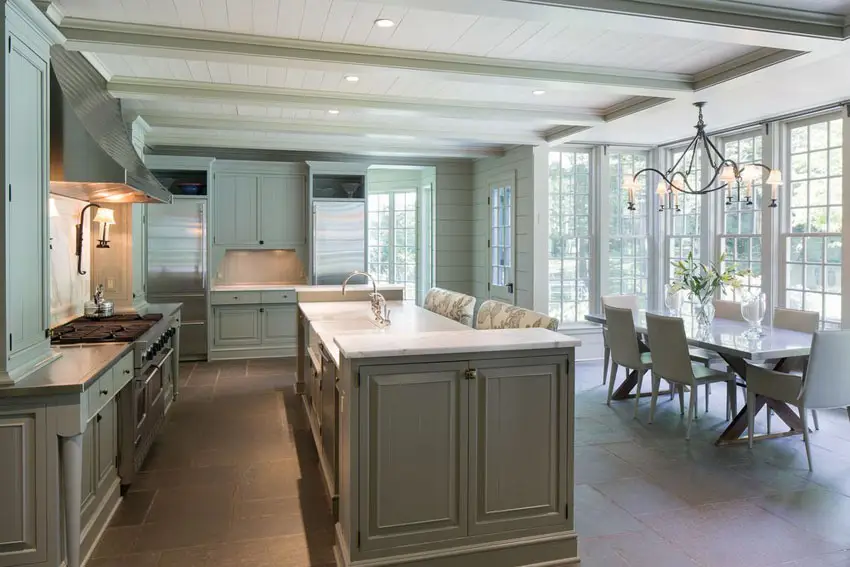 The use of Olive green paint on the kitchen cabinets of this French provincial style kitchen helps break the dull, flat look of all-white kitchens, while maintaining the versatile subtlety of white.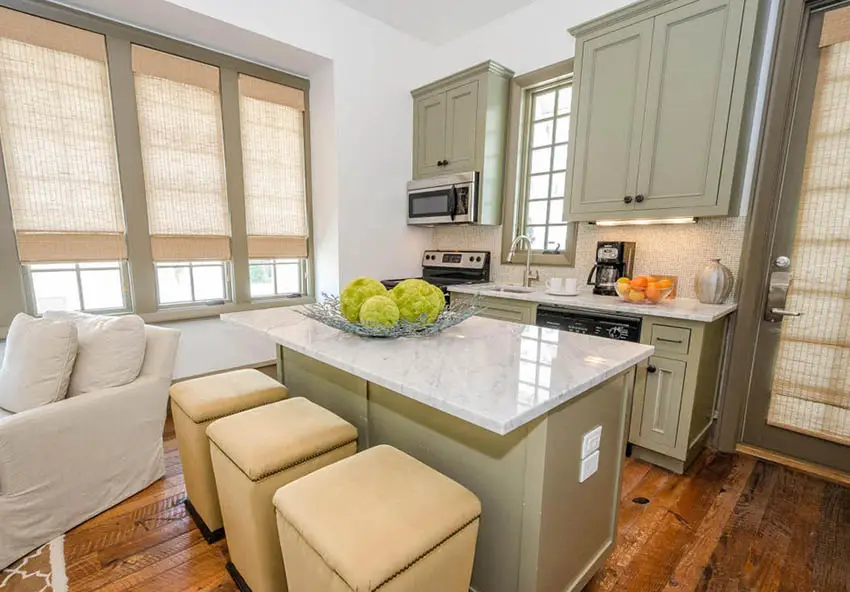 Using olive green on your kitchen cabinets also helps complement warm brown/sienna-toned furniture pieces used on your space. This color has enough yellow/beige undertones so there's no bold contrasts happening between the green and the warmer brown colors.
Green Kitchen Island with White Cabinets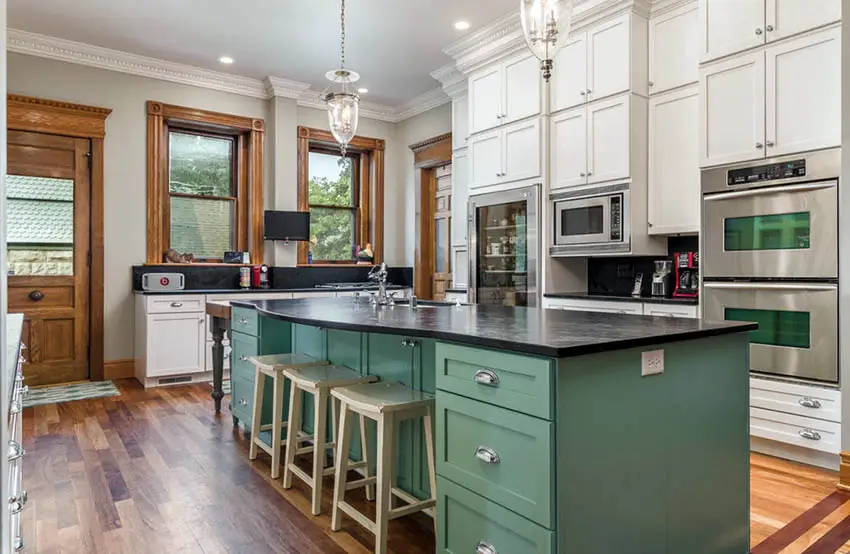 This traditional kitchen design showcases a painted green island with white shaker style main cabinets and a black soapstone countertop. A beautiful hardwood floor with inlay as well as solid wood door and wood molding around the windows gives this space a craftsman appeal.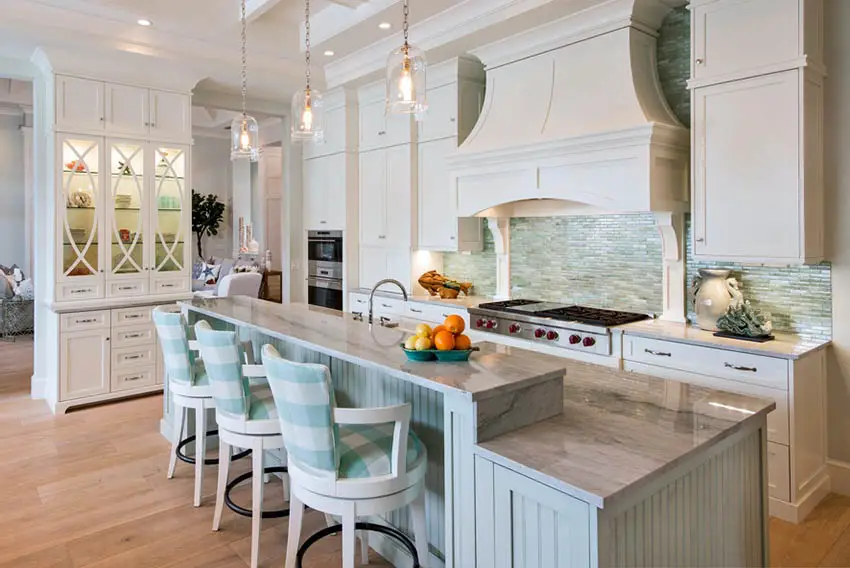 Seafoam green is also a nice color choice to paint your beadboard kitchen cabinets, as it has a refreshing vibe that is easy to mix and match with more contemporary elements. The green beadboard kitchen island in this room pairs beautifully with the white shaker style cabinets to produce a bright and inviting traditional design.