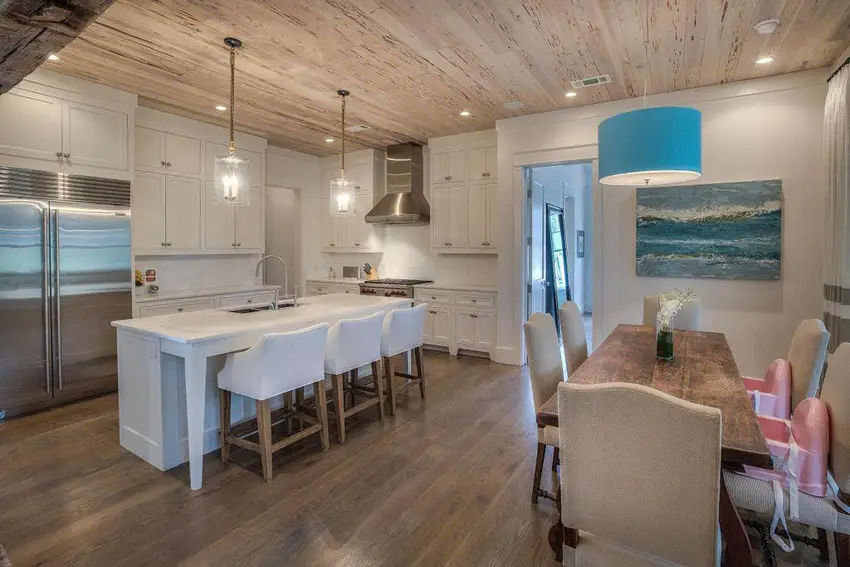 Welcome to our gallery of beach style kitchens. These pictures feature beautiful coastal kitchen designs with beach and nautical inspired accents. With a coastal design you can bring the feeling of being at the beach home to enjoy year round. Get inspired by these beach style kitchens to find ways to incorporate these ideas in to your own interior designs.
In the image above an ocean inspired kitchens uses white Shaker style cabinetry which extends to the dining island and upholstery of the bar stools. Sandy beige wood stain of the ceiling, floor, bar stool legs and dining table reminds you of the beach. The upholstered furniture softens the overall feel of the stainless steel appliances. Glass pendant lights in hurricane holders and an ocean blue color pendant light adds a major style element to this lovely coastal style kitchen.
Beach House Kitchens
Whether you live near the ocean or not you can still enjoy the warm and inviting vibe of a Beach house kitchen. With subtle coastal accents, pastels and white cabinetry, tons of natural light and maybe even a little nautical-themed decor, you can bring a bit of the beach to your home.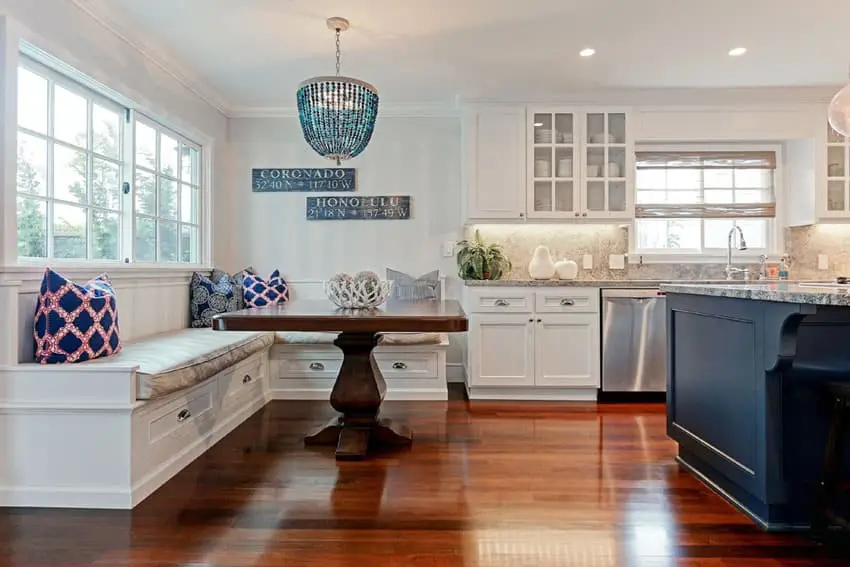 A marine blue island with granite countertop, blue crystal chandelier and nautical patterned throw pillows accents this chic cottage kitchen inspired design. Dark tone hardwood floor compliments the solid wood breakfast table surrounded by an amazing window seat bench. Classic white Shaker style cabinetry with granite countertop and glass front hanging cabinets blends with the stainless steel appliances and gives the kitchen a light and clean feel. The breakfast nook window seating has drawer cabinets for a much needed extra storage.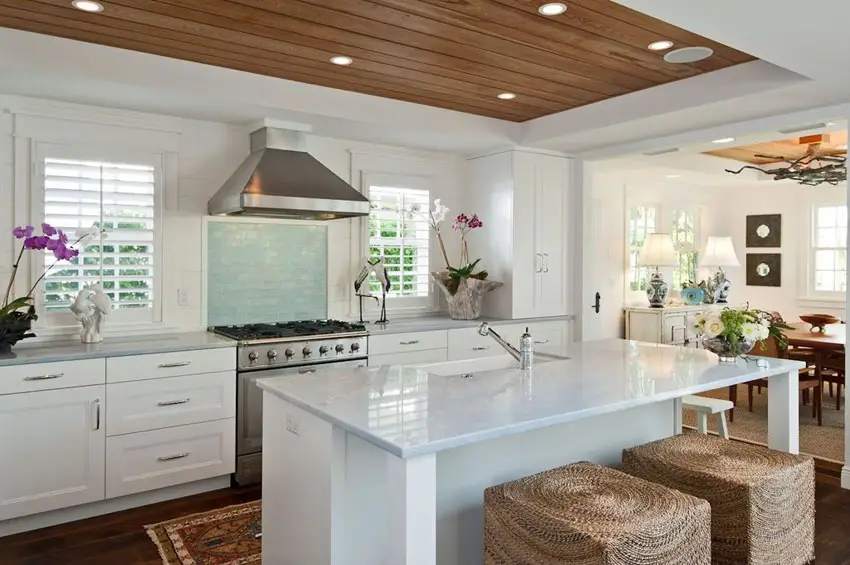 Welcome to a tropical island inspired kitchen featuring white Shaker cabinetry, arctic white quartz countertop with farmhouse sink, aqua glass backsplash, dark tone hardwood flooring and wood plank ceiling with recessed ambient lights and stainless steel appliances. Tropical flowers, area rug and rattan bar stools suggests a tropical accent and gives a warm and inviting ambiance for family, friends and guests. This small kitchen design would be right at home in a beach cottage.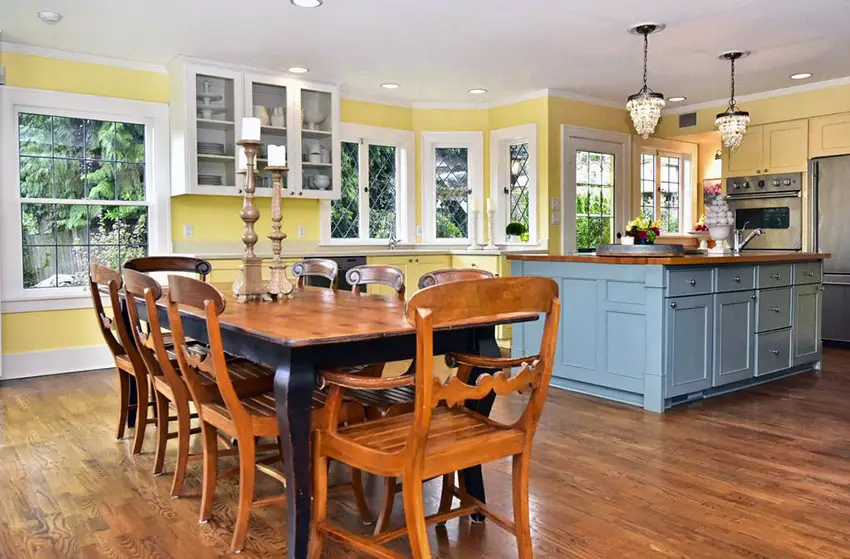 This open concept cottage style kitchen offers colorful yellow and blue painted Shaker style cabinets to give a coastal vibe to the space. The room has wood countertop for the kitchen island, stainless steel appliances, medium tone wood floors, mini-chandelier lights and Colonial style oak wood chairs completes the lovely design scheme.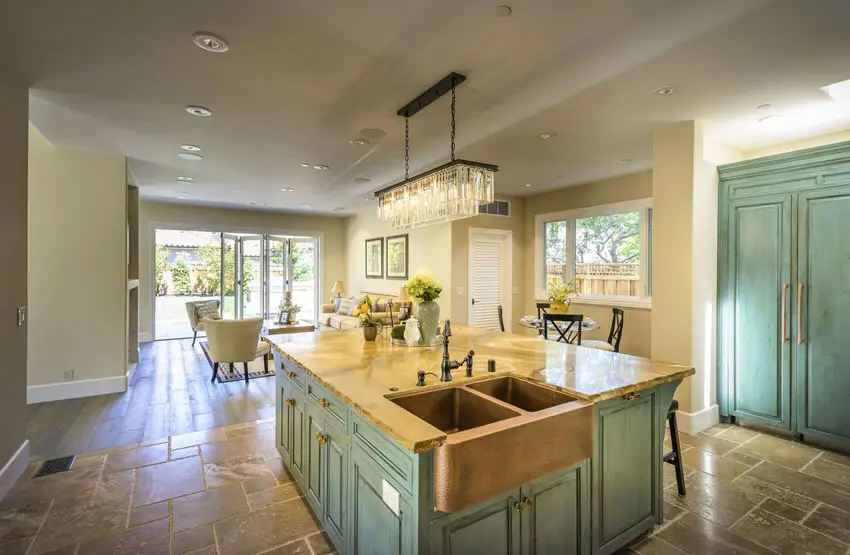 This coastal inspired design scheme features spacious eat-in dining island with a copper farmhouse double sink, rustic water faucet, distressed sea green color raised-panel cabinetry, quartz countertop, travertine flooring, glass rectangular chandelier and sandy beige painted walls give this kitchen a lovely and inviting feel of the beach somewhere.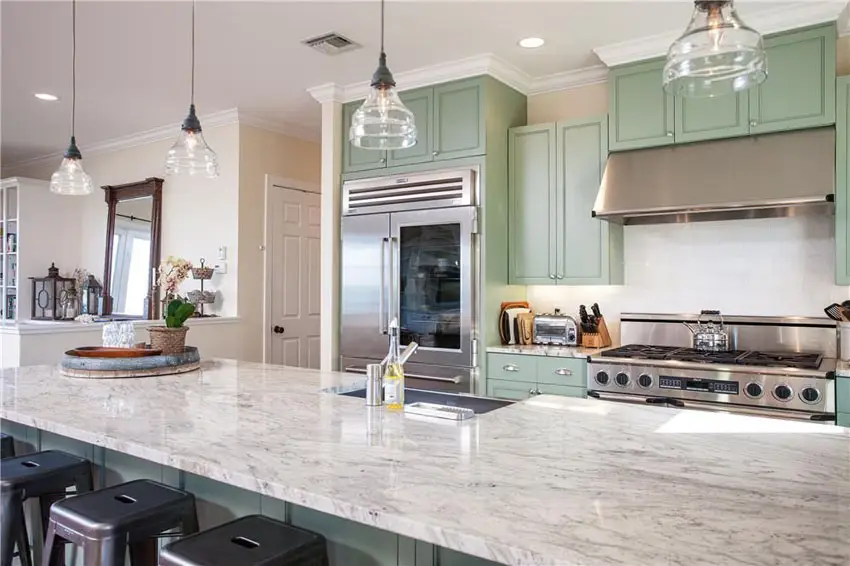 Light color beige walls and soft hue of green raised-panel cabinets gives this beach style kitchen a gentle and soothing feel of relaxing by the seashore. White Carrara marble countertop with under-mount sink compliments the stainless steel appliances. Decorative glass pendant lights over the island counter and other seaside theme accessories completes the design scheme.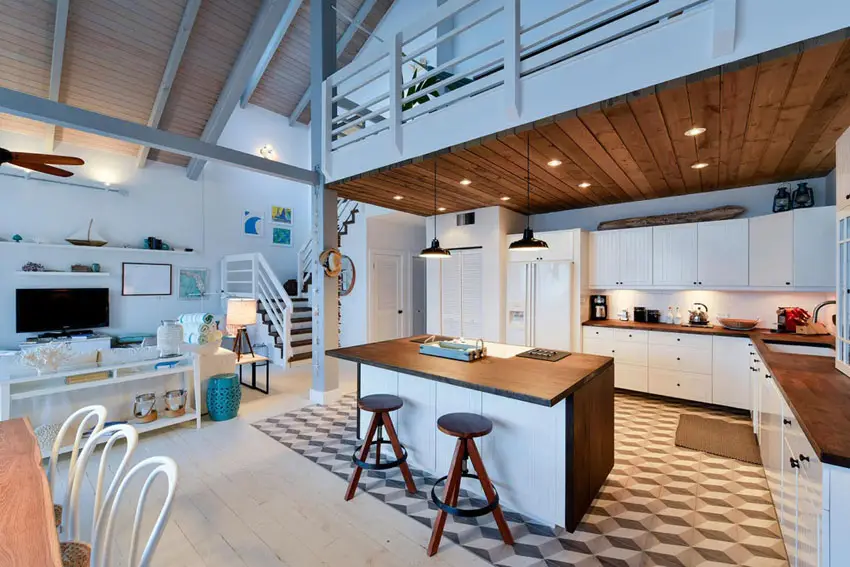 This cottage house with loft has an open concept design featuring an L-shape kitchen. The island has a built-in cooktop and an overhang counter which serves as a breakfast nook. Dark tone butcher-block style wood countertop confirms with the dark tone wood plank ceiling design. Vinyl flooring with chic geometric design creates a border illusion which separates the kitchen from the rest of the house. The light color scheme and wood decor, counter and ceiling give the feeling of a coastal residence.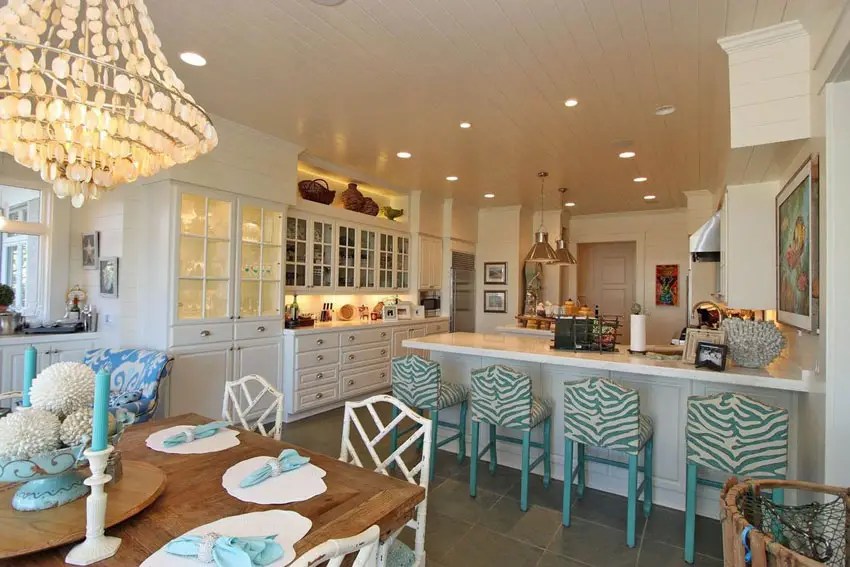 This coastal inspired kitchen design features soft hue of turquoise used for the bar stool upholstery table napkins, candles and flower vase gives a soothing cool accent color. Mother of pearl chandelier adds more focal point to the main dining area. Modern chrome pendant lights compliment the stainless steel appliances. Classic white raised-panel cabinetry with under-cabinet lights provides both, task lighting and accent lighting for the coastal beach accessories display. White marble countertop extends to the breakfast bar island giving a clean bright feel.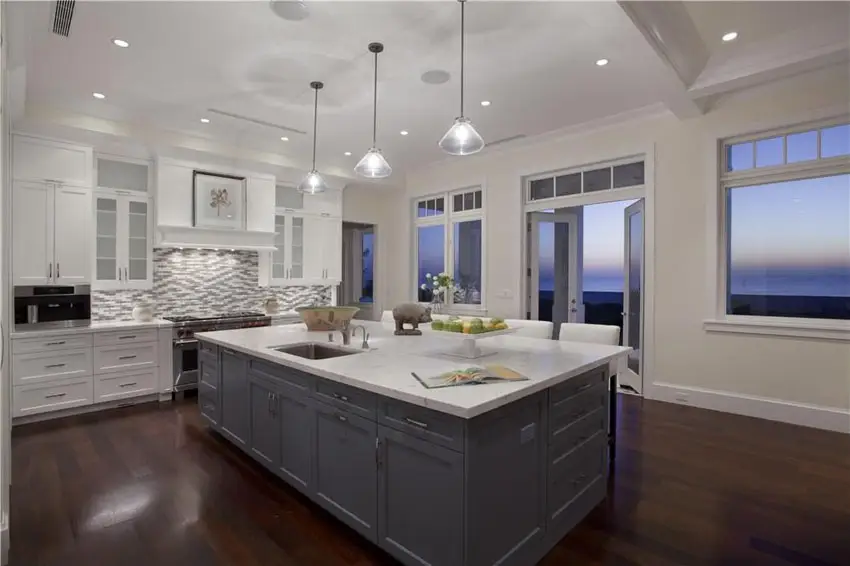 Neutral color scheme makes this contemporary kitchen feels warm, cozy and very relaxing; overlooking a picturesque ocean view backdrop. Shaker style white and gray cabinetry, white quartz countertop and sea inspired tile backsplash compliments beautifully and softens the stainless steel appliances and the dark tone hardwood floors. Glass pendant lights and ambient lighting provides a perfect illumination for this large and spacious kitchen area, without overpowering the splendid view outside.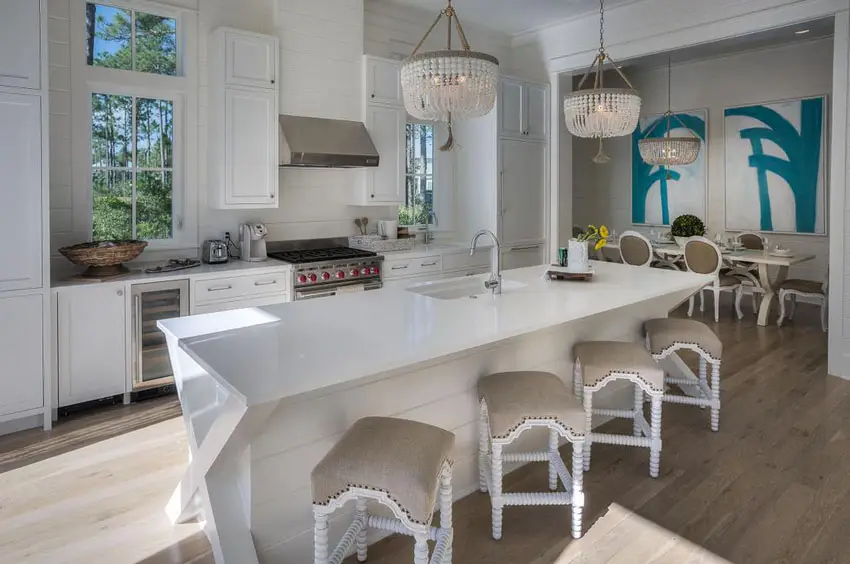 This cottage kitchen with a coastal inspired ambiance, makes you want to go on a vacation mode every day. Classic white Shaker style cabinetry with Dekton glass countertop. Simple, sleek and sturdy long island eat-in breakfast bar is typical for a seaside furniture design. Light walnut wood flooring goes well with the light tan colored upholstery for the bar stools and dinner chairs. Crystal chandeliers provides an elegant accent to the island and dining area.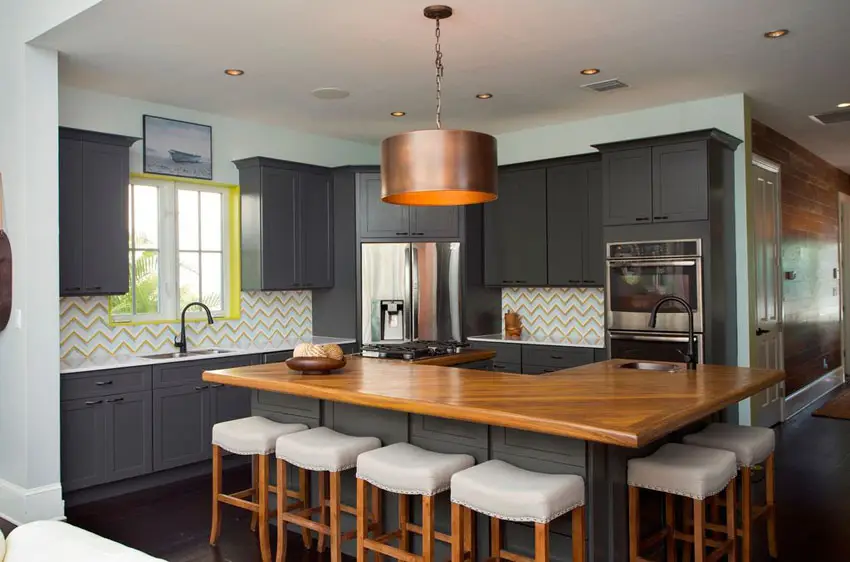 This eclectic kitchen design features Shaker style cabinets in matte gray color finish which blends well with the dark tone wood floor and modern stainless steel appliances. Colorful ceramic tile backsplash with geometric pattern, upholstered wooden bar stools and copper finish round pendant lights; balances the color scheme with the butcher block wood countertop.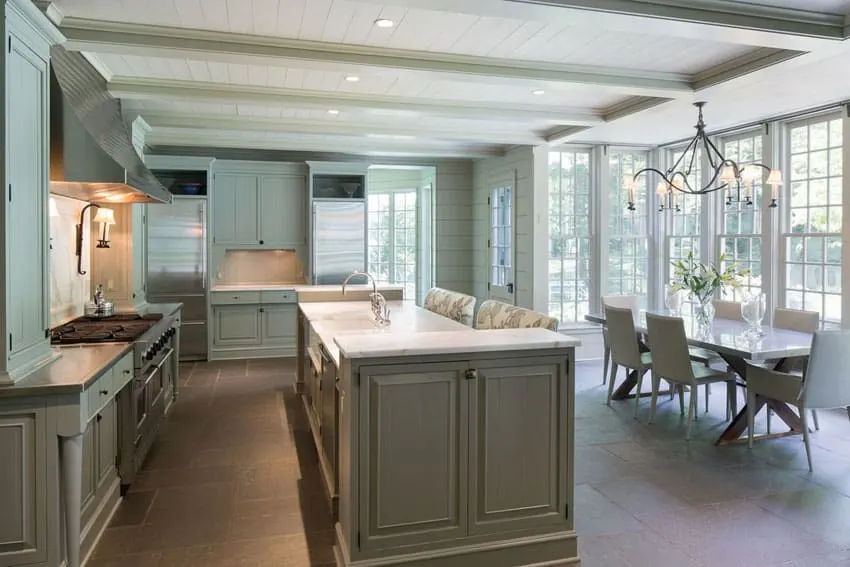 An elegant yet homey and intimate French cottage inspired kitchen features raised-panel cabinetry in light blue and gray paint finish with marble countertop. Beautiful soft tan colored natural stone floor, white paneled walls, floor to ceiling French windows, and white coffered ceiling reflects a refined design and craftsmanship. Delicate wrought iron chandelier and wall scones balance out with the stainless steel appliances.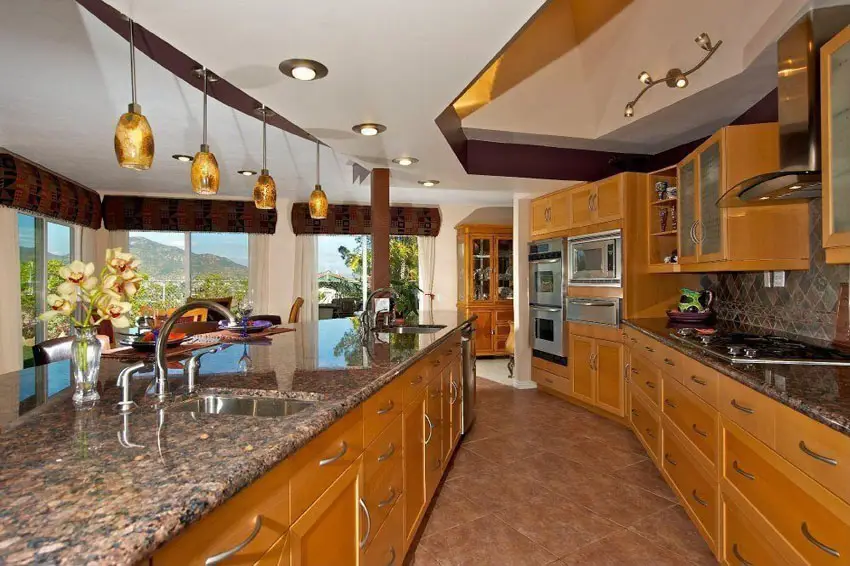 A traditional beach kitchen features light brown tone Shaker cabinets, eat-in long island counter with Baltic brown granite countertop. Natural stone flooring is an excellent choice for this heavy traffic area fit for a large family get-together and entertaining visitors and guests. Stainless steel appliances give this kitchen a modern look and feel. Pendant lights and recessed tasks lights over the island counter provides ample light source for dining and food preparation. The diamond patterned ceramic tile backsplash and the smell of home-cook meals reminds you of Grandma's kitchen.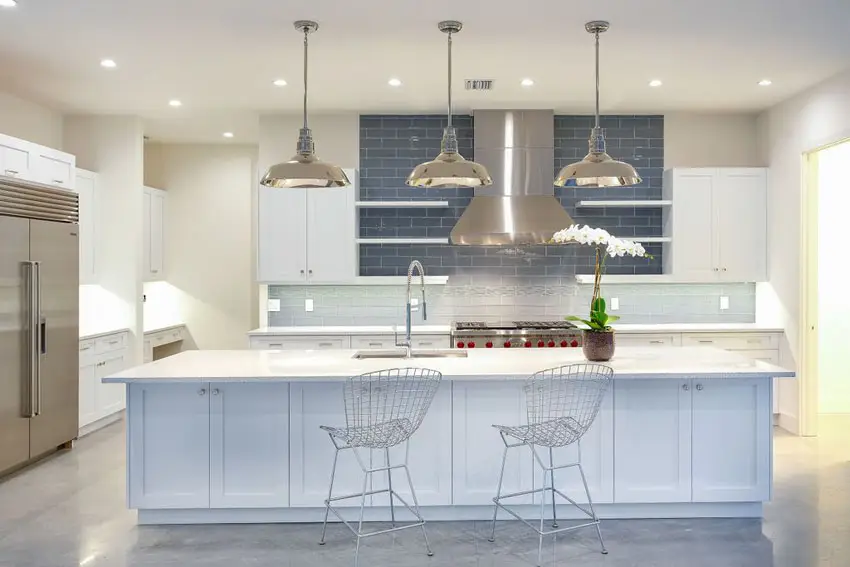 Light and bright modern beach style kitchen is emphasized by the polished concrete flooring, white quartz countertop, stainless steel appliances, sleek iron skeleton bar stools and industrial chrome pendant lights. Mixed with the classic white Shaker style cabinetry, blue subway tile backsplash -what can be more modern than that!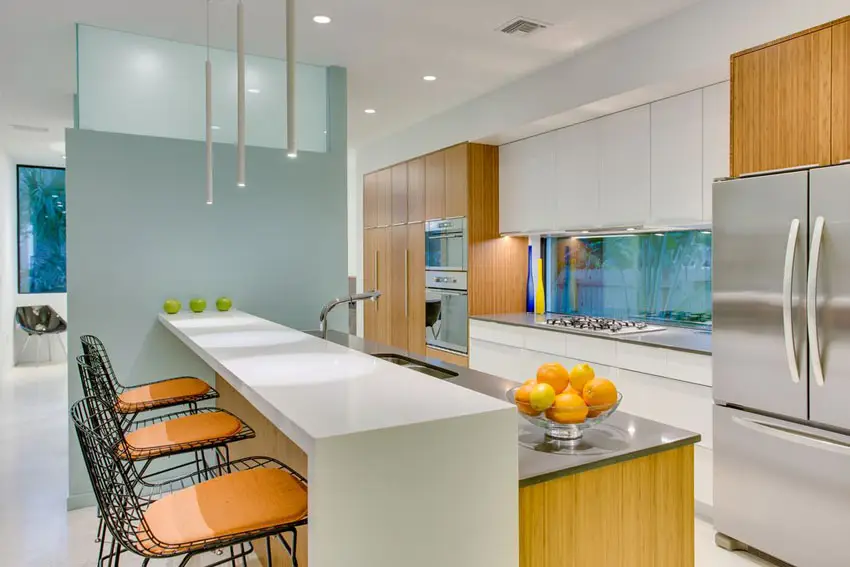 A bright sunny color modern kitchen features flat panel wood veneer cabinetry combined with white thermofoil cabinets and stainless steel countertop and appliances. Modern pendant lights over the raised laminated waterfall island countertop and iron skeleton bar stools completes this trendy kitchen beach style design theme.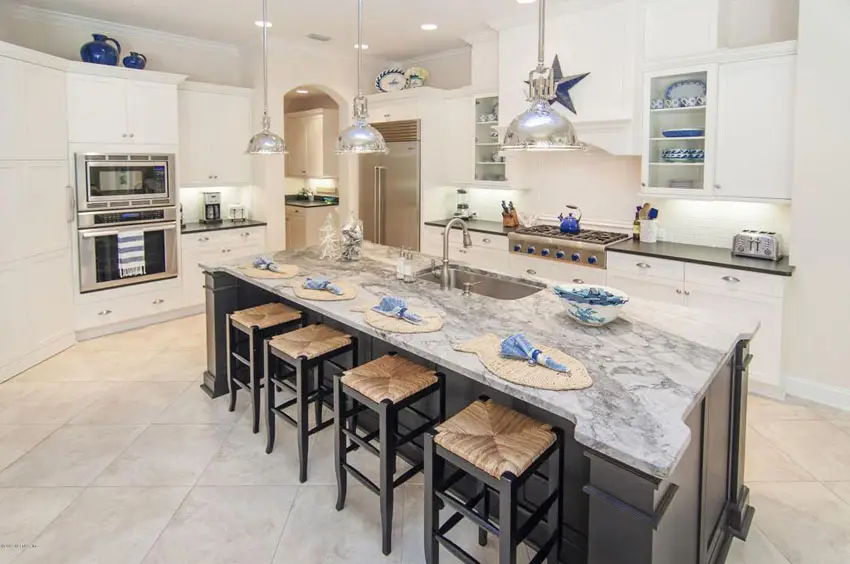 China blue porcelain dinning set matched with marine blue cookery accessories, table napkins and other trimmings emphasize a beach style kitchen. Classic white cabinets with black soapstone counter, elegantly blends with the black paneled island breakfast counter with Carrara marble countertop and undermount sink. Light porcelain flooring, white ceramic tile backsplash, under cabinet task lights, chrome industrial pendant lights and stainless steel appliances features a modern kitchen design.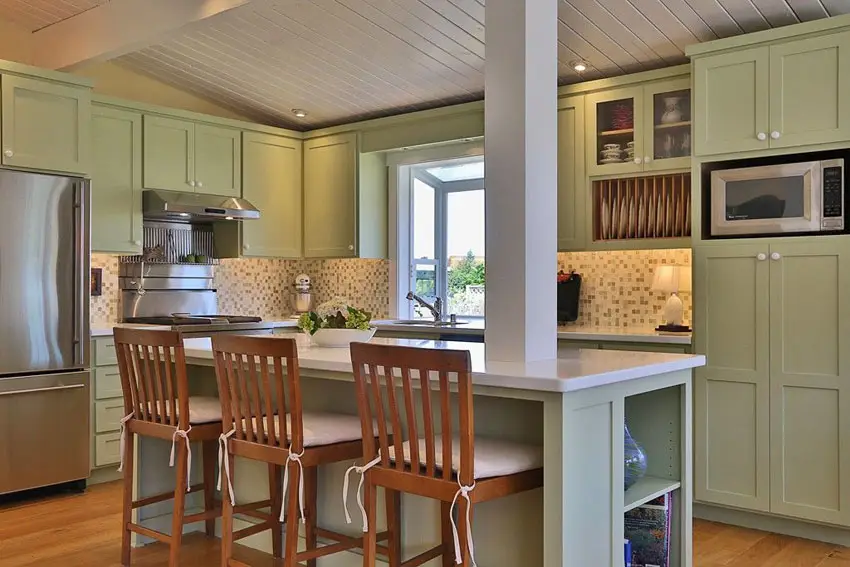 Light olive classic Shaker style cabinetry with white quartz countertop which extends to the island breakfast counter takes on a beach style inspired kitchen design. Light tone hardwood flooring and wooden bar stool balances the design scheme. Multi-colored mosaic tile backsplash features a wall accent motif. Stainless steel appliances fit perfectly for a modern touch.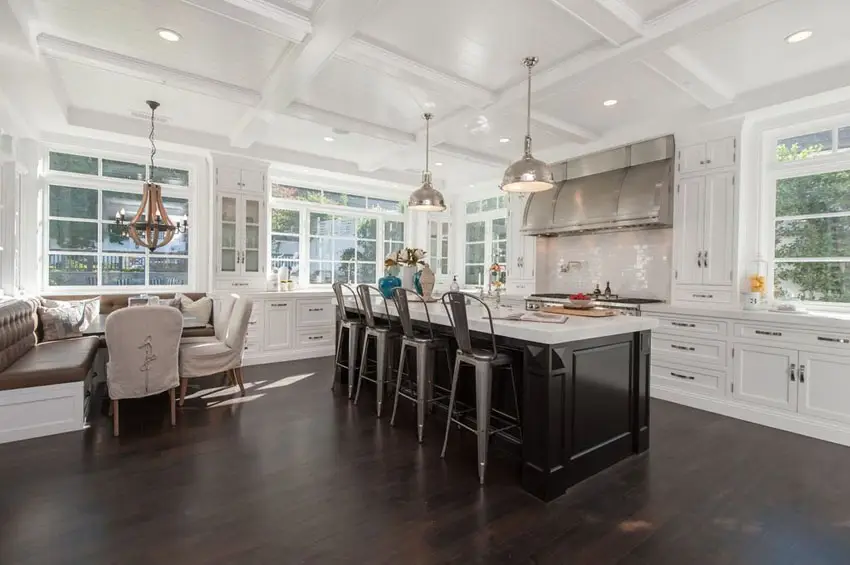 A modern open concept beach style kitchen features a neutral color scheme – white coffered ceiling with recessed ambient lights, wide French windows, white subway tile backsplash, classic white Shaker inset cabinetry with arctic white quartz countertop, black hi-gloss painted breakfast island cabinetry, dark tone hardwood flooring, stainless steel appliances and chrome industrial pendant lights. The breakfast nook area is designed with neutral accent color of coffee brown upholstery, light tan colored throw pillows and chair covers with a candle light style chandelier.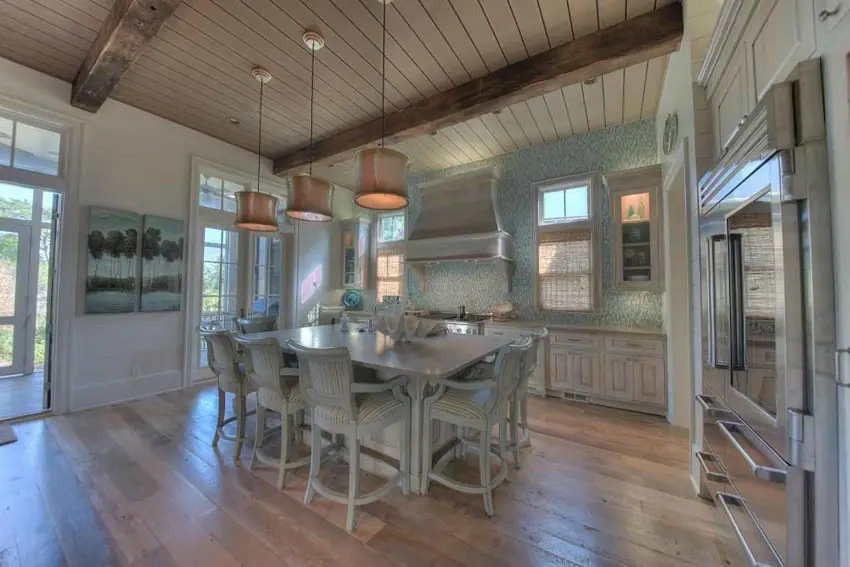 Traditional French cottage style kitchen features light tone wood plank ceiling with darker tone exposed wooden beams and hickory wood floors, distressed paint finish of the cabinets in off-white color give this kitchen a rustic yet warm and cozy feel. The stainless steel appliances balance the design scheme with a modern touch. Copper colored pendant lights over the dining area together with the traditional canopy range hood and counter to ceiling mosaic tiles backsplash feature an elegant focal point reflecting the colors of the sea.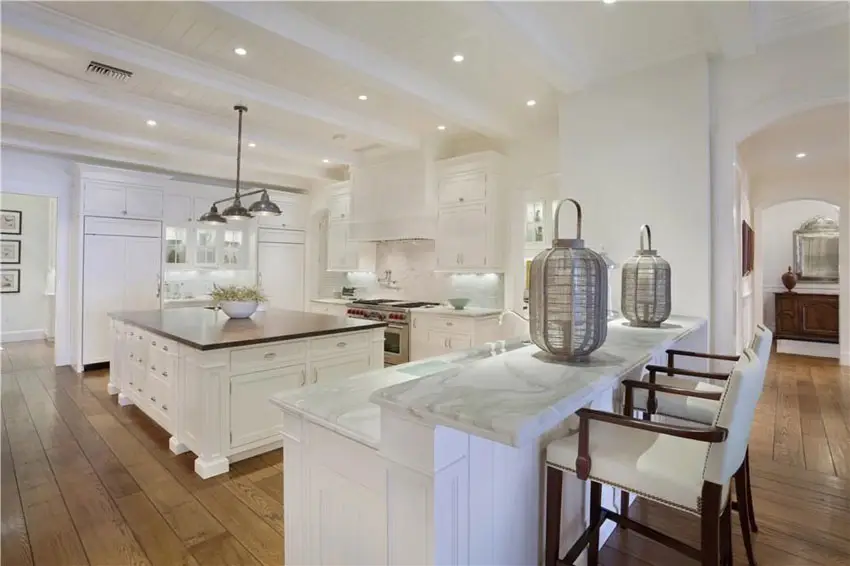 Beach style kitchens that use a light color theme with stainless accent pieces instantly evoke visions of the sea. This elegantly designed kitchen uses classic white color scheme from the ceiling wood planks and beams, ceramic tile backsplash and inset style cabinetry blends well with the Calacatta marble countertop. The neutral accent colors of the light tone hardwood floors, dark tone wood stain for the bar stool, stainless steel appliances, chrome finish industrial three-piece pendant light and candle accessories balances the design scheme.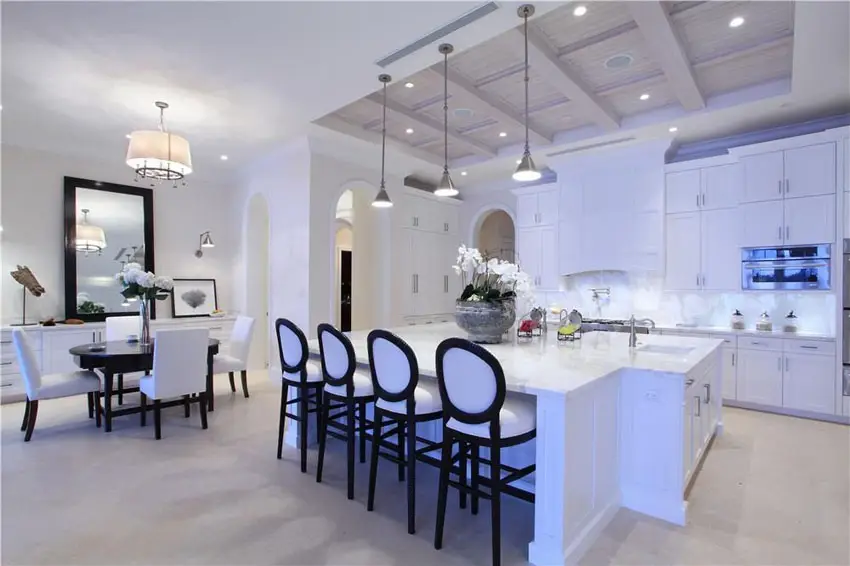 This open layout contemporary kitchen features a pristine white classic Shaker style cabinetry with Carrara marble countertop. Elegant and perfectly matched furniture for the breakfast nook area and island bar brings out a simple, cozy and intimate design style. The height of the wall hanging cabinets will draw your eyes to the coffered ceiling above adding an awesome design feature and accent. The pendant lights and chandelier balances the design scheme.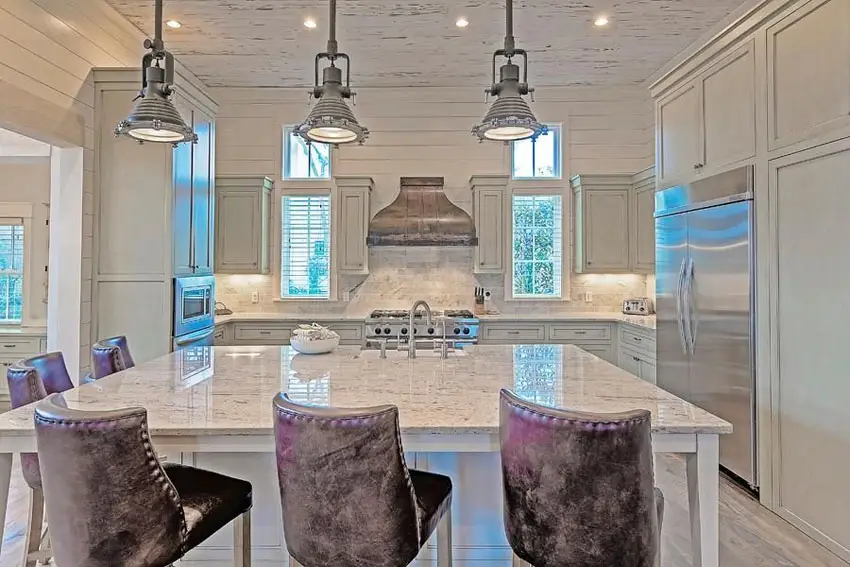 This eclectic kitchen blends both the rustic and modern design into an elegant beach kitchen design. Distressed Shaker panel cabinetry and wood plank ceiling, steel chrome chrome canopy range hood, white wood plank walls, features the rustic concept. Light tone hardwood floors, stainless steel appliances, andromeda white granite countertop, industrial pendant lights and leather upholstery balances and gives a modern twist.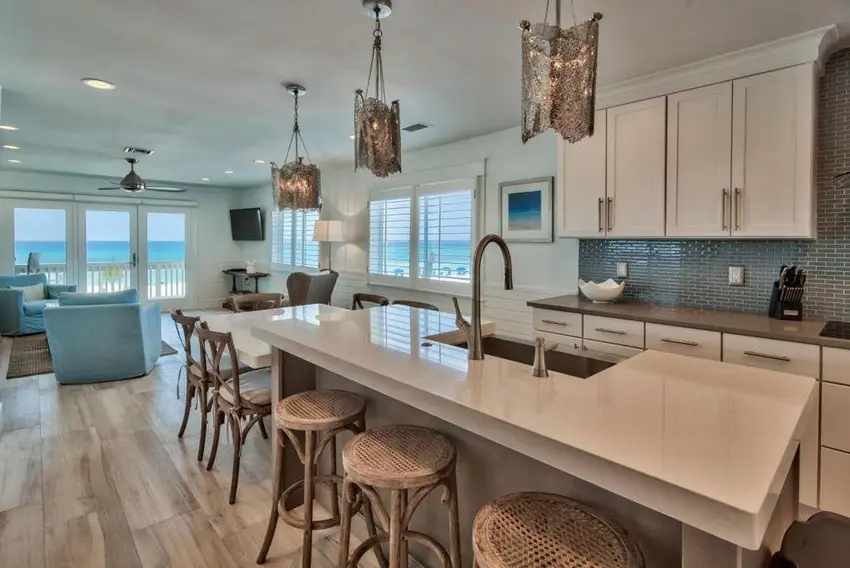 This coastal kitchen design is inspired by the great ocean view. The breakfast bar island with Denali quartz countertop has an under mount sink. Gentle and soothing hues of cream and beige for the cabinetry, furniture and wood floors; accented by the grayish glazed ceramic backsplash tile, and a relaxing shade of the blue couch, framed artwork and a net-like pendant lights turns this kitchen into a seaside haven.
Related Kitchen Island Design Galleries You May Like:
143 Luxury Kitchen Designs – Beautiful Kitchens With Islands – Kitchens with Breakfast Bars – Dream Kitchen Designs – 77 Kitchen Island Ideas