In this bifold door sizes guide we share the standard bifold door dimensions, widths, closet door measurements, and rough & finished opening bifold door size.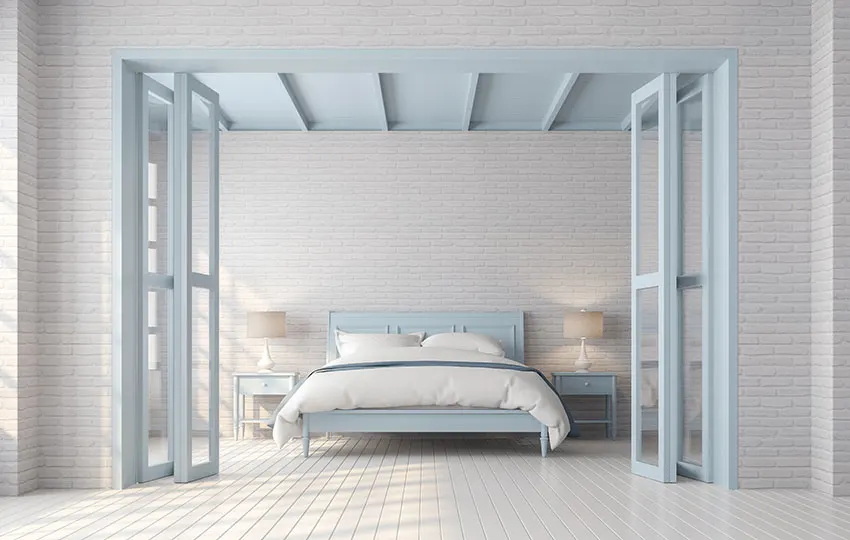 If any homeowner is looking for an alternative to the usual French doors or pocket doors, they can choose to utilize bifold doors for their homes. A bifold door is a door that slides open and folds up against a wall as a curtain would.
A bifold door is a fantastic option to go for if homeowners are looking to utilize every space available in a room. It opens in the middle and folds on the sides to give everyone a full view of the other room in one motion.
A bifold door is also often steadier than sliding doors, making the "shuddering" feel of sliding doors a thing of the past.
Standard Bifold Door Sizes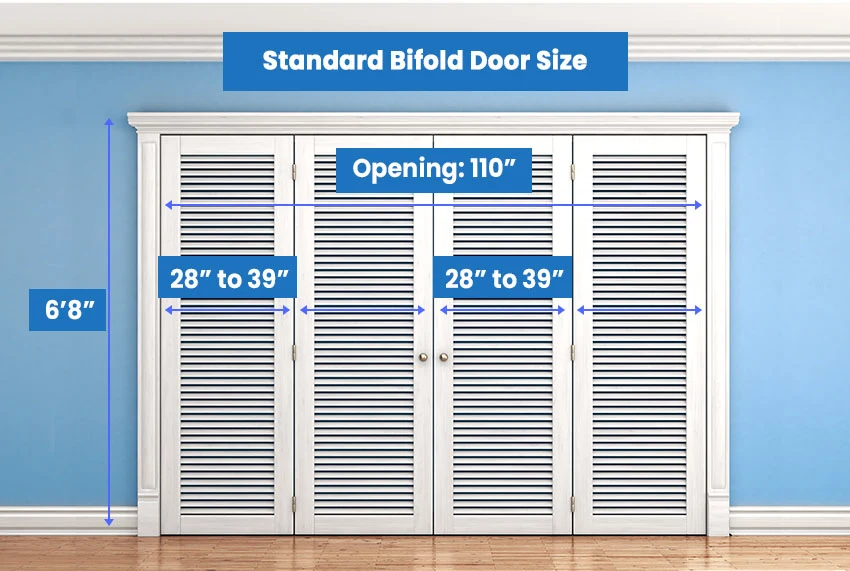 The sizes for bifold doors will vary from one manufacturer to the next, but there are standard bifold doors that each manufacturer will stick to or use as guidelines to make bifold doors.
Most of the time, the height of a bifold door from top to bottom is 6.8 feet or about 81.6 inches. The widths will differ and will depend on how many door panels a homeowner wants. The most basic bifold doors will have about 2 to 4 door panels, but many manufacturers will also have bifold doors that have 3, 4, or 6 doors available.
The standard bifold door width for each door panel will be about 28 inches or 71 centimeters to 39 inches or 99 centimeters. A homeowner with an aperture of about 110 inches or 279 centimeters could accommodate three to four bifold doors.
For wider panels, the best option is to go for bespoke ones since there are maximum sizes for both widths and heights for bifold doors.
What Sizes Do Bifold Doors Come In?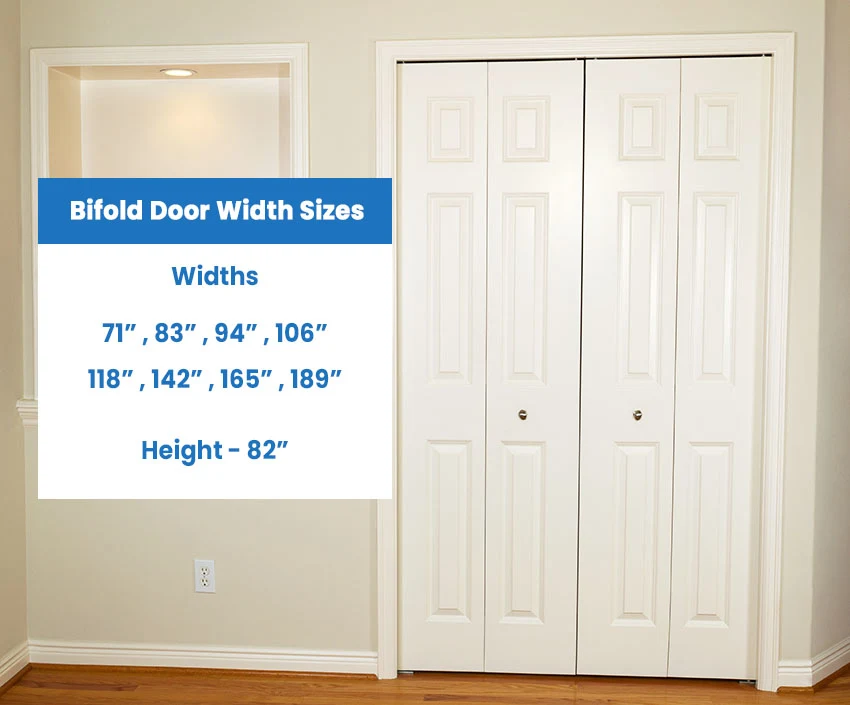 Aside from the standard size for bifold doors, there are other bifold door sizes for any homeowner to use according to their needs and the size of their space. The door configurations for each bifold door will also vary because some will fold three times while some can be 5+1 doors.
Another thing to remember when it comes to bifold doors is that it is more efficient to measure them using the unit of measurement, millimeter or mm, rather than centimeters or cm. It will ensure that draft is prevented for energy efficiency and security.
The different widths bifold doors will come in are 1800 mm or 71 inches, 2100 mm or 83 inches, 2400 mm or 94 inches, 2700 mm or 106 inches, 3000 mm or 118, 3600 mm or 142 inches, 4200 mm or 165 inches, and 4800 mm or 189 inches. The height these sizes will come in is usually 2095 mm or 82 inches.
Bifold Closet Door Sizes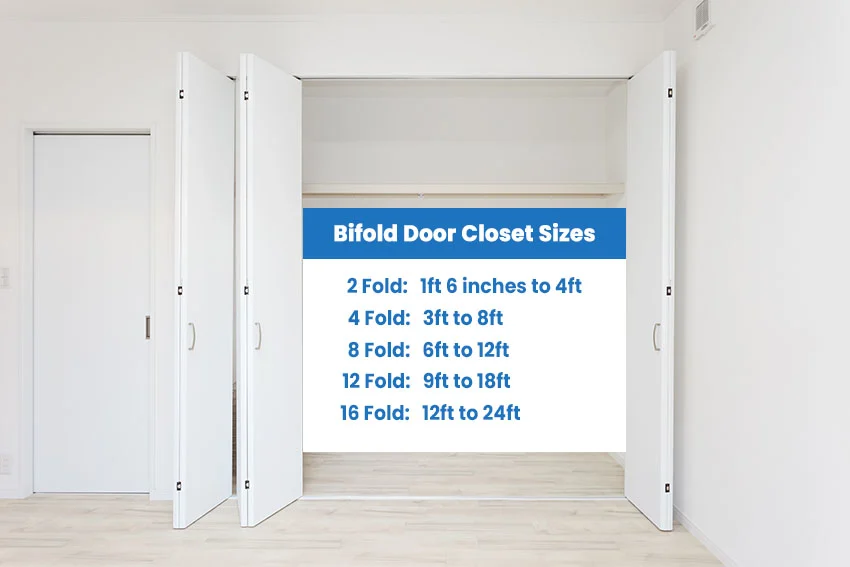 One chic option for closet doors is looking at utilizing bifold doors for them. Any homeowner can customize the dimensions they come in for spaces with odd sizes. They can choose to opt for a two-bifold door unit or go for a grand 16-bifold door unit for their more oversized closets.
The sizes of a two-bifold door will usually vary from 1 foot and 6 inches to 4 feet. A 4 bifold door unit will be 3 feet to 8 feet, while an eight bifold door will measure 6 feet to 12 feet.
For more oversized closets, there are 12 bifold door units to utilize, measuring from 9 feet to 18 feet, and the 16 bifold door units can go up to 12 to 24 feet. Read more about different closet door sizes here.

Bifold Door Sizes Rough Opening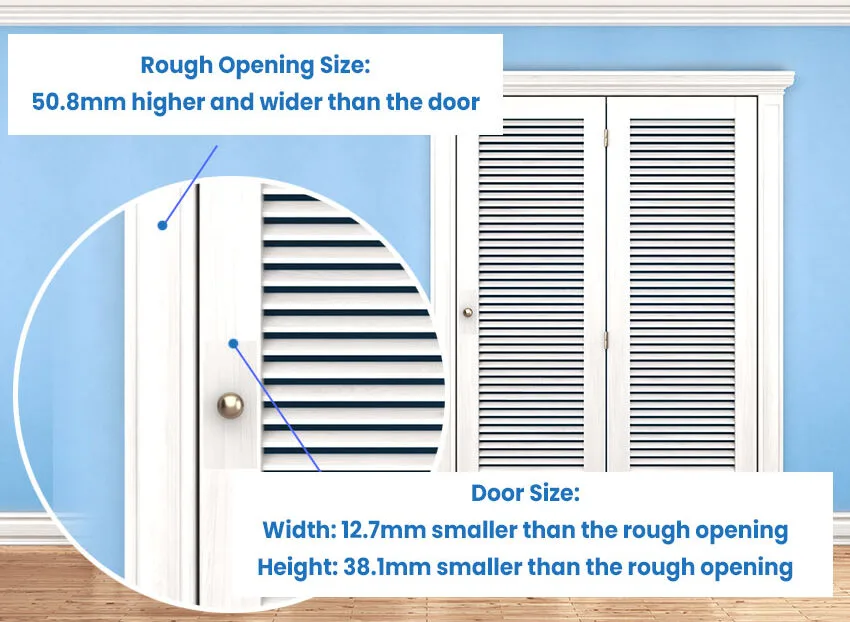 There are two rules to note regarding a bifold door's rough opening. The first is that any gap that would accommodate a regular or any bifold door size should be about 50.8 millimeters higher and 50.8 millimeters wider than the bifold door itself. This rough opening size will allow any homeowner to install a lumber or a jamb extension for the bifold door.
The second rule dictates how small a bifold door should be than the rough opening. To fit any bifold door to an opening, the door should be 12.7 millimeters smaller than the rough opening width, while a bifold door should be 38.1 millimeters shorter than the rough opening in height.
So, if a homeowner has a 48 inches bifold door with a standard height of 81 inches, what rough opening will be perfect for accommodating this size? The rough opening should be 82 inches or 2082 millimeters with a width of 50 inches or 1270 millimeters.
Finished Opening Size for Bifold Doors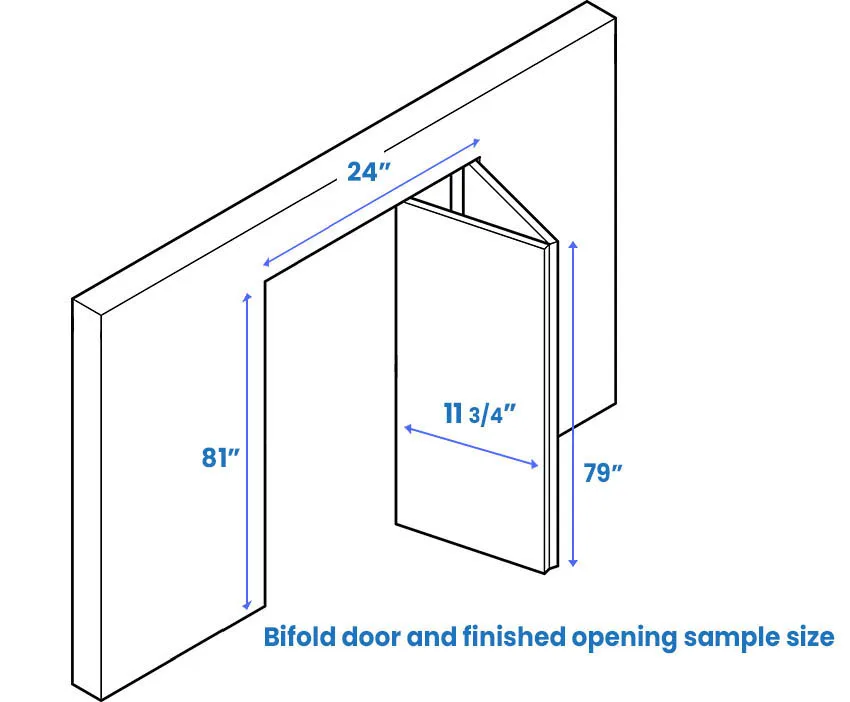 The finished opening size for a bifold door will vary according to the bifold door size anyone will choose to use for their homes. For a bifold door with a panel size of 11 3/4 inches in width with a height of 79 inches, the finished opening width and height will be 24 1/16 and 81 inches.
This size will most often be indicated by purchasing a specific bifold door.
What Size Bifold Door Do I Need?
The first thing any homeowner needs to decide on for bifold doors is looking at the openings or apertures where the bifold doors will be installed. It is essential to leave some space known as the fitting tolerance, about half an inch or 1.27 centimeters. One of the ways to ensure the correct size is by hiring a professional to do the measuring, but the cheaper and easier way to do it is by measuring it themselves.
The first thing to do is estimate and measure the opening diagonally from one corner to the other. This will ensure that the space is level.
The next thing to do is measure the open space's width and height from top to bottom to the middle. Take the smallest dimensions and deduct about half an inch or the fitting tolerance space, and the end size will be the size of the perfect bifold door for the homeowner's home.
Once the door is bought and delivered, it is important to ensure that the bifold door opens in and out with enough space for the people in the home to pass through.
Visit our standard interior door size guide for more related content.